Chelsea and Tommy
Wedding Location: Maritime Parc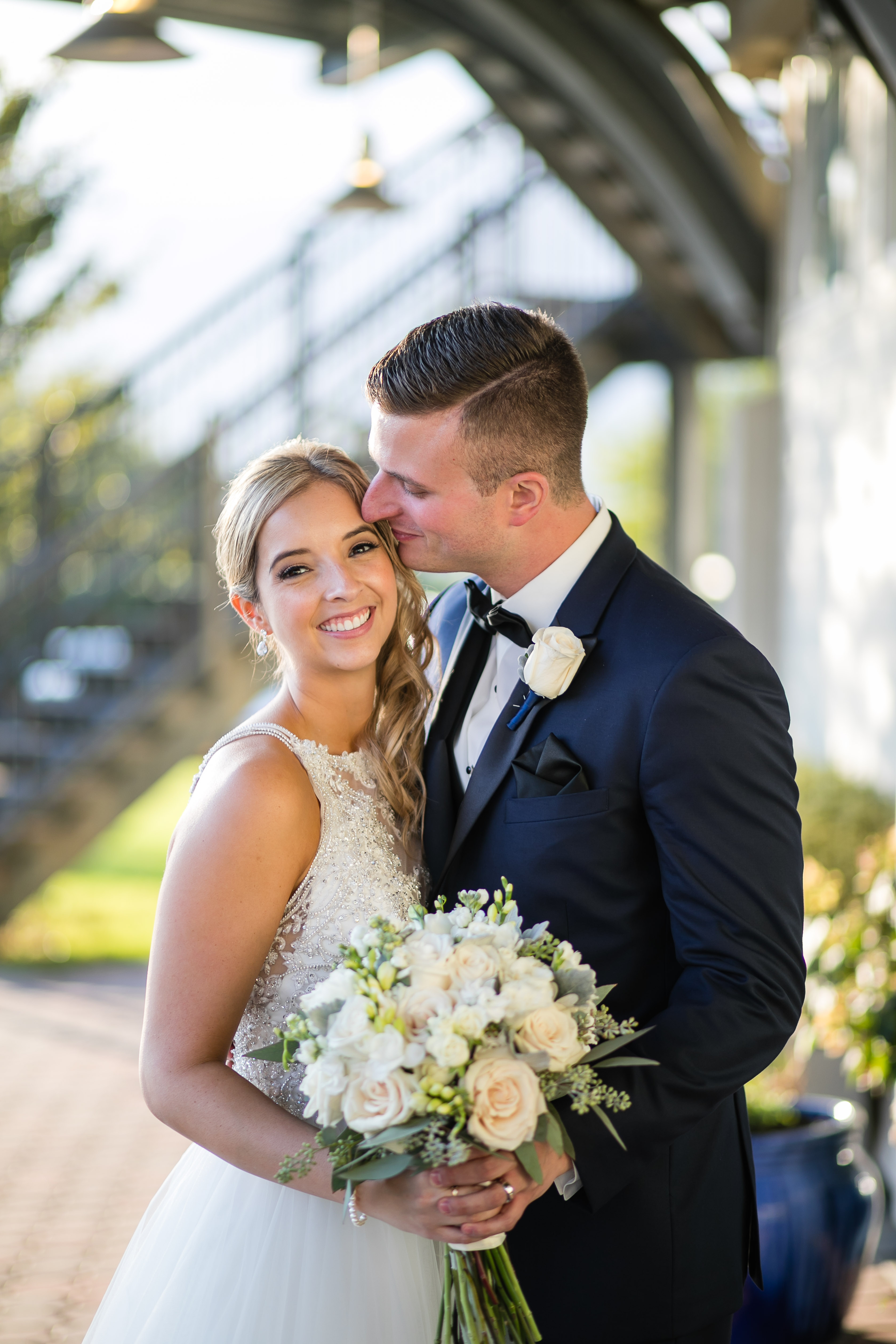 My husband Tom and I got engaged in the spring of 2016, and wanted to enlist the help of a wedding planner. I'm from Los Angeles, CA and Tom and I knew that it would be extremely difficult to not only plan, but to also ultimately pull off a wedding, with my mom over 3,000 miles away. My parents wholeheartedly agreed, and with their blessing, we set off in search of a wedding planner for our October 2017 wedding. It was really important to my husband and me to find somebody that we could trust and who would ultimately make our lives easier at the end of the day. I wasn't sure what exactly we were looking for, so we set out with the plan to interview at least a couple of planners to get a feel for who was out there.
The first person we met with was Danielle Rothweiler, and both my husband and I clicked with her immediately upon walking into her office. What I thought would be an interview driven by us, and guided by the infamous "Interview Questions for Potential Wedding Planners" checklist that I printed off of The Knot, was a completely different experience entirely. Danielle turned this consultation meeting into an interview of us, and she left no stone unturned; before we discussed anything else Danielle wanted to hear our story. How we met, how long we've been dating, what we love about each other, and, of course, how we got engaged. Seemingly out of nowhere, this formal meeting turned into what felt like a conversation with a friend that I had known my entire life. We laughed, we cried, there were jokes, and then we got down to the details. She asked what our vision was for our big day, from the dress, venue, flowers, colors, photography, invitations, and even down to the minute details that go into pulling off a wedding. We hadn't even officially hired Danielle, and I felt like we were already getting stuff done.
What we learned is that Danielle has a list (or rolodex as I like to call it) of her preferred vendors who she works with frequently and who she believes to be the best in the business. We were assured that for each vendor we would be given about 3-4 options to choose from based on their bodies of work. Those preferred vendors would also give Danielle's couples the best pricing available. Aside from the pricing aspect, it was very assuring to know that we didn't have to do any research on our own if we didn't want to. We both had full time jobs and didn't have the time to sacrifice to research and interviewing every single prospective vendor in the tristate area. Our first "consultation" with Danielle lasted a few hours, and as soon as we left her office and got to our car, my now husband and I looked at each other and both said "she's hired!" There was no doubt in our minds that Danielle was the planner for us.
Danielle was our right hand throughout the entire process of planning our wedding. We had some unique, out of the box ideas, and from day one Danielle was not only 100% on board, but she was just as excited as we were about those facets that we knew would make our wedding stand out! No ask or idea was too big for Danielle to handle. We had a mariachi band at our cocktail hour, if that gives you any indication. Even those asks that some might consider outside the scope of her wedding planning responsibilities she took on with gusto and excitement. Danielle helped connect my mom with a custom tailor in Los Angeles who made her the dress she wore to our wedding. She also helped me organize a boudoir shoot with a Playboy photographer that I did as my husband's wedding gift! Danielle, of course, also helped my husband and I amass a team of the most amazing wedding vendors for the big day, and we couldn't have been any happier with who we worked with! Danielle is not misleading or just trying to win you over when she says that her vendors are the best in the business. Day in and day out, Danielle was plugged in, engaged, and extremely responsive to both text and e-mail, not to mention that she is also extremely organized! There was no detail left uncovered, no e-mail left unread, and my husband and I could sleep at night knowing that we were in the best hands. At no point in the wedding planning process were we stressed out, and that can be attributed entirely to our experience and trust in Danielle.
Our day was in no uncertain terms, flawless. The months of planning and detailing panned out exactly how we wanted, and it was so special to see our dream turn into reality. Danielle and her team really were everywhere at once, and we felt supported from the moment we woke up in the morning to the end of our reception. Danielle handled any hiccup that occurred flawlessly and without us ever knowing in real time. Her team members that she brought day of, Elisa and Alisha, were also amazing and so professional!
Aside from all of Danielle's delineated responsibilities as a wedding planner, I felt like throughout this process I have found a kindred spirit, and a friend, which made the process of planning our wedding all that much more fun! In my life I live by the mantra that it's important to remember to laugh and to not take yourself too seriously. Now having been through the wedding planning process, I still stand by the same mantra, and you can bet that Danielle does too; I assure you that you will have fun if you choose to work with her for your special day. I am also confident that you would be hard pressed to find a wedding planner that can really do it all—and trust me when I say that there is no limit to what Danielle is capable of. She is a force to be reckoned with, and any bride would be lucky to have her by her side to plan the wedding of her dreams. Thank you Danielle for everything that you did for Tommy and me, we are eternally grateful to you and are so happy that we found you!
-The Critellis
Lauren and Chad
Wedding Location: The Inn at Millrace Pond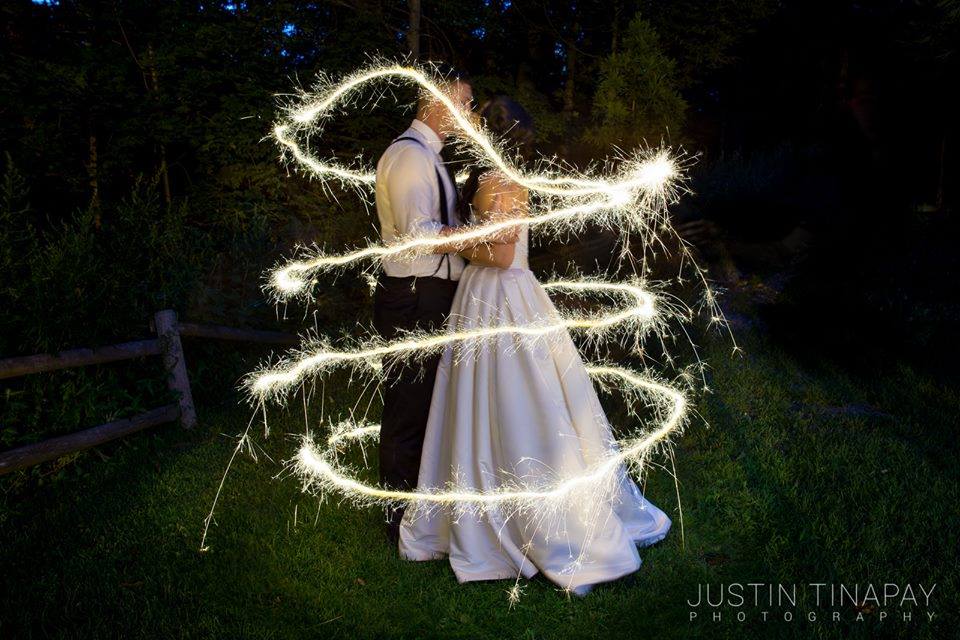 I wish I could express in words the appreciation we feel for Danielle. It feels like Danielle has become family over the past 9 months. From day 1, Danielle has been nothing short of AMAZING. She turned our wedding day into a dream come true and for that we will forever be grateful. Compliments are still rolling in from our family and friends and I am sure they won't be stopping anytime soon.
We met Danielle in early December, 9 months prior to our wedding and from that point she has never left our sides (figuratively of course). Communication was constant and always reassuring. She instantly found venues that we loved and had me in dress stores a month later, right after the holidays. The organization with which she handles her events is a fellow perfectionist's dream! Although we knew she was planning other weddings, as well as attending all of them, we always felt like we were important and she had us in mind. My compliments don't stop there…Danielle had all of her best vendors lined up for us immediately. We met each one and knew they were going to be our vendors and we were not disappointed in a single one of them. I pride myself on being a very strong person, just like Danielle, but the fact that we both cried together on our wedding day speaks to how connected we became during the planning process. Everything that Danielle calls herself is true "An event planner is a mother, sister, friend, drill sergeant and psychologist." If you are even considering hiring an event planner, make it Danielle and her team, you will not regret your choice in this fabulous person!
Jordan and Bill
Wedding Location: The Ashford Estate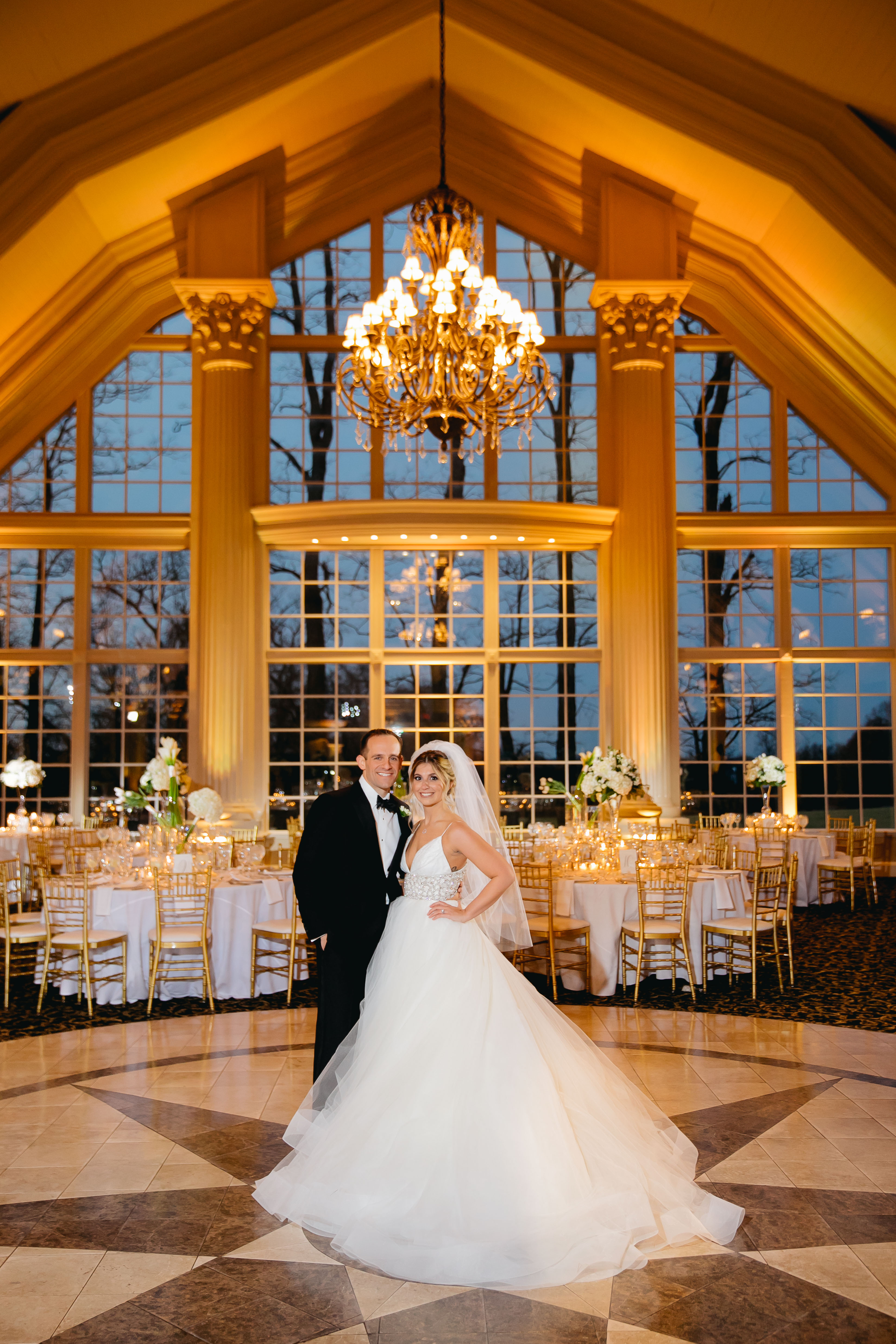 My wedding was absolutely stunning and it would have not happened without Danielle Rothweiler. My husband and I got engaged in the spring of 2016 and had hired Danielle within weeks of our engagement for full wedding coordination services for December 2, 2017. It was very important to us, and my family, that we hire a planner that we could trust and who could navigate us through the daunting wedding planning process. Danielle made the entire process and wedding day flawless and better than I could have ever imagined.
As a person, I am very type-A, and extremely detailed oriented, so image how magnified that would be as a bride. Danielle was able to answer every question, every email, every follow-up timely and without fail. She was able to guide me and my husband through the process, ease our nerves and push me trust my gut when making decisions. She worked with vendors to redo proposals over and over again as we changed our minds, or in the case of florals, kept adding and adding. She managed all my hair and make-up trials, three in total, until I found the perfect style. When I was hesitant to make a decision on linens, she scheduled a meeting so I could see them in-person. Every step of the way she went above and beyond so that we could enjoy our engagement.
When the day of our wedding finally arrived, Danielle and her team were so professional and never without a smile on their faces. I didn't have to worry about one thing the entire day besides enjoying the best day of my life. Danielle made sure that every detail was perfect and on time. When a case of nerves hit me, she knew exactly what to say, which I believe only comes from years of experience and her exceptional people skills. She is honest and genuinely cares about all her brides and grooms and took the time to get to know us over the course of a year and a half.
I can say without hesitation that our wedding wouldn't have been as magical without her and don't have enough words to thank her.
Steve and Cheryl
Wedding Location: Destination Wedding in Mexico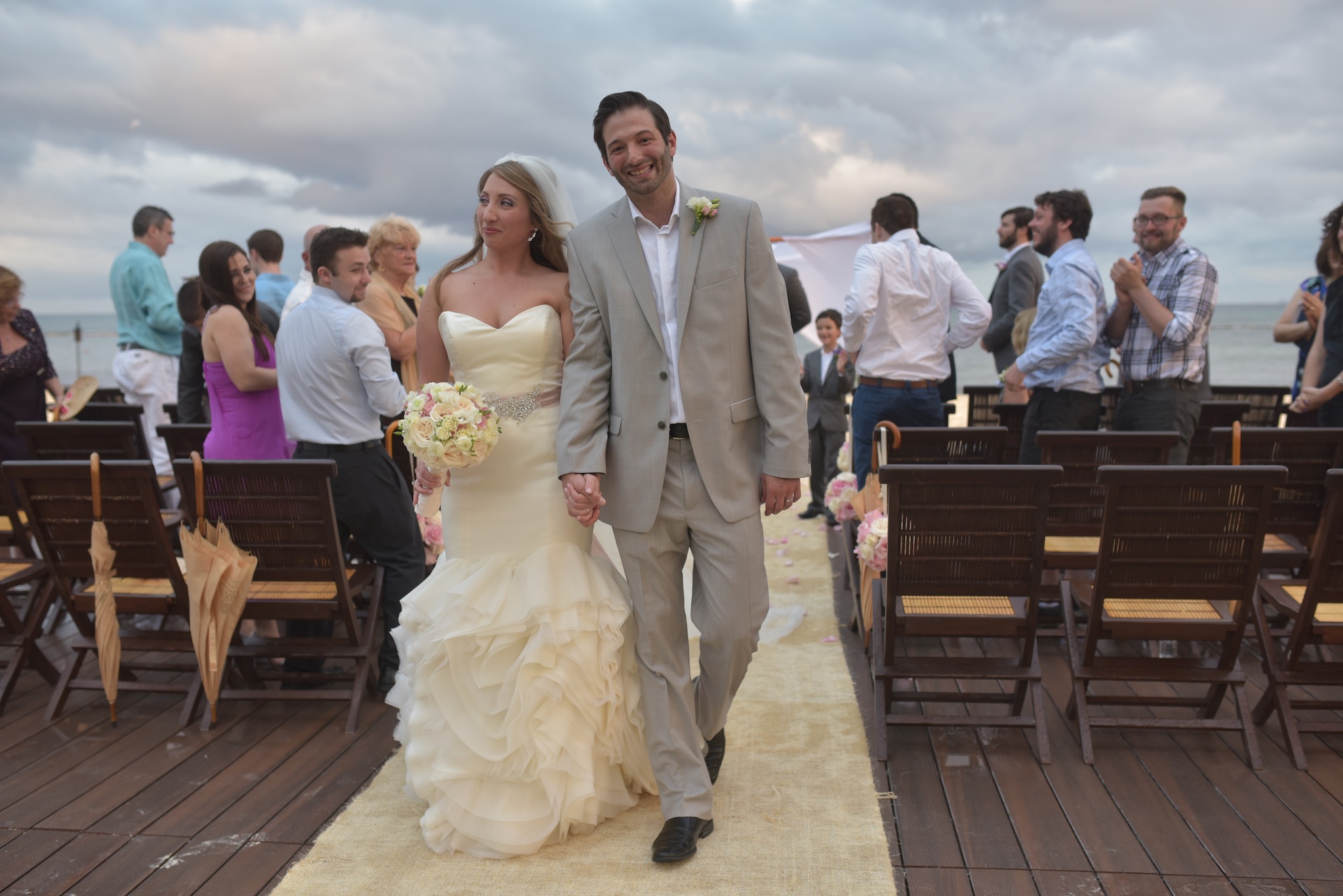 Best Wedding Planner!! We highly recommended Rothweiler Event Design!! Choosing to work with Danielle was the single most important decision we made for our wedding. Of the (seemingly) twenty eight thousand, nine hundred and sixty two options to sort through when making our perfect day we are happy we hired Danielle to make our dream possible and keep us sane all the way through. Her meticulous attention to detail allowed us to focus on choosing what we truly wanted at every turn.
When we didn't know what to do next, she kept us on track from step to step so the process flowed without "to-dos" piling up. She was the only person that had no other motive than to give us every detail possible AND knew when/how to delicately readjust our expectations if an idea we saw on TLC, in a magazine, or at our cousin's wedding might not be as perfect as we thought it was. She was the glue for our day- so we could actually have fun before, during, and after the wedding. We felt like all the stress was cut in half and all the excitement was doubled. She helped us choose custom invites, find the perfect dress, plan a complex destination wedding in Mexico- coordinated through language barriers with vendors abroad, and kept a steady stream of gentle reminders and emailing hundreds of pictures of flowers and tables capes so we didn't have to spend our nights sitting on separate ends of the couch googling through thousands of options. I'm 100% sure that Danielle helped us actually enjoy our engagement! You only get this time once…. enjoy it too, definitely go with R.E.D.
Caitlyn and Andrew
Wedding Location: The Crystal Tea Room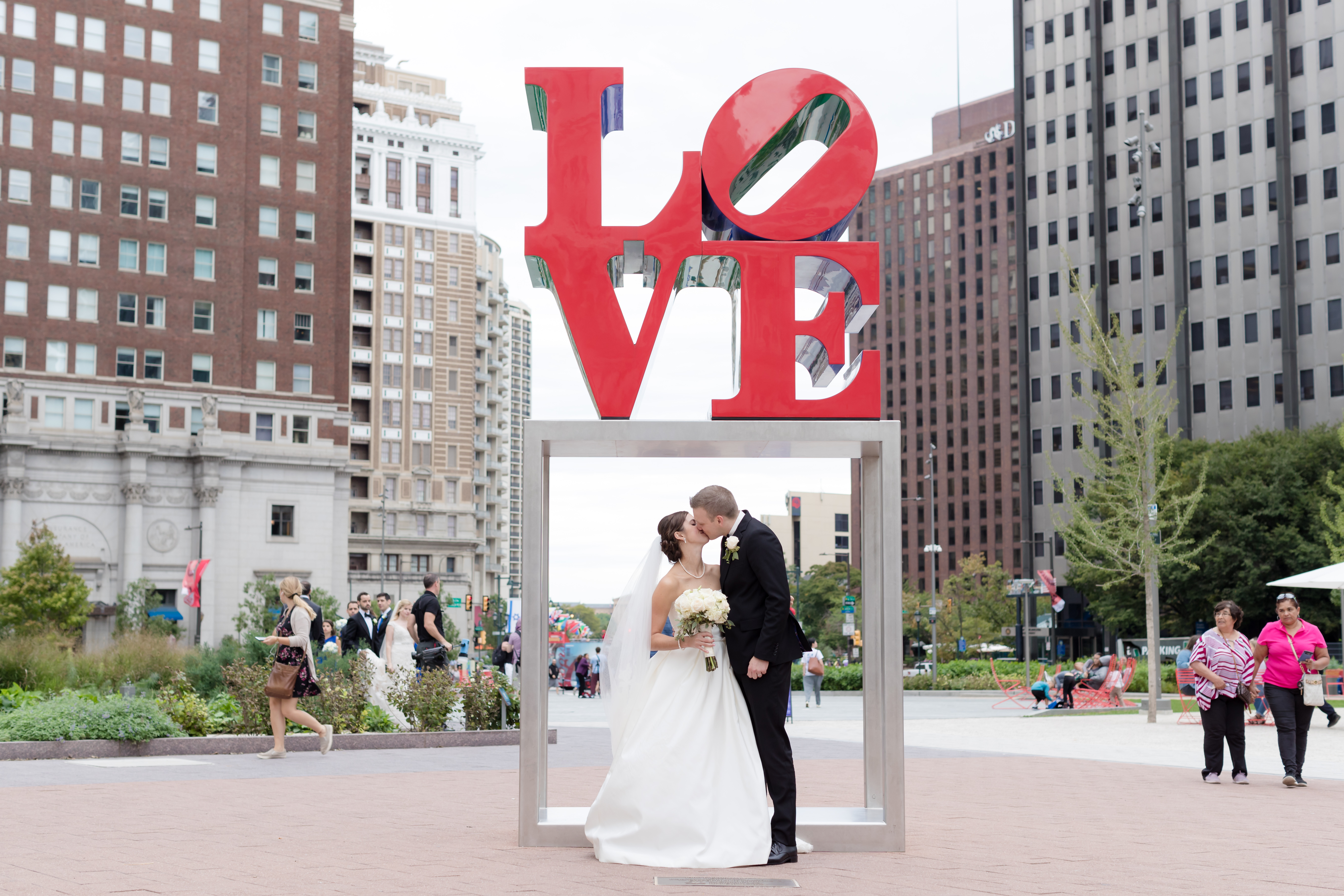 Danielle and Elisa made sure our wedding was everything we wanted. Danielle is a great listener and was able to turn our vision into reality. Danielle made the planning smooth and easy for us even though we were not local during the wedding planning process. Danielle understood what we envisioned our wedding being and made sure that each aspect was presented to us in a manner that was easy to comprehend, allowing us to make informed decisions. Danielle was wonderful at checking in with us and ensuring we were not just doing well with the wedding planning but doing well in general. She was always available to answer any and all of our questions. During the process she wasn't just a wedding planner, she was a friend. She truly cares about her couples and she really went above and beyond to get to know us while we were working together.
We strongly recommend working with Danielle and her team. We don't have enough words to thank her for how hard her and her team worked and how incredible she made our entire experience. She made the entire wedding day flawless and we could not have asked for anything better.