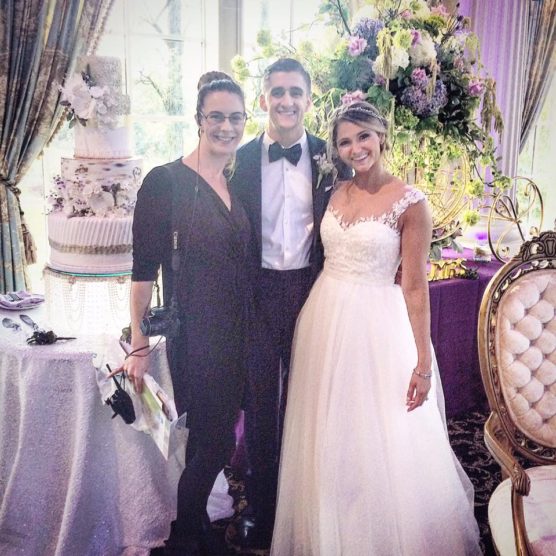 When I first met with Alexa and Michael, we sat in my office for over two hours.
I knew there was something special about this couple the minute we met. Their conversation flowed like they were already married and they had a connection that brought a huge smile to my face.
Huge Disney fans, they wanted to create a magical wedding at The Ashford Estate. Alexa had several hundred pins on her Pinterest page (seriously more than I've ever seen from a bride like ever), and we got to work right away.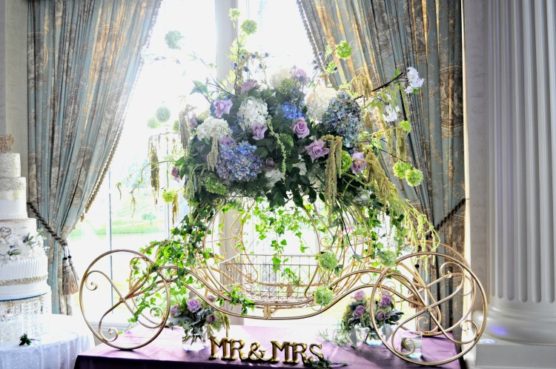 Details and design are my favorite part of the job, but they can get crazy really fast. The thing that my couples struggle with the most is how to bring their vision to life without it looking like a Pinterest fail. A lot of my brides love different styles that just won't work together, so it's about making decisions and eliminating any inspiration that just won't fit.
Alexa and Michael had their colors set and they were working with whites, creams, antique blue, purples and lots of greens. Carroll's Florist did such an amazing job with their engagement party, that they were the obvious choice for their wedding.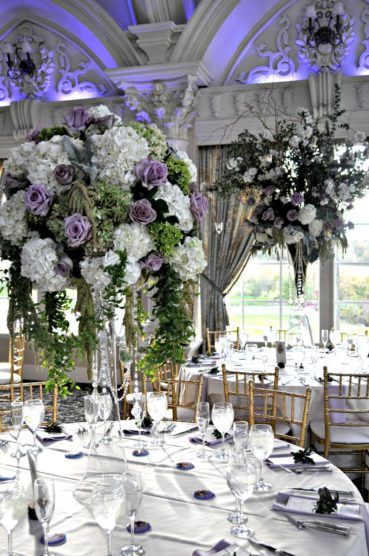 Golds, pearls and crystals were incorporated into the design and there were three different style centerpieces for the 23 tables at the reception. The Ashford Estate has these incredible high ceilings, so skyscraping centerpieces were totally in order. In fact, when it came time to schedule the sample appointment, Chad of Carroll's Florist suggested that we take it outside since my office ceilings were "too low" to accommodate what he was putting together. That was a first for me, but he wasn't kidding!
The florals selected for this wedding are the ones that I have dreams about but rarely get to work with. They included amnesia roses and antique blue hydrangea. One of the wonderful things about working with this couple was their willingness to get creative and not be afraid to take the design up a level (or 20).
I'm a strong believer that your décor and design should be present in every room your guests enter. This includes each area they will be in both inside and outside. The Ashford Estate has multiple rooms within the main building, as well as a barn on site and the ballroom is actually separated and in its own space. This meant walking all of the spaces and discussing the details and what we could do.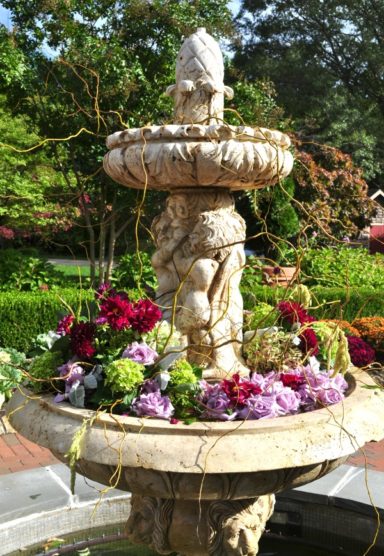 What I mean when I say that we have to make your design "present" in every room, I mean things like florals in the fountains. Because why not?  Alexa and Michael (especially Alexa) loved flowers and when I think "Disney" I think about flowers being everywhere.
We didn't stop at the fountains though, because that would be ridiculous. Each mantle was adorned with different florals as well, and the couple included pieces they had either purchased or made. The tables held the centerpieces and a floral bunch was placed at each setting on top of the napkins we rented.
But design isn't just florals, and Alexa and Michael had secured Papertree Studio to handle all of their stationery from invitations to programs. A beautiful invitation, worthy of a royal ball, was sent out to all of the guests but we were stuck on what to do for escort cards.
Foregoing the escort board option (because hello huge guest list and early RSVP date that would be necessary), Alexa had the idea to name each table after famous Disney couples. She wanted to have each table "number" be a book, so we came up with the idea of using "bookmarks" for escort cards. Then they added a quote from each story at the bottom.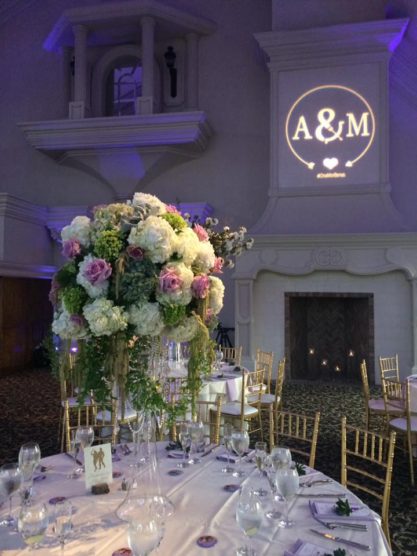 The font had to all be the same to create a specific look, and their logo was no exception. Playing with lighting colors right up until the month before the wedding, Alexa and Michael chose a blue-purple hue to illuminate the reception space and placed their logo above the mantle. Candles were used inside the fireplace and throughout the room to up the romance factor.
Each table was draped in white linens and lavender napkins. I love drawing attention to the sweetheart, gift, escort and cake tables by putting different linens on them. Working with the placement of the tables is really important because it's essential that the linens don't "clash".
Their "card box" was a Cinderella's carriage that Alexa had painted gold, and that Carroll's adorned with flowers. Because of it's size, we needed a 6 foot table and it would have to be placed behind the sweetheart table. This means that the sweetheart table, card table and cake table would be very close to each other.
Going through a book of swatches, we selected linens with the couple that would be different from each other, highlight anything being placed on the tables, and that would work well together. A combination of sparkles and solids were selected and the newly married couple sat in vintage chairs that I stumbled upon months earlier. (Actually, I was at a floral meeting for another wedding I was working on, when I spotted them in the building and immediately snapped a picture and texted them to Alexa with nothing more than "how about these?" The rest was history and not only were they beautiful, but damn comfortable too!)
I loved working with Alexa and Michael and it was such a beautiful wedding that truly reflected their style. It is really hard for me to pick a favorite detail or moment from this one. Their cake, designed by Michael's sister was just stunning, the music was sensational and their wedding party was so friendly that I felt like I was in a movie. This was also the wedding where I heard what is (and probably always will be) the best father of the bride toast ever. Seriously, other couples should hire Alexa's dad to toast at their weddings.
Congratulations to Alexa and Michael and thank you for working with me! I am so happy we met and know that you will live Happily Ever After….
(yes…this was the only font that didn't "go" with the rest…but it was a good call….)