This New Jersey winery wedding was literal years in the making. I met Rachel and Matt after meeting Matt's parents at a wedding I planned back in 2019. We originally started planning for a wedding to happen in Fall 2020.
Well, we all remember what happened in 2020 right?
After moving the wedding date from September 2020 to May 2021, we moved it one more time to July 2022 to make sure those dance floors would be officially opened.
Worth. The. Wait.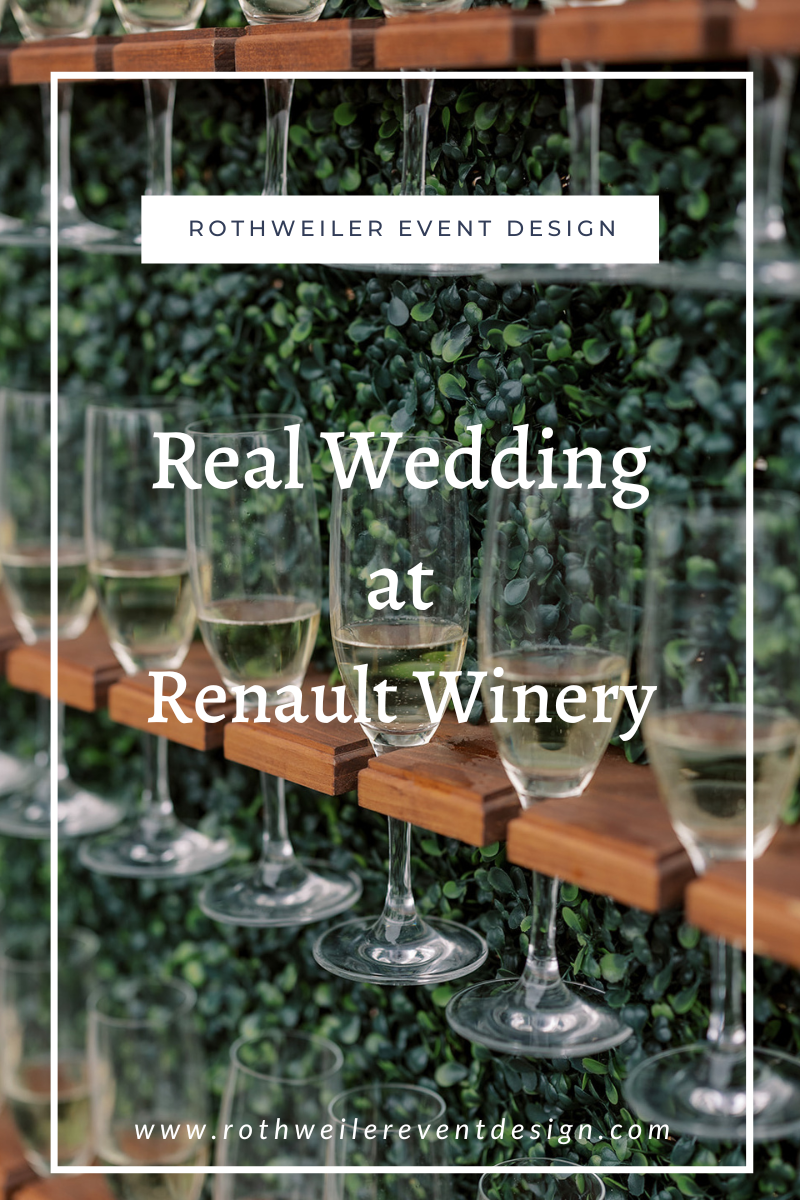 *Please note that most of the links of this page are affiliate links. This means if you click on a link and purchase, you will receive the same price, but I will receive a referral fee. This helps keep my blog free and allows me to share wedding planning tips with you. Thanks for your support!*
New Jersey Winery Wedding
I love winery weddings…In fact, I got married at a winery back in 2010. And Jesus turned water into wine at a wedding so really, it makes perfect sense to get married at one!
Even though we had been planning since 2019, changed the date three times, and the location as well, the vibe was always the same. Classic but modern, the bridesmaids would be dressed in floor length black gowns, the guys in black tuxedos. Flowers would be all white and there would be about 200 people in attendance.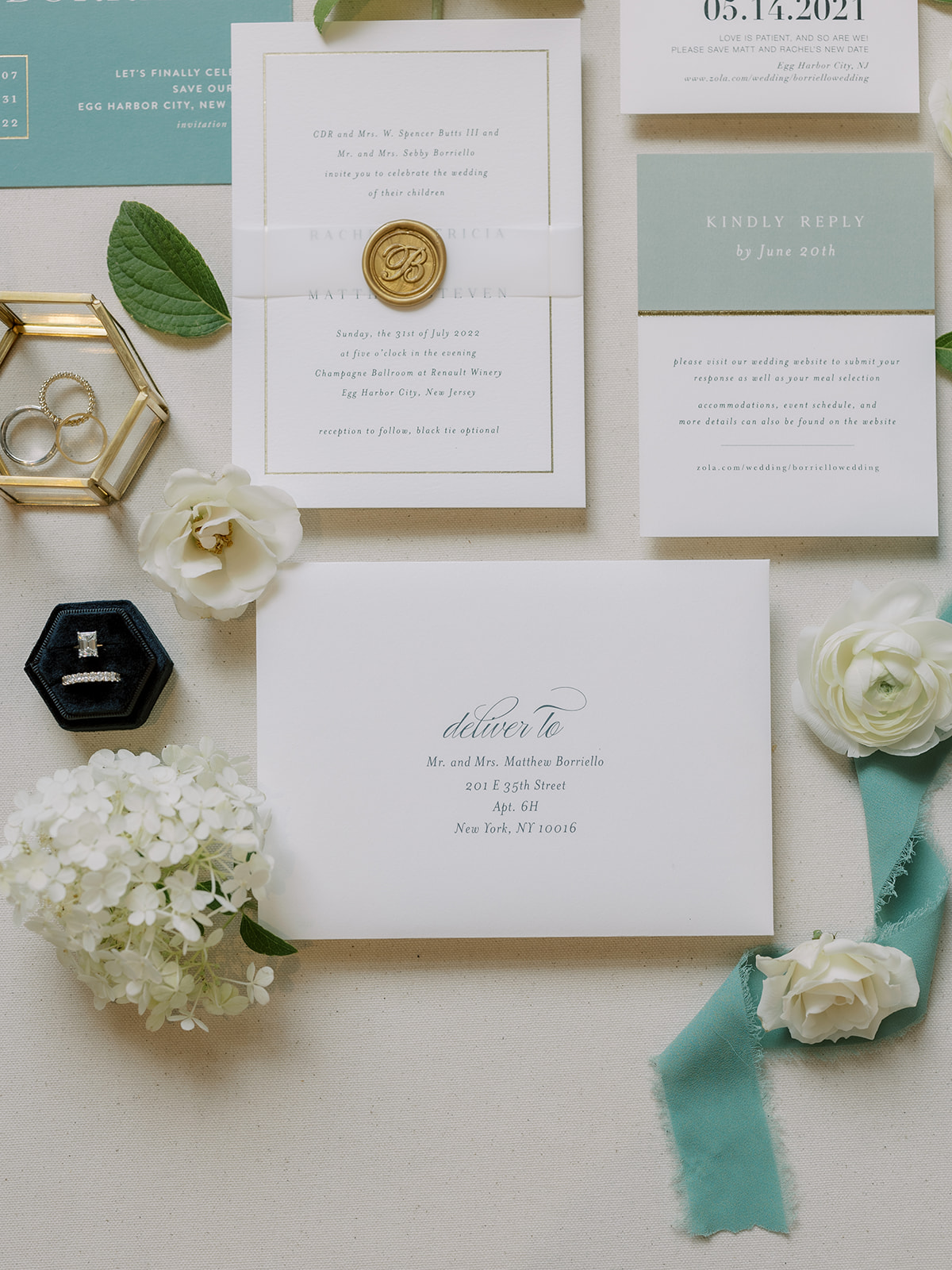 Having to reschedule not once, but twice, meant new "Save the Dates" and new invitations. Thankfully, our friends at Minted were excellent with extending discounts to accommodate on top of the planner discounts they already give our clients.
The final invitation included all of the wedding dates that had come and gone, but July 31, 2022, would be the official wedding day.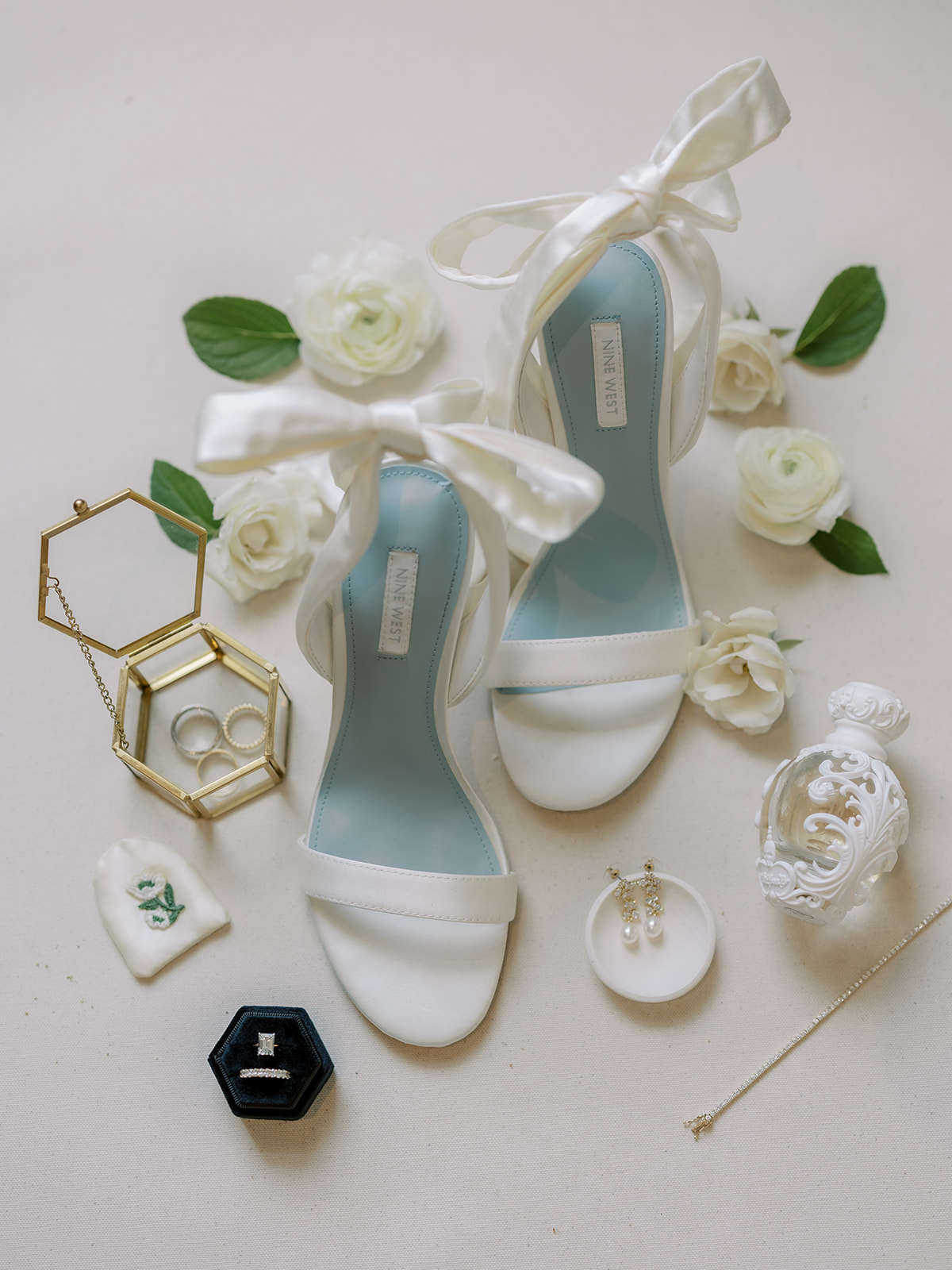 As Rachel got ready in the bridal suite with her bridesmaids and Matt prepared with his groomsmen on the other side of the building, vendors arrived and started putting all of the details together.
The detail photos are always my favorite and we work with our couples to put together a list of everything they'll want in the shots. Then, all it takes is a very talented photographer like Asher Gardner to stage it all.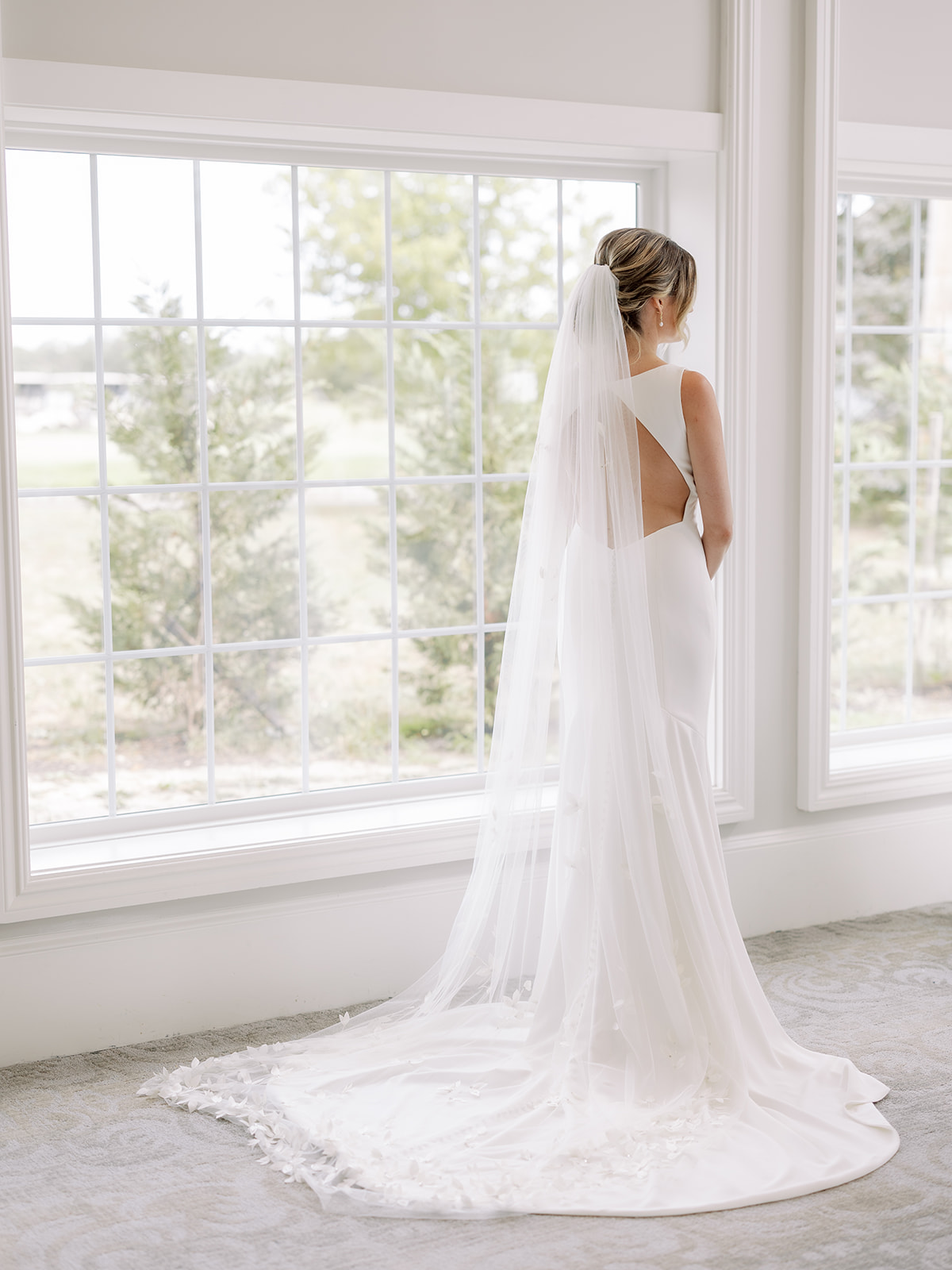 Once hair and make-up was finished, our bride got into her gorgeous wedding gown and long, flowy veil for her first look photos with her dad and then, of course, her fiancé.
The light in the ballroom at Renault Winery was just perfect for portraits with the bride and her parents. Michelle Elise, in charge of hair and make-up, stayed on sight doing touch ups so that not even one hair was out of place.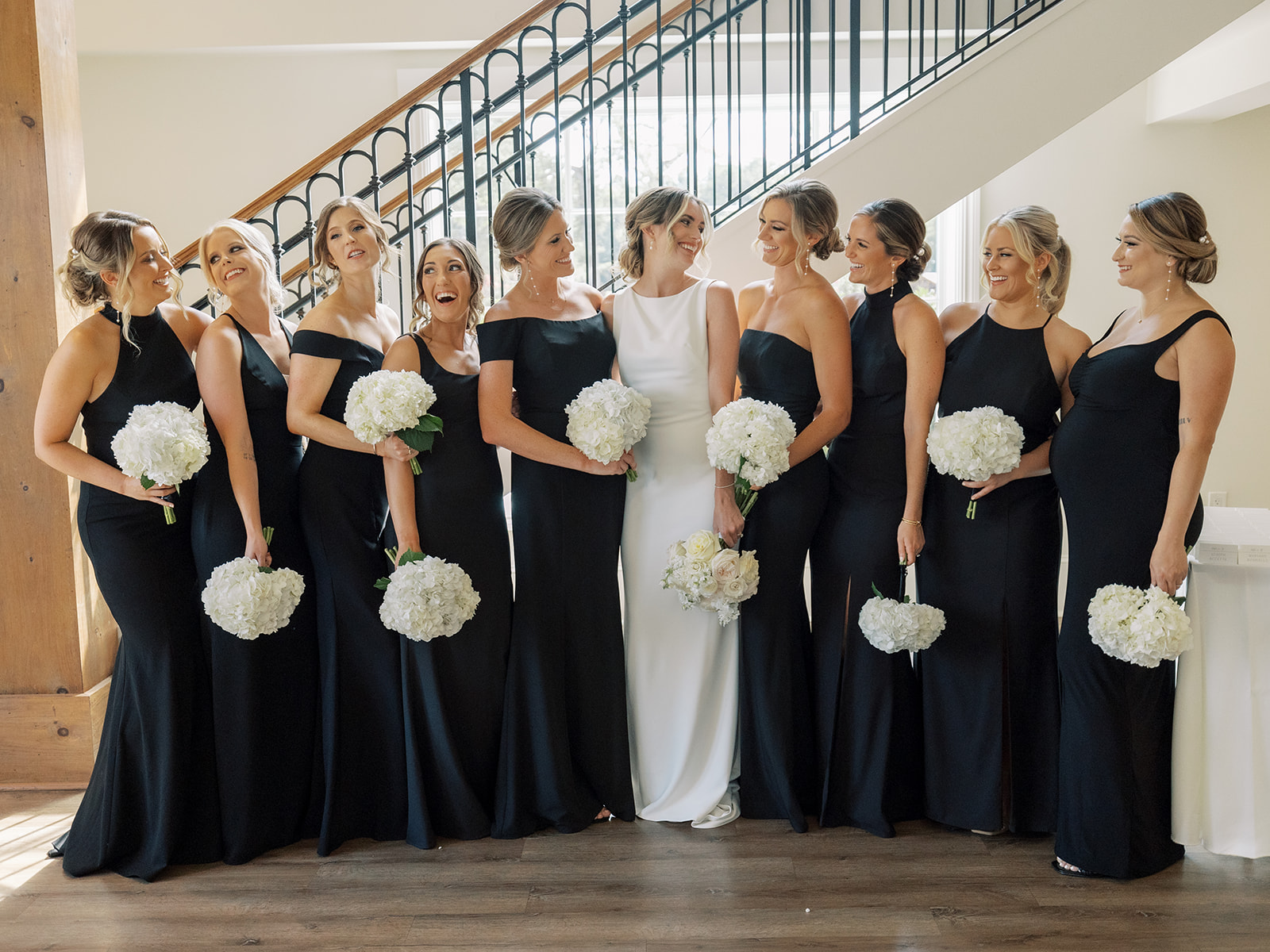 Once the first look photos were completed, it was time to bring in the wedding party. Rachel was surrounded by her bridesmaids in black and they each held a classic rounded bouquet of white hydrangea.
Being able to get ready on site was a total plus because if a bridesmaid or a groomsmen forgot anything in the suites, they didn't have to go very far.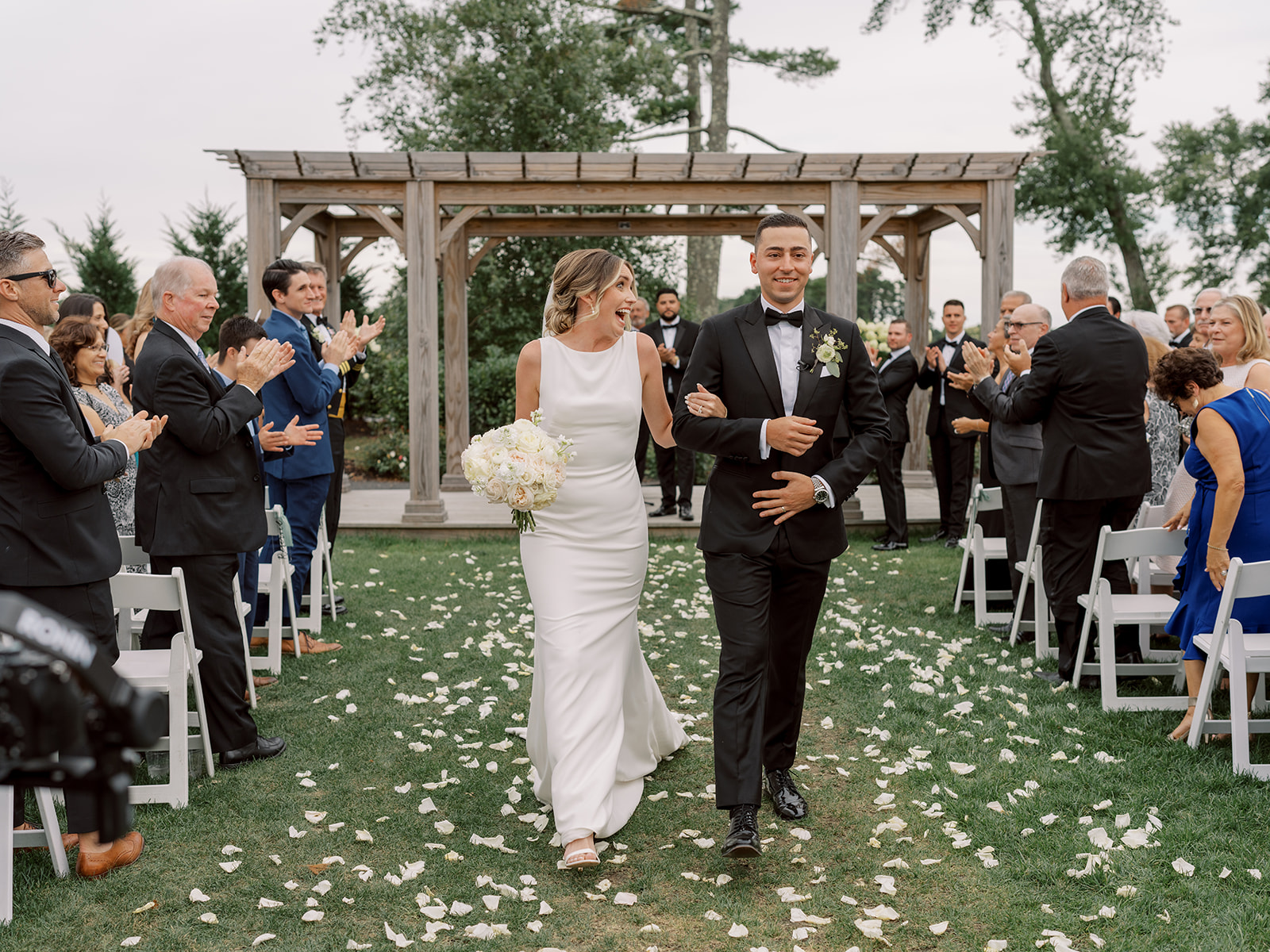 The ceremony took place right outside the ballroom on the beautiful lawn. One of my favorite things about Renault is their already there arbor. So many places need your florist to bring something in, but they have a beautiful structure on site that you can decorate however you want.
Once the vows were said and the I Do's were done, the couple raced back down the aisle to head into their suite for some time to themselves…and for a quick hair change of course.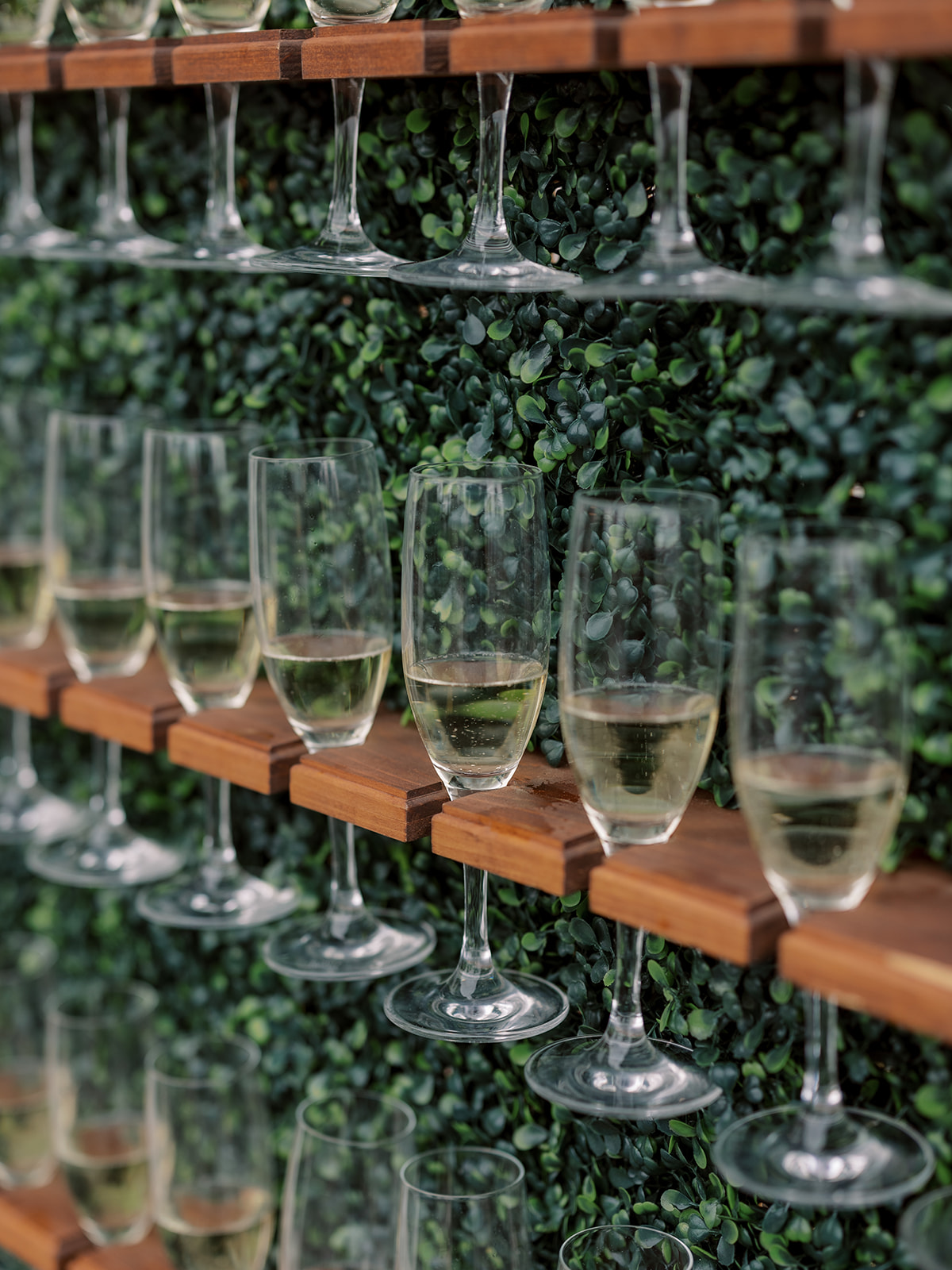 Guests walked back to the building for cocktail hour but not before passing this boxwood champagne wall. Each guest took a glass as they went inside and were greeted by plenty more food and drink.
Cocktail hour was split between outside and inside, with lawn games available for those wishing to stay outdoors.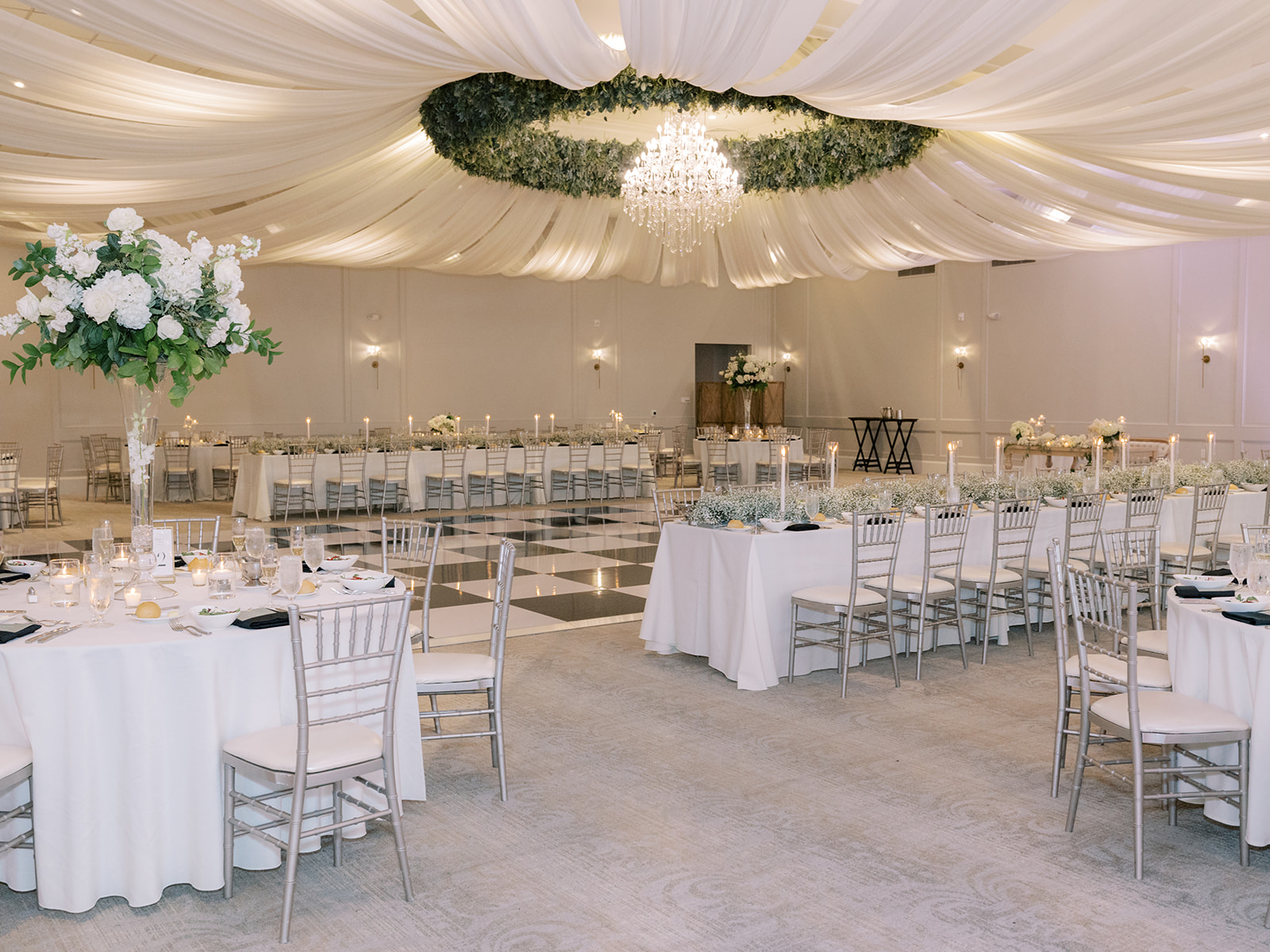 The ballroom was set with a mix of round and long tables. There were three different styles of centerpieces since the room was so large and the guest count was high.
Round tables had either a low piece mixed with roses, greenery, and hydrangea, while the others had tall centerpieces filled with the same flowers and orchids inside the glass.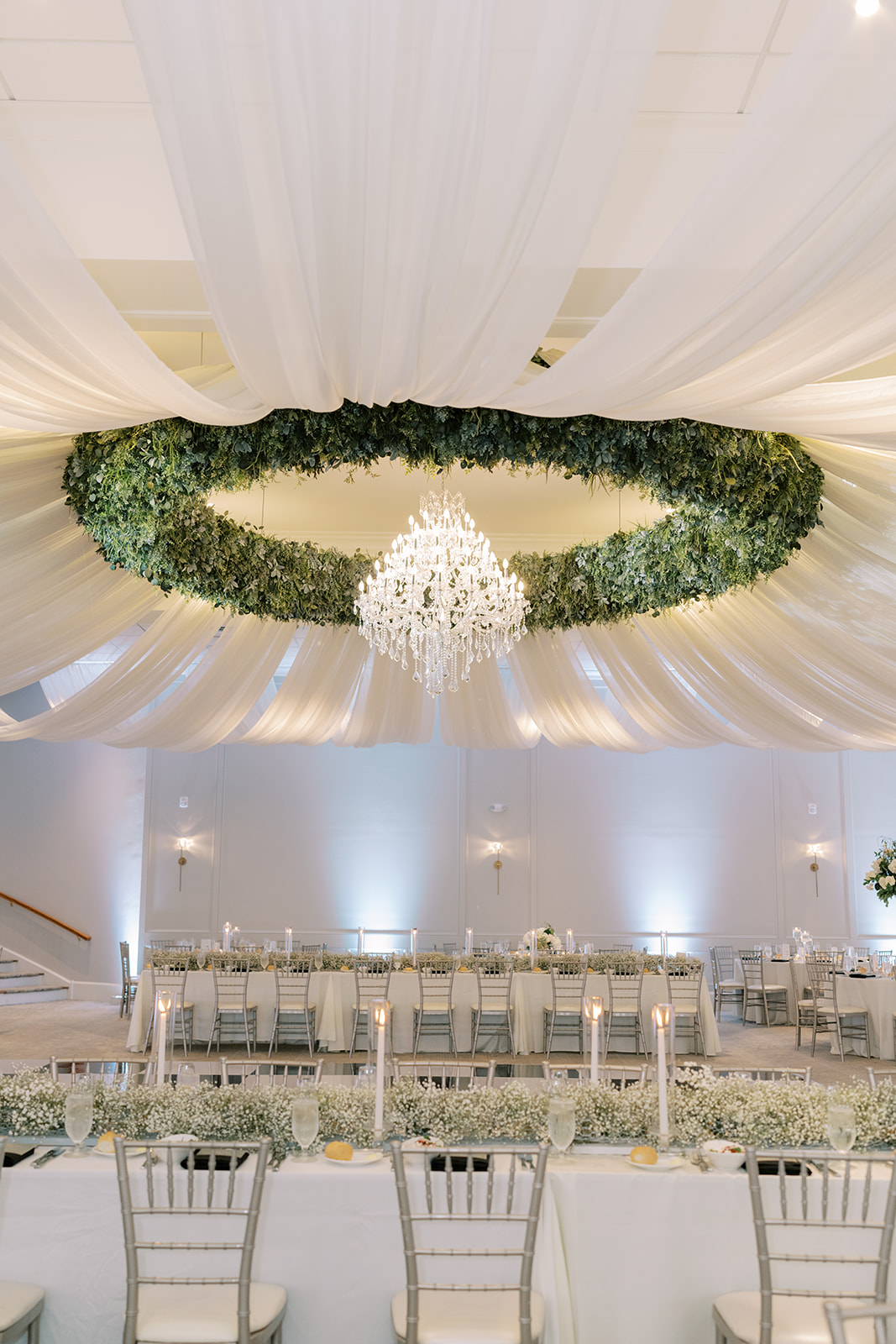 Three sets of long tables had runners of baby's breath down the middle and long white taper candles covered in glass. There was also plenty of candlelight on all of the round tables.
The ceiling inside the ballroom had beautiful tulle draping and a crystal chandelier surrounded by boxwood greenery. We added in additional wall wash lighting to elevate the entire look.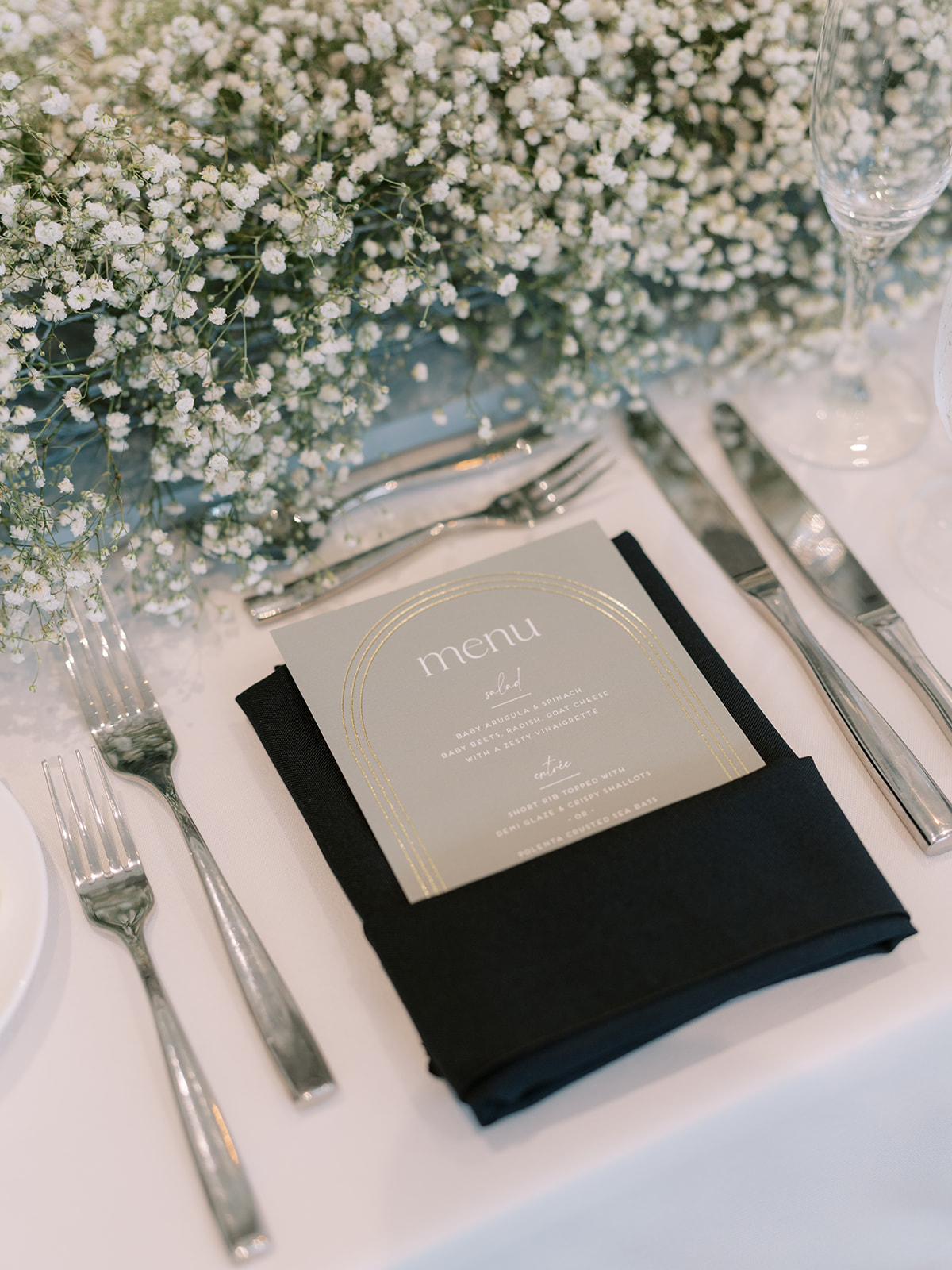 At each place setting was a black napkin and folded into it were their custom menus in gray and gold. Guests were treated to various options including an amazing short rib selection as well as polenta crusted sea bass.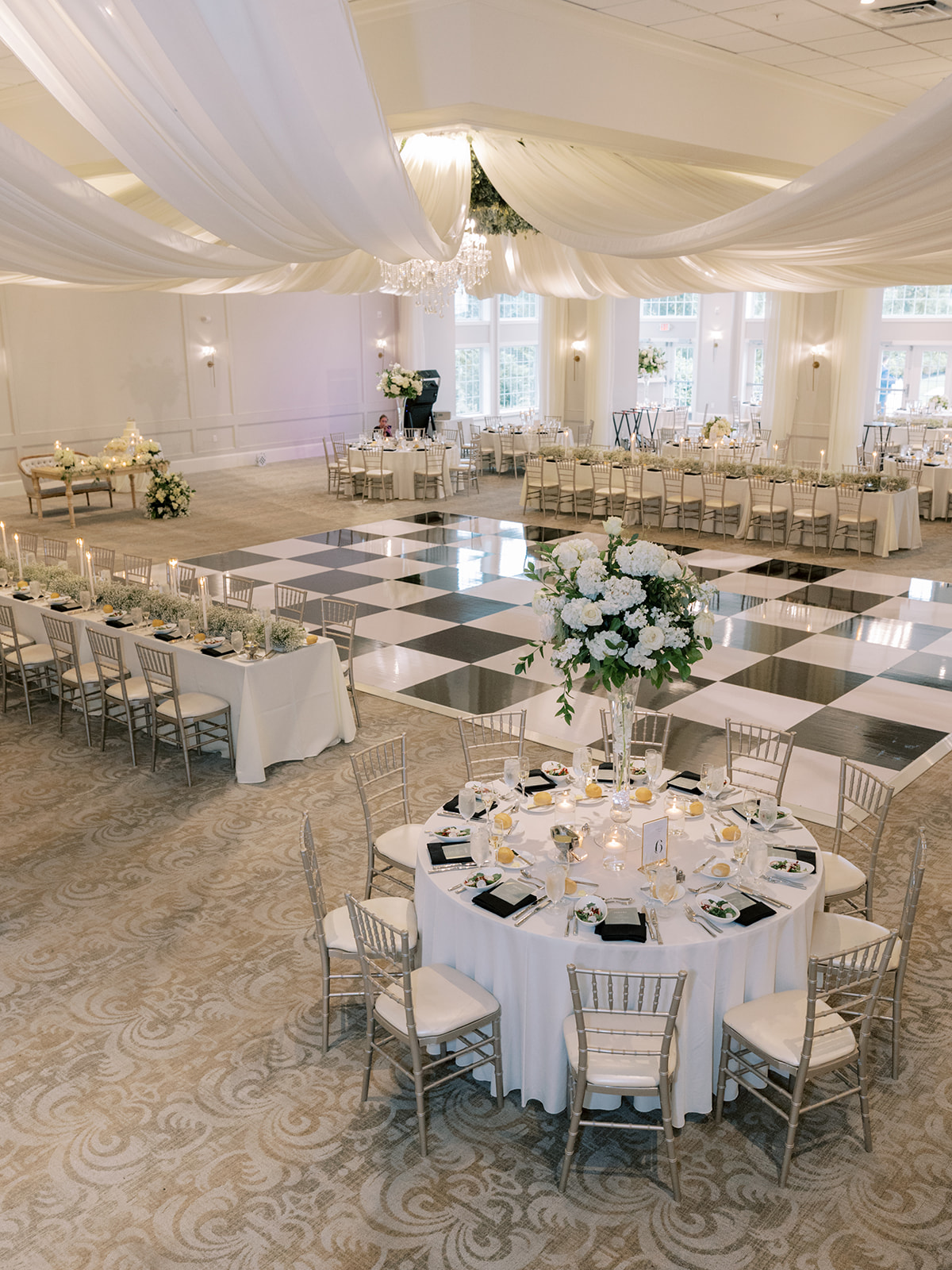 As cocktail hour ended, guests were welcomed into the ballroom to find their seats. Rachel and Matt knew their guests would all be spending the entire night on the dance floor, so they wanted to increase the size of it.
Instead of the white dance floor that is normally in this ballroom, we created a black and white checked floor that not only was big enough to hold their guests, but matched with the rest of the décor for their wedding.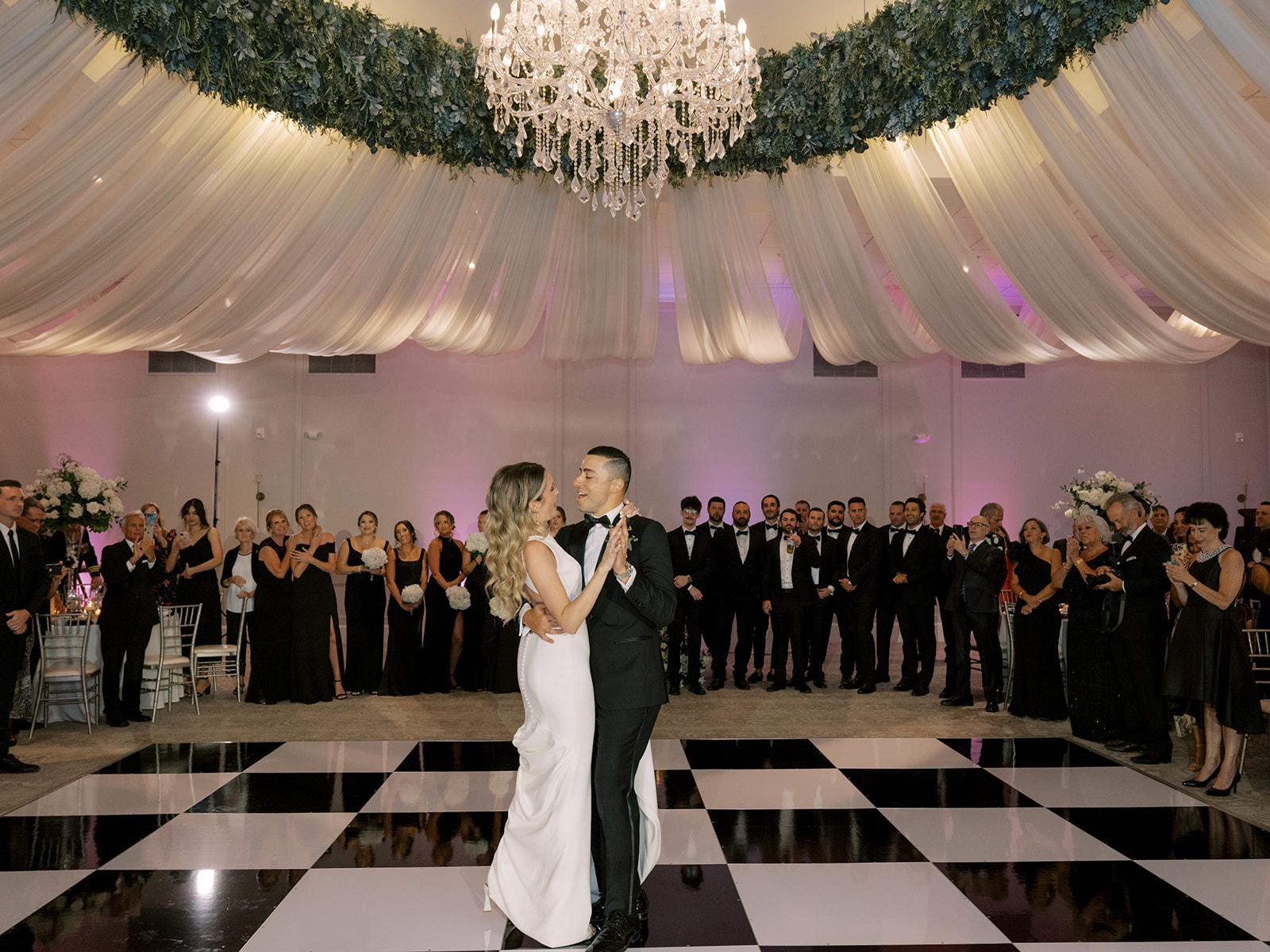 As our couple came down the staircase for their grand entrance, they moved out onto the dance floor for their first dance as husband and wife. Tony Neto from SCE kept the party going from first to last dance, mixing it up with everything including traditional Italian music. It was truly a wedding party.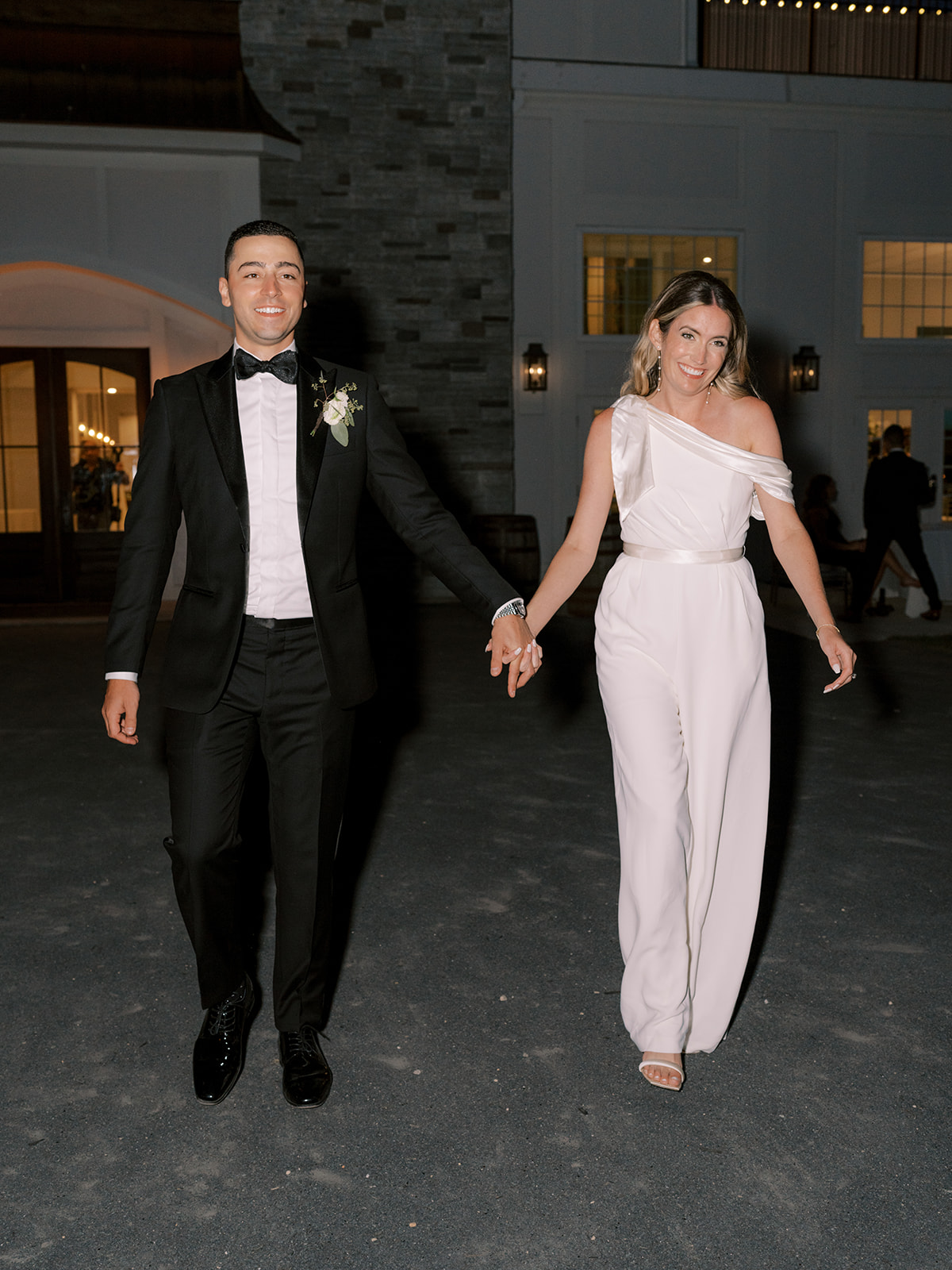 As the wedding reception continued, it was time for our bride to change out of her gown and into an all-white, exquisite jump suit. Before heading back out onto the dance floor.
A few pictures later and Rachel and Matt joined over 200 guests back inside where the music kept going until the last minute of the party. Thankfully, Renault has a hotel right across the street and plenty of space for any after party activities to continue.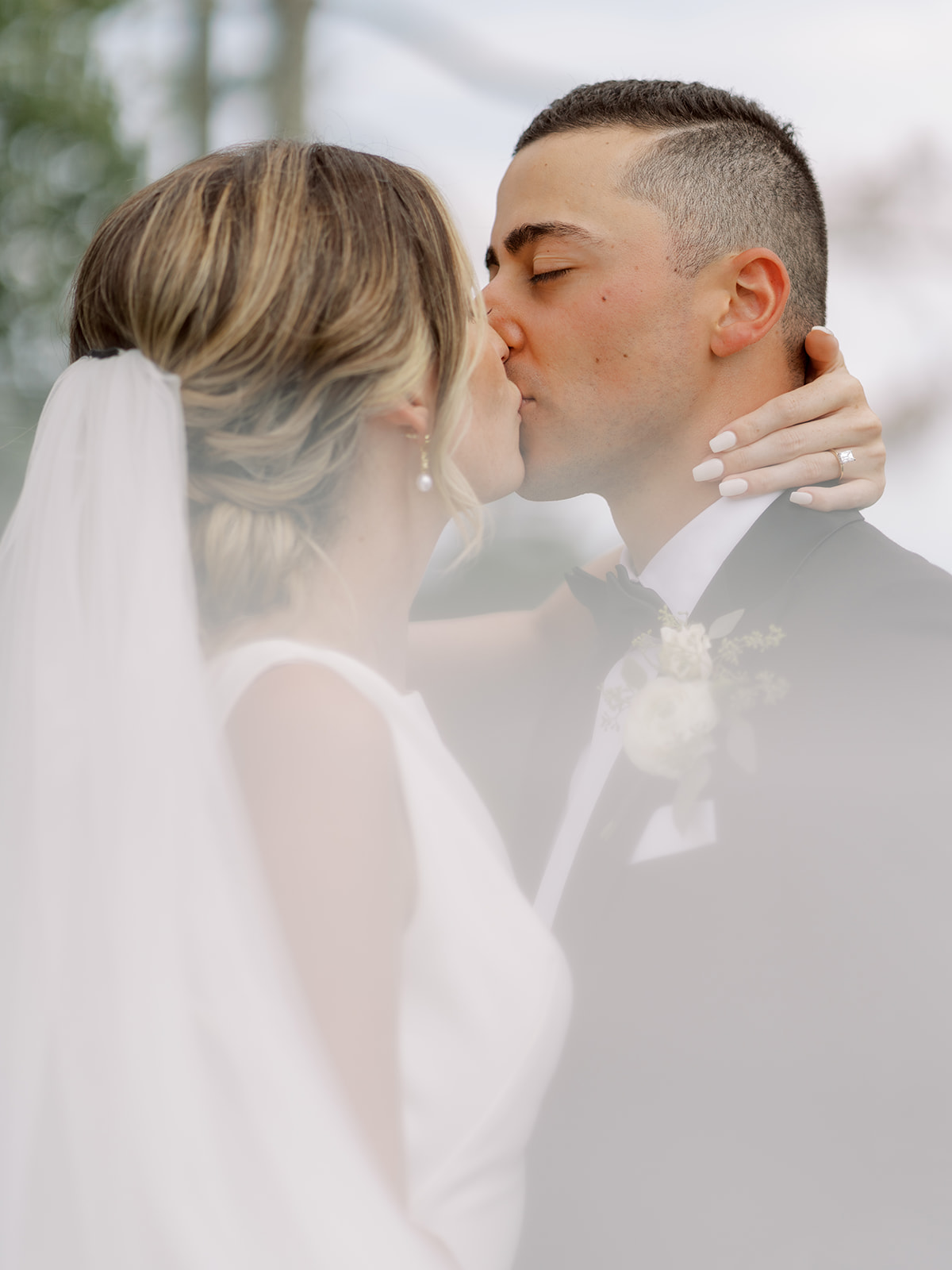 We are so happy that this special couple finally got their best day ever! Through the entire pandemic they rolled with the punches and even though it took a little longer to celebrate than they originally hoped, I can say, without a doubt, they and everyone there had the time of their lives.
Congratulations Rachel and Matt- It was such an honor and a pleasure planning with you both!
Vendor List
Planner: Rothweiler Event Design
Photographer: Asher Gardner
Video Team: NST Pictures
Hair and Make-Up: Michelle Elise Artistry
Venue: Renault Winery and Resort
Florist: Florabundance
Music & Entertainment: SCE 
Invitations and Day of Stationery: Minted
Dress: Theia Couture
Bridesmaid Dresses: Amsale