Amazon prime dresses for wedding guests are here! Yes, Prime Day 2022 is right around the corner and who doesn't like to take advantage of this amazing sale?
Maybe you have a wedding coming up and for whatever reason nothing in your closet is going to work. Or maybe you want to prep for wedding season 2023. Whatever the case, being a wedding guest can be super expensive and wardrobe is just part of the battle.
But have no fear because this blog features 14 Amazon Prime dresses for wedding guests that you haven't already seen. Plus, the prices are so low, you can stock up for as many celebrations as you need to.
Check out these affordable wedding guest dresses on Amazon and comment which one you'll be wearing next!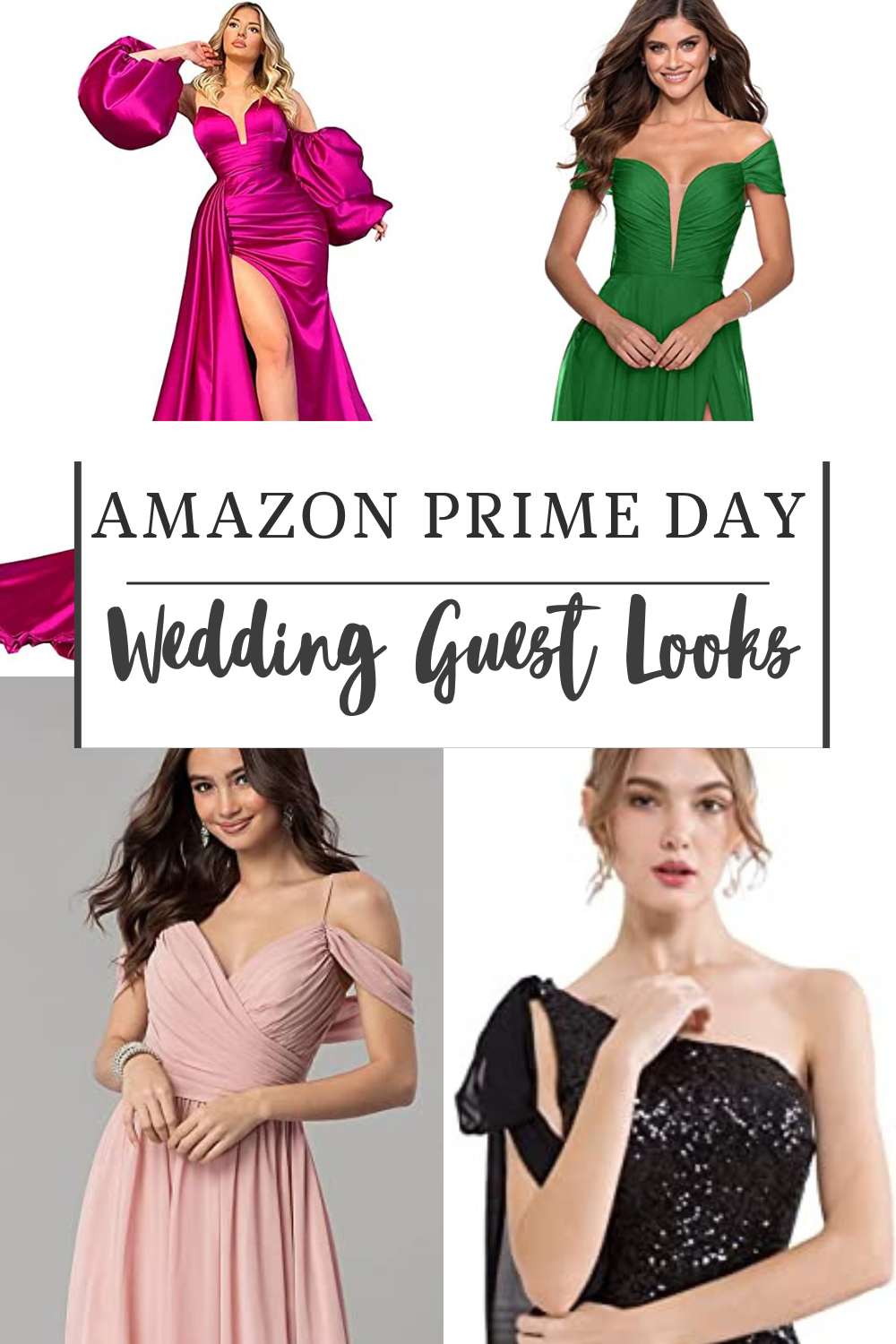 *Please note that most of the links of this page are affiliate links. This means if you click on a link and purchase, you will receive the same price, but I will receive a referral fee. This helps keep my blog free and allows me to share wedding planning tips with you. Thanks for your support!*
Amazon Prime Dresses For Wedding Guests
This blog has something for everyone and a dress for every type of wedding. Celebrating at a tropical destination? Looking for that perfect black tie option? We've got the best Amazon dresses for wedding guests right here!

From the shoulder to the floor, dress yourself up in sparkle with this Amazon Prime dress! Perfect for an evening wedding reception, and especially a black tie event. The one shoulder detail is an elegant chiffon tie so be sure to wear your hair up.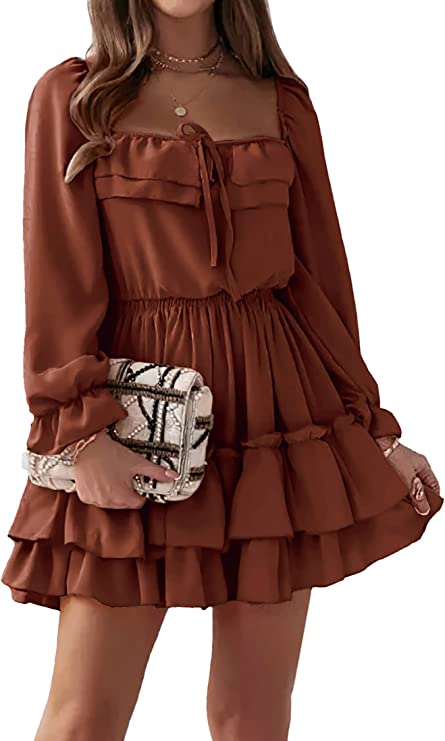 Perhaps you're looking for a Winter wedding guest outfit because you've been invited to a tropical destination celebration…This Kirundo swing mini dress comes in various colors including this warm sienna brown seen above. Dress it up with a fun pair of heels and a beaded bag and you're ready to go!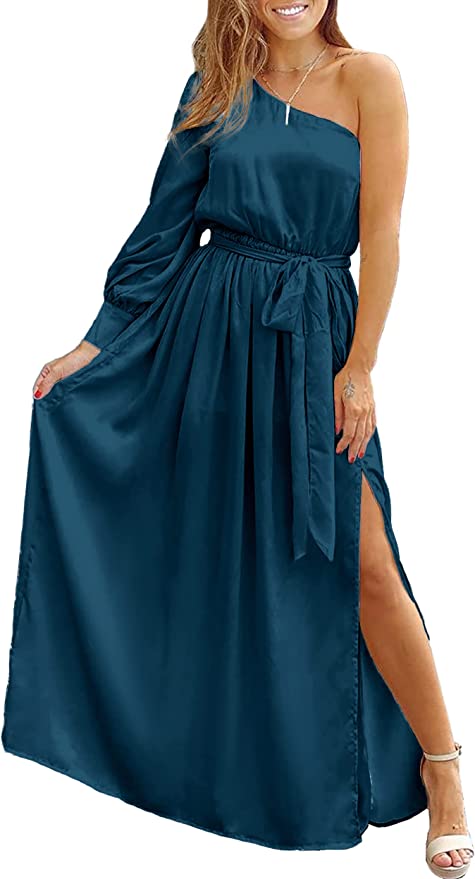 Another Kirundo favorite is this one-shoulder asymmetrical cocktail dress that comes in a variety of different shades of blue and plenty of other colors. The belted tie and side split make this affordable wedding guest dress fun and flirty.

Ever wonder is it OK to wear black to a wedding? Well the answer is simple: absolutely! This floral lace long sleeve mermaid gown is the perfect option to wear to a friend's wedding.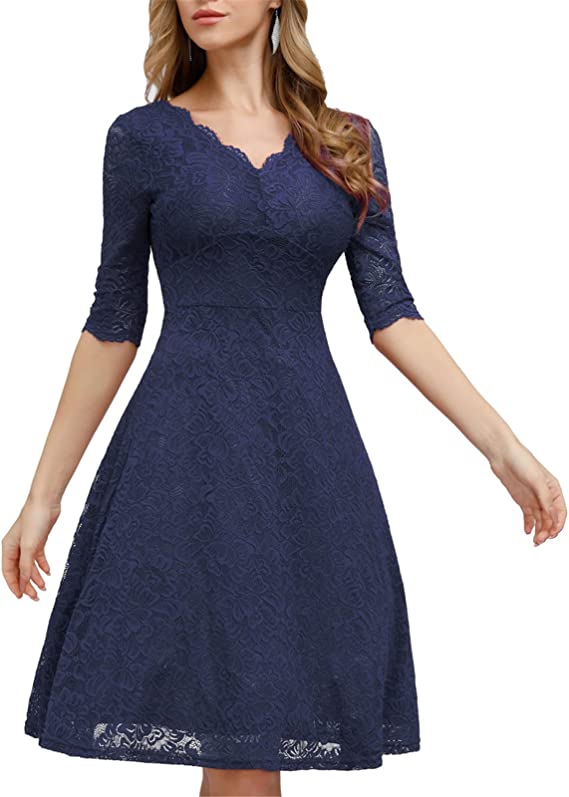 Yes, you absolutely can wear a short cocktail dress to a formal wedding, and this navy blue lace dress is the perfect choice! Made from soft and stretch fabric, you won't struggle to move, sit, or dance. This cocktail dress adds a feminine air while still maintaining a chic look.

This Adrianna Papele floor length dress is everything! The cap sleeves over just enough coverage for those Fall and Winter weddings and the beaded detail will sparkle all night long. Easily one of the best Amazon dresses for wedding guests and even for the Mother of the Bride and Mother of the Groom!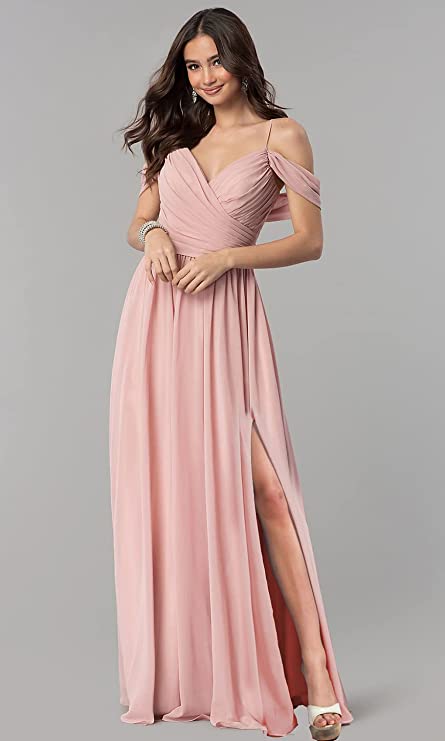 This off the shoulder chiffon dress is one of my favorite affordable wedding guest dresses on Amazon. The style is timeless and since this dress is available in dozens of different colors, you're sure to find the right one for you!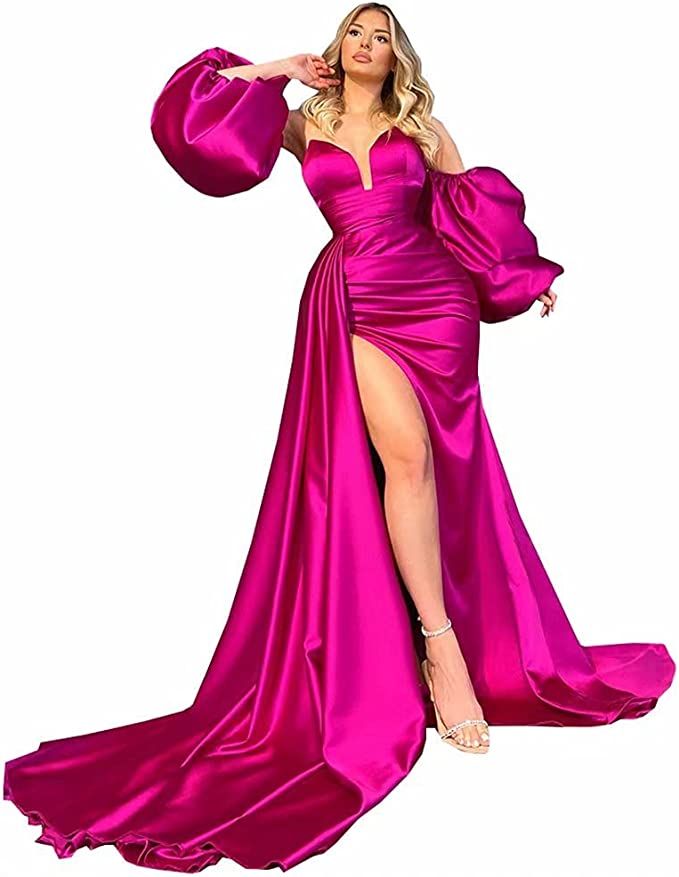 As a wedding planner, I have seen wedding guests wear something short and simple just as much as I've seen dramatic and showstopping. If you've got a wedding coming up where you know the couple wants everyone to dress to impress, then look no further than this long, satin evening gown from Amazon.

This one shoulder, mermaid sequin gown is formal enough for a black tie wedding without being too much for a black tie-optional one. Plus, it literally works for any time of year so grab this during Amazon Prime Days and you'll be ready no matter when the next wedding is!

Amazon wedding guest dresses start with simple and classic and go all the way to dramatic and sparkly. I love this long, black, chiffon option because it's somewhere in the middle of all of that. You can dress this up with some fun accessories, or keep those simple and pick from any of the other dozens of colors available!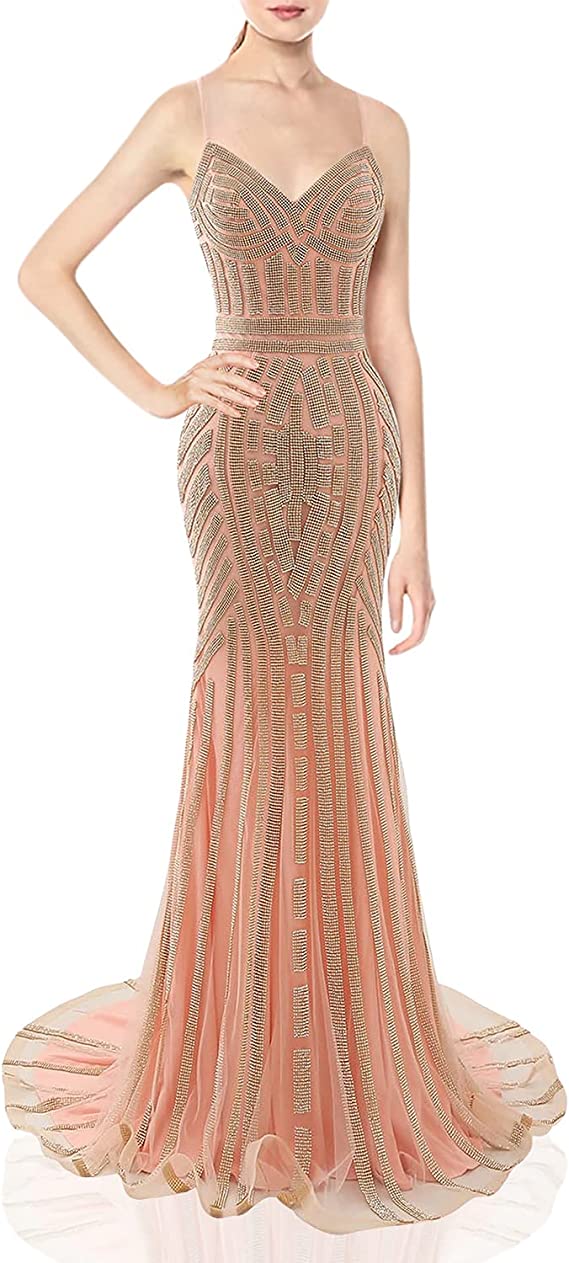 I am obsessed with this floor length, champagne beaded gown so much that I might just buy it to wear around the house. You need this as a wedding guest even if it's not for the very next wedding you're attending. I guarantee you'll wear this to a wedding in the future and you'll be happy you found it during Amazon Prime Days!

This Amazon wedding guest dress for 2022 is to die for in a bunch of different colors. Sequins from top to bottom and the back detail is so stunning that you'll be sure to have your hair in an up-do so everyone can see.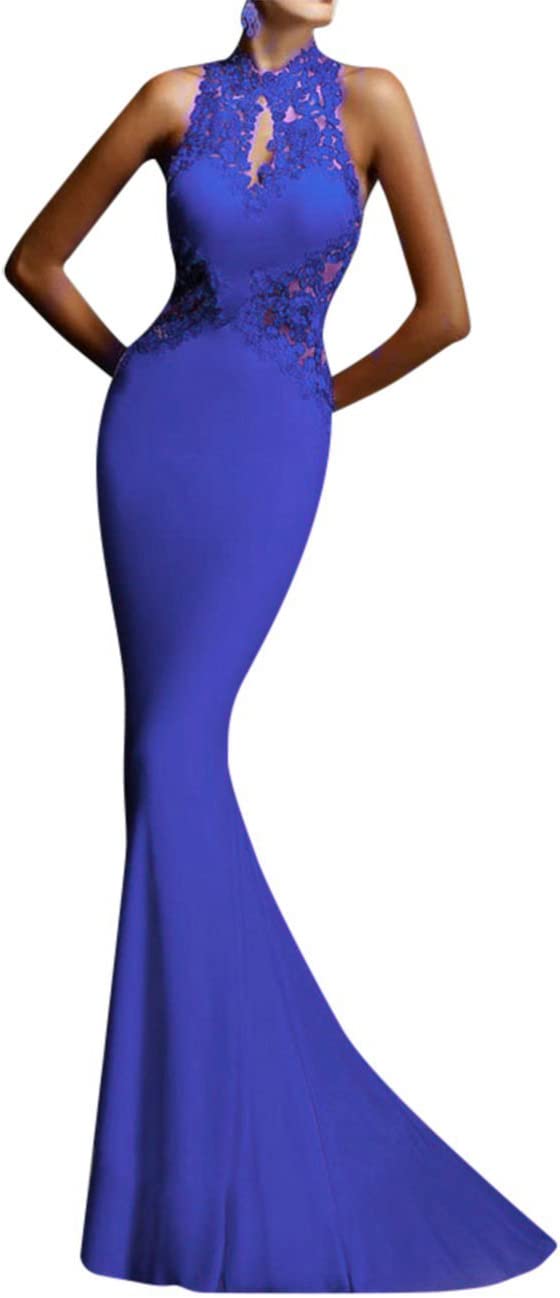 Far from your traditional backless evening gown, this flare dress has a sheer back and delicate lace details. The high neck and side cut-outs make this a must have for wedding guests so put it on your Amazon Prime Day list for 2022!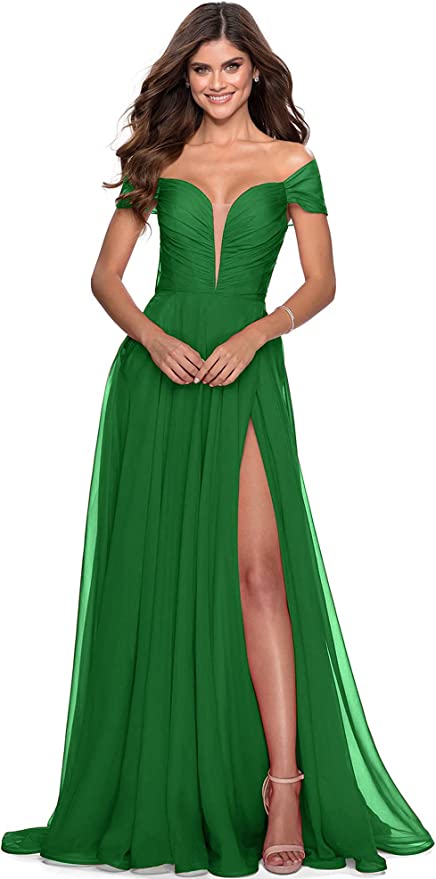 Wrapping up our list of Amazon Prime dresses for wedding guests is this breathtaking emerald gown. Off the shoulder cuts are trending in everything from sweaters to jumpers and everything in between. The high-slit and deep illusion neckline are the details that make this my favorite from the Amazon dresses for a wedding reception.
Amazon Prime Dresses For Wedding Guests
That's our top 14 affordable wedding guest dresses that you can find on Amazon during Prime Days, October 11-12, 2022. Which one is your favorite and how will you dress it up? What type of wedding are you attending and which gown did you buy? Leave us a comment and share with readers what you think!