As a wedding planner, I am always asked about wedding gifts. The bride wants to know something crazy amazing to get her groom. The groom wants to know what to get that isn't jewelry. They both want to know what to get their wedding party and their parents. A lot of my couples start this search early because leaving it to the last minute is like leaving holiday shopping to Christmas Eve, which everyone hates. Well if you're looking for such a gift, check out the list below of 10 crazy amazing wedding gifts and where to get them!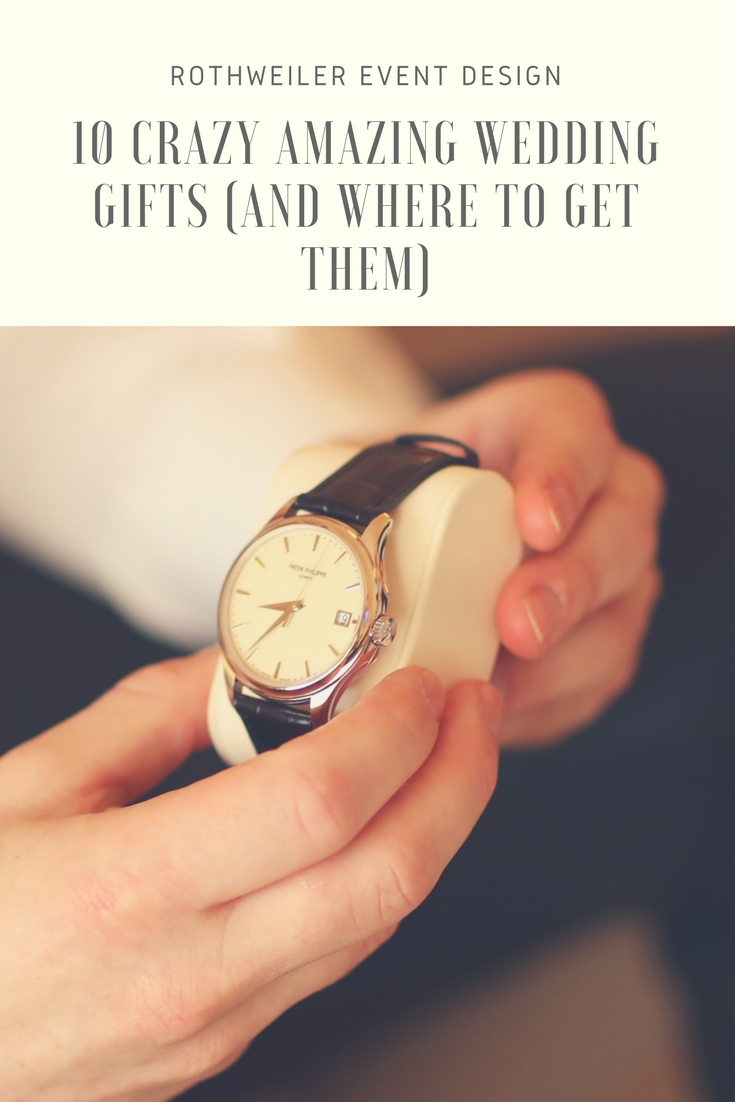 My couples know that when they work with me as their wedding planner, they have access to all of the advice they need. As their planner, they can trust the advice that I give them because it stems from real experience. The amount of surprise gifts I have helped plan with my brides and grooms is more than you could ever guess.
Amazon is Amazing for Wedding Gifts
I am a firm believer in the art of gift giving and taking the time to find something amazing. Whether it's the couple buying something for each other, gifts for the wedding party or their parents, it's a way to say "thank you" to these people. But what can you buy that isn't some version of something you've already bought before?
Amazon is the website that has it all. Seriously. Like, everything is there and yet none of my couples consider this resource (until I tell them). They even have those wedding gifts that are on a totally different level like…
1. Rolex for Him
Everyone knows that a watch is the classic gift for a bride to give her groom. Of course, if you're me, your husband doesn't wear a watch because "Why should I wear a watch when I have a cell phone?" So, this wasn't something that I could've considered and if you're in the same boat, there are other options in this list, don't you worry.
If you know the groom will love a watch as a wedding gift, but you don't know how to compete with his already massive collection, this is your answer. First off, it's a Rolex, and even those groom's that already own a Rolex will want another one. Second, it's likely to be different than anything else he already has, and a watch collector always appreciates diversity. This amazing wedding gift is one of a kind and will remind him that you are too.
2. Rolex for Her
If you're that couple that first bonded over your love of watches, then obviously the perfect wedding gift is a watch. For the bride I am obsessed with this Rolex and the details like that pink dial.
This watch is perfect for any bride, whether or not she is a collector. It's a classic piece that she can wear everywhere from the mall to the first wedding you attend as a married couple. What truly makes this an amazing wedding gift is that she can wear it everyday, which means she'll be thinking of you just as much.
3. Personalized Frame for Mom and Dad
There is a reason that many of the most popular wedding gifts involve some level of personalizing. It shows time and thought went into the purchase of the gift and it also means that no one else has exactly that gift. Total home run for parents of the bride and groom, trust me.
This wedding gift can be given to mom and dad before the wedding or after as a birthday or holiday gift. If given before, you can include photos from a special day you had together. After the wedding, this can be given as a little extra thank you with your professional wedding photos that you know they want to display at their home.
4. Tried and True Wedding Gift: Those Hangers
If you haven't been in a wedding party and been given one these hangers, I know you have seen them before. Maybe on Pinterest, maybe in someone else's wedding photos, but you have seen them.
This wedding gift is a trend that I have loved as a wedding planner since the day it became "a thing". The bridesmaids all need a hanger for their dresses and gifting them these hangers with their names is a beautiful sentiment. Bonus? They look great in photos, unlike whatever random hanger your girls bring on the day of.
5. The Tote Every Bridesmaid Needs
Let's be honest, ladies stuff their purses with plenty of stuff daily. This means on the wedding day, when they can't fit everything into their dress pockets or itsy bitsy clutch, they will need something to hold their stuff.
I always loved the idea of the bride presenting a few small gifts to her bridesmaids instead of one big ticket item. It's a more thoughtful wedding gift when there are a few small items like this tote. If you're the bride that wants to select the necklaces that your bridesmaids wear, you can even use this tote to act as the packaging. Surprise! More stuff!
6. Shave and a Haircut
Assuming the groomsmen have been in a wedding before, or are over the age of 21, it's safe to assume they all have flasks already. Even if they don't, unless you have some weird concealed alcohol bond with your guys, a flask is a wedding gift that is done and over.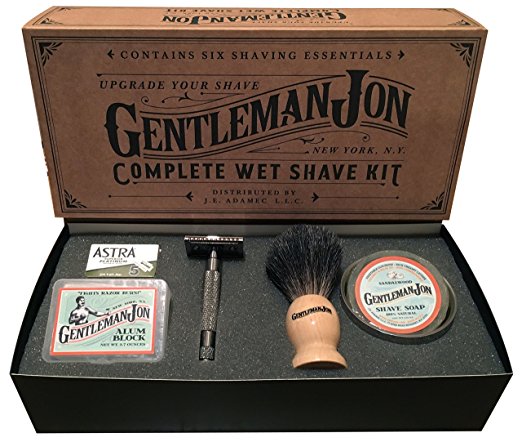 This shaving kit is such an awesome wedding gift for your groomsmen and even the father of the groom and father of the bride. On the day of the wedding, while the ladies spend 17 hours getting ready, I recommend to my groom that he takes the men in the group for traditional shaves and haircuts. It always results in great pictures and amazing memories. This is the perfect wedding gift whether or not you decide to hit up the barbershop on the wedding day, and one your guys will appreciate.
7. Diamonds are a Girl's Best Friend
Jewelry is the number one wedding gift from a groom to his bride, but after the hardship of selecting the perfect engagement ring, most grooms are done. No matter what your bride wears, if that engagement ring is a diamond, you can bet she'll wear that same stone in her ears too.
The grooms I work with all want a piece of jewelry that their bride can wear down the aisle. Common concerns? That she won't like it and then won't wear it (or will wear it and be miserable). Grooms also worry that their jewelry wedding gift won't work with the gown, or that the something borrowed will be worn instead. Diamond earrings are classic, so they go with any gown…just check in with mom to make sure you're not competing with her wedding gift.
8. Spahhhhhh
Being a bride can be stressful, but being a bridesmaid can make any girl lose her mind. Between attending vendor appointments with the bride to paying more than they thought for the dress and that bachelorette party in Miami you just had to have, it's not always easy being part of the squad.
Let your ladies know that you appreciate their efforts and you recognize things weren't always easy with this super cute Revel and Glow wedding gift. It comes with fun bath bombs and anti-wrinkle under eye masks for those tired eyes. This product can check off boxes in the organic, natural and vegan categories too, which means it's not just an amazing wedding gift, but a really thoughtful one too.
9. Tears of Joy
The one item that I have to replace in my emergency kit after every wedding are the tissues. While the bride and groom might cry, it's the parents of the couple that tend to shed the most tears. Show how much you know your parents and present them with something they can hold onto all night to wipe away their tears of joy.
You can use the words provided, or you can use your own to be printed on this personalized handkerchief. It's the perfect accessory for a parent of the bride or the groom, and something they will cherish long after the big day is over.
10. For the Romantic Marriage Ahead
When the wedding is over and the honeymoon has ended, many couples go through a stage of sadness as their is suddenly nothing left to plan. If you spent the better part of a year (or longer) planning your 5 hour party, there's always a let down when it all comes to an end. This is why I love wedding gifts that can be used for your future.
This picnic bag is the perfect wedding gift for a bride to give her groom or vice versa. Complete with a wine bottle holder, plates, utensils and even a blanket to sit on, this bag has everything for the newlywed couple and the couple going on 20 years. Every time you use it, you'll think back to your wedding day and be able to look back on how far you have come as a couple.
What wedding gifts are you planning to give? I'd love to hear what creative ideas you all have so be sure to share in the comment section below!