Are you one of the hundreds (probably more like thousands) of brides getting married on a farm? Maybe you've picked out your wedding venue, but you want to make it look completely different? Between the weddings being planned in open spaces like barns, estates and museums, and those being planned in spaces that are blank slates, how to transform your wedding venue is trickier than you might think.
As a wedding planner, I specialize in creative weddings and open spaces. In this blog, I'm sharing some wedding planning advice that we give our couples and busting some myths about these types of weddings too. So, if you want to know not just how to transform your wedding venue, but everything you haven't thoughts about yet, read on!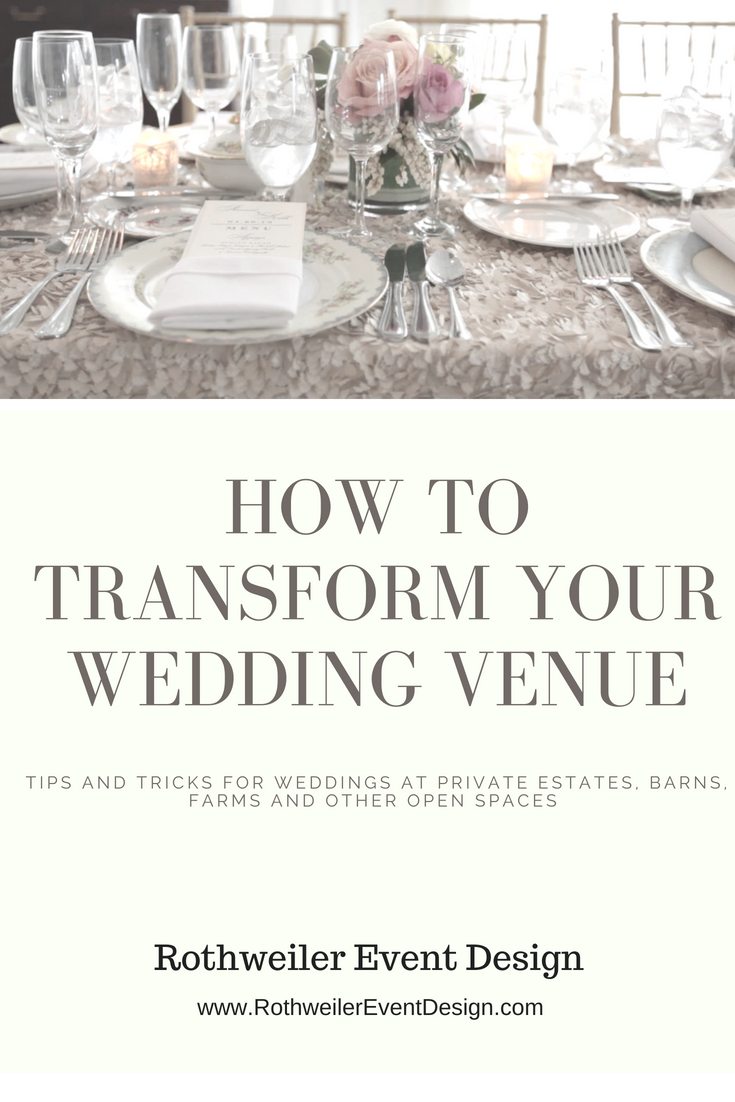 Let's get one thing out of the way, and that's the biggest myth about planning a wedding where you get to bring everything in:
You will not save money this way.
I can't tell you how many brides call me up and tell me they want to get married on a farm "because it's cheaper". First of all, no it's not. Second of all, farms and open spaces in general aren't right for everyone and shouldn't be selected because they are the alleged cheaper option.
While we're on the subject, "wildflowers" aren't really a thing and using them isn't one of the ways you can keep wedding costs down.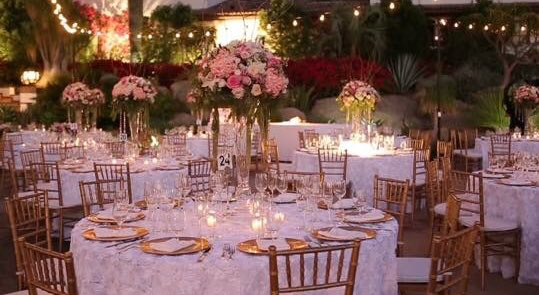 The Wide Open Spaces
When I say "open space", I am including any type of wedding venue where you're basically building the entire thing from the ground up. Literally. This includes the following: private homes, farms, barns, wineries, and museums. Basically, all non-traditional spaces that will allow you to have a truly unique wedding design because you're picking everything.

I'm not really sure who started the rumor that farm and barn weddings are less expensive than having a wedding in say a banquet hall or other established wedding venue. It doesn't make any sense if you think about it. Consider a banquet hall the all-inclusive spring break vacation and a farm wedding as that ala carte trip to Europe. The banquet hall is including a whole lot more in that "per person" cost than an open space wedding venue is. Let's break it down…
You've Got Nothing and Everything Costs Something
When you go to a banquet hall style wedding venue, these things are generally included:
tables

chairs

linens

food

beverage

flooring

lighting

bathrooms

staff

water

glassware

utensils

a roof
Versus the non-traditional spaces that generally include:
See the difference?

I'm not asking that question to be a jerk either. It's just mind-blowing to me how anyone could possibly think that a non-traditional space like a farm would be a great way to cut wedding costs. I promise you that a farm wedding or any other open space will be more expensive than most banquet hall style wedding venues.
If you believe me and you're still all about the non-banquet hall wedding, then keep on reading. If I just ruined your day, well…thanks for stopping by.
Banquet Halls for the Basic Bride
My company does not specialize in banquet hall weddings. Crystal and marble just isn't my style and so we generally work with couples looking for "something different". That's not to say we don't plan our fair share of weddings in spaces with everything included, but when we do, we're generally transforming the entire venue. There will be more on that later in this blog.
One of the best things about selecting a creative space for your wedding venue is the option to pick your own caterer. Established wedding venues will already have an in-house caterer/kitchen and sometimes that can limit your food selection. Foodies would do best to get married in an open space that allows them to bring in the caterer of their choice. This also means not having to commit to a caterer until after a tasting, which is
never

going to happen in a banquet hall style wedding venue.
The catch? Well, there are a few…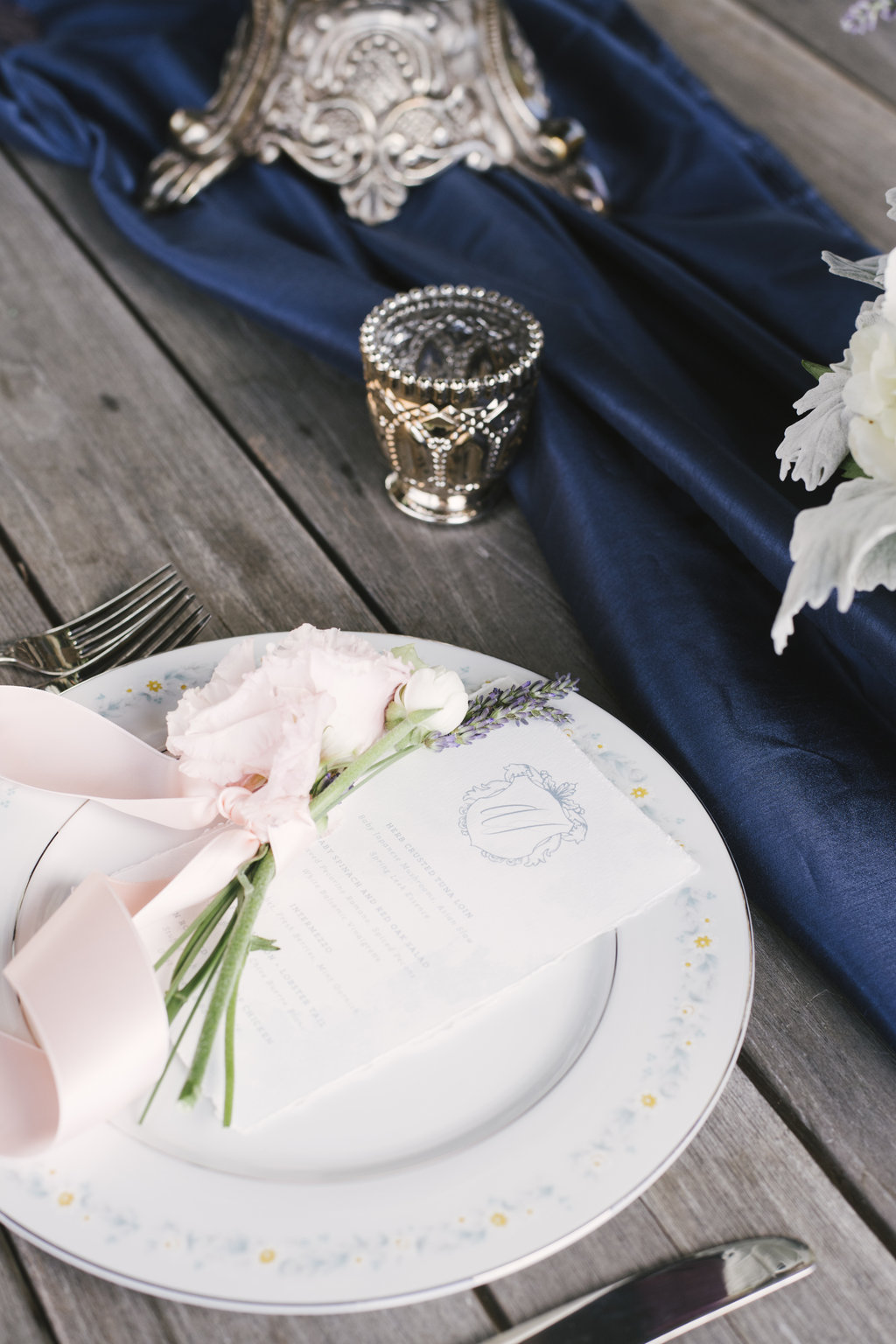 Depending on your location, you will have to follow local liquor laws, and each caterer has their own policies as well. Bringing in your own alcohol is a great way to keep wedding costs down, so take that option if you can. Other scenarios include having the caterer bring in the liquor or having a completely separate liquor vendor and then dealing with hiring barstaff that is legally allowed to pour alcohol.
Meanwhile, if at this point you're not convinced that hiring a wedding planner for this type of wedding is a necessity, you might be crazy. Anyway…
Besides the liquor law nonsense that changes from state to state, your menu could be partially dictated by the venue you select. I planned a wedding industry event at an industrial warehouse once and we needed to bring in an outside caterer. They had a kitchen onsite but it was Glatt Kosher. If you don't know what that means, it's basically super strict Kosher and if you're not following their rules (which you're probably not if you don't even know what Glatt means) you can't use their kitchen. So, my caterer could not use their working kitchen, which meant they had to set up their own kitchen, outside, right down to the ovens and running water.
Creative venue spaces frequently have restrictive or smaller kitchens, or you won't even be able to use them. Other times, the venue might have rules that directly affect the catering team. For instance, one farm that I work at a lot doesn't allow smokers or water to be dumped anywhere. This farm is the perfect setting for a pig roast, but you're not allowed to do it, and not being able to use water in particular ways is inconvenient for caterers. The more you inconvenience a wedding vendor, the higher your cost will be.
Does the freedom to choose your own caterer, build your own menu and have unique options for your guests outweigh everything else you'll be dealing with? I'm treating this blog as a weeding out process, so if you haven't run away screaming yet, let's keep going…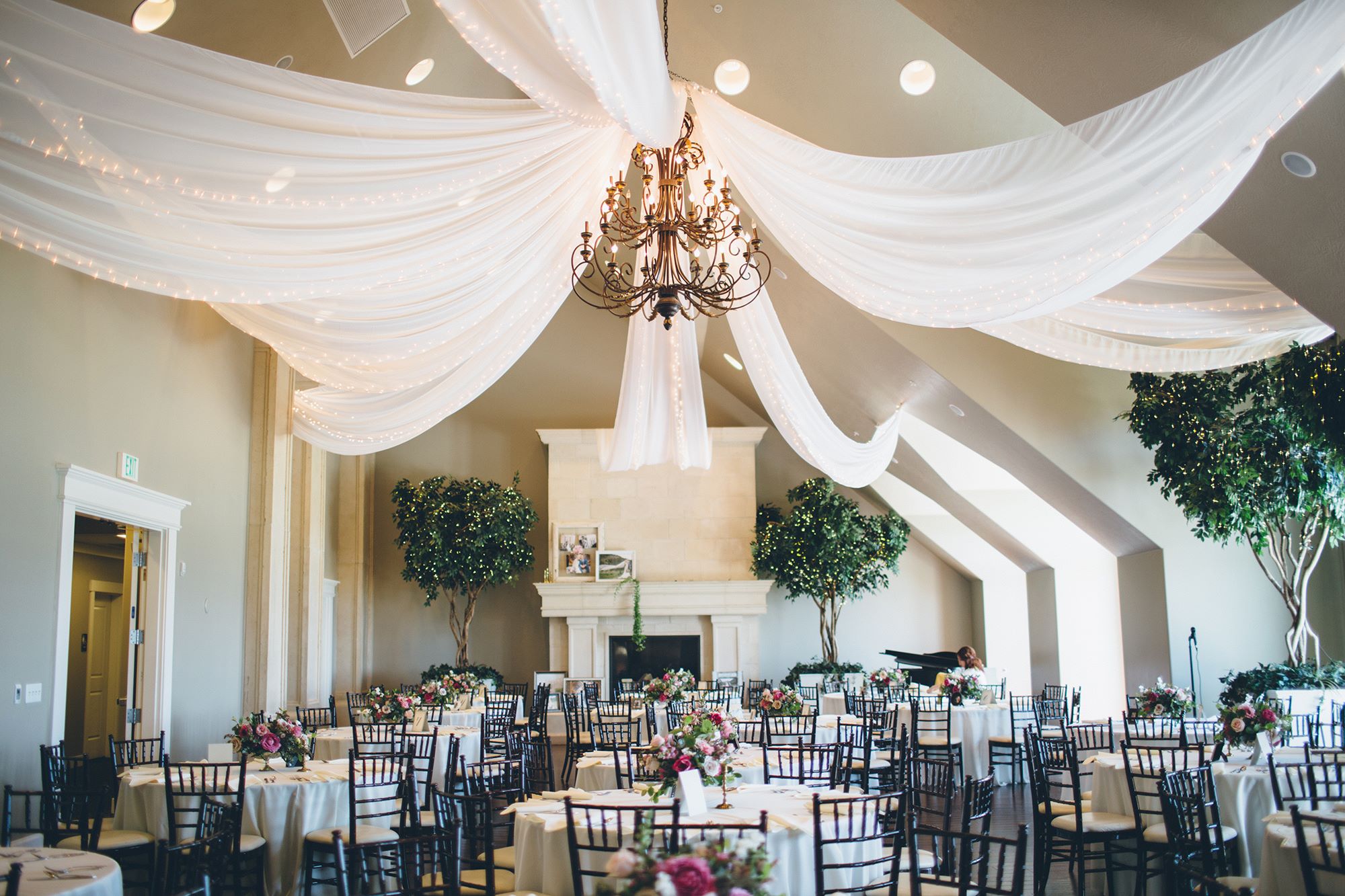 Musical Chairs
A big plus to having an open space as your wedding venue is being able to get creative with more than just flowers. If you're not down with all that food and beverage drama I laid out above, don't worry, you can get this creative in an established venue too.
When planning a wedding in your backyard or on a farm, you're going to need basics including tables, chairs, linens, and serveware. Many times, the catering company will be able to handle these rentals and keep them under your "per person" cost. If you're in an
established

wedding venue that already provides these things, you'll probably be able to rent different items instead. Before committing to a venue, however, make sure that you are allowed to do that.
Caterers that provide these basics are typically going to have the basics of these basics. That means round tables, chiavari or other standard style chairs, and white and/or ivory linens. Things like farmhouse and rectangle tables, different color linens, charger plates and funky wine glasses…pretty much everything you see on Pinterest, fall outside of the "basics". Work with your caterer to find out exactly what they provide so you know what you would be responsible for.
Another thing to consider when securing rentals: set up. Specifically, you'll need to know whom is going to handle the rentals when they are delivered to the venue and then whom is setting them up and breaking them down. You're probably wondering who usually handles this and the answer is that it varies. Some rental companies we work with will bring in tables and chairs and place them for us, whereas other companies drop them off at the front door and bounce. If you don't want to show up to your wedding to see 250 chairs stacked in piles, put together a plan and discuss how everything is being set up and broken down.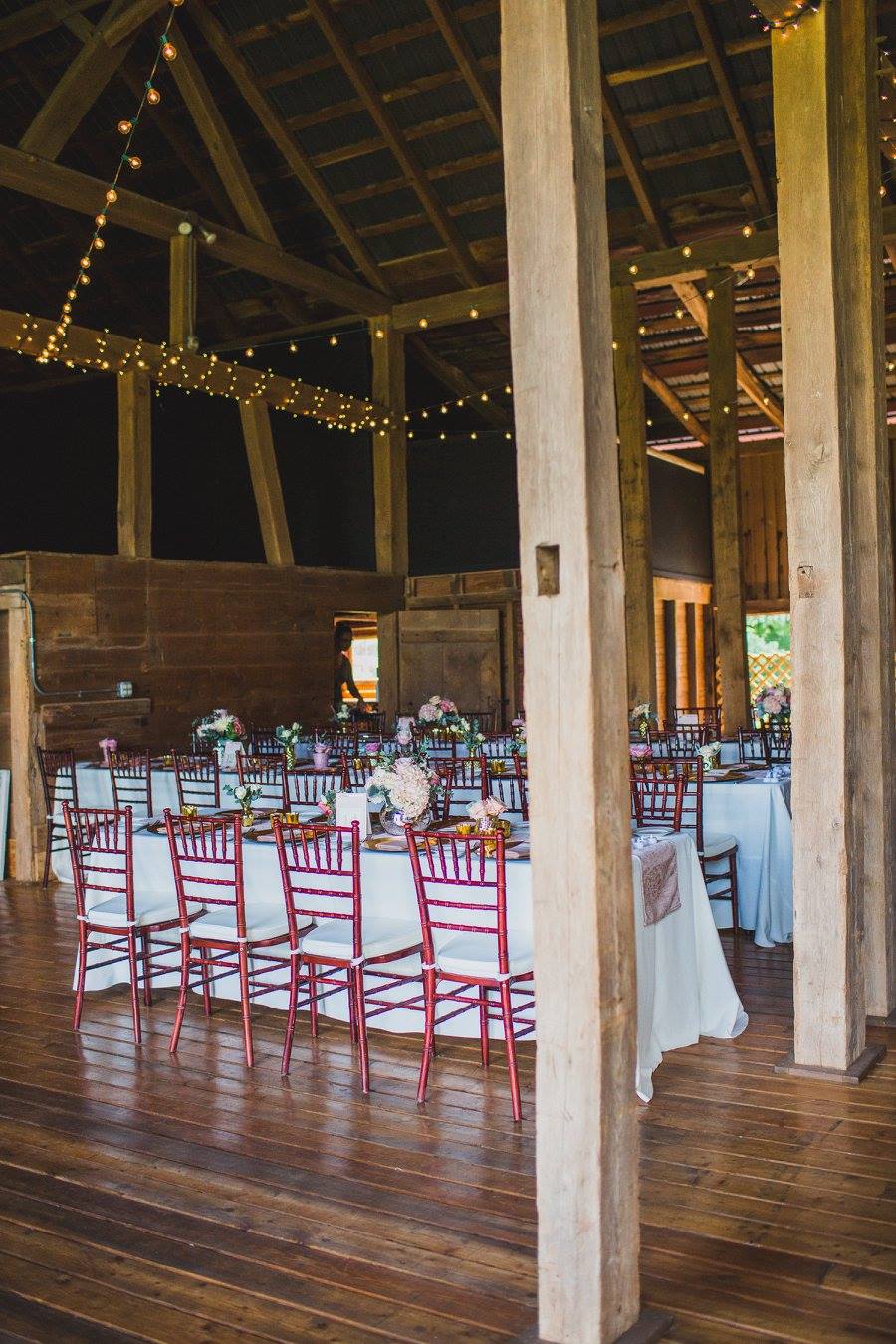 Designer's Choice
Design elements are a great way to transform a venue whether it's a museum or a banquet hall space. It's not just about what's on the table, but in the corners and on the ceiling and basically everywhere. The vibe of a wedding should extend past the reception room. You can transform any venue by creating a unique entrance space or changing up the chandeliers.
Ceiling treatments are perfect for tented weddings, and tents are perfect for a lot of these non-traditional spaces. Fun fact: a lot of the barns available for weddings are small and max out at 150 guests. It's because they were built to be a barn, not a wedding venue. Because of this, many of the barn weddings we plan at include bringing in a tent for the reception. We've also tented backyard weddings and weddings at arboretums, as well as other places where a roof isn't included in the package.
Whether you're using a tent or an actual ceiling, you can transform the space using flowers, lighting and draping. Flowers can be used with existing lighting fixtures, or even as a perimeter design. You can get creative with lighting by renting chandeliers to totally change up the feeling of the space, or use a wall wash color to pull together the entire design.
Draping is another way to transform any space and you're not limited to just the ceiling. One bride we worked with absolutely hated her venue because everyone else had gotten married there or been in the space a hundred times before. We got permission to drape the entire space, including the walls, making the venue look completely different than it ever had before.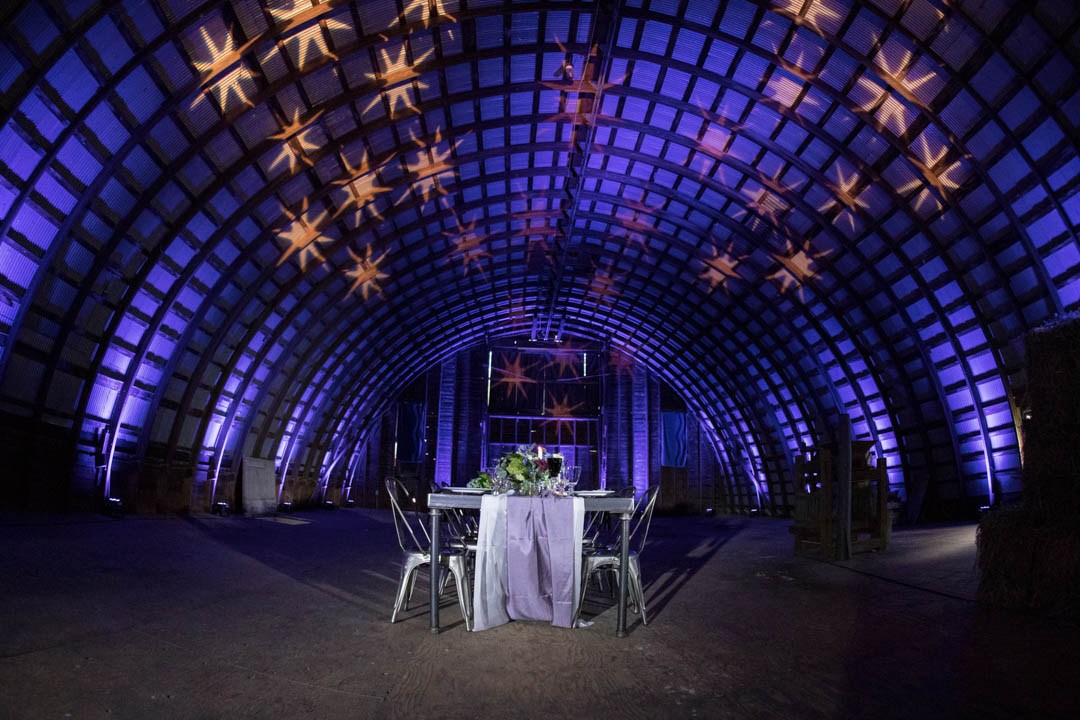 As you've probably figured out by now, flowers and ceiling installations aren't what anyone would consider "affordable". If you truly want to transform your venue though, those are the best ways to do it. Don't get me wrong, it's not any more affordable to work with a blank space than it is to transform a venue…but I warned you guys about that in the beginning.
To Transform or Not to Transform?
Did you make it to the end of the blog? If so, thanks for sticking around. Still planning on transforming your wedding venue? Or are you getting married at an open space venue where you'll be bringing everything in?
What advice do you have for other brides and grooms? Was there anything in this blog that you hadn't considered before? I'd love to hear your thoughts so leave them in the comments section below.
And if you are looking for help to transform your wedding venue or design a non-traditional space, contact us right now and let's chat!