Since we're still stuck in quarantine, I wanted to put together a blog showcasing virtual celebration ideas. This isn't just going to be limited to weddings either! In fact, it's pretty much everything but weddings.

If you guys want to see a blog about how to host a virtual wedding, be sure to contact me here or leave a note in the comments below. In the meantime, check out my last blog about how to handle your wedding plans in the middle of a pandemic right here: Should You Cancel or Postpone Your Wedding?
This blog is broken up into five celebration categories: birthday parties, graduation celebrations, bachelorette parties, bridal showers and baby showers. Of course, all of these are virtual celebrations and about celebrating in quarantine.
For great virtual celebration ideas, keep on reading!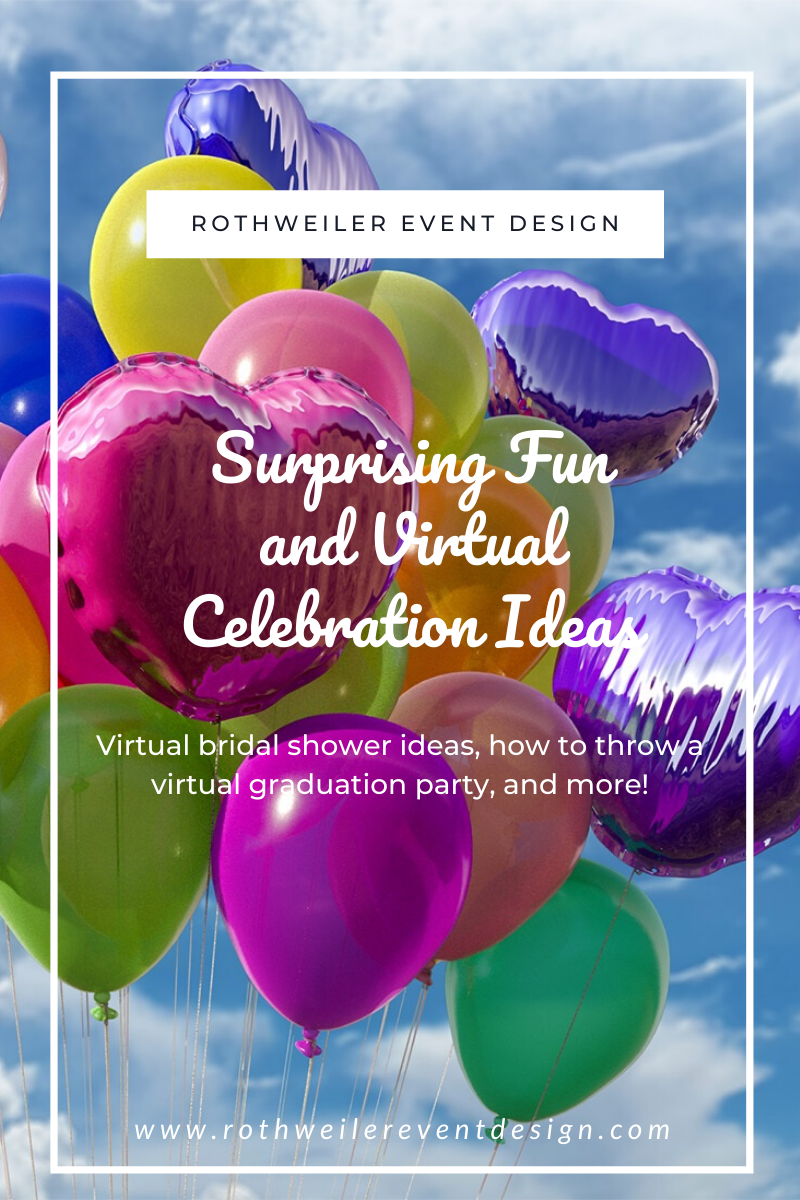 *Please note that most of the links of this page are affiliate links. This means if you click on a link and purchase, you will receive the same price, but I will receive a referral fee. This helps keep my blog free and allows me to share wedding planning tips with you. Thanks for your support!*
Virtual Celebration Ideas
Even though a bunch of the blogs you see on my website are dedicated to weddings, our company plans all different types of celebrations. In fact, we've had the pleasure of planning birthday, graduation, and even bachelorette parties! Along with those, we've worked with our clients to design their bridal showers and even baby showers. Looking for the perfect baby shower gift? Take a look to these Monogrammed diaper bags.
With this national pandemic, it's not just our weddings getting postponed…it's all of the celebrations! People are looking for ways to virtually celebrate major milestones in their lives, and hence, this blog was born.
It's totally unfair that graduates don't get to walk across a stage, and that moms to be don't get showered with love because of COVID-19. That doesn't mean that the party can't go on though. Actually, we think virtual celebrations are going to be a thing for quite a long time.
Starting with virtual bridal showers…
How Do You Throw a Virtual Bridal Shower?
First things first, in order to gather everyone for a virtual celebration, you'll need to send out invites!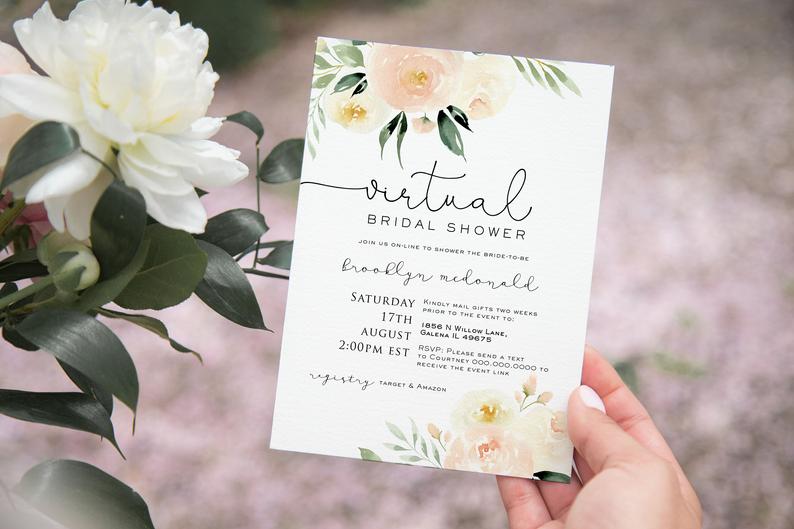 When throwing a virtual bridal shower, some of the stuff needed on the invitation will be different than if the party was in person. I love these gorgeous floral bridal shower invitations from Etsy. Whether you send these out online or in the mail, these are a few things to keep in mind:
First, you'll need to communicate to your guests how they can join online, along with the date and time. It's also important to still ask guests to RSVP, which you can keep easy by allowing them to text, call, or message through an event link. Of course, don't leave out that important registry information and where guests can send their gifts to prior to the virtual bridal shower!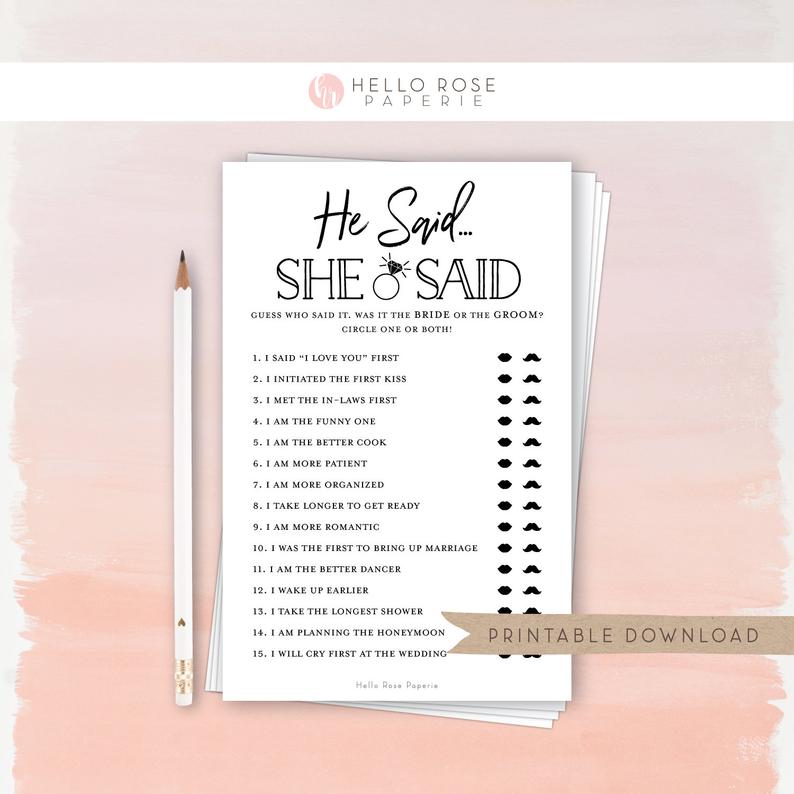 While I'm not a huge fan of bridal shower games, when you're hosting a virtual celebration, they're pretty much a necessity. I looked all over for some fun options, because, let's be honest, there's a ton of lame stuff out there.
This fun virtual bridal shower game is all about who said what first. Being in quarantine, you might have seen similar challenges on TikTok, and they're always hilarious. Send these out to the guests ahead of time so they can send them back prior to the virtual bridal shower, or just ask guests to hold onto them and fill them out on the same day!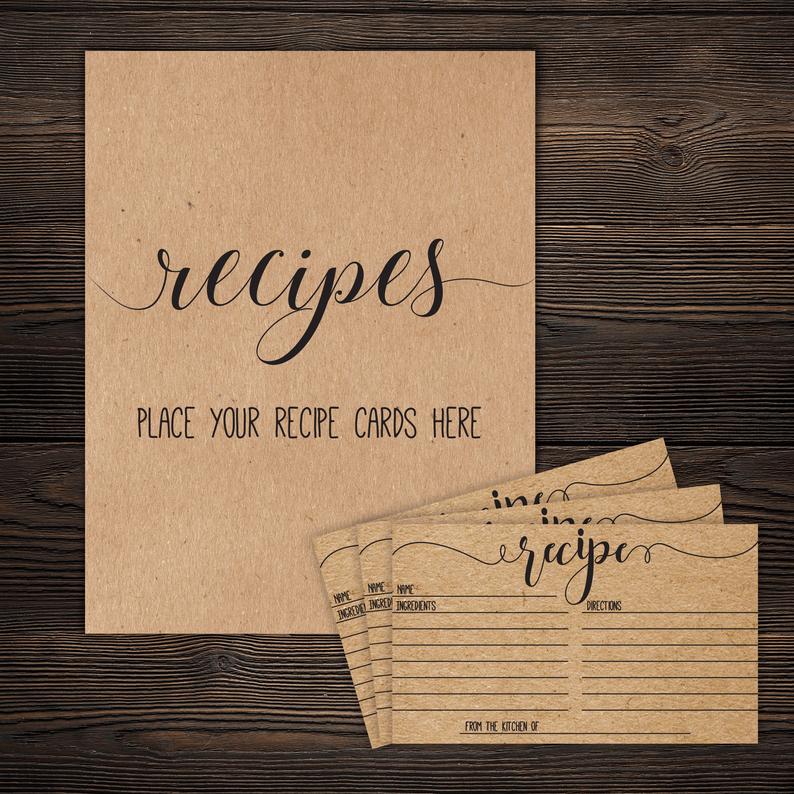 Another oldie but goodie bridal shower game are recipe cards like the ones you see right above! Everyone has a favorite recipe to share, but during quarantine, people are really ramping up their cooking game. I even broke out a break maker I've had for years and never even used!
Did you find the best recipe ever during quarantine lockdown? Perhaps you've got a family recipe you want to share with your best friend that's tying the knot? Send out these recipe cards to the bridal shower guests in advance of the party to send back to the bride to be!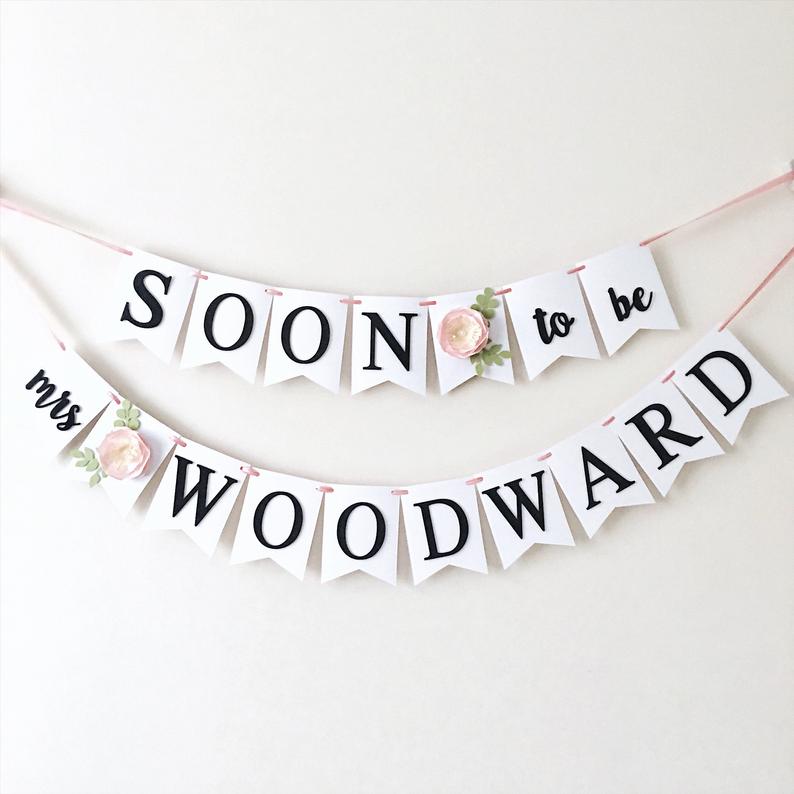 A virtual bridal shower doesn't mean you should forget about the decorations. Odds are, everyone will be joining via something like Zoom or Skype. But who wants to see laundry baskets in the background, or random dressers behind each bridesmaid?
Be sure to set up your space like a party, and send over a fun banner like this one above for the bride to hang up when she logs on! Bridal shower decor will make everyone excited for the big day, and will put a big smile on the bride's face too!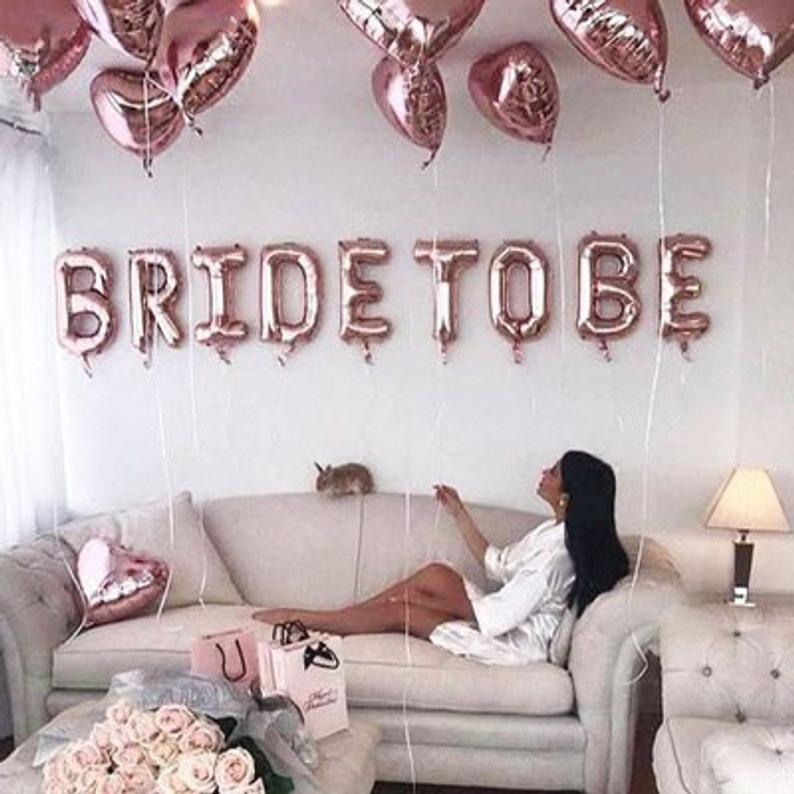 Of course, if the bride to be would love some seriously fun bridal shower decor, you cannot go wrong with these bridal balloons! Hosting a virtual bridal shower during COVID doesn't have to be as depressing as your last work Zoom meeting. Make it fun and have everyone decorate their space, and be sure to send the bride to be this pack of decorations so she can join the fun!
Virtual Baby Shower Ideas
From the bridal shower to the baby shower, we have fun virtual celebration ideas for both! It could be a shower or a sprinkle, either way, there are endless ways to shower the mom to be with plenty of love…virtually, that is!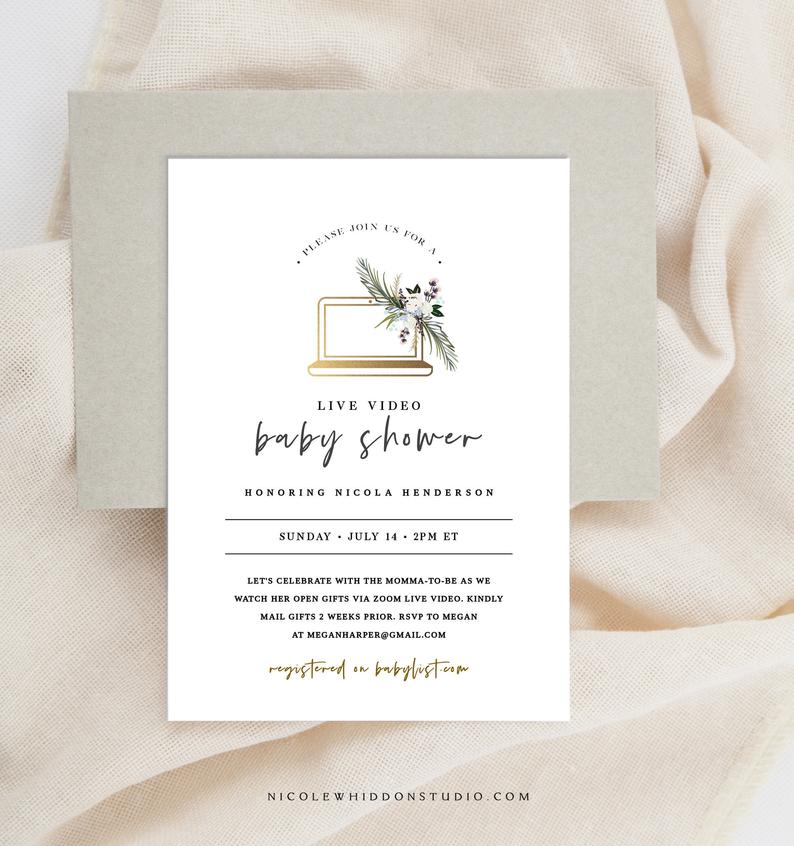 Just like with the bridal showers, virtual baby shower invitations are a must. Even though we're in quarantine, guests will still need important information like when and how to log on to this virtual celebration.
These adorable virtual bridal shower invitations keep all the details in one place, including where momma-to-be is registered and how to send gifts. You can customize this invite with your own personal details right here!
Maybe this virtual celebration caught you by surprise, or you have to change all of the details already planned. I love this baby shower kit that includes baby shower invitations, virtual baby shower games, thank you notes and more!
Let's face it, we're all juggling a lot during this quarantine, and you might not have time to put something together that you love for a virtual baby shower. Grabbing a kit like this one brings all the details together with one beautiful design that the mom to be will absolutely adore!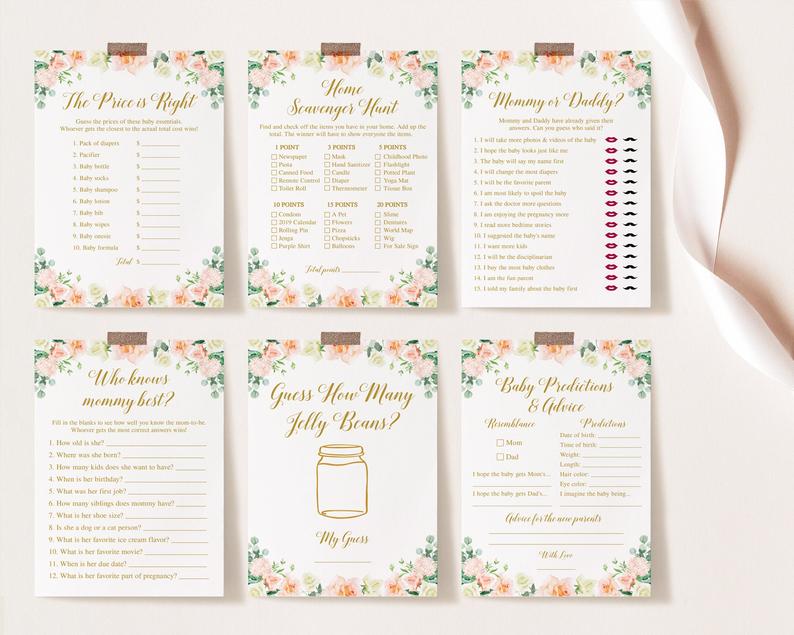 Just like with a virtual bridal shower, virtual baby shower ideas totally include some games. Luckily, you don't have to spend eternity looking for or making up creative games on your own.
Check out this packet of baby shower games on Etsy! Order these in advance and send them out to everyone that will be attending. Some games can be done in advance, while others can be done during a Zoom baby shower.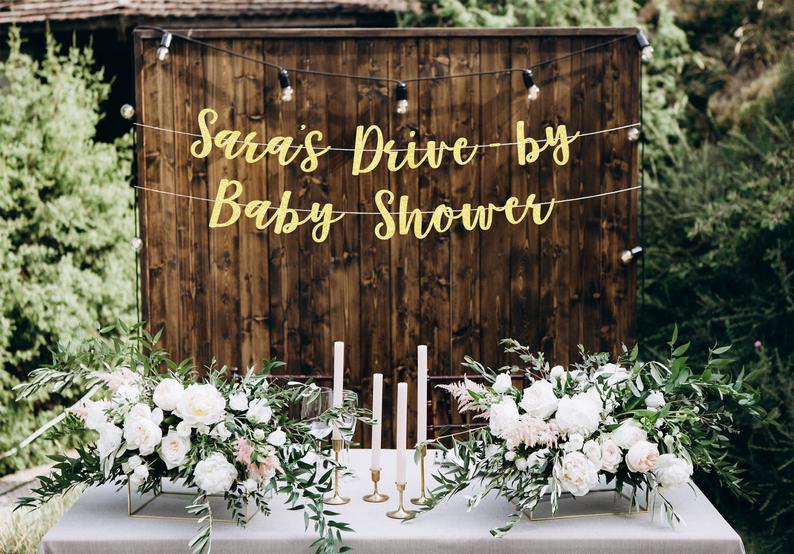 Love the idea of baby shower guests driving by the mom-to-be's house for a virtual baby shower? One of my favorite virtual baby shower ideas is this adorable banner and gorgeous set-up placed outside the future momma's home. Now that's how you practice social distancing while still celebrating!
Related: The Most Spectacular Mother's Day Gifts During Quarantine
Create a space in the driveway, front yard, or anywhere that makes sense, and hang this beautiful baby shower banner. Guests will drive by and can even place their gifts on a table if you set one up!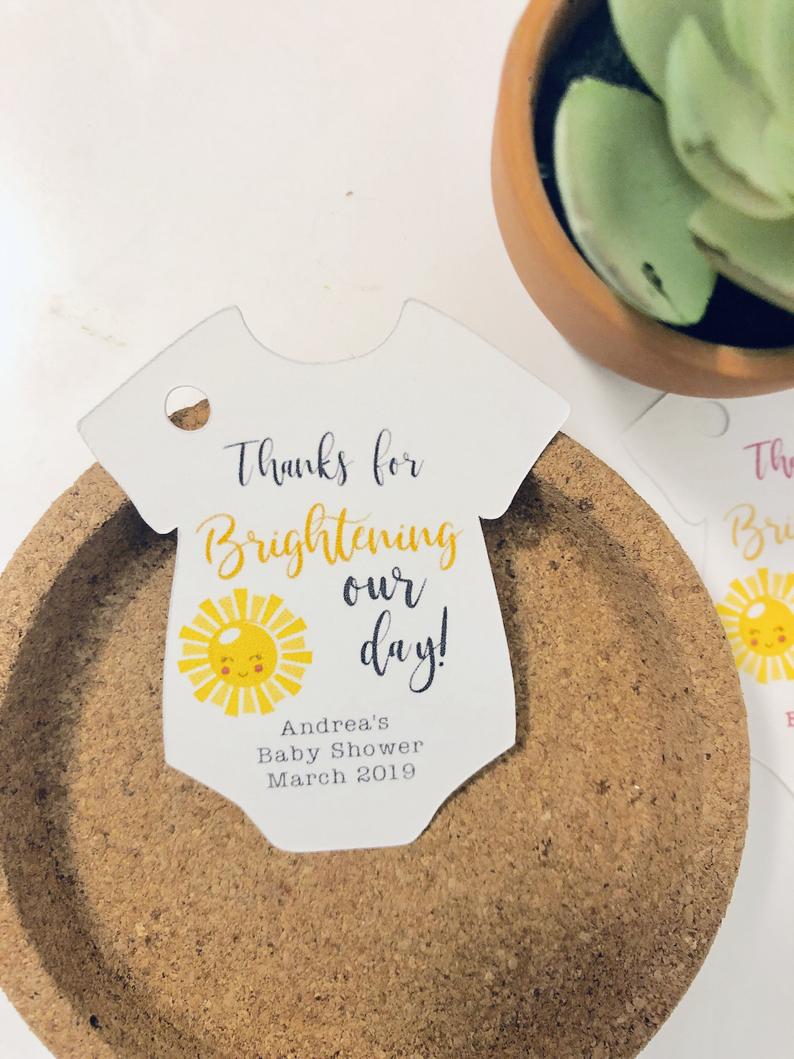 If you choose to go with the drive by baby shower idea, then totally hook up your guests with some fun favors. Keeping with the quarantine theme, send them home with a small bottle of hand sanitizer and a personalized tag like this one!
Celebrating Graduation During Quarantine
Got a graduate that's bummed out they can't take the stage and accept that diploma? It doesn't matter if it's kindergarten graduation or college graduation, it's a special time that's been taken away from plenty of kids.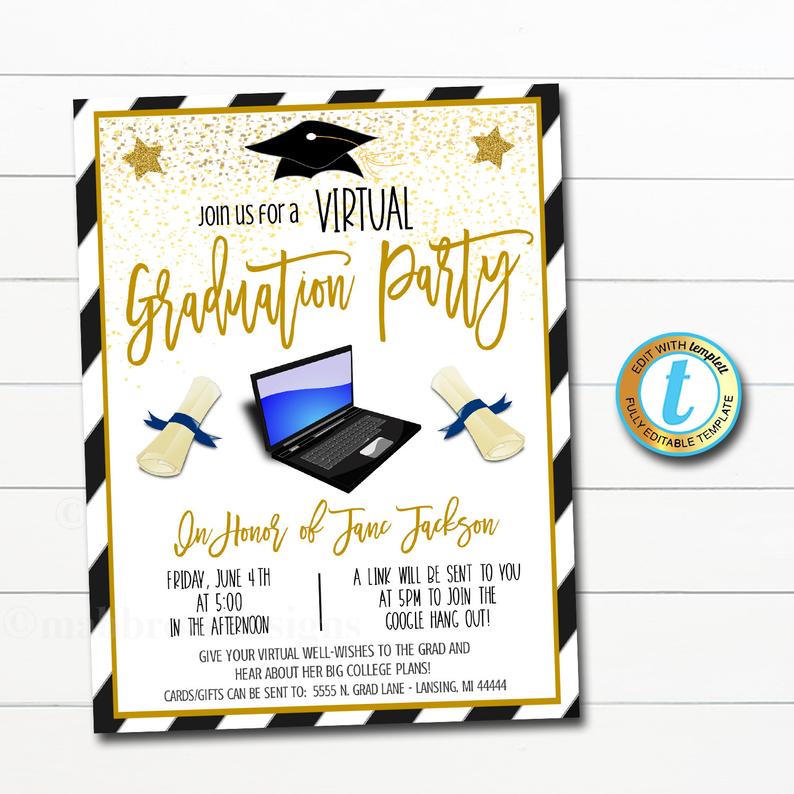 Celebrating graduation online isn't anyone's first choice, but it's a great way to make the grad in your life feel extra special! Start by sending out official graduation invitations like this one above. Let your guests know where and when to get online in order to send their well wishes to the graduate!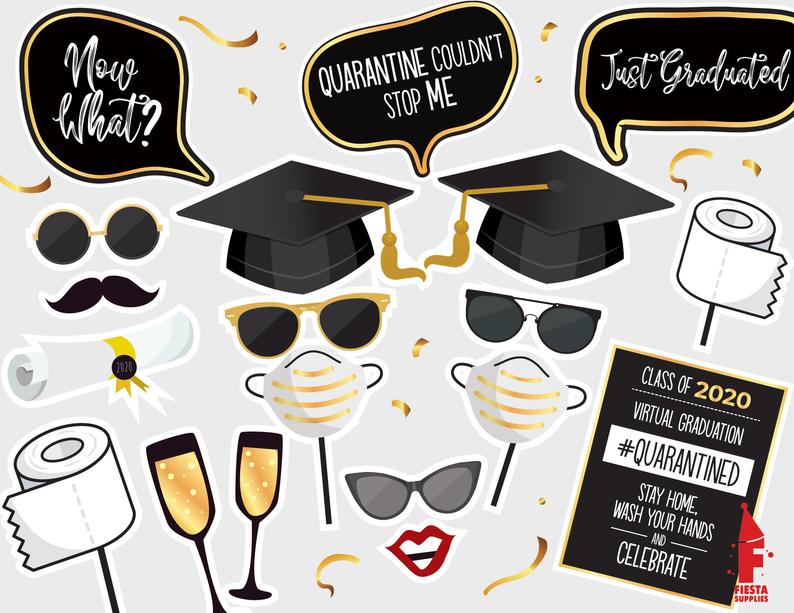 Photobooths are a ton of fun, and just because this graduation party is a virtual celebration, doesn't mean you have to ditch them! In fact, this graduation party pack includes quarantine specific props.
Pick up a bunch of fun quarantine style photobooth props, including face masks and toilet paper, to commemorate this crazy year of 2020. Send a few out to each person invited to the virtual graduation celebration so they can take some fun pictures to share with the graduate!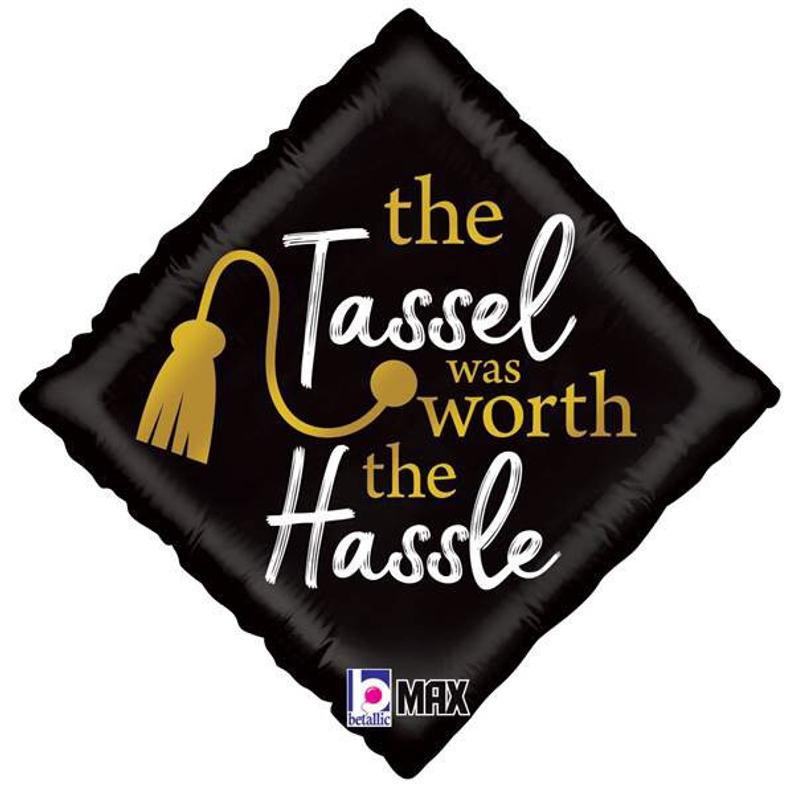 A graduation party in quarantine isn't complete without fun decorations like this cap and tassel balloon. You can pick up a bunch of these and add them to the outside of your home, plus as part of your background when you connect virtually with all of your party guests!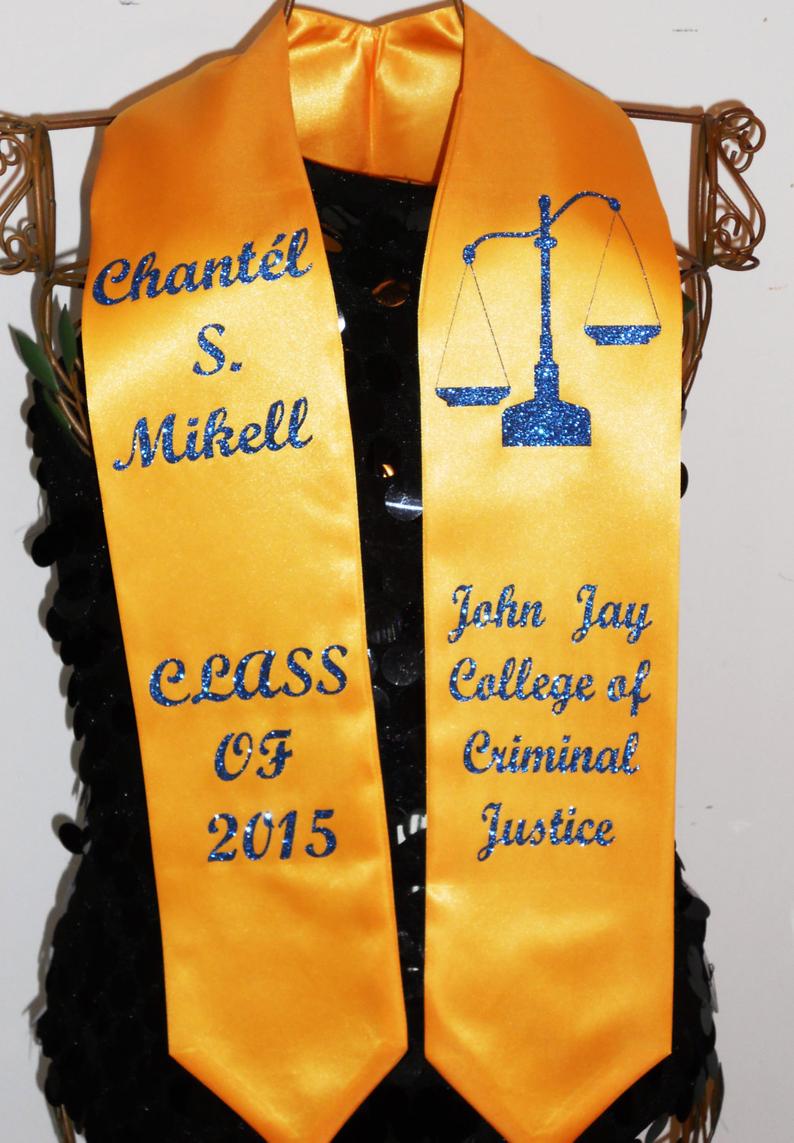 One of the best things about graduation is getting to wear the cap, gown, and stole. But all of that has been taken away from our 2020 graduates.
Part of celebrating graduation in quarantine is dressing up the graduate! This customized graduation stole can include anything from initials to a full name of the graduate and more. Make your graduate feel extra special and have them wear it during their virtual graduation celebration!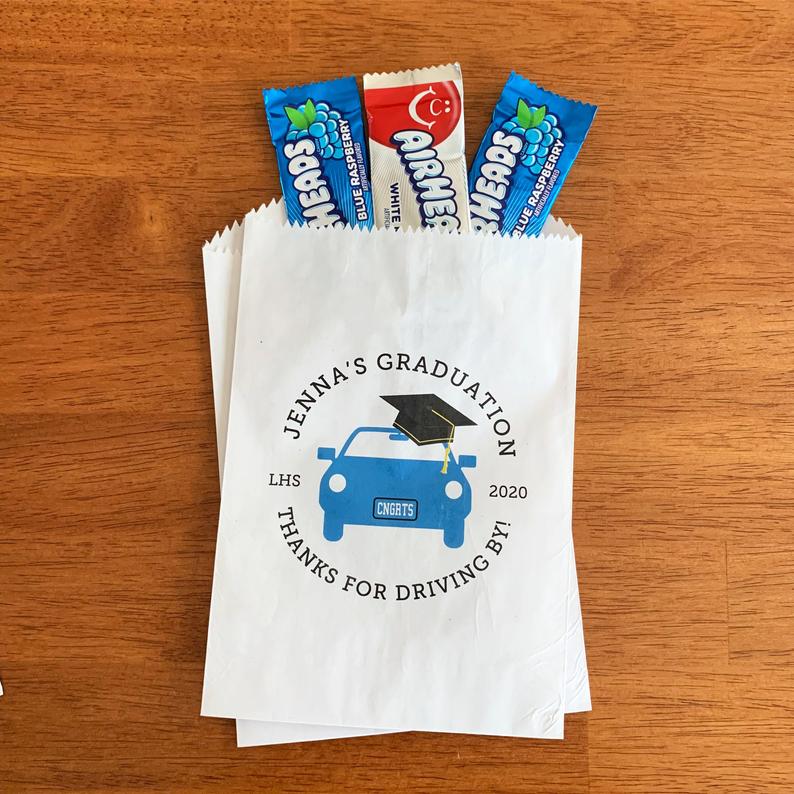 You can host a virtual graduation celebration as well as a drive by party, just don't forget the favors! You can order custom favor bags honoring the graduate in your life, and then stuff them full of candy and leave them out as guests drive by saluting the honored guest.
Quarantine Birthday Ideas
I never expected to spend my 39th birthday in quarantine, but that's exactly what happened. It's something that's going to happen to a lot of people, too…not just me. Even if this isn't a milestone birthday, that's no reason not to make it special for your BFF, husband, sister, or whomever! There are plenty of ways you can be celebrating a birthday in quarantine.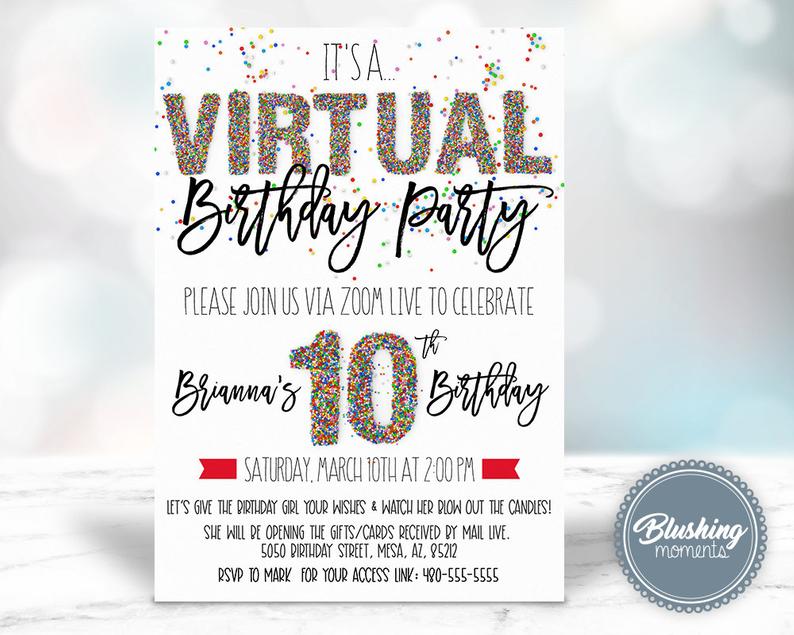 Get your guest list together and send out these fun quarantine birthday invitations! You can set something up easily on Zoom and include all the details how to log on and when to be there on the invite.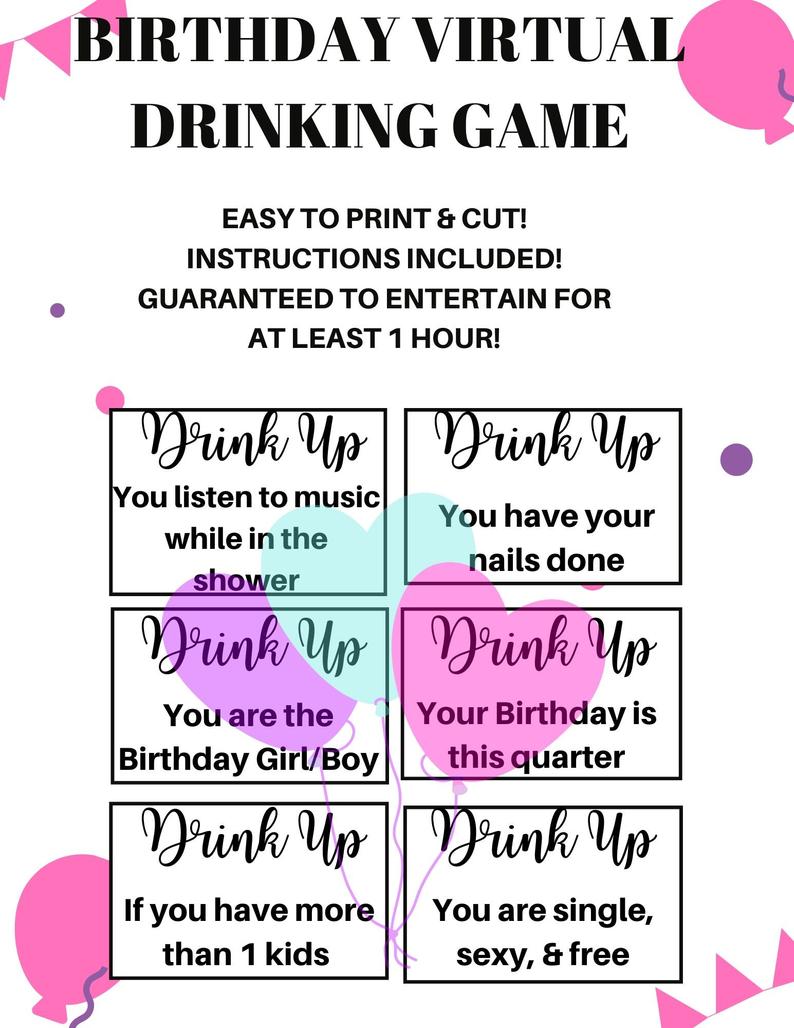 One of the few positive outcomes of being stuck in quarantine is that we're now all getting 3 months to the gallon in gas. Since you don't have to worry about a designated driver, a great quarantine birthday idea for adults is obviously a drinking game!
This drinking game is available online and you don't even need to send it out in advance. Grab yours here and let your friends know to stock up on the booze before the party day!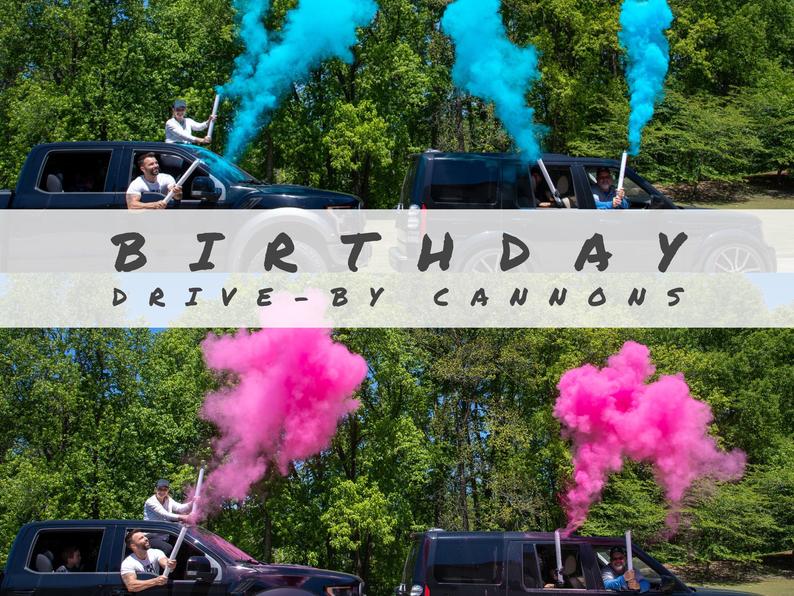 Celebrating your friends birthday in quarantine is extra colorful and fun with these drive-by cannons! Surprise someone you really care about by inviting their friends and family to drive by and shoot off colored cannons.
These are also super cute to use for quarantine gender reveal parties! Host a zoom gender reveal party and shoot off either pink or blue as your friends and family watch.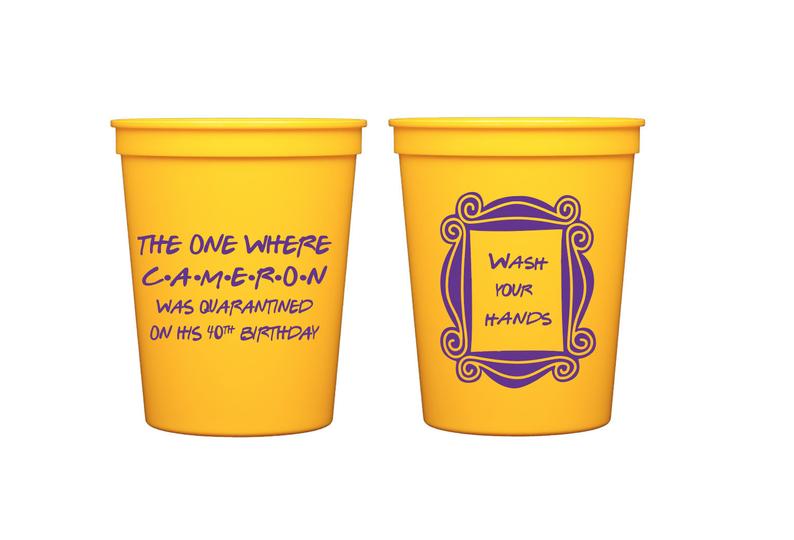 Getting back to celebrating your friends birthday in quarantine, why not grab these personalized cups to remember the party? These are perfect for the Friends fan in your life that is stuck at home on their birthday.
You can order them right here and send them out to all the guests before the virtual birthday party!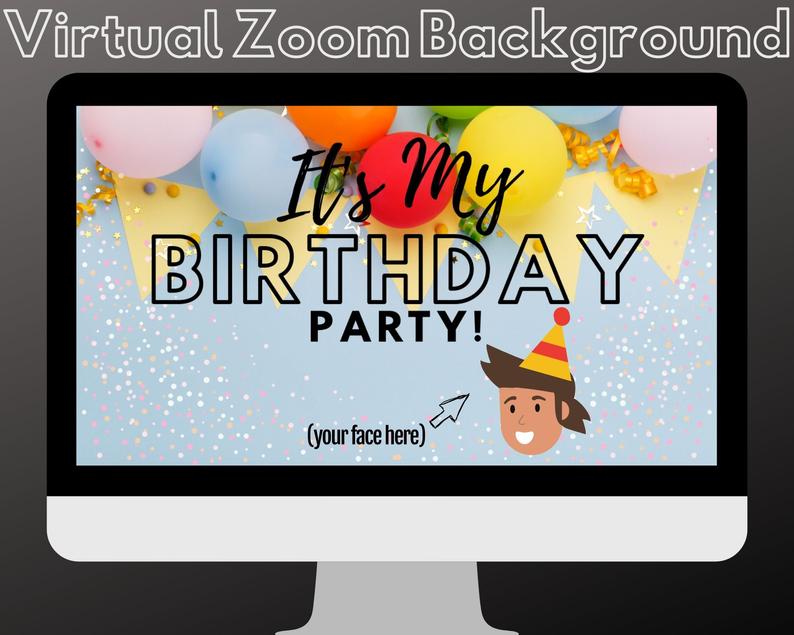 Odds are you've participated in a handful of Zoom meetings for work now that we're a few months into quarantine. Personally, I love using Zoom backgrounds because they are way more fun than looking at my messy kitchen.
Throwing a virtual birthday party in quarantine isn't complete without one of the many birthday Zoom backgrounds available. This one is announces that it's your birthday party and you can personalize it with your favorite selfie!
Virtual Bachelorette Party Ideas
Last, but certainly not least, are my COVID Bachelorette Party ideas. Even if you can't still take that girls' trip to Miami, that's no reason not to celebrate the bride-to-be! Here are a few virtual Bachelorette Party ideas to make your girlfriend feel extra special!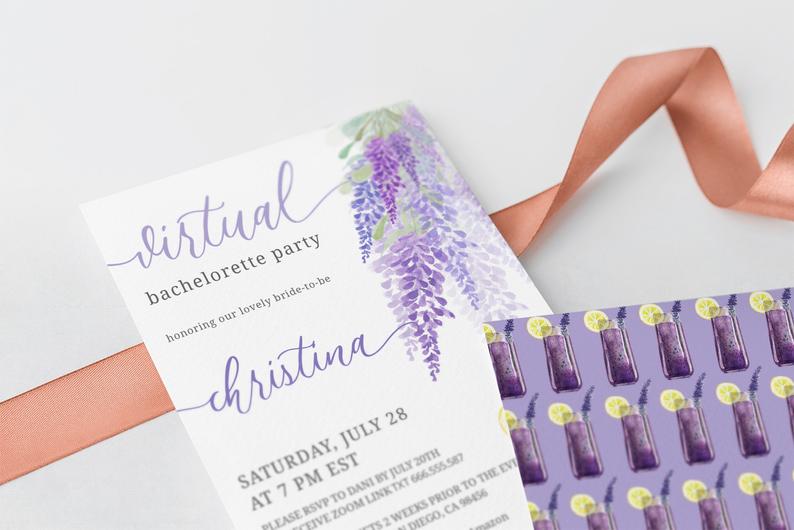 Kick everything off by sending out a virtual Bachelorette party invite like this one above! You can customize the invitations to match the wedding colors, or just go with any fun theme since there are plenty to select from.
Be sure to include the date and time, and all the details guests need in order to celebrate with the bride virtually. Let everyone RSVP by sending off a quick text or email instead of spending money on reply cards and stamps.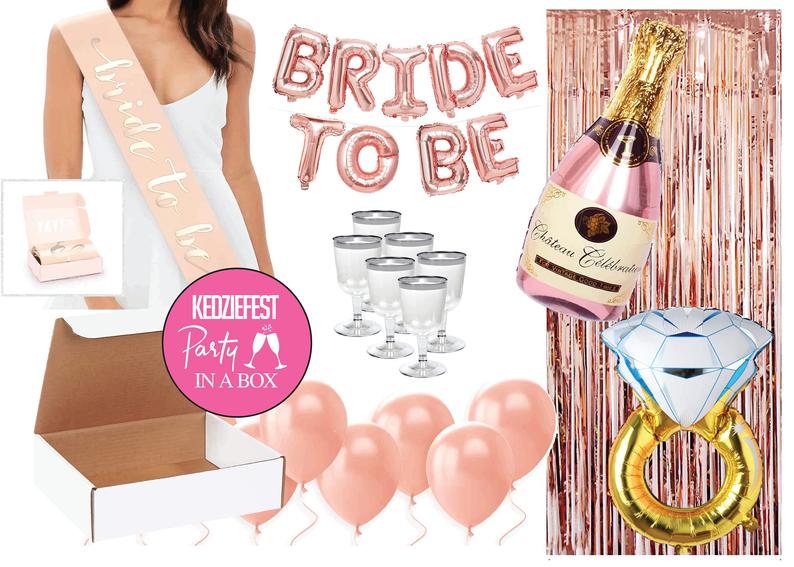 Did your bride have visions of rocking a white cocktail dress with a sash that lets everyone know her wedding day is coming up? You can give her all that and more with this Bachelorette party in a box!
Don't stress about finding the perfect decorations and accessories either since they all come together right here. Hang up a sparkly pink backdrop, pink balloons and more so it truly feels like the Bachelorette Party she always wanted!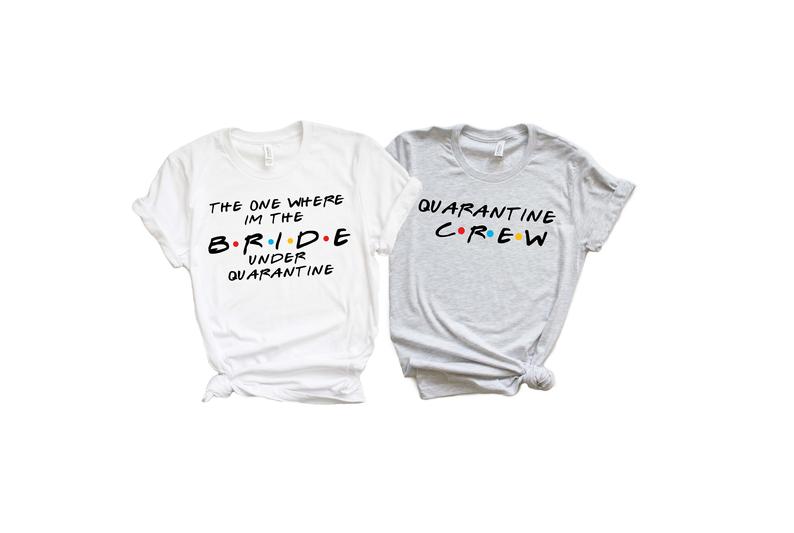 In a perfect world, everyone attending the Bachelorette Party would be dressed up in matching colors, or all decked out in short black cocktail dresses. But, since no one is going anywhere right now, even putting on make-up seems like a pointless chore to most.
Though this will be a virtual Bachelorette Party, the bride and her squad can still plan for some cute clothes. Spoil the bride-to-be with her own personalized t-shirt, and get each member of the tribe their own "quarantine crew" t-shirt here!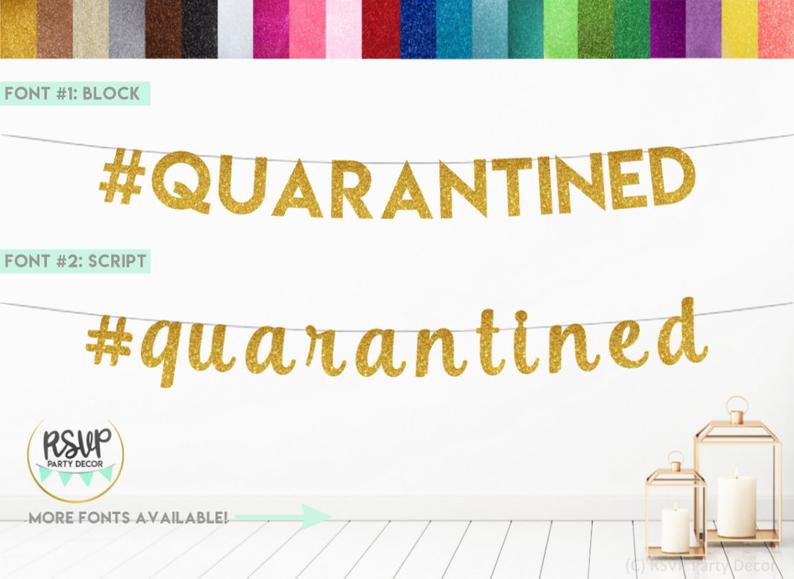 Along with super cute quarantine Bachelorette Party shirts, pick up this hashtag quarantined sparkly gold banner for the bride to hang up during the virtual celebration! There are tons of fonts available, so find the perfect choice and send it over to the bride before the day of the party.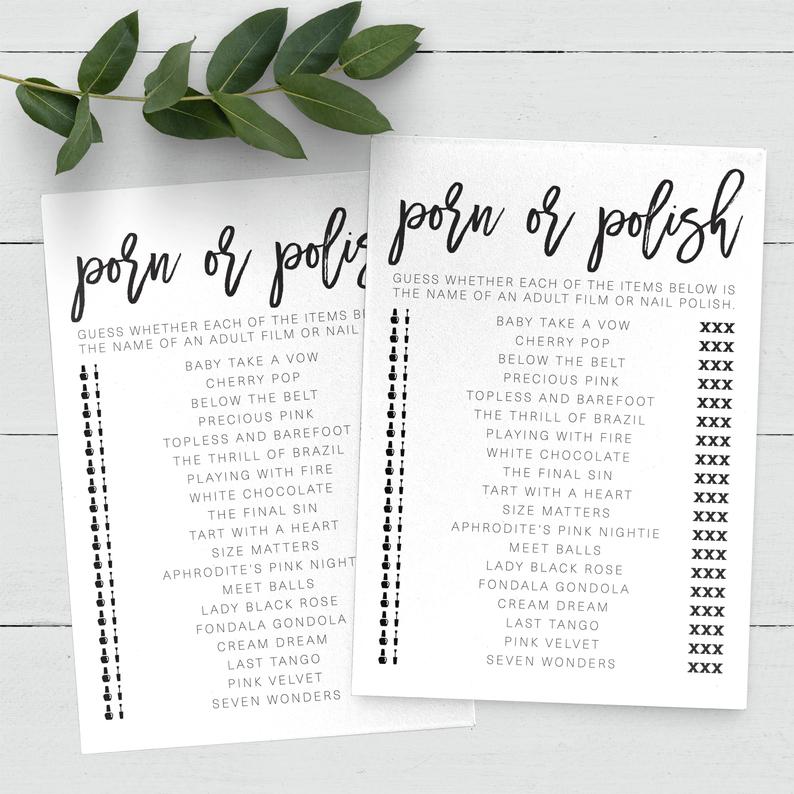 The choices of where to go and what to do when planning a Bachelorette Party are endless, and it's pretty easy to fill up the day or even days. How can you throw a virtual Bachelorette Party where everyone has a great time and isn't bored after five minutes?
Virtual Bachelorette Party games of course! I was cracking up when I came across this Porn or Polish game above, where you have to guess if the name is from a porn or a nail polish. Keep everyone smiling and laughing and pick up this game today!
Virtual Celebration Ideas For Every Occassion
I hope that these tips and tricks about celebrating in quarantine were helpful! While it totally is not anyone's first choice to have a virtual baby shower or to be celebrating graduation online, there are tons of ways to still make any event special. For even more virtual invitations, head over here today!
What event are you missing due to COVID-19 and how will you be celebrating? Share advice and ideas in the comments below so others can get inspired. Don't forget to sign up and join the mailing list so you don't miss out on even more wedding, party, and lifestyle blogs just like this one!