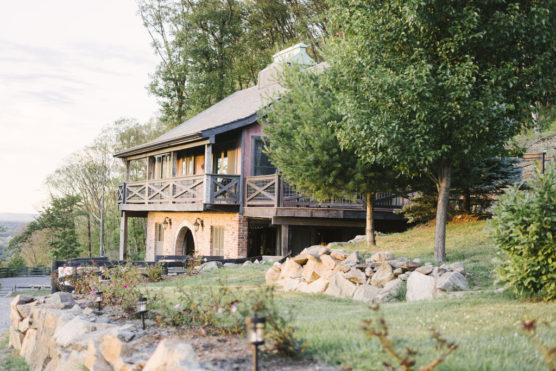 I am always searching for the newest "off the beaten path" venue. You know the ones: the barns, the farms, the estates, and the vineyards. Those beautiful locations that no one ever thought to have weddings at…until recently.
I was born and raised in New Jersey and to many people that means that I must wear lots of animal prints and sequins. Truth be told, I own one or two pairs of leopard print heels and only break them out every once in awhile.
Being a non-traditional bride myself, I wasn't "typical Jersey" when I was planning my own wedding. New Jersey has countless ballrooms to choose from and they all have the bling everyone sees on the Jersey based reality shows. The menus are standard Italian and there is always way too much food. Not knocking what some brides and grooms want, but it was never what I was looking for.
My style has been described to me (because I don't really know what to call it myself) as very "California". I love boho chic, but I'd hang a chandelier in a tree in a heartbeat. I've done the barns and farms before they were what everyone suddenly wanted and thus, I am over the burlap, lace and mason jars filled with "wildflowers". What can I say? I'm just not basic ballroom bling.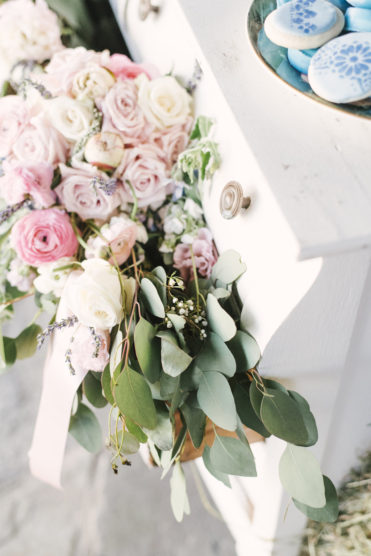 I love vintage furniture and have a pretty sweet collection that includes dressers, couches and plenty of china. I rent the pieces out when I can, but not many couples realize what the expense will be (hint: a lot). Therefore, anytime I can use the pieces, I jump at the chance.
Over the summer I designed a styled shoot in New York State. For those of you that don't know what a styled shoot is, it's basically a bunch of creatives in the wedding industry getting together and showing off their talents. This shoot incorporated plenty of vintage pieces from my collection as well as a horse or two.
It wasn't my intention, but while designing the colors and theme for the shoot, I kept going back to Pantone's "color of the year". 2016 was all about the watercolors of rose quartz and some light blue color. Honestly, I was never crazy about the colors or the combination for wedding inspiration, but I loved (seriously L-O-V-E-D) using them for this shoot.
We were fortunate enough to have not just photography but a videography team in place too. In fact, you can check out their amazing video right here: Video Coverage
The location was the highest point in Duchess County, New York, which made dealing with the light a little difficult. It was basically full on sun for the entire day. There were a good amount of reflectors and flashes being used to battle the summer sun and zero clouds.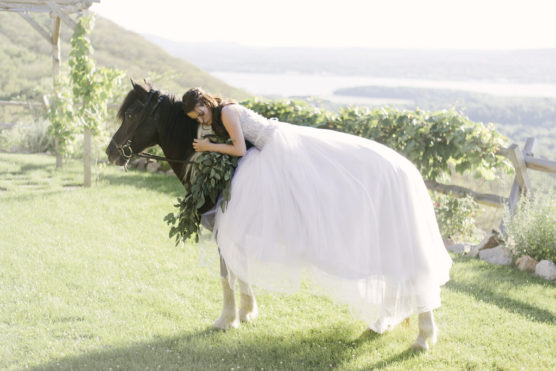 For any farm or barn wedding, if there are animals around, I always want to incorporate them. I mean…come. on. How gorgeous does this model look draped over this stunning horse? This wedding dress was an airy ballgown with a crystal bodice and we designed a eucalyptus wreath for the horse.
As a designer, I fully believe in complimenting your surroundings and not competing with them. It would've looked ridiculous to have used bold and dark colors and over the top tall centerpieces.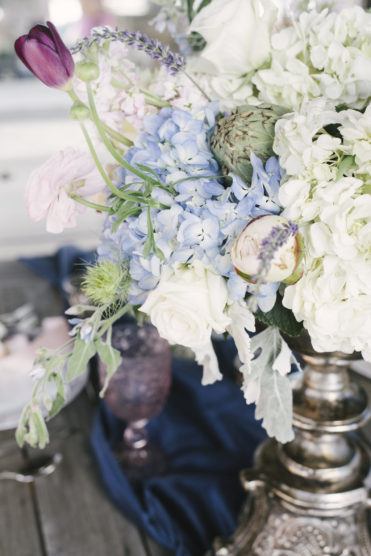 In order to keep the natural feel without being too nature, nature, nature, we worked with long gray-brown farmhouse tables and a simple deep blue runner. I wanted to keep the rest of the table exposed to showcase the vintage china. Place settings are a huge deal to me and if you can work it into your budget, I highly recommend a floral and/or custom menu on each plate. It really is that extra touch and it "finishes" the look of the table, much in the way a charger would.
The runner was scrunched to give that "I woke up like this" look and the flowers were placed in a vintage silver holder. In keeping with that natural but beautiful wedding vibe I was going for, figs and artichokes were included in the design. Remember, if you're on a farm, a great way to work with what you have is to use what they have.
We luckily had the entire day to shoot and were able to use the barn on site as well as the entire grounds. Even though the sun never hid from us, the light changed enough to give some serious contrast to the photos. You can also see some behind the scenes fun over on our YouTube Channel here: Behind The Scenes
Styled shoots are a crazy amount of work, but the end result is always amazing. When you're looking for wedding inspiration, you're most likely going to be pinning pictures from more styled shoots than actual weddings. It's a great chance to see what vendors can really do and just how creative they can be. For more wedding inspiration from this shoot, make sure to visit our Pinterest page: Romantic Wedding Inspiration