Well, well, well…in a (not so) interesting turn of events, Style Me Pretty won't be shutting down this weekend. A massive representation of the online wedding industry and a leader in the rustic chic style has been "saved". Fair warning, I'm going to use more "air quotes" and italic font than you can possibly imagine. See what I did there?
If you're not familiar with the whole story, I highly suggest reading my earlier blog on this subject. Otherwise, you're going to be more confused than a bride deciding between table linen colors.
Only days away from "going dark", Style Me Pretty made the "shocking" announcement on Instagram that the original owners were taking over. So, is this the result of a major corporate company yielding to a petition to save SMP, or just an amateur publicity stunt that relied on the stupidity of the masses?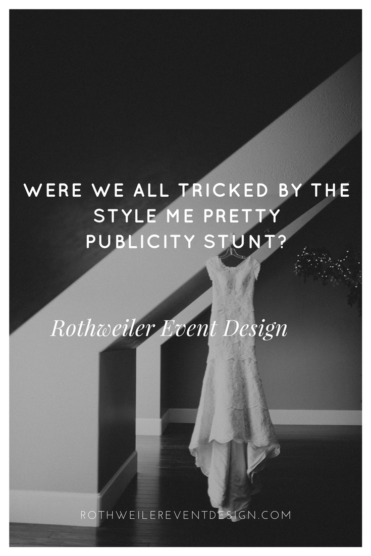 The Announcement
Shortly after word got out that Style Me Pretty would be wiped off the internet as if it never existed, a petition was created to "save it". During that time, the closure notices posted on their social media accounts and even on their main website all disappeared.
What did that mean?
Then, the original owner posted on her Instagram account that she was in discussion with the corporation she originally sold the website to, and she had no idea what was going to happen, but she felt positive. Just like the original closure notices, that post has also disappeared.
What did that mean?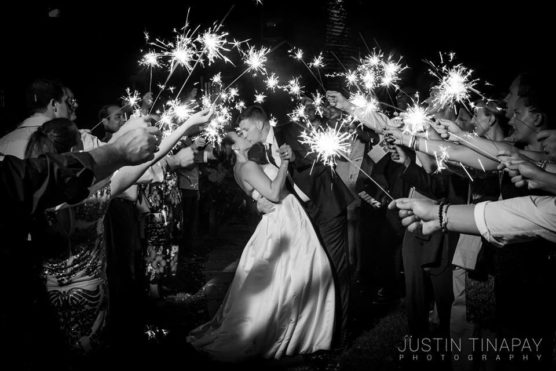 And while all of that was going on, those members of the wedding industry that had been published on Style Me Pretty, all scrambled to screenshot their work. Editors from countless other publications dropped their exclusivity rule and began accepting submissions from those that either had been published on SMP or had recently submitted to be published.
What did that mean? Well, that meant a serious amount of time for hundreds affected by the closure announcements.
Time Wasted?
Just yesterday, a notice appeared on Style Me Pretty's Instagram page.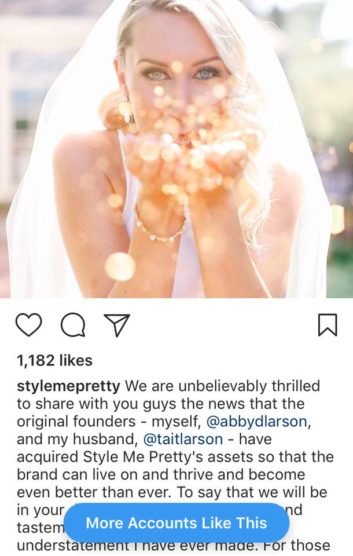 It's a long statement (which, by the way, came as a surprise to absolutely no one) and many people didn't read the whole thing. Why? Is it because everyone has a short attention span? Is it because there are no details that will matter to anyone at this point since the majority of people have a "girl bye" attitude to what looks like a PR stunt?
This isn't a laundry list of thank yous ala Oscar speech style either. There's stuff in here that people should read. So, was the length intentional, much like a contract would be in order to take advantage of that short attention span?
Here are a few things that jumped out to me:
"…the original founders have acquired Style Me Pretty's assets so that the brand can live on and thrive and become even better than ever….Tait and I are SO excited to reboot this incredible company and build on the work that the team at SMP has already created."
Implying what? A re-brand of a site that completely changed focus when it was originally sold? Re-branding is an arduous task for any company in any industry, and many times it is considered suicide. This website died when it was sold, but it seems no DNR was ever signed so here we are with those cardiac arrest plates yelling "clear" and hitting the chest of SMP.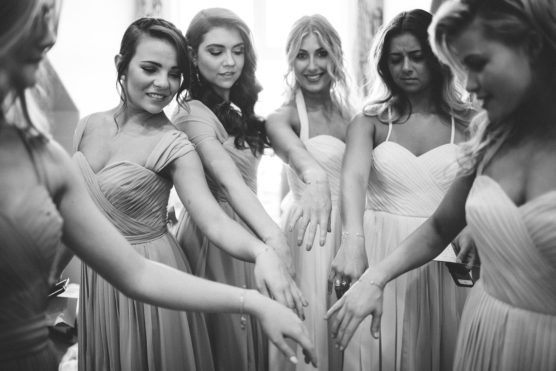 "In the short term, we will be self-funding the site, running super lean and we'll be making as much time to interview brides and industry professionals as possible so that we continue to build a place that vendors want to stand beside and readers want to devour."
And by running super lean, I'm going to jump to the conclusion that many people are out of a job. Would they have been out of that same job had the closure actually happen? Absolutely. But, this feels just like when the Titanic sank and only one life boat went back to rescue those that went down with the ship. Rose is all "I'll never let go", but she ain't sharing that door she's floating on either so…
The interviews they reference are perplexing too. The online wedding industry is rapidly changing and what SMP offered is not what engaged couples want anymore. Vendors that advertise on the website don't book couples with the success they used to. Unless these interviews are with vendors outside the SMP "you can't sit with us" circle, it's a total waste of time.
"I believe that any joy felt here should be gifted to this incredible team and not to Tait nor myself. It is bittersweet that we won't be able to take them along right now as the work that they have done for this company is simply immeasurable."
Well, no good deed goes unpunished.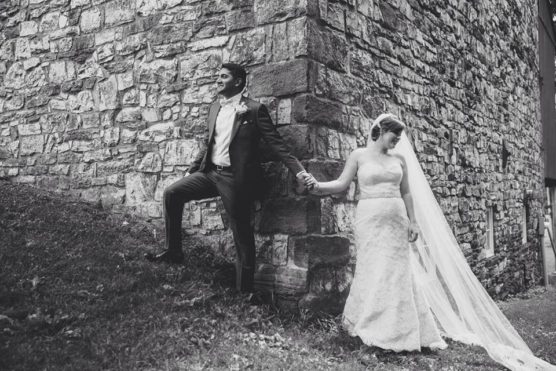 The Greatest Show On Earth
It has been said that to write well, you have to write what you know. Well, what do we know?
Was this all a publicity stunt? It's starting to feel that way, and there is an overwhelming social media response screaming just that. I'll admit that when I first heard about the closure, that was my initial thought as well. It was one of those rare times when I was hoping to be wrong. But, once again, I'm never wrong. Ask my husband, he'll tell you.
Out of curiosity, I looked up the expiration date of the domain name. I figured it would be close to the closure date since we had been told the website would vanish from existence. On the contrary, the expiration date was set for 2020. Which could mean a few things:
1. The domain would be held onto until that time, when it would be available for sale.
2. The owners of the domain would auction it off or sell it to the highest bidder before the 2020 date.
Or
3. The website was never going anywhere. At least not until 2020. Which means they already had other plans and transfer of ownership ideas in place.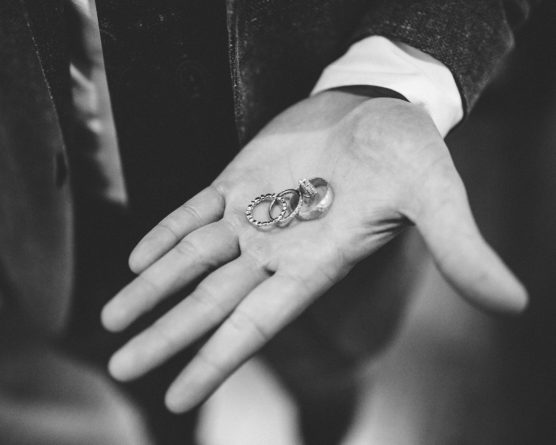 There are rumors that the corporate owners of SMP did try to sell the domain to other companies, specifically to a competing blog called Ruffled. But is it possible that the original owners were given first rite of refusal and leveraged that to drum up some publicity and see if the buy back would be worth it?
It's not a total stretch and here's why:
In my original blog written about the "closure" of SMP, I talked about the evolution of engaged couples. Specifically, how they don't want anything that SMP has offered. They want authenticity, and let's be honest, there isn't a whole lot of authenticity in pictures of a blonde bride and groom standing at the top of a mountain bathing in sunlight while holding a 500 pound bouquet of cascading greenery. The percentage of couples that can relate to that is low.
Shocking right?
We know that SMP had millions of monthly page views. But, if those views don't turn into conversions for the advertisers, then "bye bye" advertisers. I never advertised with them, but I
have

had a celebrity wedding I planned published on the first page and pushed by their social media team. What do I know? I know I never received a single inquiry from it, yet I received plenty of inquiries from brides that saw those

same exact images

on my Pinterest page.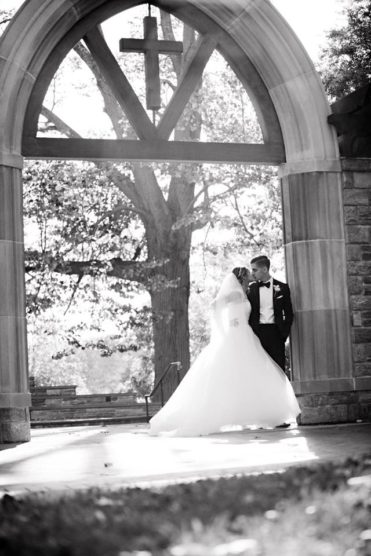 How do you get wedding industry members to care about your website again when it has become painfully obvious you're not attracting their ideal client anymore? A petition with thousands of signatures and a bunch of passion isn't a bad way to start. Combine that with the panic of "if a website like Style Me Pretty can just close, what does that mean?!" and you've got a winning combination. There's just one problem:
It does not matter
at all

what the wedding industry and these online wedding magazines and blogs think of themselves. It only matters what the engaged couples think. So, if you have to use a PR stunt to raise brand awareness, is your brand worth being aware of?
As We Stumble Along
The online wedding industry is not the same animal that it was when Style Me Pretty was born. In fact, the entire wedding industry has been in a constant state of evolution. Style Me Pretty represents a niche market, which on some levels can be a good thing. It's not a good thing, however, when that niche market appeals to roughly 5 people.
Which brings us to the re-branding implications/promises of the former and now once again owners of Style Me Pretty. They are self-funding which I am interpreting to mean no advertising…for now. If there is no vendor book, like the old (way old) original days of SMP, there's no obligation on their part to publish anything other than what they want to. What do they want to publish?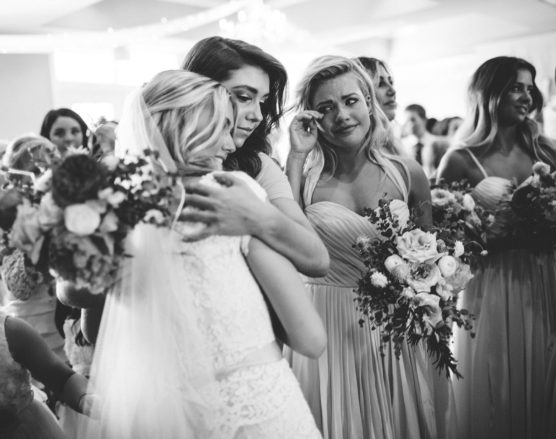 Their announcement on Instagram was paired with a photograph taken by the photographer who started the SaveSMP hashtag as well as the petition. Before I started writing this blog, I wanted to sift through the comments for two reasons: 1. What was the reaction of industry members and 2. Did any actual engaged couples care to comment?
While there is no shortage of positive comments and heart emojis, there are a fair share of industry members quick to point out the missing diversity and authenticity on Style Me Pretty.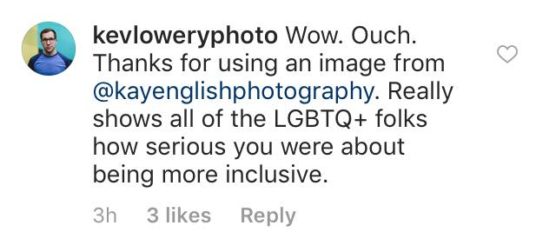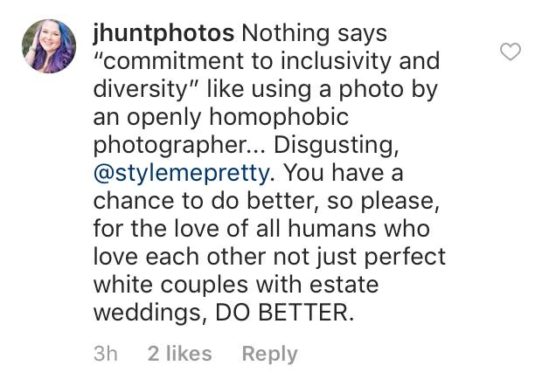 It was a good thing to see Style Me Pretty fade away. It is part of the online wedding industry evolution, and the evolution of the wedding world in general. You can have a niche, sure, but if the niche only resonates with the smallest percentage of engaged couples available, either adapt or close. If the picture they chose to accompany their "J/K we're actually not pulling the plug" is any indication of their level of commitment to re-brand, then we might see the real death of this website sooner than later.
And since there wasn't a single comment from a bride or groom regarding the "saving" of SMP, I'm guessing that funeral would be poorly attended.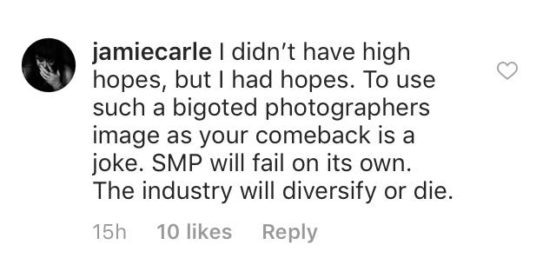 Engaged couples want authenticity. It doesn't get much more black and white than that. Why members of the wedding industry threw themselves in front of a building about to be knocked over to save someone else's brand other than work on their own is not something I can understand. Maybe they're afraid of change, but if that's the case, then their in the wrong industry.
We will never know if this whole thing was a weak sauce publicity stunt (it was) and I personally won't waste my time on anyone else's brand other than my own. Authenticity is winning, finally. The evolution of the online wedding industry is no longer moving at a glacial pace. It doesn't matter what Style Me Pretty does next.
What's your next move?