How to make your wedding invitations easy from start to finish might seem impossible. In this blog, I'm breaking it down into the basics you need. Because…let's be honest…the whole wedding invitation thing can get really complicated, really fast. Not only am I sharing my wedding planner tips and tricks, but I asked one of my favorite stationery designers to chime in as well (Shoutout to Lauren with Darling and Pearl!).
This wedding blog will take you through all the little details including timing, invitation language, and what your options are. We'll go over the difference between working with an online vendor versus an in person custom stationery designer. You can also grab my personal discount code to use on everything from your Save the Date to invitations, ceremony programs and more.
That means 25% off invites and 35% off Save the Dates. OMG you're welcome!
Just like all of my blogs, this one is broken down into sections to make it easier to find exactly what you're looking for. No matter where you are in the wedding planning process, there's useful information in here for every bride and groom. Feel free to scroll through and check out the headings if you're here for a specific detail. Of course, you can also go ahead and leave a comment at the end of this blog with any wedding invitation questions you have!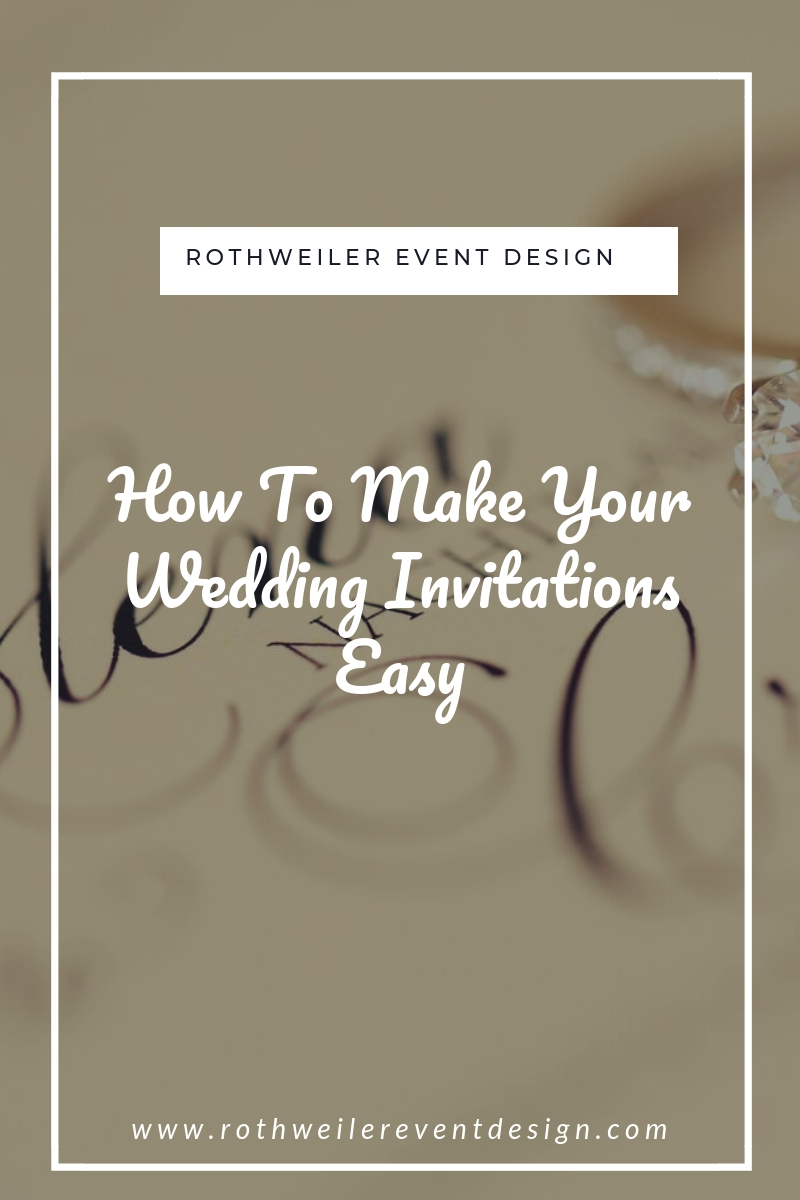 *Please note that most of the links of this page are affiliate links. This means if you click on a link and purchase, you will receive the same price, but I will receive a referral fee. This helps keep my blog free and allows me to share wedding planning tips with you. Thanks for your support!*
All The Wedding Stationery You Need (And Why)
When I work with a couple on their wedding, I like to use as few vendors as possible. Ever heard that saying "too many cooks in the kitchen"? Yeah, well, it applies to weddings too. I see a wedding as a team effort, with everyone responsible for what they do and nothing else. This means, I'm not looking to hire a DJ that also offers officiant and day of coordination services. But I am looking to hire a DJ to handle all of the music needs if possible.
How does this apply to wedding invitations? Basically, anything that falls under the wedding stationery category should be handled by one company…ideally. Does it have to be that way? No, of course not. It's your wedding and you can do whatever you want. In fact, later in this blog, I'll talk about splitting up stationery, just to prove it to you.
The reason I prefer to keep stationery with just one company has mostly to do with design. In order to keep the look of your wedding cohesive, you don't want to use one style for your save the dates, another for your invitations, and then something completely different for the day of stationery items. Logistically speaking, if you're working with one company, they can lay out a specific timeline for all of the items and incorporate their own timing to do so.
Now, let's talk about those items:
Wedding Website
A wedding website is a must-have, even if you (or your parents) think no one will use it. Trust me, people not only will use it, but they will expect you to have one. And why wouldn't you? They're easy and convenient, and you can password protect them so your wedding details aren't available on Google. I mean…unless you want your crazy ex showing up on the big day…If you already know this and need some suggestions where to get started, don't worry, I have that covered a little later on.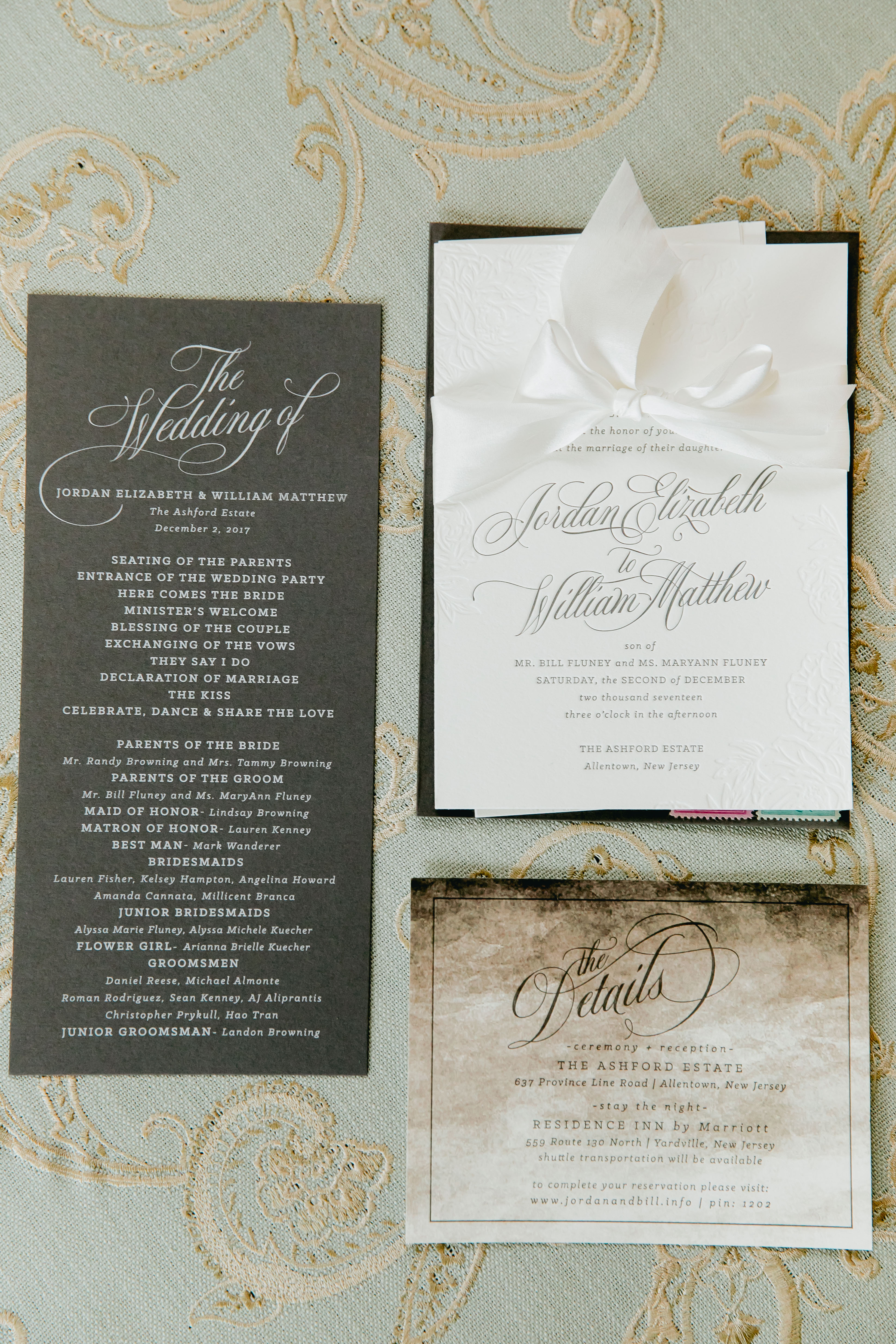 The reason I put "wedding website" into my blog about wedding invitations, is that many times, a stationery designer can handle this aspect. Likewise, there are online stationery vendors that also offer a wedding website option. While it's really popular and totally OK to use a wedding website like The Knot, a lot of couples don't realize that their stationery vendor can do this as well.
Not sure what to include on your wedding website? Be sure to contact me about the release of my e-book later this year, which will cover that and so much more.
Engagement Party Invitations
If you're having an engagement party, your guests are likely going to ask you about the wedding details. Since an engagement party happens so soon after the actual proposal, you might not have anything locked down yet. However, that doesn't mean you can't have your stationery vendor in place.
Related: Easy Ways to Make Your Fall Wedding Invitations Special
Engagement parties tend to have a different vibe than the wedding because hey, who wants to go to the same party twice? This means there's no pressure to have a cohesive look from your engagement invitation through your wedding invitation as far as colors and printing goes. By using the same vendor, you'll have something to build from when it comes to designing the rest of the stationery. Not only can they handle your invitations, but any other stationery you need on the day of the party like menus and signage.
Save the Date
Generally speaking, a Save the Date should go out 6-8 months prior to your wedding date. If you're hosting a destination wedding or have a popular date, you should consider sending these out closer to the 8 month mark. A Save the Date should be simple and only include the very basic information. This is also an opportunity to share your wedding website link so your guests can get more information about the wedding day prior to receiving the wedding invitation.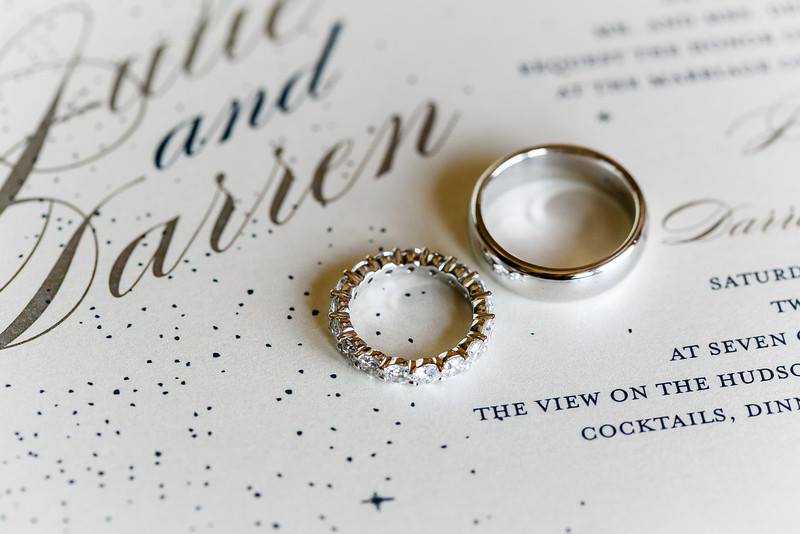 I've always been a big fan of the magnet Save the Date options because I know they won't wind up in a pile of envelopes on someone's kitchen table or writing desk. In fact, I have about 50 Save the Date magnets on my fridge right now, including 10 of my own. Let's face it, people use magnets, right? In my e-book coming out later this year, I talk about selecting a picture (or pictures) for your Save the Date (magnet or not) and some timing issues to consider…stay tuned for more on that or contact me for details.
Magnets and pictures aren't the only options when it comes to a Save the Date. Your stationery designer can put something together which will give your guests a hint of what's to come.
Wedding Invitations…All The Pieces
You've probably seen what is called a "wedding suite" before, which includes the actual wedding invitation, a few enclosures, and some envelopes. There are a bunch of ways to coordinate the enclosures as well as what details go on which ones. Not only are you giving your guests information, but you're getting information from them as well. One of the things I constantly hear as a wedding planner, is that my couples want the amount of enclosures to be as few as possible.
Let's back up for a minute though…the main piece of the invitation will do the…um…inviting (go figure). The invitation wording will vary based on whatever your personal situation is, and then will include timing, location and dress code details. Enclosures are a great way to give other information without cramming it all onto one main piece; things like after party information or where the hotel is located are often placed separately from the main invitation.
The RSVP card is another enclosure, and along with the self-addressed stamped envelope, it will be sent back to you (or whomever is collecting) with information you need. It doesn't matter how much or how little information you need from your guests, it all has to be on this card. Offering a shuttle service? Brunch the next day? Ask for a response to everything on that one card.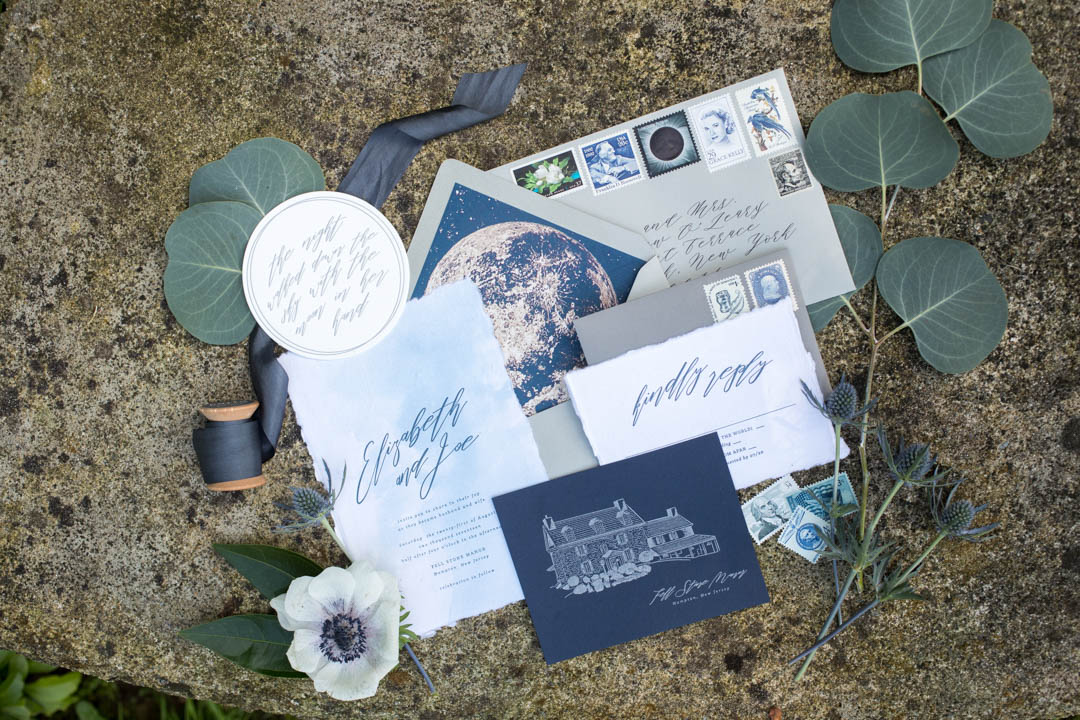 Then you have the accessories to choose from. For my couples that don't like a lot of enclosures, they end up using either pockets or a belly band to hold everything together. Incorporate your style even more by using calligraphy, specialty postage or a wax seal on the main envelope. If you're working with a custom stationery designer, be sure to get them a swatch of your bridesmaids' dresses too.
Day of Wedding Day Stationery
Here's the list of all the paper you (might) need on a wedding day:
Ceremony programs
Escort cards/Escort board
Signage
Table numbers
Menus
The timing of wedding day stationery can get a little tricky, but it's so much easier if you're working with the same stationery designer you've been working with all along. You'll know in advance when they need information and exactly what they are going to need in the first place. The reason I mention this is because the day of stationery stuff comes together 6-8 weeks prior to the wedding day…
Which is also known as the most annoying and stressful time during the entire wedding planning process hands down. It's basically when your venue and vendors all need everything from you that was impossible to provide any earlier, and it coincides with the time that your guests aren't sending back RSVPs and your mom is being ridiculous.
Anyway-
Ceremony programs are the first thing my couples want to cut and I always suggest that they don't. First of all, it's a negligible cost at the end of the day, and second of all, your guests want to know what is going on and who is who during the ceremony. Are they going to leave the programs behind? Yes. Are they going to wind up in the trash? Yes. Do it anyway and get my e-book to find out exactly what to put in and what to leave out.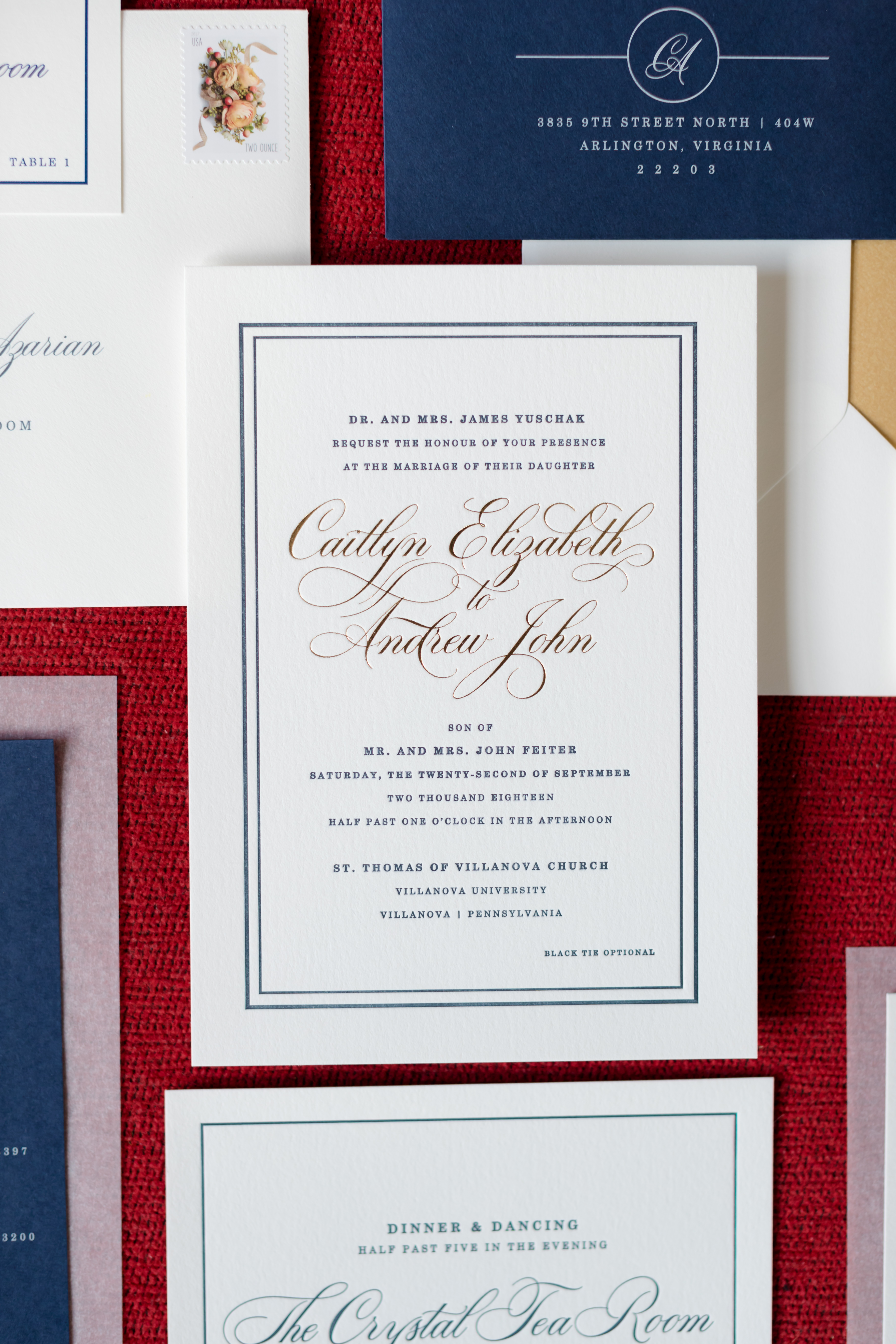 Your seating assignments will either be a form of escort cards or a type of escort board. If you're doing something outside the paper world, discuss it with your stationery vendor in advance to find out if they offer what you need. No matter what though, if anyone other than you is handling the printing of your guests' names, it's essential to know when they need the final guest list by in order to determine your RSVP date.
Signage includes anything from signature drinks to hashtag announcements, and come in various sizes. You can work with your stationery vendor to incorporate the same style, color, and font into these signs that you used in the wedding invitations. The same is true for table numbers/names and menus. It's important to check with your venue to see if they offer these items before committing to a separate purchase. Just make sure you actually see a sample of what is available first.
Online Stationery Vendor or In Person Stationery Vendor?
It's been my experience as a wedding planner, that there are two groups of people. The first group includes couples that value wedding invitations. These couples see their wedding invitations as an important piece of their overall wedding design and a keepsake for themselves.
Related: The Most Unique Ideas for Summer Wedding Invitations
The second group are the couples that believe invitations just wind up in the garbage and want to spend their money on other things like flowers (that also end up in the garbage, but semantics).
Bottom line is, there are two very distinctive groups, neither one is right or wrong, and all that matters is knowing which group you actually belong to. Believe me, it's quite a challenge working with a bride or groom that isn't satisfied with any of the online stationery vendors, but insists they do not need a custom stationery vendor.
There are definite pros and cons to picking one over the other, but, let's talk about what really matters at the end of the day to engaged couples: Cost.
Ask yourself a few questions to determine whether or not an in person custom stationery vendor is for you: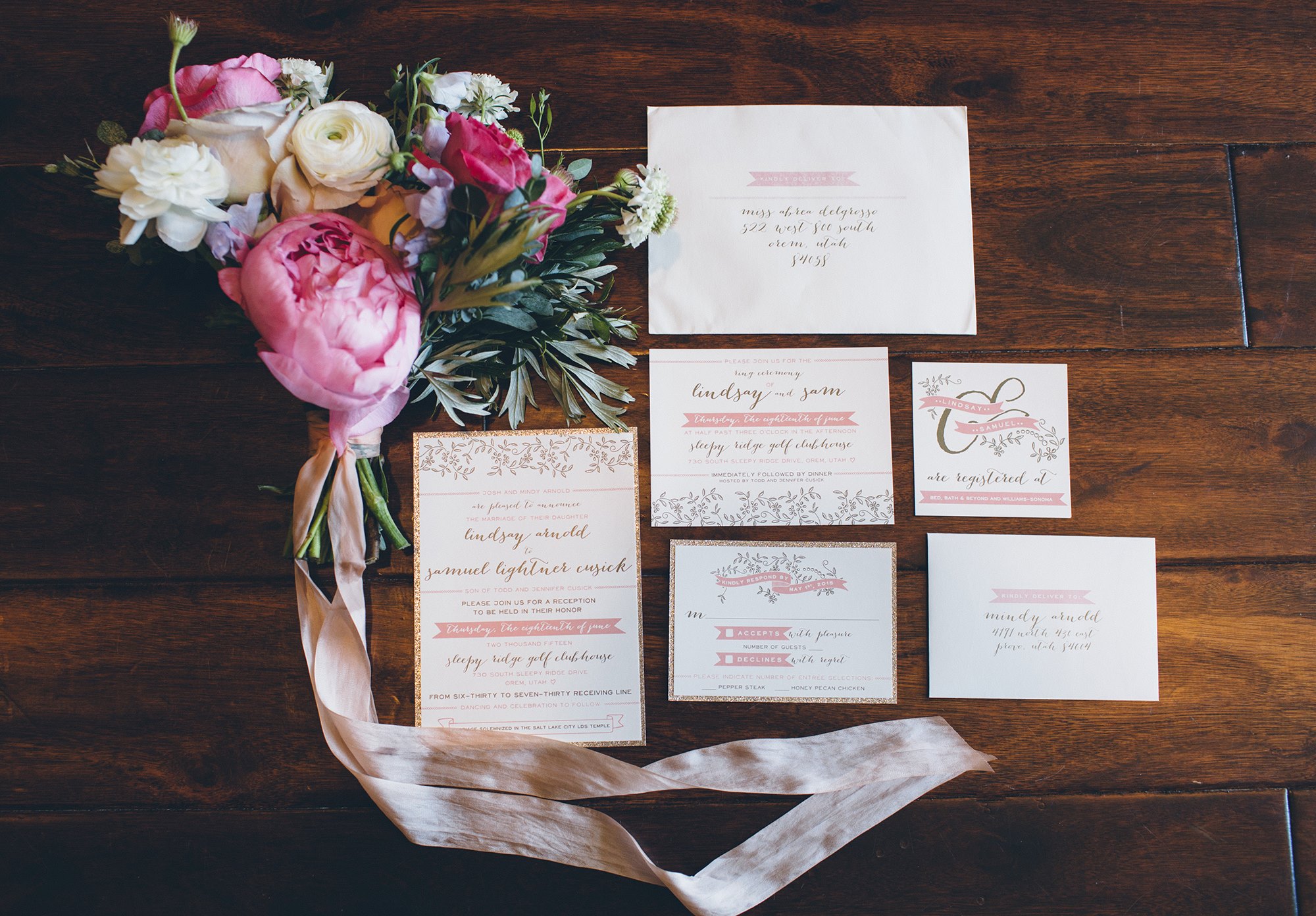 Has anyone ever called you "Type A"?
Do you know exactly what you're looking for?
Have you only received ugly wedding invitations in the past?
Is your dress code black tie or pretty damn close to it?
If you said "yes" to any of these questions, you need to be working with someone in person. As a wedding planner, having a custom stationery vendor to work with makes my job a lot easier. There are literally no limits to what can be done, and the professional advice as it pertains to wording and other details is worth the cost alone.
One of my favorite stationery designers, Lauren Reed of Darling and Pearl had this to say about how can couples personalize their paper goods in a way that's unique to them:
"The best way is to find a designer that really resonates with their style and aesthetic. As for physical details, colors patterns, monograms and crests- and my favorite, a really fun and meaningful vintage postage collection for the sending envelopes."
But every couple has a different set of priorities, and maybe your priorities include spending less on paper and more on everything else. There are a lot of online vendors to choose from, but before you fall down the Google rabbit hole, I'm sharing the ones I recommend to my own couples (as well as my discount code because you've stuck with me this long and you deserve it).
Minted
Minted is the closest you can get to an in person custom stationery designer without actually working with one. Everything on the website is designed by an independent artist and they'll give you free sample kits, so you can see the colors and feel the paper before ordering. In addition to wedding invitations, you can get your wedding website and all of your day of wedding stationery from them as well.
You can spend as little as $1.25 per invitation with Minted, and then save another 35% off Save the Dates and 25% off wedding invitations and all other wedding stationery by using our special link and the code: WEDPLROTHWEILER.
To learn more about Minted, check out my blog post right here.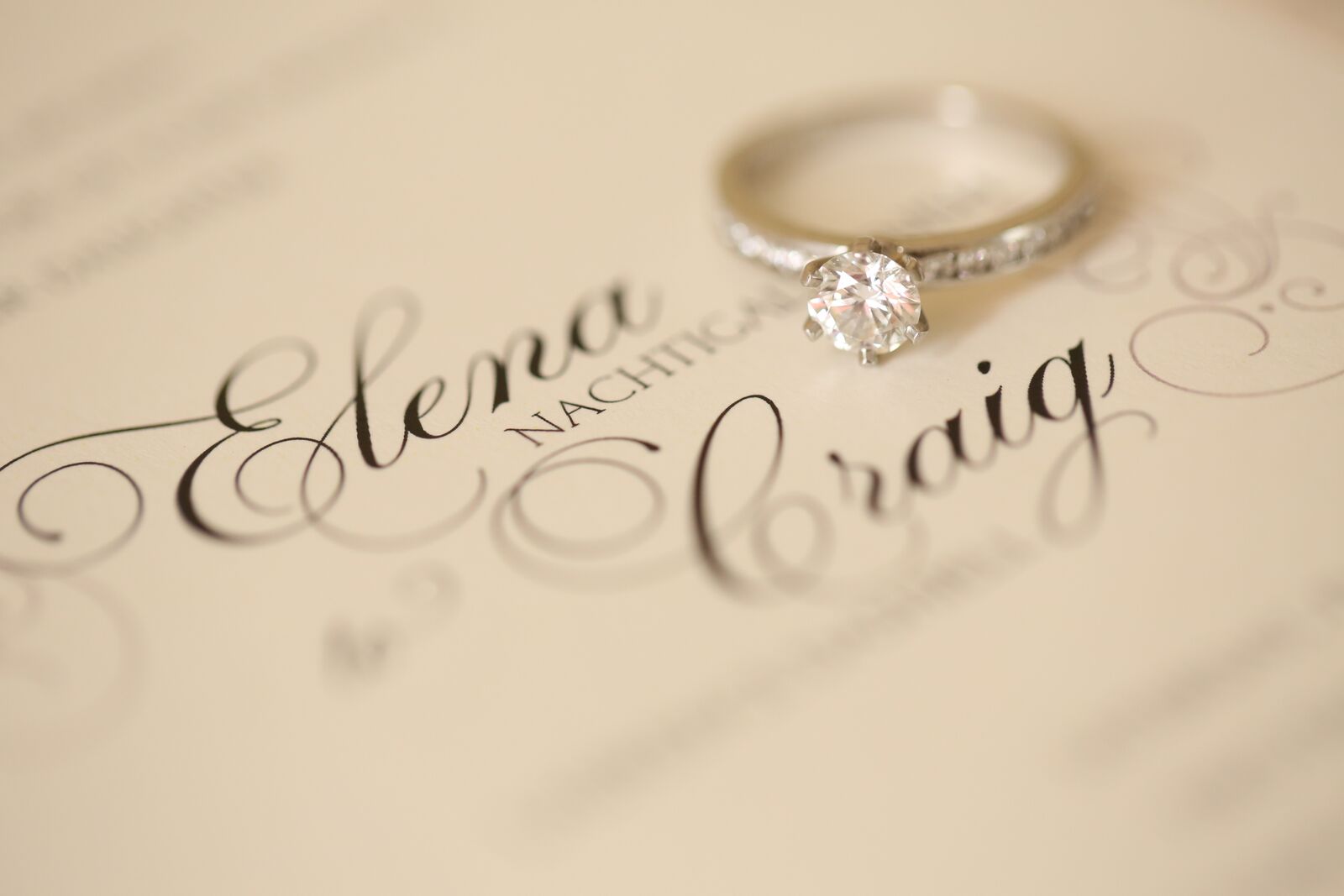 Zazzle
You've probably used or at least heard of Zazzle before, especially if you've ever need something printed on a t-shirt, mug, or you name it. Zazzle is a great website for customizing things, so it makes total sense that they offer wedding stationery.
What I really love about Zazzle is the ability to flip between their templates and also create your own. They allow you to upload photos, text, and artwork to create the exact look you want. They're pricing is crazy amazing, and I'm always sharing their sales in my newsletters almost every week (and if you're not on that list, you're missing out, so be sure to sign up today!)
I talk everything Zazzle on a separate blog post, which you can read here.
Online v. Paper Wedding Invitations
More and more I am being asked my opinion of online wedding invitations. If you've read any of my wedding marketing blogs, you already know how important I think it is to adapt to changes. If most couples want their wedding venue or caterer to offer a customizable menu, and you (the venue or caterer) don't offer that, then you won't be working with most couples. It's really very simple.
That said, I'm not really a big fan of online wedding invitations because it's not a birthday party for crying out loud. But, that doesn't mean I can't recommend the best options for online wedding invitations. After all, it's my job as a wedding planner to know the best choices in every vendor category, including those categories that aren't really my style.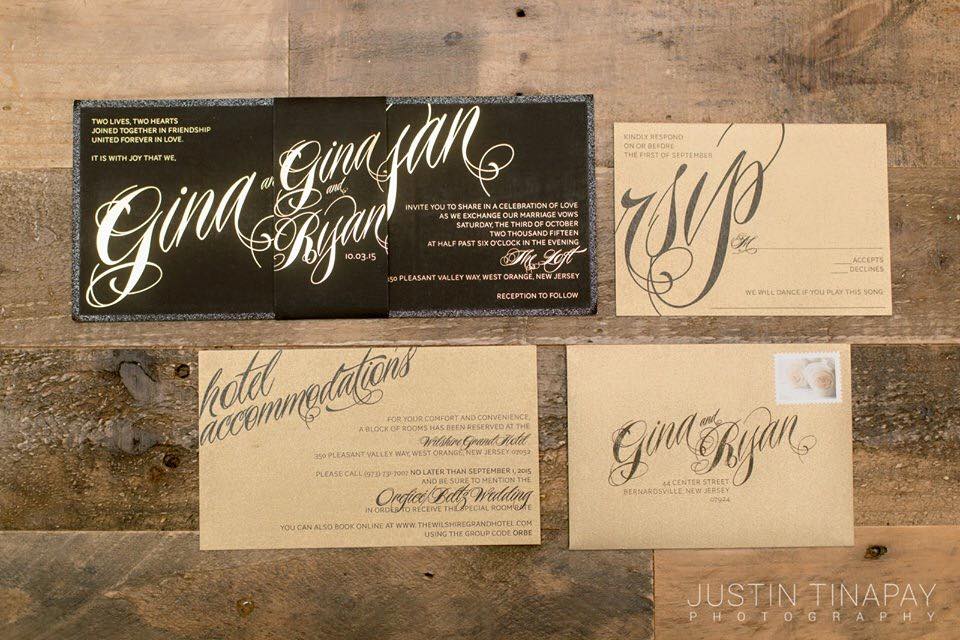 The couples that have asked me about online wedding invitations were typically dealing with a guest list of people traveling. That could mean they had a destination wedding, or that their local town was anything but local to those coming the wedding. If you're not sure whether or not to go the online wedding invitation route or what to include if you do, get on the list to receive my e-book that will totally help you decide!
The last two online stationery vendors I'm recommending offer customization and reliability. Greenvelope and Appy Couple are my favorite go-to websites for online wedding details.
Greenvelope has over 400 designs to choose from and their pricing starts at just $124 for up to 150 people (that would be 300 guests with everyone getting a +1). For a list of their designers (hint: one is a big time wedding planner) and more, you can read my blog right here.
Appy Couple is the only choice for the modern bride and is perfect for those long wedding weekends or destination weddings. Design your wedding website, save the date, and digital invitation all through Appy Couple and take advantage of their RSVP notification service. To find out everything Appy Couple offers and if it's right for you, check out the details in my blog here.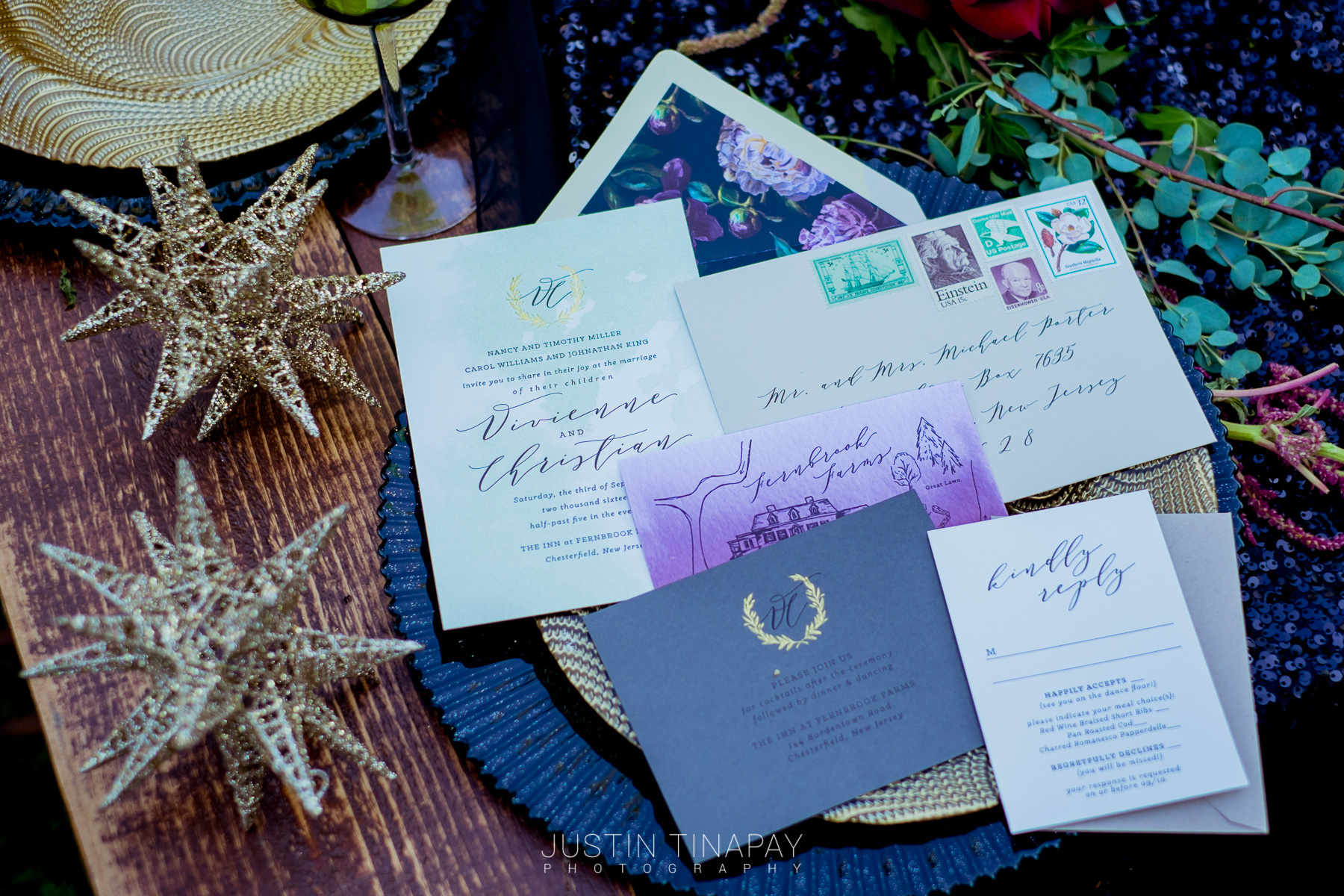 Couple's Choice
There are so many factors that go into wedding stationery, and decisions should be made sooner than you think. Cost is often the driving factor in most wedding decisions. I asked my friend Lauren at Darling and Pearl the best ways to splurge and save on wedding invitations:
"I always suggest a splurge on the printing method. Nothing can compare to how special letterpress feels- It really sets the tone for a special event. A good place to save- instead of going full custom, find a designer that has customizable Collection Designs that speak to you."
If going custom on all the wedding stationery is too much for your budget, consider using one of the online vendors recommended in this blog for smaller jobs like your save the dates or day of wedding stationery.
How important are your wedding day invitations? Is there a question you have that I didn't answer? Please share your thoughts in the comments section below and let's keep the conversation going!