Welcome to the rest of the real wedding planning checklist. If you missed the first part, make sure you read this first!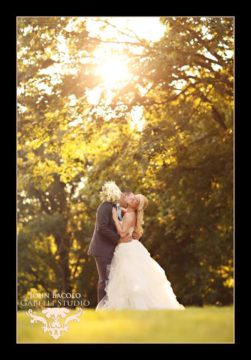 In Part 1, I talked about some bigger items like selecting your wedding venue and hiring your photographer, band and of course, wedding planner. In this part of the blog, I will finish off the rest of the wedding planning checklist and tell you when to book everything from lighting to restroom trailers.
Lighting and Other Décor
What your lighting will look like will depend on what your venue offers. If you're working with a venue with an in-house lighting designer, then their availability is less of a priority than if you were to bring an outside vendor in. That said, as a designer, I like to handle all of the aesthetic components at the same time since they all work together. This means lighting is done on the earlier side.
If you're looking for basic lighting features like wall washes and monograms and you've booked a DJ, there's a strong possibility that they can handle those features. However, if you're looking for things like pin-spots and hung lights, then a lighting designer is essential.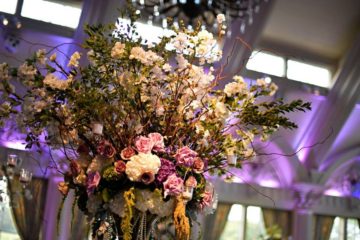 Good lighting designers can be few and far between, so if you have the time, start your outreach 5-7 months prior to your wedding date. Pressed for time but lighting is a priority? Before selecting venues to tour, be sure to find out exactly what they offer and definitely what they allow. Give priority to venues with in house lighting designers in an attempt to kill two birds with one stone.
Other décor like furniture rentals, linens and signage can frequently be combined with your other vendors' services. Check with your florist for their rental list and your stationery designer for signage. Bonus: the more you book with one vendor, the better that vendor can do on their price.
Officiant
I am always majorly surprised when a couple contacts me for full service and they haven't considered something very important: the person performing the ceremony. If you're not getting married in a religious house, you will need an officiant to make the marriage, you know, legal.
Depending on the state you're in, a friend and/or family member might not be able to perform this service. Truth be told that's not always a good idea anyway, but I digress…
Since it is impossible to be in two places at the same time, officiants, especially the good ones, book up a year or two (nope, not a typo) in advance. Along with wedding gown and venue, I always make securing a wedding officiant a major priority. If you've got the 12 months, then use them and if you've got more, use those too.
But if you're working with much less, use whatever you have. To speed up the process, ask for recommendations from your married friends and family, get on google, talk to your venue about their vendors…basically do whatever you have to do and get this done.
This can be time consuming because yes, you will actually need to meet with these people. A skype or phone call won't cut it here and officiants tend to be busy on weekends with…wait for it…weddings. If possible, block out a weekday and meet with a handful all on the same day. To narrow your choices down, look for or ask for videos of the officiants presiding over weddings so you can see them in action.
Wedding Wardrobe for Everyone Else
Bridesmaids and groomsmen all need stuff to wear and let's not forget the groom and sometimes parents that are looking for assistance. Just like stationery, this timing will depend on what you're looking for and just like a wedding gown, timing depends on designers.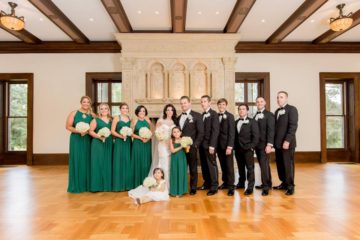 I personally believe and always suggest that my brides have at least an idea of what they want their bridesmaids to wear before I set up any appointments. To save time, look into stores that have similar styles to what you want and only make appointments with them. It should also come as no surprise that weekends book up first and if you can handle this on a weekday, you're likely to get an appointment much quicker.
The bridesmaid wardrobe process should start much earlier than you think or have been told. Got 9-10 months before your wedding? That's perfect as some designers take 9 months to get their dresses in. Most other designers will take at least 6 months and a select few will take less. But unlike your wedding gown, you can't grab samples of these because you likely need more than one.
If you don't have the time, treat this like your wedding gown shopping and talk to stores in advance about what they have and how long everything takes to come in. Be transparent about the time you're working with and visit stores with the best and most options. To really cut down on time, go to the stores to select the gown or gowns yourself and then leave it to your bridesmaids to only deal with getting measured instead of giving opinions.
For the boys, your options are renting or owning (sucks to be a bridesmaid…for now…subscribe to my YouTube Channel to find out more) and less time isn't always a bad thing. The more traditional you're going, i.e. black tuxes all around, the easier and less time consuming this will be. A word of caution in regard to timing and tux rentals: prom season is going to get in your way and you'll have to factor that 1-2 month period into your planning timeline.
Should you not be going down the black tuxedo route, there's a chance that you'll need custom suits. If you want anything from what you think is a gray tuxedo or a blue tuxedo, or any other color, then you actually are looking for a suit. For more about that, be sure to check out my YouTube video discussing the difference between tuxedos and suits.
Custom suits require a 4 month window of time, so if you have that, you're golden. You don't necessarily need more than that for rentals, but if your groomsmen are spread out geographically, the more time you can give, the better. Typically, this isn't an area of concern even with shorter engagements, but a common mistake I see here is couples leaving it as one of the last things to do.
Transportation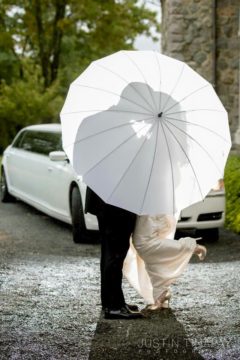 Limos, shuttles, party buses and magic carpets should be booked 8 months prior to your wedding or earlier if possible. Just like tuxedo rentals, prom season severely affects the availability of transportation companies. You don't want to use multiple companies (seriously, do not do this) so it's important to get this done early on so that you have choices.
Less than 8 months to check this off your list? You'll likely be doing multiple vendor bookings at the same time, so add this one to the list. Save yourself some time by figuring out exactly what you need, for how long and from where to where. Consider how you and your fiancé will be traveling, as well as your wedding party and any immediate family including parents and grandparents.
If you want to provide transportation for your guests, booking shuttles is the way to go. These vehicles vary from 14 passenger vans to 55 passenger buses and should be booked early with the rest of the vehicles. Before you commit to transportation for your guests from a separate company, you should talk to your hotel block about their options. Speaking of which…
Hotel Blocks
9 times out of 10, and I actually think it's more like 10 times out of 10, I set up hotel blocks for my couples. This might seem like something that can be done quickly, but take my word that it can be fairly complicated.
Because I like to handle transportation 9-10 months prior to the wedding and some of the transportation will be affected by a hotel block, I do these at the same time. I give automatic priority to hotels that offer shuttle service in house and that don't have a financial obligation.
Unfortunately, both of these things have become close to extinct which only means you will need more time to find these dinosaurs in the first place.
If you're not looking to shuttle your guests on the wedding day and you have only a few months to plan, typically 4-5 months out will be good enough to set up a block. It's important to note that most blocks expire a full month before your wedding though. If you're getting married around the holidays or other "hotel worthy" dates like Valentine's Day, President's Day Weekend, etc. then set up your block as soon as possible.
I mentioned that setting up a hotel block isn't as easy as it seems and besides not being easy, it tends to be frustrating. Your time will be consumed with finding out the policy of each hotel and if you want to actually speak with someone there, good luck as they all hold typical 9-5, Monday through Friday hours.
A great way to save time and avoid a massive headache that will turn any normal bride into a zilla, is to use a service that does it for you. There are plenty available out there, but when I'm not handling the blocks myself, I like to use "Where Will The Stay?". You can hear more about them and what they can do on my favorites segment here! Oh, and it's free.
Hair and Make-Up
It probably feels like I am suggesting to do everything immediately if you're getting married in less than a year. If it doesn't feel that way yet, it's about to.
Hair and Make-Up services are something I try to book 6-8 months out if the couple has the time. Stylists book up quickly and are majorly affected by peak wedding season. Ideally, you'll be hiring a company that will bring multiple hair and make-up stylists on the day of the wedding for the bride, bridesmaids and anyone else who needs it.
It's important to leave time for a trial which you can have before booking or after…though I typically recommend before. Trials are another one of those "weekdays are better" things since stylists are busy with weddings and working in general on the weekends.
With limited time, consider hiring someone you have worked with before and see if they are able to put a team together. I would also recommend asking your photographer if they recommend anyone since it's not a horrible idea to book these two vendors at the same time.
The Other Stuff You Didn't Think Of (But I Did Because It's My Job)
Everything I have discussed so far covers the basics that every wedding day needs. But what about those weddings that take place at venues with in-house nothing or just in-house a few things? What do you book when?
Outside Food and Beverage
If you're dreaming of a "grow your own venue" deal where you get to bring in an outside caterer, then get ready to plan this 9-12+ months out. This falls in line with when you would book a venue since many venues include food as one of those essential things. Plus, when you bring in this outside service, you might need things to put the food on like plates and silverware and glassware is always nice to offer your guests.
More than 12 months to plan or at least 9 months and you're in a good position to have choices available. Wrenches will get thrown into your planning timeline here around the holidays when caterers are super busy and wedding season can be a tough time to pin them down as well. You should consider that when deciding when to start the search.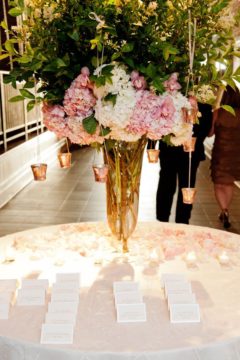 In general, I would recommend to couples with limited time to use a venue with as much stuff included as possible. But the heart wants what it wants right? Put this at the top of your list of things to do regardless and save time by asking for referrals from the venue you book as well as from friends and family.
Get on the same page with your fiancé in regard to type of food and style (sit down, buffet, etc.) that you want before making any phone calls. Liquor laws vary from state to state, so make sure you know if BYOB is an option or if your caterer will have to provide the liquor and only talk to caterers that can handle playing by the rules. To save even more time, work with caterers that will handle bringing in tables, chairs, linens and all of the basics so you don't have to rent anything.
Restroom Trailers
Barns and farms are great (they are, don't be a hater) but very few have indoor plumbing which means bringing in restroom trailers. These should be booked at least 5-6 months out, so a short engagement doesn't usually pose a problem here. When searching for venues, find out whom they recommend (they should absolutely be able to tell you this) and what their electrical and water hook-ups are like. The trailer companies will need this information to give you pricing and let you know if they can even handle the venue's property.
Cigar Rollers, Photobooths, and Other Fun Vendors
Novelty vendors such as these are a dime a dozen, though the best are frequently booked up in advance. Many of my couples don't decide that they want vendors from the "fun" category until we're within 6 months or so of their wedding. By that time, it comes down to having some extra money in the budget or suddenly realizing they always wanted something. I've never had an issue booking that close to the wedding date, so don't panic if you're tight on time.
Honeymoon
Saving the best for last, I always recommend a travel agency for my couples to work with for their honeymoon needs. Of course, I am able to make recommendations, but for truly personal attention and to save time, working with a travel agency is the best way to go.
I don't handle this until about 6 or 7 months prior to the wedding date, but if I'm able to, I will get it done earlier. Travel agents frequently have conferences throughout the year and if they are away, they won't be able to get back to you quickly. Put together a wish list of places if possible and find an agency that has specialists.
If you're not working with a travel agent or if you're going to honeymoon during a popular vacation time such as spring break or the holidays, start the process 7 months out. Not possible? Consider having flexible travel dates if you can and try to give yourself a minimum of 4 months before the wedding date.
Another option and one than many of my couples explore, is taking the honeymoon a few months past the wedding date. This gives them and can give you extra time to pull this all together either with an agency or on your own.
Wrapping Up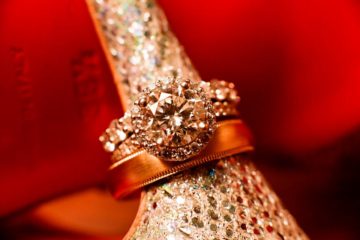 I know there are countless wedding planning timelines available to you and many come in a pretty printable template too. But wedding planning isn't easy, which you may already be finding out. There are times of the year to always be aware of and in general, the more time you have, the better.
Unlike all of the timelines out there, I am completely aware that no two engagements are the same and 12 month timelines doesn't always exist for everyone. You can't book your venue 9-12 months out with less than 6 months to plan. I hope my wedding planner secrets gave you ideas on how to increase the time you do have instead of working with the time you don't.
Are you planning a wedding with less than a year to get it all done? What advice do you have for other couples with short engagements? Share what you've done or what you wish you had done differently in the comments section below!