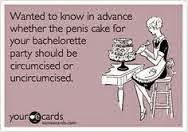 You're a bridesmaid and there are the typical expenses: your dress, your shoes, your hair and make up, throwing a shower…and now, throwing a Bachelorette Party. The concept of the Bachelorette Party is so new, that my computer literally doesn't recognize it and changes it to "Bachelor" every time I type it. But I digress…
This party is to honor the bride with the idea that it's her last "girl's night out" and that all fun will cease to exist and there will be no more excursions to strip clubs (like you were going there on the regular anyway) once she says "I do." Frequently, we assist our clients and their bridal party with planning the perfect party. Now, however, it involves travel agents and airline reservations. Furthermore, we start getting emails and phone calls from the maid of honor or any of the bridesmaids complaining about the price tag and putting us in the middle, when really, the bride, is our client.
Frankly, my own Bachelorette Party was a small disaster and it made me happy that it was the end of my "girl's night outs" especially since I was never *that* girl to begin with. I'm more of a "lady who lunches" than a "fly to Vegas to get shitfaced" type of chick.
That's right, I said "fly". More and more I am hearing these stories about brides who are *demanding* a 3-5 day trip to somewhere warm that requires an airplane. This can be anything from the Dominican Republic to Vegas to Napa to Cancun. You know what this is also known as? Spring Fucking Break. Didn't you do that already?
Is it clear what my opinion is on these types of trips?
When you take on the duty of being in a wedding party, you are expected to swallow the fact that you will have to pay for certain things. No, this doesn't give the bride the right to select $500 bridesmaid dresses, but you do have to expect to pay up or shut up in many circumstances.
How much though, is too much? I posted on my Facebook to get some answers from brides, their maids and just the general public. And in case there is any confusion, the vodka in NYC tastes the same as the vodka in Vegas and this woman right here is not getting on a plane to celebrate the end of your single life. Nope. Don't ask me.
Many of the people that spoke to me told me that they would be happy with a night out for dinner and dancing and yes sometimes a strip club. Others opted for a full weekend of shopping and spa treatments and yes, a hotel stay. Close to 100% wanted to book a party bus to avoid the whole "drinking and driving" stuff, which I think is the wisest investment you can make for one of these things.
Here are some quotes from brides we know:
"Do not want one, not having one, and would NEVER expect anyone to spend insane amounts of money for one!"
"And what happened to a fun night out?? Why does it have to be a whole weekend?????"
"And whether we like it or not, as brides, it is our responsibility to consider the economic situations of our bridal party members before demanding big-ass bachelorette parties, bridal showers in country clubs, or $400 bridesmaid dresses."
Here are some quotes from people we know that are going to/are invited to these parties:
"Considering on the weekend in AC (Atlantic City) a room goes for about 200-250 I'd say thats an enormous amount, even if you split that a few ways, you also have to consider the dinner, partying, and things you might buy the bride. That could run you 300 hundred easy. That's a lot of money when you can just go to dinner,or a place more local."
"My childhood friend had her whole bridal party go to Mexico for a 4day weekend. I didn't go because it was too expensive."
"…..$500- $1000 pp for a weekend is just too much! After already spending close to that to be a part of the bridal party."
"I couldn't AFFORD to go to Texas for a 4 day weekend and pay for both my flight, food/drinks, hotel, AND a portion of all of that for the bride. There was no way! The way they laid it out, it was going to cost me two months' salary. I was devastated."
Then there is an opinion of a bride, now married, that had a party in sunny Key West:
"After bridesmaid indecisiveness over where to go, my girls planned a trip to Key West. Flight then 4 hour road trip to a house. It was one of the most amazing experiences I've ever had. Laying on the beach, scarfing down seafood, and bike riding and drinking. Besides being extremely fun, we would take different parts during the day and have serious talks about life, our past, hopes for the future. I found out things I've never known about girls that have been in my life for 10 and 20 years. It was a great bonding experience. As far as traveling, they paid for my flight, though I would have paid my way. I would do the same for any of them. We have jobs, bills, and obligations, but the fact that we were all childless is a big plus in being able to make a trip like that work."
Currently, I am inundated with emails from MOHs telling me that planning just a simple night out is not going well because people don't want to spend the money for transportation…their total bill? Around $200-$300. So, if that's too much, getting on a plane is going to be out of the question for most.
What does all of this mean? I think a few things:
1. Plan this in advance. Yes, you should factor in the bride's opinion, but if she is expecting a full ski weekend in Switzerland, someone has to bring her back down to Earth. It's like when I have a bride that wants to get married on Memorial Day Weekend…I tell them that many people won't show up, and then *they* decide if they want to keep the date or change it. At least warn the bride of the possibilities of not only a small guest list, but a possible bitter one.
2. Factor in the lives of those being invited. Are the women attending already married? Do they already have children? How flexible is their schedule? I will say this, as a wife, mother and business owner, if I have a spare moment for a vacation (usually 1 every 3 years) it's going to be with my family, not taking body shots in Cancun off of a bride. Look at the people you are inviting.
3. What are the wedding party expenses already adding up to? Are the gowns expensive? Is this a destination wedding? What's the grand total you are asking these people to already spend before this trip?
4. What would *you* do if you weren't the bride? Would you go on this trip?
5. If you are invited and you do commit to going, do not be a bitter bitch and pout the entire time. This means, no bitching about the costs, what it takes to get there, trying to change plans so that the costs come down…none of that. If you say "yes" you say "yes" to it all. If you know that you can't show up without being Debbie Downer, then decline and stay home.
6. Be realistic. If you're in the wedding party, you agreed to a magical floating contract that isn't in writing. You agreed to wear the dress you're put in and pay for it, you agreed to share bridal shower expenses if the mother isn't picking up the tab, and you agreed to a Bachelorette Party. Everyone has financial issues and obligations and the bottom line is this: if you cannot afford these things, politely decline being in the party. Nothing is worse than a MOH or bridesmaid that just doesn't show up to these events and isn't a part of them. You agreed to it, so suck it up buttercup.
What do you think? Are you a bride getting ready for her weekend away? Did you have a sick Bachelorette Party and think every bride should demand the same? We know you have an opinion, so please share in our comment section below!