There is so much to choose from when it comes to selecting your wedding day hair accessories. Will you go with flower hair clips? What about a hair clip that says "bride"? If you want to grow your hair so it looks majestic, then hair growth products are for you.
Not only can finding the perfect bridal hair accessory be exhausting, just figuring out how you will wear your actual hair can be a pain in the neck as well. Should you keep it classic with an updo, or are you riding the curtain bangs trend? Those layers and wispy bangs might be amazing for everyday, but will they work on the wedding day?
"If doing an updo, choose a style with wispy pieces around the front, so there isn't such a stark change from the bang to the updo. Make sure that the bangs are trimmed (by a professional) the week of the wedding to avoid any awkward lengths or something that will cover your eyes in photos."

-Michelle of Michelle Elise Artistry
I am a firm believer in not making drastic changes to your hairstyle leading up to the wedding day. That said, I've been rocking the currently trending curtain bangs for a few years now.
Bangs before Botox, mk?
Whether you're team curtain bangs or are playing it safe with the same style and color until you say "I do", wedding hair accessories are for all brides. In this blog, I'm featuring some of my favorites that you can grab right now to complete the perfect bridal look for you.
Be sure to let me know in the comments which one was your favorite and if you'll be wearing it down the aisle!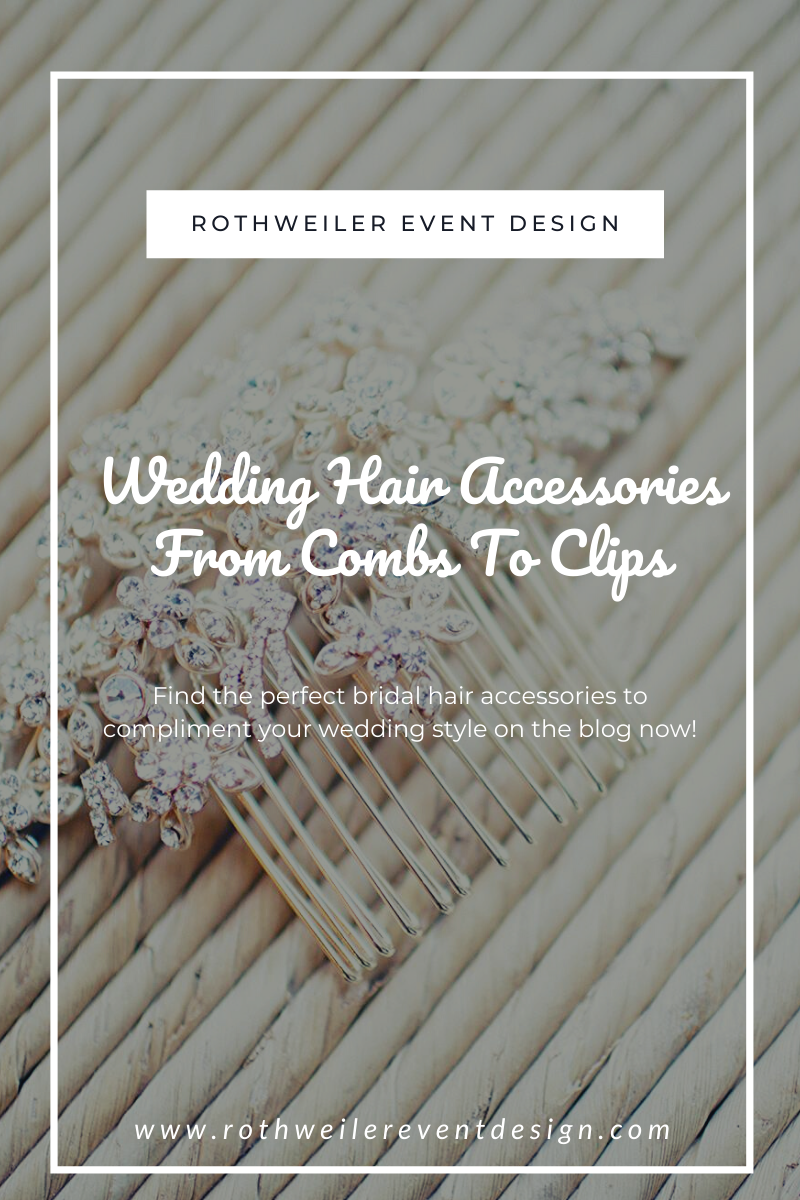 *Please note that most of the links of this page are affiliate links. This means if you click on a link and purchase, you will receive the same price, but I will receive a referral fee. This helps keep my blog free and allows me to share wedding planning tips with you. Thanks for your support!*
Wedding Day Hair Accessories
There are combs, clips, headbands, headpieces, and maybe a dozen more types of wedding day hair accessories out there. I always recommend to my brides that they try a few out if possible before making a commitment..
Try a few hair accessories that is…
Whenever you have your hair trial with a stylist, having these accessories with you will be a huge help. You'll get to see just how functional they are, or if they're really just there to add sparkle and not actually hold together your updo. Some wedding day hair accessories can be worn with a veil or even underneath one, while others will replace the veil when you ditch it for your wedding reception.
The difference between a chic updo that doesn't move, and a half up wedding day hairstyle, can totally change which accessory you select. Don't be afraid to love something until you see it in your hair when you suddenly don't love it anymore…that's what those trials are for and trust me, there is something out there for every bride.
And now, I'll prove it to you…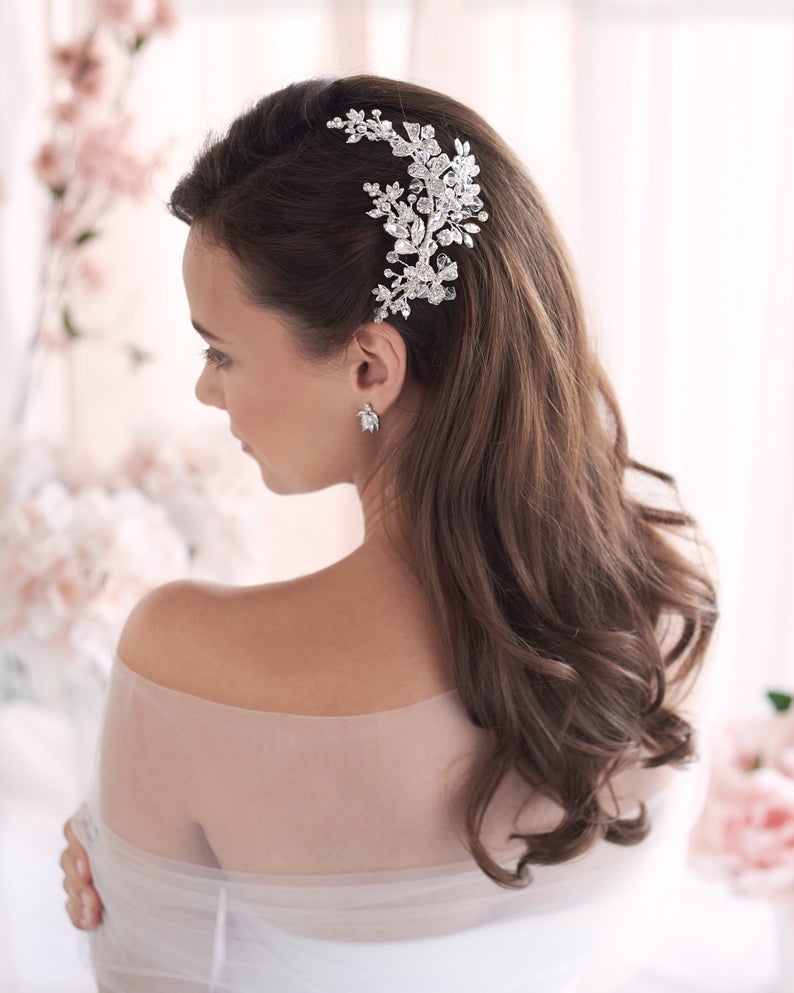 This bridal hair clip is covered in crystals and is placed on the side of the head. If you're planning on wearing your hair down as seen above, keep the look simple and sleek. Since this particular wedding day hair accessory is so bold, you don't need to compete with an elaborate hairstyle.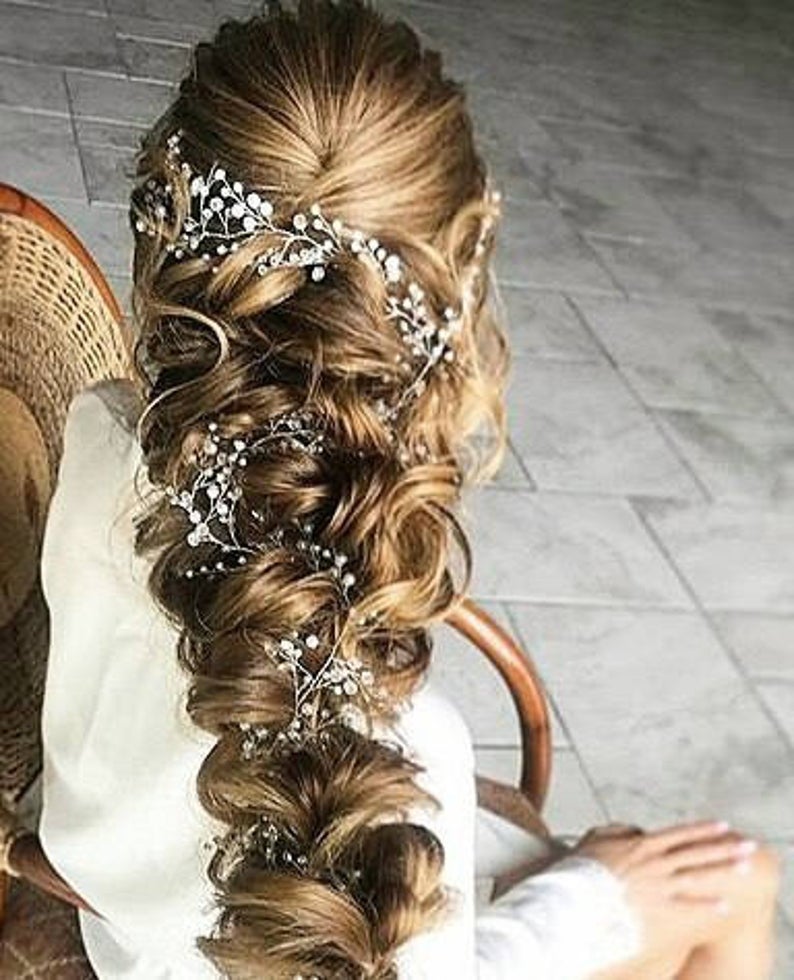 For a more vintage or even boho bride look, ask your hairstylist to create this relaxed style. These bridal hair clips are woven throughout the hair and are perfect for any bride going without the traditional wedding veil.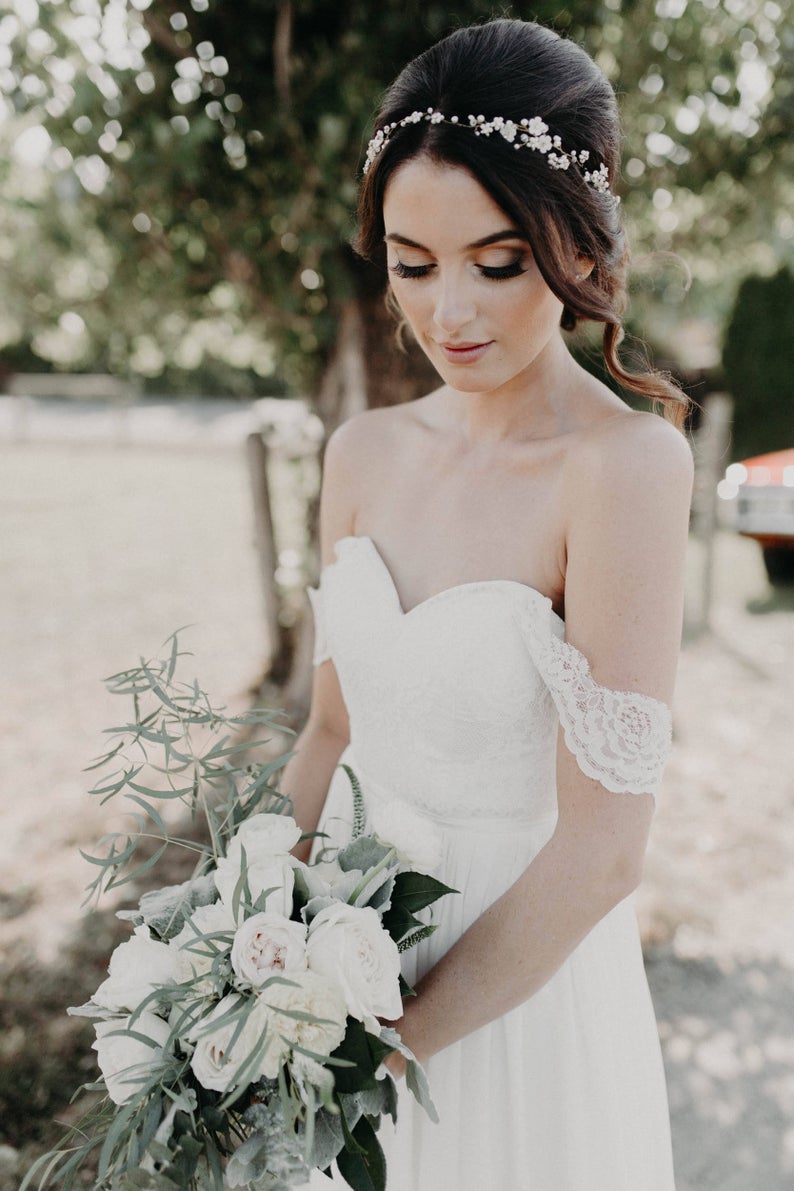 Vintage wedding hair accessories like this one are delicate but still beautiful. This overall look is perfect for any bride working with curtain bangs or just layers. Whether you select this halo hair accessory or a different one, many can be used to hold back some of those bangs and layers to create a beautiful look.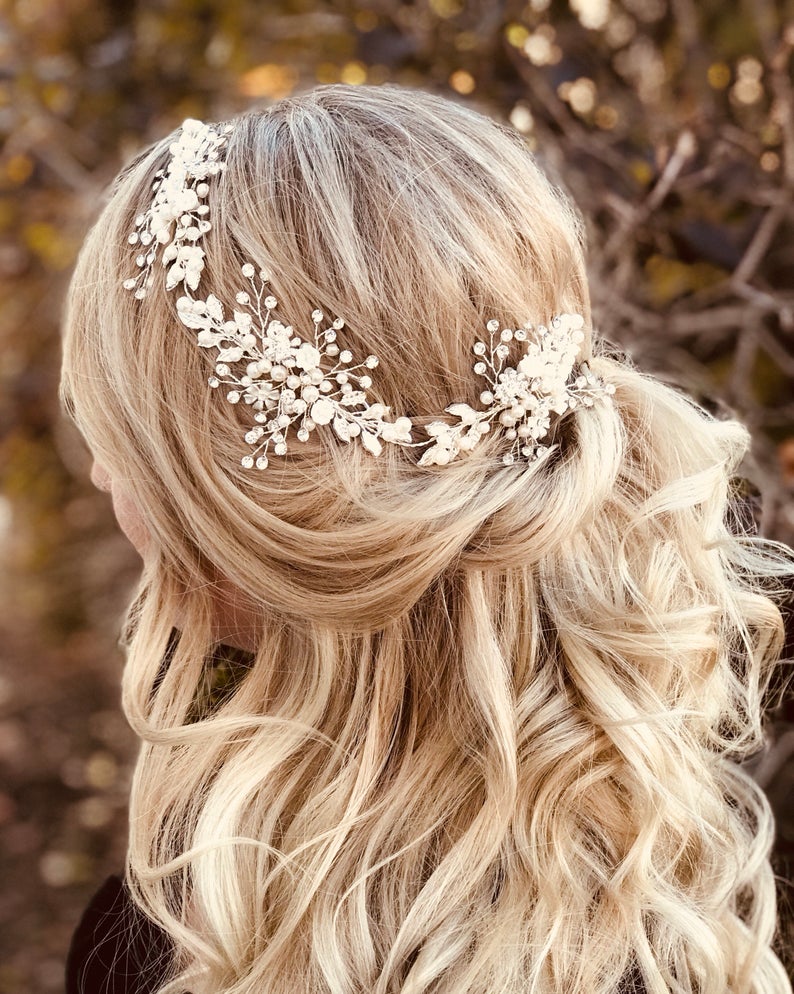 Rose gold is still a hot wedding trend, and I've always thought that less is more when it comes to working with that color. A great way to incorporate this accent color in your wedding day hairstyle, is to use an accessory like this one. Small enough to blend in, but big enough to make a statement!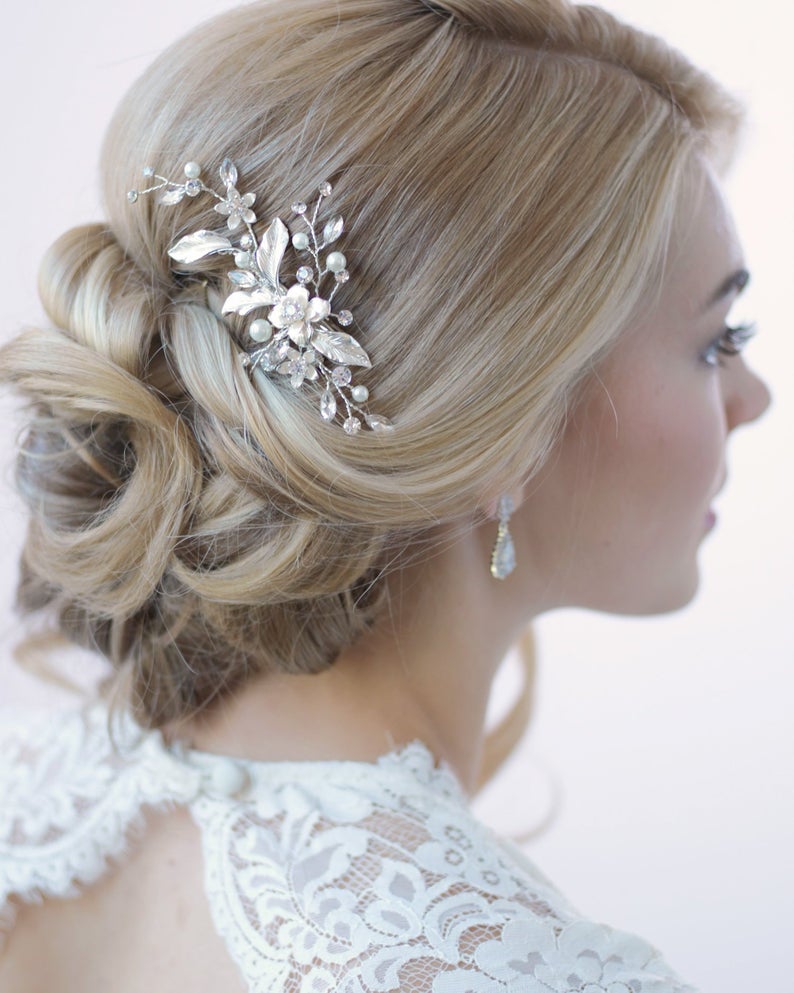 Keep this sparkly wedding hair comb hidden underneath your veil, or add it to your updo just before the reception. This is the perfect wedding day hair accessory for the bride that wants something without being too much. If your dress is already heavily detailed like the lace wedding gown above, pick up this classic piece to be the finishing touch.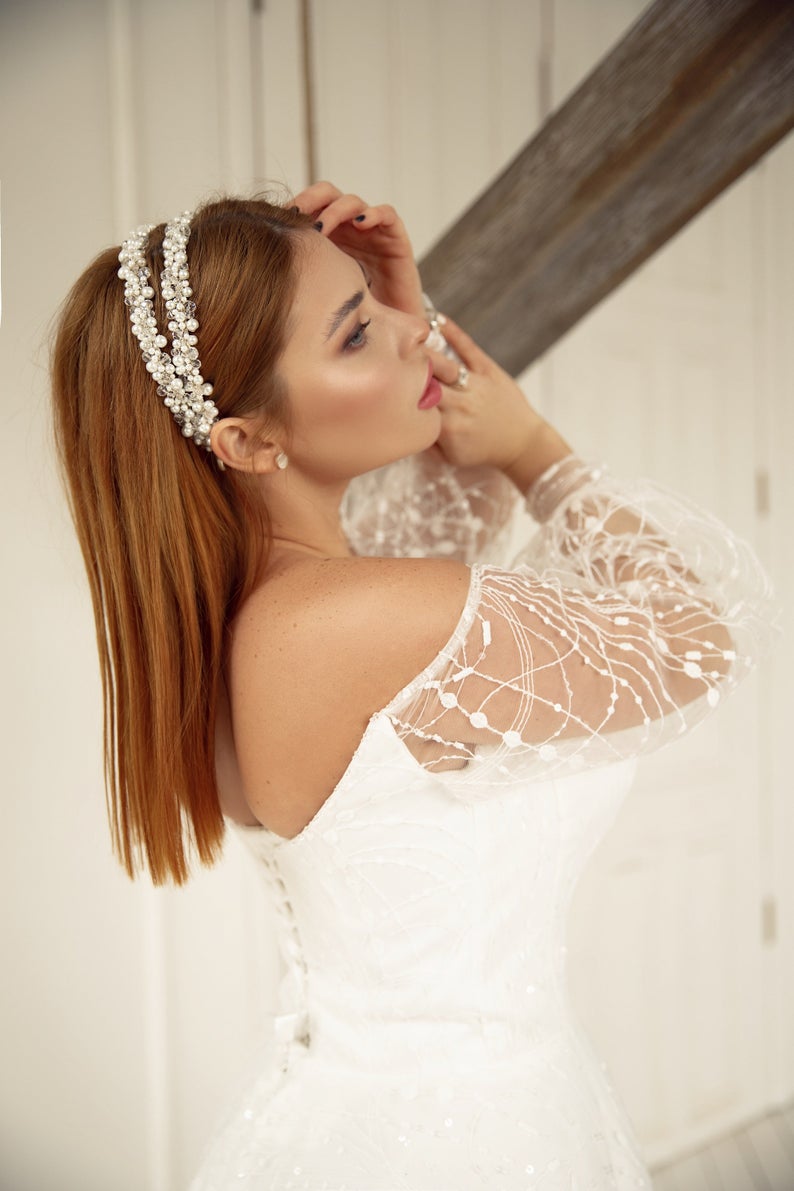 This hair accessory is the one every trendy curtain bangs bride needs, especially if she's looking to keep every hair off her face on the wedding day. Just because you have layers or bangs, doesn't mean they need to "be there" on the wedding day. Create a chic look with this double band crystal bridal headpiece.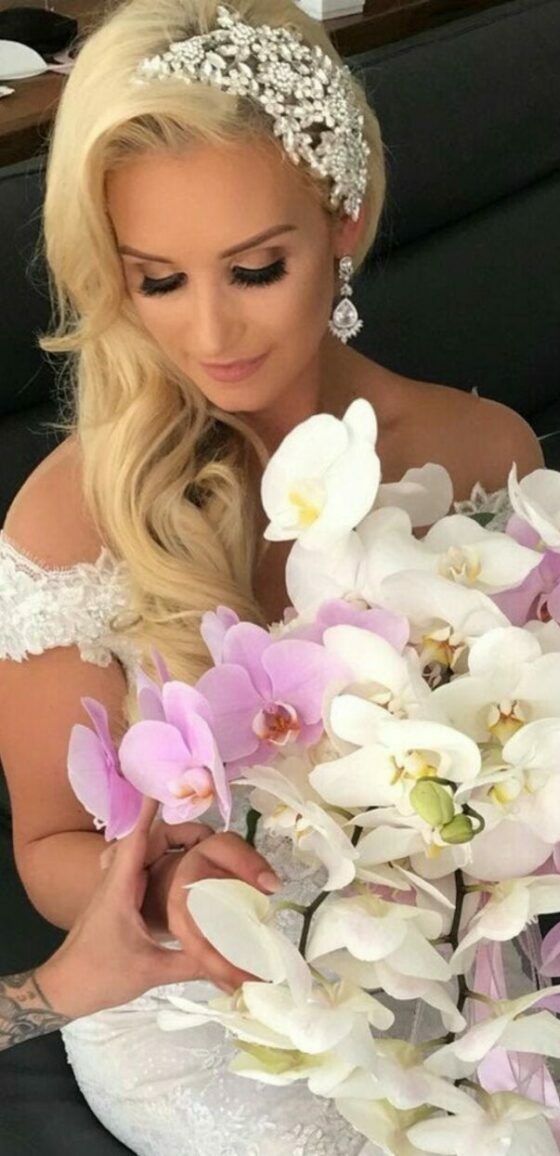 A silver crystal bridal headband like the one above is absolutely the focus point of the look. Bridal hair clips like this one are great choices if you're keeping your hair smooth and sleek. Many times, something this large will be able to help hold your wedding day hairstyle, so make sure you bring it to a hair trial to find out!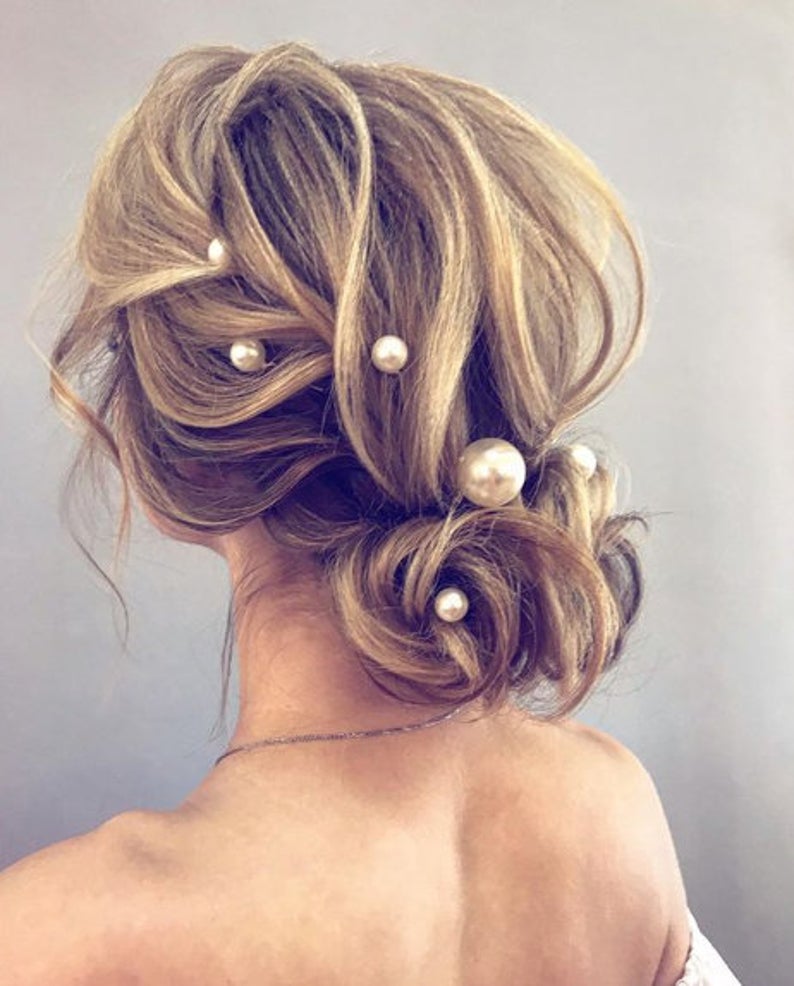 Still not sure what to do with bridal hair with bangs or layers? This super soft and romantic updo is perfect for the bride that really wants to keep her hair up, but doesn't want a harsh or severe look. With the addition of these pearl bridal hair clips, you have something really unique.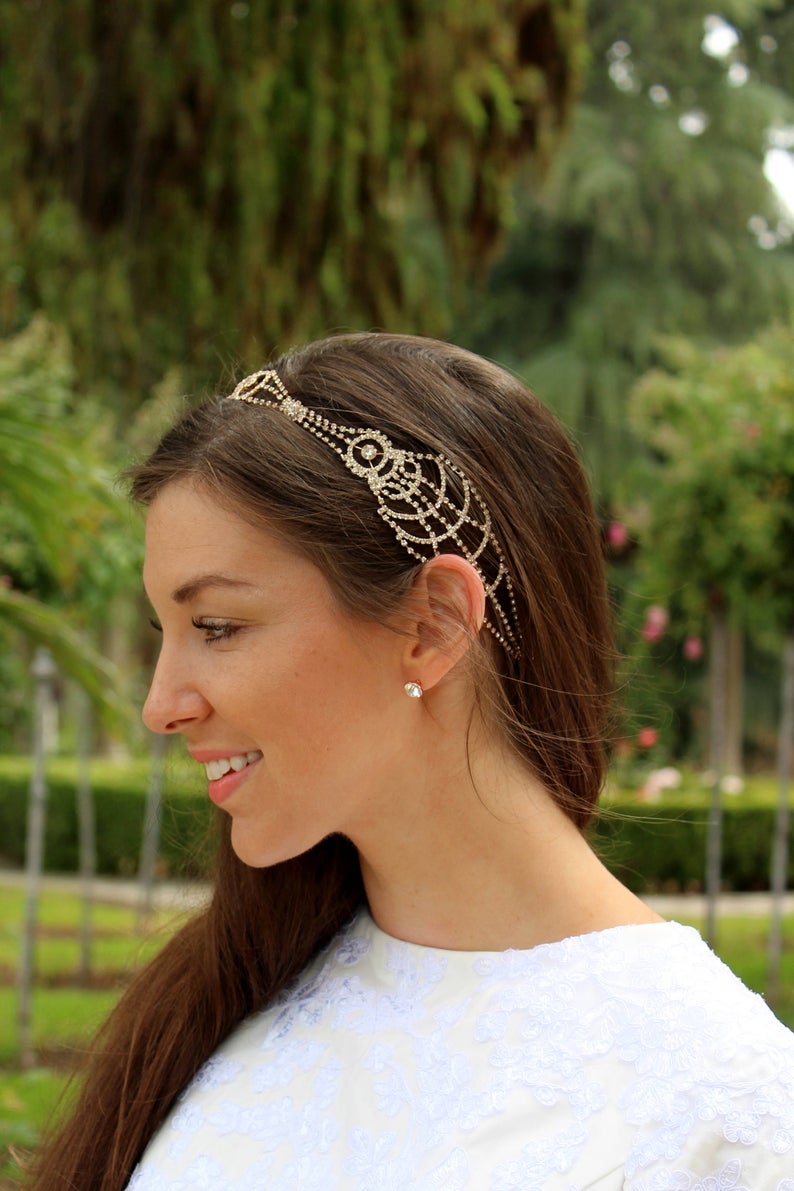 Now that we're into 2020, so many brides are taking advantage of the gorgeous 1920s style for their wedding day. Bring that look to your wedding day hairstyle by adding bridal hair clips in gold like this one!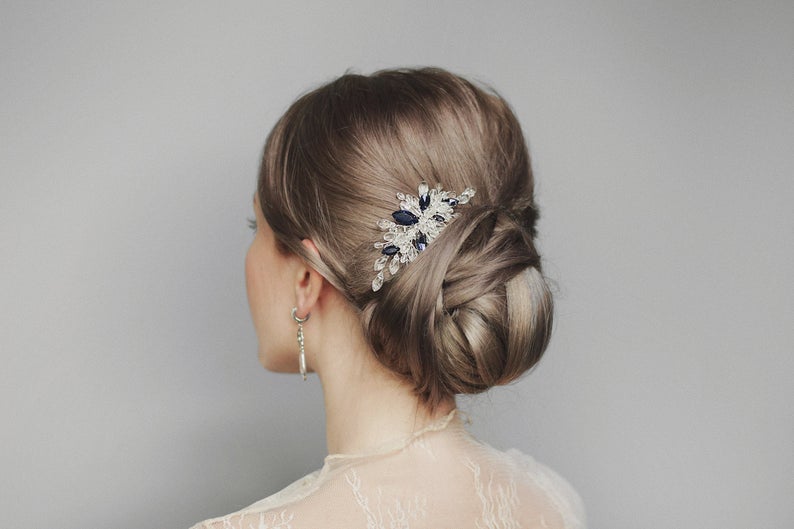 Still not sure what your "something blue" will be? Many of my brides consider wearing sapphire earrings or a necklace, but it's not always right depending on the wedding gown. Bridal hair combs with sapphires though? That's a total win!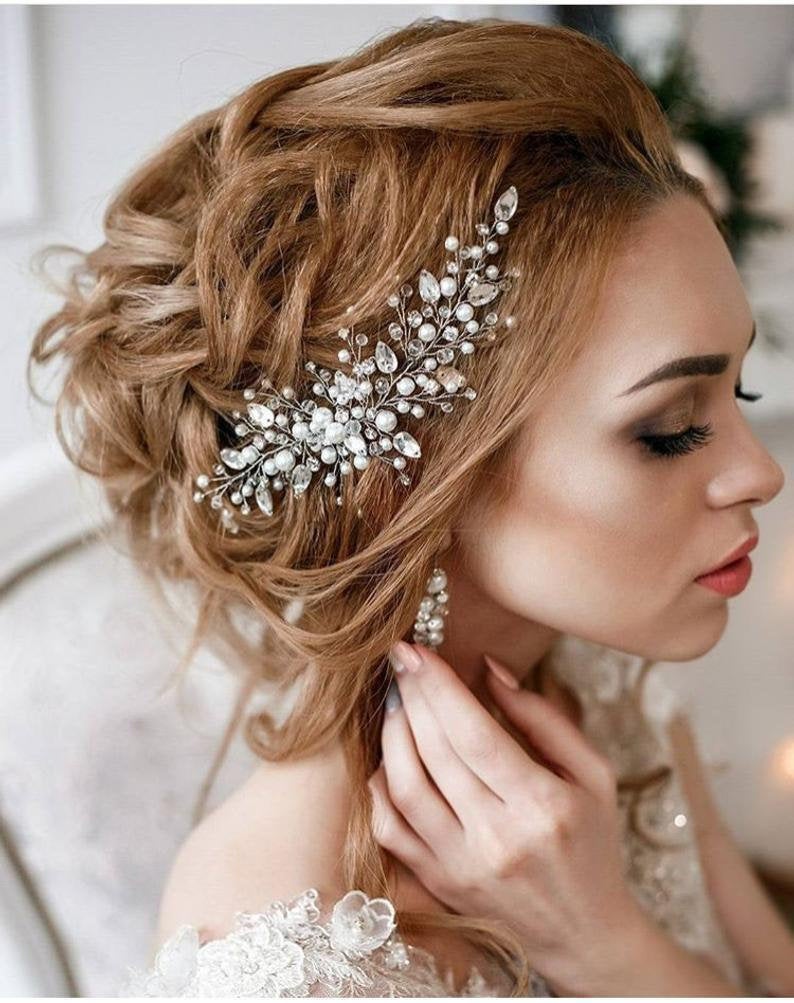 Sapphires might not be your thing, or maybe you already have your "something blue", but no one can deny how gorgeous Swarovski bridal hair combs are! This wedding day hair accessory is flawless with not just any wedding style, but any wedding day hairstyle as well. This is, in my opinion, the bridal hair comb that works for everyone.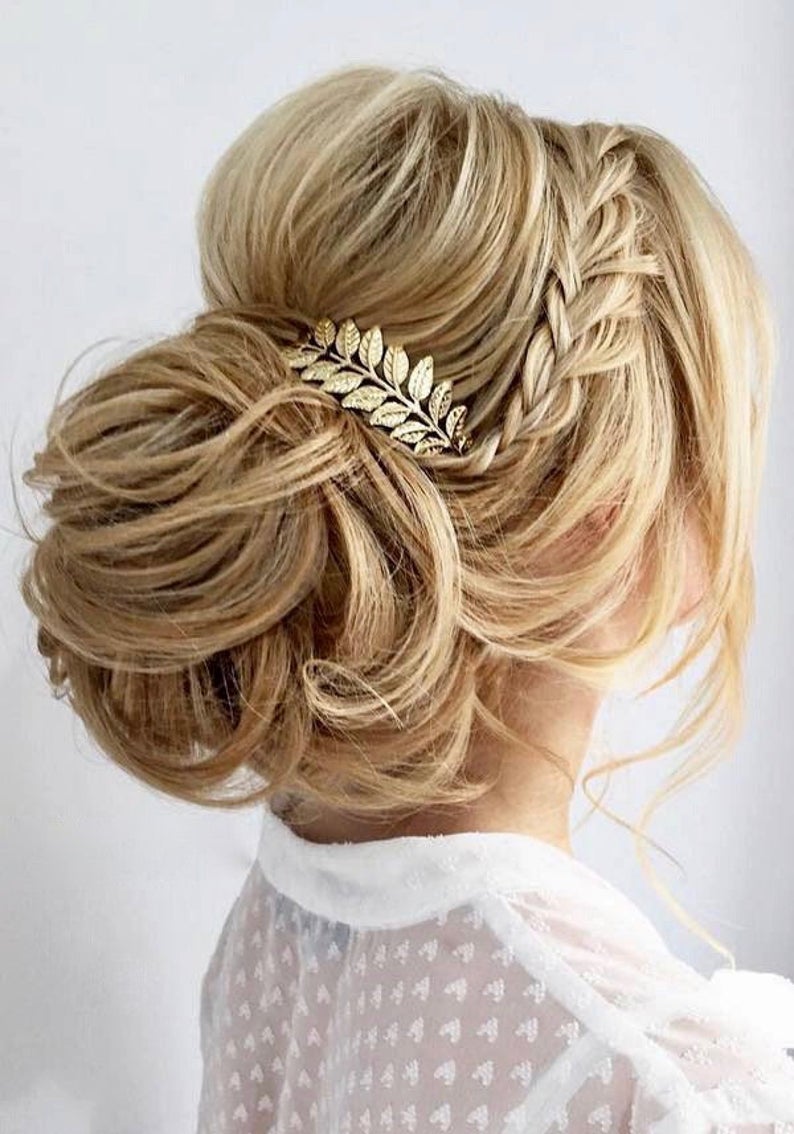 Another great hair accessory for bridal hair with bangs and a veil? This small and delicate bridal hair clip! Check out the stunning leaf details in gold that can be made a focal point, or can be tucked into layers of hair just barely peaking out. Easily wear this under your veil so you don't have to worry about remembering to put it in before the wedding reception.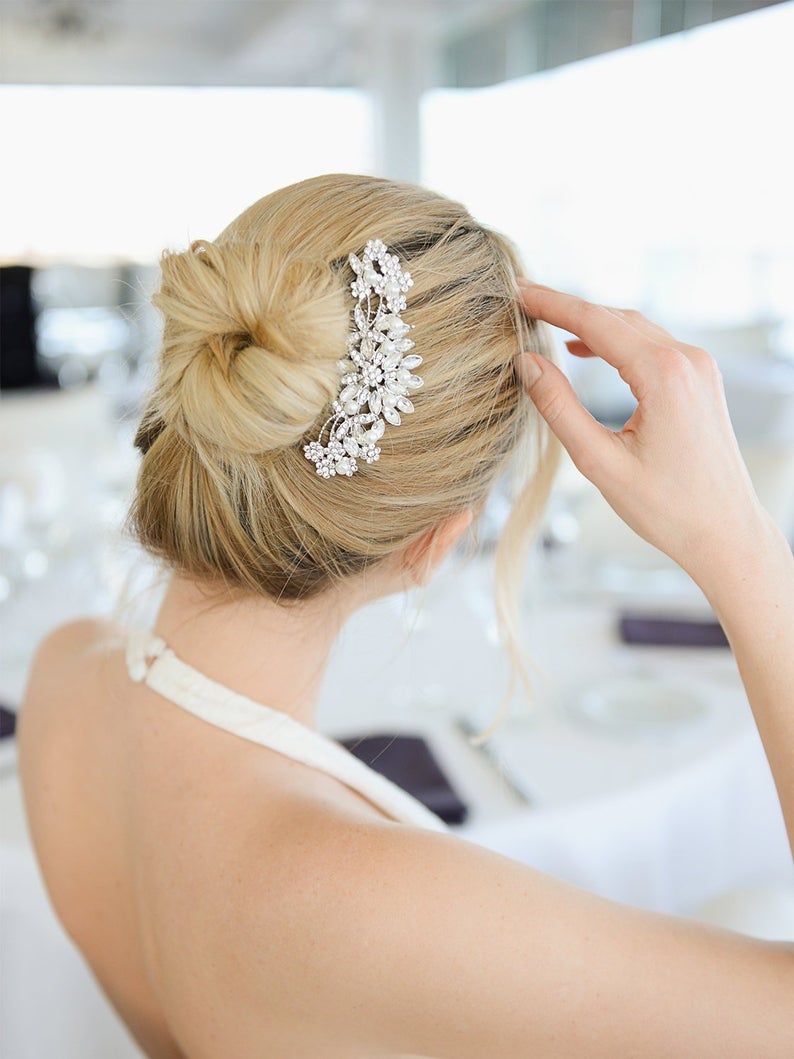 Of all the bridal hair combs on Etsy, this is totally one of my favorites. A lot of my brides get frustrated with bridal hair combs either being too big or too small. This one is just right and plus, it's got plenty of bling and sparkle!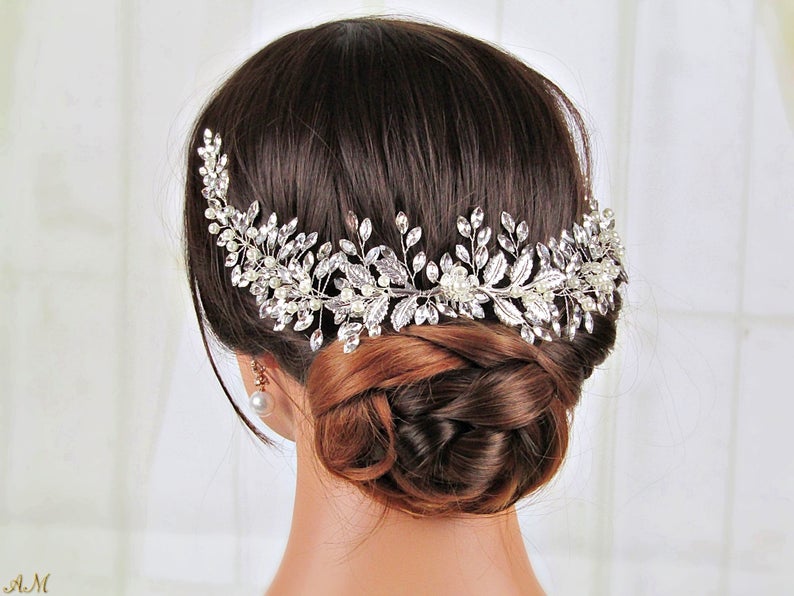 Get some serious Grecian vibes from this wedding day hair headpiece. Covered in crystals, get the look of a flower hair clip but in a much bigger way. My favorite part about this accessory is that you can wear it over the updo as seen above, or on the side if you prefer that look!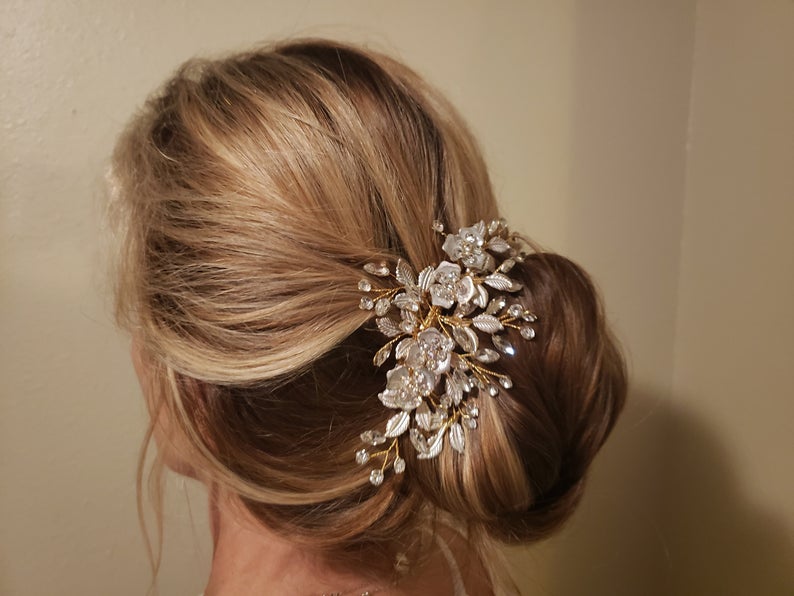 Not all updos are created equal, and this softer look is for the bride who wants to showcase all of those gorgeous layers in her hair. Have your stylist pull your hair together in the back and leave some wispy pieces to frame your face. Adding this bridal headpiece makes an otherwise too simple look into a really glamorous one!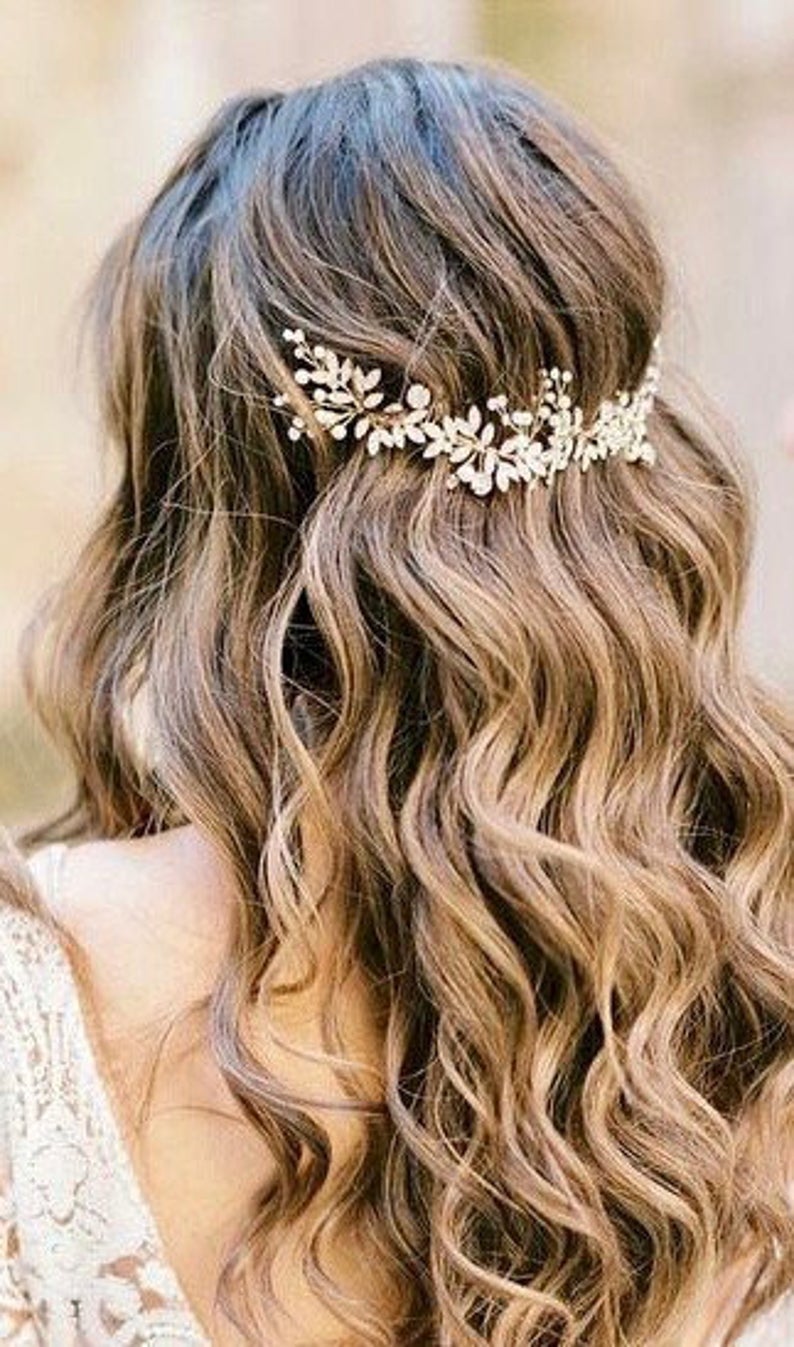 Gold bridal hair combs give off a totally different vibe than ones in silver or covered in crystal. We might not see too many gold wedding bands anymore, but gold has always been a big accent color in wedding design and decor. Create a warm look with your hairstyle by using this gold wedding day hair accessory option!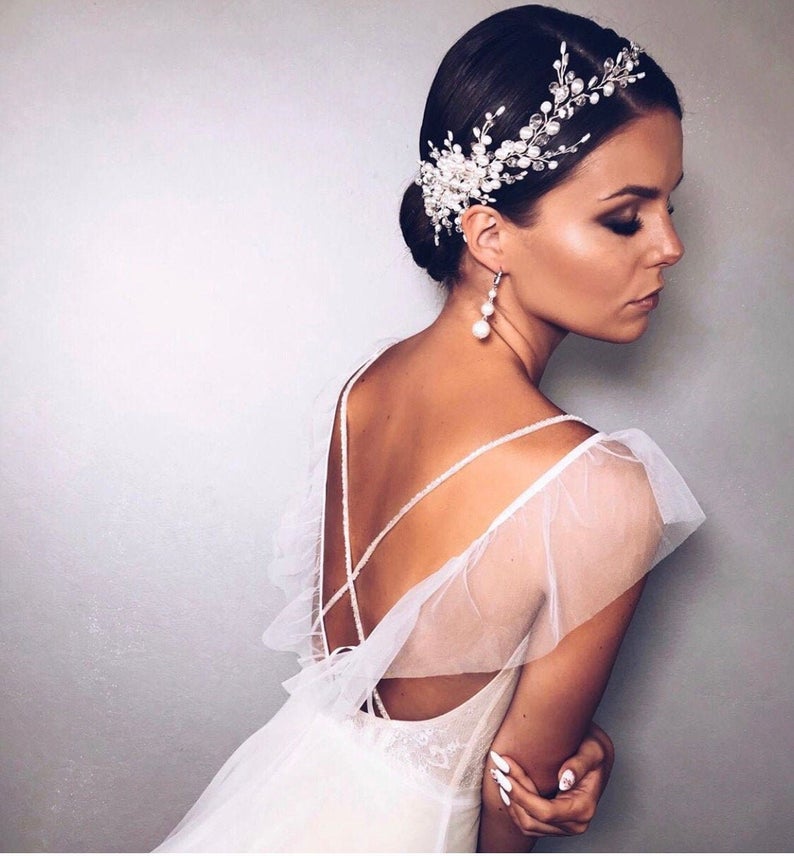 Bridal hair clips and combs are all different. But just like the thousands of different wedding gowns that are out there, no bride wants to look like any other bride before her, right? The bridal headpiece above is really unique how it makes a statement on the side of the hairstyle, while it naturally follows the curve of the bride's head. Super delicate and totally special.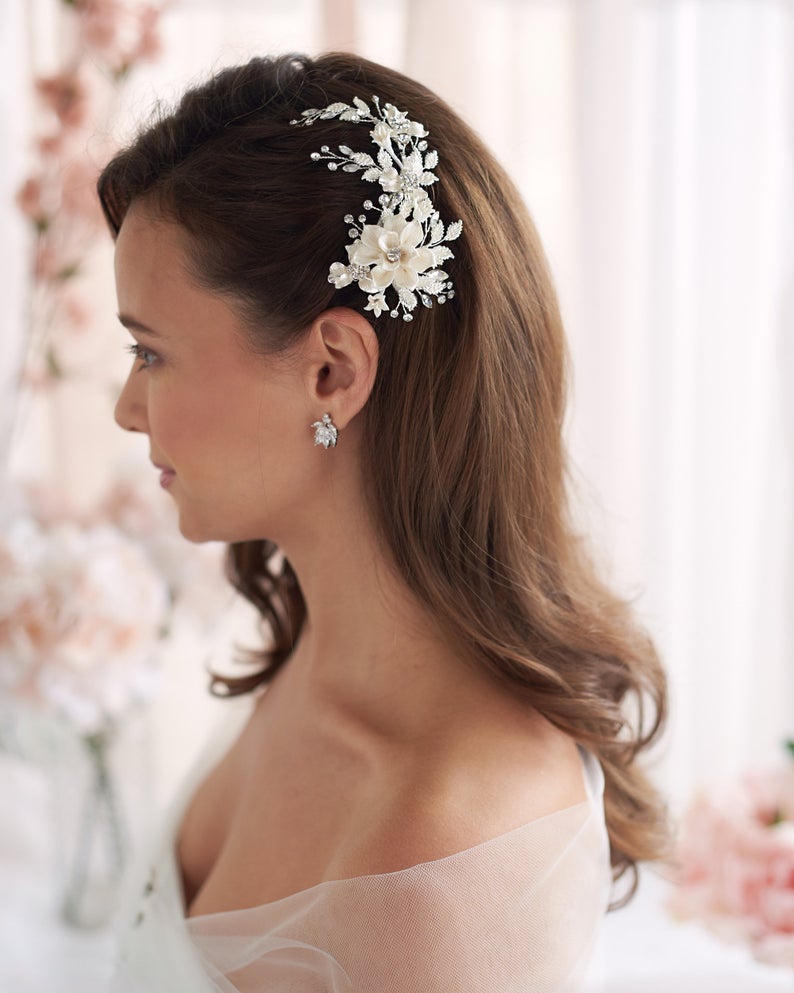 The look of wearing a bridal hair clip on the side is trendy and it's easy to see why. If you're hosting an outdoor wedding, or maybe getting married with a garden backdrop, this flower hair clip will blend seamlessly with your whole style.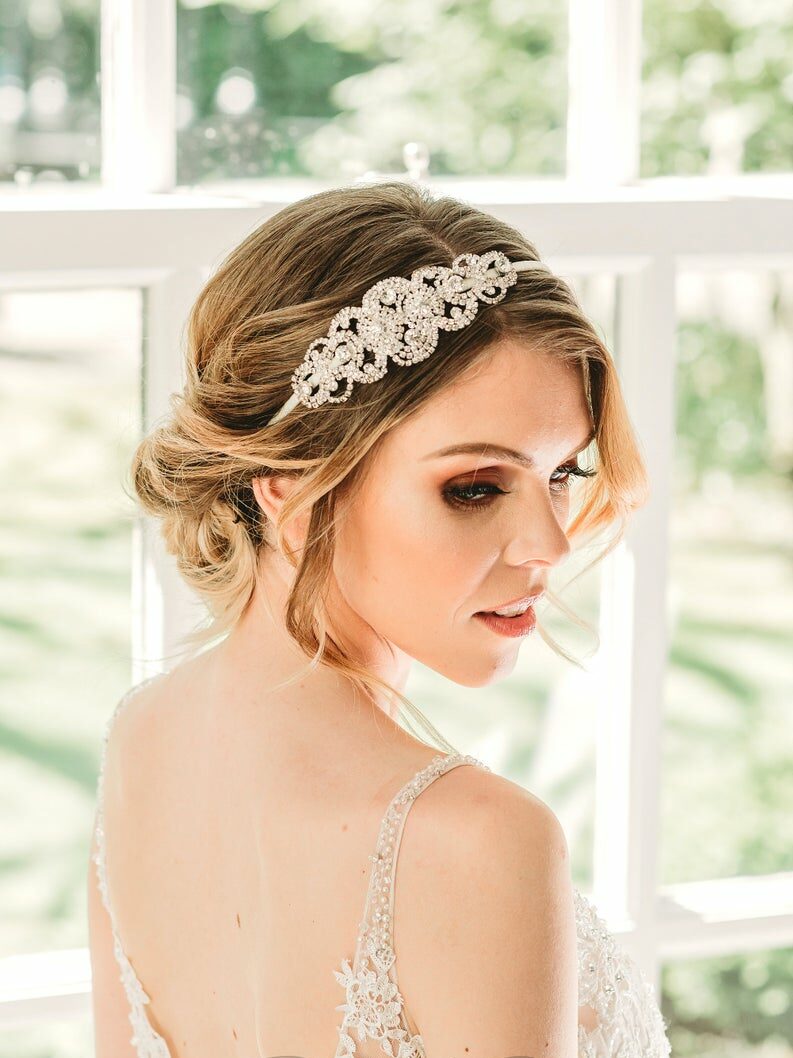 Bridal hair accessories that blur the lines between headband and hair clip are some of my favorite. This one pictured above fits comfortably around the bride's hair and is just enough to compliment a beaded gown without overpowering it. Be sure to look at this one, or any of the bridal headpieces already featured, next to your gown before making your final selection!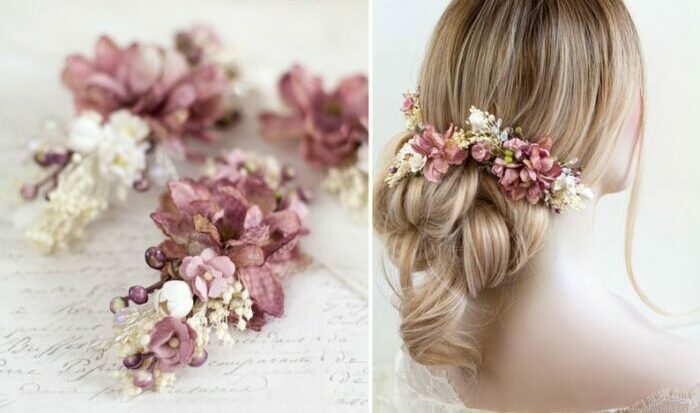 Of course, if you're really feeling the whole wedding day hair accessories idea, it only makes sense to let your bridesmaids in on the fun! Hair clips for bridesmaids like the blush and mauve one pictured above are perfect for any hairstyle. Bring the whole wedding day look together easily with this option.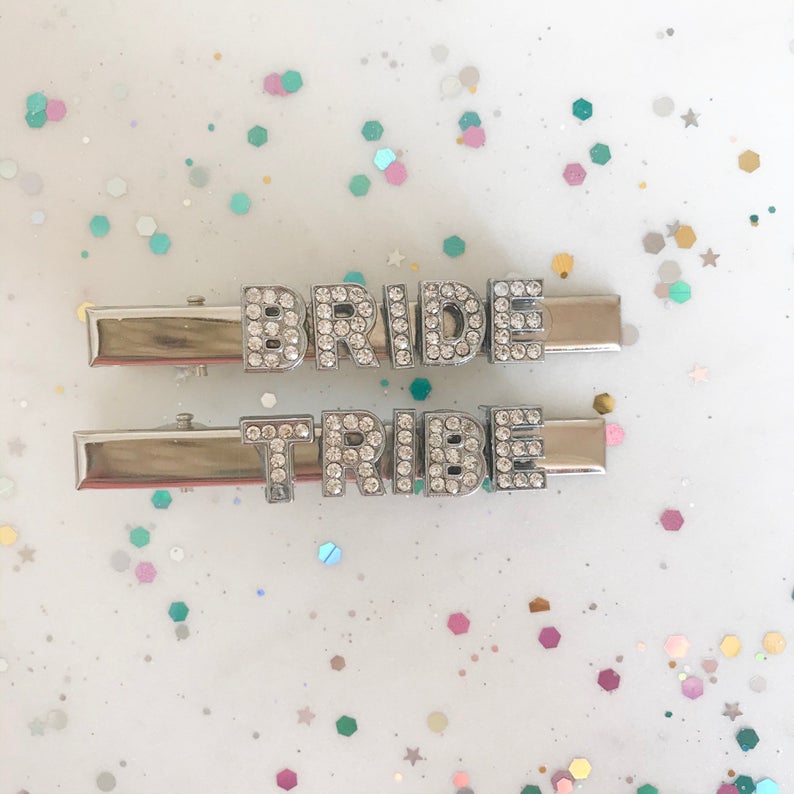 While we're on the subject of having fun…how cute are these personalized hair clips for your bridesmaids? Pick these up in advance of the wedding day, and gift them to your girls before your bachelorette party. Who needs sashes and t-shirts when these exist?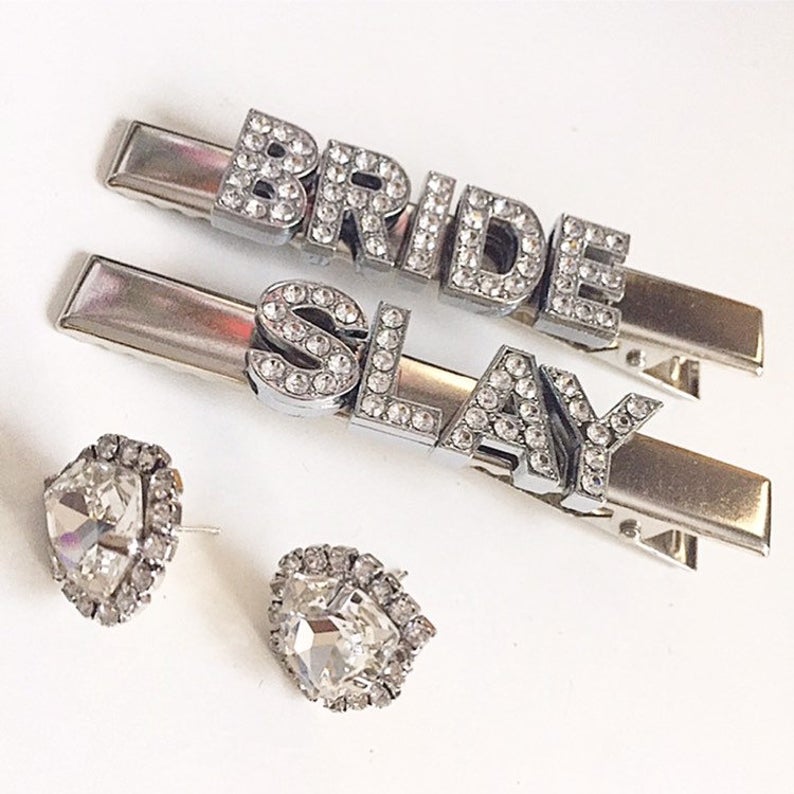 OK, that's enough about your bridesmaids…back to the bride! Rock out these hair clips that say bride or whatever you personalize them to say. Wedding day hair accessories aren't restricted for the ceremony and reception! Make one more hair switch for that after party with these fun clips.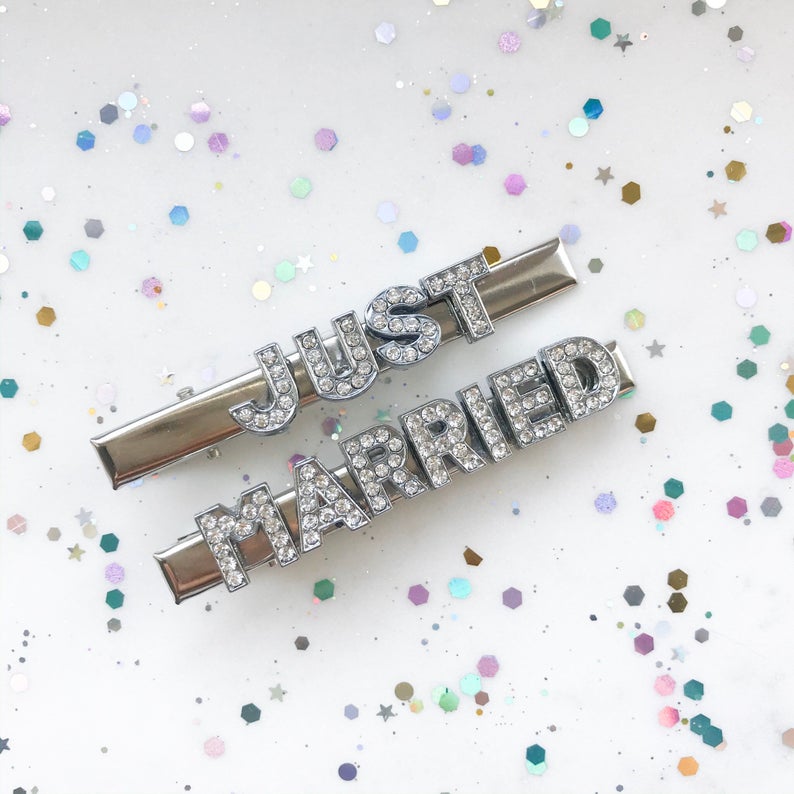 Every party must come to an end, but that doesn't mean your new found obsession with hair accessories has to be over. There's still a honeymoon to go on and what better way to announce your new marital status than with these hair clips? In fact, you don't even need to stop wearing them once you get home…don't worry, I won't tell anyone.
Bridal Hair Success!
Hopefully, you've found plenty of options from this blog for your wedding day hairstyle. If you still want more, head over to Etsy and get to scrolling!
Remember, it doesn't matter if you're going into the big day with trendy curtain bangs, lots of layers, or playing it safe…there is a wedding day hair accessory option for every bride and every style.
Which one was your favorite? Share in the comments with pictures of your hair accessory to inspire other brides to be!