I love looking ahead to see what the predicted wedding trends are. I especially love getting six months into the new year, only to look back on those lists, and see less than half of the items actually trending. Despite how horribly wrong many predictions are, wedding planners can't help themselves in this area.
It's like we all think we each have a magic crystal ball and know exactly what next year's wedding trends are going to be.
Don't get me wrong, it's not like we don't do the homework. For instance, I can look ahead to the weddings we are planning for 2019 and see a lot of similarities. Does that make it a trend or a coincidence?
Even if we can make the correct wedding trend predictions, then what? Who wants a wedding that everyone else is doing? Nobody, that's who. I'm not a huge fan of trends in general because, many times, I think the trend is ugly. For instance, can we go back to stilettos please? Does every shoe have to come with a clunky block heel?
Right or wrong, to be inspired or to ignore it, I am dedicating this blog post to 5 wedding trends for 2019. But, I'm not saying these are just any 5 wedding trends for 2019. Ladies and gentlemen, these are my guaranteed wedding trends for 2019.
Look for an update to this post around June 2019 when we can all laugh about how wrong I was.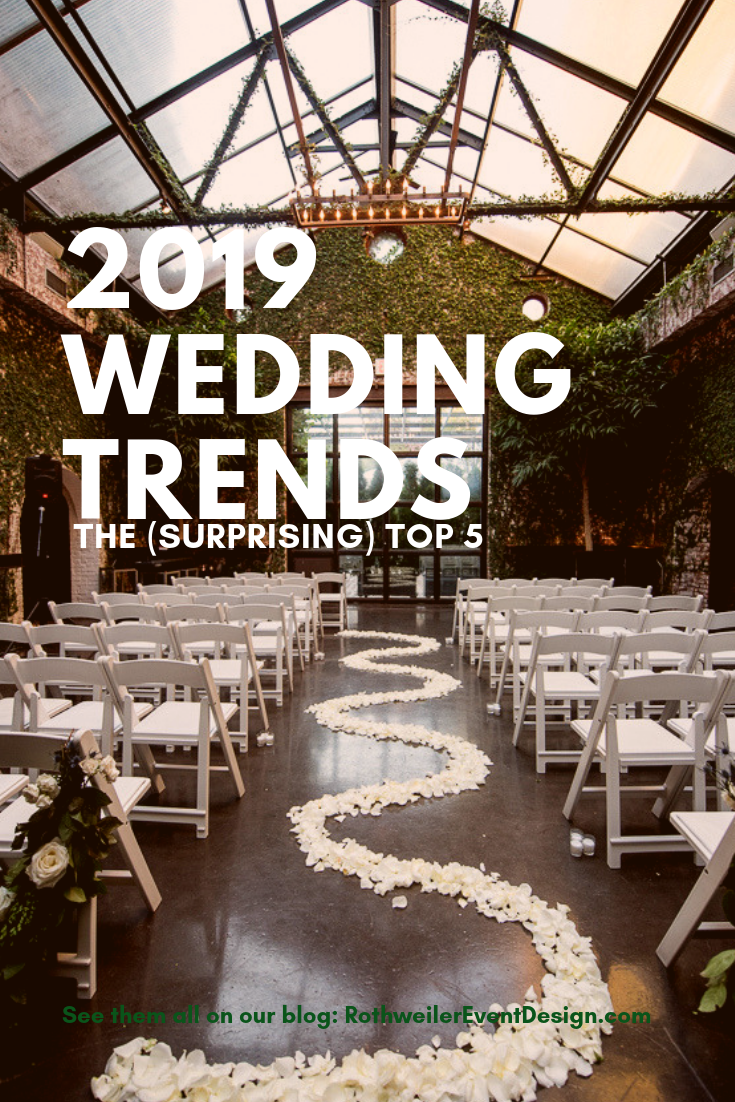 Transforming Spaces
I get called all the time by engaged couples that either have a venue they want to transform, or want to find a venue to transform. Doesn't matter if it's an actual building or a barn or a backyard or whatever. The desire to customize a wedding is just getting stronger every year. Sort of ironic that it's now becoming a trend; it's now trendy to be different. That's some existential stuff right there.
Cool.
Anyway, creating a wedding design by completely changing the space is one of my favorite things to do as a wedding planner. It's not about finding images on Pinterest and creating a wedding you've already seen. Enough with that already.
This is about creating a vision from the bottom to the top and making that space something it has never been before and never will be again. Couples want to do this for all sorts of different reasons, including that they hate the venue. My favorite transformation I ever did was for a bride that didn't choose the location, but was forced to host her wedding there because her parents were paying and that was the end of it. The physical location mattered the most to her parents, but we could do anything we wanted once we were there.
The list of ways we transformed her wedding venue is a designer's dream. New tables and chairs, custom dance floor, full pipe and drape, wall floral installations, custom linens, and everything else I have in my big bag of tricks. Not only did the guests, all of whom had been to that venue a dozen times before, say they didn't even recognize the place, but so did the owner.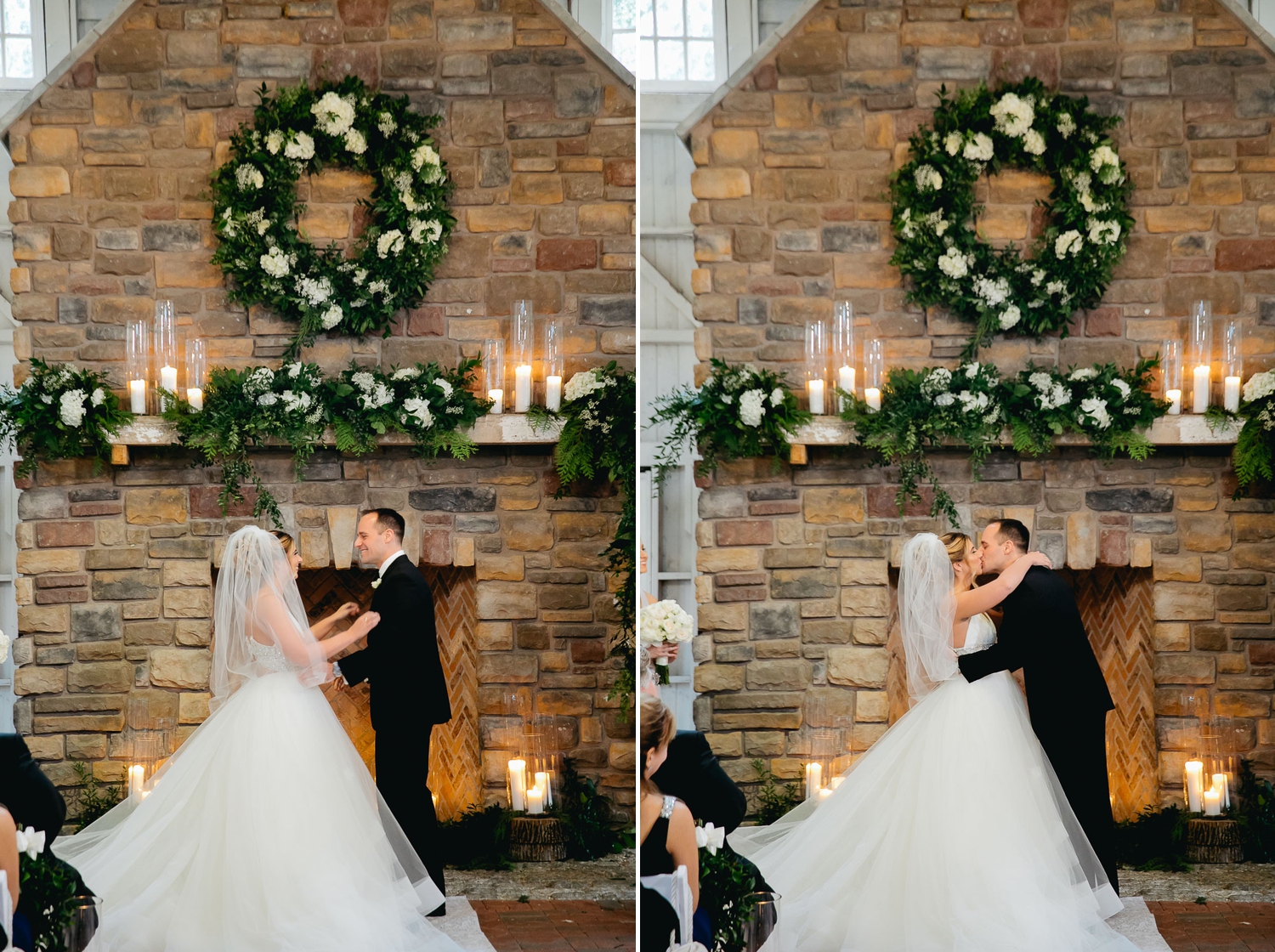 That wedding was years ago, but I've been working with engaged couples to transform their wedding spaces every year since then. You know what the major issue is though?
You probably guessed it: the cost. It's not what anyone would consider "affordable" to transform a venue. So, if you love this trend, it's really important that you're working with an amazing wedding planner every step of the way. Not only are there some serious price tags involved, but you might have to deal with restrictions and rules depending on the venue.
Related: How to Transform Your Wedding Venue
From The Outside In
Let's say you can't afford or aren't looking to completely turn your venue upside down. You love the venue (why else would you have booked it?) but you want to make it a little different.
A great example of this is from a wedding I worked on that took place at your typical blinged out ballroom. I'm talking crystal everywhere. Know what my bride wanted? A rustic garden theme.
Um…OK.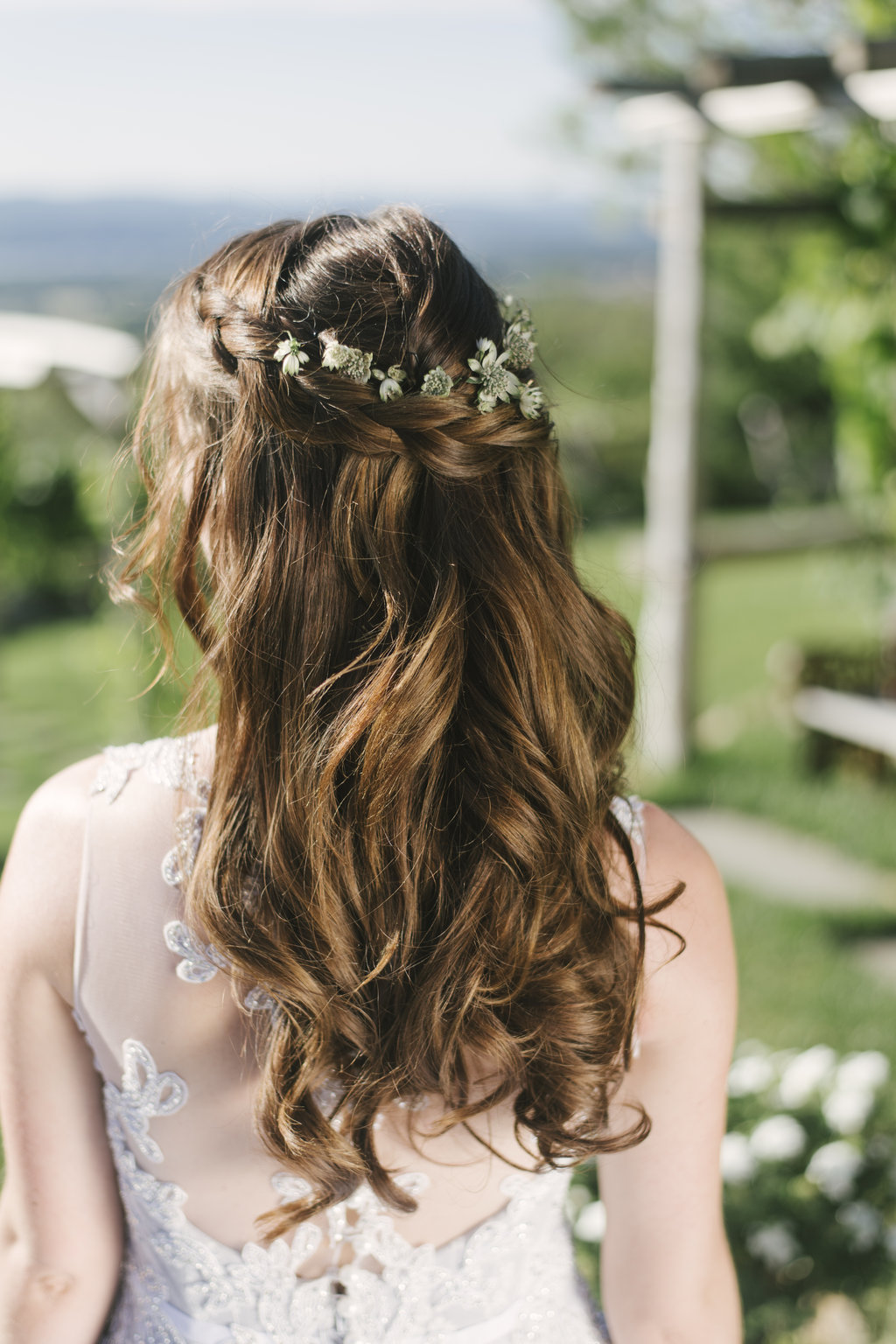 I was so confused when we first started working together. Why on God's green Earth would you book a bedazzled banquet hall if you wanted natural and organic? It was literally the definition of two opposite vibes. Turns out, the reason they booked the venue was because of the outdoor space where the ceremony and cocktail hour would be held. Between the fountains and the trees, it was that look they fell in love with.
Meanwhile, their reception, the bulk of the wedding day, would take place under huge crystal chandeliers on a white marble floor. Not exactly what comes to mind when I think of a garden wedding.
This is why we brought the outside to the inside. The design they loved, the feel of nature, was going to be part of their reception design as well. This meant going beyond the floral centerpieces, and making the entire room feel like a garden. You know, minus the dirt and bugs.
Bringing the outside inside is a popular trend regardless of the location. Using touches of nature as part of your wedding design is a great way to start.
The Circle of Life
A big wedding trend for 2019 has to do with the ceremony design. You've probably seen inspiration pictures on Pinterest, and get ready to see a whole lot more of these: Ceremony Circles.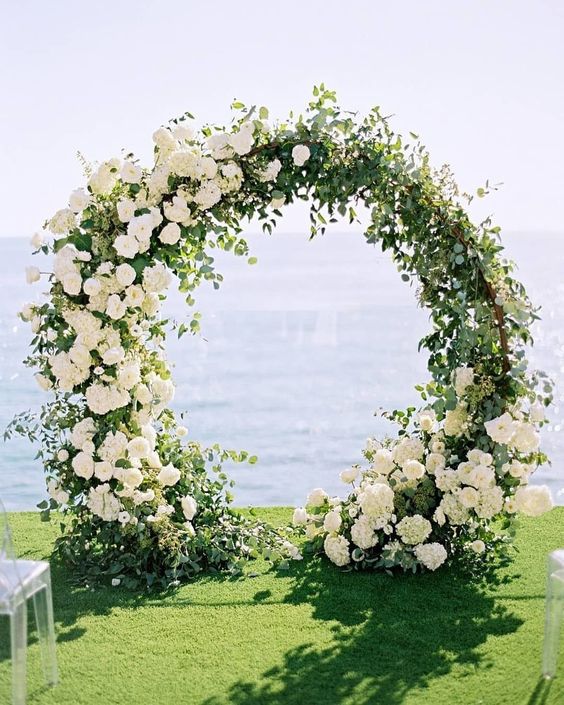 Let's back up for a minute and talk about how annoying designing a wedding ceremony can be. First of all, if you're getting married in a religious house, there are always pages of rules and restrictions. You pretty much can't do anything, which forces a lot of couples to do exactly that. If you're hosting your wedding ceremony somewhere else, you have less rules to deal with, but now it's about the expense of the decor.
Think about it: A religious ceremony in a religious house takes longer than any other type of ceremony…but you can't really do too much to decorate and maybe you don't even need to. After all, who wants to compete with stained glass? Ceremonies held outside of the religious spaces are much shorter, and therefore, you're investing in decor that will only be seen for about 20 minutes.
There's the struggle of what to include for the ceremony decor that can then be re-purposed for the reception; you know, the bulk of the actual wedding day festivities. So much back and forth goes on to figure out what can be used, who is moving it, how it will be used, blah blah blah. It's a headache and a half a lot of the time because no one wants to spend thousands of dollars on ceremony decor that people see for 20 minutes. I don't care how endless your budget is; that is the definition of wasteful spending.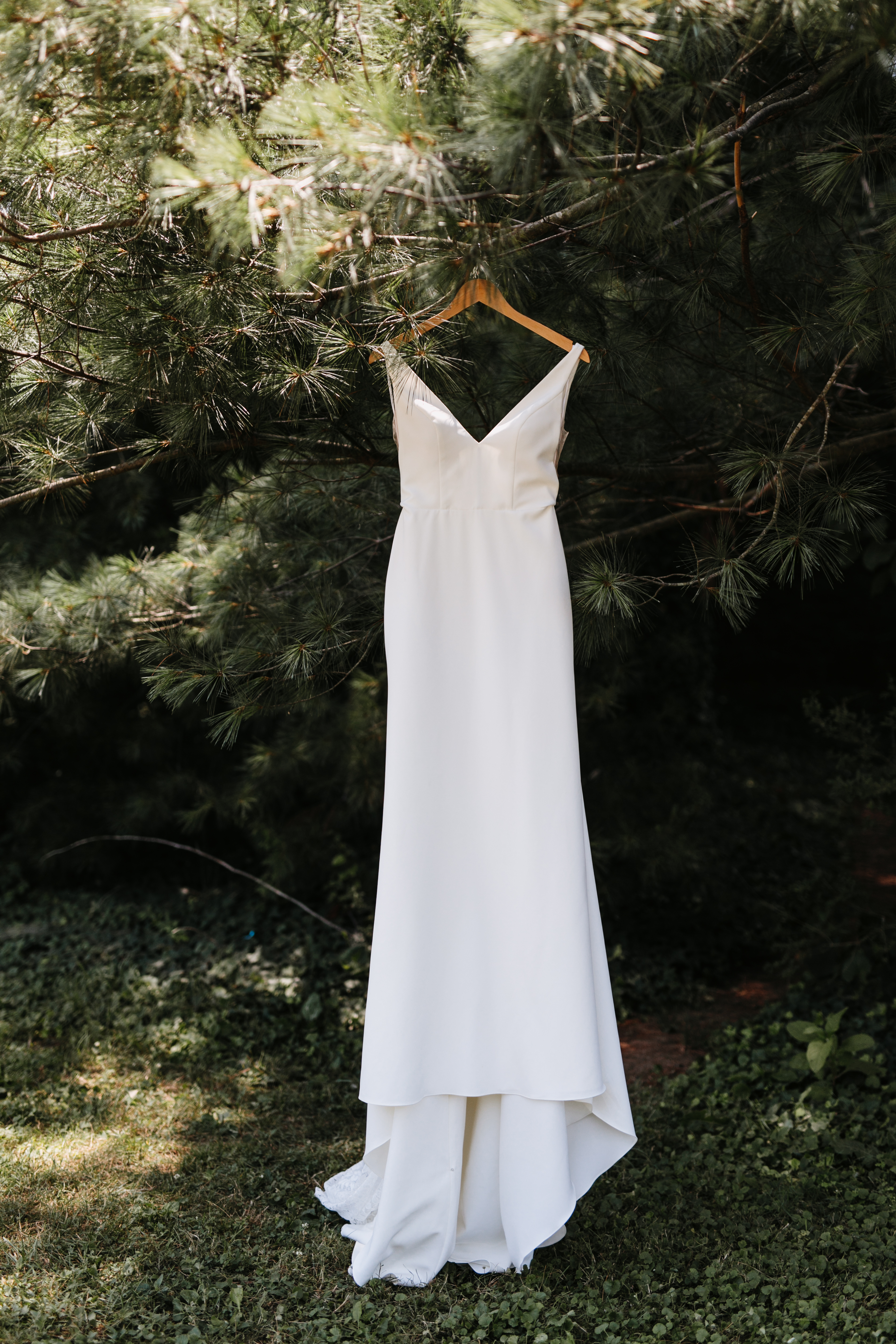 Along with figuring out what you can and can't do for ceremony decor, and what can and can't be moved for the reception, there is the struggle to not have the set-up look boring and basic. There are a lot of creative ways to design an altar space using flowers, draping, lighting, etc. The circular structure has become really popular though and it's going to be huge in 2019 weddings as well.
Related: Engagement Ring Trends for 2019
The structure actually reminds me a little of the "moongates" in Bermuda, and, if you know anything about me, you know I'm obsessed with Bermuda. Like, I would move there in a heartbeat and never look back it's better than any other place in the world I will not hear any arguments on this OK thanks.
Moongates represent luck in love, and couples that get married in Bermuda will typically use them at the altar. Walking through the moongate is considered lucky as well, so you'll see those structures everywhere on the island. The circle structure we're seeing in wedding ceremonies has a similar look, but it is a complete loop.
The structure itself can be made of anything and be decorated with items you would see on a wedding altar. It makes a gorgeous statement and, design dependent, can be positioned elsewhere during the reception in places like behind the sweetheart or cake table.
It's Not Just Girls That Wanna Have Fun
The next big wedding trend for 2019 actually involves the groom and his groomsmen. I know. I'm just as surprised.
Most of the grooms we work with concede to letting their bride have "her" day and maybe throw in a request or two for themselves. Sometimes they have an opinion on the food or the music, but usually they just want to know what to wear and when to show up. Knowing the "when" to show up hasn't changed, but being told to wear totally has.
It's no secret that customizing your wedding is a thing for most couples. They don't want their wedding to look like anyone else's…which isn't always easy to do when you're pinning images at the rate of 500 a day. There are some basic ways to make your wedding unique and certain areas that lend themselves to customization. One of those areas is now the men's wardrobe.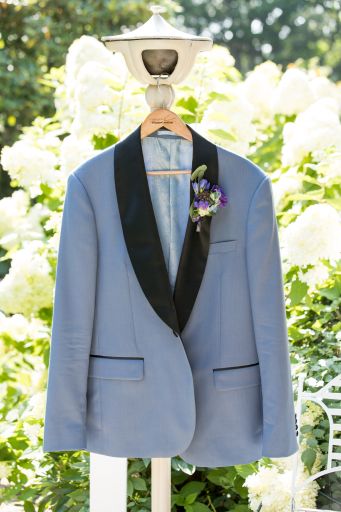 I started seeing a trend towards more formal weddings complete with black tuxedos over the past two years. In my somewhat humble opinion, I think that was a knee jerk reaction to the more casual trend that had taken over the years prior to that. Awhile back, it was more about the suits and suspenders, and less about the tuxedos and bow-ties. We've reached somewhat of a middle ground with the wedding trend of custom wardrobe selections.
Renting a tuxedo is still popular for grooms and groomsmen, and it always has been and always will be. But, a lot of my grooms ask me if they should invest in a suit or tuxedo for the wedding day. My answer is always the same: absolutely. To be fair, brides won't wear that wedding gown again, but the groom will have occasions to wear their wardrobe over and over. I firmly believe that every man should own a black tuxedo, so if that is the route my groom is going, I really press this issue because it's a solid investment.
Since the groom doesn't generally get much say in the wedding details (and most of them are happy that way so stop badgering them for opinions brides…), they should be vocal about what they're wearing. You can search and search for the perfect suit or tuxedo that is already made, and you might even find something that works.
But, there's something special about getting custom wardrobe for the wedding day, and for the guys, that includes plenty of details. The grooms we work with that want custom wardrobe get to pick the color of everything: pants, lapel, pocket square…you name it. The fabric is custom. The buttons are custom. The liner is custom. Everything is custom.
And since having a customized wedding is trendy, you can be we will see plenty of custom suits and tuxedos for grooms in 2019.
The Bride Wore…What?
Of course, I can't write a wedding trend report without talking about wedding gowns…especially since I just went on about what the groom will wear. However, the wedding gown trend prediction is always a mess. I can look at the dresses my 2019 brides are wearing, analyze New York Bridal Fashion Week from this past Spring and Fall…hell, I can even whip out a magic 8-ball and I'll probably still get this wrong.
In fact, in all the wedding trend reports, any wedding gown predictions made, usually end up being completely off base. Part of the reason why, is that trend reports get too damn specific. You'll read about nitty gritty details like exactly what will be on the veils this coming year, or what the most popular fabric will be. There are too many different designers and different styles for brides to choose from, to think making a trend report with details is a good idea.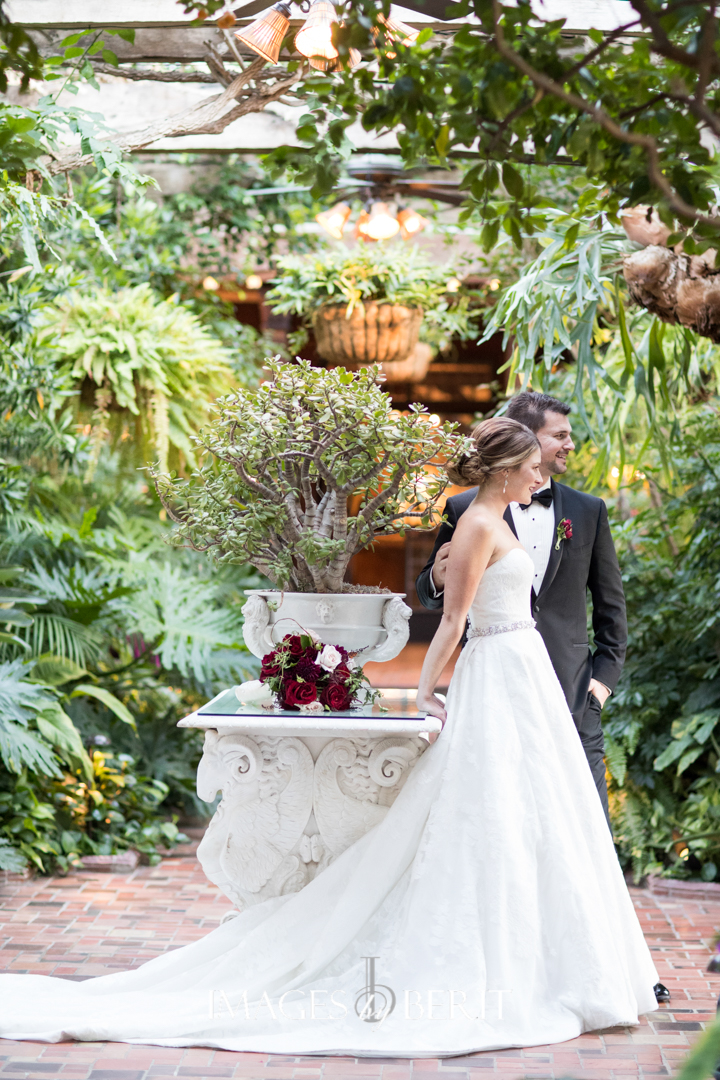 A better way to talk about wedding gown trends is to talk about what general preferences look like. Are brides starting to shy away from strapless? Will sleeves be popular because there was (yet another) royal wedding this year? Will brides want dresses with pockets?
That last question was a trick. Everyone wants pockets.
The last thing to keep in mind, is that the out of the box designs are not going to be trendy. Vera Wang could put an entire line out in black, and I promise you, black wedding gowns are not going to become a thing. Capes, over the elbow gloves, gloves in general, these are all specific details that a bride is either going to want or not want and she won't care if it's trending or not.
Classic wedding gowns, with minimal details, are what I believe will be trending for weddings in 2019. We'll start seeing less bling and glitter as well. In fact, the minimal details I expect to see are more along the lines of soft ruffles and touches of lace. As for the fit of the gowns? I think ballgowns and a-lines are going to be huge in 2019 and mermaid/trumpet styles…yeah, not so much.
Related: The Best Ways to Find Your Wedding Gown
To Trend or Not to Trend
Those are my top 5, somewhat surprising, but totally guaranteed (sure, why not?) wedding trends for 2019. What does that mean for brides and grooms planning a wedding for next year or the year after? Probably nothing, but hey, it's always fun to find out what's going to be potentially popular…if for no other reasons than to either validate that you're awesome or to give you a list of things to avoid so your wedding isn't like all the others.
Are you getting married in 2019 and incorporating any of these trends? Do you think I'm dead wrong about my predictions (because I totally could be)? Share your comments below- I'd love to hear from all of you!