Valentine's Day gifts always seem to give people a lot of trouble. What's really out there that isn't totally cliche or ridiculously stupid? Is it possible to find the perfect Valentine's Day gift for that picky person in your life?
Giving gifts on Valentine's Day isn't just about couples exchanging with each other either. Besides the standard Valentine's Day gifts for her and for him, this is a great holiday to give a gift to that newly engaged pair you know.
We've rounded up 14  of the best Valentine's Day gifts in this blog, and there truly is something for everyone. So, stop searching for the non-cheesy, really unique Valentine's Day gift…and find what you've been looking for right now!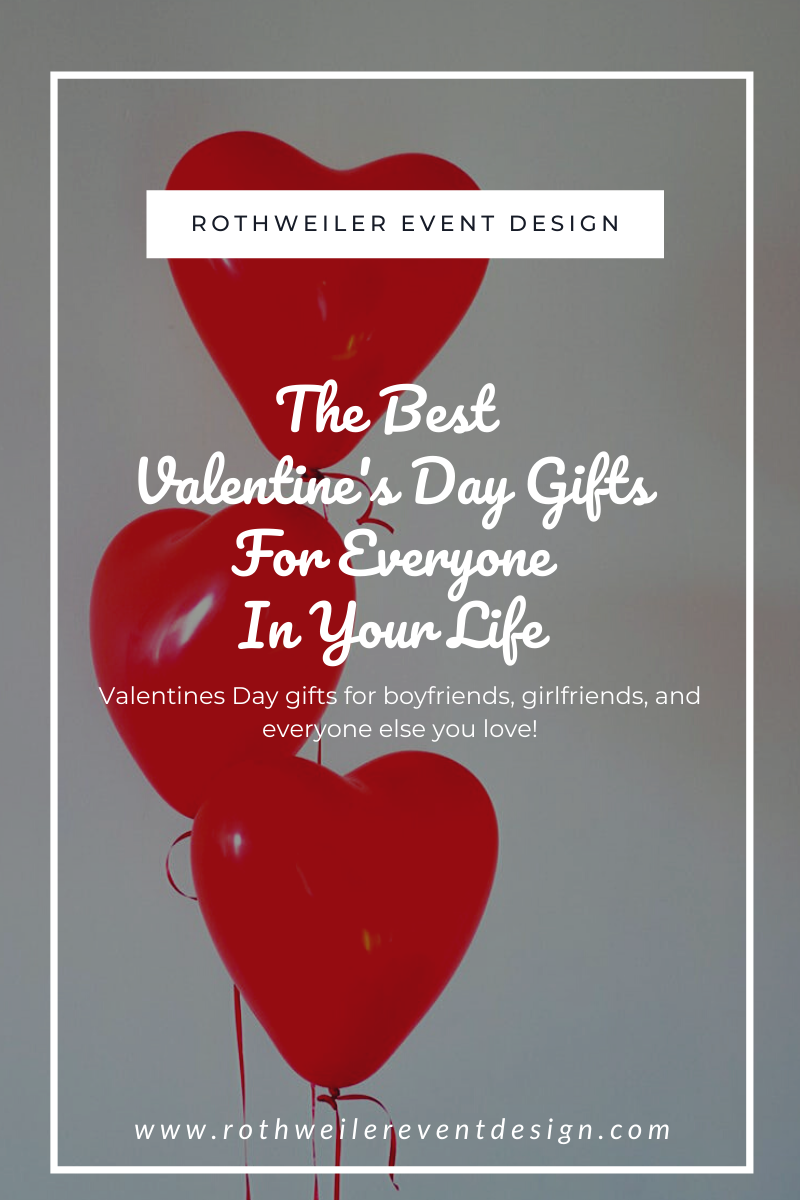 *Please note that most of the links of this page are affiliate links. This means if you click on a link and purchase, you will receive the same price, but I will receive a referral fee. This helps keep my blog free and allows me to share wedding planning tips with you. Thanks for your support!*
Valentine's Day Gifts For Engaged Couples
What to get someone who is newly engaged isn't always easy. If the couple hasn't set up their wedding registry yet, but you want to send them something to say "congratulations", Valentine's Day is a great chance to do just that!
Now, not everyone is crazy about Valentine's Day, that's true, but it's safe to say that newly engaged couples aren't cynical about the holiday just yet. Newlyweds also love this holiday because it's the first one they're sharing as a married couple. Spread the love to those couples in your life with these ideas: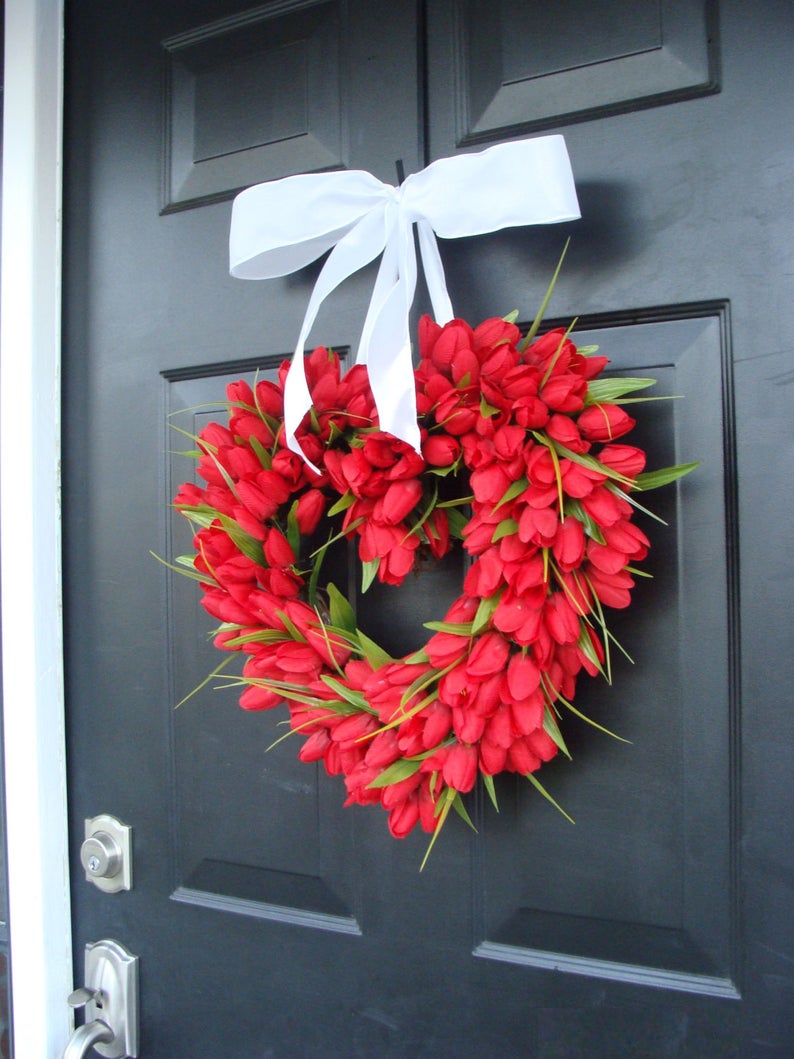 If the couple you know is living together, help make their house a home with this welcoming heart shaped wreath. I love this option because I always have something hanging on my front door.
The time between just after Christmas and right before Spring though, frequently leaves my front door bare. I can only leave that evergreen wreath up so long before I'm really pushing my luck and asking for letters from my Home Owners Association asking me if I own a calendar.
I don't want to put up some wreath of flowers because Spring still feels too far away. This red tulip, heart shaped wreath can go up right after the Christmas decorations come down, and stay there until that snow starts to finally disappear. You can grab this wreath right here to say "Happy Valentine's Day" to the newly engaged or newlywed couple in your life!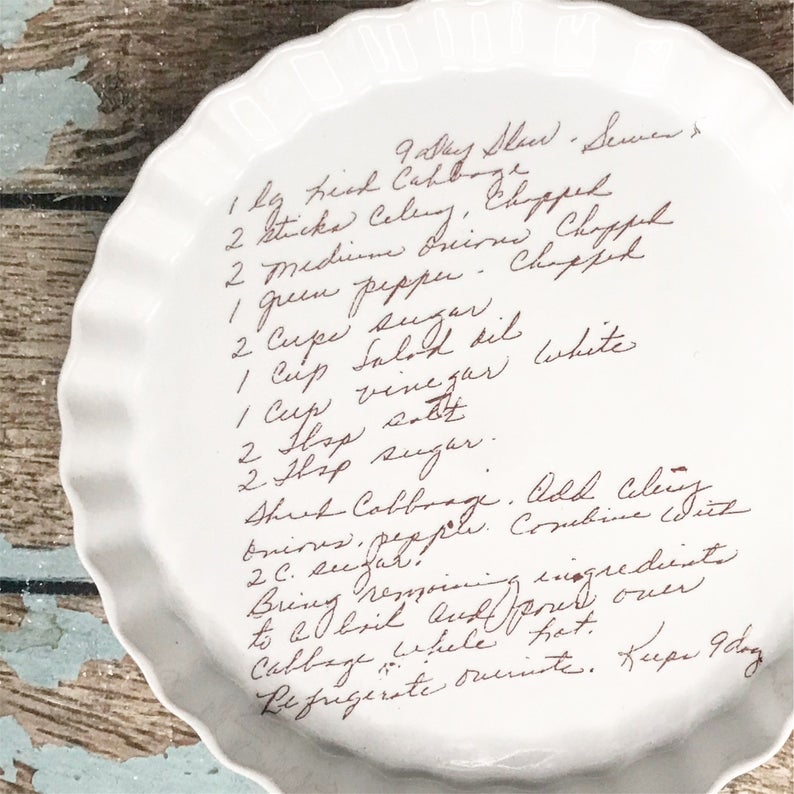 Most of my favorite recipes live under separate categories and on private boards on my Pinterest account. I've got everything from every menu from every holiday dating back to 2015 on there.
But, I also come from a family that cooks, and has plenty of their own recipes. In fact, the sauce I cook is a pretty close version of what my grandparents used to make, except for a few twists I threw in of my own. Even though I don't use the exact same recipe, the sauce is still special to me because it came from my family members.
Do you know a couple that loves to cook or bake together, and have a recipe to share? Check out this personalized pie pan that can not only hold that recipe, but it can be written in the handwriting of the author.
I love this Valentine's Day gift idea for engaged couples or newlyweds, especially when it comes from an immediate family member. Pass down your recipe tradition and keep it in the family with this gift they'll remember and keep forever.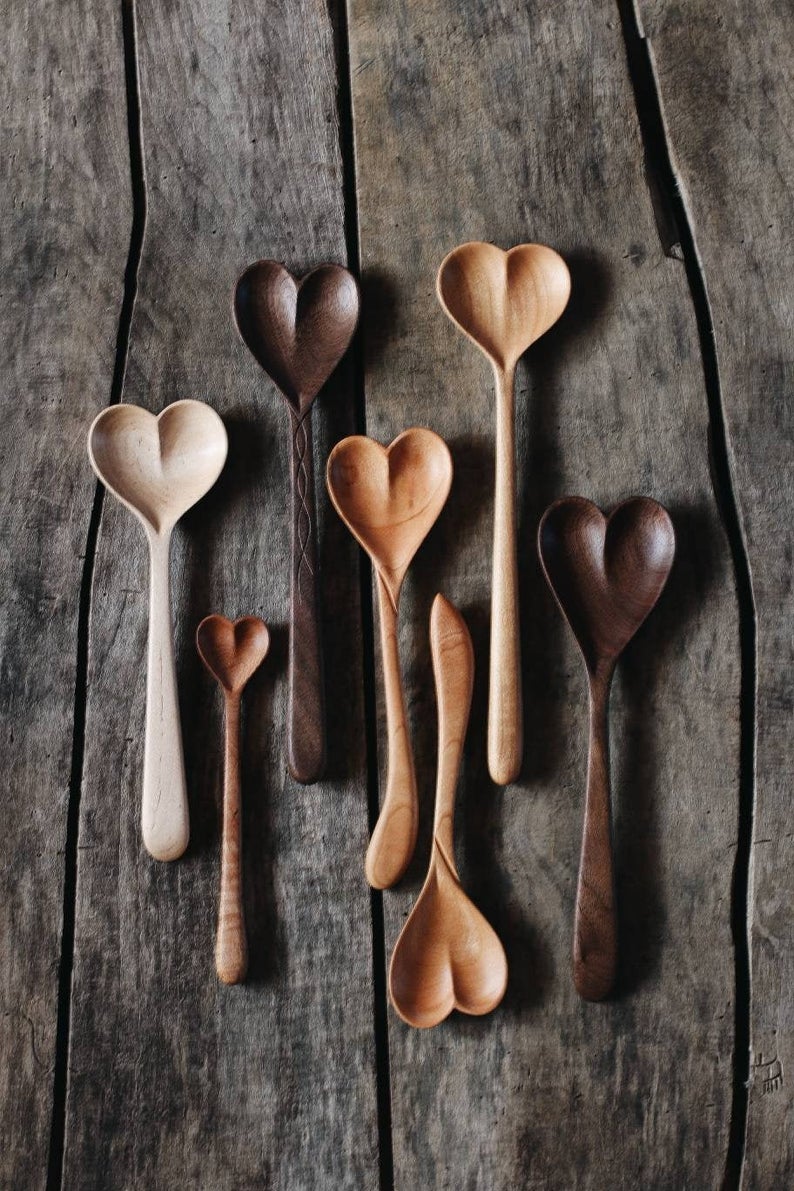 Maybe you don't have a family recipe to pass down to that engaged or newlywed couple in your life. That doesn't mean you can't bring a little love into their kitchen this Valentine's Day!
Anyone who cooks or bakes knows how essential wooden spoons are…and honestly, you never really can have enough. These adorable heart shaped wooden spoons are a great Valentine's Day gift idea for the couple that cooks. Grab a set right here!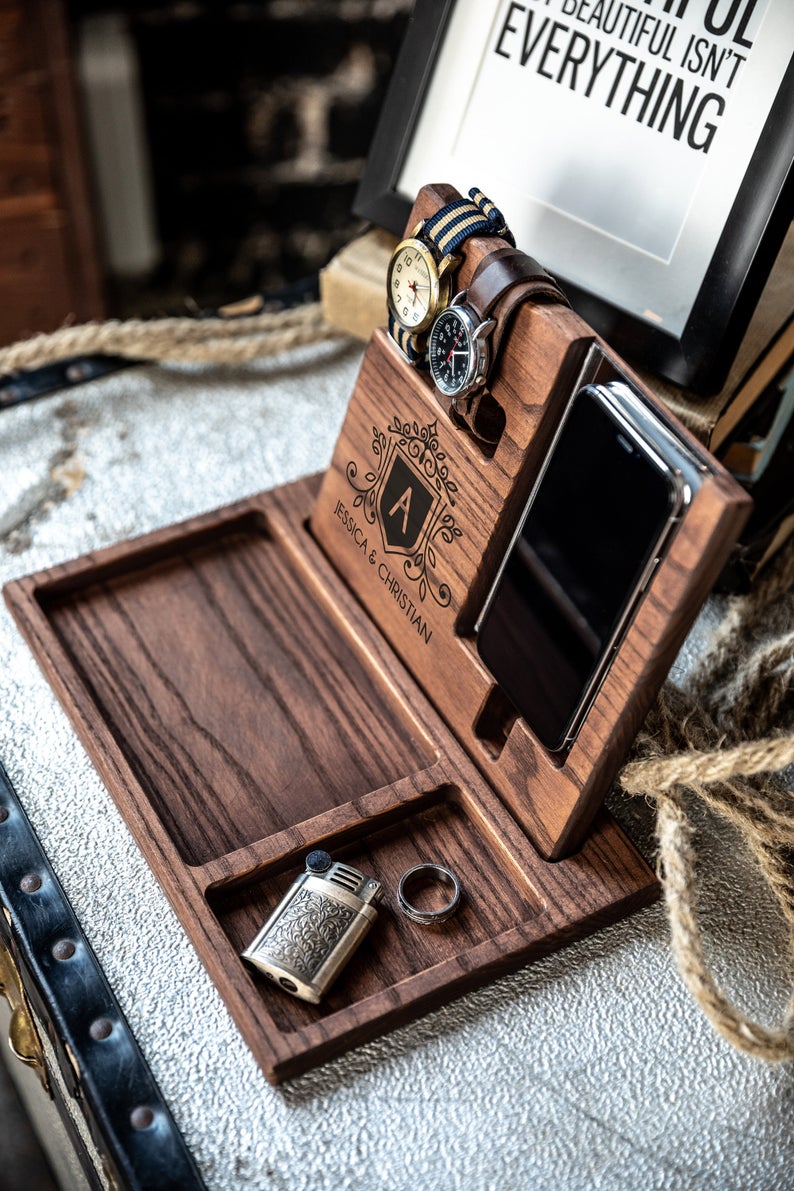 For the newly engaged couples, or even as a late housewarming gift for the newlyweds, you can pick up this docking station for Valentine's Day. The personalized details really make this a unique and special gift, and who doesn't need a docking station?
You can grab one docking station with the couple's monogram details, or pick up two so they don't have to share! Everyone loves useful gifts and particularly ones that they'd never buy for themselves. This checks off all those boxes, twice.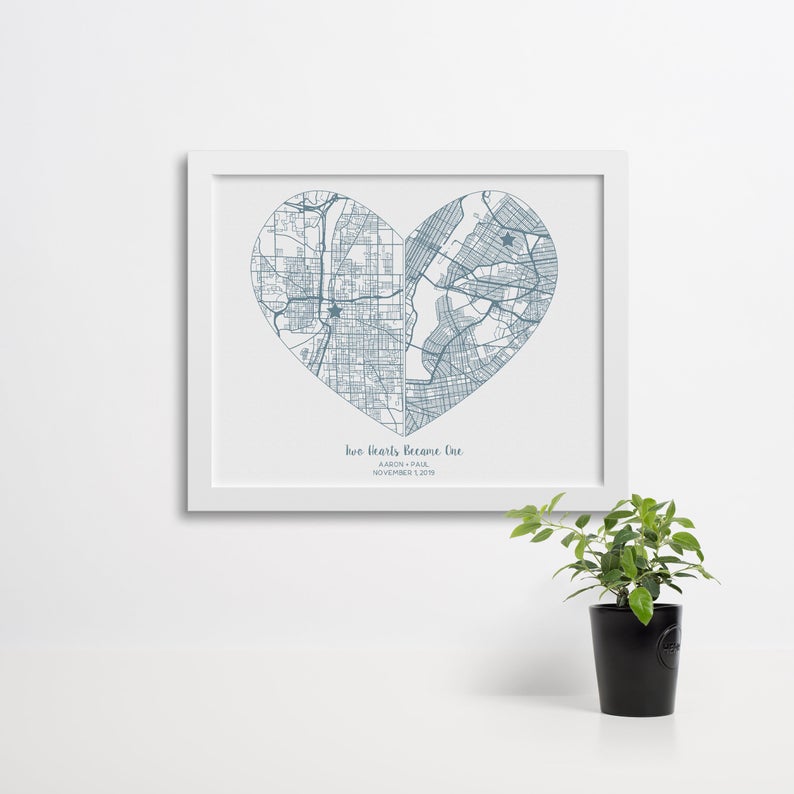 Valentine's Day gifts for engaged couples and newlyweds don't get much more personalized than this artwork. If you know a couple that came from two different places in the world, then this is the gift you're looking for!
Even though they didn't grow up in the same place, they eventually found each other. Show how this love story came to be with their hometown designs as two pieces of one heart right here.
Valentine's Day Gifts For Him
Shopping for the guy in your life is really tricky come Valentine's Day. Let's be honest, this is more a holiday for the ladies and even the guys know it. That doesn't mean you shouldn't get him something if you want to though!
The thing is, so many people wonder what they should gift their boyfriend on Valentine's Day…and it doesn't get any easier once the man in your life becomes your fiance or your husband either.
Personally, I think guys are so much harder to shop for than females. I legit take notes all year long anytime my husband mentions something he likes or wants, and then I'm ready to go for Christmas, our anniversary, and every other holiday we celebrate together.
But even keeping track leaves me coming up short sometimes. Meanwhile, I'm pretty sure he could put together a list of gift ideas for me and be set until the end of time.
So what do your get your husband on Valentine's Day? Here are a few Valentine's Day gifts for him…the boyfriend, the fiance, and the husband…in your life: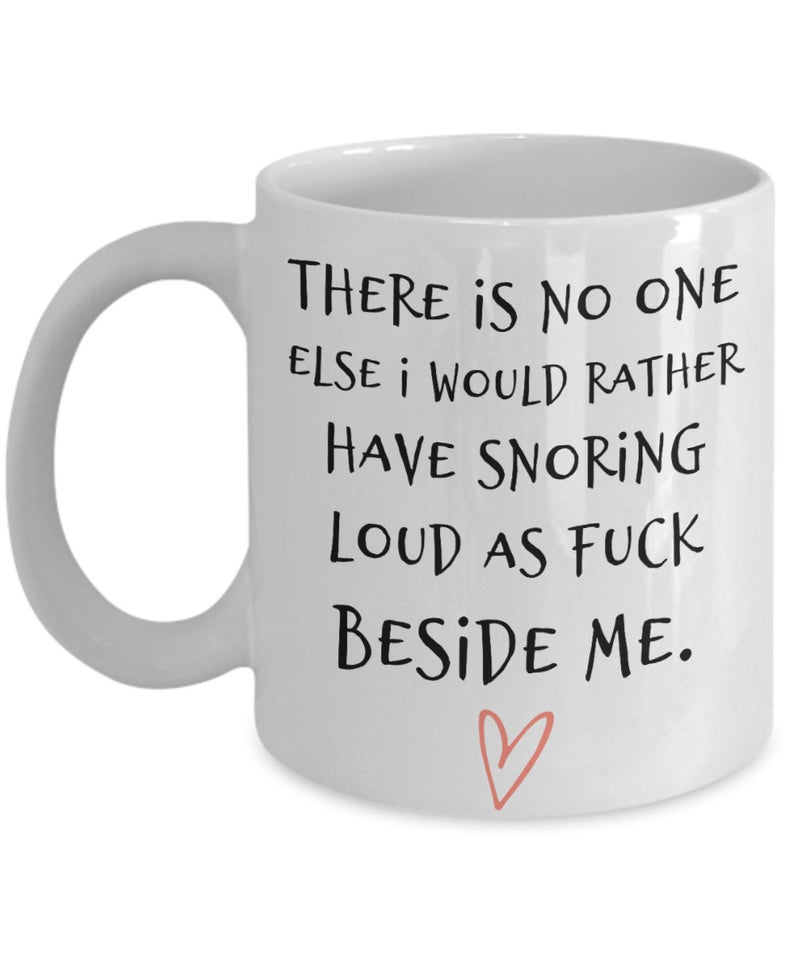 Now, if you just started dating or living together, his snoring might not annoy the f$&k out of you…yet. But there are plenty of women reading this right now that can relate to this on another level.
Yeah. I see you ladies!
I've actually recorded my husband snoring next to me at 3am, only to play it back for him to hear the very next day. Since he's a big coffee drinker and we have a pretty personalized mug collection, I think this is the perfect way to say "I love you" on Valentine's Day. If you're right there with me, head over here to grab yours now!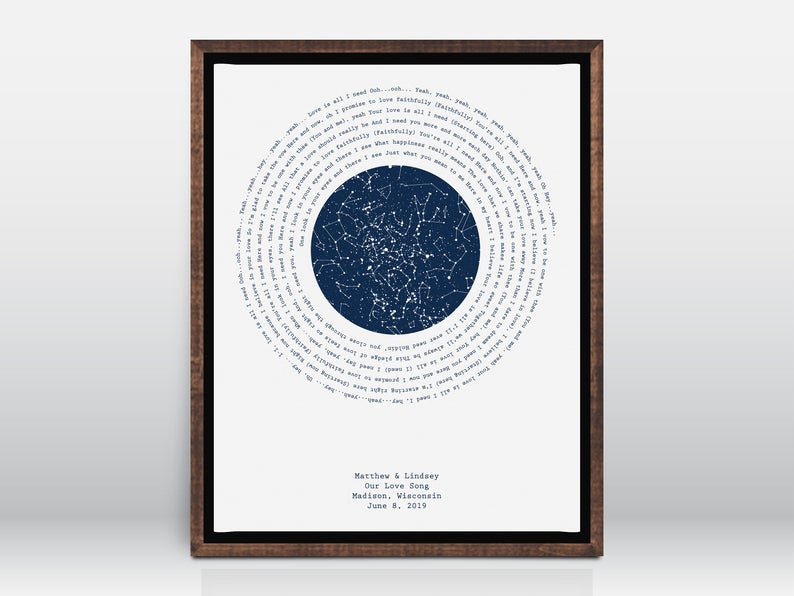 Looking for something more romantic this Valentine's Day than a coffee mug about your man's snoring problems? If you've been married for 5 days, 5 years, or even longer, put your first dance on display with this unique piece of art.
This truly personalized Valentine's Day gift incorporates the lyrics from your first dance, along with the stars that danced across the sky the night you were married. A beautiful romantic reminder of the day you became one and a gift for him that you can both enjoy in your home together.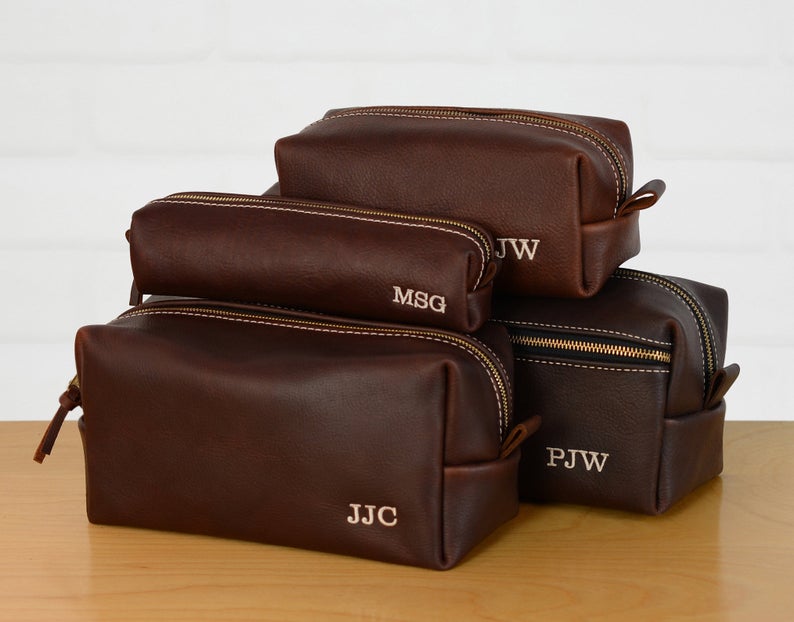 Help your man stay more organized at home and whenever the two of you travel with these monogrammed leather totes. Even if this is your very first Valentine's Day together, or you're not even sure whether you're exchanging gifts, this is as non-threatening as it gets.
One thing I hear plenty of guys say when it comes to this holiday, is how much money is wasted on flowers that wind up in the garbage two days later. On top of that, roses are basically 4 times the price just because it's February 14th.
If that sounds like your man, he'll really appreciate this gift for Valentine's Day! It's something he'll actually use and the special touch of adding his initials, shows that you put some thought into it.
Don't worry…you don't have to tell him you found the idea on some blog…we don't need the credit. Grab this cute gift idea right here.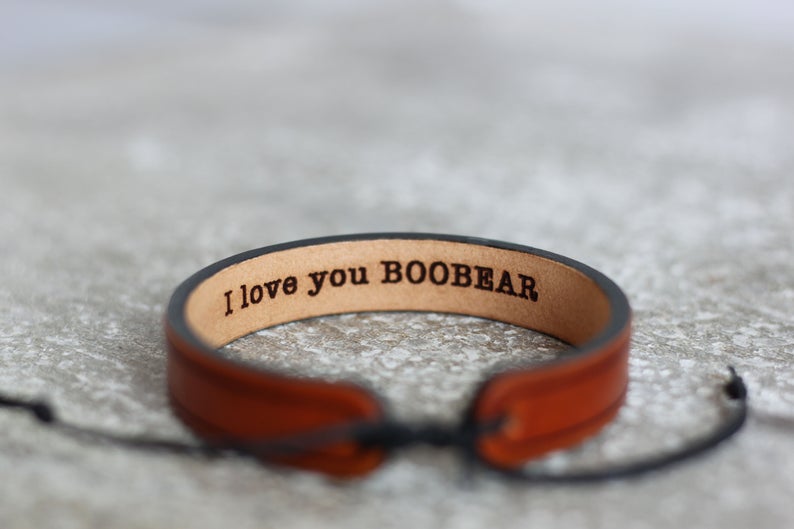 Far enough into your relationship to get really personal? Looking for a simple piece of everyday jewelry that doesn't sparkle and shine? Check out this leather bracelet that you can personalize right here.
This is a great gift idea for the man in your life that loves to accessorize. Sure, you could get him something super detailed, but how often will he be able to wear it?
Personally, some of my favorite jewelry from my husband are the pieces that go with everything. I can't tell you how much I hate seeing those other pieces never seeing the light of day more than a few times a year. Give him something he can wear to work and on the weekends and personalize it right here.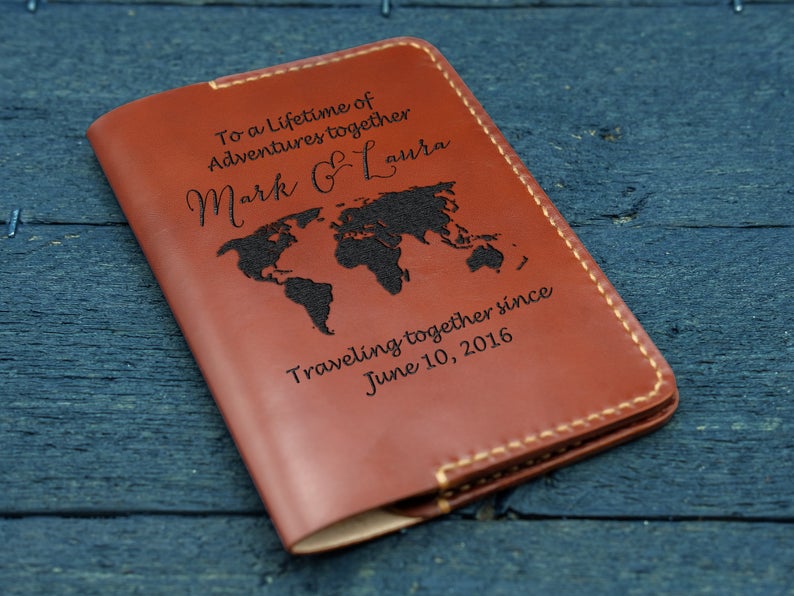 Planning on traveling together? Maybe got a honeymoon planned? Get creative this Valentine's Day and show your man how much you love to see the world together with a personalized passport cover.
Your passport gets stamps every time you visit somewhere, but the only person that sees those stamps is you…well, and the customs officers. Those stamps are unique and your cover should be too. Head over here to create this Valentine's Day gift for him and then start planning that next trip together!
Valentine's Day Gifts For Her
Looking for something special for that lady in your life? Over the roses, chocolate, and diamonds? Not that there's anything wrong with the basics, but don't just fall back on them because you couldn't come up with any other ideas.
Especially when you really didn't have to come up with any other ideas since they're all right here in this blog…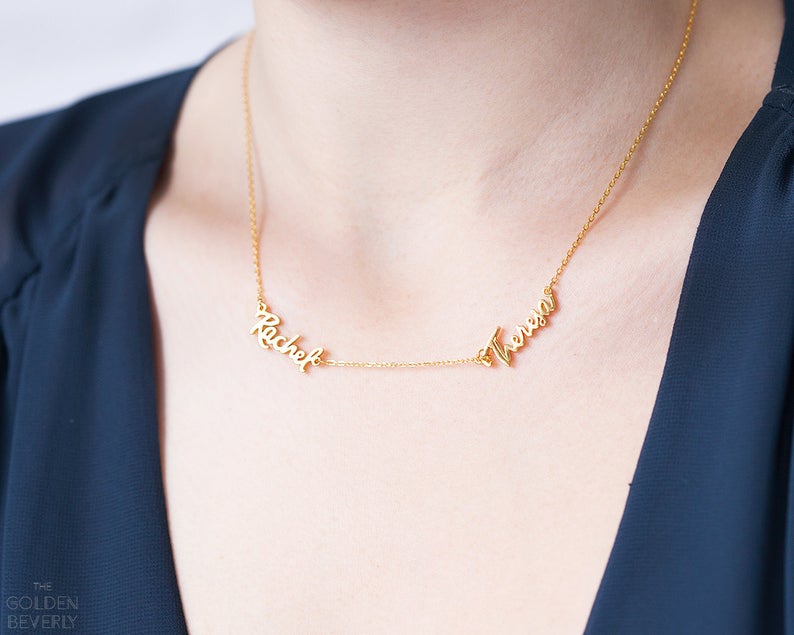 Let's start with the obvious category for Valentine's Day gifts for her: jewelry. Sure, you could get her a pair of diamond earrings, and I'm not saying she wouldn't love them…
But what about something a little more personal? Maybe something she could wear to work just as easily as on a girl's night out? This two-name necklace will absolutely become a staple in her necklace rotation.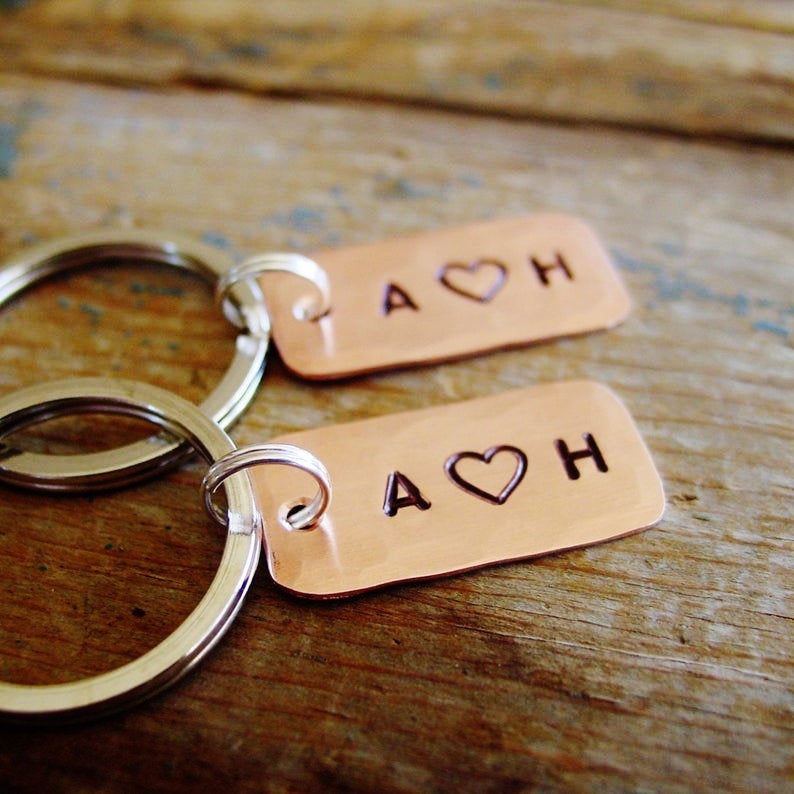 Planning on asking the lady in your life to move in with you this Valentine's Day? Whether you'll be popping that question or you have been living together for years, she'll appreciate having these personalized key rings to look at everyday.
Sometimes a simple gift like this is the way to go, especially for the couples that aren't looking to do anything major for this holiday. Keep it cute and easy, while still bringing a smile to her face with this gift idea.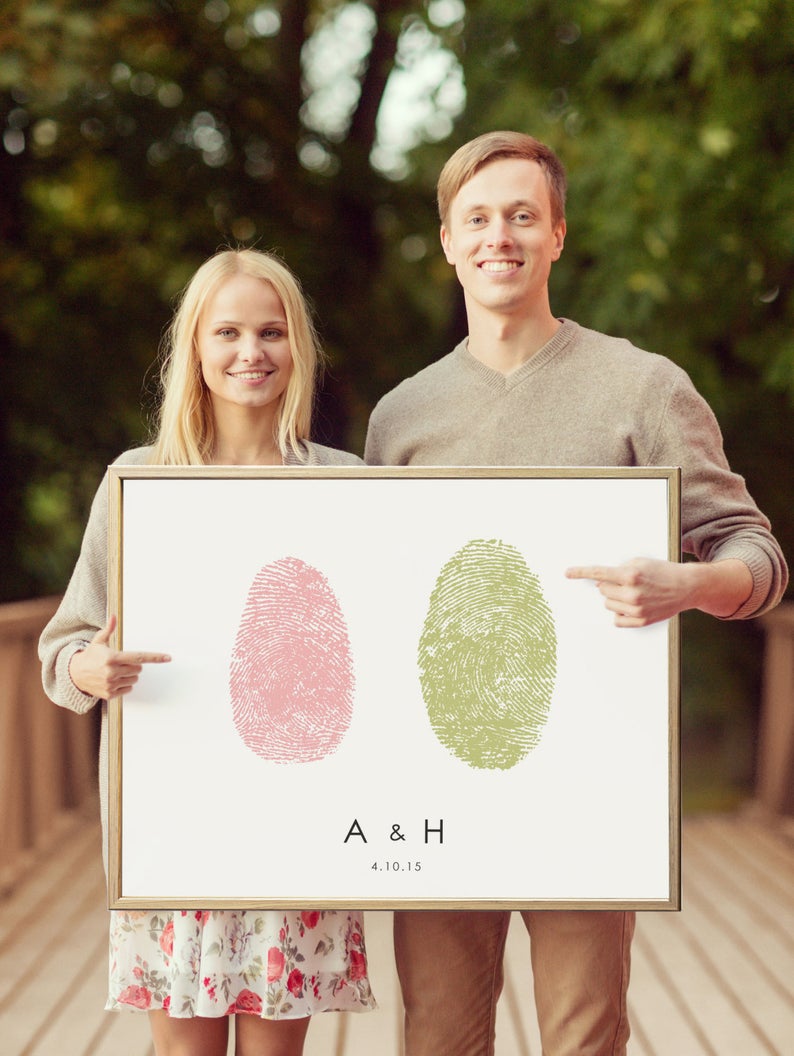 This Valentine's Day gift idea for her will take some planning, but you'll have something really special in your home forever after. If you're newly engaged, create this work of art with your individual thumbprints and use it as a unique guest book at your wedding. Once the big day comes and goes, you'll be able to hang it up with everyone's well wishes surrounding the pretty details.
Already married? This is still a great gift idea for the lady in your life no matter how long you've been together. Fingerprints are all unique and you can show her just how special the two of you are together with this Valentine's Day gift!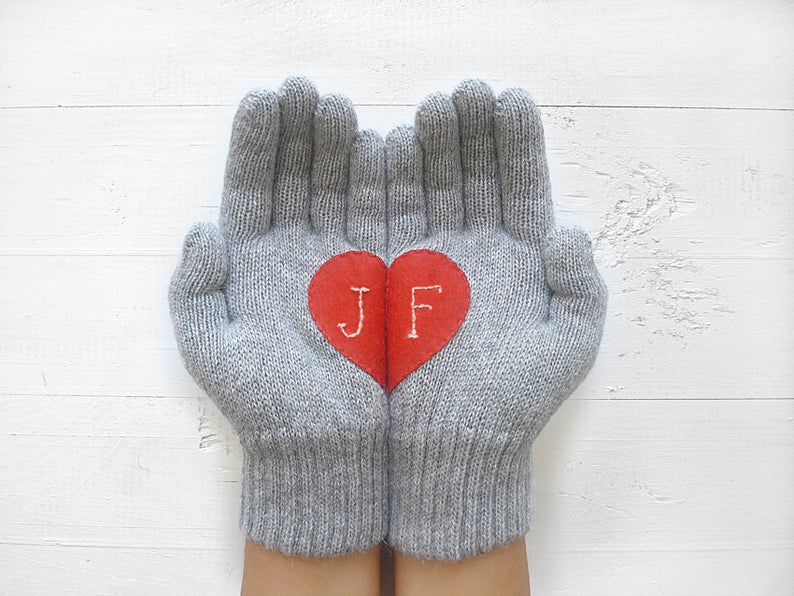 If you just started dating, but want her to know that this isn't just another relationship, grab these personalized gloves. You'll keep her hands warm, and she'll think of you every time she puts them on.
These are also great if you're like my husband and I who just emptied our bank accounts paying for Christmas gifts for our children just a month ago…
Gifts For Him, Her, and Them…
I hope this Valentine's Day gift guide of 14 unique items gave you the ideas you've been searching for! Who are you gifting this February 14th? Did you pick anything from the list?
Share your favorites in the comments below, or let us know what else should be included!
Happy Valentine's Day everyone xoxo