If you think May and June are still the most popular months to get married, I've got some alarming news for you…they're in third and fourth place to those Fall wedding months of September and October. With Fall weddings being the preferred time of year, there's even more pressure to make your Fall wedding details stand out from the rest.
Let's be honest, you're probably invited to at least one wedding the same month you're getting married, especially if you're saying "I do" in the Fall. Maybe you're even part of a wedding party or two before your own big day. The odds that you'll wear the same color bridesmaid dress to more than one wedding are really good.
Related: Easy Ways to Make Your Fall Wedding Invitations Special
As a wedding planner, I'm always seeing the same thing over and over. It's not always easy to stand out, but it's worse to blend in, right? In this blog, I've put together the best steal worthy ideas for a Fall wedding party with gorgeous bridesmaid dresses you can get creative with.
If you're shopping around for autumn bridesmaid dresses and just haven't found anything you're in love with, keep reading and prepare to fall….
See what I did there? Told you I was creative.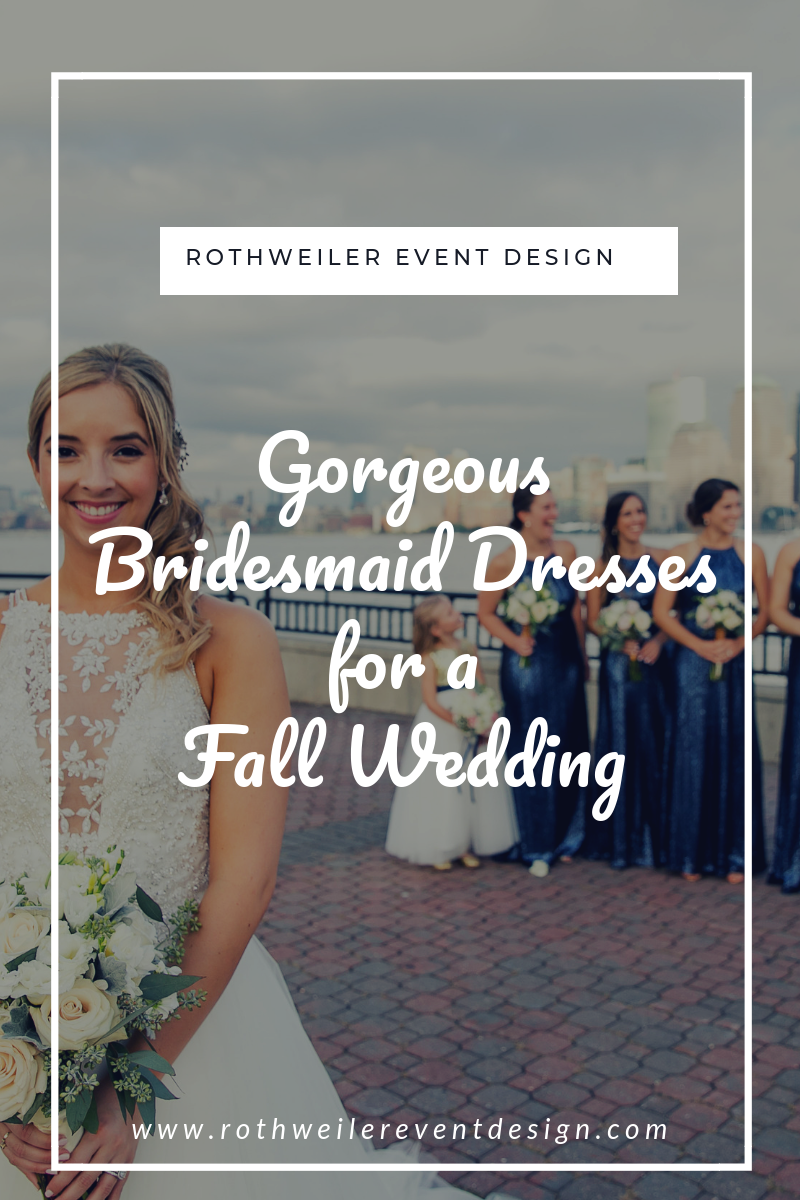 *Please note that most of the links of this page are affiliate links. This means if you click on a link and purchase, you will receive the same price, but I will receive a referral fee. This helps keep my blog free and allows me to share wedding planning tips with you. Thanks for your support!*
The Fall Wedding Party
Even though the official start date of Fall isn't until September 23rd (despite that pumpkin spice everything is available in August), September and October weddings are known as "Fall weddings". While all of November is also part of the season, many couples will stay away from dates near the holidays right through December.
Then it's Winter, making September and October the most sought after months for a Fall wedding. It's not too hot to hold your ceremony and cocktail hour outdoors, and it's not too cold where you need to provide pashminas for your bridesmaids and female guests. In the NYC Metro area, you'll also be blessed with plenty of sunshine as these two months are the driest options of the rest.
This also means that if you're planning a Fall wedding, be sure to leave yourself more time to plan than you think is necessary. A lot more.

Fall Wedding Bridesmaid Dress Colors
When you essentially have perfect weather, that gives you plenty of wardrobe options for your bridesmaids. Long and short bridesmaid dresses are both acceptable, and you're pretty much safe whether you choose strapless or full length sleeves.
Color options are where all brides get stuck regardless of the season they're getting married. There's this myth that certain colors are best for certain times of the year. In this instance, many people will tell you that jewel tones are made for Fall moreso than pastel or lighter shades. Honestly though? Ignore those people because you don't need that kind of negativity in your life…
Least of all when wedding planning…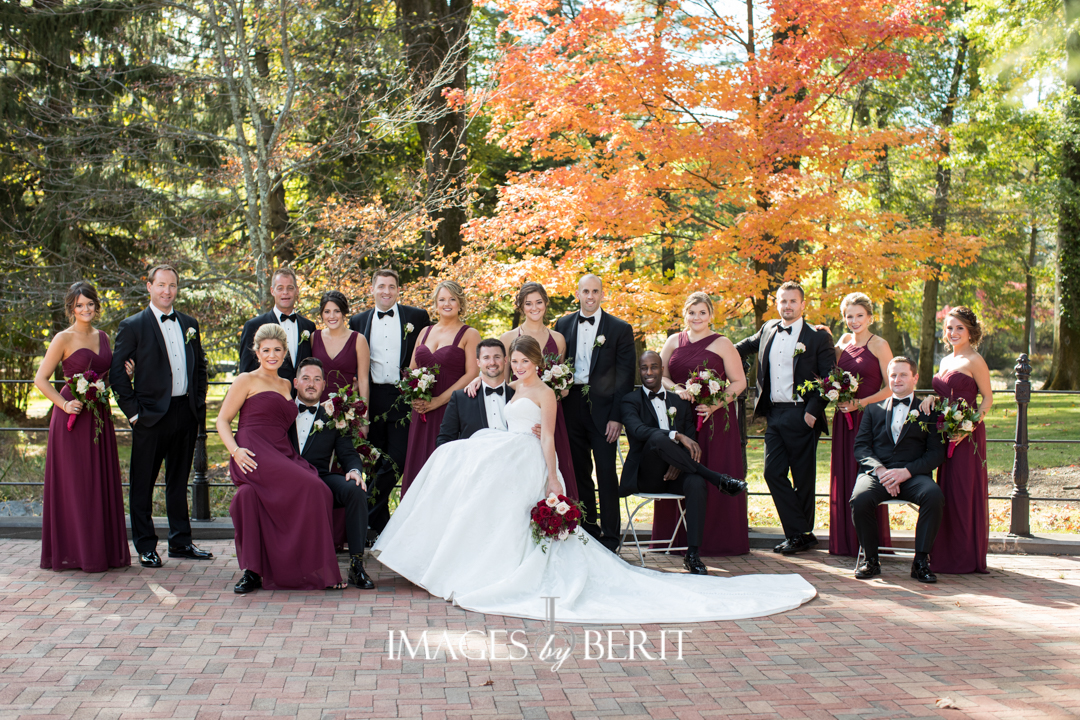 A wedding is more about the style of the couple, and color is just one part of it. You like dusty rose? Go for it. Obsessed with champagne (the color not the bubbly)? Listen to your gut.
What I love about the Fall wedding bridesmaid dresses I picked below, is that they come in roughly 297 different colors. In those colors, there are a ton of shades available too. Can't decide? Bring the mismatched bridesmaid dress trend to your wedding and go full on ombre with your selection.
Since this blog is about Fall wedding party trends and popular looks for your bridesmaids, the jewel tones are definitely showcased. If you love the dress, but want to see it in a different color, just click on the links provided and you'll go straight to the page allowing you to select any color you want.
So y'all don't think I was full of it when I said going for a lighter color is totally acceptable for your Fall wedding party, let's start with one…
Celadon Fall Wedding Party Is A Look
Celadon has been trending as a popular wedding color for the past year now. It's a super versatile color that works well with the rustic aesthetic just as much as the black tie wedding day.
Green has always been a little scary for brides in terms of wedding party wardrobe, and I think it's because when you say "green" most people think dark versions…Hunter, Emerald…you get the idea. It's also a very polarizing color, which keeps it out of the trend reports ever year.
We've seen couples embrace green in their actual wedding design however, through their florals. From boxwood floral walls to the super popular white and green combination, the color green isn't so scary when it's part of the bigger picture.
Celadon bridesmaid dresses look especially fantastic for those September weddings when there is still plenty of light late into the day and your bridesmaids are holding onto that Summer tan. It's perfect for the bride that wants the Fall wedding without the jewel tone colors.
You can shop this look and see all of the other Celadon dresses right here.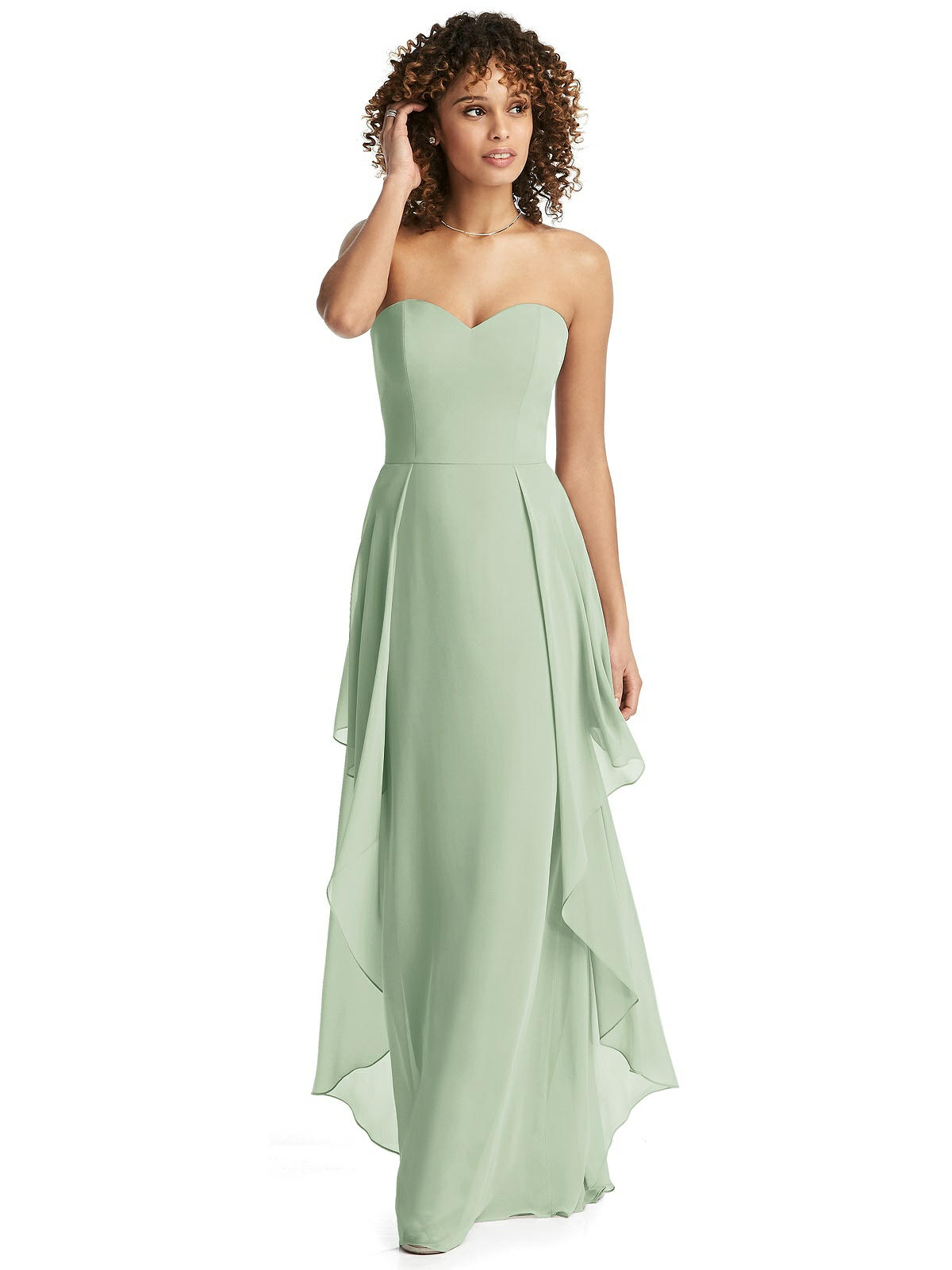 Speaking of Green Though…
As terrifying as those jewel tone greens have been in the past, brides have been warming up to them for their Fall wedding party look. There's something simply regal about emerald bridesmaid dresses, and it's an easy color to mix and match with.

For a more formal Fall wedding, if the groomsmen are going to be wearing classic black tuxedos, deeper greens are the perfect compliment. If you're worried about the color being too much, create a playful look with a fabric like chiffon or choose a simple wrap option like this one instead. 
Deeper greens are perfect for creating a romantic ombre look that is usually dominated by the pink family. There isn't a huge jump between colors like hunter and emerald, allowing you to create an ombre palette with any size wedding party.
Another huge plus for those deeper greens? They work with both gold and silver. I cannot tell you how many couples I work with that get stuck on certain colors because they have an absolute preference between gold and silver. This emerald bridesmaid dress from Dessy has simple and gorgeous silver detailing, but would look just as fabulous with gold touches. Check it out in this color and other shades of green here.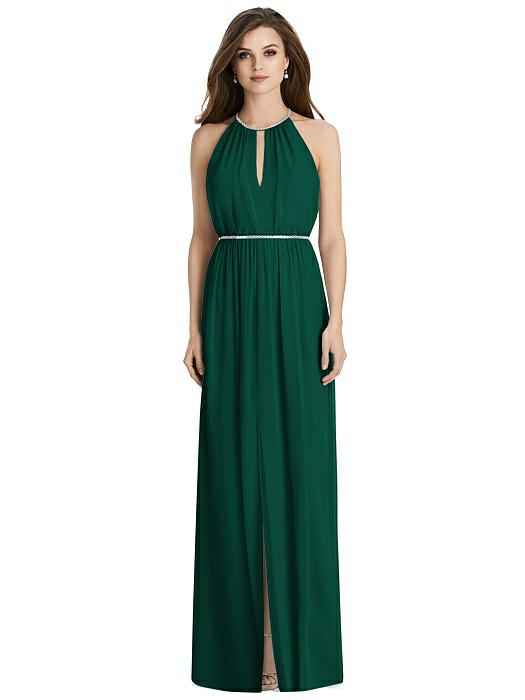 Of course, if you're undecided about which shade of green works best for your wedding party, or you're not totally sold on the idea yet, head over to Dessy to see their entire green bridesmaid dress collection. Be sure to leave a comment with your favorites!
The Fall Wedding Party Blues
It's probably not surprising that blue made the list of popular bridesmaid dress colors for Fall weddings. After all, blue is basically the world's favorite color, which is why it shows up in weddings all throughout the year.
I'm still low key mad that they created a blue M&M instead of a purple one but anyway…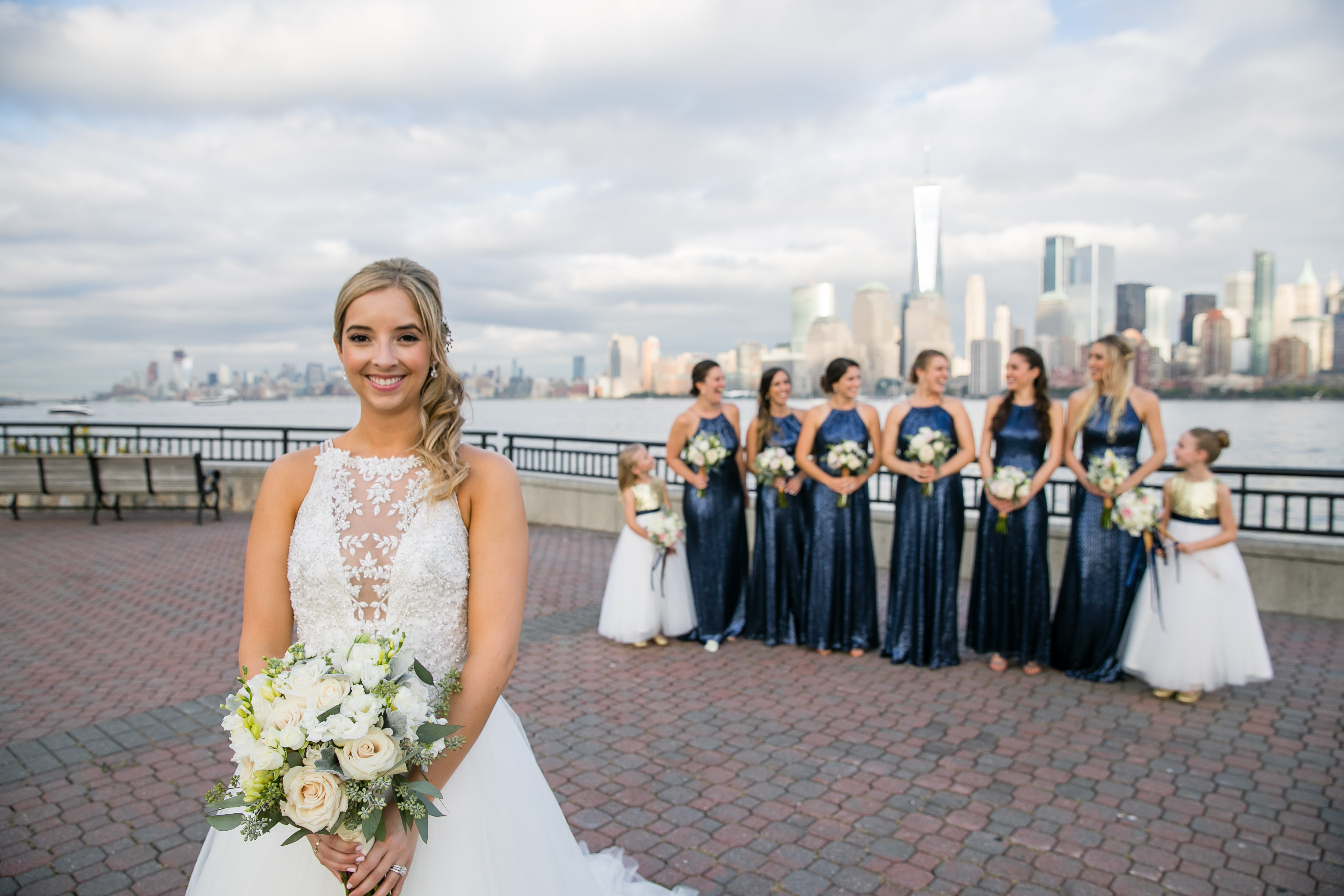 Yes, back in 1995, Mars polled the public and asked what the new M&M color should be. The three options were purple, blue, and pink. Blue won by 54% of the vote. More than half the people polled preferred blue to not one but two other colors to choose from.
The point is, blue is crazy popular. In fact, more of my brides have chosen blue bridesmaid dresses than any other color. Which brings me back to an earlier point I made:
It's better to stand out instead of blend in.
How can you do that with the color everyone is obsessed with though? A color that is legit perfect for your Fall wedding party because it's the jewel tone shade everyone else is using?
First and foremost, you start with the full blue collection from our friends at Dessy. One of my favorite things about the Dessy website is that you can filter down by choosing details like neckline, length, fabric, and more.
If you're looking to stand out, choose a neckline that you don't see at every other wedding. This one-shoulder navy blue bridesmaid dress or this cap sleeve navy sequin gown and your Fall wedding party won't look like any other.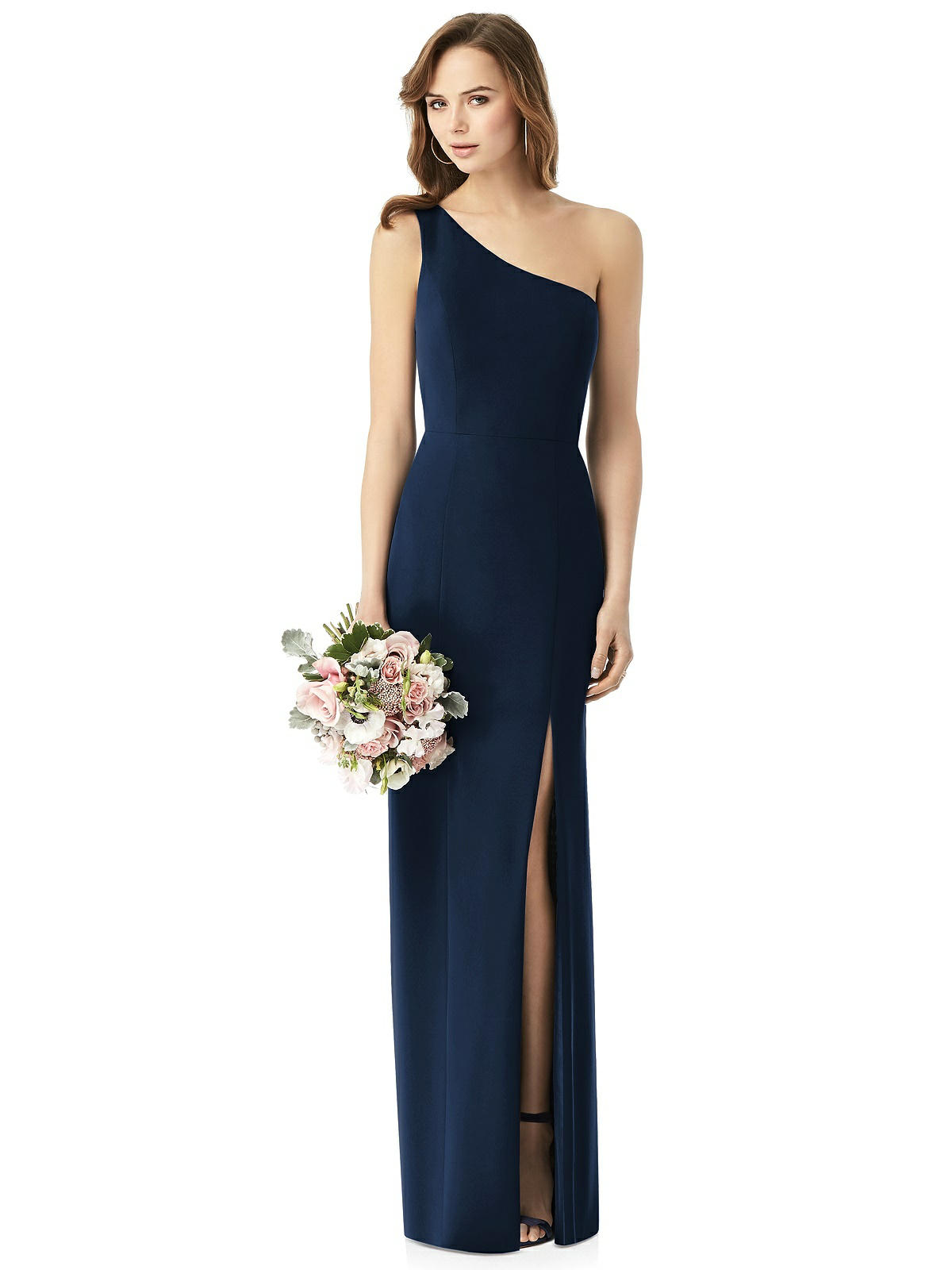 Seeing Red
If there's one color that pulls attention, it's red. The thing is, those Fall weddings bring out all those deeper and more subtle shades of red, that no bride has to worry about being upstaged. Dessy has a huge selection of red bridesmaid dresses ranging from those with mandarin orange undertones to cooler, and blue-er ones.
Is that even a word? Oh well.
Just like red lipstick, there's a shade for everyone. In fact, there's about a dozen or so. Even though this isn't about lipstick, the point I am trying to make is just how many shades of red are actually available. It's not just stop sign red anymore.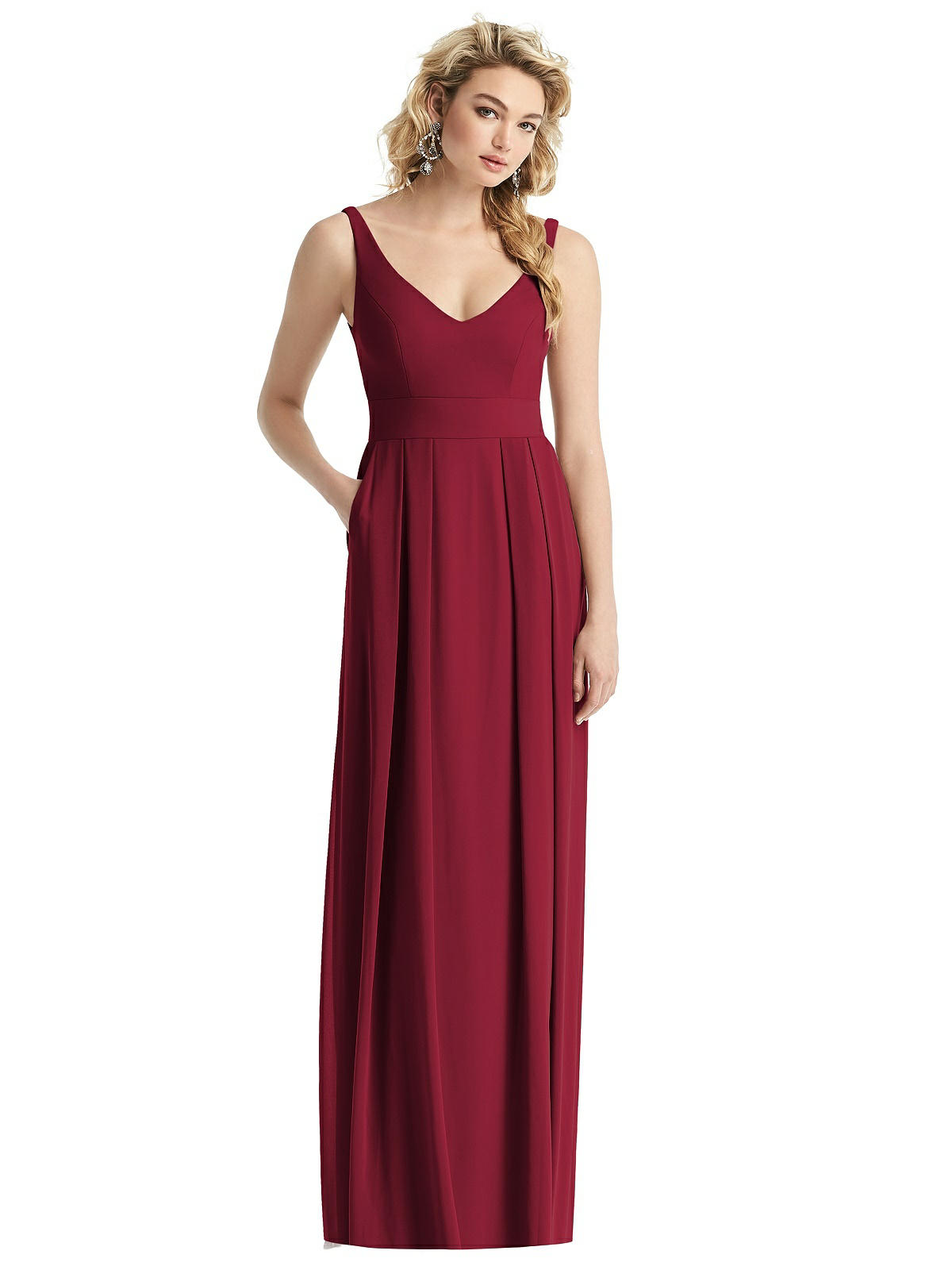 Burgundy bridesmaid dresses, like this one from Dessy above, are crazy popular for Fall weddings. It's a warmer color that, frankly, most women feel very confident in. Wearing red helps a person feel stronger, gives them energy and even makes them more excited. I don't know about you, but I would love a confident, energetic, and excited wedding party.
Related: Which Colors to Wear to Feel A Certain Way
Burgundy and the wine shades of red, are perfect for Fall weddings not just in September and October, but into November as well. They don't have that bright red Christmas vibe either, so you also can't go wrong with this color for a December wedding.
While I love any shade of red for all styles of weddings, I definitely think those brighter options with orange undertones are better for less formal weddings. The deeper hues, however, work just as well for boho weddings as they do for ballroom soirees.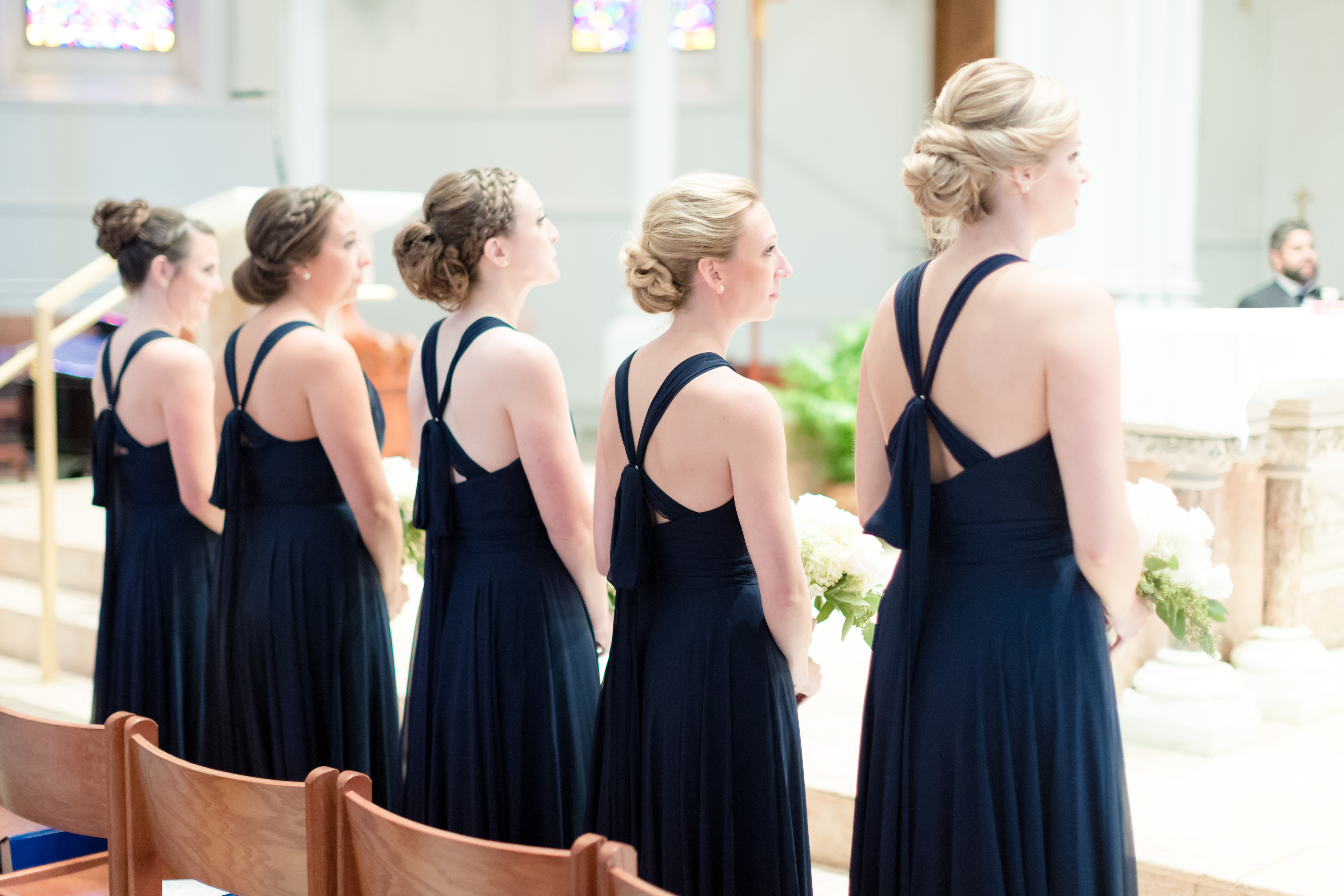 It's always important to factor in what the groomsmen will be wearing, especially with red bridesmaid dresses. Deep blue or blue-gray suits and tuxedos have become really popular for groomsmen over the past few years. Be careful if you're going that route or else your entire wedding party style will look like The American Flag and less like…you know…a wedding.
Unless that's what you're going for, then, by all means, do you.
Another thing to keep in mind when working with red bridesmaid dresses is the potential challenges of mixing and matching the styles. In general, the mismatched bridesmaid look can get tricky because not all fabrics and colors play nicely with each other.
For example, you can work in a sequin bridesmaid dress with just about any other fabric, but mixing chiffon with a lux satin won't look so pretty. The main reason for this is that the same exact color will look totally different depending on the fabric it is on. So, if you're trying to mix and match bridesmaid dresses,  it's going to be easier to do different colors than different fabrics.
Then there's red. With red, not only does the color change depending on the fabric type, but burgundy for one designer might be very different with another. Be sure to stick with one designer and always ask or order swatches to see the color in person before you commit to anything.
Favorite Fall Wedding Bridesmaid Dresses
Those are the biggest trends and most popular colors for Fall wedding party gowns. Are there any colors missing from the list that you love? Do you have a favorite from this blog? Share your own colors in the comments section below and let everyone know more about your wedding party wardrobe!