Looking for easy ways to make your Fall wedding invitations special and not like everything you've already seen? I'm sharing tips for every style today! I'm also going to share the hottest colors for Fall, not just this year, but in the years to come. Plus, there's one color I'm obsessed with and this is the season to use it.
Fall is the most popular season for weddings, edging out Spring completely. In fact, September is the most popular month to get married, followed by October. Any time I talk to people about that, they look really confused. It's not surprising since many people associate weddings with the outdoors and warmer weather. We're conditioned to think about hoodies and campfires in the Fall, not sunshine and rainbows.
But really, September can be so warm that it feels like Summer, and much of October is still warm enough to have that outdoor ceremony and cocktail hour before moving inside. The seasons are funny that way…I mean, Spring starts mid-March and here in the Northeast we'll still have snow.
When you look at the seasons as merely suggestions, you open yourself up to so many creative possibilities for your wedding day. If you're ready to get in that mindset, read on!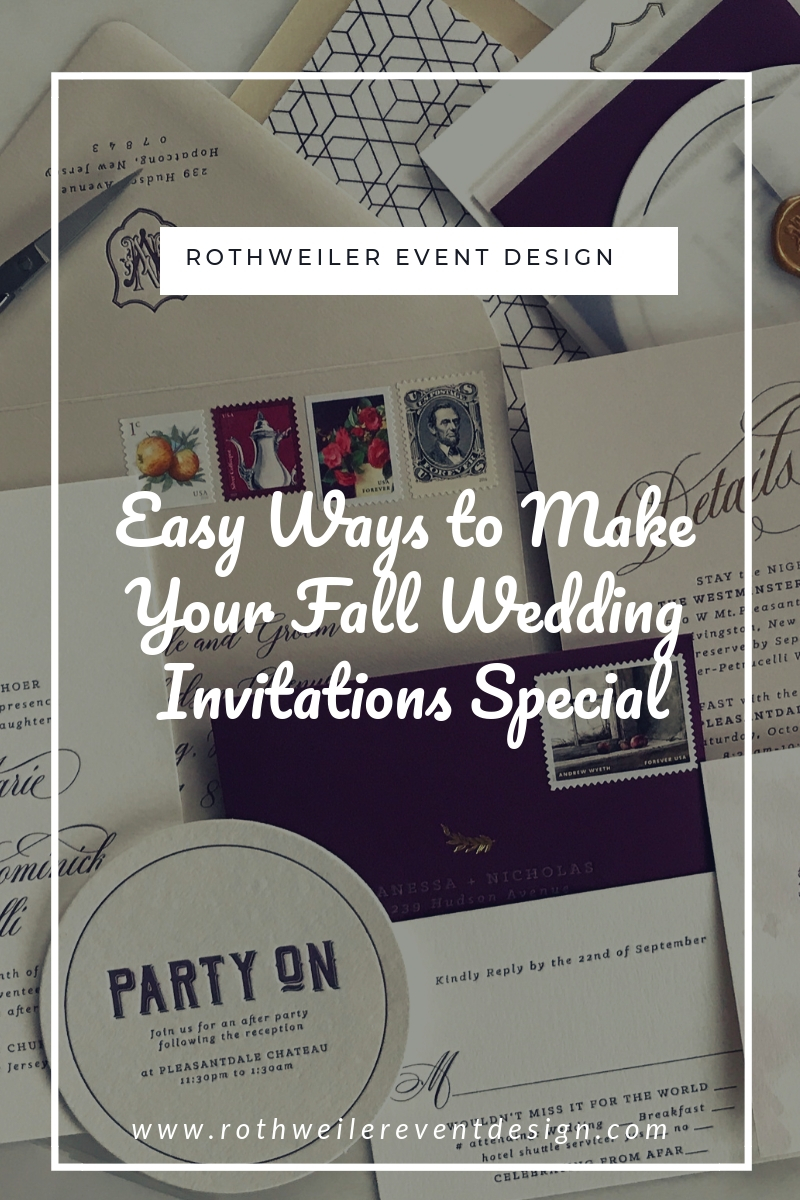 *Please note that most of the links of this page are affiliate links. This means if you click on a link and purchase, you will receive the same price, but I will receive a referral fee. This helps keep my blog free and allows me to share wedding planning tips with you. Thanks for your support!*
Fall Wedding Invitation Inspiration
OK, I'm about to contradict a lot of what I was just saying about the seasons, but hang with me. The seasons are more fluid than they are rigid if you're comparing the dates to the weather. Take the Christmas season for example. What do you think about? Warm weather and margaritas or sleigh rides in the snow and eggnog? Unless you live in Southern California or Mexico, I'm guessing you think "snow" when you think about the holidays.
Christmas is technically in Winter. It's only a few days into Winter, but it's a Winter holiday. Up in the Northeast where I am, if it's not freezing or below, you'll hear everyone talk about how it doesn't "feel" like Christmas. That's because seasons have a feeling. They make people feel a certain way.
What comes to mind when you think about the Fall season? I guarantee you it's not 90 degree heat right? We believe these conditions we're conditioned to believe, and shocked AF when the weather doesn't line up with those conditions. Let's mess this up even more…ready?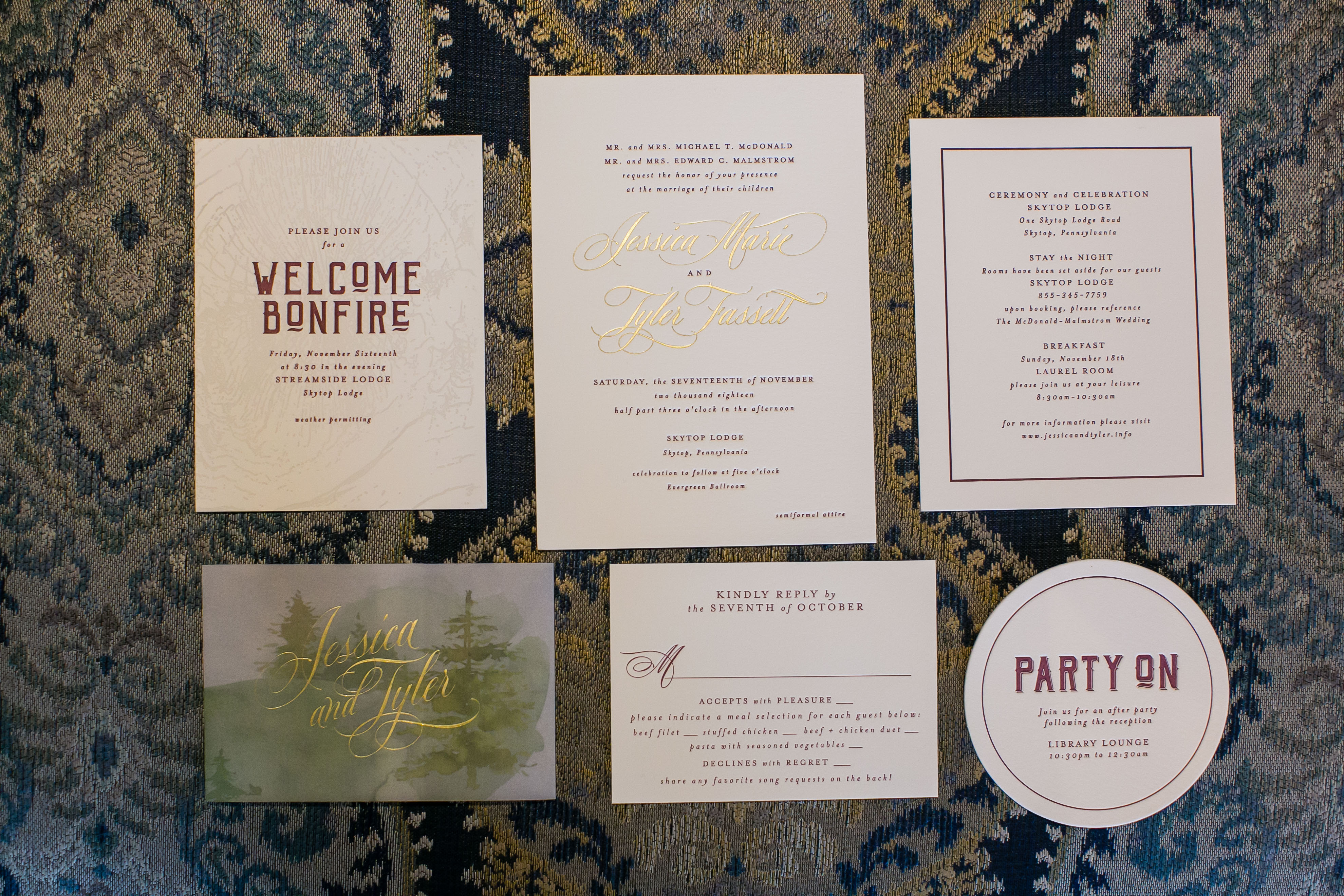 I say September and you think what? Fall? Because it's not Fall until over half the month is over. The first two weekends have cracked 90 degrees more than once in the NYC area. In fact, it doesn't consistently feel like Fall under late September into October. But, I guarantee you that no one considers September part of the Summer season. You might hear people say you "can get a hot day" in September. Of course you can! It's Summer!
How do you get inspired for Fall when it doesn't feel like Fall and the calendar tells you it's still Summer, meanwhile, you're conditioned to think of September as Fall? Then what about December 15th, which is still technically Fall, but there are no pretty leaves and it's probably snowed twice, just in time for Christmas which will probably be warm for some reason…?
Head spinning yet?
The reason I'm driving you crazy is because it's important to focus on the date of your wedding and not the season. Does it feel like Fall or is it going to feel like Summer or Winter? That is your building block of wedding inspiration. It's that which you need to help guide you to the best colors and style for your Fall wedding invitations. Leaning towards Summer or pushing into Winter will have very different vibes.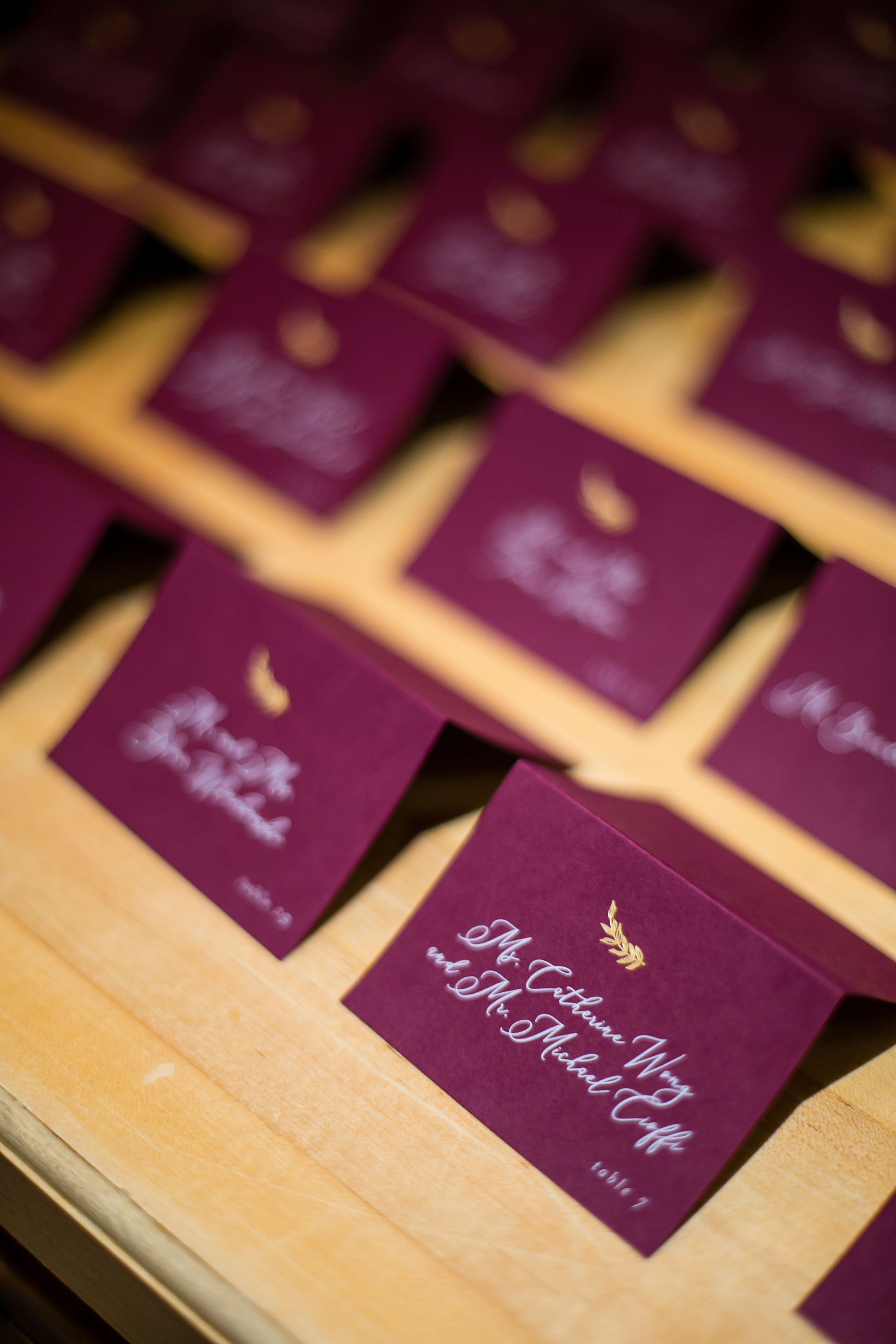 A Summer Kinda Fall
I happen to think that the best time in Fall to get married is closer to Summer instead of Winter. There are so many similarities between Summer and Fall that it's very easy to bleed trends and colors over from one to the other. You can still work with that heat, even if the only warm part of your day is during the ceremony. If you're in that part of the Fall, you'll also have a lot more daylight and a later sundown, which are important to consider in your design.
Related: How to Make Your Wedding Invitations Easy
A color that easily transitions from Summer to Fall is red. Every shade of it. It's a bold color, has plenty of heat, and you can even use two different shades of it as long as you get a paler color in there to break it up. I love the idea of incorporating red roses into Fall weddings and then bringing that design element into the main portion of the invitation. Just because flowers are associated with Spring, doesn't mean you can't use them as part of your invitation look. Remember, seasons are a myth, OK?
Red is going to be a hot color this Fall and going forward, as couples try more and more to have a uniquely styled wedding. People are naturally afraid to use red because it's such a powerful color. However, there is another color that is even scarier, which I'll talk about later on in the blog.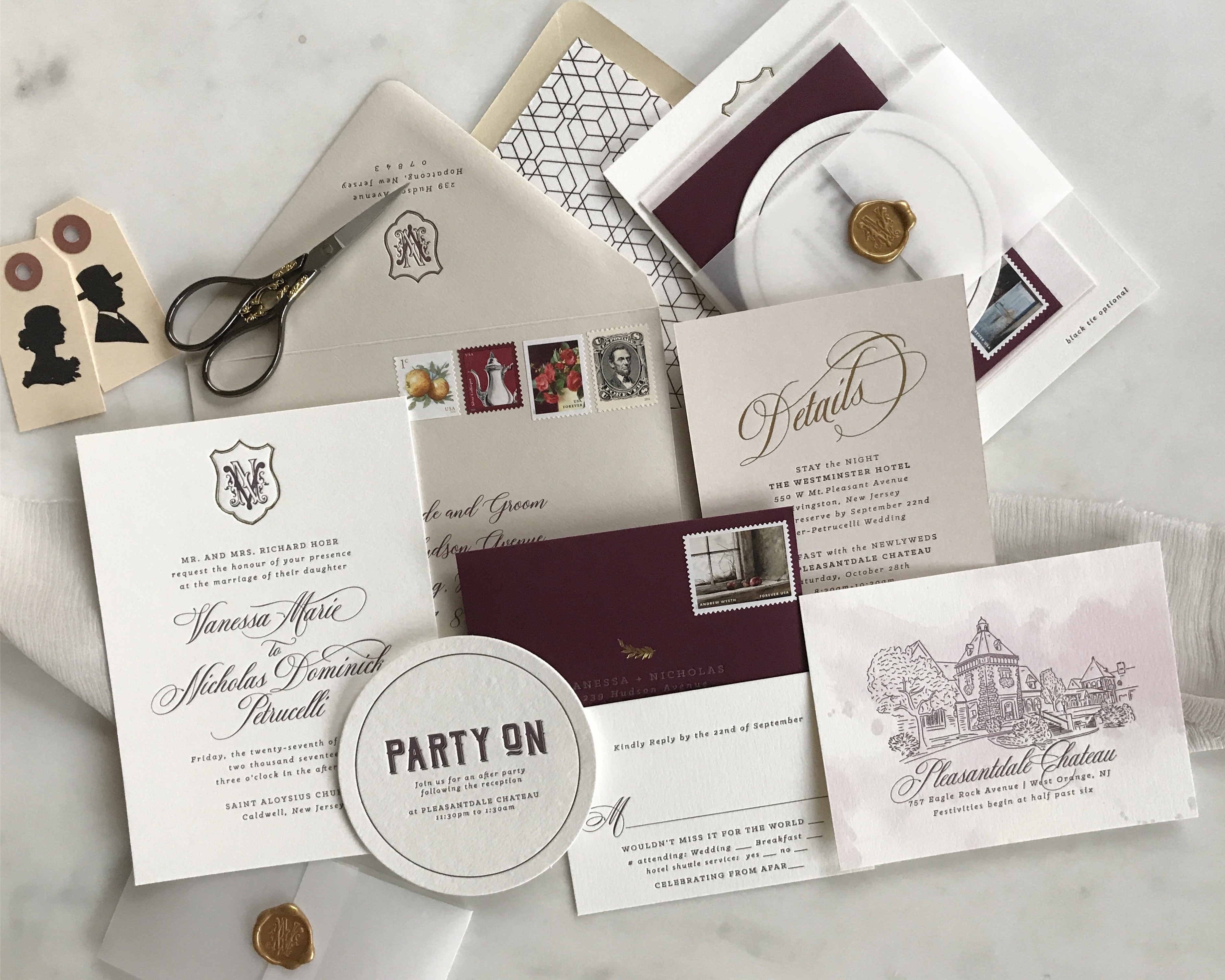 Using a paler color combo still allows you to use red as an accent, from the RSVP envelope to the addresses on them. The tricky thing with red is just how many shades there are and if you want to keep it warm or cool. Red works for those Fall weddings going into Winter, with the exception of anything bright or candy-cane color. Keep with the blue shades of red to reflect the cooler temperatures while still using a powerful color.
Go for Gold
There's something about gold…while it's not that popular anymore for wedding bands or engagement rings, it's widely used in wedding day decor. If your Fall wedding is really a Summer one, that gold might be reminiscent of a sunset and the golden glow coming off the horizon. It's a warmer gold that works well with those burnt Summer oranges and bright greens. Fall into Winter weddings are often a softer gold because everyone is terrified of their wedding looking like a Christmas party.
Gold, like red, has various shades, so it's important to be cautious when working this into your wedding design. With invitations, gold makes a huge impact. Consider adding a gold foil liner to your envelopes for an elegant look. You can use gold scattered almost like glitter (I said almost because we're not in first grade and no one likes glitter all over their house) across your entire invitation for a more subtle look. Small details like monograms and design elements can also be presented in gold for that finishing touch.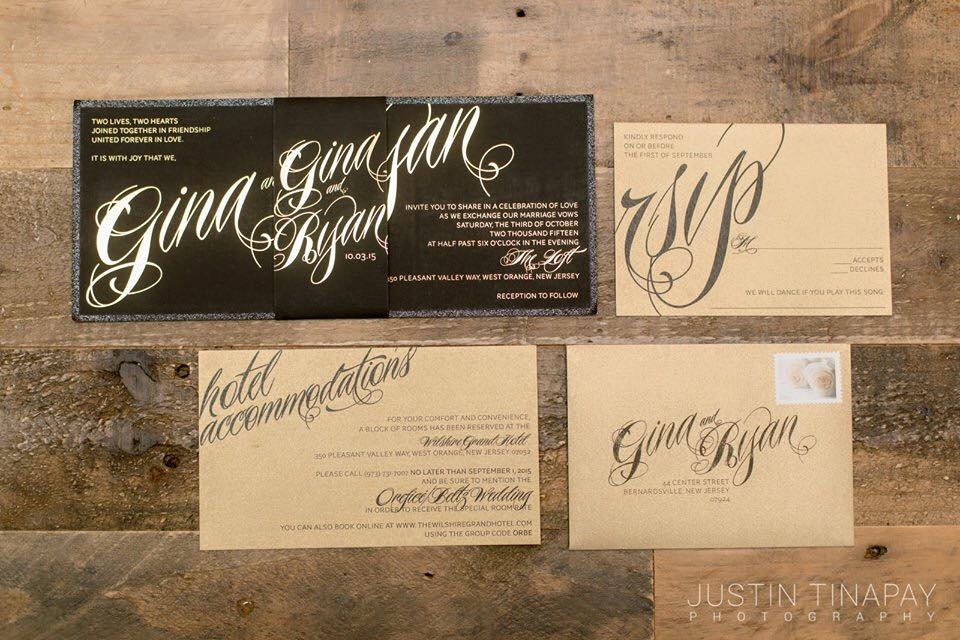 The best part about gold? It goes with everything. Yes, everything. Go ahead, name a color it doesn't work with.
Can't be done.
The Comeback Color
Look, I have no idea what's up with everyone's relationship with this color. Either you love it or you hate it. Those of you who hate it, by the way, are wrong.
Purple, deeper purple to be specific, is an absolutely stunning color for Fall weddings. As long as you're staying on the warmer and darker end of the spectrum, purple is a fantastic option to use. In your wedding invitations, the color is just as beautiful as an accent as it is a main color. This Fall, expect to see a lot of purples like eggplant and gold for both early and late Fall weddings.
If you're surprised to hear that…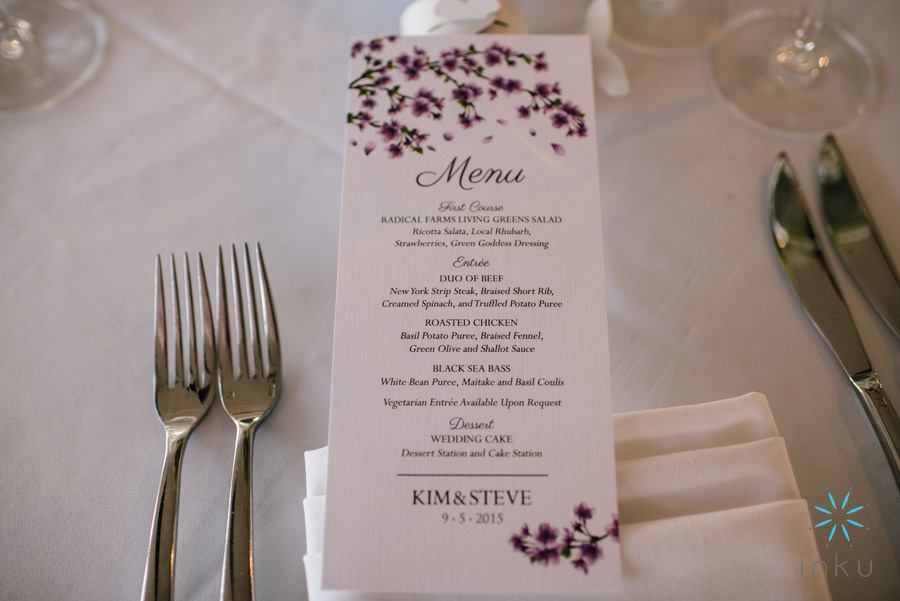 Let's Talk About Black
Everyone needs to stop freaking out about using the color black in weddings if it's not a tuxedo. Of course there are awful ways to use black, and one of them has to do with all of your wedding stationery. What is it?
The writing.
I can't tell you the amount of times I've seen a perfectly elegant wedding invitation completely ruined by dark black ink. That's the black y'all should be terrified of. You ever look at an invitation and can't figure out exactly what it is that you don't like? I guarantee you that was the problem.
Related: My Favorite App for Wedding Invitations
How can you use black in your Fall wedding invitations that doesn't look terrible? Black, like purple, works as an accent and main color. However, avoid yellow and black as well as orange and black at all costs. Otherwise, you're stuck with a bumble bee or a Halloween invite. Black can be used as little or as much as you want, but it has to look like it was used on purpose. I expect to start seeing a trend towards using black on Fall wedding invitations in the future. Couples will keep it safe by adding some sparkle or using it sparingly, but it will become a Fall wedding color trend soon.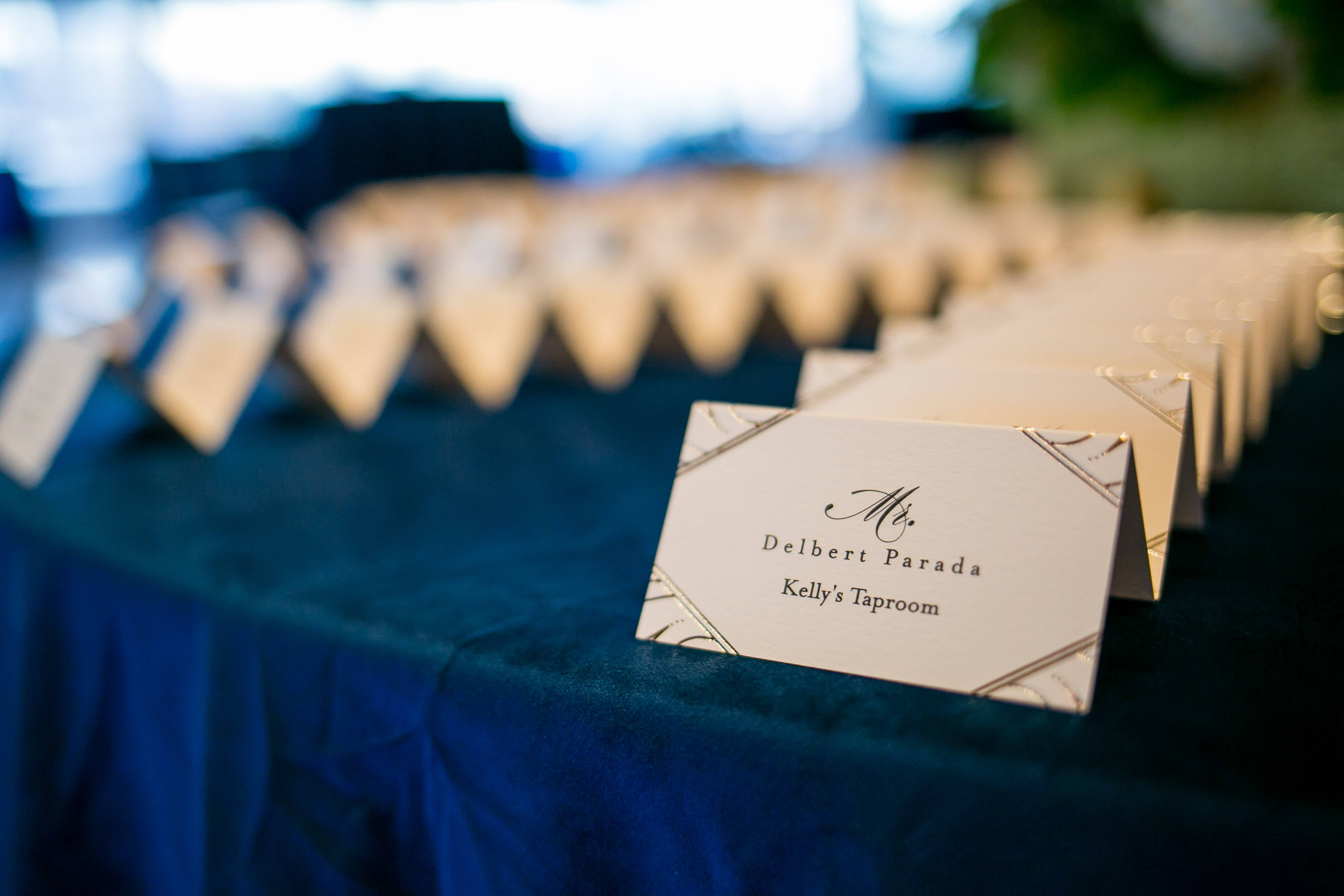 Formal Fall
Most of the Fall as it falls on the calendar (really tried to avoid that pun, sorry) is a great time for long dresses and black tuxedos. The weather cools off and outdoor ceremonies come complete with heat lamps. But, getting back to what we're conditioned to believe about Fall, people naturally go outside where it's cold to socialize around fires and roast marshmallows. Nothing changes at weddings, which is why the wardrobe becomes what it does:
Formal AF.
Who the hell wants to wear a black tux outside at a Summer wedding? Yeah, I didn't think so. But Fall? No issue. Fall just feels more formal than Summer. Which means the wedding details become more formal. Those details include your wedding invitations.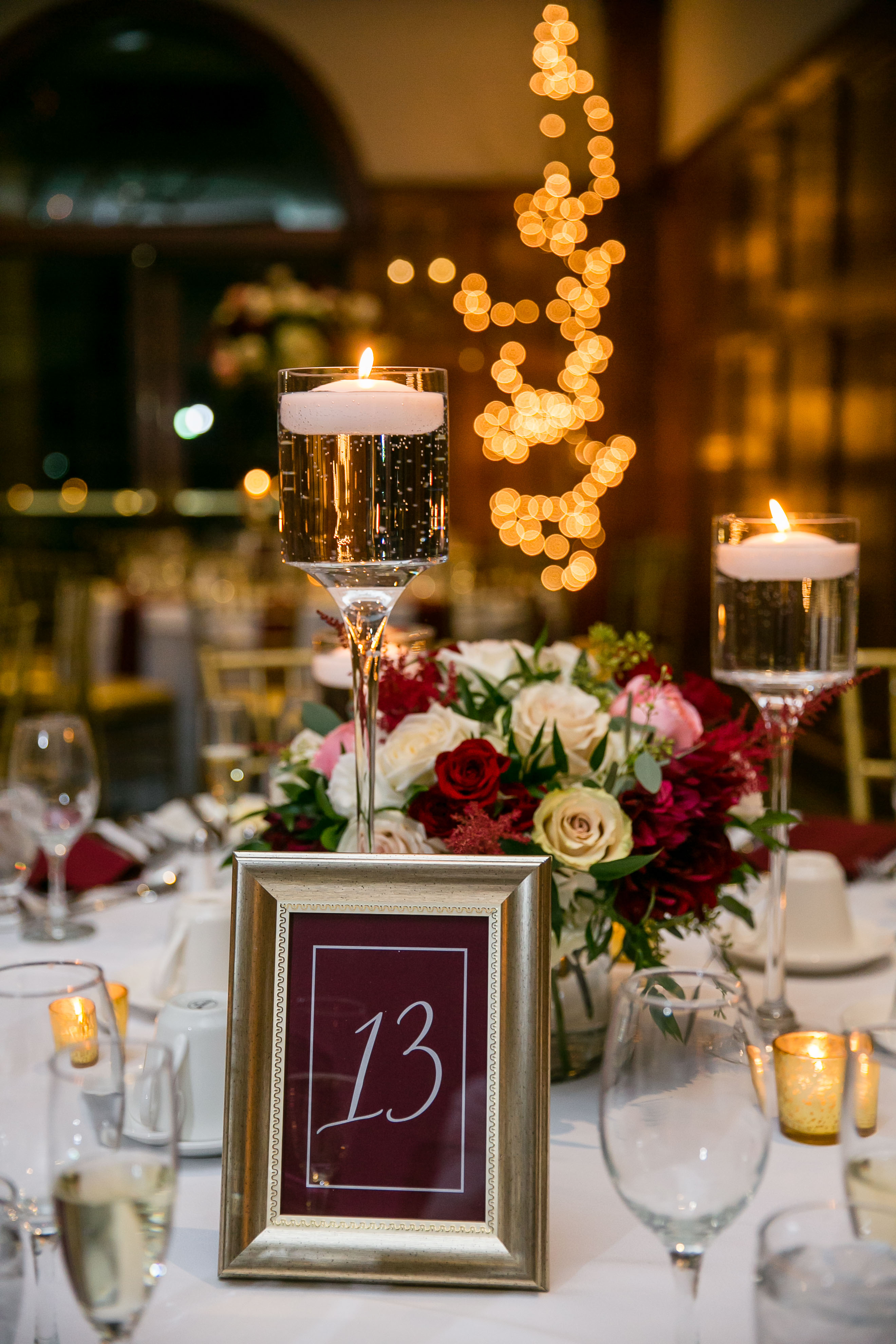 A hot trend we will see for Fall wedding invitations, and an easy way to make your Fall wedding invitations special is to formalize them. Add the calligraphy, the extra enclosures, the vellum and the letterpress…OK, don't add all of that, but you get the idea. This doesn't mean make them boring either. You can still have fun with color combos and gold sparkle, of course. There are countless ways to give your invites a formal feel and you'll be on trend if you do it for your Fall wedding.
Fell in Love
Did you fall in love with any of these ways to make your invitations special? Will you dare to go bold or use a powerful color like black or eggplant? Share how you're making your Fall wedding invitations unique in the comment section below!