If you're stuck in the bitter winter cold like I am, it might be hard to envision an incredible garden wedding. How can you picture beautiful trees and flowers when everything is covered in snow? We've put together plenty of inspiration in this blog, as well as venue recommendations to get you started. Don't forget to pin your favorites and share your wedding details in the comments below.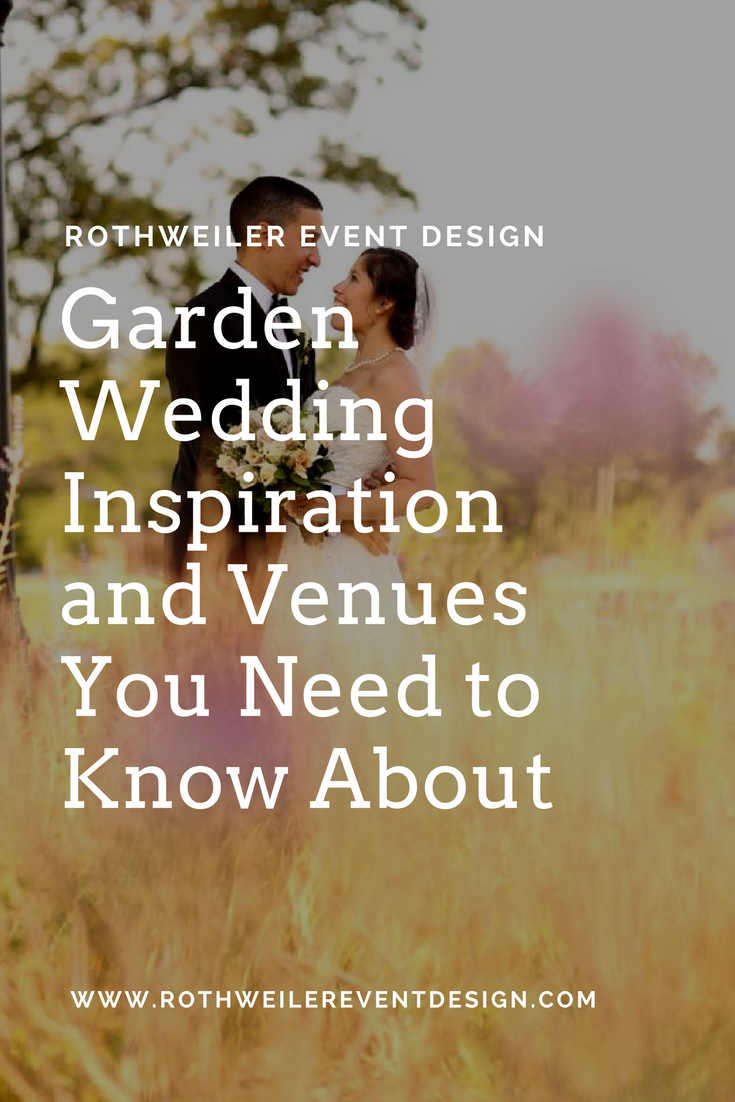 What are some incredible garden venues?
If you want your wedding to have a garden feel, then the best way to do that is to get married in…you guessed it…a garden! One of the best things about a garden wedding venue is that you're surrounded by flowers, trees and organic beauty. It's not necessary to go crazy with decor when it's already provided.
This is the perfect setting for the boho chic bride to the traditional black tie mandatory bride and everyone in between. The trick is to find the right garden venue that fits your style. Perhaps you like the idea of the ceremony being outdoors, but want to bring guests inside for cocktail hour and the reception. Maybe you'd prefer a tented wedding where guests can enjoy the beauty of the garden the entire day. A full list of garden venues by state can be downloaded in the link below, and past that are some of our favorites!
Garden Venues Across The States
The New York Botanical Gardens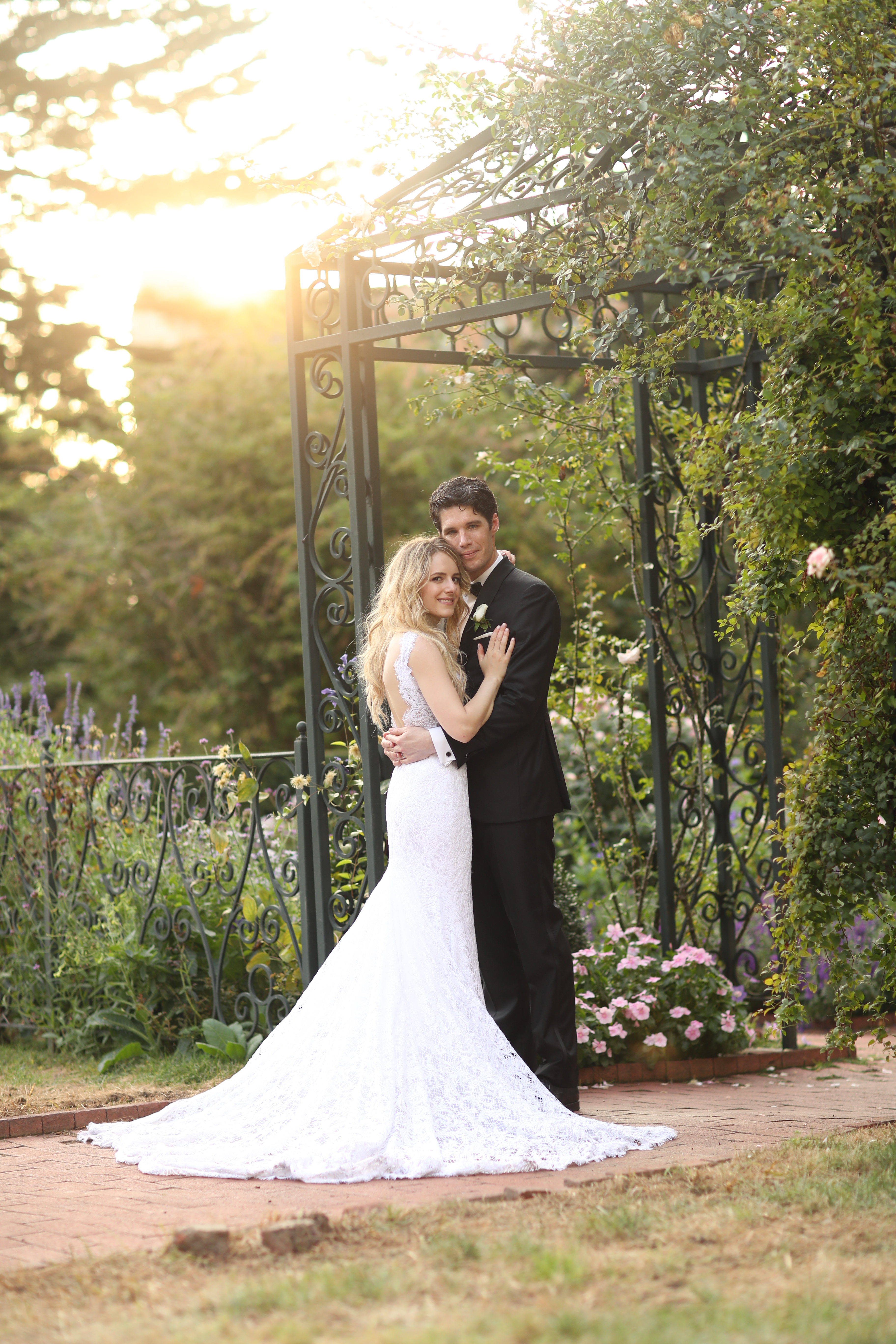 The New York Botanical Gardens hosts both intimate and grand weddings. Engaged couples can create their first look photos on site, and treat their guests to a true garden wedding experience. Starr Events is the fantastic in house catering group, so foodies should add this venue to the list!
Grounds for Sculpture
Located in Princeton, New Jersey, Grounds for Sculpture is a premiere destination for garden weddings. In addition to the gorgeous grounds covered in beautiful flowers and trees, there are countless art exhibits around every corner.

Ceremonies can be held in four different outdoor locations and Grounds for Sculpture provides an indoor location in case of inclement weather. Cocktail hour and the reception are located at the restaurant on property with food provided by Starr Events. Guests will travel from the ceremony to Rat's Restaurant on paths surrounded by sculptures and beautiful gardens. Check out what our couple, Chelsea and Yaw, did for the wedding we planned with them right here.


Pleasantdale Chateau
If you're looking for a more formal garden wedding experience, Pleasantdale Chateau in West Orange, New Jersey is the perfect fit. Set far from the main road, the chateau at the end of the winding driveway includes on-site accommodations as well as separate bride and groom suites for the couple and their wedding party to get ready in.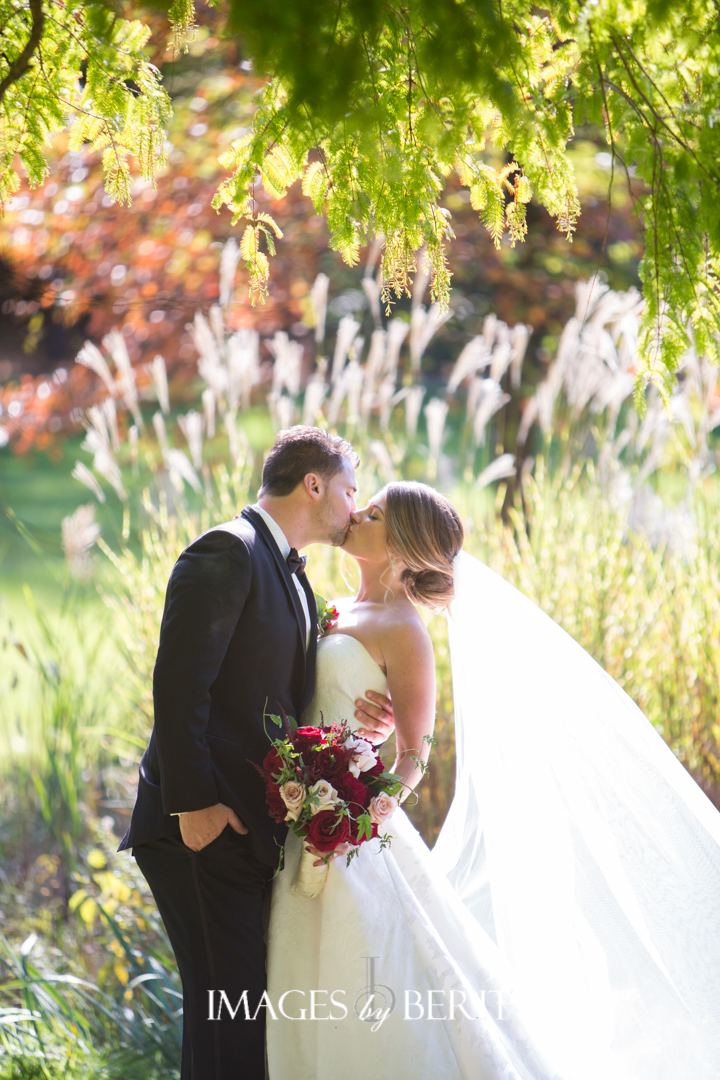 Couples can take their pictures on countless bridges and anywhere on the beautiful grounds. This upscale setting allows couples to have a garden vibe for their wedding, while providing a beautiful estate for dinner and dancing.
What Type of Wedding Gown is Perfect for a Garden Wedding?
Once you have the venue selected, it's time to start shopping for the perfect bridal gown. It's important to consider your own style as well as where you will get married. Are you more boho chic in an organic garden setting, or will your big day include a clear top tent and fireworks? Below are some beautiful options to consider wearing at a garden wedding.
Floral Details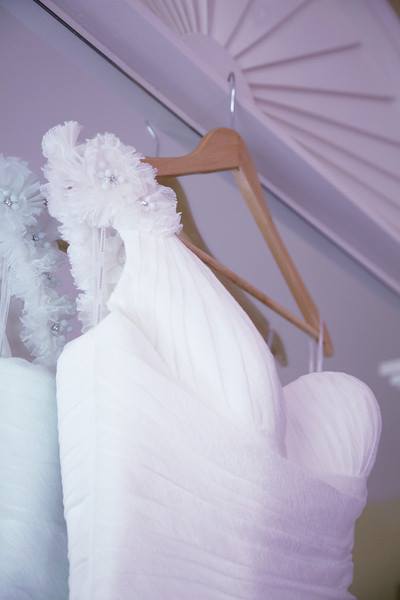 Floral details on a wedding gown are the perfect look for a garden wedding. With floral patterns increasing in popularity, brides have countless options with this trend. Whether it's a small detail like a floral design on the straps, or a big statement using larger details, you can't go wrong incorporating garden beauty into your gown. Our friends at Bridal Atelier in Montclair suggest looking at Claire Pettibone dresses if you're looking for romantic floral inspired wedding gowns. You can read about that wedding gown trend and more right here!
The Ballgown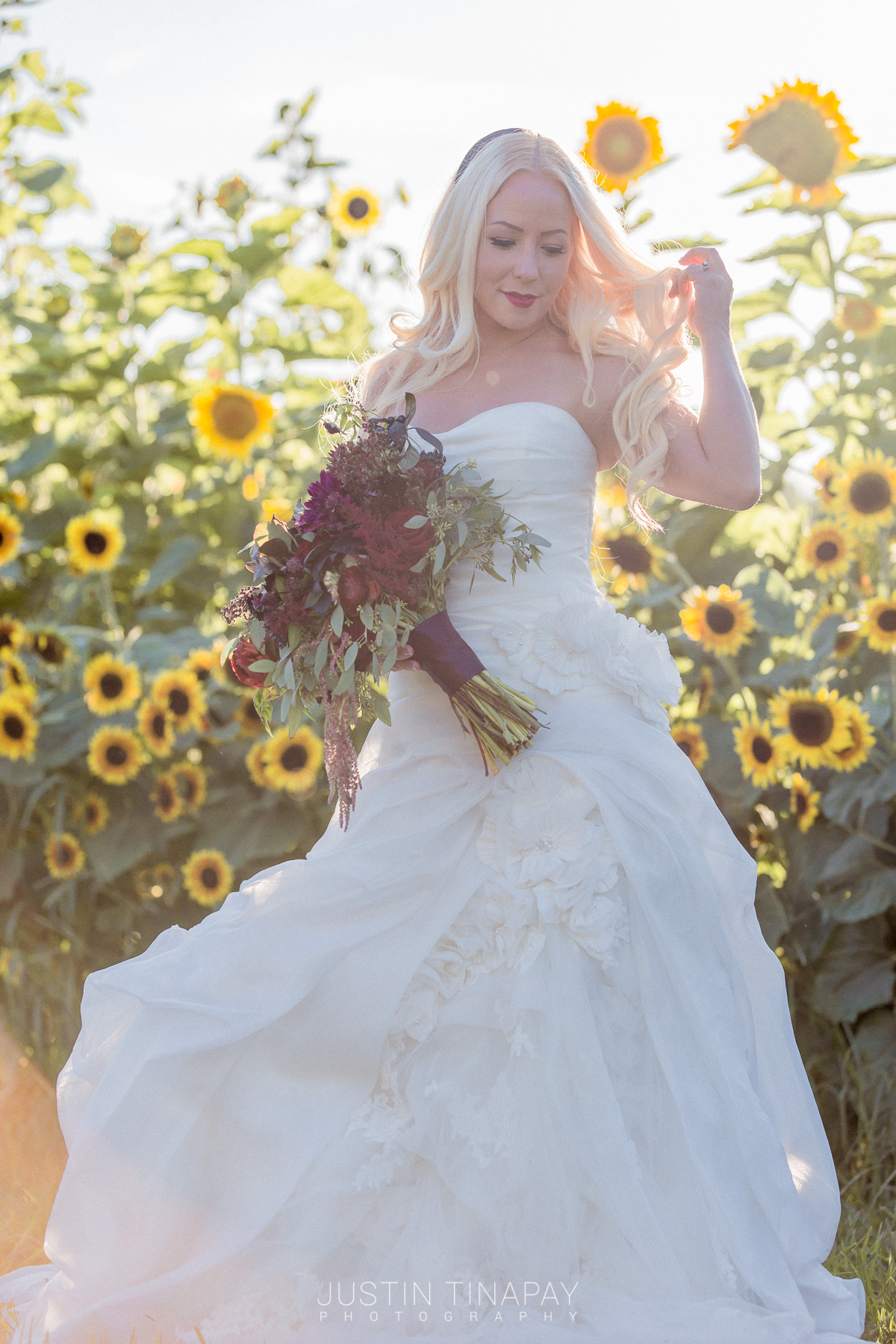 You simply can't go wrong with a ballgown on your wedding day. Plus, this is the only chance you really get to wear one! Take a spin around the gardens in a romantic wedding gown like this one for incredible pictures. We promise you won't regret it!
Lace Details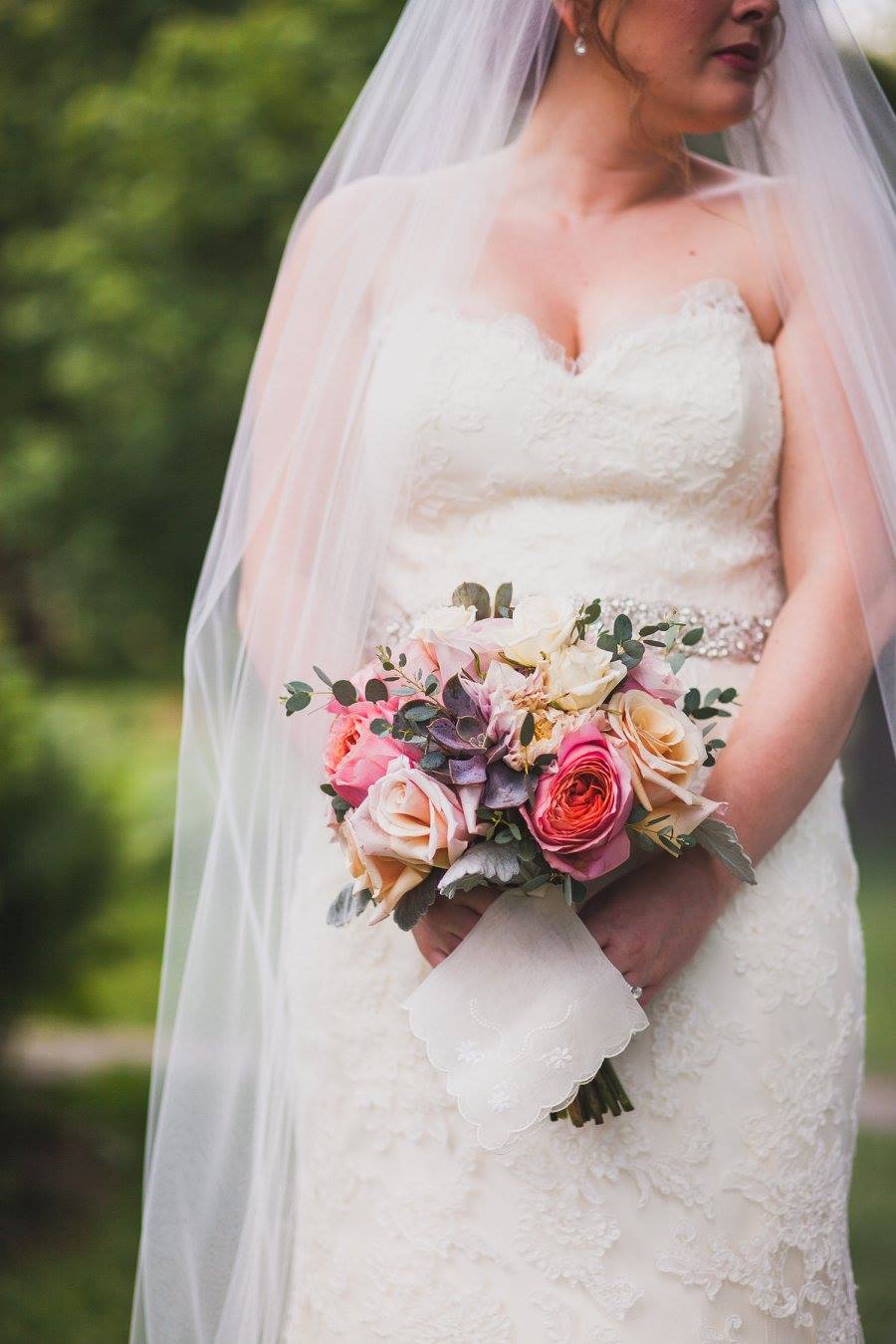 This fitted lace wedding gown is romantic and chic enough for any garden wedding venue. Lace can be beautiful whether it's an accent or used for the entire dress. For the vintage and boho chic brides looking for the perfect garden wedding gown, look no further than one with lace details!
What Color Combinations are Best for a Garden Wedding?
Garden weddings all have some element of the outdoors. Depending on your location, the season that you get married in should be considered when choosing your colors. Ask the venue to see pictures of the grounds from weddings that took place in the past in the same month you will wed in. What's in bloom and what isn't? Will they be changing any of the trees and flowers? If you're considering a Fall wedding, when do the leaves change and when do they drop? Consider these details before committing to a color combo.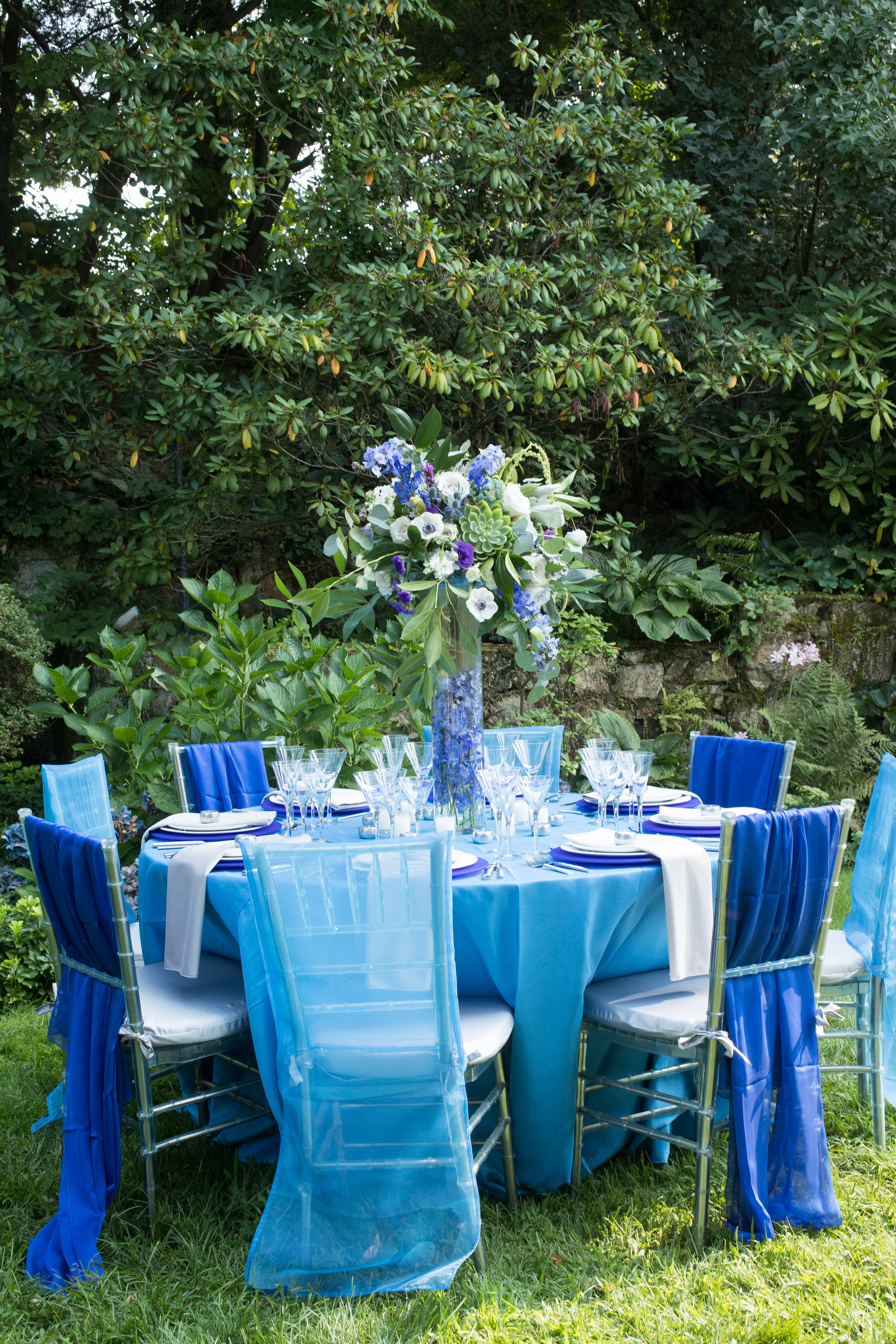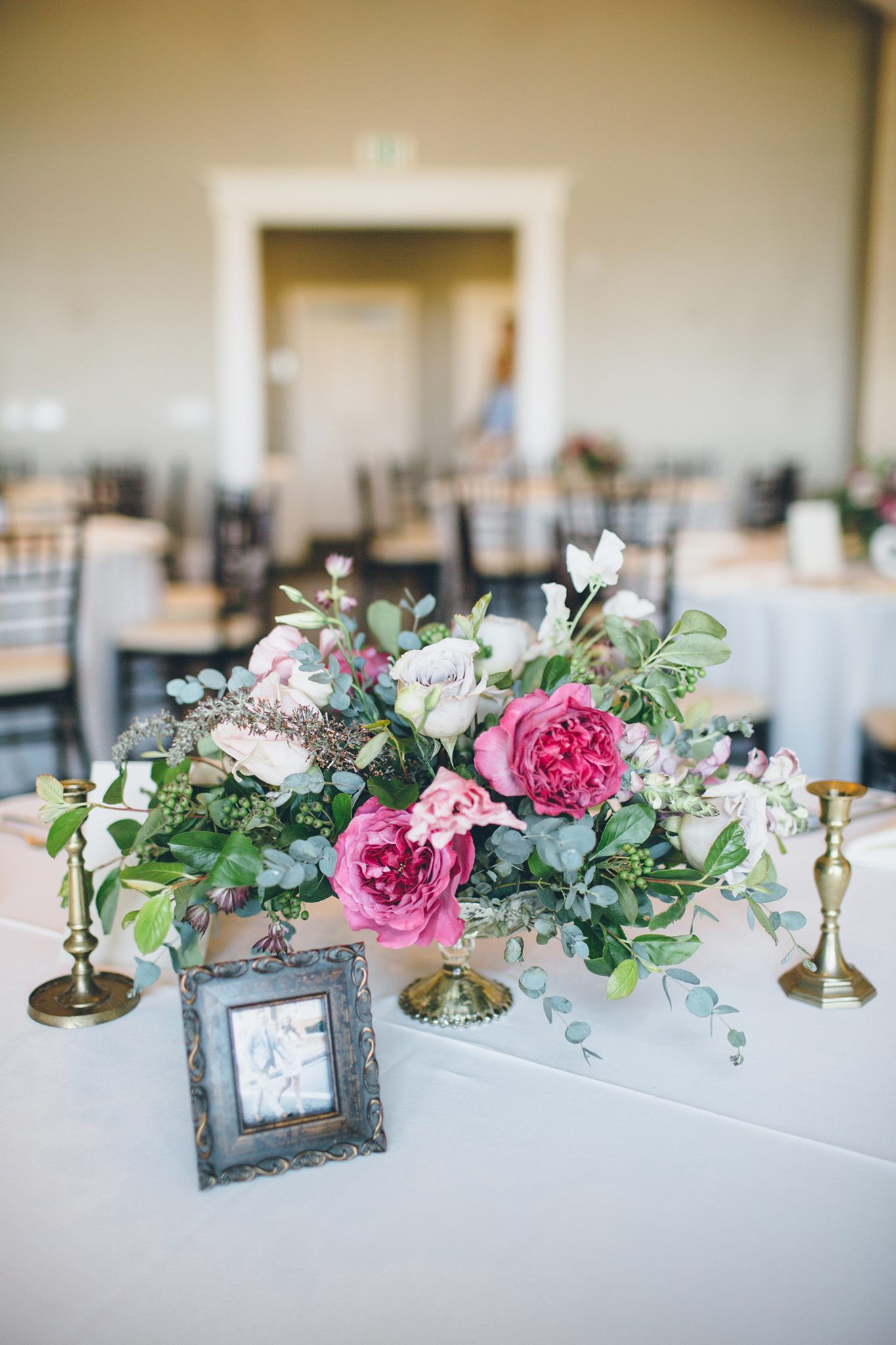 Pops of bright pink mixed with vibrant greenery is a great look for those late spring and early summer weddings. Channel your inner Secret Garden style and create a vintage centerpiece like we did here by using touches of vintage gold.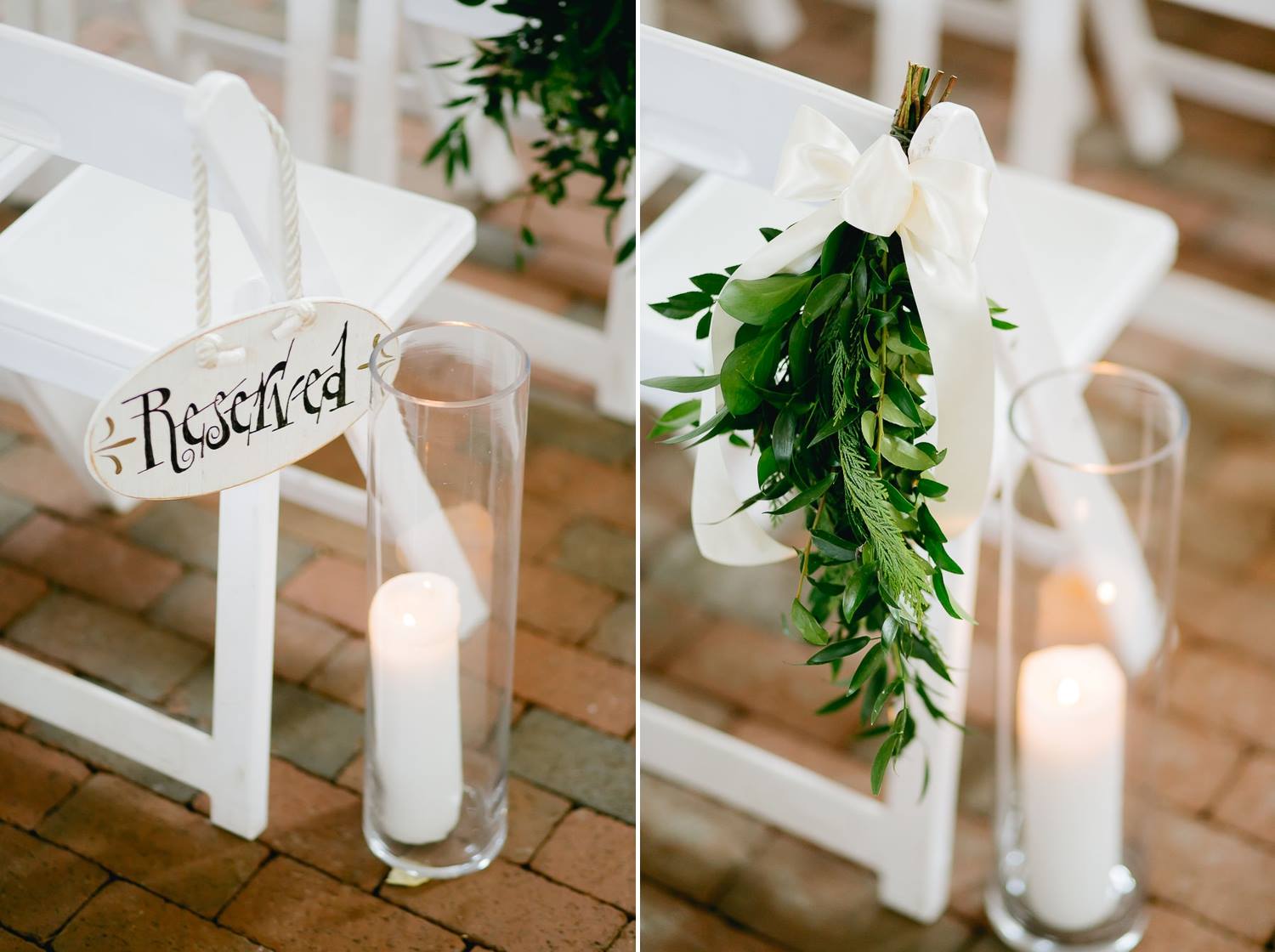 Incorporate the simplicity of nature by using all greenery for your garden wedding like we did here for a ceremony. Keep it clean using clear holders and plenty of candlelight. Not down with the all green look? Mix in different shades of white for a fresher approach that's perfect for any time of the year!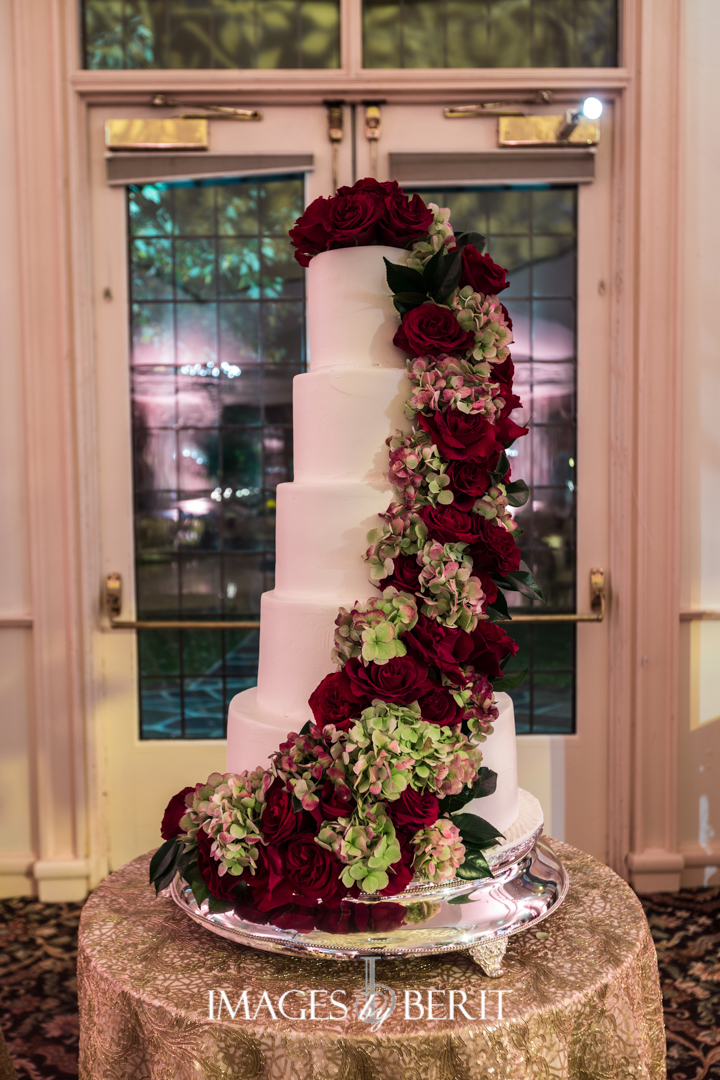 Fall weddings mean deeper colors, but that doesn't mean you can't have a garden inspired wedding in October. This color combination of deep red and light green with pops of gold will bring your garden wedding to a chic new level.
What Should Garden Wedding Invitations Look Like?
Your wedding stationery should compliment your entire wedding design. An invitation is the first glimpse into your wedding style that your guests are seeing. Here are a few ways you can let everyone know that your wedding is garden inspired!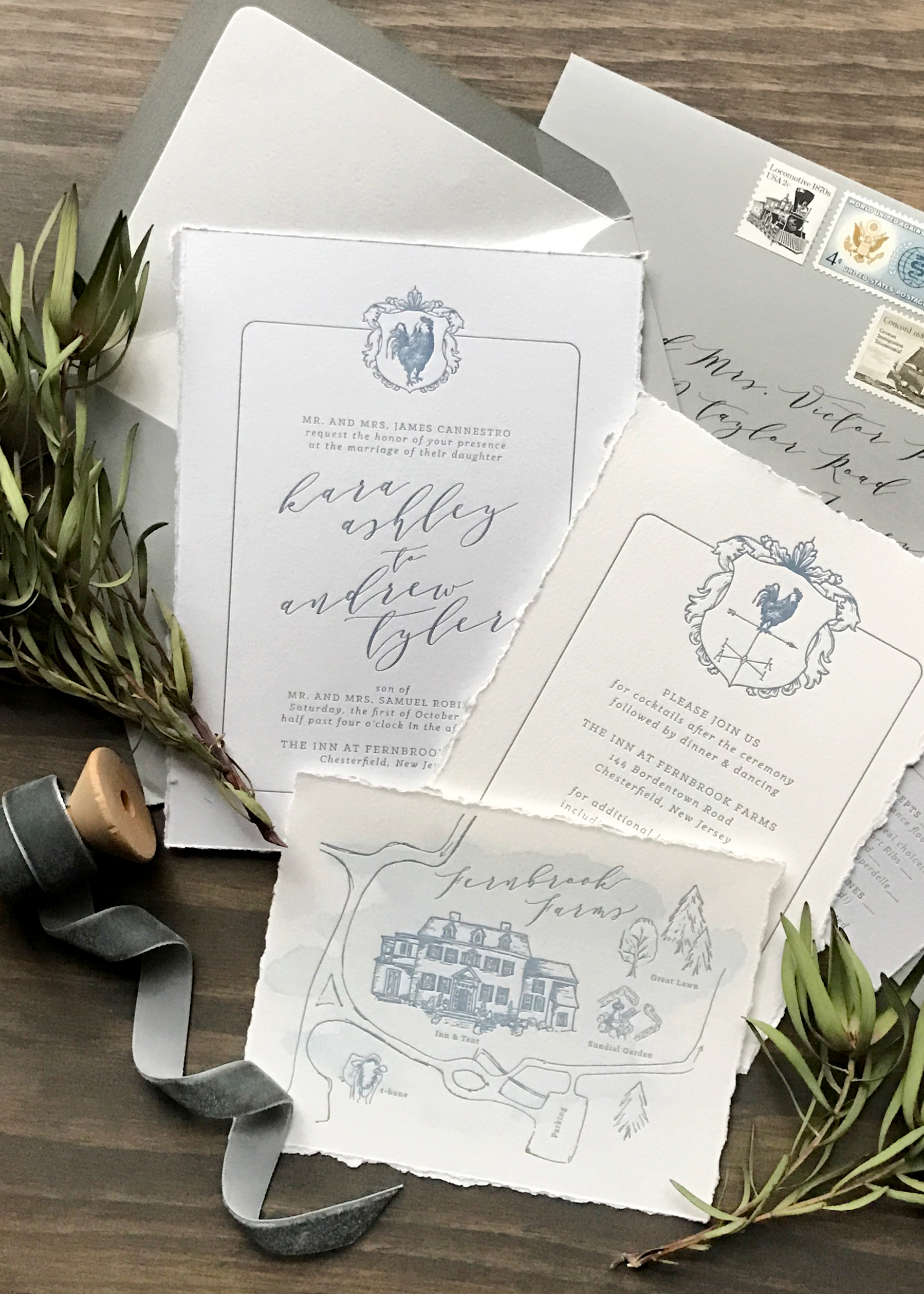 This pale invitation suite designed by our friends Darling + Pearl is the perfect way to tell your guests they are attending a garden wedding. The organic feel with the whimsical font is just perfect for an outdoor celebration. We really love the sketch of the property that helps guests feel like they are already there!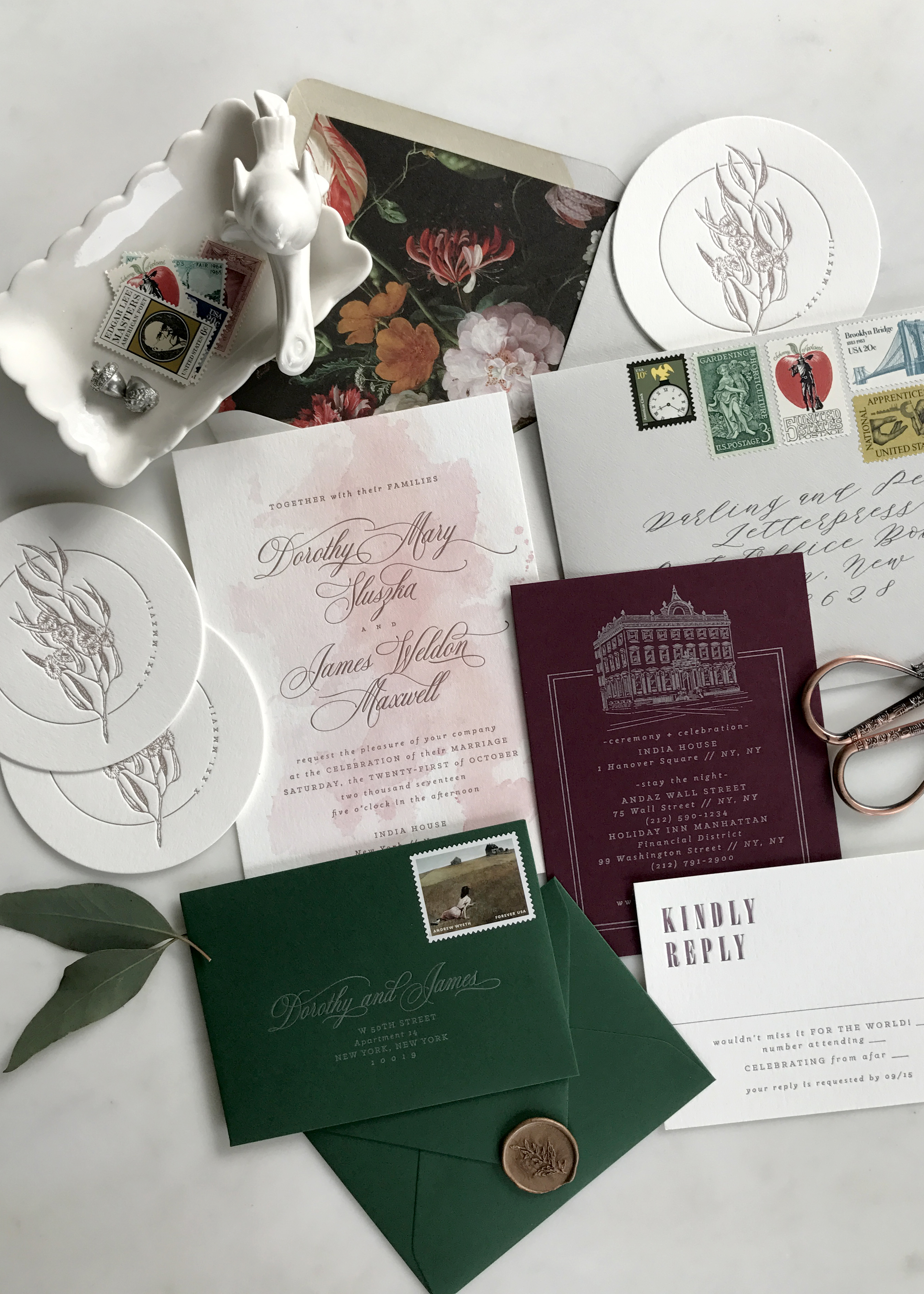 Lauren from Darling + Pearl recommends mixing equal parts carefree script, neutral and natural occurring colors, and floral patterns, (or a really rad crest). Throw the added option of torn edges or a watercolor splash or two and you're garden ready.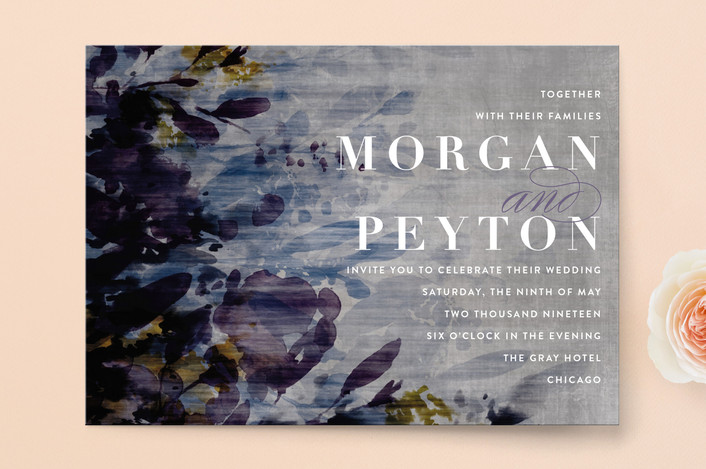 For a modern garden wedding look, we love this invitation from our friends at Minted. Perfect for those candlelight outdoor weddings using deeper shades of purple, blue and gray. You can see this romantic invitation and plenty more by clicking here!
How Can I Design My Wedding With a Garden Theme?
There are countless options when designing your wedding and plenty of things to think about. Will you use round or long tables? Linens or no linens? What type of glassware and plates will you use? It can get overwhelming very quickly, so here are a few things to keep in mind!
Keep It Natural
Doing too much to make your wedding have that garden feel is never a good idea. Depending on your venue and the type of garden you're getting married in, you want to stick with that same style. It wouldn't make sense to have bling and marble pieces in the middle of a rose garden. Pull inspiration from your surroundings and everything will flow together naturally.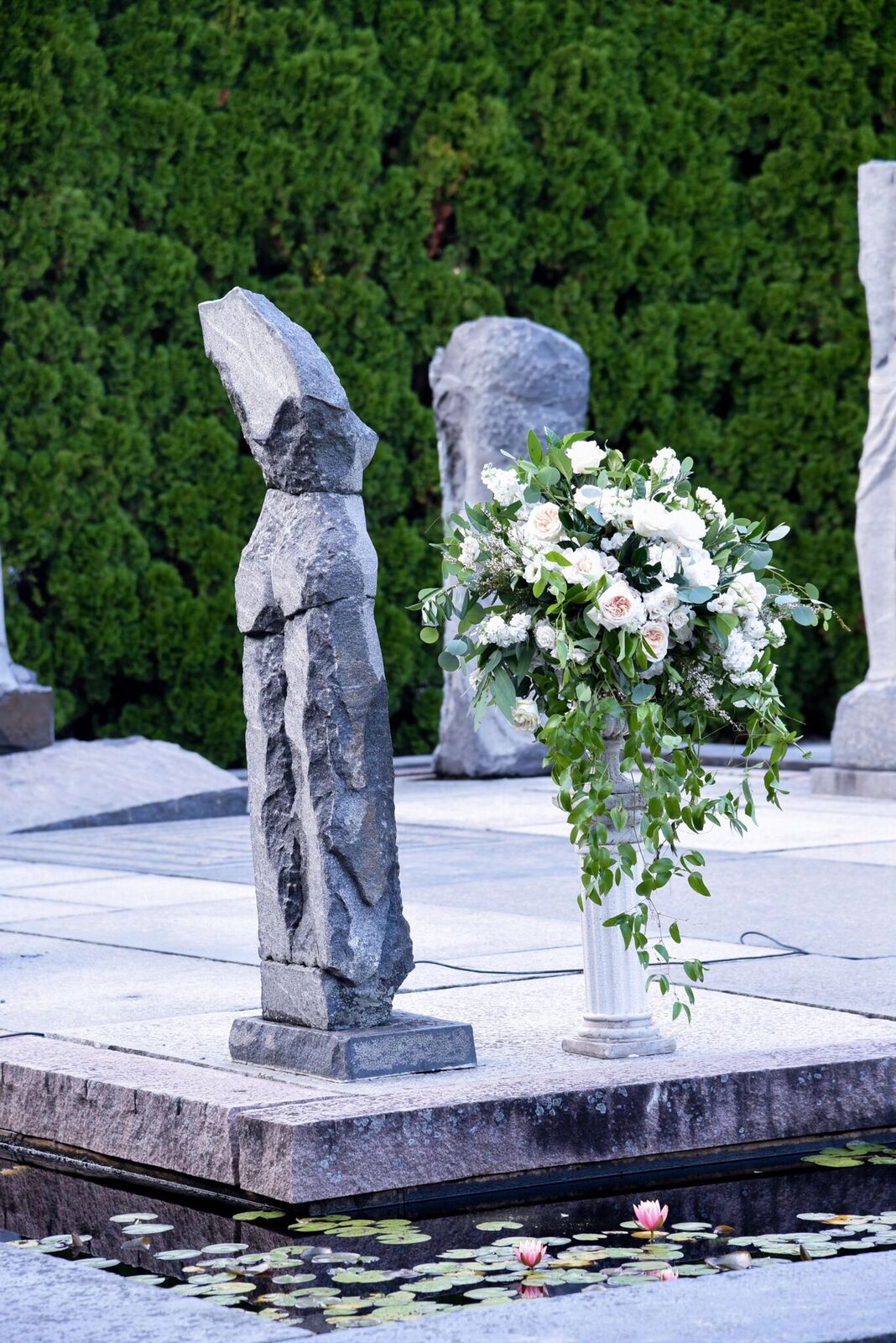 Mix It Up With Long Tables
A garden is the last place you would find round tables with white linens. Invest in table rentals to really showcase the garden wedding vibe and let your florist create an unforgettable design. Long tables have become so trendy that engaged couples aren't limited to just one style or color. Gray tables are super hot right now and perfect for those deeper colors. If you find a table you love, ask yourself if you could see it in a garden and go from there.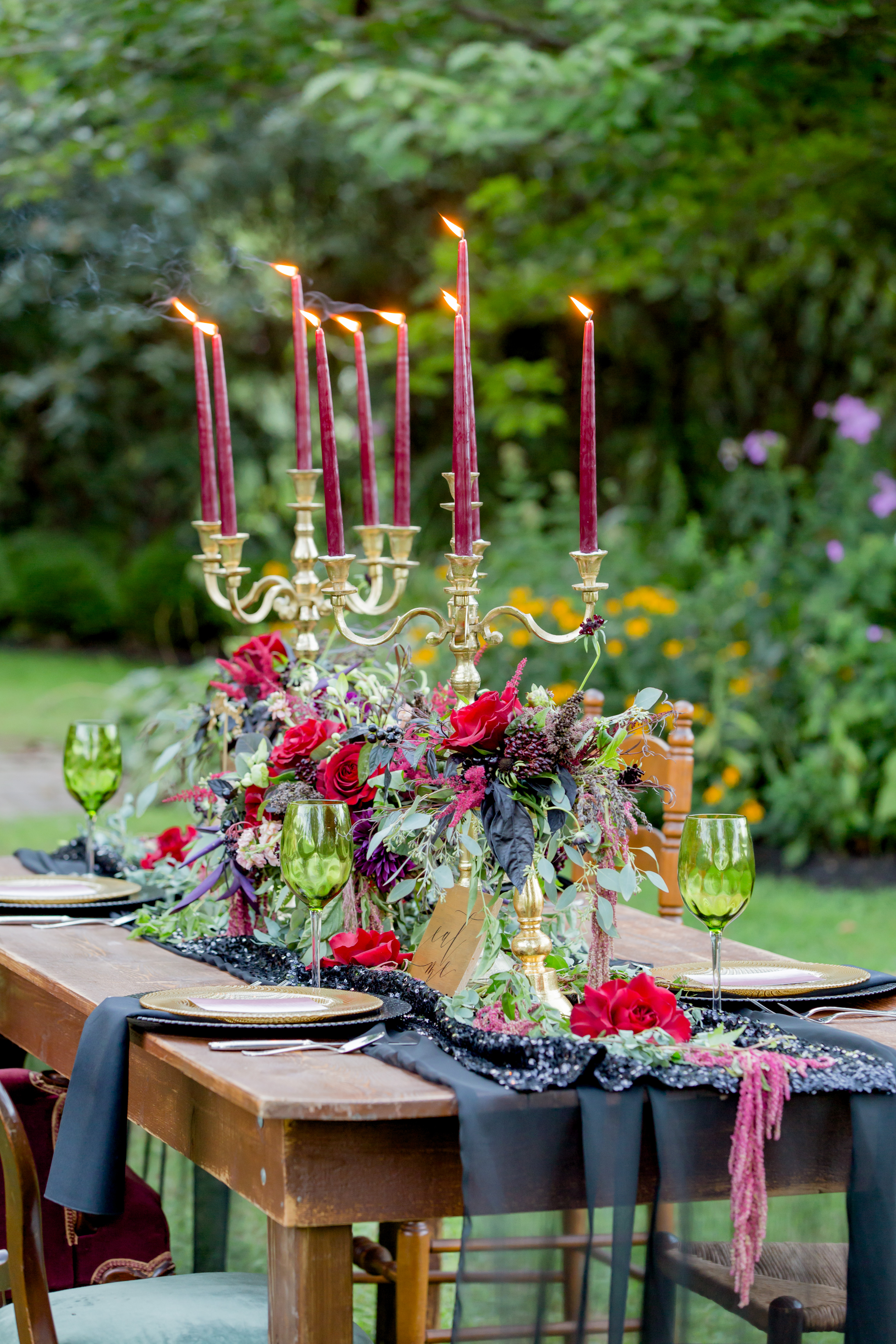 Dress Up Your Bridesmaids in Garden Wedding Gowns
Just like you want the perfect wedding gown for your garden wedding, your bridesmaids should reflect that same style. A long chiffon gown is formal enough for a chic wedding but relaxed enough for an outdoor garden celebration.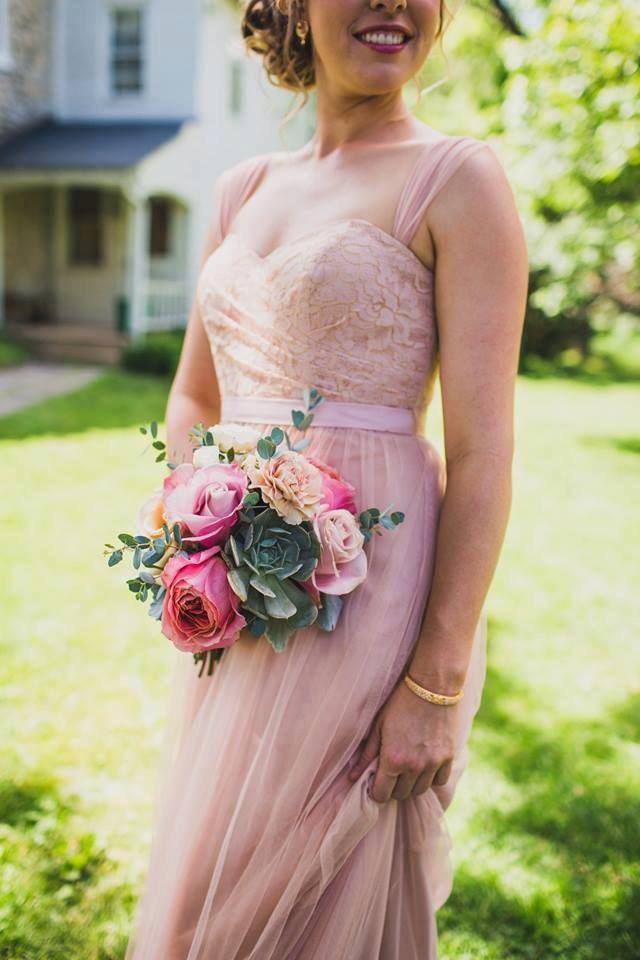 We love all of the options our friends at The Dessy Group have, like this chiffon gown that comes in almost every color imaginable!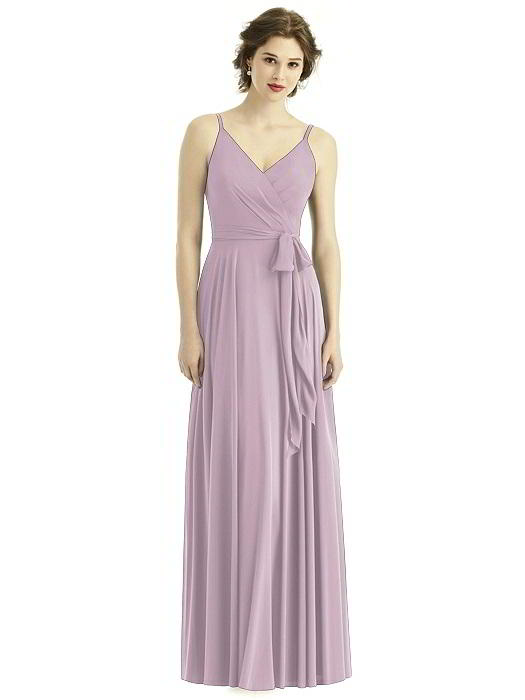 What Are the Pros and Cons to Having a Garden Wedding?
Pro: A huge plus to having a garden wedding is the gorgeous scenery that's already there. You won't have to dress up the location as much as you would a ballroom.
Con: No wedding is without its challenges, but outdoor weddings certainly have the most. We always tell our couples that they need to have a Plan B and they need to love it as much as Plan A. Never commit to a venue that you'll only love in the sunshine. Know the backup plans and if they don't make you happy, you haven't found your garden wedding venue yet.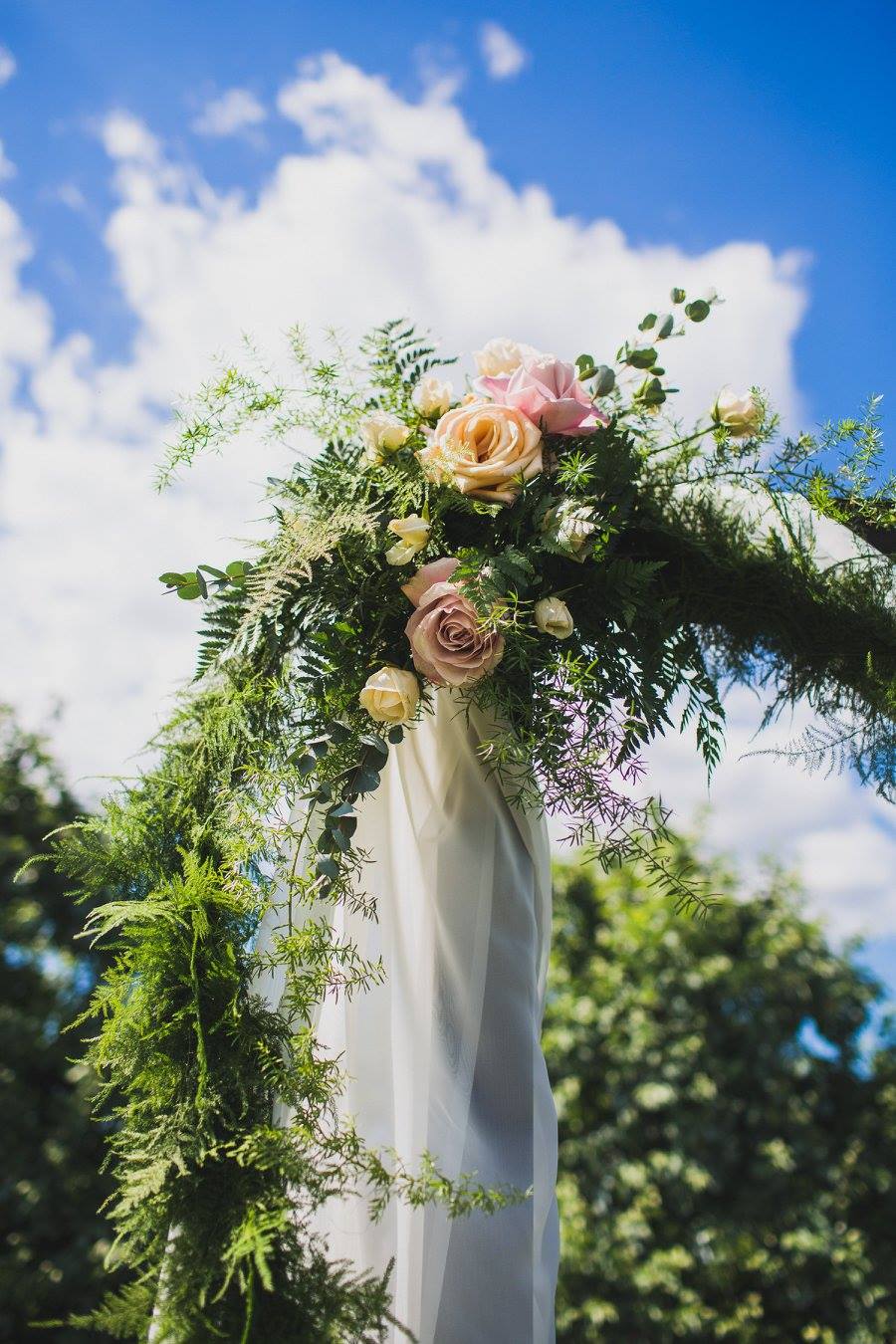 Pro: Many garden wedding venues either allow you to bring in an outside caterer or their in house caterer reflects the farm to table style that is so popular. Whatever the case, you're likely to have amazing food if you have a garden wedding.
Con: Depending on the location, you could be restricted in terms of noise and have to end the party sooner than you would like. Be sure to ask the venues what time the music must end and the guests must leave.
If you're interested in a garden wedding and want to take the next step, contact us to get started! If you are planning a garden wedding, what are you doing to make your celebration unique? Share with us and other couples in the comments below!