Note: This post contains affiliate links. This means that I may receive a small commission (at no cost to you) if you subscribe or purchase something through the links provided. That said, if I say I love something, I really truly love it.
Many of my engaged couples are looking for beautiful wedding invitations at a low cost. The truth is, custom invitations start at $12 a piece and most average between $20-$30 each. If you are inviting 300 people, that's 150 invitations and a minimum of $3,000. Now while I love me some custom stationery, I also love being able to afford things like food.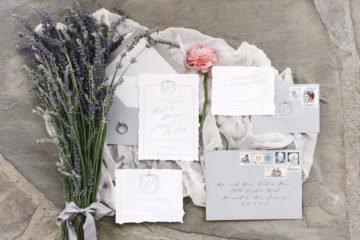 What is wonderful about custom wedding invitations, besides being gorgeous, is that they are one of a kind. This means you will sit down with a real person who will design your invitations from colors to font to enclosures. And no one will have seen it before.
But for my brides and grooms that think their guests will trash the invitations, I need to offer an alternative. As a wedding planner, I recommend purchasing invitations online and creating custom stationery for the day of. Then again, if paper just isn't a priority, many websites offer things like menus and table numbers that match your wedding invitation.
One thing I love about these websites is how far they have come since first becoming a thing. There are countless ways to customize your invitations and there are real designers involved as well. While you won't be sitting down with anyone flipping through swatches, you will have plenty of options to choose from.
Here are 5 affordable ways to make your wedding invitation stand out without going the custom route: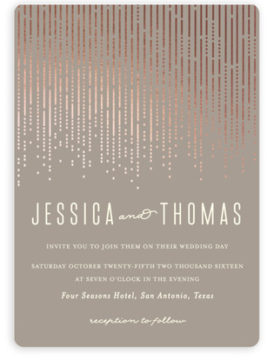 Foil Press
A great option for the bride and groom that love shine but not glitter is the foil press invitation. The background can be any color, but darker jewel tones like navy blue, deep purple or even black will really make the words stand out. This look is chic and elegant but is appropriate for a black tie wedding just as much as a laid back wedding on the farm.
This invitation sample is from Minted and like many others can be customized with various colors. The foil is a rose gold which is perfect for a romantic wedding at any location. Foil is available in rose gold, standard gold and of course silver.
Letterpress
Letterpress invitations are probably the most formal of all and perfect for a black tie wedding.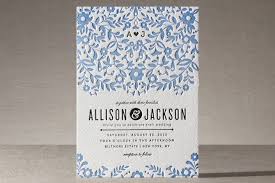 Not that you couldn't use this type of invitation for a backyard bash, but that's not where you see it most. Since it is the style used for those upscale and luxury weddings you see regularly on reality shows, it is also typically pricey.
Online wedding invitation sites absolutely offer more affordable options than a custom designer would, but letterpress will be the most expensive on the site. If you are having a formal wedding, this raised printing will let guests know that jeans are not an option. The printing isn't just about the wording either. Letterpress can be used for any design on your invitation as well. [tweetshare tweet="A word of caution though: stick to one or two colors with this style so that it looks clean and upscale." username="RothweilerEvent"]
Envelope Liners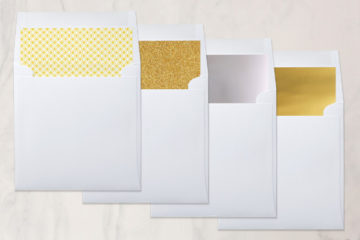 Gone are the days of boring off-white envelopes that are simply used to hold the pretty wedding invitation. I love when the whole wedding "look" comes together and envelope liners are another way to get that job done. If you are all about the details then you will love this as much as I do.
Depending on your invitation colors and design, the liner to the envelope is available in everything from solids to sparkle. My favorite type of liner is a floral pattern in deeper colors, but you can really do anything. Sometimes when you receive your order, you will have to DIY the liners and put them onto the envelopes yourself. Before you decide to jump on this trend for your wedding, find out if it's an arts and crafts project for you first.
Belly Bands
This is such a cute trend and there are about 459 different ways to do it. If you've never heard of belly bands, it's basically stuff wrapped around the invitation suite.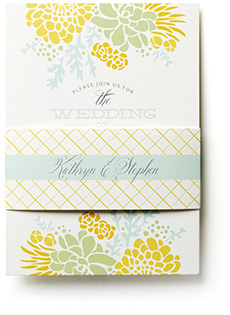 That "stuff" can be anything from paper to ribbon, and it bands around the belly of the enclosures. Get it? [tweetshare tweet="The belly band is seen as an accessory to the invitation and it really does enhance the entire look." username="RothweilerEvent"]
The reason I love this so much is because it works for all types of weddings. I've seen these done in nothing but glitter just as much as I've seen florals, solids and monograms. It's also a nice way to present an invitation so when it's taken out of the envelope, it doesn't fall apart. Think about it, you're sending an invitation along with a RSVP card, direction enclosures, RSVP envelope and sometimes more. All of that put into one envelope can be a mess, but a belly band will keep it all together.
Lasercut
My absolute obsession is lasercut anything.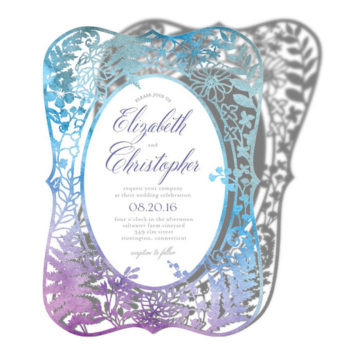 Such a hot trend for over a year now, we are seeing laser cut cake toppers, laser cut signage, laser cut drink stirrers and of course, laser cut wedding invitations. You. Guys. Lasercut is amazing. Join me on my little freakout moment, won't you?
This style is fun and funky but make no mistake, this is totally perfect for a black tie wedding too. It reminds me of those snowflakes you would make in kindergarten where you would fold a piece of paper and go crazy with the scissors. No? You know what I'm talking about right? Well that's what this is and it looks awesome. So if you want your guests to say "oh that's cool" when they open that envelope, go for lasercut and don't look back.
Those are my top 5 ways to create a unique but affordable wedding invitation. If you are a bride or groom that doesn't want to spend a lot on the paper part of your wedding day, check out sites like Wedding Paper Divas and get 20% off if you order before March 31, 2017!
I always say that it's best to see invitations in person, so make sure you order a sample before committing to "the one". Follow the link to get your three free (told you this was an affordable blog) samples from our friends at Minted.
Don't forget to tell me in the comments what your favorite style is for your wedding invitation!