Planning a backyard wedding can get complicated and expensive really fast. In this blog, I am sharing some really common backyard wedding mistakes you need to avoid.
Related: Beautiful and Super Easy Backyard Makeover Ideas
Along with plenty of tips and tricks, you'll find decor inspiration and affordable ways to turn your backyard into a romantic setting for the wedding day. Find out where to spend your money and the best ways to save, too!
Whether your backyard is big or small, you'll find everything you need in this blog. If you suddenly found yourself planning a backyard wedding, this is the blog you've been waiting for!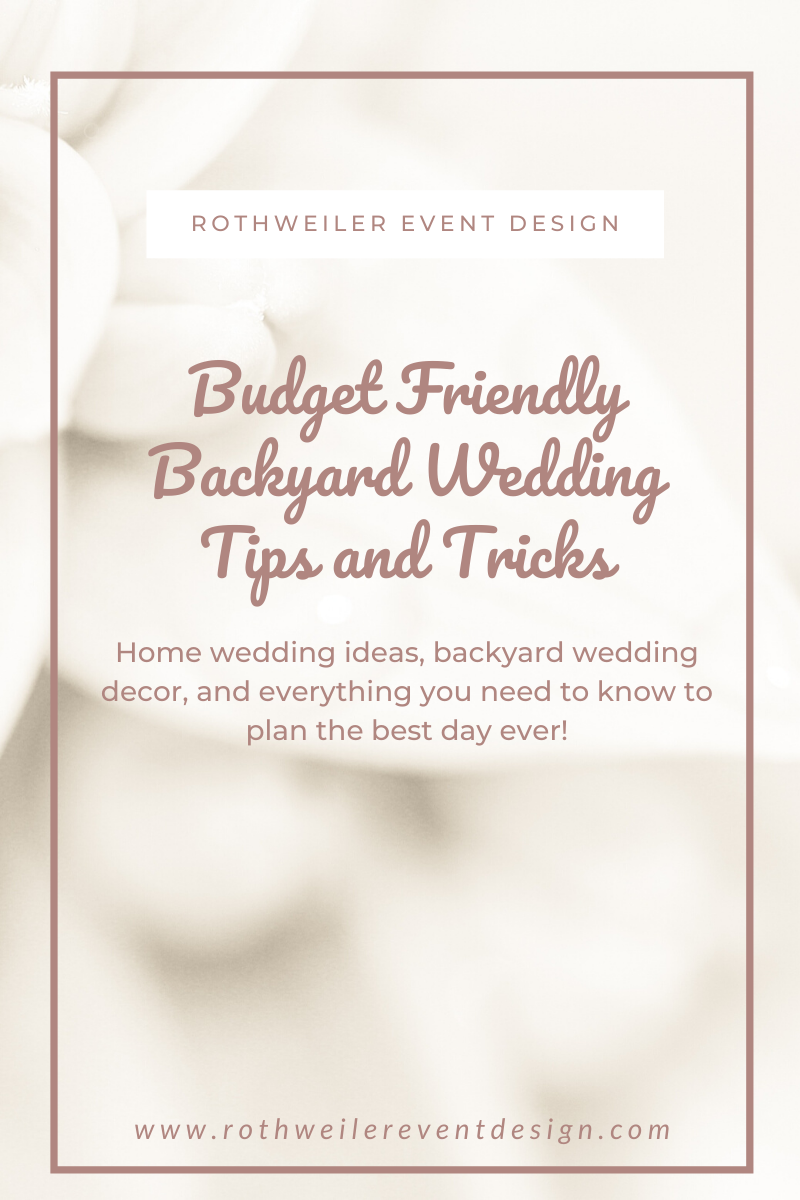 How Do You Do A Backyard Wedding?
When COVID-19 hit, weddings everywhere got cancelled and postponed. Some couples have changed their date so many times already and still have yet to walk down the aisle.
Earlier in 2020, there was a strong push towards the microwedding trend. Couples were looking to have an intimate wedding, instead of inviting 300 guests, half of which they never met before. Then a worldwide pandemic shut everything down…especially wedding dreams.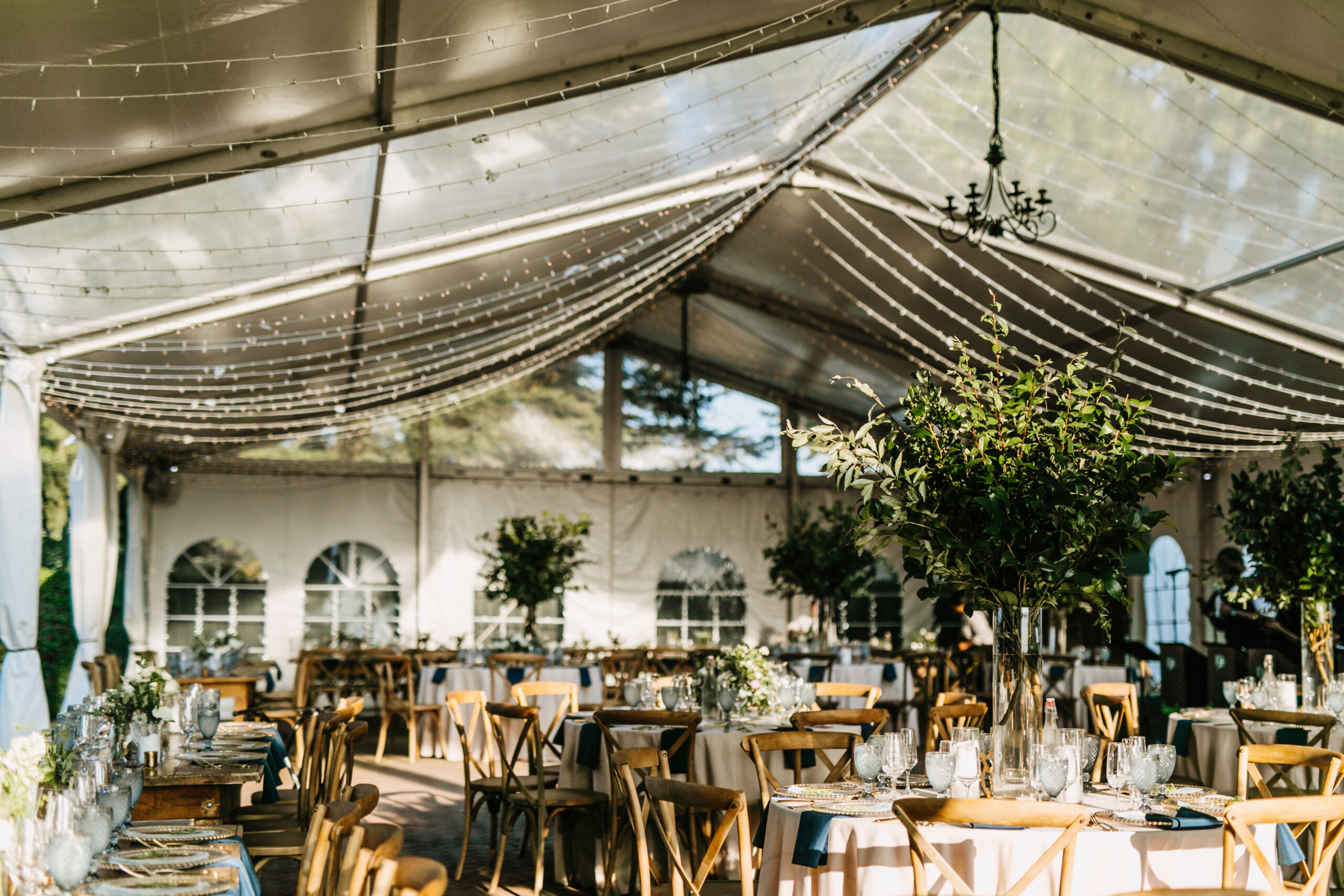 Now, as things are starting to open up, many couples are opting to change their standing wedding plans. The most popular choice is to host a smaller wedding either at their home or a relative's home.
There is a lot that goes into planning a wedding off-site and outside of a banquet hall that does this every weekend. There are things that couples don't think of because they've never done this before and it's outside "the norm". In fact, I have been called many times by couples that wanted to have a backyard wedding, but this first mistake stood in their way:
Not Doing A Site Visit With Vendors
You might be surprised at the amount of couples that have contacted me to plan a backyard wedding, when they barely had much of a backyard to begin with. A lack of space, an uneven ground, and more issues can make it pretty difficult to host a wedding at home.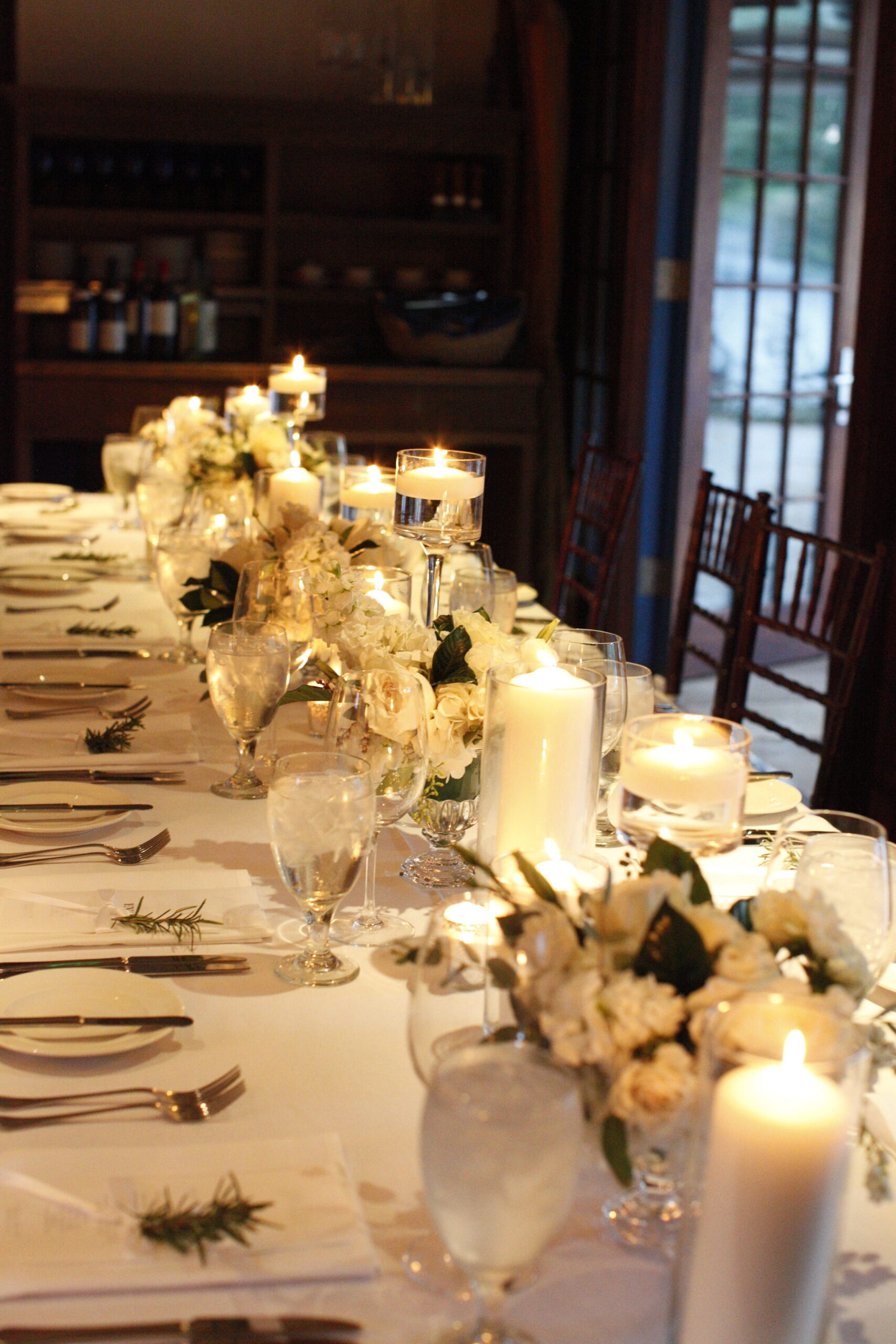 In fact, before I even take on the task of planning a private wedding like this, I will always ask the couple for more information. Things like, "how much land do you have" and "is it basically tennis court flat", are questions I start with.
When you host a backyard wedding, there needs to be room for tenting. Tenting includes the obvious reception area, but you also need options for other parts of the wedding day, as well as for the catering staff that will likely request a "cooking tent".

In order to figure out how much tent you actually need, a site visit with a professional company is totally necessary. They will need to see the area or areas that need to be tented in order to put together a proposal.
Before that site visit however, you should find out what your caterer will need. An entire tent proposal can go out the window if you go back to them with catering needs after they've already done the site visit and put together the quote.
Because of that, you should also have potential caterers come out for a site visit. They will be able to scout out locations to make and prep food; information that the tent company needs to have in advance.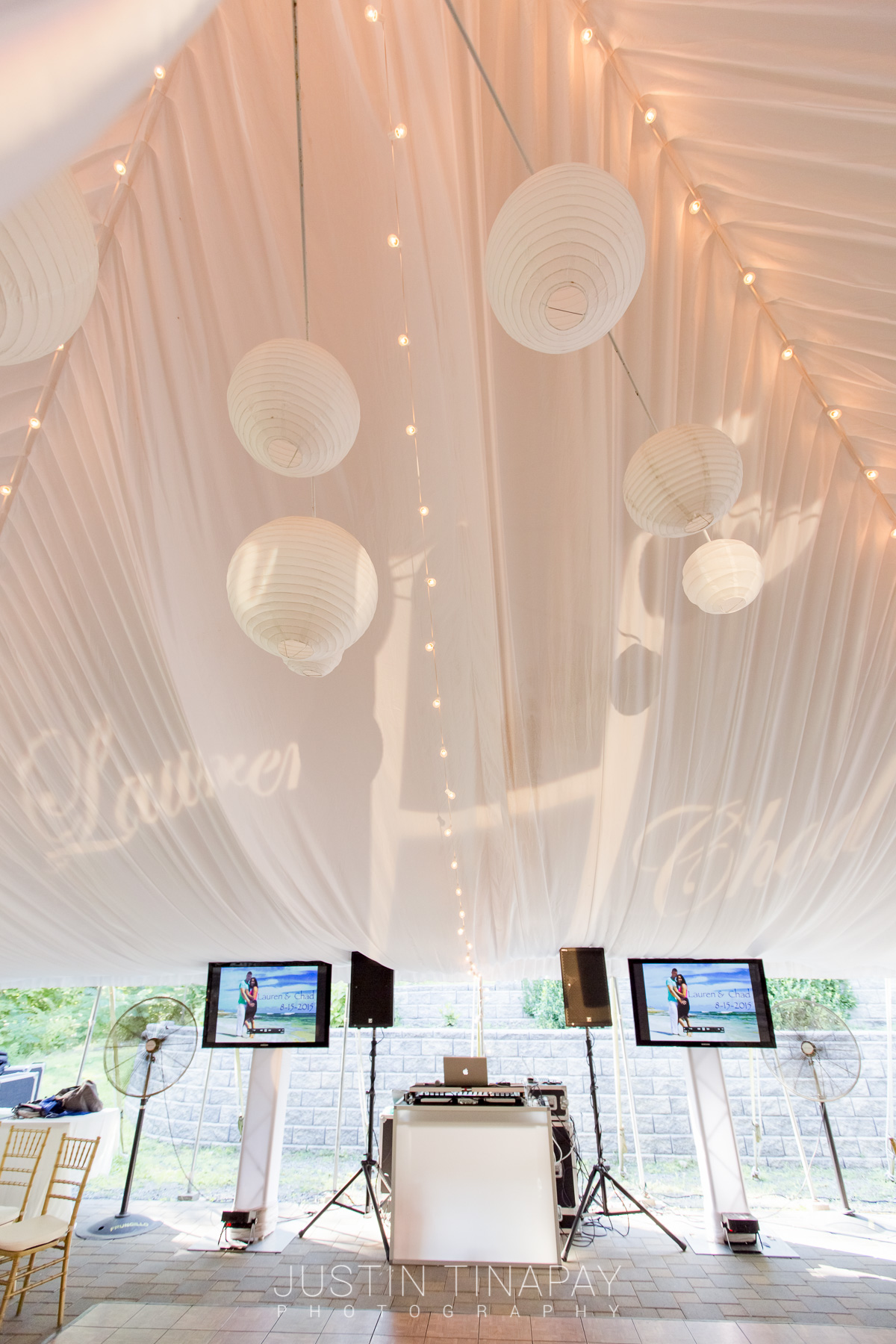 While a site visit isn't necessary for bathroom trailer vendors, there are things to keep in mind. When providing bathroom trailers, you will need to find out what is needed in terms of a water and electrical supply. More about that later in the blog…
Once you have these major vendors figured out, you can use the proposal your tent company put together to figure out your floor plan. Decide where the dance floor will be in order to design where the guest tables, and everything else will end up.
It's A Wedding, Not A BBQ
One thing that tends to happen with backyard weddings, is that they are treated like they are less special than a formal or traditional wedding.
Just because you're hosting at your home, doesn't mean the formalities disappear. You should still send out proper invitations that reflect your style and wedding vibe.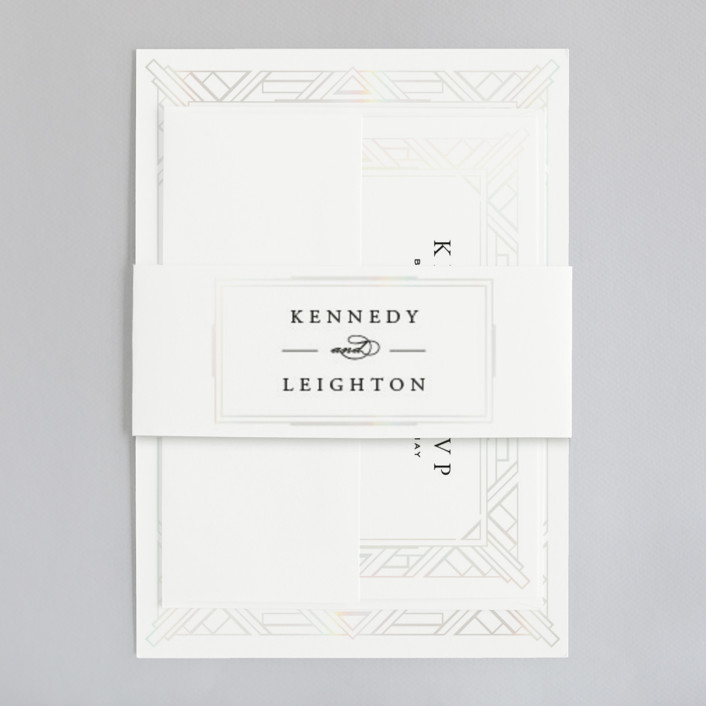 I love these classic white invitations from Minted because they are formal enough for a wedding while still being budget friendly. The bottom line is, you still need RSVP details from your guests no matter where you get married. A proper invitation suite is the only way to accomplish this task.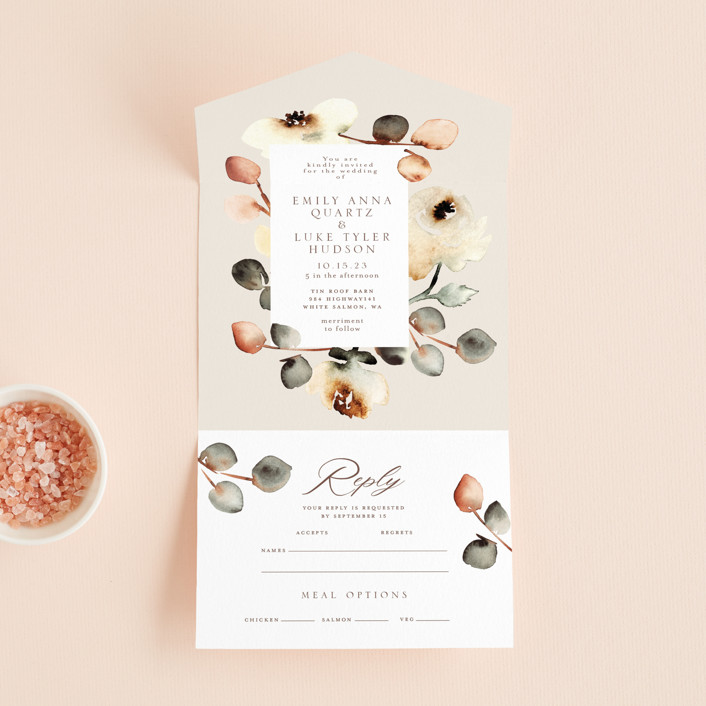 If you're really looking to save on wedding invitations, Minted has these beautiful all-in-one invitation options like this one above. Every insert that needs to be included is part of the package. I love this sample with simple floral patterns for a backyard wedding!
Wedding invitations give guests a sneak peek into what they should expect at the wedding. It also lets them know important details like your preferred dress code. When you send out informal or electronic invitations, it's not surprising when guests show up dressed for anything but a wedding.
Kinda hard to write "black tie optional" on a mass email, right? Before you select wedding invitations though, decide what the dress code will be.

When you look at this dress, what was your instant reaction? Is this what you want to see at your wedding or is it not formal enough…or too formal? This dress is perfect for a backyard wedding that is formal but not black tie formal.
Another common mistake backyard wedding couples make is making the dress code super upscale. No, it's not a BBQ and jeans and sneakers aren't acceptable, but don't think you need to request floor length gowns and tuxedos.

As for the men, a classic gray suit like the one pictured above, would be acceptable for a formal or black tie optional wedding. Depending on the season and the weather, you might not want to ask guests to be black tie formal…unless you want them to pass out from heat exhaustion. This suit option is formal enough for any backyard wedding without being too over dressed.

The driving force behind any wedding dress code is the wardrobe of the couple. It doesn't make sense for the bride to be in a formal ballgown with 9,000 layers of tulle as her guests show up in sundresses and sear sucker suits, right?
In fact, it doesn't make much sense to dress up like a princess for a backyard wedding in general. For any brides feeling pressured to wear a super traditional wedding gown, trust me, you do not have to do that.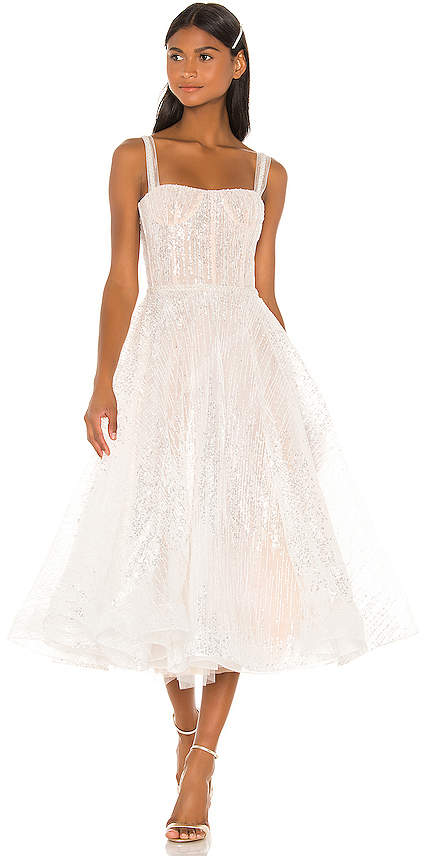 This tea length wedding gown is perfect for a backyard wedding. There is plenty bridal vibe going on, so that the bride won't be mistaken for a wedding guest. At the same time, this is a fun and flirty option for any backyard wedding bride.

If you're looking for something a touch more formal, or if the short wedding dress option isn't for you, this high-low wedding dress is what you need! Simple enough to accessorize and make it your own, this is a super affordable backyard wedding dress option.
Guests want to be told what the dress code to your wedding is because it's one less thing they have to do. Help them out by writing clues like "black tie optional" or "casual clothing" or whatever it is that you want people to wear.
Don't Let Parking Be An After Thought
One of the biggest mistakes couples make when planning their backyard wedding, is totally forgetting about parking. Where will your guests park their cars?
Even with a small guest count, there likely isn't enough room on your street for guests to leave their cars. Figuring out where parking will be should be part of the initial wedding planning conversations.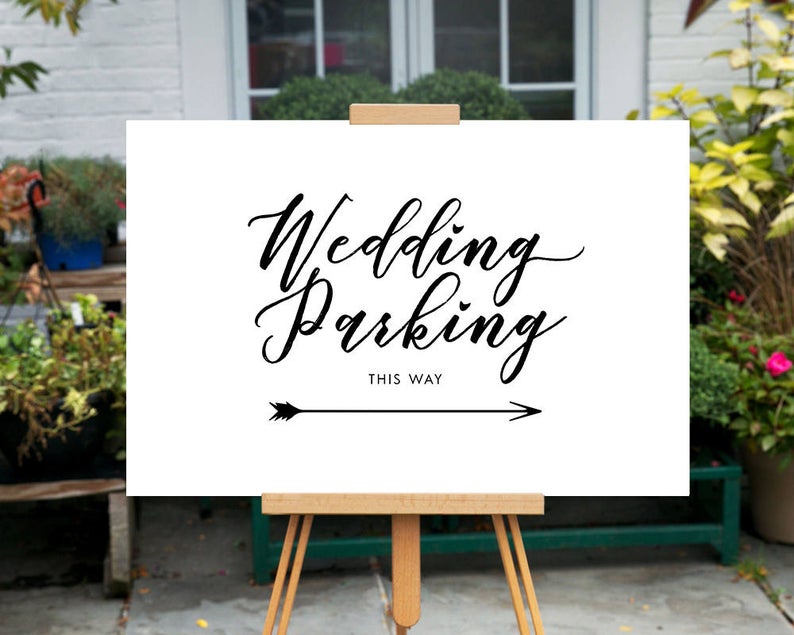 If you have a designated parking area, it's important to let guests know where to leave their cars. Adding these details in with your wedding website or invitations is a great idea, but don't forget adding signage on the actual wedding day.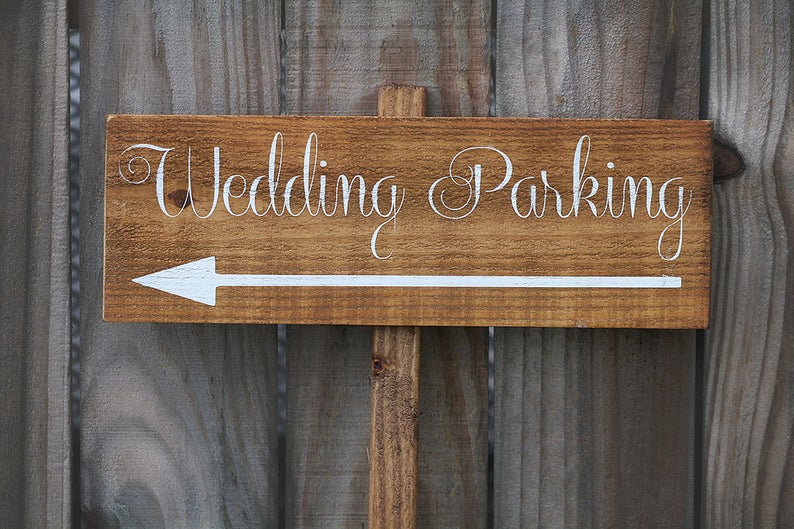 If you're going for the rustic wedding vibe, then this wooden wedding parking sign is the perfect choice! Be sure to locate an area where you can get the sign well into the ground so it will stand up straight. Order in advance so you can try out some locations!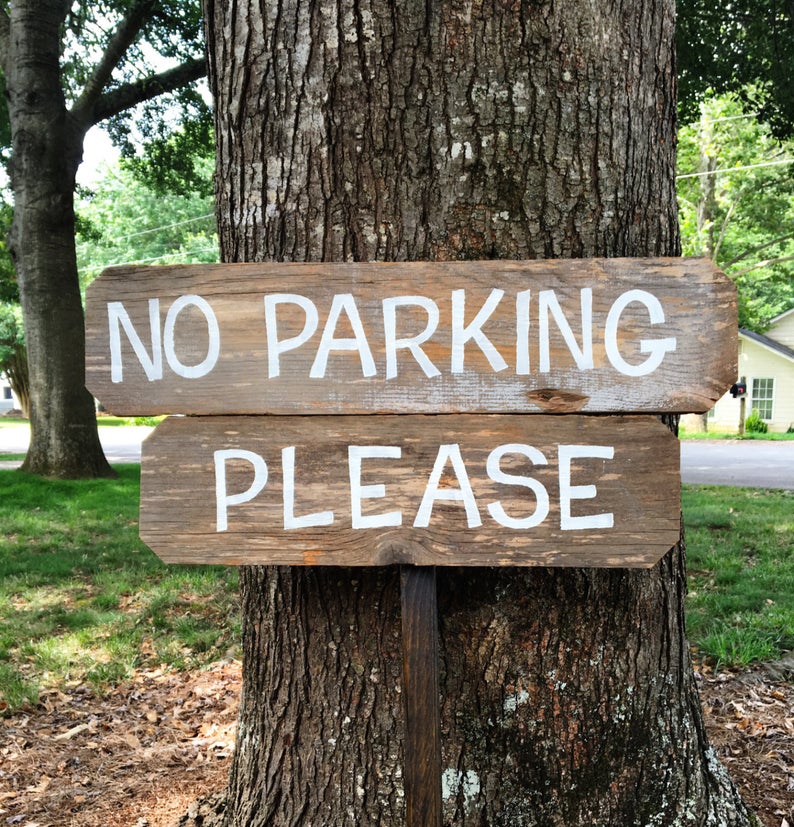 As important as parking is when it comes to backyard weddings, it's just as important to let guests know where they should not park. You'd be surprised where guests try to end up leaving their cars, so it's a good idea to make it very clear what areas are off limits with a "no parking" sign like this one.
Don't Let Your Guests Get Bored
Every state has different rules, and as we move through the next phases of re-opening, guidelines are being assigned to weddings and other celebrations. It's not far-fetched to think that packed dance floors will be a thing of the past…at least for now.
Don't let your guests get bored if they won't be able to dance the night away. There are plenty of fun things you can incorporate into your backyard wedding to take the place of dancing, that also allow for social distancing as needed.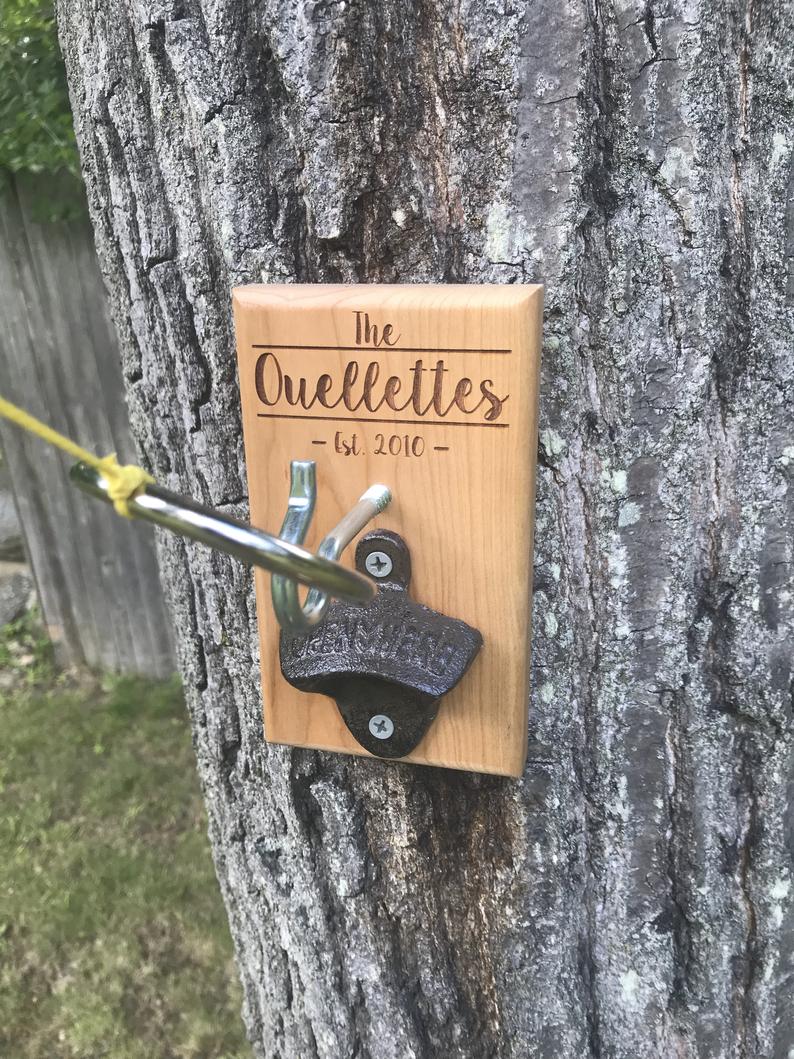 All you need in one tree for this fun backyard wedding game! You've probably seen this before at a bar or maybe in someone else's backyard, but what I love the most about this is the customization. Just add your joint last name and the year, and you'll always remember this day for years to come!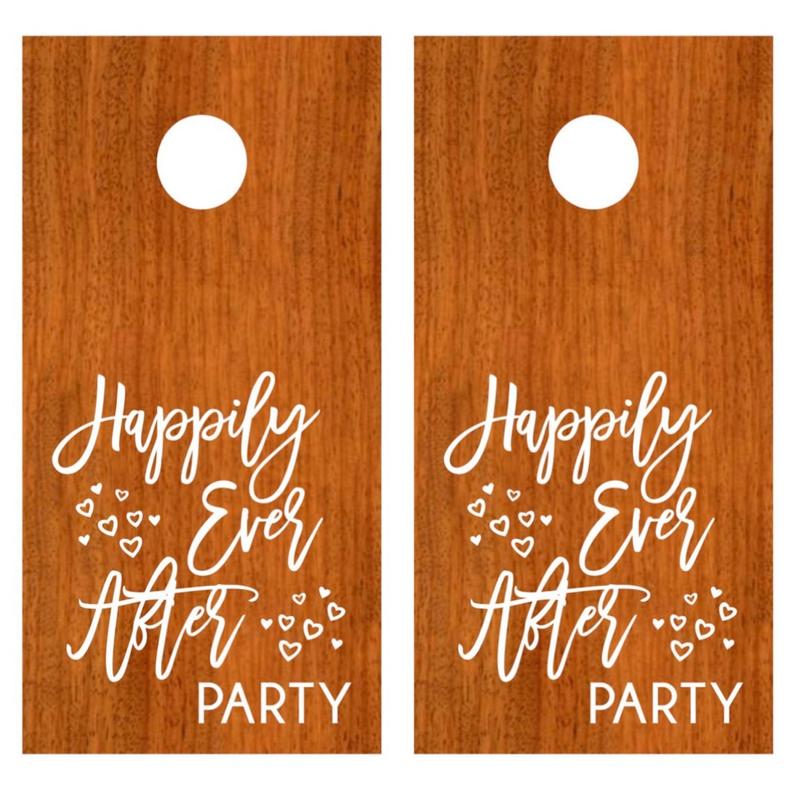 Lawn games have been popular for outdoor weddings for years now, but no game has been more popular than cornhole. You can personalize these corn hole boards right here, and keep them out the whole night for your wedding guests.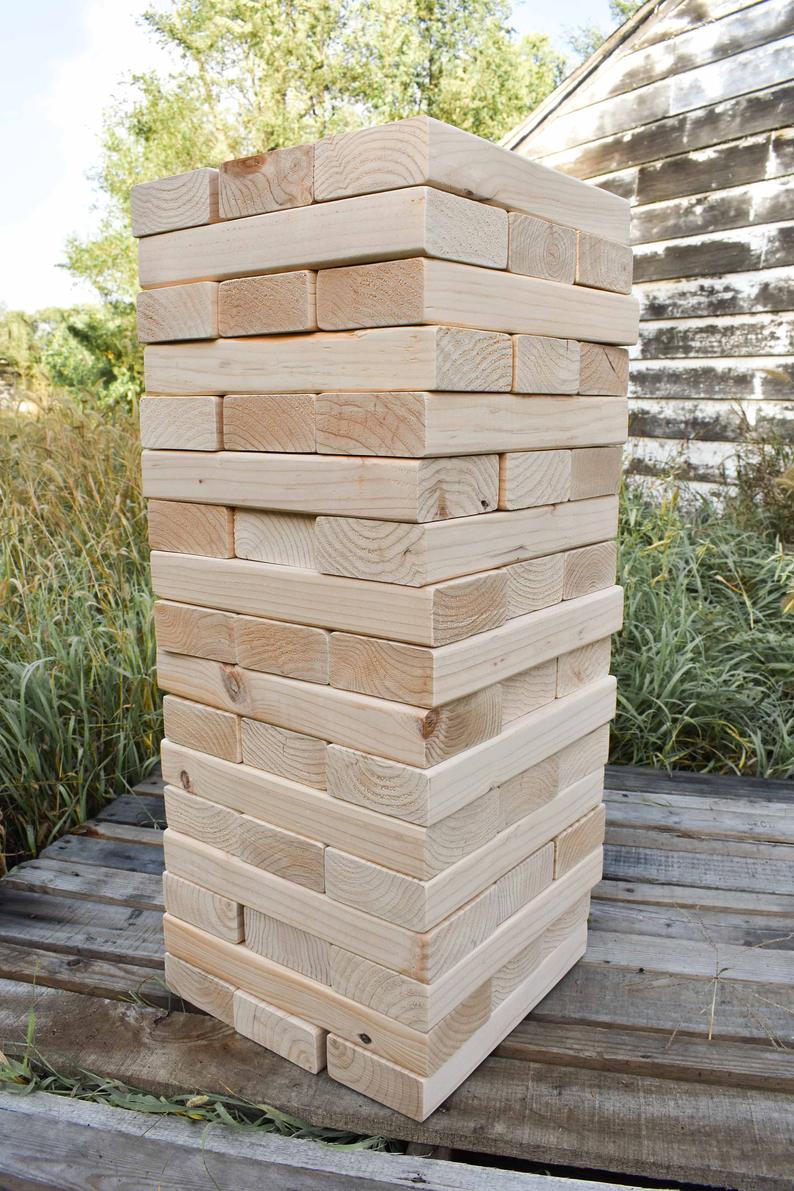 Of course, who doesn't love Jenga? Even with the smallest backyard, there is plenty of room for this giant Jenga set on your wedding day. Break out a few sharpies and let guests leave their well wishes on the blocks they pull out, and it doubles as a guest book!
Never Leave Your Guests In The Dark…The Literal Dark
Backyard lighting is a must for two reasons…The first reason is because it looks pretty cool and it's an inexpensive way to level up the whole backyard look.
The second reason is so that you can see where you're going. Not sure if that's more important than the first reason, so let's just call it a tie.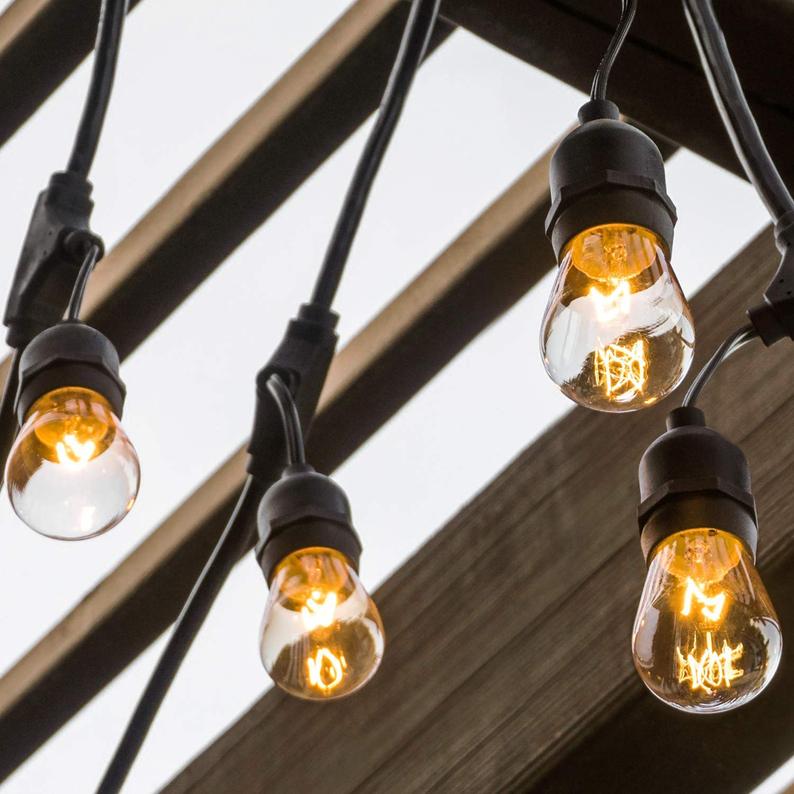 These string lights will take your backyard from basic to beautiful, and they are super affordable too! I love these lights because you can hang them from existing trees or other structures and essentially create any look you want. Extra bonus? They throw that extra light you'll need so you and your guests don't twist their ankles stumbling around in the dark.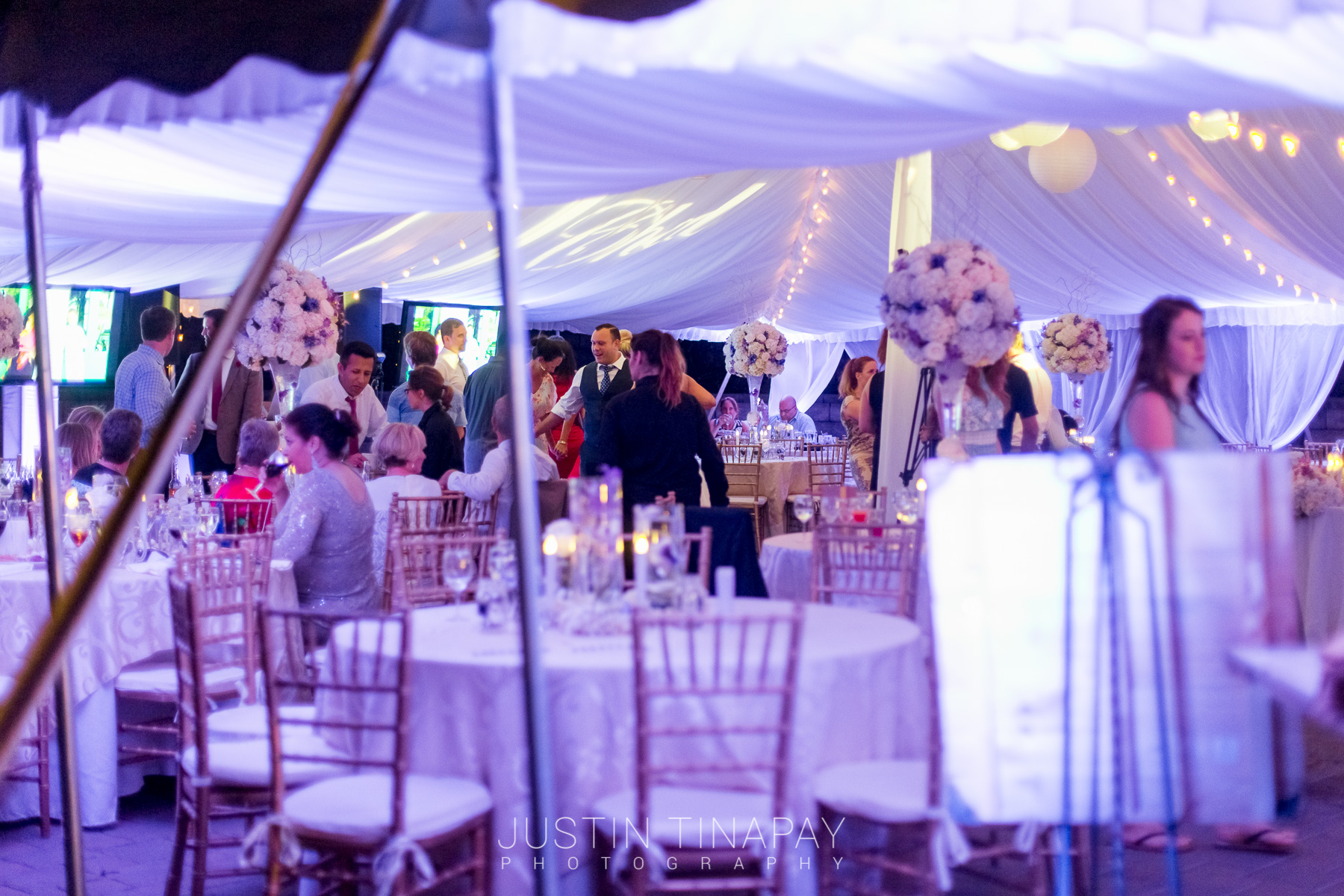 Of course, if you really want to illuminate your backyard wedding, another cheap way to do it? Add uplighting like we did at this wedding! Turn the inside of your tent purple, or canvas your backyard in shades of amber and gold. You can rent the exact lighting that you need right here!
The Mistake of Musical Chairs
There's one thing that many of my backyard wedding couples have been unsure about in the past. They didn't know if they needed to tell their guests where to sit.
Look, even if you're hosting a backyard microwedding for 20 people, you should always direct where your guests are sitting. Believe me, they want that guidance and every single one will ask you where they should sit if you don't map this out ahead of time.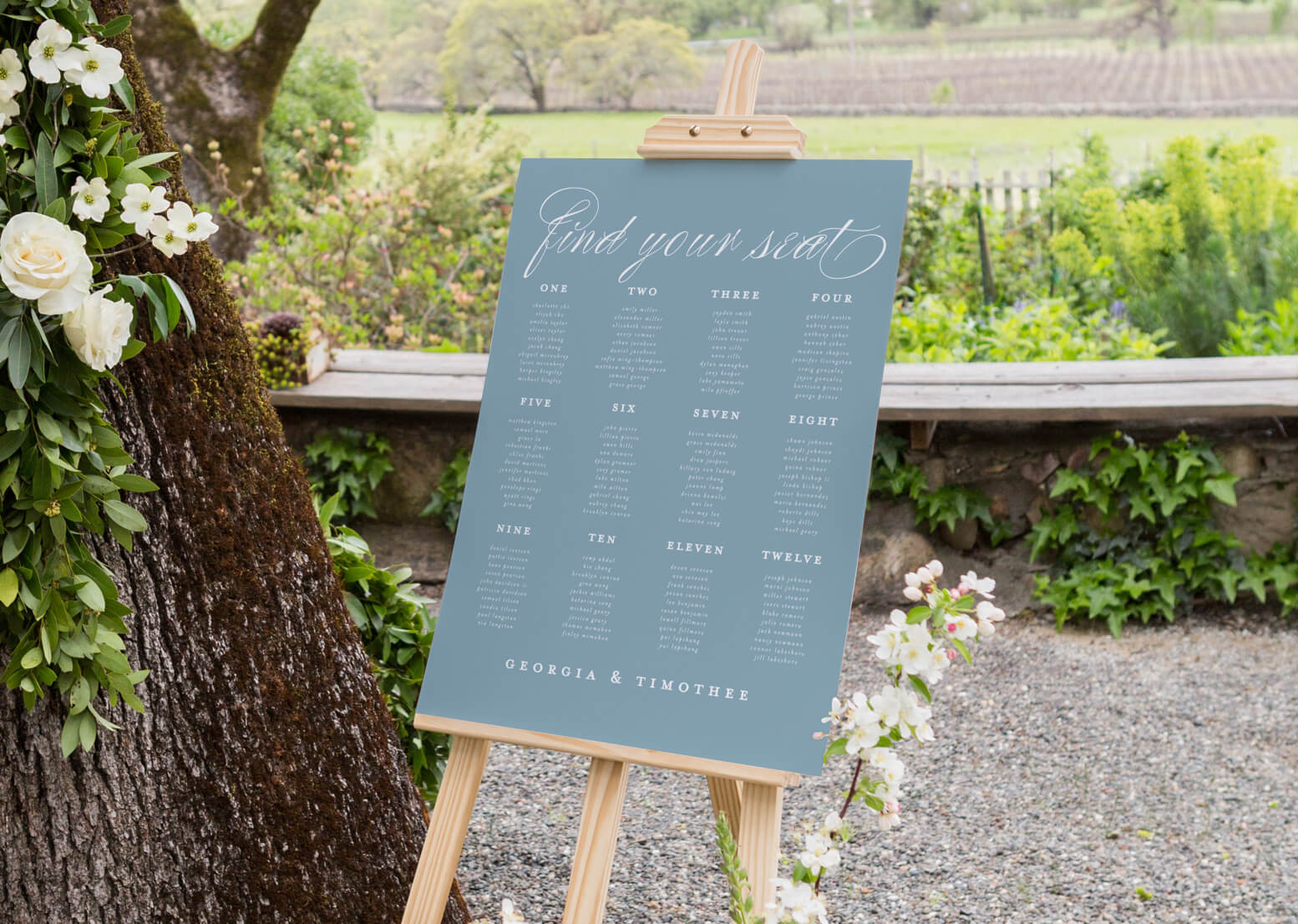 If you're hosting a backyard wedding with multiple tables, then go with a simple seating chart like this one from our friends at Minted. I recommend listing the seating arrangements alphabetically instead of by table, but if your guest count is low enough you can really do either.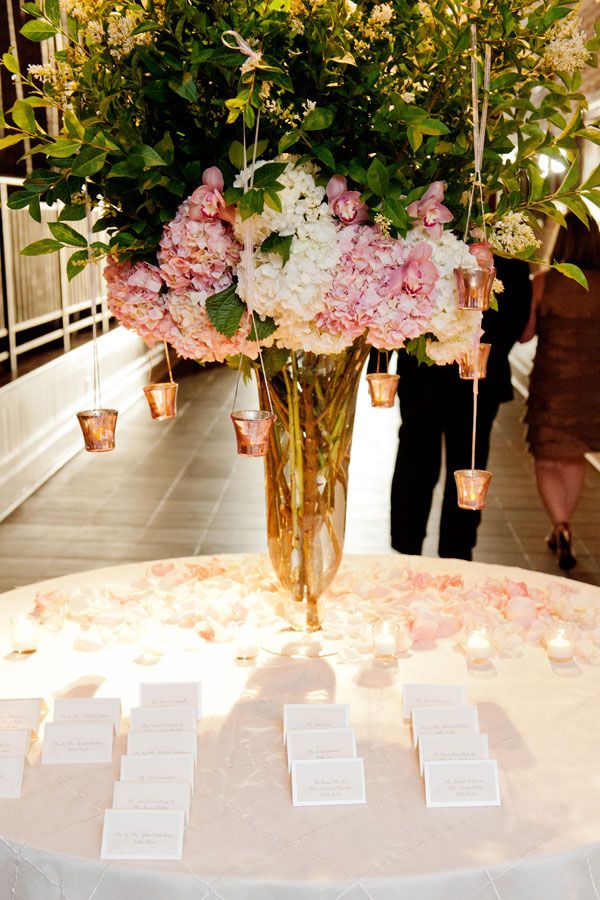 If you'd prefer to go with escort cards instead of a seating chart, keep the display simple like the one above by using any of these classically designed cards.
For backyard weddings with smaller guest counts, it's entirely possible to just use one table. Since all of your guests will be sitting together, they only need to know which chair to sit in. In that case, you can direct them to their spots with beautiful place cards like these, placed at each table setting!
Backyard Wedding Decor Ideas: Resist The Temptation To Overdo It
There are countless different ways to setup for a backyard wedding. In fact, a backyard wedding setup for one bride could be the polar opposite of another, simply because they have different guest counts.
But whether you're having a backyard wedding for 200 guests or 20, it's the space you're using and your style that should inspire the design and decorations.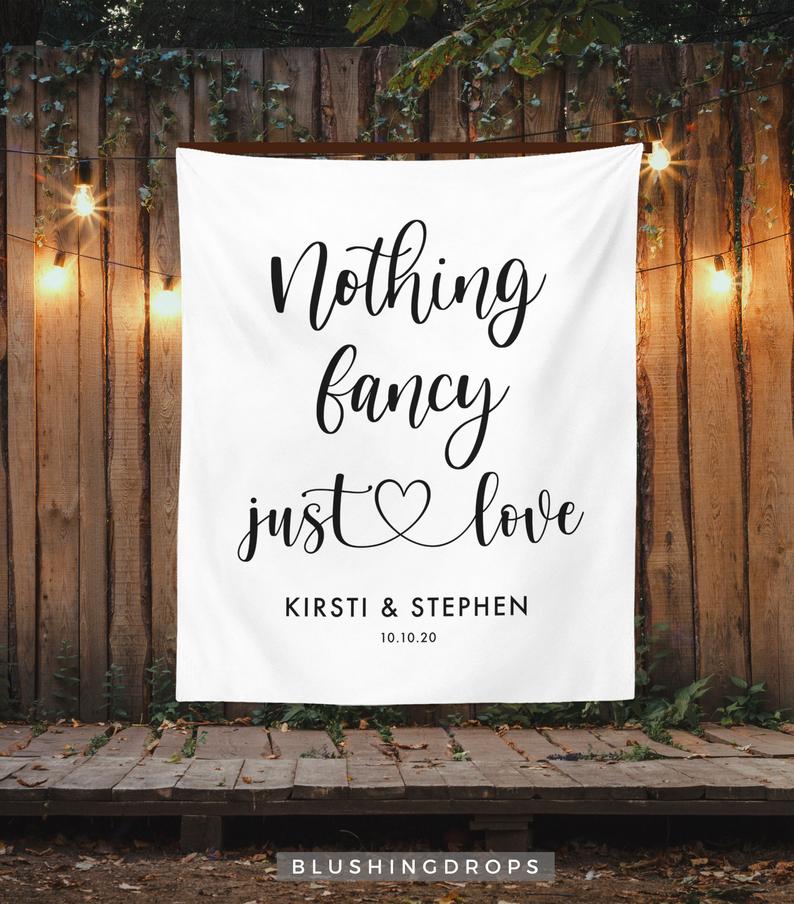 Looking for real backyard wedding ceremony ideas? I am obsessing over this gorgeous personalized backdrop! You might not want to spend a ton of money on ceremony flowers, or maybe you just don't have the space for a big huge arbor.
With this backdrop, you have something simple and affordable. Just add your names and the wedding date over here and check "ceremony decorations" off your to-do list!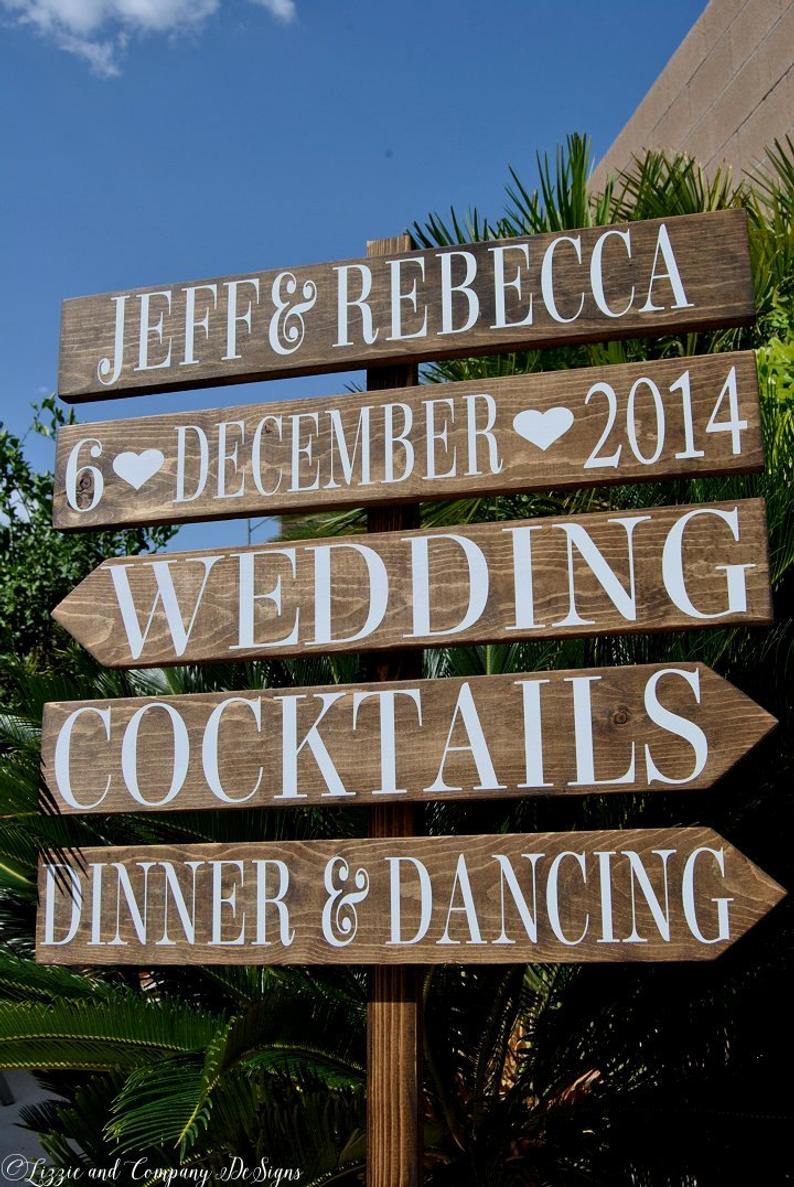 As your guests arrive, show them the way to go with this custom directional sign. Everyone loves signs like these, and it's a really simple piece of decor that makes a huge impact.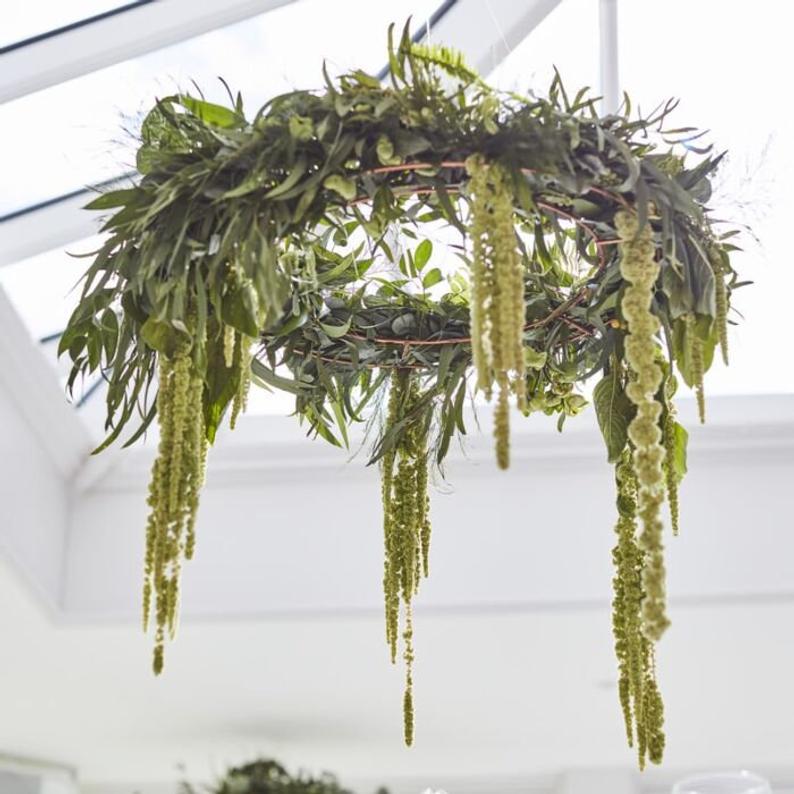 Take your backyard wedding to the next level by adding these floral hoops to your tent ceiling. Super easy to assemble, this is a great way to make your backyard wedding special for a really low cost. Check these hoops out over here!
Wedding Day Signage Checklist: You Need All Of These
Signage is huuuuuugggggeee in wedding decorations. A sign telling guests which way to go is just one fun idea, and there are plenty more. Here are some of my favorite signs you should have at your wedding!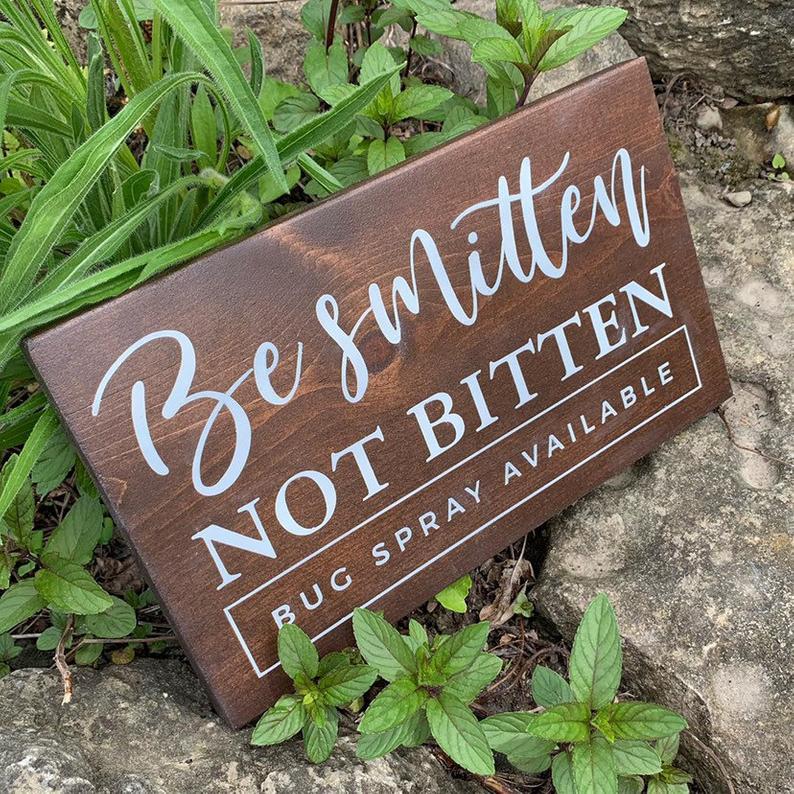 The worst part of being outdoors (at least for me) are the bug bites. I have so much citronella stockpiled in my garage because I love being outside, but I hate getting bitten up!
Even if you cake the air in your yard with bug fogger, it's a great idea to offer your guests their own personal bug spray. Odds are they won't think to put it on before coming to your wedding, and it's a super sweet gesture to make. Just don't forget to pick up this sign so that your guests know what you're providing for them!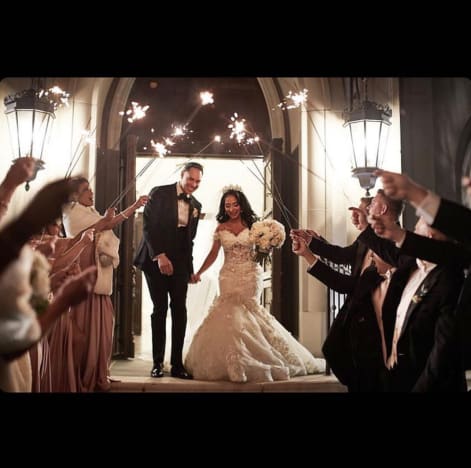 Dreaming of that sparkler exit you've seen done a few times before? Did you know that many private venues don't allow sparklers like these? It's true!
Luckily for you, it's your backyard, so you get to make the rules! It's important to have enough sparklers for the people who will be in the picture, plus a few extra. If your guest count is under 20, feel free to give everyone attending their own stick of pretty fire.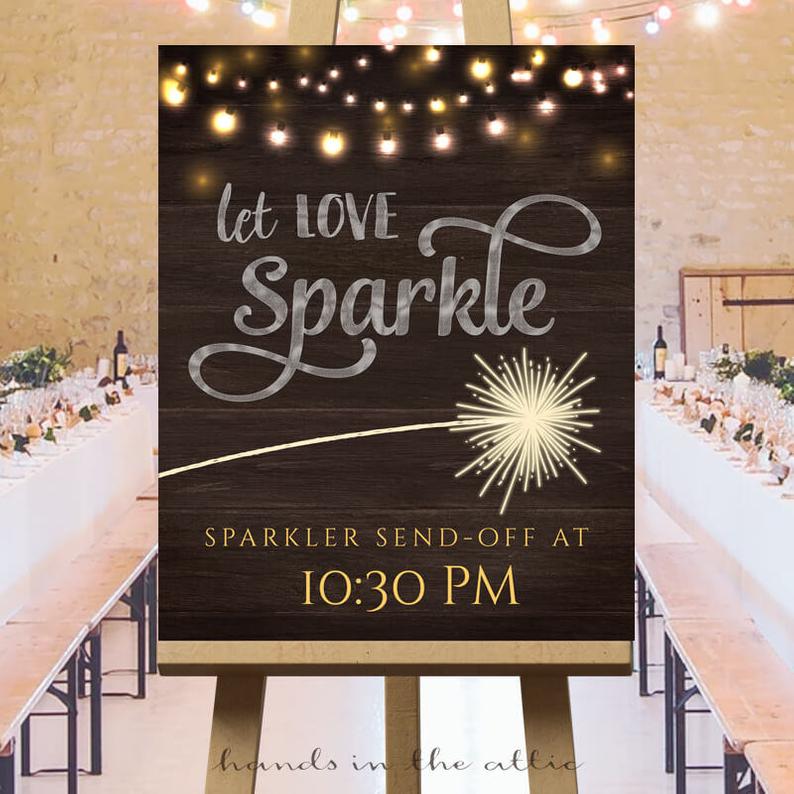 Set up the sparklers in advance as part of your backyard wedding decor. Then add this adorable sign to let your guests know what time the sparklers will be starting. You can customize all of your details right over here!
Oh, and professional tip…keep two buckets of sand nearby to extinguish the sparkles when they're all done. No one wants to see their backyard wedding go up in smoke at the end of the day!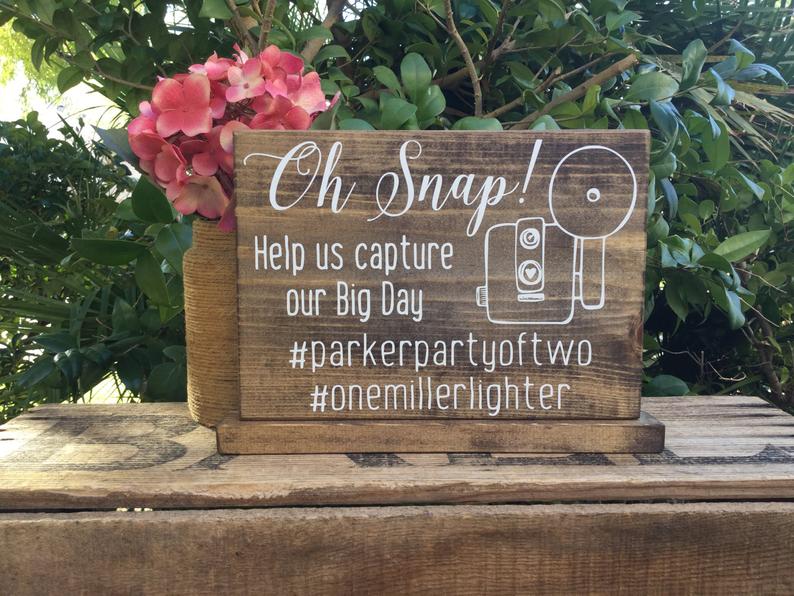 You've got the hashtag and you probably included it on your Save the Dates, wedding website, and every Instagram post that's wedding related. Here's the thing though…no one but you and your fiance are going to remember it on the wedding day.
Which is why you absolutely must have signage with your hashtag details! Give your guests plenty of guidance with this custom wooden sign that reminds everyone to share pictures with your hashtag.
Never Let Guests Play Bartender
Just because it's your house, your rules, doesn't mean you should allow your friends and family to grab their own drinks. Things can spiral out of control pretty fast when guests start playing bartender.
Let the licensed bartenders handle all of the drink orders, and take advantage of these affordable ways to add in your wedding style.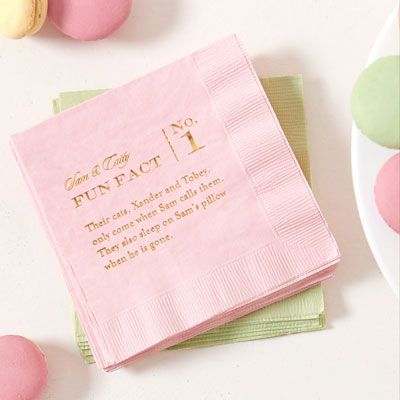 Little details can make a big impact when it comes to wedding design, which is why I love these custom cocktail napkins. Give your guests plenty to talk about with fun facts about the two of you and your love story. Your guests will be too busy reading to even think about jumping behind the bar.
Check them out over here and have fun designing them together today!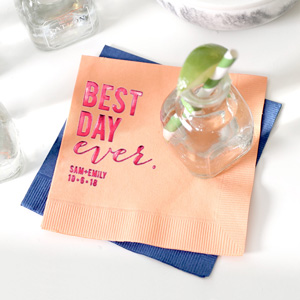 You can also keep things really simple with these fun custom napkins. Simply add in your names and the wedding date to complete your order right here.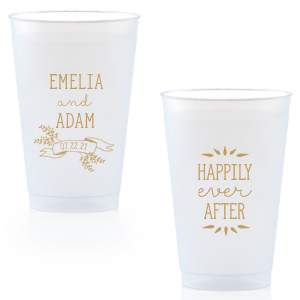 These cups are perfect for the times when you actually can allow your guests to handle their own drinks. For instance, during your outdoor wedding ceremony, set up a table for guests to grab non-alcoholic options like water and lemonade. Stack up these custom cups for guests to grab before they take their seats.
Ignoring The Inevitable Foot Problems
With a backyard wedding, you're basically asking guests to walk through grass, dirt, and whatever else you've got going on back there. Most guests realize this, but also realize this isn't an appropriate occasion to wear sneakers or boots.
On the other hand, you really don't want guests to make the choice between their shoes or no shoes. From stepping on a piece of glass to the fact that it just looks awful, guests should never have bare feet at a wedding.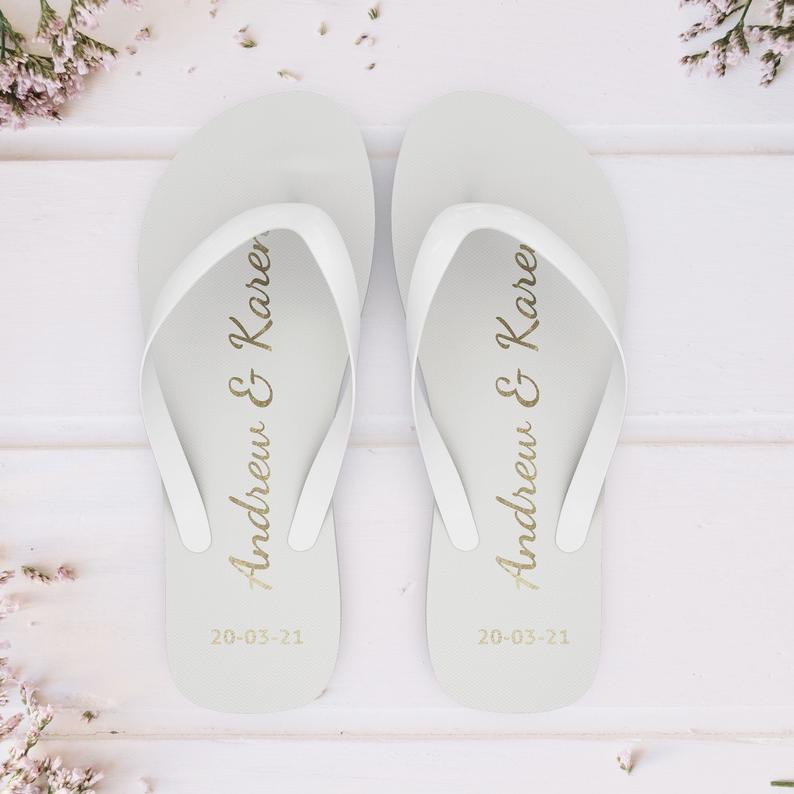 You can grab these flip flops and add your personal wedding details to them right here. Available in orders of 12 will make it easy and cheap for you to provide this alternative footwear option to all of your guests.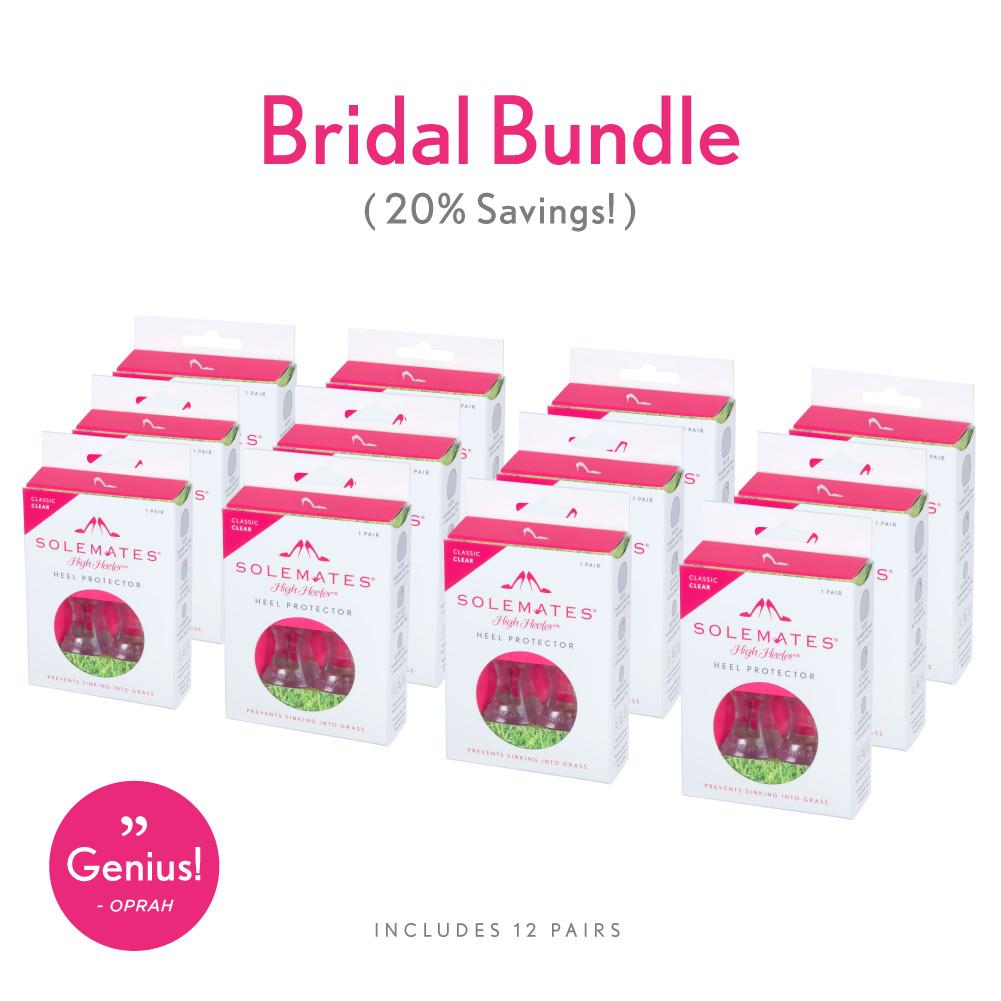 Another great way to save the heels of your female guests is with these Solemates heel protectors. By now, you've probably seen these at multiple weddings, and maybe even put them on the ends of your heels.
The clear protectors go right on to the end of the heels and will keep guests from sinking into the grass for the whole wedding day. Since guests usually wait to change into flip flops until later in the evening, make sure these are available as everyone arrives so they can be used immediately.
Never Underestimate How Many Chairs You Need
One of the biggest mistakes I've seen backyard wedding couples make is trying to cut corners by only having one set of chairs. Somehow, many couples think that they can use the ceremony chairs for their reception.
That is never a good idea.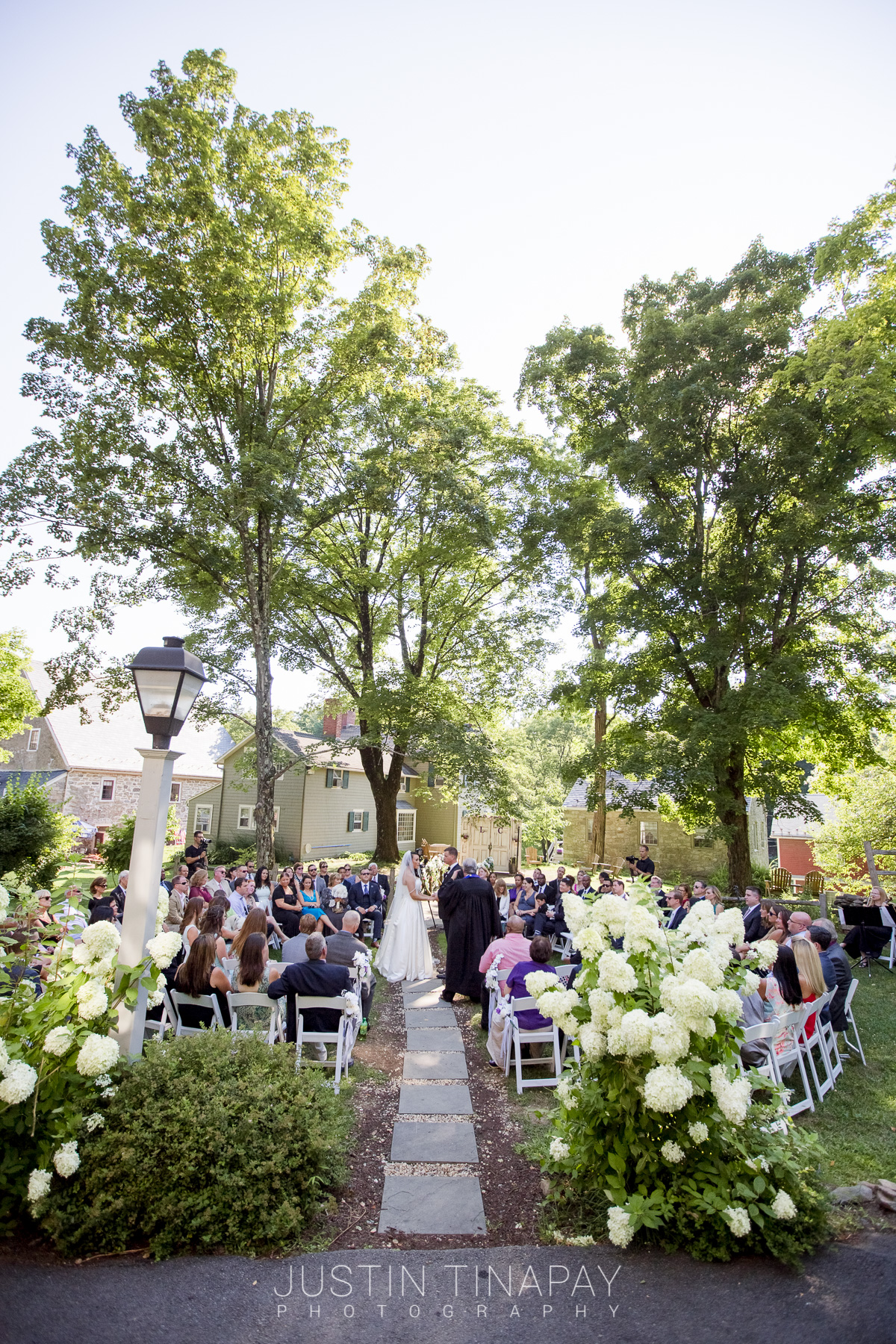 First and foremost, chairs need to be set up in any location where guests will be sitting. If you don't provide a second set of chairs, then there are only two ways to get those ceremony chairs to the reception space.
You can either ask your wedding guests to move their chairs from the ceremony to the reception, or you can hire a staffing company to take care of it. Both options are terrible.
No one wants to pick up their own chair and bring it to the places they need to sit down. You don't ask your guests to "work" on your wedding day, and lifting chairs would be work.
While you can hire staffing to take care of the chairs, that'll cost more than you think. The reason it will get expensive is because there will be a limited amount of time to move these chairs, and that staff probably will be setting other stuff up for your wedding. All that means is your wedding day falls way behind.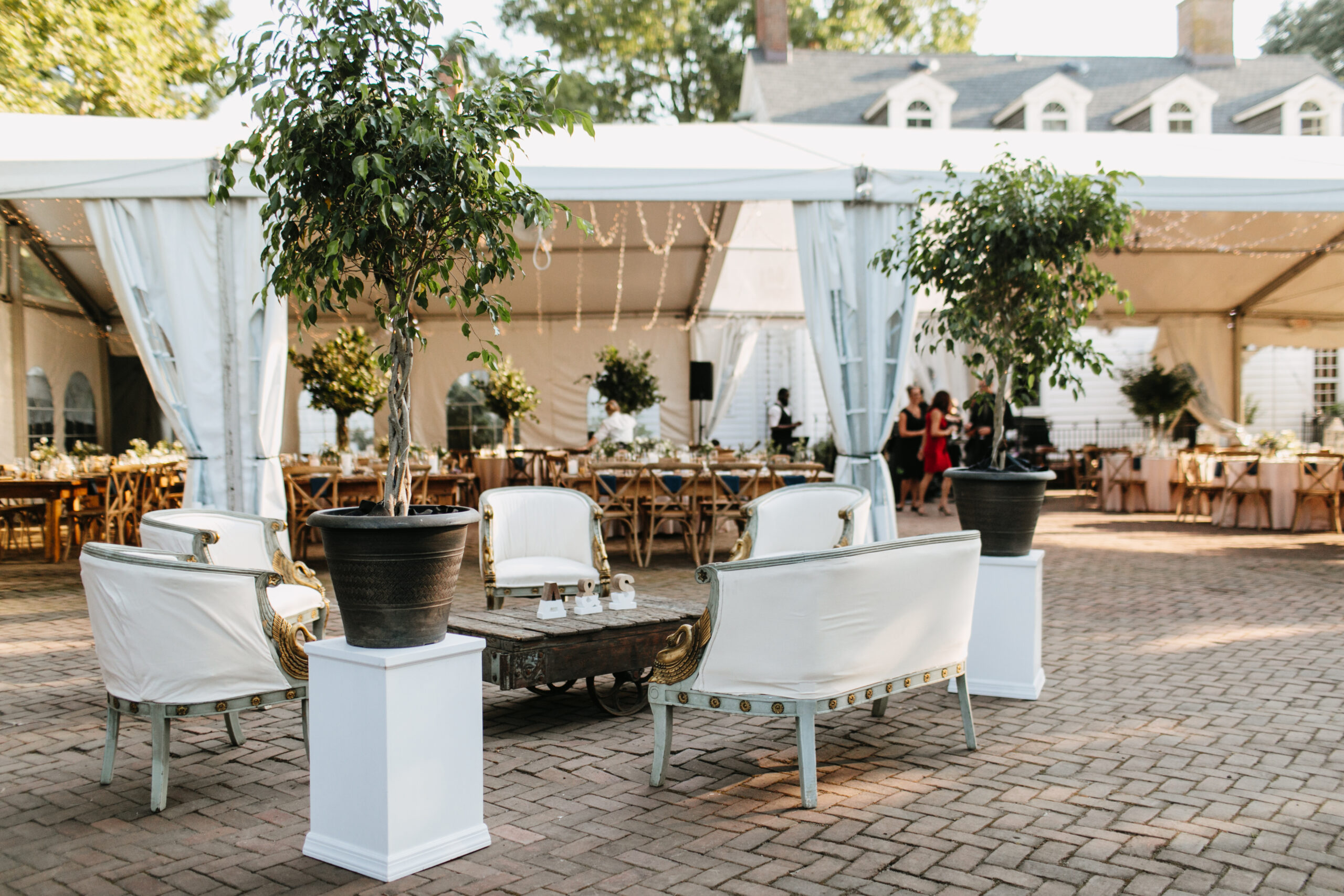 The answer is to simply rent two sets of chairs: one set for the ceremony, and one set for the reception. If you've having a cocktail hour of any type, be sure to offer some alternative style seating.
You can easily create a lounge area in your backyard that will double as seating and wedding day decor. Save the chairs for the ceremony and reception, and let your guests relax in between.
Don't forget to take your own pictures lounging together too!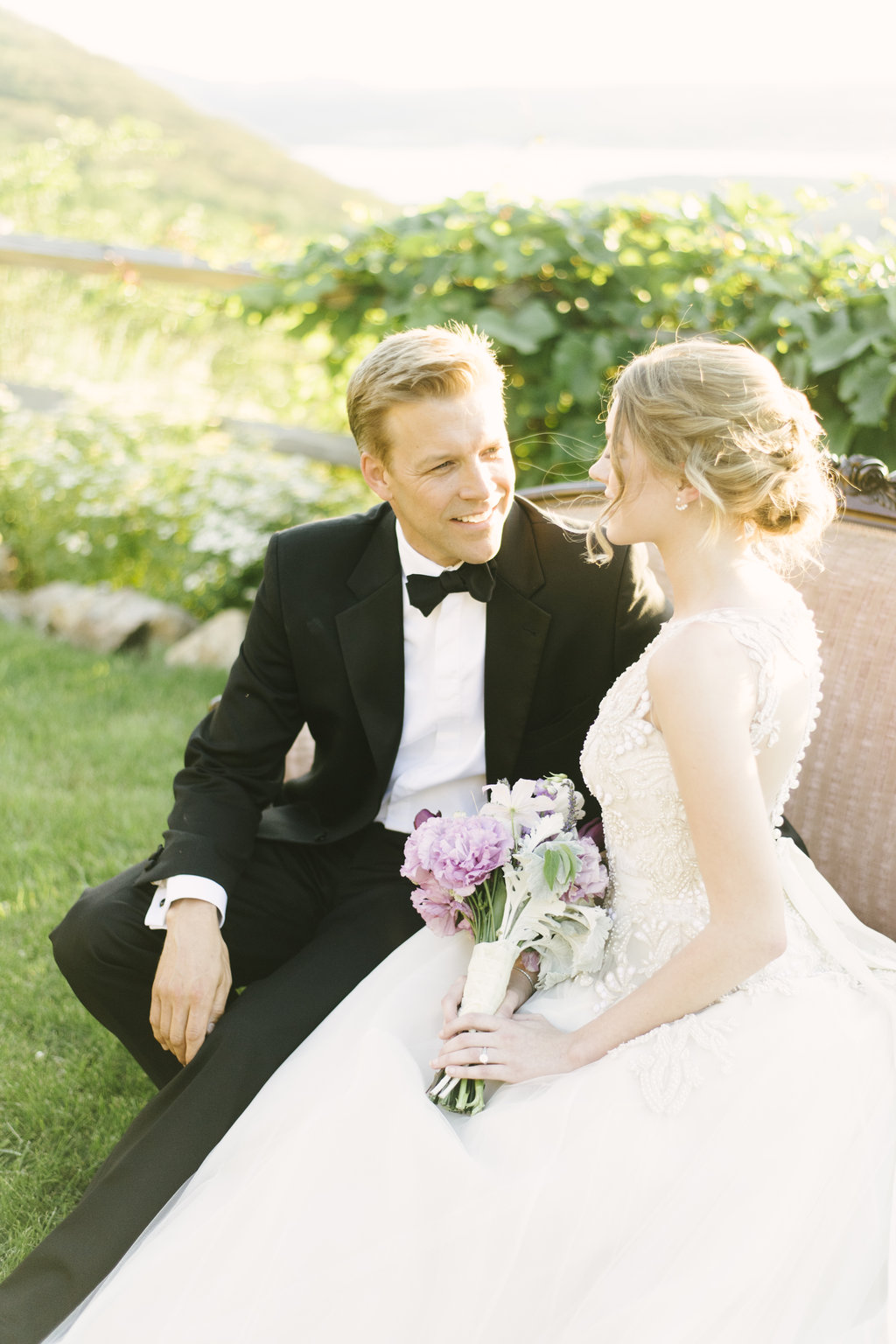 Consider The "Boring" Stuff
Many couples think hosting a backyard wedding will be simpler and cheaper than hosting it anywhere else. I cannot tell you how horribly wrong that is.
It's not simple because of the things you wouldn't think of…For instance, do you have the proper amount of electricity needed? Obviously I always advocate using a wedding planner, but it's flat out essential for a backyard wedding. It's not your job to know the boring stuff, but it is the job of your wedding planner.
Here are a few boring things you'll want to keep in mind for your backyard wedding…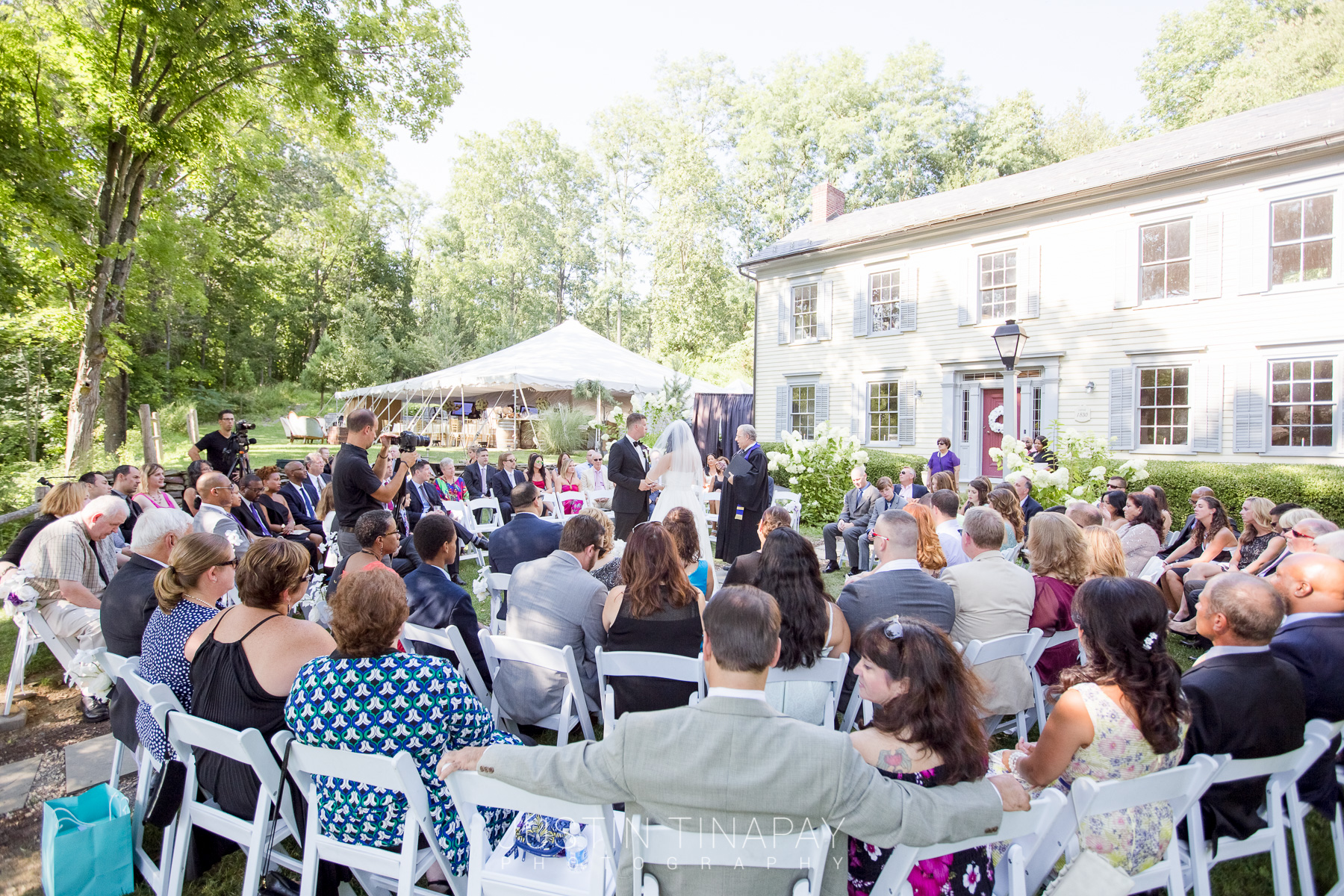 You'll need enough electricity for anyone using power. This includes your music vendor, your caterer, and any other vendor that will need to plug stuff in. The best way to figure this out is by asking every vendor what their electrical needs are and going from there. It could result in you needing a generator, so don't leave this until the last minute.
Where your water source is will matter to your caterer and your bathroom trailer vendor if you are using one. And, you probably should use one if your guest count is over 15 people. After all, your vendors will need to use the restrooms throughout the night too, and do you really want people going through your house searching for the bathroom?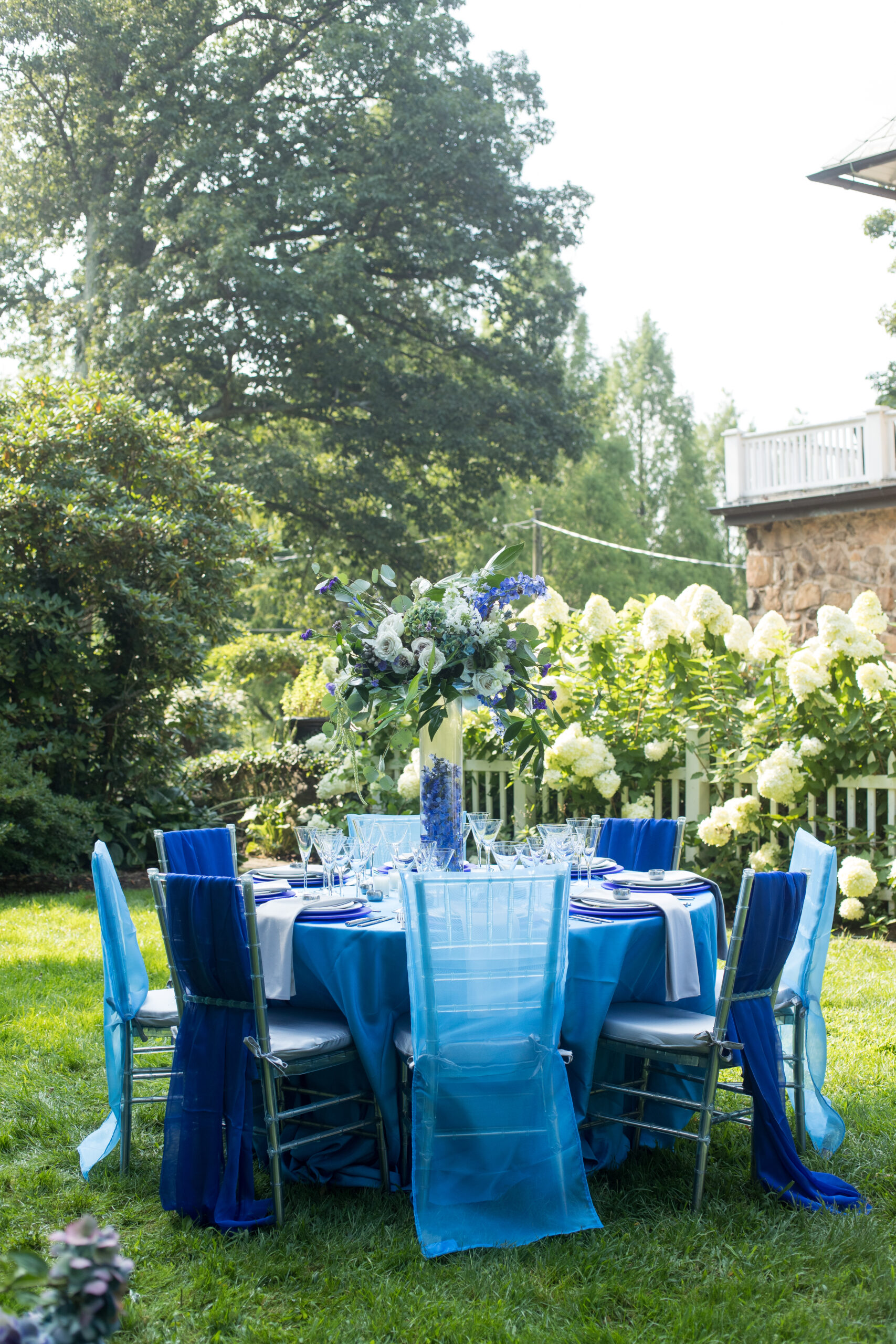 Just like with electricity needs, ask the appropriate vendors what their water needs are. Do they need to be close to the source and if so, how close? These details are essential when it comes to the set up of your backyard wedding.
You need to also figure out if you need any permits for the wedding day. Where will your guests park and is that allowed on your street? What is the noise ordinance rule and what time does the music need to go off? If you're putting up a tent, find out what permits are needed for that as well.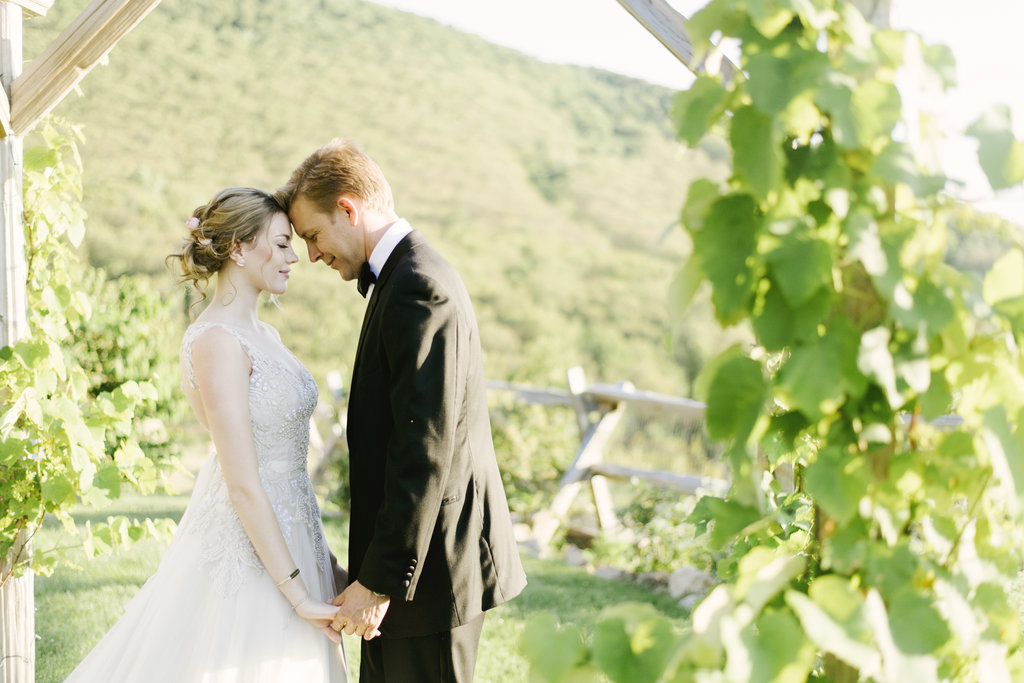 Be Considerate Of Everyone's Health
Now, more than ever, people are prioritizing their health. The wedding world has been turned upside-down as COVID-19 continues to force couples to postpone their weddings.
As things reopen, weddings will go down a new path and it'll be awhile before the weddings we're used to come back full swing. You can show your guests that you care about their well being and respect their health with these two items on your wedding day.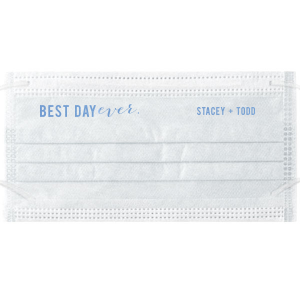 Wearing a mask on your wedding day is probably the last thing you want to do. Well, trust me, your guests aren't too jazzed about it either. But, for the sake of everyone's health and safety, wearing a mask will be mandatory at weddings (and it might be already depending on when you're reading this).
That doesn't mean you can't get cute with this detail, though! You can provide your guests with these N-95 masks which will keep them super safe, and you can personalize them too! Keep these together in a basket as people arrive, and let each guest know to take one before they enter.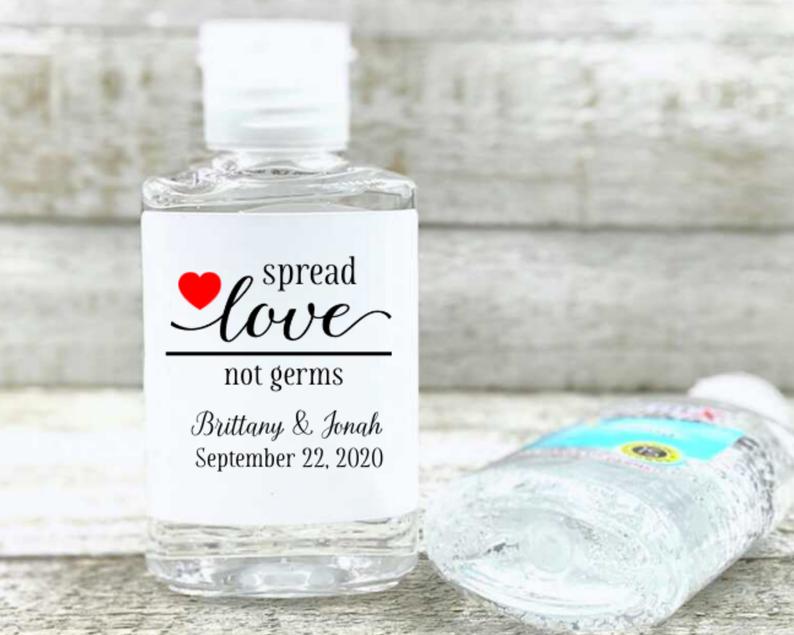 While many wedding venues will be adding sanitizer stations at different locations for guests to use, you can take it one step further with personal sanitizers for everyone.
Grab plenty of hand sanitizers and create custom wedding labels right here with your names and wedding date. Add them to your favor bags at the end of the night, put one on each ceremony chair, or keep baskets of them around in different areas. This is a cute and affordable idea that all of your guests will totally appreciate!

Real Backyard Wedding Ceremony and Reception Guidelines
Those are some of the biggest backyard wedding mistakes I've seen made as a wedding planner. There are a lot of details that go into planning an at home wedding, but hopefully you now know what mistakes not to make.
Tell us about your backyard wedding plans in the comments below. What made you decide to host the party at your home? Any advice for other couples? Share your stories plus any of your questions in the comment section now!