In this blog, I'm sharing 10 important questions to ask a wedding venue and I'm explaining why you need answers to these questions before you book.
Is it really important to know how many weddings happen in a day? How can you find out about any hidden costs? Everything you need to ask as written by a professional wedding planner…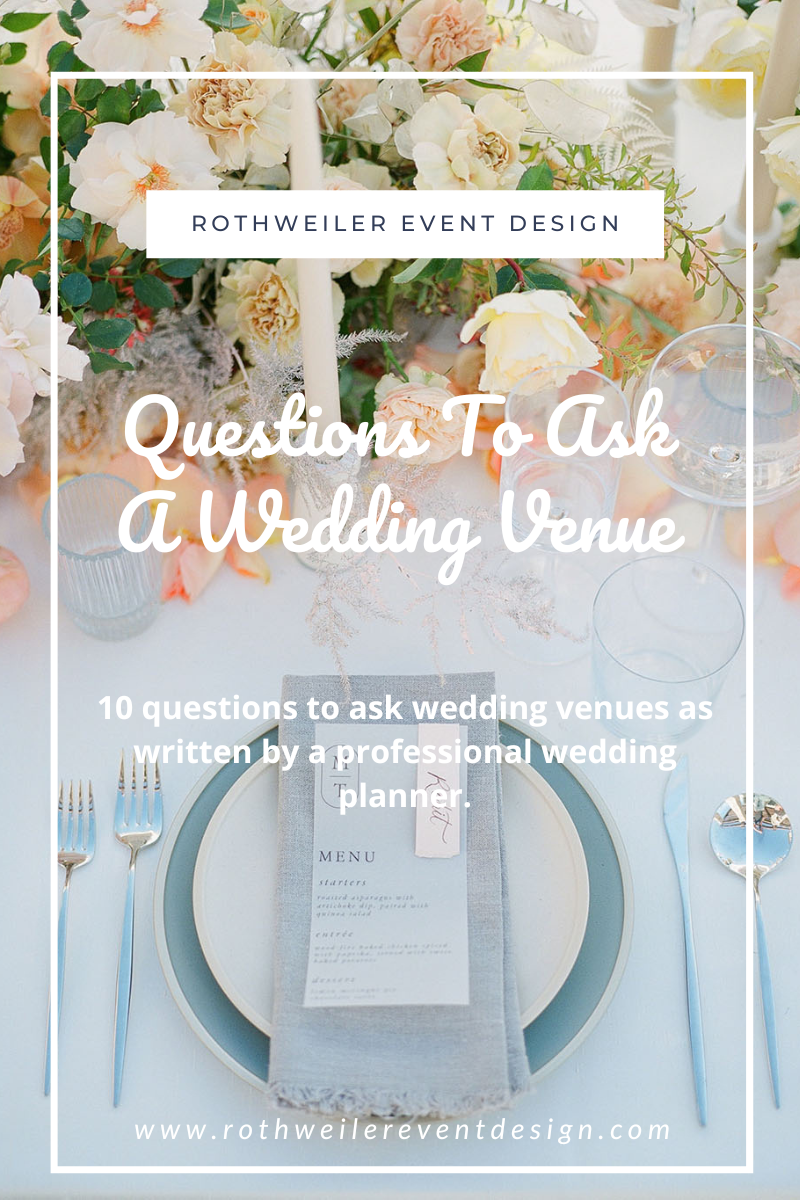 *Please note that most of the links of this page are affiliate links. This means if you click on a link and purchase, you will receive the same price, but I will receive a referral fee. This helps keep my blog free and allows me to share wedding planning tips with you. Thanks for your support!*
Question 1: What is included with your wedding venue?
This is a monster question and the key to finding out just how much you're going to spend. Never assume what comes with that per person cost, even when it comes to the basic things.
For instance, some venues will cover everything from the food to the plates they serve on…but this isn't always the case.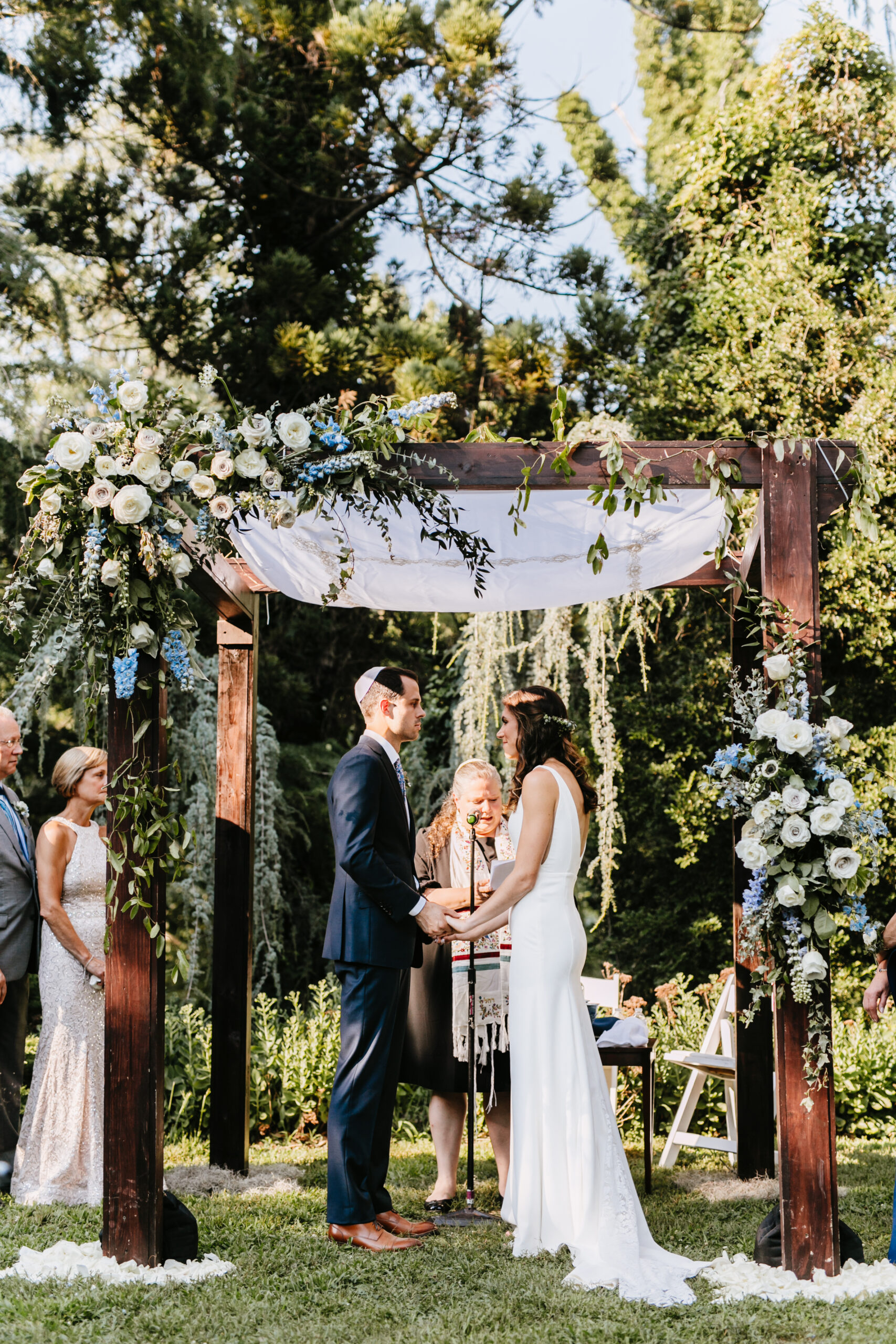 Some wedding venues will charge what is called a "venue" or "estate" or even a "rental" fee. No matter what word they use, it all means the same thing. That fee will cover the use of the space for however much time is included…more on that later.
This fee could be anywhere from $1,000-$30,000 depending on what is included. If there are rooms on-site, sometimes that is included in the venue fee. Sometimes basic rentals like your tables, chairs, and serveware are also included in this cost.

Just like everything else though, nothing is guaranteed so be sure to ask and read those contracts carefully. Don't forget to ask about those extras like gratuity, service charge, and taxes. If gratuity isn't included (and service charge/administrative fees are NOT the same as gratuities) factor that cost into your overall wedding budget.
Question 2: How does the catering work?
Some wedding venues will come with in-house catering which means everything is prepared on site and that is the catering company you are working with. When a wedding venue has a rental fee, typically the catering cost is separate.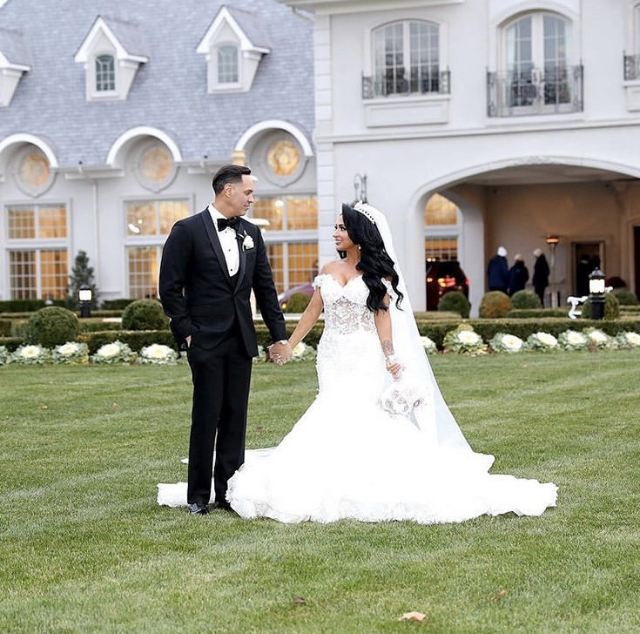 Be sure to ask if the in-house caterer also includes the rentals and if that's part of their per person package or a bunch of separate line items. Are these rentals on site and who will be responsible for setting everything up and breaking it all down once the wedding ends?
Other venues won't have their own caterer and one of two things will happen…either they'll give you a list of vendors that you must choose from, or you'll be able to bring in a caterer of your own choosing.
Trouble deciding between caterers? Pick the one that has worked at the venue before.
Question 3: What about the alcohol?
Depending on the location of the wedding, the rules about obtaining and serving alcohol will vary. If the caterer has the proper liquor license, it's likely that your per person cost will include whatever liquor package you select.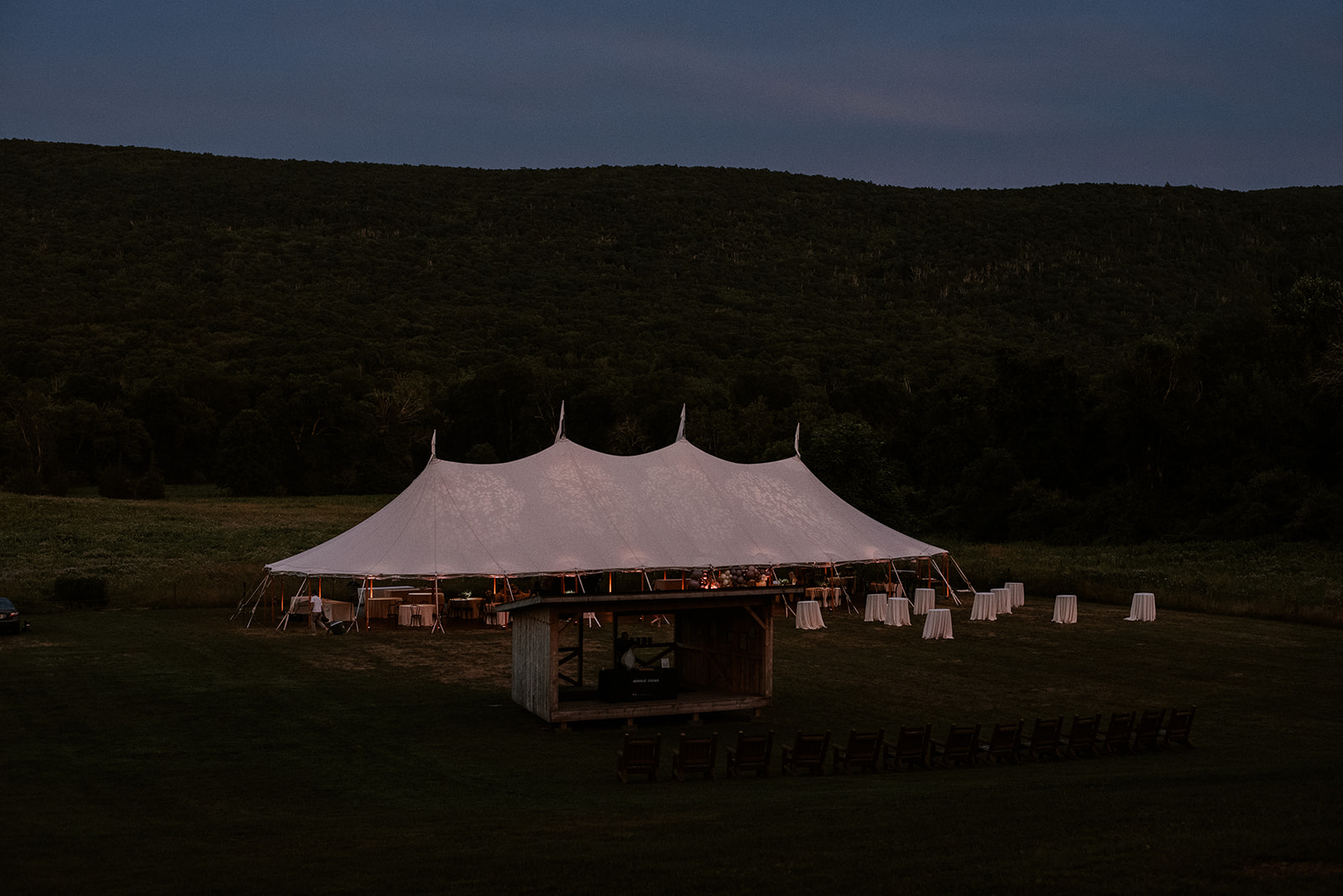 Some wedding venues are BYO and 9 times out of 10 I recommend this when it's an option. This is a huge money saver and anything you don't use, you still get to keep once the wedding ends.
Be sure to ask your wedding venue who is in charge of the liquor, how that pricing works, and what your options are. Will you pick from their list? Can you customize to include particular brands? Ask it all!

Question 4: How Much Time Is Given To Your Wedding?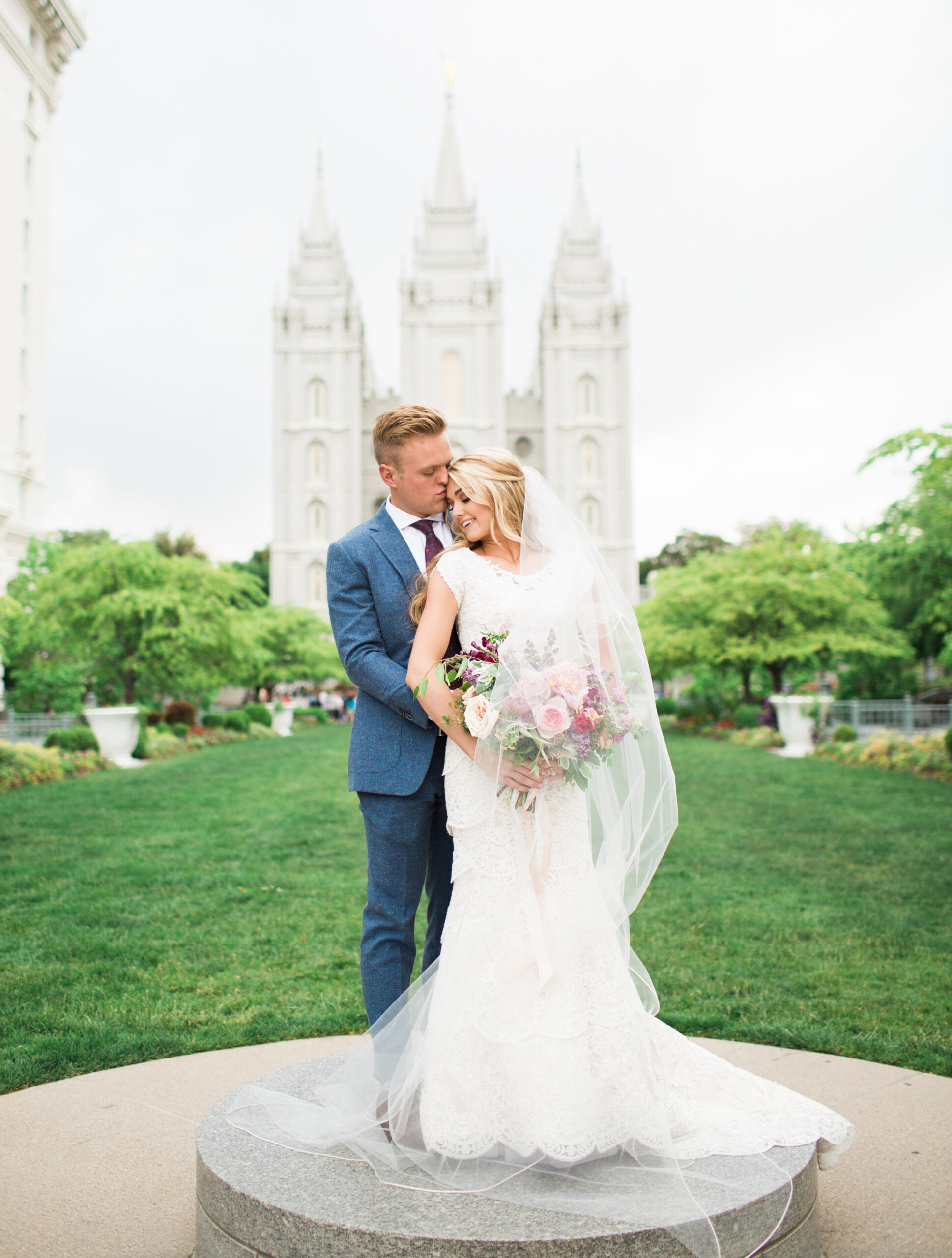 The number one question couples think they have to ask is whether or not there are any weddings taking place at their venue on the same day as their own at the same time. That's not the question you need an answer to…Instead, you should ask:
How many weddings or events happen in one day. Here's the thing, ideally you want to have your wedding be the only one taking place at the venue during the time you are given. However, it's more important to know what is happening before and after your wedding because it will impact your set-up time with your vendors and could end up costing you additional fees.

If you're stuck between two venues, always go with the one that hosts just one wedding per day.
Question 5: How Much Time Do Vendors Have?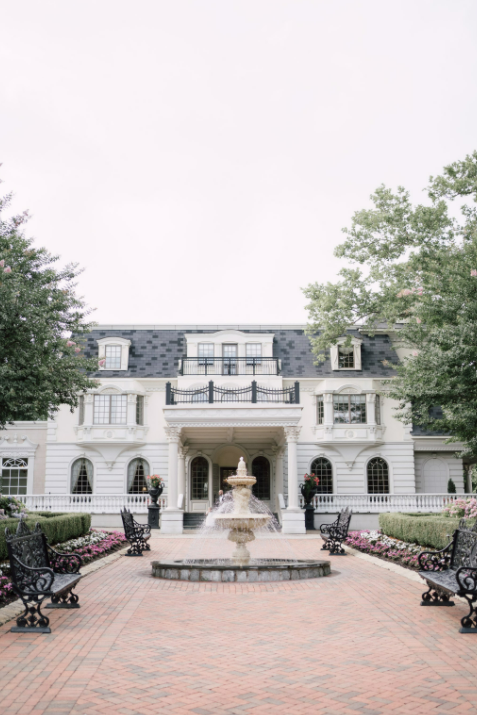 Even if you are the only wedding to happen at your wedding venue in one day, that doesn't mean you have the place to yourself whenever you want.
Find out what time your vendors will be able to load in and set-up. This is especially important if florals and design are high up on your list of priorities. If you've fallen in love with an elaborate look with flowers in every corner/hanging from the ceiling, this takes a certain amount of time.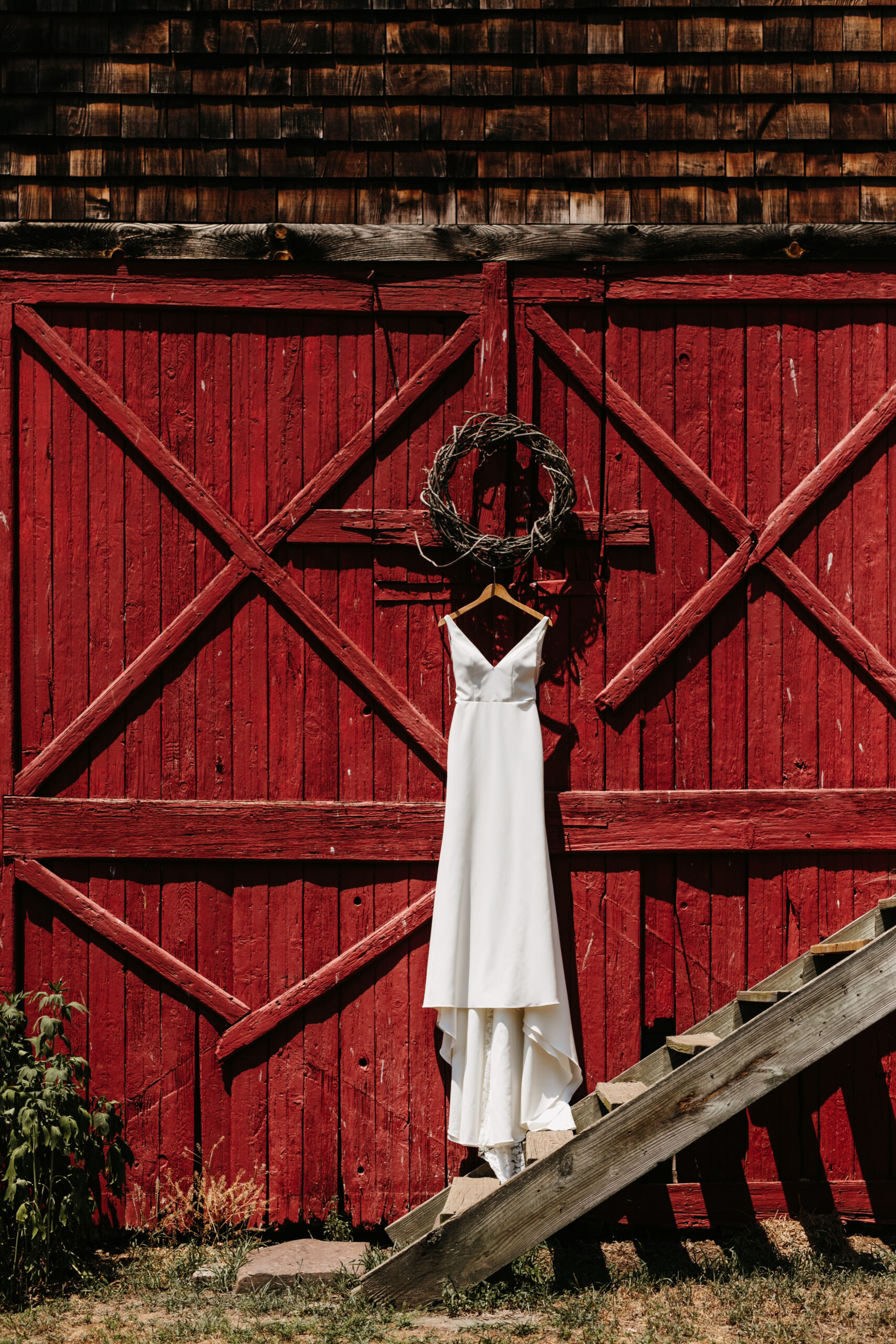 If your florist cannot get into your venue with enough time to do the set-up, they either won't be able to bring your vision to life or they'll charge you more because they'll need extra staff to make it happen.
Question 6: What Vendors Do You Have To Use?
Another important question to ask your wedding venue is what vendors are you obligated to use? We've already covered catering and the options that exist there, but what about everyone else?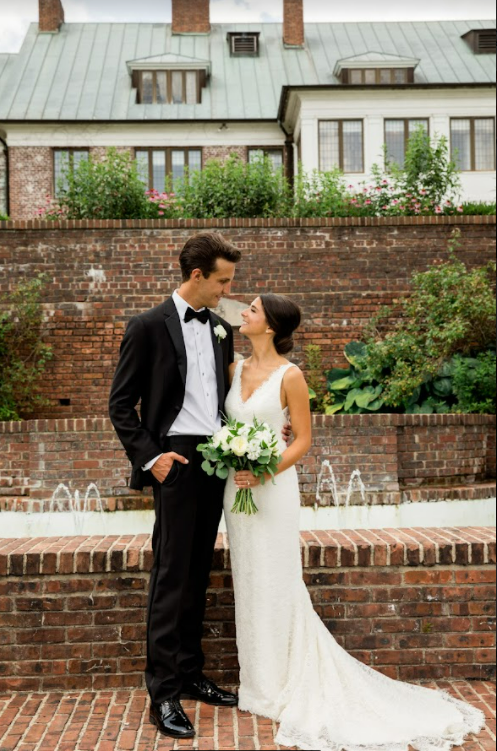 Along with catering, many venues will be restrictive with any lighting vendors. Does your wedding venue provide in-house lighting? What if you wanted to do something a little different? Find out if you can bring in a specialist of if you have to use the person on their list.

Who your florist is can also be controlled by the venue. If your wedding venue has a list of florists that you must choose from, be sure to look at their websites before signing on the dotted line. You should also check their availability because if you only like one and they aren't available, then it's on to the next wedding venue tour!
Question 7: Can You Get Ready On Site?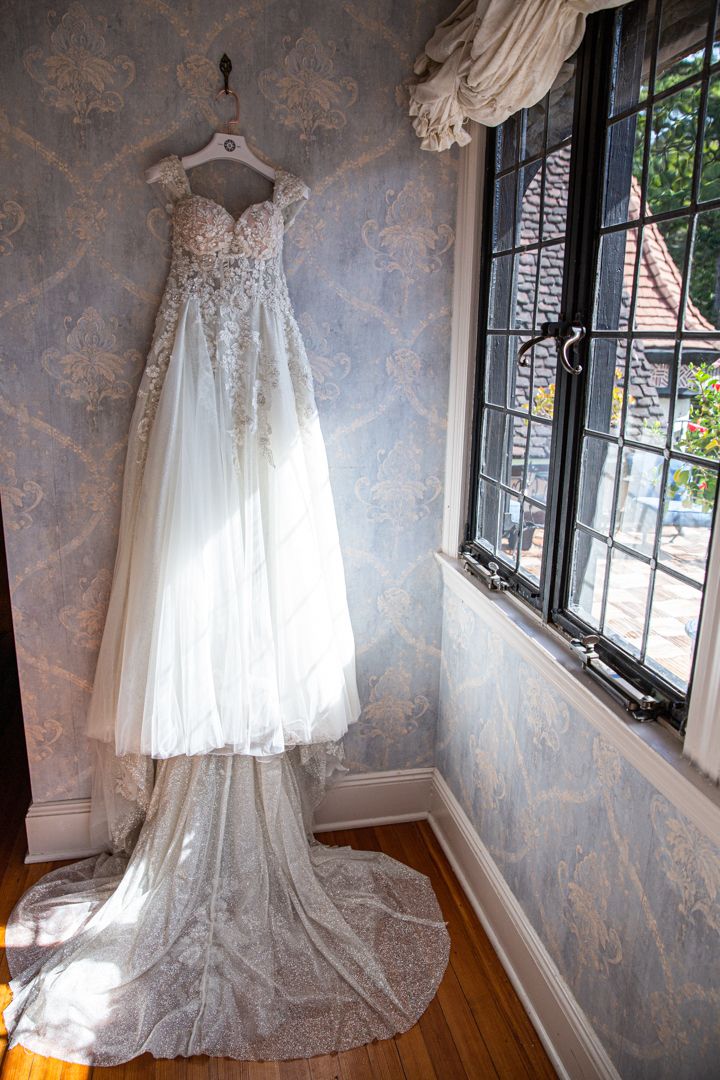 Whenever I speak about my favorite wedding venues, the ones at the top of my list all have a place where the couple can get ready on-site. This allows for everyone to relax in hair and make-up without having to factor in travel time.
But never ever assume what time you can start getting ready. Even if you have access to the wedding venue the entire day and yours is the only wedding happening, if you want to get in at 5am to start hair and make-up, you could be turned down very easily.
Question 8: What Is and Isn't Allowed at Your Wedding Venue?
Dying to do a sparkler exit? Can't stop thinking about fireworks? Is a confetti canon photo on your must have pictures list?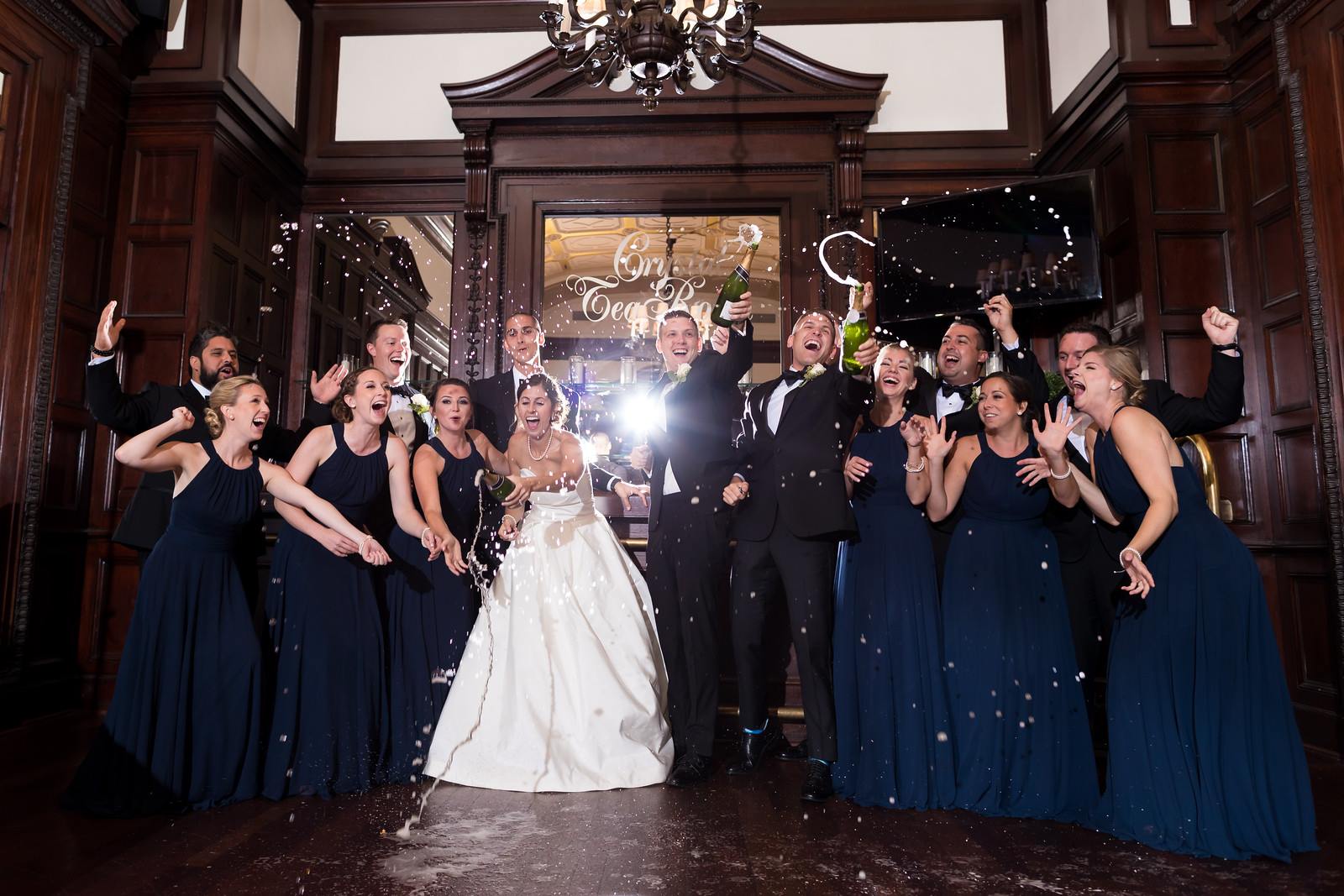 Just because you saw a picture, even if it's a picture at the wedding venue you're touring, that doesn't mean you're allowed to recreate it.
See this picture above and all that champagne everywhere? This is one of my most popular pictures and anytime I plan at this location, my couples tell me they have to do it.
Related: Winter Wedding Magic and Luxury at The Ashford Estate

But they can't anymore…for one reason, this room doesn't even look like this so the spacing is way different. And, because it was renovated, the venue has decided against photos just like these that included 6 bottles of champagne all over the floor.
Always ask, never assume.
Question 9: What Are There Insurance Requirements?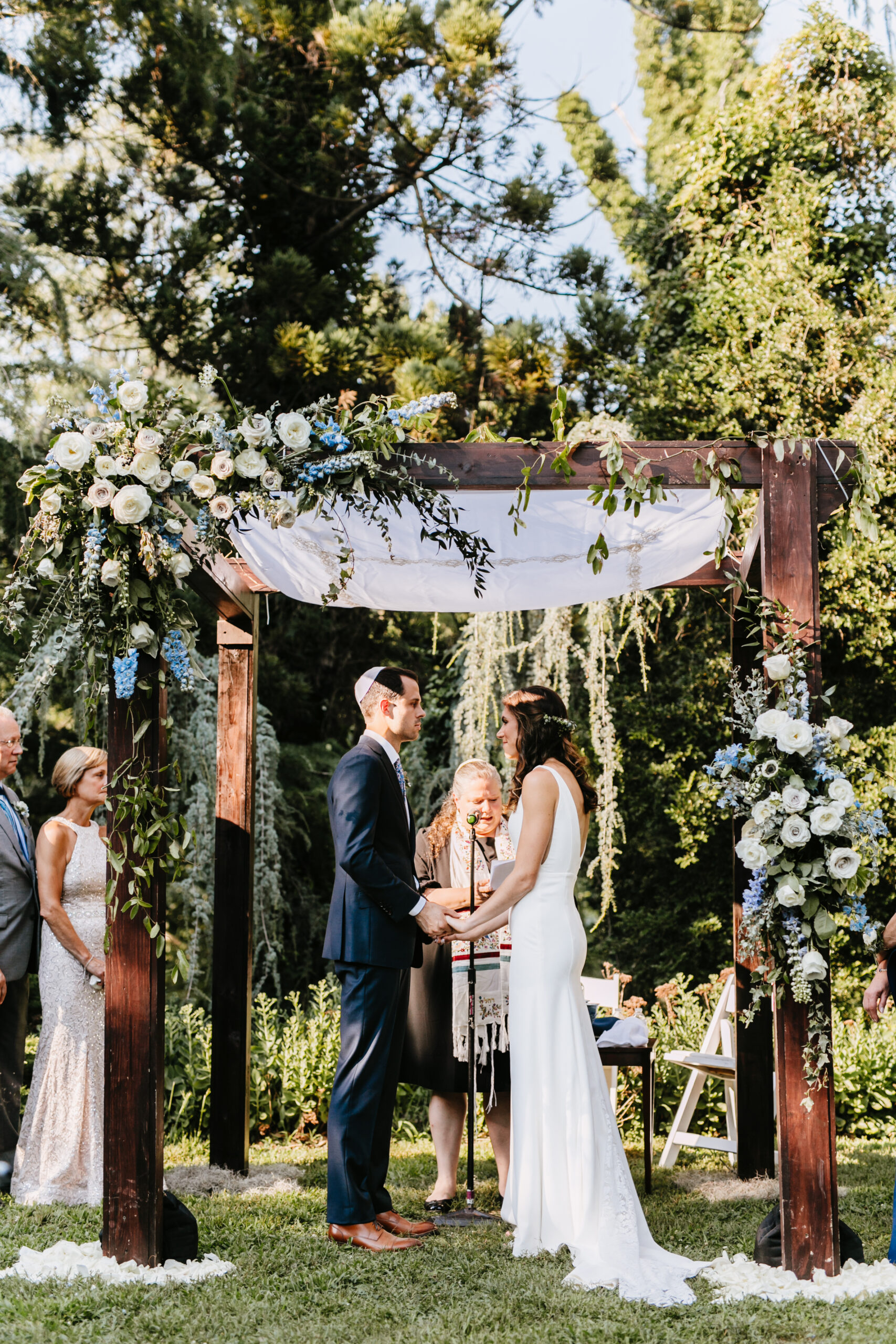 Vendors typically have to provide proof of insurance to every wedding venue and the requirements tend to be similar for every venue. But, remember I said ask and don't assume? That goes for this too.

Be sure to ask your wedding venue if you, yes you need to provide any insurance as well. Venues that require this will typically recommend companies you can contact but you won't be reminded by them. Once you've booked if you do have to provide insurance, do that right away.
Question 10: How Does Their Rain Plan Work?
Thinking about an outdoor ceremony? While it's really hard to do this, I always recommend only booking with a wedding venue if you love their "Plan B" just as much as their "Plan A".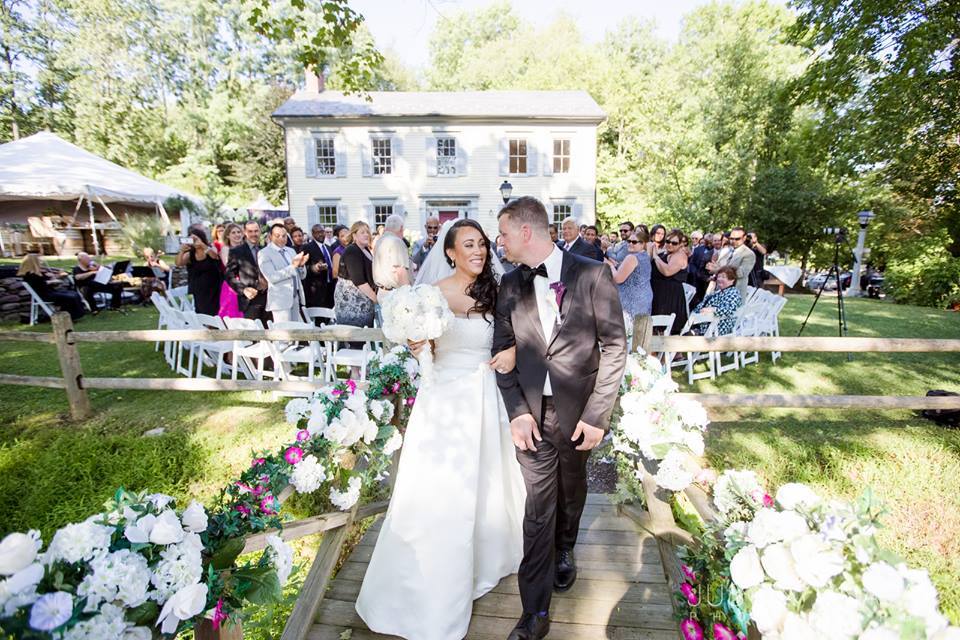 It's important to be honest with yourself here. Obviously if you want an outdoor ceremony, that's what you want…but many venues can offer an alternative that will be just as beautiful.
If you're happy with where the ceremony will be held in case of inclement weather, ask the wedding venue when that decision will need to be made by. Heat, rain, and snow all can push an outdoor ceremony indoors, but what time during the wedding day is that call made and who makes it?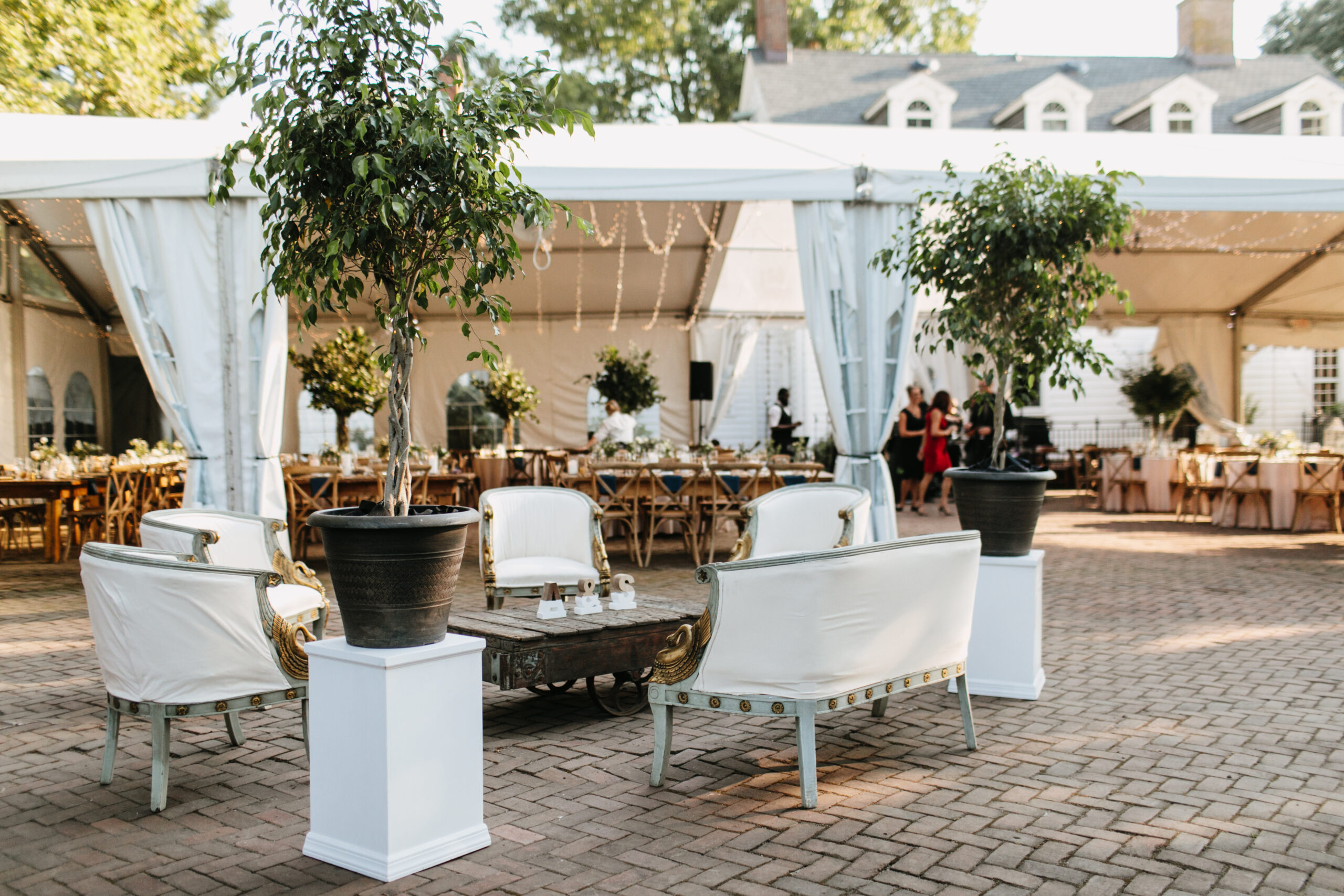 10 Important Questions To Ask A Wedding Venue
Those are my top 10 important questions to ask a wedding venue before you book! Usually, many of these questions cannot be answered until you actually tour the property. In fact, many places won't even give you pricing over the phone let alone all of these specific details.
But that doesn't mean you sign without knowing the answers to all of these questions. Plus, by asking these 10 important questions you'll get even more information than you ever thought possible.