Ashford Estate weddings are some of my absolute favorite to plan and design. The Ashford Estate is a luxury wedding venue located in Allentown, New Jersey.
I was born and raised in New Jersey and before I planned a single wedding at The Ashford Estate, I didn't know Allentown, NJ even existed. Allentown is a small, quaint location filled with plenty of farms and horses.
Many years and weddings have gone by since I did my first Ashford event, but this real wedding still ranks in my Top 10. Check out the winter wedding magic and luxury at The Ashford Estate…and scroll to the bottom for ways you can recreate this wedding style for your own best day ever!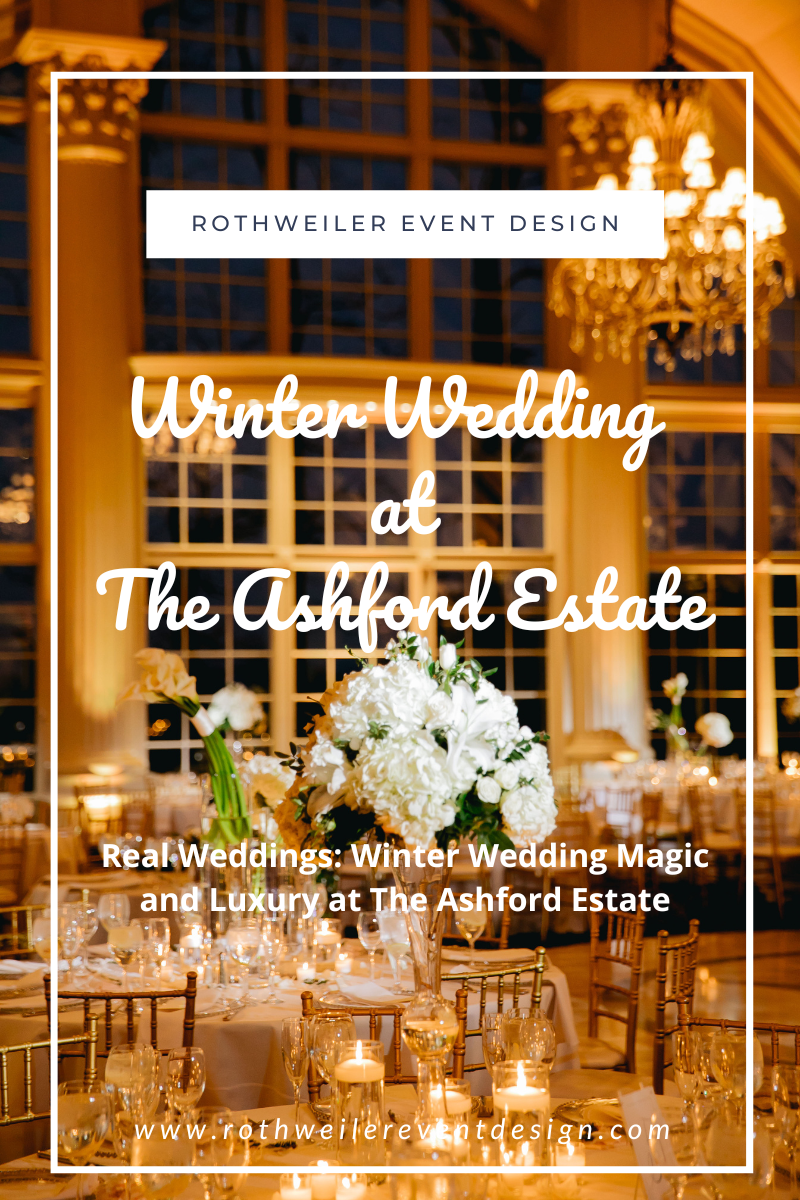 *Please note that most of the links of this page are affiliate links. This means if you click on a link and purchase, you will receive the same price, but I will receive a referral fee. This helps keep my blog free and allows me to share wedding planning tips with you. Thanks for your support!*
Winter Wedding Magic and Luxury at The Ashford Estate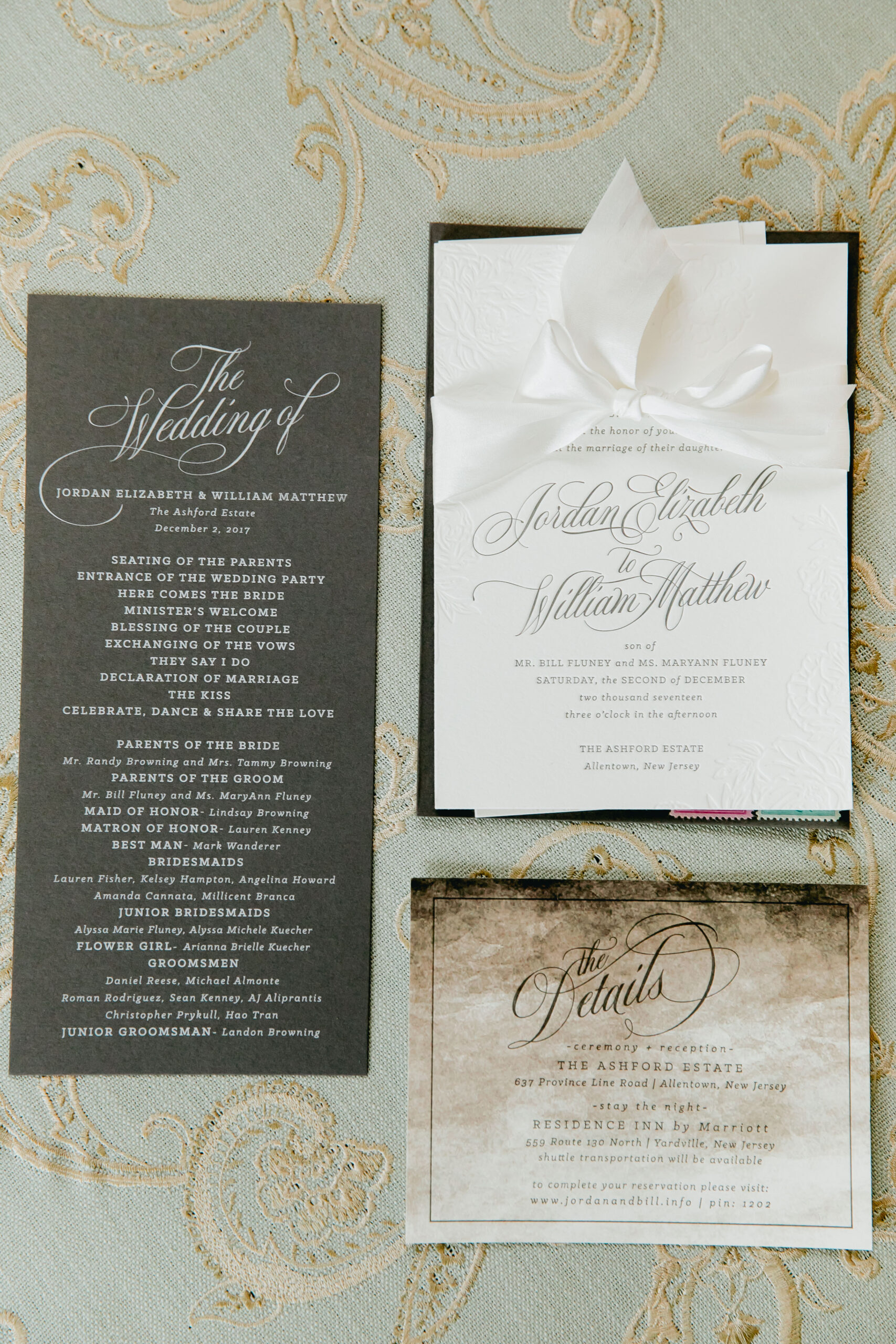 On a warm-ish day in December, Jordan and Bill tied the knot at The Ashford Estate. One of my favorite features of this venue is the ability to get ready on-site. There is an incredible salon that's perfect for the bride and her squad to get dressed and into hair and makeup.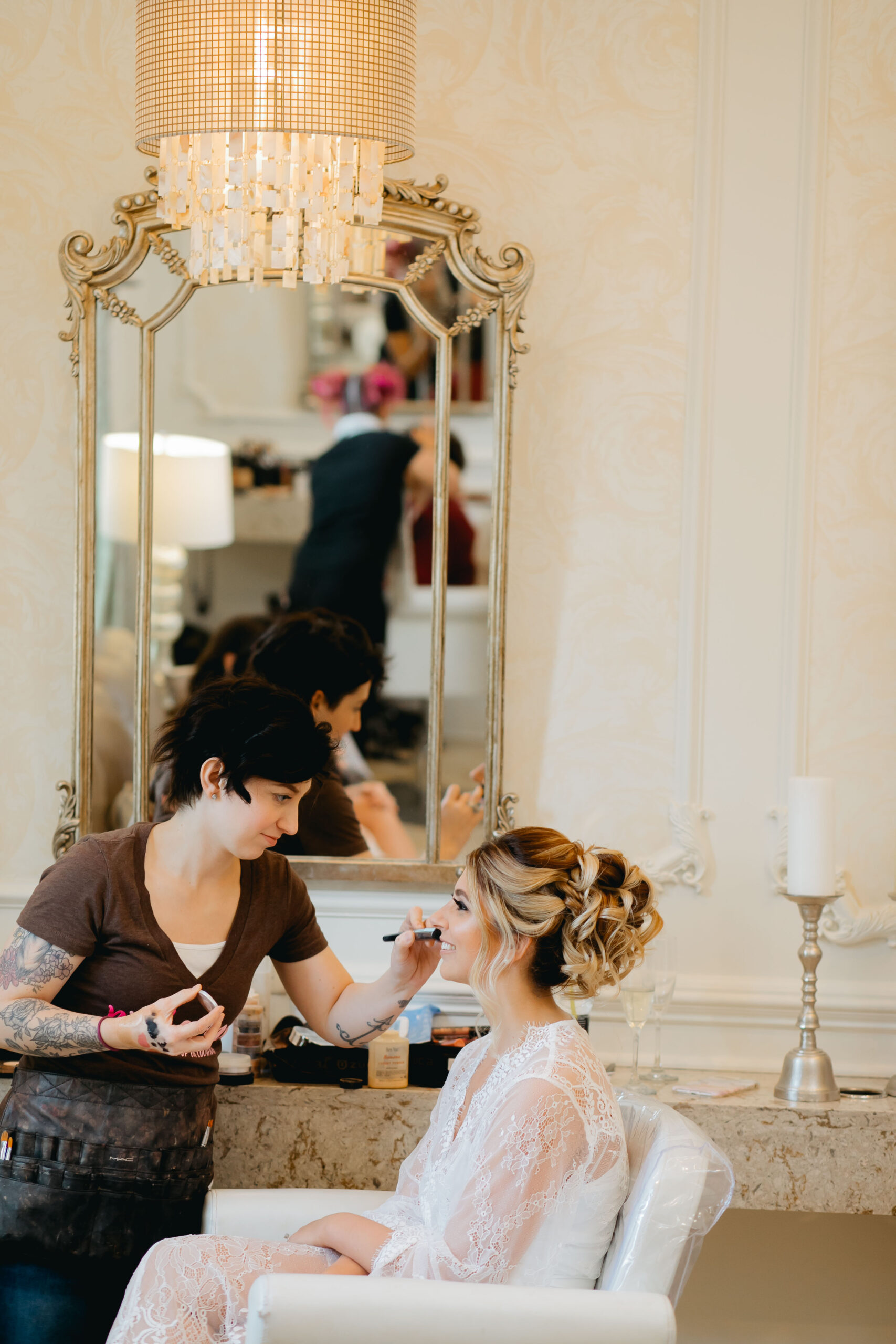 The bridal suite has plenty of light and room that the photo and video team love! The groom and his groomsmen arrived in the early afternoon to check in to their rooms at The Ashford Estate.
And these rooms are incredible! Ashford has enough rooms on site for the couple, their wedding party and immediate family to stay overnight…unless you have some super huge wedding party and a ridiculous amount of immediate family members of course.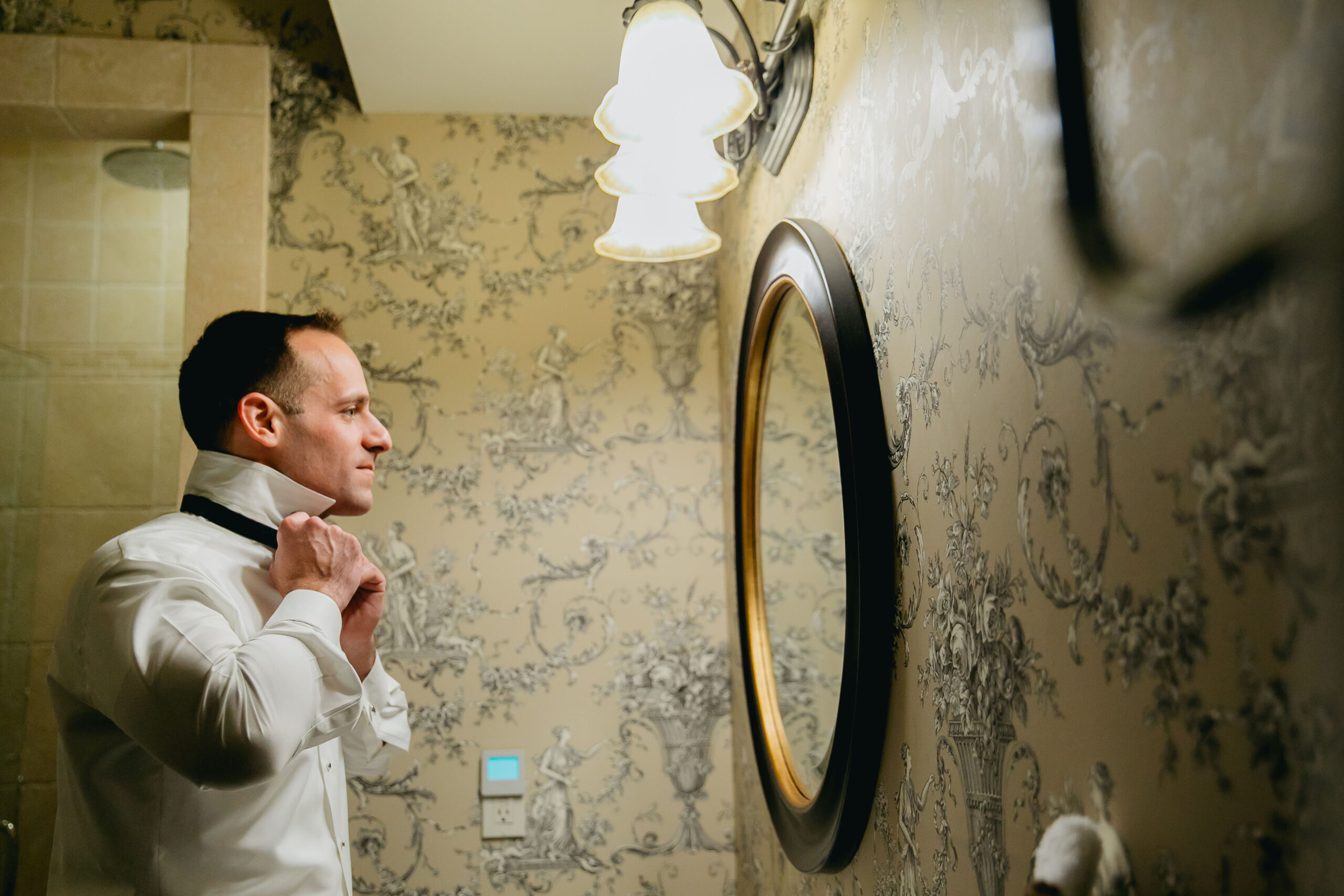 Bill and his guys all got ready and once Jordan was finished with hair and makeup, it was time to get up to the bridal suite to get dressed. These two did not do a first look (which I love by the way) so it was super important that we kept them from seeing one another before the ceremony.

Our team communicated all day by walkies as per usual to make sure we knew where the bride and groom always were. With Bill in his room and Jordan in the wedding suite, photos and video continued…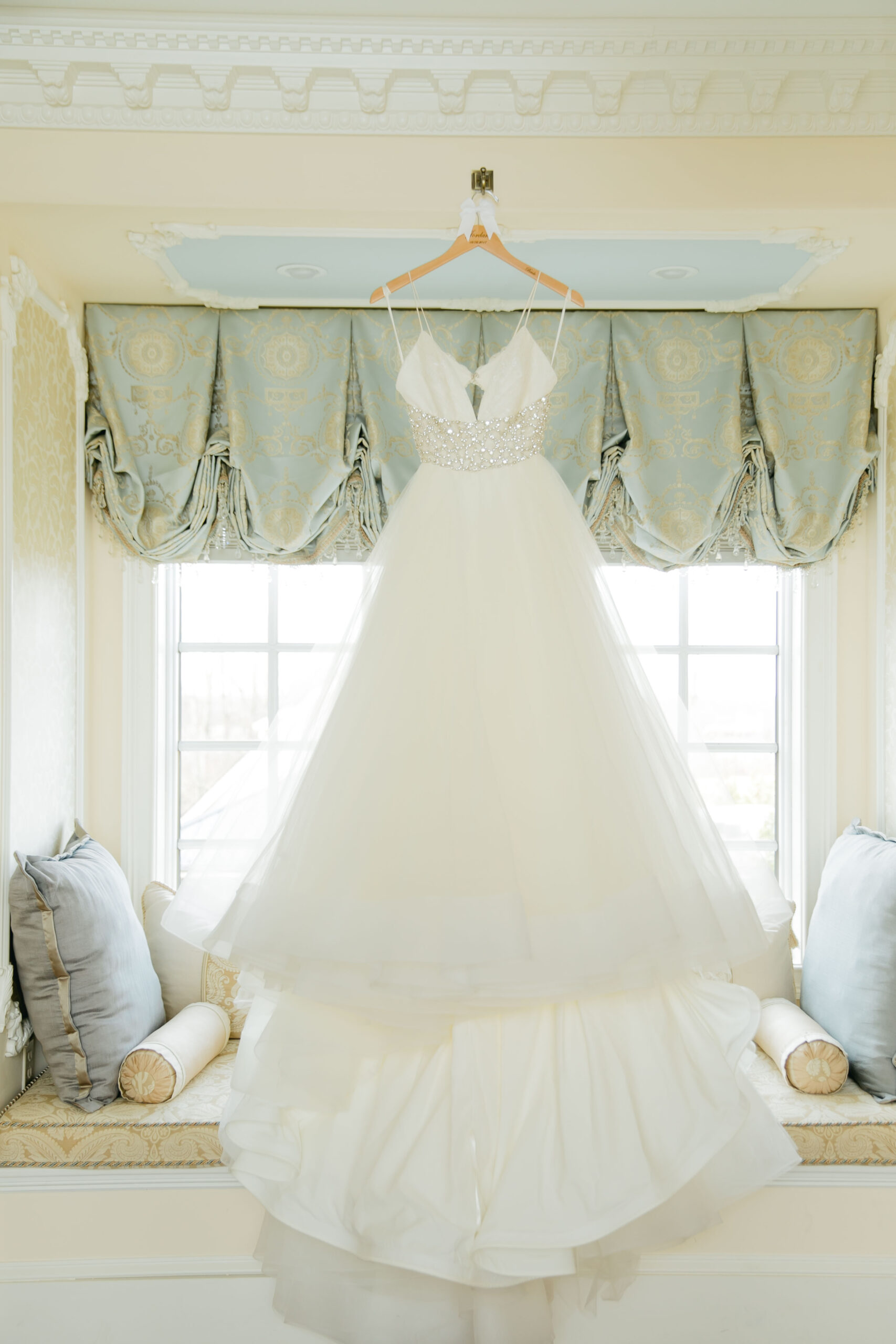 The wedding suite at Ashford Estate is just another one of my favorite things this place has to offer. Jordan's beautiful ballgown was placed in their window for detail photos and our team assembled everything else the photographer needed.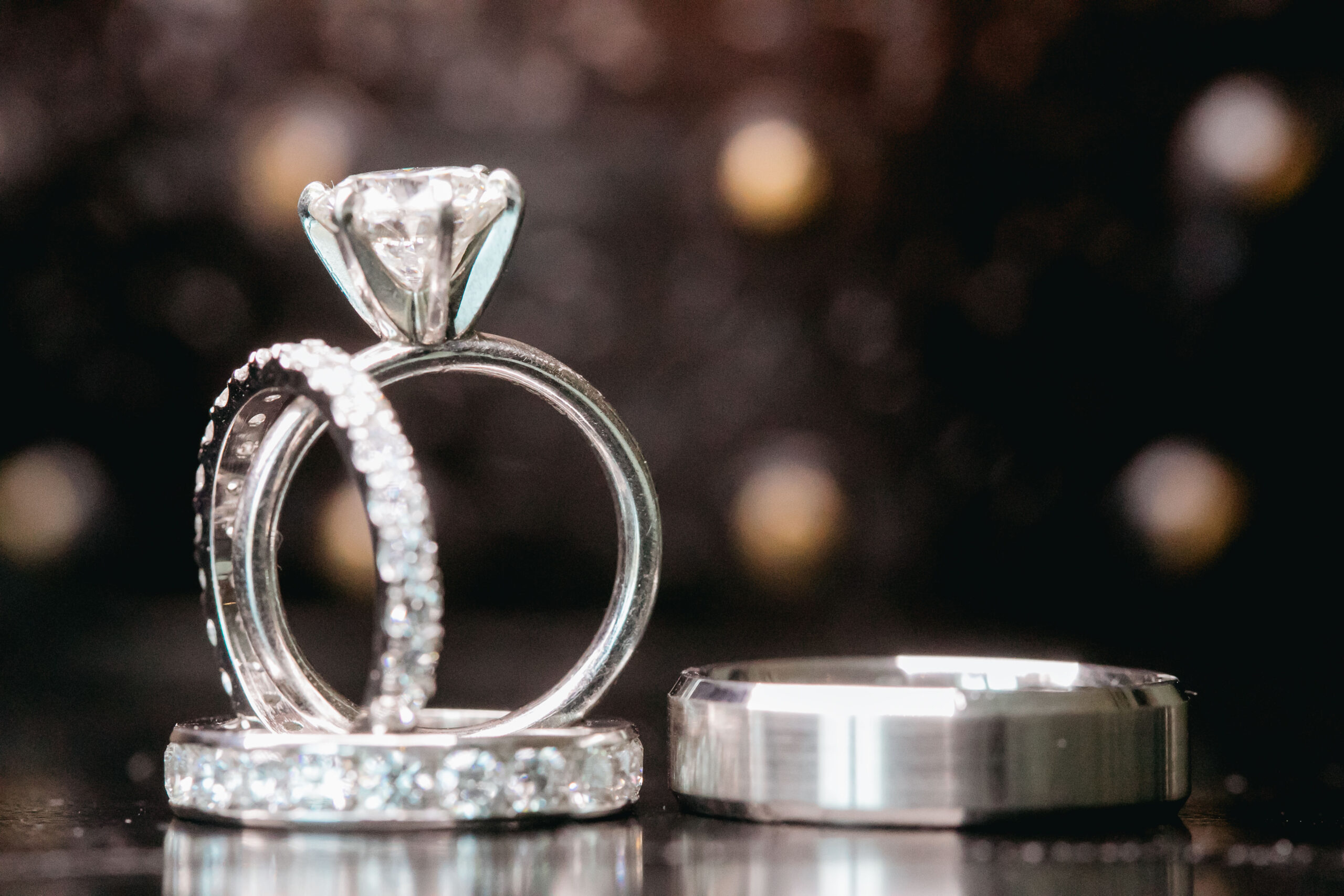 Jordan actually wore two wedding bands that were both placed on her finger at the altar. Two gorgeous circles of diamonds flanked her stunning solitaire and Bill wore a class platinum band.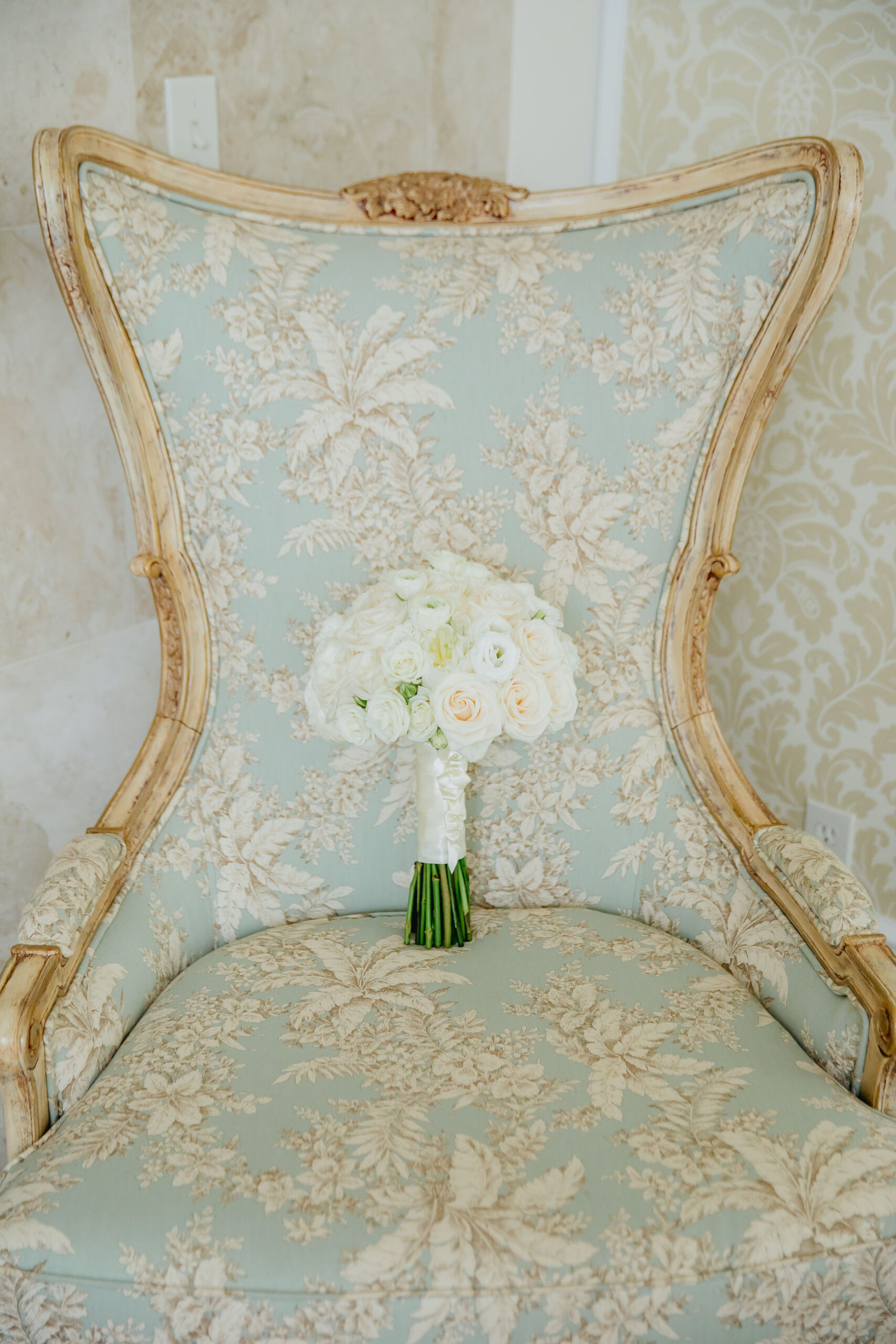 Each piece of furniture inside the wedding suite at The Ashford Estate is nothing short of stunning, making these detail photos for Jordan and Bill even better.

Our couple chose a winter white palette for their December nuptials, and wanted the overall look to be chic and luxurious. Jordan's bridal bouquet was filled with pale roses and wrapped with a satin ribbon.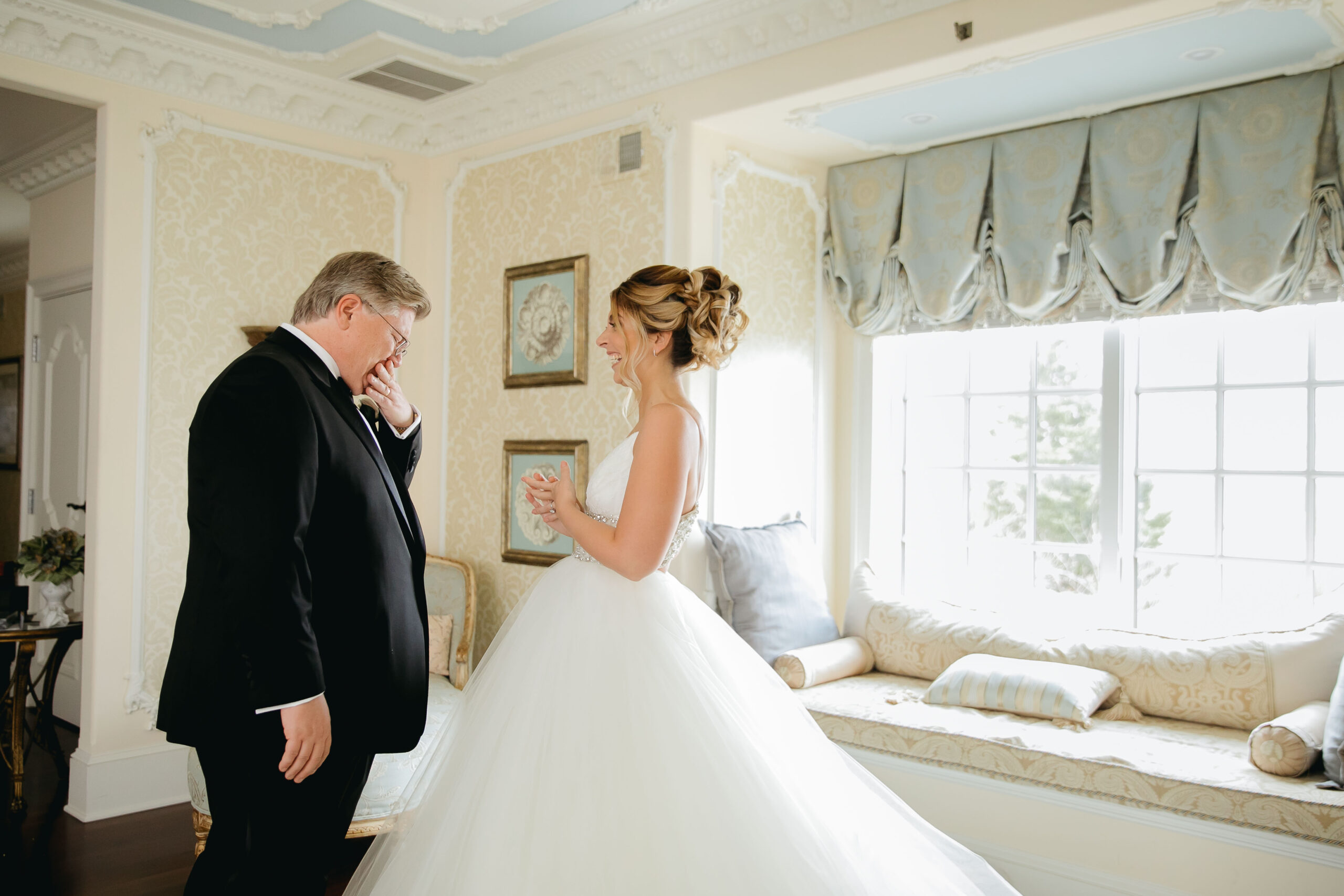 Even though Jordan and Bill didn't have a first look, Jordan shared this unbelievable moment with her dad shortly before the ceremony started. All dressed and ready to walk down the aisle, Jordan wanted to have this first look with her father and it was such a beautiful moment.
And yes, this was a dad that said he wasn't going to cry. So sweet.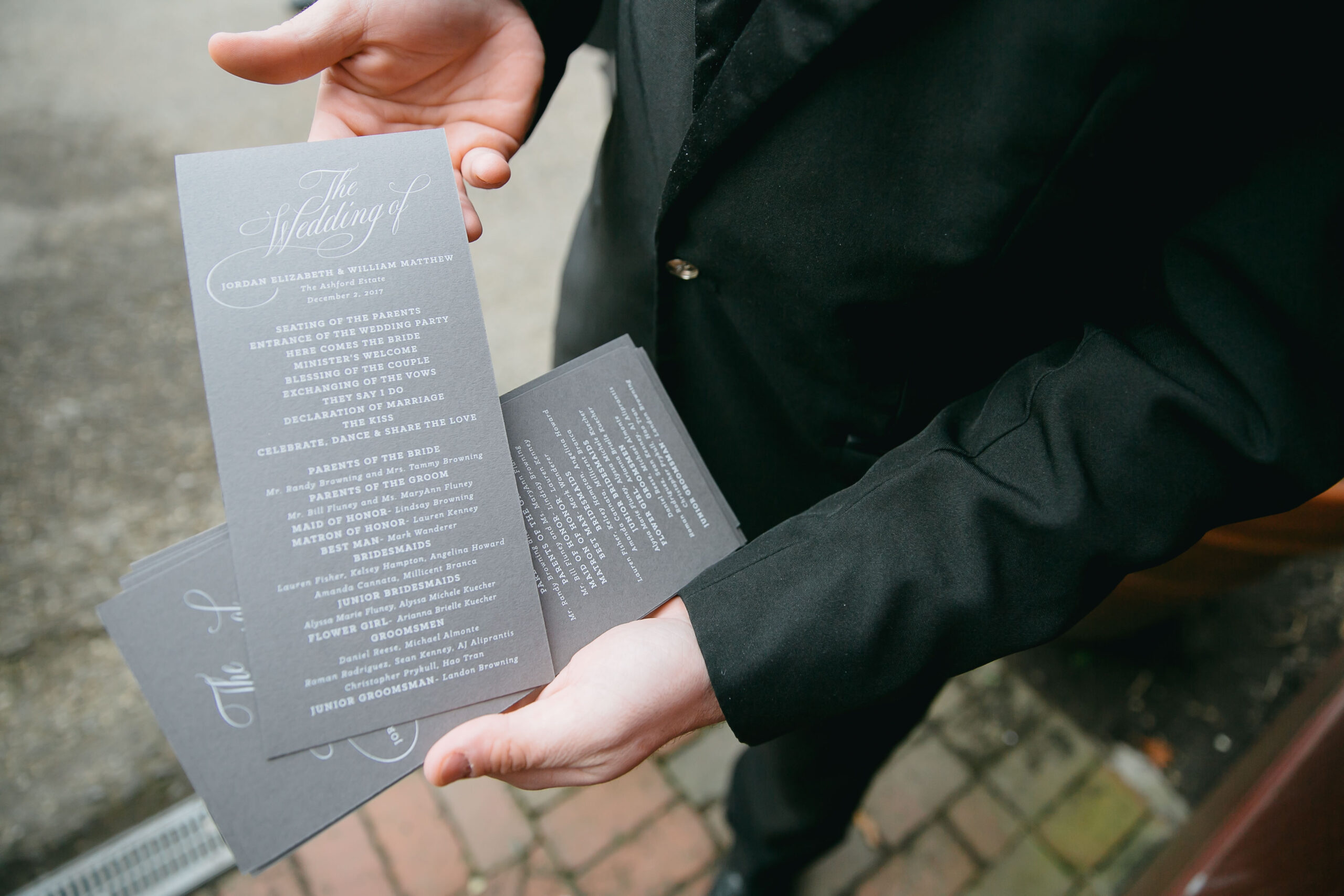 As guests arrived to the ceremony, they were greeted with groomsmen in all black tuxes passing out these gorgeous ceremony programs. Now, I know many of you are thinking that ceremony programs are unnecessary..
But you are wrong.
Anyway…these gray and white ink programs really got guests into the winter wedding mood, along with the stunning greenery decor throughout the barn at Ashford Estate.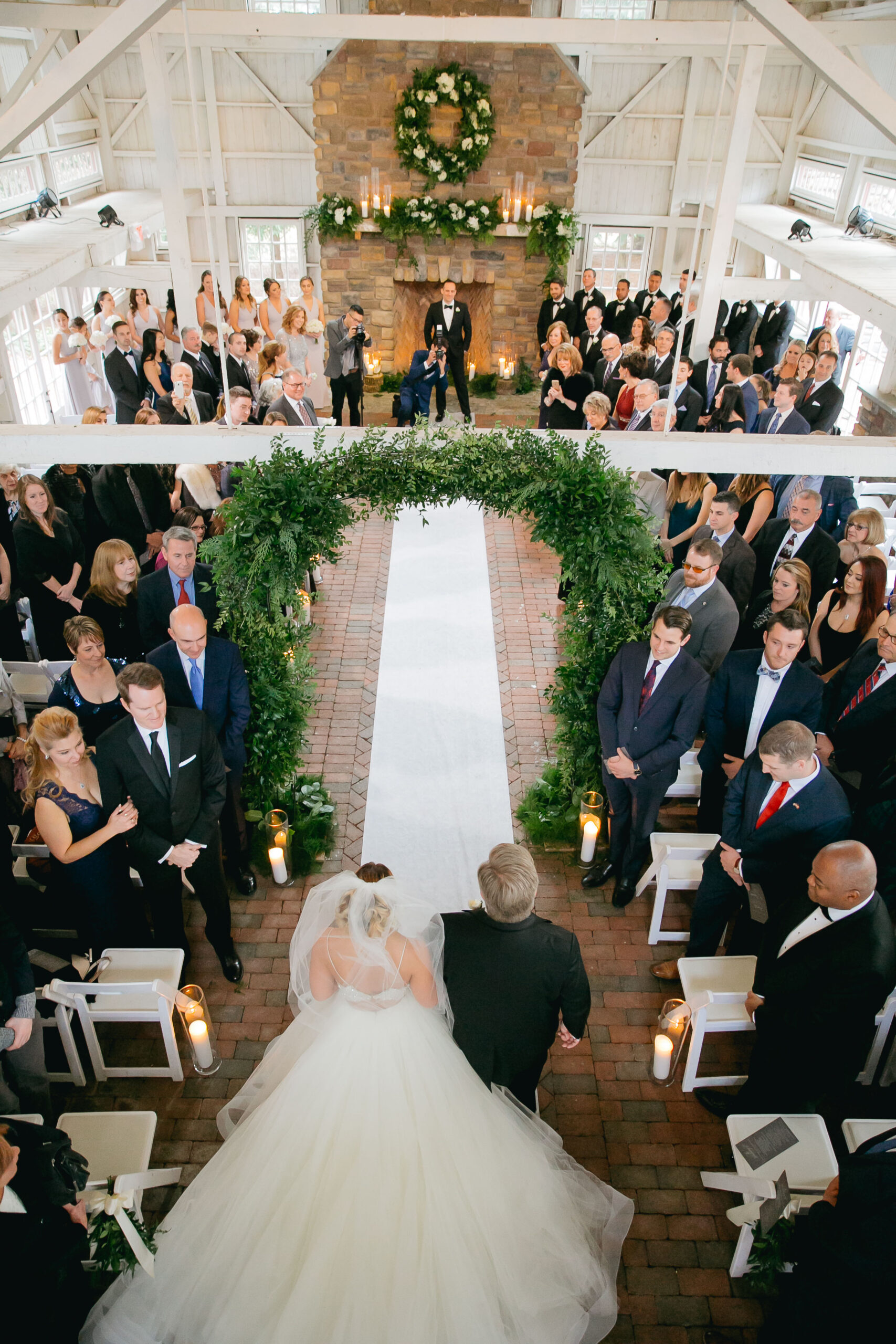 With an aisle lined with candles, Jordan was escorted to the altar by her father. When creating this ceremony design, it was important to Jordan and Bill that there be some color in this all white barn.
We added touches of greenery on the chairs, and created a beautiful green arch over the aisle. The mantle décor was an oversized wreathed filled with white garden roses to match the overall wedding aesthetic.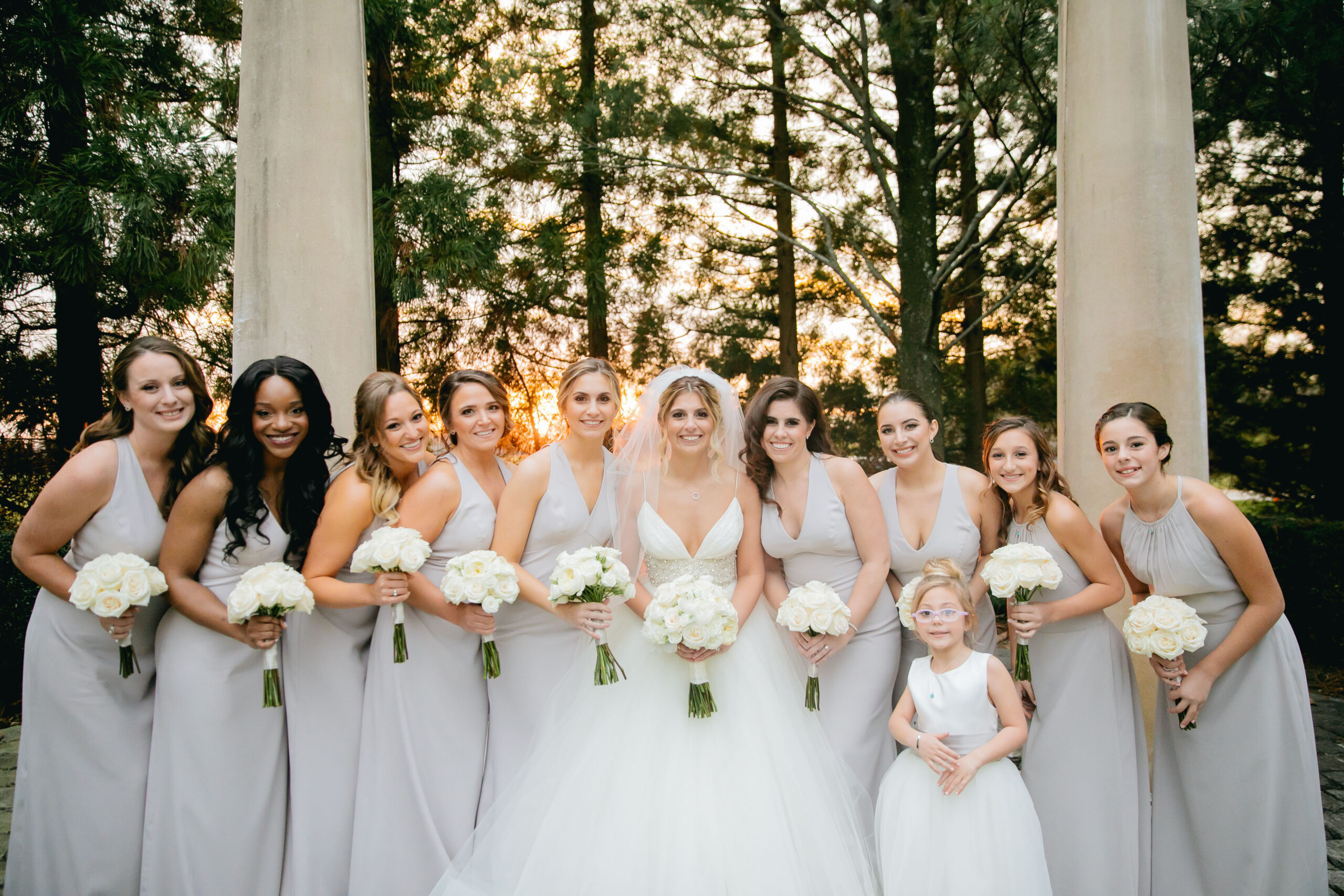 After the ceremony concluded, guests headed into the estate for cocktail hour while Jordan and Bill took pictures with their wedding party. Jordan's bridesmaids all wore light gray floor length gowns in two different styles. We kept everyone warm passing out hand and foot warmers during the outdoor photos!
Related: Our 2 Favorite Online Shops for Bridesmaid Dresses
(Looking for dresses like these? Keep scrolling and we'll tell you where to get them!)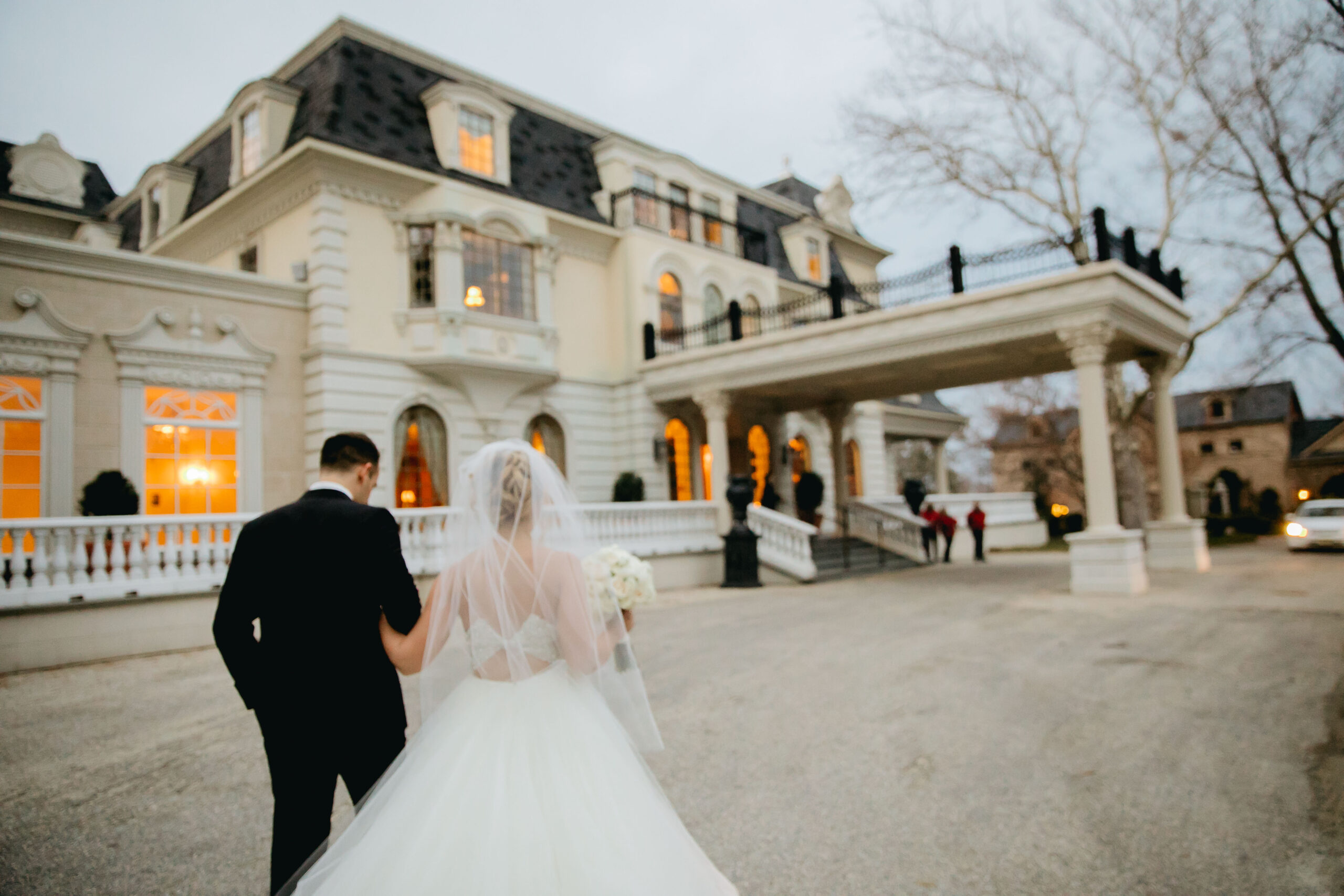 Once photos were finished, Jordan and Bill headed into the estate to join cocktail hour. Of course, not before taking a few minutes to themselves to enjoy and little food and beverage without being interrupted by 180 guests!
How gorgeous is the entrance to this place?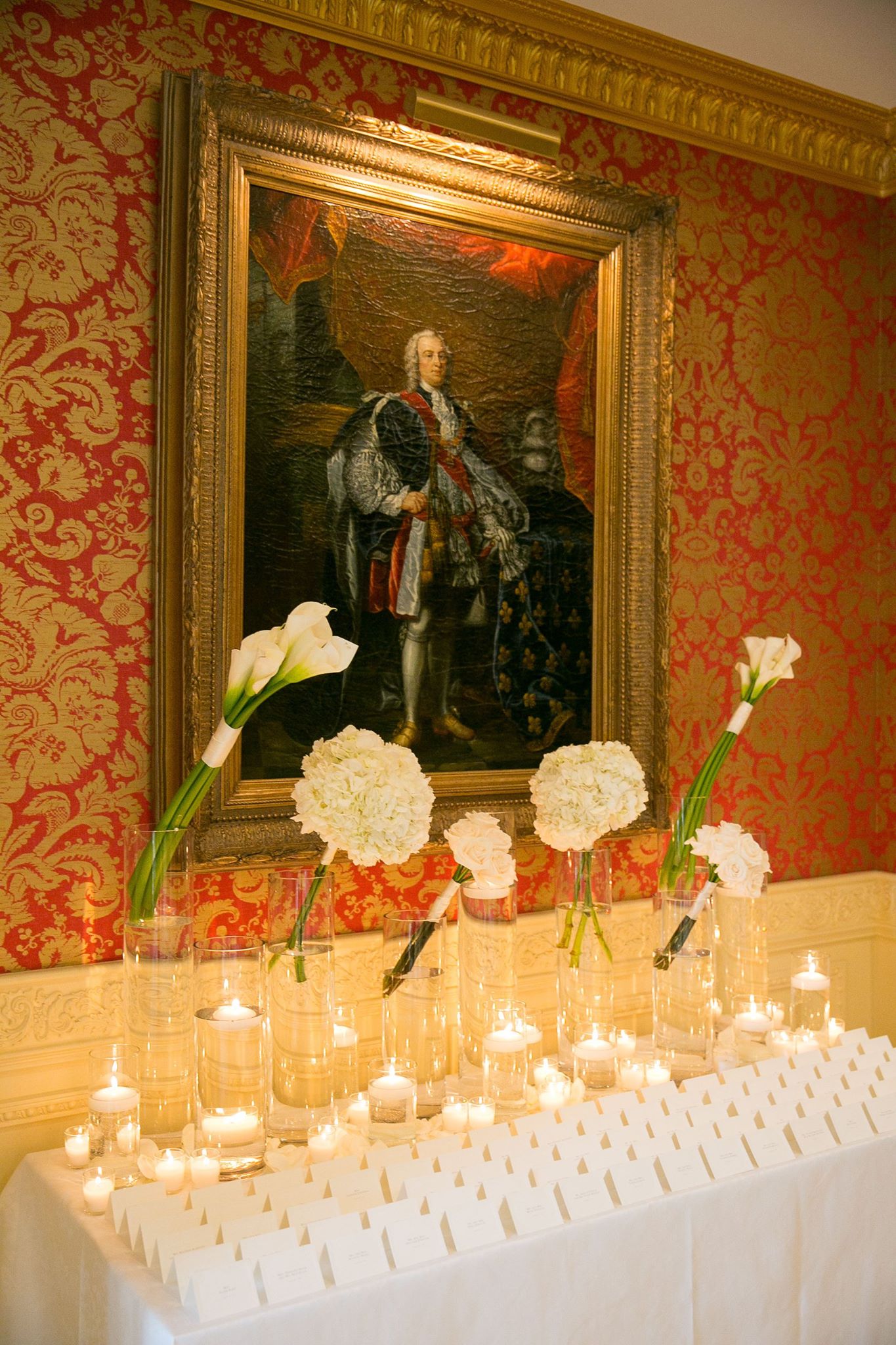 Inside the estate was the beautiful escort card display for guests to see at the beginning of cocktail hour. Classic ivory cards against plenty of candlelight certainly gives winter wedding magic and luxury!
The floral display was a version of one of the centerpiece designs and we used a luxury linen with a slight pattern to drape across the table.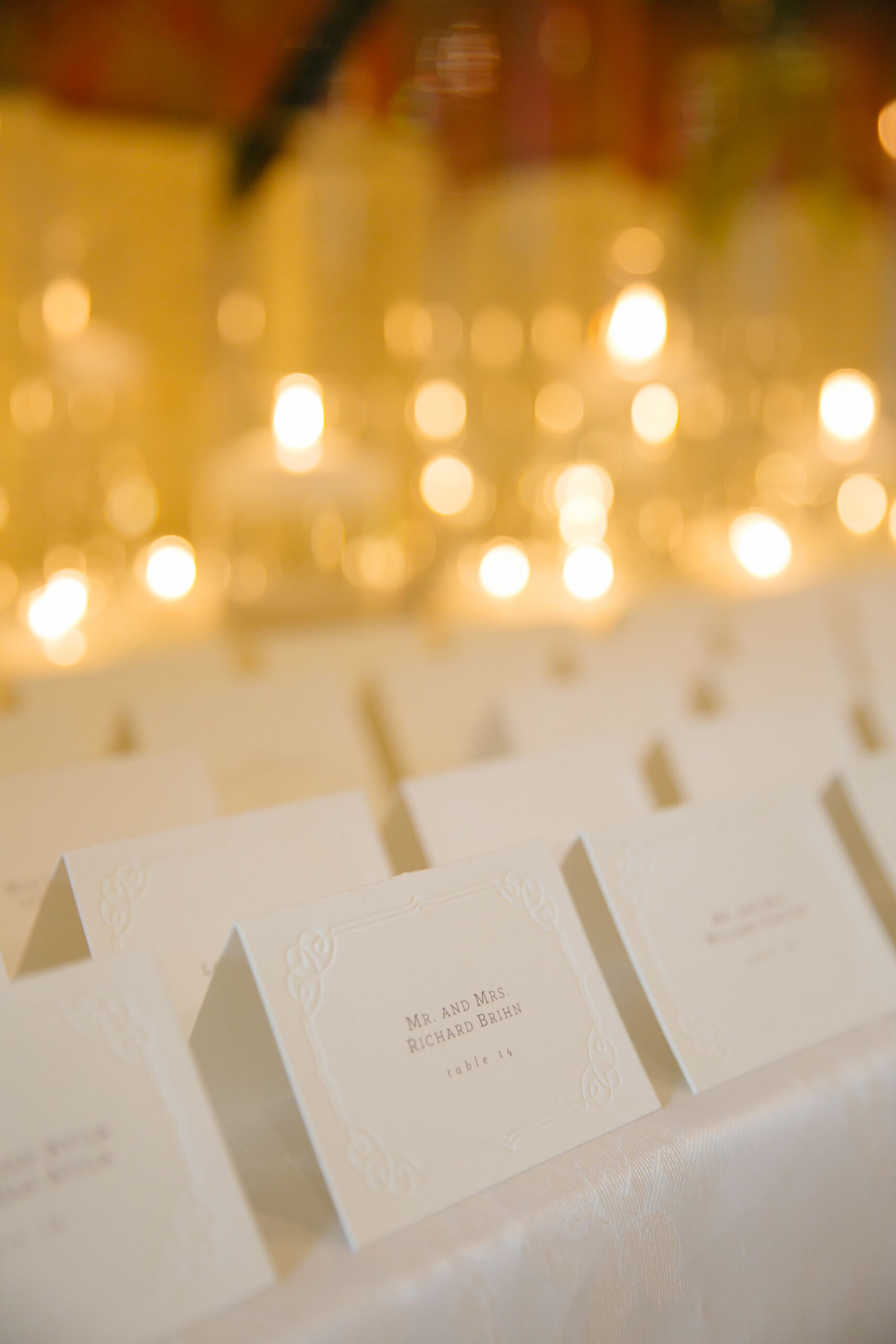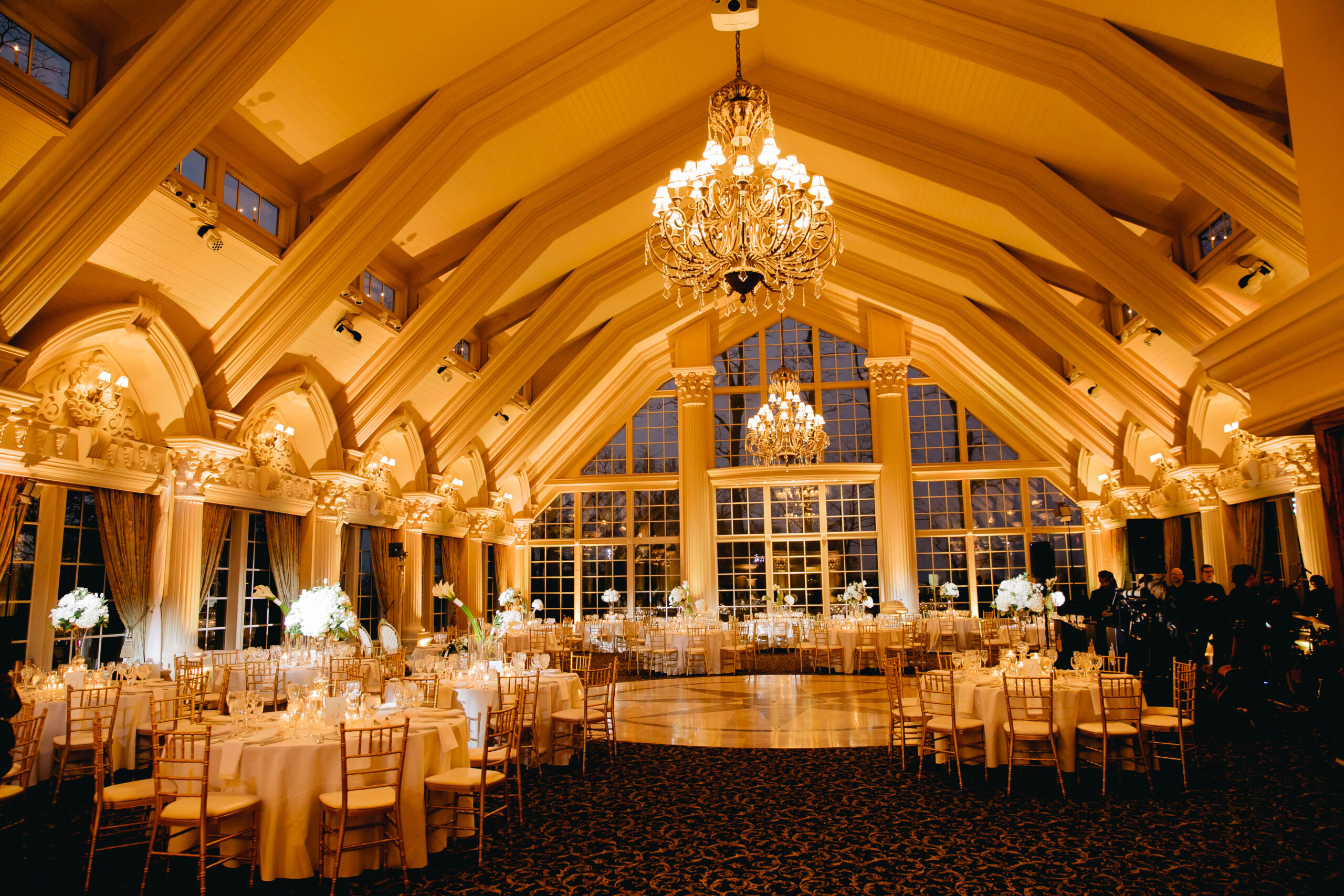 As cocktail hour ended, guests walked from the estate to the ballroom and were greeted with a gorgeous ballroom filled with gorgeous lighting. We created a romantic candle vibe using uplighting and wall washes.
In order to highlight the centerpieces, our lighting designer set up pinspots for each table. The band was already playing by the time the first guest entered the room to find their seat.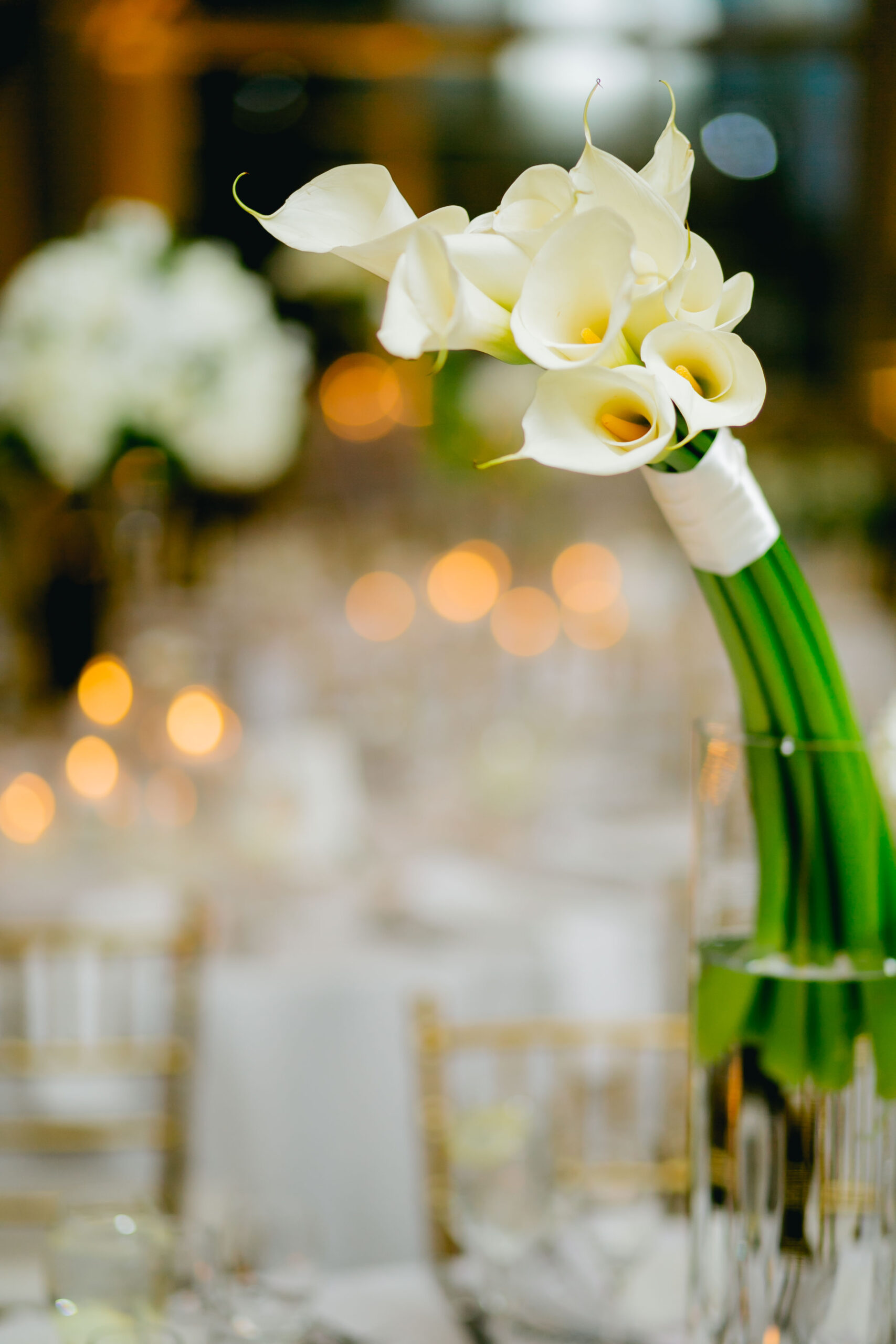 We designed two different centerpieces for Jordan and Bill's wedding. One table featured a more modern look with three different types of white flowers in clear holders and pinned to the top.

The second centerpiece design was very traditional featuring a mix of white hydrangea, white garden roses, and touches of greenery. Each display was surrounded by candles.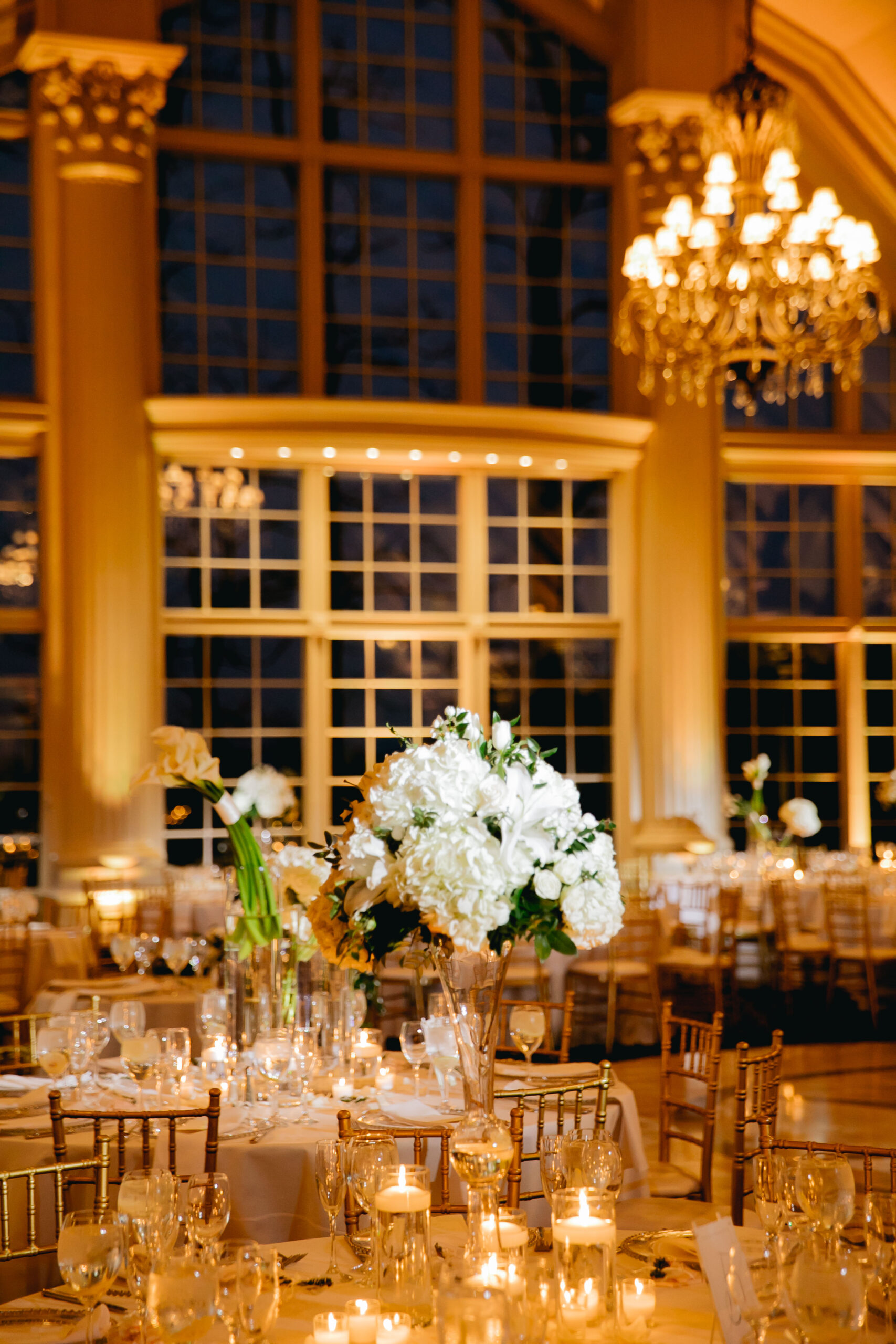 Of course, before the guests could enter the room, we had a room reveal with Jordan and Bill so they could see everything first. At each table were their beautiful hand selected charger plates and custom designed menus.
Jordan and Bill opted to have their guests receive their fun peppermint bark favors during the reception too!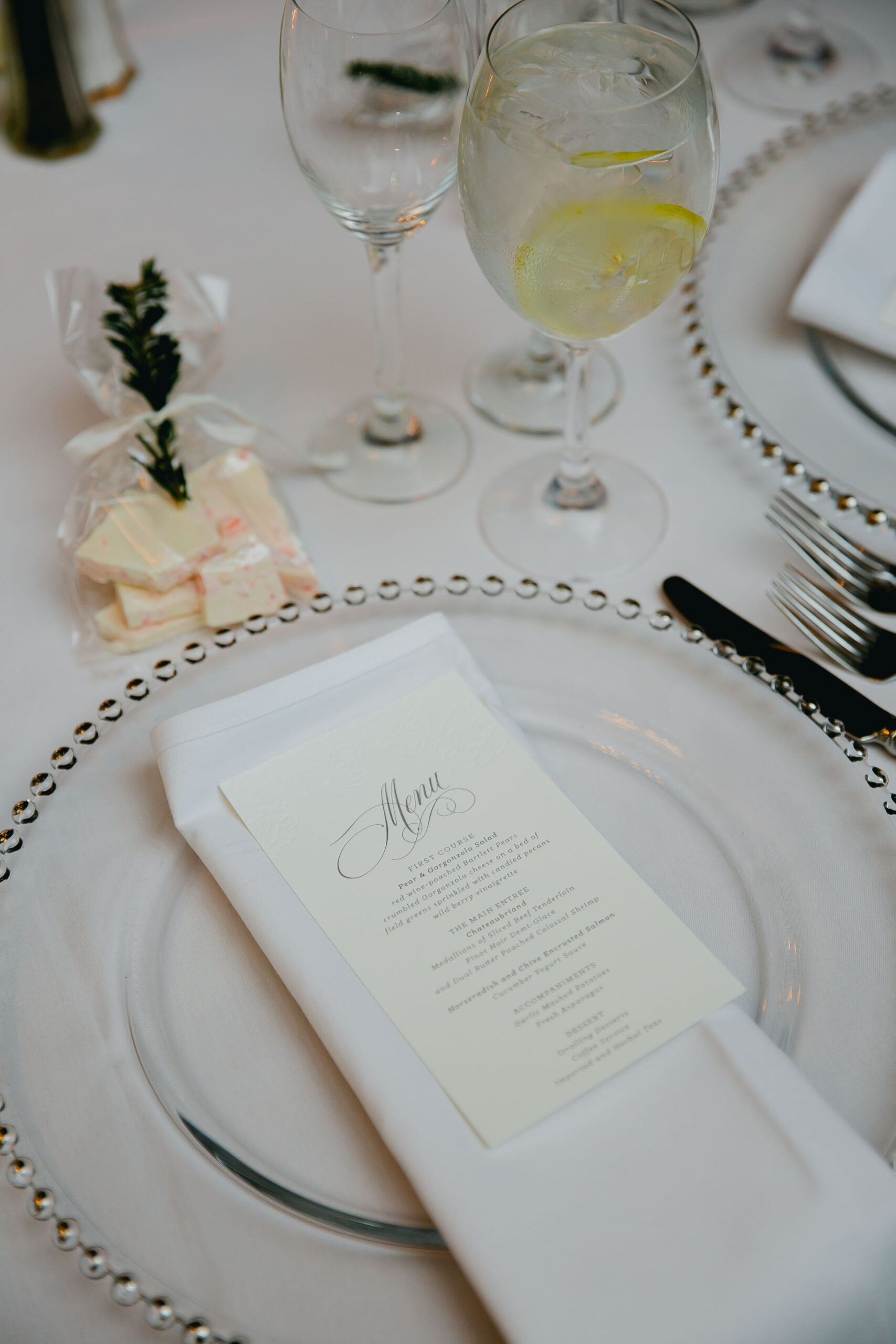 Once the room reveal ended and guests were in the beautiful ballroom, it was time for the wedding party and our couples to make their grand entrance.
Honestly, one of my favorite parts of any wedding is being right there with my couple when the doors open and it's time for them to relax and enjoy the party after all that time we spent planning…which in this case was well over a year!
Jordan and Bill entered and went right into their first dance as their friends and family looked on with joy. The couple selected one of our favorite bands to play their wedding and the dance floor was packed all night!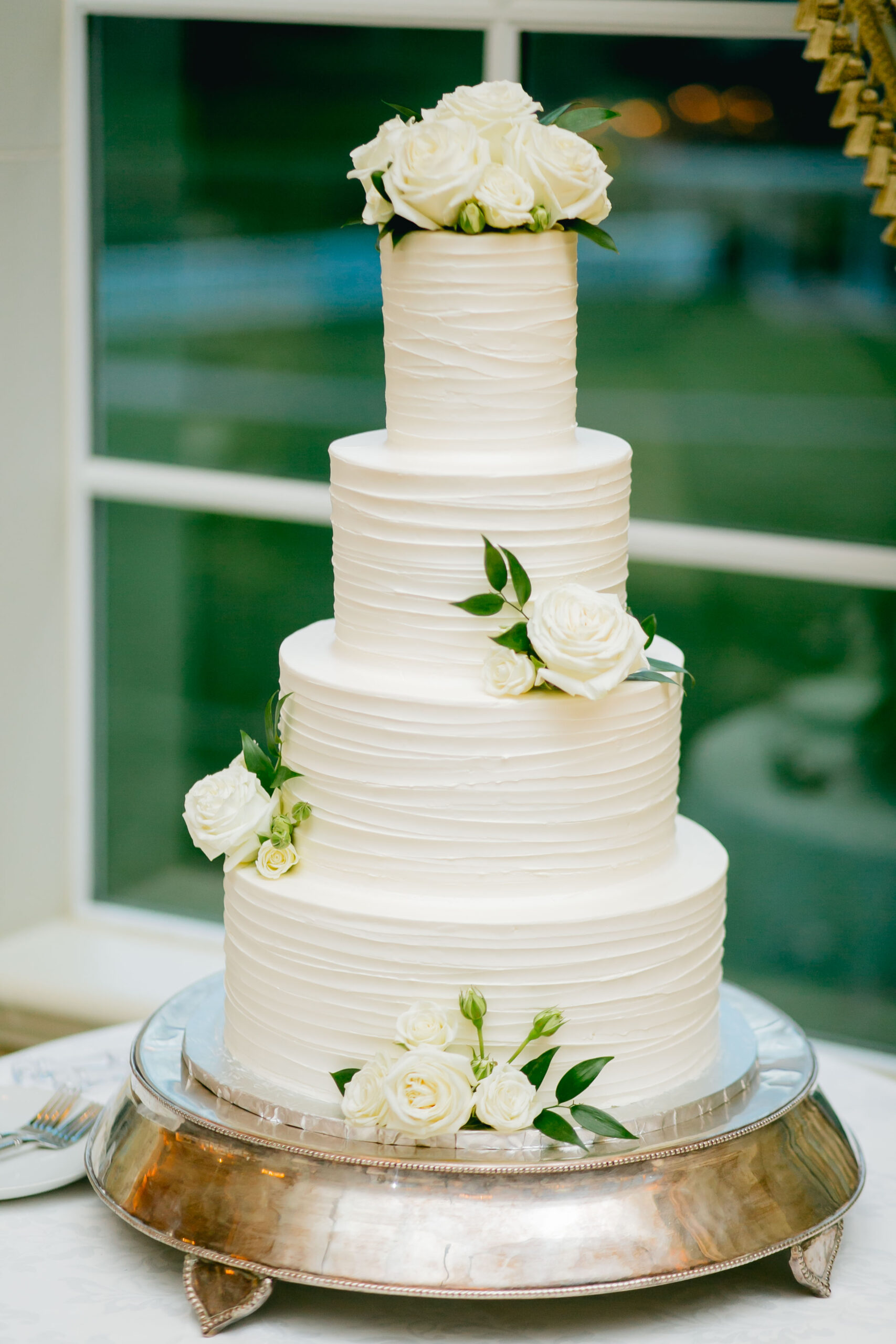 To match their classic chic style, Jordan and Bill went with an all white wedding cake and our florist added small touches of white spray roses and greenery to bring the whole look together.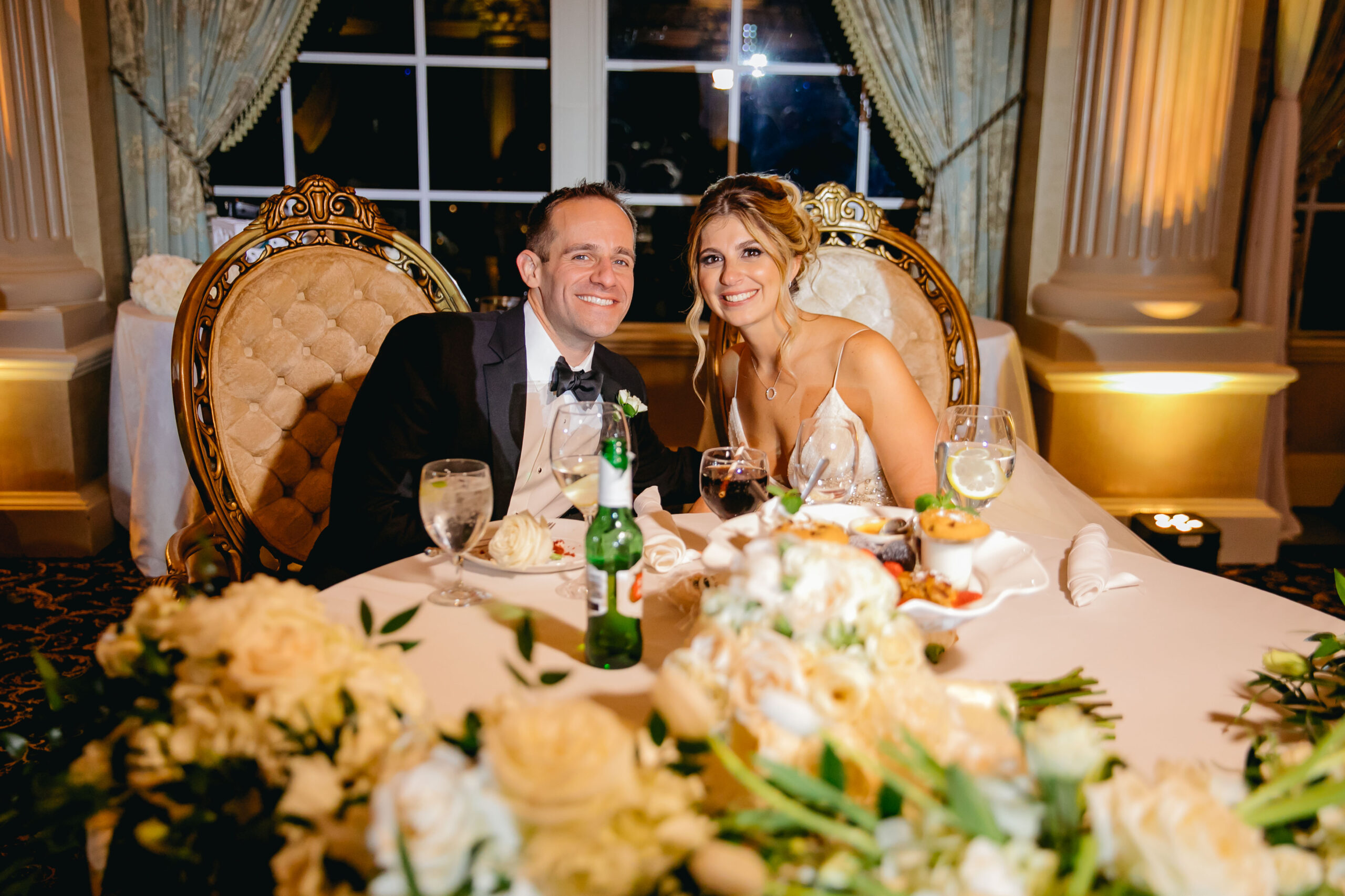 Another favorite detail of mine from this wedding has to be their sweetheart table. Thankfully, head tables are a thing of the past, and the couple gets a chance to just be with each other at their own spot.
Check out those chairs we brought in too! How gorgeous are they?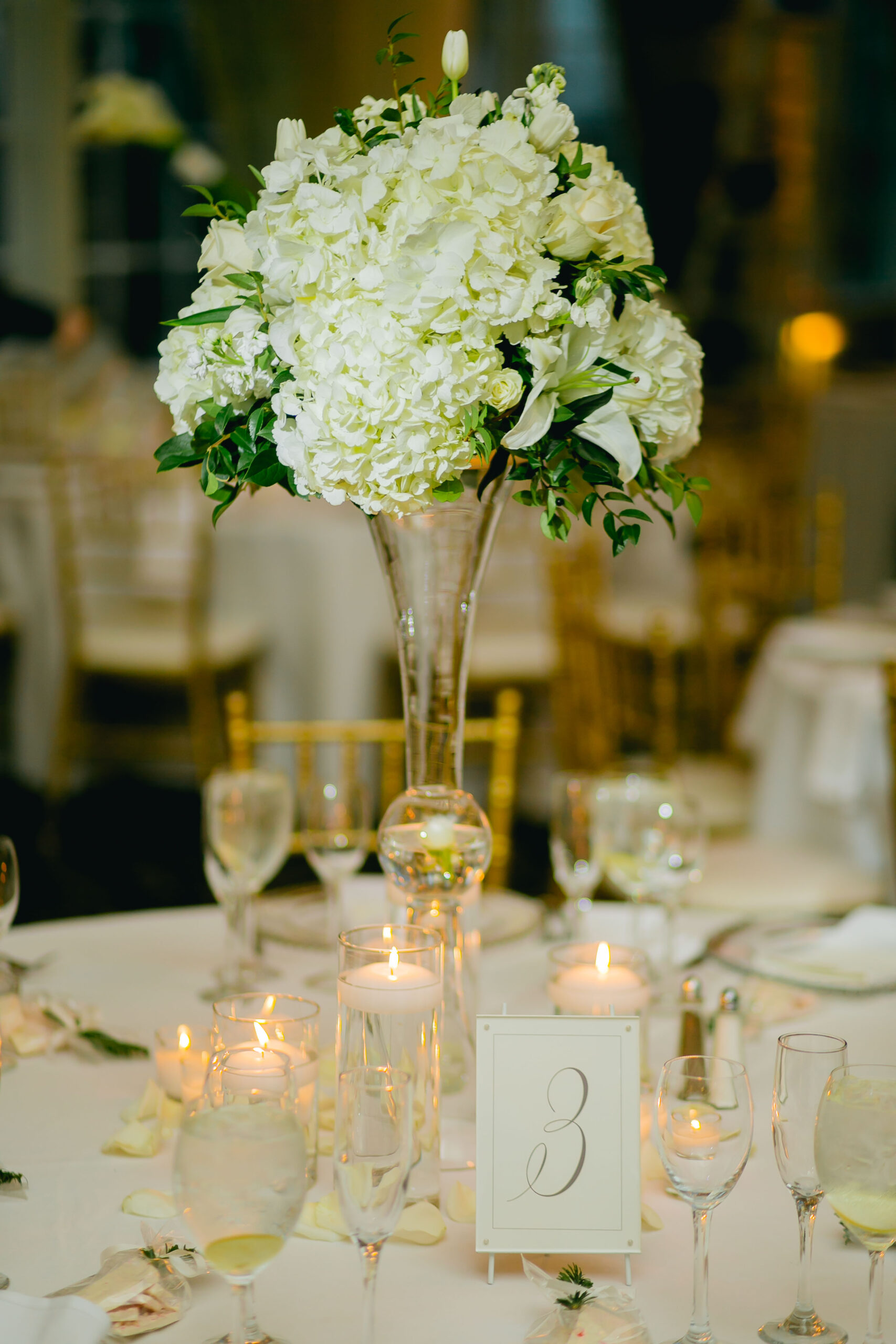 Jordan and Bill's winter wedding at The Ashford Estate was nothing short of magical and I had the best time planning with this couple and their family.
Looking for ways to steal this style for your own wedding day? Here are some gorgeous bridesmaid dresses and invitation suites that would work beautifully!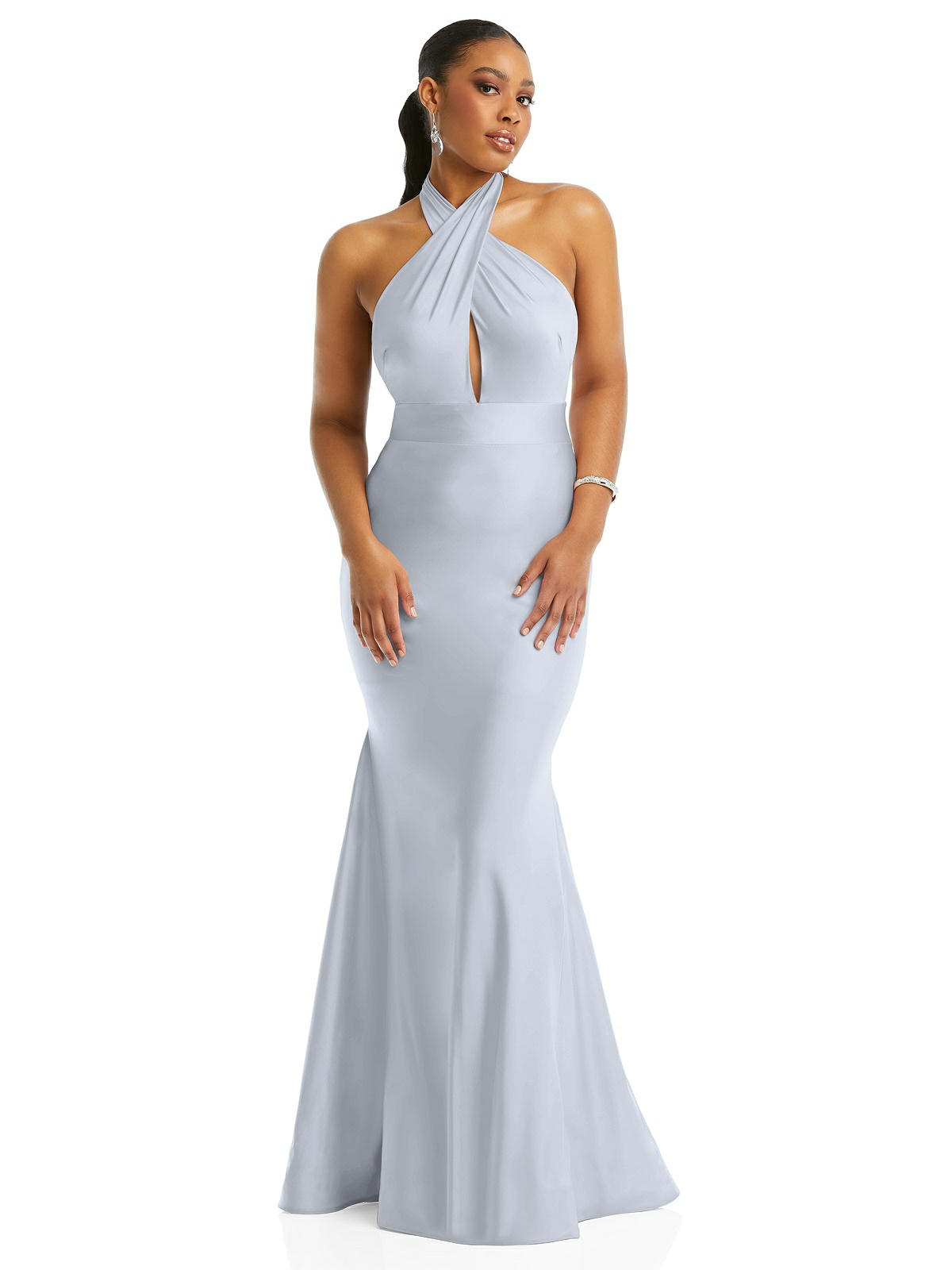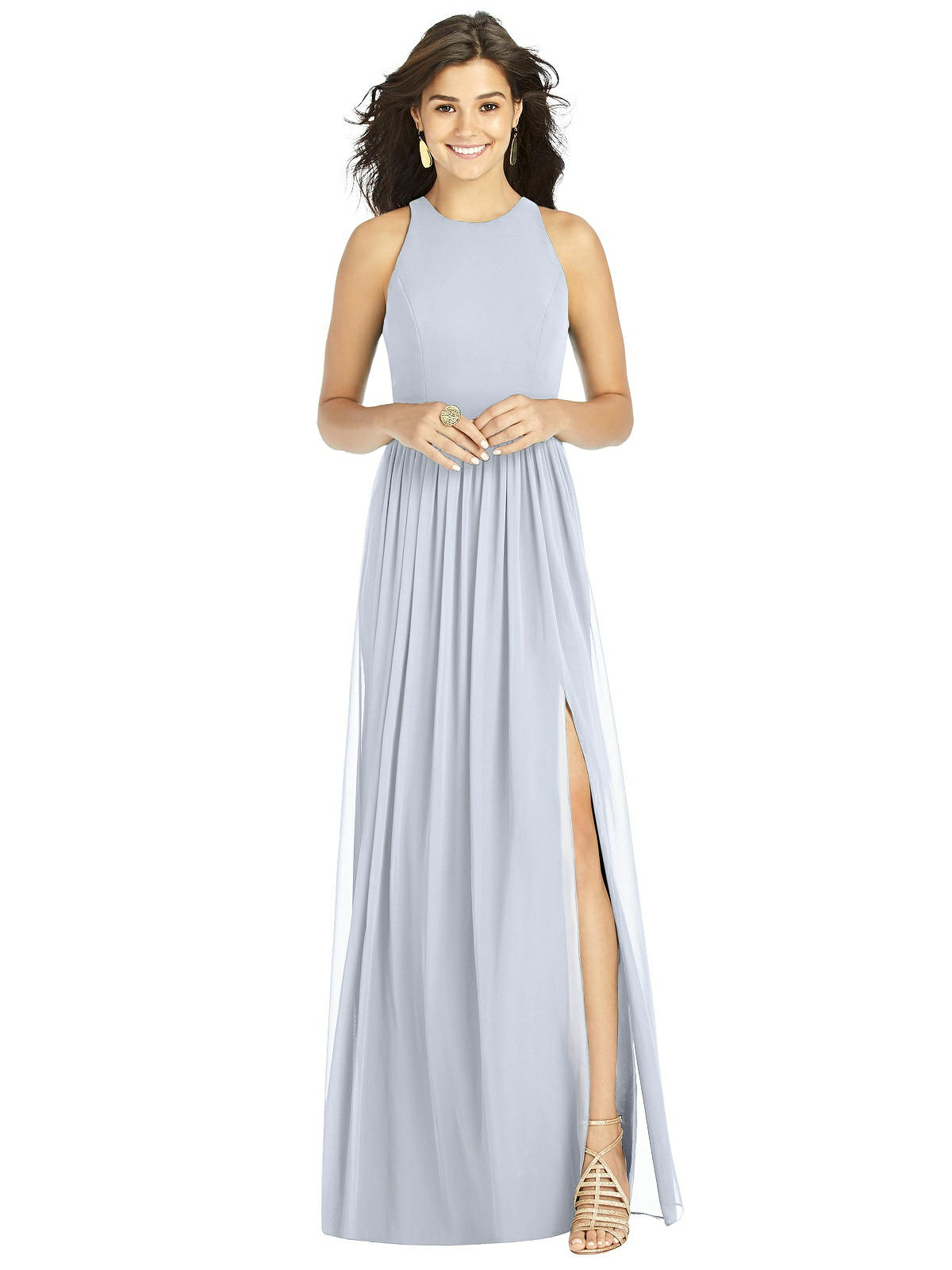 For more gorgeous gray options, head over here!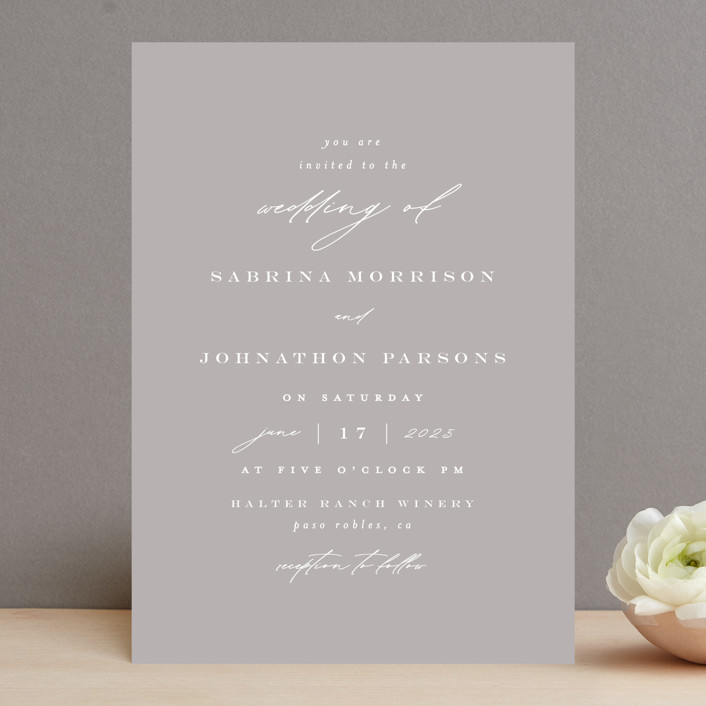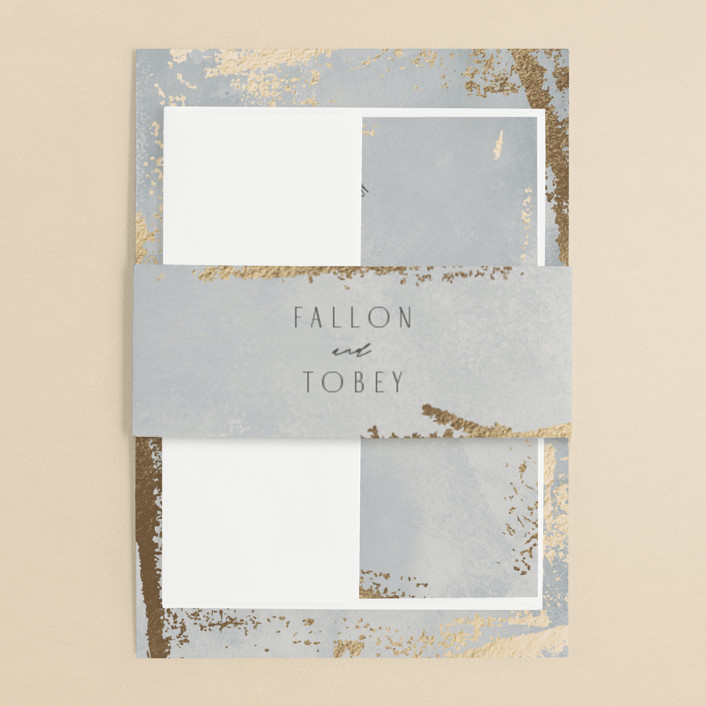 Vendor List
Venue: The Ashford Estate
Planner: Rothweiler Event Design
Photo/Video: Domenick Michael
Florist: A Touch of Elegance
Stationery: Darling and Pearl
Hair and Make-Up: Pink Comb Studio
Bridesmaid Dresses: Bella Bridesmaids
Rentals: Party Rental LTD
Linens: BBJ Linen