A blog about Valentine's Day wedding ideas, might make you think about some huge cliches you want to avoid. But, this blog isn't just about red roses and chocolate.
As someone who never really got into the whole Valentine's Day craze, I can totally appreciate those that see it as a "Hallmark holiday". After all, shouldn't your other half treat every day like Valentine's Day?
Short answer: Duh, of course.
Related: The Best Valentine's Day Gifts for Everyone in Your Life
This blog isn't about the basic bitch stuff that makes so many of us cringe. In fact, it's about grabbing the idea that romance comes in all shapes, sizes, and colors. Just in the same way that no two weddings are identical, there are no rules when it comes to getting inspired by February 14th.
For ways to infuse your type of romance into your wedding, read on!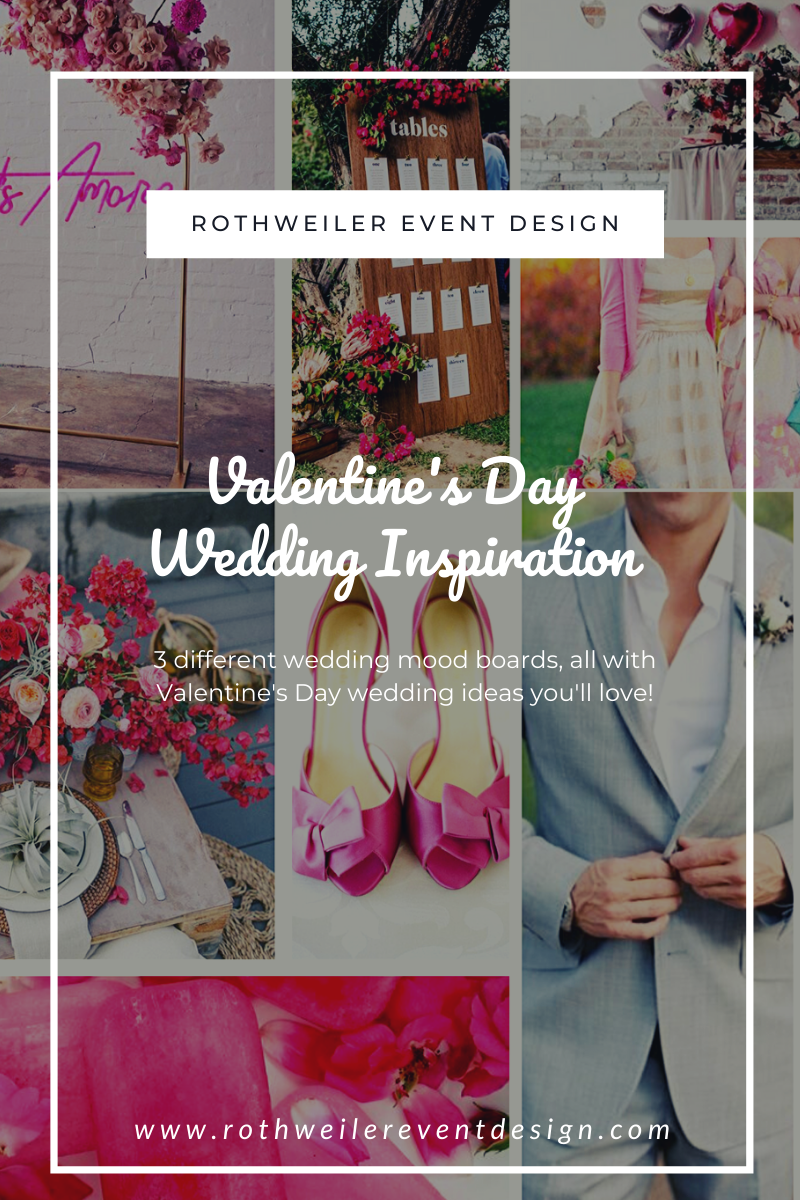 *Please note that most of the links of this page are affiliate links. This means if you click on a link and purchase, you will receive the same price, but I will receive a referral fee. This helps keep my blog free and allows me to share wedding planning tips with you. Thanks for your support!*
How Many Couples Get Married On Valentine's Day?
A quick Google search will tell you that over 16,000 people will celebrate a wedding anniversary this upcoming February 14th. That said, this holiday is not exempt from the three most popular days chosen for a wedding: Friday, Saturday, and Sunday.
Basically, if the holiday falls on a weekend, it has a better chance of being selected for a wedding date, than if it fell on a Wednesday. This year, Valentine's Day happens to be a Friday.
Related: Valentine's Day Weddings and Everything You Want to Know
Next year, February 14, 2021, will land on a Sunday. I probably don't have to tell you this, but of the three weekend dates, it's always Saturday that is the most popular.
You don't have to get married on what's said to be the most romantic day of the year in order to infuse a little cupid inspiration into your wedding day. Romance and weddings go hand in hand for even the most laid-back unconventional couples. After all, a wedding is about two people being so in love they never want to be with anyone else, right?
As a wedding planner, I'm always inspired by the romance my couples bring to the table. Their stories are all different from how they met to why they fell in love. When I work with these couples, it's important to me that their wedding day reflects their story and not something they found on Pinterest.
Inspired by the romance of Valentine's Day and weddings that take place any day of the year, plus thinking about all the unique wedding ideas out there, I wanted to put together a blog that everyone could relate to.
Whether you're a hopeless romantic that makes dinner reservations a year in advance for February 14th, or, you're like me and still upset that your 7th grade boyfriend got you a potted plant while all of your friends got roses and balloons thus scarring your thoughts about Valentine's Day for life….
…I promise you, there's something in this blog for everyone that's wedding planning!
Valentine's Day Wedding Ideas for the Boho Bride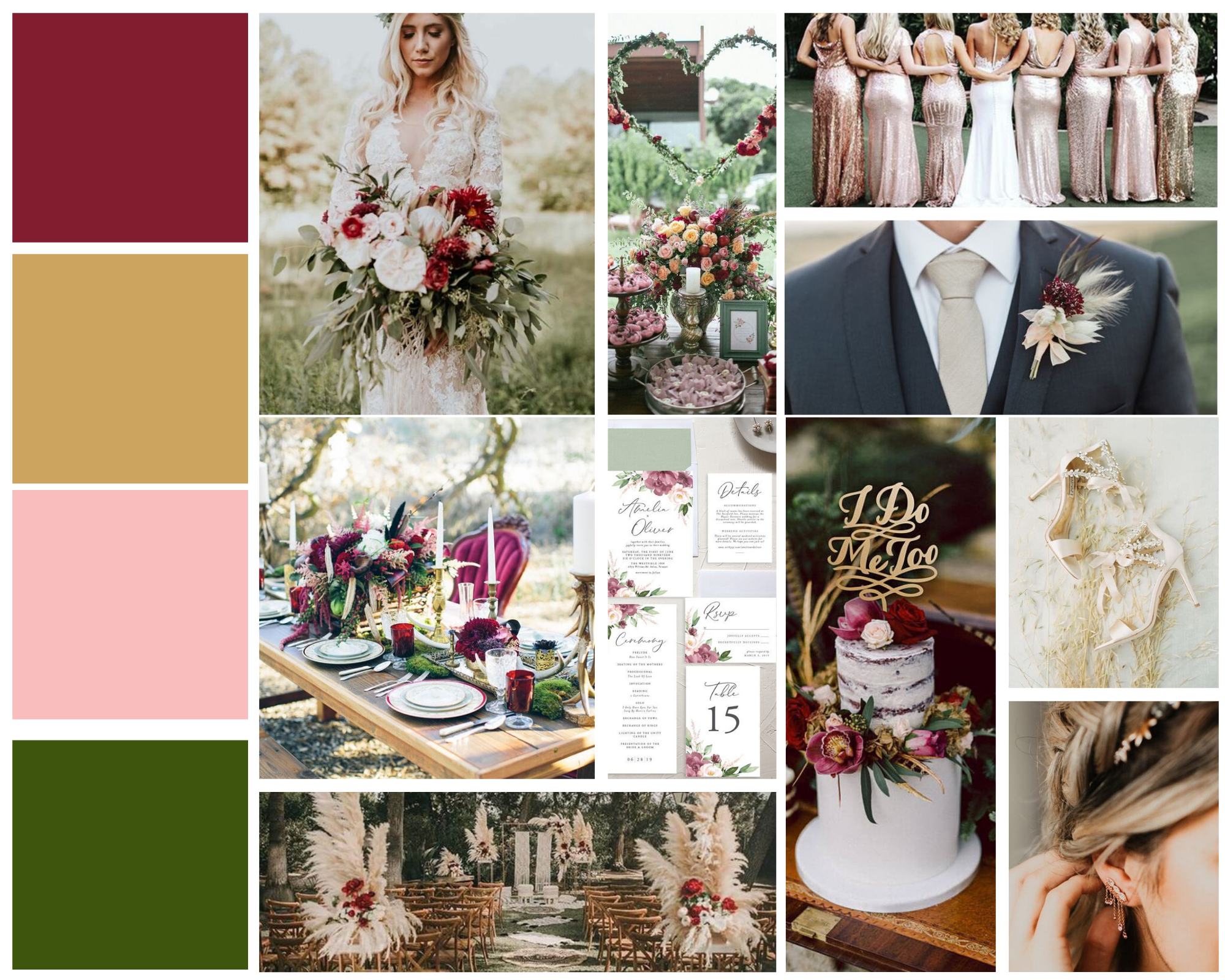 Boho weddings have been trending for the past 2 or 3 years now. Every year they seem to take off in a new direction, which is why this wedding trend isn't going anywhere anytime soon.
It's not just about the coachella (which my computer didn't even have in the dictionary) or festival bride either. This style comes with plenty of adjectives like whimsical, romantic, and ethereal. Indoors or outdoors, doesn't matter, and you can channel your inner bohemian no matter your wedding location.
Bohemian Wedding Invitations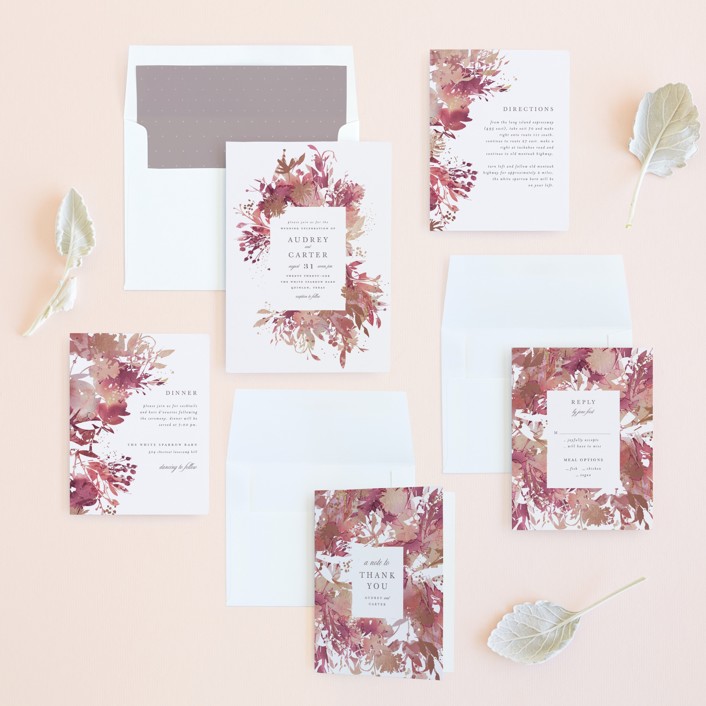 These boho wedding invitations from Minted pull in the signature Valentine's Day color with different shades of pink. The design is broken up with champagne, taupe, and white, making it less in your face Hallmark holiday and more subtly romantic. You can create this suite exactly as you want by visiting Minted right here!
Boho Wedding Dress With Sleeves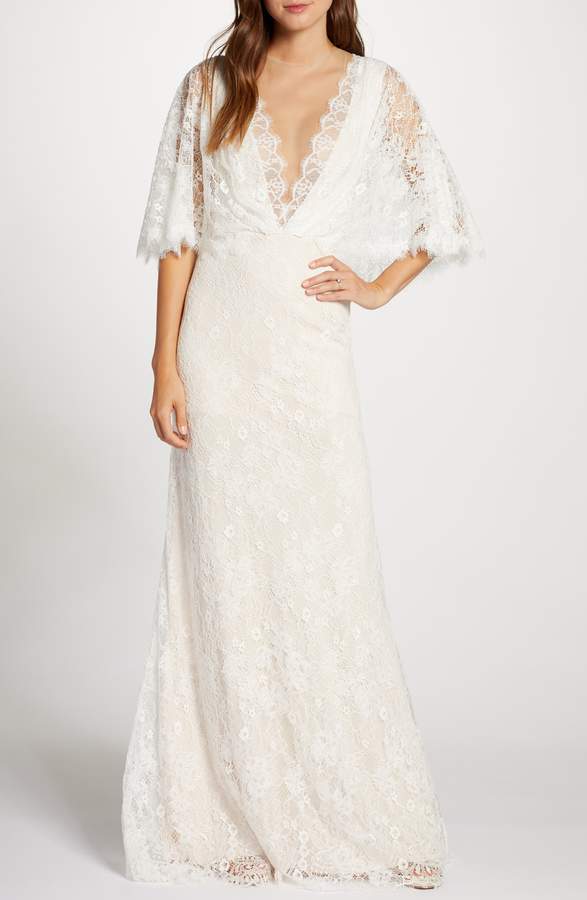 A boho lace wedding dress with sleeves isn't always easy to find, despite how hot the trend is right now. Plus, lace can be a tricky fabric…either it's too much or not enough, or it's too formal or looks too cheap. Believe me, I have heard it all from my brides, whether they were looking for lace or looking to avoid it completely!
This romantic option from Nordstrom has a plunging neckline while still staying conservative. Plus, the price is so amazing you'll be bragging to all of your friends about the affordable boho wedding dress you snagged!
Gold Boho Bridesmaid Dress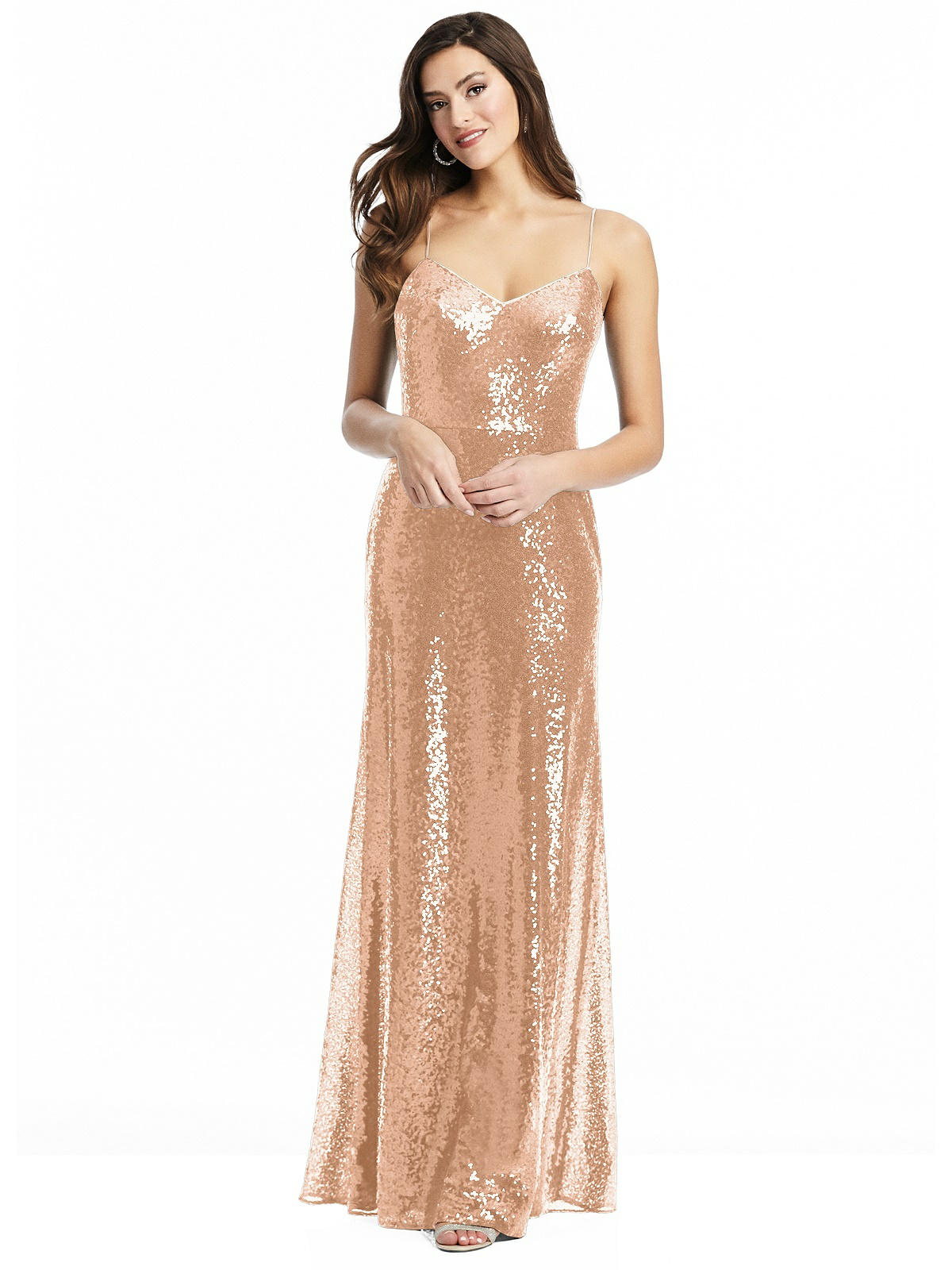 This Valentine's Day wedding idea comes with the thought that every woman likes at least a little sparkle. The gold trend in weddings is super hot right now, and versions of gold like rose and copper are still popular.
Whether you are obsessed with Valentine's Day and or not so much, this gold boho bridesmaid dress is the perfect choice. Dessy has created this option to be part of the mismatched bridesmaid dress look. This means you can add a little bit of sparkle using this only for your Maid of Honor with coordinating dresses, or going all the way and giving this option to your entire squad!
Lace Bridal Footwear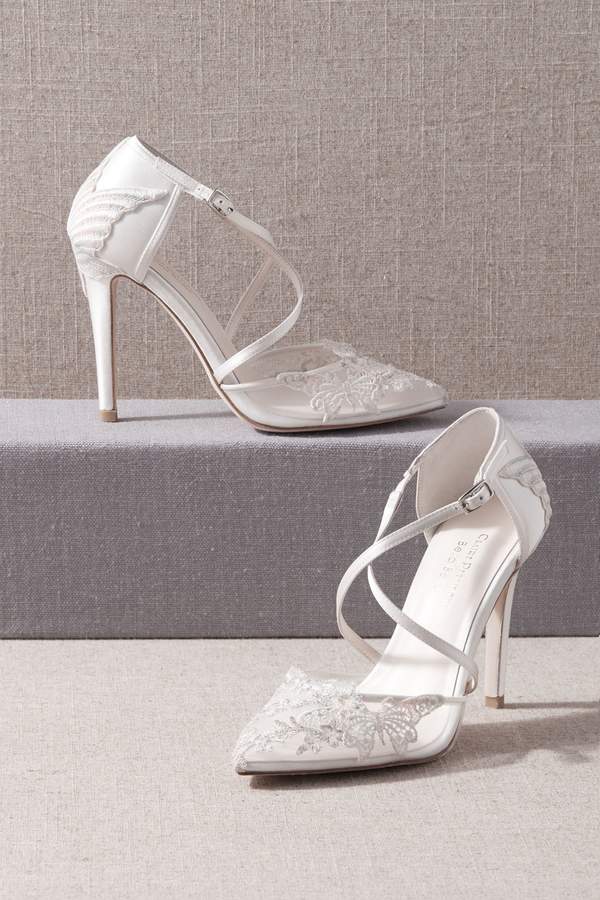 Is there a fabric more romantic than lace? I think not…
Whether you choose to go with the lace wedding dress or lace bridal heel, nothing completes the bohemian bridal look more than a lace detail. These wedding day shoes give off serious boho bride vibes with the funky strap design and closed toe covered in butterfly and floral pieces. Makes these shoes part of your wedding day look and pick them up here!
Pink Engagement Rings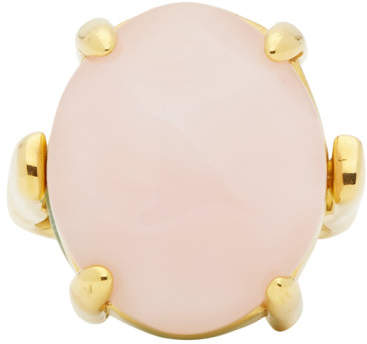 Pink being one of the cardinal colors of Valentine's Day, it only makes sense to infuse it into your Valentine's Day wedding ideas, right? Being a boho bride, it's pretty easy to make those muted tones and rose golds part of your wedding day look.
Then again, there are plenty of boho brides that aren't crazy about that color overwhelming the whole day. This gorgeous, soft, pink and gold engagement ring doesn't even have to be the one he proposes with…keep this gorgeous wedding day accessory on your right hand and earn those boho wedding day style points you deserve!
Valentine's Day Wedding Ideas for the Fun Bride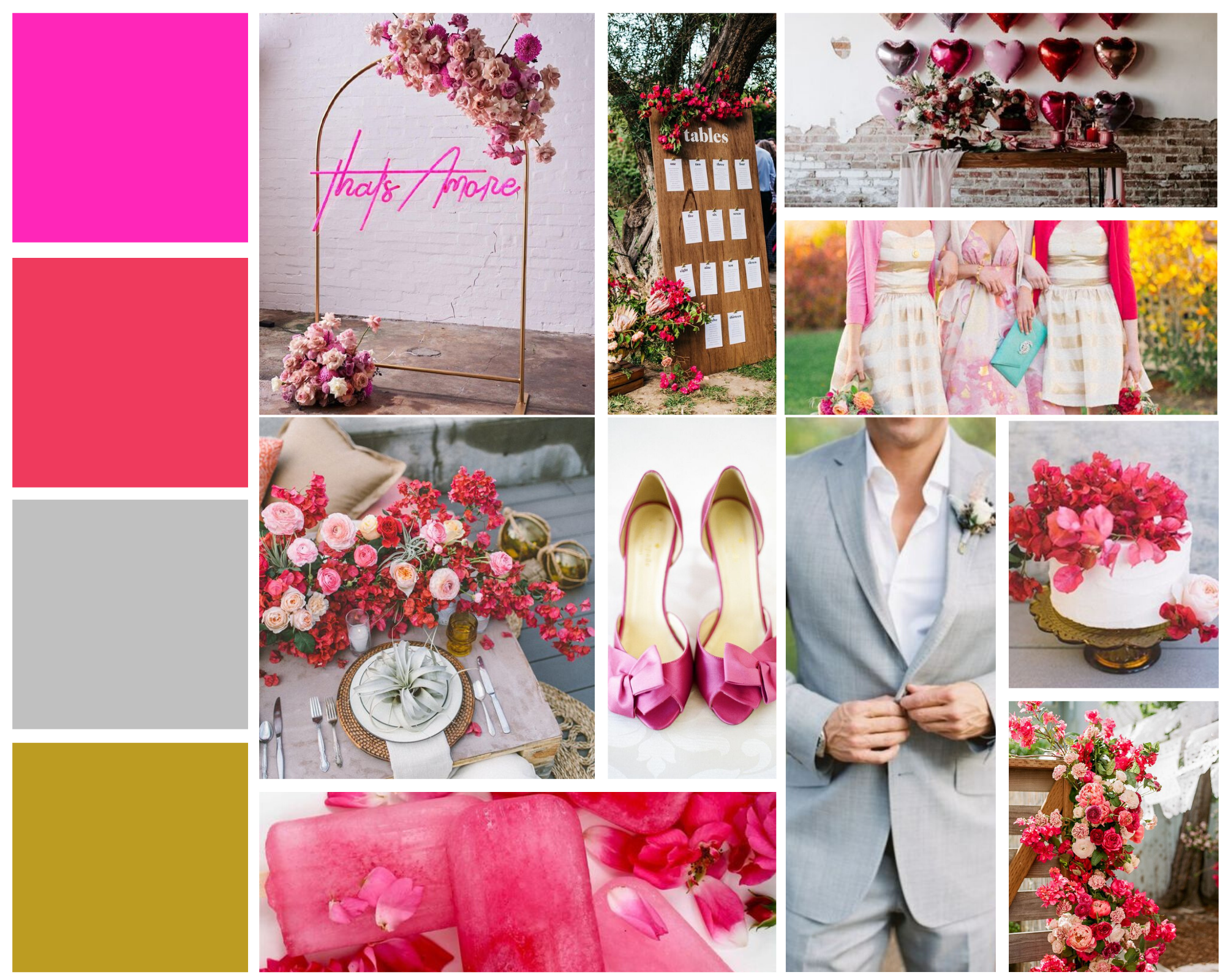 Valentine's Day can be a lot of fun, no matter what your past experiences with the holiday have been like. If you're that bride, or rather, that couple that likes to have fun together, it's a no-brainer that your wedding day needs to be fun, too!
When I think of the fun couples I have had the pleasure of planning with, many of them gravitated towards brighter colors. Sometimes that meant an overall look, while other times it was just a splash of a hot or neon whatever they loved. Since we're going with the Valentine's Day theme, I stuck with a bunch of hot pinks in this inspiration board. Here are the ways you can steal this style for your wedding day…
Short Wedding Dresses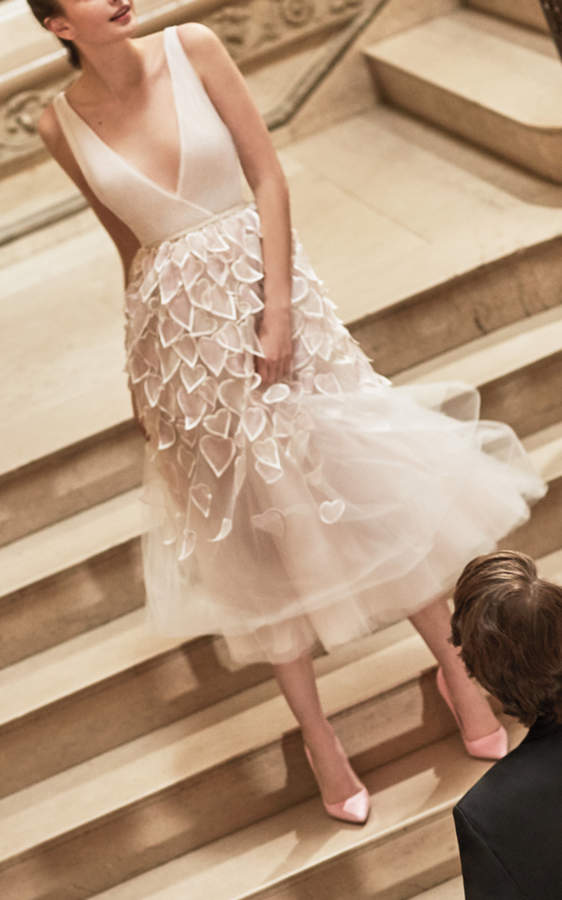 Now, is it possible to have fun in a ballgown or fit and flare wedding dress? Of course! But if you're looking to kick up your heels and don't want to be weighed down by something that feels like a comforter to you, and still want that wedding look, what's the solution?
This Carolina Herrera tea-length wedding gown is the perfect choice for a Valentine's Day inspired wedding gown for the fun bride. I'm borderline obsessed with those romantic heart details along the tulle skirt.
Floral Print Bridesmaid Dresses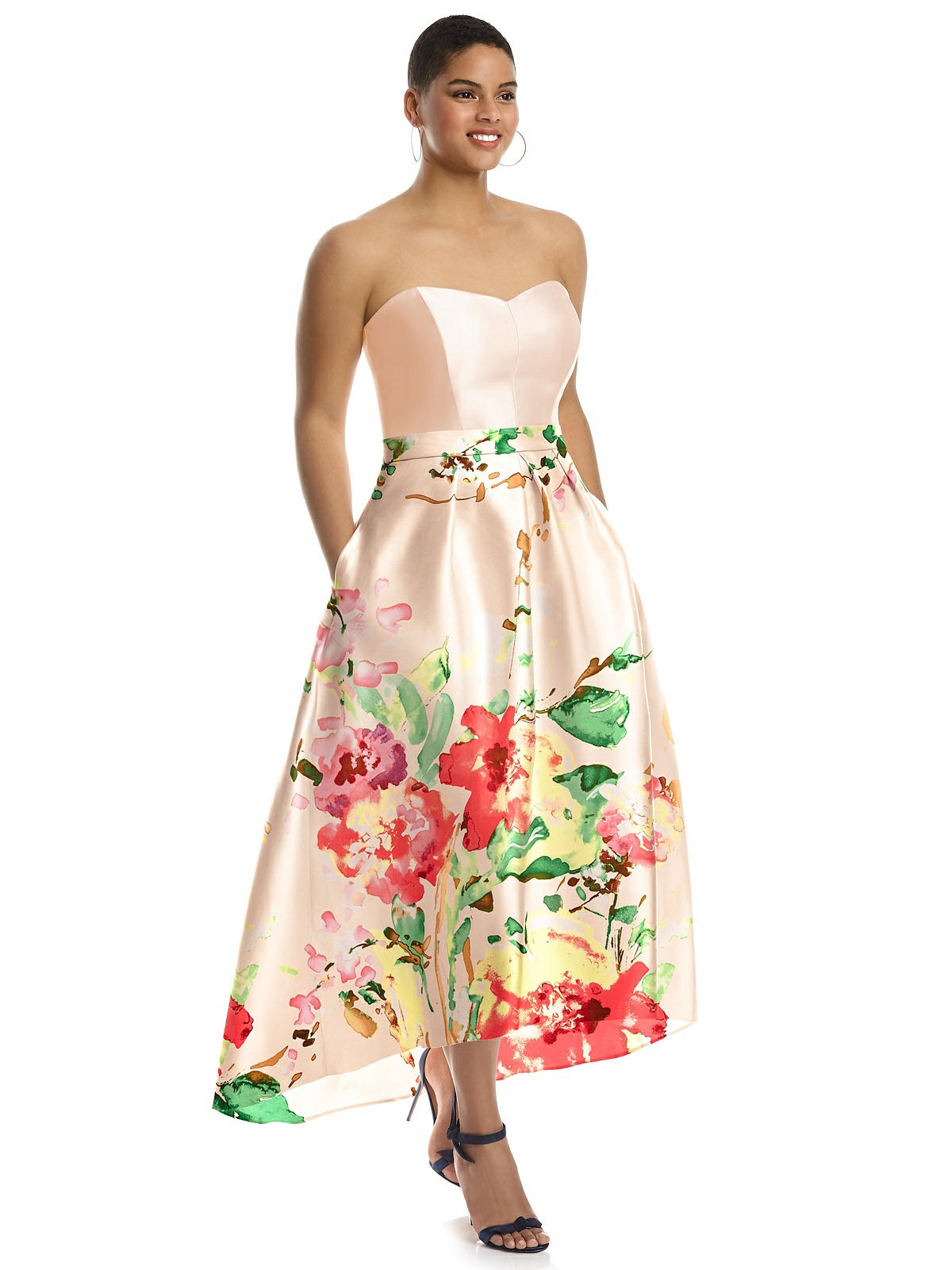 If you get to rock a flirty and fun wedding dress, it's only fair that your girls get to dance away the night as well in something similar. Besides, anything fitted and formal, no matter how pink, wouldn't make sense with your wedding vibe.
Valentine's Day wedding ideas aren't all about the pink and red, and I promised earlier in the blog they wouldn't be all about the red roses either. Enter this kick ass tea-length bridesmaid dress in big, bold, floral prints. A simple sweetheart neckline with this fun skirt is exactly what your girls need to wear to join in on the fun!
Blush Pink Wedding Earrings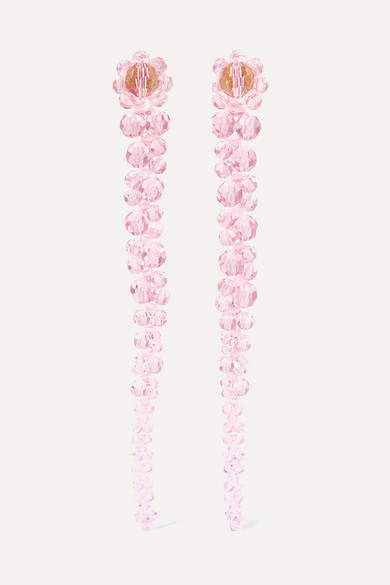 When a wedding is all about the fun and not about the fuss, there's a good chance the bride and her bridesmaids will be wearing their hair up. Up-dos call for long earrings 100% of the time, and these long pink ones are great for the bride and the bridesmaids.
Fun Wedding Shoe Ideas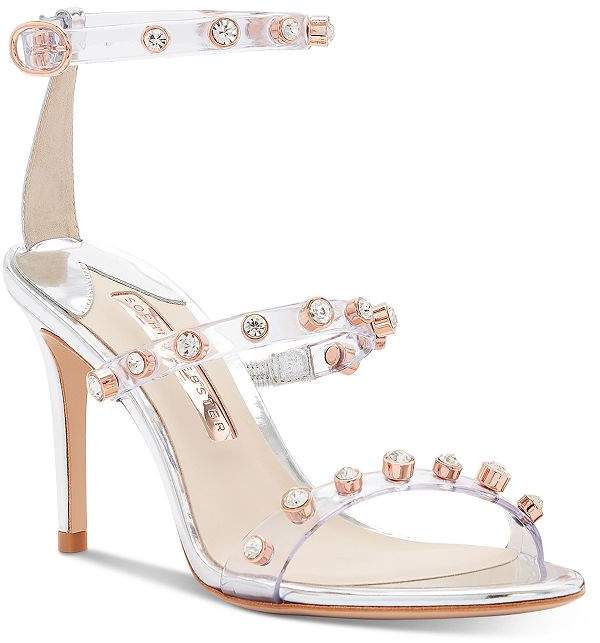 Short dress or long wedding gown, the shoes a bride wears totally matter nowadays. They'll be captured in all sorts of "getting ready" photos, and they'll be seen anytime that skirt is lifted if she opted for the long skirt look.
In fact, plenty of my brides rock more than one pair of shoes on their wedding day!
These clear, strappy heels with rose gold accents are super fun while still keeping that romantic Valentine's Day wedding vibe. Even if you only keep these on leading up to the ceremony before switching to a comfy flat option, it'll be worth it when you can wear them again and again once the big day is over.
Valentine's Day Wedding Flowers on Paper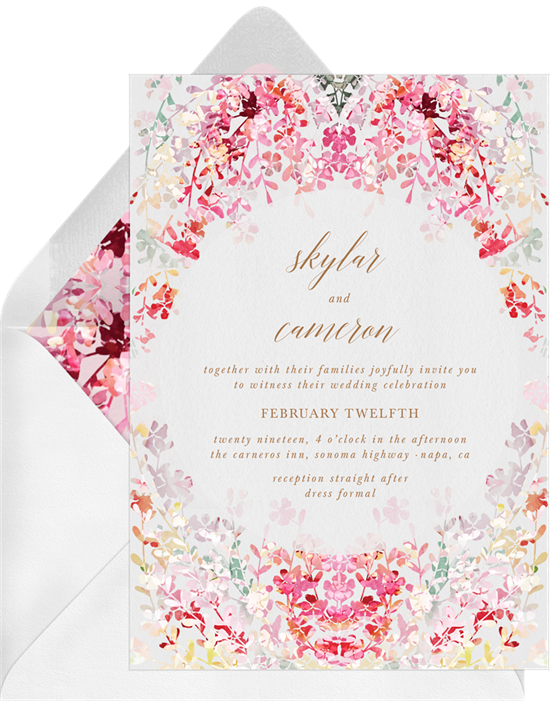 Greenvelope has these colorful wedding invitations that capture the romance of Valentine's Day while still keeping the fun wedding day vibe. I personally love the addition of the floral envelope liner that you can add to match the entire invitation suite.
Besides the colors and flower patterns though, the font is something often overlooked by couples. A modern wedding style is going to have a very different invitation design than something fun and laid-back. Part of the invitation design is the font, and this suite keeps the feeling light and airy instead of black tie and stuffy!
Valentine's Day Wedding Ideas for the Classic Bride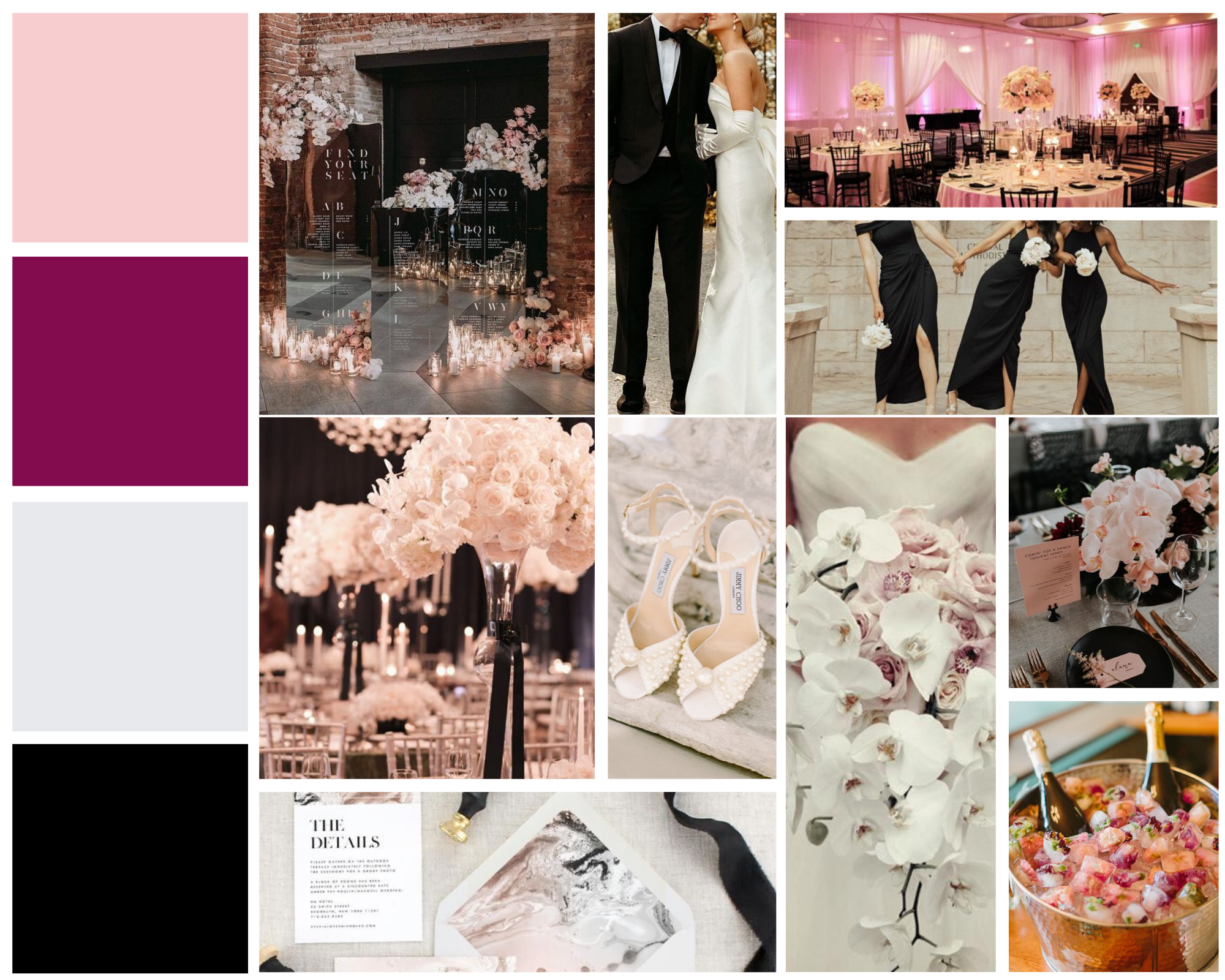 Classic weddings bring about the same thoughts from everyone…usually black tie requested, super formal wedding gown, and polished wedding decorations inside a sleek and chic wedding venue.
There is a lot to be said about traditional weddings, including how romantic they can be. For instance, many of my classic couples opt to read the vows already written in their religious book of choice because those are the same words that have been said for all time.
That doesn't mean that the classic bride is the boring bride though! There are plenty of opportunities to make your classic wedding unique, which includes using St. Valentine's Day inspiration!
Classic Black Bridesmaid Dresses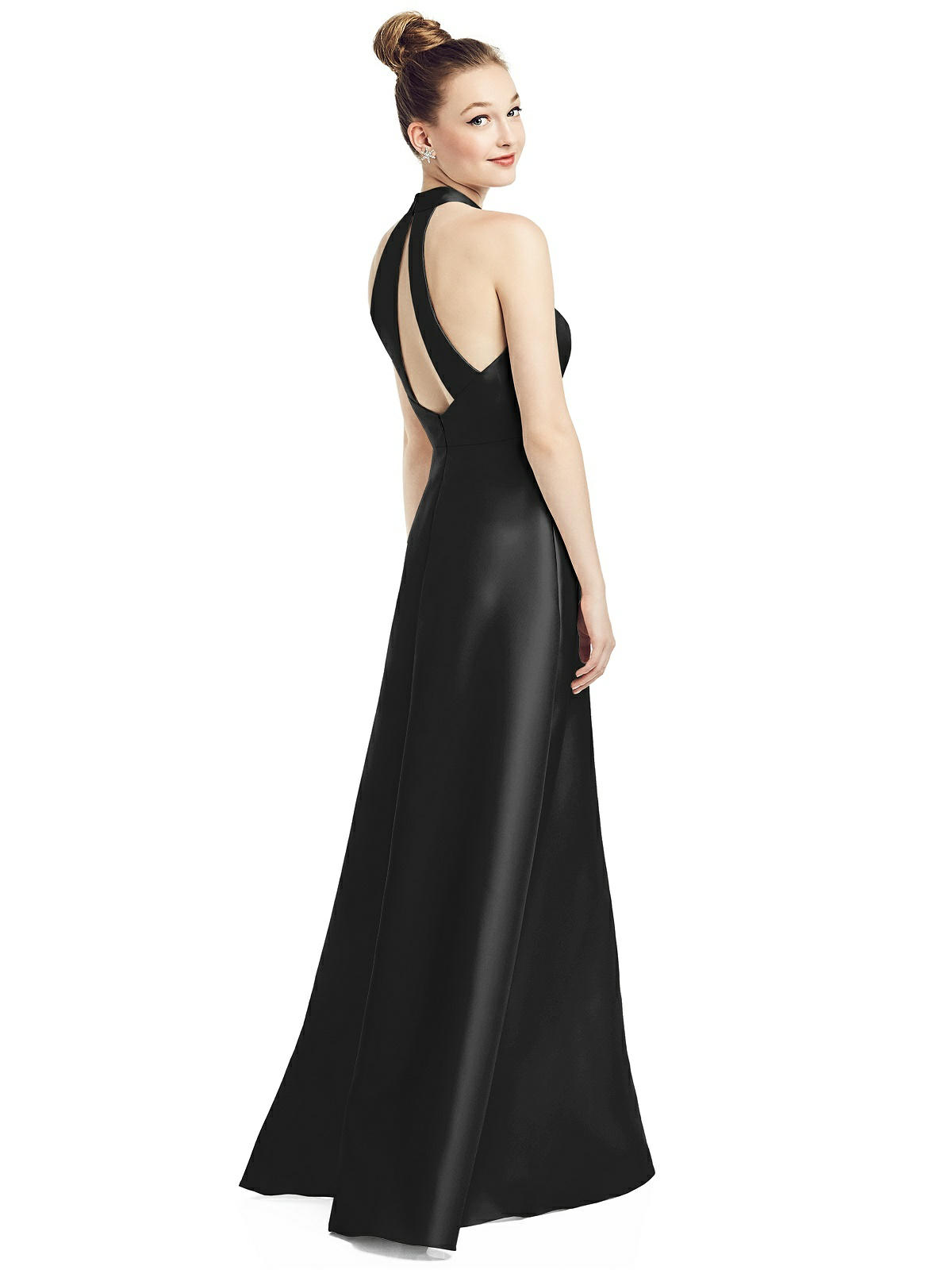 More and more, I'm seeing brides choose the color black for their bridesmaids. While I think black is a no-no for the mother of the bride (it's not the funeral of your daughter, after all), I am a huge fan of the color on bridesmaids.
First of all, it's flattering on every figure and I don't know a bridesmaid that isn't worried how they will look in their dress. Secondly, it's the only color that doesn't scream "I'm a bridesmaid wearing something I will never wear again".
For Valentine's Day inspired weddings, you might be thinking that black is the opposite of the expected colors to choose from. But, if you go with these gorgeous long black bridesmaid dresses, you can make those pink shades appear elsewhere like…
Cufflinks for Groom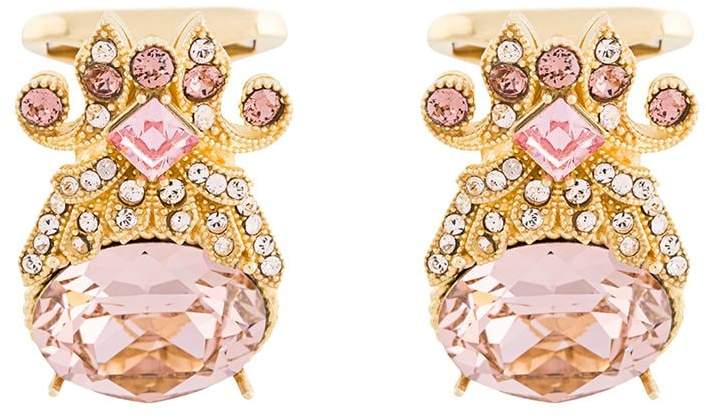 It's not very often that the groom gets to have some of the wedding day spotlight…sorry, but it's true. As I said earlier, a classic wedding tends to go hand in hand with black tie requested.
If your groom is going to rock a classic black tuxedo, then he's going to need a pair of cufflinks. Those cufflinks get a little Valentine's Day inspiration when you select these pink and gold ones from Dolce & Gabbana.
Pink and White Wedding Day Heels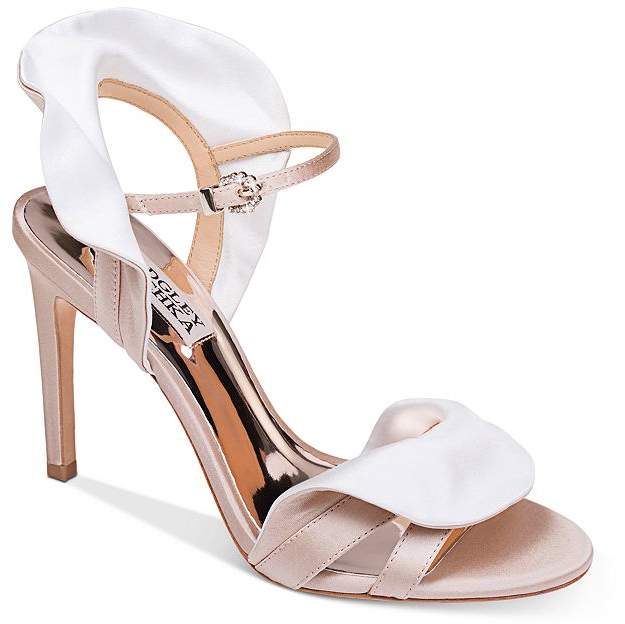 You may not be able to wear the wedding gown again, but there's no reason you can't put those heels on for other special times…or just to go to the grocery store because YOLO.
These Jimmy Choo bridal heels have romance written all over them. When it comes to Valentine's Day wedding ideas in the shoe department, you cannot go wrong with this soft pink and white heel. 
Classic and Romantic Wedding Invitations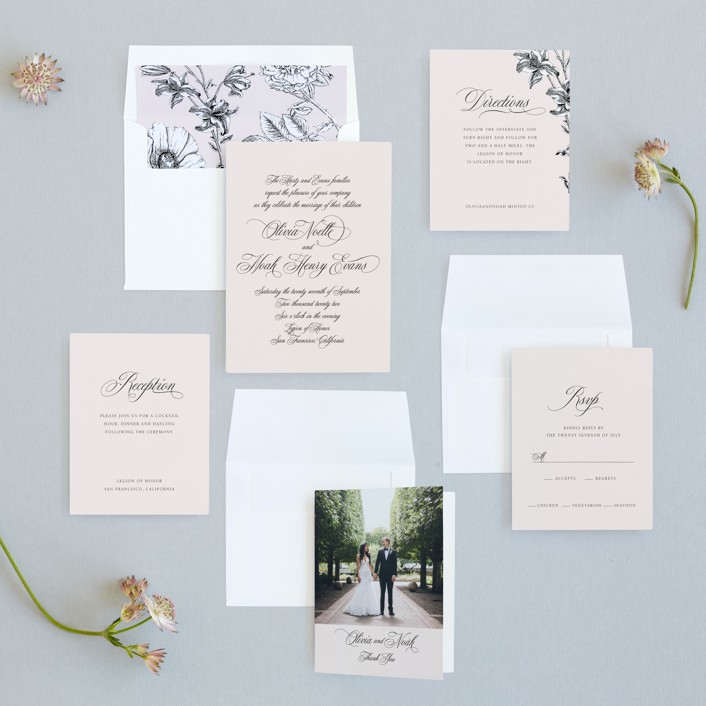 Blush and black is the ultimate classic wedding color combination. Let your guests know exactly what to expect with this gorgeous wedding invitation suite from Minted.
Formal wedding invitations leave off the extra details, and only the font gets fancy. A simple and sweet blush background with strong black ink for the wording is the perfect blend of tradition and romance for a Valentine's Day inspired wedding!
Romantic Wedding Gowns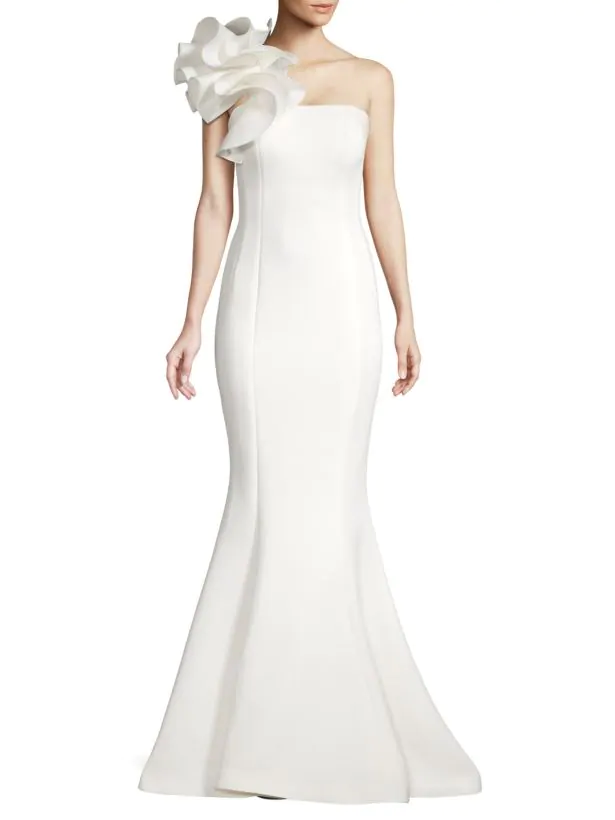 Last, but certainly not least, is this stunning Jovani wedding gown. Sleek and simple, this fitted dress is a classic option for those black tie weddings. Plus, check out that super romantic shoulder detail and flower design!
You won't believe how much the price alone will make you fall in love and all about the Valentine's Day feelings!
Valentine's Day Wedding Inspiration
No matter how you feel about this holiday, whether pink is your favorite color, or you want to celebrate romance more than one day of the year, there is no denying how these Valentine's Day wedding ideas work for any style and for all 365 days to choose from.
What is your wedding look? Are you bringing in shades of pink or going for those wine colored reds? Share what inspiration boards from the blog spoke to you and how you will be bringing it all together for the wedding day in the comments below!