This gorgeous New Jersey wedding took place at the breathtaking Park Chateau in East Brunswick, New Jersey. Our bride, Angelina, wanted a classic all white design with plenty of sparkle. The vibe was going to be a super fun party, so it was important that the ballroom was filled with great music.
Check out all the fabulous details that went into Chris and Angelina's wedding day and don't forget to pin the ones you love!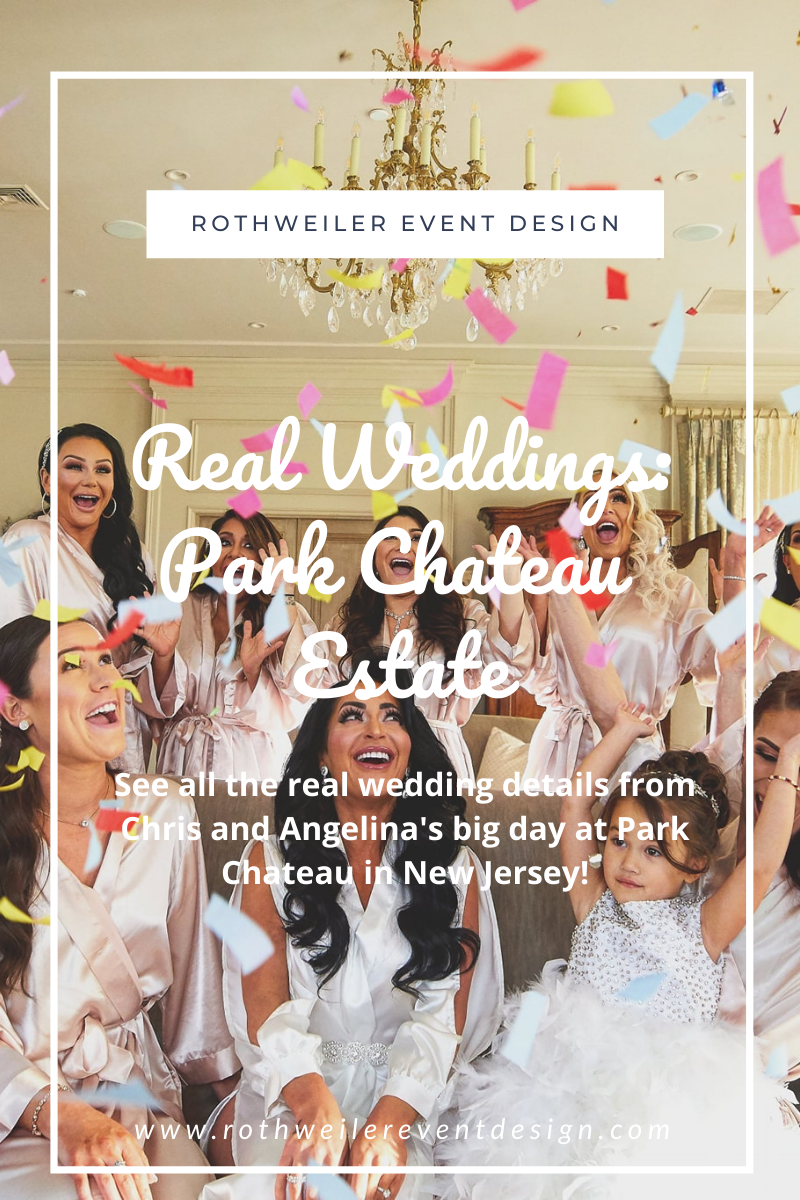 Park Chateau Estate and Gardens
A really important consideration to make when you're looking to throw a luxury wedding bash like Angelina and Chris did, is where you'll host. Park Chateau Estate and Gardens is easily one of the most luxurious wedding venues in the entire tri-state area.
I mean…I did a blog on it and everything!
Related: Why Luxury Wedding and Park Chateau Mean The Same Thing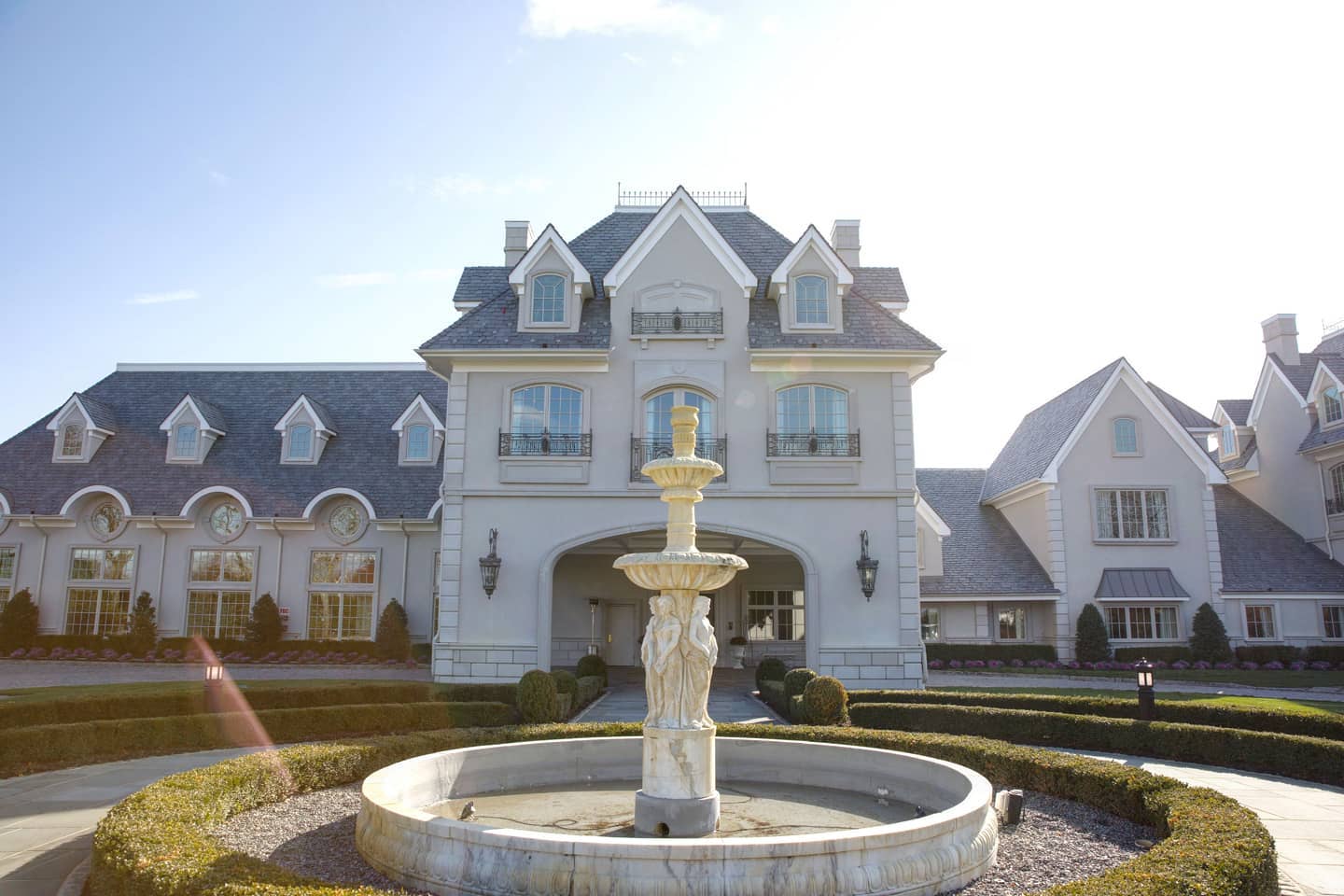 The entrance to The Park Chateau Estate and Gardens is absolutely stunning. If you're new around here, you might not know that I am a sucker for a killer entrance.
Right after the first look, Angelina and Chris took some time taking beautiful photos in front of the estate. There are endless photo options as you walk the grounds and we took advantage of all of them!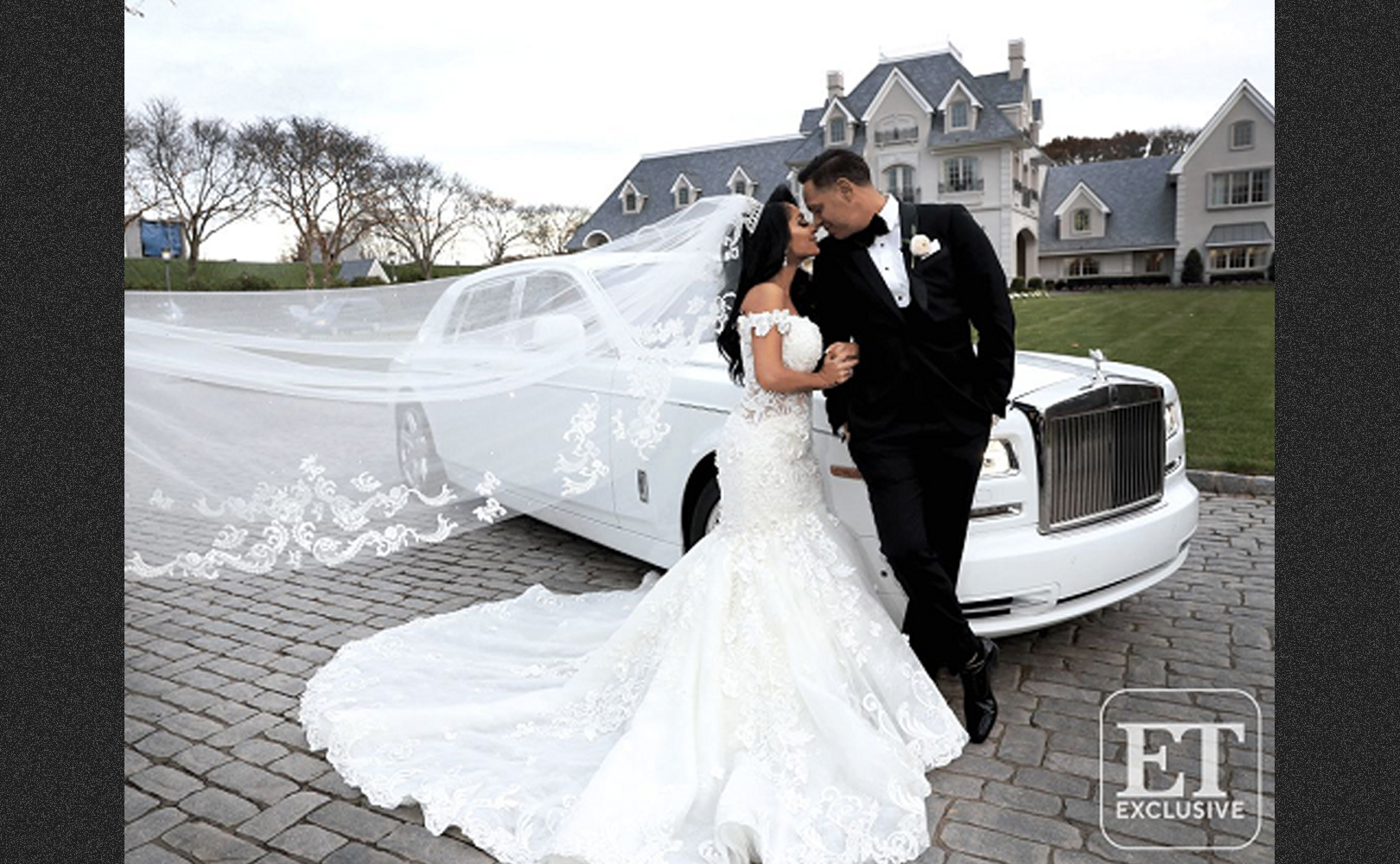 Angelina stunned in her fitted wedding dress from Castle Couture, one of my absolute favorite gown shops in New Jersey! There were so many gorgeous details on her gown and that veil? Literally everything.
I always encourage my brides to rock the long veil on their wedding day because there's nothing more gorgeous. Angelina's dramatic veil was the perfect accessory to her beautiful wedding dress.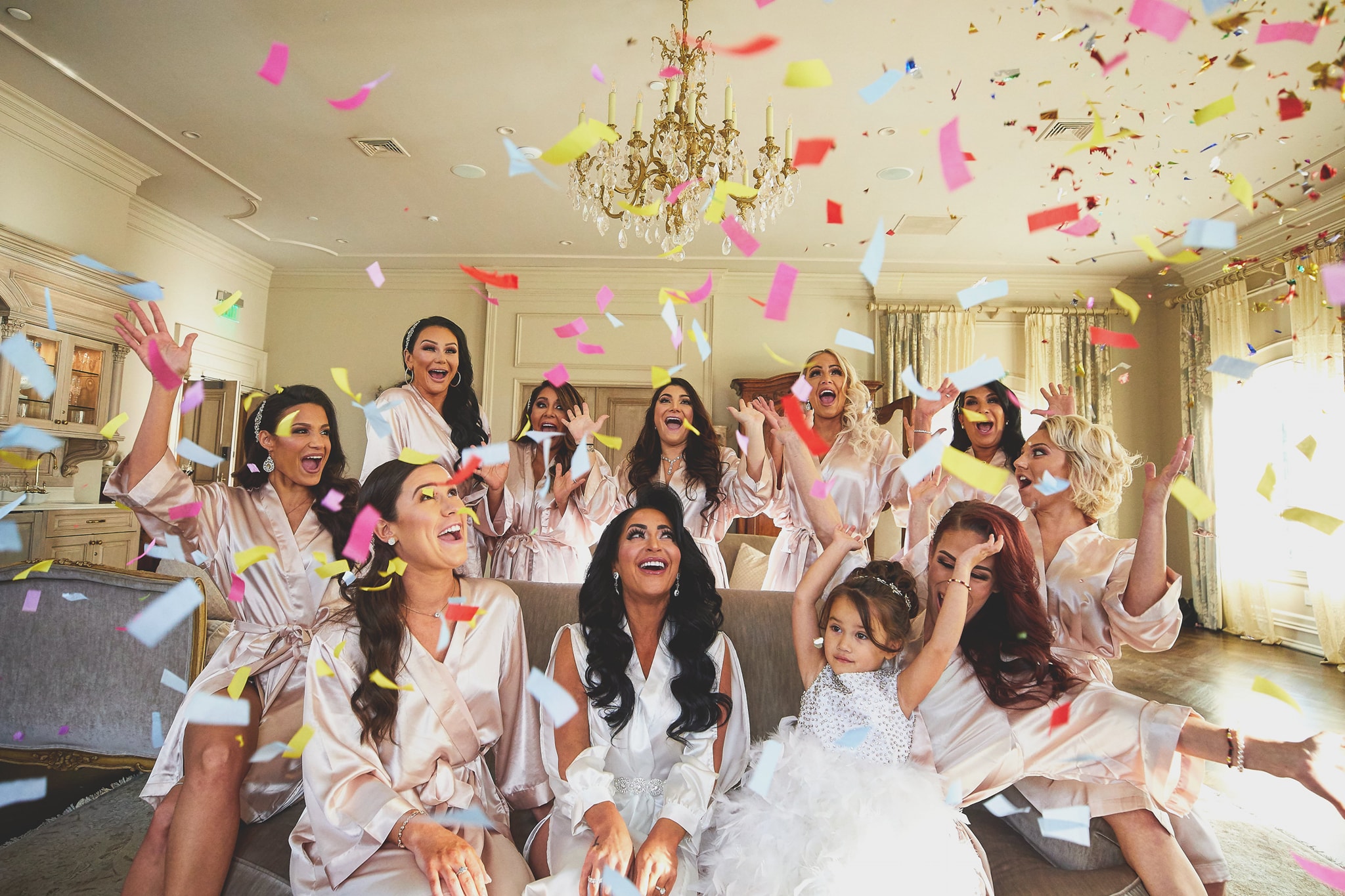 Before that epic first look though, Angelina spent the morning with her bridesmaids getting ready on-site at Park Chateau. Their salon space is amazing and there was plenty of room for all the bridesmaids, photo and video team, hair and make-up artists and of course, us!
It goes without saying that no morning with your girls is complete without a fun confetti picture like this one! Once Angelina was ready in her dress, we walked her to the first look and her girls stayed up on the balcony to watch that beautiful moment from above.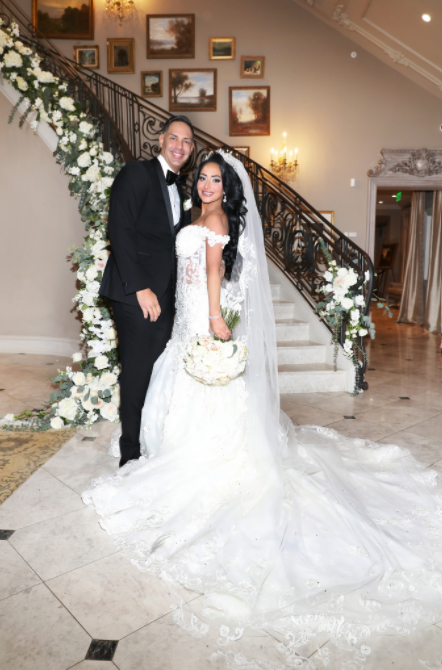 After the first look photos were wrapped up outside, Angelina and Chris took advantage of the stunning florals cascading down the front hall banister. This spot is super popular for wedding photos at Park Chateau Estate and I loved seeing what Narcissus Florals created!
When it was time to take photos with the wedding party, it was an easy decision to take them in this beautiful space!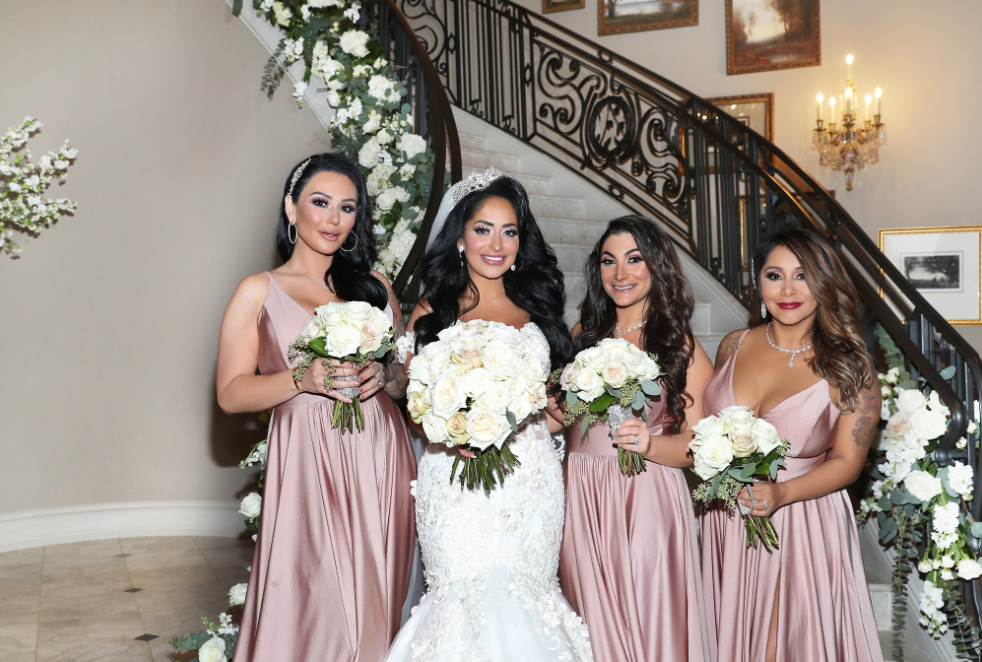 Angelina chose these romantic, floor length bridesmaid dresses, which served as a pop of color throughout the entire design. I loved the shade of pink that she went with because it flattered everyone's skin tone and all the bridesmaids looked amazing.
Looking for the perfect pink bridesmaid dress for your own wedding? Check out some of our favorites by Dessy!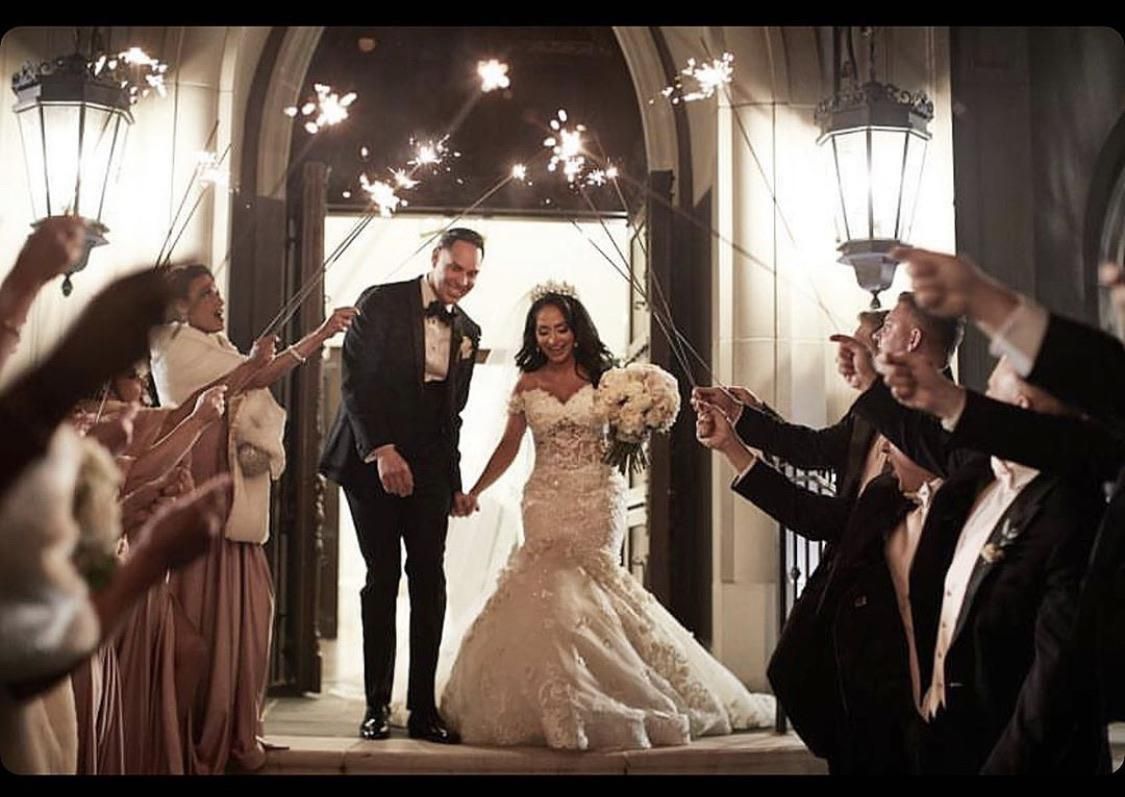 Once the ceremony was done, the bridesmaids grabbed their faux fur stoles and went outside with the groomsmen to set up the sparkler exit. Our team passed out over 30 sparklers and worked with the staff at Park Chateau to light all of them quickly.
Angelina and Chris came out of the beautiful Park Chateau Chapel to grab a few must have wedding photos before they joined everyone at the next level cocktail hour!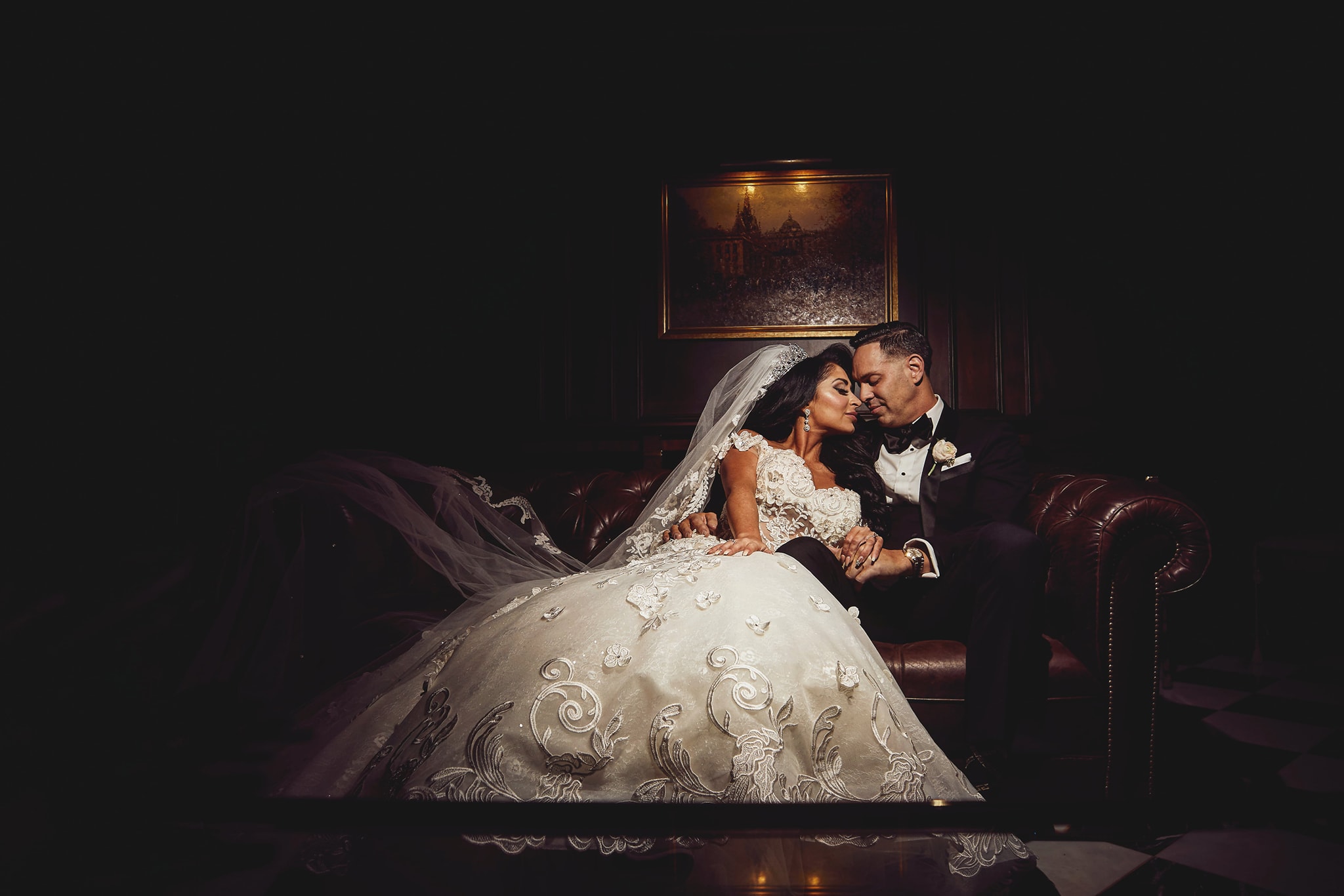 As cocktail hour was coming to a close, Angelina and Chris took a few more moments to take some photos together. One of my favorite things about Park Chateau is the endless amount of places to take gorgeous wedding photographs!
Guests moved into the ballroom and our bride and groom made their entrance right after their wedding party got everything started!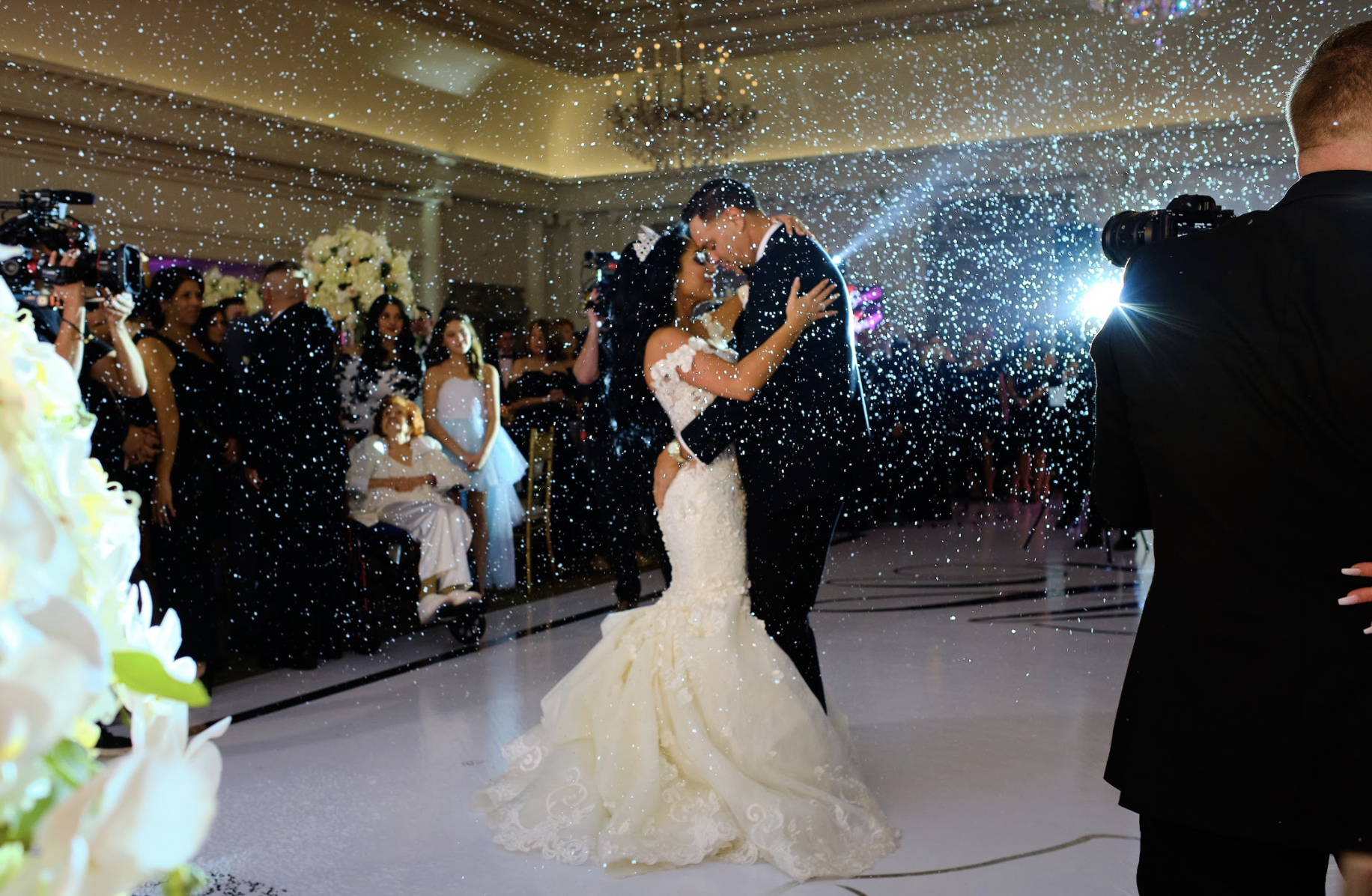 The gorgeous dance floor was created by our friends at Go To Shout. It was a flawless, bright white with silver borders. But my favorite part? Hands down the silver rose drawings which matched the design of the aisle runner from Original Aisle Runners.
And did I mention the snow during their first dance? Epic.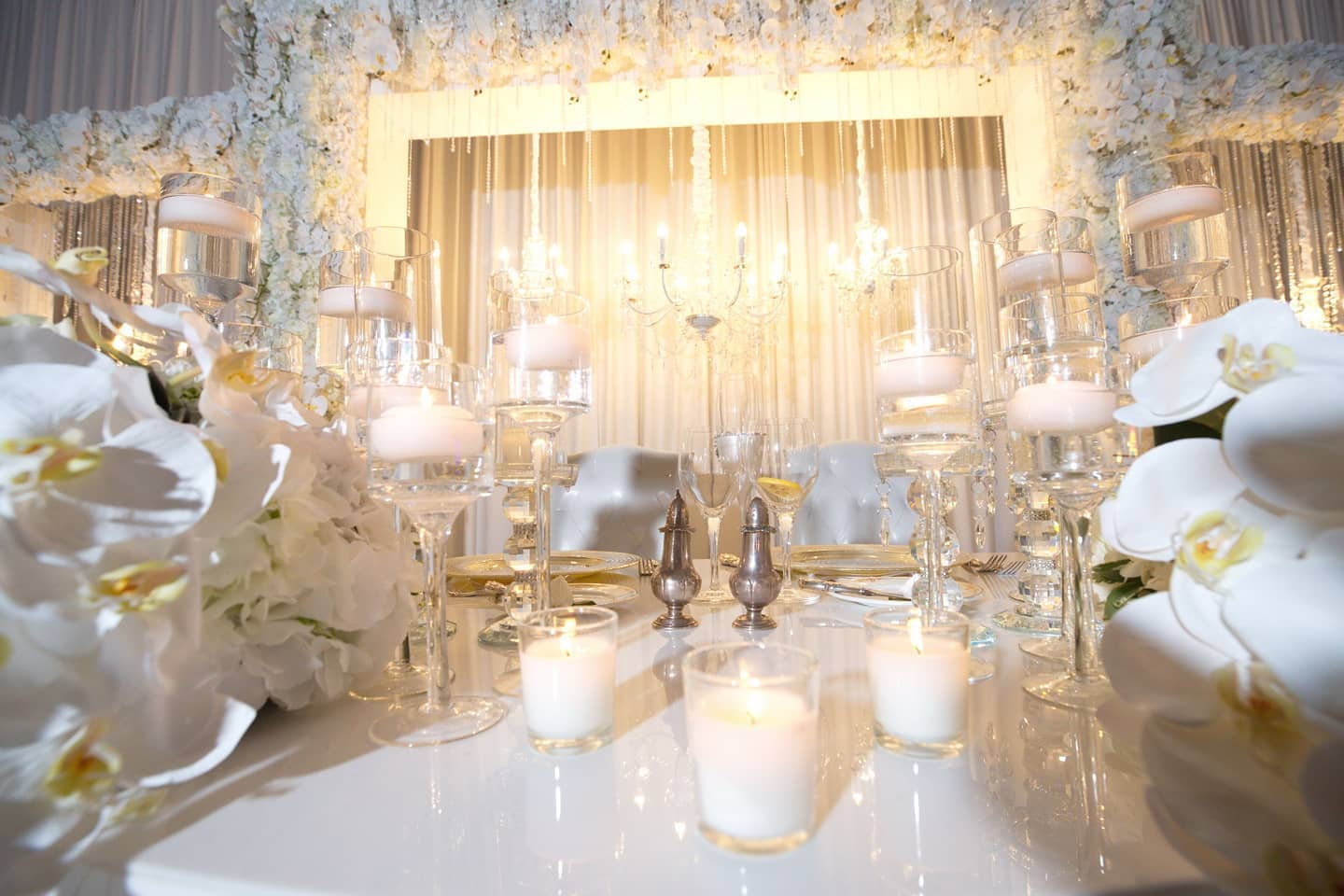 Chris and Angelina's sweetheart table was one of my favorite pieces of the whole wedding design. First, a stage was created to elevate the table, and then everything was wrapped in platinum white.
There were countless candles that lined the table and all along the bottom as well. Behind the couple was white pipe and drape and a beautiful crystal chandelier hung above. Our friends BDazzled Events created this sweetheart table to be remembered forever!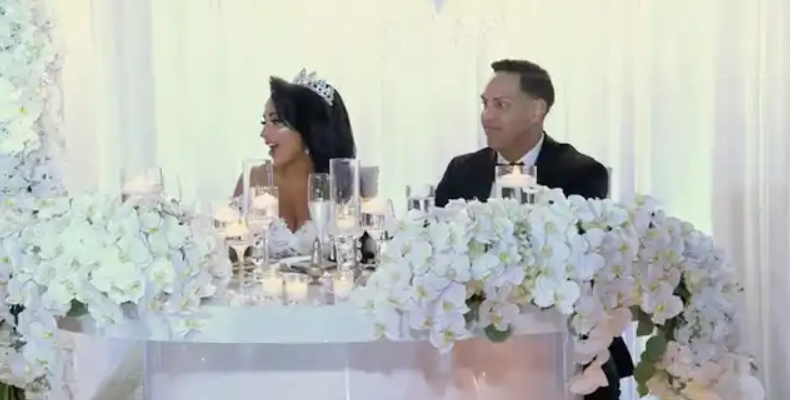 All across the sweetheart table were cascading white orchids that poured to the floor. A mix of votives, tea lights, and floating candles created a soft and romantic glow.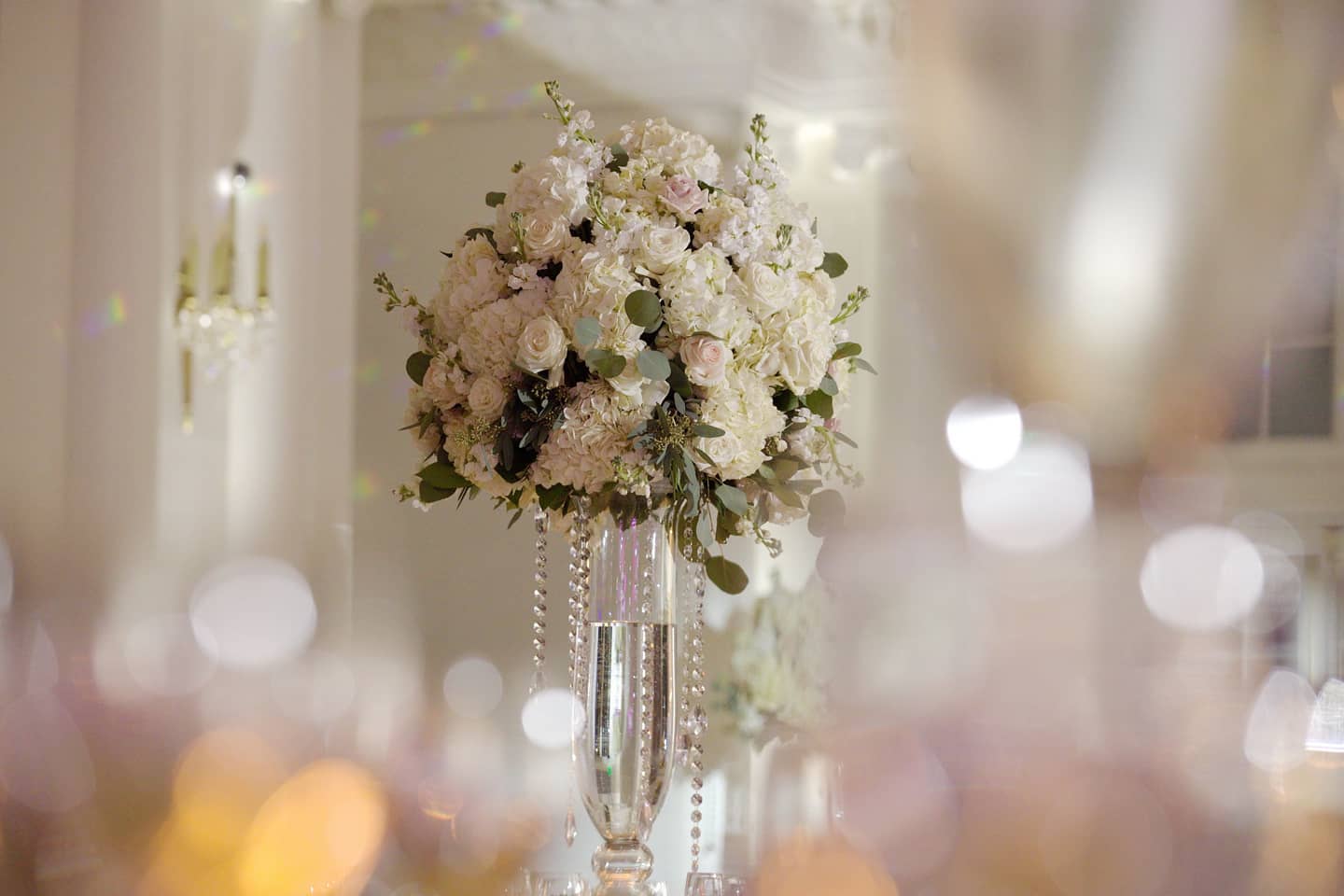 And the centerpieces? Simply to die for! With over 300 guests, the ballroom had 30 tables filled with these lush white centerpieces. A mix of white garden roses, hydrangea, and greenery plus plenty of crystals made for a show stopping tall centerpiece!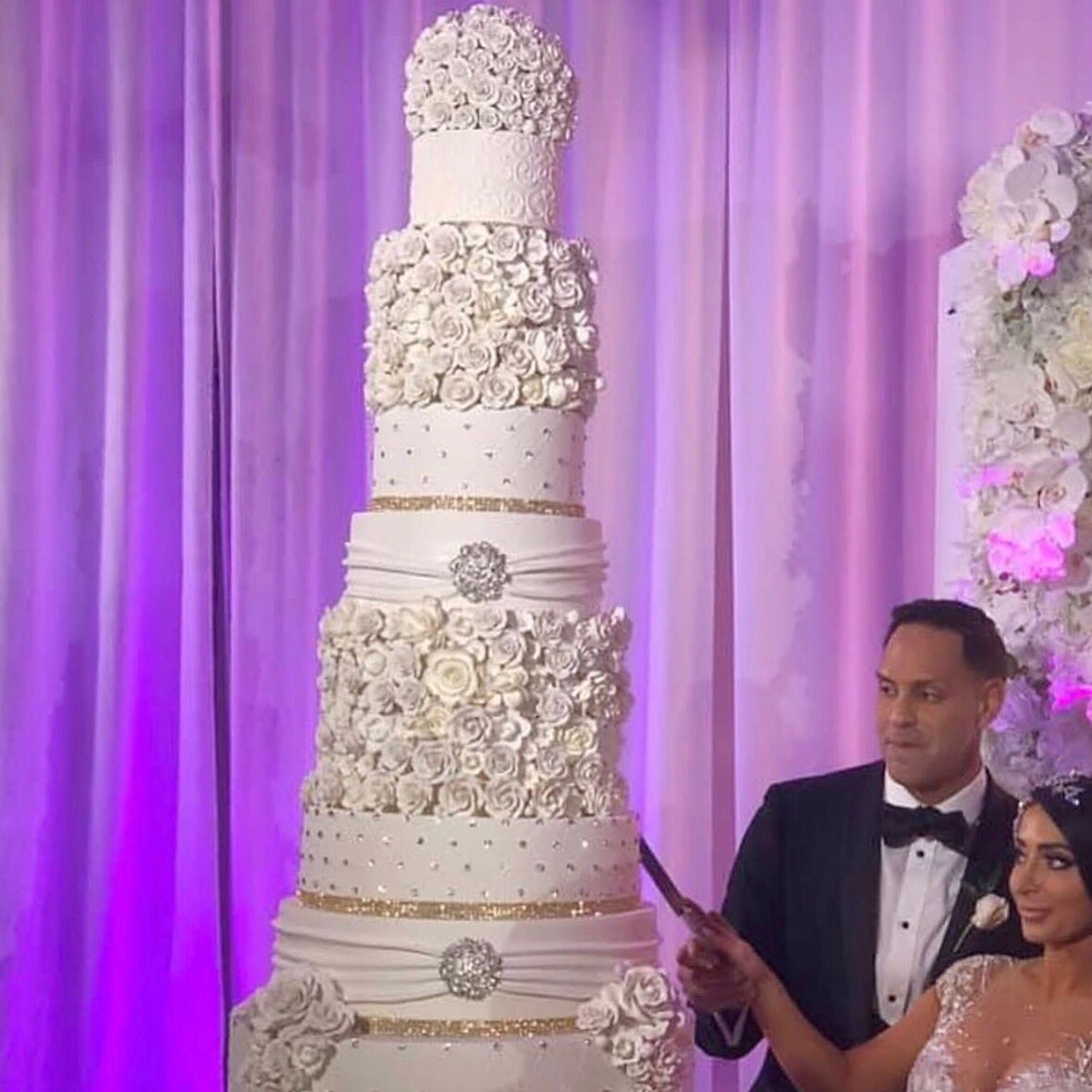 Speaking of show stopping- how amazing is this wedding cake? Palermo's Bakery delivered this 7 foot tall wedding cake earlier on in the day. We had to decide where the cake would live during the reception because once it was placed it was not to be moved.
I mean…I certainly wasn't going to risk that- would you?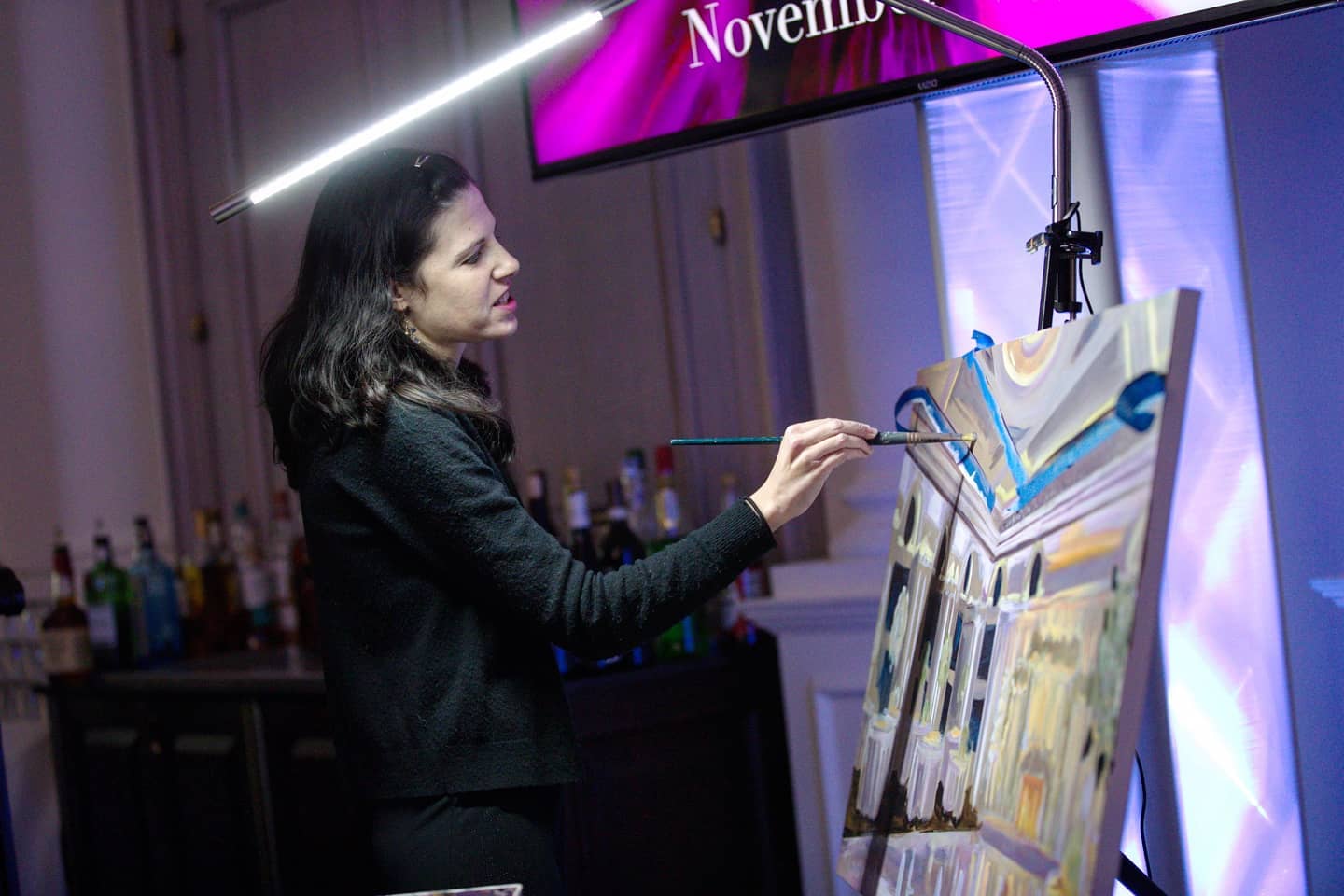 One of my favorite things about Angelina and Chris' wedding was the live painter that documented their first dance as it was happening! She began early on in the reception painting every last detail of the ballroom.
Our friend Katherine is so incredibly talented and you can see more of her work on her website here!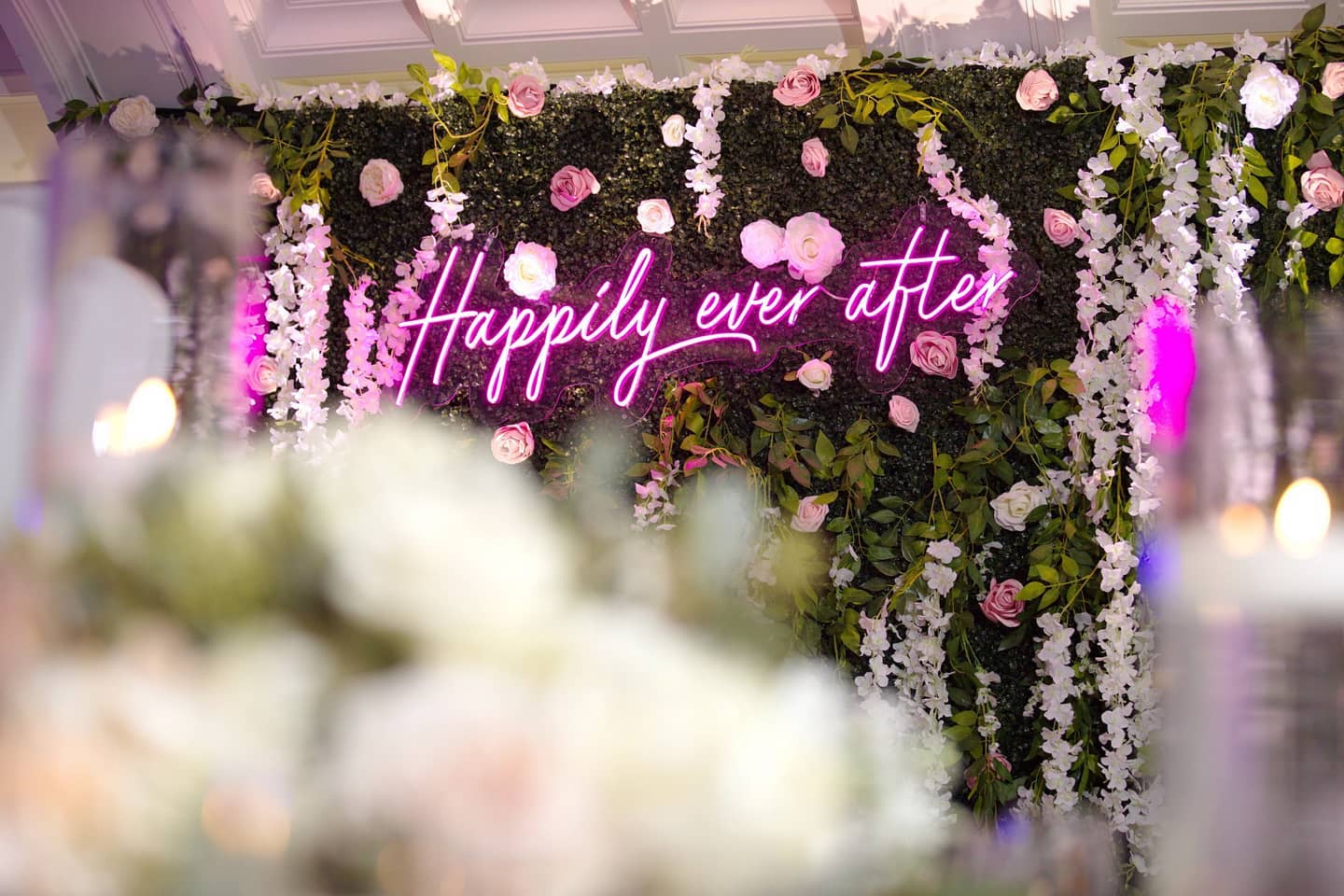 Guests enjoyed their time off the dance floor in front of this very cool floral wall with a neon sign that read "Happily Ever After". Instead of a traditional photo booth, Chris and Angelina went for this open air style and it was very popular all night long!
Of course, neon signs at weddings are the hottest new trend, and honestly, one of my favorites. You can even get a custom sign made to bring home with you after the wedding is done and your marriage begins. What a cool statement piece in your home!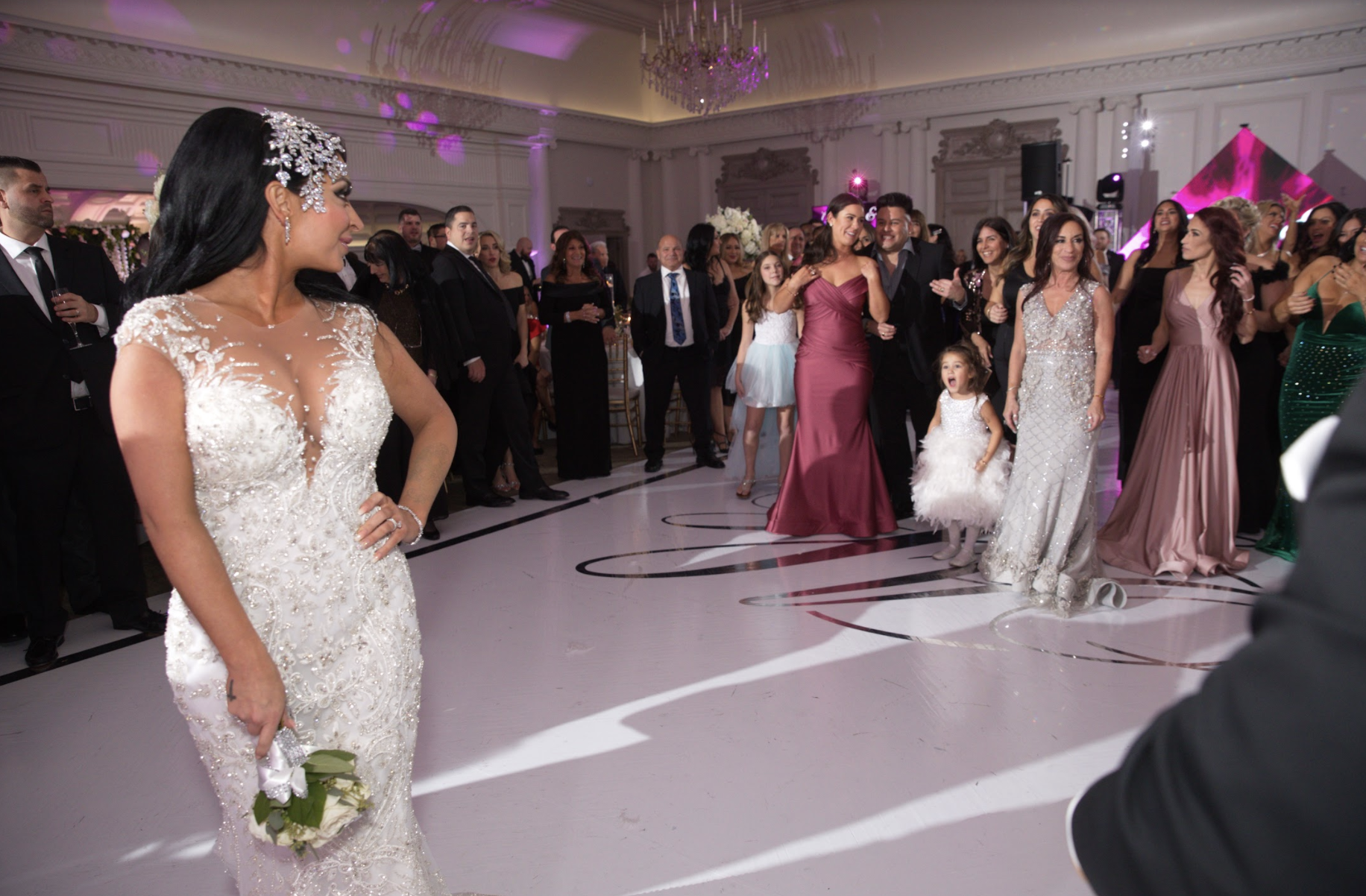 Without even missing a beat, our bride changed from her first gorgeous wedding gown into this beautiful, form fitting dress! And how much do you love that gorgeous hair clip?
Gorgeous New Jersey Wedding at Park Chateau
Angelina and Chris had such a beautiful wedding at one of the most luxurious wedding venues in New Jersey. Looking for more inspiration from their big day? Scroll through the gallery below for more pictures from their upscale wedding at Park Chateau!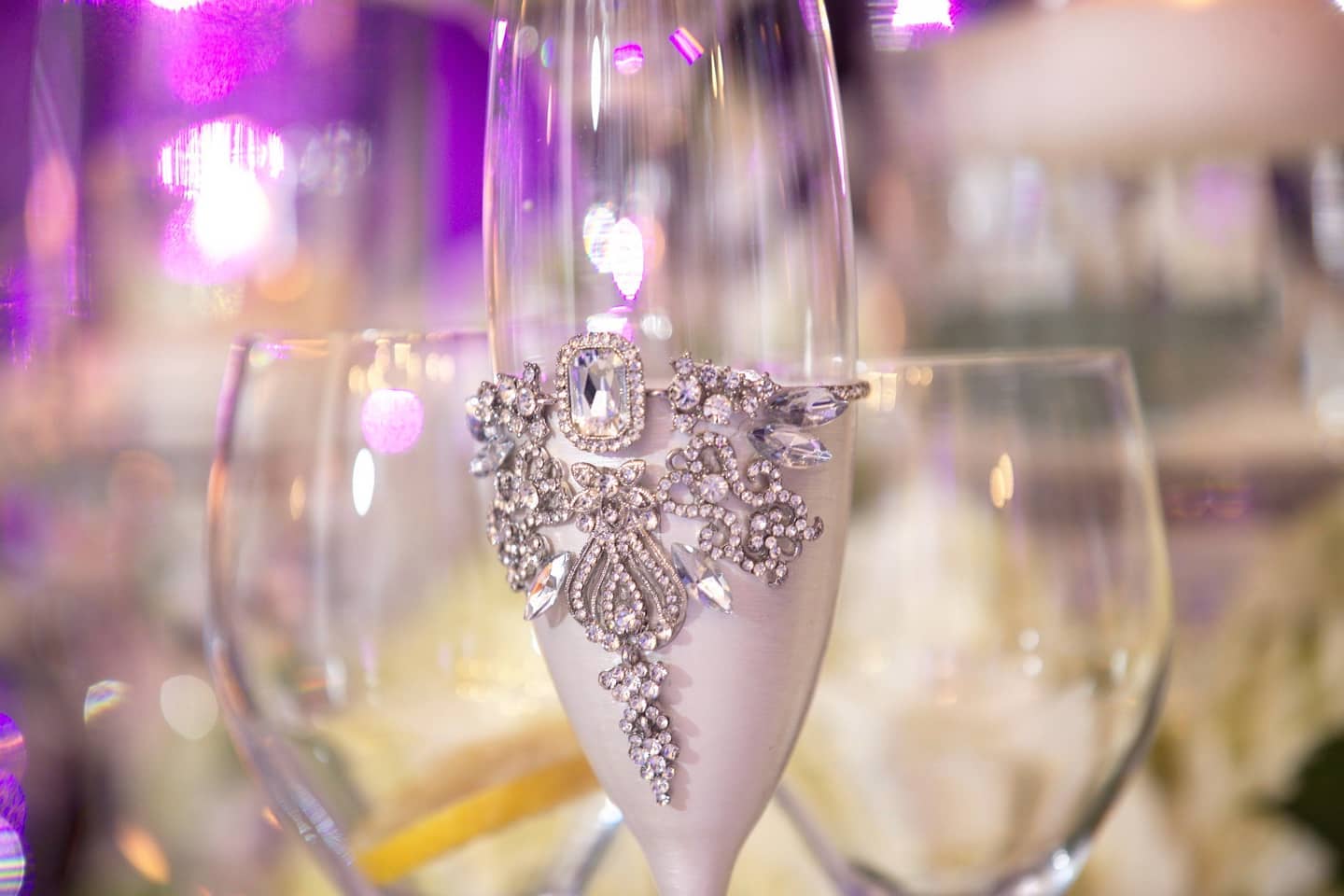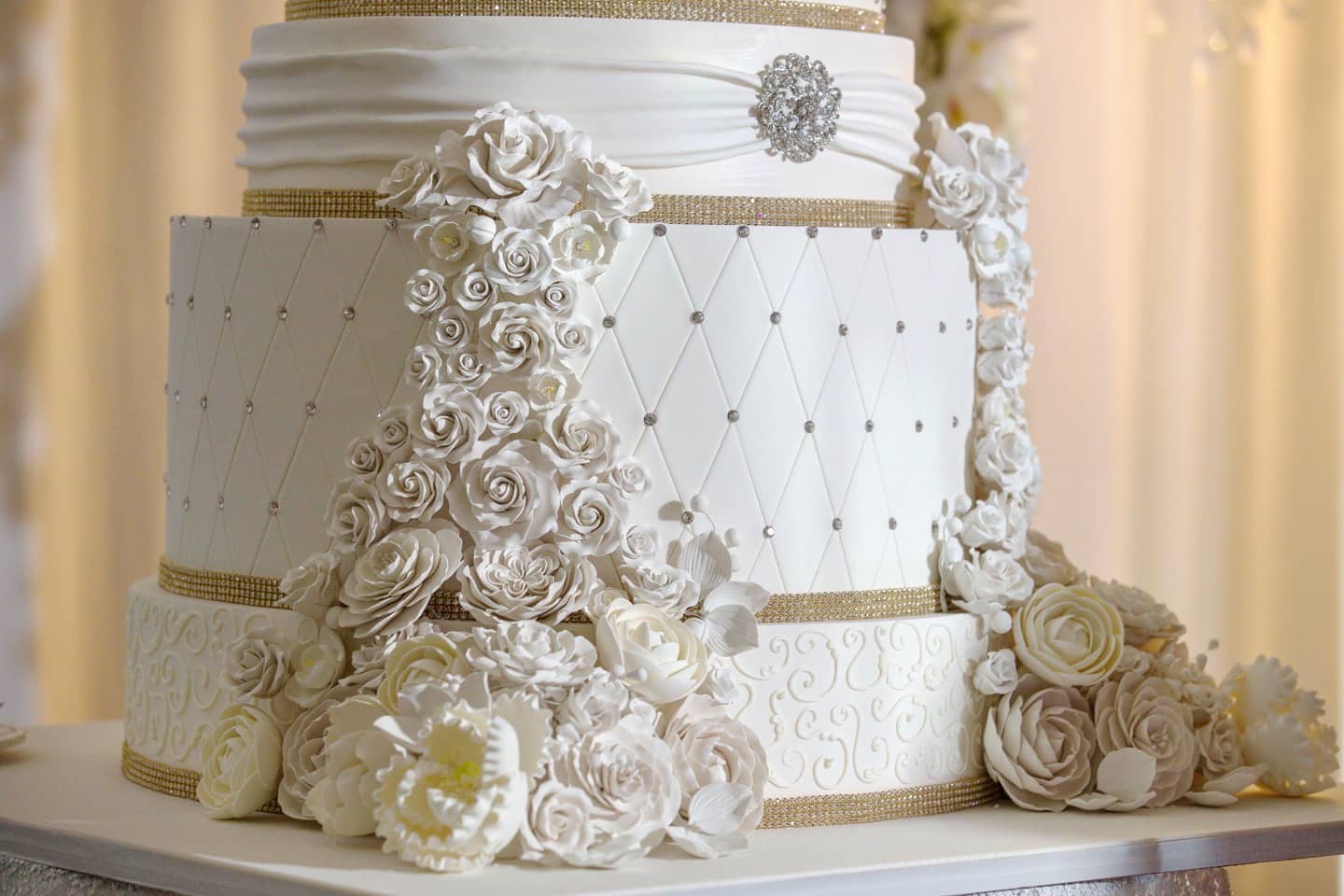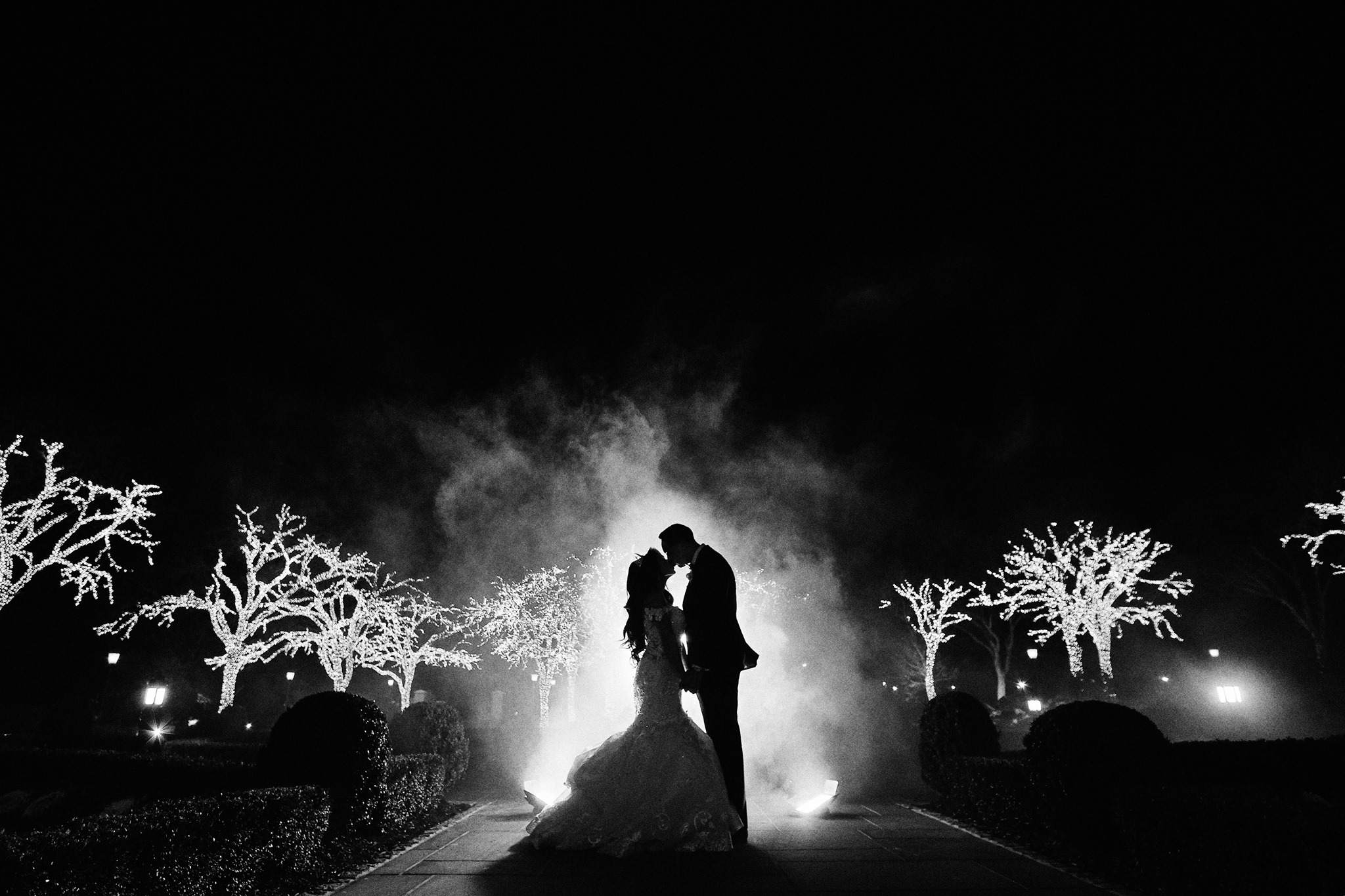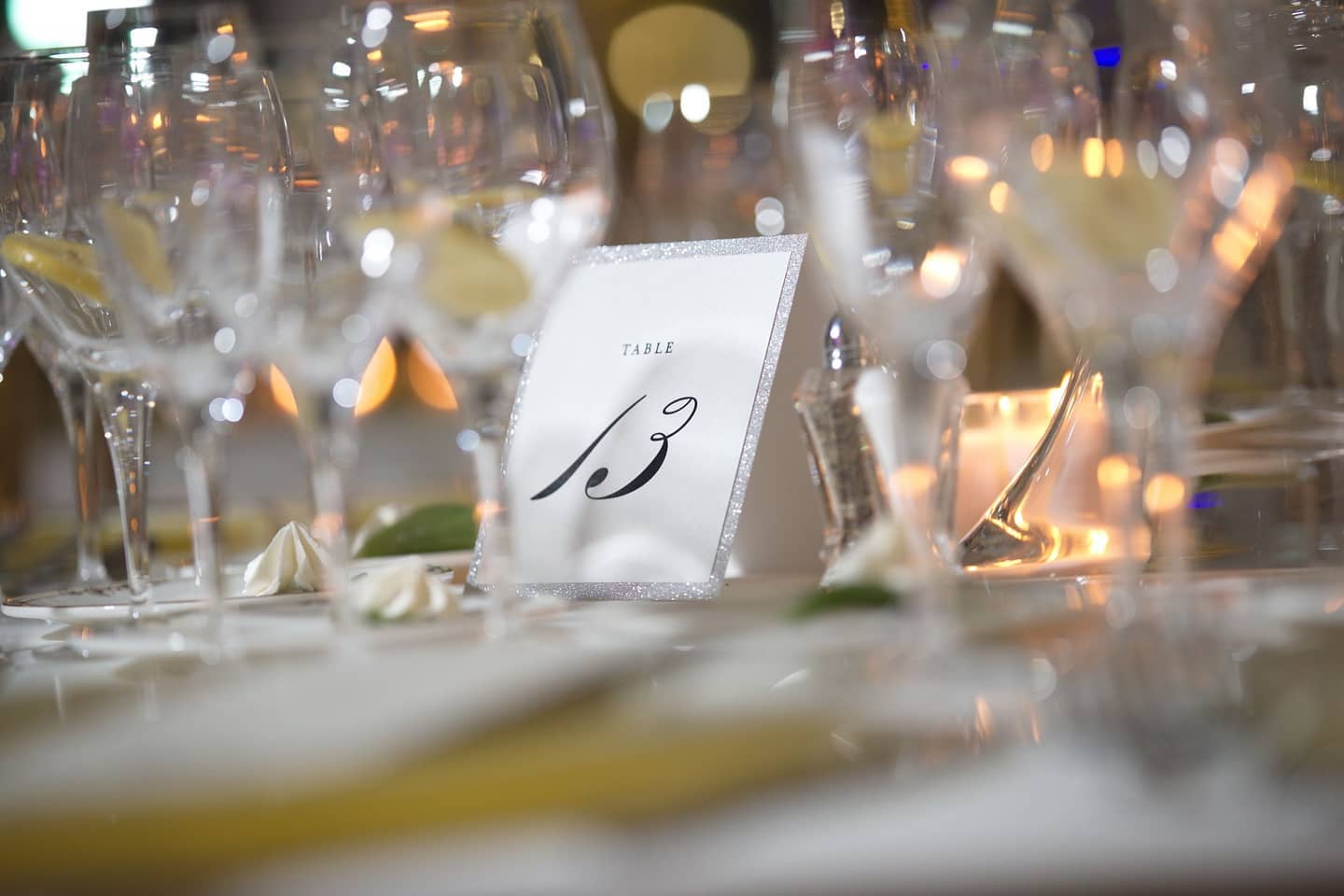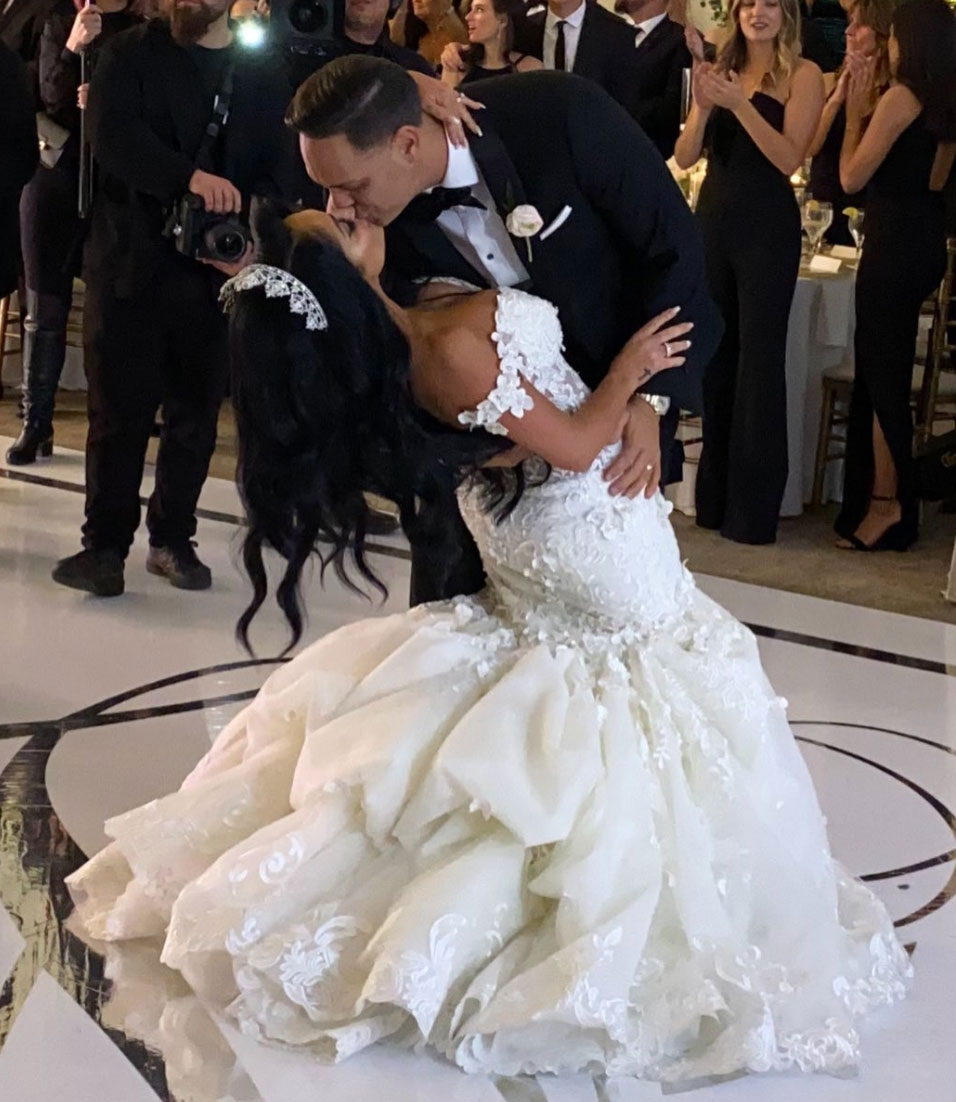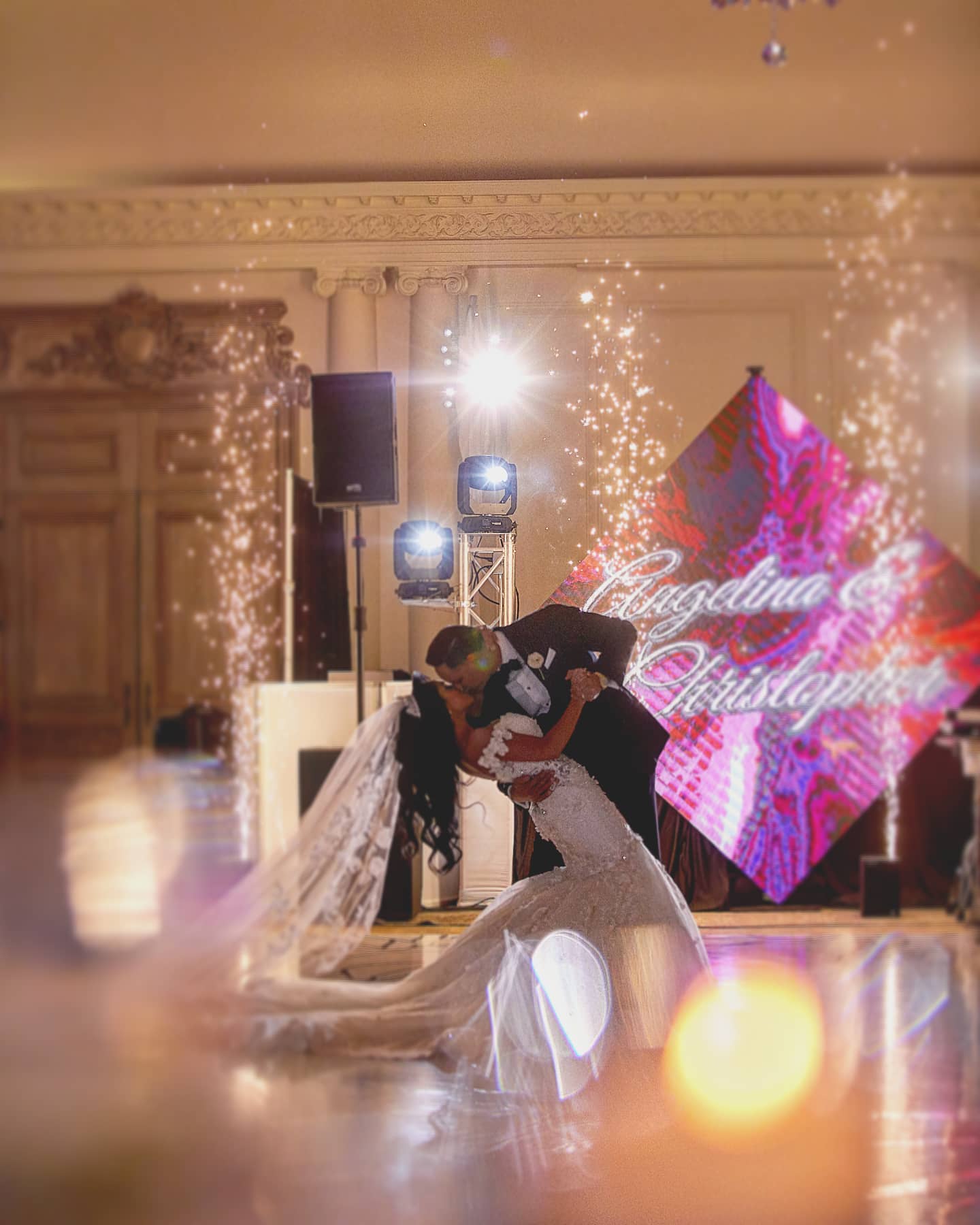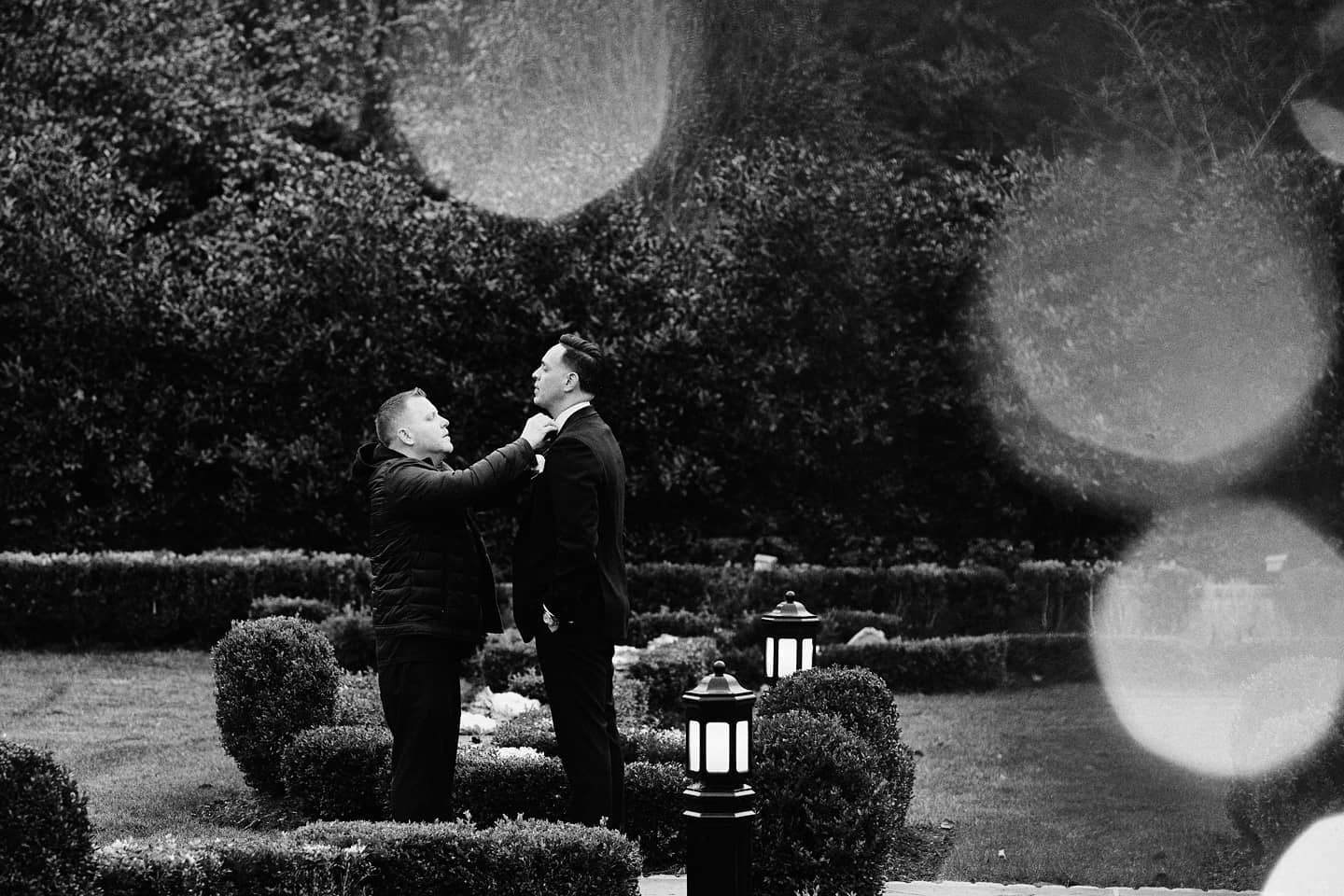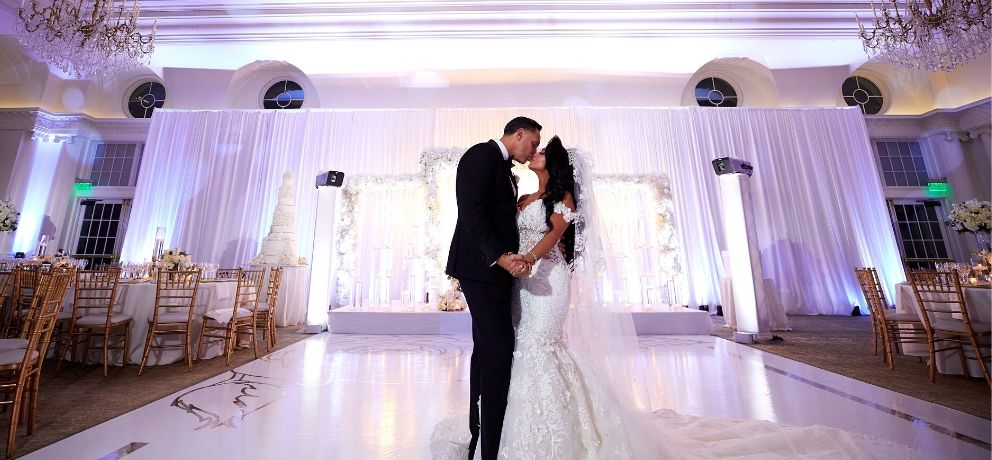 Photo Credit: BR Photo Creations, MTV, Instagram, Premiere Studios.