Putting together your wedding to-do list is easy, but knowing when to splurge on your wedding costs can be difficult. What can you sacrifice without completely losing your vision? Are some vendors more essential than others?
As a wedding planner, I work with my couples to figure out what they should be spending on everything. I base these numbers off of their entire wedding budget, what vendors they want and what they want from those vendors.
Developing a wedding budget can be a crazy difficult task. If you're looking for specific and detailed help with yours, be sure to contact me before you spend too much!
For now, I've put together this blog of ten items on every wedding budget and whether you should save or splurge on them. I'm also telling you my reasoning behind it all and giving you ways to save you might not already know about.
Make sure to share this blog to other engaged couples and don't forget to save it to your Pinterest so you can refer back to it anytime you want!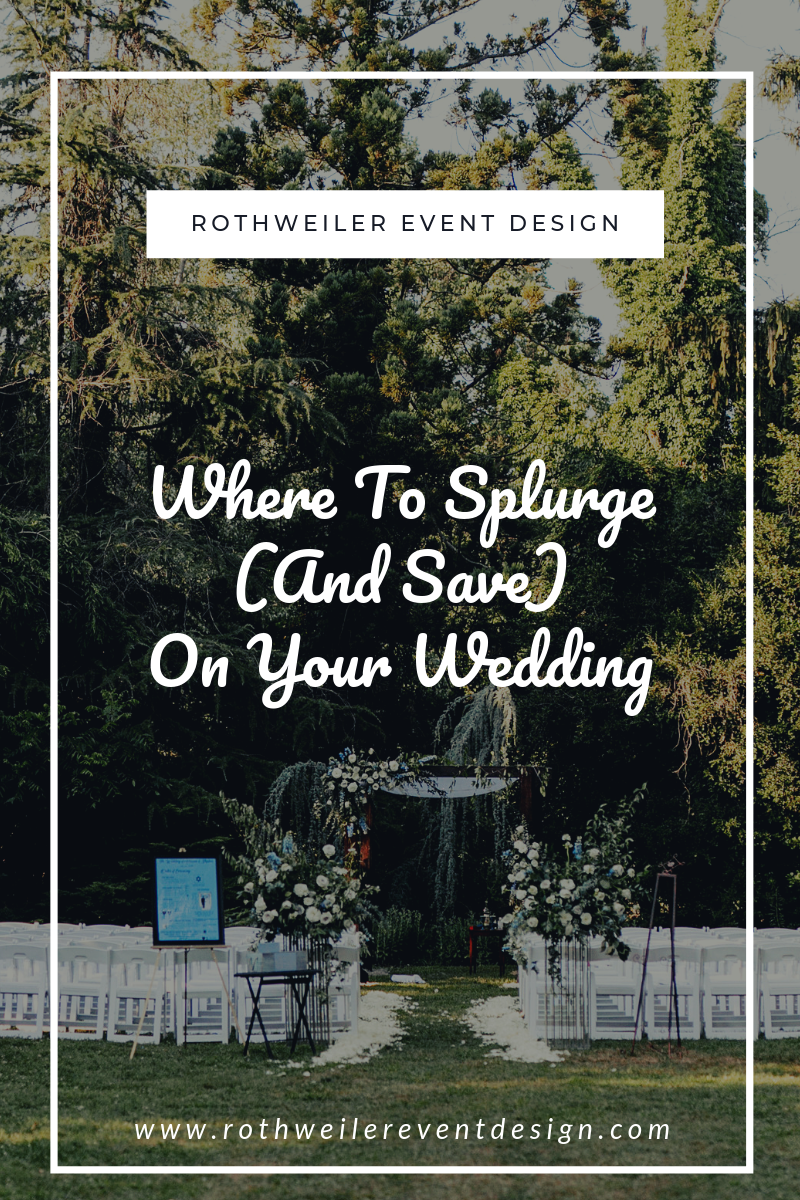 *Please note that most of the links of this page are affiliate links. This means if you click on a link and purchase, you will receive the same price, but I will receive a referral fee. This helps keep my blog free and allows me to share wedding planning tips with you. Thanks for your support!*
To Splurge or Save on Wedding Costs
Recently, I took to Instagram and polled via my IG stories about this exact blog topic. There were 10 different categories from a standard wedding budget, and I asked people whether they would spend or splurge on each of them. Check out the list and let me know in the comments where you would spend or splurge for your own wedding day!
The ten categories and their results were as follows:
Groom's Wardrobe; 54% of those polled on IG said "splurge"
Lighting; 56% of those polled on IG said "save"
Food and Beverage; 98% of those polled on IG said "splurge"
Wedding Planner; 65% of those polled on IG said "splurge"
Videographer; 76% of those polled on IG said "splurge"
Favors; 90% of those polled on IG said "save"
Invitations; 76% of those polled on IG said "save"
Bridal Gown; 63% of those polled on IG said "splurge"
Band (music, not rings); 52%of those polled on IG said "splurge"
Linens i.e. tablecloths, napkins, etc.; 84% of those polled on IG said "save"
Obviously, there are way more categories than just those 10 when putting together a wedding budget. In fact, some of these options might not even be a consideration for your wedding.
Basically, I'm just asking that you don't light up my comments section about how I "forgot" photography and why I only mention a wedding band and not a DJ when analyzing wedding costs.
Like I said, I do a full wedding budget analysis for all of my clients, so if you want one of those, get in touch.
1. Groom's Wedding Wardrobe
54% of those polled on my Instagram stories would splurge on this.
In general, the biggest wardrobe expense that most couples focus on is the wedding gown. Surprise, surprise right? Don't fret, I'll get to that wedding cost a little later in this blog.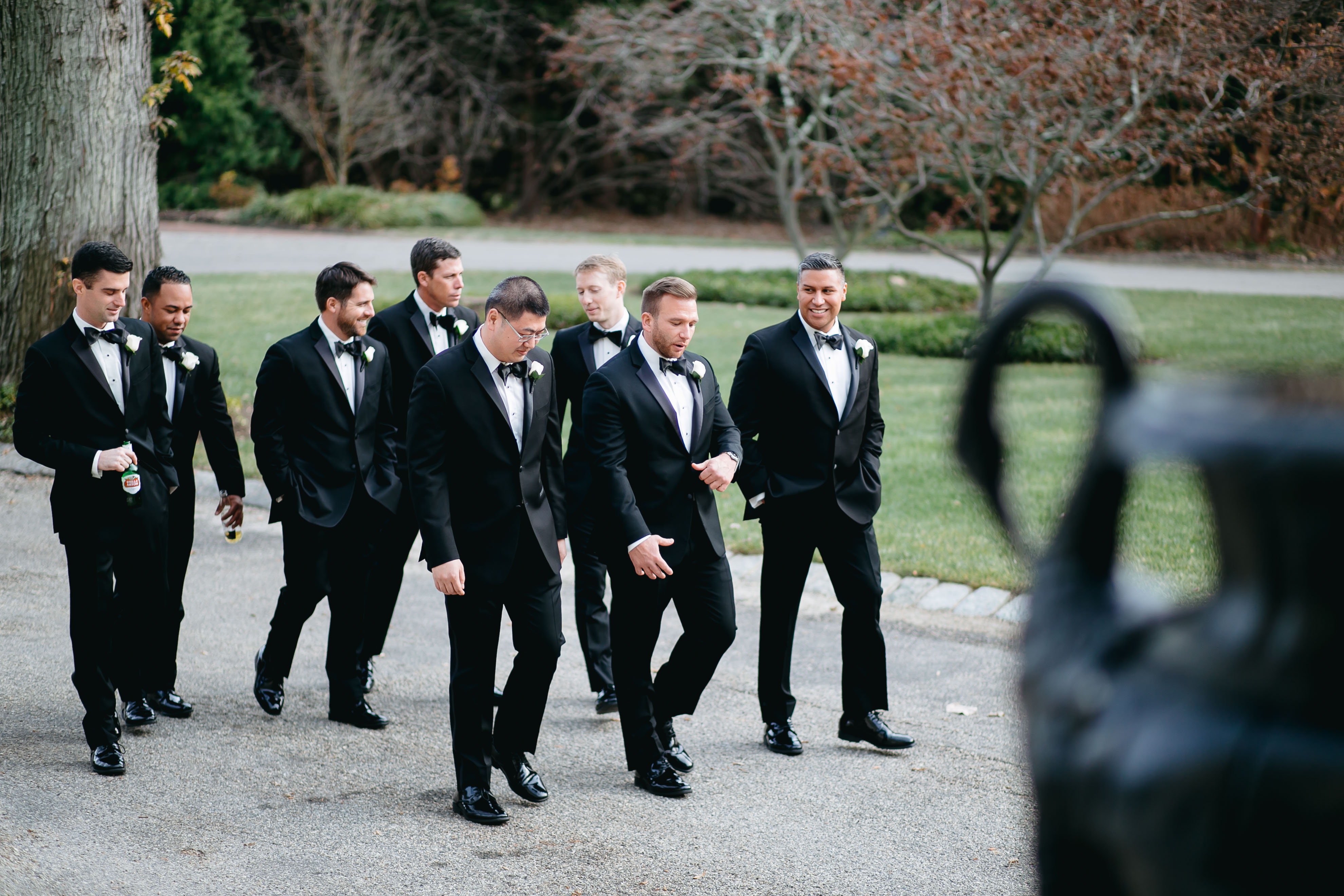 What the groom will wear used to be a bit of an afterthought up until a few short years ago. In fact, the wardrobe for any of the male members of the wedding party, including dads, was set at the "rental" default choice.
Something has been happening over the past few years though….weddings aren't just cookie cutter anymore and that includes all of the details right through the wardrobe. While the formal black tuxedo is always a classically fabulous option for weddings, it just doesn't work for all of them anymore.
Regardless of what style the groom is wearing, this is an area of the wedding budget that I recommend you splurge on. There are so many reasons for this, but my biggest argument is how the bride won't wear her gown again, but the groom sure can wear his suit or tux after the wedding day.
This is a great opportunity for the groom to get that custom made suit or tuxedo. If I'm being honest (and I'm always being honest) there aren't a ton of chances for the groom to pipe up with his opinions about the wedding. Even though most of my brides want the input of their grooms, most of my grooms are all about the mindset of "just tell me where to show up".
No matter how laid back and zen the groom is, many will jump at the opportunity to create their own suit or tuxedo for the big day. It's the one item that is his so give that to him and splurge here.
PS: If you're in the NYC area, hit up our friends at Manna E for the best custom groom and groomsmen wardrobe.
2. Lighting
56% of those polled on my Instagram stories would save on this.
Which means 56% of people are soooo wrong!
Related: Why Wedding Lighting Should Be In The Budget
OK, I'm super thrilled that this wasn't a totally unbalanced percentage. It legit calms my heart that this wasn't some crazy response like 90% wanting to save by just ignoring this wedding cost altogether.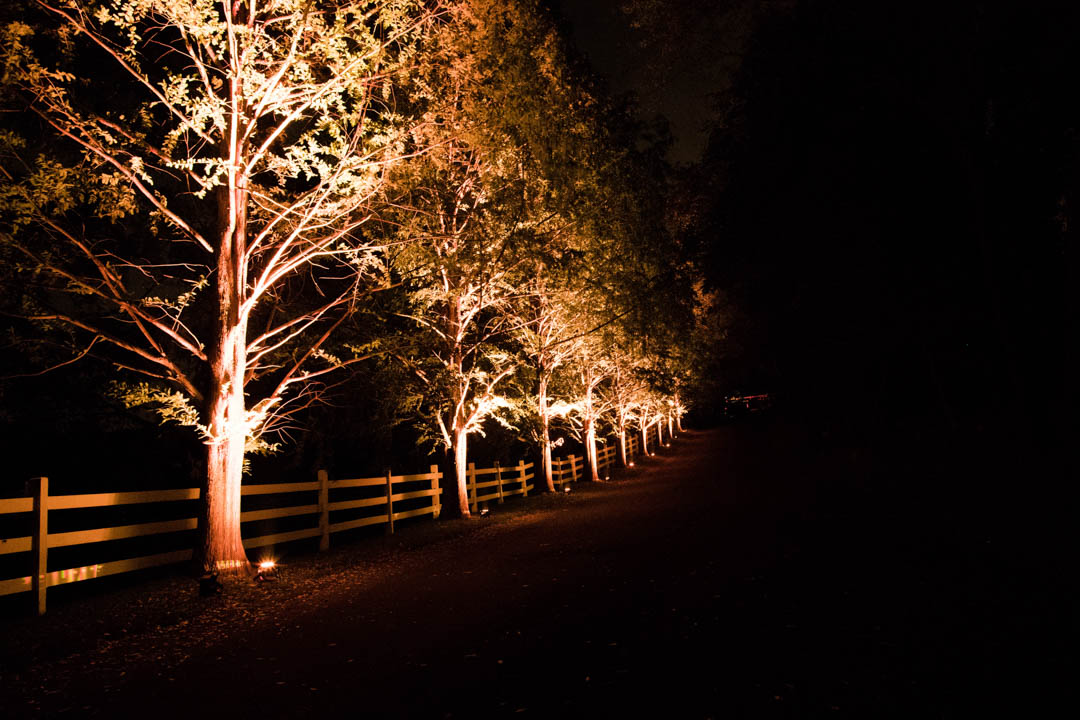 Obviously, I am a firm believer that you should splurge on wedding lighting. Here's the thing, lighting is an instrumental part of wedding design. After all, if you can't see the centerpieces you spent all that money on, then what's the point?
There are various types of wedding lighting, and many couples jump to the conclusion that this wedding cost is crazy high. In reality, the lighting essentials that every wedding should have, aren't going to break your wedding budget. While I do consider this a splurge there are ways to have this and save at the same time.
It's all about what you need. Sure, you can go crazy with monograms and pretty pattern designs. And, no, I won't argue with any of my couples that want to put lights down the driveway into the venue that will only be seen for like 5 minutes as guests exit, if they even notice at all.
What do you really need though? I recommend uplighting/wall washes and pinspotting. We're not at Main Street USA in Disney and I'm not suggesting you put together some laser light show for your cake cutting either. However, uplighting and wall washes will create a glow and envelop the reception room like a frame would on your wedding photos.
Pinspotting might sound more foreign to you, even for those couples who know what uplighting is. I love using pinspots because they guide light directly onto the centerpieces. They highlight the centerpiece in a subtle way, but are strong enough to make sure that your guests can see them…and more importantly, that your photographer and video team can as well.
Splurge. No questions asked.
3. Food and Beverage
98% of those polled on my Instagram stories would splurge on this.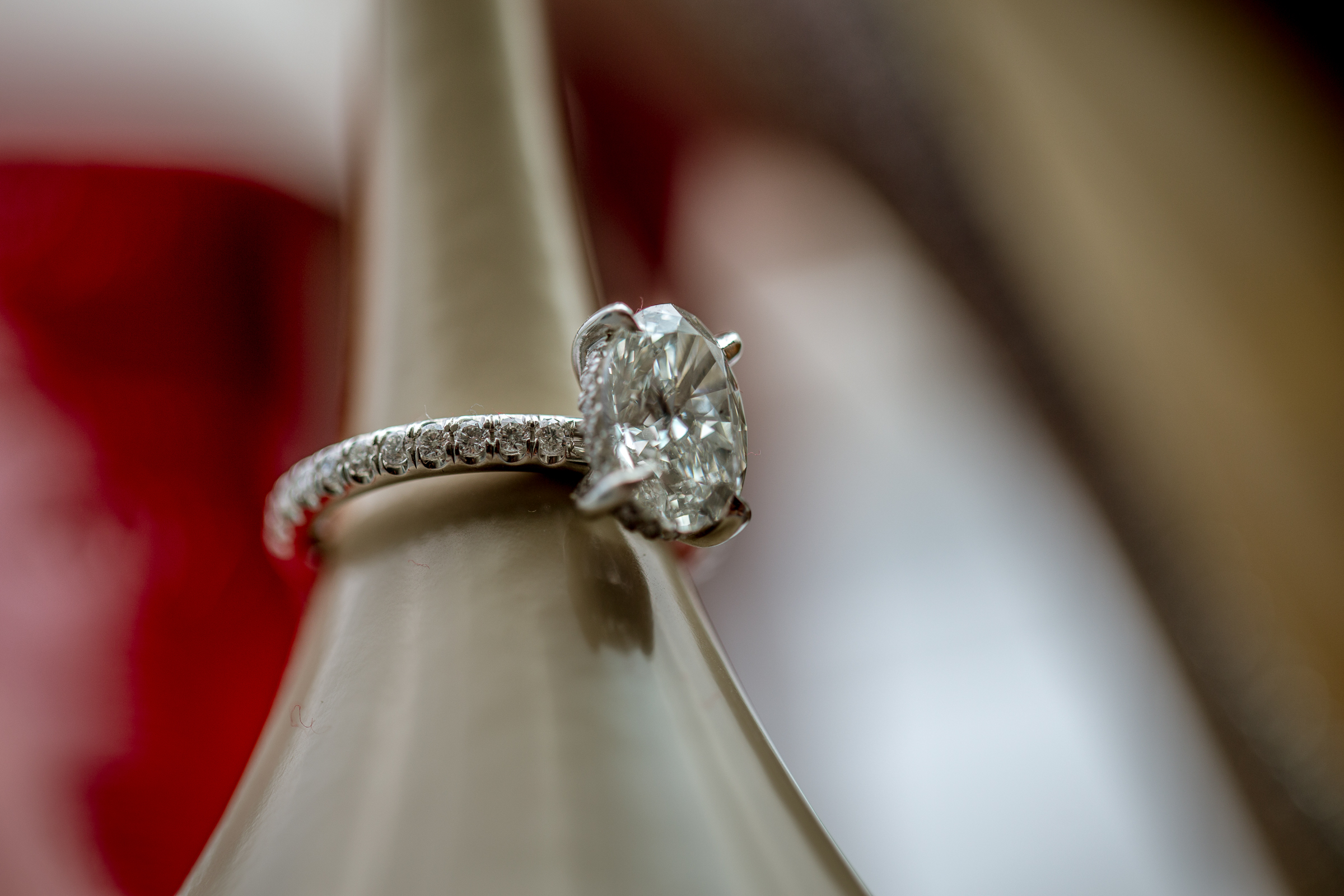 I mean….obviously. Look, most of my couples tell me that food and beverage is the most important thing to them in regard to their wedding. When I design their wedding budget, I take the entire thing and cut it in half.
50% will go to the venue, food, and beverage.
Does that sound significant? Would you believe that most couples spend closer to 75%-80% of their entire budget on their venue, food, and beverage? If you do that, you're setting yourself up for a disaster trying to afford the rest of your wedding costs, so keep it to 50%.
Which, yes, is still a healthy number.
You have to splurge here because it's food and alcohol. This is not the time to suddenly pinch pennies. You do not save on your wedding costs by doing stupid stuff like having a limited or cash bar. It's not a high school reunion, it's a wedding, OK?

Just because you splurge on something though, doesn't mean you have to completely throw caution to the wind and book the place with the most and best food you can find. This decision deserves some serious comparing between locations and caterers and you should only consider those that are within your wedding budget.
In order to save in this category, not only do you not limit the bar, you don't offer a buffet either. Did you know that buffets and stations tend to increase the per person cost for a wedding? The reason is that the caterer now has to have enough of every single meal option for every single guest. Basically, if you have 200 people coming, your catering team needs to have enough of all the options for 200 people.
Make sense?
While I admittedly am not an advocate of doing this, a way to save on this splurge, is to have your guests send their meal orders in advance. Ever receive those wedding invitations where you send back an RSVP with the meal choice? Again, I don't care for this practice, but if you're looking to save money in the food and beverage department, I'd rather you do this instead of cutting any of the bar amenities.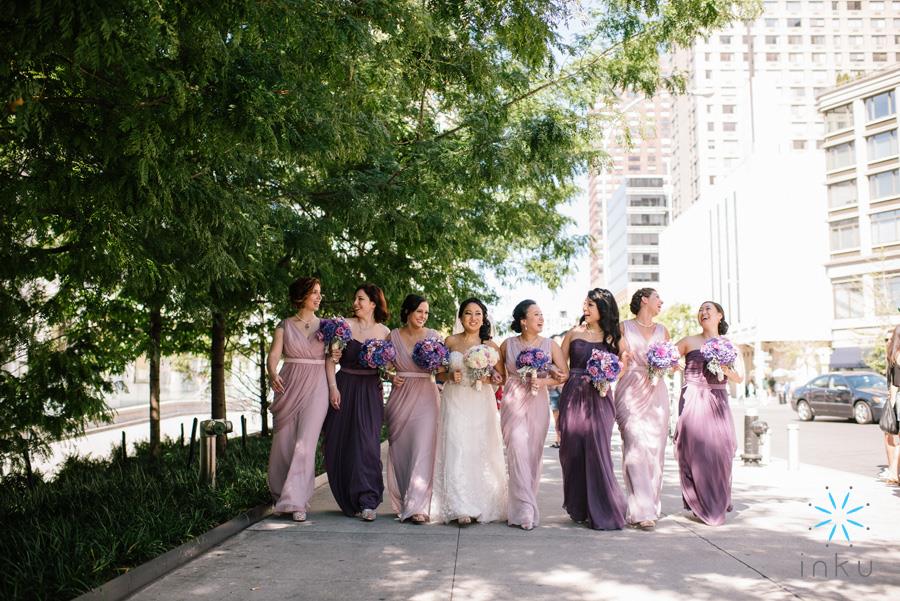 Splurging on wedding food and beverage means offering quality food over quantity food, as well as beverages both high in quality and in quantity. Not big on asking your guests to order their dinner two months in advance? Cut back on the choices your caterer can offer on the day of, and don't go for all big ticket items as choices.
No one orders the lamb anyways.
4. Wedding Planner
65% of those polled on my Instagram stories would splurge on this.
First of all, how 35% of the people that voted on my Instagram, were even OK with saying this is a good place to save is beyond my comprehension. Y'all know I am a wedding planner, right?
Now that we have that out of the way…Obviously, I'm going to say you should splurge on a wedding planner. I can admit bias, but this goes beyond that. This splurge decision is based on years of working with couples that told me they wished they had hired me sooner. Add into that group the couples that didn't hire me and then came back after their wedding and admitted their regrets.
Between my own personal stories and the ones you can read from other couples who, if they could go back, would hire a wedding planner, this seems pretty easy.
The duties of a wedding planner vary from person to person and will depend on what the couple actually needs. Many of you have probably heard the term "Day of Coordinator". This fictitious job title implies that a wedding planner can just show up on the day of the wedding and everything will magically come together.
Garbage.
Not one person can just arrive on the wedding day with the ability to coordinate everything. It takes weeks of preparation for the most experienced wedding planner to do anything of value on the day of the wedding. So, any planner telling you otherwise, is just trying to grab your money. Run away.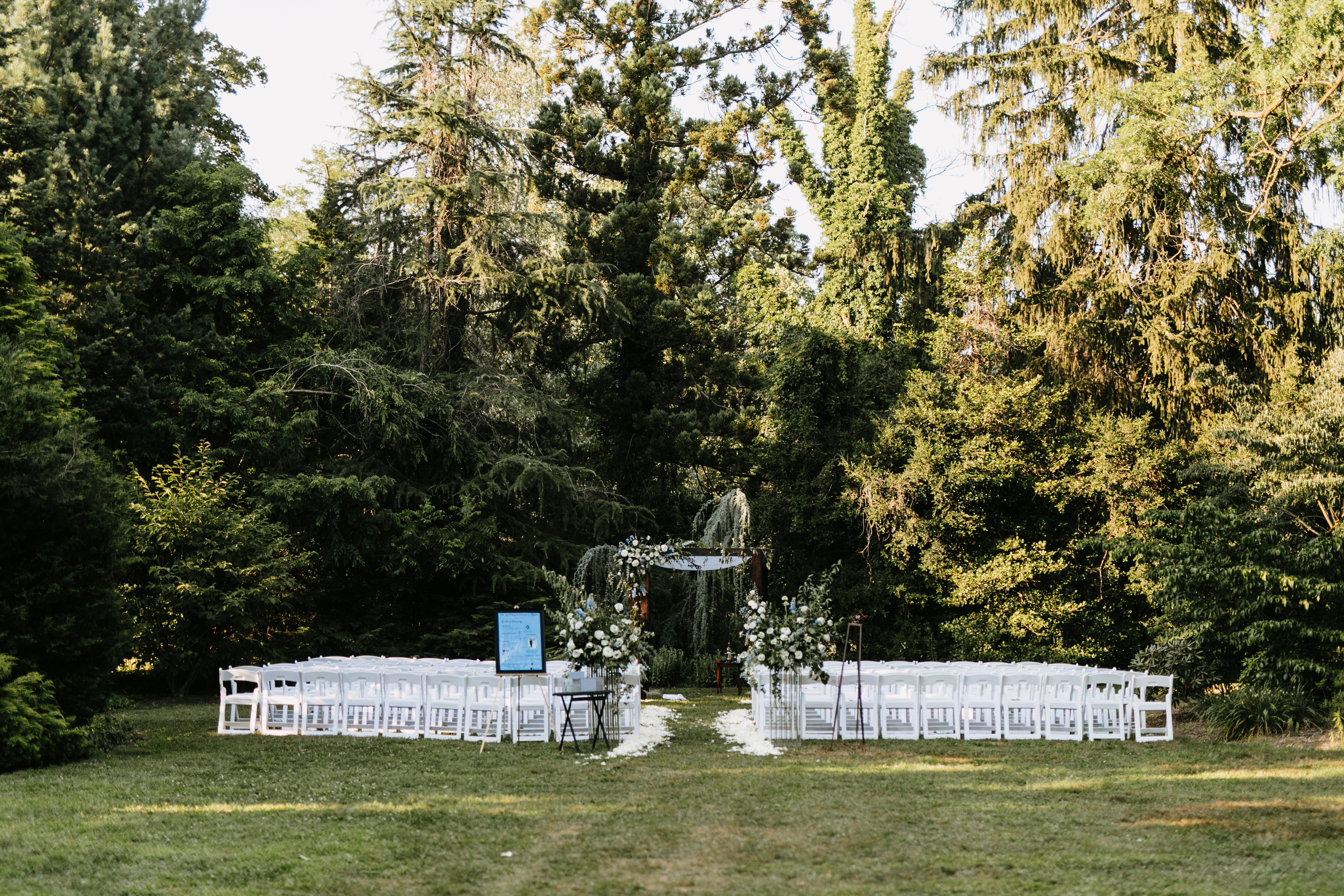 A "Day of Coordinator" is a good investment to make if you can't afford a full service wedding planner. That person will make sure to handle all of the logistics and create a timeline that works for the venue and all of the vendors.
You are essentially purchasing zen.
That said, if you can make it work in the budget, you should splurge for a wedding planner from Day 1. This means you don't pick the venue, book the date, or sign a single contract without checking off this box first. A professional wedding planner will be able to keep you within the parameters of your budget, guide you to the best venues and vendors, and point out all the fine print you're likely to ignore on all of those contracts you'll have to sign.
Whether you go for "Day Of" or Full Service Wedding Planning, this is a splurge you can't afford not to take.
5. Videographer
76% of those polled on my Instagram stories would splurge on this.
Being married myself, many people ask me what I would change about my wedding day. I'm asked what regrets I have more than anything else when I am working with a couple. Truthfully, I only have one:
I didn't hire a videographer.
That's it. If I could go back 10 years ago, I would have hired a videographer for my wedding.
Now, I know what you're thinking….when are you ever going to even watch the wedding video, right? Videography is typically the first thing to be cut from the wedding budget (right after the planner). It's also the only big ticket item that I see couples waiting to decide on depending on how far over budget they go.
You should always make the videographer part of your original budget. This is not where you cut corners by having Aunt Sally use her iPad to record your vows. Pictures are worth 1,000 words, but video captures the rest of them. You have no idea when you're going to watch the video, but you'll always have the option to watch it whenever those times come.
And those times will come.
If I know all of this though, why did I not hire one? Well, mostly because my wedding was featured on TLC's "Four Weddings" and I really thought that was enough footage. The other reason is that I'm an idiot and make dumb choices from time to time. So, yeah.
6. Favors
90% of those polled on my Instagram stories would save on this.
Once again for the people in the back!
Favors are one of those wedding traditions that couples aren't really sure if they're supposed to do or not. Kind of like the bouquet and garter toss. The fact that couples think about favors in that frame of mind should tell you all you need to know.
There is this lingering guilt some couples have, where they feel they have to give favors as a way to thank their guests for coming to their wedding. Better ways to thank your guests? Great food, open bar, and amazing music. All three are way better options than those outdated Jordan almonds or those tiny little succulent plants that wind up left behind to die.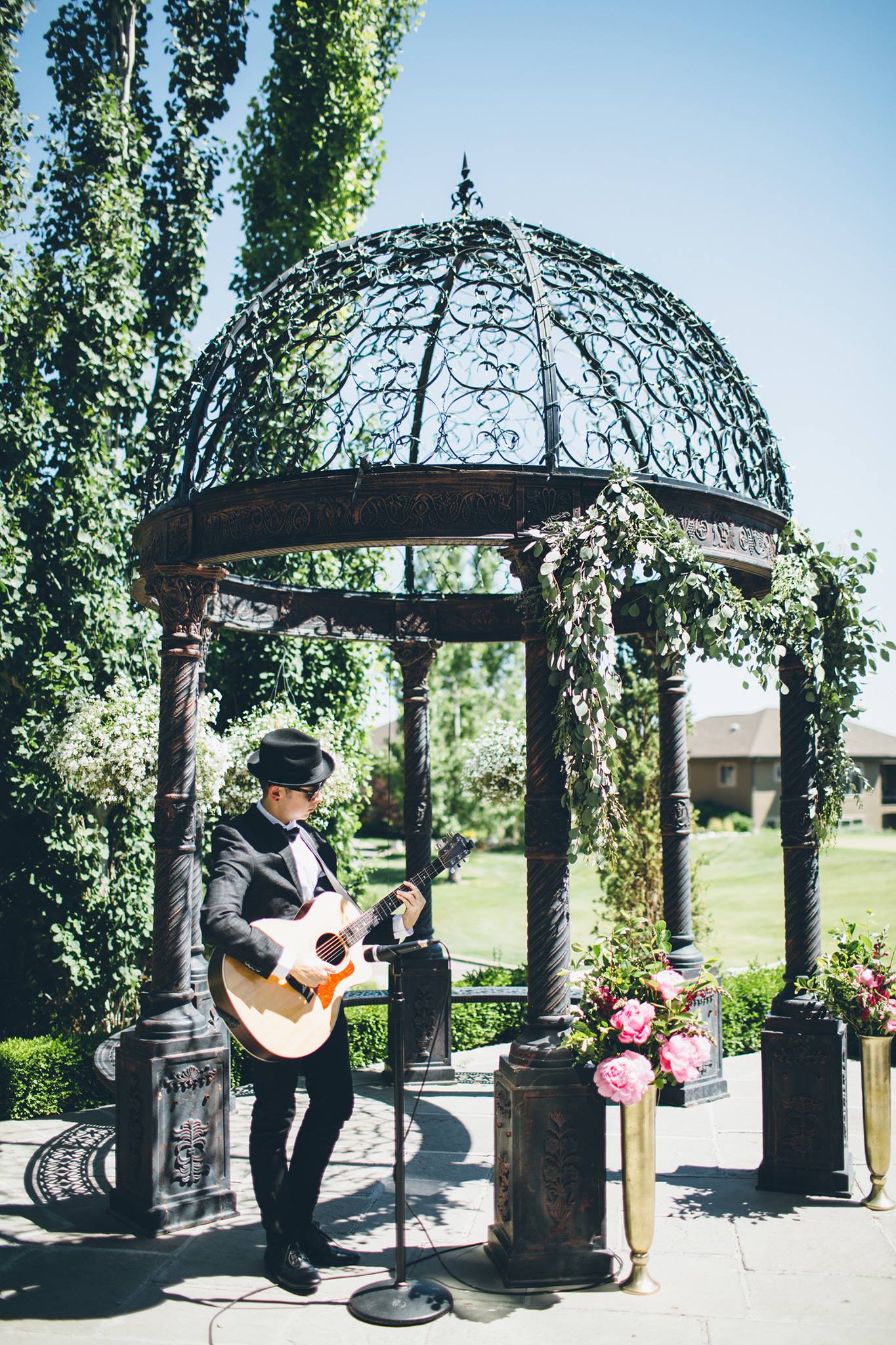 But, if you really want to be traditional and see these as tokens of thanks, there is one piece of advice I will share: make it food or alcohol. That's it. Don't give anything someone has to make, bake, add water to, or wash down with a gallon of vodka because Jordan almonds are gross.
7. Invitations
76% of those polled on my Instagram stories would save on this.
Apologies to any of the fantastic stationery designers I work with, but I'm going to go ahead and agree with the majority on this one. I have always been a firm believer that there are two types of couples.
There is the couple that believes a wedding invitation is the first glimpse into the design of the wedding. It's basically a sneak peek for their guests and a chance to show off their vision.

You plan a wedding for a year or two, and everyone always wants to know what colors you're using, what the flowers are, and so on and so forth. Having to wait until 3 months out before the wedding date to show anything to the guests is torture to these couples, so they are going to take this opportunity, damn it, and present their style through their wedding invitation.
Then there is the other couple who doesn't give a flying you know what about invitations. They have thrown out every invite they have ever received before, including the one to their sister's wedding that sang music when they opened it. All of them have gone in the garbage and they're positive anything they design will wind up in the same place.
If you think your guests are just going to throw them out and that means a waste of money to you, then you should save on this. The cost of invitations can add up very quickly with minimal effort. As much as I love custom stationery, if this is an area of concern in your budget, consider saving here, but splurging on things like menus and table numbers…
You know, things your guests will actually see on the wedding day.
If you're part of the save crowd here, the best place to start is online. I've written plenty of blogs like this one featuring the best online wedding invitation markets, so be sure to check those out for inspiration.
Should you find yourself shopping with our friends at Minted, be sure to use code WEDPLROTHWEILER to save 25% on your invitations and 35% on your save the dates.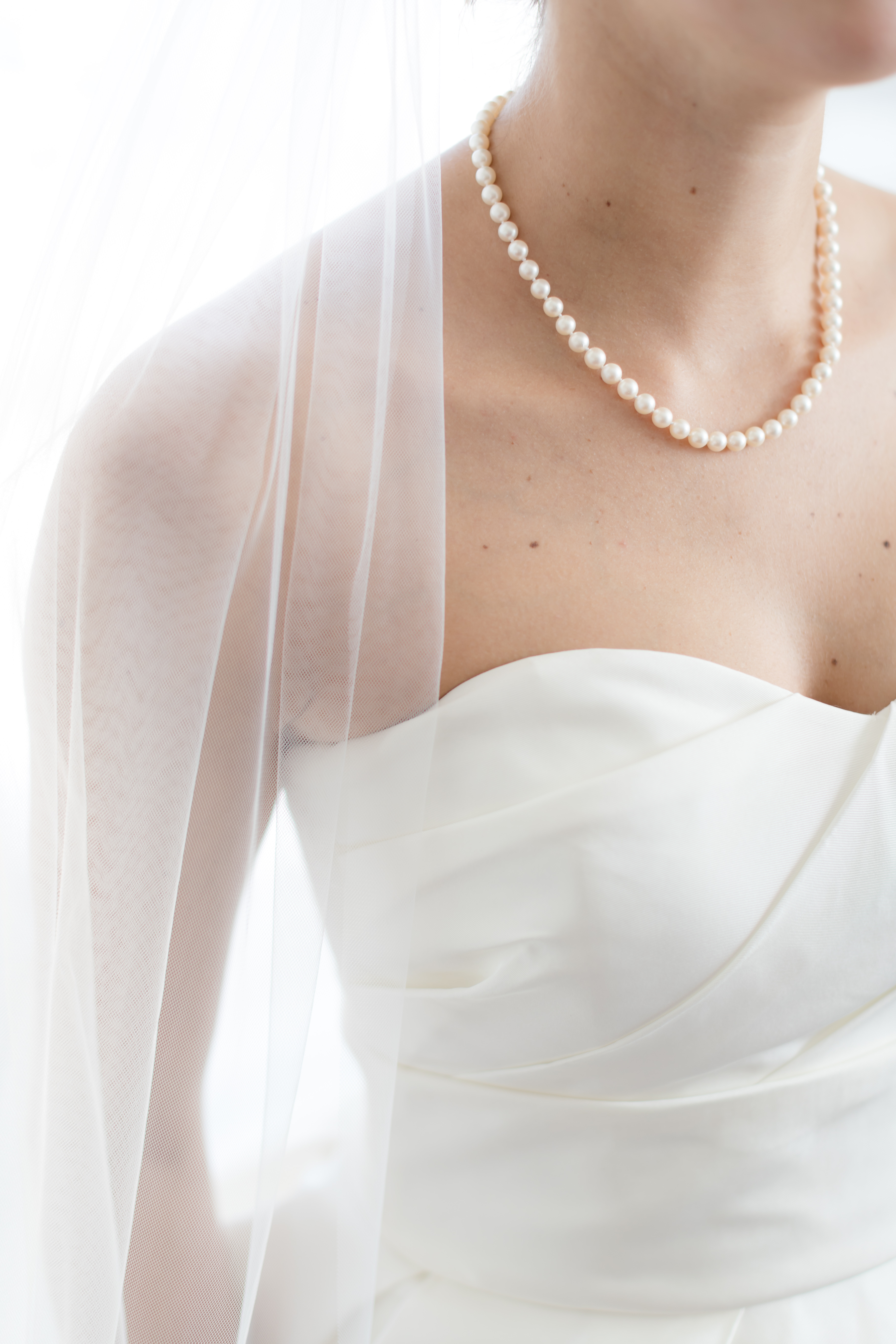 8. Bridal Gown
63% of those polled on my Instagram stories would splurge on this.
Whenever I find myself in a conversation discussing what some of my couples have spent on their weddings, often times the person I am speaking with is shocked. I hear "they spent how much?!" quite frequently. My thought though is that people will spend their money on what they want to spend their money on.
For instance, every time I see a Range Rover or some other luxury car, I could easily consider it a waste of money. Any given moment, some reckless driver could smash into them and it's over. It's expensive, and it's over. I like to put my money into things that most would consider more of an investment.
And I do not consider a bridal gown an investment.
You wear it once, you cannot wear it again, and then it sits in a box in the back of your closet while you lie to yourself about how much your future daughter will want to wear it someday. Splurging on a bridal gown just isn't necessary, especially when there are plenty of choices available and different ways to save.
Sample sales give brides the option to save anywhere from 10-20% off regularly priced dresses. Buying off the rack can save you even more. I fully believe that you can start with a smaller budget in this area until you feel you just can't find the one.
Now, I'm not saying to exhaust yourself going from store to store, absolutely not. It's important to be realistic and do your research before you even set up an appointment. I'm just saying that there's no reason to jump right to $10,000 as a starting point.
9. Band
52% of those polled on my Instagram stories would splurge on this.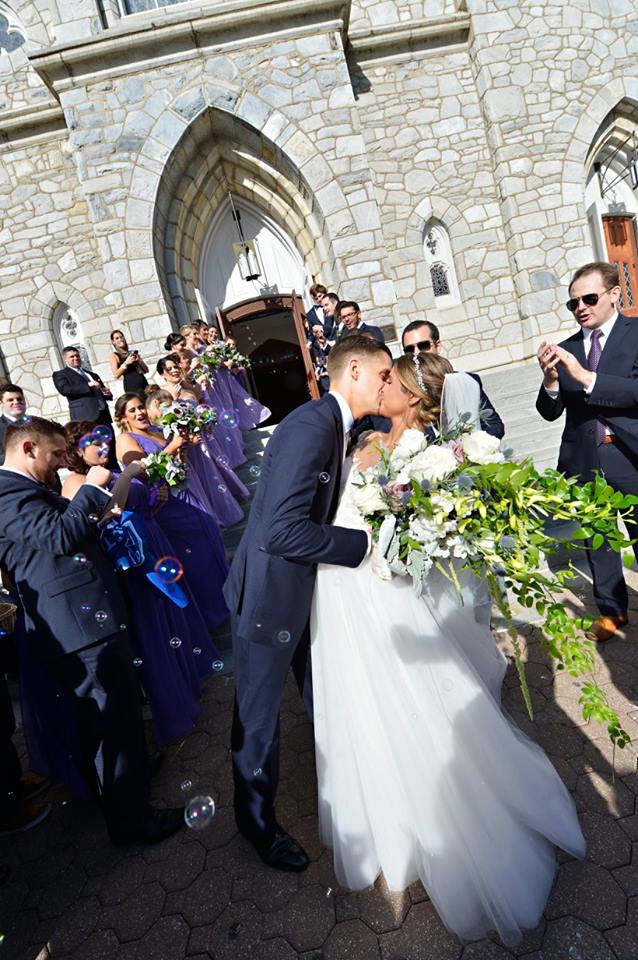 The reason I asked this specific question, instead of asking about a DJ, is because most people believe that a band is way more expensive. Because of that belief, it's only natural to have just over 50% of those polled say that they would splurge; this is a true splurge.
Or is it?
In reality, you could find a DJ that would cost you more than a band. It's not the typical case, but it exists. With music being such an essential part of a wedding, couples tend to have strong opinions on how they want that music to sound.
The couples that tell me they want a band usually throw in the fact that they don't want their wedding to sound like a Sweet 16. Versus the couples that tell me they want a DJ, are always concerned about hearing the music the way it's "supposed" to sound…correct singer and all.
Here's the thing, you should always splurge on your wedding music, whether it's a DJ or a band. Great music keeps the party going and the dance floor packed. Whereas bad music can literally destroy the entire wedding reception that you've been planning for a really really long time.
If you're looking to save on music, then booking with a DJ is likely your best option. But, if your first thought of your wedding music is a band, then splurge on it. I have seen too many couples talked out of splurging on a band just to have more money in their budget for something else.
Want a band? Get a good one and splurge.
10. Linens
84% of those polled on my Instagram stories would save on this.
Depending on your venue, you might only have a choice between white and ivory linens. Sometimes you'll have the option to "upgrade" and select from a rainbow of other poly-blend fabrics that they have in house.
Linens are, what I consider, an "extra" wedding day detail. Just like with charger plates or different styles of chair and table rentals, the couple frequently has to outsource them. Perhaps they can be coordinated through the florist or the caterer, and you can always work with a wedding planner to handle them as well.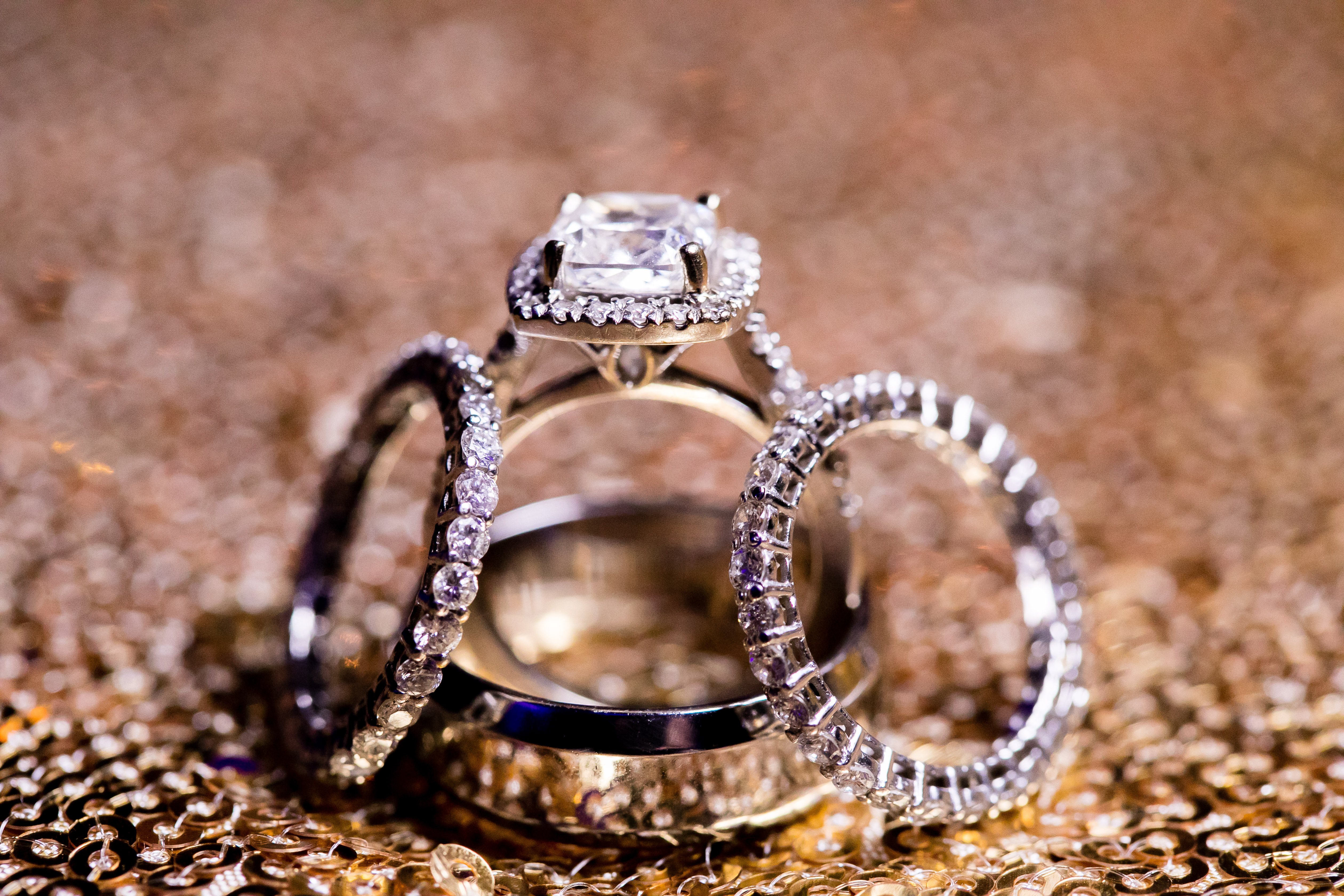 No matter what though, they have to be rented from another vendor, which makes linens pretty much a separate line item. Knowing that, most couples shy away from splurging on linens because it's just one more thing to add to the budget. There is this massive leap to the conclusion that another line item means a huge expense.
There is a way to splurge on linens while still saving though.
Personally, I don't like the idea of switching out all of the linens on every last table. Ivory looks just fine and it works with every blend of colors you can come up with. Between the centerpieces and any other style details like charger plates and menu cards, upgrading the tablecloth isn't going to be necessary.
Where you should splurge on linens are in the smaller areas. When you're swapping out ivory for something more detailed, it's a fine line between gorgeous and disgusting. You're competing with everything else already on the table. If you want to add a little something extra to the look, go with a different color napkin. This is a great way to work in that extra pop of color and bring the whole look together without breaking your budget.
Another way to save on this splurge is to switch out the linens that are on, what I call, "specialty tables". The escort card, gift, cake, and sweetheart table are all focal points during the wedding. Renting different linens for these tables will both elevate and complete the total design. Plus, you only need 4 of them instead of the 15, 20, or more you would need to cover every last table at your reception.
That's it for my breakdown of 10 wedding costs and whether you should splurge or save on them!
What's most important to you on this list? Where will you be splurging and saving? Share in the comments below and don't forget to mention any amazing deals you've already found while planning your wedding.
Until next time…