It's no secret that Target has everything, right? How many times have you gone shopping there for one thing, only to leave with 47 other things that you "didn't really need"? For instance, my husband hates when I go to Target to just pick up some milk because he doesn't understand how milk ends up costing $150.
Oh well. That's men!
Besides having everything in the world under one roof, I think another reason everyone loves Target is because their prices are amazing. With their RED card you get another 5% off every single order and shipping is always free.
Along with everything else, they always have a ton of great stuff for anyone getting married- including the best Bachelorette Party gear supplies. Whether you're planning the party for someone else, or you're a bride pulling it together on your own (hey, I'm a control freak so I get it), you have to check out my round-up of Bachelorette Party gear picks in this blog.
Ready to start shopping? Let's do this!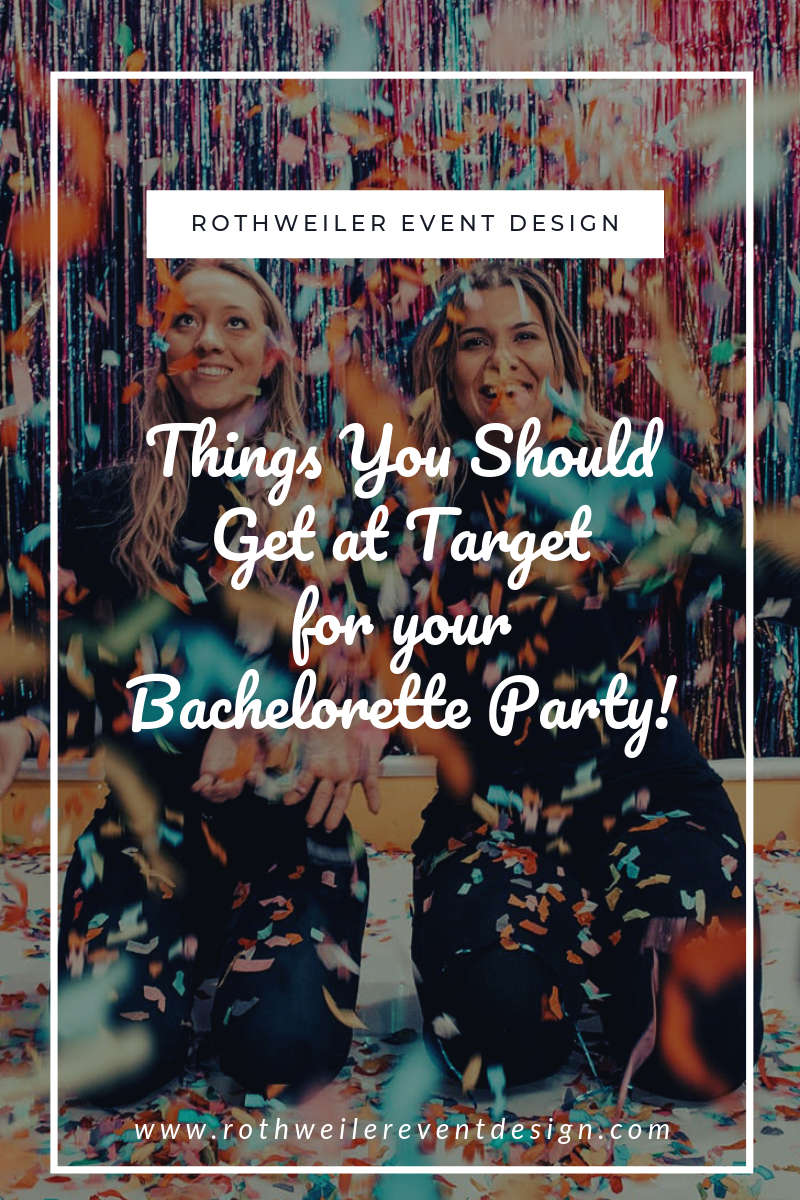 *Please note that most of the links of this page are affiliate links. This means if you click on a link and purchase, you will receive the same price, but I will receive a referral fee. This helps keep my blog free and allows me to share wedding planning tips with you. Thanks for your support!*
The Best Bachelorette Party Gear
OK, you might think I'm going a little overboard claiming that this round-up is filled with the best Bachelorette Party gear items. But I'm totally not, I promise! In fact, this list is a mix of party supplies I know you're already looking for, and ones too unique to pass up.
Depending on where you're going and the location of the actual Bachelorette Party, you may not need some of this gear. Of course, since most of my brides end up in a warmer or tropical location, I felt responsible to include the stuff they will need. I'm not too worried though, because I'm pretty sure most Bachelorette Party locations are in places like Los Angeles, Vegas, and Miami.
Who really wants to go to Alaska? Doesn't tequila freeze?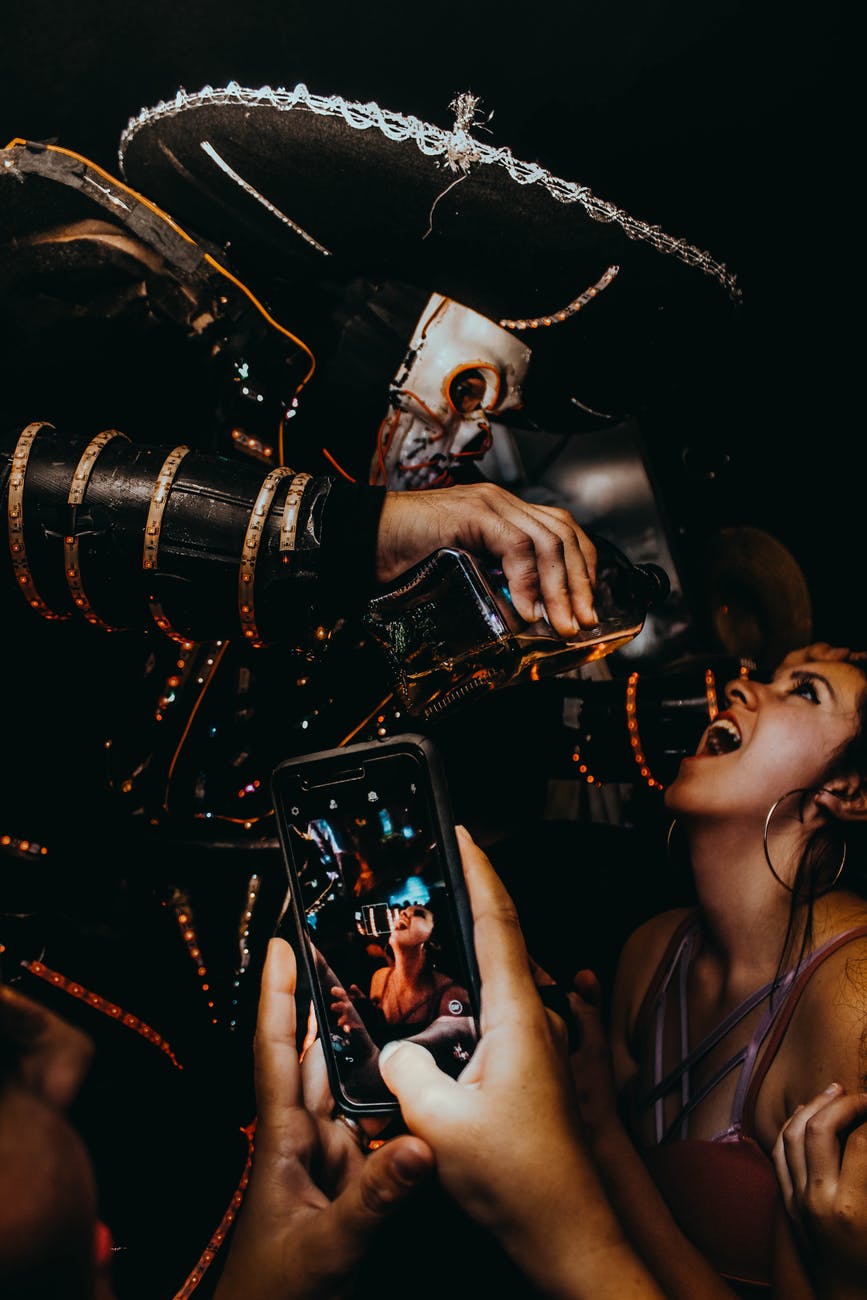 Bachelorette Party Via Plane
If you're planning to fly to one of the popular party places like Vegas or Miami, luggage is essential! I don't know about you, but I travel pretty often and used to travel upwards of 20 times a year. That's a ton of times that my suitcases got beat up and tossed around.
Nothing is scarier than packing up after a vacation and having your suitcase zipper break. Believe me, I have been there and you do not want to be there!
As the honored guest, the bride shouldn't have to worry about something like that happening. Plus, it's likely she'll need that luggage not too long after the Bachelorette Party for her honeymoon, so that's just another reason to have something brand new and dependable.
If you're part of a group of bridesmaids looking to surprise the bride with everything including the location, grabbing the suitcases ahead of time is a must-do.
I love this suitcase set from Target in bold, beautiful, coral! It's a hardside luggage set, which means it can take a beating going from airport to airport. It's also a spinner which makes rolling it a breeze. As someone who owns spinners, I will tell you, I'll never buy any other type of luggage as long as I live.
If you're looking to get the bride something that she can use on the honeymoon, make sure to pick up the set. Of course, you can grab just the carry-on instead, which might be just what is needed for a quick trip to Vegas!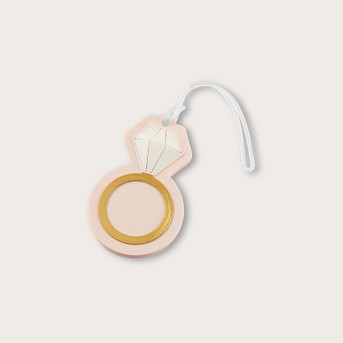 This super cute luggage tag is the cherry on top of the Bachelorette Party sundae! Fill this out and attach it to the bride's brand new luggage and be prepared for a chorus of "awwwww….sooooo cute"!
Bachelorette (Pool) Party Gear
There was no way I was leaving off this super popular engagement ring floatie!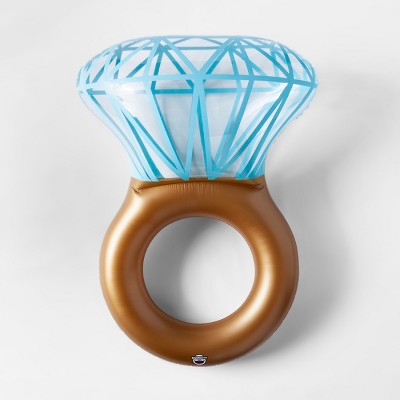 I bought this for myself almost 3 years ago and still get comments and compliments every time I go to the pool. I've been married for 10 years now, but 1. I love the pool and 2. Come on how can you not buy this?
Related: 8 Essential Supplies For The Best Bachelorette Party Ever
Here's the thing with the trendy pool floaties….a lot of them are super uncomfortable or impossible to lay on. Neither is true with the engagement ring floatie though. That huge diamond is actually the best pillow ever. Grab this Bachelorette Party gear right here and keep it in the box until you get to your pool destination.
PS: If you want the best battery powered air-pump, this is the one.
Of course, you want to make sure that everyone knows who the bride is, even when you're at the pool or the beach. I'm loving this one-piece from Target because it's super flattering on every body type.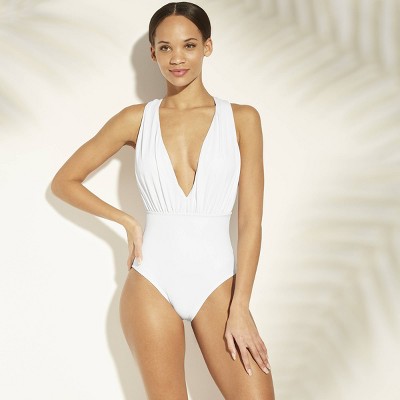 Besides being flattering, the bride also won't walk away with funky tan lines when she wears this suit. Just don't forget to pick up some strong sunblock like this SPF 100+ from Neutrogena or the spray version here.
Bachelorette Party Gear Decorations
No Bachelorette Party is complete without a fully decorated hotel room. Don't drive yourself crazy by waiting to pick up this stuff once you reach the destination. Take a look at the hotel room the bride will be staying in to get ideas how to make it look like the best Bachelorette Party ever.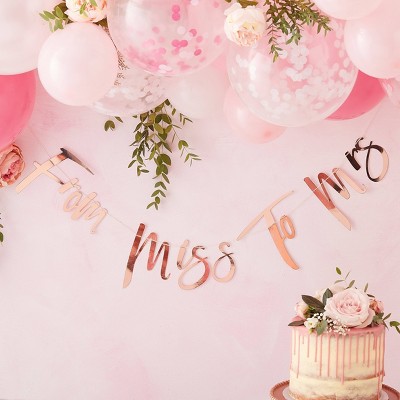 This "From Miss To Mrs" banner in rose gold is fun and affordable and a total necessity! It's not so huge that it won't fit on most walls, so you'll be able to hang it pretty much anywhere. Keep it in your carry-on so that it doesn't get all smushed on the flight.
Hang this up with some fun balloons like these confetti ones from the picture above or ones with unicorns on them right here!
Bachelorette Party Games
Whether you're spending a rainy day inside the hotel suite, or just working through that hangover, you'll need some fun games to play.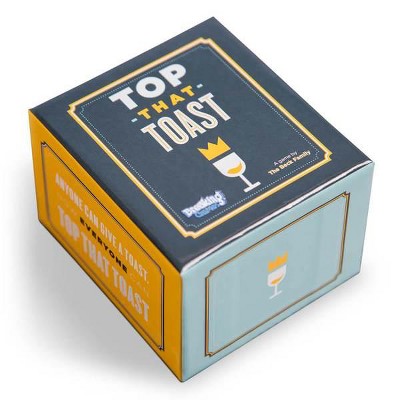 There are lots of really lame games that you've probably already seen at bridal showers or even other Bachelorette Parties. This is not one of them. Top That Toast is a fun spirited game and gives everyone a chance to give that toast they probably won't get to give on the actual wedding day. With plenty of topics to choose from, this game is perfect for those never ending hangovers and will make that time fly by so you can get back to the party!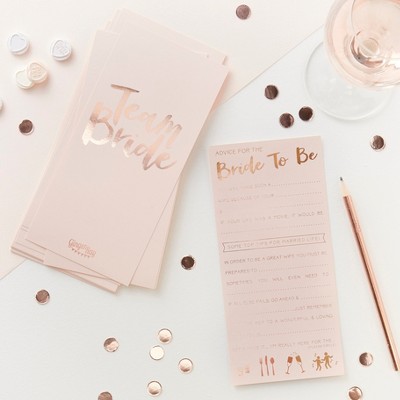 I mentioned that this list of the best Bachelorette Party gear items was a mix of unique and traditional things earlier in this blog. Advice cards for the bride to be are a staple for a reason. These are perfect for bridal showers, but even more fun for Bachelorette Parties when you're with those people closest to you.
And how cute are these blush cards with rose gold foil letters?
Bachelorette Party Signage
Right when the bride shows up to the airport and during every limo ride and club visit, it's basically the law to make her wear a Bride-To-Be sash like this one.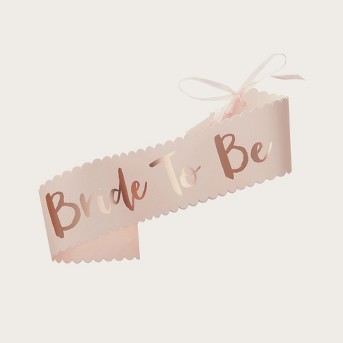 I picked this one from Target because it matches perfectly with those advice cards…that, and rose gold is trendy and brides have been obsessed with blush for the past 6 years now.
I've never been a huge fan of everyone wearing a sash, especially if it's every single time the bride is wearing hers. Aside from wearing matching colors or all black, I wanted to find unique ways for bridesmaids to announce themselves…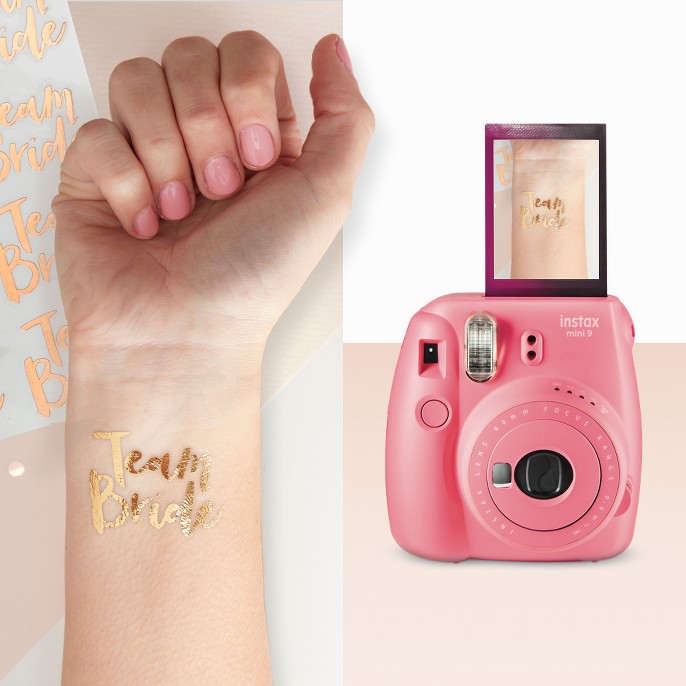 Gold temporary tattoos are super cute and very trendy. Up until about a year ago, they weren't super easy to find and honestly, they still aren't. The ones that I've found so far are just crap…and then Target saves the day as per usual. These temp tattoos are perfect for the bride squad and a must have for the Bachelorette Party gear list.
And if you're wondering about that adorable pink camera, you can grab that right here. Everyone loves Polaroids and this is the next best thing.
Just keep in mind that those pictures are basically evidence of what happened in Vegas….
Not feeling the pink? This Fujimax camera comes in tons of colors including ice blue, rose quartz and a ton of others. Just don't forget to pick up the film with the camera, which you can grab right here!
That's my list of the best Bachelorette Party gear that you can get from Target!
If you scrolled too fast or don't feel like scrolling back up, here are the links to all of the products that I mentioned in the blog:
Of course, in true Target fashion, they have a whole page on their website dedicated to Target Finds all Bachelorette Party gear related. You can see the 10 supplies I mentioned in this blog and all the other good stuff here.
I hope this blog helped out all of you planning amazing Bachelorette Parties! Please drop a note in the comments below if you pick up anything mentioned in this blog, or if you have suggestions for other supplies I didn't mention.
Where are you going for the last single girl party? Share that too in the comments and let everyone know why you picked that location.
Until next time…thanks for stopping by!