Etsy shops are perfect for every bride, but there are so many! The one thing every bride has in common? A total lack of time to waste searching for things.
In this blog, I have put together my 15 favorite Etsy shops for every bride to be. I'm covering it all from the best Etsy wedding invitations, to the perfect "welcome to our wedding" signs, plus so much more.
So, instead of falling down the Etsy rabbit hole in search of the one (or 12) things you absolutely need, start with these 15 Etsy shops below. Pretty sure you'll find exactly what you're looking for, even if you have no idea what the hell that is!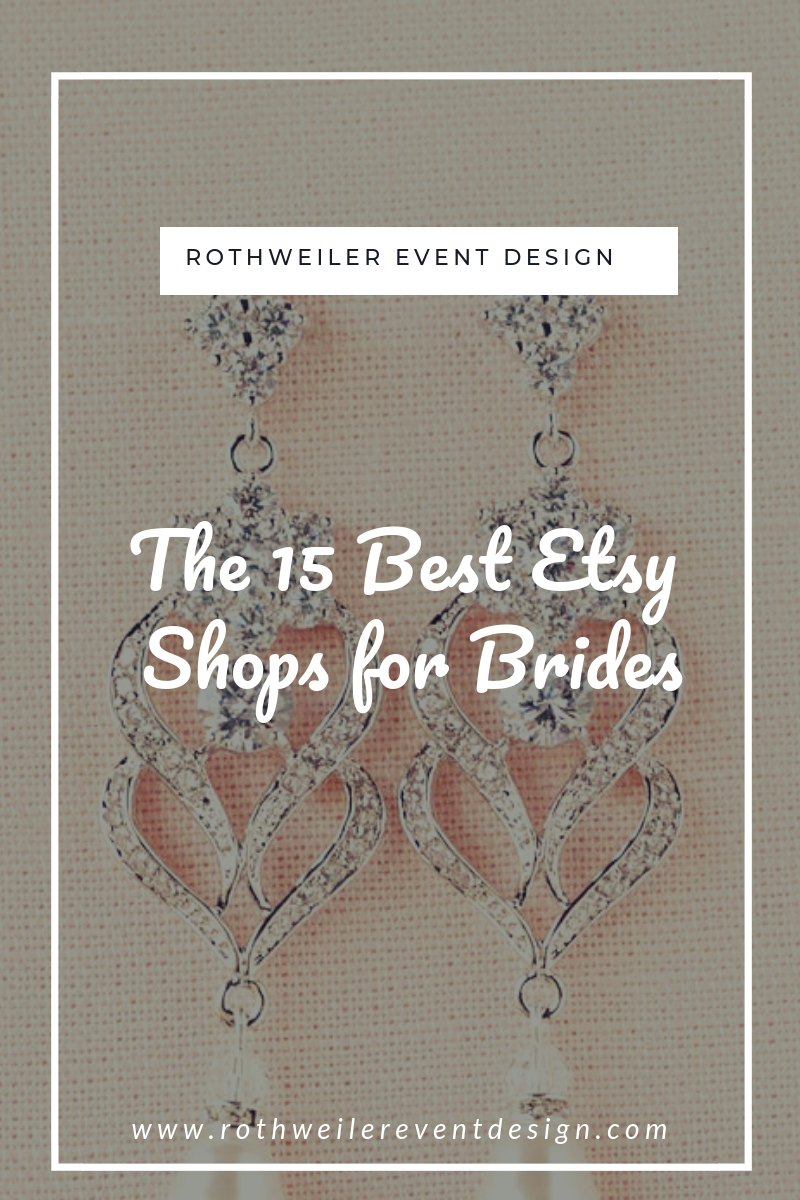 *Please note that most of the links of this page are affiliate links. This means if you click on a link and purchase, you will receive the same price, but I will receive a referral fee. This helps keep my blog free and allows me to share wedding planning tips with you. Thanks for your support!*
Etsy Real Weddings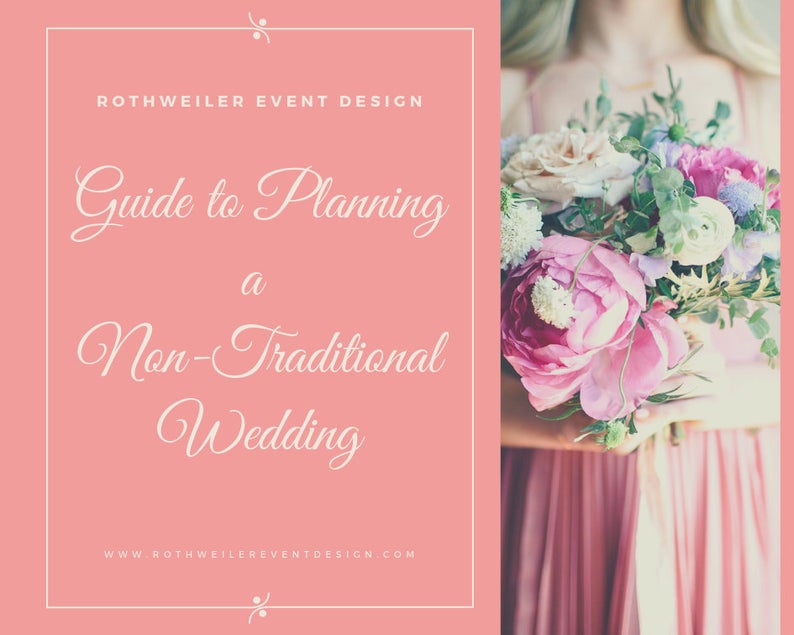 Etsy is a great place to find real wedding inspiration and advice. I can't help myself here and had to do a shameless plug of my own Etsy shop. Now, full transparency, it's pretty new and there is still a ton more to be added.
BUT, you can always visit the link, check out what's available, and then bookmark it for the future!
What's included in my Etsy shop, The Bridal Bible? It's a bunch of really affordable printables that are guaranteed to save your life. Well, not necessarily your life…but they will save your sanity while wedding planning and isn't that really the same exact thing?
Extra bonus? Since these printables were written by yours truly, you know they come from a professional wedding planner. This means you basically get a planner in your pocket for 10 bucks.
Check out these Etsy wedding printables right here and don't forget to bookmark the page for future updates!
Etsy Wedding Signs
OK, so I stumbled across BB Signs Designs and then spent the next 30 minutes or so looking at all their amazing stuff. As you probably already know, wedding day signage is super trendy. The problem with wedding trends?
Everyone does the same damn thing.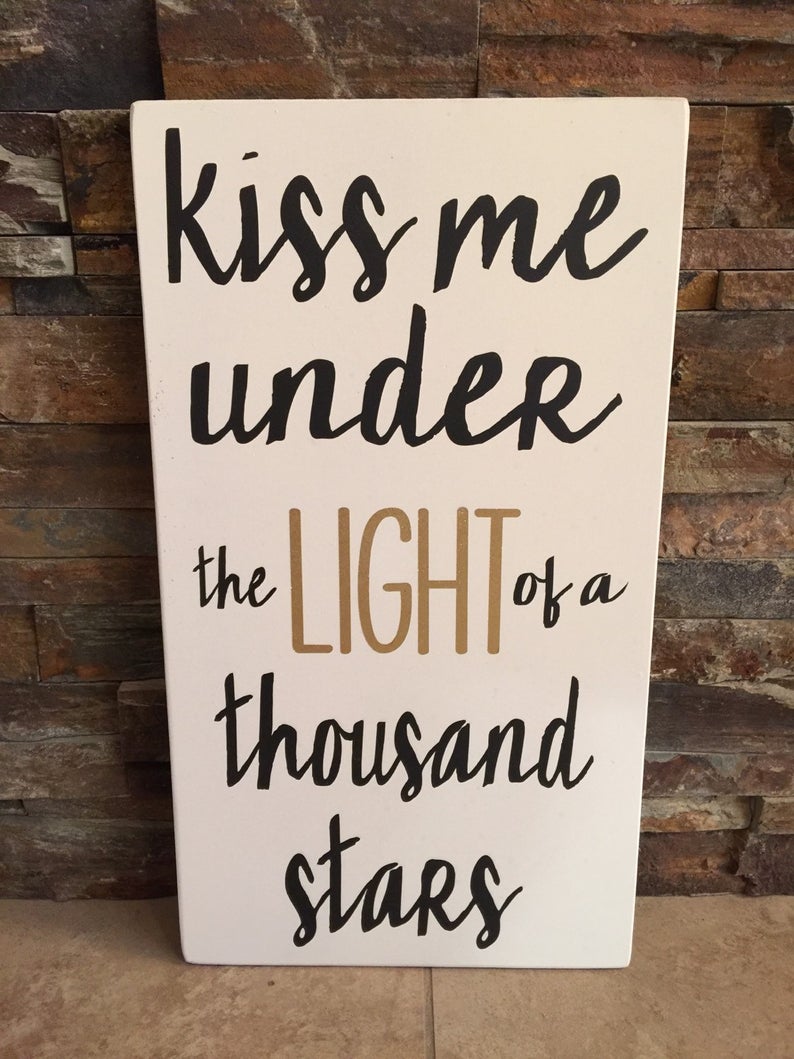 Enter BB Signs Designs who will work with you to create kick ass custom signage for your wedding day. Forget copying what you saw on Pinterest! Get your inspiration and ideas together and work with this amazing team to put together something truly unique for your wedding day.
Along with really cool signage for your wedding, they also create guest books and even creative pieces for your home together as newlyweds. Be sure to check out everything they have and connect with them to design something special just for you!
Calligraphy For Less
Calligraphy has always been a staple in wedding stationery. As popular as it is though, I cannot tell you how many of my couples have no idea where to turn for this creative service.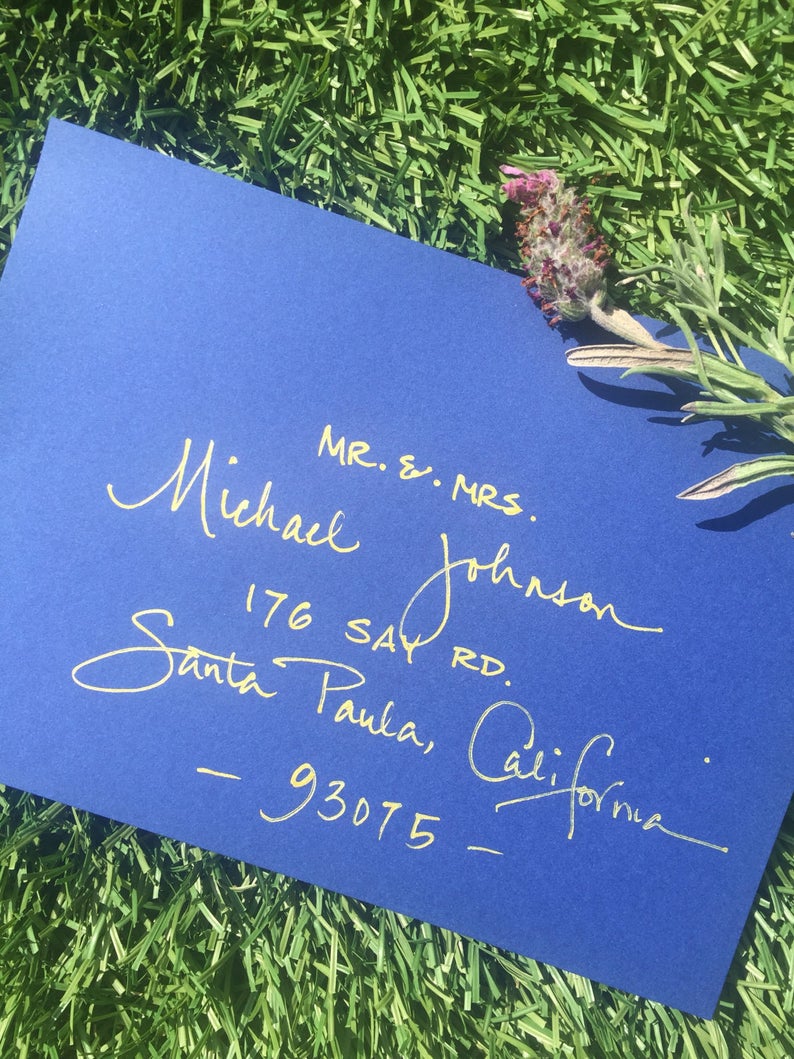 If you're putting together custom invitations, you might assume that calligraphy is either part of the package or that the stationery vendor has someone you can use.
Here's the thing…that's not always the case.
Once you have your invitations or escort cards, or anything else together that you're hoping to add calligraphy to, what do you do? It can get more complicated than you would imagine…believe me.
Enter Designs by SoCalGal! This Etsy shop will take care of all your calligraphy needs. Looking for wedding invites to be addressed super pretty? No problem. Need escort cards to have that special touch? Easy.
Check out this amazing Etsy shop for all your wedding calligraphy needs, while also staying out of the poorhouse!
Etsy Wedding Invitations Templates
A popular way to save some major money while wedding planning is by printing your own invitations. Now, I'm sure my custom stationery vendors (whom I love and adore) all want to punch me right now, but this is about you not them.
Sorry guys.
Wedding invitations and all the paper that goes along with it can get crazy expensive. The price goes up based on all sorts of factors like the thickness of the paper and the amount of colors that are used.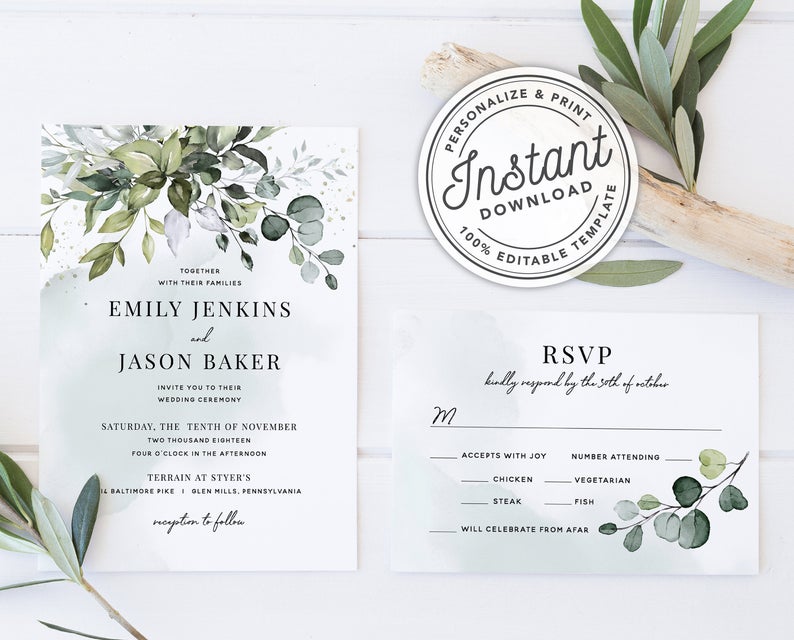 For the past 2 years, a lot of my brides have asked me about wedding invitation templates where they could handle the printing personally. And, honestly, it makes a lot of sense to do this if you're able to!
Dandylion Paper has a ton of invitation templates on their Etsy shop. There are styles and color combos available for every type of bride out there. You can check out the whole collection right here, and start designing your wedding invites today.
Save big on design and even more on printing when you go this route!
Wedding Invitations
Printables not your thing for wedding invites and day of stationery? Looking for some gorgeous invitations that you can point, click, order, and just send?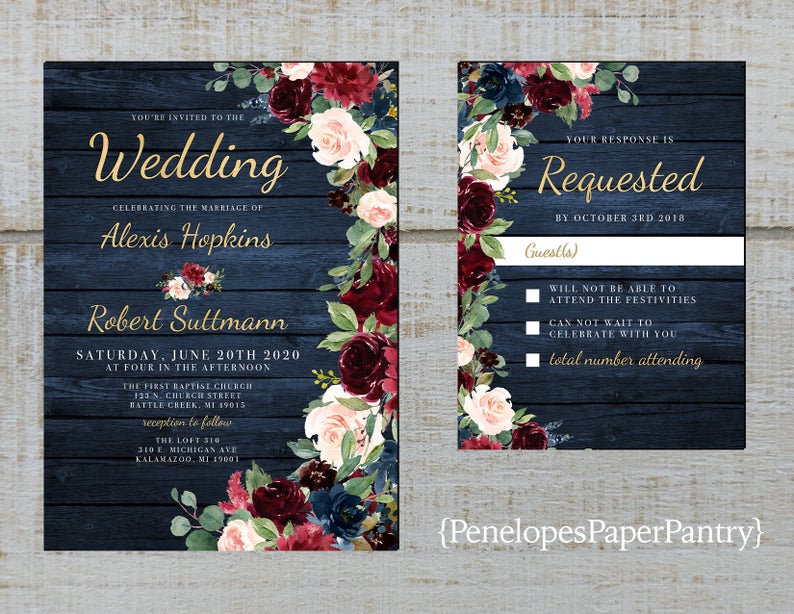 Penelope's Paper Pantry has a gorgeous selection to choose from. I'm totally in love with the jewel tones in the newest Fall wedding invite options!
Not feeling the darker colors? No worries! There are tons of color combinations and different styles to choose from. No pressure to drag and drop, or print anything either because that's all taken care of.
Of course, since this is a real person because it's an Etsy shop, you can contact them directly with any questions and special requests you might have!
Etsy Bridesmaid Dresses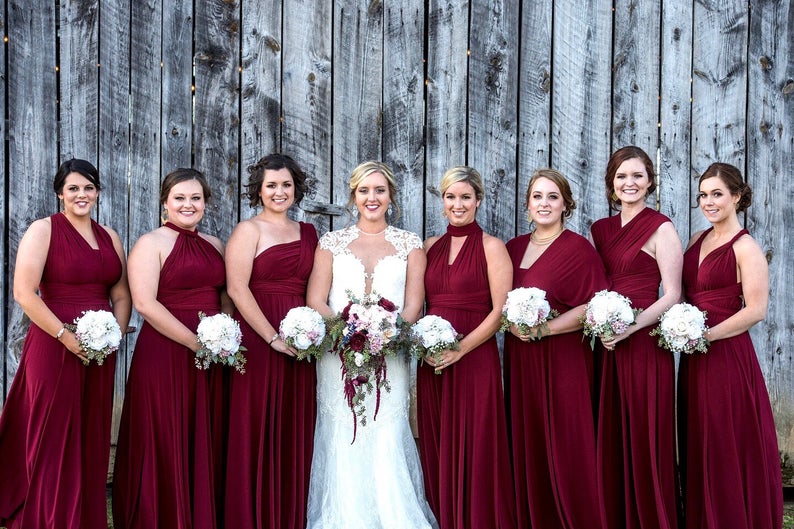 Is it me, or are Bridesmaid dresses crazy expensive lately?
Don't get me wrong, I love plenty of designers and stores and still recommend my favorites to my brides every single day. But, with the average cost of bridesmaid dresses running between $200-$275, not every bride is down with asking her girls to spend so much.
On the flip side, it can be scary AF to order bridesmaid dresses online. We've all seen the horror stories of the brides who ordered stuff they found on an Instagram ad, only to wind up with something they wouldn't use as a tablecloth in their kitchen.
How can you find a store you can trust to deliver the dress you actually ordered in the measurements you submitted?
Easy. You contact Atom Attire. This Etsy shop is perfect for the bride that wants gorgeous bridesmaid dresses without the high price tag but also without the worry. Tons of colors and styles are available, which means there's something for everyone!
Etsy Wedding Dresses
Does that headline scare the heck out of anyone else?
OK, so, full transparency….when I got the idea to write this blog, I started by looking up things brides were searching for on Etsy. You know what came up as the number one search?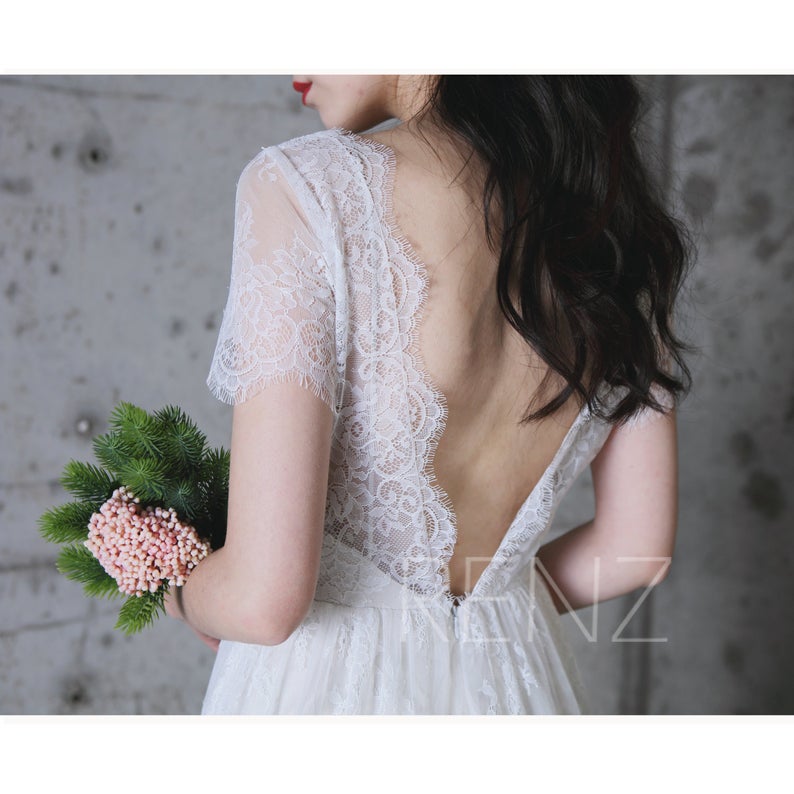 Wedding gowns. True story.
If you've been around this blog or my YouTube channel over the past few years, you know how I feel about ordering a wedding gown online. Basically, you have no idea where it's really coming from, what it will look like, and if you'll get your money back when it's a piece of trash.
Then there's Renz Rags on Etsy. This company is legit you guys. Besides having an incredible selection to choose from, their ratings are off the charts and their reviews are phenomenal.
So many brides just aren't looking to drop a few grand on a gown they will only wear once. If that sounds like you, then take a look at everything on Renz Rags right now. They have lace wedding gowns, boho styles, and more affordable options you don't want to sleep on!
Etsy Wedding Ring Sets
Just when you think this blog has gone completely crazy by suggesting brides look for their gowns on Etsy, I'm about to take things completely off the deep end:
Wedding rings from Etsy.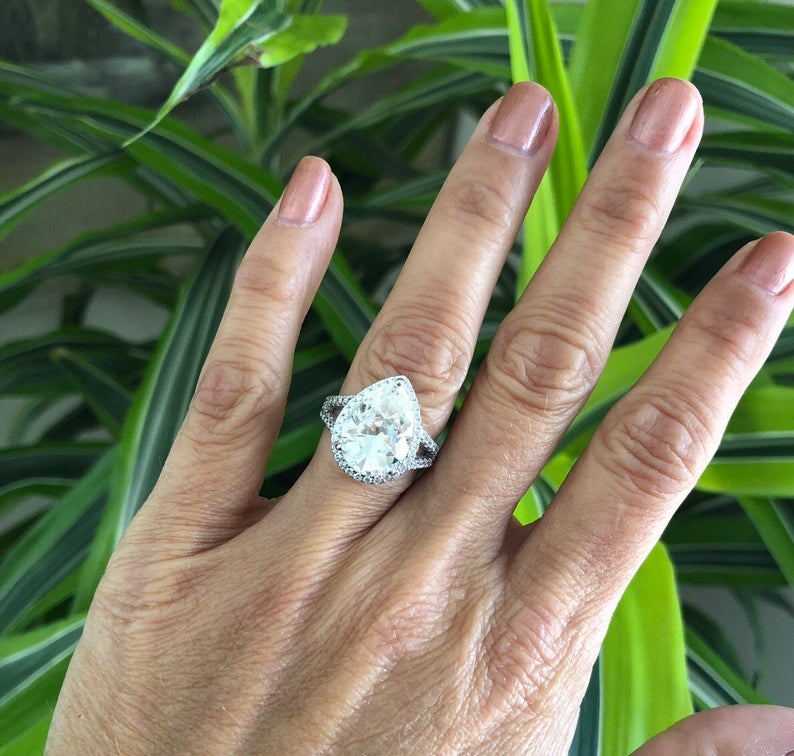 Yes, that's right. Look, Etsy is a lot like Target in that is has literally everything. Unlike Target though, it has higher end stuff including fun details like diamonds.
Pristine Custom Rings has a gorgeous selection of engagement rings for those of you looking to propose with something unique and still affordable. If you're already passed the proposal, check out their enormous amount of wedding bands to choose from.
Along with the traditional looks, Pristine Custom Rings, has plenty of designs that are outside the box. If the traditional diamond or simple wedding band isn't for you, don't miss out on this amazing Etsy shop!
Wedding Favors and More
If you didn't have personalized cocktail napkins at your wedding, did you really even have a wedding?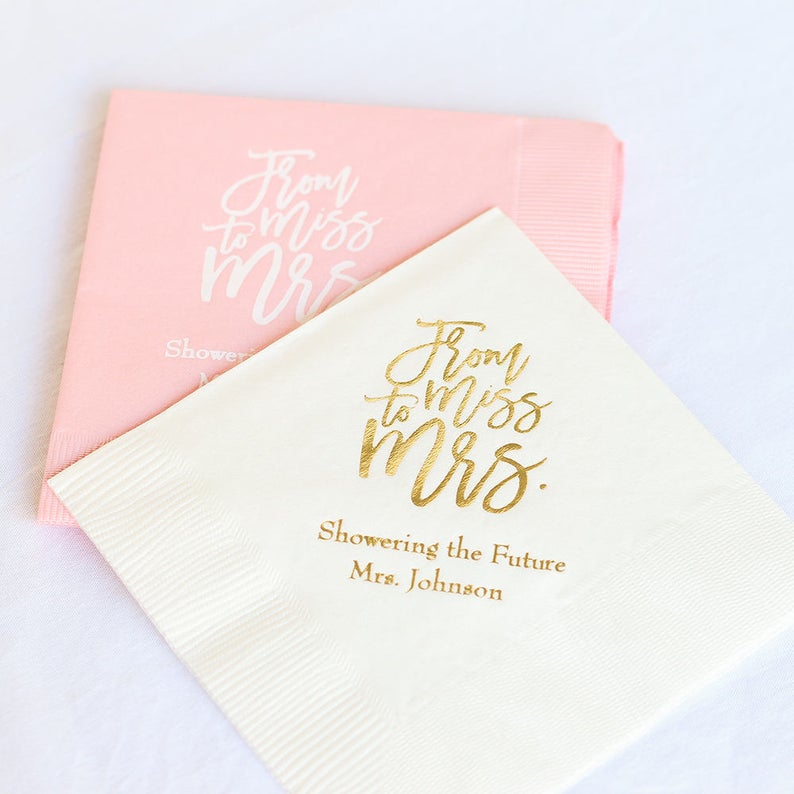 The jury is still out on that one, but, while they're deciding, let's talk about Confetti Joy. Confetti Joy is the best Etsy shop for brides looking for little details like those cocktail napkins and even favors.
Confession Time: I still have a few cocktail napkins from my own wedding. I loved this little and affordable wedding decor touch and had to keep a few for the scrapbook I have yet to put together after 9 years of marriage.
Anyway…
These napkins are super cute and they cost basically nothing. It's a little extra touch to bring into your cocktail hour and after party. Besides, who wants napkins from your venue with their stupid monogram on it? Hard pass, amiright?
If you're not feeling the personalized wedding napkins, still take a trip over to Confetti Joy for their wedding favor options and so much more!
The Hanger You Know You Want
I don't think this product needs any introduction whatsoever, but I'll give it my best shot:
One of the pictures you totally want/need on your wedding day, will be your wedding gown hanging in a window surrounded by the magical natural light that envelops the room.
(I'm painting a picture, lay off)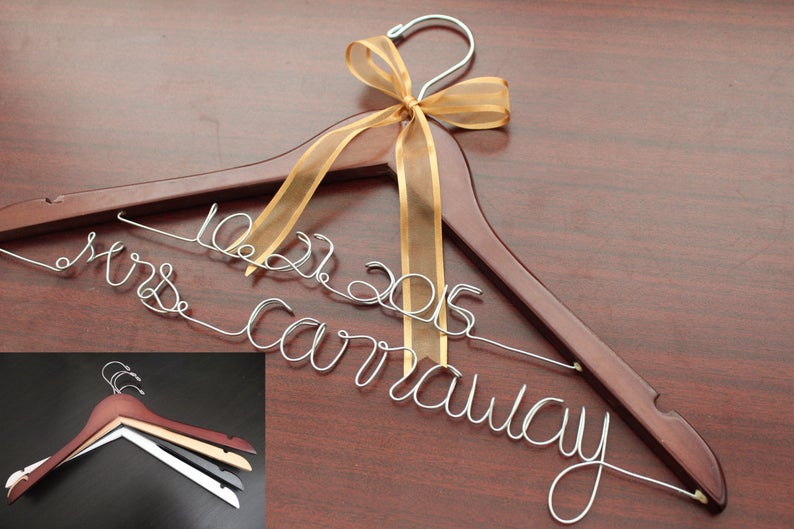 Nothing destroys the perfect wedding gown you fell in love with like a Joan Crawford wire hanger or some piece of crap plastic thing. Who wants a picture of their bridal dress hanging in the sunlight when it's hanging from anything like that?
Not you. Not anyone.
Those personalized wedding hangers have been a trend for years now and clearly there are plenty of reasons why. They take great photographs and it's super fun to see your new last name before that walk down the aisle.
With so many companies out there producing these hangers, it's hard to know which one to go with. Lucky for you, you're reading this blog!
Custom Bridal Hanger is the best Etsy shop for brides looking for personalized wedding hangers. There are different colors to choose from, and, as with all Etsy shops, you can communicate directly with the designer to get exactly what you want.
Once you have selected the color hanger you want, you can then add your wedding date and new name within the wire. My favorite thing about this wedding detail is how every bride will be able to use it after the big day!
Wedding Welcome Signs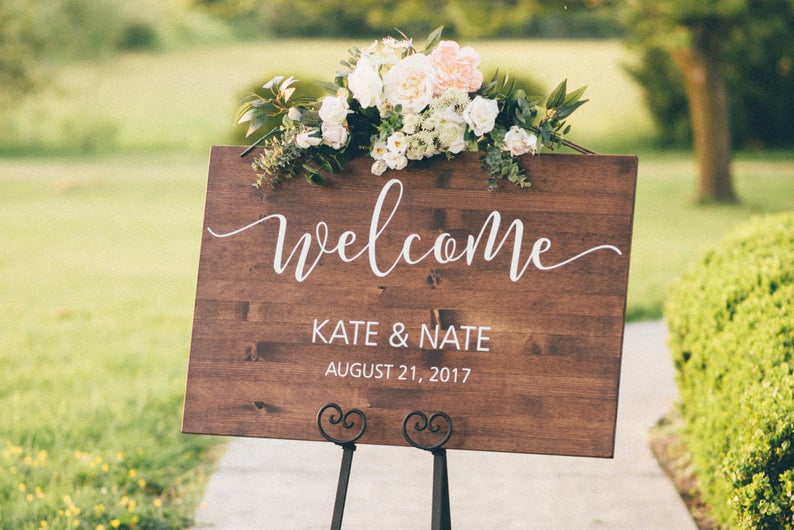 You know you want that "welcome to our wedding" sign, so don't even pretend like you don't. We're all friends here and this is a safe space. No judgment.
Now that we've gotten that out of the way, let's talk about wedding welcome signs. First things first, there are a bazillion Etsy shops that sell these. The whole point of this blog was to showcase the best options though, and so that's what you're going to get for this too!
Weddings Decor Studio has tons of gorgeous signs to welcome your guests on the wedding day. They created that rustic wooden welcome sign you've seen on Pinterest and probably pinned yourself 400 times by now.
Along with that sign, there are options for all different wedding styles. Between the amount of options you have to choose from and the amazing reviews on their site, you really cannot go wrong here!
Cardbox With Lock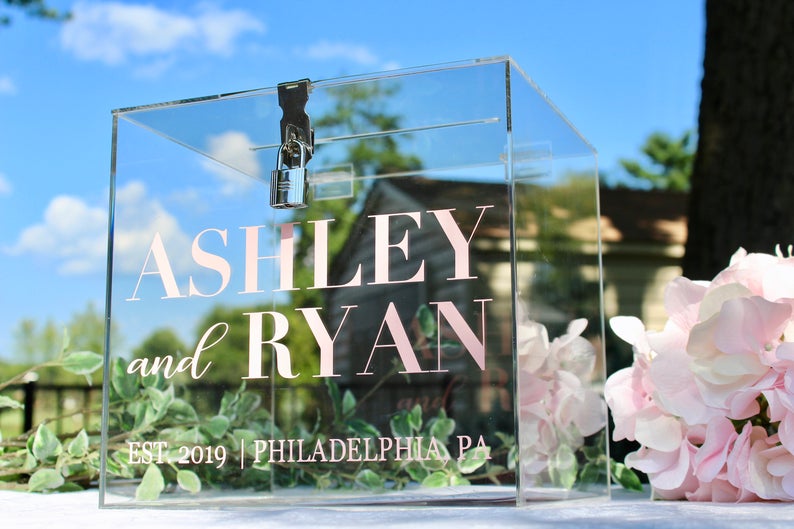 Often left as one of the last things considered, the card box is an essential part of every wedding day. After all, where else are guests going to drop those envelopes full of cash…I mean….well wishes?
As a wedding planner, I can tell you that many of my couples struggle with the card box detail for their wedding. They don't know what to pick, but they do know they don't want whatever everyone else is doing at the time.
Whether you go with a box or a birdcage, or anything else, your florist can always jack it up and make it seem extra special. But, figuring out what the box will actually be is the hard part.
Save The Date Designs Co. has a large selection of card boxes to choose from. Not only have they come up with a style for every type of wedding, they've also added something super important to a card box: a lock!
Look, we all would like to think that none of our guests would even attempt to steal from our card box. But, wouldn't you feel more comfortable knowing the box was under lock and key? You know you would, and that's the reason you need to check out Save The Date Designs Co. right now!
Swarovski Crystal Earrings (And More)
As I mentioned earlier, one thing I did was check out what a bride to be would look for on Etsy before writing this blog. One of the most popular results that came up was Swarovski Crystal Earrings…along with Swarovski Crystal anything else for that matter.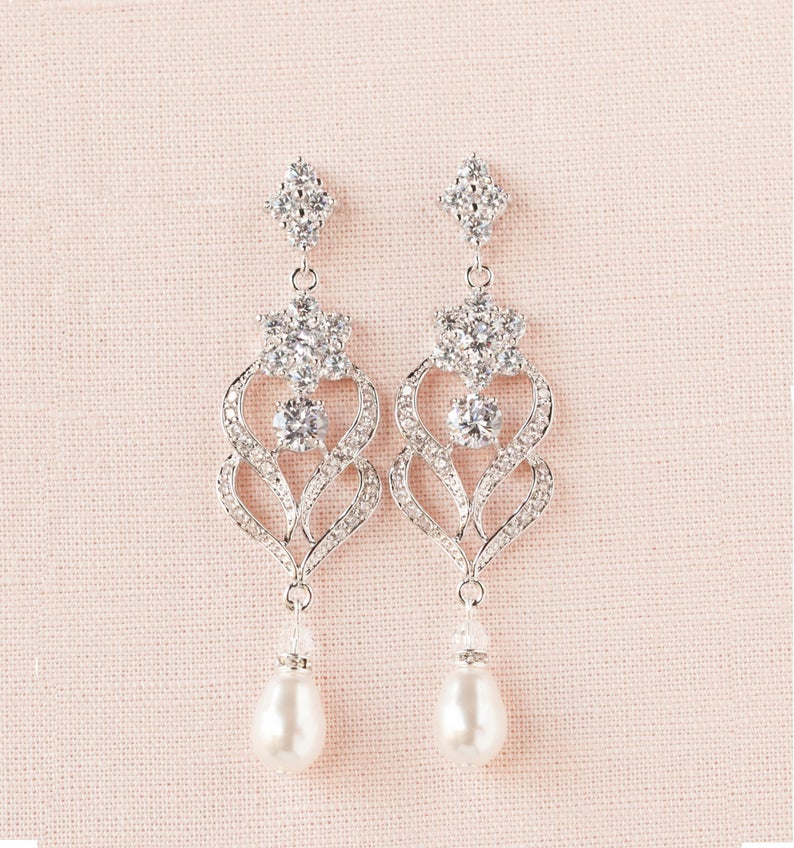 Clearly, bling is still huge for brides. Some brides may want to use crystals for their own jewelry, and others might be looking for bridesmaid gifts.
Swarovski crystals are gorgeous options for any bride or bridesmaid. Whether you're looking for earrings, bracelets, or other types of jewelry, Crystal Corridor on Etsy has everything you need.
OK, it's time for another confession….Aside from the junior bridesmaid role I played in my aunt's wedding forever ago, I've only ever been in a wedding once. I would've been in a second wedding but I dropped out and that's a different blog for a different time.
The reason I bring this up, is because I still have the bracelet that the bride gave to all of the bridesmaids. That bracelet was Swarovski and I wear it all the time. Nothing like getting a gift as a bridesmaid and having it be a piece of jewelry that you can actually wear after the wedding day, right?
Check out all the gorgeous options with Crystal Corridor, and pick out something special for your squad and you!!
Unique Bridesmaid Gifts
Getting the perfect gift for your bridesmaids isn't an easy task. Odds are, these ladies have already been in 15 other weddings within the same exact year of yours. They have the lame gifts and those gifts are collecting dust in the back of their closets waiting for the next purge.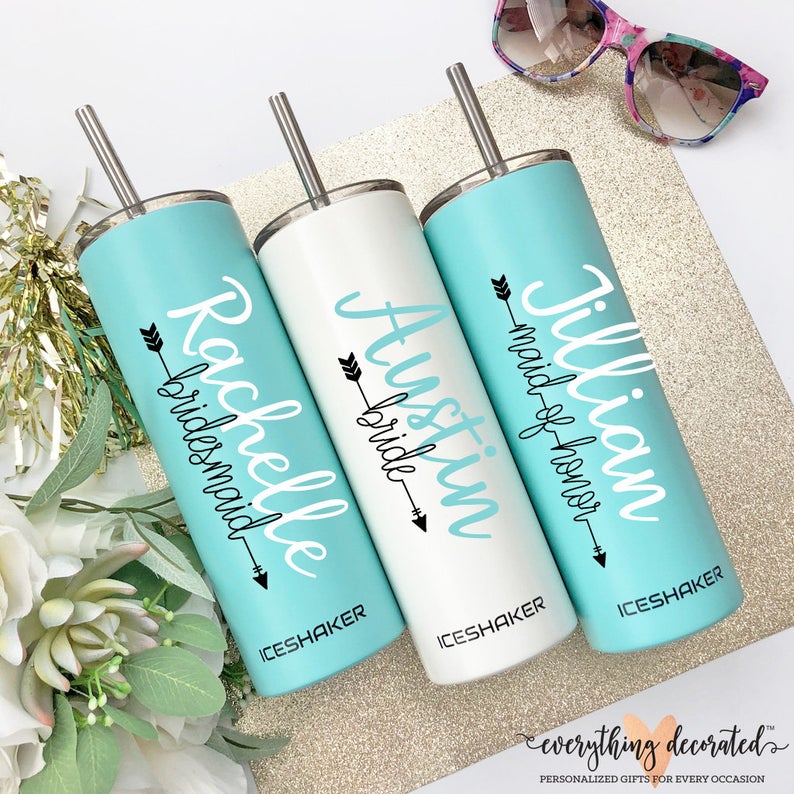 The problem with most bridesmaid gifts is that they're super cute for pictures on the wedding day. And that's it.
I've always felt like the gifts you give your bridesmaids should come from the heart and be sentimental. However, it should also be practical because sentiment frequently winds up on the closet floor collecting dust.
Decorated Bliss has awesome tumblers that not only make for super cute pictures on the wedding day, but are functional for every day after that. I don't know about you, but I have about 700 tumblers and I still need more.
Check out these cute and affordable bridesmaid gifts with Decorated Bliss and comment which one you love the most!
Wedding Hair Accessories
Last, but certainly not least, are the wedding hair accessories you can find on Etsy.
I'm talking those hair combs and pieces that take the place of the wedding veil once the veil comes off (if it ever goes on). Perfect for the detail photos before you even put your dress on, and even better to adorn your hair as you twirl across the dance floor, these pieces are basically essential.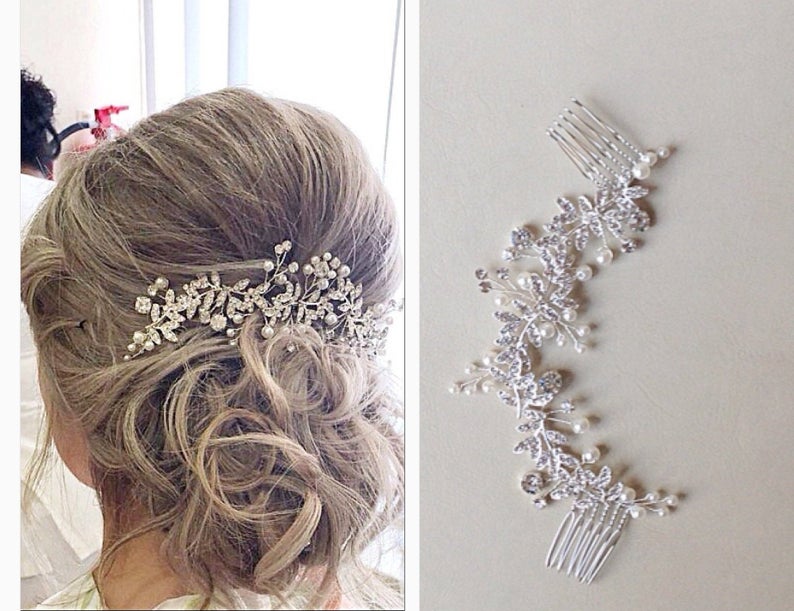 You know what the problem is with these bridal hair accessories? They are impossible to find. So many of my brides wish they could get these accessories while shopping for their wedding gown. Either they don't like the minimal selection, or there is no selection at all.
I have sent almost all of my brides to Etsy to find their hair pieces, and the store I recommend most is Bridal Star. They have everything a bride could want, in all shapes and sizes.
You can browse their whole selection and see real bride pictures to help you get an idea how the piece will look on you. Just make sure to order your choice in advance and to set up a hair trial before the big day!
Etsy Shops For Brides
I hope this list of my 15 favorite Etsy shops for brides has been really helpful! Please drop a comment below with your favorite store and let me know if I missed any.
As always, thanks for stopping by!