Have you ever heard that saying, "Timing is everything,"? Well, wedding day timing actually is everything. With so many moving parts, one small issue can cause a domino effect of problems in a wedding day timeline.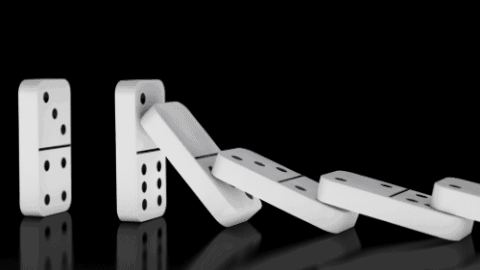 It's so much more than a wedding ceremony followed by a cocktail hour and wedding reception. Small things like whether or not you want your photographer to capture the cake cutting, are actually a bigger deal than you might think.

The biggest struggle with wedding day timing? It's an ongoing battle…meaning, you need to start thinking about it while you're booking your vendors.
Cookie cutter wedding day templates won't cut it and most couples won't start worrying about the logistics until it's too late, if they even worry about them at all.
Even though everyone's wedding day is different, there are some timeline tips and tricks that every couple can use. I'm sharing some of the big things I keep in mind when I design the day of wedding timeline for my couples, right here in this blog!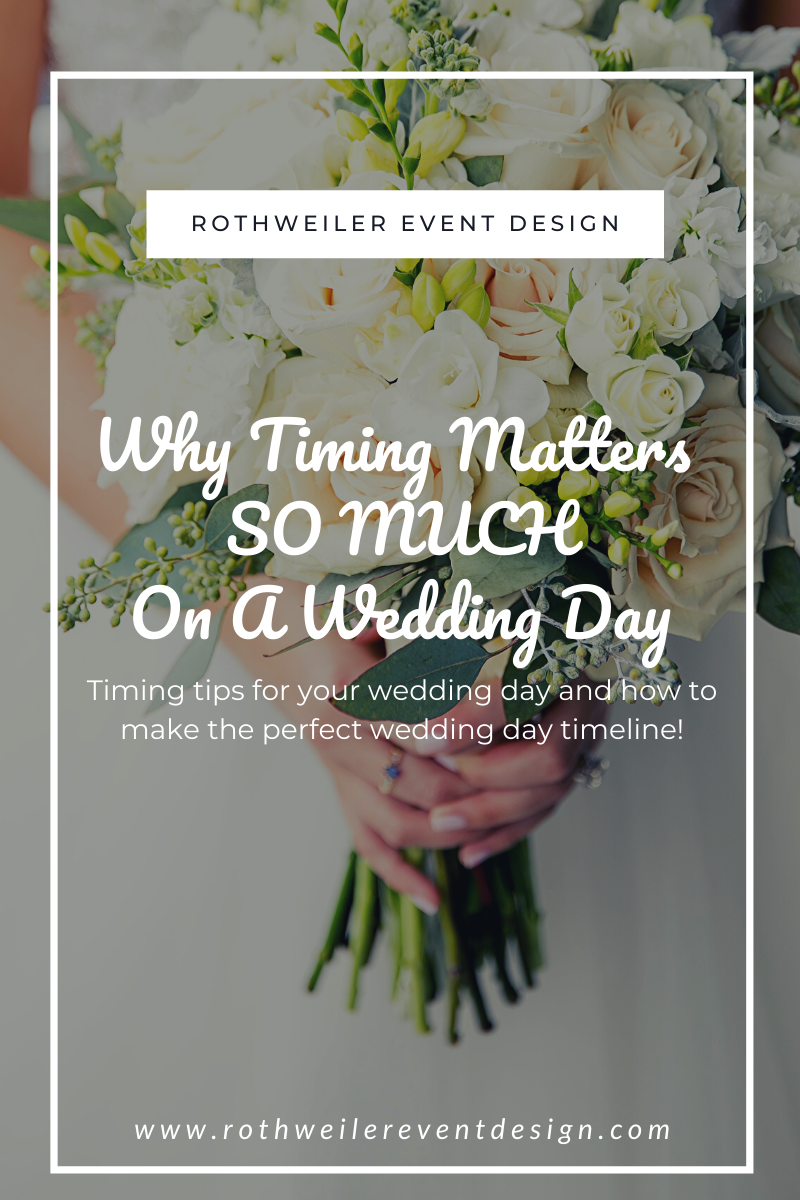 *Please note that most of the links of this page are affiliate links. This means if you click on a link and purchase, you will receive the same price, but I will receive a referral fee. This helps keep my blog free and allows me to share wedding planning tips with you. Thanks for your support!*
Wedding Day Timing 101
One of the things you'll notice when booking your wedding vendors, is that they all want to know what time everything is. More than just when does the whole thing begin and end, each professional is going to need more than that, and not all of them will need the same thing.
And you thought you'd only have to do this once and send to all…
It's perfectly OK to let your wedding vendors know if the timing is TBD. In fact, if you have no clue whatsoever about the timing, saying "to be determined" is a way better idea than just guessing.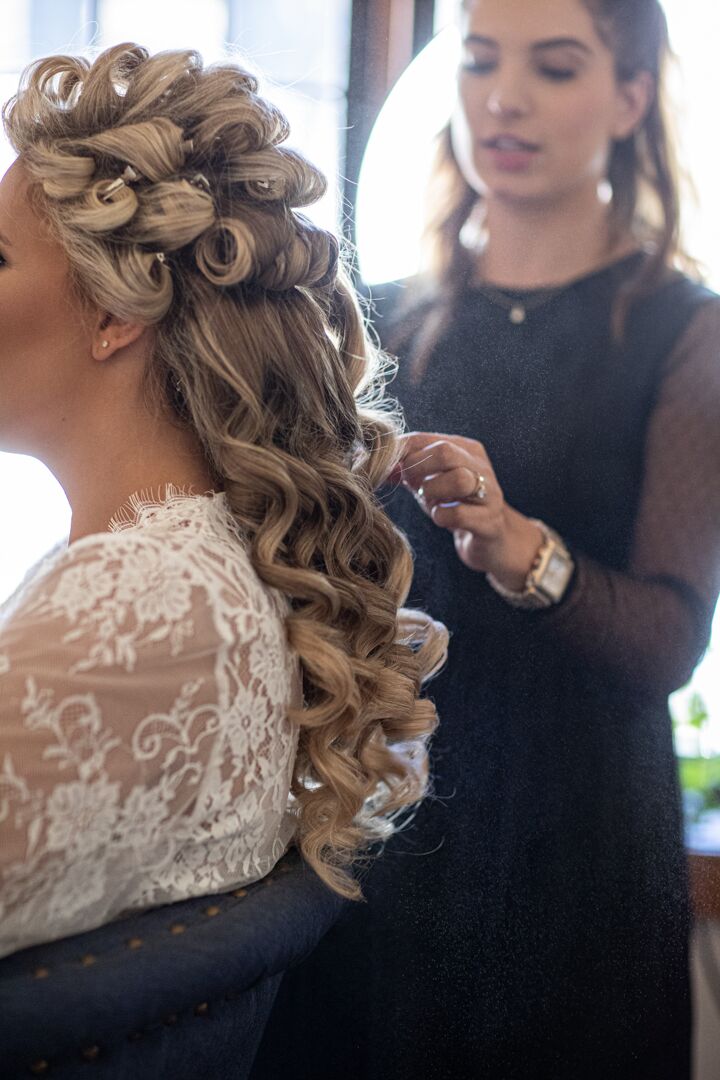 No matter what your wedding day looks like, most or all of these timing factors will be something to consider:
Ceremony time versus your wedding invitation time
What time hair and make-up needs to start and end
Photo and video start and end time
When vendors can "load in" to the venue
All transportation timing
Full timing breakdown of wedding reception formalities
And those are just the basics.
The one thing that can derail all of the wedding day timing, starts in the earlier part of the day, and that is, any styling services. Basically, if the hair and make-up team is running behind, you'll have to make adjustments for everything else. Those adjustments could mean sacrificing photos because there isn't enough time to get them all done now, pushing your ceremony start time later, or any number of things.
Since this part of the wedding day timeline is so crazy important, let's start with it:
Wedding Day Timing For Hair and Make-Up Services
First things first, always hire a professional hair and make-up team that has a ton of wedding experience. When you are looking for stylists, it's important to give them as much information up front as possible.
Specifically, they will need to know how many people will need their hair done and how many will need their make-up done. If there are young ladies like flower girls that need a little less, they'll need to know that too.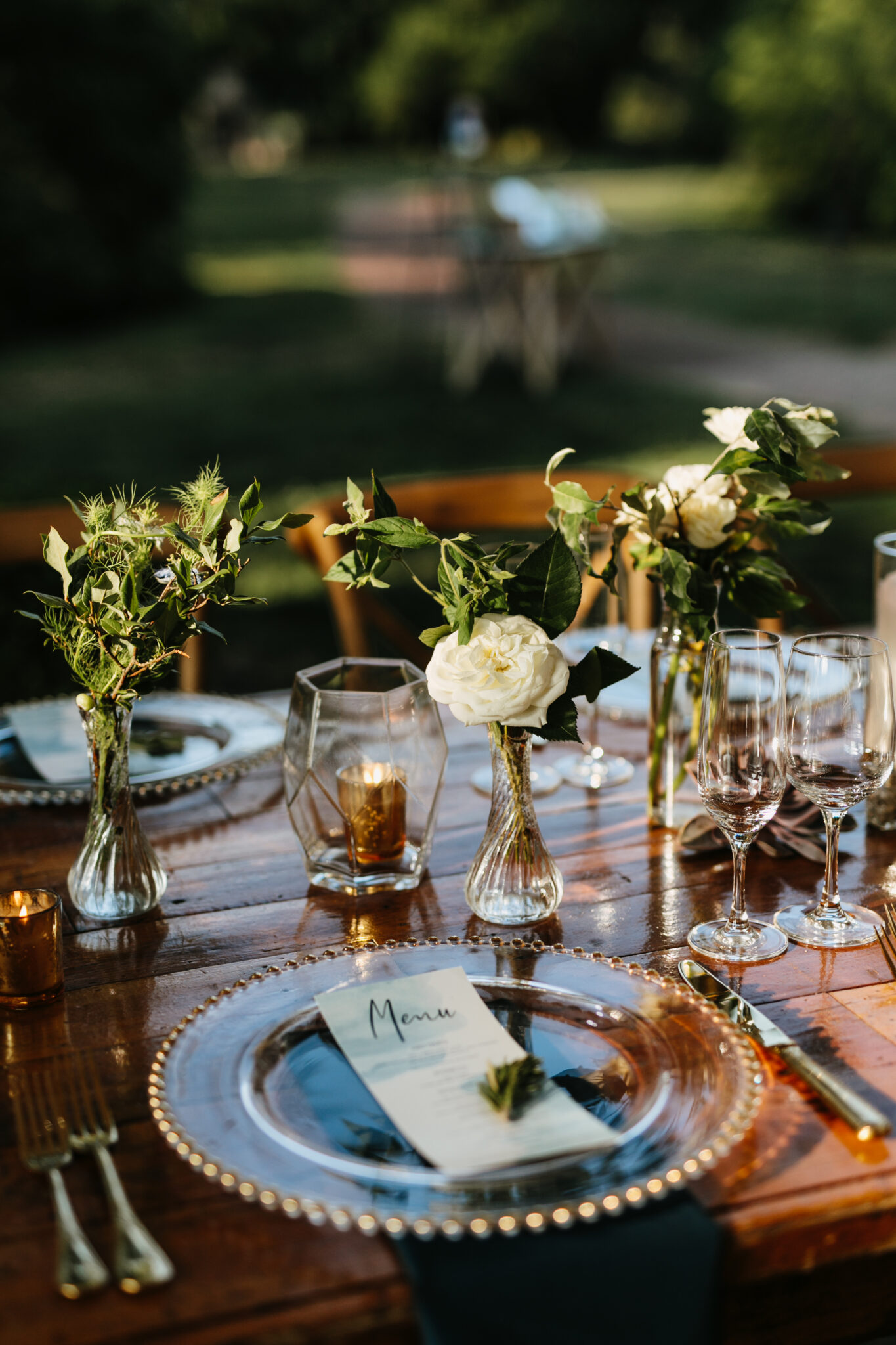 Any logistic details that you can give to a hair and make-up team before they put together the contract are going to be helpful. One of the questions they will ask has to do with where you will be getting ready. Will this be at the venue? A hotel? Your home?
Where ever you are getting ready, never assume you can get there whatever time you want…unless it's your house, then go ahead and do you. Many couples make the mistake of ignoring what time they are allowed to get into, for example, a venue space, to get ready.
Related: How To Stop Being Indecisive When Wedding Planning
Let's say you want to get ready on-site with all of your girls, but you can't get into the reserved space until 12pm. Well, if you have a 4pm ceremony with a first look and pictures before hand, that doesn't leave a lot of time for hair and make-up, does it?
There are ways that a styling team can work around any wedding day timing hurdles, but they need all of the information up front to do it. Early on, they might be able to add more stylists to work in a shorter amount of time.

If you wait until two months before the wedding to confirm both the headcount and the window of time you have to get ready, you might be forced to find a different location to make it work. When the location is only giving you a certain amount of hours, and the stylists need more, that means you won't be getting ready at that place.
Bummer, right?
Having the headcount as soon as you book with your styling team is important so that they can put the appropriate amount of stylists together for your wedding day. Talk through with them how long they will need, or you might be looking at a 4am wake-up call to get everyone done on time.
But how do you know when everyone needs to be ready?…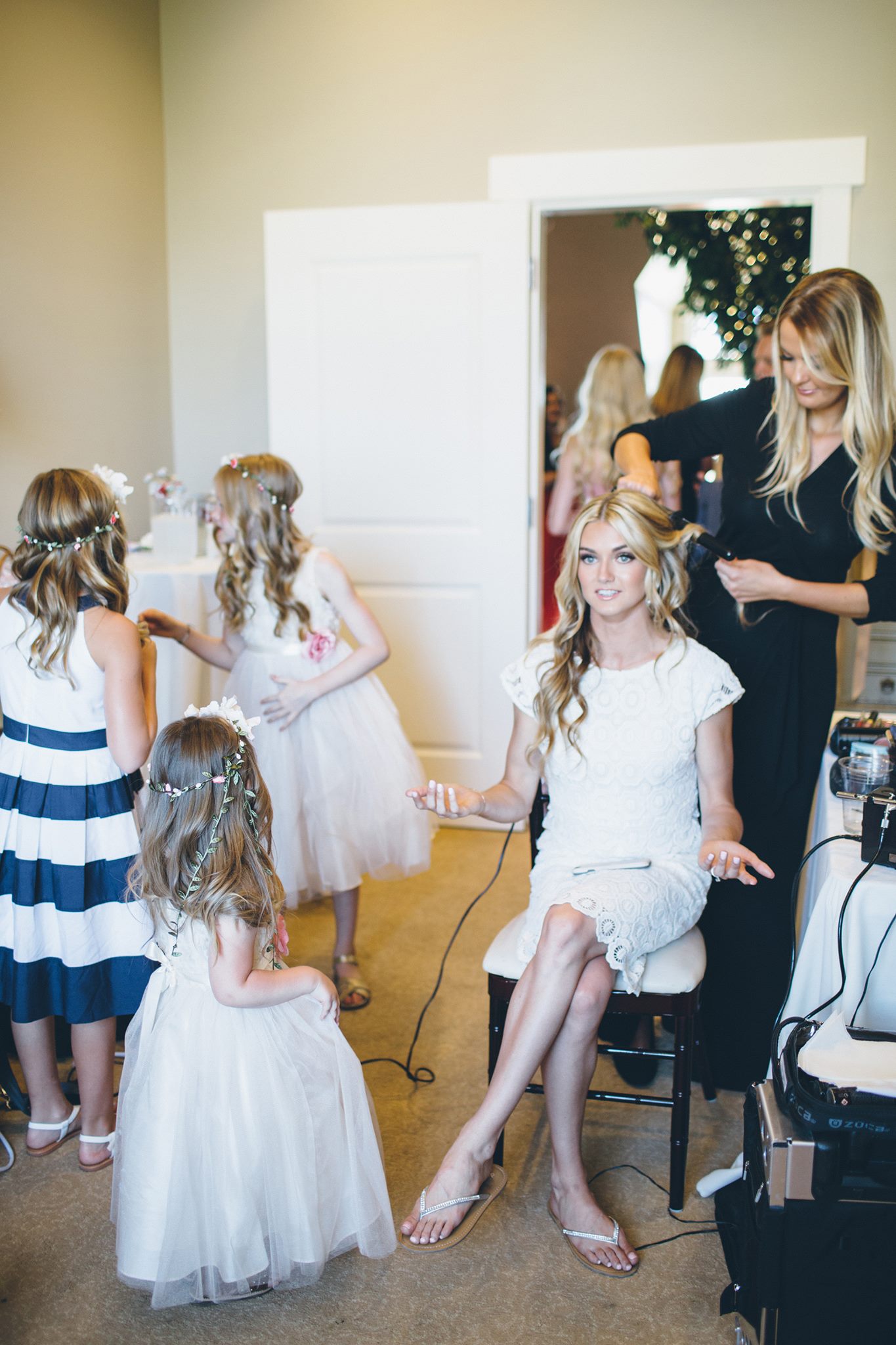 Wedding Day Timing For Photographers and Videographers
Even though you might not be 100% sure what all of your wedding day timing looks like, the smaller details can come together as the wedding planning continues.
Your photo and video team will be instrumental in figuring out some major parts of the wedding day timeline. To start with, these are the people who will determine what time you and everyone else needs to be done with hair and make-up.
This means you don't tell your hair and make-up team when you need to be ready by without checking with your photo and video team first. Let's back up a little bit though…
When you are looking for these vendors, they will all have packages that come with how many hours they will be there. This can range anywhere from 8-12 hours to "all day coverage". Obviously, the less time, the lower the price.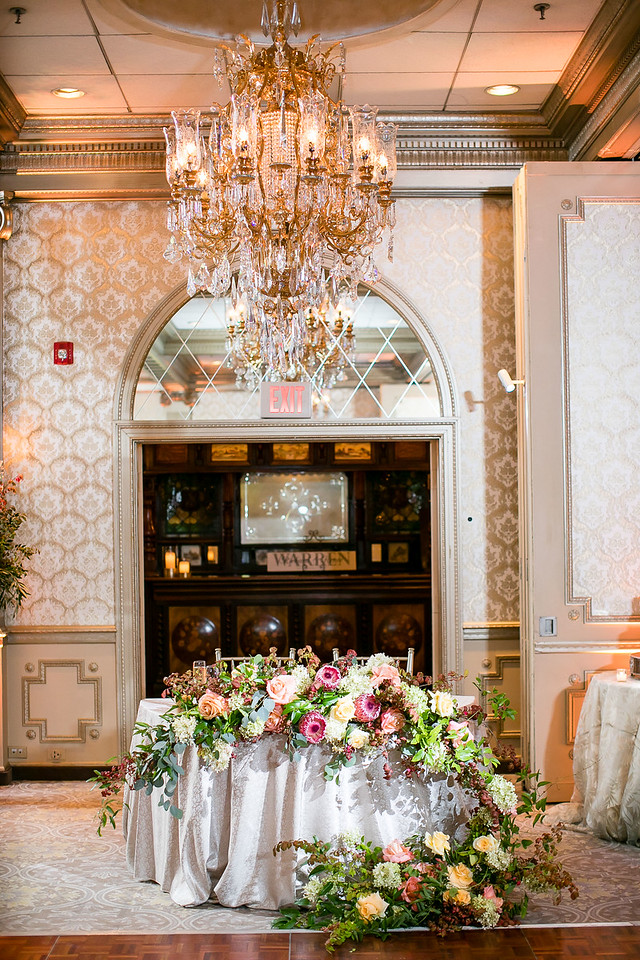 Be really careful here though, because if you end up wanting them to stay once the wedding gets started, those hourly overtime fees will cost you more than if you had booked the proper amount of hours to begin with.
On average, I recommend a minimum of 10 hours with a team of 2 photographers and 10 hours with a team of 2 videographers. Things that increase that number of hours include multiple locations and lots of formalities. To be safe, at least start with a 10 hour package, or discuss the timing basics with the vendors you're interviewing and see what they recommend.
As you start planning, these two different vendors will talk to you about who needs to be in what photos and video. This is not to be confused with a "shot list" where brides list every cute picture they've ever seen on Pinterest, and wants to replicate all of them.
What a photo and video team really need to know are things like does the bride need a single picture with each of her 79 bridesmaids, and how many friends and family formal photos need to be done and with how many people. Of course, whether or not there will be a first look, will also greatly impact the timing needs of the photo and video vendor you hire.
Once the photo and the video team have enough information, they will be able to tell you when everyone (bride, groom, wedding party, immediate family, etc.) need to be dressed and ready by. That and only that timing, is what you give to your hair and make-up team, so they then can tell you what time they need to begin in order to make that happen.
Wedding Day Timing For The Venue
I'll share a full wedding day timeline example later on in this blog to show how it all comes together. A major part of this timing though, is dependent on your locations. This is why those cookie cutter wedding day timeline templates don't actually work. There's too many details that affect one another, making this anything but a cut and paste type of project.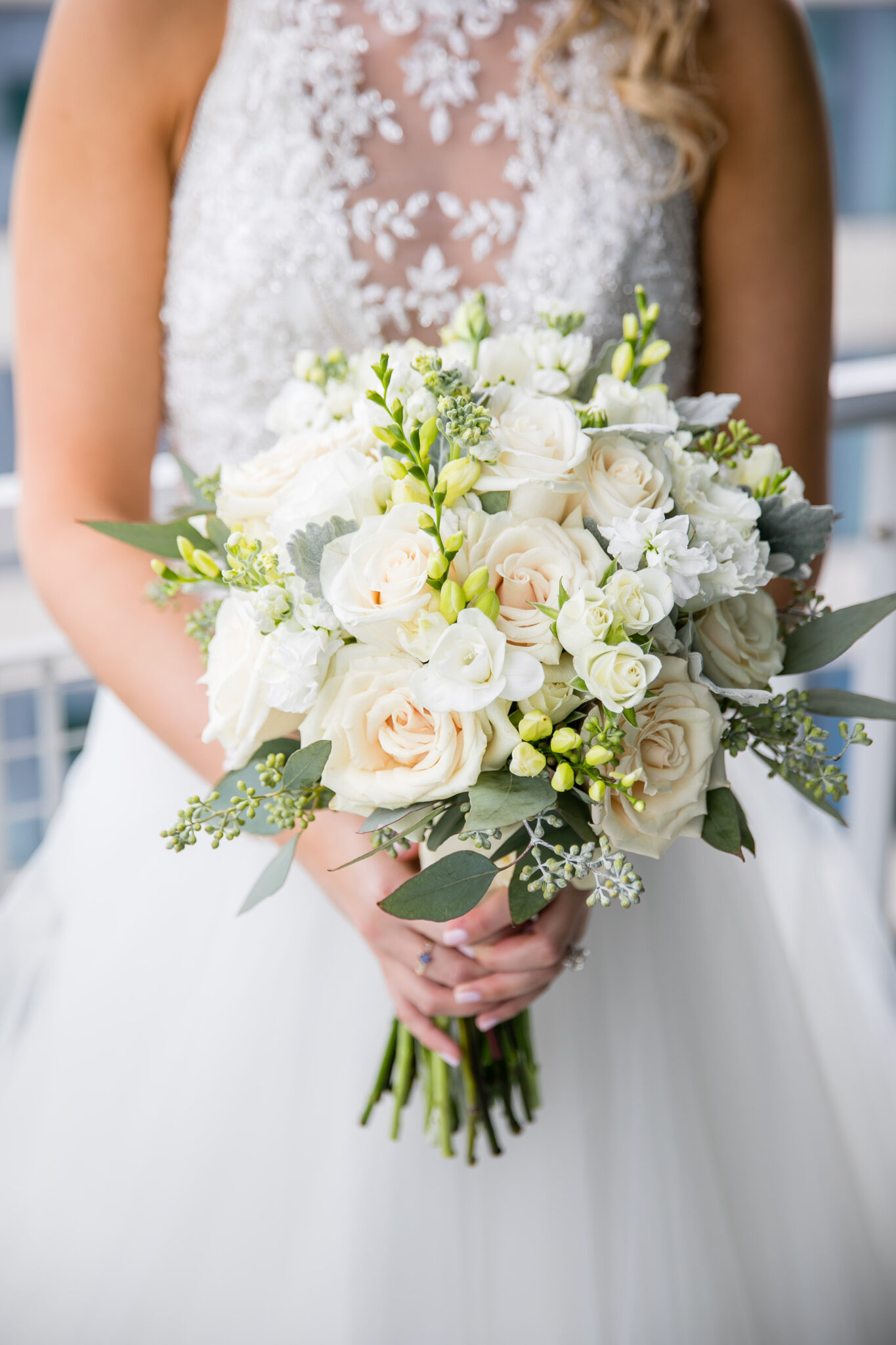 In the timeline example further down, I am going to base the timing off of a wedding where everything happens in one place. Everything being: the wedding ceremony, cocktail hour, and reception. To keep it simple, I'm going to use that same idea here, while explaining how timing at the wedding venue works on the big day.
When you first start touring wedding venues, aside from asking all the other questions you have lined up, it's important to find out some basic timing details. Even if you're the only wedding or event happening that day, be sure to ask what time your vendors can come in to start setting up. As I mentioned before, if you're getting ready on-site, find out what the earliest time available is.
Related: How To Find The Perfect Venue and All The Questions To Ask
"Load-in" time is very important to any vendor that deals with the wedding venue. If you have a Pinterest board filled with complicated centerpieces and over the top ceremony florals, whatever florist you hire will have an idea of how long all of that will take. The problem is, most couples don't know this is important and by the time it comes up, it's too late…
You do not want to tell your florist 6 weeks before the wedding that the elaborate set-up they have planned has to be done in 90 minutes or less because the venue won't allow for more time. One of two things will then happen…either the florist will charge you more to bring in more staff to get this done, or the florist will tell you it cannot be done and you'll be changing that wedding vision you were holding onto for a year.
The amount of time a florist has to work and set up on the wedding day is crucial, so be sure to ask the venue what that time actually is early on in the process. Other vendors like your DJ or musicians, as well as anyone else setting up decor or rentals will need that timing also.
Professional Wedding Planner Tip: Never assume a vendor won't need this information and never assume they will ask for it either. Have it ready to give to them when you're first booking.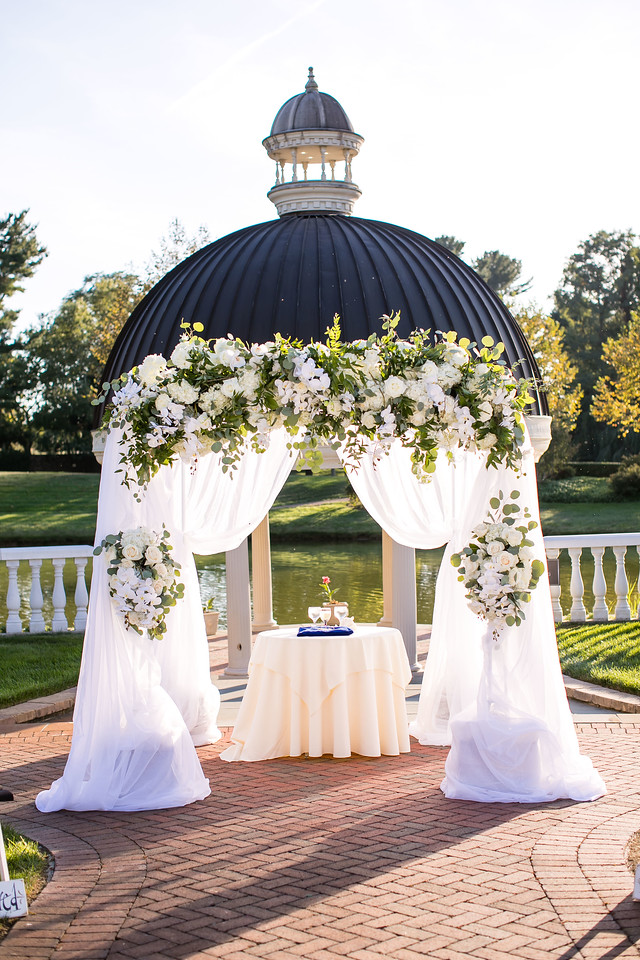 Other wedding day timing issues to think about when dealing with a wedding venue, has to do with food and beverage. Whether you're using in-house catering, or bringing in a professional, the wedding day timeline as it relates to food is extremely important.
If you neglect this timing, you'll wind up with soggy salad and cold entrees, which is why the catering timeline guides everything else. (Sorry bands and DJs.)
During every wedding reception, several things always happen: Multiple courses are served, toasts and blessings are spoken, formalities like the first dance, parent dances, and cake cutting take place…you get the idea.
All of those things get timed out based on what the caterer decides because they are the ones preparing the food and their timing matters most. Ask your wedding venue or caterer for a "general" timeline, or, at the very least, the amount of time they will need to serve and clear courses, as well as how much time is needed between them.
Then, take whatever they give you, and use that as your wedding day timeline template for the reception with the rest of your vendors. You will work with them to determine the best timing for toasts and dances so that your guests don't feel like your wedding is one big game of Simon Says "stand up" and "sit down".
Wedding Day Timeline Example
Now that we have the basics (and trust me, those are just the basics) put together, I thought it would be helpful to give a real wedding day timeline example in this blog.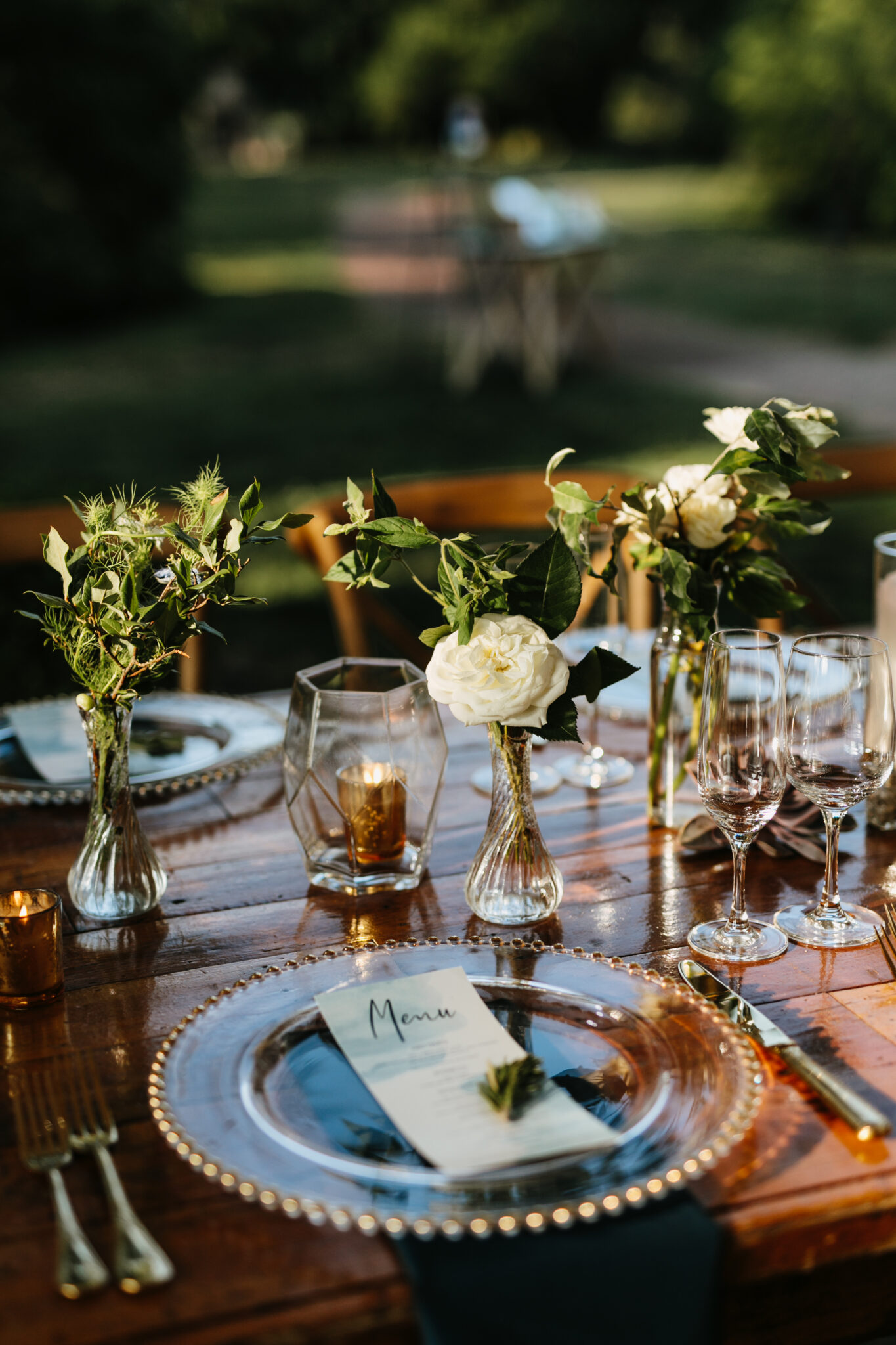 The wedding day timeline below is based on a 4pm ceremony on-site/in the same place as the cocktail hour and wedding reception. For this example, the bride and her bridesmaids and moms are getting their hair and make-up done at the venue. This is also a wedding day timeline with a first look included.
Obviously this isn't going to work for everyone, because you can't make a cookie cutter wedding day timeline template. Think of this as more of a guide to give you an idea of what a wedding day looks like as a whole. Again, always always ask your venue and vendors what timing needs they have before putting your day together.
Or, hire a wedding planner (hi there) to do it for you. You can always contact us to create your personalized Day Of Timeline right here.
Wedding Day Timeline Example
8:30am: Hair and Make-Up stylists arrive at venue
8:45am: All ladies getting hair and make-up services arrive at venue
9:00am: Hair and Make-Up services begin
10:15am: Bride in hair and make-up
10:30am: Photo team arrives
11:00am: Video team arrives; Florist arrives; Groom and groomsmen arrive
12:00pm: Lighting team arrives
12:30pm: All hair and make-up services completed
12:35pm: Champagne and robe photos with Bride and Bridesmaids
1:00pm: Bride getting into dress; "getting ready" photos continue; bridesmaids getting dressed
1:15pm: Groom walked to first look location
1:20pm: First look with Bride and Groom; Couple photos
2:00pm: All members of the wedding party dressed and ready
2:10pm: Bride's photos with party and family/Groom's photos with party and family (see photo list)
2:30pm: Bride and Groom photos with wedding party; photos with Best Men and Maid of Honor. (see photo list)
2:45pm: Band arrives
3:00pm: Photo and video hard stop; marriage license signed in wedding salon
3:15pm: Hotel shuttle arrives at hotel block location for departure
3:30pm: Ceremony invitation time
3:35pm: Ceremony line-up for processional
4:00pm-4:30pm: Ceremony
4:30pm-5:30pm: Cocktail Hour; Bride and Groom to salon for break, hair change
5:25pm: Reception entrance line-up
5:30pm: Reception begins
5:45pm: Reception introductions (Bride and Groom intro); First Dance; Parent Dances
6:55pm: Short dance set (TBD); first course being plated
7:15pm: Guests seated (cue given after first course is set)
7:20pm: All toasts (FOB toast/blessing, MOH, 2 BM)
7:40pm: Dance set/first course cleared
7:45pm: Sunset/Golden Hour Photos with Bride and Groom
8:00pm: Guests seated/second course plated
8:30pm: Dance set/second course cleared
8:55pm: Private cake cutting/Dessert served/ Shuttles available for departure to hotel block and continue for all guests
9:00pm: Dance until end
9:30pm: Reception ends/After party begins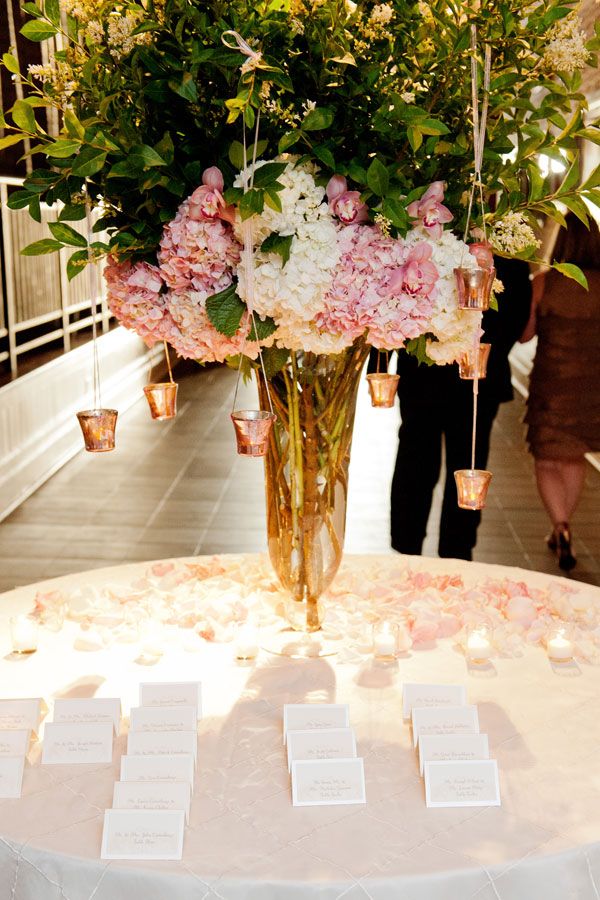 Wedding Day Timing Last Thoughts
If you found the above wedding day timeline to be helpful, you can grab your free, printable copy right here. Just remember that the example is nothing more than a guide and you should ask your venue and vendors for their timing needs first.
The timeline example was based on a 4pm ceremony that included a first look and everything was on-site in one location. If your ceremony is not at your wedding venue, that is going to shake things up a lot. Be sure to partner with a professional transportation vendor who can tell you exactly how much time will be needed to get from Point A to Point B and all the other points.
Even though this timeline used a 4pm ceremony time, you might be wondering what time do most wedding ceremonies start. Well, there really is not clear answer on that one.
If any of your day, including pictures, requires you to be outside while the sun is still up, then it all depends on what month you're getting married in. There are many factors that contribute to deciding what time your wedding ceremony will start.
Typically, couples like to work backwards with their wedding reception timing, because they don't want the party to end super early. Is 4 hours long enough for a wedding reception? Yes, and that's really standard in most places.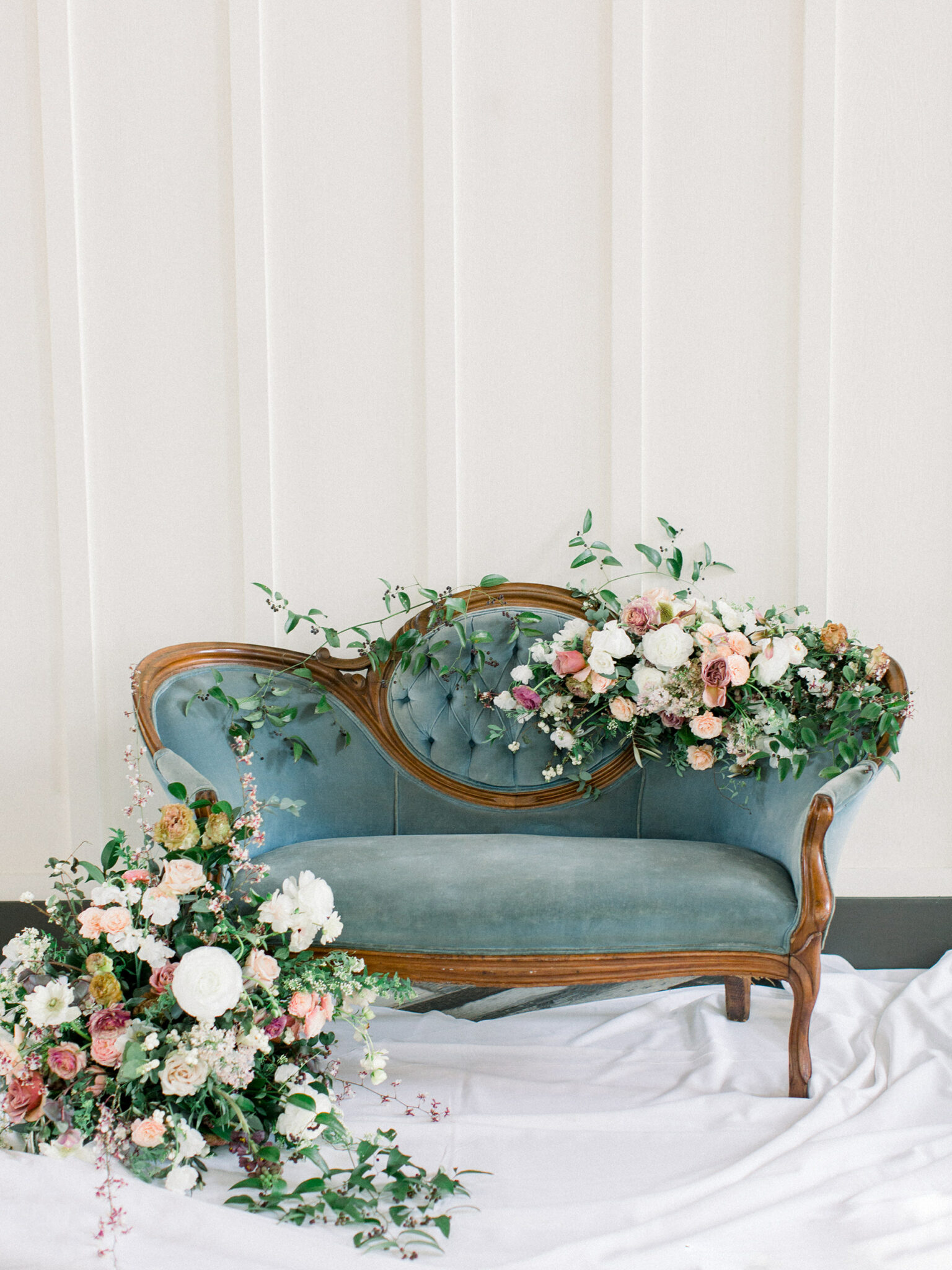 If you feel the wedding will end too early, but you don't want to move the ceremony later, consider extending cocktail hour or hosting an after party. I never recommend adding another hour to the actual reception because your guests will be drained after 4, no matter how awesome you think they are…trust me, I have seen it.
What time should hair and make up start on a wedding day and how early should the bride be ready? Well, I always try to keep that start time no earlier than 6am, but it's been as early as 5am for some of my brides. The start time totally depends on when everything else needs to be ready, so communicate that to your hair and make up team.
As far as how early the bride should be ready, that's another logistic question your photo and video team will be able to answer. While the bride shouldn't be sitting around in hair and make-up all day, it might not work out for her to go last either depending on other factors. I usually like to have the bride get her hair and make-up done towards the end, but it should never feel rushed.
Wedding Day Timing Really Matters
I hope you've enjoyed a crash course behind what goes into building a wedding day timeline and that you learned a thing or two about designing your own. Of course, this is crazy overwhelming, and you're probably so done with this blog by now, right?
If I just drove your anxiety through the roof, feel free to contact us about designing your personal wedding day timeline. No matter where you are located, we can work with your venue and vendors to put together a stress free day that you won't have to worry about. Get started by reaching out to us here.
As always, thank you so much for stopping by! Please leave some comments below with your timing tips or about anything else wedding related on your mind!