Creating A Trendy 2020 Christmas
If you're over here after reading the first part of the 2020 Stunning Christmas Trends blog series, then you already know we covered how to have a Cozy Christmas. In case you missed it though, be sure to click over here for all the inspiration and ideas you missed!
Let's get right back into it with two crazy popular 2020 Christmas trends that couldn't be more different from each other…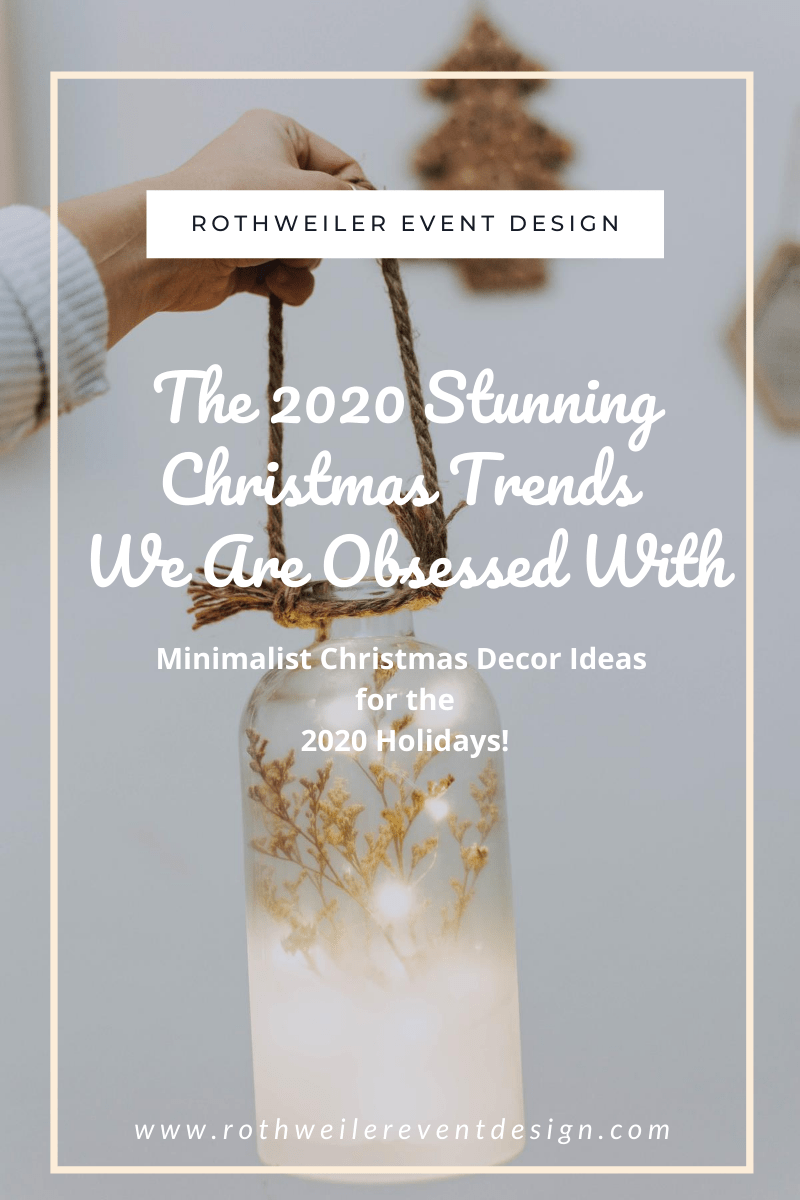 *Please note that most of the links of this page are affiliate links. This means if you click on a link and purchase, you will receive the same price, but I will receive a referral fee. This helps keep my blog free and allows me to share wedding planning tips with you. Thanks for your support!*
Industrial Glam Christmas
Glam Christmas decor will be seen in homes everywhere by the time Christmas Day 2020 gets here, and it's such an easy trend to work with, too! Maybe you like the idea of glitz and glam Christmas decor with tons of tinsel draped on the tree. Or maybe a sparkly winter wonderland is more your style…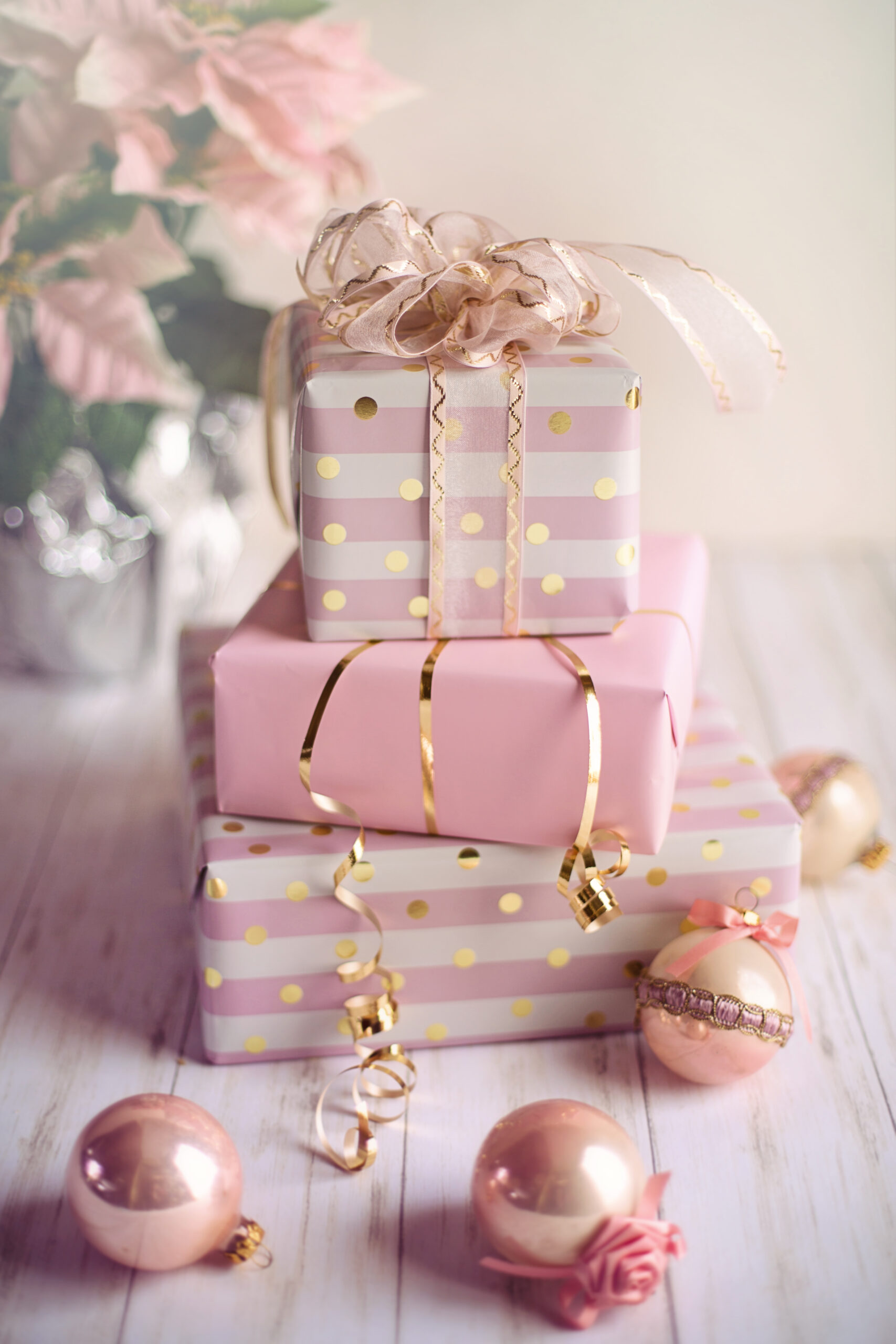 For those of you that are looking for something a little different than red and green, we've got plenty of glam Christmas decor ideas in this section of the blog.
Related: 25 of the Best Christmas Gifts for Newly Engaged and Married Couples!

For the ultimate sparkly Christmas tree, you cannot go wrong with this colorful option from Saks Fifth Avenue. This is the perfect tree choice for smaller spaces too; standing only 22 inches tall, make this part of a colorful industrial glam Christmas scene in your home this year!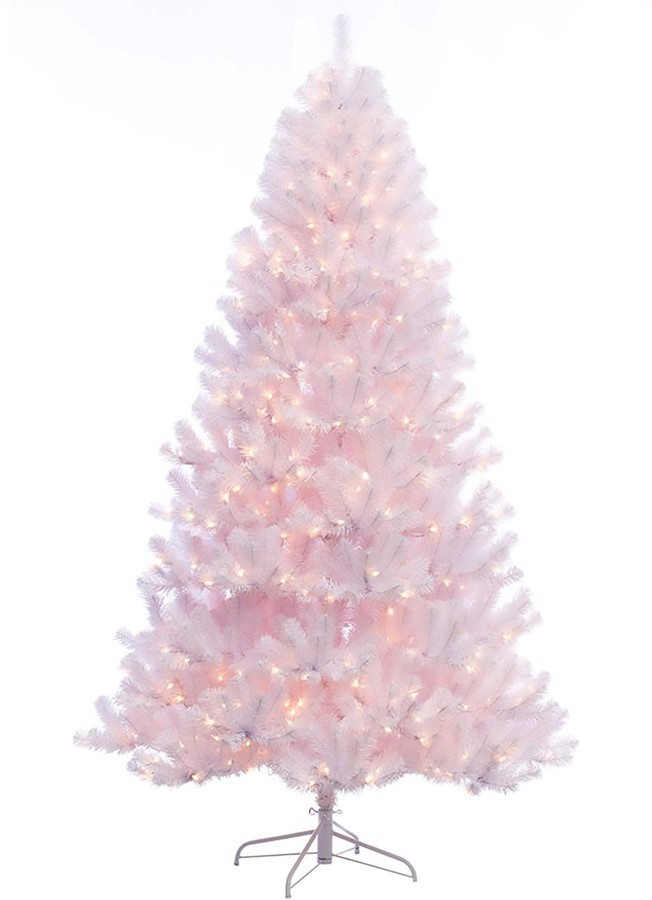 Bring your industrial glam Christmas design to the next level with this soft blush Christmas Tree covered in warm white lights. Place this beauty next to the window so everyone passing by will have a little sparkle in their step and a smile on their face!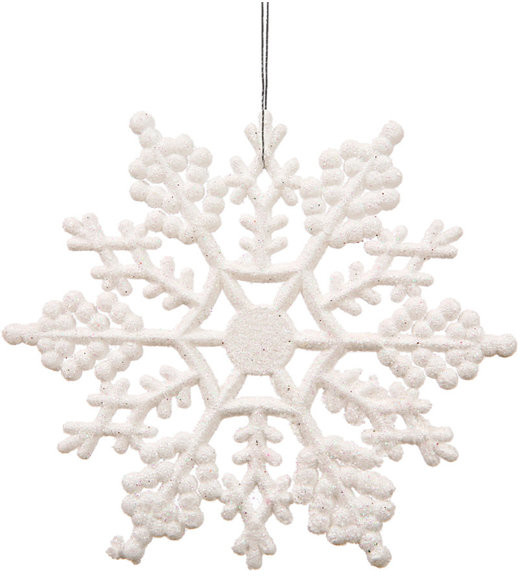 What about that glam Christmas decor winter wonderland theme? If the idea of the glistening white snow is what will make Christmas Day 2020 extra special for you, then you have to pick up these glimmering snowflakes to hang across your home!

Get ready to glam up your Christmas table with these sleek and shiny silver chargers. Place one at each setting no matter how many (or few) guests you have joining for Christmas dinner for an extra special look!

No glam Christmas table is complete without a set of these confetti inspired glasses! The stemless look is super fun, and the mix of gold and silver sparkles fits well with any glitzy color combination you're going with this year. Pick up all the sets you need over here!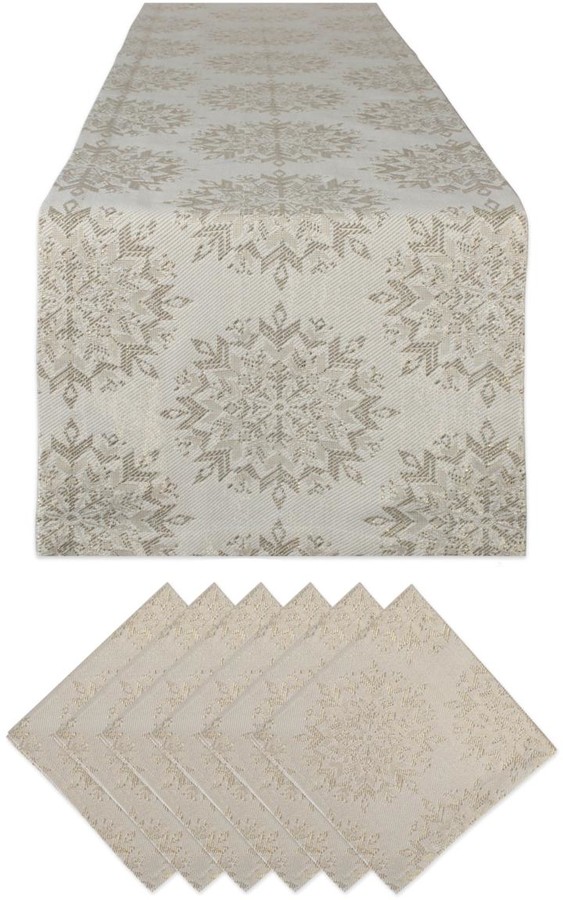 Who could forget the final touches of a glam Christmas table? Not us! Making things beautiful doesn't have to be complicated or expensive when you purchase this matching napkin and runner set over here.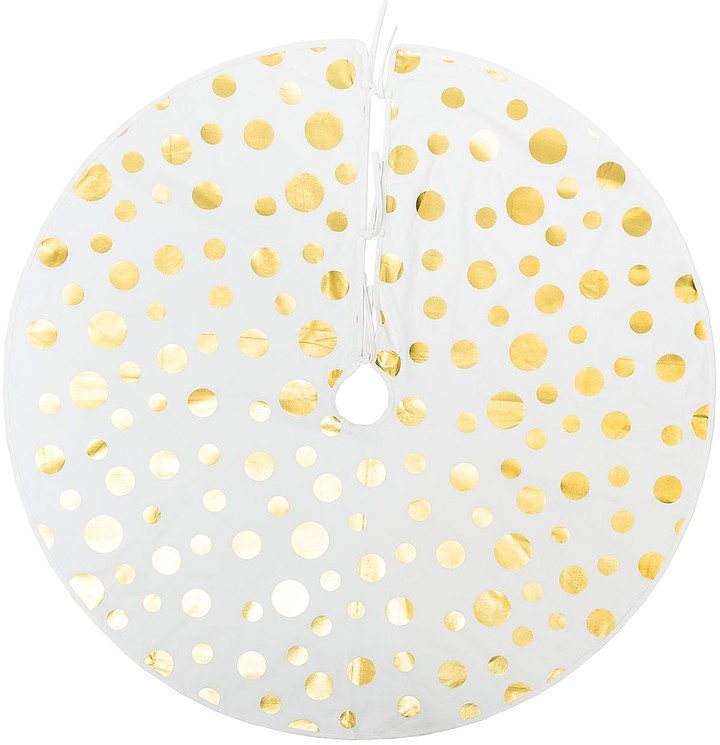 Whether your Christmas tree is painted pink or covered in jewel toned sparkly Christmas ornaments, nothing completes the glam look more than a tree skirt like this one above. Watch as the glow of the Christmas lights catch the gold design every night of the season!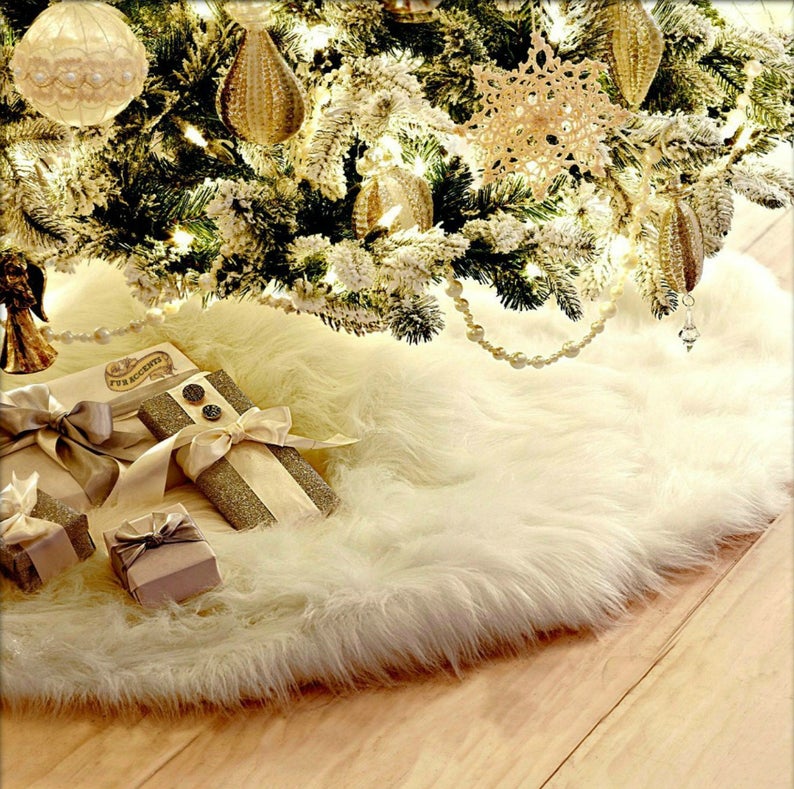 One of the reasons industrial glam is one of the 2020 stunning Christmas trends we love, is because you can create tons of different looks just by changing a few things. Throw down this alluring faux fur tree skirt and let your tree sparkle all night long!
Related: Even MORE Glam Christmas Decor Ideas and Inspiration Anyone Can Afford!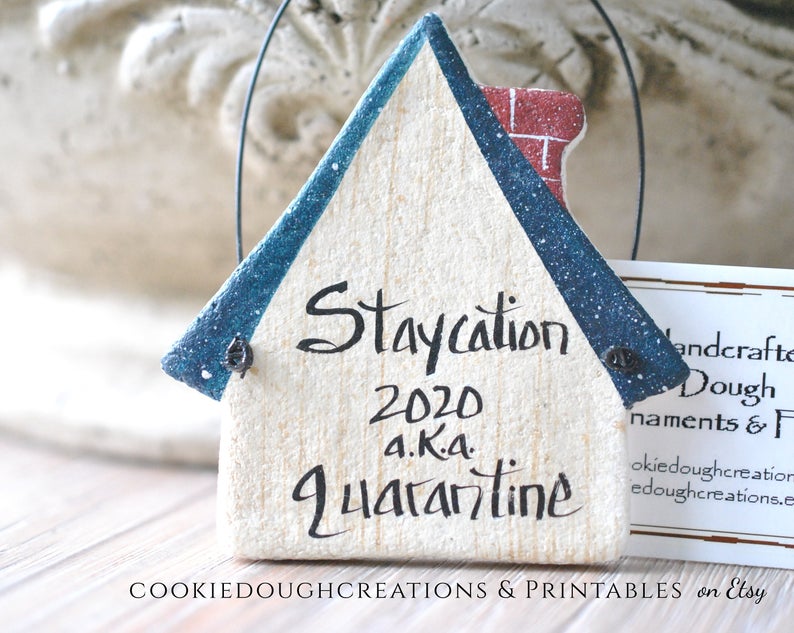 Everyone loves sparkly Christmas ornaments, and even though this year was less than fabulous, that doesn't mean your tree decor has to be. Grab this handmade, glitter covered, quarantine Christmas ornament to remember how fabulous you are, even when 2020 wasn't.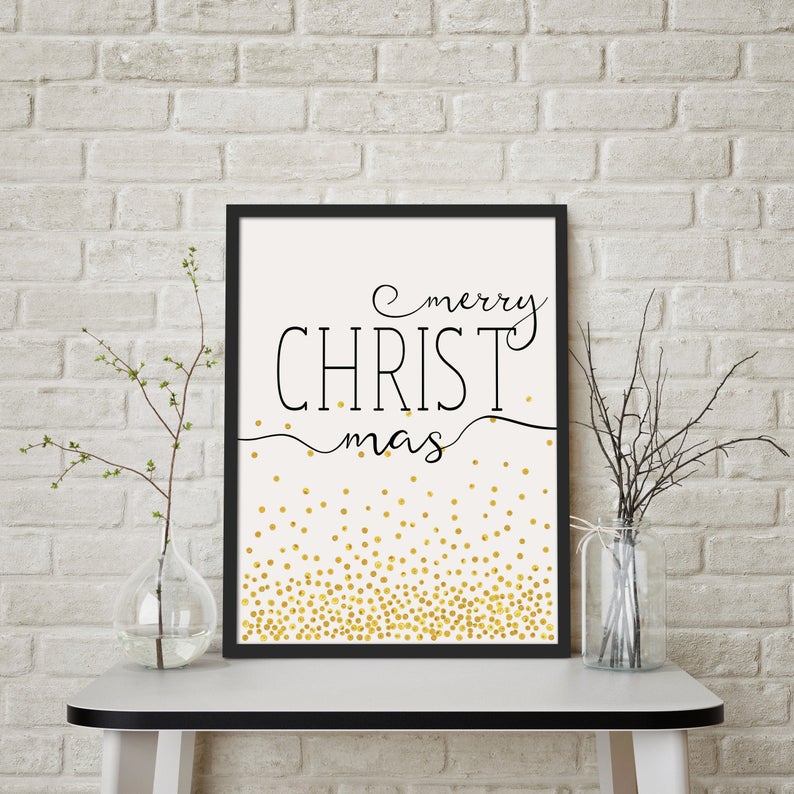 I love signage, and not just for weddings, but for life in general. We all have at least one sign in our house (or we all should at least) and Christmas is a great time to add a few more. Since signs have been trending for a few years now, it only makes sense to include this glitzy sign as one of our 2020 stunning Christmas trends!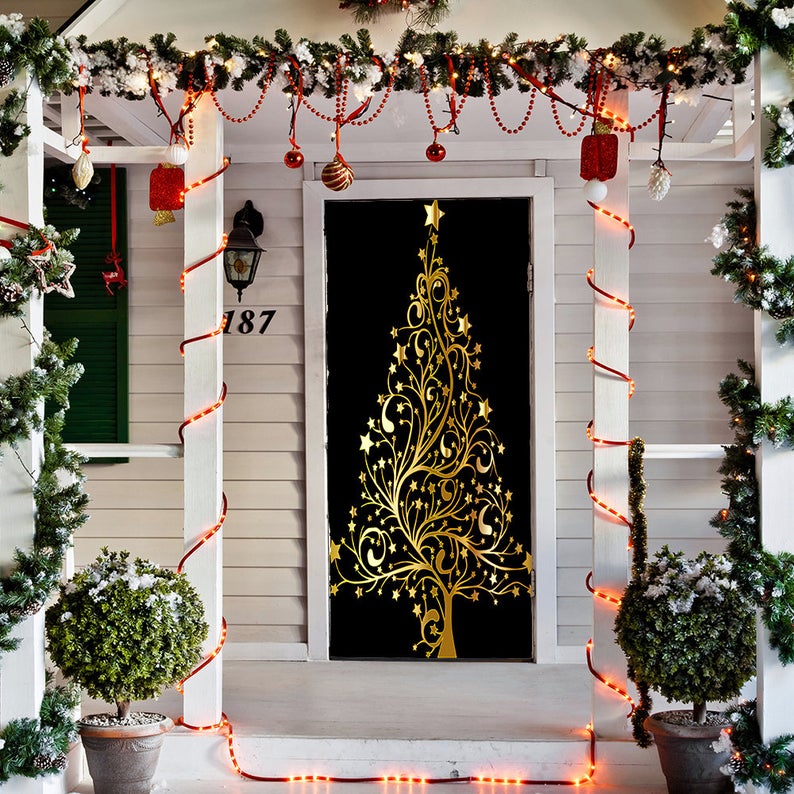 With Christmas decorating, it's not just about the interior decorations. Add this golden Christmas tree design to your front door and surround it with lights and sparkle, or let it shine all on its own!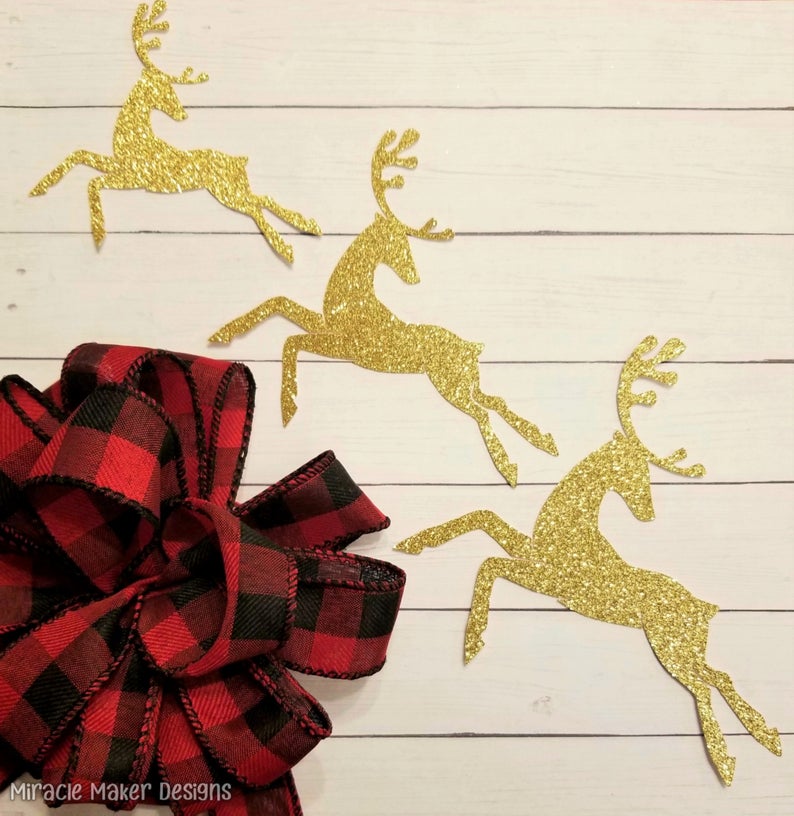 Christmas just wouldn't be complete without Santa and his eight tiny reindeer…for the most glamorous sleigh ride ever, you need this wall decor of gold dusted reindeer displayed in your home.
Minimalist Christmas Decor Ideas
We said that this blog about trendy 2020 Christmas ideas was going to have two very popular vibes that couldn't be more different from one another….and we were not kidding….so….
How does a minimalist decorate for Christmas? We are glad you asked!
Related: How Does Your Favorite 2020 Christmas Trend Stack Up?
The minimal trend has spread like an out of control wildfire that keeps getting doused with gasoline for the past couple of years now. Simple but beautiful designs mixing neutral colors that work in every setting? No wonder the look is favored AF by brides and grooms everywhere.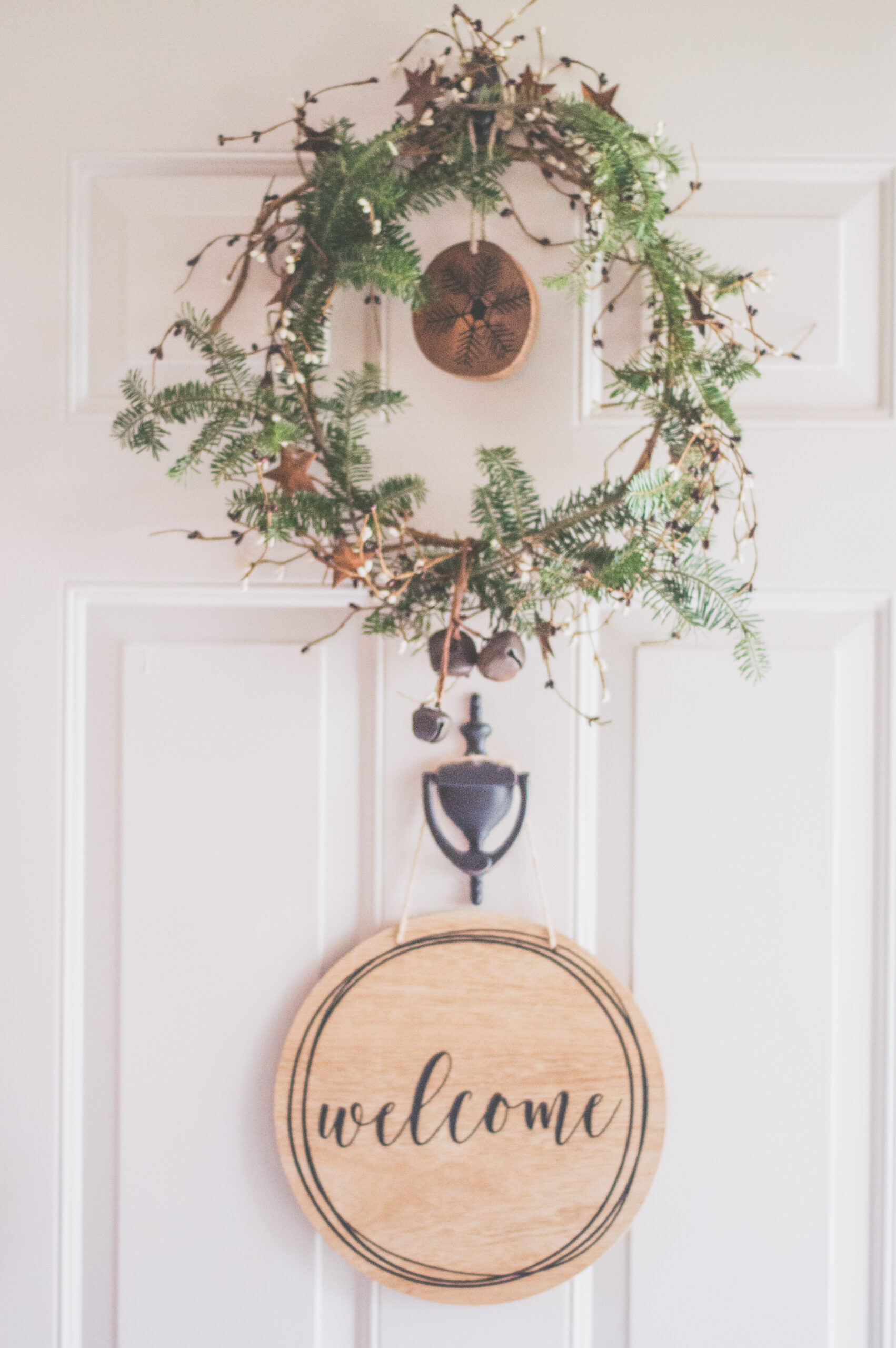 One majorly appealing factor of the minimalist trend is how easy on the wallet it can potentially be. Because really, how do you decorate for Christmas on a budget?
It's Christmas…Christmas and the word budget are never in the same sentence. But now, they can be…here's a few ways to save using gorgeous minimalist Christmas decorations!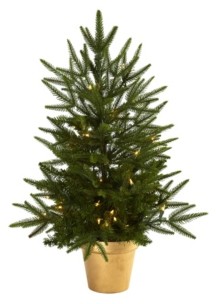 Minimalist Christmas decor and small spaces go hand in hand very well. This adorable and simple Christmas tree with white lights inside a gold pot will blend with your Christmas 2020 decor seamlessly.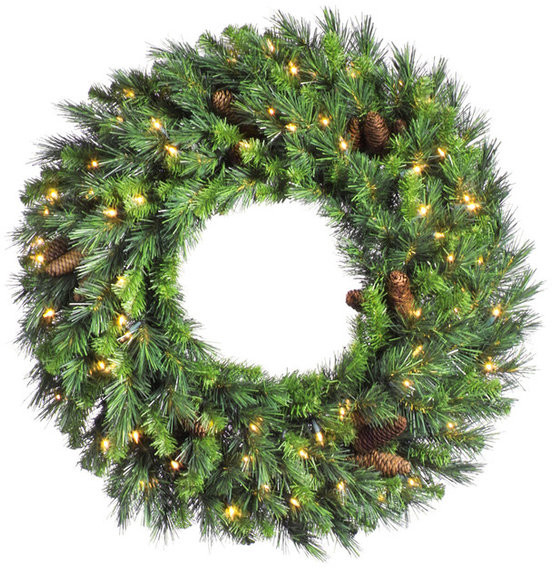 Hang up this bright evergreen wreath on your front door, above the mantle, or in a variety of other places. Perfect for the last minute shopper too as it's already hooked up with the classic white Christmas lights everyone loves!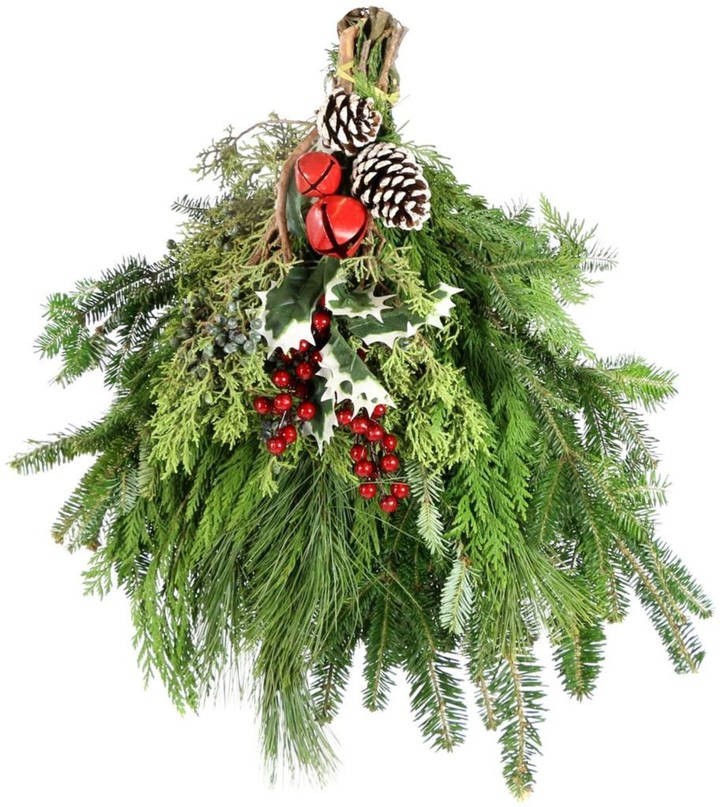 Add small touches of minimalist Christmas spirit with this evergreen swag, covered in holly and red berries. This really can be placed anywhere to instantly warm up a room for the holidays.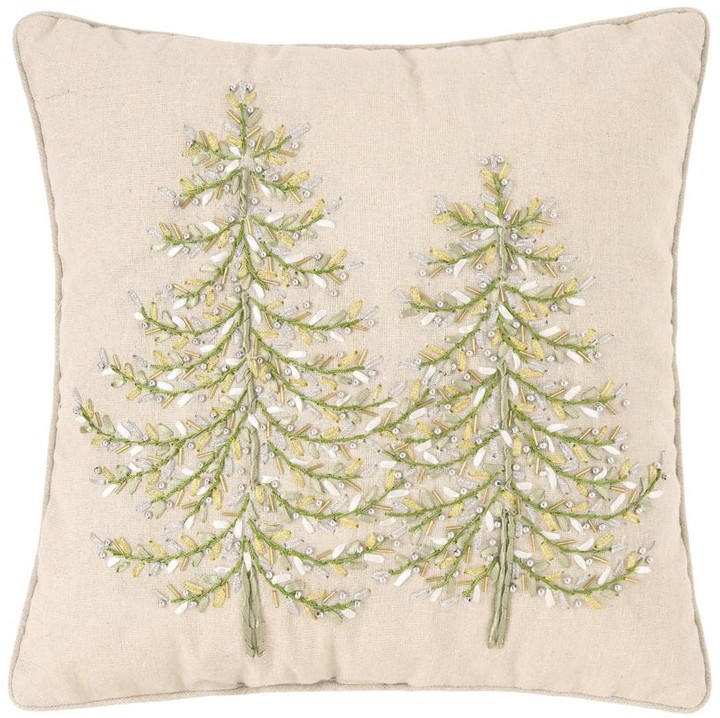 Odds are, if you're looking for ways to have a minimalist Christmas, that's probably your style to begin with. That makes swapping in this neutral pillow above super easy and even keeping it around all Winter long!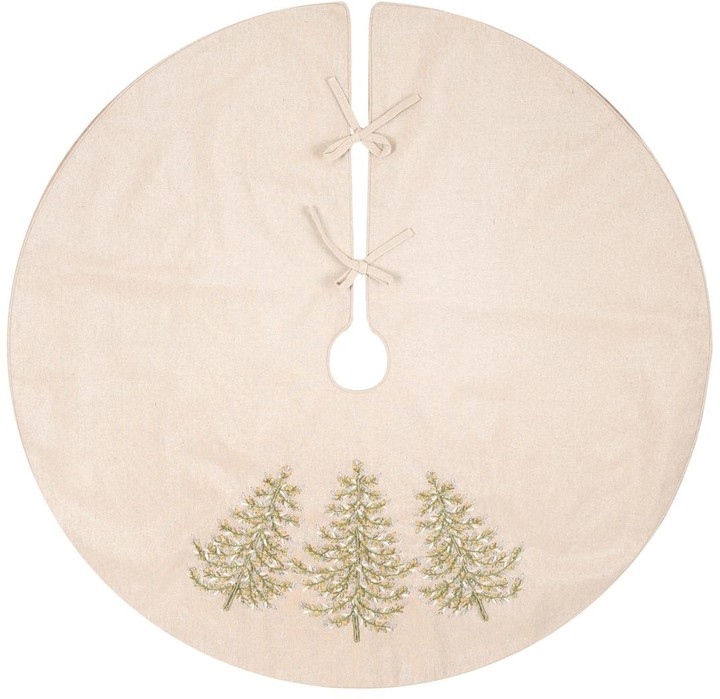 A crucial element of a minimalist theme is that coordination looks effortless, but still very much exists. With that in mind, how could we not recommend this tree skirt to match the pillow right before it? You can go grab it over here!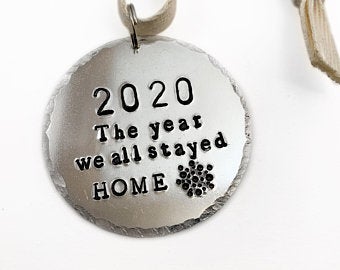 Even a minimalist Christmas theme needs a yearly Christmas ornament. A great way to remember the disaster that was 2020 in a minimal way is with this simple silver Christmas tree ornament on Etsy!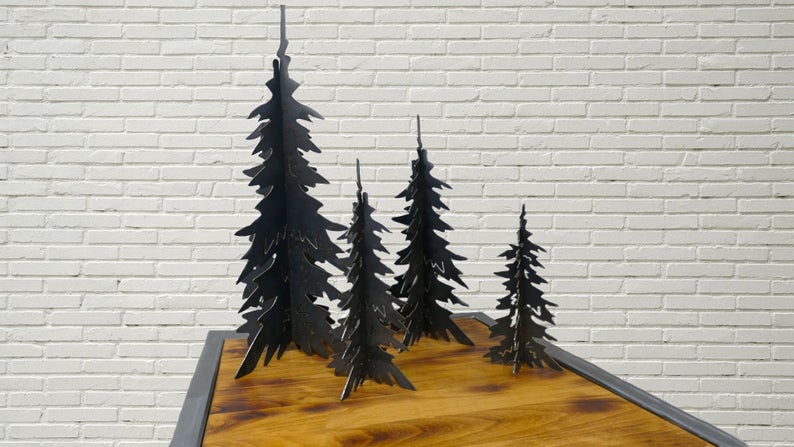 These metal Christmas trees are perfect for small spaces or just smaller rooms in your house. The perfect minimalist Christmas decorations, the simple design will blend into your home decor while spreading Christmas cheer effortlessly!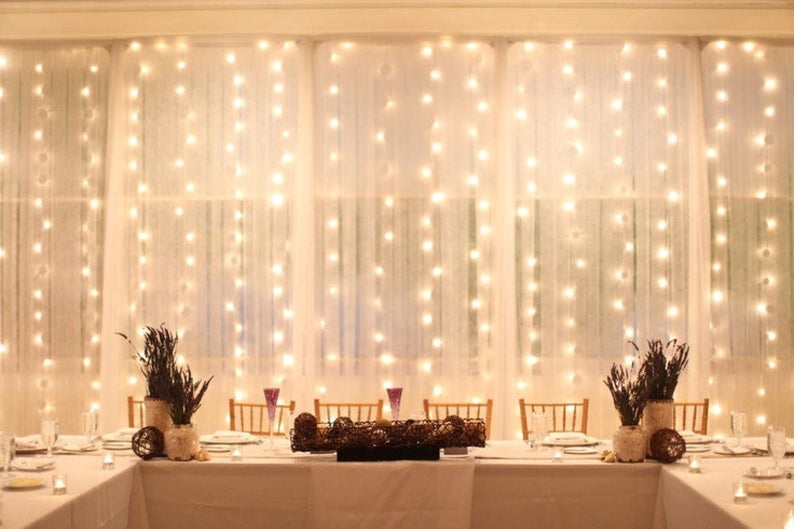 No matter how simple your Christmas decor is, the holiday look just isn't complete without the twinkling lights. This wall of white Christmas lights provides the perfect backdrop for any room in your home…or you can pick up a few right here to decorate different parts of your house!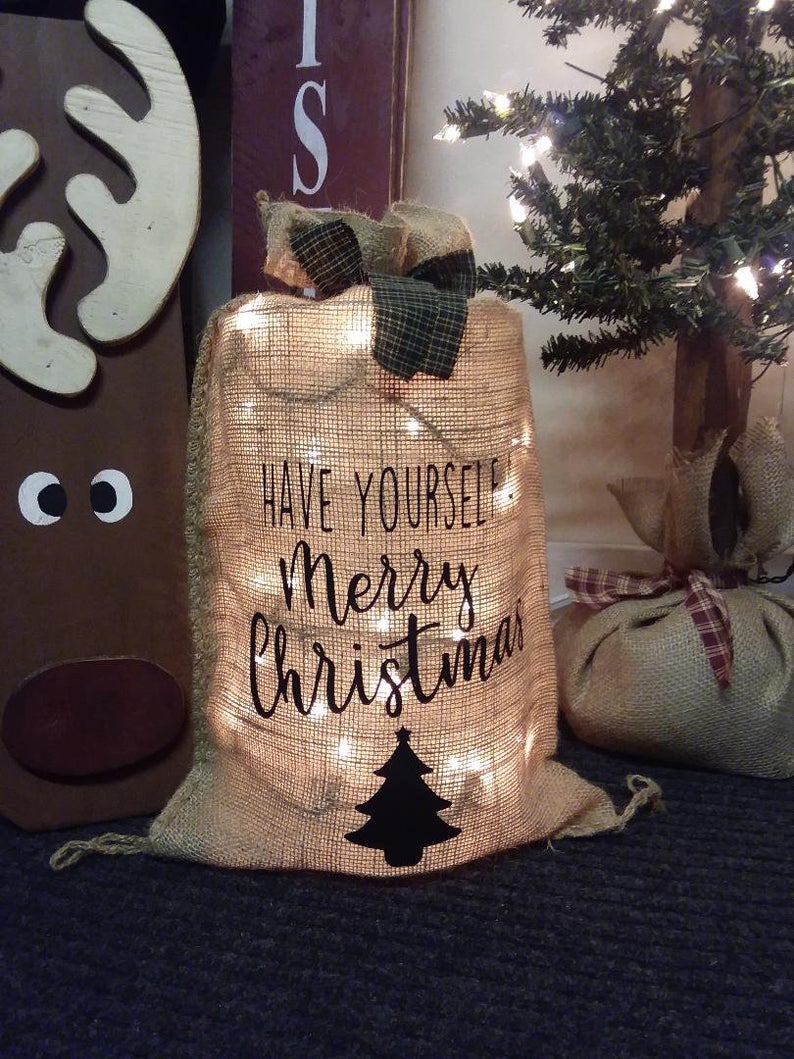 The appeal of Santa's bag stretches across all Christmas styles…it's just a matter of how it's designed. With this burlap Santa sack as part of your minimalist Christmas decorations, you can't go wrong!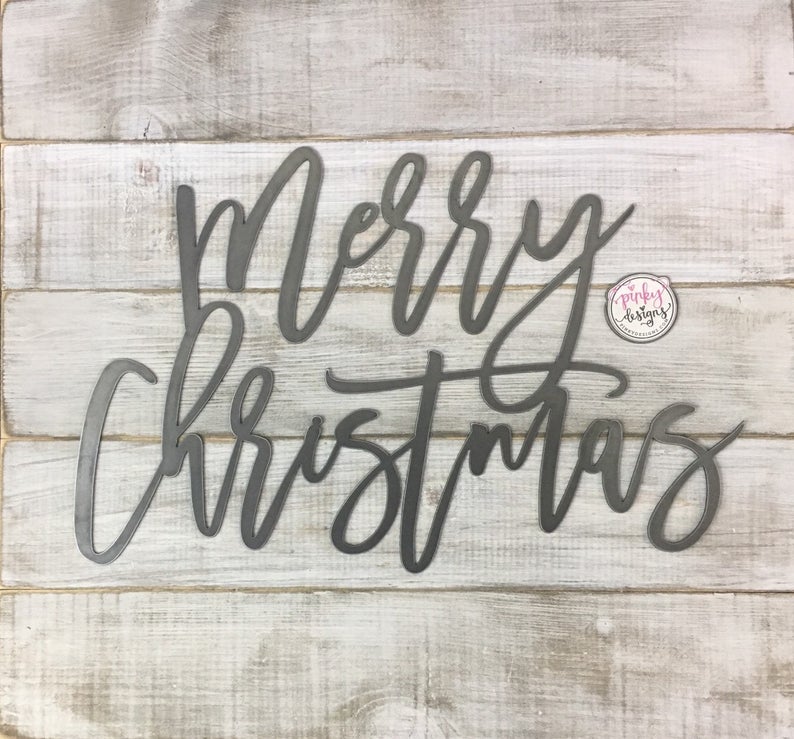 Say "Merry Christmas" in the most minimal way possible with this sophisticated silver sign. This gorgeous piece can be hung from a mantle, placed on the front door, and basically put anywhere you see fit because it fits in with everything!
No minimalist decorator is going to toss a bunch of tinsel and huge ornaments on their Christmas tree and call it a day. But keeping your Christmas tree bare and empty isn't an option either…which is why you totally need this gorgeous wooden sign above to complete the look!
A Very Trendy 2020 Christmas
Now you know two of the top 5 2020 Christmas trends, and how you can make either one of them a part of your holiday home. From cozy to glam to minimalist, we've covered a bunch of styles in this blog series….
Ready for more? Click here to see the two final top trends for Christmas Day 2020!