If you're looking for Christmas gift ideas for engaged couples or newlyweds, this blog is filled with 25 amazing ones! We've included affordable options in every category, and there is truly something for everyone.
This best thing about this Christmas gift guide, is that all of the presents are things people will actually use. Because don't we all get tired of saying "oh you shouldn't have"?
It's super easy to shop for that newly engaged couple or the newlyweds in your life. Keep scrolling to see all 25 Christmas gift ideas, and follow the links to get started!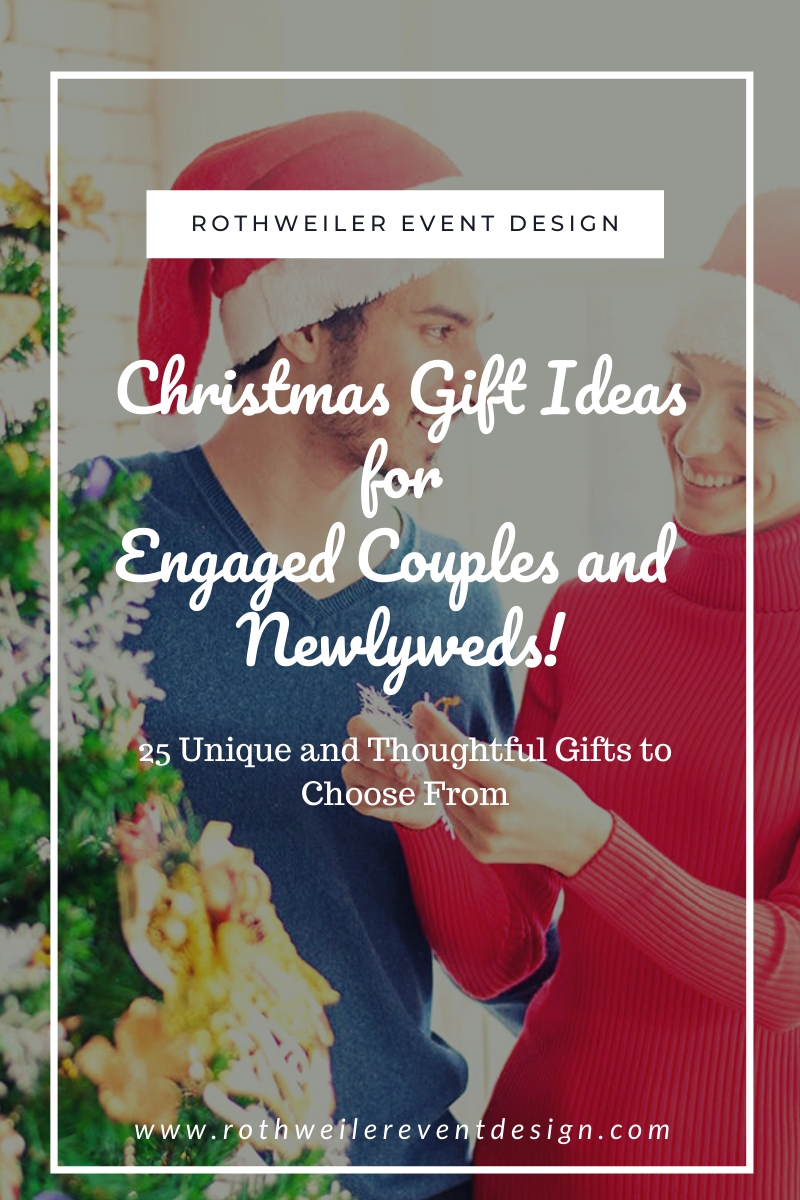 *Please note that most of the links of this page are affiliate links. This means if you click on a link and purchase, you will receive the same price, but I will receive a referral fee. This helps keep my blog free and allows me to share wedding planning tips with you. Thanks for your support!*
What Do You Get A New Couple For Christmas?
Another great thing about this list of Christmas gift ideas, is that many of them will work for both an engaged couple and a newlywed one. Many couples I plan with purchase a home either while their wedding planning or shortly after getting married. There are tons of options in this gift guide that are perfect for new homeowners.
Maybe your struggle is what gifts to get for the newlyweds who have everything…don't feel pressured to really think outside of the box (especially when we've done it for you). Anything too crazy unique could wind up being re-gifted or kept in the back of a closet never to be seen again. There are plenty of original Christmas gift ideas here to fit every style.
Personalizing gifts is always as popular idea for newlyweds and engaged couples. The best thing about giving this type of gift? There's no such thing as "too much". It's not the same as plastering your monogram all over the place during your wedding reception; gifts with that newly shared last name will always be appreciated.
So suspend any of those fears you have that this is just going to be one more of those Christmas gift guides filled with stuff you hate! Cross of some of your Christmas shopping to-do list right now and let us know your favorites in the comment section.
Christmas Gift Ideas for Engaged Couples and Newlyweds
This adorable key ring holder is the perfect gift for an engaged or newlywed couple that just bought their first home together. It's even more perfect for those friends of yours that are constantly losing their keys. You can grab this gift idea here!
When a couple is newly engaged, they like to tell everyone…twice. Of course they'll love a personalized Christmas tree ornament with their names and wedding year. It won't matter if 30 of their friends got them one as well, and you can get this one over here.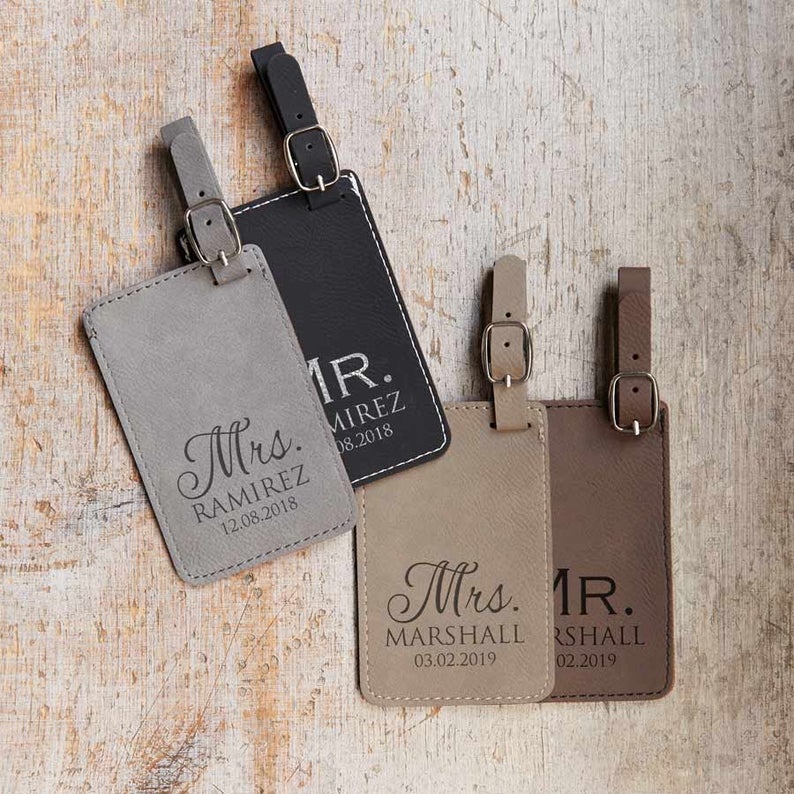 Looking for a Christmas gift idea for newlyweds that they can use right away? Grab these personalized luggage tags here and send them packing for their honeymoon in style!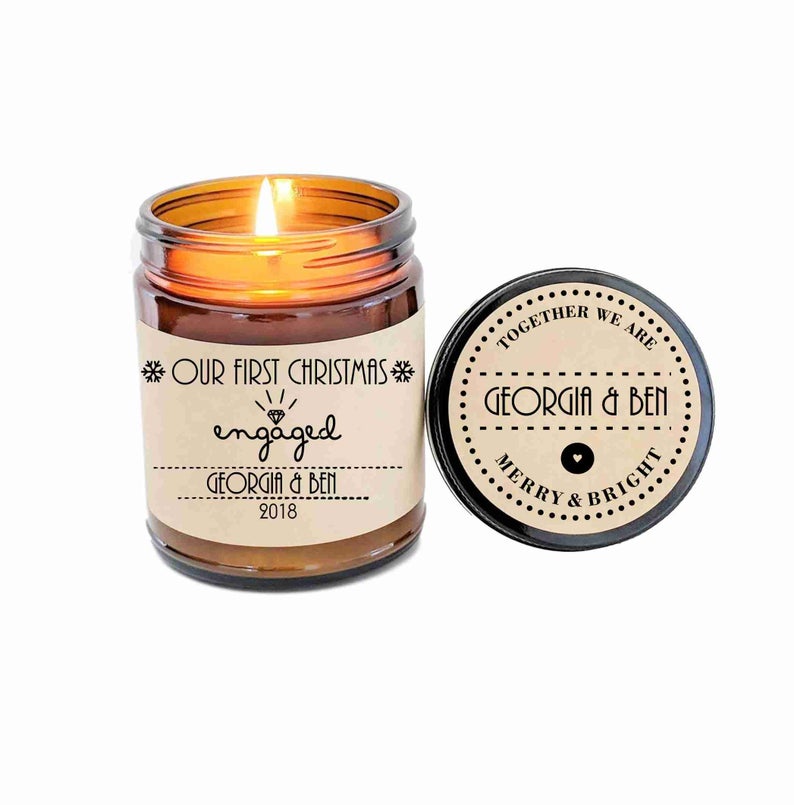 Looking for something a little smaller for your newly engaged friends? Personalize this candle right here and they'll think of your friendship every time they light it!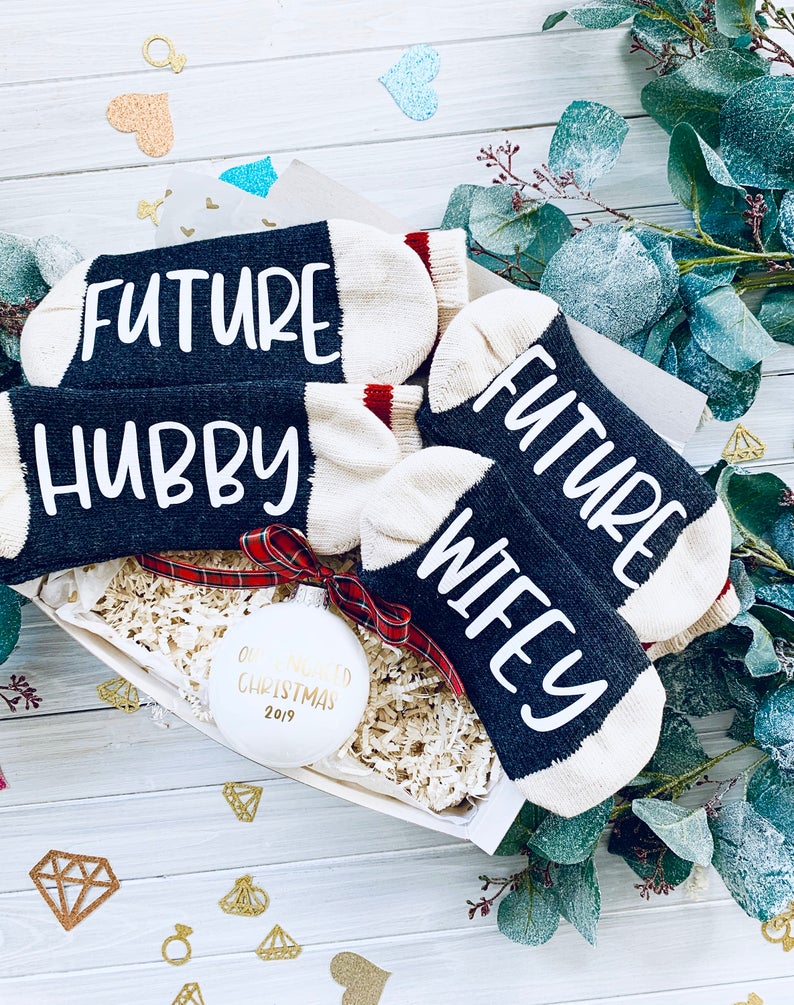 Help keep your newly engaged friends warm this Christmas with these cozy hubby and wifey socks. They even come in a beautiful box with a classic Christmas tree ornament!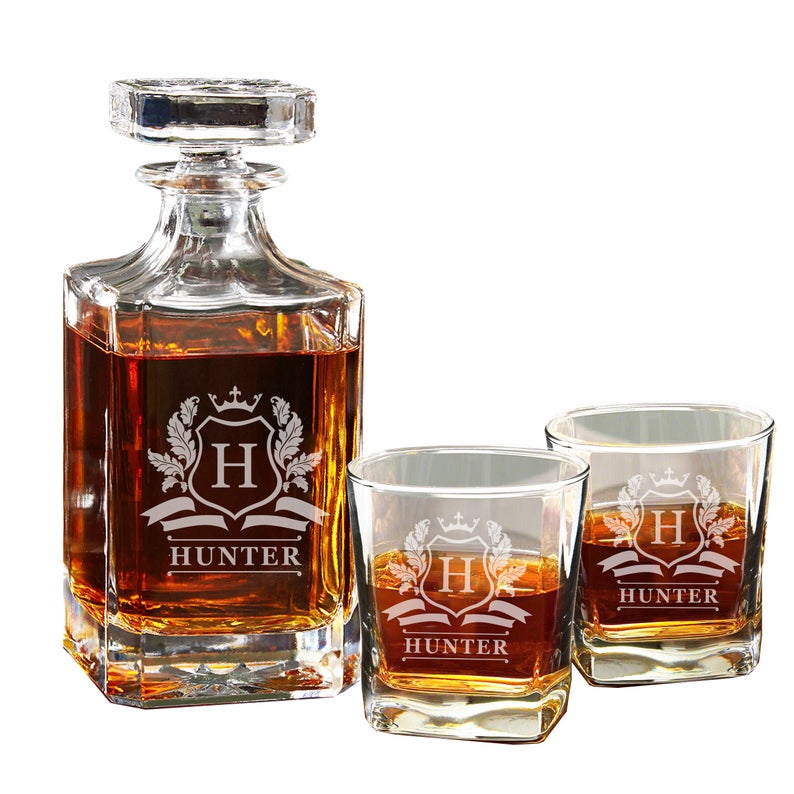 Maybe your friends look to stay warm in a different way…like with some whiskey! A beautiful whiskey decanter like this one is always appreciated, especially when it's personalized and comes with a set of glasses for the couple to share. Grab this gift idea here!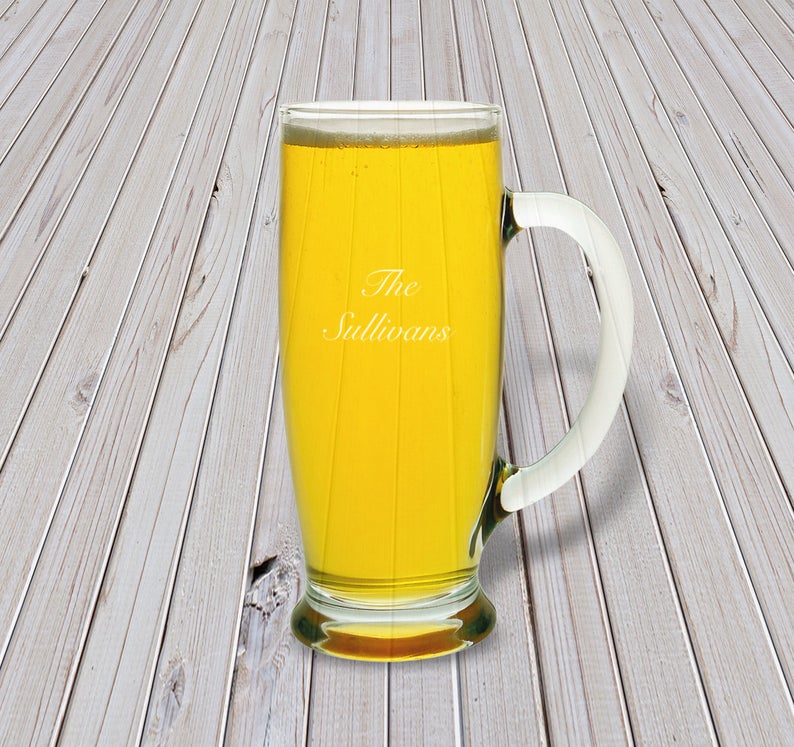 Are those engaged or newlywed friends less about the whiskey and more about sharing beer together? We've got them covered and you can too with this set of personalized, engraved beer mugs.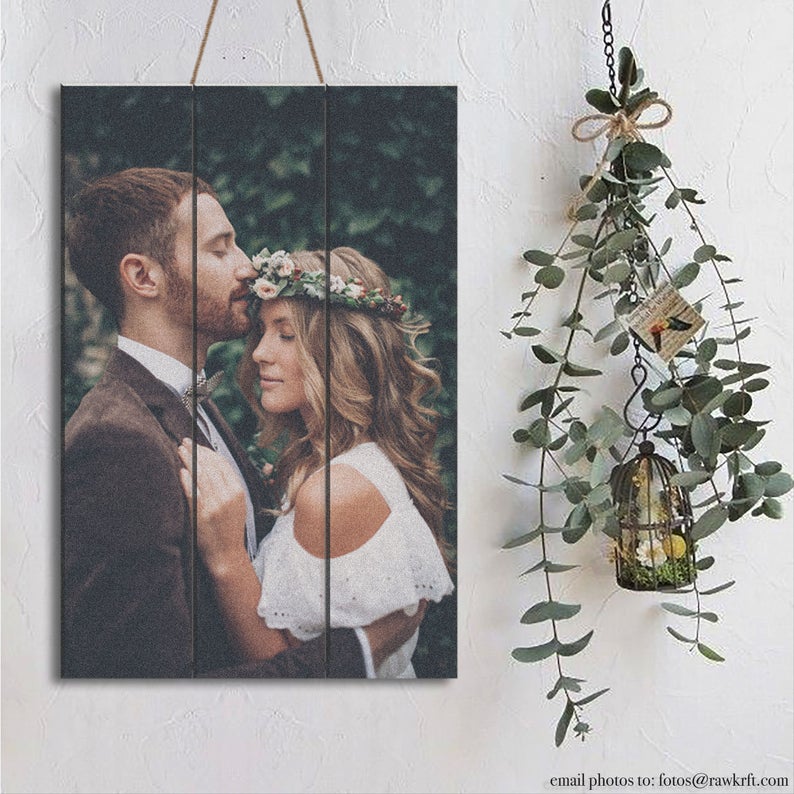 Prints can be expensive when you start factoring in the cost of framing. Plus, finding a frame that works with a photo and with the decor of the room a couple wants to hang it in? Skip that hassle and have one of their wedding photos printed on a wood pallet here!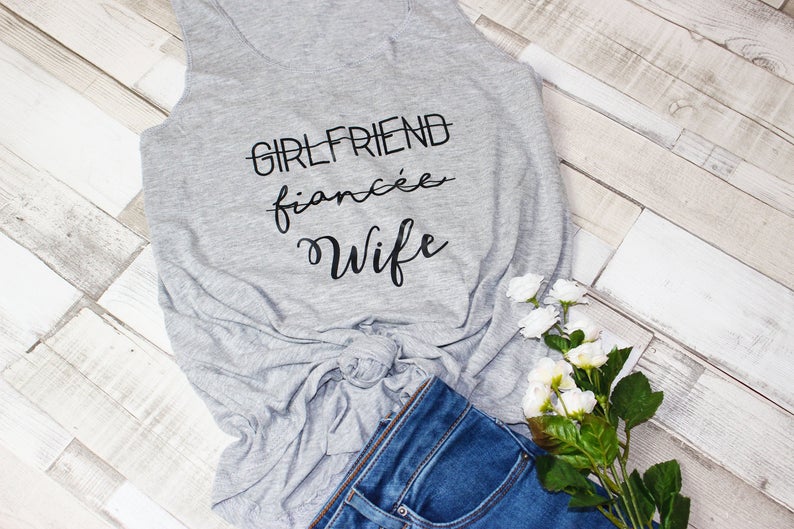 Need a Christmas gift idea for your engaged or newlywed sister? Look no further, and pick up this super cute gray tee that will tell the world all about her new title. Get it here!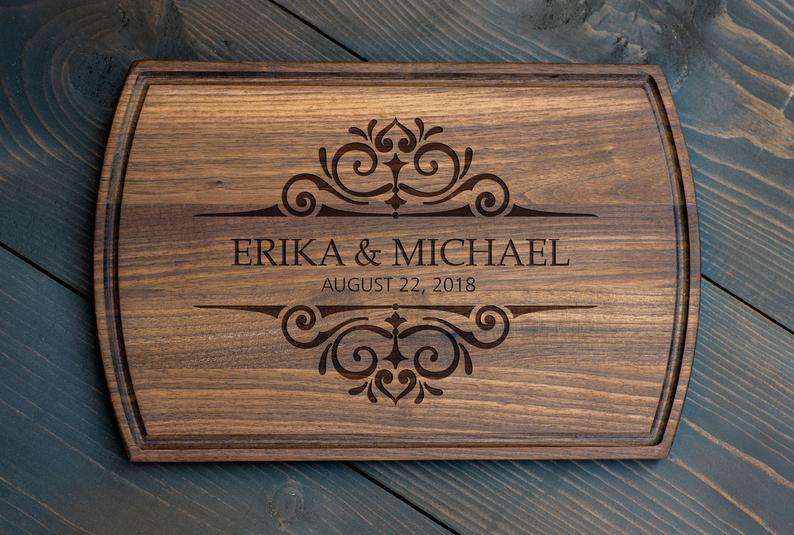 Know a couple that likes to cook? You can never have enough cutting boards (believe me, I know). Why not give them something a little special and pick up a personalized cutting board for your newlywed friends here!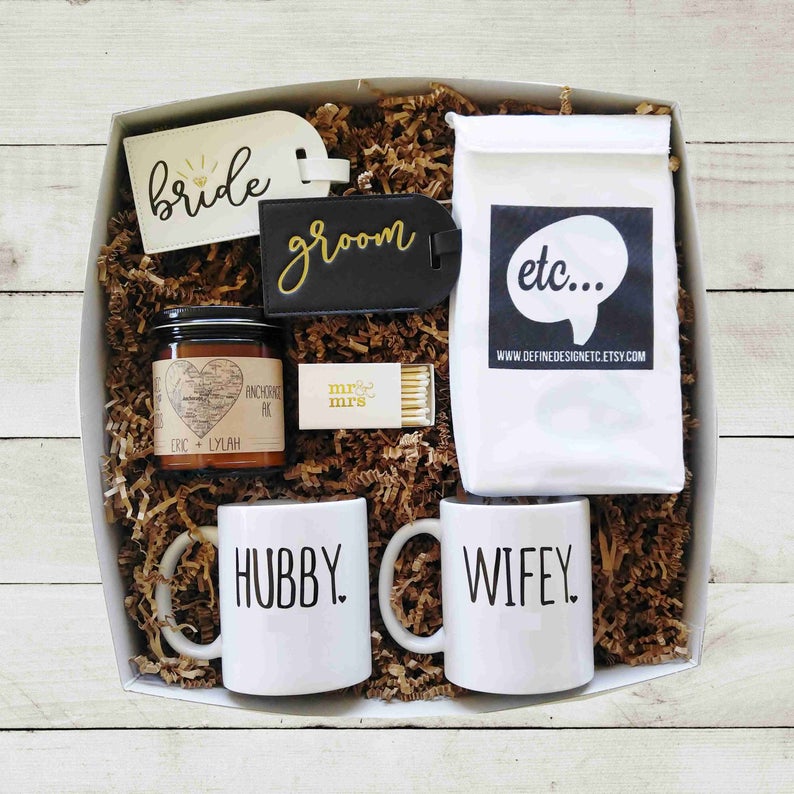 I'm a big fan of customized gift boxes, and always put these together for couples when we start planning together. This box here makes a great Christmas gift for both an engaged couple or a newlywed one!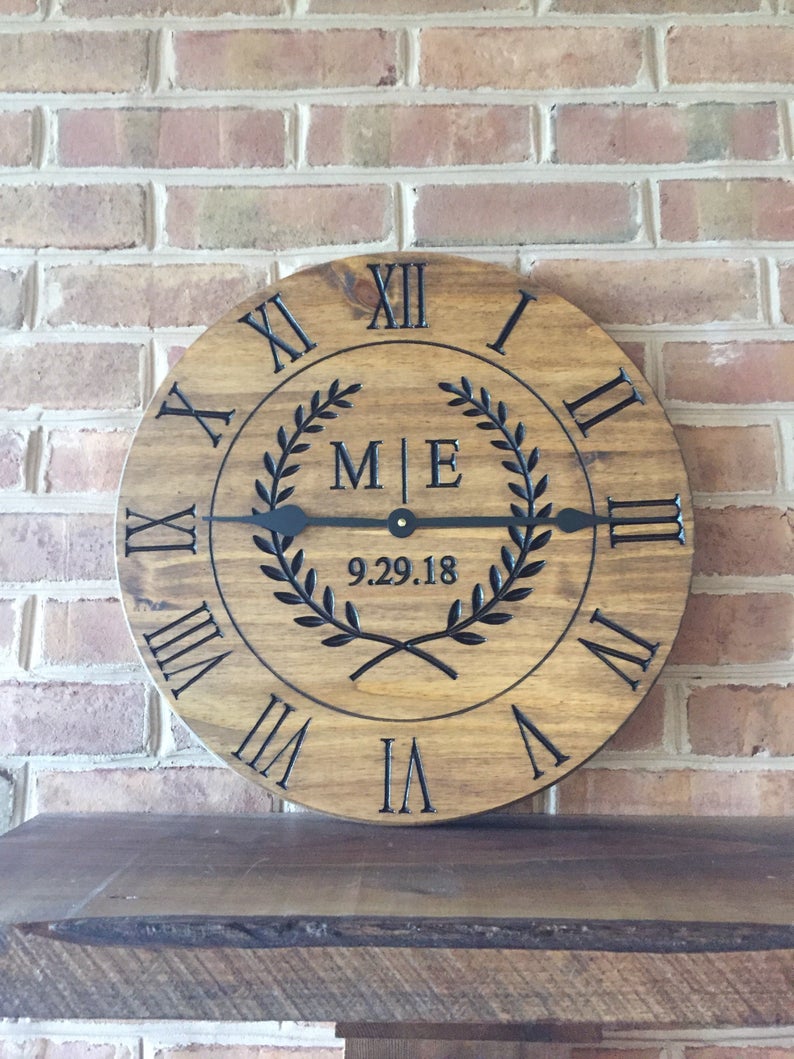 Are your friends more low-key and less about plastering their shared last names all over their home? This wooden clock is a beautiful accessory to gift them for Christmas and will showcase their personal details in a subtle yet stunning way. Grab it here!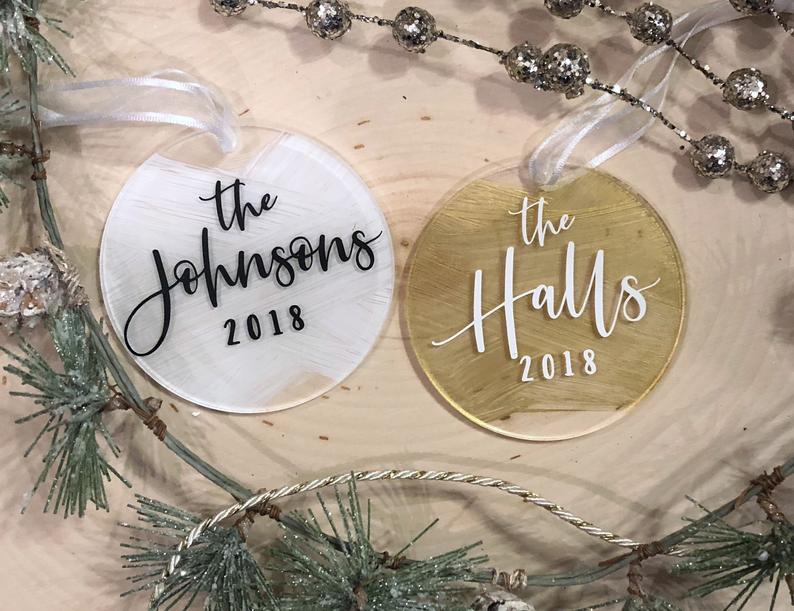 Of course, we can't forget Christmas tree ornaments personalized for the newlyweds, right? If the newly engaged ornament wasn't the right Christmas gift because your friends are already married, then pick these up instead!
This infinity sign will work whether the couple is in their apartment, a starter home, or their final home sweet home! You can personalize this sign with their names here.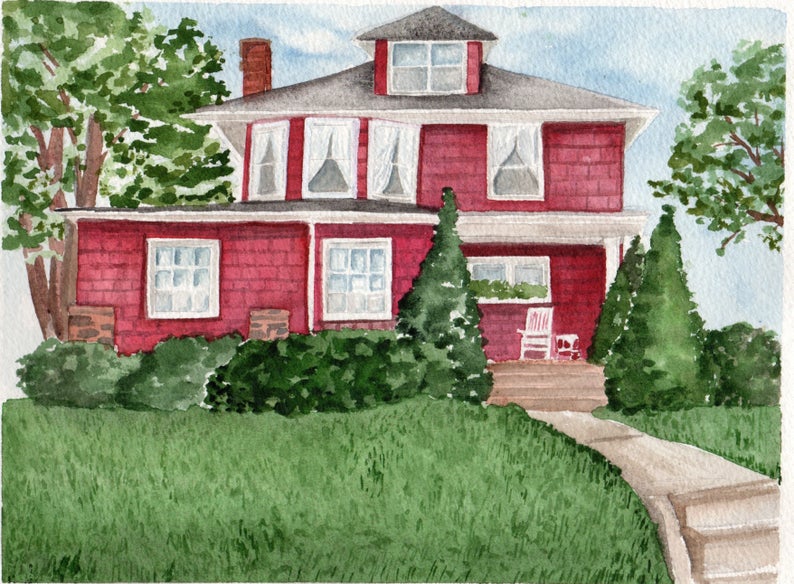 Have your friends finally found their dream home? This Christmas, gift them with a custom painting of the house they worked so hard to get. Head over here to get started with the details!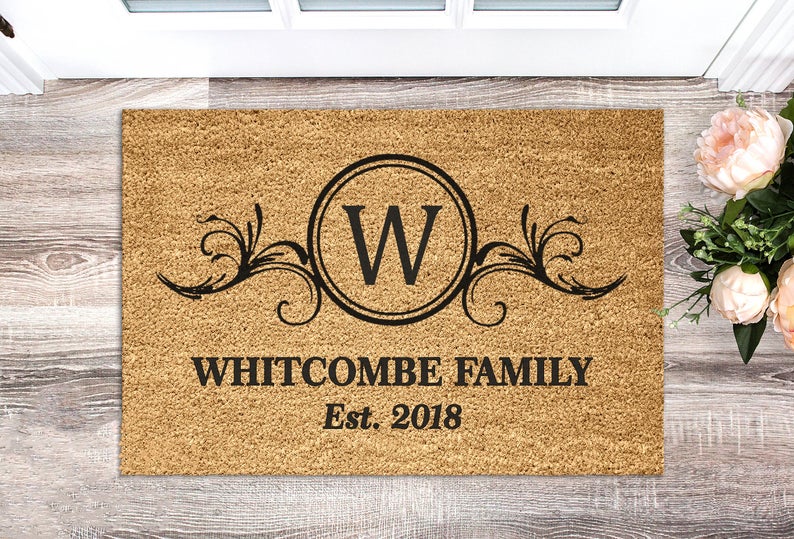 Maybe that engaged or newlywed couple hasn't landed in their forever home just yet…or maybe you just want to get them something really practical. Look no further than this welcome mat that you can add their personal details to here!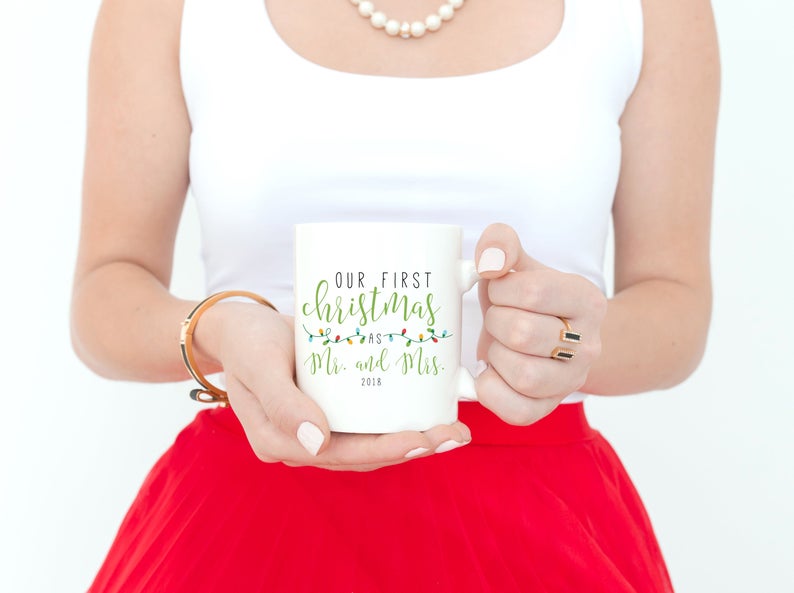 You can never have enough coffee mugs, and you can really never have enough stuff celebrating your newlywed status. Gift these sweet coffee mugs to the newlyweds this Christmas and add their wedding date for a sweet touch.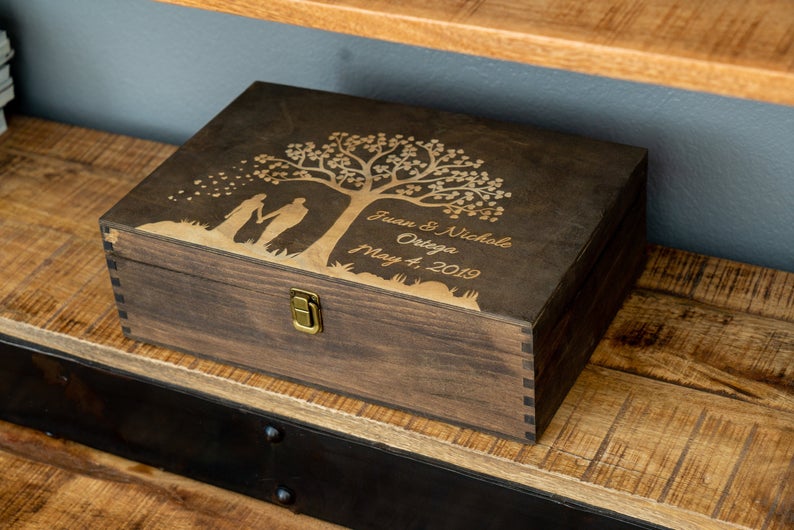 There is always plenty of stuff left over from the wedding day that no couple will ever want to throw out. Instead of keeping it in a shoe box, they'll be able to store it all away in this engraved memory box you can shop for here.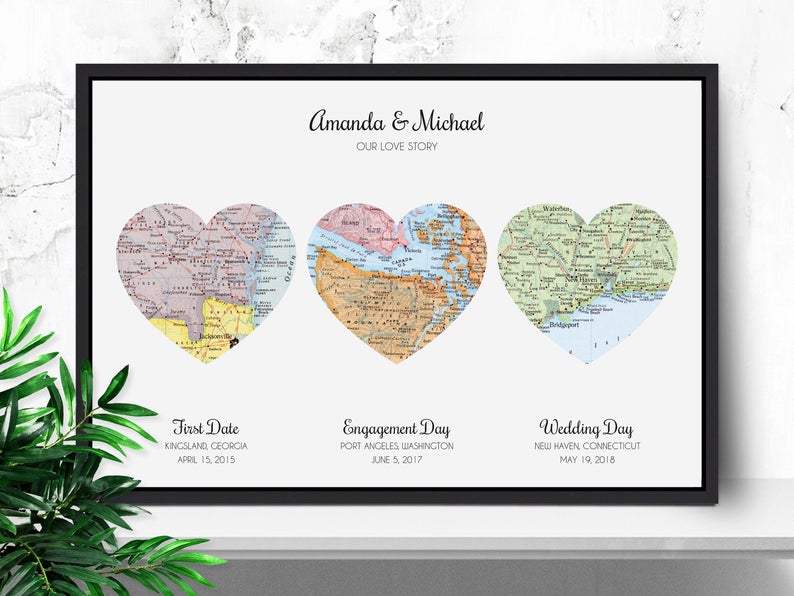 This Christmas gift idea is perfect for a couple you're super close with! Create a three heart picture of their love story and personalize their first date, engagement date, and wedding day details. Check out all of the options to create your own right here!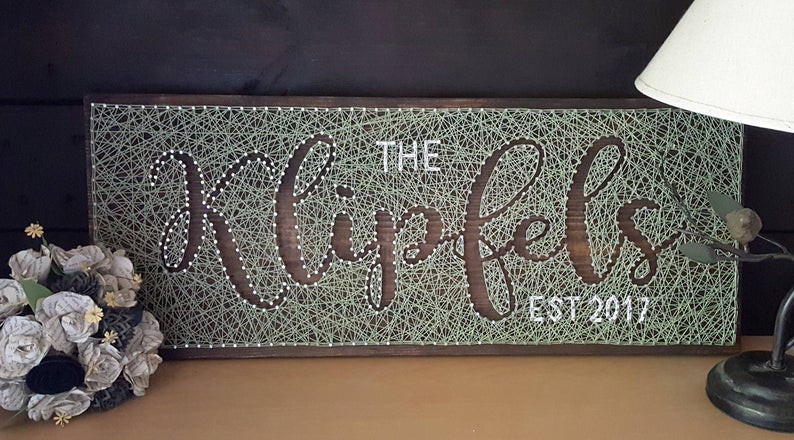 Add a little festive holiday cheer to the home of the newlyweds with this string art light-up sign! A beautiful piece of decor in the daytime, their shared last name will sparkle once the sun goes down!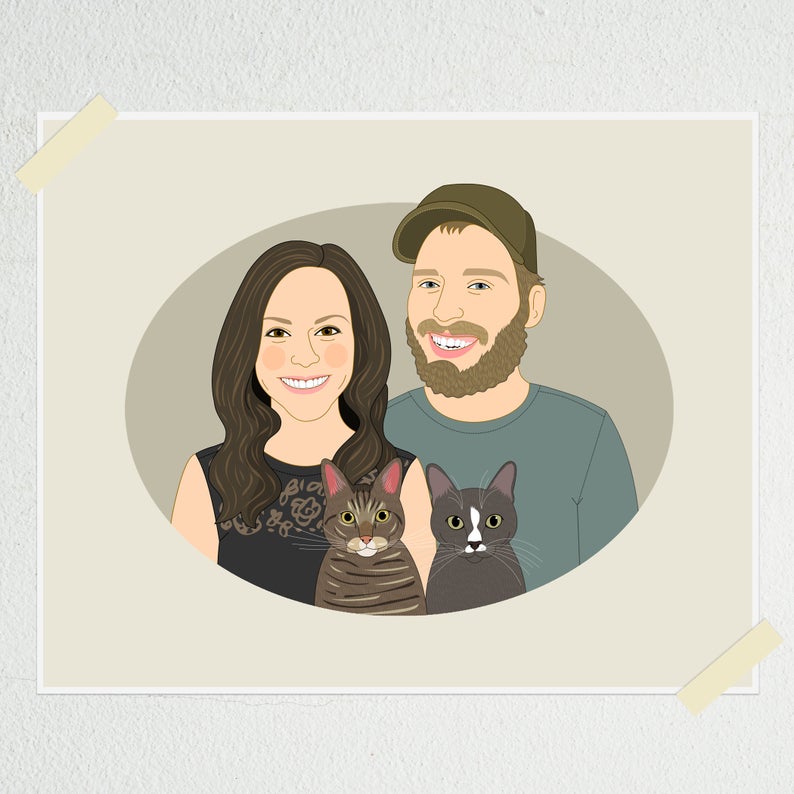 Got some artsy newlywed friends, or maybe they just don't want to hang their wedding photos throughout the house? Get them something truly unique by purchasing a custom drawn portrait here!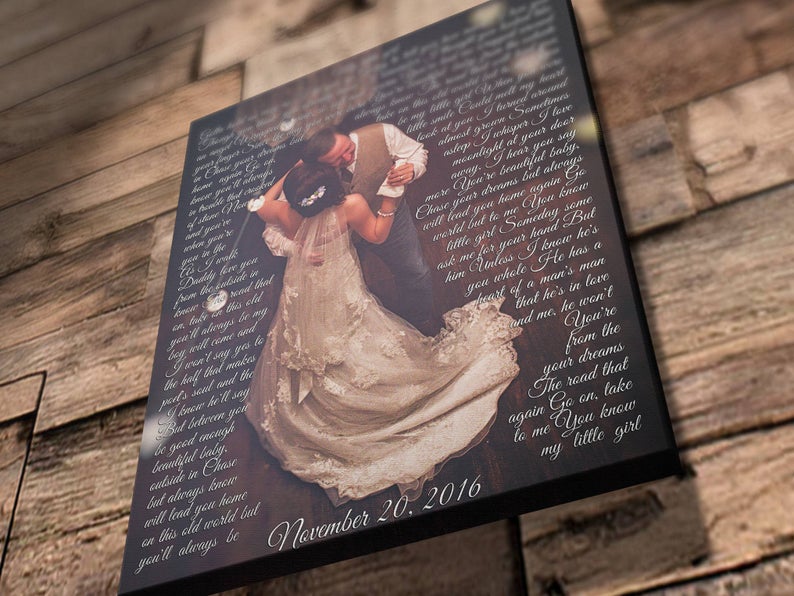 My favorite on this list, is something I actually have in my own house and constantly get compliments on…This canvas print incorporates a wedding photograph and the lyrics to the couple's first dance to create something truly special. Put it all together here!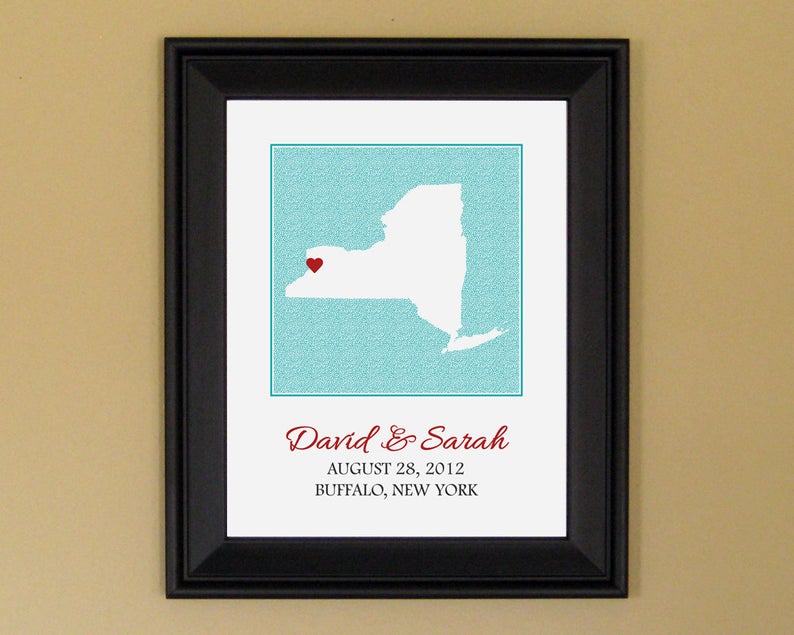 The perfect Christmas gift for the engaged couple having a destination wedding, or the newlyweds who already did, is this personalized state map. Add their names, wedding date, and location here to get started!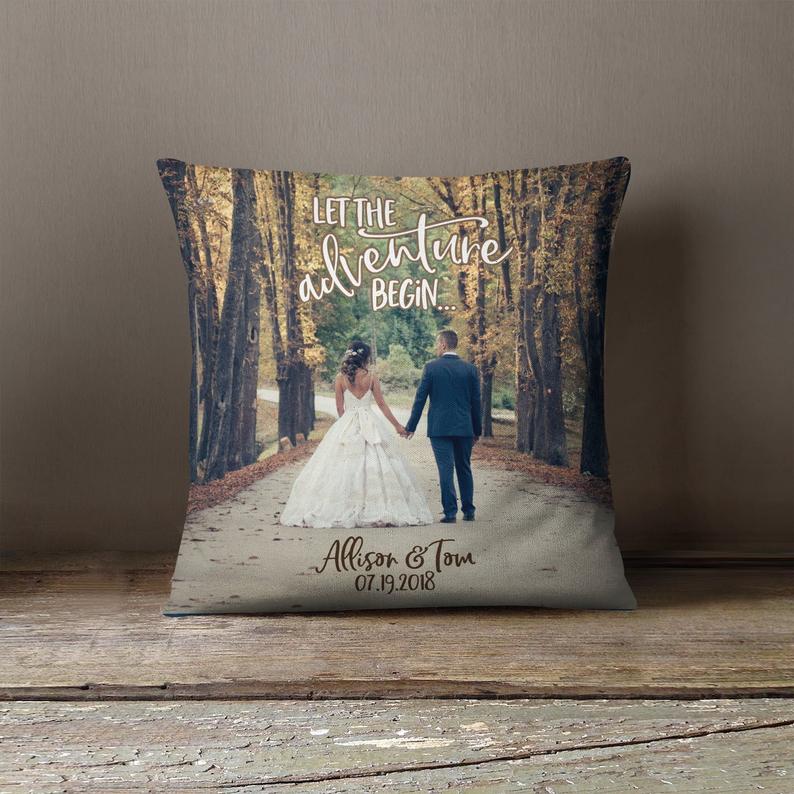 Something fun an engaged couple can use with their engagement photos at their wedding, or a newlywed couple can use for their home together, is this cute throw pillow. Using any photo for the background with the wedding details, and your Christmas gift is set!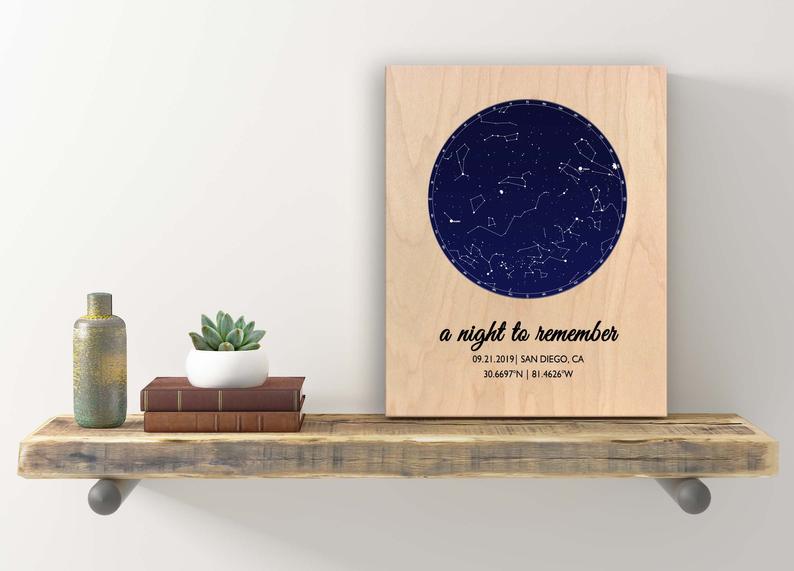 Did the stars align the night this couple met? Help them remember that date, their wedding anniversary, or anything else with this custom star map that shows exactly how the stars appeared on that night where ever they were. Find out more here!
Great Gifts For Newly Engaged And Newlywed Couples
Hopefully this Christmas gift guide has helped you find the best Christmas and holiday presents for those couples in your life. Were you searching for something specific and found it on this list? Did you find something you never even thought about? Share what you picked up in the comments below!