If you're anything like everyone else I talk to, Christmas got here really fast. Wasn't it just Memorial Day Weekend? I literally have no idea where this year went and the panic is starting to set in. Decorating my home is one of my favorite things to do, and we I spend Black Friday decking the halls. This year, I am inspired by The Grinch and that doesn't mean doing nothing either. I'll be working with bold, bright colors and oversized decor to turn our home into Who-ville, so make sure you're following me on Instagram for behind the scenes and the final design pictures!
With Thanksgiving super early this year, I know there are plenty of you that haven't even thought about how to make your home merry and bright for Christmas. It's time to pour a glass of eggnog, sit by the fire, and get inspired. Scroll down for Christmas inspiration and let's get the holidays started!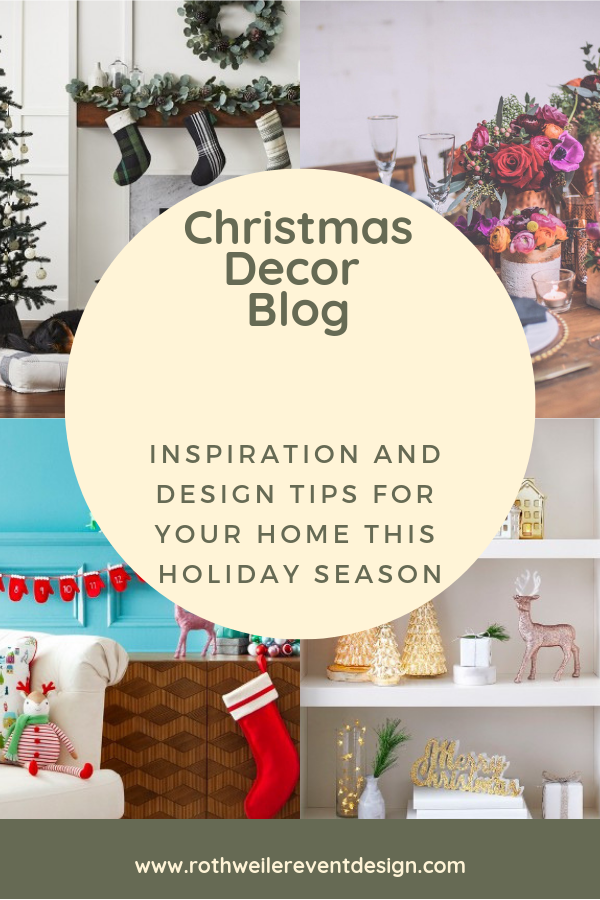 This post contains affiliate links which means I could earn a small commission off products recommended on this blog…but I would never recommend anything I don't already love!
Enchanted Eve
Adding sparkle to your Christmas decorations is almost a given, even if you're not all about the glitter look. There's something about the season and the twinkling lights that makes it easy to incorporate a little shine. The minimalist trend isn't just for weddings this year, but for all types of design. You can keep Christmas classic and cute by using fewer pieces that make big impacts. This is great for anyone with a smaller living space that isn't sure how to make it work for the holidays.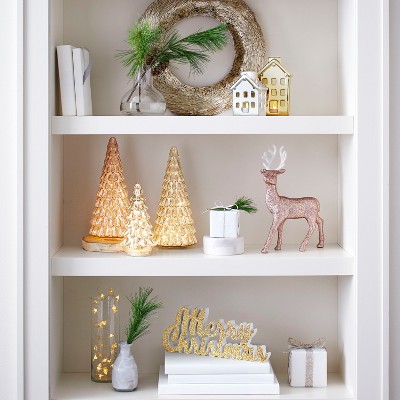 Use a bright white background (not hard to do if you're renting or haven't gotten around to painting the walls) and add in other white pieces and the sparkles of your choice. Rose gold is trending in the design world, and there are plenty of Christmas decoration options with pink sparkle. If you're more about the silver and gold, you have plenty of options from signage to Santa's.
This is also a great way to add some light in otherwise darker areas of your home. I love using these battery operated string lights throughout my home because the thought of dragging wires to outlets and using extension cords makes me want to strangle myself. You can also use decorations that light up, which I love way more than candles because I don't want to worry about forgetting to blow out the flame.
Plus, I have little kids and open flames aren't exactly a good idea in my house.
If you fall in love with a decorative Christmas piece, but feel like you don't have "the right" place to put it, think outside the box. A wreath doesn't have to be put on a door, when it can sit on a shelf like in the picture above. Don't deny yourself the item you want because you don't know where it will go.
Modern Farmhouse
That rustic look is still a big deal in the wedding world, and people are bringing it into their homes as well. It's kind of hard to not associate Christmas with rustic, especially if you have visions of getting cozy by the fireplace and looking at the Christmas tree every night.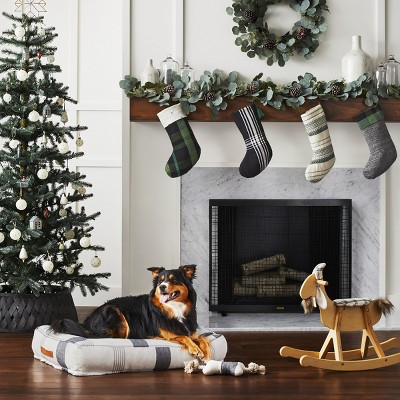 You can always use the traditional red and black plaid to give your home that rustic Christmas look, or you can put a little twist on it. I love greenery and it's obviously a big part of Christmas (the tree and all…). You don't have to put evergreen everywhere and I love the idea of mixing up the textures by using some eucalyptus. A mantle is the perfect place to drape garland, but you can use it on stairs, in doorways and plenty of other places.
Who doesn't love stockings on Christmas? Growing up, I didn't live in a home with a fireplace, so we hung our stockings on the banister going upstairs. In fact, that whole area acted like the "mantle" of the house for the fireplace we didn't have. Ideas like that are what I'm talking about when I said to buy the decoration you love, even if you think you have no place to put it.
Classic Christmas House
Looking for a more traditional look this Christmas? I said earlier that I'm going with bold colors, and I plan on showcasing plenty of red and green. I'm not completely avoiding sparkle, but this year, I want more shine and less glitter. In order to do that, I plan on using items that will reflect the light that I'm using as part of the total design.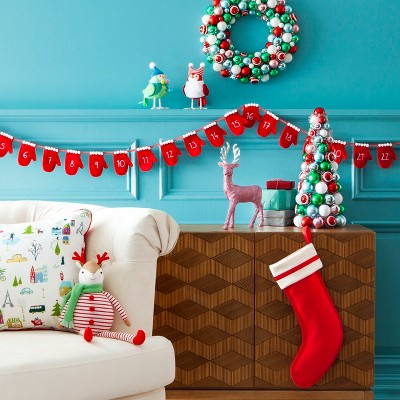 I mentioned earlier about a design that works well if you don't have your walls painted? Well, yours truly hasn't painted her walls since we bought our home nearly 5 years ago. You know why? We have two little boys that like to use our walls as things to vault off of.
You don't need a bright wall for this fun Christmas look, but if you do have one, all the better. I remember in our last home, I had an accent wall in the living room that was painted this gorgeous shade of burnt yellow. It was beautiful, but during Christmas, I almost felt like I had to decorate around it. Match bold with more bold and you'll be surprised at how much fun the look becomes.
Bringing the outside indoors is very trendy right now, and I love these little birds to scatter around the house. To help reflect the light I'll be using in my home, these ornament style decorations are perfect.
If you're hosting any Christmas dinners at your home, then decorating goes past the mantle and onto the tables. A lot of people tell me that they struggle with keeping a design consistent…they love everything but they don't know how to make everything work.
Short answer? You can't.
There's nothing wrong with that, but there is everything wrong with mixing up two completely different designs in the hopes it'll look good. I know it won't and you know it won't. How can you keep it cohesive? Here are a few tips:
Pick your colors and work with only those colors or ones that compliment those colors
Look at your current inventory of Christmas decorations, and pull your favorite pieces as a starting point
Decide what words best describe the look you're going for and keep those words in mind when purchasing decor pieces
Once you have your whole look figured out, you can bring that same feeling over to the area where you'll be hosting. Designing a tablescape always looks so much easier than it actually is. It's challenging to just be inspired by a design instead of just flat out copying it. You probably don't actually love every last piece of a design you're inspired by, and it's those pieces you should change up. Here are some sample tables to get you started:
Traditional Red and Green
If it's a classic Christmas you're after, you can compliment any dining room or kitchen with red and green. It's not hard to find a lot of options since these are the obvious Christmas colors.


How you choose to mix red and green, is up to you. Maybe you want to use a linen like this one to cover the whole table, and keep everything else simple and clean. You can go with something like this instead if you want your serve-ware a little fancier. I love the idea of an ornament at each place setting to bring the whole look together.
Country Chic Christmas
There is no law that says you have to use red and green for your Christmas decor. In fact, plenty of other powerful colors are perfect for the holiday and fit the season well. Certain colors and styles will be better if you're working with a smaller space or one with colors that are already stealing the show.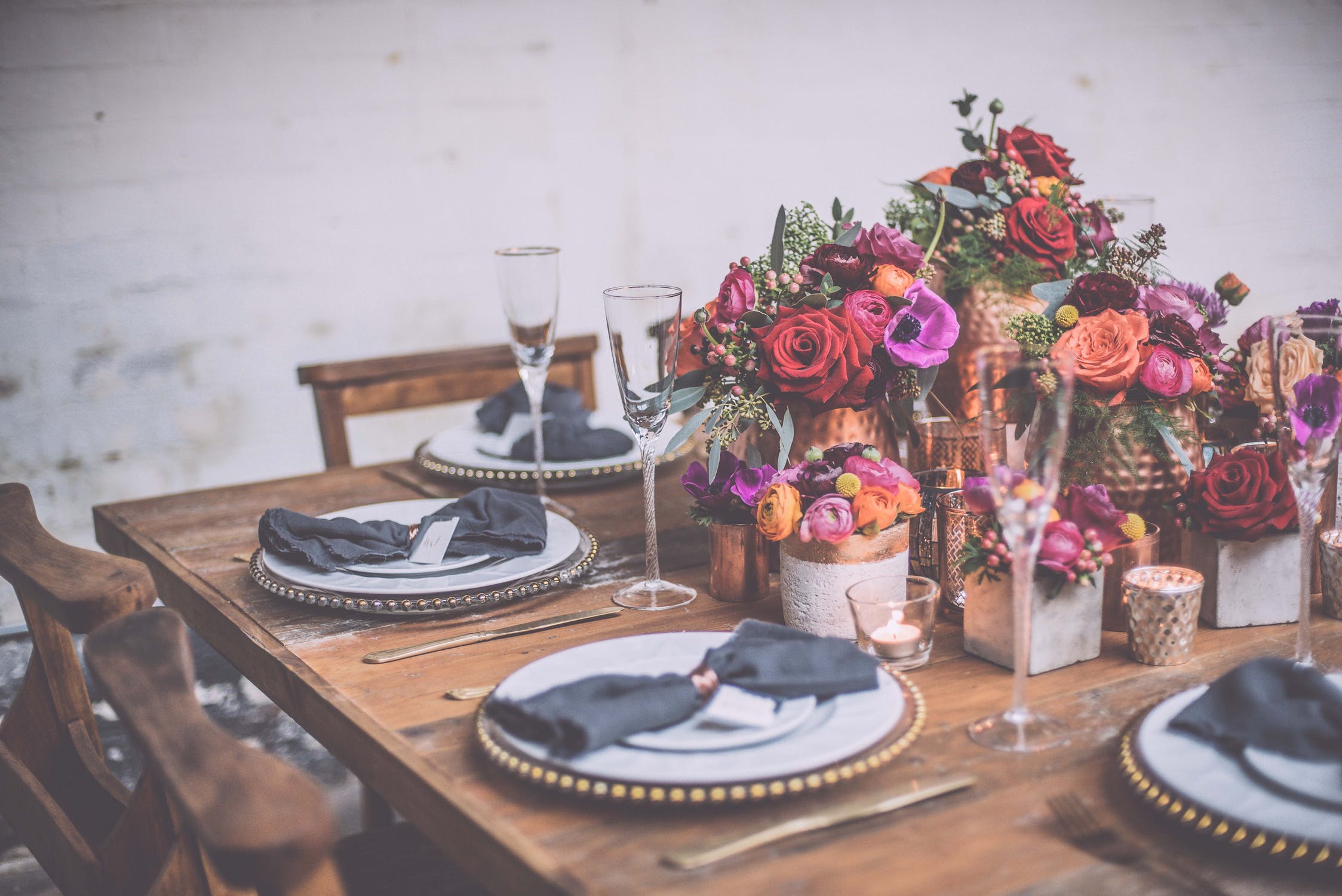 I love the look of a bare farmhouse table any day of the week. There's no point in covering up a beautiful piece of wood, so if you have it, work with it! What's great about a wood table, is that it can be distressed to death and you can put all sorts of formal stuff on it without a worry. This is when mixing styles works better than keeping everything the same.
Don't feel like using a flowers isn't allowed when decorating for Christmas either. There are plenty of places in the world where flowers are still readily available, so why not use them? Everything doesn't have to be evergreen or green at all for that matter. Mix up the look by using stone pieces or touches of gold throughout the tablescape and grab some candles for the finishing touch.
Family Style Christmas
We host Christmas at our house and I do all of the cooking start to finish. I like to mix it up with a bunch of different dishes and my centerpiece design is usually replaced by dishes of food during the main course. This means I need something that is easy to remove and a design that will allow for this change-up.

With long tables, you can choose a full linen, but I like the idea of a runner like this one or just leaving the table completely bare. Since I'm not about to buy all brand new serving dishes every single year, and since I cook enough food for 900 people, not all of my stuff is going to match. To keep that from being an issue (because it's an issue for my OCD self), I make sure the rest of the design pieces aren't pulling for attention.
White goes with everything, so if you're working with an all-white set of china, this is the time to use it. Anything neutral will work for this look, and these gold plates are absolutely perfect. You can swap out the ornament at each place setting for a sprig of evergreen and mix up the napkins with other neutral colors like these.
What kind of Christmas will you be celebrating at your home this year? Will your decorations be clean and classic or sparkly and shiny? Share in the comments below what your favorite look is and if you have a decorative piece you're already in love with!