How to host Friendsgiving when you have no idea where to start can feel overwhelming. What should you serve for Friendsgiving? How do you throw a good Friendsgiving?
What is a Friendsgiving event in the first place?
In this blog I'll go over all of that and more, and show you how to have a fun and fabulous celebration. From Friendsgiving decorations to dishes, it's all here just in time for the holidays!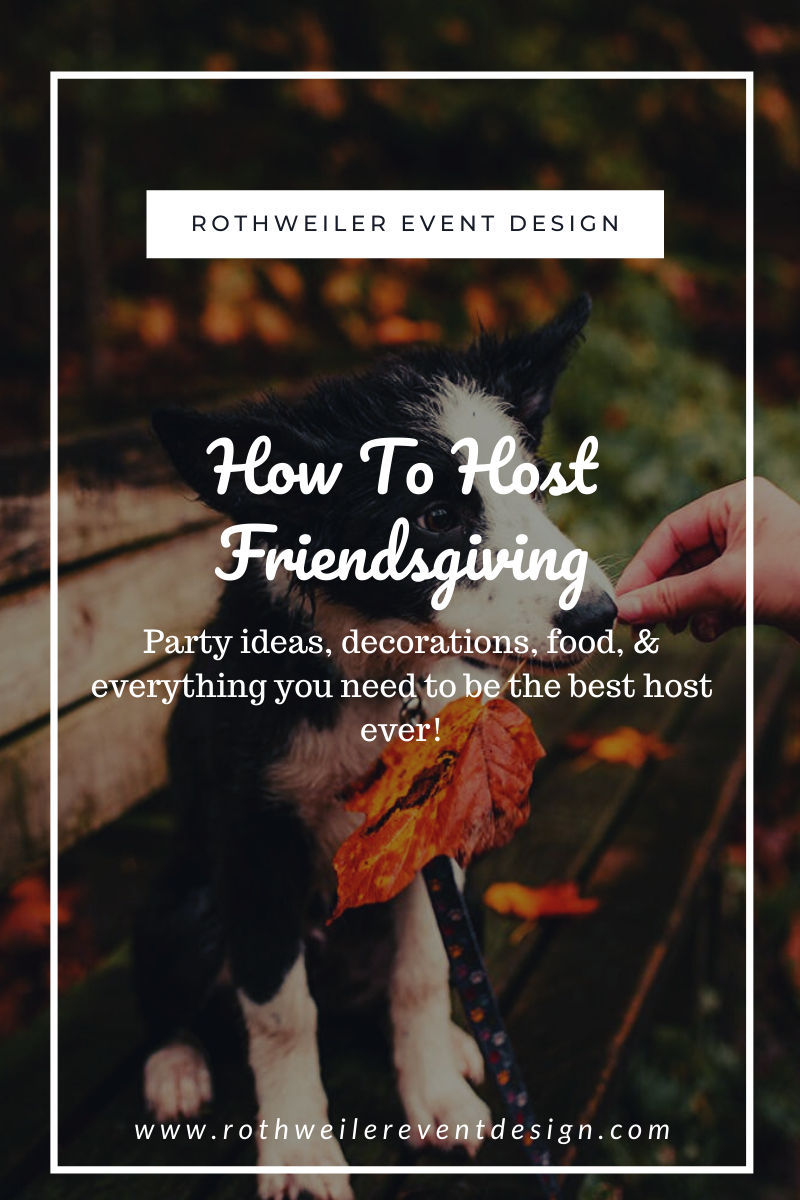 *Please note that most of the links of this page are affiliate links. This means if you click on a link and purchase, you will receive the same price, but I will receive a referral fee. This helps keep my blog free and allows me to share wedding planning tips with you. Thanks for your support!*
What Is A Friendsgiving Event?
First things first…what is a Friendsgiving event? Well, it's exactly as it sounds and that is a blend of friends and Thanksgiving. It's a time where you gather with your closest of friends and have way too much food and wine.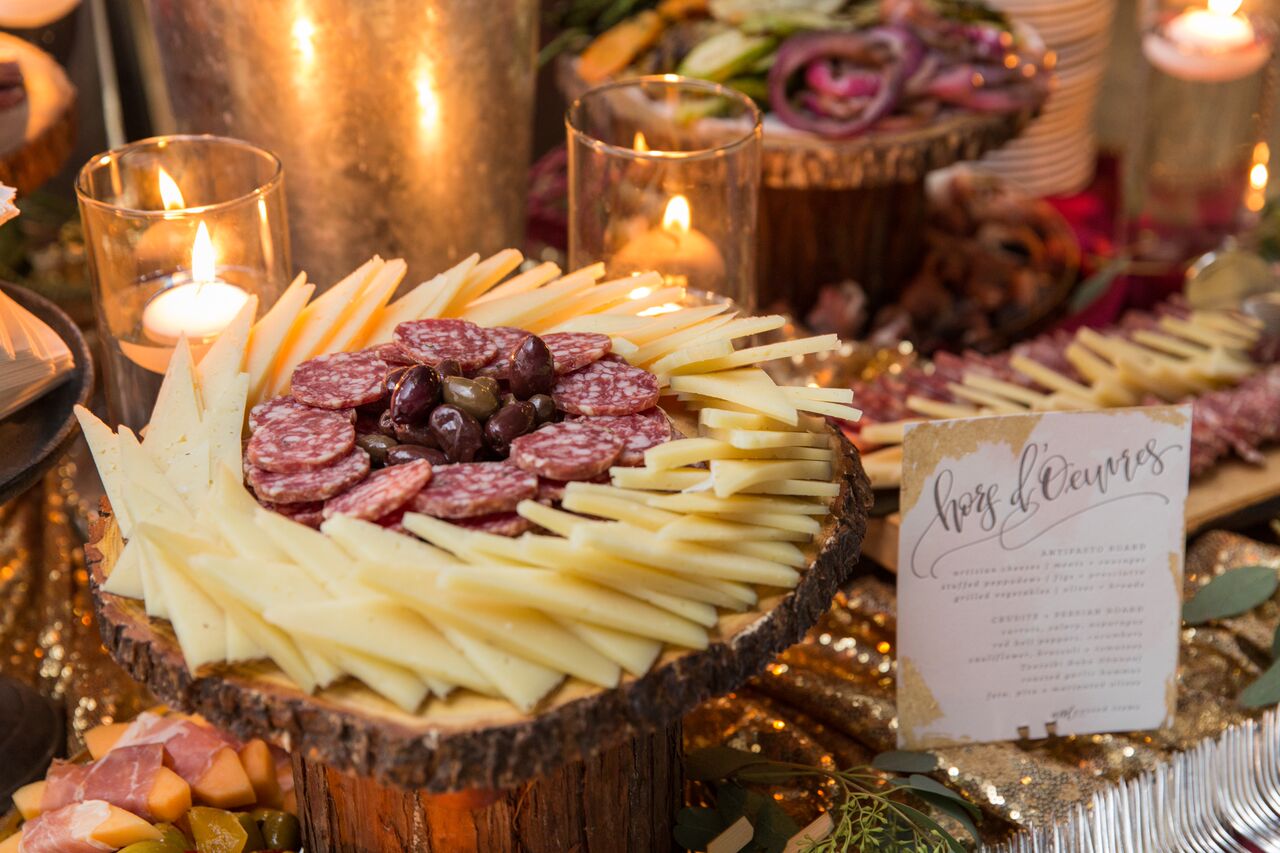 Friendsgiving dates back to 2007, so it's still a pretty new thing. But, since then, people have gotten serious about their Friendsgiving celebrations. And why not? Food, friends…and did I mention the wine? Sounds like three reasons to celebrate to me!
Related: The story behind the word "Friendsgiving" and where it all started
The holidays have a tendency to slow down this fast-paced world we live in. We have to stop, put down the phones, turn off the computers, and enjoy time with those we love and care about. Life would go by in a blink without moments like these.
Which is another reason to basically create a holiday such as Friendsgiving.
Just because the title has the word "friends" in it, doesn't mean you can't invite your family though. As long as the room is filled with good people, that's all that matters.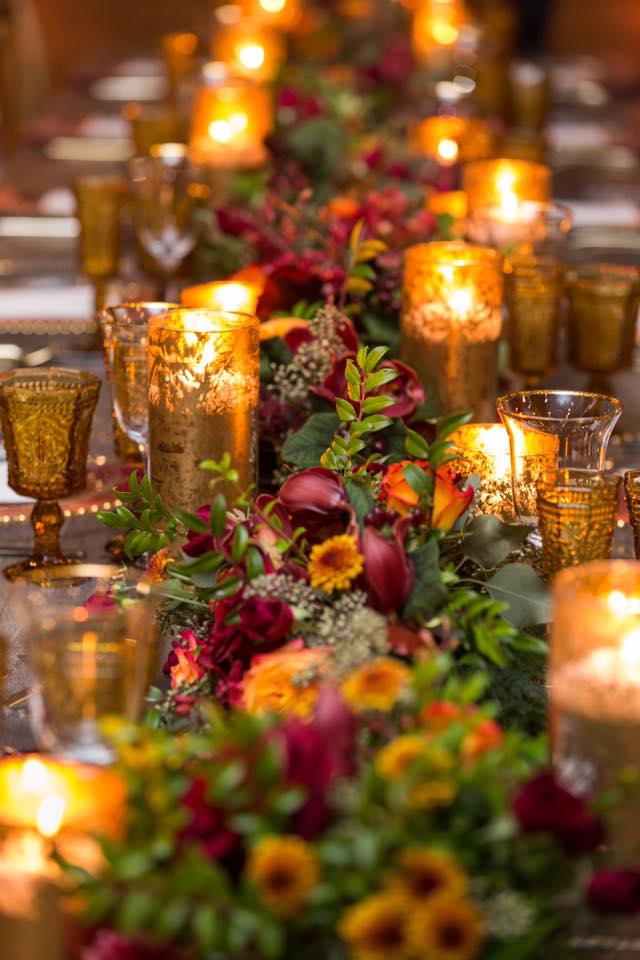 How Do You Throw A Good Friendsgiving?
Let's start with the invite list. This is a great time to get your main squad back together again, but it's also a chance to see some new faces. Don't be afraid of those plus one guests; you never know what connections you might make!
Depending how big of a party you want to throw, the invite list can be as small as 4-6 people or reach into the lower 20's. A popular Friendsgiving idea is to make it pot-luck. Ask all of your guests to bring one dish and do your homework to make sure there aren't repeats.
After all, you don't need 15 types of stuffing and nothing else for dinner, right?
Even though this might feel like an informal gathering of friends, it's important to really prepare carefully. Give guests a head's up to the formal twist by sending out Friendsgiving invitations like these: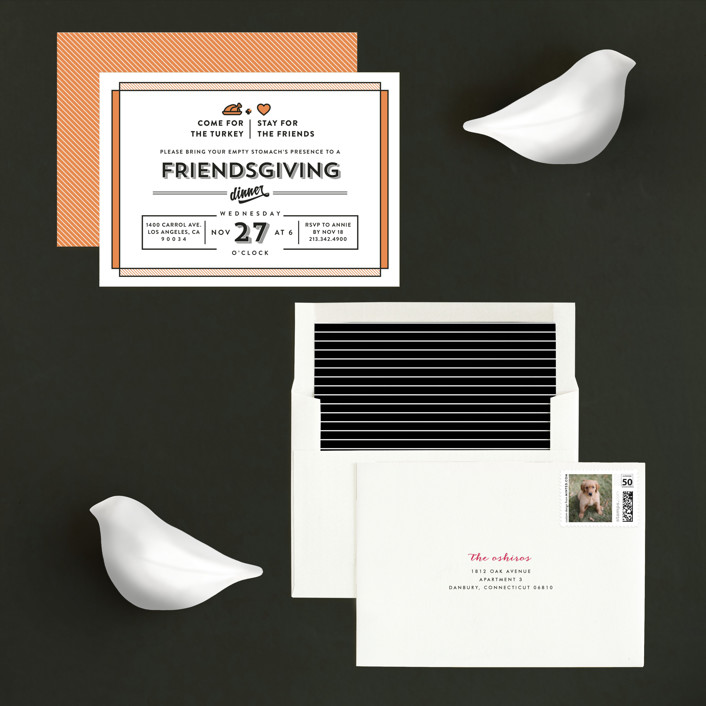 If you're hosting a pot luck Friendsgiving, make that clear within the invitation and ask guests to RSVP back with the dish they will be bringing. Typically, Friendsgiving events are right around Thanksgiving, so it's important to get those invitations out in advance before everyone is busy with other plans.
You can check out all of the Friendsgiving invitations from our friends at Minted right here!
Once the guest list is completed and the invitations are done, it's time to start preparing your home.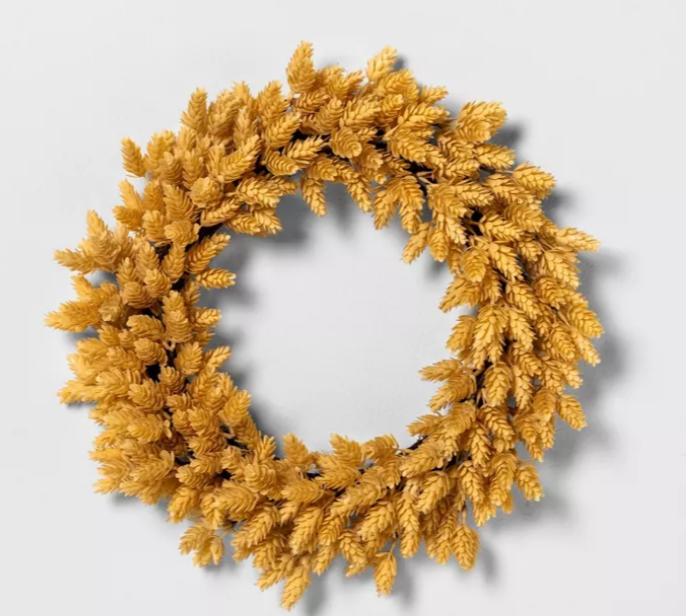 Welcome guests into your home with this bright gold Autumn wreath on your front door. I love the texture and the color will bring an instant smile to everyone's face once they arrive. Even the smallest apartment in the world has a front door, so don't ignore this opportunity to decorate a little!
Related: The 10 Commandments of Friendsgiving
Obviously, the main attraction of a Friendsgiving party, is the table that you'll be spending the most time at.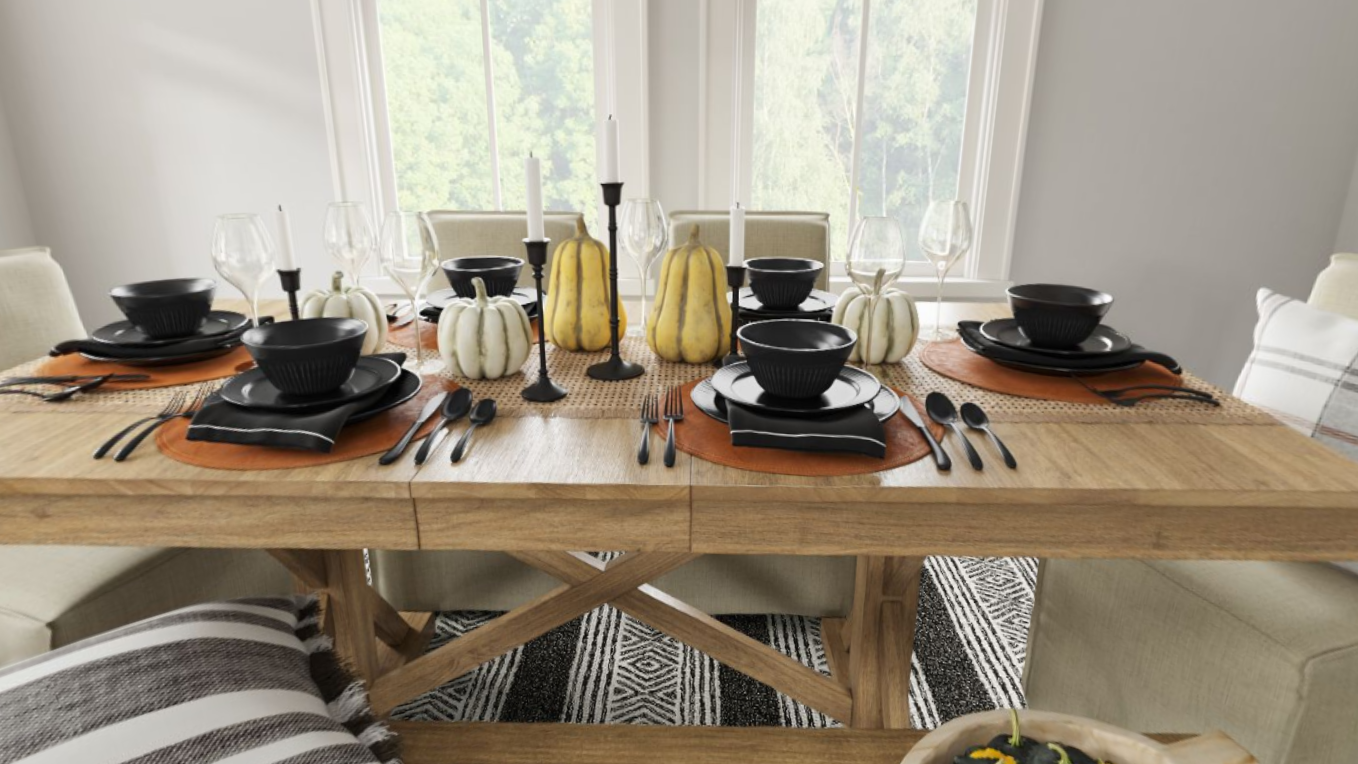 You certainly don't need anything fancy when it comes to the dining room or kitchen table for Friendsgiving. What's more important is there is room for everyone along with all the food that will be served! I love this wooden farmhouse table from Target because it's super wide allowing for plenty of room even with full place settings and decorations.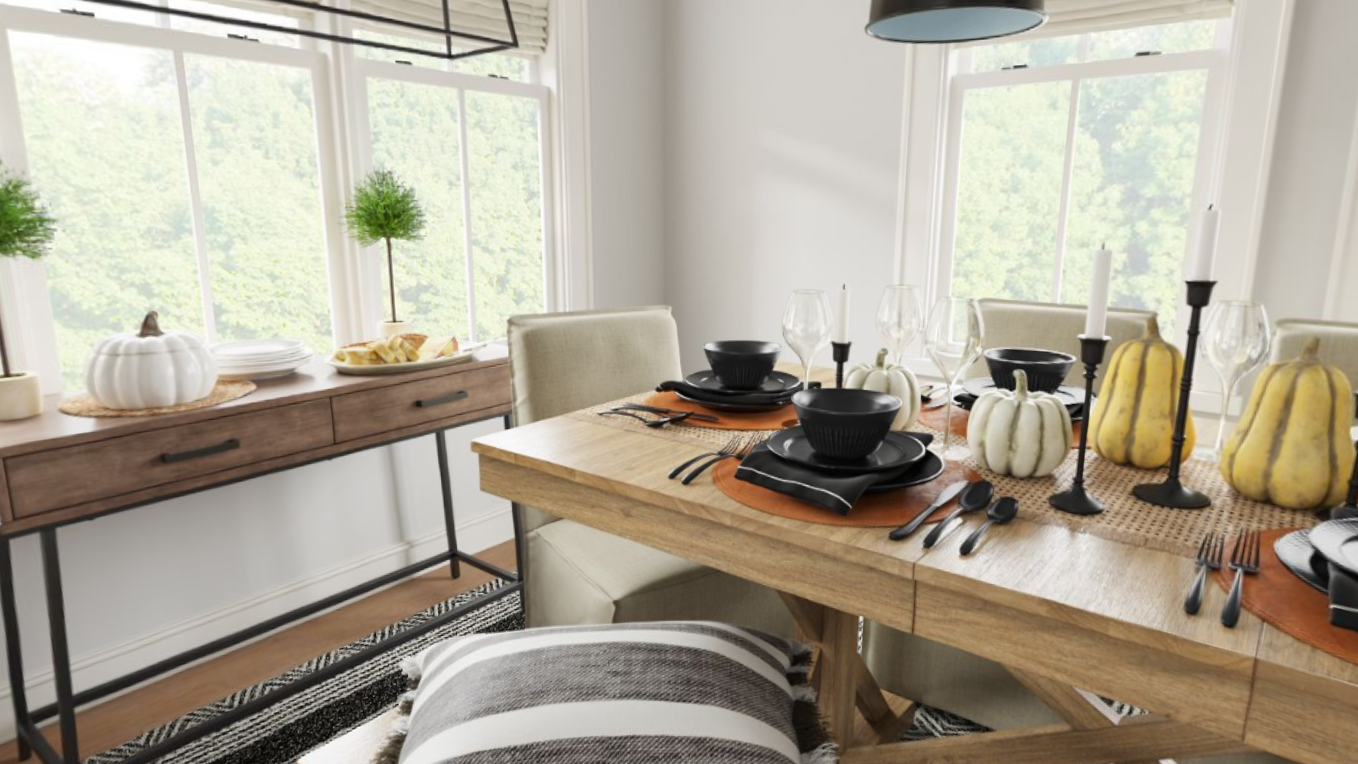 You can pick up what you see above from the chairs, to the table and everything on it right here!
Another great idea is to set up a side table like this one that can be used for Friendsgiving dishes or even more decorations. Don't forget those real gourds and pumpkins to add a little Autumn flavor to the whole look!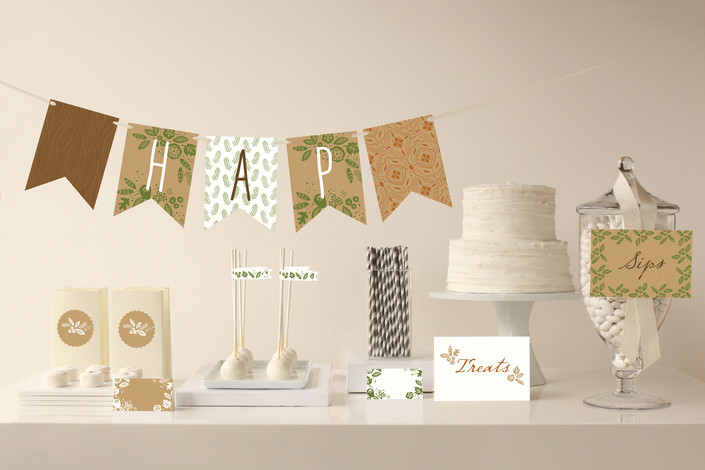 Another great way to use a buffet table is for a fun dessert display like this one. To start the Friendsgiving event, have some small appetizers out on the table, then change it up as the day goes on, ending with sweet treats. I'll get more into what food to serve later in the blog, don't worry!
To check out all the Friendsgiving decorations at Minted, check this out.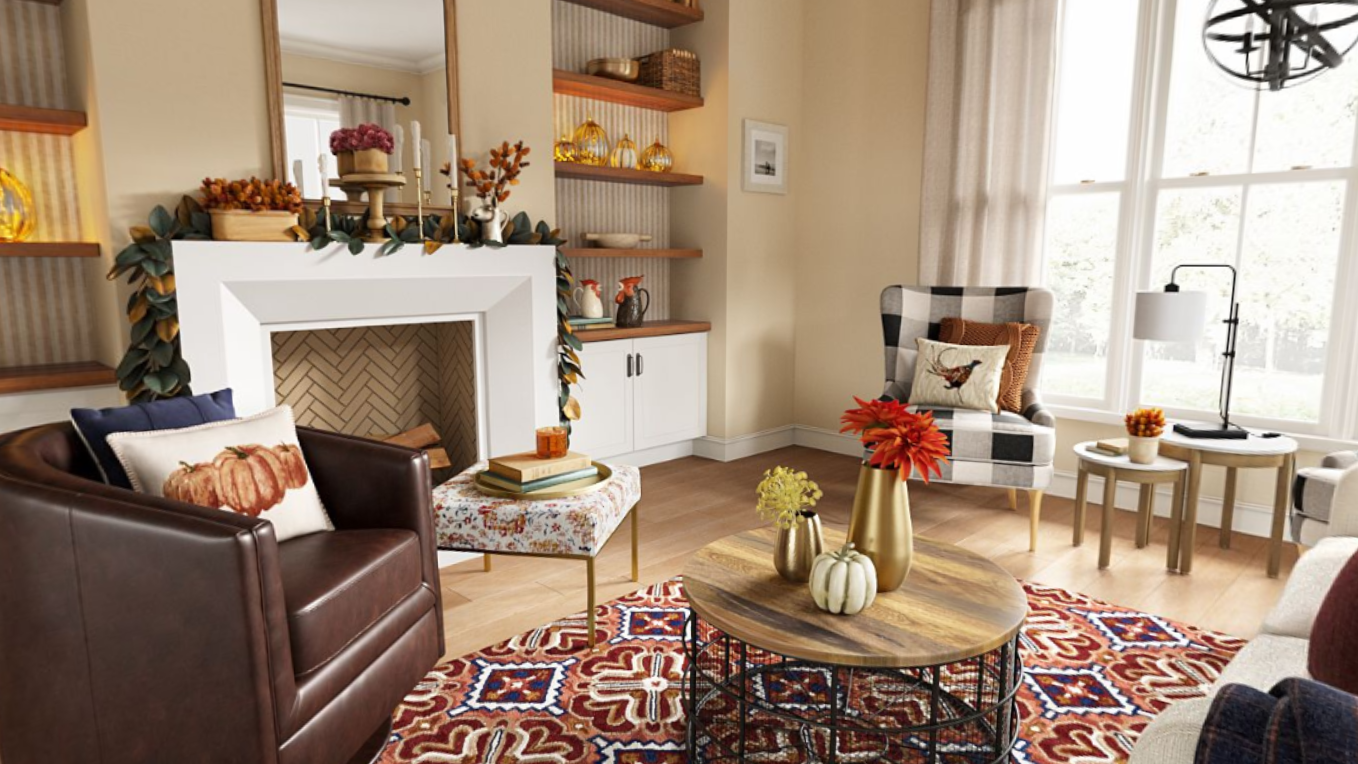 You won't spend the whole time at the dining room or kitchen table, so don't forget the other areas of the house your friends are likely to hang out in. Just like where you're eating, there's no need to go crazy fancy with a space like this living room.
First and foremost, make sure everyone has a place to sit. Have to bring in chairs from another room? Go for it! Waiting for a reason to pick up that couch or chair you can just sink into? Here's your reason!
Once the basics are put together, fill in the gaps with your Friendsgiving decorations. Bring in those pumpkins from outside, and grab some seasonal flowers for small touches of oh-so-pretty.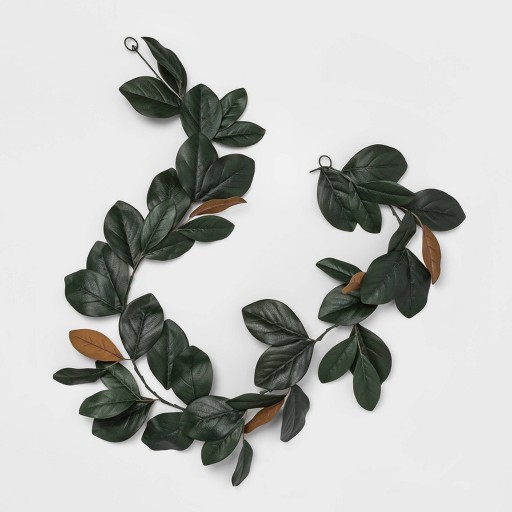 If you've got a mantle, drape this Fall garland of green and brown across the top. No mantle? No problem! This garland is totally flexible and can be used anywhere including down the middle of whatever table you'll be breaking bread at.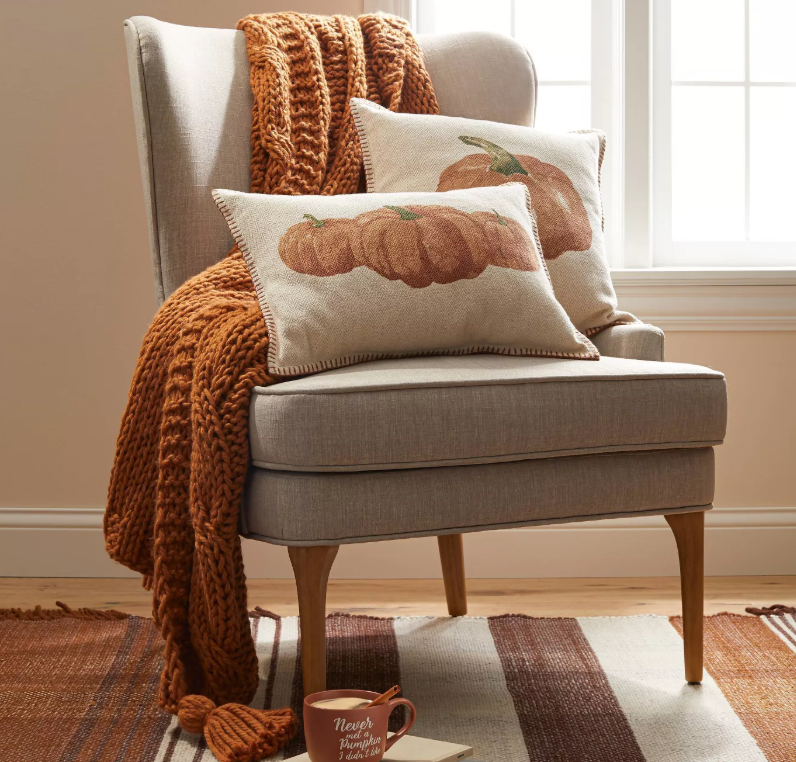 With Thanksgiving being a late Fall holiday, for most people, it's going to be a little on the chilly side. This super cozy chair is a great piece to add to anyone's living room for Friendsgiving and all the holidays that follow. Add this to your living room decor and change the color of a throw and pillows with the seasons!
If you loved the whole look of the living room above, or want to check out some of the pieces I didn't mention, head over here and create your very own living room design! You can go here to see everything Target (best store ever) has for your Friendsgiving and Thanksgiving Day celebrations!
What Should I Serve For Friendsgiving?
So now the invites are out, the house is decorated, and it's time to figure out the last major thing: the menu.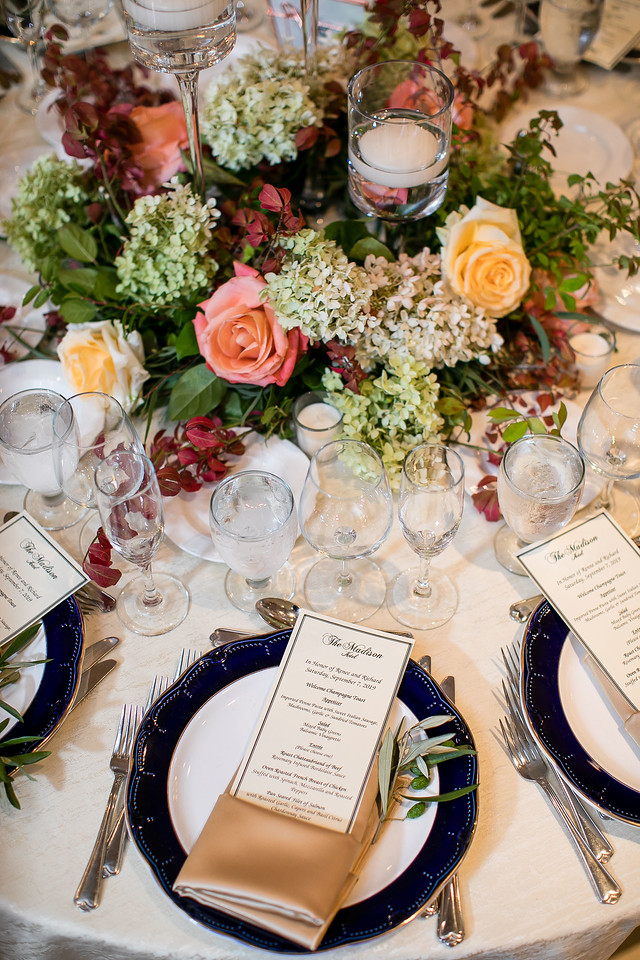 If you're going the potluck route, think about what kind of food you want brought together. Egg rolls and pizza are great… if you're hungover, but the food on Friendsgiving should go together, ya know?
There's nothing wrong with sticking with traditional options like turkey, mashed potatoes, and the rest. You could swap out the turkey for something else like duck or goose, and mix up the side dishes however you please.
For pot luck, the host should plan on making the large dish, while everyone else brings sides, desserts, and (of course) wine. The reason for this is because dishes need to be brought completed, and it's damn hard to transport a turkey, goose, or whatever you main meal is going to be.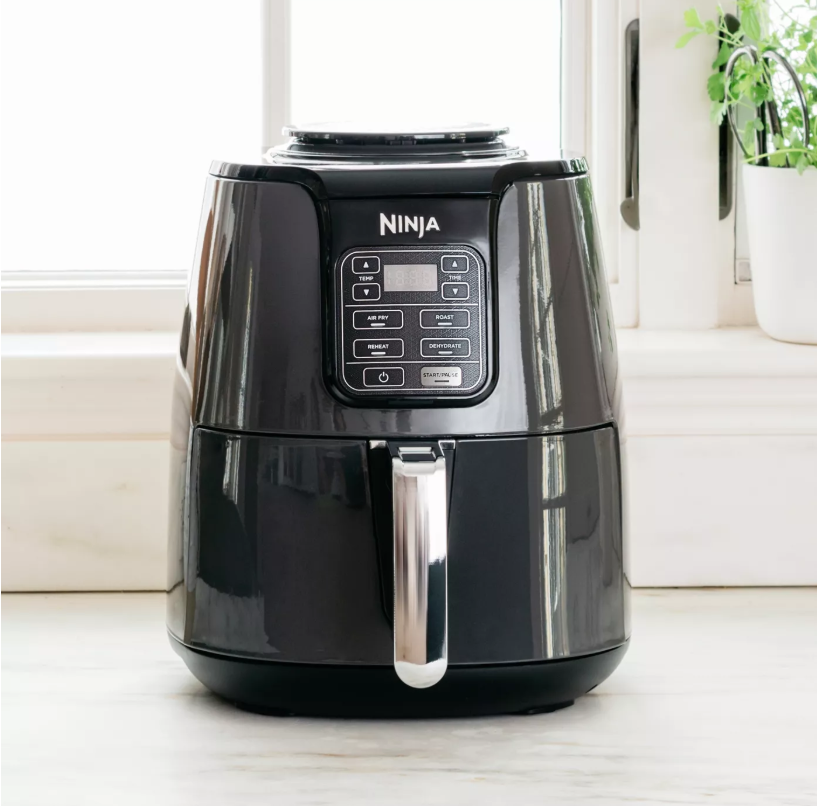 Whether you're planning a pot luck Friendsgiving, or plan on handling all of the food on your own, you're going to need the right kitchen appliances to get things done. Air fryers have been the trendy item for kitchen for the past two years now and this one is one of the best!
Air fryers are known for being total time savers, which is exactly what everyone needs when hosting Friendsgiving or anything for that matter. There are plenty of appliances that will save you time, and you can start shopping for your kitchen basics from Target here.
More Friendsgiving Ideas…
My favorite thing about hosting Friendsgiving? Getting all the people I group text with together in person. Think about the last time you were all together. Long time ago, right?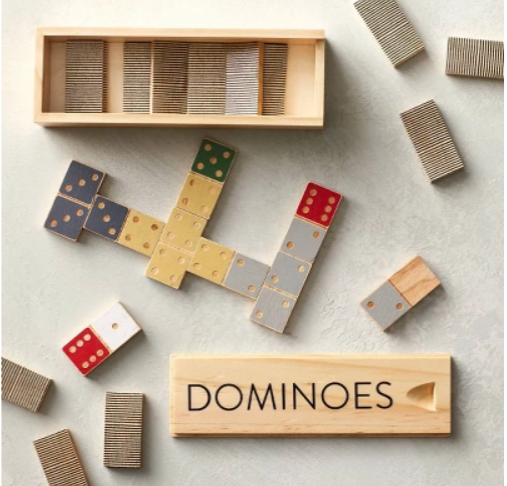 Friendsgiving is a day to put down the phones and the social media, and just be social with each other! Break out the wine (I like wine if you couldn't tell by now) and try an old fashioned game of Dominoes. Ask your friends to bring over something fun to do, especially if you're taking care of all the food.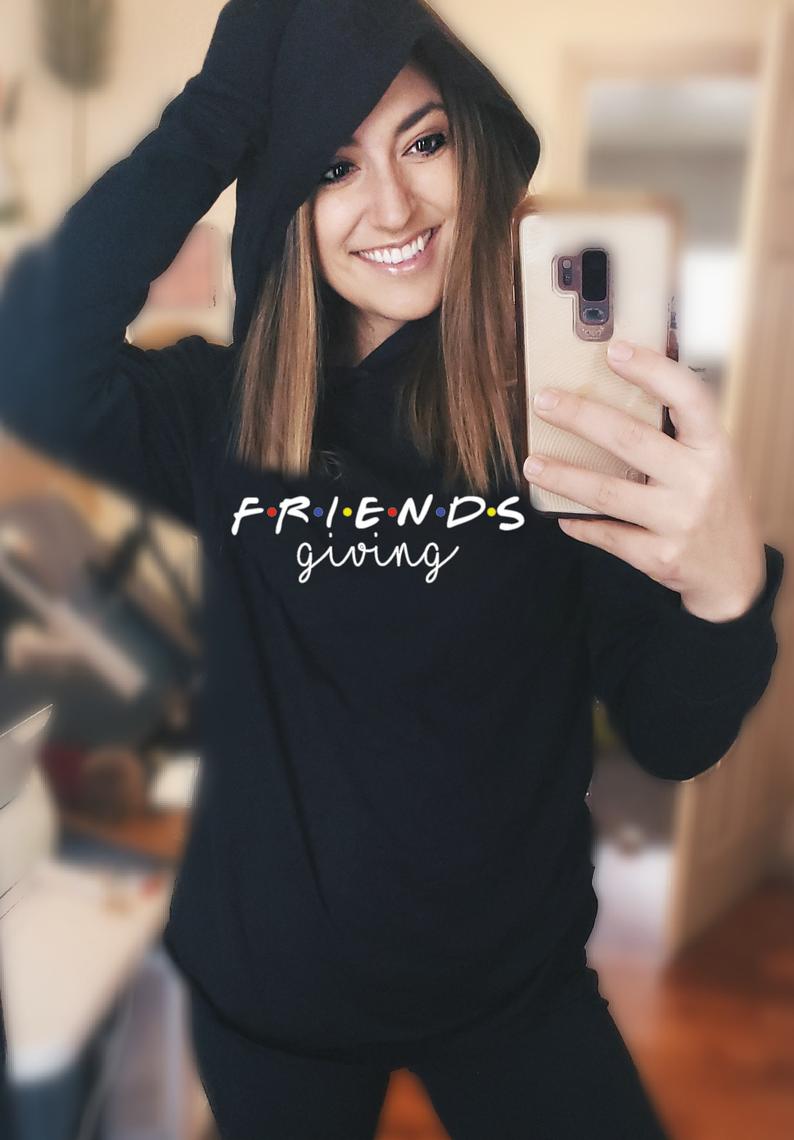 Surprise everyone with this adorable "Friends" hoodie! The show may not have started the Friendsgiving trend, but that's no reason to not make it part of your traditions. Wear this while cooking up a storm in the kitchen, and have everyone put theirs on for a group photo at the end of the night!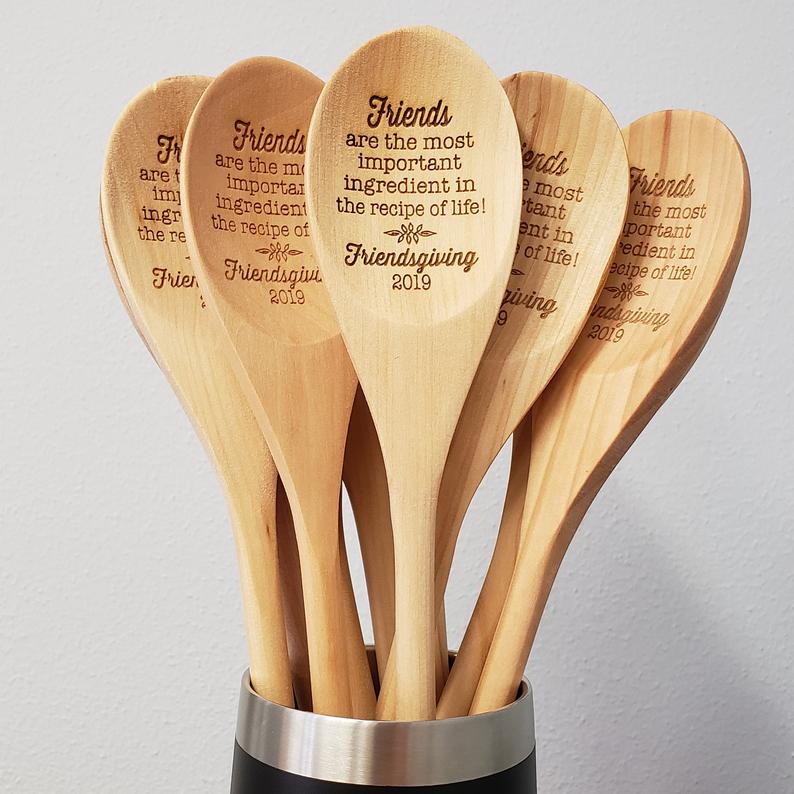 Friendsgiving and Thanksgiving typically mean no gifts, but that doesn't mean you can't thank your friends for coming with these super cute Friendsgiving favors! Have these wooden spoons engraved with the date and party details, and personalize them however you want. You can put together your order over on Etsy.
Friendsgiving Ideas, Decorations, and Dishes…
If you're hosting Friendsgiving this year, I hope this blog has given you plenty of ideas and inspiration! Is this your first time hosting? What are you most excited about? Share in the comments below and be sure to offer any extra advice to fellow Friendsgiving party planners!
Not doing the Friendsgiving thing this year but still celebrating Thanksgiving? Feel free to use any of these ideas for the holiday and comment with other suggestions you might have!
Above all, thank you for stopping by!