Live illustration, once a hidden gem, has found its way into the hearts of many thanks to the influence of social media. It's a personalized guest experience that can truly elevate your wedding or event. This artistic touch allows guests to take home a one-of-a-kind piece of art that reflects their unique style and personality. While it may be considered a luxury experience, its ability to make guests feel included on a more personal level makes it a worthwhile addition to any event.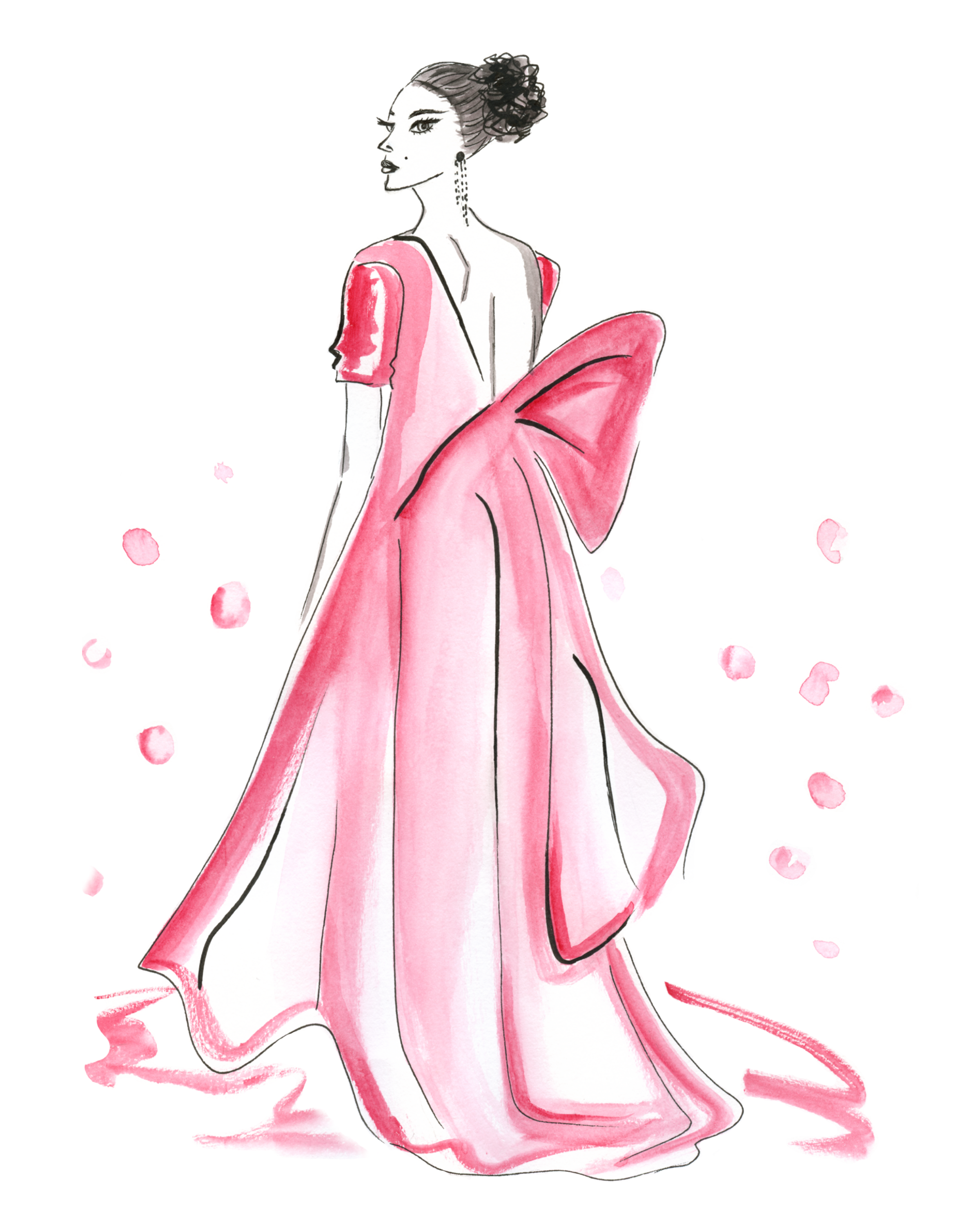 As a wedding planner, I see wedding trends come and go and some are a hit and some are…overdone and tired. But live illustration? That is a trend I am obsessed with and your guests will be talking about this long after the last dance.
I interviewed the incredibly talented Nicole Errico of Flores Illustration to bring you guys all the information you need to know about having a live illustrator at your wedding. Plus, this blog is chock full of her amazing drawings and you can see even more over on her website right here.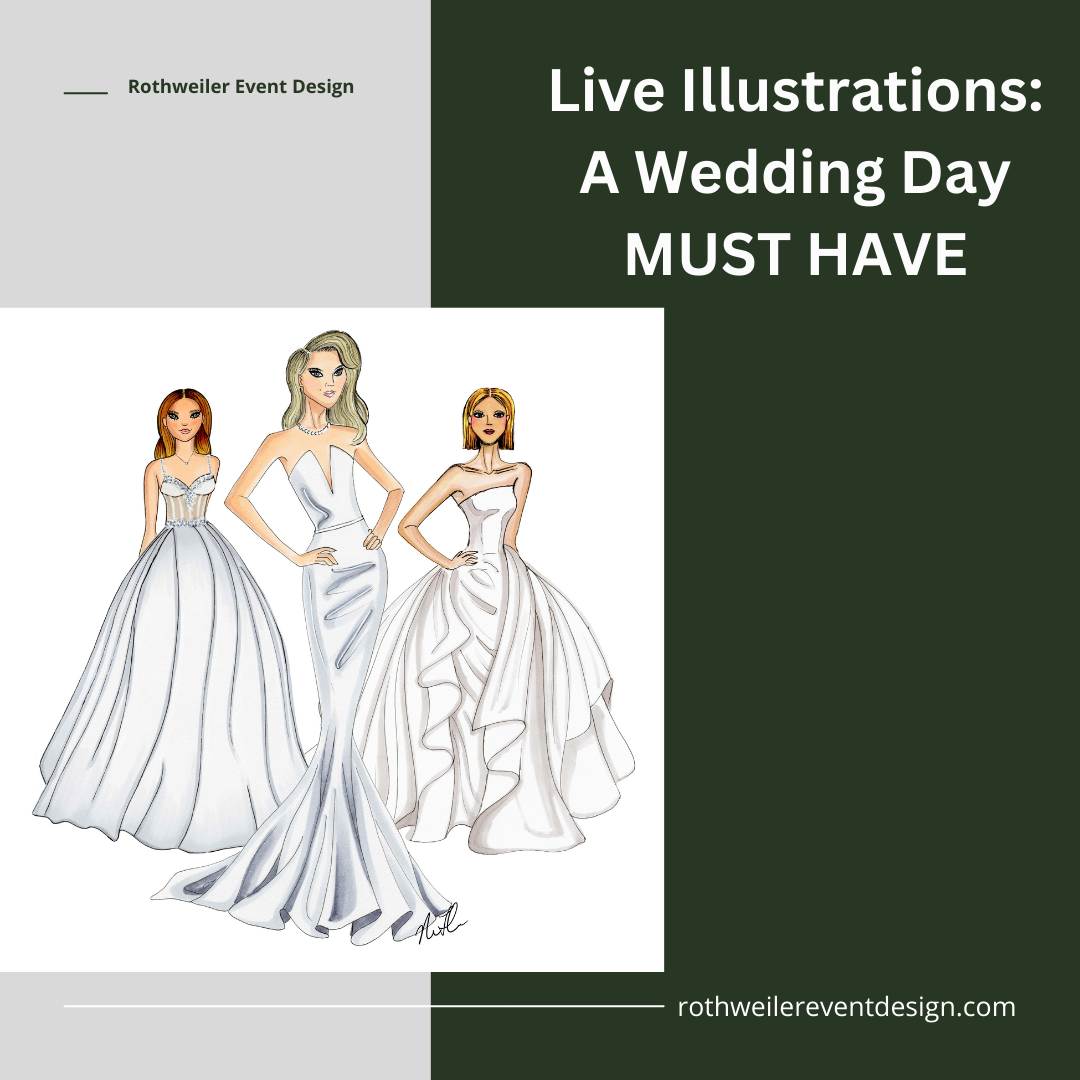 *Please note that most of the links of this page are affiliate links. This means if you click on a link and purchase, you will receive the same price, but I will receive a referral fee. This helps keep my blog free and allows me to share wedding planning tips with you. Thanks for your support!*
One common myth about live illustration is the misconception that all artists are the same. In reality, each artist has a distinctive style, and their approach to illustration varies, even if their styles appear similar. This individuality is what makes live illustration a special and irreplaceable experience. If you appreciate a particular artist's style, choosing a different one will yield a different result.
Spoiler alert: We love Nicole's style.
Now, you might be wondering about the cost. The pricing structure for live illustration depends on various factors, including the event's size, the number of hours booked, and any associated travel fees. For a typical wedding, Nicole says that you can expect the cost to range from $2,300 to $3,000, providing flexibility for various budgets.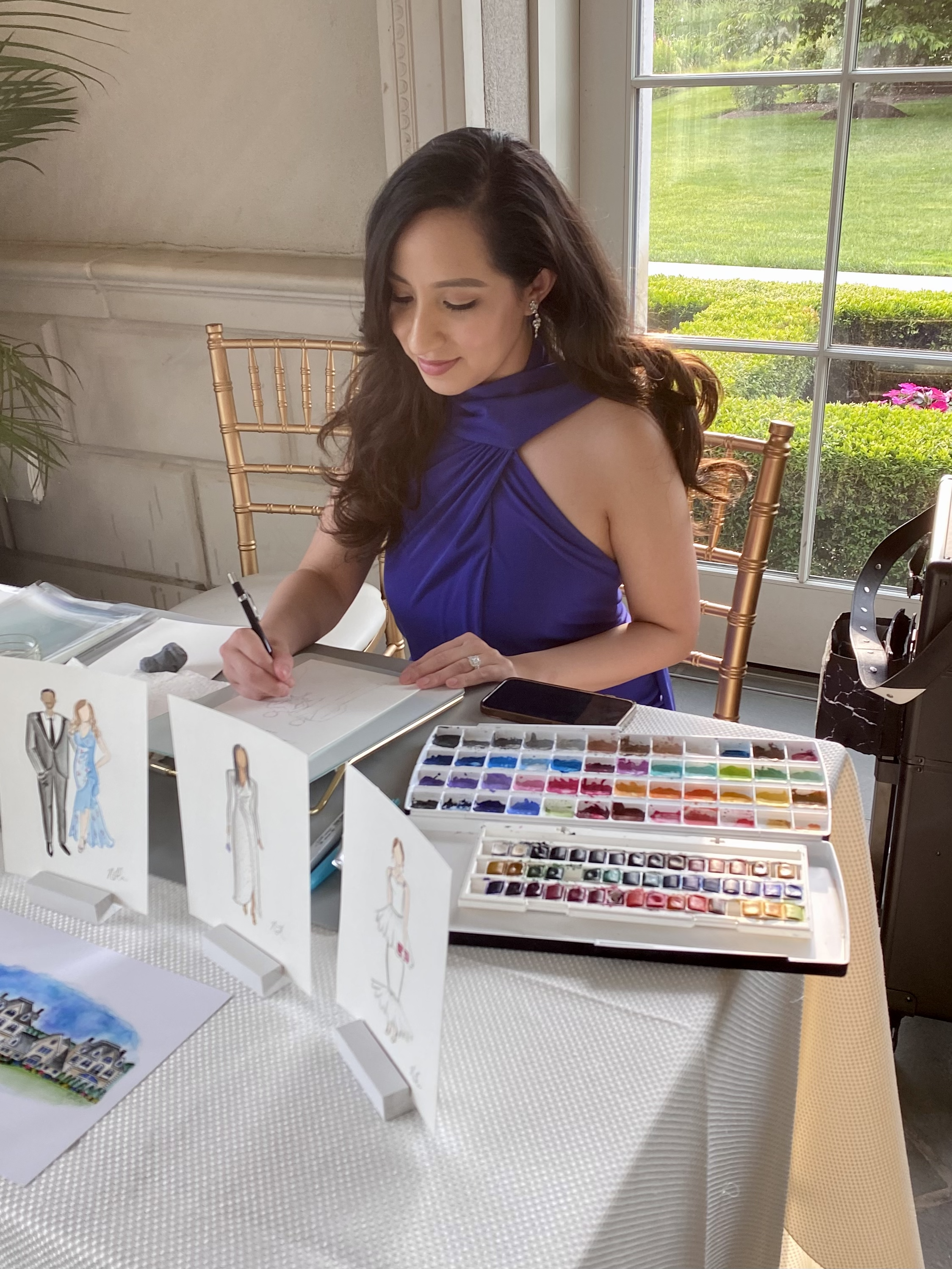 As for Nicole's familiarity with the event location, a pre-visit isn't always necessary for her. She relies on planning and coordination to ensure that her space is set up correctly and will usually contact venue coordinators in advance to make sure everything runs smoothly. So no worries about adding another meeting to your already busy wedding planning calendar!
When it comes to materials, watercolor is the primary medium for Nicole, but she adapts her tools to suit different outfits and details. The process involves sketching with a pencil and filling it in with watercolor. For outfits with sparkle and other unique elements, metallic paint, gel pens, and markers may be added to enhance the illustration.
So, what can you do with these personalized illustrations? Many event clients use them as home decor, often framing them as cherished keepsakes. These unique pieces capture guests looking their best, making them a meaningful addition to any space. Moreover, some brands have leveraged these illustrations for marketing purposes, as guests frequently share them on social media.
Because what's not to love?
For Nicole, the process of live illustration typically takes 5-7 minutes per person. An assistant takes photos of the guests, and Nicole then sketches an outline and fills it in with watercolor, adding other tools as needed. Finished illustrations are protected in sleeves and displayed for guests to collect during or after the event.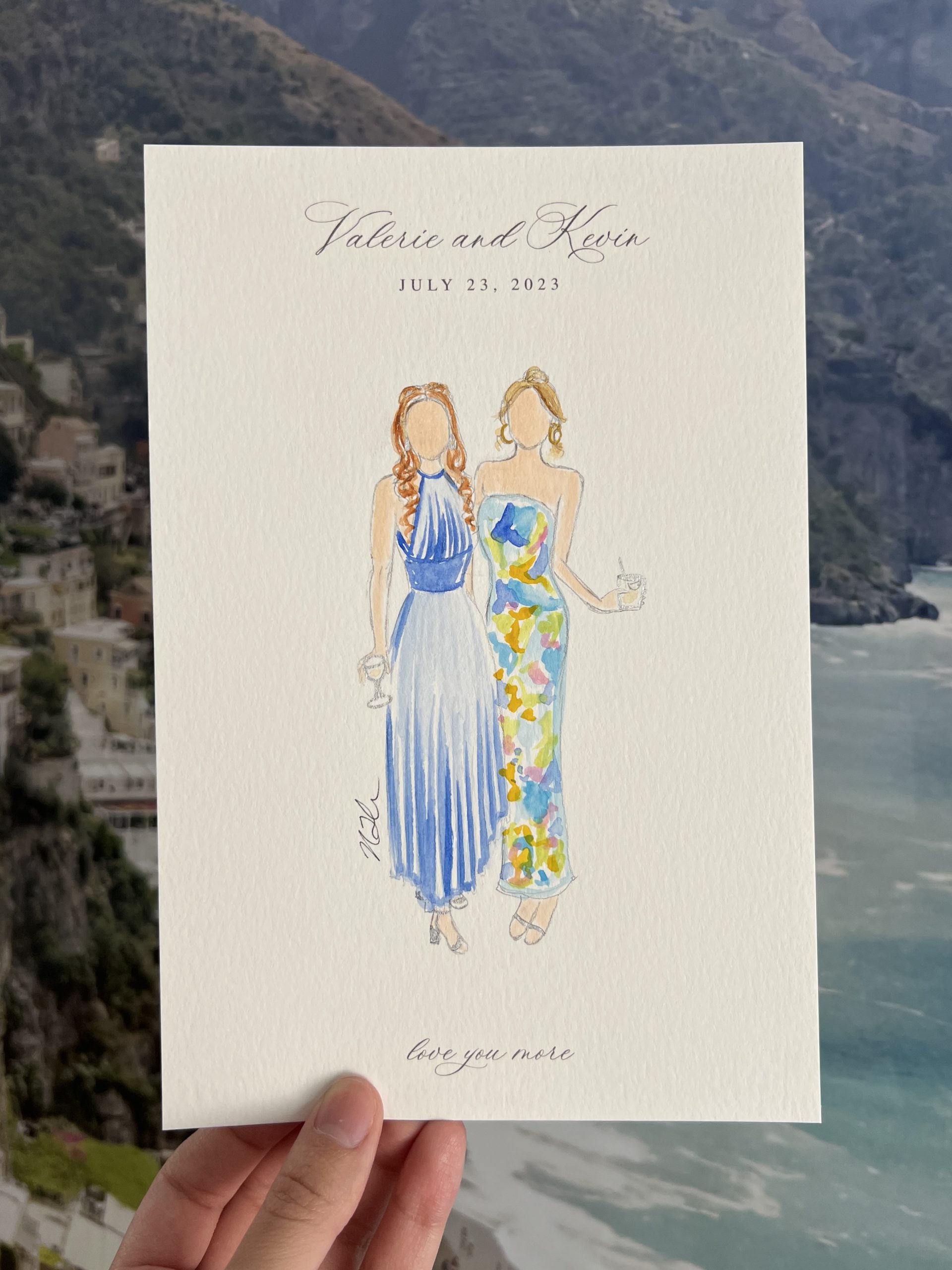 If you're considering adding live illustration to your wedding, it's essential to plan ahead. Nicole is currently booking for 2024, and popular wedding months are filling up quickly. In case you're wondering, here in New Jersey, those most popular months are May, June, September, and October. To secure your date, reach out at least 6-8 months in advance, particularly if your wedding falls on a Saturday, which tends to book up faster.
Clients often wonder if they can make specific requests or exclude certain details. One of my favorite things about working with Nicole is that she is attentive to her clients' wishes and can omit or include specific elements. This open communication ensures that every illustration aligns with the couple's vision.
The final product, a personalized illustration, is typically 6×9 in size on 140lb watercolor paper. Couples or event hosts can choose a template in advance if they'd like titles or a logo printed on the paper.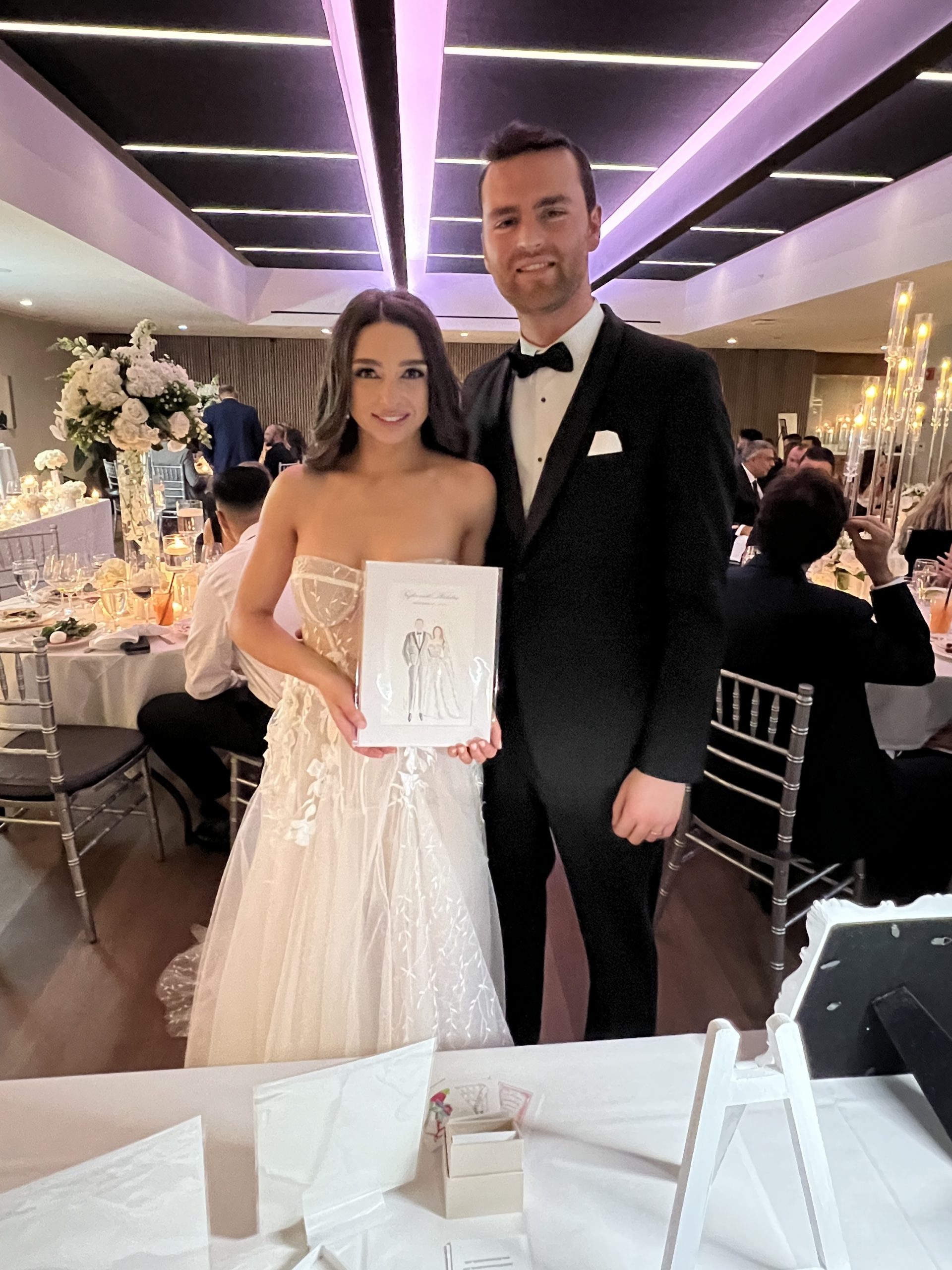 Of course, I had to ask Nicole about her background, especially since the most I can draw is a stick figure (and it doesn't look good trust me). Nicole's journey into live illustration began at a young age. Selected to be part of Arts High, a program for gifted and talented students in grades 6-12, her love for art grew.
However, Nicole pursued a different career path, studying Economics and Public Policy in college and working in consulting at Accenture and Deloitte. Today, she works as a Senior UX Designer for Deloitte Consulting while running Flores Illustration. Her passion for fashion illustration led her to the world of live guest activations, and after months of practice, she mastered the art of fast yet high-quality illustration.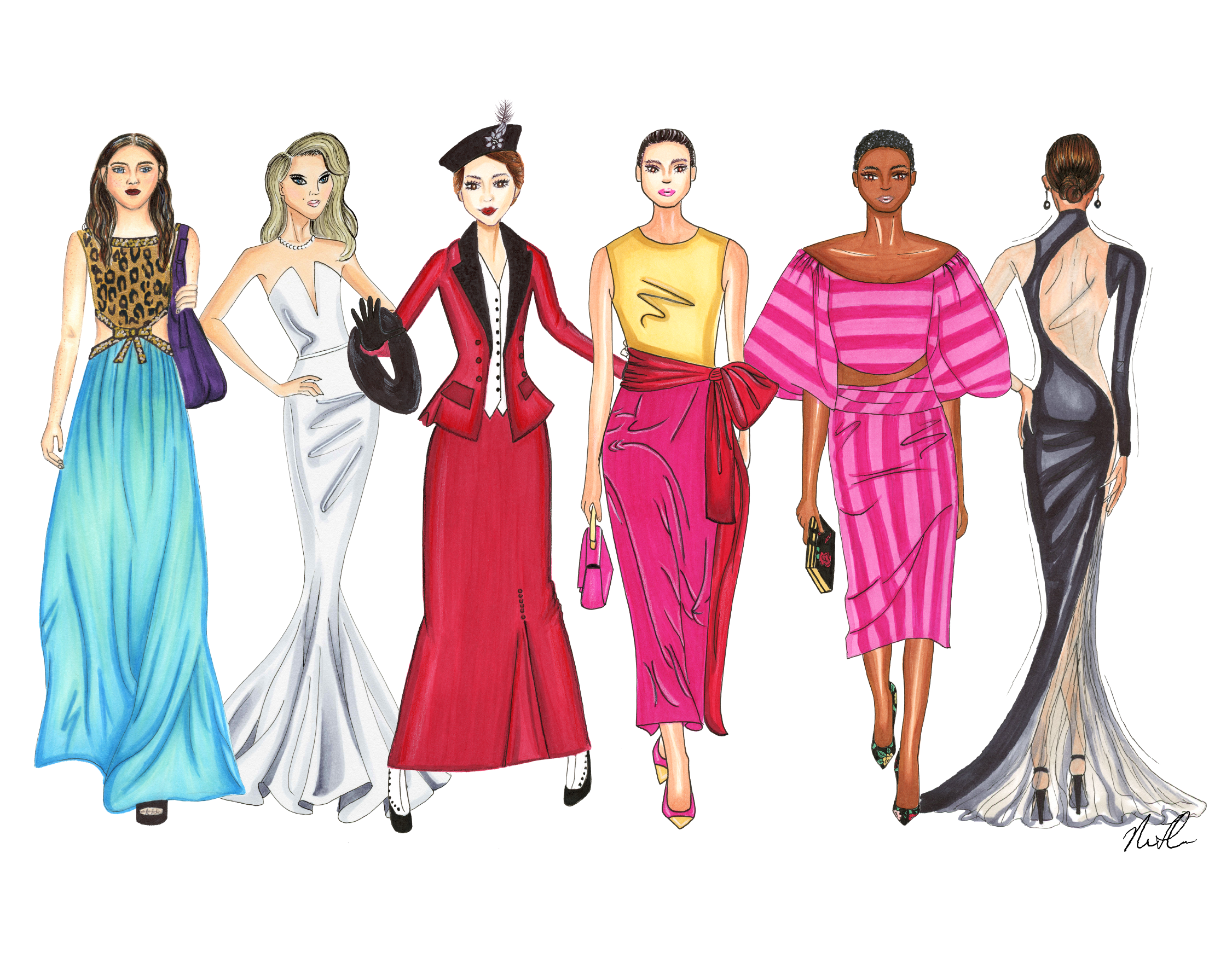 While Flores Illustration primarily focuses on individual guest illustrations, large-scale live painting for ceremonies and receptions is not offered. Instead, Nicole recommends (and I do as well) supporting Katherine Gressel, a seasoned artist with over 15 years of experience who specializes in this service.
Nicole says:
"She is a phenomenal artist who has over 15 years of experience, and I have firsthand experience with her service since she painted my wedding at Park Chateau. She added a lot of our family members that passed away in our wedding painting, and it is my favorite piece of artwork in my home."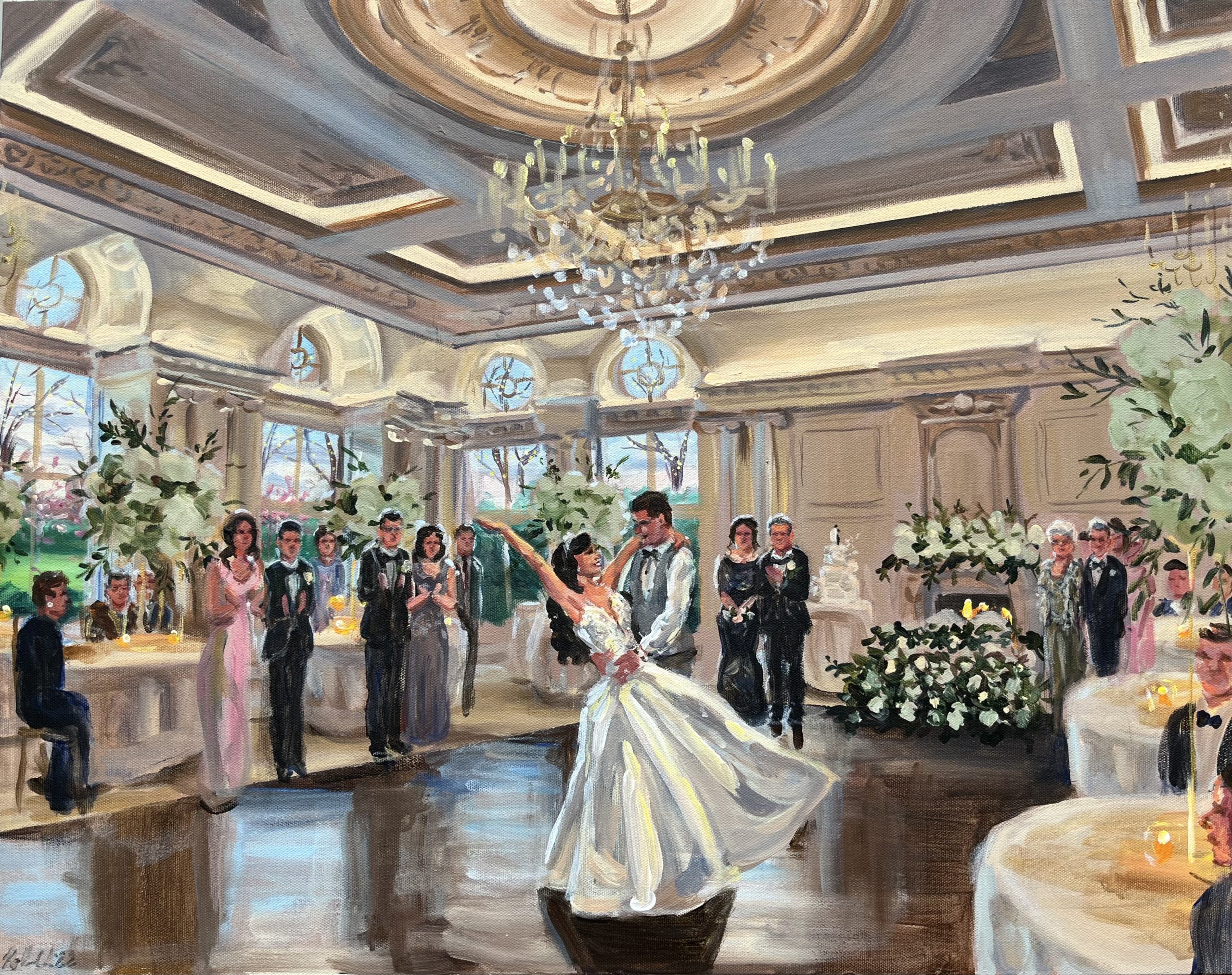 Since everyone always asks me about the most difficult weddings I have ever planned, I had to ask Nicole for her own stories. One of the most complex illustrations she tackled was her own wedding venue, Park Chateau. The pressure was on to make it perfect for her wedding invitations. Nicole even created two versions of the venue illustration to ensure it met her standards.
Bonus? Many of her guests actually saved her wedding invitation because she illustrated it herself!
Although Nicole doesn't illustrate the actual wedding decor, that can still be a part of your day of stationery. Clients have asked for signature cocktail signs, venue illustrations, favor tags, and custom crests to be incorporated into their wedding stationery. One of Nicole's favorite illustrations is the custom pet signature cocktail sign, offering a unique way to include pets in your wedding.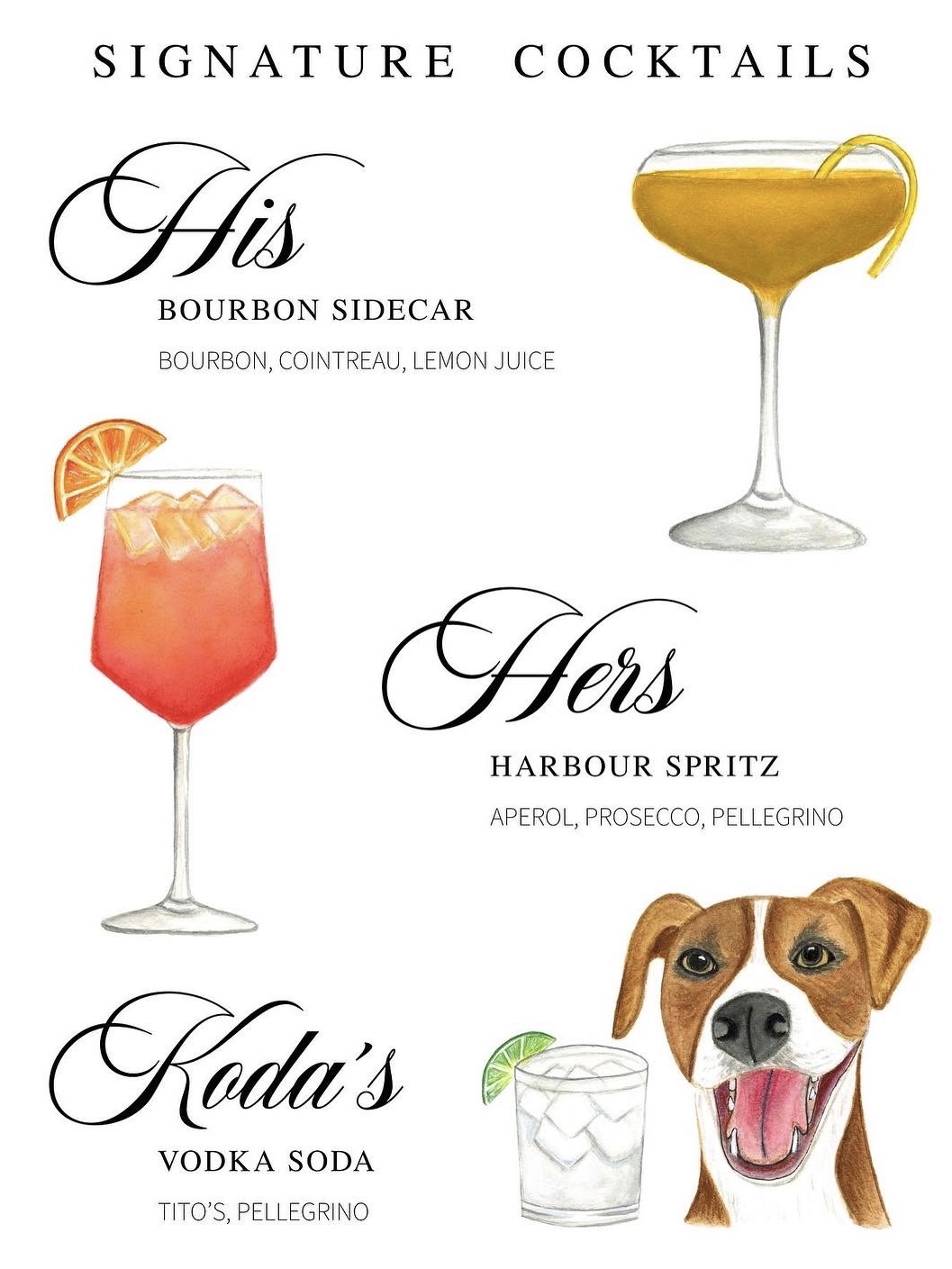 If you're interested in having illustrations for your invitations, it's essential (just like anything in wedding planning) to plan ahead. Nicole typically requires 6-8 months of advance notice before your wedding date. She'll provide digital versions of the illustration as well as the original artwork on 9×12 watercolor paper, offering both digital venue outlines and watercolor illustrations.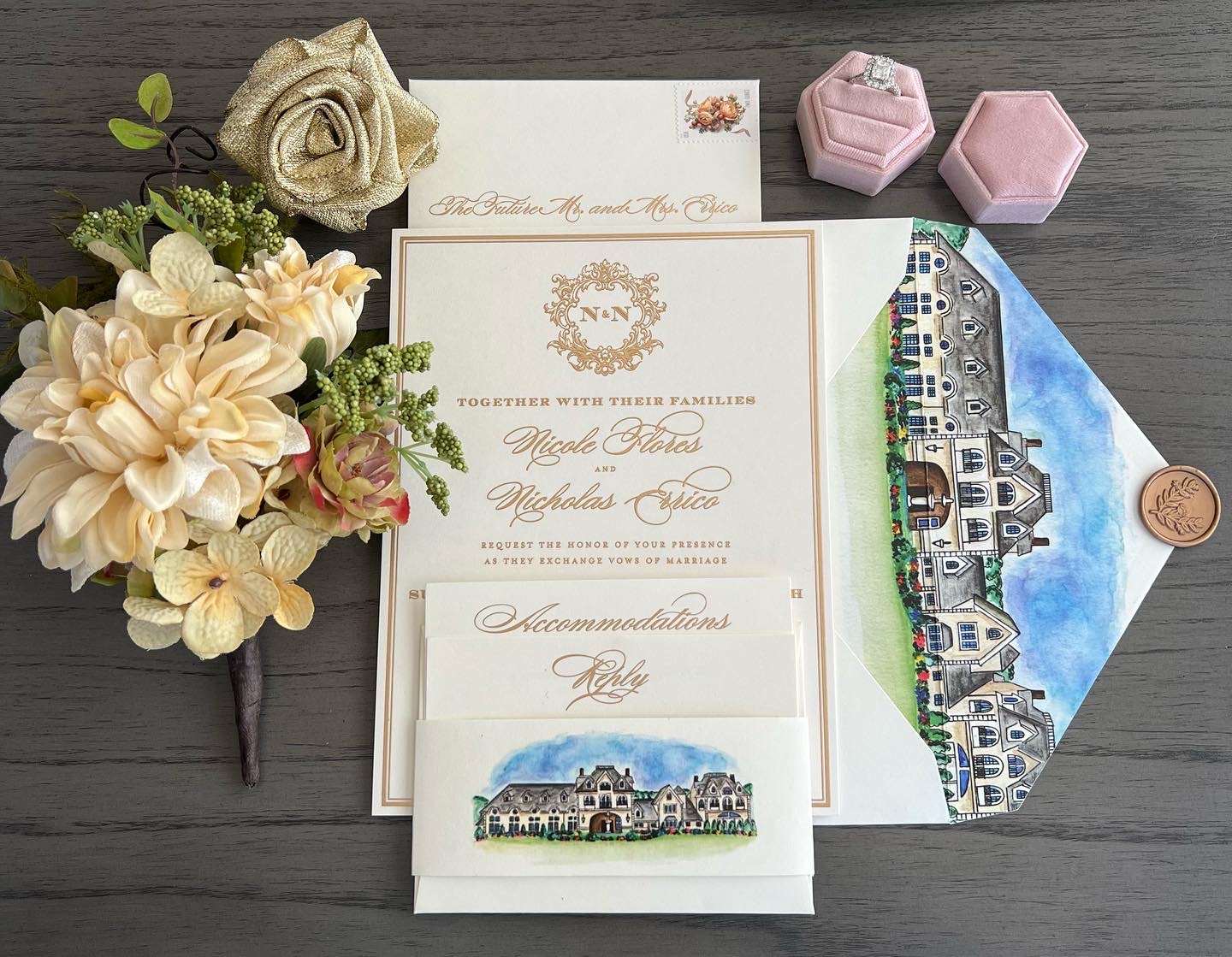 But what happens to the photos of guests Nicole couldn't illustrate during the event? If some guests go without illustrations during the event, they are included in an additional illustrations package. This ensures that every guest who requests an illustration receives one, even if it's after the event.
In conclusion, live illustration adds a unique and personalized touch to any event. It's a creative way to make your guests feel special, and it's a keepsake they can cherish. So, if you're considering adding this artistic flair to your wedding or event, plan ahead, communicate your preferences, and enjoy the one-of-a-kind experience that live illustration brings.
And don't forget to contact Nicole of Flores Illustration right away for all of your wedding day illustration needs!