The essential bachelorette party supplies that'll have you using the hashtag "squad goals" the moment the fun begins, are all together in this one blog for you! Let's be honest, bachelorette parties are filled with countless photo opportunities and plenty of chances to make your social media friends jealous of the fun you're having. After all, if it's not on Instagram, did you even go to the party?
Being in a wedding party can get pretty expensive though. From buying a dress that you will never wear again (you won't) to spending money on all the other wedding day details, a bachelorette party cost could be the straw that breaks the camel's bank account…or something like that. I am a big fan of saving money on absolutely everything. I don't cut coupons like those extreme savers or anything like that, but I do know when I can cut some corners.
Related: 10 Real Ways to Save Money on Your Wedding
In wedding planning, there are smart ways to save and dumb ways to save. When putting together a bachelorette party, you'll also have options presented that will lower the cost. Maybe you can get a reduced group rate, or find an all-inclusive deal and suddenly the trip isn't forcing you into bankruptcy anymore. With that in mind, I wanted to put together this list with only affordable options. Basically, a bunch of basic cute ways you can bring the bachelorette party to the next level without crying about how poor you are.
If you're ready to get the goods and start shopping for the best girls' trip ever, keep reading!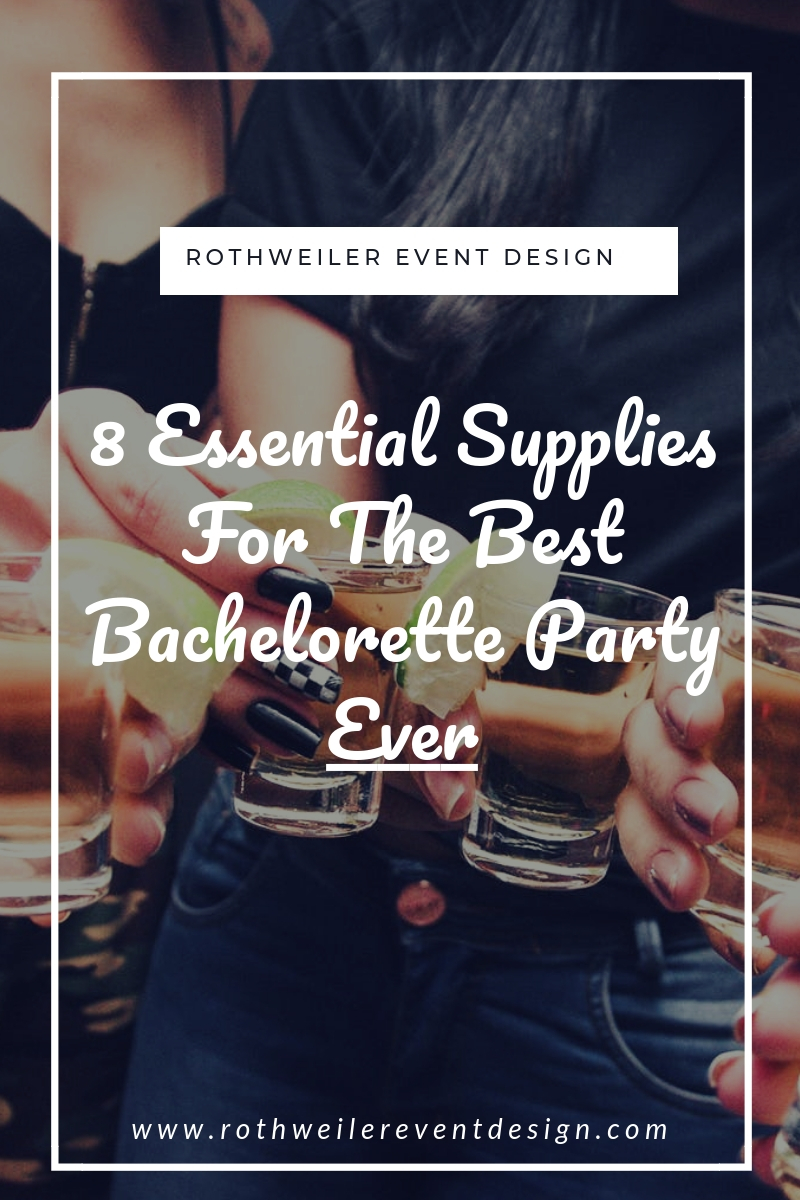 *Please note that most of the links of this page are affiliate links. This means if you click on a link and purchase, you will receive the same price, but I will receive a referral fee. This helps keep my blog free and allows me to share wedding planning tips with you. Thanks for your support!*
Bride Squad Wardrobe Goals
Most bachelorette parties are mini-Spring Break trips nowadays. My own party was just a simple night out in NYC for dinner and drinks. There was no airplane and while Manhattan technically is an island, it's not exactly Bermuda. It's not like I was married that long ago, but things have really changed. Now it's a multi-day adventure involving a group of 6, 10, or more and it's all on Instagram for everyone to see.
This has become totally normal too. Besides seeing my Facebook feed constantly filled with friends of mine going on these little trips, the brides I plan with have them on their calendars as well. In fact, when I put together a planning timeline for my couples, I factor in their personal conflicts and a lot of those conflicts are these parties.
Even though these bachelorette parties have evolved from something super simple to something that requires a travel agent, some things haven't changed. In the same way you'll always know who the bridesmaids are on the wedding day based on what they're wearing, the same is true for a bachelorette party weekend.
While the bridesmaid dress might not be what you'd consider inexpensive, there are plenty of fun wardrobe options for the bachelorette party that don't have crazy price tags. No one is going to be on board with spending a ton of money on bridesmaid gear for this girls only celebration. Even if some people are, you'll never get the whole party to agree…so what's the point then?
In a surprise to absolutely no one, I turned to Target for some incredible bachelorette party supplies that won't cost anyone an arm or a leg for that matter. Here are my 8 essential supplies for the best bachelorette party ever…plus a few more:
Bride and Bridesmaids Pajamas
Whether you're traveling for a few days or just one overnight, no bridal party slumber party is complete without some cute pajamas. Target has super cute options for both the bride and her bridesmaids. Not actually going anywhere for the bachelorette party? Consider their adorable options for the night before the wedding day or even the wedding weekend if you're all staying at the same place. Just don't forget the fun champagne popping pictures!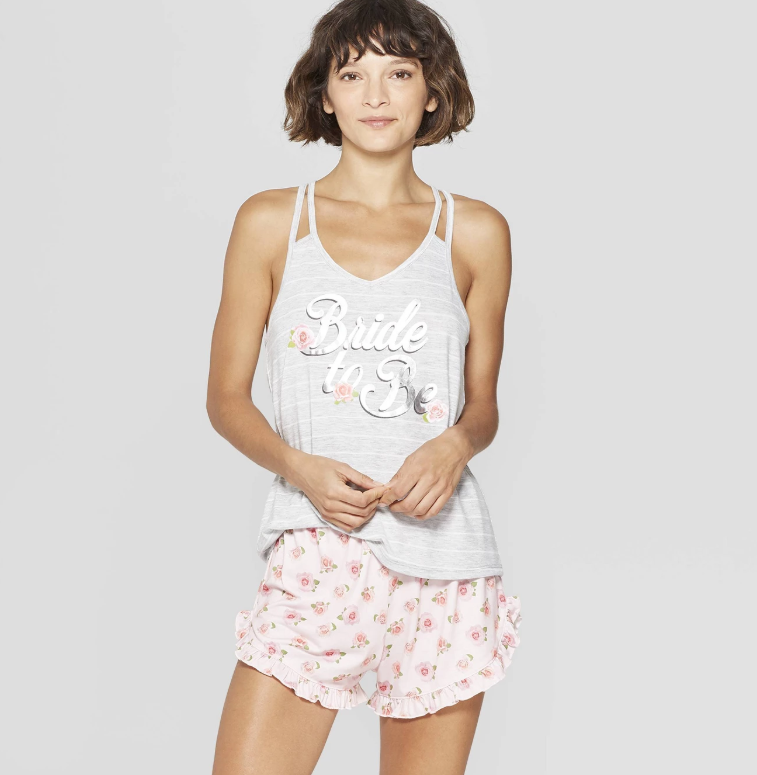 You can check out their whole collection right here.
Bachelorette Party Beachwear
Not a whole lot of brides celebrate their bachelorette party some place cold, amiright? More often than not, the bride tribe can be found in a location with more sand than snow and with plenty of fun frozen drinks. The combination of sun and fun will almost always lead to an impromptu photoshoot. It could just be the group together in the pool, or a full on production on the beach complete with Bond Girl walks out of the ocean.
On at least one of those days by the pool, glam it up with your girls with these awesome swimwear options from Target.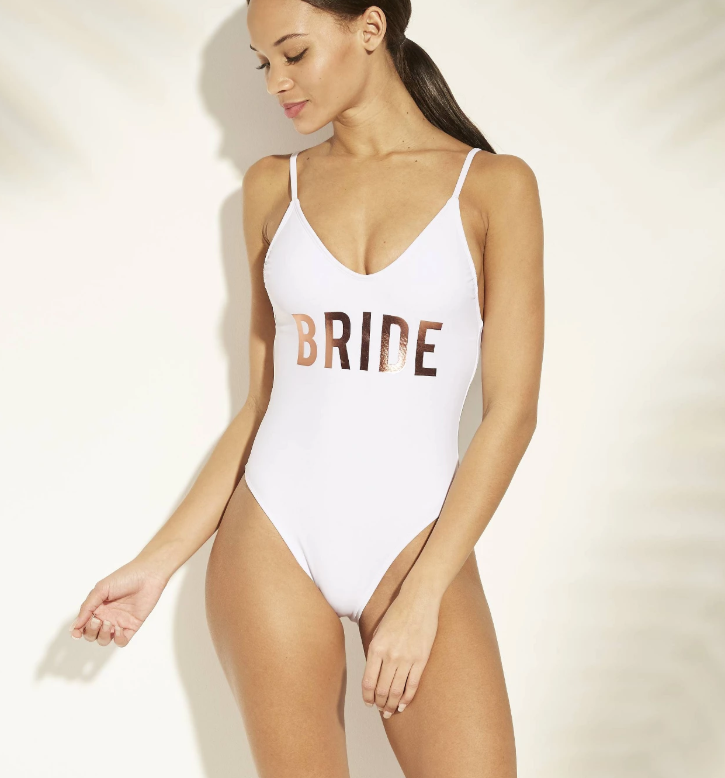 With this super cute white one-piece, everyone will know who the bride to be is! The metallic rose gold lettering is sure to shine in the sun. Pick it up right here!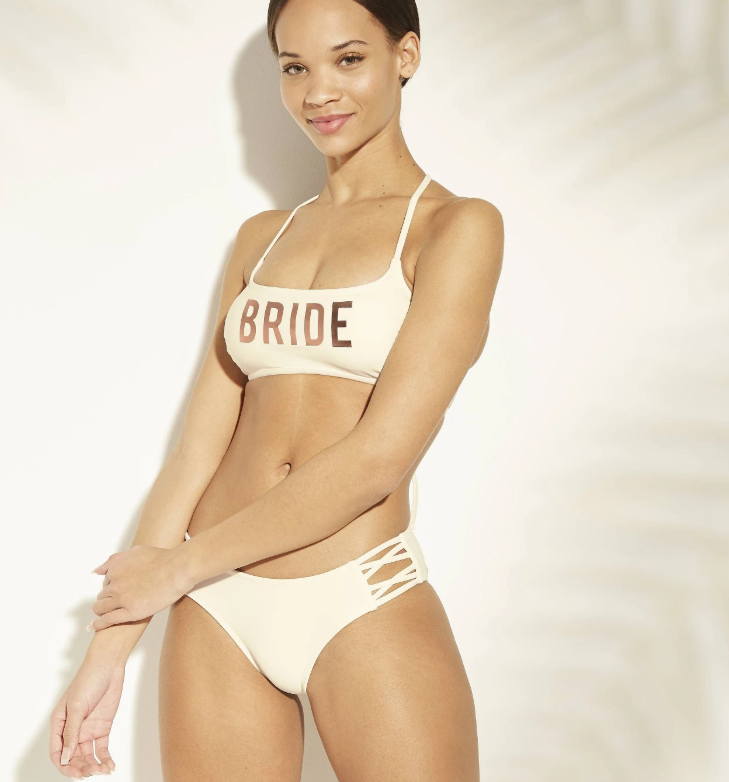 Feeling a bit more daring and want to minimize those tan lines? Pick up this white bikini instead and let everyone know the bride is here!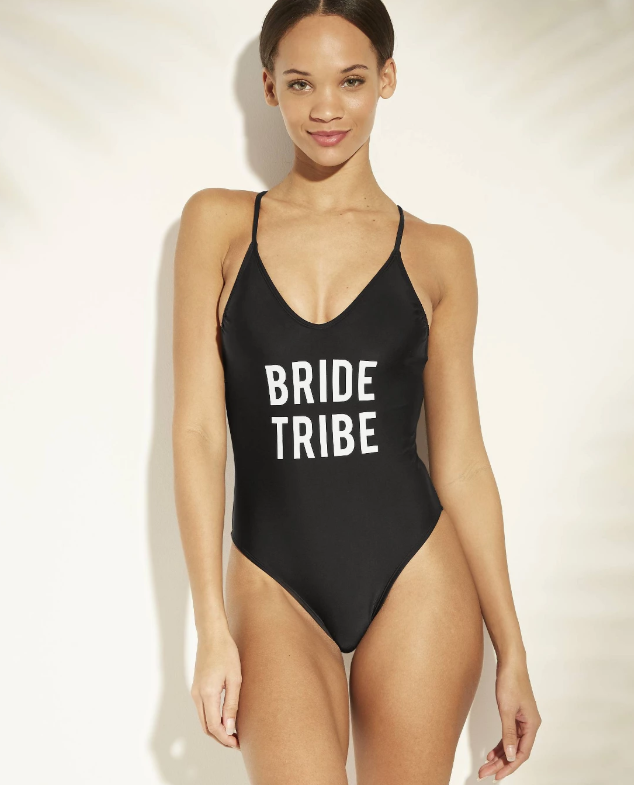 You and your fellow bridesmaids will look super chic in this all black one-piece. Grab one for each member of the bride tribe here!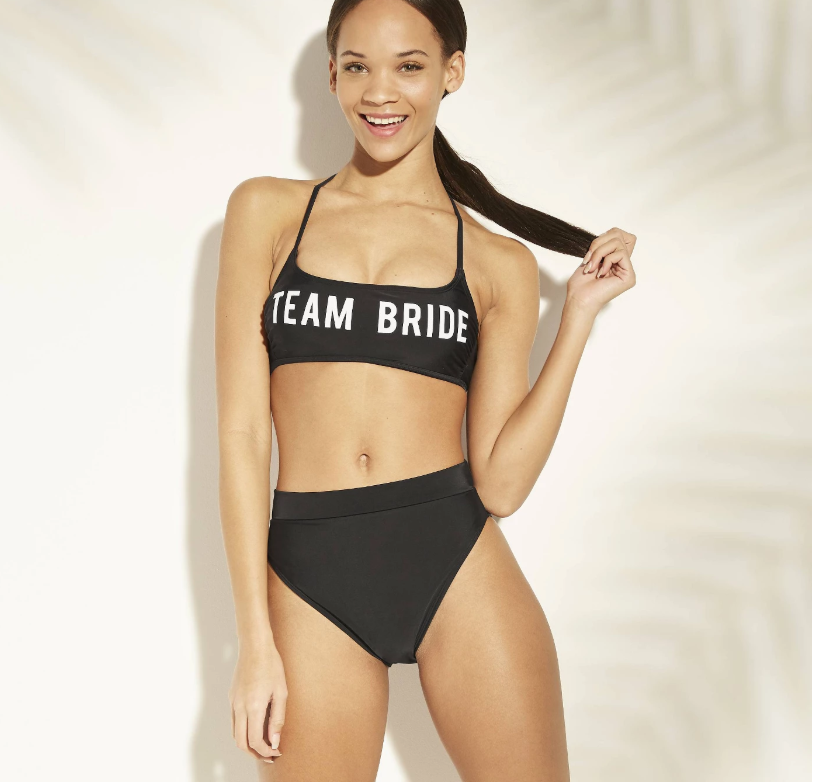 Girls just wanna have fun and this bridesmaid all black bikini is exactly that. Show everyone whose team you're on with this adorable two-piece!
Bridal Party Swimwear Must-Have Accessory
Are you team one-piece or two for your bridal party swimwear? Can't get the group to agree on just one style? Let each bridesmaid select either swimsuit and bring the mismatched bridesmaid wardrobe to a whole new level! No matter what you choose, everyone needs a cover-up. Don't hide that bride tribe announcement under some boring pool towel or over-sized t-shirt.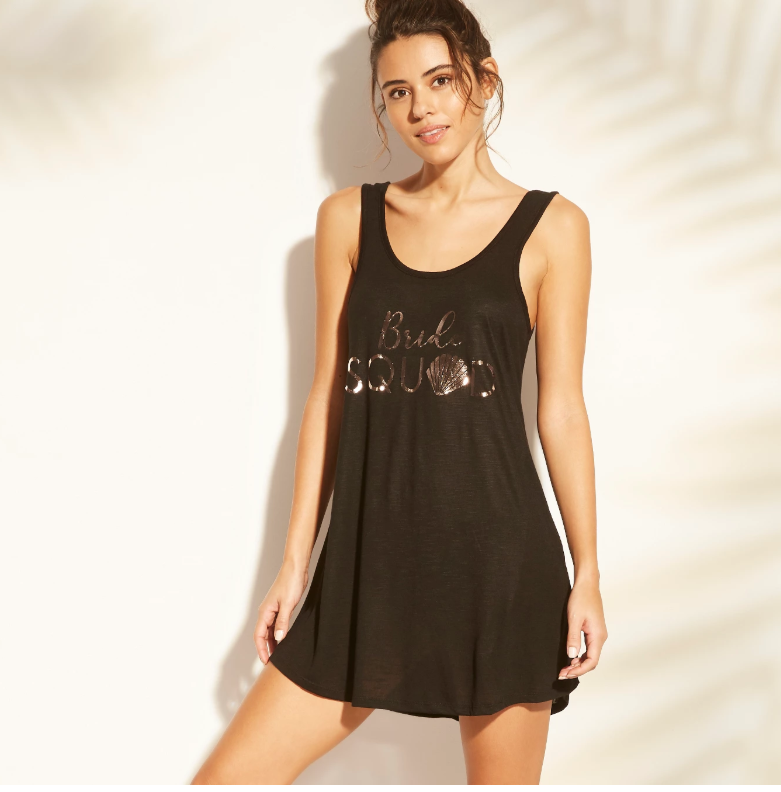 You may only wear the bride and bridesmaid swimwear once during the whole bachelorette party weekend. But, you'll probably be on the beach or at the pool way more times than that. Get this mermaid inspired cover-up for all of the bridesmaids right here!
The Hat
We've all seen those straw hats with the super fun sayings around the brim. They are soooo Instagram worthy! Nothing is cuter than those photos of someone relaxing poolside with a floppy hat on that reads "do not disturb". I actually pick up a new floppy hat anytime I go on vacation or at least one every summer. When you're getting married though, this is totally the one that you need…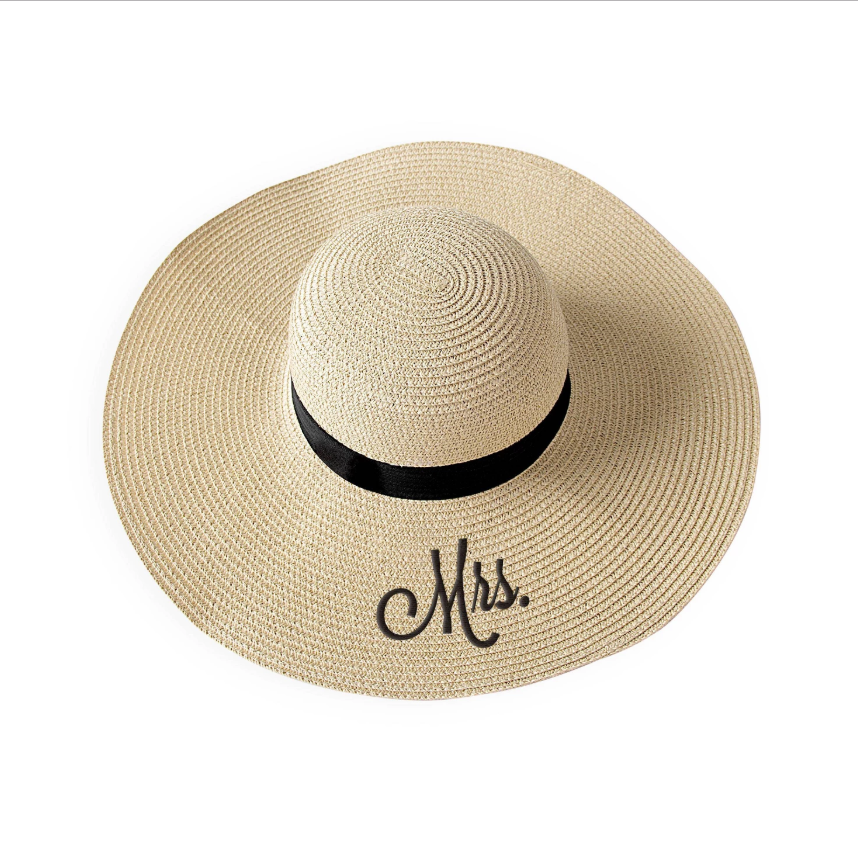 Bring it on the bachelorette weekend and pack it again for your honeymoon and future Summers together with your spouse. Find this floppy hat right here!
Show Mom Some Love
More and more, my brides are including their mom and even their future mother-in-laws on the bachelorette party festivities. Moms love to be included, but not too many are willing to rock out a bride tribe bikini.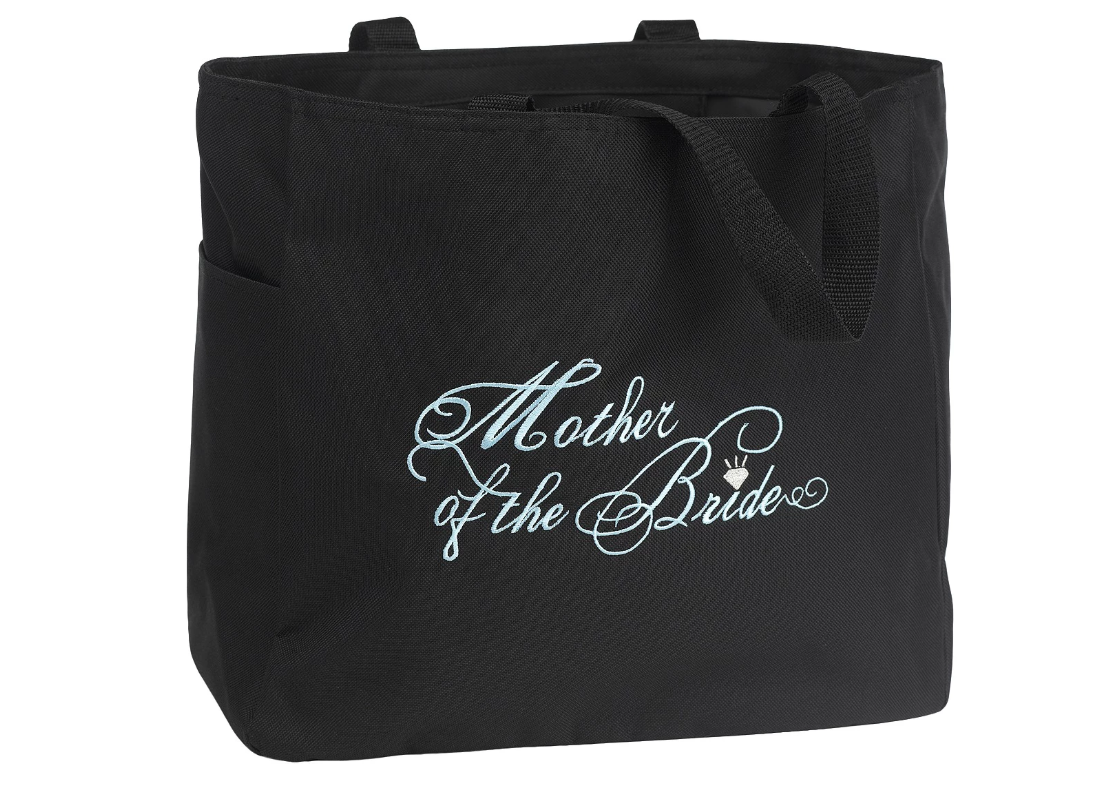 Mom can pack the swimwear of her choice in this super cute Mother of the Bride tote bag from Target. You can pick this up right here!
Bride Bag
No bride wants to carry around their every day purse on an island while celebrating with their girls. Don't stress yourself out trying to find a purse for every single outfit and just pick up this must-have clutch instead!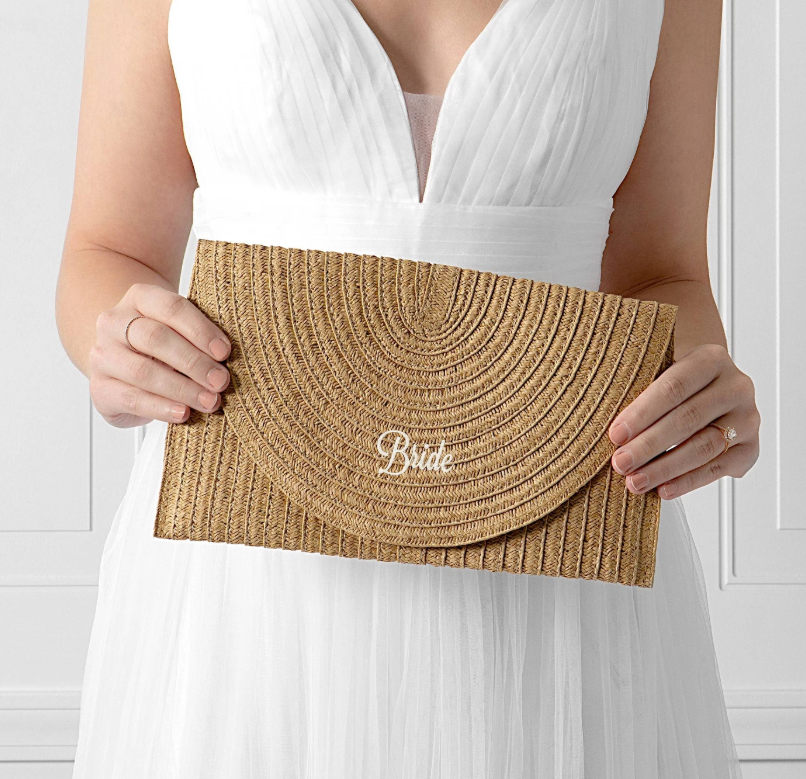 I love the size of this clutch and it's super cute detailing to show everyone exactly who the bride is. Grab yours right now!
Sassy Sashes
One of the absolutely have to have bachelorette party supplies is the sash. You know the ones…the bride rocks out her "bride to be" one, but the bridesmaids should get their Miss America moment too. After all, how else will everyone in the airport know you're heading out for the bachelorette party of a lifetime if you don't have one on? Priorities ladies!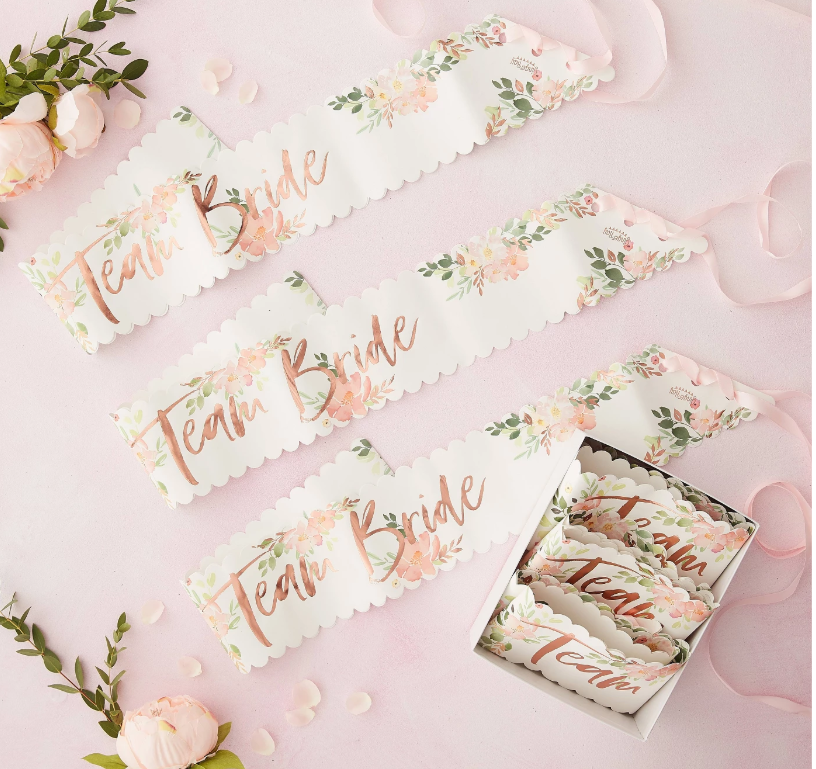 Go all matchy matchy with these adorable "Team Bride" sashes with floral touches and plenty of pink! You can pick up a box for everyone right here.
Not feeling the pretty in pink vibe and looking for something a little different?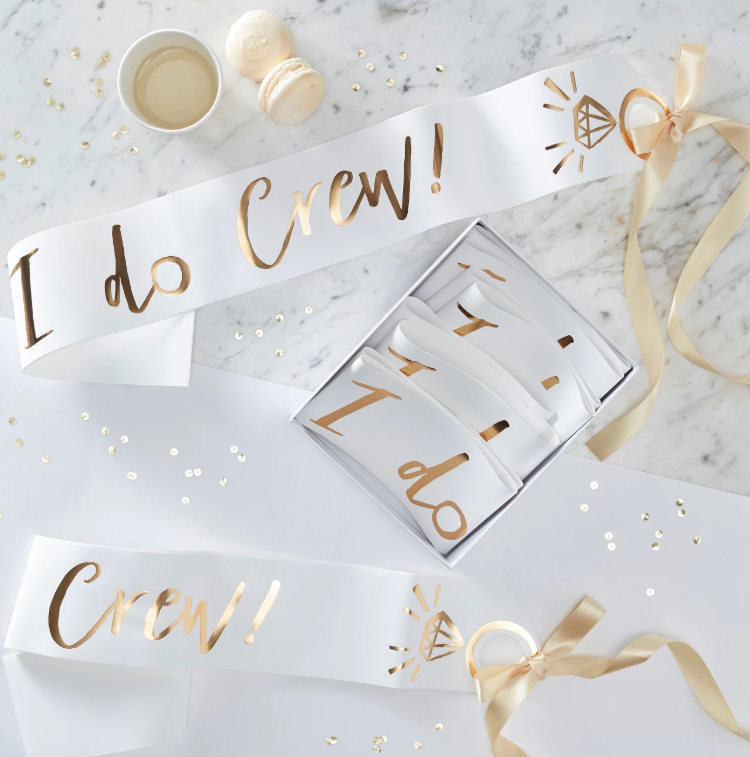 Pick up these fun white sashes for each member of the "I Do Crew". Grab these golden goodies over here!
More Ways To Announce The Squad
Whether you're going somewhere tropical or staying local and keeping things casual, these baseball caps are a great way to present the squad!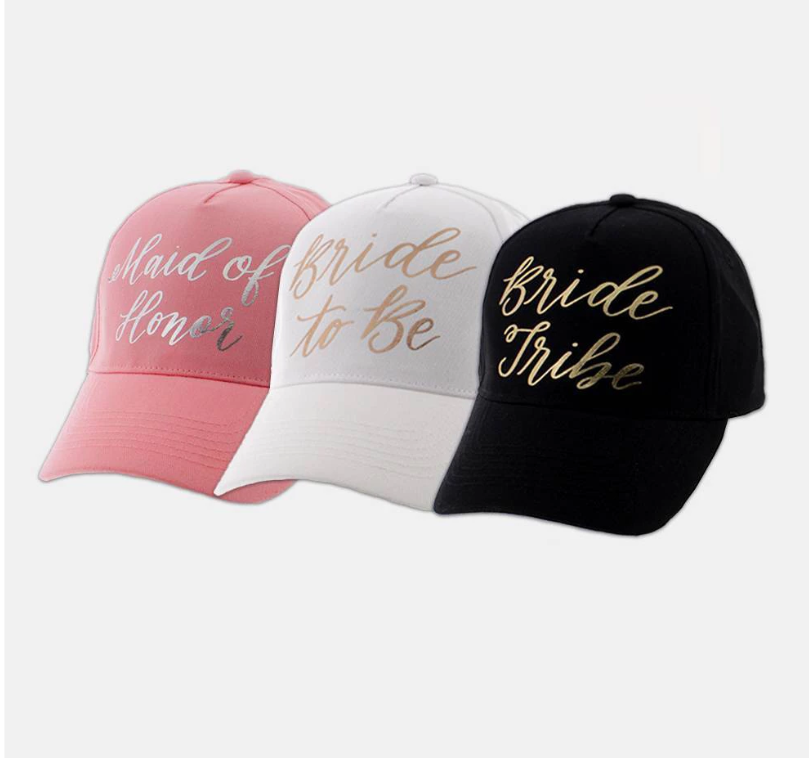 Bonus: These caps are great to throw on when you're feeling that hangover and doing your hair for brunch is just not going to happen.
For a totally unique twist on bachelorette party supplies, I saved the best for last…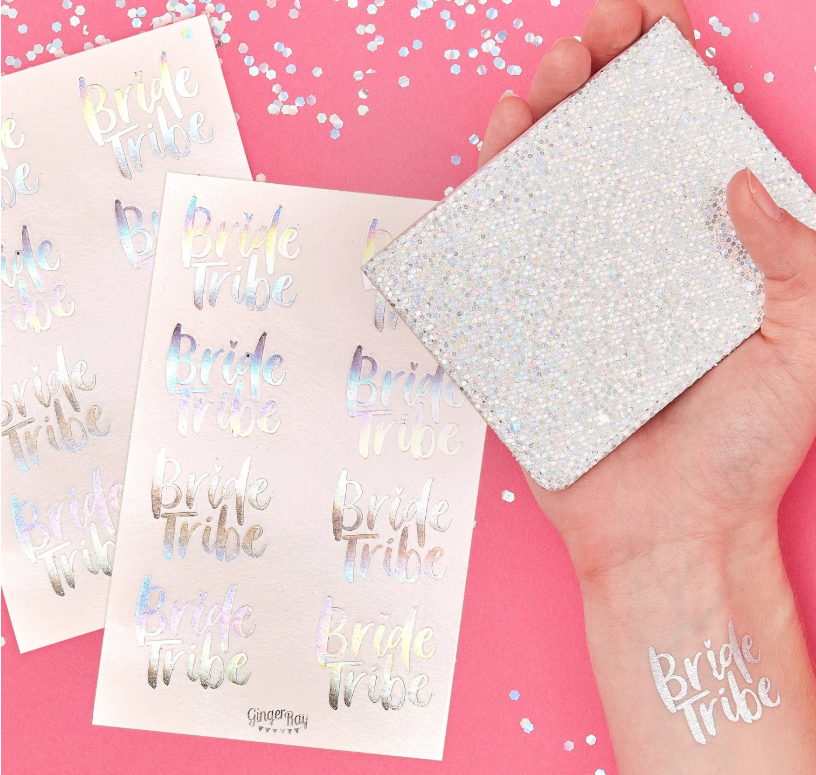 Yessssss those are temporary "bride tribe" tattoos and I totally want them even though I'm not in a wedding party at the moment. Perfect for the group of girls that's been friends forever just as much as it is for newly formed friends. You can sparkle and shine with these tattoos and pick them up here!
Bachelorette Party Supplies
Whatever your plans are to celebrate with the bachelorette, these are just a few of the fun (and affordable) ways to show off your ultimate squad goals. What's your favorite and where are you going for the party? Share in the comments below and don't forget to show off pictures if you pick up any of these amazing supplies from our friends at Target!