An engagement session is on just about everyone's wedding planning "to-do" list. How can something that sounds so simple (especially in comparison to wedding planning) get so complicated?
Oh, did you not think it was complicated? Sorry about that.
The idea is to take pictures with each other, which pictures then will be used anywhere from the wedding website to the save the dates and more. Maybe you'll want them for your Christmas card or plan on getting some prints for the wedding day. Everyone has their own reason for wanting these engagement sessions.
In this blog, I'll give you all the tips you need so you can walk away with engagement photos you totally love. If you've got your engagement session on the calendar already or are just starting the process, everything you need to know is right here!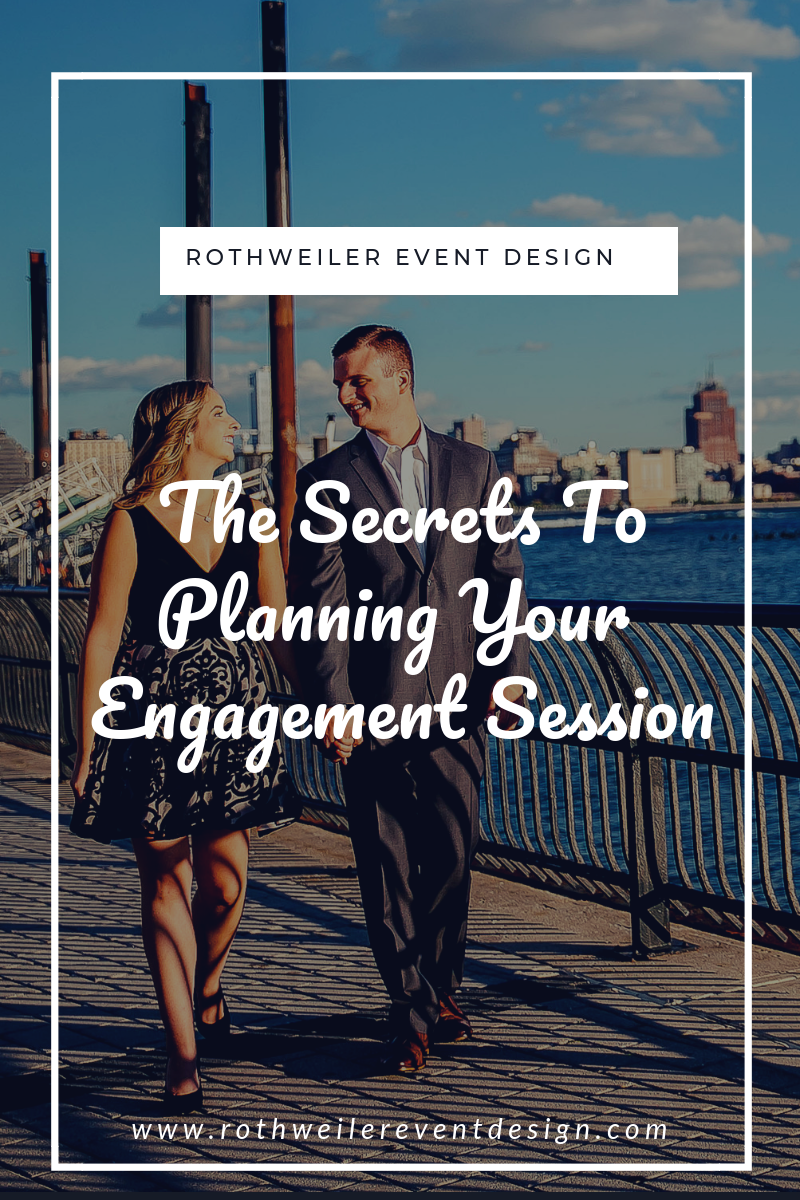 *Please note that most of the links of this page are affiliate links. This means if you click on a link and purchase, you will receive the same price, but I will receive a referral fee. This helps keep my blog free and allows me to share wedding planning tips with you. Thanks for your support!*
Engagement Session Logistics
Let's get the boring stuff out of the way first. Trust me, it's a lot easier to think about the tedious stuff up front when doing anything wedding planning related. Engagement session tips are worthless if you don't have all of them.
One of the reasons I recommend engagement photos to my couples is that it gives them a chance to get to know their wedding photographer. Even if you are totally comfortable taking pictures, getting in some practice together before the wedding day is a great idea.
Plus, if you don't have a good engagement session or end up hating your photos, you can either talk about it with your photographer or hire someone else for the wedding.
This means that you will need to have your wedding photographer hired sooner than you were expecting. Most wedding websites will tell you to allow 6-8 months before the wedding to hire a photographer. That's a bunch of garbage.
Without going ridiculously off track, it's important to look at the timing that only surrounds the engagement photos. An engagement session is usually planned outdoors, which means having a back-up date in case of rain.
You'll likely need weekday availability because wedding photographers are busy shooting actual weddings on the weekends. If you're outside, you'll also need the sun to be up. That means you and your fiance should prepare to take 1-2 days off from work for the engagement session.
Another key component of logistics to consider is what you will actually be doing with these photos. Let's say you want to use them for your save the dates. Those save the dates have to go out 6-8 months ahead of the wedding day. There are certain times of the year when you're not going to want those outdoor photos…let's call those times: November-March.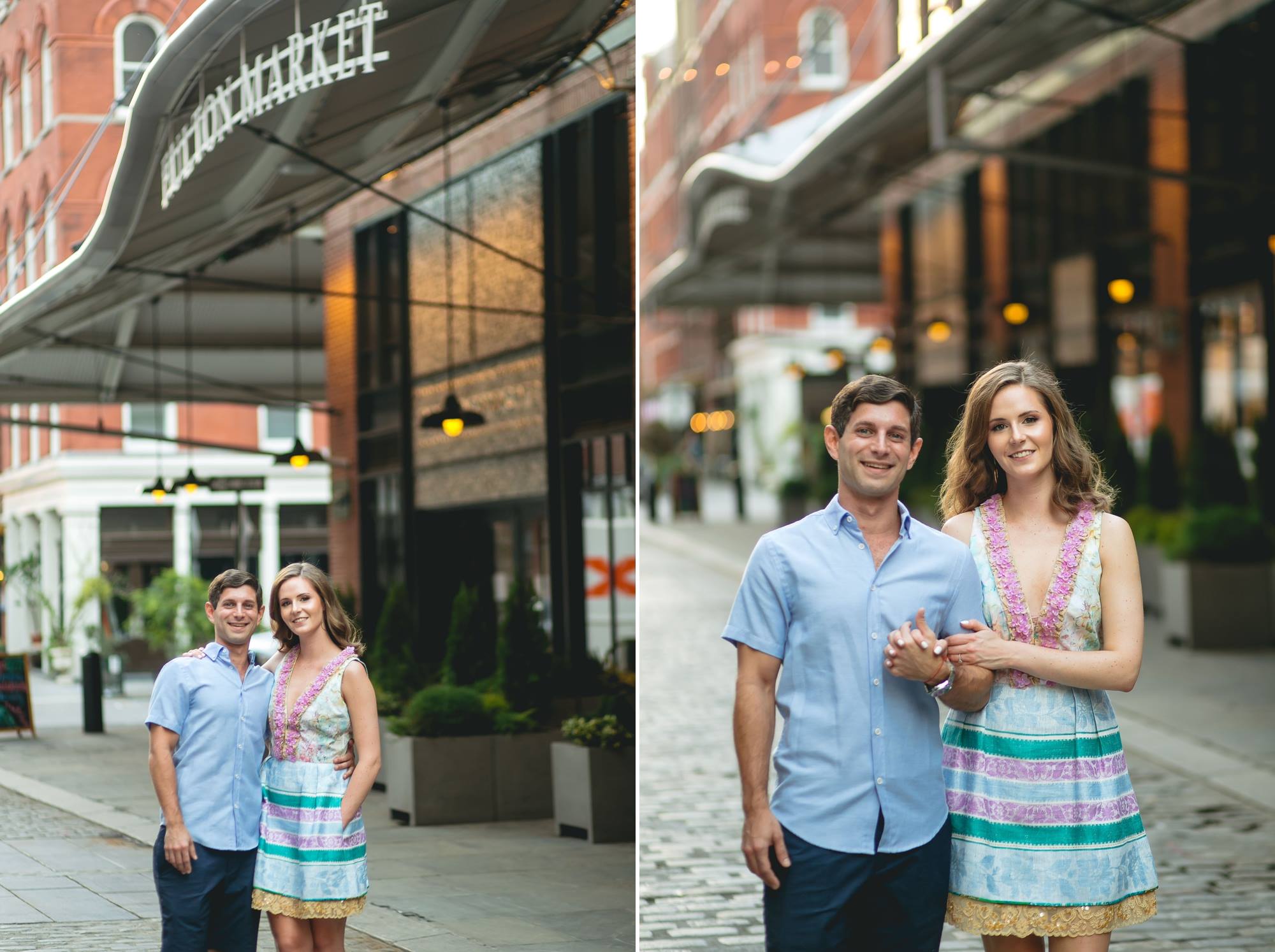 Using September 2020 as your wedding date, this is how the hypothetical timeline breaks down working backwards:
January-March 2020: Save The Dates Go Out
November-December 2019: Save The Dates Ordered
August-September 2019: Engagement Session
Yes, that means your engagement session will be a full year prior to your wedding date. This gives the photographer enough time to get the photos to you, and you enough time to order the Save the Dates without getting hit with rush charges.
Related: Should You Ever Buy Your Wedding Gown Before You Have The Ring?
That is one of many reasons why you don't want until 6-8 months prior to your wedding day to hire your photographer. K?
If you just want these photos to use for prints at a later date, you still will need to schedule the engagement session when the weather isn't complete trash. You won't necessarily need a full year in advance of your wedding date, but you'll still have to juggle schedules and allow yourself the time to do that.
The Hair and Make-Up Two Birds One Stone
On the wedding day, every bride has her hair and make-up professionally done. Obviously, this allows her to relax as much as possible, but it also guarantees that she'll look flawless in person and in pictures.
A "natural look" that many brides request for their wedding just isn't going to show up in photos. I always tell my brides to trust their make-up artist, even if they feel the look is too much or too heavy.
Developing that trust is a lot easier when a bride has a trial with the stylist first. In a perfect world, that trial can coincide with the engagement session, so that the bride will look amazing in the photos.
Of course, we're not in a perfect world…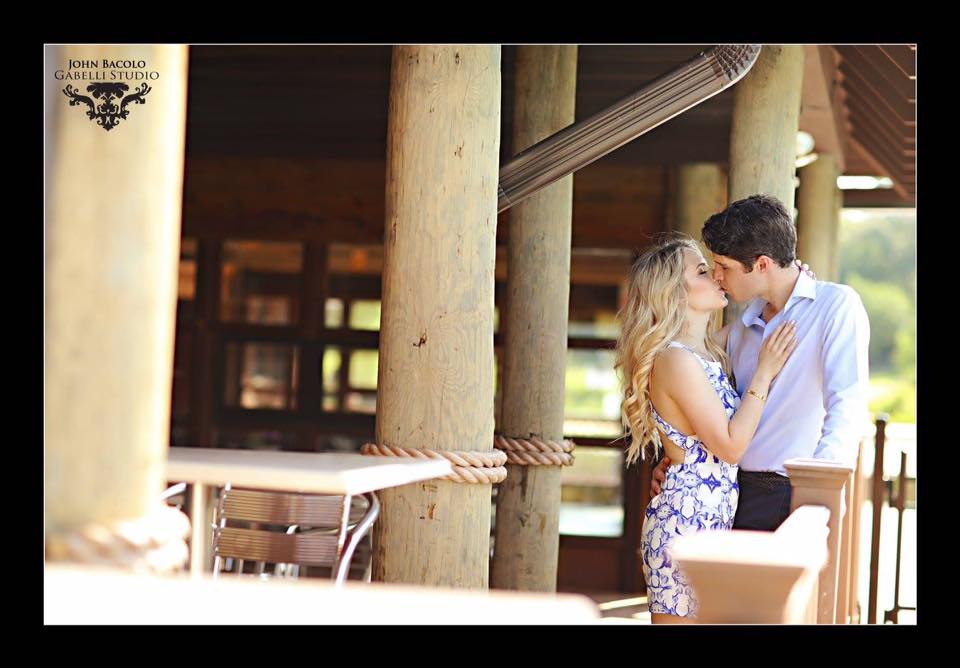 A hair and make-up trial is something everything bride should do before booking their team for the wedding day. These trials aren't free (I can't believe I even have to say that), which makes some brides book the first stylist they meet with in order to avoid additional trial fees. Regardless of when your trial is scheduled for, the purpose of the trial is to see what your hair and make-up will look like on the actual wedding day.
Spoiler alert: you aren't going to want the same hairstyle for your engagement session.
While I do recommend getting professional hair and make-up done for your engagement photos, I would suggest getting the trial and booking out of the way, and handling this separately. You can always talk it over with your stylist in advance to find out if they would be able to do your trial and then change your hair for the engagement session on the same day.
By the way, this means not waiting until 6-8 months before your wedding to find hair and make-up either.
Engagement Session Outfits
What to wear for engagement photos is always an issue for my brides. Depending where you take these photos (more on that later in the blog), your wardrobe could range between a sundress to jeans and a chunky sweater.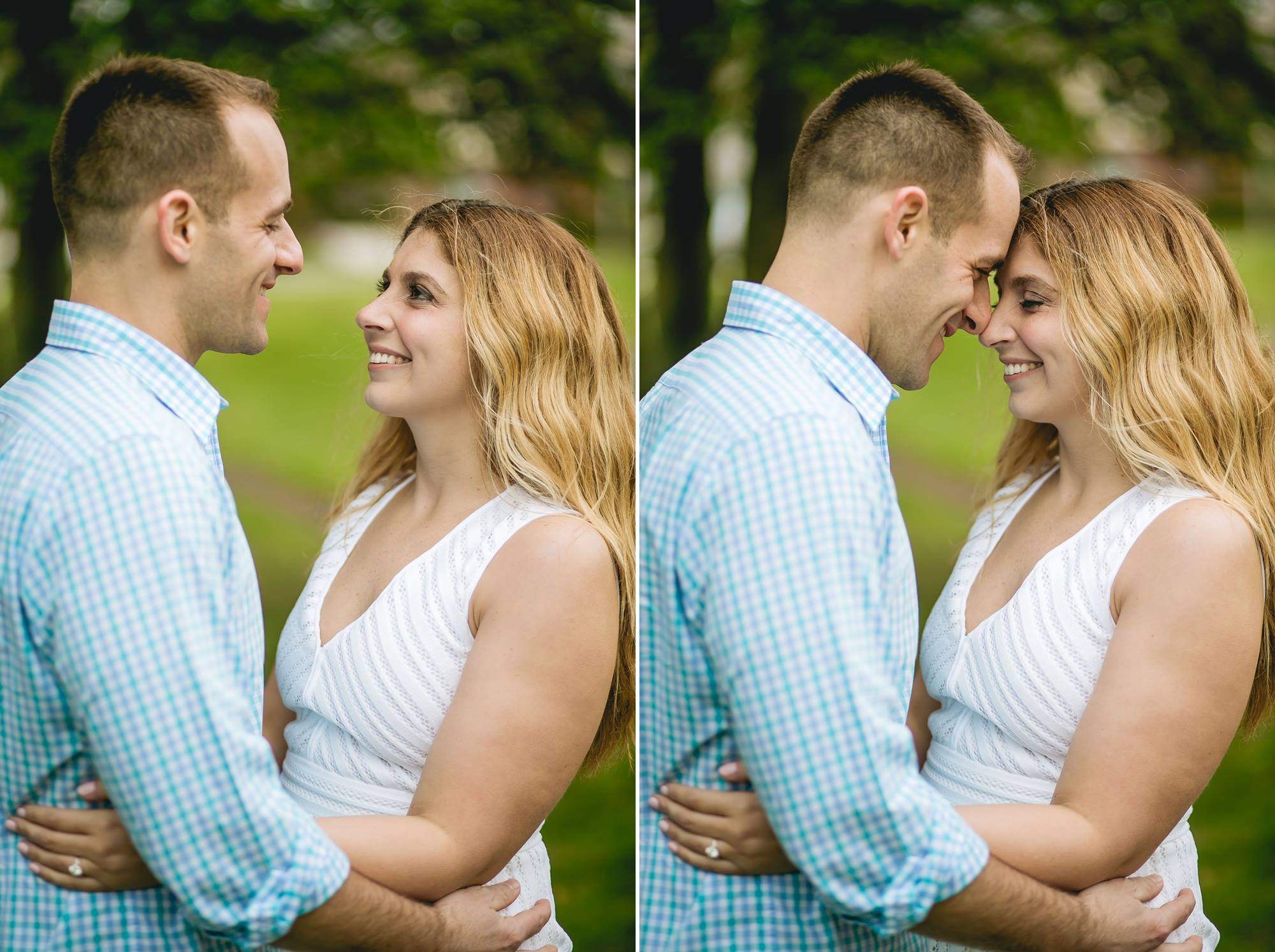 One thing all of my brides have in common is that they don't want to wear something already in their closets for these pictures. That doesn't mean they won't wear the outfit (or two) again once the engagement session is over, it just means they need something new.
In general, solids and bright colors work best for engagement session outfits. If one of you is going with any sort of print, the other half should stick with a solid for a clean and classic look.
You should be able to move freely and feel comfortable in whatever you choose to wear. It should also be something that is your style because this is not the time to pretend to be anyone else other than the person your fiance fell in love with.
That means not copying those cookie-cutter images on Pinterest if you wouldn't actually wear those clothes in real life.
This simple combo is a great look for an engagement session outfit in the Fall. A bright, solid top, paired with simple jeans and a cute shoe, allows your fiance to go with either solid or prints. The look is perfect for the casual couple that might be having a boho or rustic chic wedding the following year.
For more full outfit ideas, scroll to the end of this blog! Not looking to wear the same outfit twice? Check out Rent the Runway and pick something special up just for your engagement session. Use our code FIRST to save 20% off your first rental!
Location, Location, Location
Speaking of locations for engagement sessions…figuring out the best place is another challenge many couples face. While it usually ends up being outdoors, it's not always easy to find a unique or sentimental place.
Consider places that you frequent together or even where you went on your first date. If you attended the same college, you can consider taking photos together somewhere special on campus.
Does your town have a local carnival every year? Why not take your engagement photos there? Share some cotton candy, get fun pictures on the Ferris Wheel, and you'll walk away with plenty of those naturally happy pictures.
You can even steal this idea from one of our couples who basically built their home together and then ended up taking their engagement photos in that same house.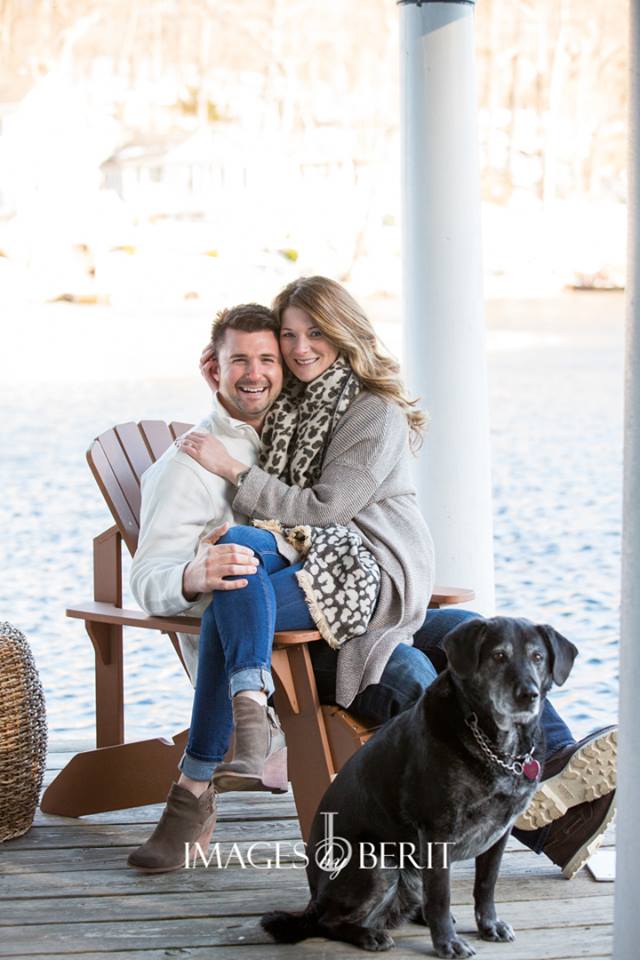 If you're really stuck deciding on a location, think about incorporating your hobbies into the photos. What do you like to do together? Are you hikers? Do you spend Saturday nights at karaoke? Whatever it is, make the engagement session about the two of you and you can't go wrong.
The Rest of The Engagement Session Details
One common misconception many couples have has to do with engagement session pricing. Contrary to popular belief (or what your friends are telling you) not all photographers throw this in for free.
When interviewing with photographers, find out (don't assume) if they offer engagement sessions in their packages or if it's a separate cost. In addition to that, be sure to talk about what's included in their engagement session pricing.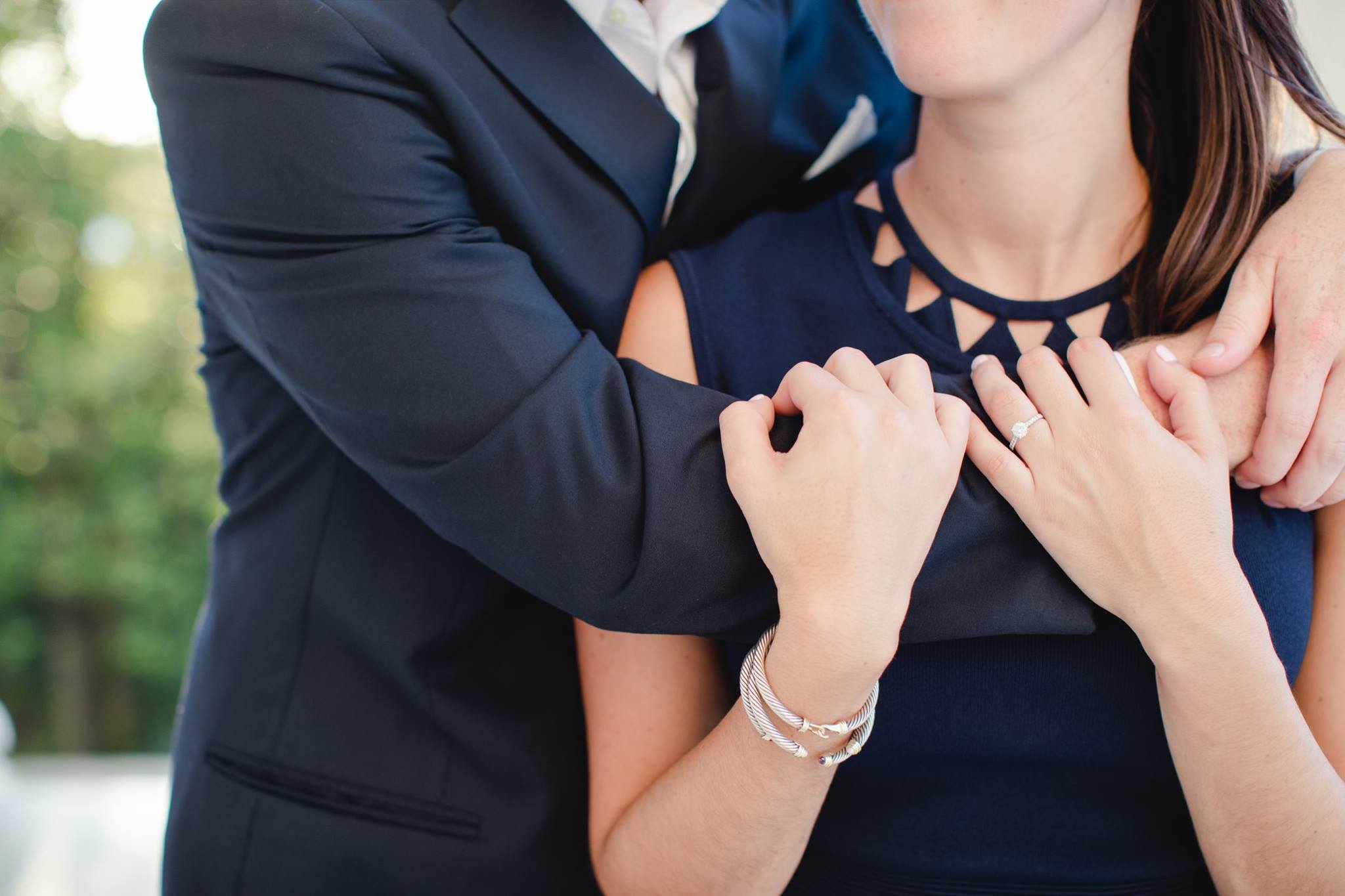 For instance, how long is the session? What locations are considered "local"? Will you receive prints, hi-res files, or…? Get all the details ironed out and ask all the questions you can.
As with everything else wedding planning related, don't wait until the last minute to get your engagement session scheduled. If you're looking for a generic outdoor location, ask your photographer for input and places they've shot before. And don't forget to check and see if you need any permits to take pictures there!
Got any engagement session questions? Drop them in the comments section! Don't forget to check out the outfits we put together that are perfect for engagement photos below!
Car Engagement Sessions
Car engagement photos are super trendy right now and it's not hard to see why! If you share a love of cars, or maybe have access to something fabulous and vintage, why not use it for your engagement session? Customize your look with head to toe leather, chunky sneakers or grab this look right here:

Carnival Fever
Got a local carnival that comes to town every year? Maybe you're in love with a classic carousel nearby or spend your summer on the boardwalk. A carnival offers so many possibilities for epic engagement photos. Have fun with the whole thing in something like this:

Winery Engagement Photos
Do you and your fiance celebrate everything including Mondays with wine? Hit up your local winery to find out if you can take engagement photos in their vineyard. This is the perfect setting for almost every season, and this look is a winner for all of them too:

You can check out the rest of the engagement session outfits we put together here and be sure to let us know what you bought. If you selected any of the items we mentioned, send us pictures to be featured in a future blog spot!
Have a great engagement session!