If you're a wedding professional like me, you probably know how important having a Pinterest page is. There's nothing better than booking brides from Pinterest because you're attracting your ideal client and it costs you nothing. But between constant algorithm changes and the time it takes to manage a Pinterest page, it's really easy to make mistakes.
Mistakes that can mean the difference between booking another wedding and…well…not.
I am highlighting the 10 biggest mistakes I see being made on Pinterest in this blog. Read on to see if you're making any of them and find out how to fix them all!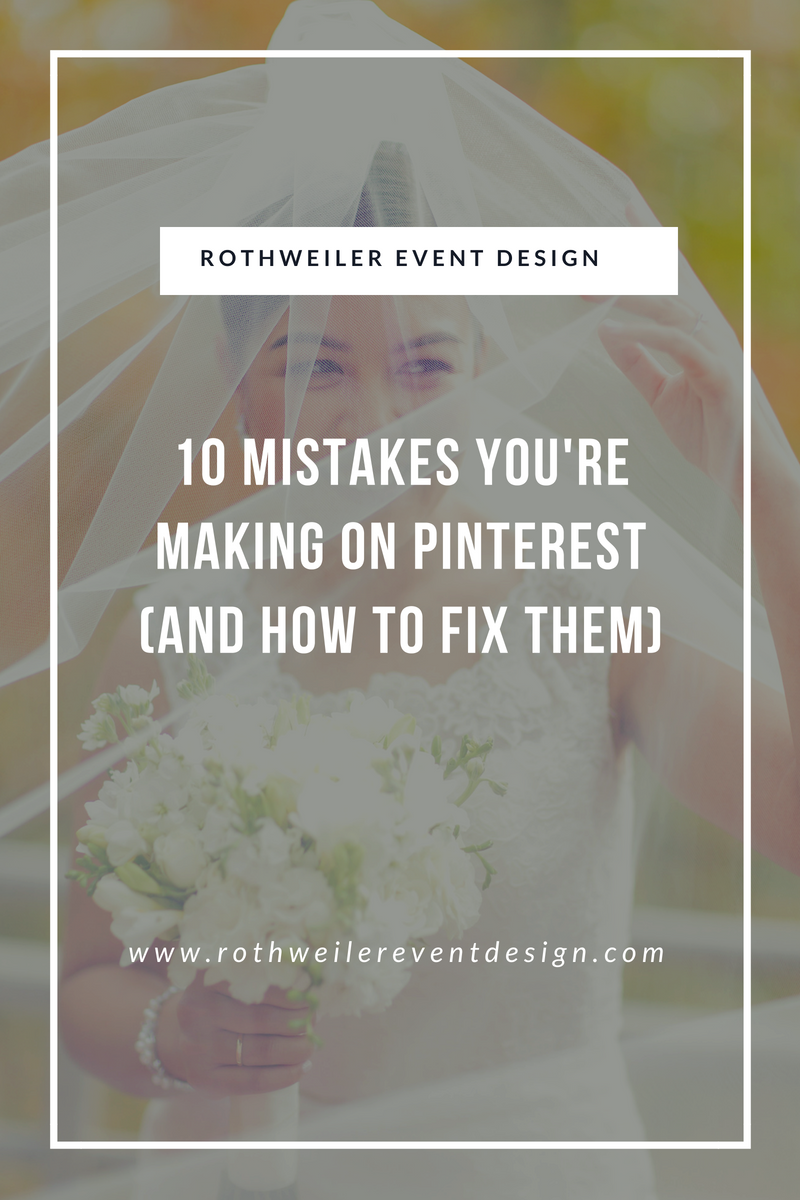 Your Page is Ugly
The way your Pinterest page shows up is more important to brides than you might think. If your page is a mess of pictures, with no clear board descriptions or details, why would an engaged couple want to book with you? You wouldn't have a consultation with papers all over your desk, would you? Time to clean that mess up that is your Pinterest page.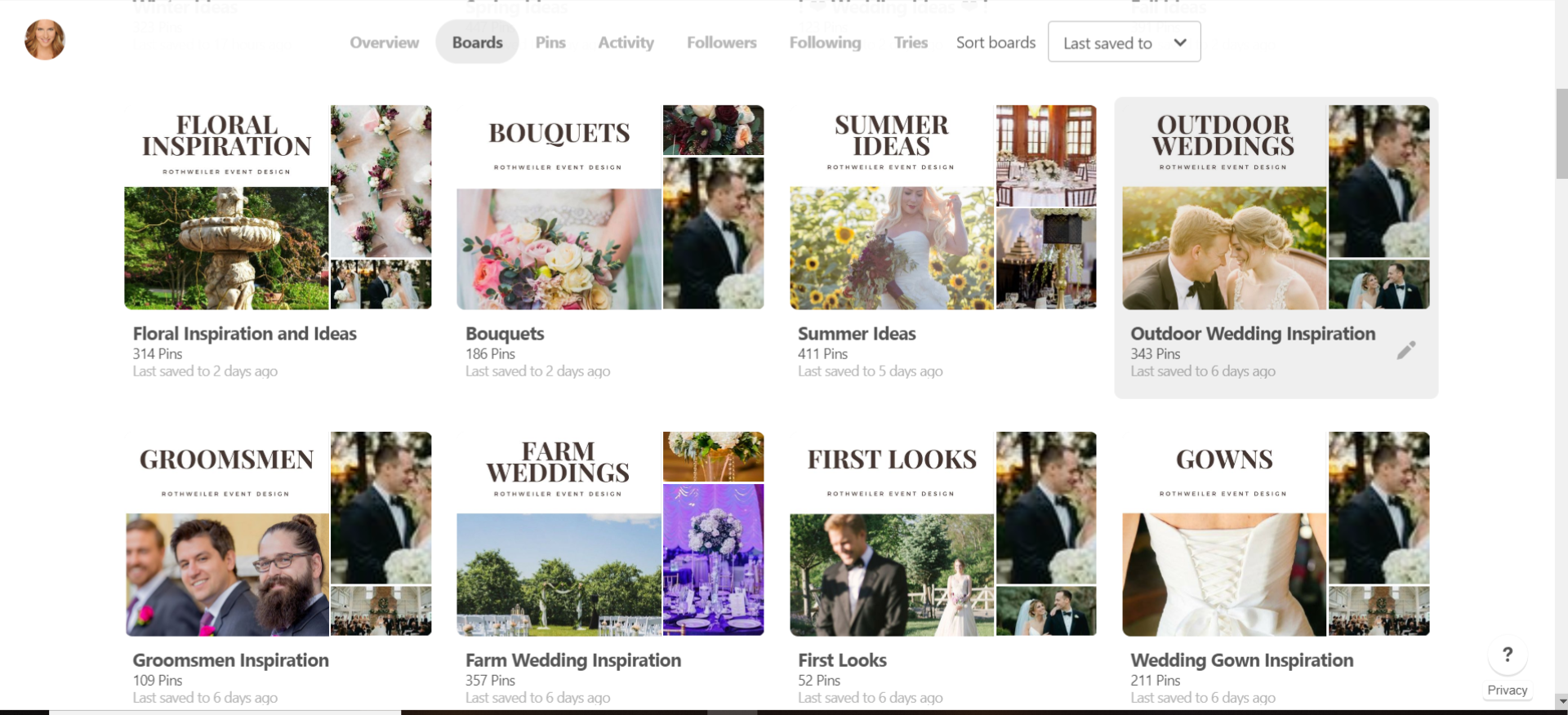 This is a screenshot from part of my Pinterest page. I have a whole bunch of boards and I present them in a clear and organized fashion, making it easier for brides to find exactly what they want. Since Pinterest has recently introduced the ability to follow individual boards instead of following the account (and thus all of their boards), it's important to cater to that bride.
You can make up as many boards as you want, but take it up a notch by adding a cover board. Each of my boards has a main picture on the left that gives the title of that board. I use the same font and layout to make the overall look seamless. This is so easy to do, so you have no excuse! I am a big fan of Canva and use it for everything including Pinterest board covers and even blog covers like the one you saw at the beginning of this post (and every other post). Canva takes a little while to get used to, but once you do, you'll wish you had found it sooner.
Oh, and did I mention it's free? Bonus!
Of course, even if you have a Pinterest page that's organized AF, the photos have to be pretty too. Which brings us to…
You're Pinning Crap Photos
It doesn't matter how good your boards look if the pictures don't appeal to your ideal bride or groom. It should go without saying, but only post your best work. Pinterest is not the place for candids or unprofessional photos. Save that garbage for your IG stories or Snapchat.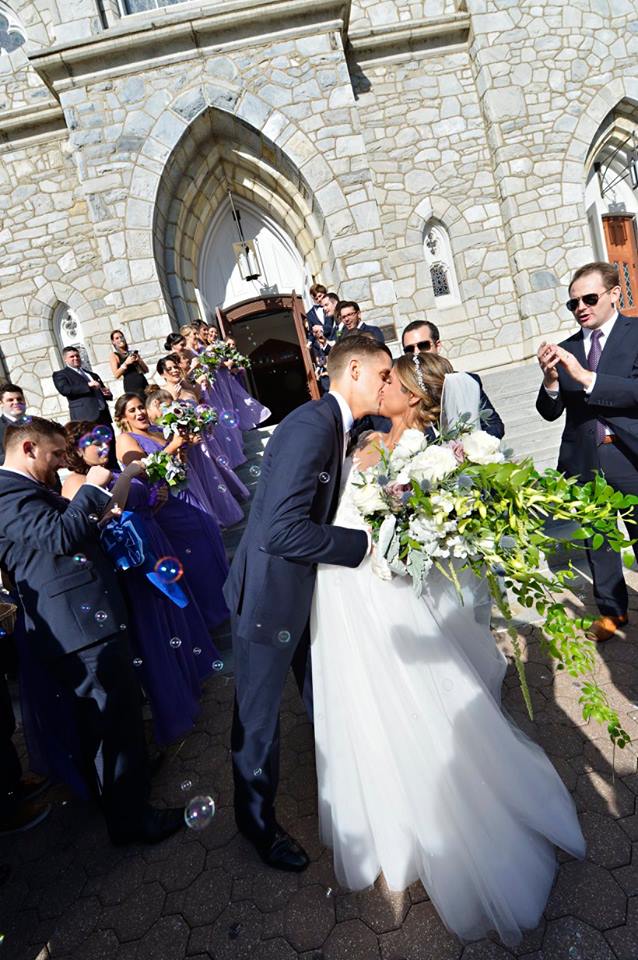 But having great photos (not good…great) is only part of the winning combination. What's the other part you ask? A big mistake that people make on Pinterest is posting those damn horizontal photos. You ever scroll through your home page on Pinterest and see a large amount of vertical photos? Ever wonder why that is?
They take up way more space and thus, garner way more attention. The vertical photo versus horizontal photo debate on Pinterest is a heated one, but it really shouldn't be. You are more likely to pay attention to the image that takes up the most real estate, and that's the vertical ones. Can you post the occasional horizontal photo? Sure, of course. Believe me, I have a lot of horizontal photos that I love and post…but if you can choose, go team vertical.

Your Images Lack Direction
Pinterest is basically a search engine. Actually, it's not basically a search engine so much so as it is a search engine. Just like Google, Pinterest is used to find things. Things include recipes, meditations videos, memes and of course, wedding inspiration. But it's more than just an image search. A picture might say 1,000 words, but brides want more.
How can you give them more? Send them somewhere!
Here's an example: Bride goes to Pinterest to look for white wedding inspiration. She types in "white wedding flowers" and one of your beautiful (and vertical) images catches her eye. She goes to the picture and pins it with the 5,000 other pictures she has, only to never see it again. Your pin that you worked so hard to perfect, dies a lonely death on a bride's board. A bride that you could've booked.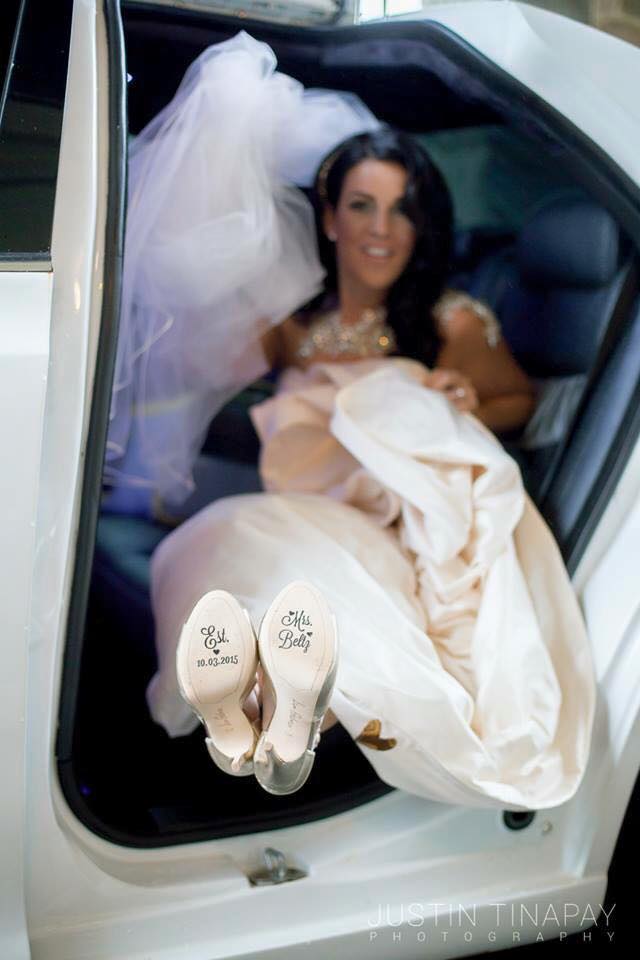 When you set up pins, be sure you are linking them to your webpage. More specifically, send them to your contact page so when they click on your photo, that's where they will end up. If the photo is associated with a blog you wrote, then link it there. Just get the bride to you instead of leaving her at a dead end with no link. Then go one more step and include your call to action in the description of the pin. Let brides know that they should click on the photo, why, and where it will take them.
If you leave a trail of breadcrumbs, you'll have brides banging on your website door in no time.
You've Got No Timing Game
It absolutely, 100% matters when you post to Pinterest. Just as it matters when you post to Instagram and those other social media networks, which I will touch on in future blog posts. The question is, how do you find the best times to post?
And the answer, is Tailwind.
If you're not already familiar with Tailwind, let me introduce you to your new best friend. Tailwind has a ton of amazing features, and you'll hear me talk about all of them across various blog posts. I go into major details in my social media marketing e-book and class, so contact me if you're really ready to take your social media game to the next level.
In terms of using Tailwind for Pinterest, you can use their "Smart Schedule" feature to find out the best times for you to post on Pinterest. It's personalized and based on your analytics. Forget all of those stupid info-graphics about the best times to post. What do they have to do with you? They are generic, at best, so don't waste your time with them.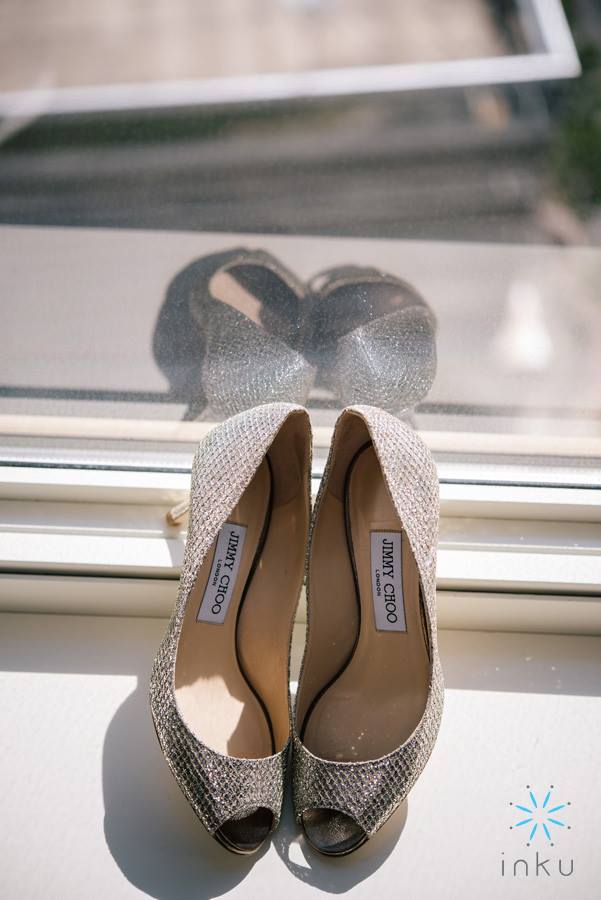 With Tailwind, not only can you find out the exact times to post every single day of the week, but you can use their "Tribes" to get even more exposure! While Tailwind does have a cost associated with it (invest in this, it's worth it and then some) the Tribe feature is free. With Tribes, you can post your pins to a form of group boards, getting your pins seen by others that might never have seen it at all. Then these people share your pins and up goes that engagement rate!
If you take nothing else from this blog, take my advice and get yourself a Tailwind account. It's a lot of stuff and it can be overwhelming, but their blogs are super informative and you'll be kicking yourself that you didn't join sooner! Click here to get started right now!
No One Cares About What You're Pinning
I am always amazed at the lack of thought that goes into pinning by so many of you guys. We all know the wedding industry is super saturated, so why do you just pin whatever? I know, I know, how are you supposed to know what brides want?
Use the explore feature on Pinterest!
The explore feature will show you what is trending right now and you can pin images related to whatever is trending. For instance, right now "barn weddings" is trending, so I just scheduled a bunch of my farm wedding pictures to post today. Yes, I already had things scheduled, but this is one thing that a scheduler cannot do. As nice as it would be to just use Tailwind and let my Pinterest run on autopilot, that just isn't enough.
Once a day, check out that explore feature and check out what is trending so you can join the party. If there's nothing trending that's wedding specific under the general explore feature, go to the "weddings" tab to find the trending topics there.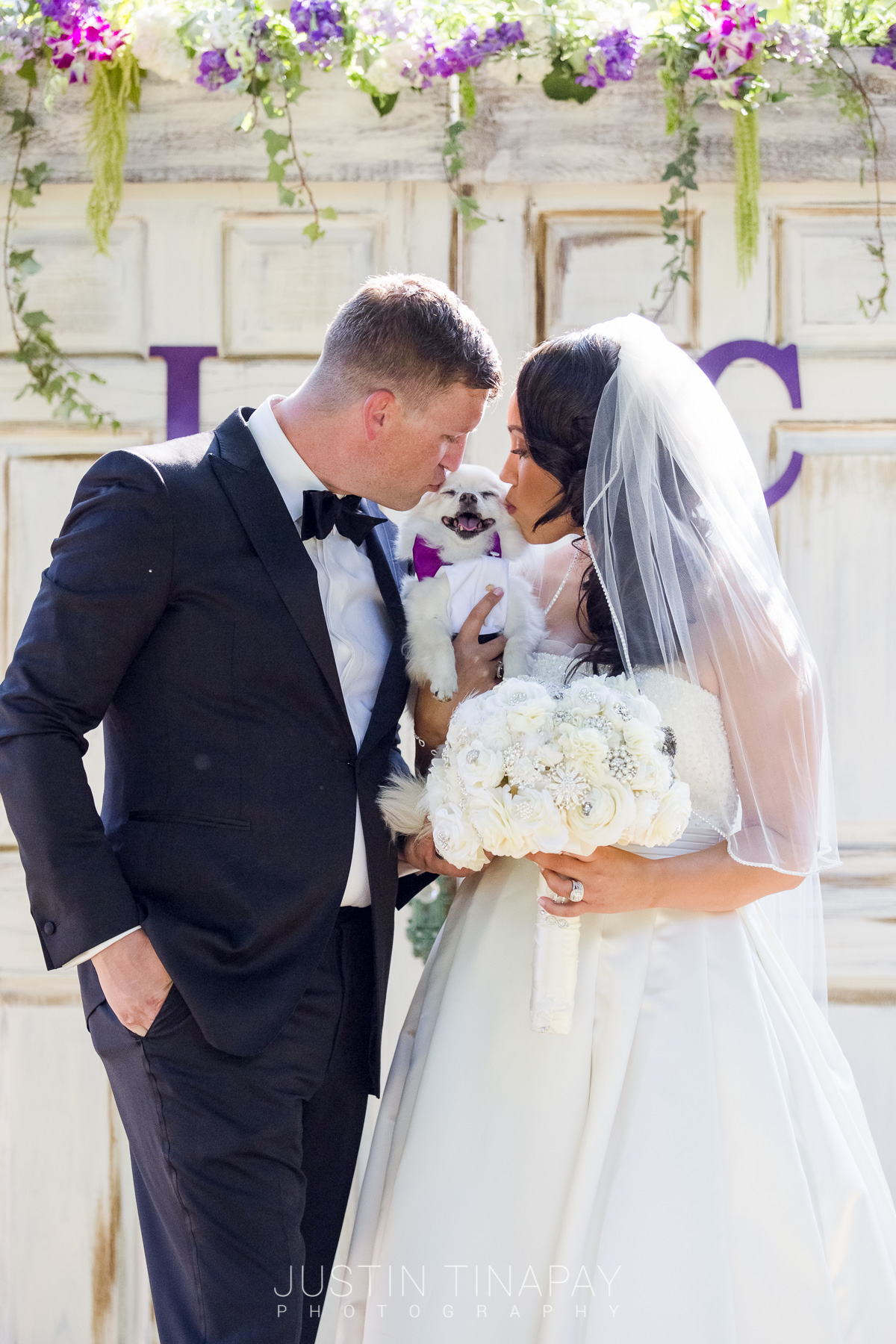 I promise you will be surprised at what is trending. Half the time I never would have guessed the trending topics and half of that time I can't figure out why certain things are trending. But none of that matters because you want to be trending too, right?
You Don't Know About "The First Five"
So you've got yourself set up on Tailwind, and you're setting up image to pin to multiple boards at different dates and times and you're all set. Right? They are going to post for you at your best times and your engagement will go up. Right?
Yes. But want it to go up more? Of course you do…that's why you're still reading!
Very quietly (like everything else all social media platforms do), Pinterest started putting an emphasis on the first five pins of the day. Your first five pins, whether they start going up at 12:01am or 3:30pm, are more important than the rest. How? What? Why?

The simple breakdown is this: when you go onto Pinterest for the first time on any day and go to your your followers tab, you are going to see the first five newest pins of the day (from people you follow). But that's all that you will see: those first five pins from each person you follow respectively. This way, you are drowning in content from the same person.
Again, this doesn't mean to post your 5 best pins right after midnight! Post your five best pins whenever Tailwind says you should start pinning that day. Then, when your followers see it, there is a better chance that they will interact with it. If they interact with it, then your engagement goes up and your images start showing up on homepages of the brides you are trying to book.
Bonus Tip: Pin your first 5 images directly from your website!
Your Reach is Limited
A common mistake wedding professionals make when using Pinterest is one they don't even realize. Sucks, right?
In order to get traffic on Pinterest, you need high engagement. In order to get high engagement, you need high traffic. When will the madness stop? Never, so let's fix this Pinterest mistake you're making and the opportunity you're missing out on.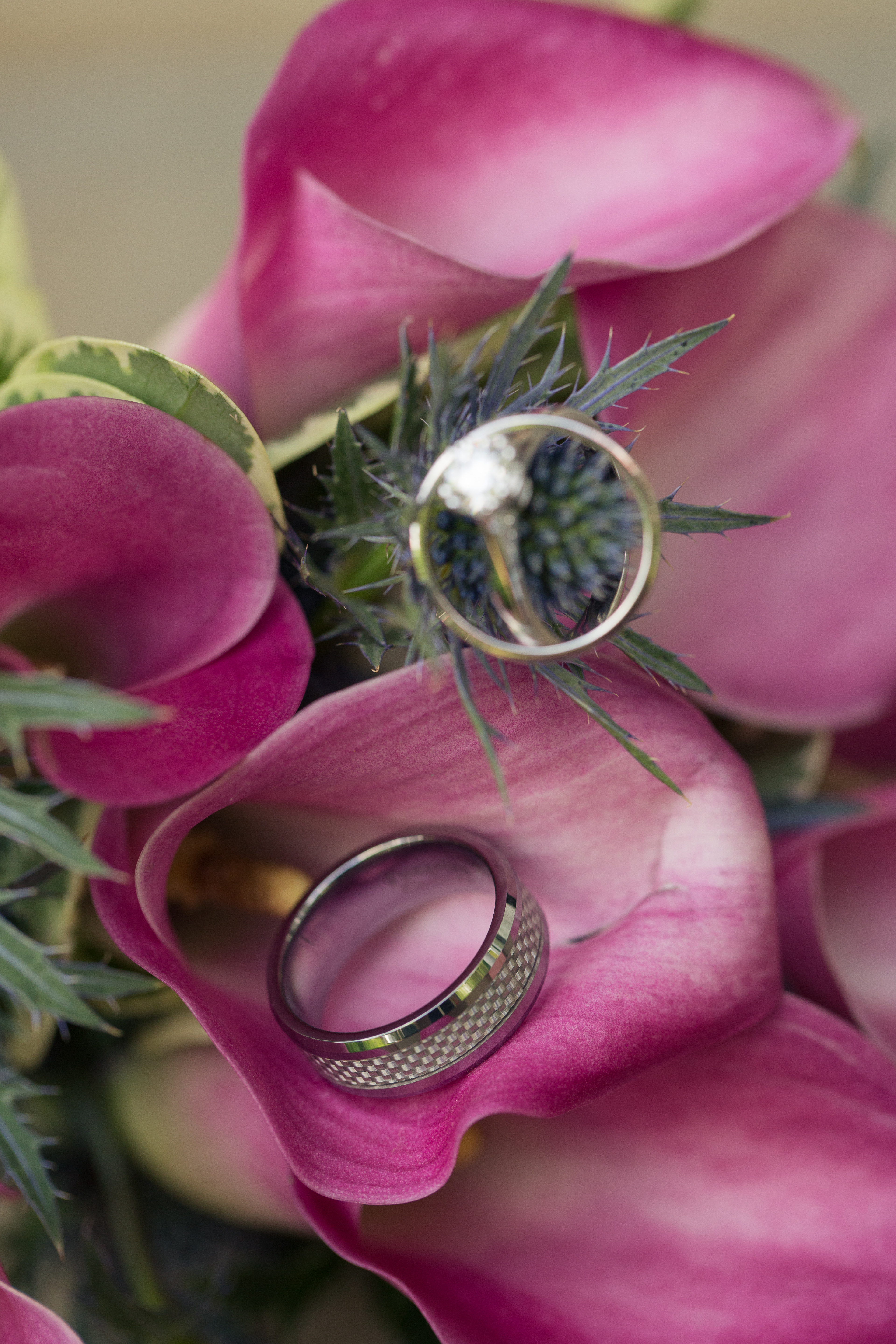 There is a really easy way to get your pins seen by a captive and engaged (they getting married type) audience. Group Boards are an opportunity to put your work in front of brides and grooms that might never have found your page on their own. Despite what wedding websites will have you believe, less and less wedding planning couples are relying on inspiration from stale styled shoots on their pages. And I know you're wondering where all of the brides and grooms have gone, because why else would you be here???
Yes, they have gone over to Pinterest, but specifically, they are utilizing Group Boards. Group Boards are a collection of boards and pins, contributed by people like you and me. There are countless boards with tens of thousands of followers that are already there, and that you can put your work in front of for free.
Brides follow these boards and while they might not have found your pins or your page, there is a good chance they will find your images on these boards. And as long as your images are strong, that will get them to your Pinterest page. And then your call to action on your pins will get them to where?
Your booking page on your website because you read this entire blog so far.
It's super easy to find these Group Boards by using Pingroupie. Simply go to this link and start searching for wedding related Group Boards. You can filter them by a bunch of factors and choose which ones you want to join. Joining these boards can be as simple as emailing the board owner and following their posted instructions, but some boards are hard to get involved with because they literally don't tell you how to join.
Find a board you want to join and there are no ways in? Start following the board and interact with the pins to get them to take notice. You might get an invitation so be sure to check your inbox on Pinterest every day!
You Have No Identity
So many people make the classic Pinterest mistake and ignore the importance of a bio. Or, they try to get cute in their bio, which doesn't book brides either. But with so few characters allowed, how do you know what to include and what to ditch?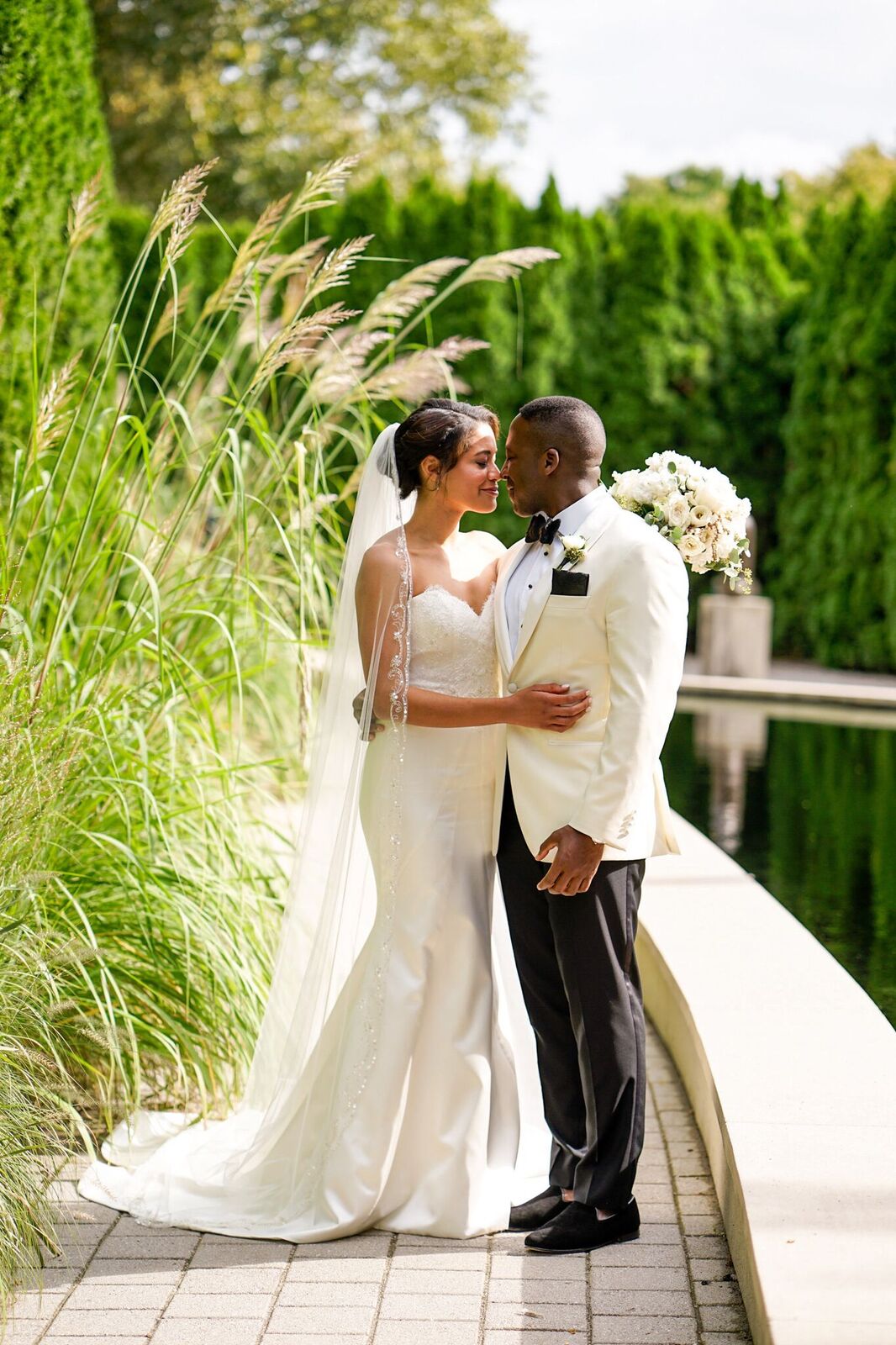 First and foremost, make sure you have a professional headshot in your avatar. This isn't the space for some centerpiece or anything other than a professional picture of you. Brides want to know who you are and if they can't see you, they'll swipe left…or something like that. Point is, they won't follow you and they certainly won't book you. It's all about being authentic, which I talked about in a recent blog right here. So, show them you.
Your business name should be listed, but you should also include what you do. What you do needs to align with what brides will use as a search term to find you. My profile lists Rothweiler Event Design, Wedding Planner and Ideas. I have my business name and any bride looking for wedding ideas will turn up my profile because I have that listed too.

Location can be specific or slightly broad, depending on your market. I am a wedding planner in the NYC Metro Area, so I have four specific states listed. I also have my website linked to make it easy for brides to get to all of my information. The last part is the small amount of real estate we are given for our bios. Don't waste time being cutesy here. Be direct and tell brides and grooms exactly what you do and give them a call to action such as emailing you if they are looking for a wedding photographer/planner/florist/venue/whatever.
To Get Engaged Couples You Need to Engage
Pinterest and social media in general can feel cold and impersonal, but, in reality, it is the total opposite. The wedding professionals doing the best on social media are the ones interacting with others. They're playing nice in the sandbox because they know that building relationships is so important in the engagement game.
Both in the couples getting married looking for wedding vendors game and the vendors talking to vendors game.
Authentic engagement is necessary across all social media channels, but right now let's just focus on Pinterest. If you want to get help with the other channels (and Pinterest) we offer personal consulting so get my attention by going here.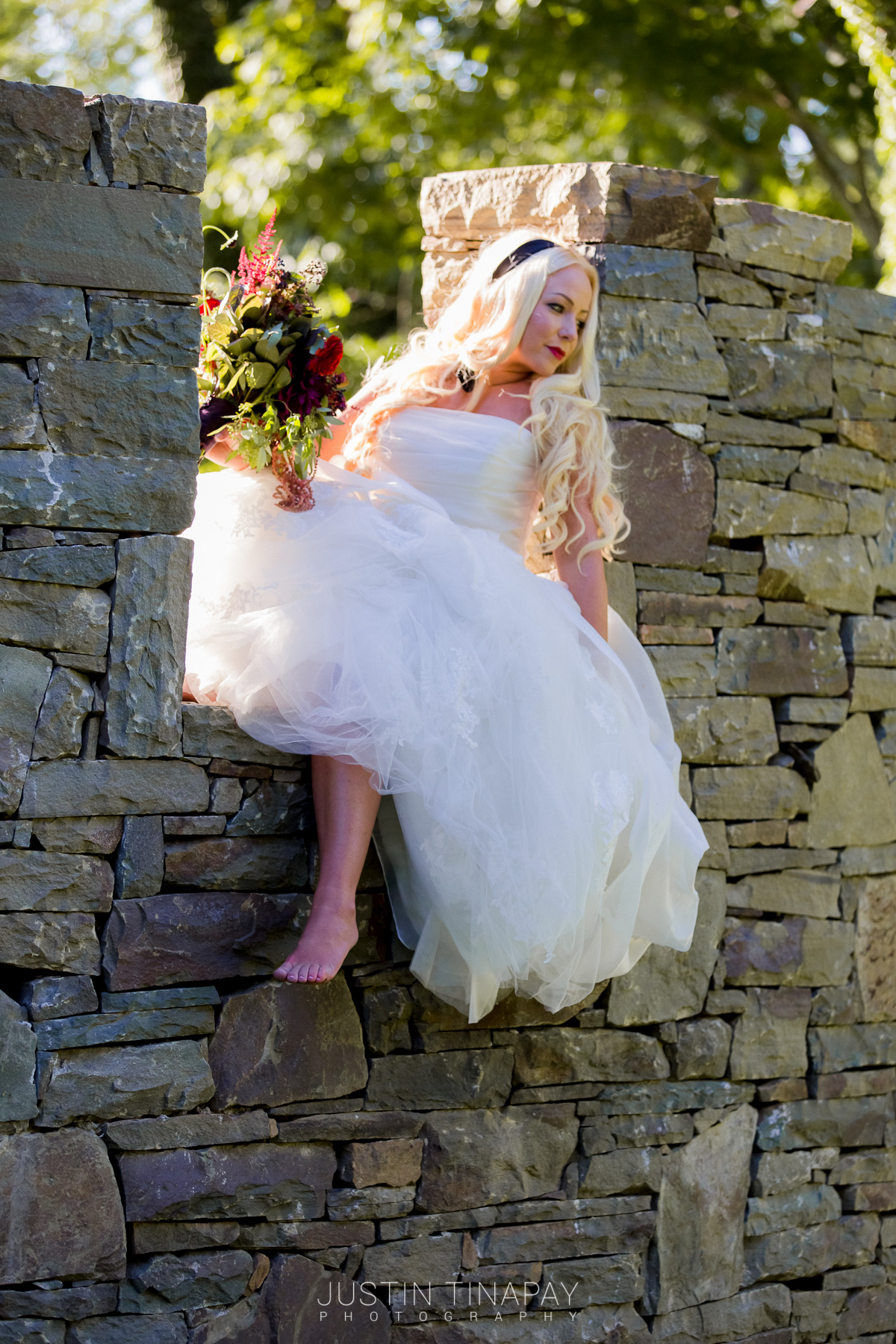 The amount of followers you have on Pinterest doesn't matter, but your engagement numbers do. Participating in Tailwind Tribes is a great way to connect, as is getting involved with Group Boards. But you can help your engagement score by interacting with others on your own.
Start by following other members of the wedding industry on Pinterest. Take it one step further by re-pinning some of their pins. Just make sure you don't change where their image directs to (their website) because that is a no-no. Go another step further and comment on their photos with a genuine compliment. None of this stale "gorgeous picture" bullshit that you put on every picture you see on Instagram just so other accounts will see your account.
Yeah, I'm onto you.
When you leave a comment, be specific with what you like and go ahead and re-pin the image. Don't ever drop your website or information in the comments section because that's tacky and you're not tacky. Carve out time every day (yes, every day), roughly 20 minutes to interact with others across all of your social media channels. This includes responding to anyone and everyone that comments on your pictures. Even the idiots that write the same shit on every picture just to increase their visibility.
And they are idiots because they don't realize that it doesn't increase their visibility at all.
Why Isn't Your Blog on Pinterest?
The last and a huge mistake I see wedding professionals making on Pinterest is not using the platform to promote their blogs. I'll be talking tips and tricks for blogging in future posts, and I even offer ghost blog and sponsored blog services which you can talk to me about by going here.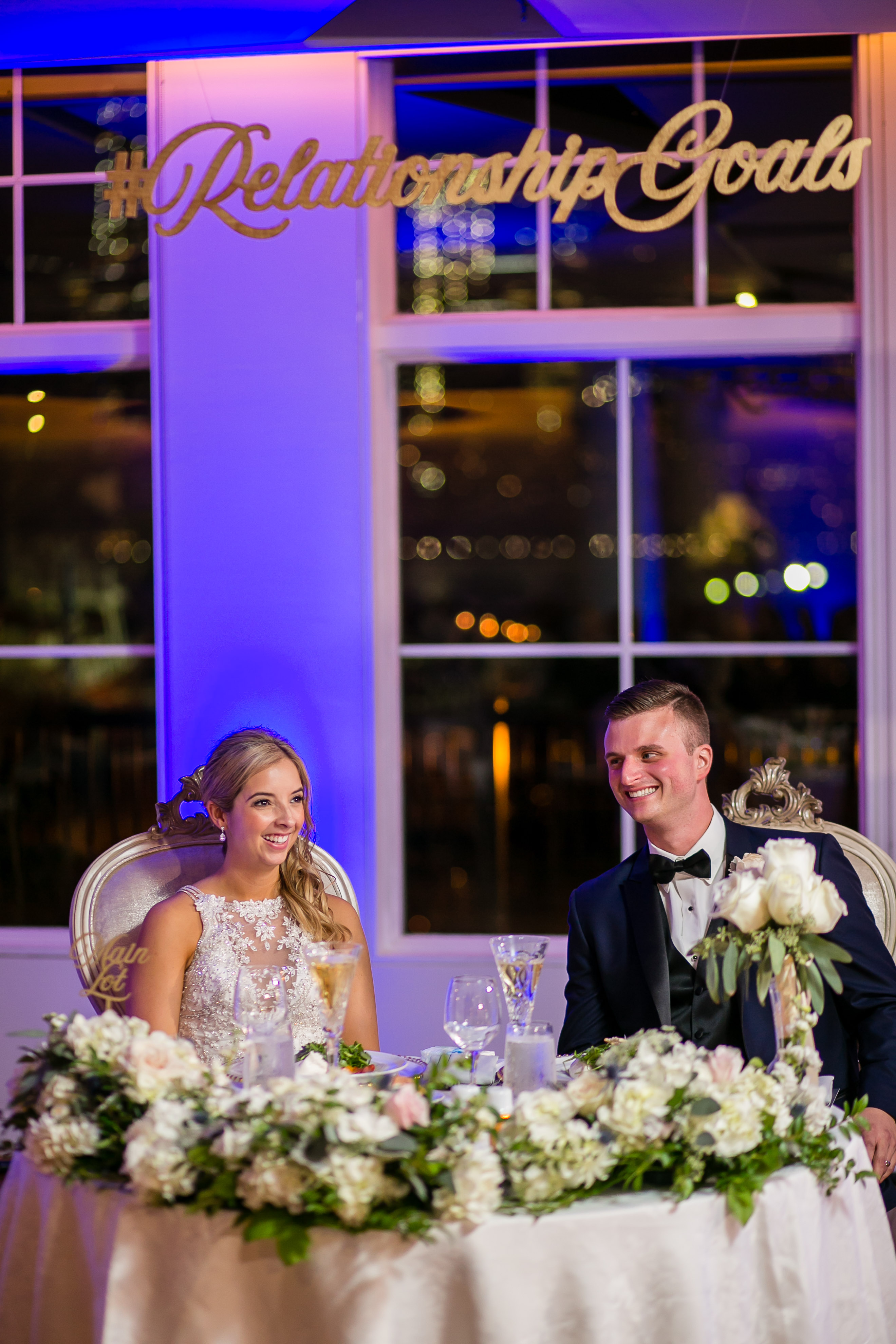 If you're not blogging, you've got something to work on immediately. If you are blogging, even if you're making mistakes you don't know about, don't let one of those mistakes be with Pinterest. You can drive a ton of traffic to your blog by using Pinterest correctly.
Using Canva, which I mentioned earlier in this blog, you can create gorgeous board images to showcase your blogs. At the top and bottom of this blog is the image I am using, and the one you will see on my Pinterest board as well. When I pin that image I clearly state what the blog is about using the correct keywords and hashtags (Pinterest has those now but keep it to 2-3 max) and I have a call to action to get brides to click on the picture and go read the blog.
You can also join specific Tailwind Tribes for bloggers, which is a great way to be seen as I mentioned early and about a dozen other times.
When creating the image for your blog post, it's a great idea to use the same font and style. This way, when your blog post shows up on someone's homepage, they will know it's you. Be sure to add your actual website on the image as well because it's real easy for your image to float around Pinterest and lose the website you once had associated with the pin image.
Bonus Tip: Pins related to trending topics see an average of 94% increase in click-throughs. Use that explore feature to find trending topics, blog about that and then share it on Pinterest and watch your engagement numbers skyrocket!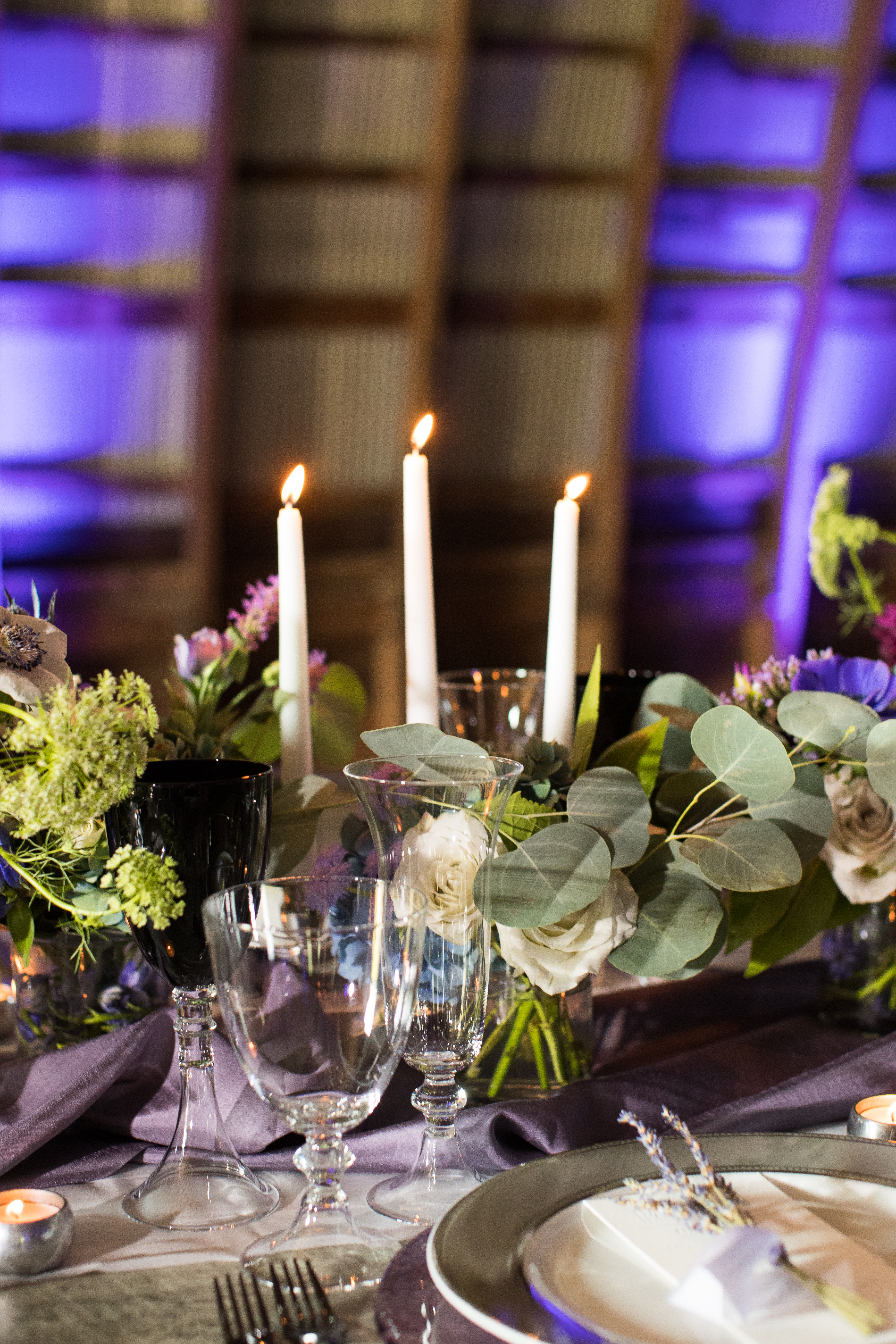 What do you think about these 10 mistakes you're making on Pinterest? Are you making any of these mistakes? How are you going to fix them? Share in the comments below and let's get that authentic conversation started!
For more information on how we can work with you to take your social media and blog to the next level, contact us right here.