What is the best online wedding dress store? Is there such a thing? Is buying a wedding dress online ever safe?
When the pandemic hit, brides went crazy trying to track down the dresses they ordered. Many times, the dress arrived super late…other times, the dress didn't arrive at all.
As the pandemic continued throughout 2020, bridal salons closed down and made it next to impossible for brides to shop at all. They were stuck with a wedding date and time started to run out to find their wedding dress.
For the brides who got their dress to eventually wear at a later postponed wedding date, some of them chose to have a smaller celebration while they waited. That meant getting another dress on super short notice that was appropriate for their micro wedding or elopement.
In all of these situations and countless others, it became obvious that shopping the online wedding dress stores made sense. But, how do you know whether or not your dress will show up exactly as you ordered it, or if it will actually reach you in time?
Well…welcome to 2021 brides! We have found 10 amazing online wedding dress stores that will blow your mind. Between the gorgeous selections, affordable prices, and yes, solid reviews, you might find yourself wondering why you ever wanted to do this in person in the first place!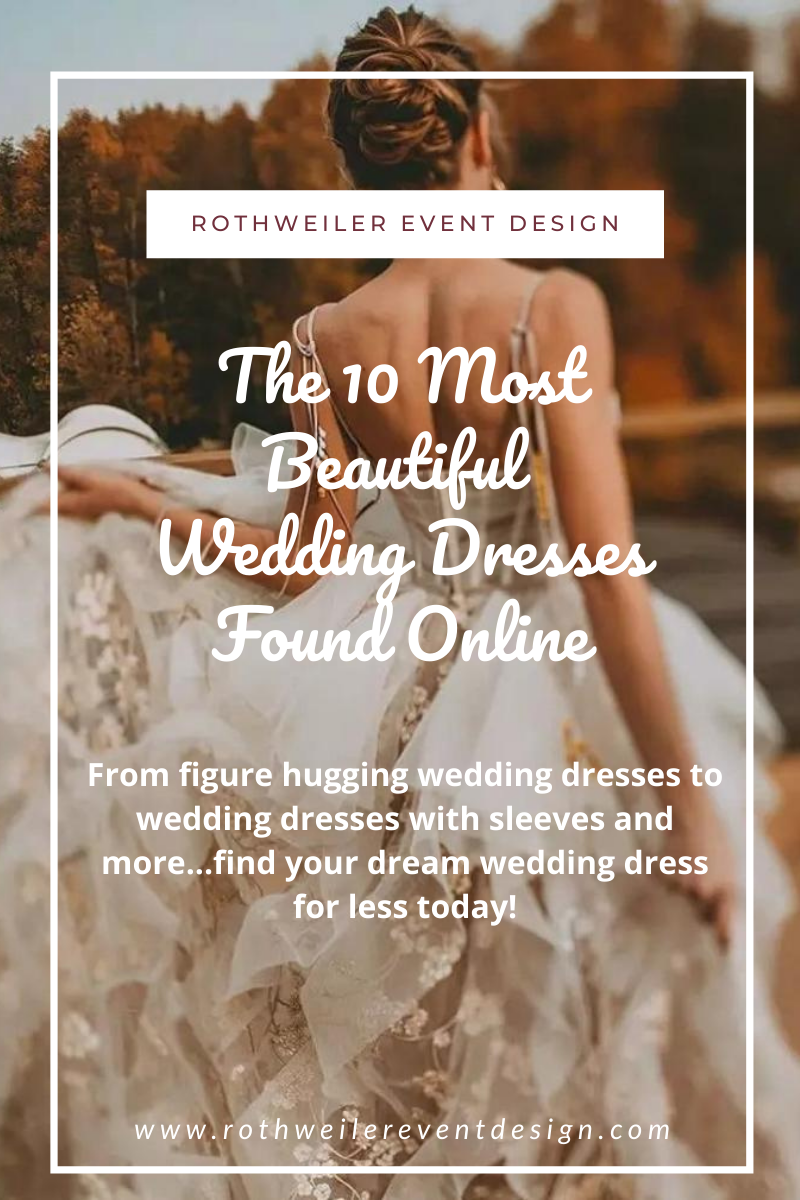 *Please note that most of the links of this page are affiliate links. This means if you click on a link and purchase, you will receive the same price, but I will receive a referral fee. This helps keep my blog free and allows me to share wedding planning tips with you. Thanks for your support!*
Online Wedding Dress Store: Dream and Dress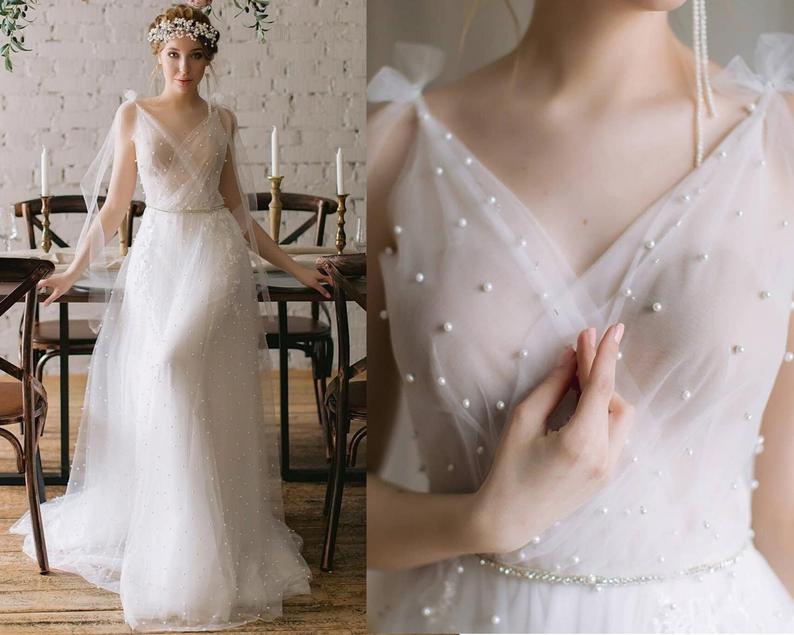 If you're looking for a dream wedding dress, then start at Dream and Dress right here. Their gorgeous selections include this ethereal wedding gown with layers of tulle and dripping in pearls.
Dream and Dress specializes in boho wedding dresses, and also can handle your custom requests. The owner, Angela, has nothing but 5 star amazing reviews and glowing comments from brides who ordered from her. Check out her shop over here and let her know we sent you!
Online Wedding Dress Store: Alex Veil Bridal
Looking for something simple and elegant to wear on your wedding day? Alex Veil's "Fernanda" wedding gown is the perfect choice for any bride looking for a more subdued elopement or micro wedding option. This figure hugging wedding dress is just one of their beautiful designs…be sure to visit this shop right here!
Online Wedding Dress Store: Kala Kala Bridal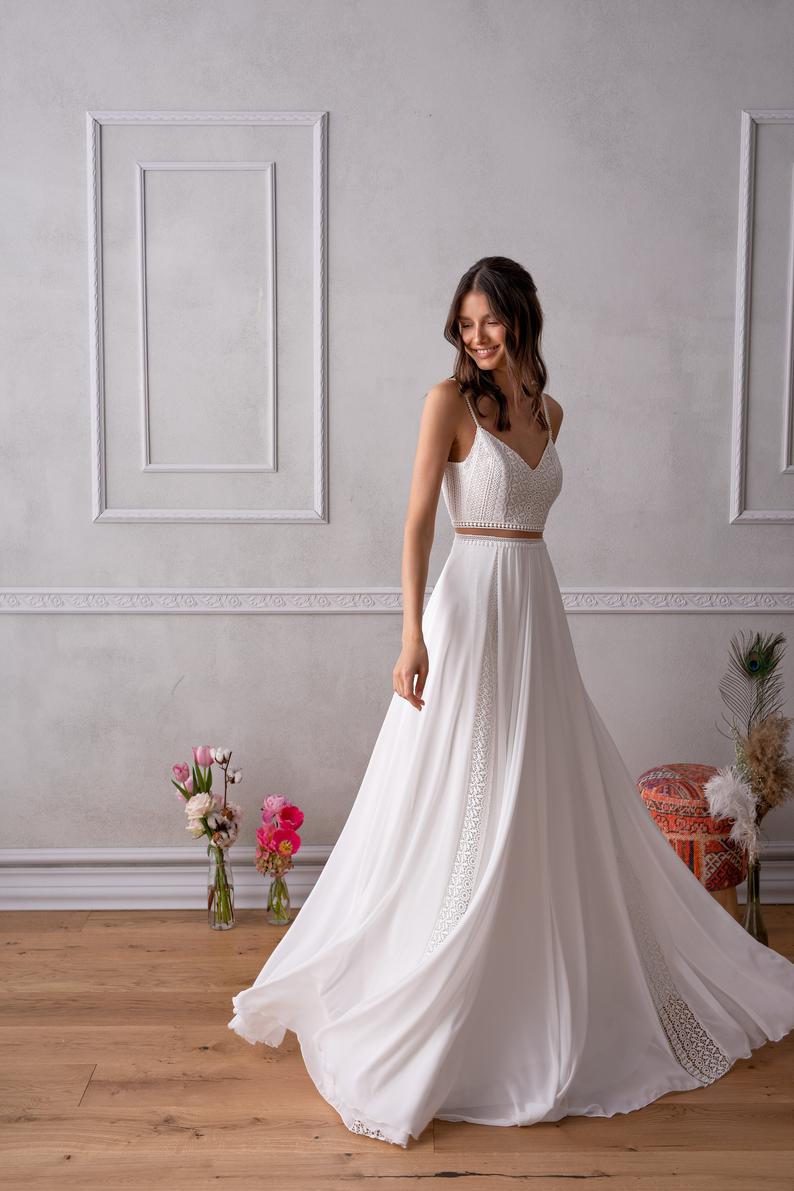 This modern, chic, two piece wedding dress is perfect for beach and garden weddings. It's comfortable, yet elegant, and the sheer middle section will give the illusion of a two piece with the flow of a one piece. Check out their entire shop right here on Etsy!
Online Wedding Dress Store: Anna Skoblikova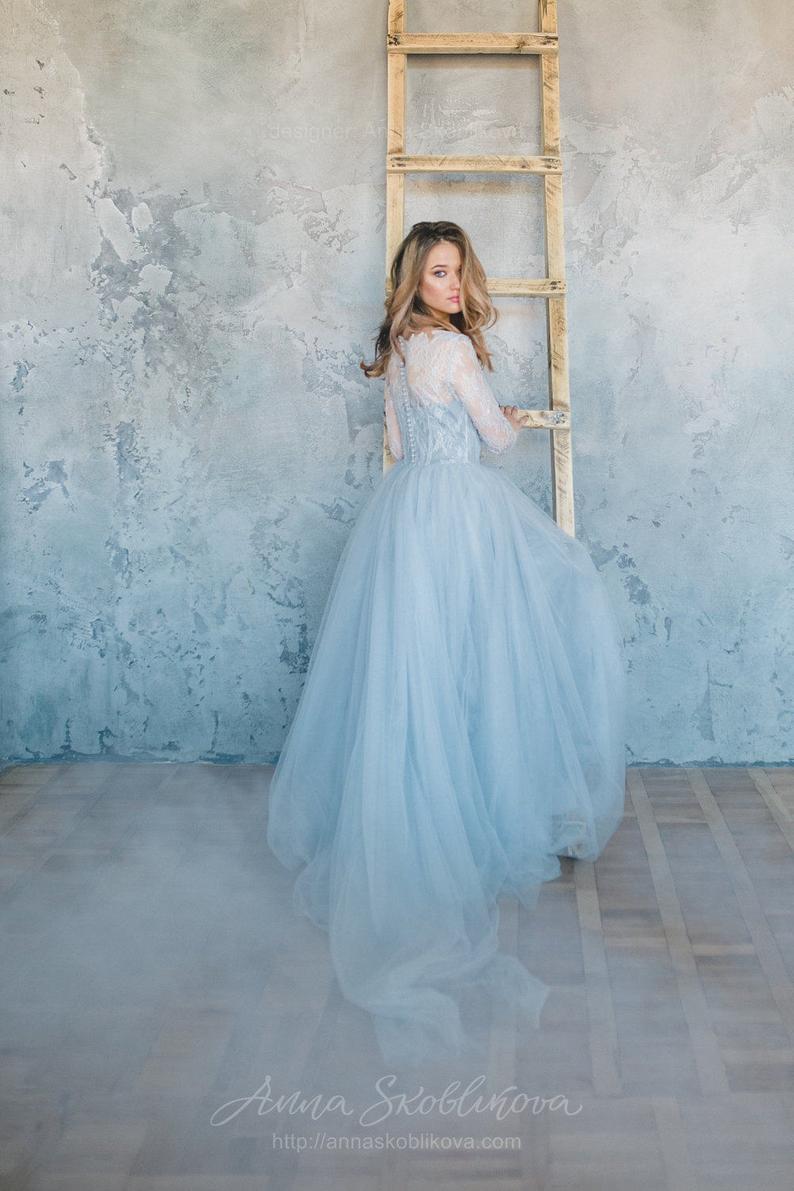 We have always been a big fan of injecting a little color into wedding gowns…and Anna Skoblinova does it better than anyone else PERIOD! Dusty blues are going to be hot for 2021 Spring Weddings, but you can rock this dress no matter what season you walk down the aisle. Visit Anna's storefront to see all her gorgeous options.
Online Wedding Dress Store: Calliste Bride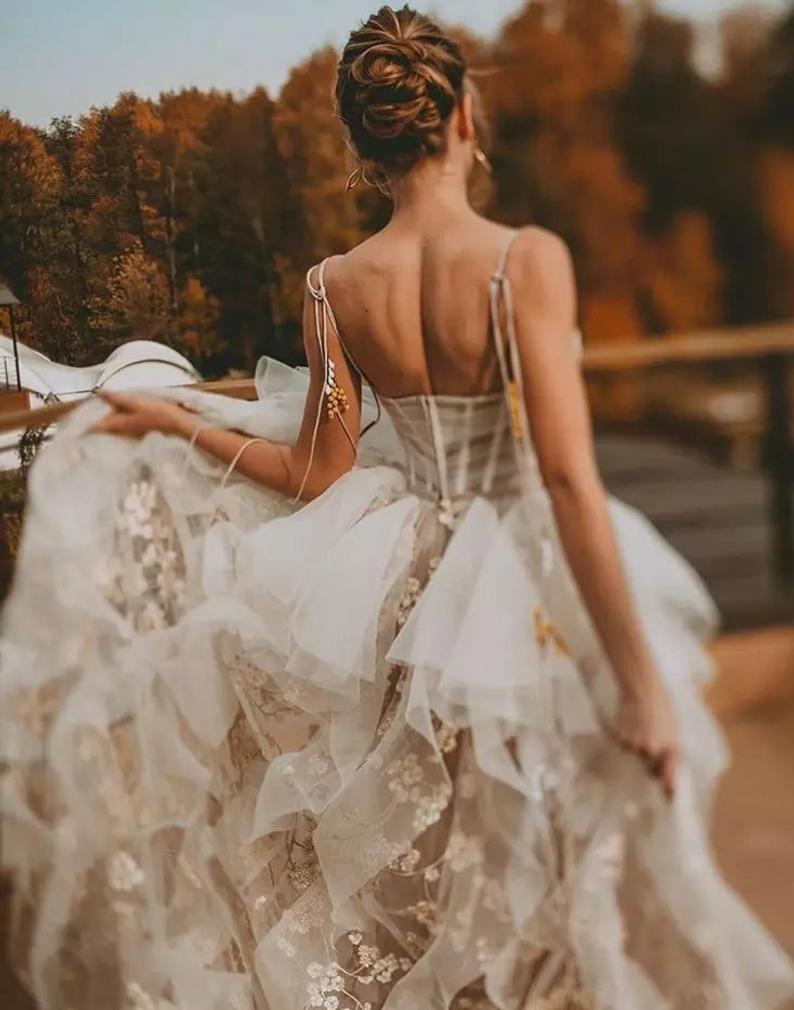 This ivory and champagne masterpiece includes embroidered flowers, sexy ruffles and a sweetheart corset neckline. The handmade details are sheer perfection and all of their dresses are fully customized.
Visit Calliste Bride to see this gown and all the others so you can find your dream dress!
Online Wedding Dress Store: Kuraje Wedding Dresses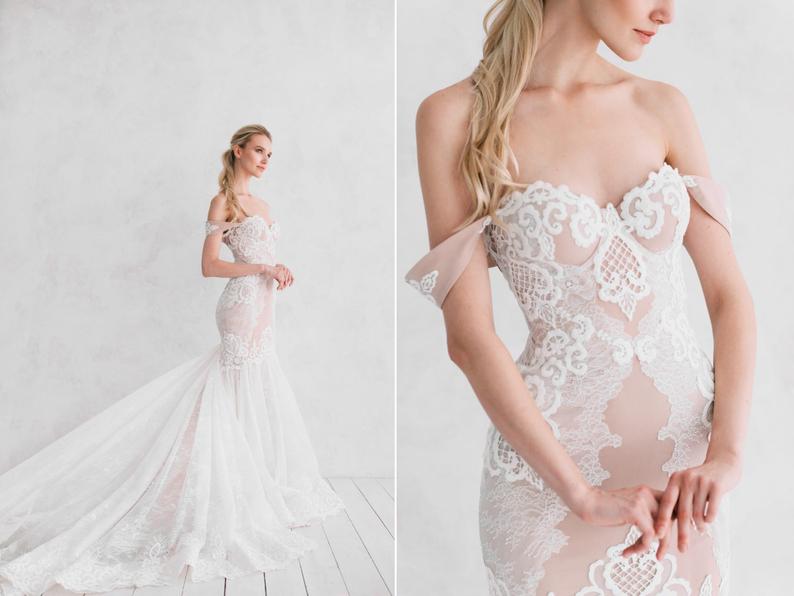 An absolutely exquisite mermaid wedding dress like the one above could easily be thousands of dollars if you shopped at home. Luckily, you found our blog and can snag this gem for under $1,000 right now!!
Just a quick skim through the reviews, and you'll be convinced to shop from Kuraje Wedding Dresses for your own beautiful wedding gown.
Online Wedding Dress Store: Wedding Beautiful Day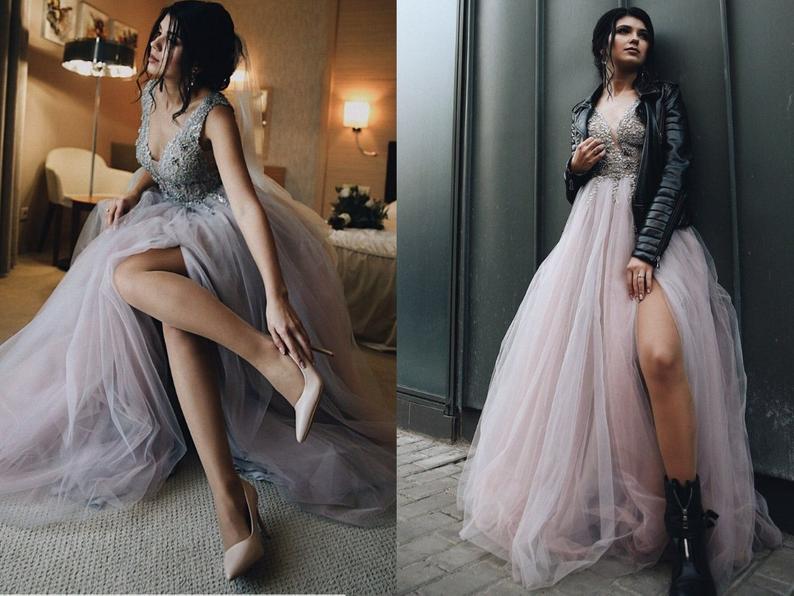 A backless, lavender, high-slit tulle skirt all in one wedding dress? You got it right here with this piece from Wedding Beautiful Day. This dress made it onto our Top 10 list for so many reasons…
Besides the obvious gorgeous look and stunning details, here is a wedding gown that just works no matter what your style is. Added bonus? Those trendy personalized leather jackets for brides make a phenomenal accessory.
Online Wedding Dress Store: Nielatelier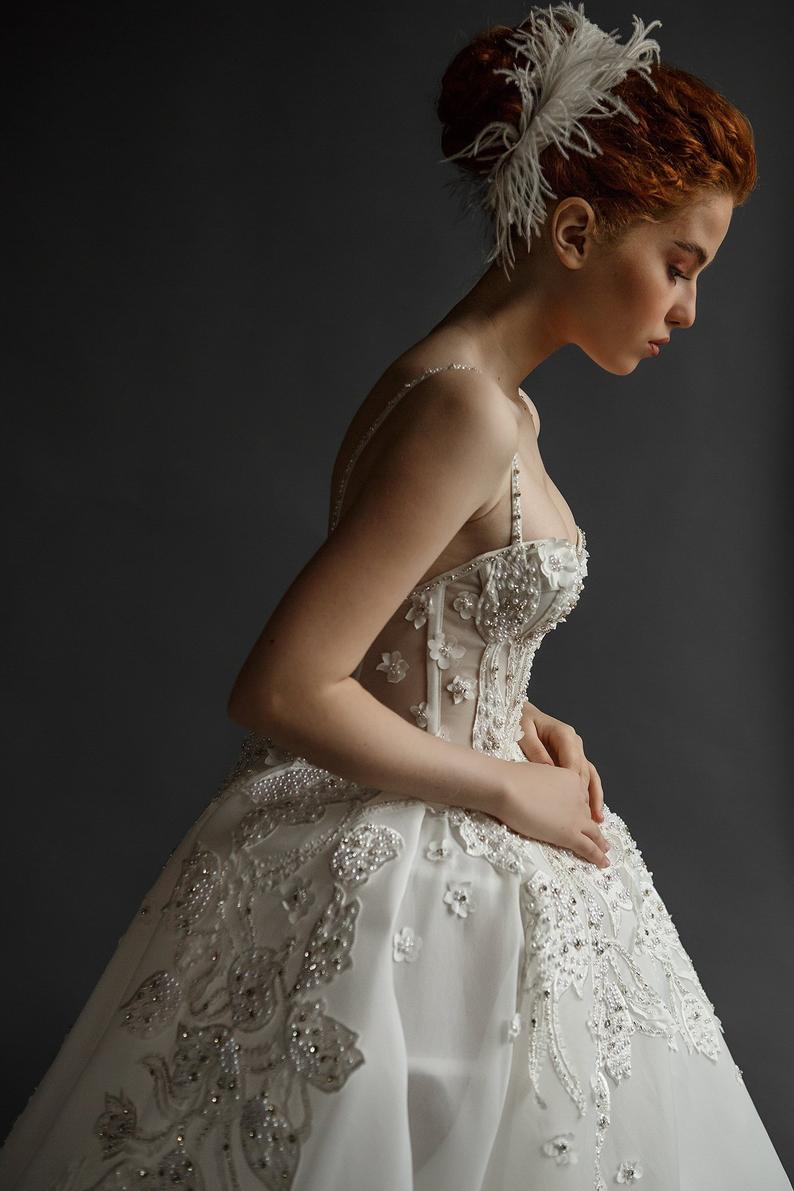 Couture wedding dresses without the couture wedding dress prices? Yes, they do exist!
This ivory ball gown with sweetheart lace embroidered top and long train skirt is a total masterpiece…and it's a steal with a price tag under $2,000! For the brides looking for elegance and sophistication, you don't need to go any further than this shop.
Online Wedding Dress Store: Guci Designs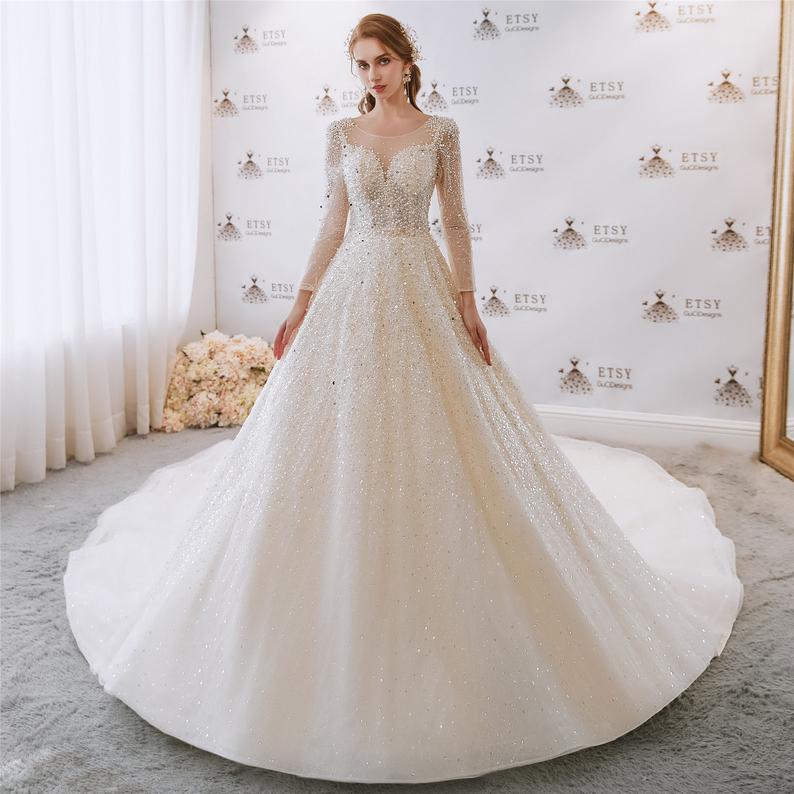 This is what wedding dress dreams are made of, am I right? If a gorgeous a-line wedding dress with beautiful hand beading is what you're after, then you have found the one!
Guci Designs is one of the best online wedding dress stores because the selection is massive and there is absolutely something for everyone.
Online Wedding Dress Store: Victoria Spirina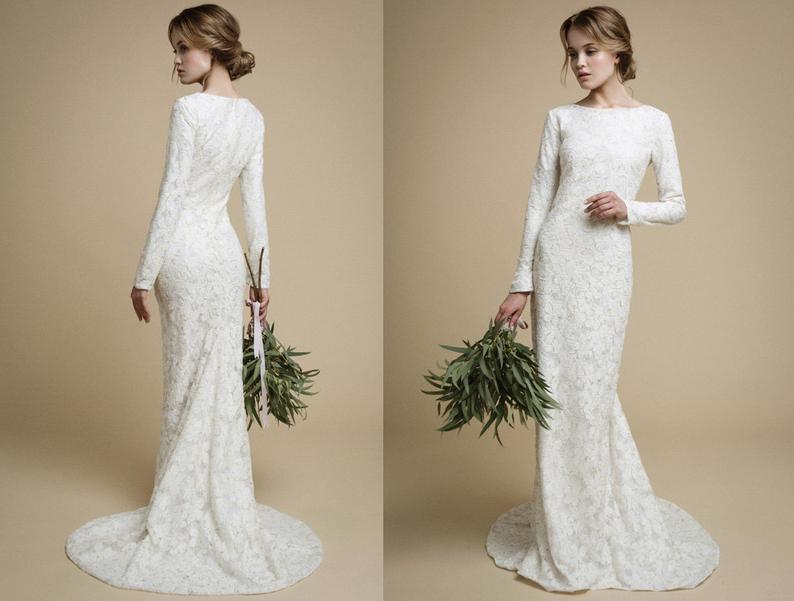 For the ultimate figure hugging wedding dress, this all lace, long-sleeve gown is the obvious choice! The designer will work with you to create custom designs including changing the neckline on this dress to your specifications.
You can see over 150 of their dresses right here on their shop site!
Online Wedding Dress Store: Boudoir Wedding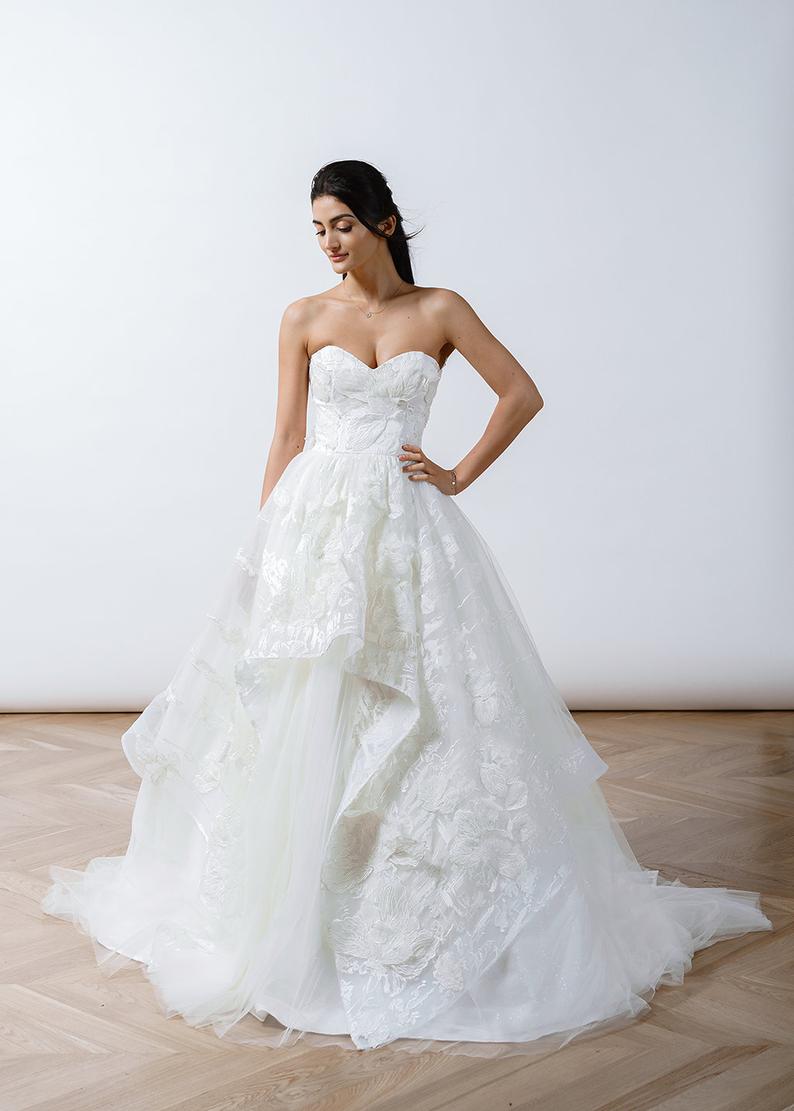 With a classic sweetheart neckline, and a romantic tulle and floral skirt, this is the wedding gown for the bride who wants to feel like a princess on the big day.
Boudoir Wedding creates hand made wedding gowns, so check them out so they can get started on yours today!
Online Wedding Dress Store: Love Story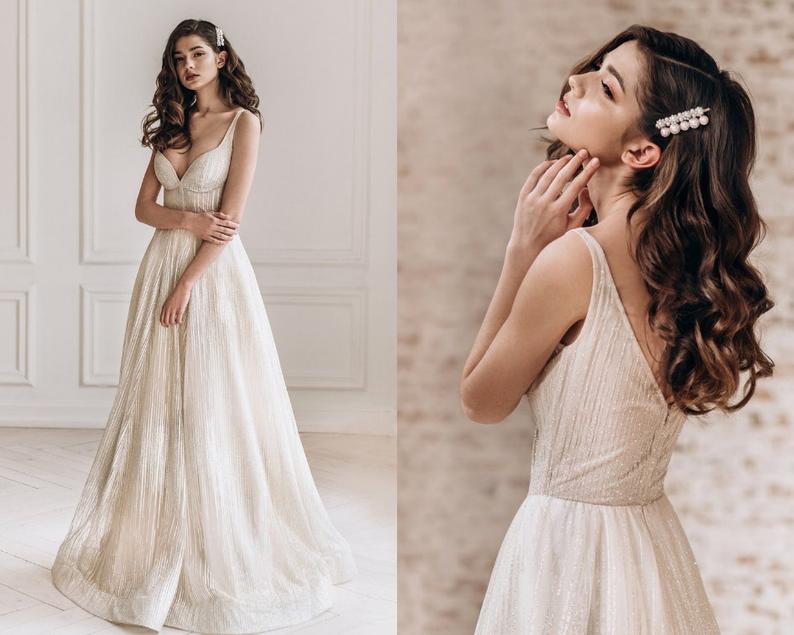 We have saved the best for last! Love Story has so many beautiful wedding dresses, it was hard to select just one to feature in the blog. This backless wedding dress is covered in subtle glitter and is amazingly delicate and romantic.
But don't take our word that this shop had that much to offer that finding just one for this blog was a challenge…see for yourself right here.
10…or 12 Top Online Wedding Dress Stores
Maybe you caught on by now, though you might not believe it, but we actually featured 12 online wedding dress stores instead of 10 in this blog. Why? Because it was impossible to only do 10!
What does that mean? Basically, shopping online for your wedding dress has become safer and easier than it has ever been before. That doesn't mean you shouldn't be careful…but if you stick with the shops we mentioned in this blog, you won't have anything to worry about other than the fact that you only get to wear your dream dress one time.
Are you planning on ordering online? What tips and advice can you give other brides? Share in the comments below and let's get the conversation started!