Spring wedding color combinations are usually pretty predictable, right? You're probably expecting to see plenty of pastels and softer colors. Well, the Spring wedding color trends for 2021 definitely include some lighter options, but that isn't the dominant look.
Along with the colors complimenting each other, the style and texture with these trends create a unique romantic vibe. Think less foo-foo fairytale and more realistic romance.
So, if you're wondering what are good colors for a Spring wedding, and how you can incorporate them into your own day, this is the blog for you!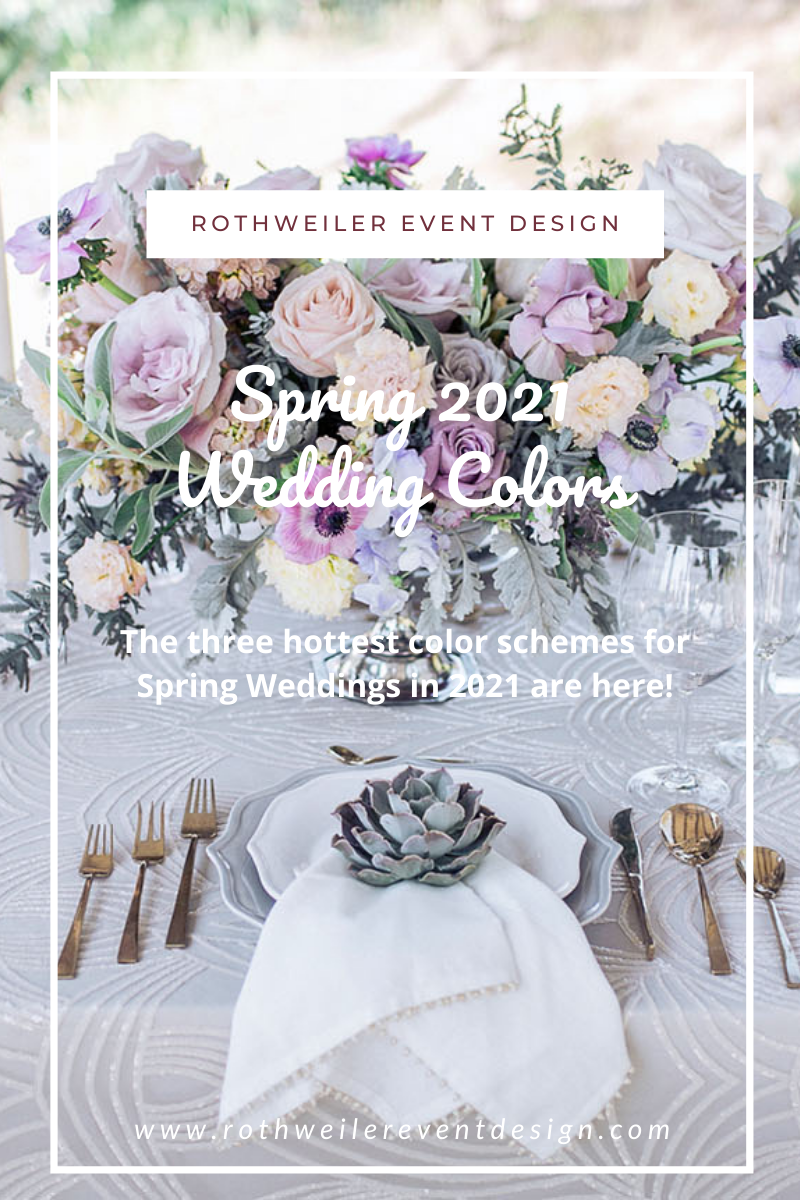 *Please note that most of the links of this page are affiliate links. This means if you click on a link and purchase, you will receive the same price, but I will receive a referral fee. This helps keep my blog free and allows me to share wedding planning tips with you. Thanks for your support!*
Spring Wedding Color Combo: Dusty Blues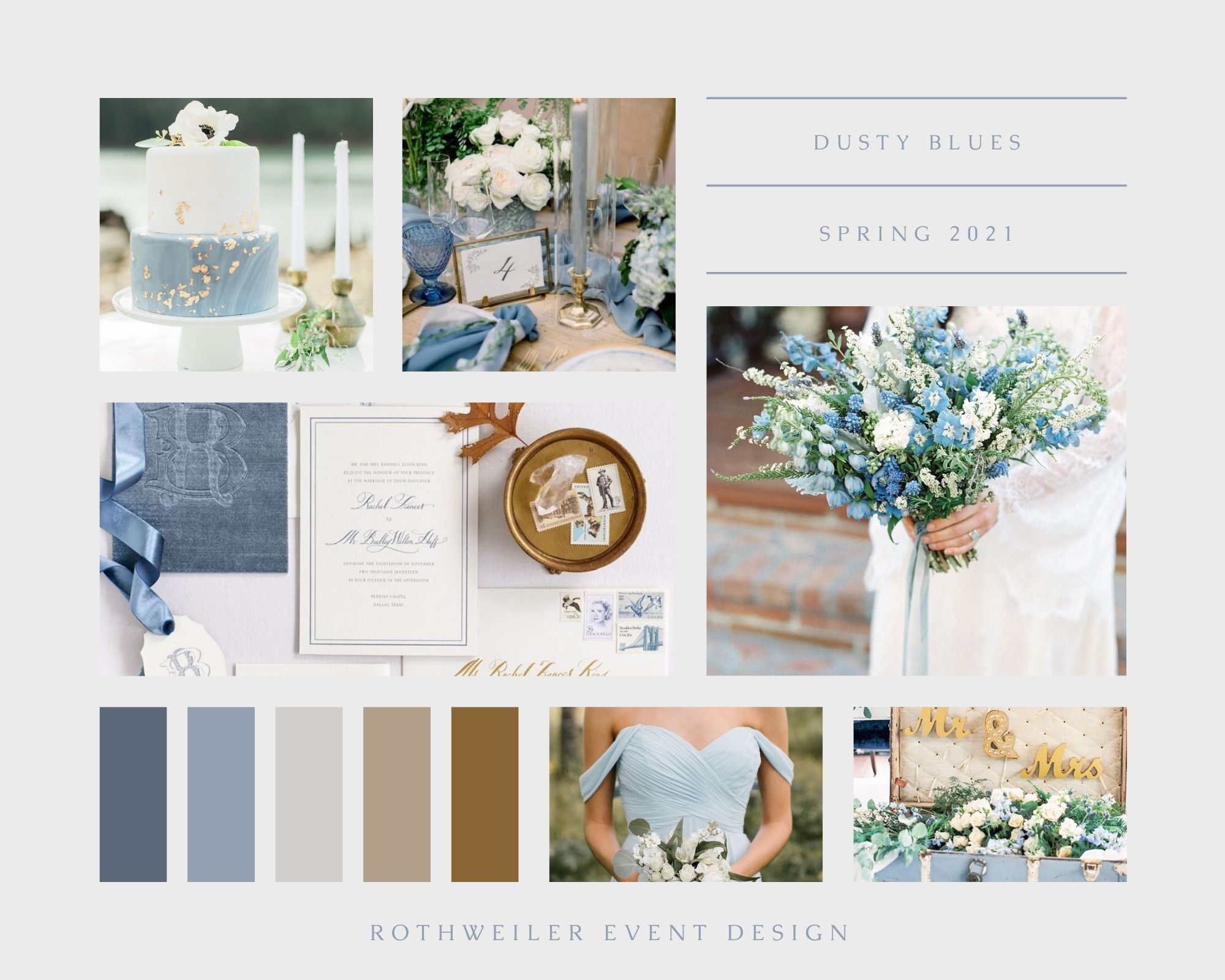 Blue is a crazy popular wedding color in every season of the year. But, it's usually paired with another color like pink, yellow, or white. Spring 2021 is all about giving blue the spotlight by mixing different shades together.
To get that classic dusty blue look, start with your favorite shade of the fan-favorite color. Maybe it's navy, or perhaps it's cerulean…whatever it is, that's your starting point.
In order to avoid that overdone and so over ombre look, pick a different shade of blue that will compliment your favorite. The idea is to create enough contrast that the blues look different…but not so different that one blue looks green while the other looks black.
Make sense?
We've got you started with a few gorgeous options right here: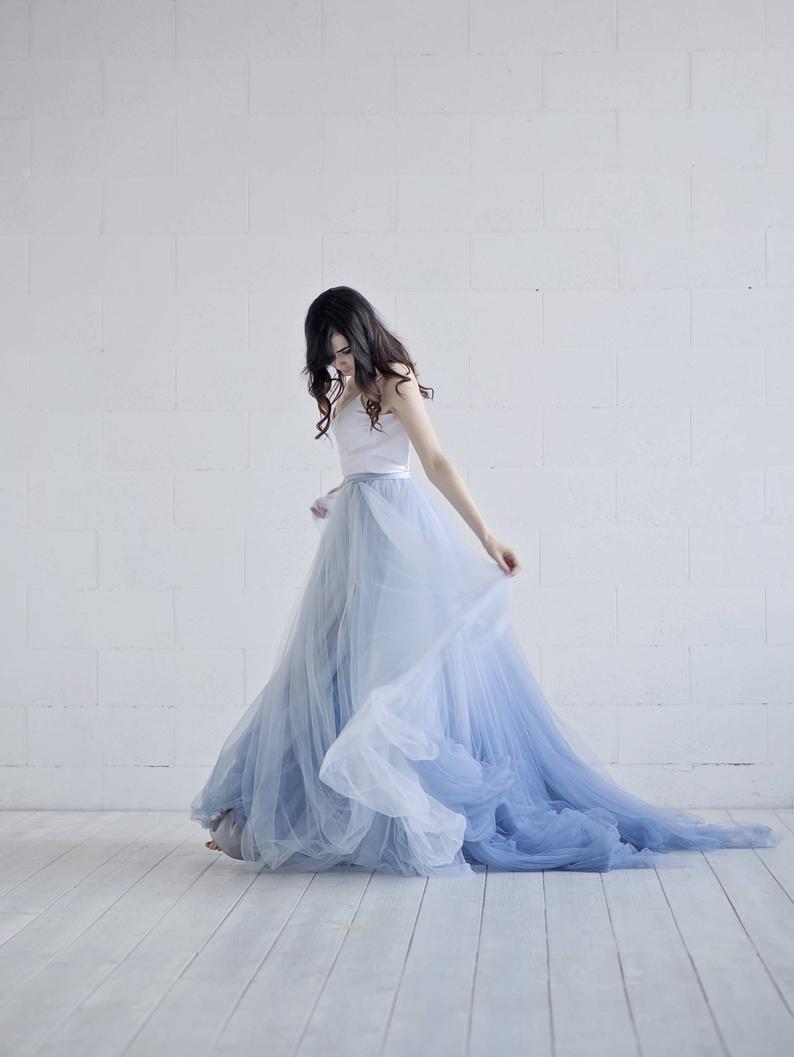 Nothing says "romance" in a bigger way than this epic blue wedding dress! The dreamy skirt isn't just flowy, but it incorporates various shades of blue making it perfect for this Spring wedding color trend in 2021.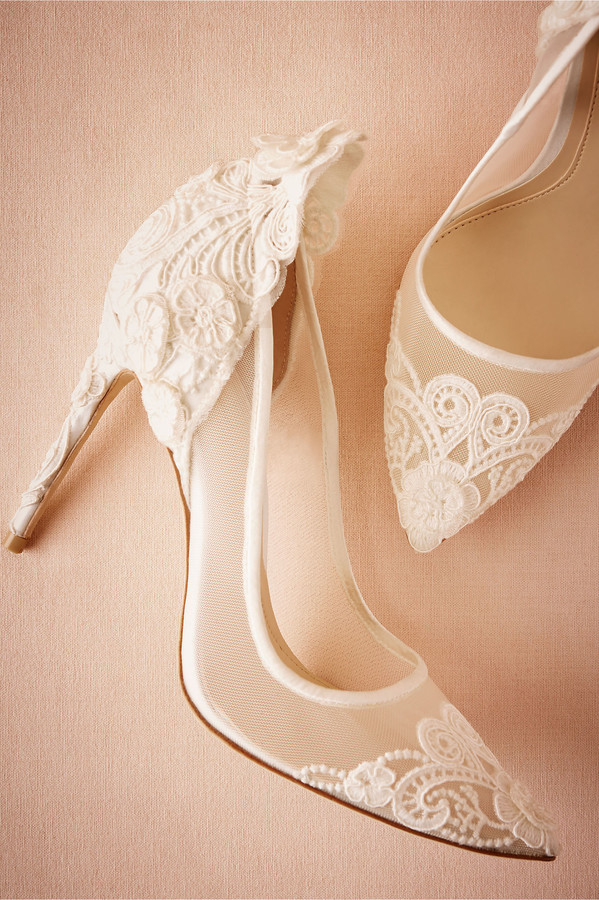 Whether you go for a blue wedding gown straight from a dream, or perhaps something a bit more traditional, these shoes are a must have for Spring brides. The simple stitch details will work with any dress style and are basically the definition of beauty.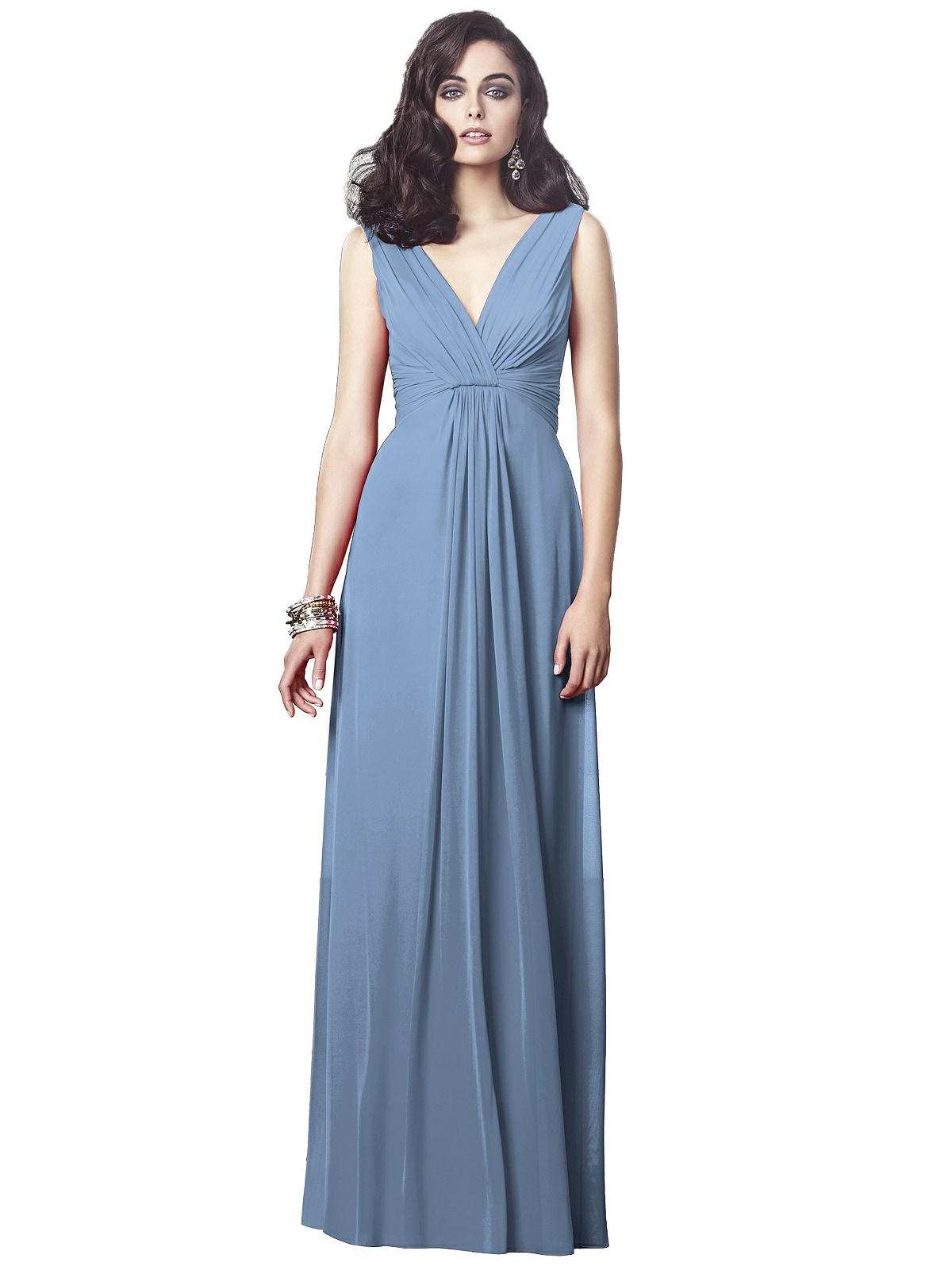 This slate blue floor-length bridesmaid dress is the perfect choice for Spring weddings in 2021. Easy to mix and match, you can keep your ladies in the same color with different silhouettes, or keep identical styles and choose different shades of blue instead.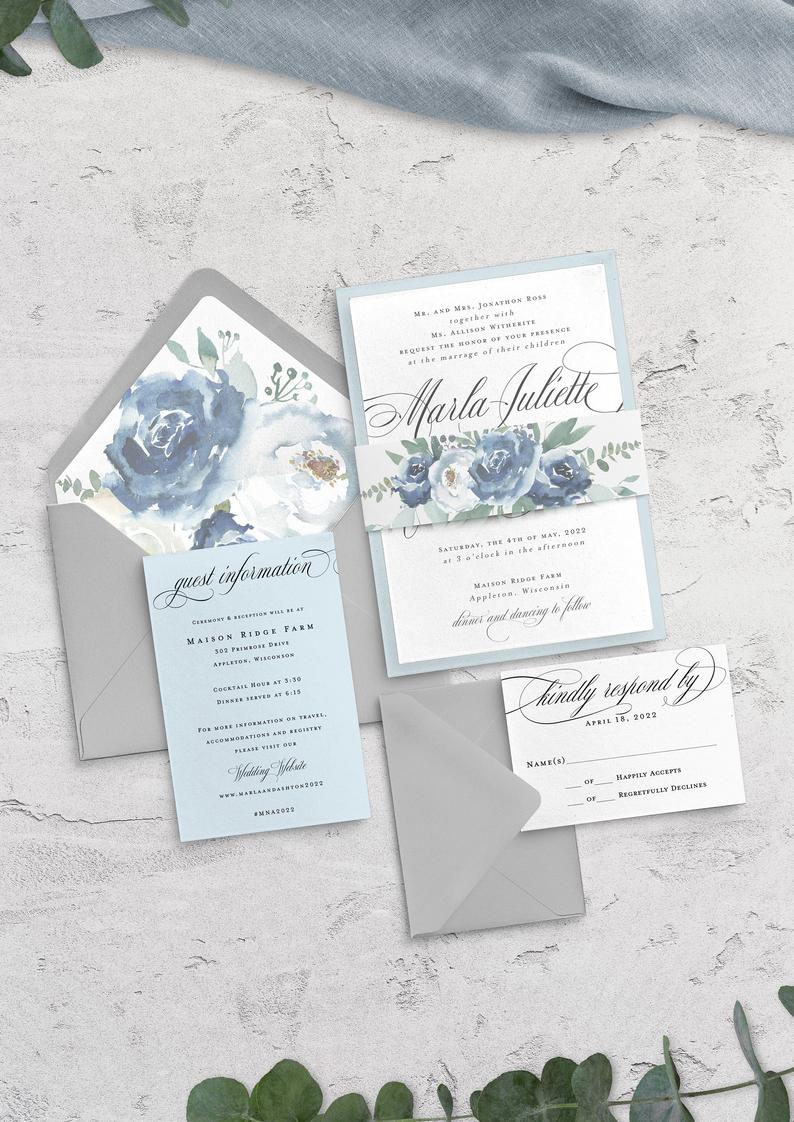 Invite your guests with these stunning blue and gray invitations from our friends at Minted. Check out all the different shades of our spotlight color featured in this suite to see just how easy it is to work with the ever popular blue!
Spring Wedding Color Combo: Lilac & Lavender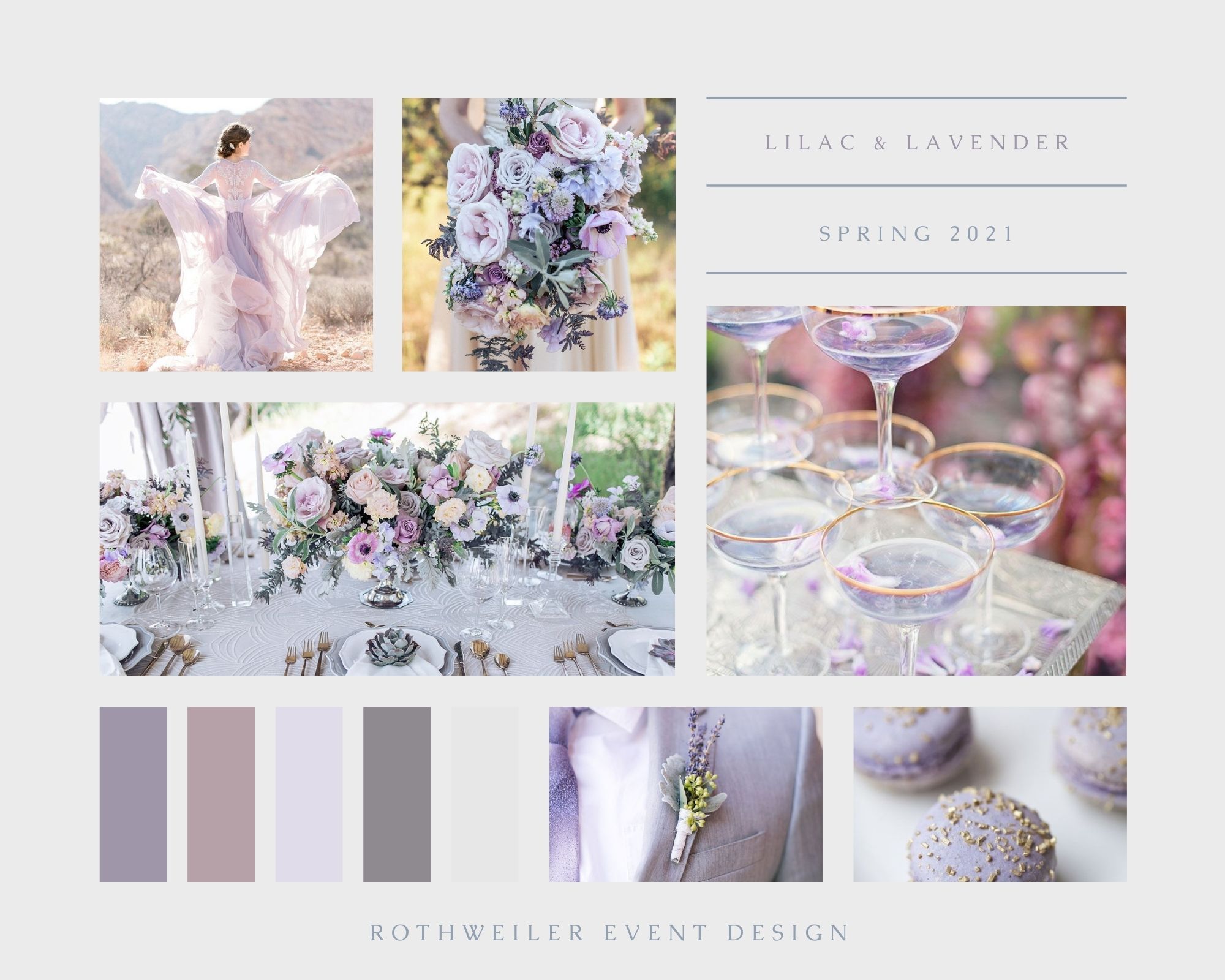 Purple is always a divisive color when it comes to weddings. I honestly have never heard anything from my brides other than they love or hate the color.
That's it…there is literally no in between.

The super deep, and dark royal purple can be a lot to work with when it comes to design. It tends to take over everything and if you're not in love with the color, it's a no-go.
Luckily, this year purple is taking a cue from blue and mixing it up. So, if you've ever been stuck wanting to love purple but it was either too light or too dark, this is the answer to your prayers! Here are a few of our favorite picks to help get you started for your own wedding day:

There's something about an all-lace wedding gown in the Spring. It's romantic, it's light and breezy, and it's basically everything that the season stands for. Plus, with a price tag under $700, how could you not fall in love?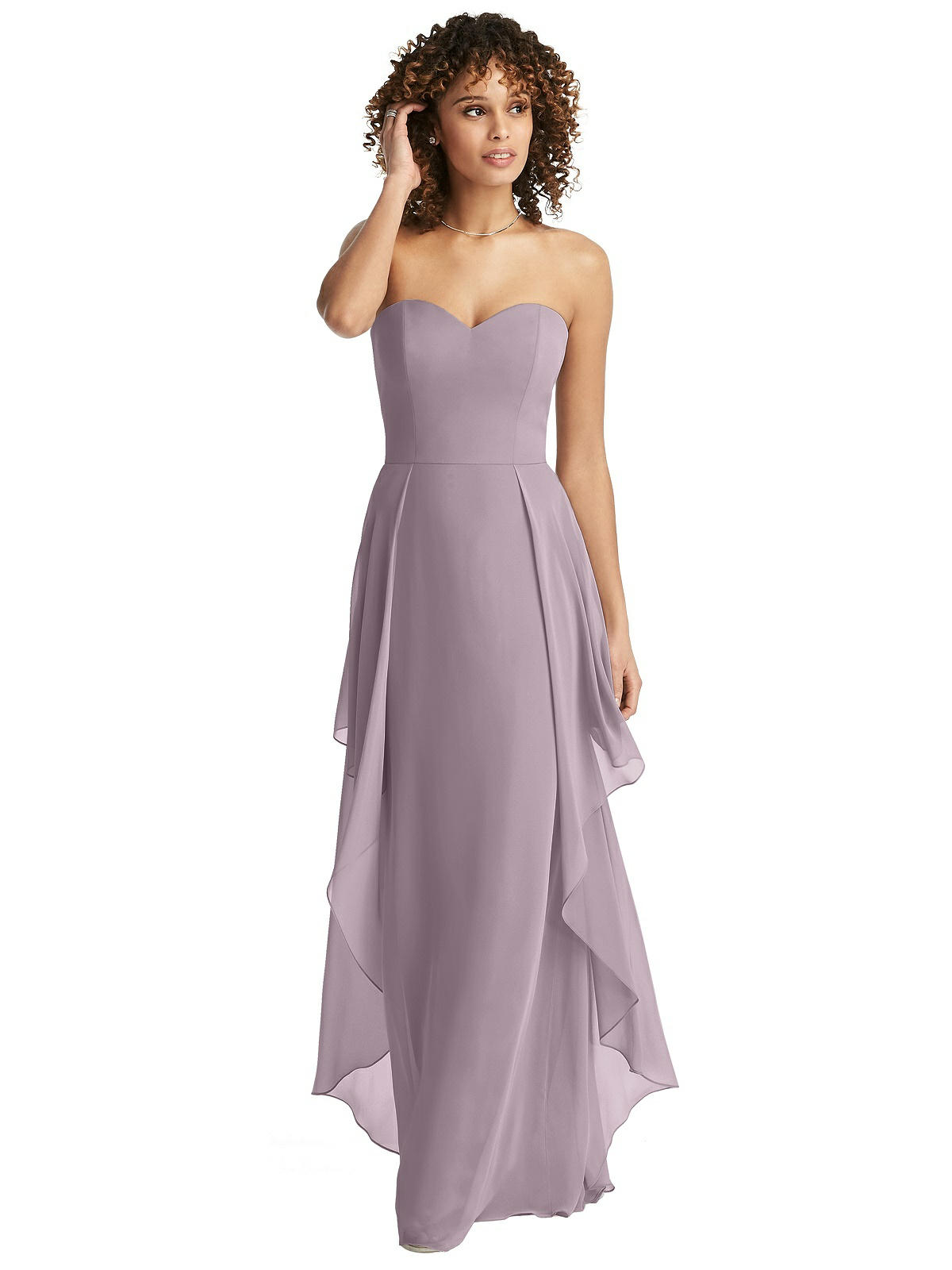 We are obsessed with this flowy, floor-length, soft purple bridesmaid dress from Dessy. It's soft and demure and still has a beautiful structure that works on any body type. Your girls will totally thank you for picking this one!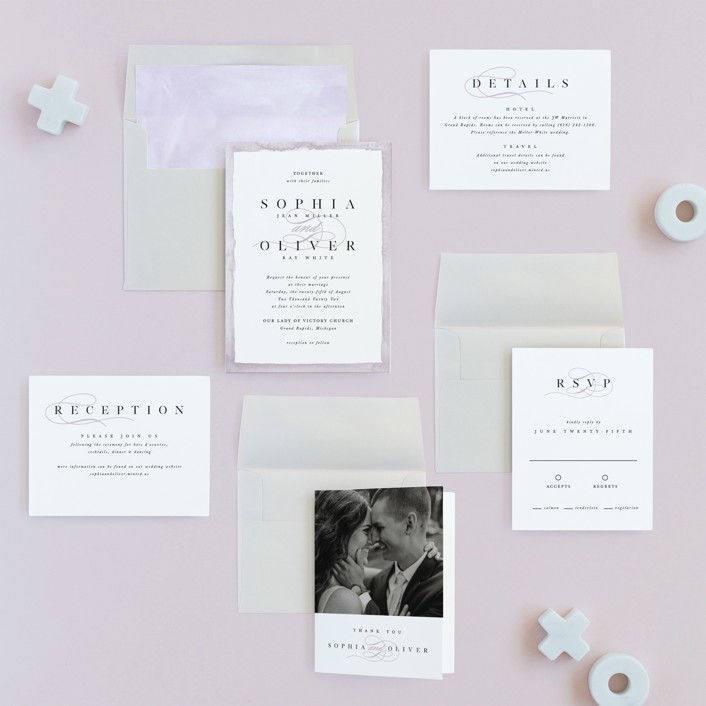 Send out these soft lavender and gray wedding invitations to your guests, and they'll know to expect a romantic wedding day. The whole suite includes everything you need while still having a simple and classic feel to them.
Spring Wedding Color Combo: Olive and Copper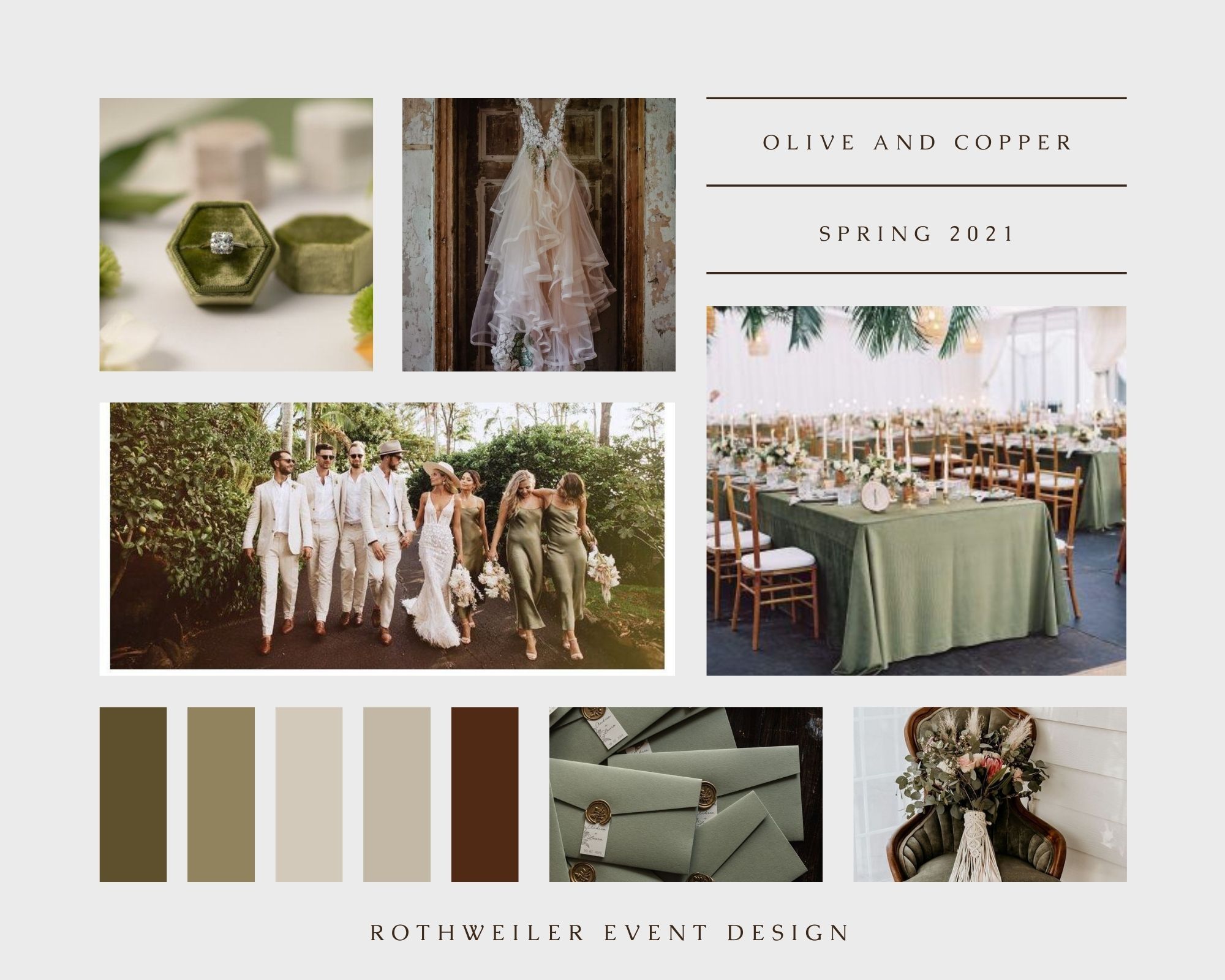 Blues, Pinks, and Purples are obvious choices for Spring weddings, but there's another obvious choice that people sometimes forget is the color we see most often just by simply stepping outside in Spring.
Green.

Green is a wildly popular color amongst brides and there are countless shades to choose from. Most recently, green and white were seen everywhere in weddings around the country. The color combo was the biggest trend for the last 2 or 3 years, in fact.
As we enter 2021 though, we're not letting green and white overstay their welcome, but instead we're ushering in olive and copper. Here's how you can too: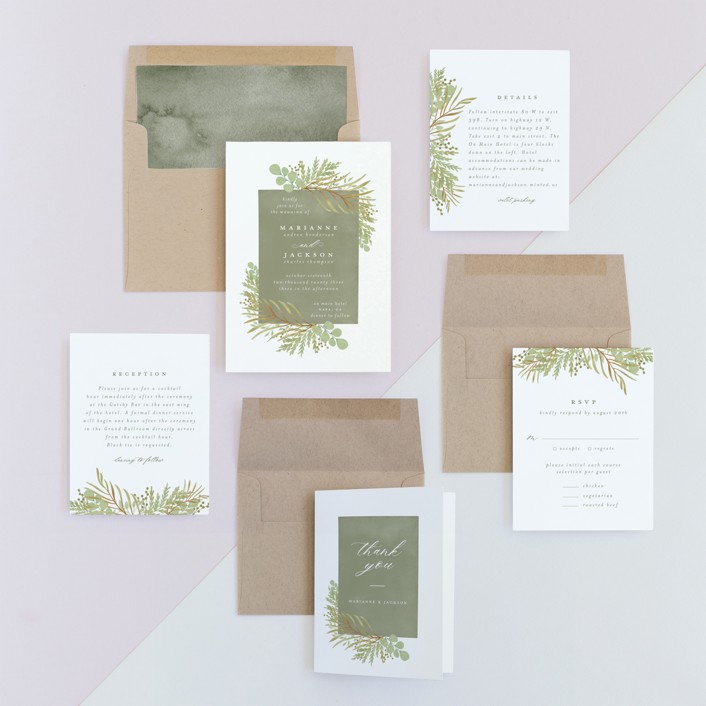 Welcome your wedding guests with these olive and beige rustic invitations from Minted. Our favorite part? You can add foil details to this invitation suite in copper, as well as gold!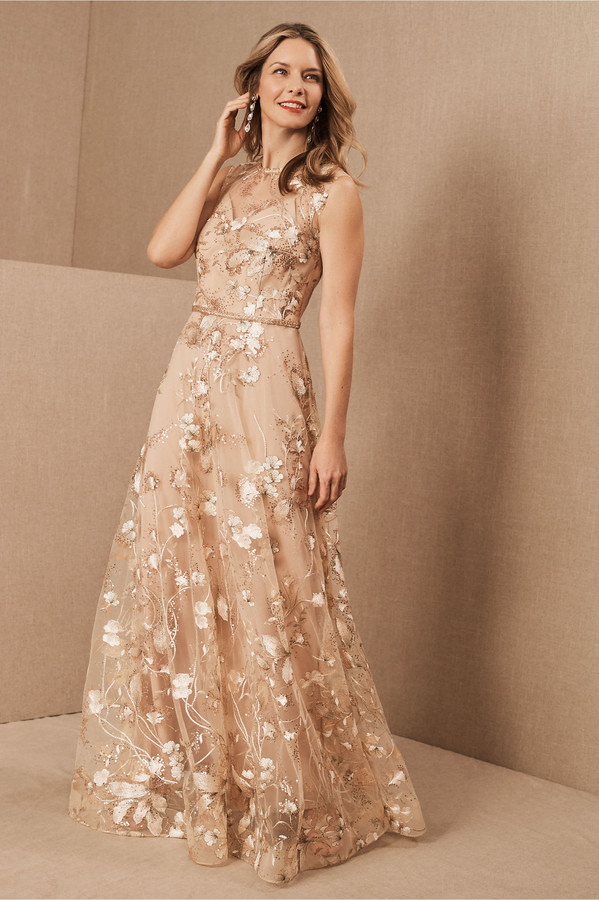 Why wear white when you can rock this ethereal wedding gown covered in copper and gold floral detailing? Look like the Goddess of Spring as you waltz down the aisle in a dress everyone will remember!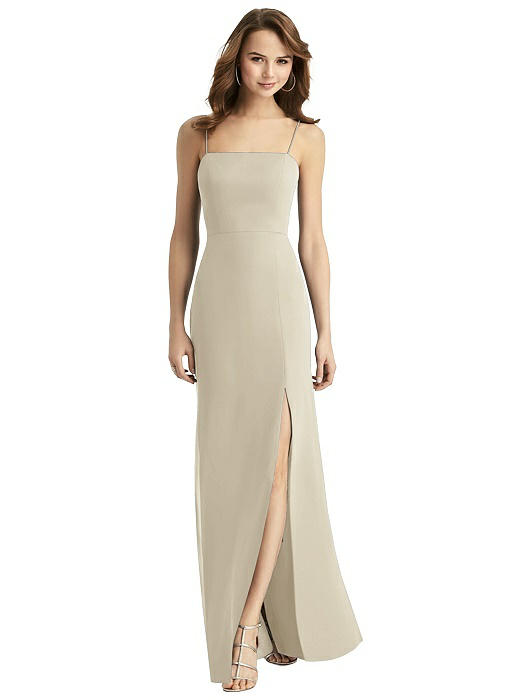 Ok, so the biggest challenge when working with olive can be finding olive when it comes to the wardrobe…including bridesmaid dresses. Olive looks amazing on most skin tones, so if you can find it, then get it…but don't be fooled by dresses that are actually sage and not olive.
That said, this classic champagne colored bridesmaid dress can be accessorized with copper accents for a flawless look on all your ladies; which is exactly why we featured it here!
2021 Spring Wedding Colors
There you have it! Our three trendy color combinations for 2021 Spring weddings! Which one was your favorite? Were you skeptical of a combination until you saw a different way to work with it?
Drop us what colors you'll be using for Spring 2021 in the comment section!