Ever see those magazine articles about how celebrities are "just like us"…like where Jennifer Garner is spotted shopping from a food truck and suddenly I'm supposed to get super excited because OMG I do that too! Celebrity weddings are proof of just how different we really are. From the crazy budgets (yes, a million dollars is a budget) to the over the top decor, it's hard not to get swept up in the details.
While you may not be able to bankroll private jets to fly your guests to a secret wedding location, that doesn't mean you can't get ideas for your own wedding day. In this blog, I'll show you how to steal the style of 10 different celebrity weddings without going broke.
Make sure to pin your favorite images and grab those inspiration boards I put together to help you get started. You can drop your comments below if there's a wedding you love that I missed, and maybe I'll include it in a future blog!
..and now, without further adieu, here are 10 amazing celebrity weddings and my wedding planner tips and tricks how to steal their wedding day style!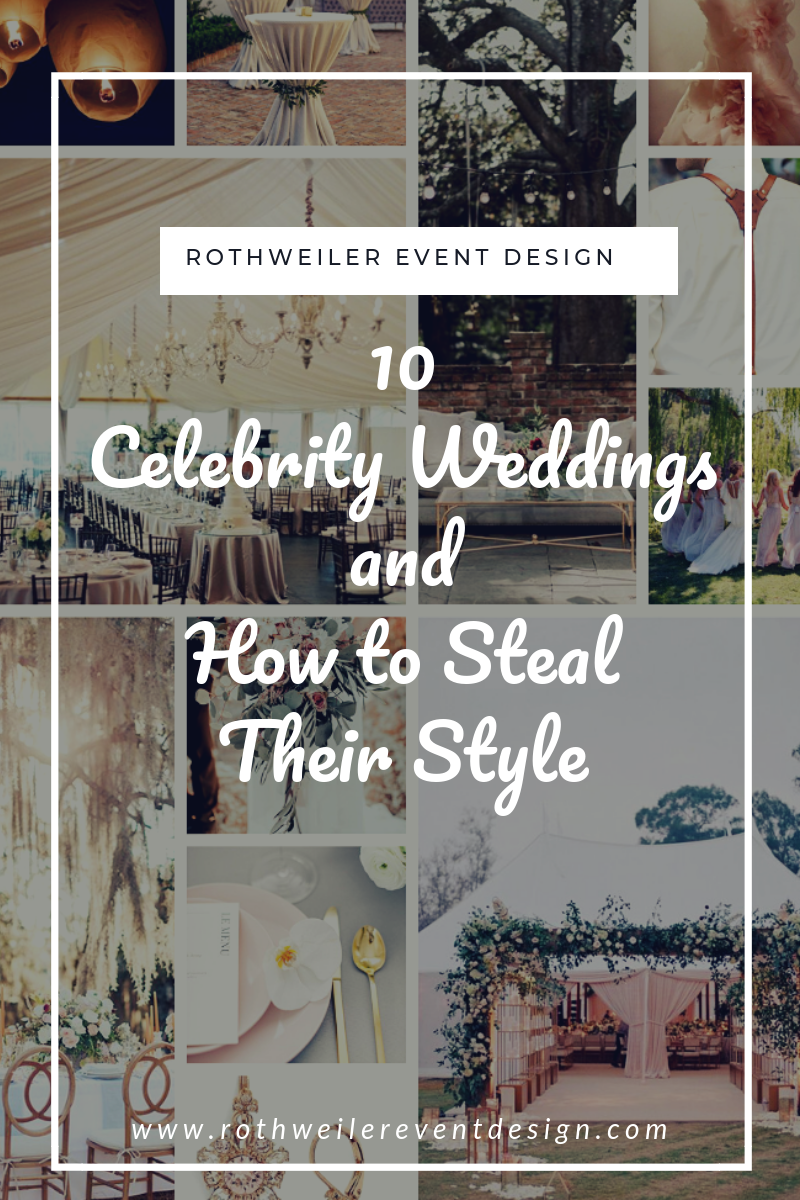 *Please note that most of the links of this page are affiliate links. This means if you click on a link and purchase, you will receive the same price, but I will receive a referral fee. This helps keep my blog free and allows me to share wedding planning tips with you. Thanks for your support!*
Celebrity Weddings
Celebrity weddings come in all shapes and sizes. Just like "regular people" weddings, they've got the wedding venue, the wedding flowers, and all the details in between. Wanting to make the wedding day unique and reflective of their style is something every couple wants; you know, just like us.
And, just like us, they pay attention to wedding trends. Whatever trend they lean towards the most, they often times end up making it an even bigger trend. Why?
Because they're celebrities.
It's the Regina George wearing army pants and flip flops and then everyone else wearing army pants and flip flops thing. When the rest of us peasants see pictures from weddings of the ridiculous and famous, suddenly, we want that. Sometimes, whatever that is might not be all that great…but it's celebrity wedding style and that can cloud judgment really fast.
Similar to the way I will find a really ugly dress at T.J. Maxx and then I'll see it was designed by a really talented and well-known designer and, just like that, the dress is the best thing I've ever seen in my life. This understanding is what made it super easy to select and break down these 10 celebrity weddings and show you how to achieve that same look for way less.
Let's start with the big one that I know you're expecting to be on the list:
The Wedding of Kim Kardashian and Kanye West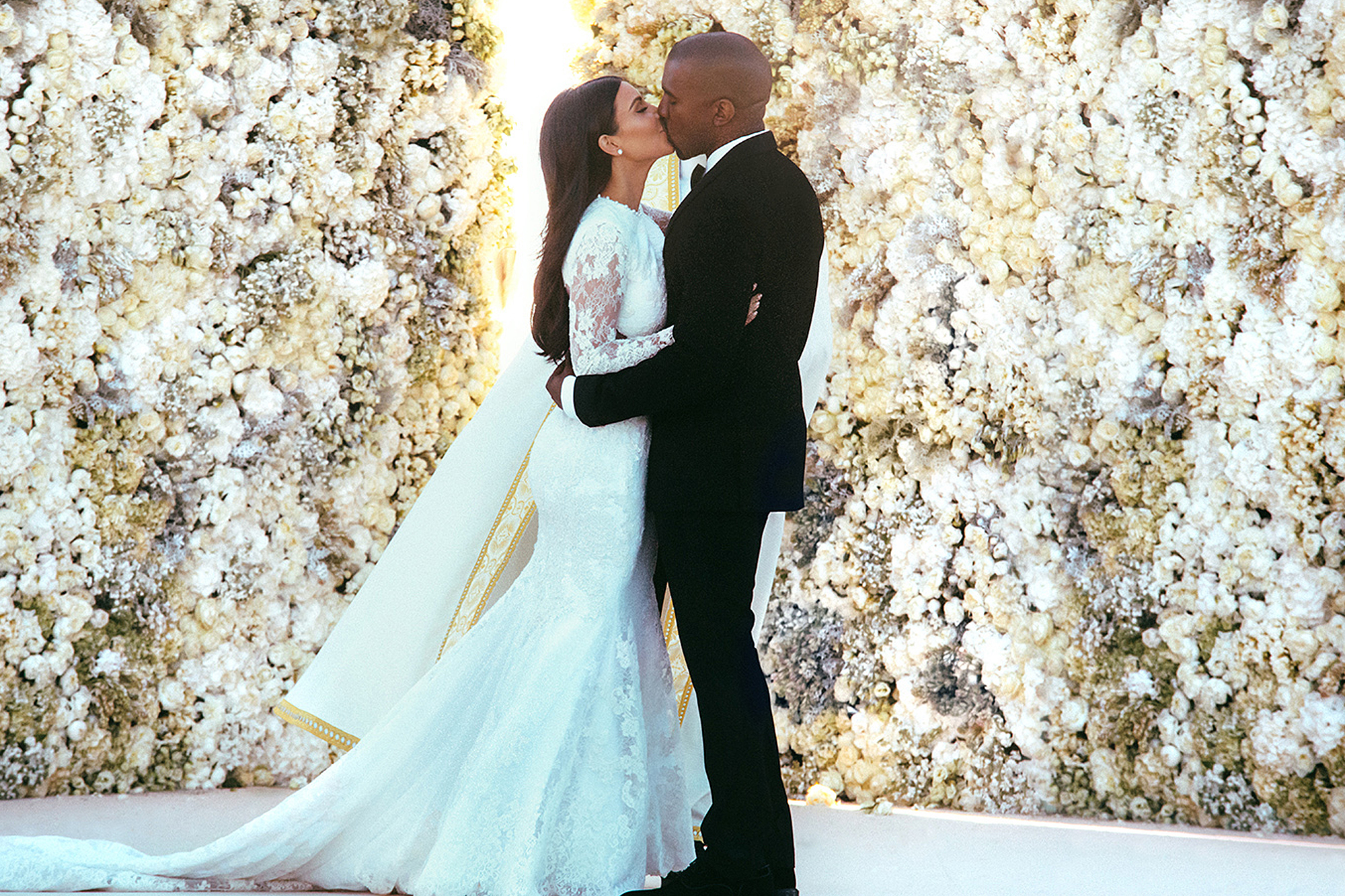 Location: Forte di Belvedere in Florence, Italy
Wearing a Givenchy Haute Couture wedding gown, isn't necessarily in the cards for most of the regular brides of the world. That doesn't mean it's impossible to copy Kim K.'s style and look for wedding gowns with long sleeves, plenty of lace, and an open back.
It's just as easy to pull wedding inspiration from Kim and Kanye's design, which included an iconic flower wall as a ceremony backdrop. For the reception, guests were seated at long tables made from Carrara marble and the names of each guest was engraved in gold at each seat.
While the primary wedding colors were whites, creams, and plenty of gold accents, the reception food was color coordinated around pink. That doesn't mean the bridesmaids wore pink though! On the contrary, they were also dressed in long, simple, all white gowns.
Get inspired for your own Kim Kardashian style wedding with our inspo board right here: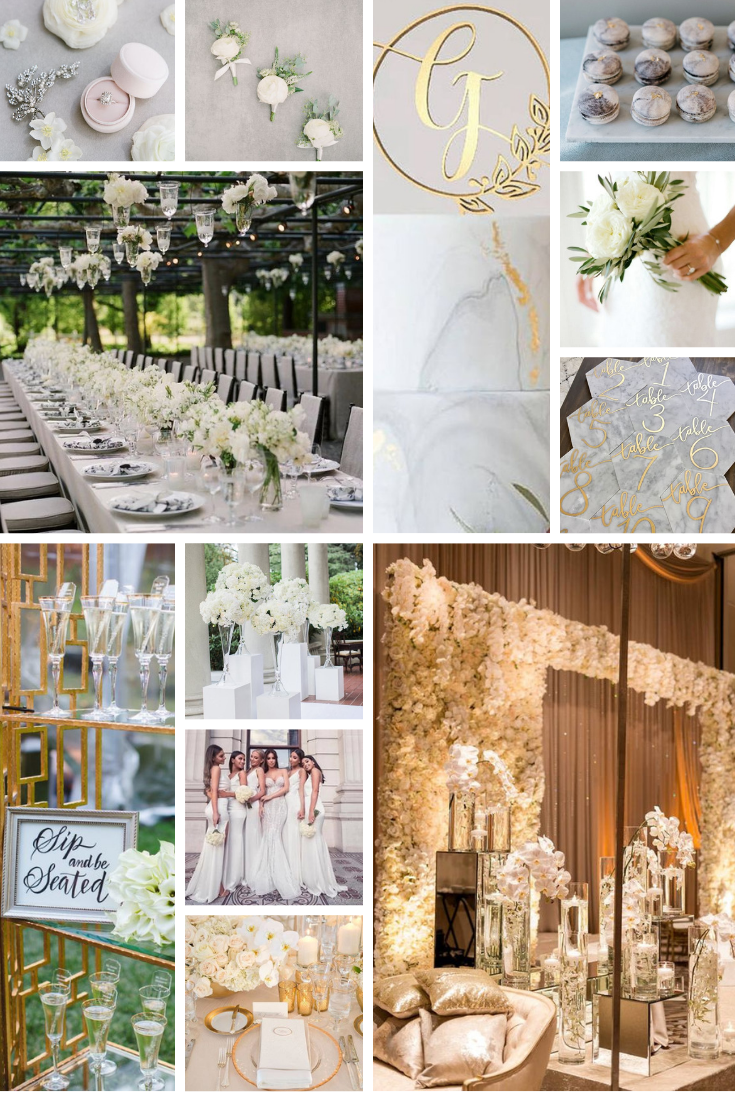 White, white, and more white, and it's impossible to go wrong with this look. Using gold as an accent color warms up the reception space and hey, everyone looks good in candlelight. Selfie anyone?
Recreate the floral wall from Kim and Kanye's wedding with something similar, or have your florist create a beautiful arch or display over your sweetheart table. Can't get those marble tables? Create smaller elements using marble to make the look even more elevated!
Start off with the perfect invitation suite that lets your guests know exactly how opulent your wedding day will be.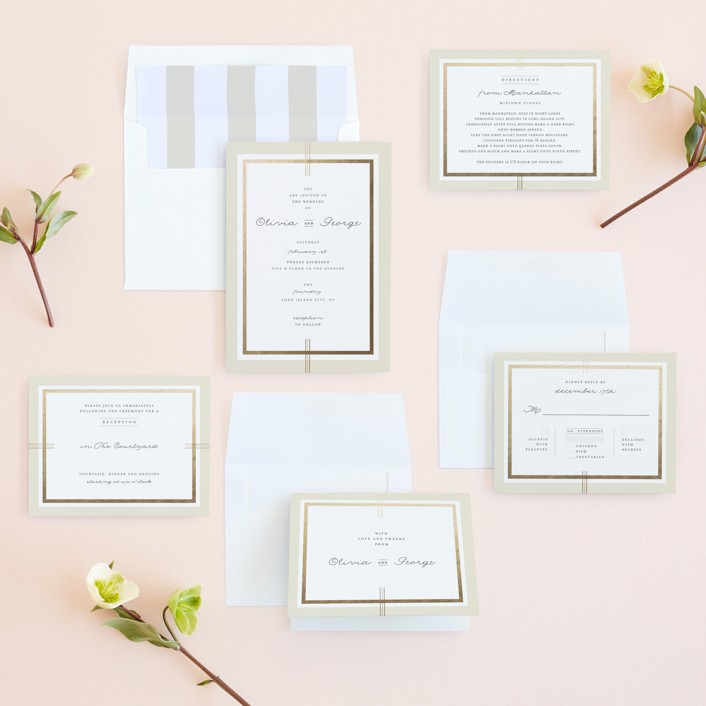 They say "less is more" and these simple white and gold wedding invitations are the perfect choice for a Kim and Kanye inspired wedding. The classic border and beautiful font let your guests know they are attending a formal wedding. You can grab the suite above from our friends at Minted right here and use code WEDPLROTHWEILER to save 25%!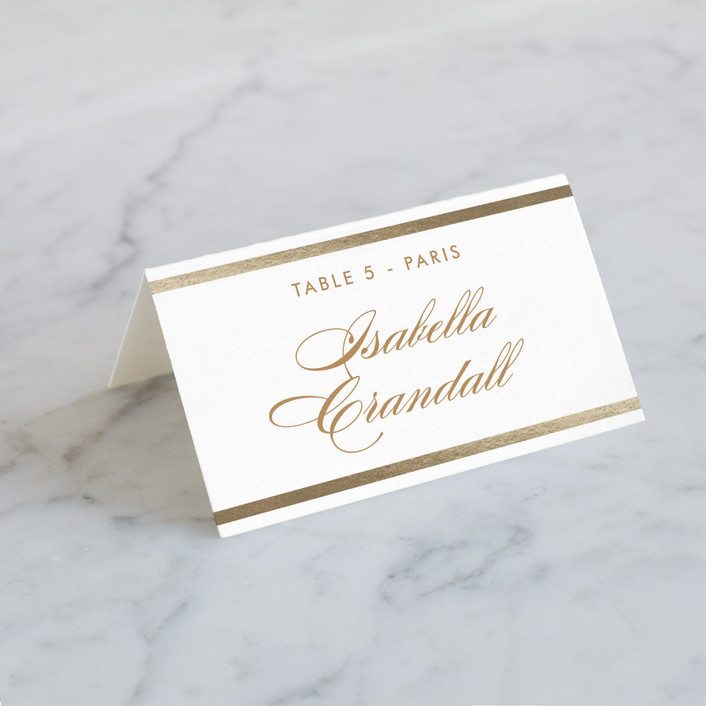 Showing your guests where to sit is always a design detail that my couples struggle with. Keep it clean and classic with these ivory tented escort cards that have writing in stunning gold foil. Just like Kim and Kanye's wedding, they work seamlessly with that gray marble look they used. You can see this example and more on Minted.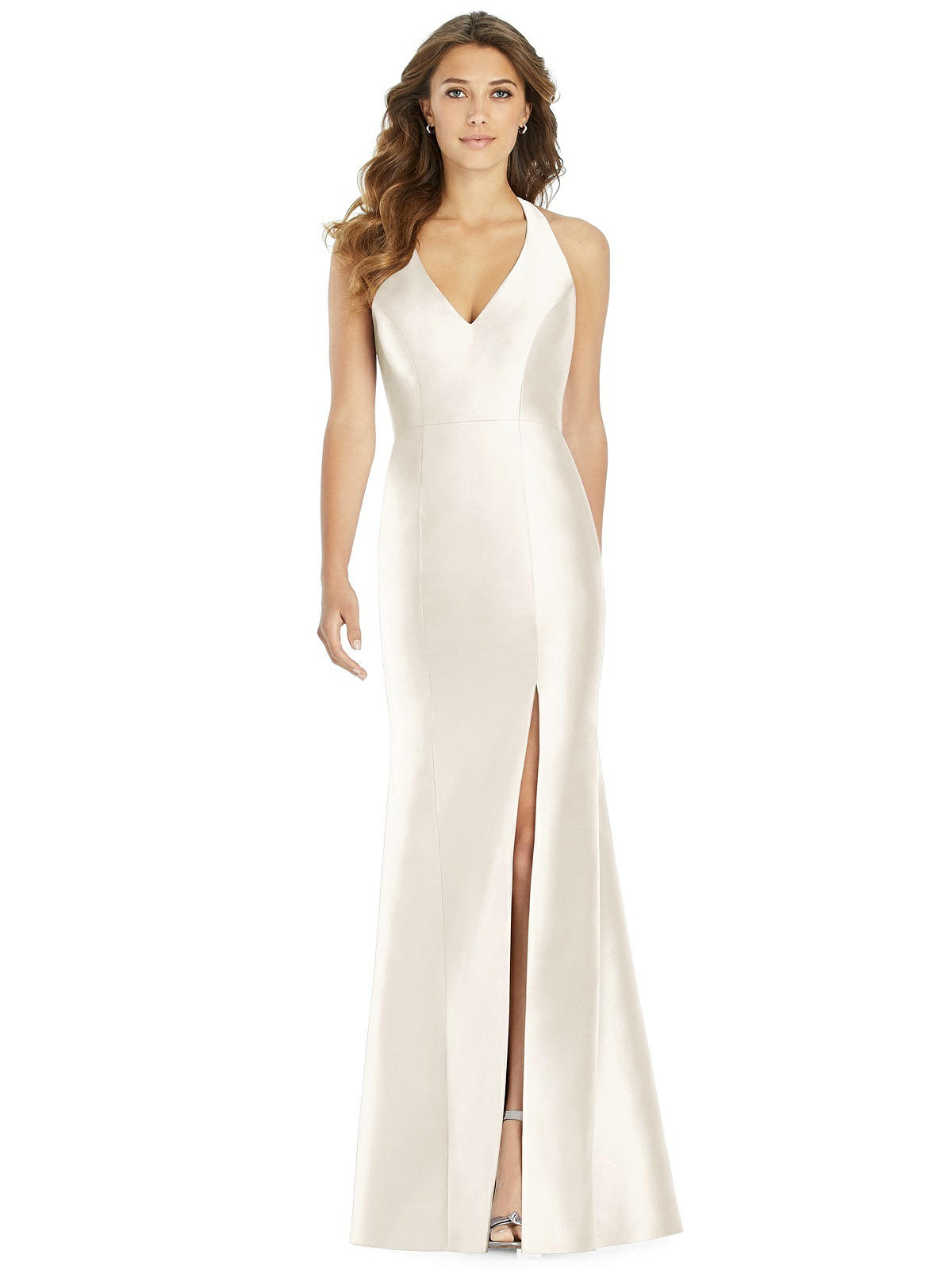 You probably already know that the bridesmaids in Kim and Kanye's wedding wore long ivory gowns. Now, I totally understand that bridesmaids in any shade of white isn't for every bride.
If you love the look of Kim Kardashian's wedding, but aren't down with anyone wearing white but the bride, our friends at Dessy have this dress above and more in plenty of colors. Grab this gorgeous Alfred Sung option and find the color that works best for you!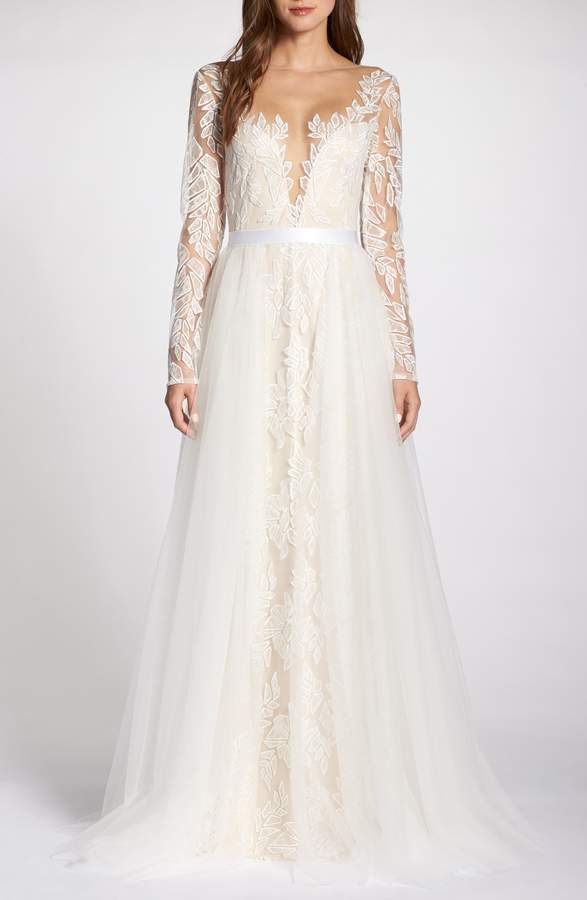 Grabbing a Givenchy Haute Couture gown for your wedding day might be slightly unrealistic. With lace being such a hot trend right now in wedding gowns, you've got plenty of way more affordable options…including this one from Tadashi Shoji. Recreate that romantic bridal look with this stunning gown that has plenty of vintage lace touches and of course, those long, beautiful sleeves.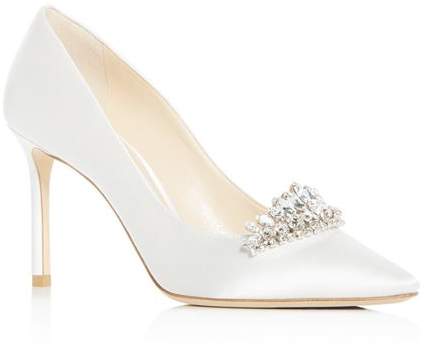 Obviously no bridal look would be complete without the perfect wedding shoes. If you're planning to channel Kim Kardashian on your wedding day and want to rock a dress with plenty of lace detail, then going simple on your shoes is the way to go. These gorgeous ivory satin Jimmy Choo heels are a great choice for any bride looking to mix it up with lots of lace and flowy details.
Chrissy Teigen and John Legend Wedding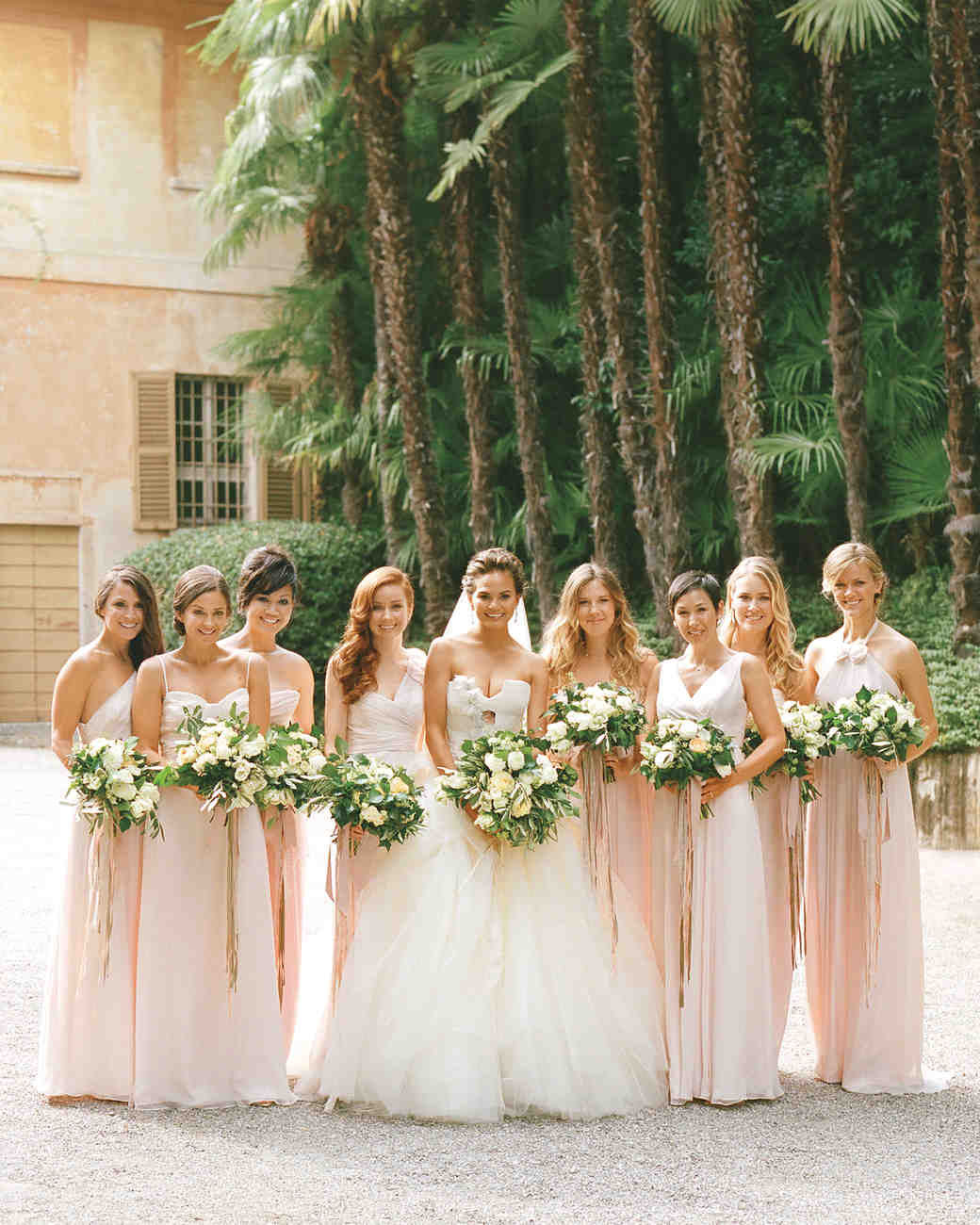 Location: Villa d'Este in Lake Como, Italy
Full transparency, Chrissy Teigen and John Legend's wedding was always and still is one of my absolute favorites. I still remember reading the Martha Stewart Weddings that had them on the cover.
I'm a huge fan of all weddings that are rustic because you can do anything with that! Rustic chic is not the same as plain rustic, and there are dozens of other variations. Of course, how can you possibly go wrong with a destination wedding in Italy?
Spoiler Alert: You can't.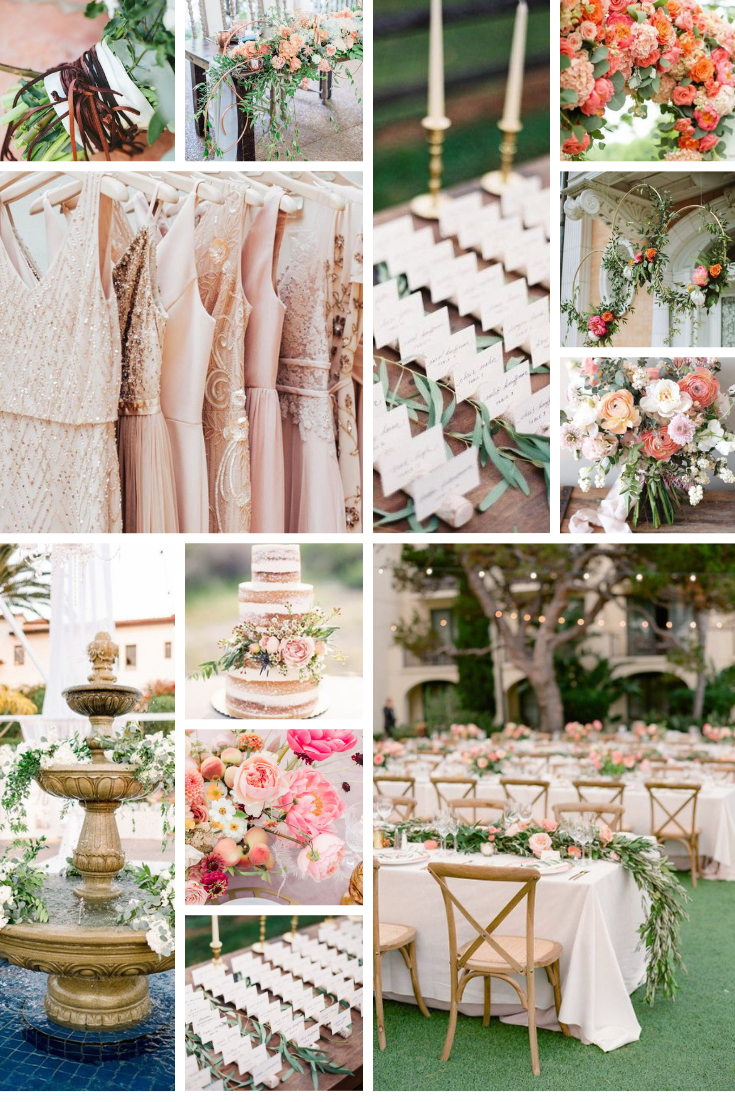 Lush, refined, and rustic, are the three words that come to my mind when describing Chrissy and John's wedding. Plenty of copper details provided the refinement, overflowing olive branches and magnolia leaves created the rustic look, and warm florals like coral amaryllis stepped up the lush factor.
Side note, if you're working with Pantone's Color of the Year for 2019, Living Coral, you'll totally want to check this wedding out for ideas!
The colors they worked with were peach, coral, pink, white, and plenty of greenery. Touches of leather were infused into the letterpress wedding invitations and a paisley envelope liner completed the look. Wondering how you can create your own Chrissy Teigen John Legend wedding day? Wonder no more…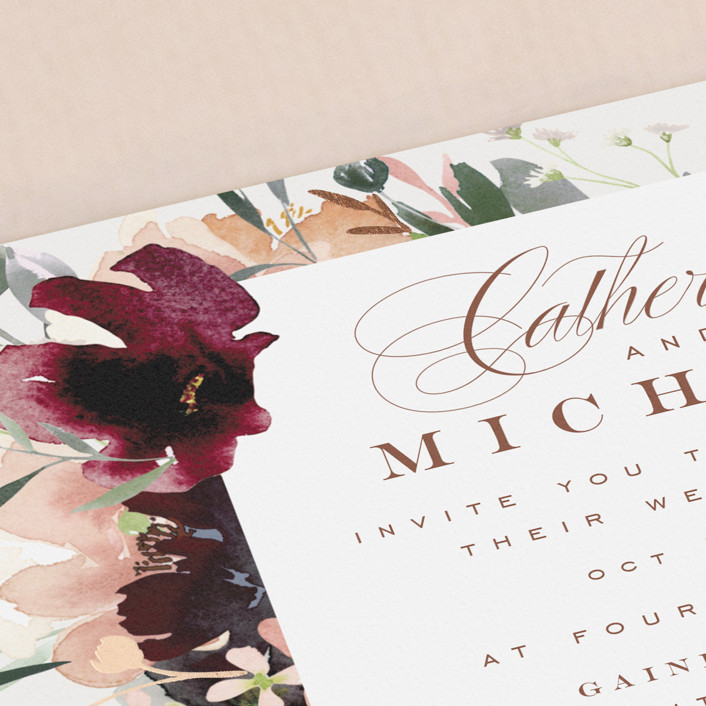 Create that lush Italian villa style for your own wedding invitations with these gorgeous pieces from Minted. Soft colors of peach and pink, with pops of wine and greenery are the perfect welcoming statement for your wedding guests.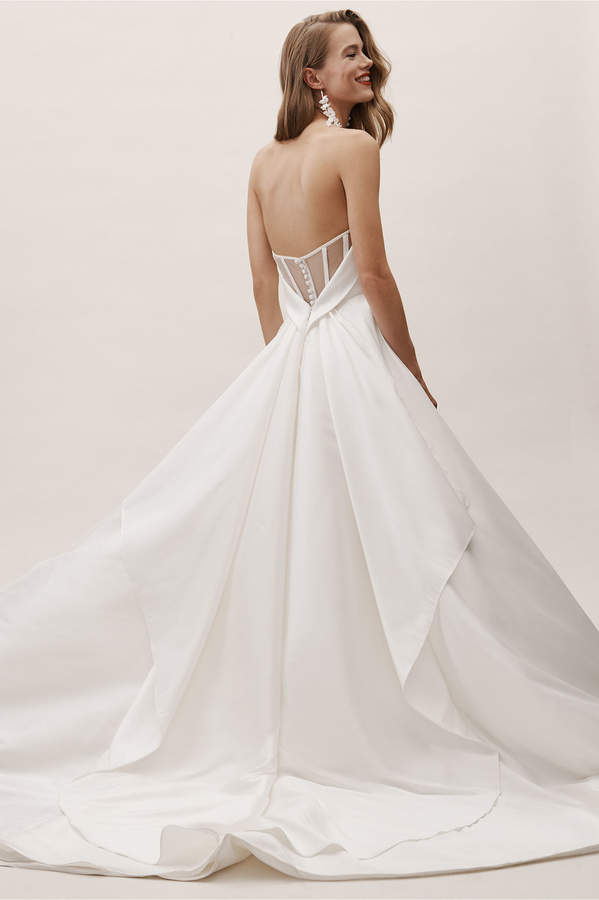 Chrissy Teigen might have worn 3 different Vera Wang wedding gowns, but that's totally not happening for most brides. To get that romantic look with a strapless tulle ballgown, check out this Jenny Yoo option for your wedding day.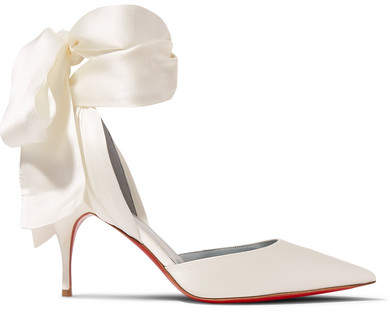 You might not wear a Vera Wang gown like Chrissy Teigen did, but why not wear Louboutin's just like her? This classic wedding heel gets a whimsical touch with an oversized silk ivory bow on the back. Grab your pair and complete the bridal look here.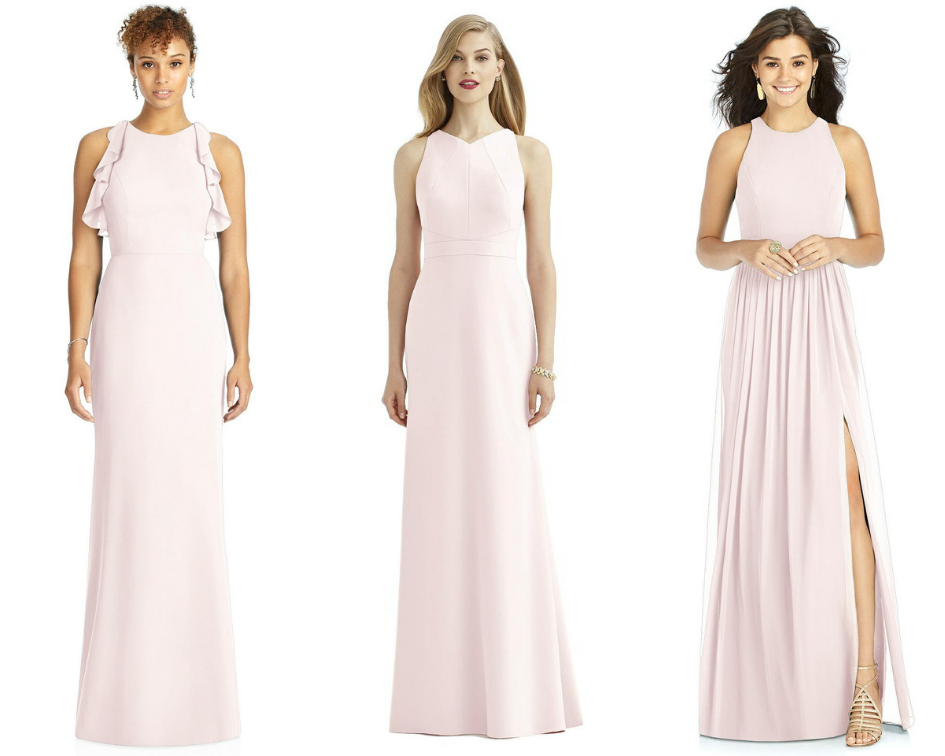 Chrissy Teigen's bridesmaids all wore long Amsale gowns in blush hues with different necklines. These are just three breathtaking dresses from our friends at Dessy that deliver that refined rustic look for less. Find out how you can mix up the shades of pink, the necklines, or both by visiting the Dessy website here.
Joe Manganiello and Sofia Vergara Wedding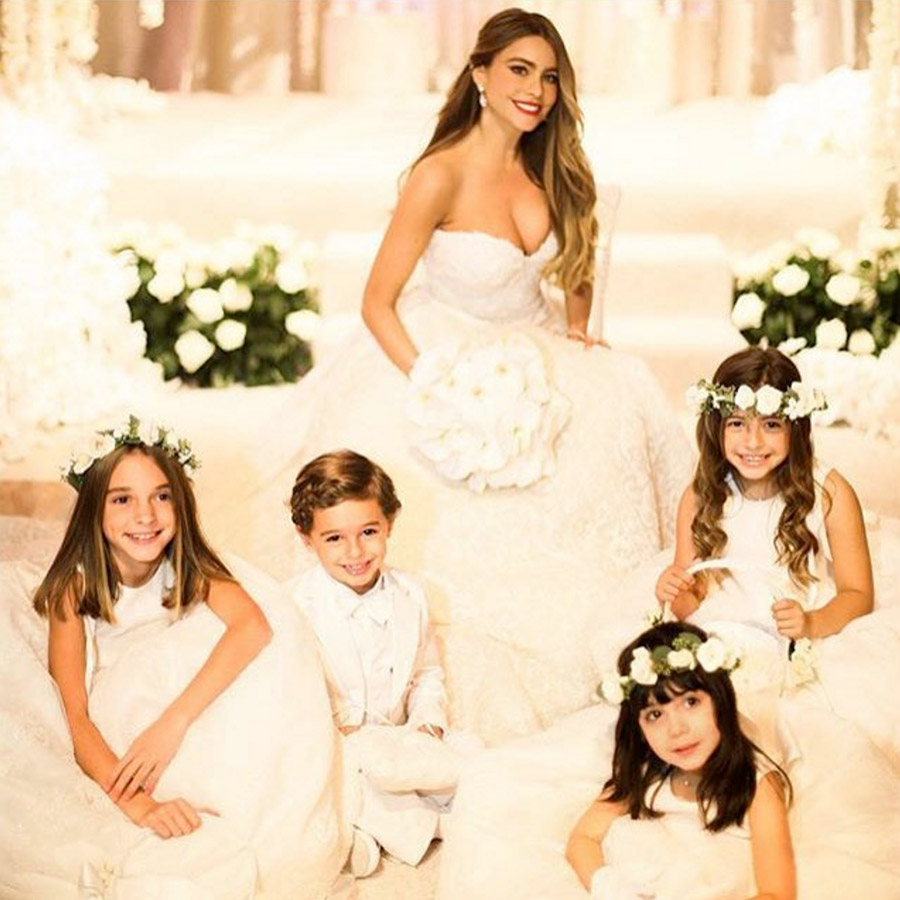 Location: The Breakers, in Palm Beach, Florida
A fairytale wedding, Sofia Vergara and Joe Manganiello wed in an all-white ceremony that was dripping in roses, orchids and wisteria. The elegant celebration led into a wedding reception that was covered in bold, hot pink florals for an amazing party with friends and family.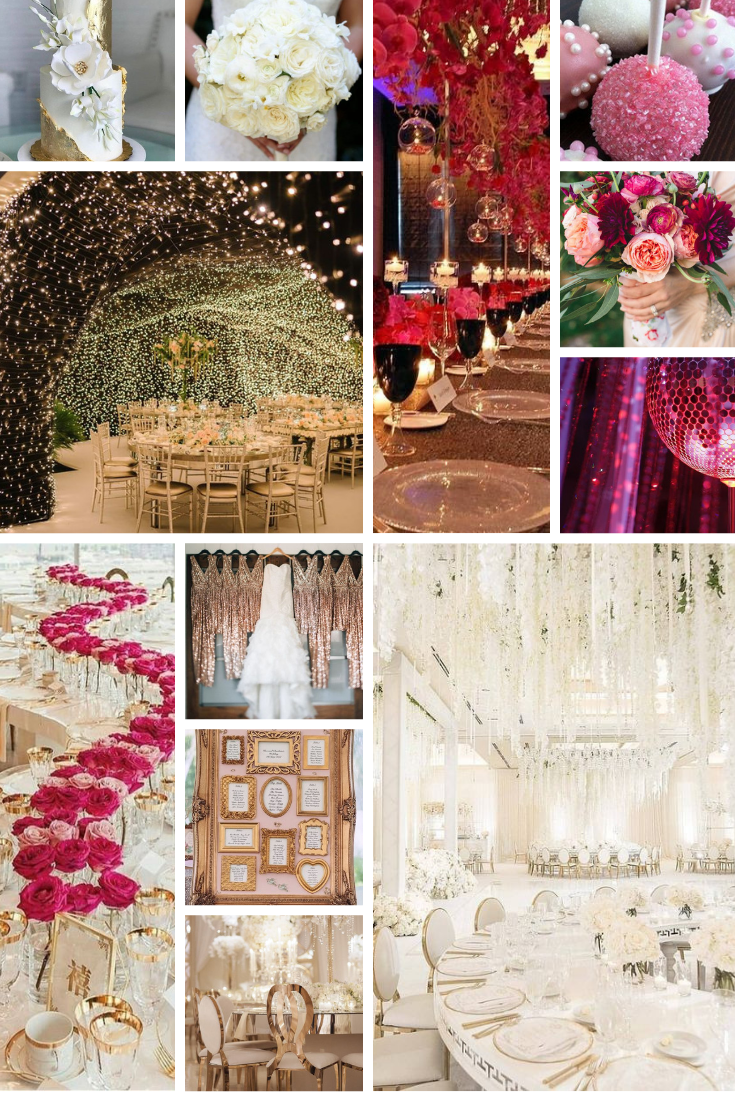 The wedding photos from Sofia and Joe's big day are largely the same: all white everything. In fact, there are so few highlights of the reception portion that many people think the whole day was just a white wedding. The switch to hot pink for the reception is one of my favorite ideas because it totally catches guests by surprise like they're at a whole new party.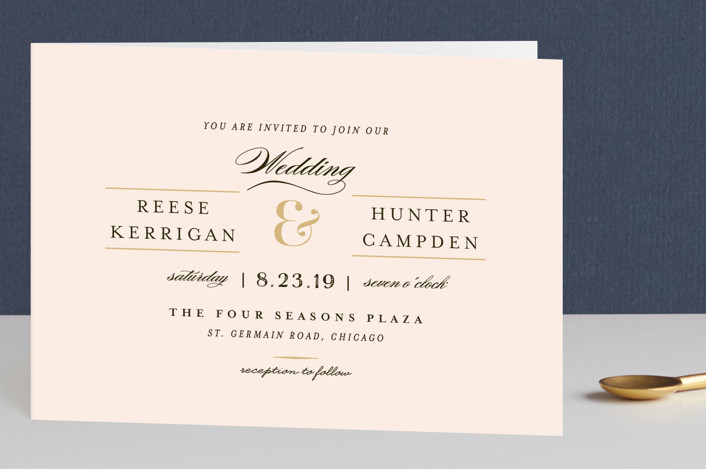 Sofia Vergara and Joe Manganiello's wedding invitation was a 3-panel design with a white center and blush side panels. There were gold details as well as a stunning monogram in a gilded font. These affordable wedding invitations from Minted above keep that same design with four panels and romantic color combination.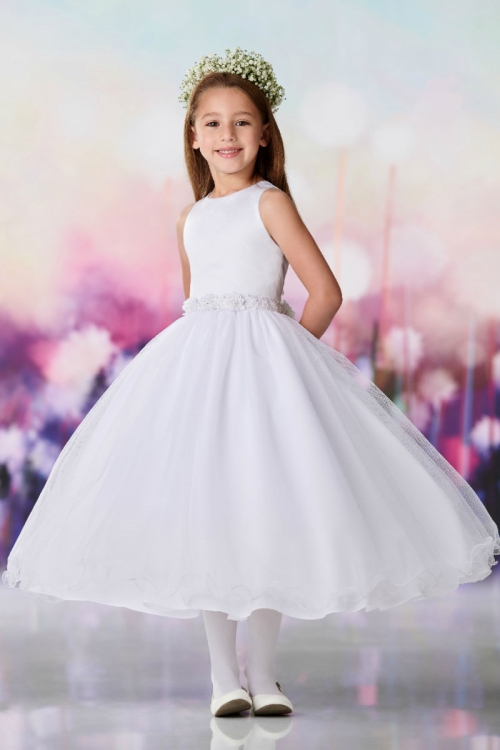 Sofia Vergara was surrounded by adorable flower girls all dressed in elegant white gowns for the special day. Keep it simple and affordable by shopping the same look with our friends at Flower Girl Dresses For Less!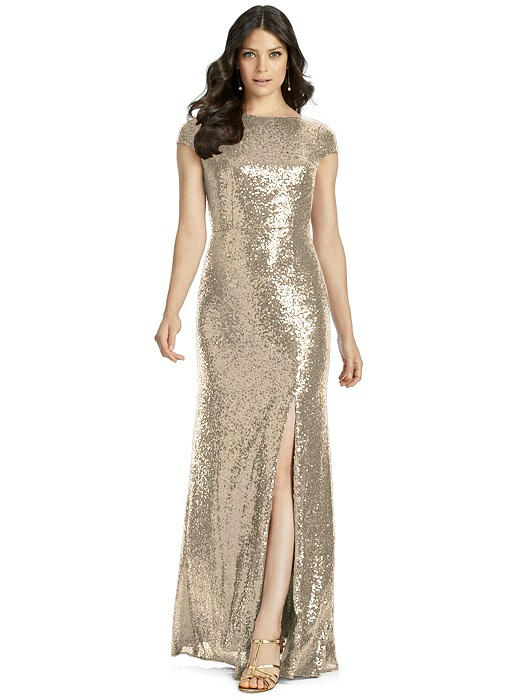 While there were a handful of flower girls included in the wedding, plus a ring bearer, an American wedding tradition Sofia ignored was having a wedding party. Like many other celebrities, she and Joe went without bridesmaids and groomsmen. But…this is one of those areas where celebrities aren't exactly like the rest of us, because most of the rest of us have a wedding party.
If you're loving the look of Sofia and Joe's wedding, but don't love the idea of no wedding party, these long gold gowns are the perfect choice. Check out this gorgeous option above from Dessy right here!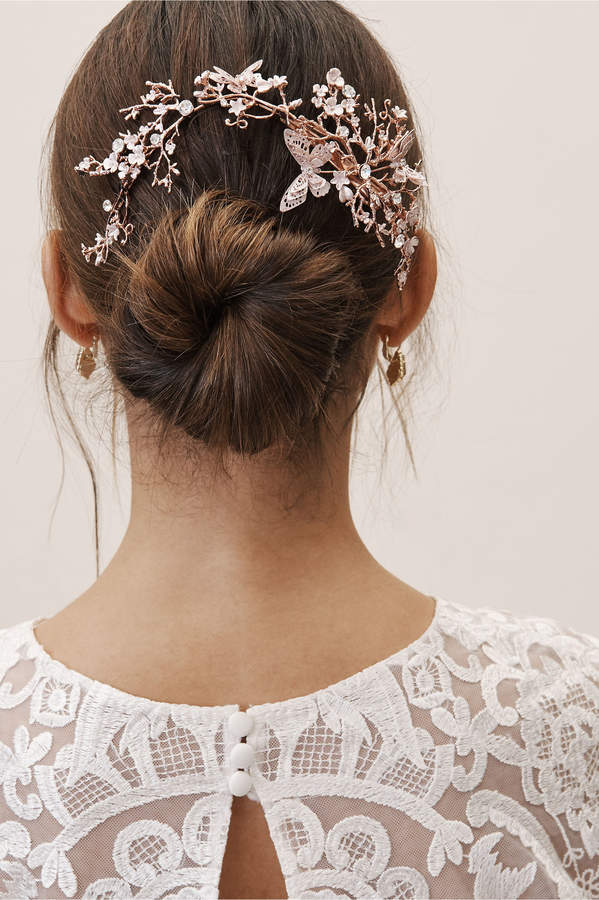 Speaking of sparkle…grab this gorgeous headpiece, which is the perfect accessory for the bride who is ready to ditch the veil and spend the wedding night on the dance floor.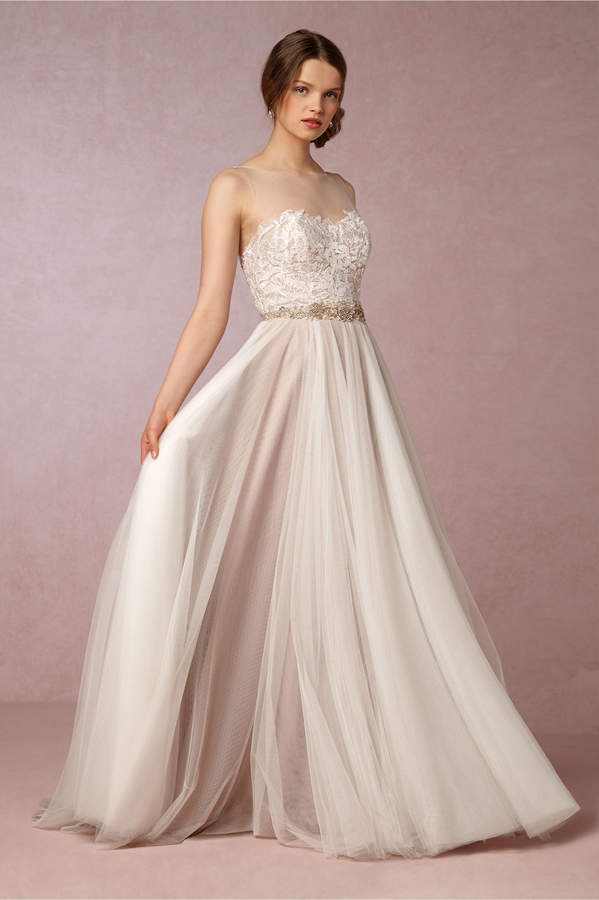 Sofia Vergara's wedding gown was a breathtaking design by Zuhair Murad, complete with a strapless neckline and trailing skirt. For a more affordable fairytale, I love this romantic design by Watters.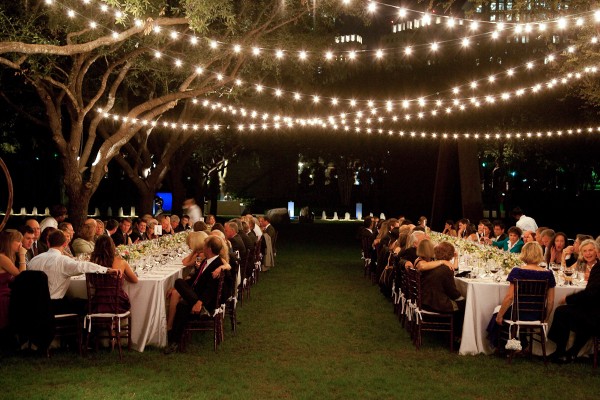 Creating the whole wedding look that Sofia and Joe had for their day requires one major component: lighting. In fact, their entire wedding reception ceiling was covered in fairy lights to create the ultimate fairytale.
While most wedding lighting is less expensive than you might think, creating their design might cut into that normal person/non-celebrity budget. This is why I L-O-V-E Rent My Wedding. You can create the look above by just renting string lights and then returning them once the wedding day is done.
Related: Read Why Wedding Lighting Should Be In Your Budget
Priyanka and Nick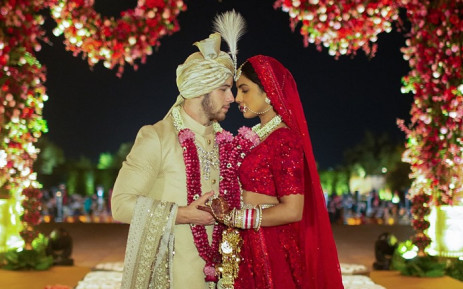 Location: Umaid Bhawan Palace in Jodhpur, Rajasthan
The wedding of Priyanka Chopra and Nick Jonas is easily one of the most famous on my list of 10 celebrity weddings. Priyanka's custom made Ralph Lauren wedding gown and 75 foot long veil were just small parts of the epic details from this wedding celebration.
While the normal AKA non-celebrity brides of the world shouldn't hold out hope for a chat with Ralph about their own custom wedding gown, there are plenty of other ways to give your wedding a little Priyanka and Nick flair.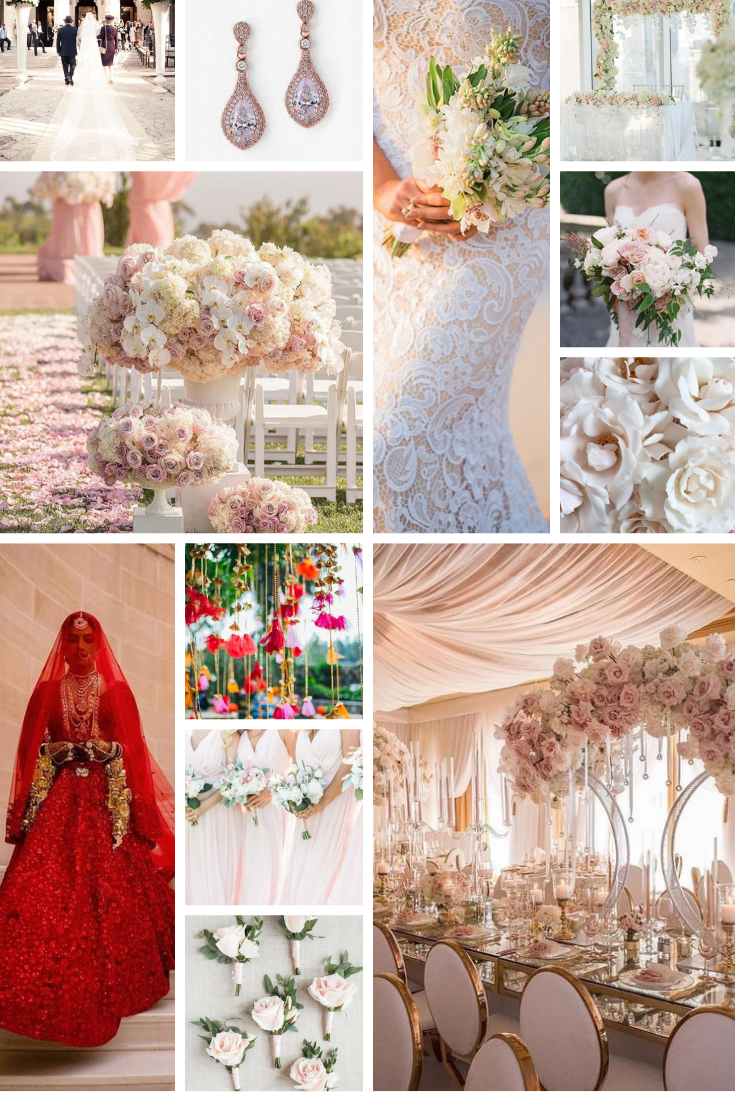 A trend we're seeing in the wedding world lately is emphasizing two different cultures coming together in marriage. Nick and Priyanka included both Hindu and Christian traditions, and it's a great way to really personalize your wedding day.
Whatever your backgrounds are, make them a part of your wedding in anything from ceremony details to the food that is served. Show your guests something they've never seen before and give them memories that they'll talk about for years to come.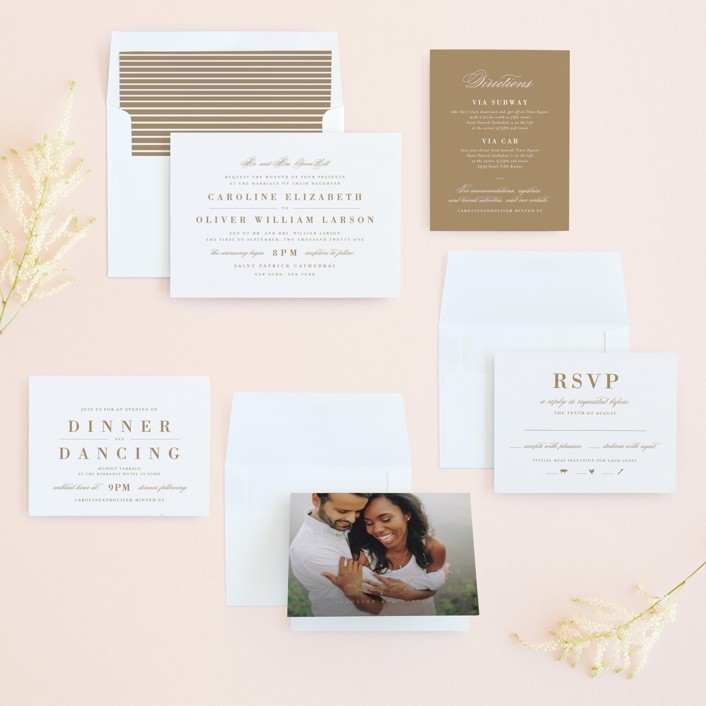 The invitation for Priyanka and Nick's wedding was enclosed in a pastel green box with gold detailing on the outside. Within the box were French macaroons alongside the actual invite. Sending your guests extravagant pastries might be outside of your wedding budget, but you can incorporate them into your dessert bar at the actual wedding reception.
You might think that the actual wedding invitation would also be over the top extravagant (I mean, it did come with macaroons), but guess what? It was surprisingly simple.
Priyanka and Nick opted for an ivory flat invitation with classic gold lettering. You can shop a similar timeless look with our friends at Minted and get the suite pictured above for a really affordable cost. Don't forget to grab an additional 25% off by following this link and using my code: WEDPLROTHWEILER.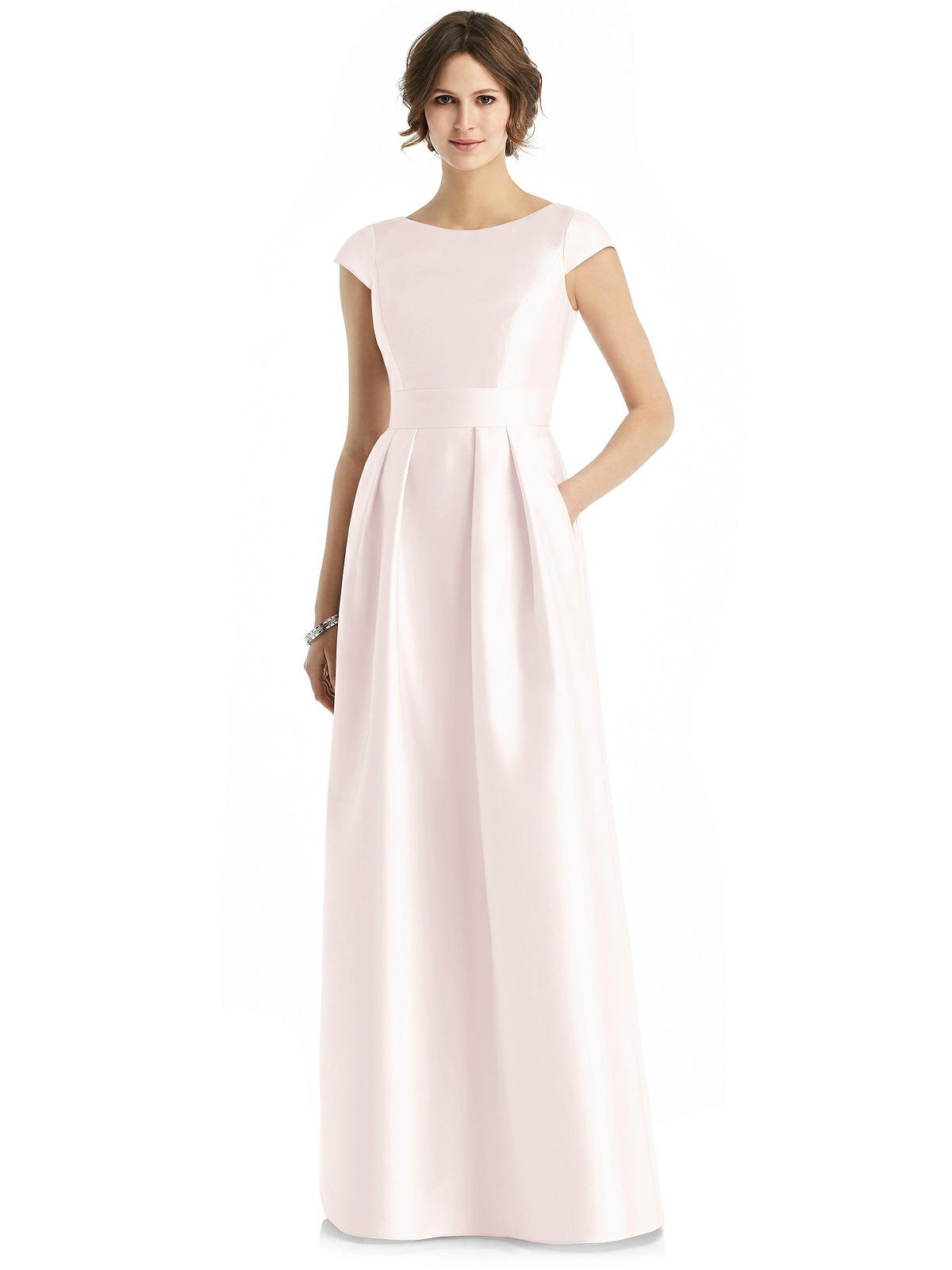 Blush isn't just popular for non-celebrity weddings…celebrities seem to be crazy about this and every other shade of pink for their wedding days as well. In fact, except for Kim and Kanye, every other celebrity couple on this list of 10 that had a wedding party dressed their bridesmaids in pink! Priyanka Chopra's bridesmaids all wore long, satin dresses in soft pink, which were custom made by Ralph Lauren.
For a more affordable, but still conservative style bridesmaid dress, I love this option from Alfred Sung at Dessy pictured above. The cap sleeves and fitted waist keep the look formal and feminine.
Not loving all this pink? There are plenty of color options available and you can see them all for this dress right here. Find the one that you like and be sure to leave it in the comments below!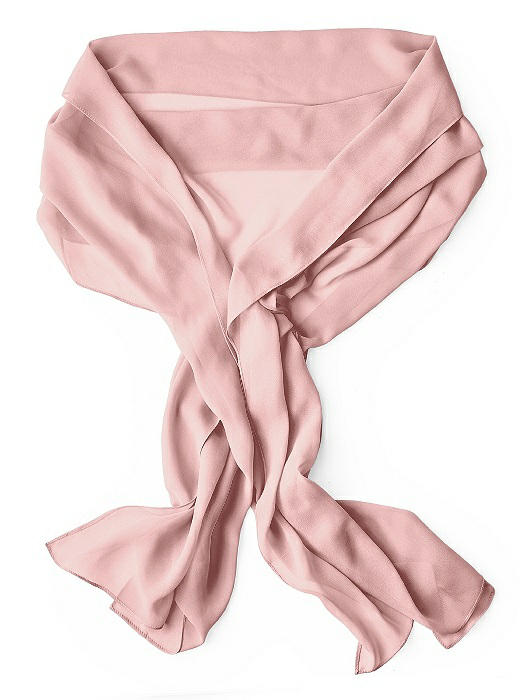 Another way you can steal Priyanka's bridesmaid's look is by adding a gorgeous stole like this one above from Dessy! Priyanka provided sheer shawls for her bridesmaids in soft pink, but you can grab one in almost any color. These are perfect for those weddings in the cooler months and, unlike the actual dress, these can be used again (and again and again).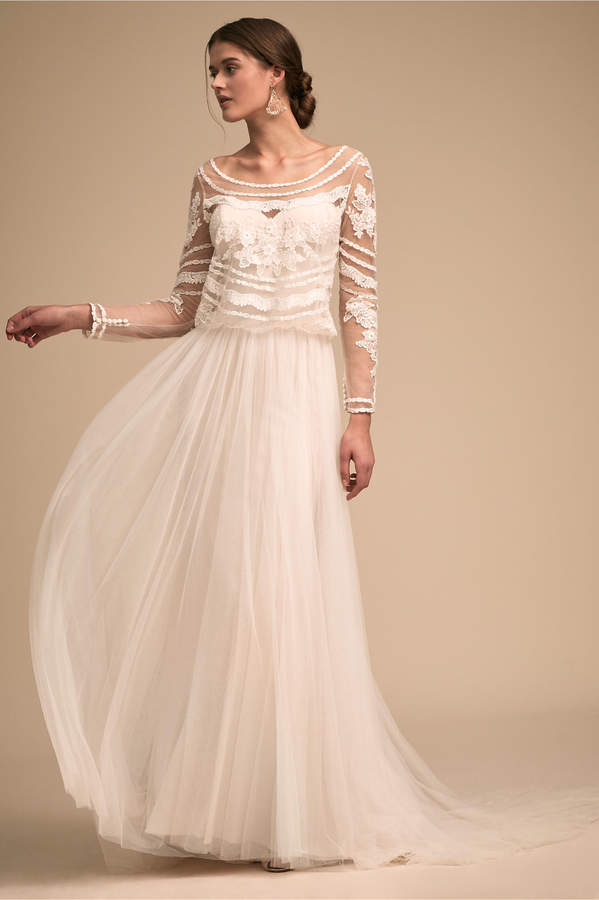 I continue to be excited with all of these celebrity brides wearing wedding gowns with sleeves! The lace sleeve details on this BHLDN dress above will give you serious Priyanka wedding gown vibes. If that wasn't enough, the gorgeous, flowy skirt will totally do the trick. Grab her look for less right here!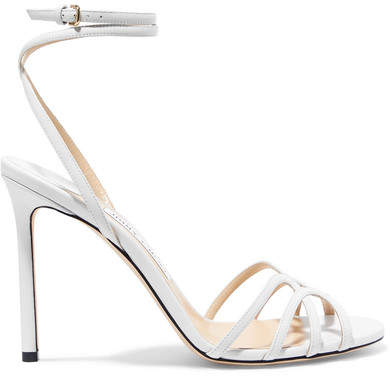 Nothing is better than a classic heel for the wedding day, especially if the wedding dress has details like beading or lace. You've heard the saying "less is more", and it totally applies to wedding shoes.
These Jimmy Choo bridal shoes are subtle enough to work with any gown while still being absolutely gorgeous. Oh, and if you're looking for comfortable wedding shoes, Jimmy Choo is totally the way to go. Grab them here.
Jacqueline Bouvier and John F. Kennedy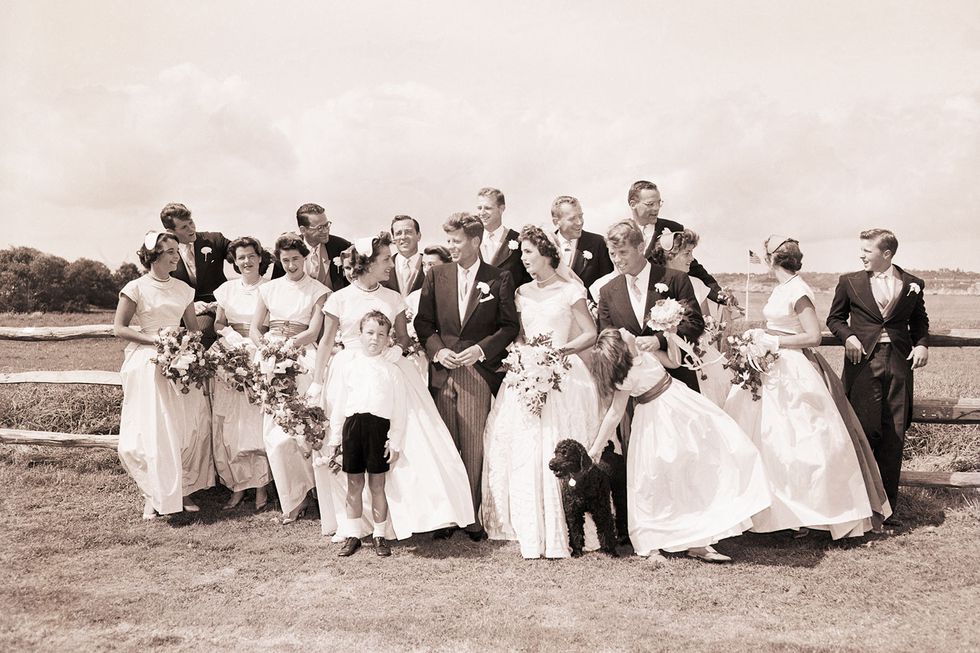 Location: Hammersmith Farm in Newport, Rhode Island
You might know them as JFK and Jackie, this incredible wedding of Jacqueline Bouvier and John F. Kennedy, was ahead of the farm wedding trend by about 50 years or so. After the church ceremony was completed, the reception was held on a 300 acre estate for more than 1,200 guests.
And you thought you invited too many people….
Some of you are probably wondering why I would include this wedding, which took place in 1953, alongside the high-profile celebrity weddings in this blog. Well, it's a damn classic and the timeless details are what make it my absolute favorite out of the 10.
Plus, I'm a sucker for farm weddings that are done right…and this one was really done right.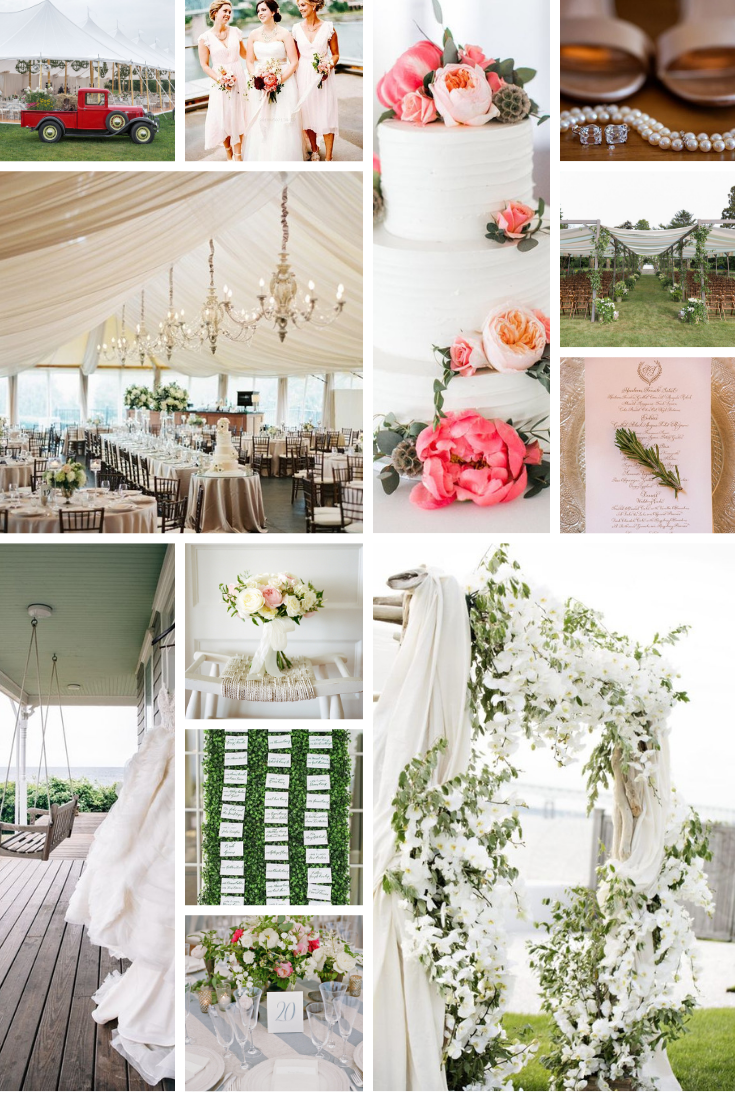 A quintessential Rhode Island wedding, both formal and whimsical, the colors were soft shades of pink mixed in with the currently trendy white and green combination. Jackie's bouquet had both pink and white spray orchids along with gardenias.
Wedding guests enjoyed an outdoor cocktail hour and reception, while a band played under a huge canopy. The overall look of the wedding is strikingly similar to those farm and tented weddings couples covet to this day.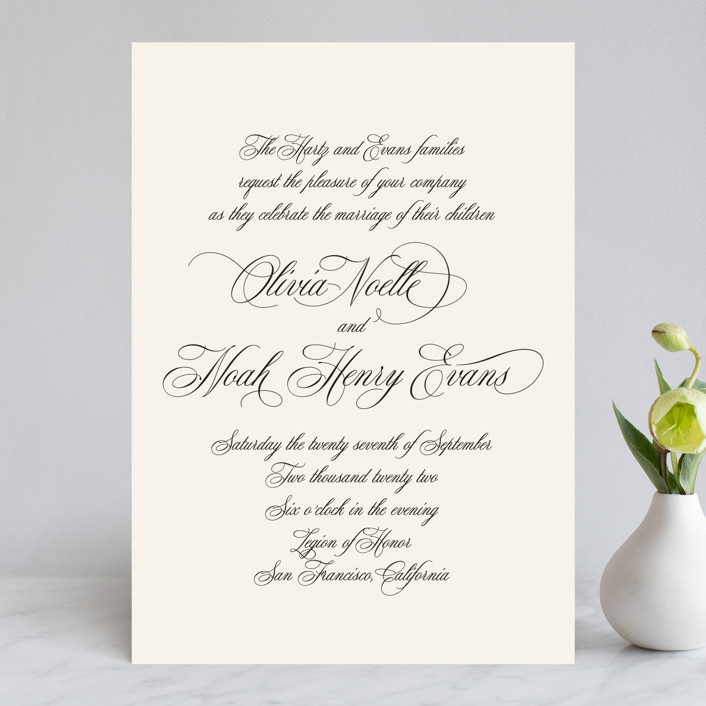 Not unlike many celebrity couples, the wedding invitation for John and Jackie Kennedy was classic and simple. Set on a flat ivory background, the letter was black and not raised. Creating this look for your own wedding invitations is not only really easy, but it's also crazy affordable.
Check out the invitation above right here and then use my code WEDPLROTHWEILER at checkout to save an additional 25%!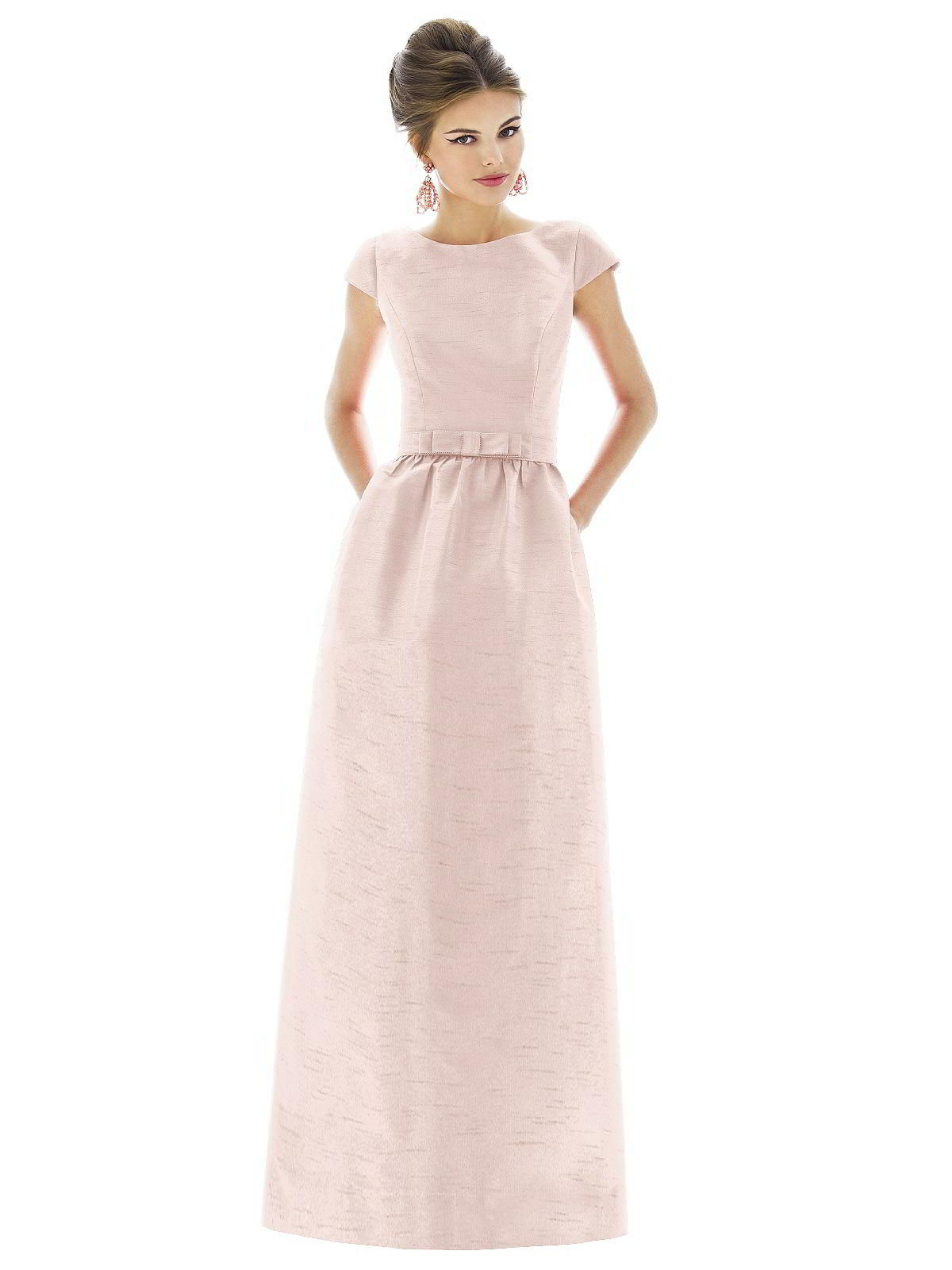 There were 10 bridesmaids along with 1 Matron of Honor and 1 Maid of Honor at JFK and Jackie's wedding. The bridesmaid dresses were all long, pink taffeta with a belt around the middle and cap sleeves. Perfect for black tie in a ballroom or on the farm, you can get that same look for less with the gorgeous Alfred Sung dress above.
And yes, other colors are totally available for those with an aversion to pink. Click here to see them all!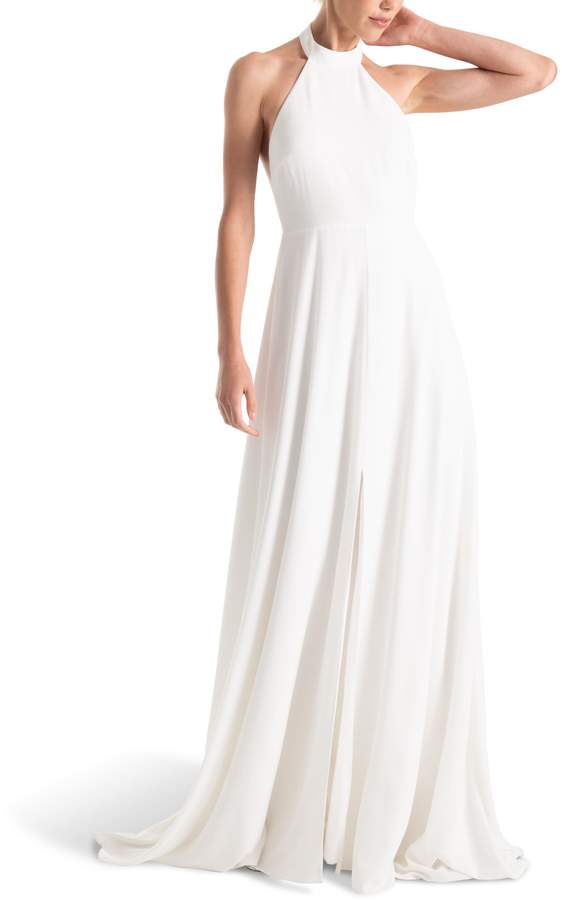 Next time you're stressed about your wedding, think about how Jackie's original wedding gown was actually destroyed in a flood just days before the wedding day. Can you imagine? Thankfully, her gown designer, Ann Lowe saved the day by creating a new gown made of ivory tissue silk with a portrait neckline.
Oh, and here's a fun fact if you're ever stuck for conversation or an interesting Facebook status: Ann Lowe was actually an African American designer who did not receive any credit for Jackie's dress until after her death.
The gorgeous Joanna August dress above is what I imagine Jackie would wear if she was getting married in the current time. The soft and simple design is conservative, feminine and perfect for an outdoor wedding. You can check out this dress right here and see if it's right for you!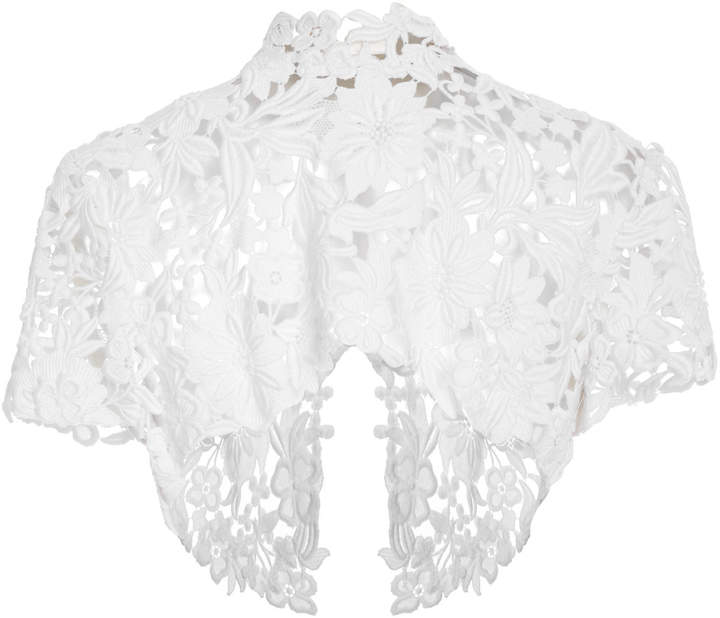 I absolutely love this lace bolero from Carolina Herrera! Boleros are great for brides who are looking for a way to stay conservative, perhaps during the ceremony or even for the entire wedding celebration.
It's also the affordable option to having more than one wedding gown like many of the celebrities on this list had. You can change your look with this lacy bolero without worrying about it being attached to your wedding dress. Shop the look right here!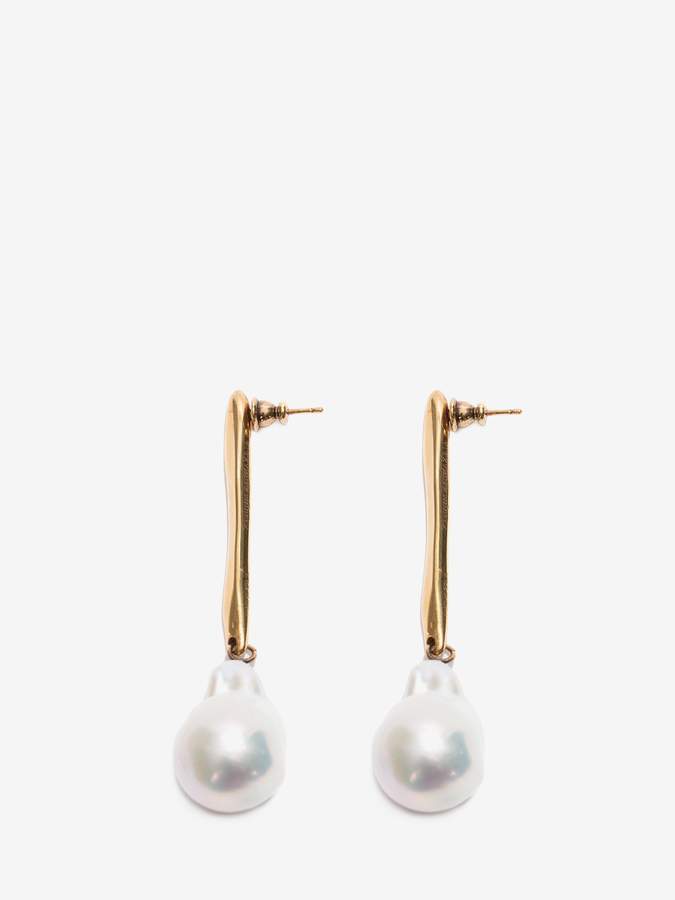 While we're on the subject of accessories, you can never go wrong with pearls on the wedding day! These Alexander McQueen pearl drop earrings are the perfect match for the bride looking for something classic.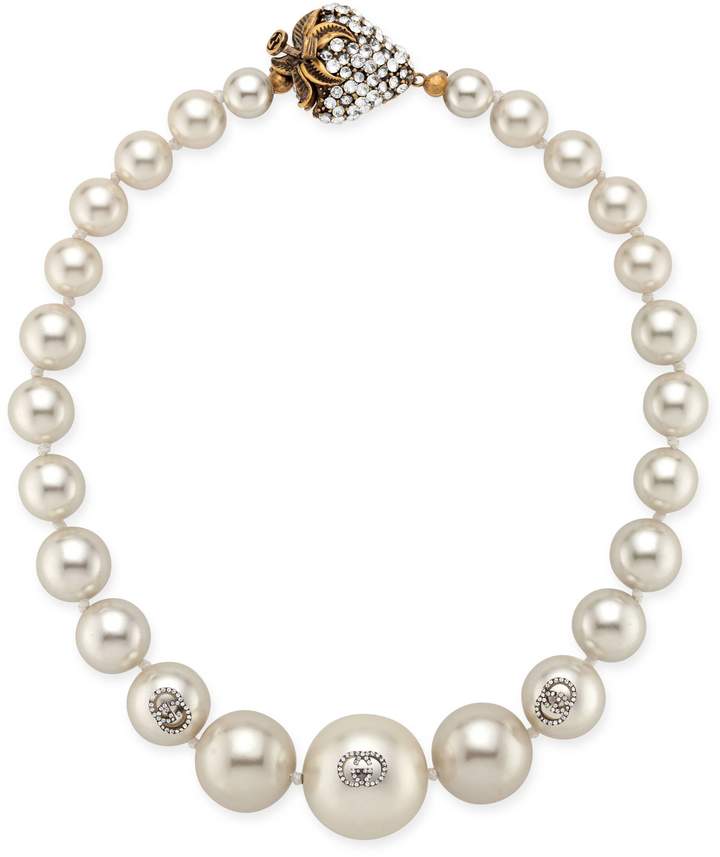 Jacqueline wore two gorgeous gifts from her groom: a diamond bracelet and a choker of pearls. This stunning Gucci pearl choker necklace is the perfect combination of the two and gives a little edge to the otherwise timeless bridal style. Drop a hint to your groom by leaving this page open on your phone for him to see (and then buy!)
Celebrity Wedding Style Continues…
Want even more celebrity wedding inspiration? Curious to find out which couples round out the top 10 on the list? Click through to the next blog post right here for the rest!