Welcome to Part 2 of how to steal style ideas from celebrity weddings. If you missed the first part of the blog, be sure to check that out here.
No matter what your wedding style is, or how much you love/hate wedding planning, we all have some level of fascination with celebrity weddings. Let's be honest though, while they're great for inspiration, it's not always possible to have the same exact weddings they do.
So, unless you have access to a 300 acre private family farm, or the funds to have your guests arrive via private jet, this is the blog for you! I'm breaking down 10 of my favorite and most popular celebrity weddings and showing you how to steal style ideas for your own wedding day. You can also pin all the inspiration boards I put together and find out where to shop and how to save big.
Don't forget to check out the first five couples in the previous blog here, which included Kim Kardashian and Kanye West as well as Chrissy Teigen and John Legend.
Inspired by any of these weddings? Have a different celebrity wedding to recommend? Drop it in the comments below!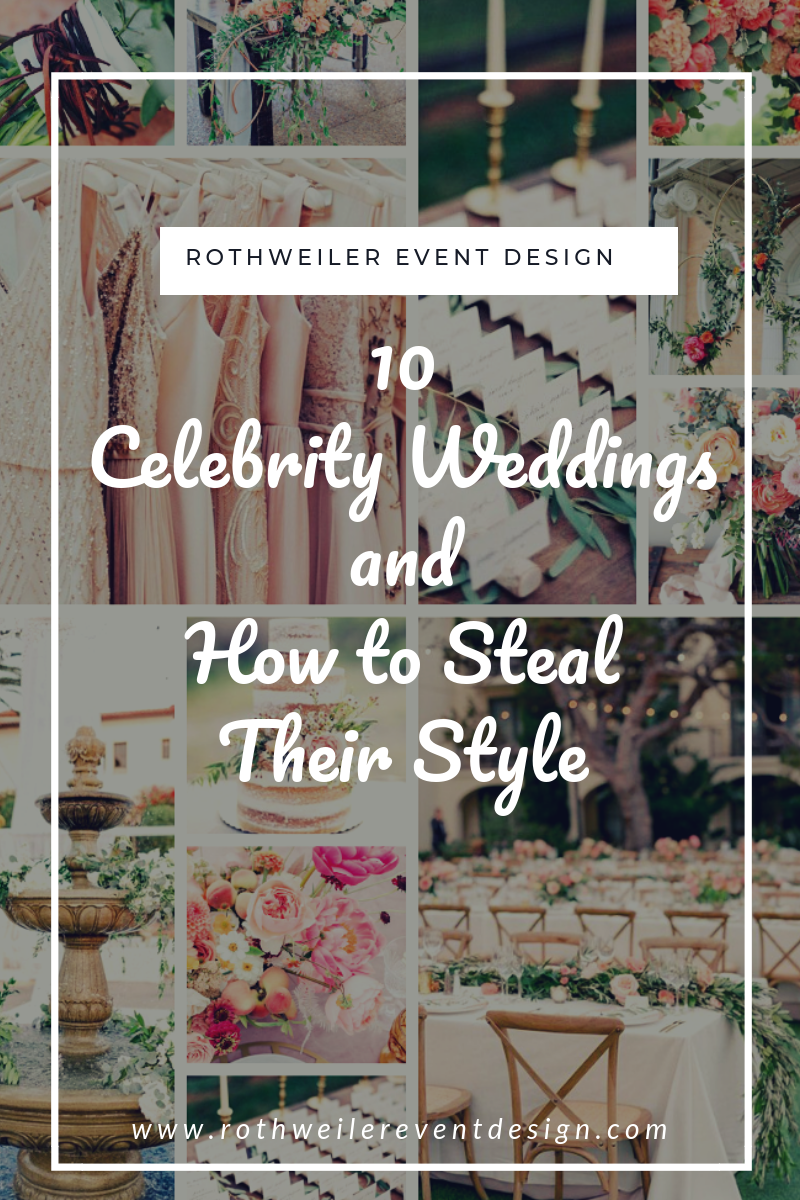 *Please note that most of the links of this page are affiliate links. This means if you click on a link and purchase, you will receive the same price, but I will receive a referral fee. This helps keep my blog free and allows me to share wedding planning tips with you. Thanks for your support!*
Let's jump right into the next 5 celebrity weddings by starting with a couple that has been together for like 100 years….well, at least in Hollywood years that is…
Ellen DeGeneres and Portia De Rossi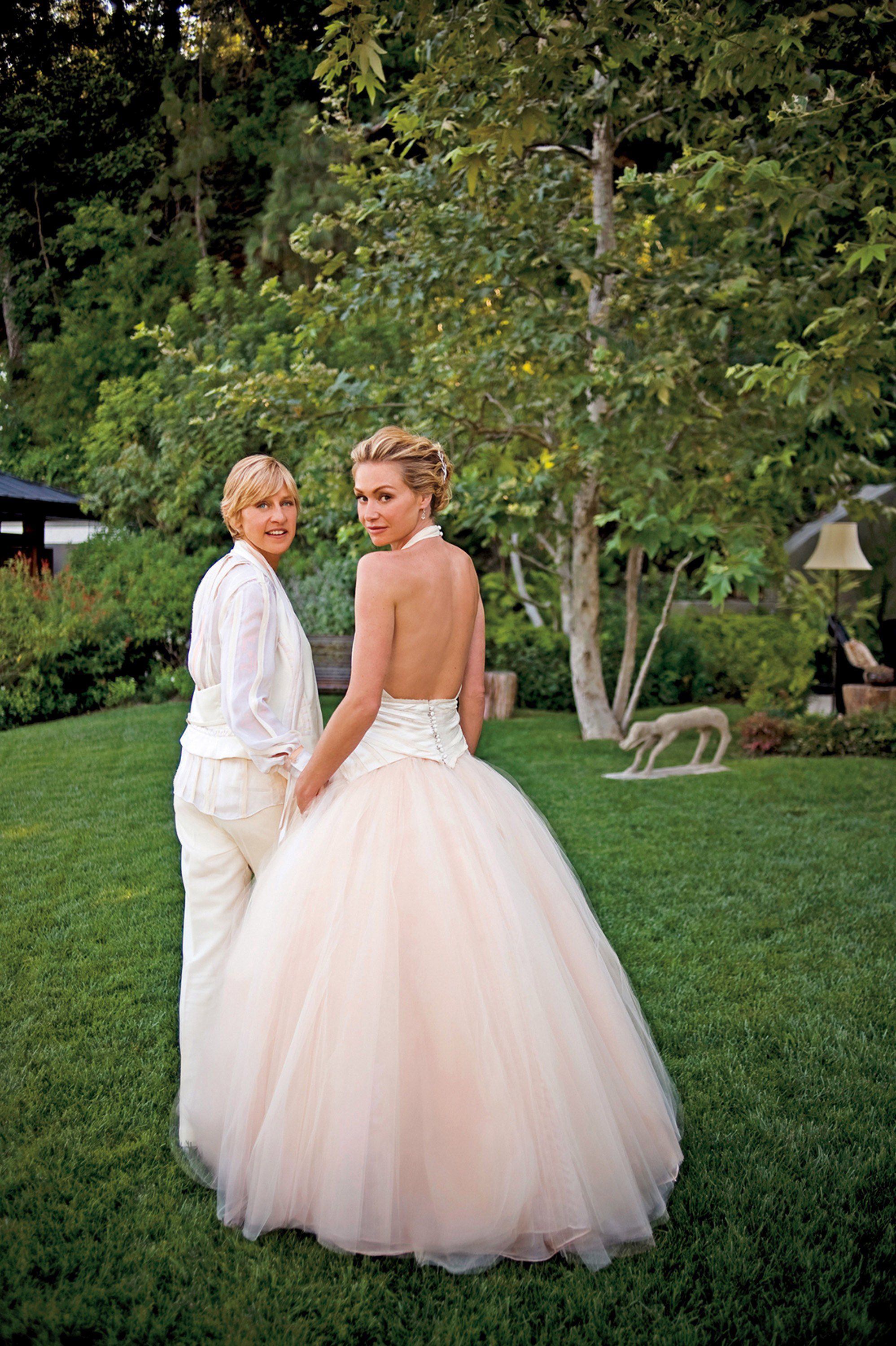 Location: Ellen and Portia's Private Home, Los Angeles, California
Married at their home in Los Angeles back in 2008, Ellen and Portia hosted a small and intimate wedding celebration. The guest list included only 19 people and they went without the wedding party. Don't worry though because you can still steal their celebrity style for your own wedding day, whether or not you have bridesmaids and groomsmen.
Using a color combination that included a mix of pale and bright pinks with cream, ivory, Persian red, and linen, this Summer wedding design was whimsical and romantic. There aren't too many details or pictures available from this wedding, but this inspiration board I put together is a great starting point for couples that are looking to steal Ellen and Portia's wedding style.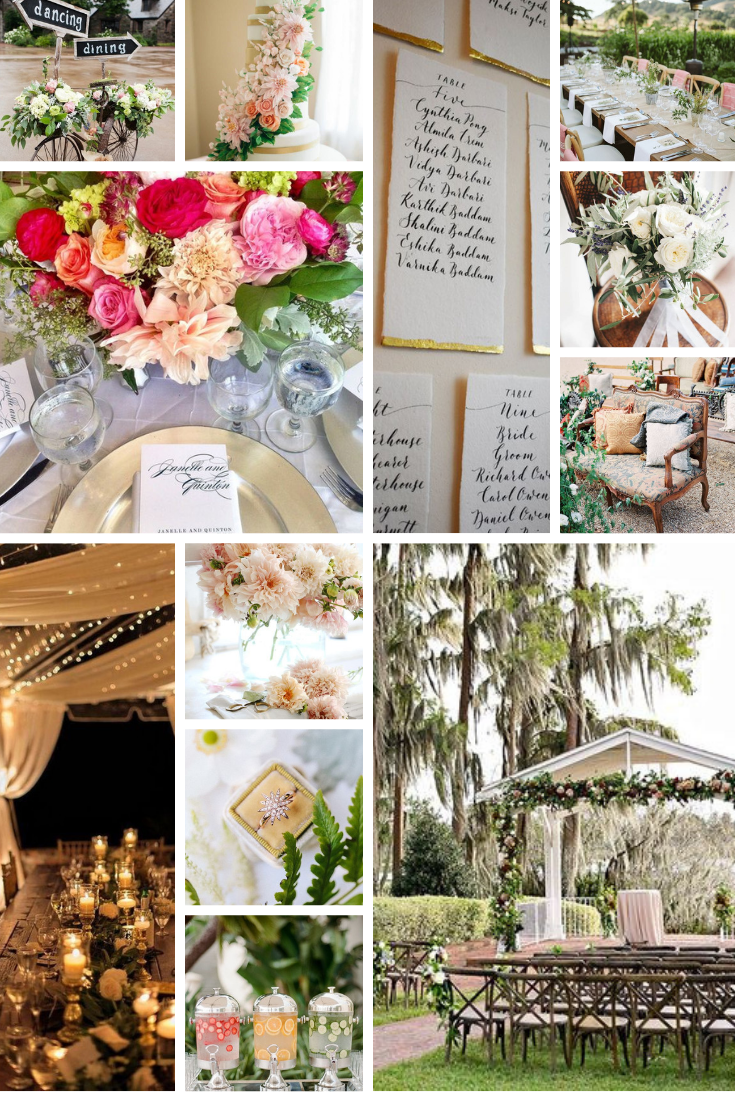 You don't have to host a wedding at a private home like Ellen and Portia did (but, hey, if you can, totally do it) and there are plenty of outdoor options available no matter where you are. Keep the organic feel of the wedding by using some of the same flowers Ellen and Portia did like cafe au lait dahlias and Ecuadorian roses.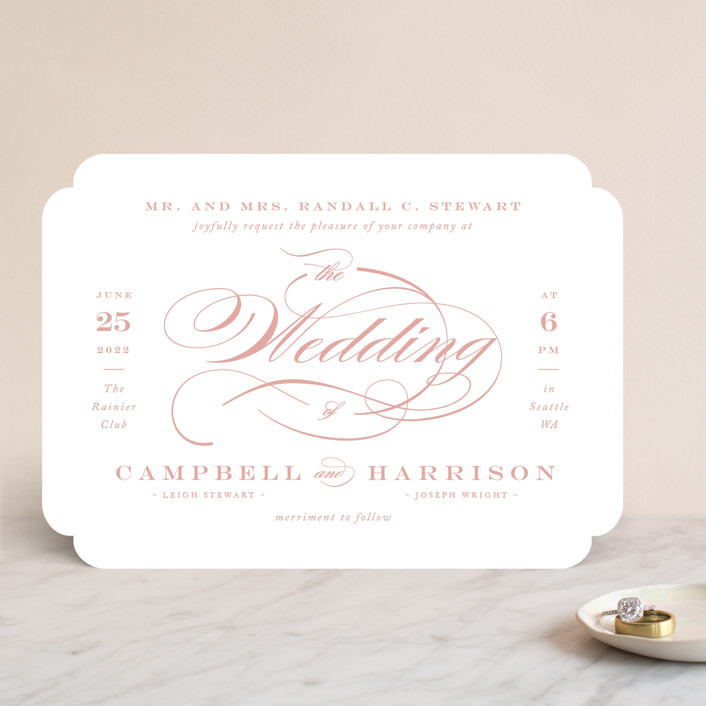 While I couldn't track down a copy of Ellen and Portia's actual wedding invitation, I did find out that they provided hand calligraphed place cards for all of their guests.
Even though place cards aren't practical for most weddings, you can steal this wedding style with the invitation above from Minted which also incorporates the pink and white colors from their wedding. You can shop this affordable suite right here and then save even more by using my code WEDPLROTHWEILER.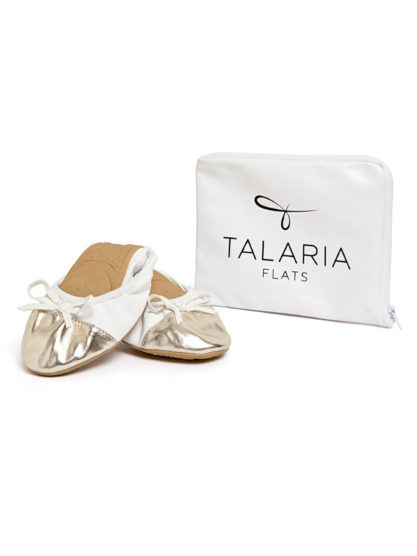 Both Ellen and Portia wore slippers on their wedding day and I absolutely love that idea. After all, if you're going to be outside in the grass, who wants to deal with heels sinking into the ground? For years, I've been a huge fan of Talaria flats; they are the perfect gift for your bridesmaids and for yourself as well. Even if you're planning on wearing heels, grab a pair of these to change into when you're ready to get on that dance floor!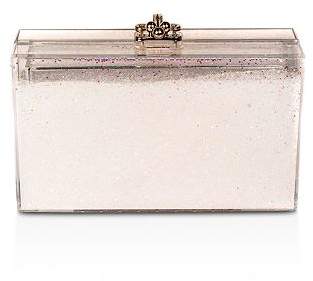 Even if you're one of those lucky brides with pockets in your wedding gown, you'll likely want to have a small clutch purse on the day of the wedding. I love the clutch above and how the subtle rose gold sparkle fits right in with Ellen and Portia's wedding colors. You can shop for this super cute purse right here! Be sure to have it ready for your photographer to take cute detail photos with while you're getting ready for the ceremony, too!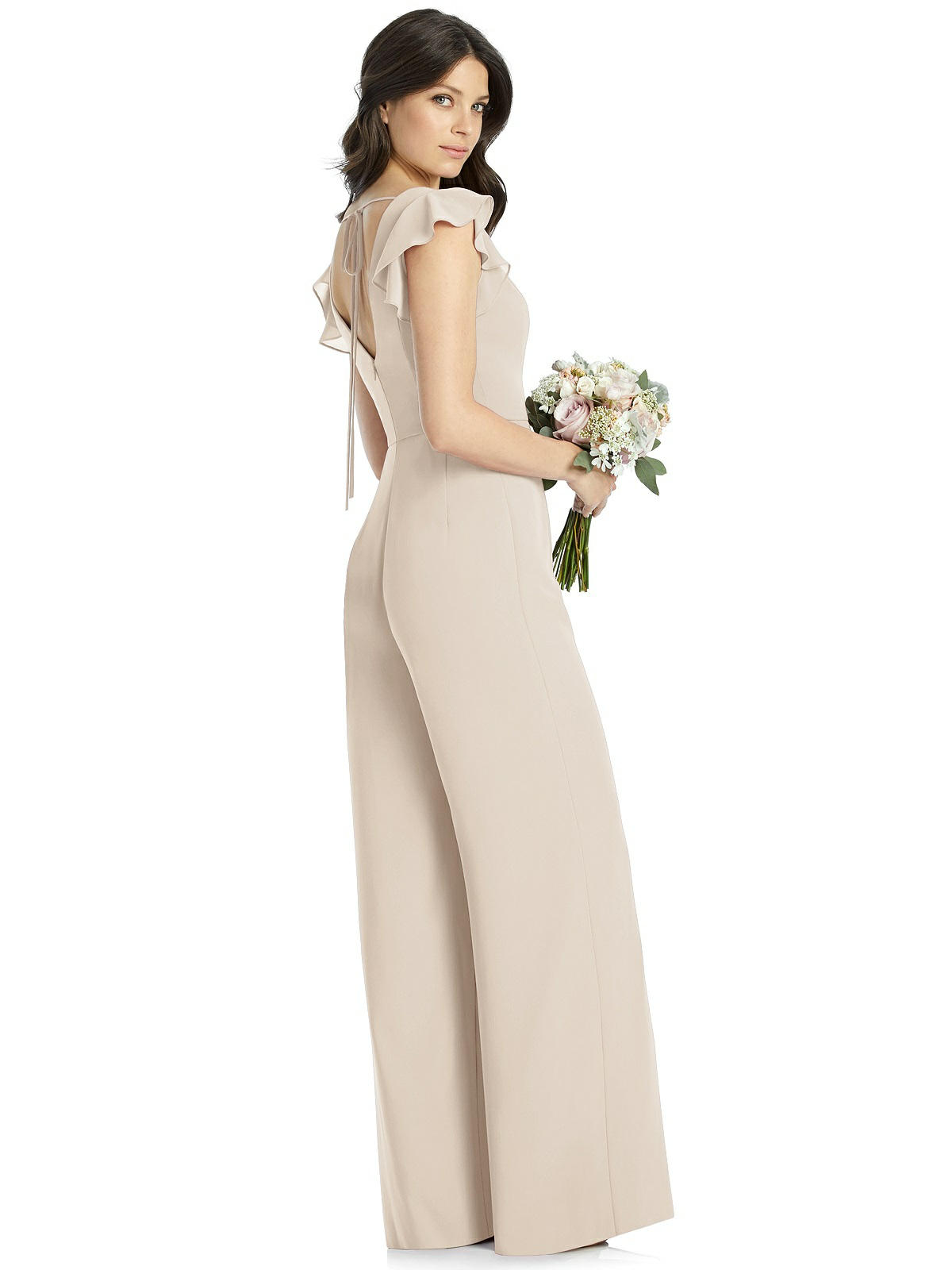 On the wedding day, Ellen rocked out cream colored airy pants and paired them with a super chic vest. You can get that same look with this jumpsuit from Dessy that is available in about 500 different colors! I love this for an after-party or even for the bridesmaids. Oh, and did I mention how affordable it is?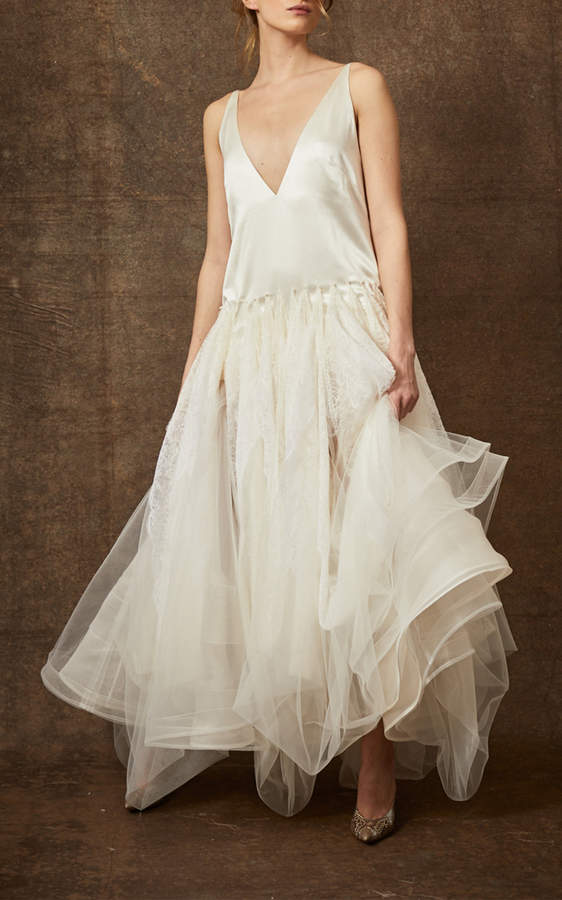 I absolutely love this Danielle Frankel gown as a more affordable option to Portia de Rossi's Zac Posen dress. Portia's dress was a tuxedo inspired halter top with lots of tulle to create a full and flowy skirt. The above look is available here and will keep that same celebrity style without destroying your wedding budget!
Gabrielle Union and Dwayne Wade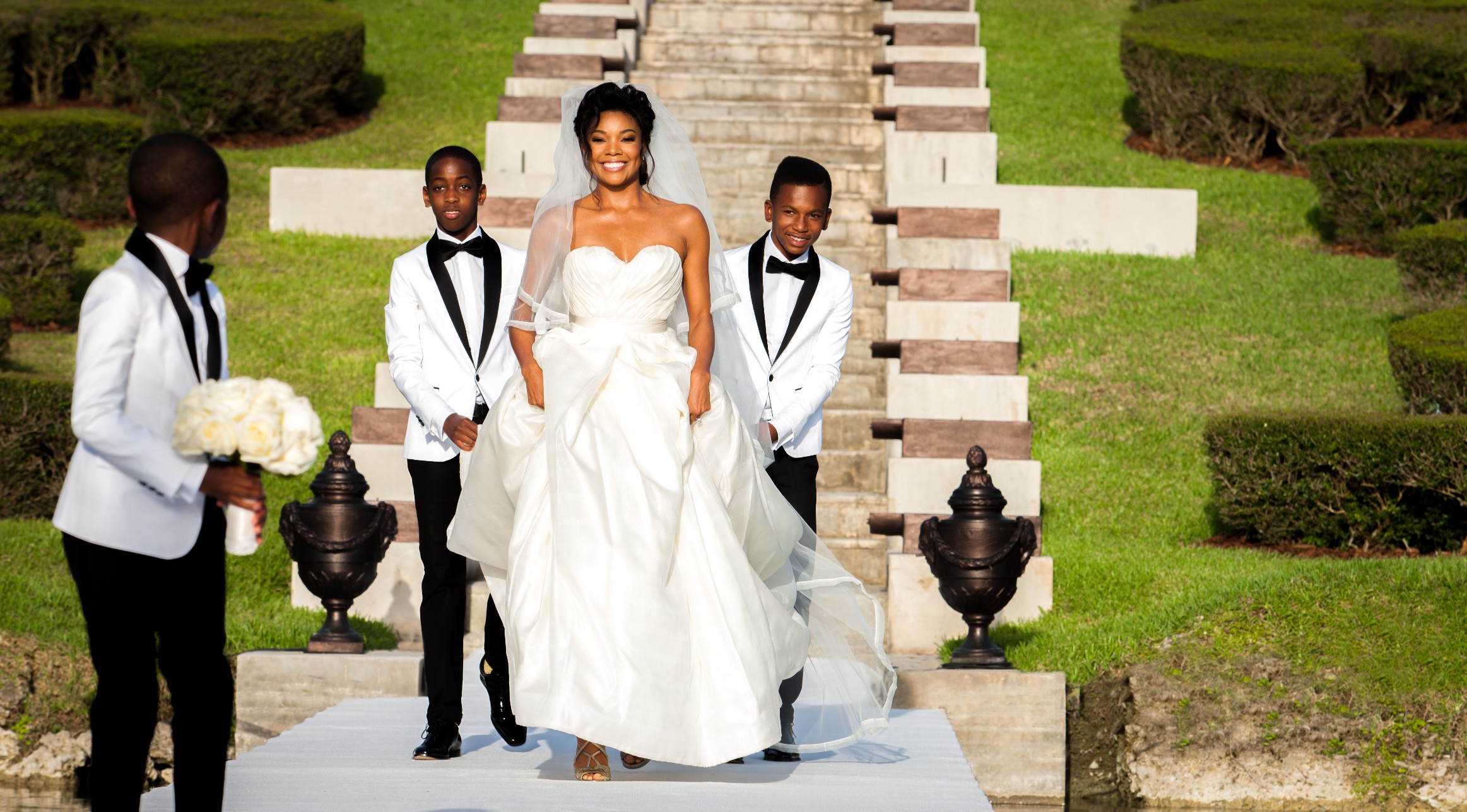 Location: Chateau Artisan in Miami, Florida
It's not everyday you get to go to a wedding at a castle surrounded by a moat, but here we are at Gabrielle Union and Dwayne Wade's wedding day! A classic black and white design with plenty of modern elements…if you've been waiting for the ultra-chic wedding style, the wait has ended with this glam wedding right here.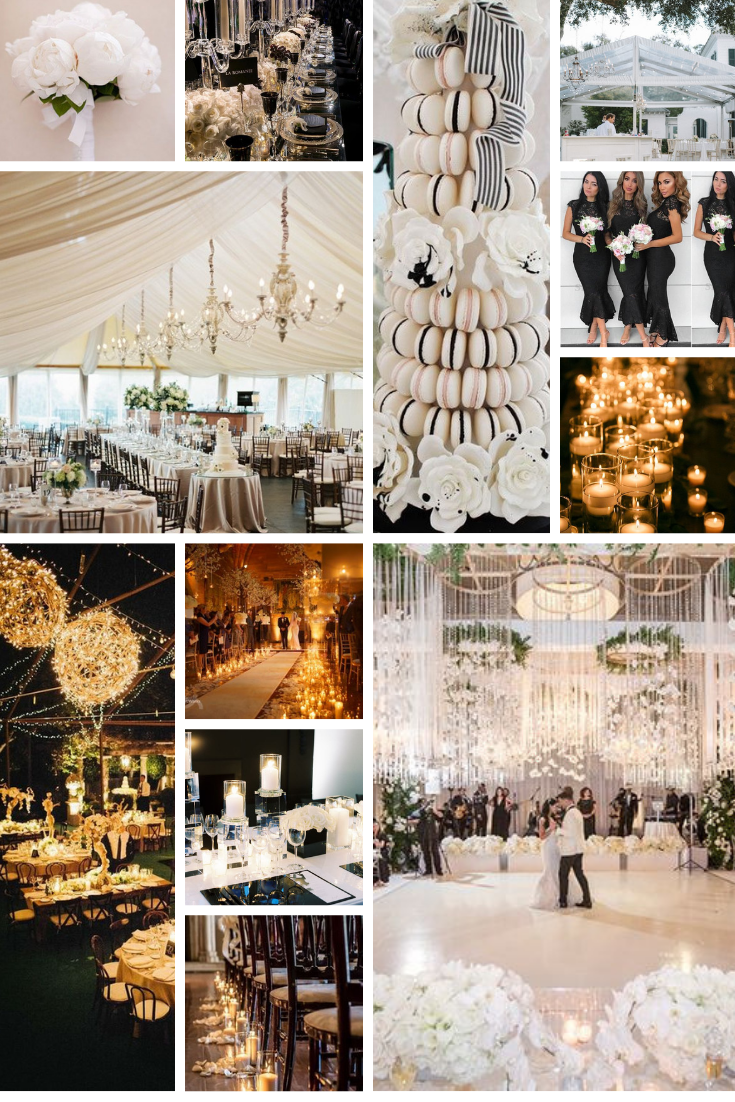 Two major things were absent from the breathtaking wedding of Gabrielle Union and Dwayne Wade. Any guesses?
Flowers and 2. A wedding party.
That's not to say they didn't have any flowers…but they were limited to personals, her bouquet and a few touches here and there. Once guests entered the reception portion of the evening, they were greeted with a room filled with candles.
Missing from the tables were the standard flower centerpieces. Instead, there were towers of white candles in hurricane vases, and all at different heights. The look was super chic and super clean…and for you brides looking to do something other than flowers, you totally need to pin the inspiration board above!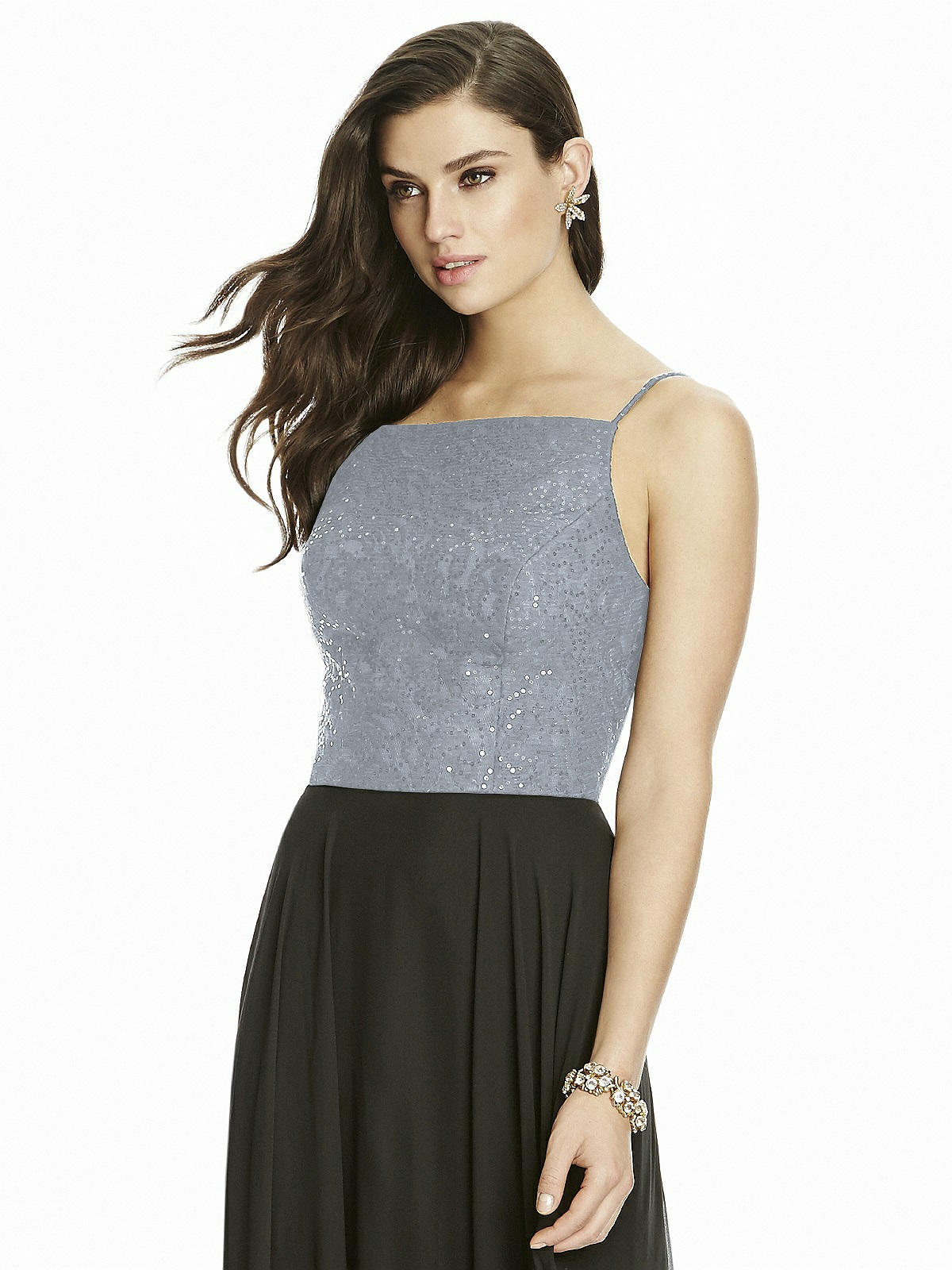 So, yeah…they didn't have a wedding party…well, except for a few younger members. Just in case you totally want to steal their celebrity wedding style and also happen to have a wedding party, I had to include this dress above from Dessy. It's actually two pieces and I love the little bit of sparkle on top with the simple, flowy black skirt on the bottom. Check out all the other colors it comes in right here!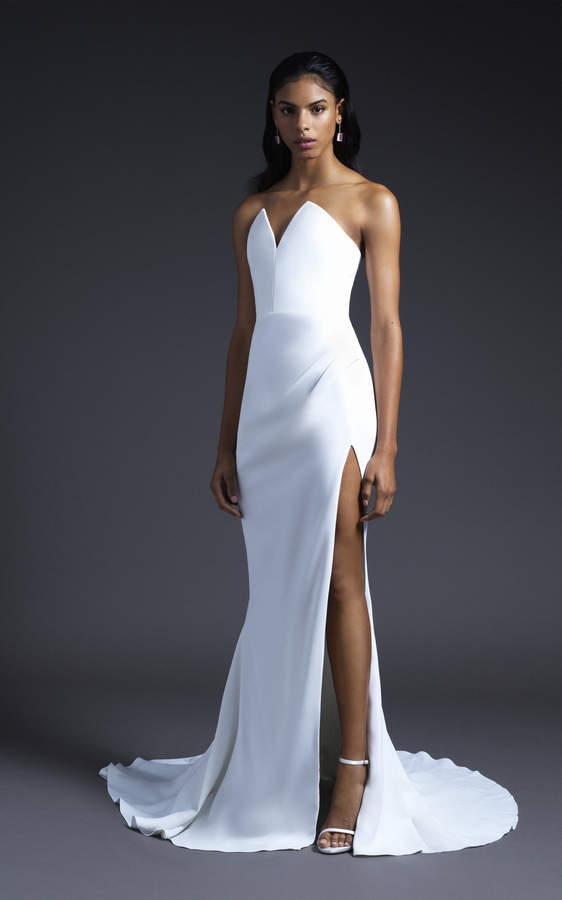 Now let's talk about the wardrobe that actually existed at Gabrielle and Dwayne's wedding. Union wore two wedding gowns, one which was a breathtaking strapless wedding gown with a sweetheart neckline by Dennis Basso. The stunning Cushnie wedding dress above is perfect for the modern bride looking for something sleek that will still make a statement. You can shop this affordable alternative to Gabrielle Union's wedding gown right here.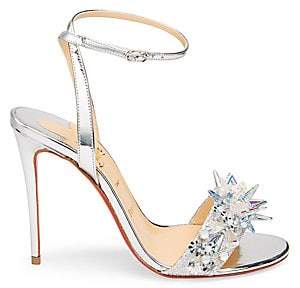 Of course, with a sleek and simple dress, you have to get the perfect (and dramatic) bridal shoe. These gorgeous Christian Louboutin heels have the incredible sparkly detail along the front that is sure to catch the light every time you hit that dance floor. Bonus? I guarantee you'll wear these after the wedding. If that's not a sound investment, then I have no idea what is. Grab them here.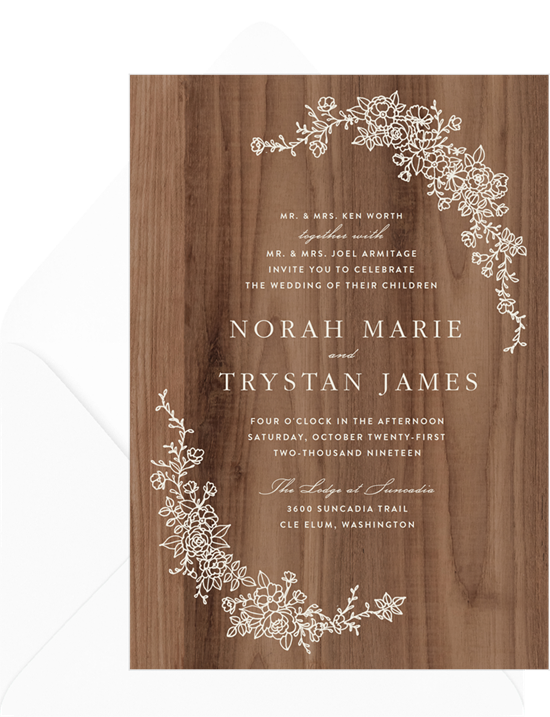 Gabrielle and Dwayne sent out wedding invitations that were actually printed on wood. I found this super affordable wood invitation above from my friends at Greenenvelope. You can check this one out and all of their other options right here.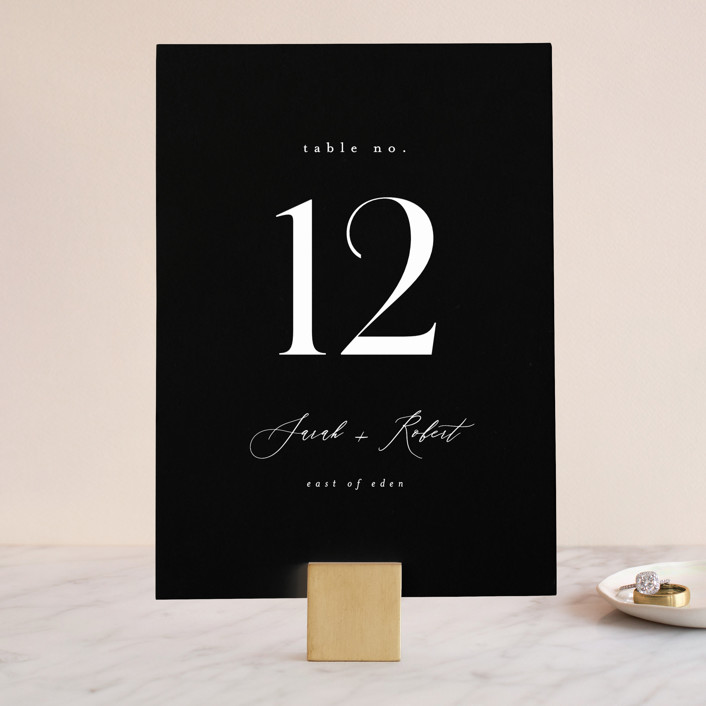 I mentioned earlier that the reception design was all about the candles and not about the flowers. Keeping with that minimalist wedding vibe, these table numbers are just enough to let people know where their table is without distracting from the overall decor. You can get these in black and white if you really want to steal Gabrielle and Dwayne's wedding style, or check out other options right here.
Don't forget to use my code WEDPLROTHWEILER to save an additional 25% off at checkout!
Blake Lively and Ryan Reynolds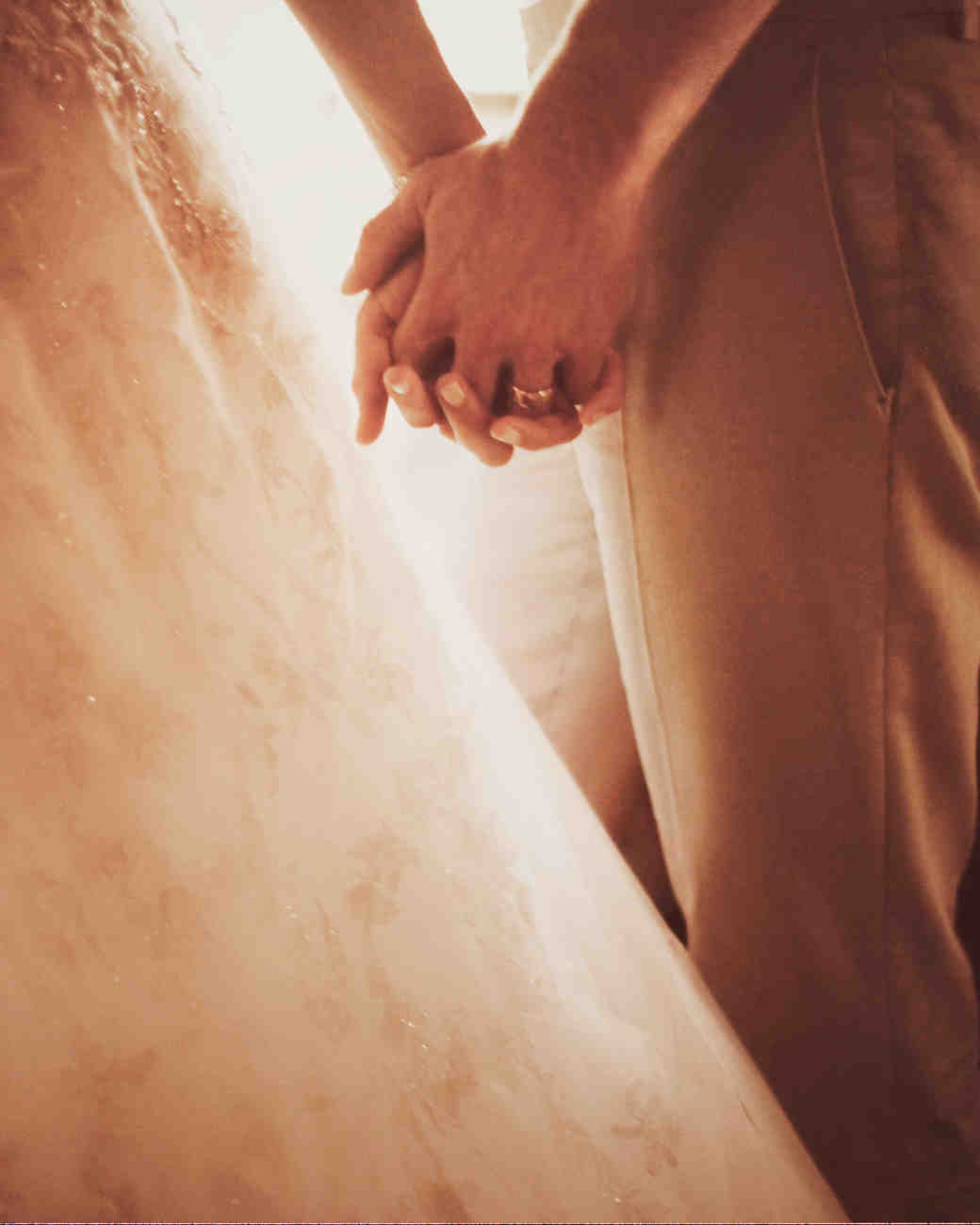 Location: Boone Hill Plantation in Charleston, South Carolina
Blake Lively and Ryan Reynolds had the most secret of secret celebrity weddings ever. Seriously. Martha Stewart Weddings was granted exclusive access and even they could only show a few photos. You can check out their stuff right here, including the dessert tables that were so adorable!
Even though there are no full photos of Blake's dress, or Ryan's wardrobe….or the reception, or the bridesmaids…or pretty much 90% of the wedding, there is just enough out there that I was able to put together an inspiration board, which you can grab below. This "southern charm" wedding was filled with softer colors including the incredibly trendy rose gold. In fact, my favorite detail of this entire wedding were the petals in the bridal bouquet that were literally dipped in subtle rose-gold glitter.
Seriously though, how cool is that?! I'm currently trying to pressure at least one of my current brides to do this.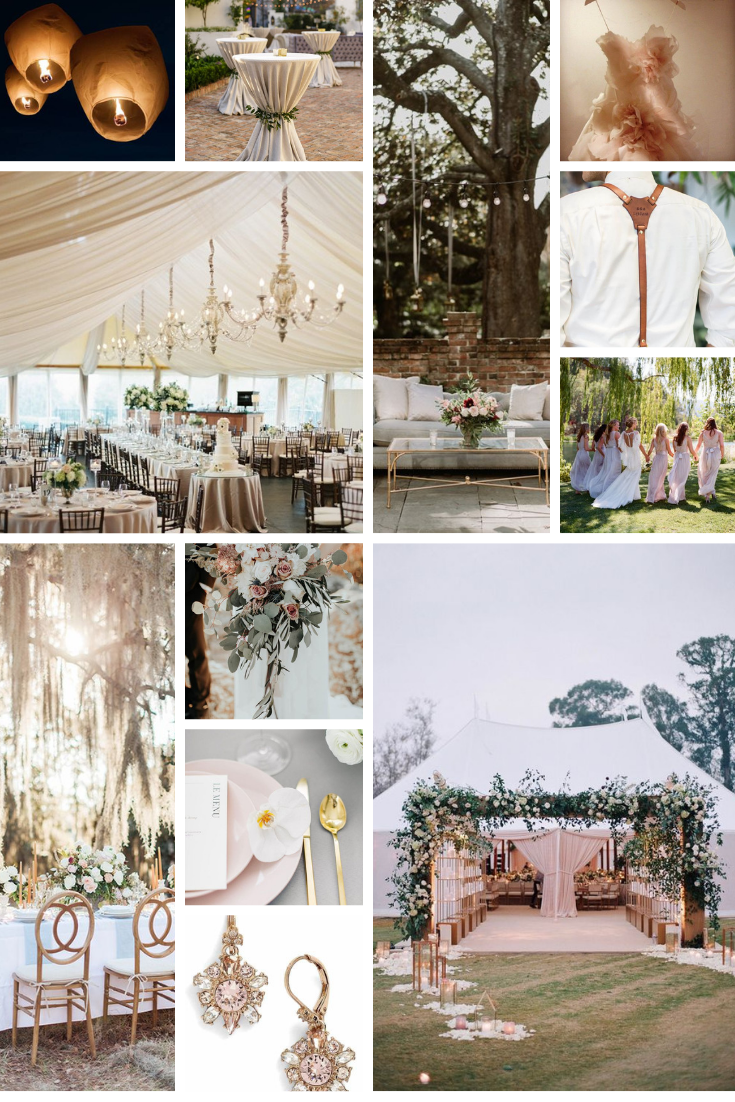 The wedding took place on a plantation and underneath a huge white tent. There were a total of 35 guests and yes, they did have a wedding party! Flowers used for Blake's bridal bouquet included pink jasmine, dusty miller, hydrangea, and andromeda. I can only assume that similar flowers were used for the rest of the personals and all of the decor….because logic.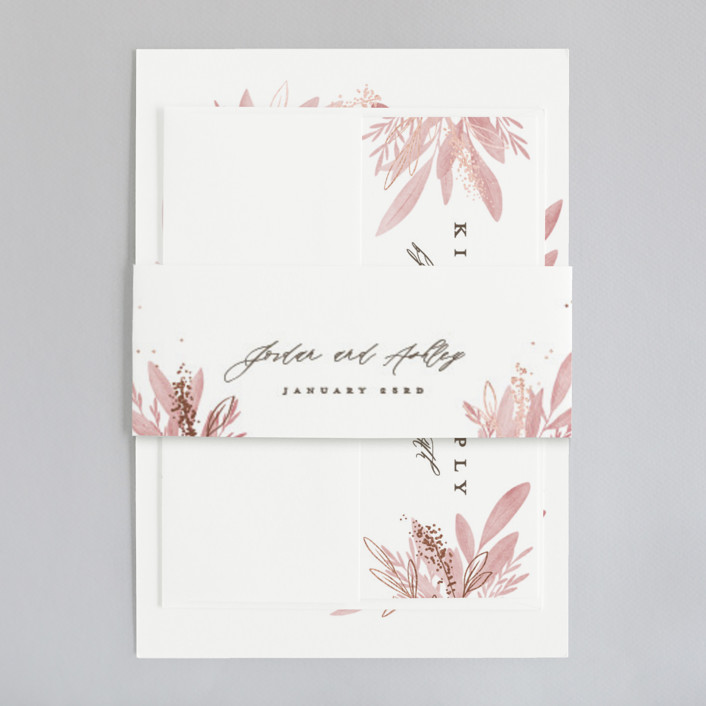 Blake and Ryan's wedding invitation was a simple flat card with two layers. The top layer was a neutral color while the bottom layer had subtle pink details. There was also a flirty design in the corner, which added some fun to the formality.
These pink and white invitations above from Minted give you that same fun and formal feeling for your wedding, plus, you'll have the option to add rose-gold foil if you really want to steal Blake and Ryan's wedding style. Check them out here and use my code WEDPLROTHWEILER at checkout for an additional 25% off!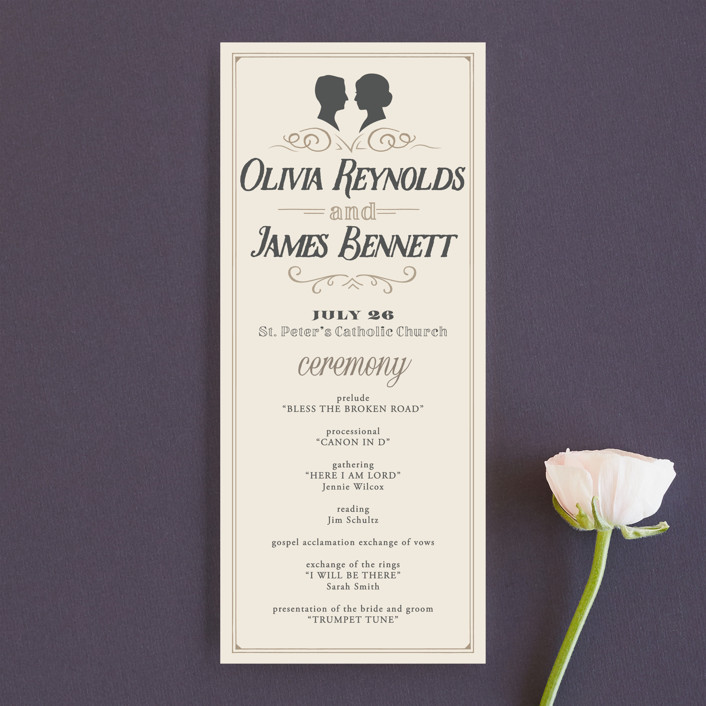 These ceremony programs from Minted may as well have been the exact same ones that Blake and Ryan used. I really have no clue if they even had programs, but one of the only pictures to come out of their wedding included the silhouette designs that were somewhere within the wedding venue.
I'm a big fan of ceremony programs and these are the perfect ones to choose for a Blake and Ryan inspired wedding. Use my discount code WEDPLROTHWEILER and follow this link to save 25% off your entire order.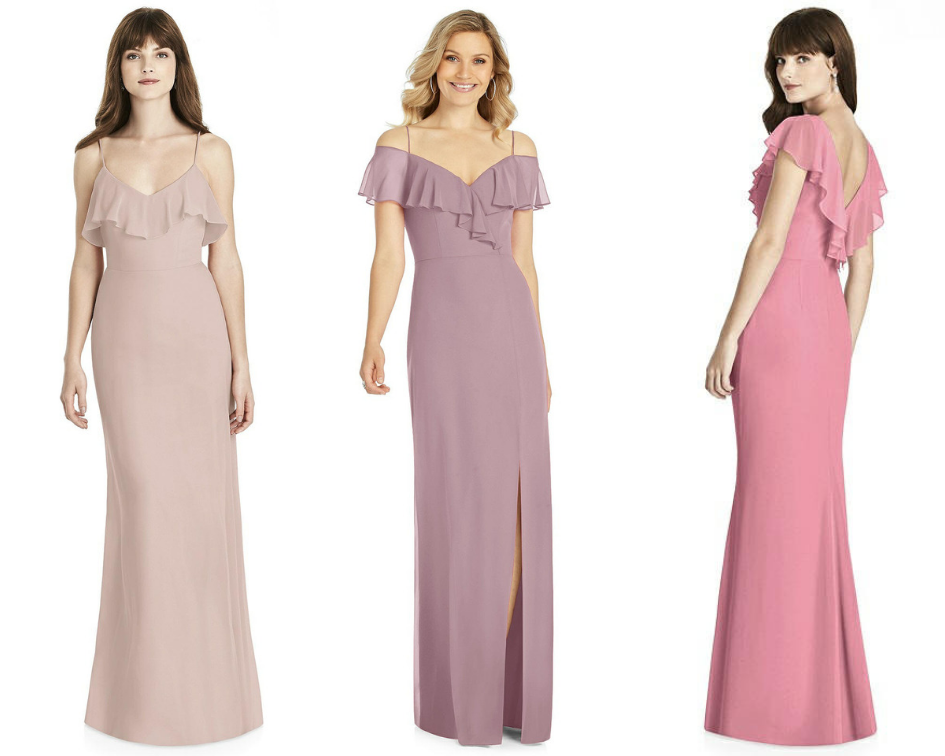 There are no pictures to be found of Blake Lively's bridesmaids (surprise surprise), but we do know that they all wore blush silk chiffon dresses designed by Marchesa. Were they mismatched? Were they the same?
Absolutely no idea.
Personally, I prefer the look of mismatched long bridesmaid dresses, so I selected these three from Dessy. All three dresses are designed by After Six, which is an affordable option for your entire squad. Not only can you mix and match colors, but you can give everyone a different design as well. Check out all the flexible options right here.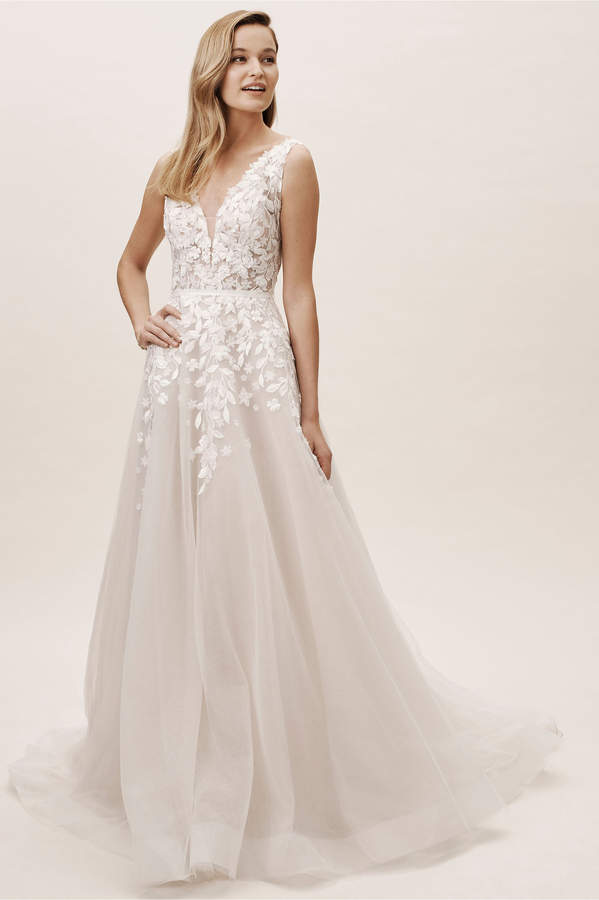 Like her bridesmaids, Blake Lively wore a Marchesa dress with silk tulle, a fitted bodice and even some rose-gold embroidery. This option from BHLDN above will give any bride that same romantic feeling as she floats down the aisle, without going over her wedding budget. Check it out here!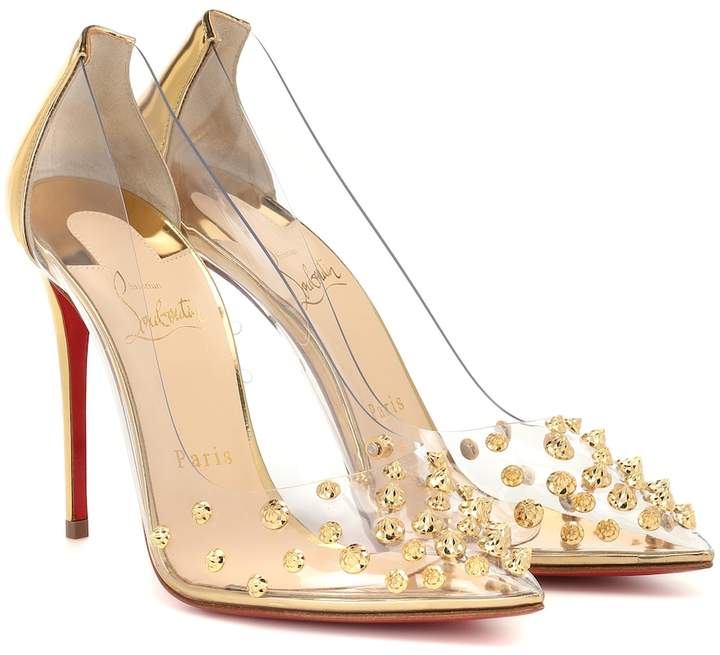 There's nothing like a pair of showstopping Louboutin's to complete a drop dead gorgeous bridal look. This clear option has a simple gold back and stunning gold beading at the toe. Perfect for after the wedding day too if you need a reason to justify the cost. Check them out here!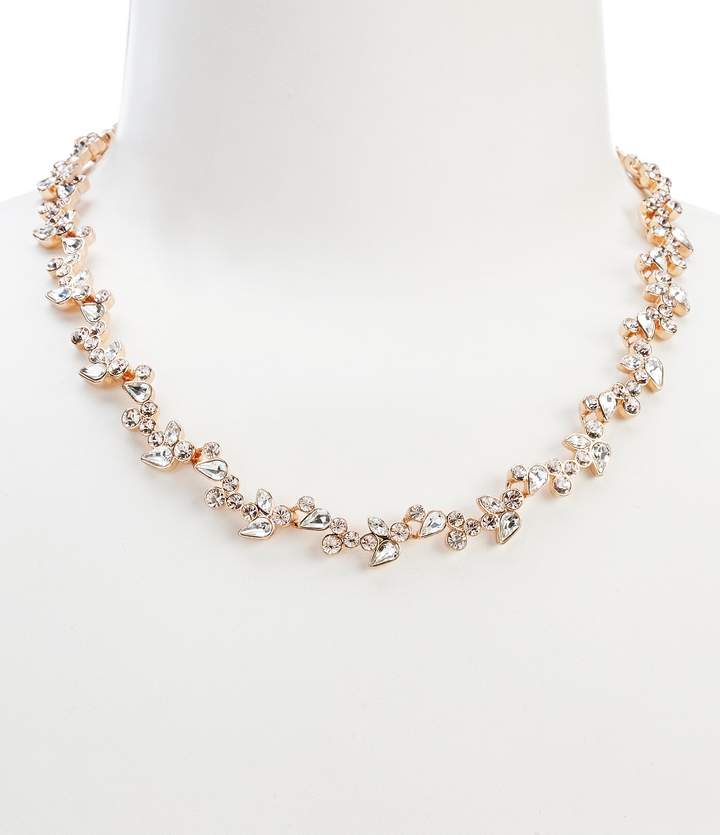 The rose gold trend in weddings seems to be sticking around year after year and honestly? I love it.
While I don't recommend picking up rose gold jewelry just for the wedding day, if it's something you'll wear in the future, why not let it be your something new? With plenty of rose gold elements in Blake and Ryan's wedding, I have no doubt she wore something similar to this stunning Givenchy necklace above.
Lauren Conrad and William Tell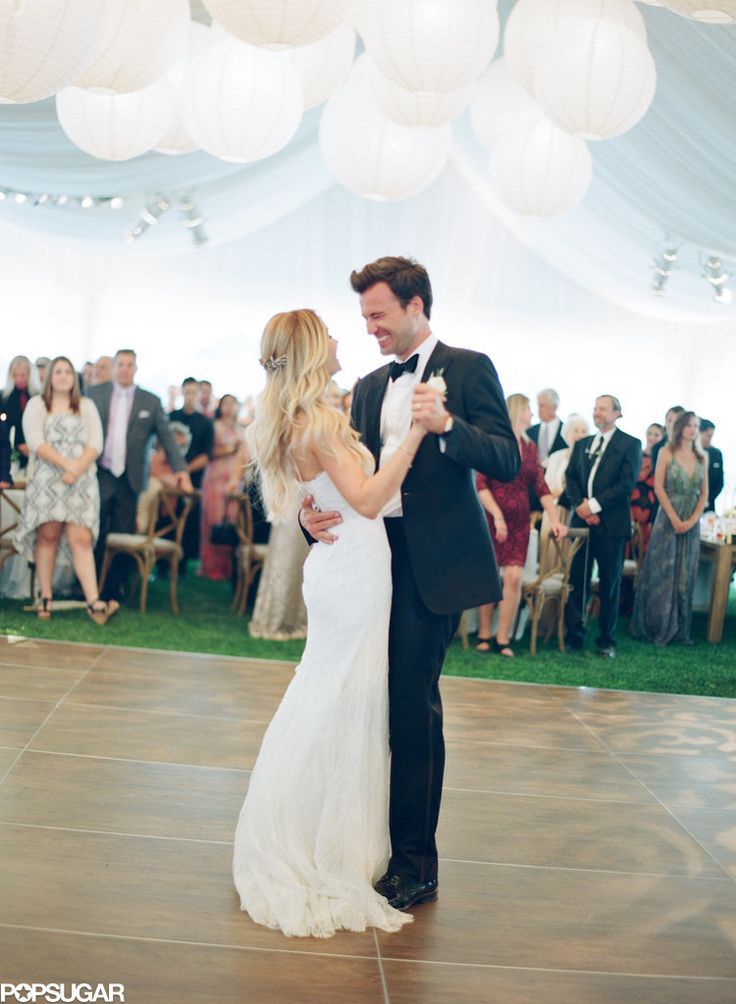 Location: Sunstone Villa in Santa Ynez, California
Glam and classic are two words that come to mind with this celebrity wedding of Lauren Conrad and William Tell. The stunning location combined with a white billowy tent created the California wedding that dreams are made of. Farmhouse tables were used to add to the rustic charm of the wedding design and huge white paper lanterns were hung from above.
Forever on trend, Lauren used plenty of greenery as well as dahlias, peonies, garden roses and other lush flowers. The overall wedding style was given a punch of color with pops of bright pinks and oranges against the paler pinks and blues.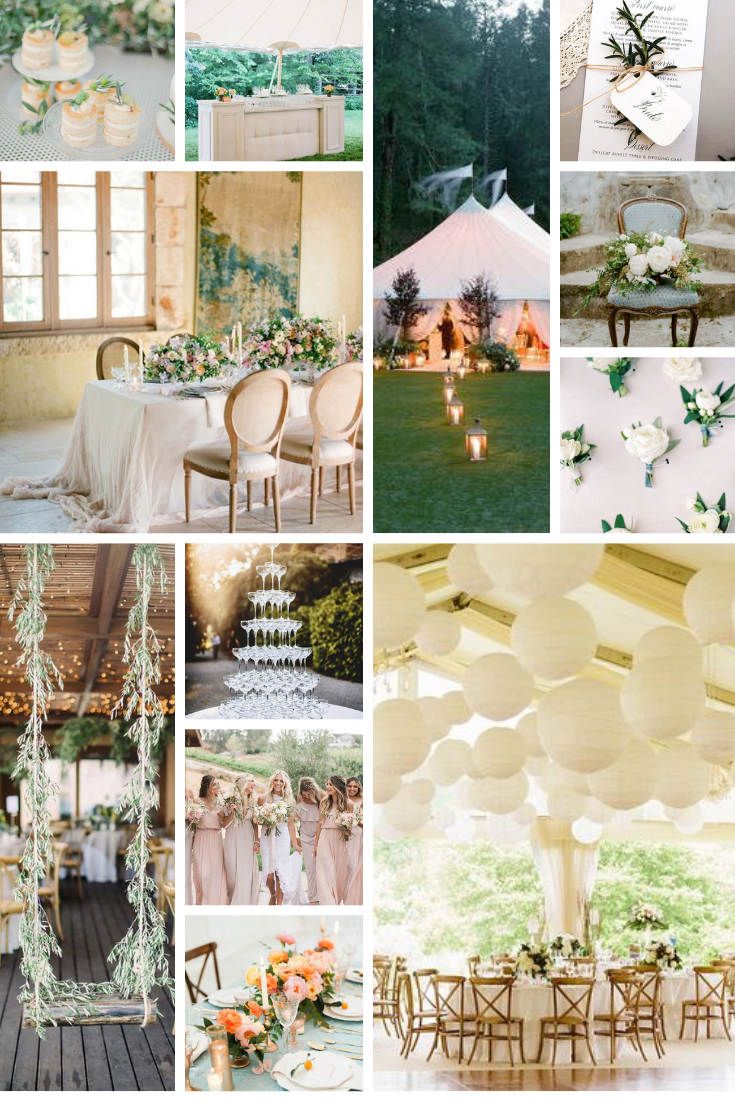 To steal this celebrity wedding style, look for an outdoor venue…this isn't the time to cram into a ballroom with a marble floor and sparkly chandelier. Think long tables, organic flowers, and sweet details.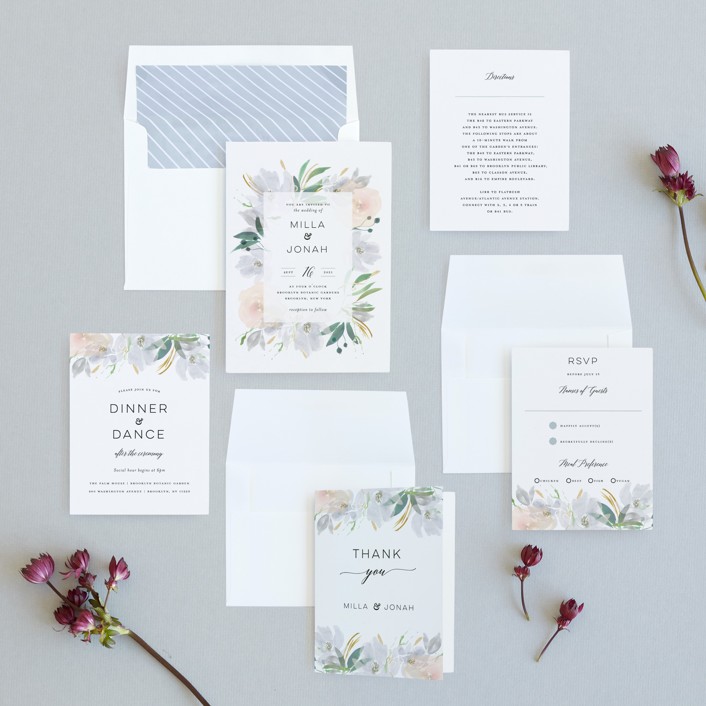 Lauren and William's wedding invitations were white flat cards that had floral details in pinks, oranges, blue, and blush. You can grab this playful (and affordable) wedding invitation suite with RSVP cards to get the same look.
Use code WEDPLROTHWEILER at checkout for 25% off your entire order!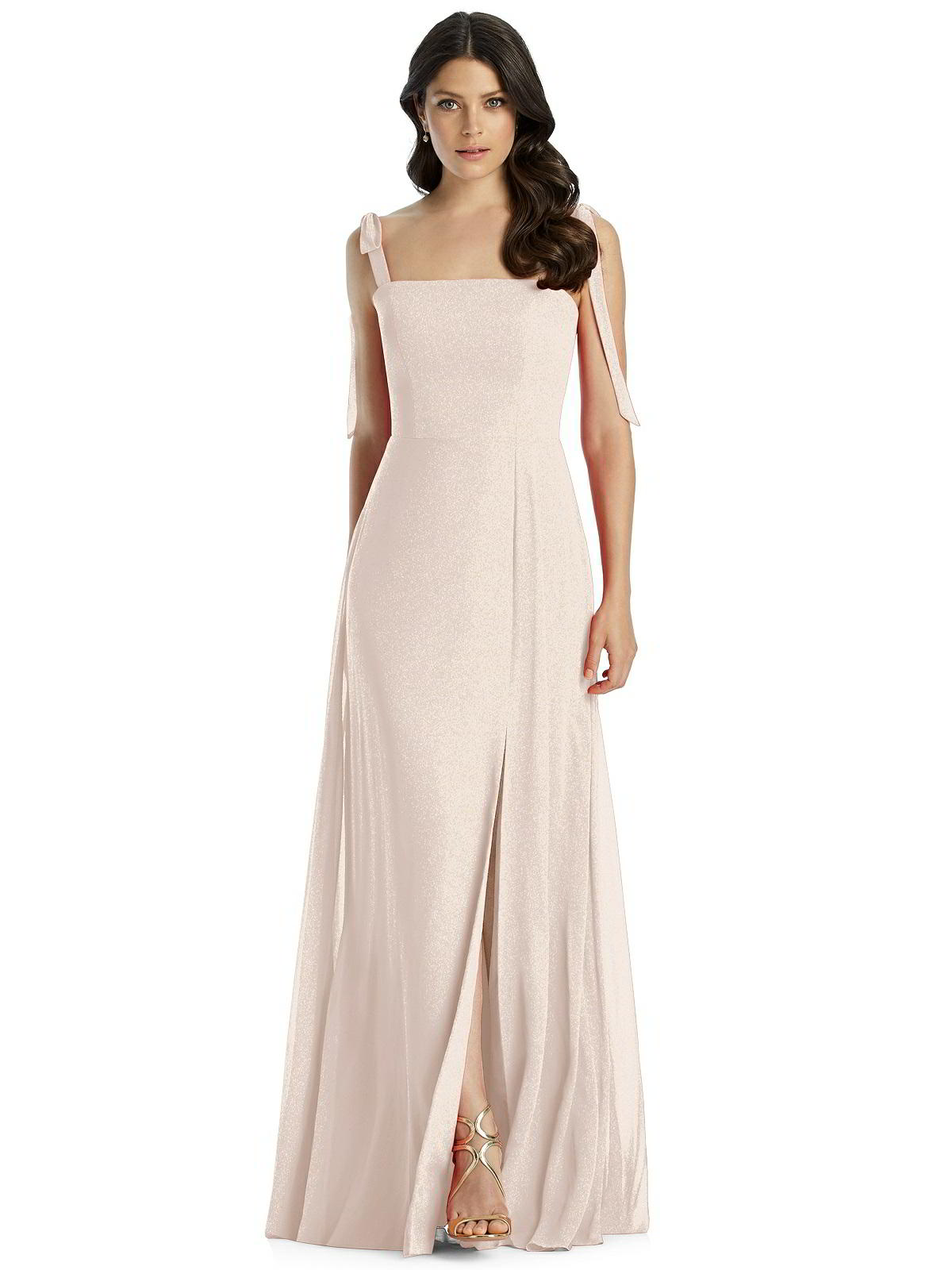 Lauren's bridesmaids all wore long, blush, chiffon dresses from her Paper Crown collection. It's not totally clear what ever happened to Paper Crown, but you can get that same look for your girls with this gorgeous and affordable dress from Dessy. It's available in plenty of colors, but I'm way partial to this pale pink one that shimmers for weddings in the same style as Lauren and William's.
What's your favorite color? Check them out right here!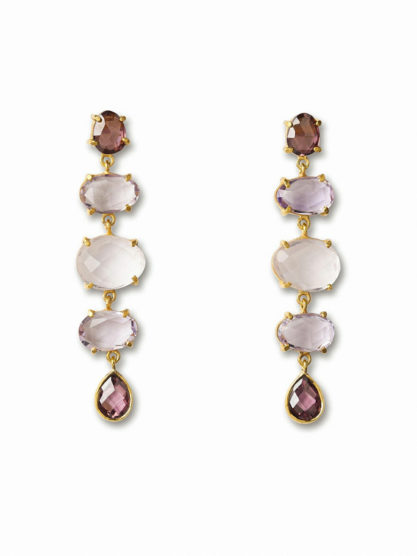 When your wedding day design includes shades of pink, it's almost a no-brainer to include jewelry in that same color. I found these vintage pink and gold chandelier earrings and automatically got Lauren Conrad wedding vibes. These are not only perfect for both the bride and the bridesmaids, but they're crazy affordable with our friends at Dessy. Get the pricing information and order them before they're gone today!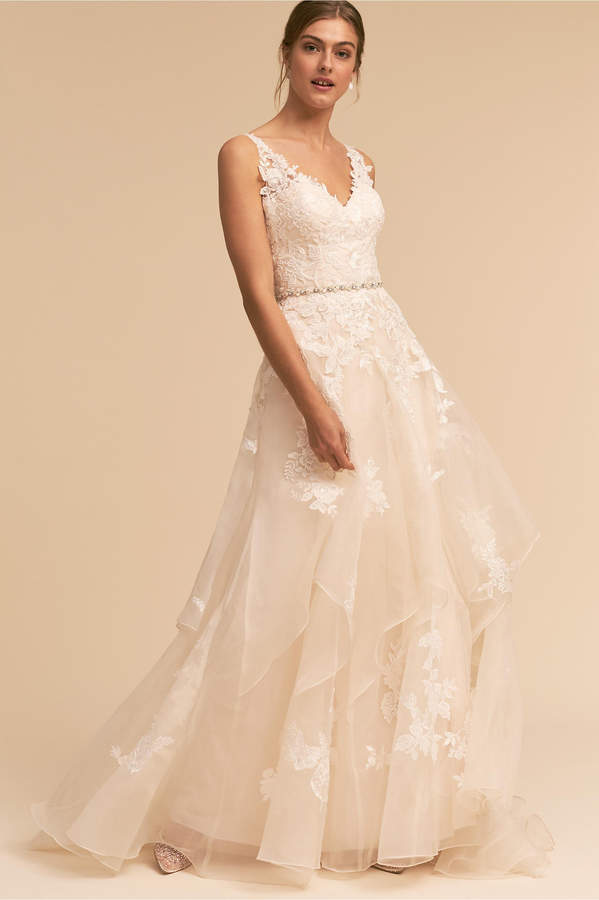 Lauren Conrad's wedding gown was a custom gown designed by Mark Badgley and James Mischka that was two-tone ivory with Chantilly lace details. This Whispers and Echoes wedding gown here is a super affordable option that keeps the special touches of lace and beading.
Find your size and where you can try this on here.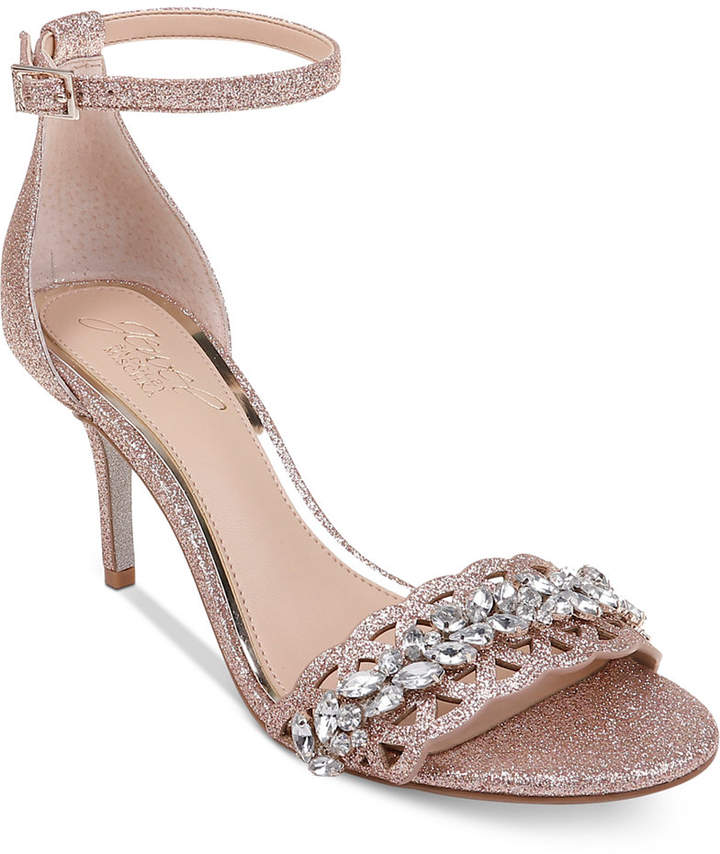 Just because Lauren's custom wedding gown designed by Badgley Mischka is outside most wedding budgets, that doesn't mean you can't rock their shoes on your wedding day.
Bring a piece of Lauren Conrad's wedding to your wardrobe with these sparkly pink Badgley Mischka heels.
Miley Cyrus and Liam Hemsworth
Hannah Montana is all grown up and now, she's married…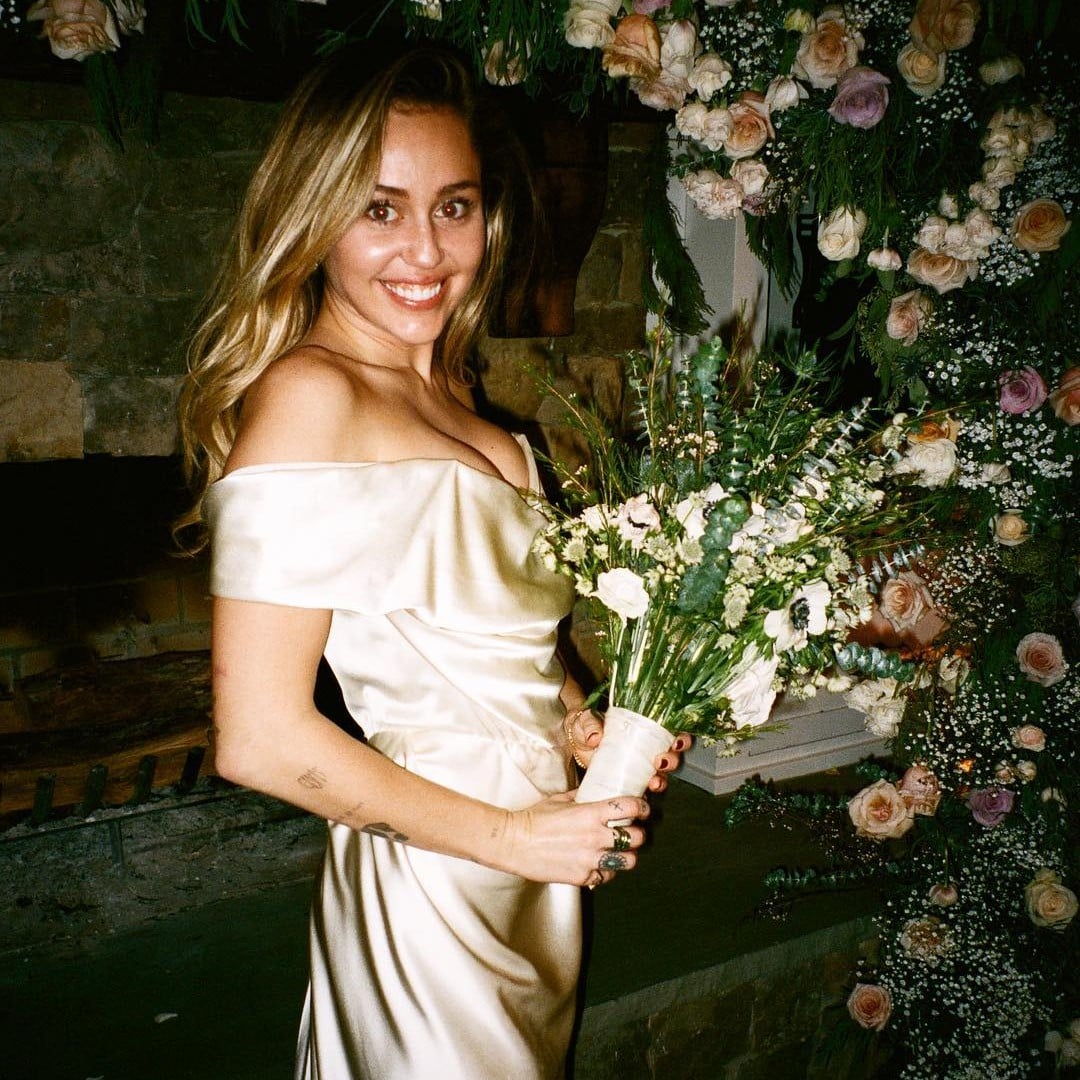 Location: Cyrus' Family Home in Franklin, Tennessee
For the grand finale of the 10 celebrity weddings, it's Miley and Liam's holiday extravaganza. Originally planned for Hawaii, the couple had to change locations at the last minute.
But, when you have a home as beautiful as this one, is that really even a problem?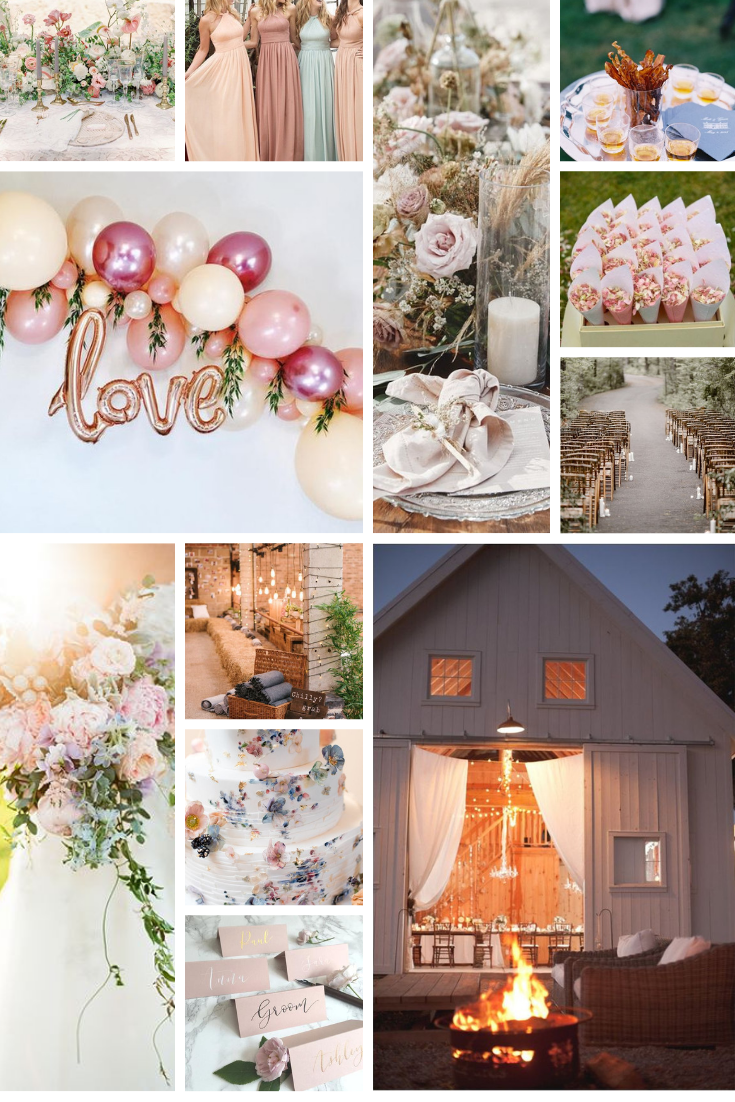 When I think of Miley Cyrus, I immediately think fun and bubbly. I'd attend a party of hers in two seconds (and if she's reading this, I'm dead serious, so call me girl). While most of the wedding photos have only been released via Miley's Instagram page, she's given us plenty to get inspired.
Not leaning away from one of the hottest trends, Miley and Liam used a serious amount of gorgeous greenery in their wedding decor. The ceremony backdrop also included a ton of roses in pastel shades of orange, purple, and pink.
Another trend she included? Rose gold.
Between the huge archway of rose gold and pastel balloons, the blankets on the chairs, and lots of string lights, you really can't get a better at home for the holidays wedding.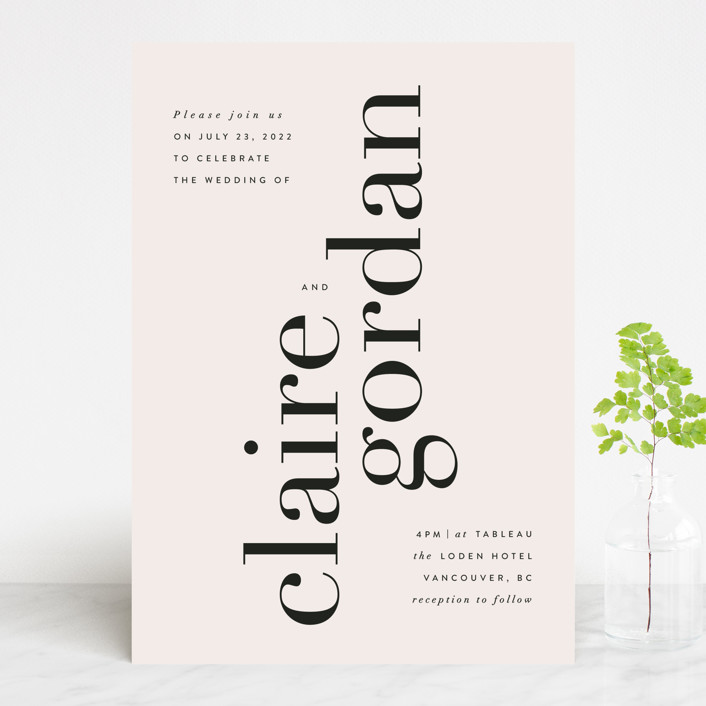 Miley and Liam's wedding invitations were simple flat cards in a neutral color with tilted black font. You can grab an affordable version of their invitation from above with our friends at Minted. Use WEDPLROTHWEILER at checkout to save another 25%!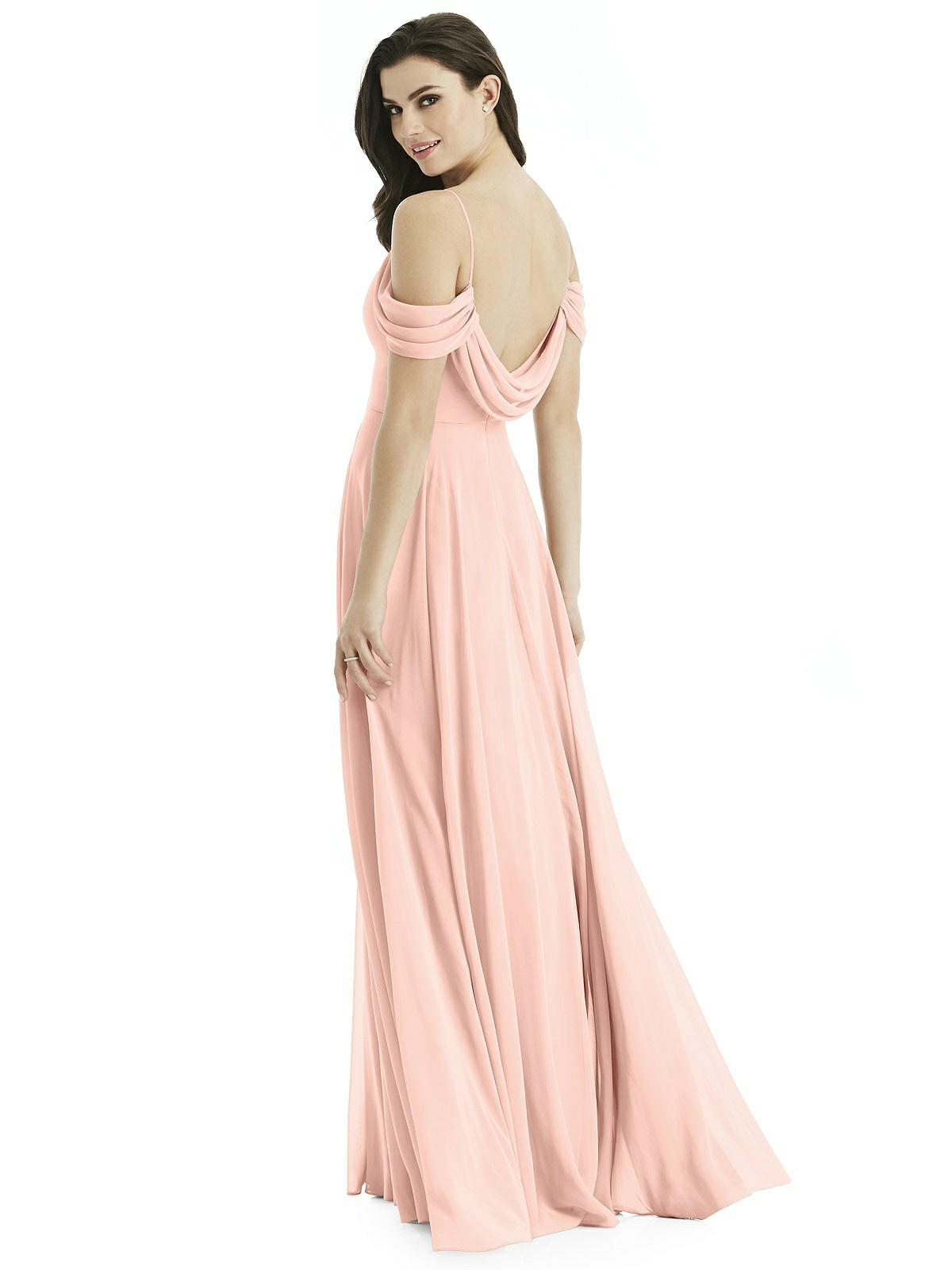 As unique as Miley Cyrus has always been, she does have something in common with many of the celebrities on this list…no wedding party. Miley and Liam had a small, intimate wedding and he even wore sneakers with his tuxedo, so, hey, who's surprised here?
But, if you want to create Miley and Liam's wedding look and actually do have a wedding party, this dress above from Studio Design by Dessy is a fun option and available in a ton of colors! I'm partial to this pale peach which fits right in with Miley and Liam's wedding decor, but you can mix it up just about any which way you want.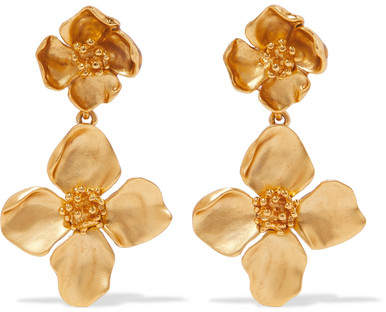 Bring a little Miley and Liam glam into your wedding day with these stunning Oscar de la Renta drop earrings. If you're looking for wardrobe inspiration from this wedding day, bling is so not the way to go…but these earrings are legit perfect!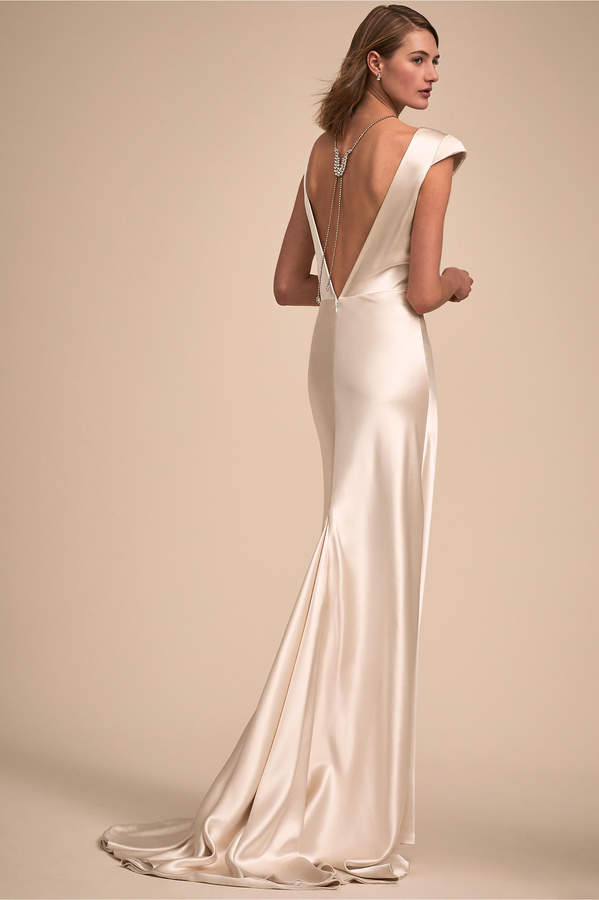 Miley Cyrus' wedding gown was an off the shoulder ivory silk satin design by Vivienne Westwood. Save yourself the stress and the money and pick up this crazy affordable option above from BHLDN.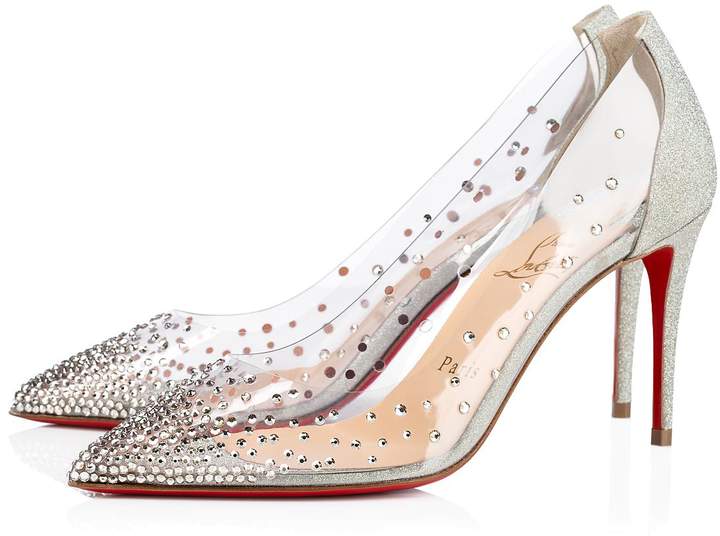 Liam Hemsworth may have worn sneakers to the wedding, but these Christian Louboutin wedding heels are obviously the perfect choice for Miley…and for you if you're looking to steal her celebrity wedding style. Find your size and pick them up here!
Celebrity Wedding Style Secrets
Well, there you have it! 10 of the most amazing celebrity weddings, in my opinion, and how you can steal their wedding day style without going broke.
Which wedding was your favorite? Are there other celebrity weddings I should've covered or ones coming up that you're excited for? Share in the comments below and don't forget to tell everyone how you saved on your celebrity inspired wedding day too!