Style Me Pretty has been a source of wedding inspiration for 12 years now. Back before wedding websites were a dime a dozen, Style Me Pretty represented a more organic wedding style that would eventually become a trend. Phrases like "rustic chic" and "boho" became popular with a major assist from Style Me Pretty. If you like barn weddings, you're likely on the wedding website every day.
But with the extinction of Style Me Pretty after April 30, 2018, will we also find out that flower draped alpacas aren't cool anymore? What does this website take with it once it goes dark later this month? How does this impact the wedding industry?
And is this really a bad thing?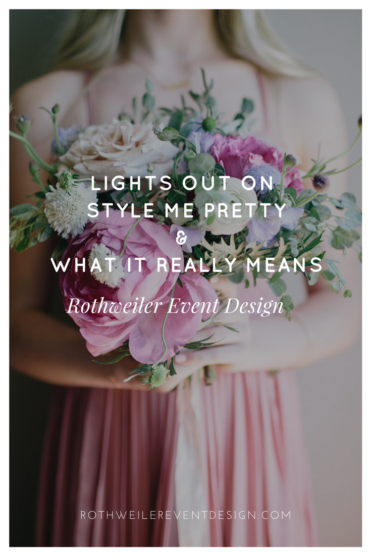 The Fairytale
Once upon a time, a girl created a website full of whimsy. Years later, she sold it to a huge corporation for a bunch of money. Turmoil raged through the land, there was a whole bunch of corporate merger madness and the website went up for sale. No one bought the website and the big scary corporation shut it down. The end.
Not exactly the happily ever after ending, if you consider the corporation being the villain. But, are they?
My husband and I were discussing the story this week and he said something that I have heard before: Businesses are made to be sold. While I understand that to be true, at this moment in time, I could never see myself as a person that creates a business just to sell it. Maybe it's just not how my character works.
Or maybe I've just never had a multi-million dollar offer and a chance to make that decision.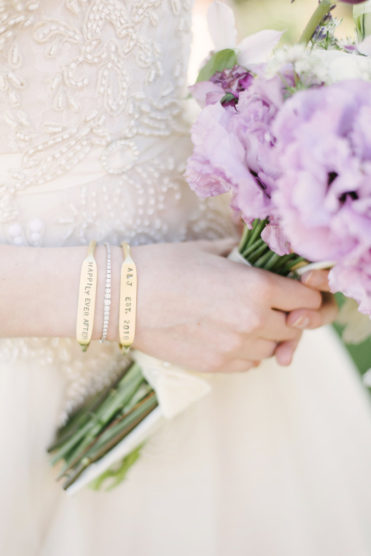 But it's pretty cut and dry, isn't it? If you sell something, you are giving it up. You don't have any control over it anymore and in essence you are choosing the money over what you created. That's not to say you won't always have some attachment to the business, but if you care about what happens to it, you wouldn't sell it.
In this particular fairytale, our leading character was repeating history. Prior to Style Me Pretty being born, the creator went from having a part time job at a stationery store to creating her own invitation line…which she then sold. The reason why she sold isn't hard to find, and she basically talks about the stress and an opportunity landing in her lap in an article you can read right here.
Later in that article, she shares that she received a buy-out offer for Style Me Pretty. But not the offer she would later accept from the corporation that would shut everything down. Instead, it's an offer that she rejected because, as she states, "what we were doing had more value than we knew."
Fast forward 8 years, when Style Me Pretty's continued huge growth leads to a partnership with a corporate company…and eventually the buy-out offer, in May 2017, that would be accepted. Not just accepted, but seen as the "proudest day of her career" according to this interview.
Growing Pains
"And the day came when the risk to remain tight in a bud was more painful than the risk it took to blossom."

― Anaïs Nin
The announcement that Style Me Pretty will essentially disappear was bigger breaking wedding news this week than any royal wedding ever will be. Emotions and opinions are really strong, and if I'm being honest, I don't have mine completely sorted out yet.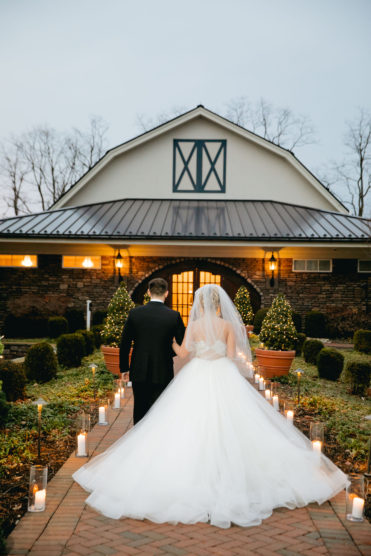 My work has been published in Style Me Pretty, and I still remember the joy I felt when that happened. Not all publications or wedding blogs are created equal. Style Me Pretty is a bucket list publication for many, including myself. There's no denying the high level quality of work displayed, so feeling validated when they decide your work is good enough to be included, is normal.
The problem though, is that those people validating you, aren't the ones hiring you. Not then and not now.
When Style Me Pretty created a vendor listing, it was invitation only. Yes, you had to pay to advertise, but you weren't even given the opportunity if your work wasn't up to their standards. It used to be a big deal to get invited into their "little black book". If you're outside the industry, just imagine that for a second: Wedding vendors getting excited that they are good enough to give their money to an advertising platform.
The thought process behind advertising (or not) in any wedding outlet revolves around return of investment. You put your advertising dollars into the platform that speaks to your "ideal" client. Frankly, Style Me Pretty couples are the ideal client for a good amount of wedding vendors. So between the ego validation and the higher chance of getting your portfolio in front of the clients you want to book, many would've gladly thrown money to be on this website. And then bragged about it.
So, it should come as no surprise that many are devastated by this news. I understand it on paper, absolutely, but I can't quite get there emotionally.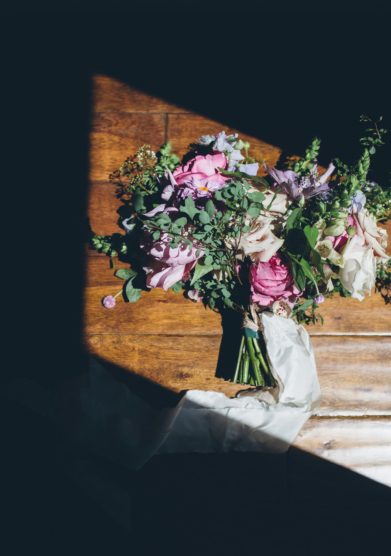 It's weird because, you feel like you're supposed to be mourning. And you're sad, but you're not totally sad. It's almost like when you go to a repast after a funeral. You just put somebody that you love into the ground and you're never seeing them again. But now, you're sitting over one of three pre-selected entrees with other family members talking about the good old days and laughing. You're thinking how you just said your final goodbyes to someone and how devastated you are, so how can you be talking and laughing?
I remember my first funeral was when I was four years old. I was downstairs during the wake because this funeral home was some weird bi-level unit and wakes are really long and when you're four you have to stay as long as your mom says you have to stay. Anyway…I'm downstairs with a few family members of mine, and just above my head on the second floor was a dead relative. At four years old you don't really get the concept of death, but what you do know is that it's sad and therefore, people will cry.
Yet this entire time I'm standing in the random basement of a funeral home, during a wake, and no one is crying. In fact, they are joking, laughing and telling stories. Meanwhile, all I knew was that someone was dead and you're supposed to be crying. But you're not.
That's me with this whole Style Me Pretty death thing. I'm not crying. But this time, I shouldn't be. And you shouldn't be either.
Why?

Just like anything else, Style Me Pretty changed as the growth continued. The Style Me Pretty that used to get wedding vendors the bulk of their work, is not the one going dark at the end of the month. That one went dark years ago. That funeral is over.
I say this with the absolute and utmost respect for the website and everyone that has been a part of it: the mourning period is done.
The wedding website that handpicked the vendors that were allowed to pay them to advertise, hasn't been around for years. When their little black book was selective, you might have found 3 wedding planners in your area when doing a search. But now? There are so many planners listed that you can filter it down to categories like "elopement planners". Those are just the vendors that are paying to be showcased. I'm not even going to bother figuring out the vendors getting free advertising on their "Vendor Guide" platform, including myself.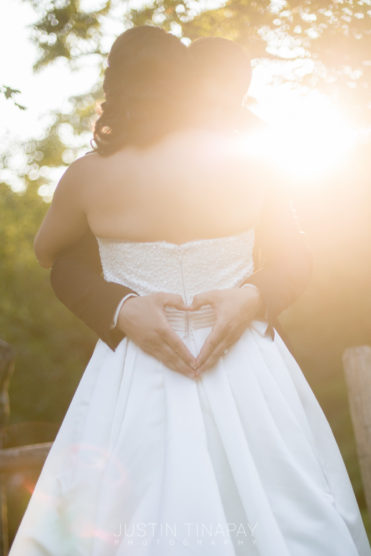 Another change? There are roughly 900 other wedding blogs and websites out there now, many with vendor listings. Is Style Me Pretty still one of the best, even after the corporate change?
Absolutely

. So why should you still not be crying?
Because your ideal client isn't there anymore. They haven't been there since AOL got involved and they've been cheating on you with social media. You've been chasing the ghost of ideal wedding client past.
AOL presents, Style Me Pretty. Has a nice ring to it, doesn't it? I mean, all the sports stadiums and arenas are named after banks and big companies. I'm sure the higher ups at MetLife know how to throw a football right? (That's a Giants Stadium reference for anyone that missed it).
AOL and its parent company know nothing about the wedding industry and more importantly,
they don't care
. Corporations with portfolios so diversified that
none
of the companies they own have anything in common
do not care
. Corporations that own similar companies, only care enough to buy and shut down the one making less money in order to cut
competition.
Businesses are created to be bought and sold, remember?
The point is, corporate got involved, and it's not the same anymore. Style Me Pretty grew up when you weren't looking, and the validation you still need from them, has devalued.
Life Goes On
There are a significant amount of people in the wedding industry involved in a petition to save Style Me Pretty. A petition that is being endorsed by the website's creator and original owner. Despite the extreme amount of respect I have for both the creator and the website in general, I have to question this move.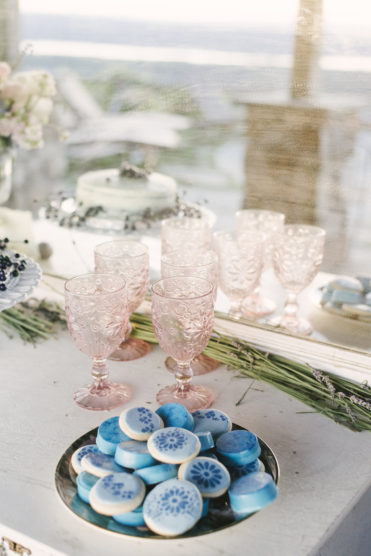 And while I firmly believe that unless those signatures are on a stack of cash, that this is a waste of time, I'm going to link it anyway to play fair. Hopefully, if you're a wedding vendor that wants to rip my head off right now, you can take this as my olive branch of understanding your pain. I am not, in any way, trying to mock or dismiss anyone's feelings.
This week has brought intense debate of whether or not it will matter to future couples that the vendors they interview for their weddings were once upon a time featured by Style Me Pretty. The answer is "no". It won't matter if you were never published on Style Me Pretty or if you were featured every week since day 1.
Look how quickly major and devastating news stories are forgotten.
This website shutdown didn't even trend on Twitter

. If Style Me Pretty actually disappears from the internet like the corporate owners have promised, people will stop caring much sooner than you think. The website, the hashtag, and everything else will cease to exist. Hell, this blog probably won't make sense in what? A year? Less?
But it's more than the website being erased from the internet. It's about the growth of the website that didn't match the evolution of the engaged couples.
There's nothing on that site that engaged couples are looking for anymore.
Style Me Pretty was Pinterest before Pinterest. Style Me Pretty was the wedding blog before wedding blogs existed. But Pinterest isn't going anywhere, and new wedding blogs are added every day. The market is extremely saturated, so why on earth would you want to save a website that doesn't give engaged couples what they are actually looking for?
I said that the funeral for Style Me Pretty was years ago because that's when their format changed. Marketing in the wedding industry (and I assume others) has also changed since then. But if you're not changing, if you're not going through that same growth that Style Me Pretty went through, then your funeral might be next.
Style Me Pretty got it right with the rustic and organic style wedding trend. The reason that trend, that style, hasn't died is because it can evolve and change. It is a niche that will survive because of it's ability to adapt.
The lack of authenticity on "Style Me Pretty brought to you by AOL", is where they went wrong. And it's that same lack of authenticity that is present on all major wedding blogs and websites, that is unappealing to couples. This entire world is desperate for authenticity and real connections. You know when people are really desperate? When they're planning their wedding, a celebration where they will announce to those closest to them that they found their soulmate. That's when authenticity wins.
Go figure, right?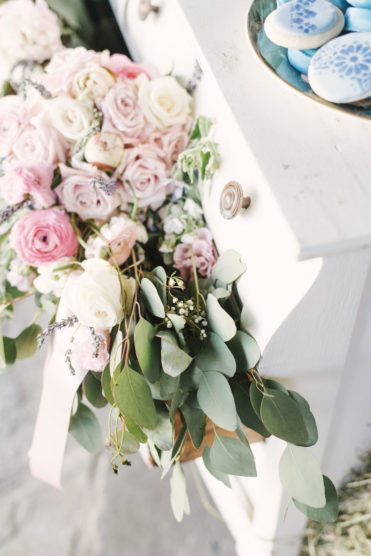 And that's the trend that matters. It's not about the alpacas as much as it's about the authenticity.
It's growth and it's painful. No one really likes change and everyone gets annoyed with big corporation take overs. Style Me Pretty grew up, went into a coma, and then Uncle AOL pulled the life support plug. This wasn't the first wedding blog to go down, and it won't be the last.
Whether the website is archived or obliterated at the end of the month will not affect your business growth. Wedding vendors no longer need to depend on huge blogs to define who they are. The validation of your work comes from the engaged couples, which is where it should have come from all along. If you're not authentic, you are irrelevant.
And it's about damn time.