One of the most popular questions I am asked as a wedding planner is what the most popular time of year is to get married. I usually can answer that question before it's completed because I am asked it
that much

.
Fall.
Specifically, September followed by October.
I rarely get a reaction other than surprised. Because most people still think Spring and Summer are everyone's favorite season for weddings. But why?
In this blog, I'm giving you a list of reasons that will make you want to wed in the Fall.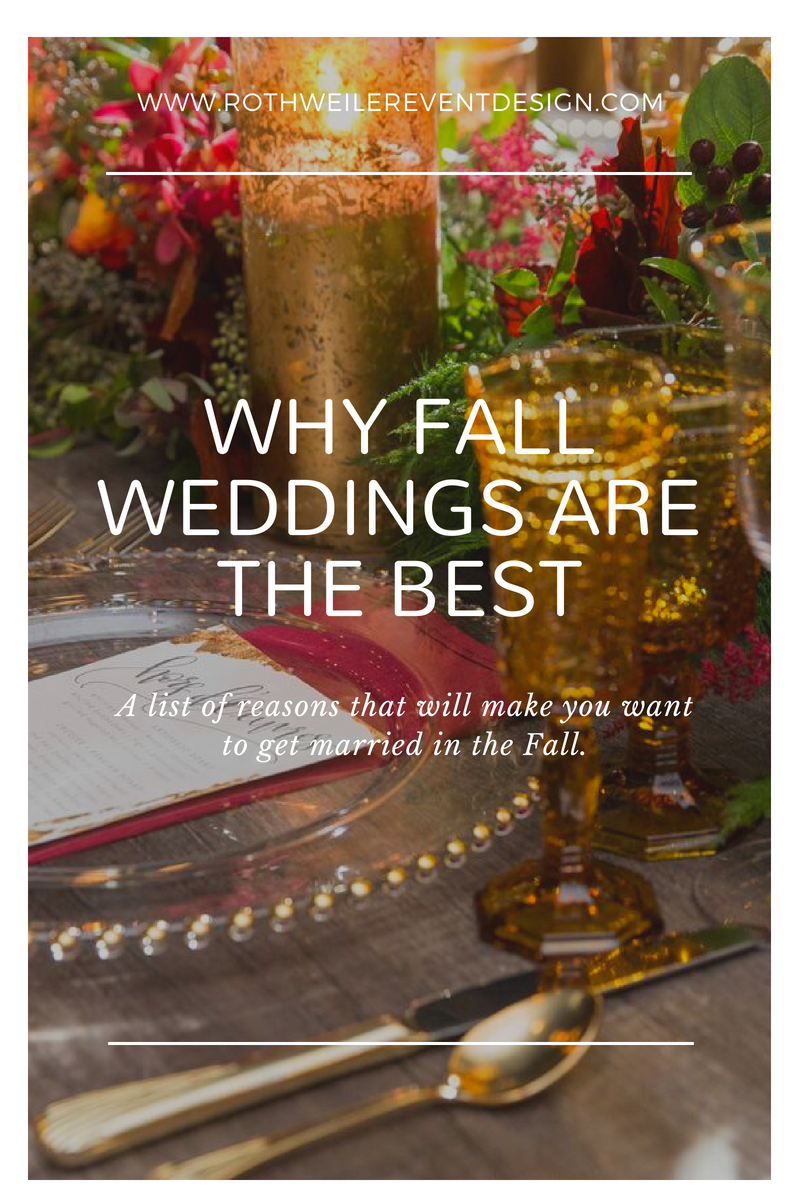 The Weather
Let's start with the obvious, and that's the kick ass weather that most locations have in the Fall. I could write a whole blog about the weather alone being enough of a reason to pick a Fall wedding date…
But this is a list blog, so I can't do that.
Maybe it's not so obvious that weather is the biggest reason to wed in the Fall. As I said a few paragraphs above, everyone is always so surprised that Fall is the most popular season for weddings.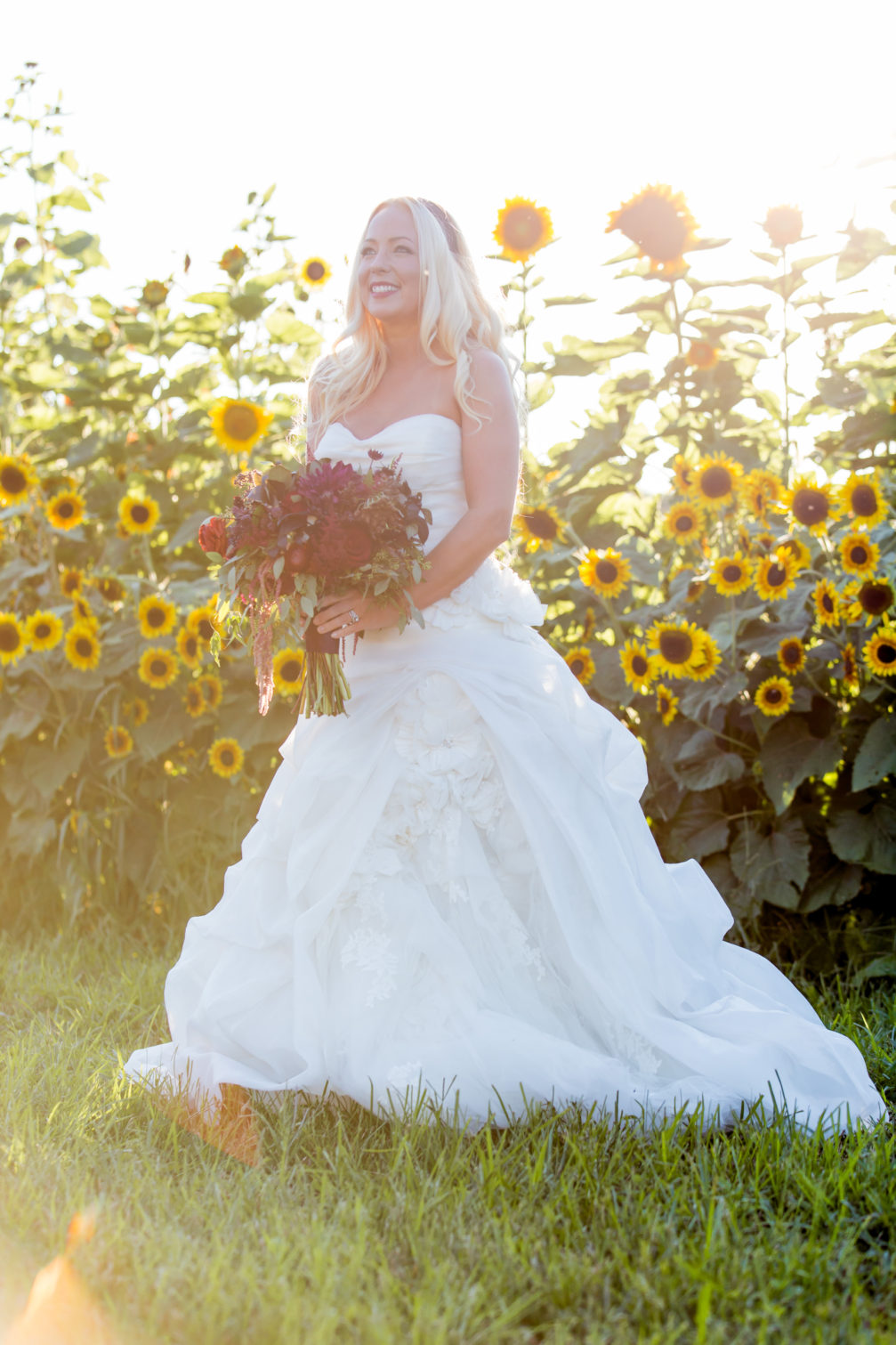 Spring weddings can be cold and rainy, and Summer weddings can be hot and sticky. Oh, and Winter weddings? I guess if you like blizzards, ice storms and asking everyone to travel in potentially treacherous conditions, then that's the season for you.
Fall brings drier days and less humidity, and depending on your location, the most popular months will range between September-November. Even early December weddings are gaining popularity since some places still have gorgeous weather that time of year.
Better Turnout
As much as there might be a few people on your guest list that you're secretly hoping will decline, every couple wants to see a packed dance floor all night. Certain times of the year will put the odds more in your favor.
Everyone is busy, but in the Summer, people are usually busy going on vacation. If no one is in town, then no one will be at your wedding. You don't avoid this either by having a Memorial Day or Fourth of July Weekend wedding. Why not? Because people want to use those weekends for themselves, that's why.
Sorry.
Spring is another popular time for vacation between the holidays and that little thing called "Spring Break" that isn't exclusive to just the college crowd. Easter and Passover can eat up the calendar as your guests could be traveling or, you might not be able to host your ceremony in a religious house because of the conflict.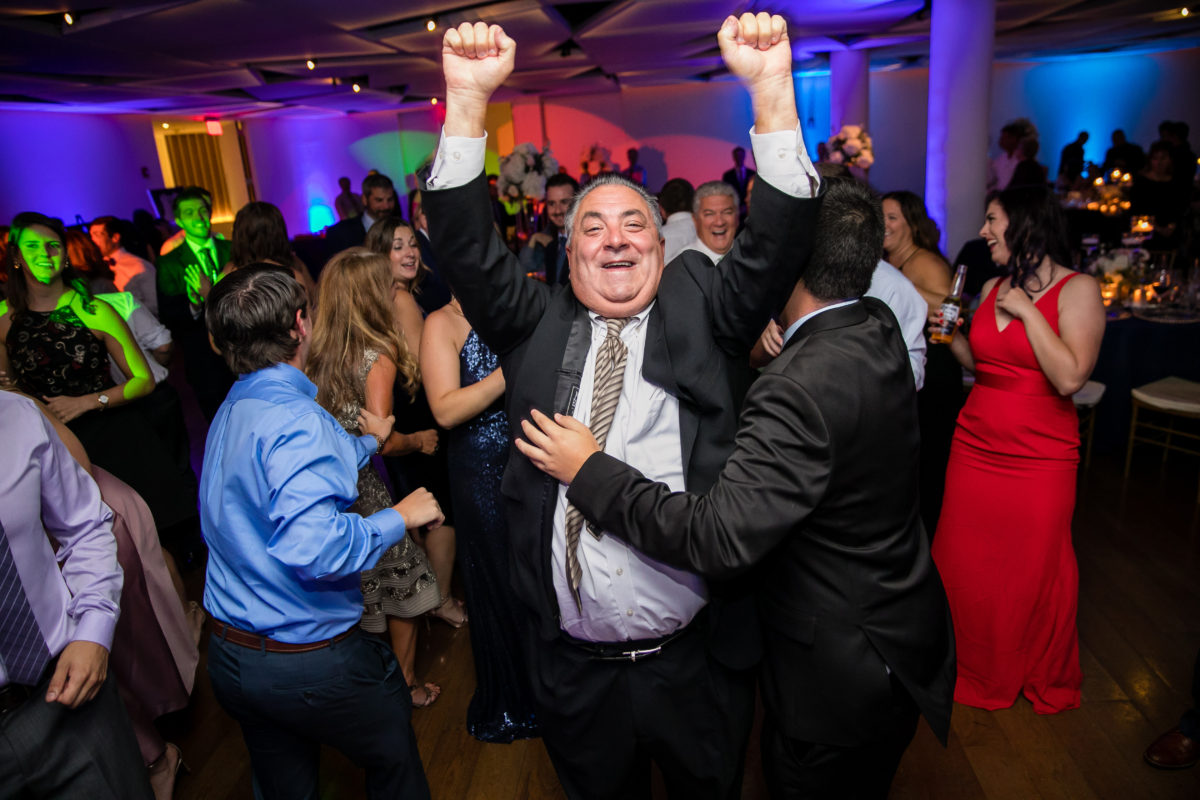 Winter weddings might yield all positive RSVPs, but all it takes is one snowstorm to have plans change with less than 24 hours before the wedding day. If you successfully dodge the blizzard bullet, you have to tap-dance around some major holidays that could easily take priority over your wedding day.
People are generally in town once Fall hits, and aside from a few holidays here and there, nothing really wipes out date options. In fact, depending on what you and your guests celebrate, some holidays will create 3-day weekends that you can use to your advantage.
Floral Selection
The flowers that are available in the Fall are abundant to say the least. Not only that, but the flowers that you'll get to choose from, are ones that you probably already want.
No, peonies are not a Fall flower, but there is a better option and you can read about it in this blog here.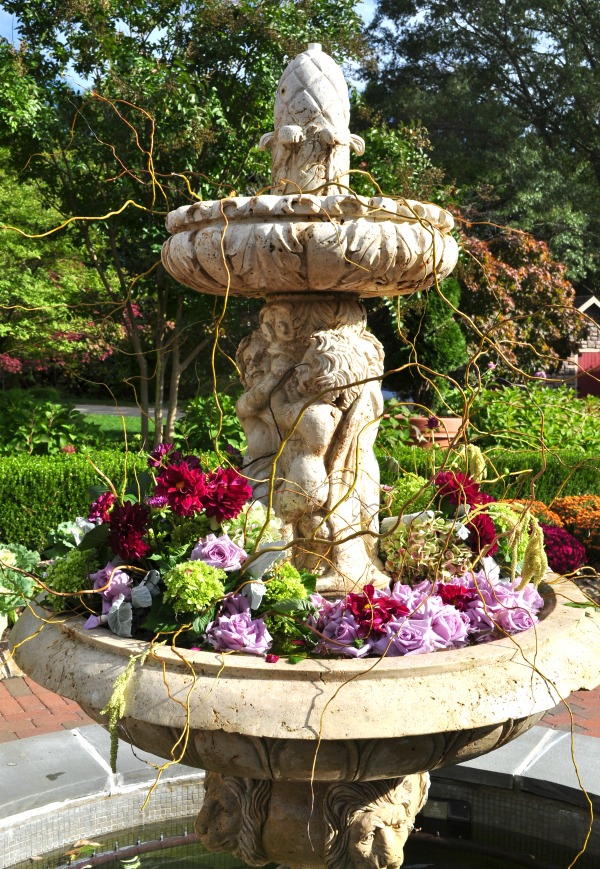 Many brides associate Spring as the most popular time of the year because that's when everything is finally in bloom. But it's just starting to bloom. It's not like Winter's over and bam! Roses, dahlias, sunflowers everywhere!
We don't think of Fall as "flowers", but in the wedding world, we should.
It's not just about the flowers in your centerpiece and bouquets either…it's about your surroundings. Which brings us to:
Foliage
Even if your ceremony, cocktail hour and reception are all indoors, you will likely take plenty of pictures outside. You could have the most gorgeous Vera Wang ballgown in the world, but if the trees are bare and the grass is dead, you'll see that in your pictures.
And it's not cute.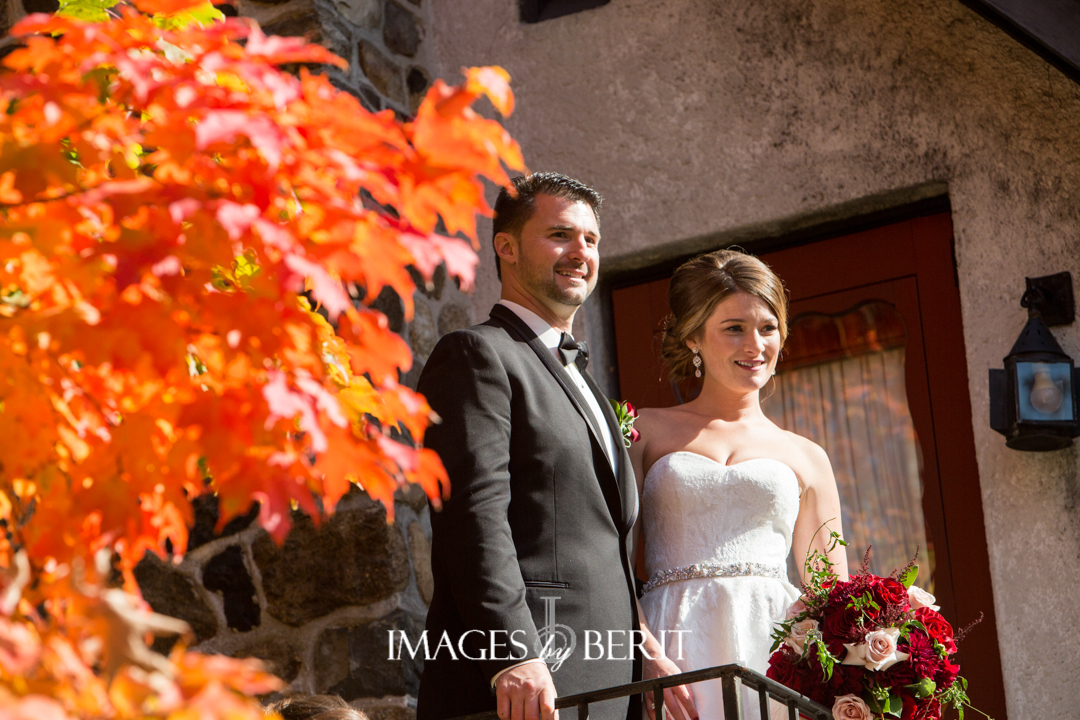 Snow for a Winter wedding is picturesque, but you have to get really lucky here. The snow has to fall at a certain time so that there's enough time to get the roads cleared for your guests. But it can't be on the ground too long because then it melts and you have muddy puddles to walk through.
You basically need a fresh powder blizzard about 24 hours before your ceremony in order to make it work, and the trees are
still

bare even in that case.
Spring and Summer will give you green on the trees, assuming you're far enough into Spring. Then you just need it not to rain…See number 1 on this list.
Fall will give you green on the trees, or gorgeous shades of reds, oranges and yellows depending on the month. You also won't have to contend with Spring pollen, bonus!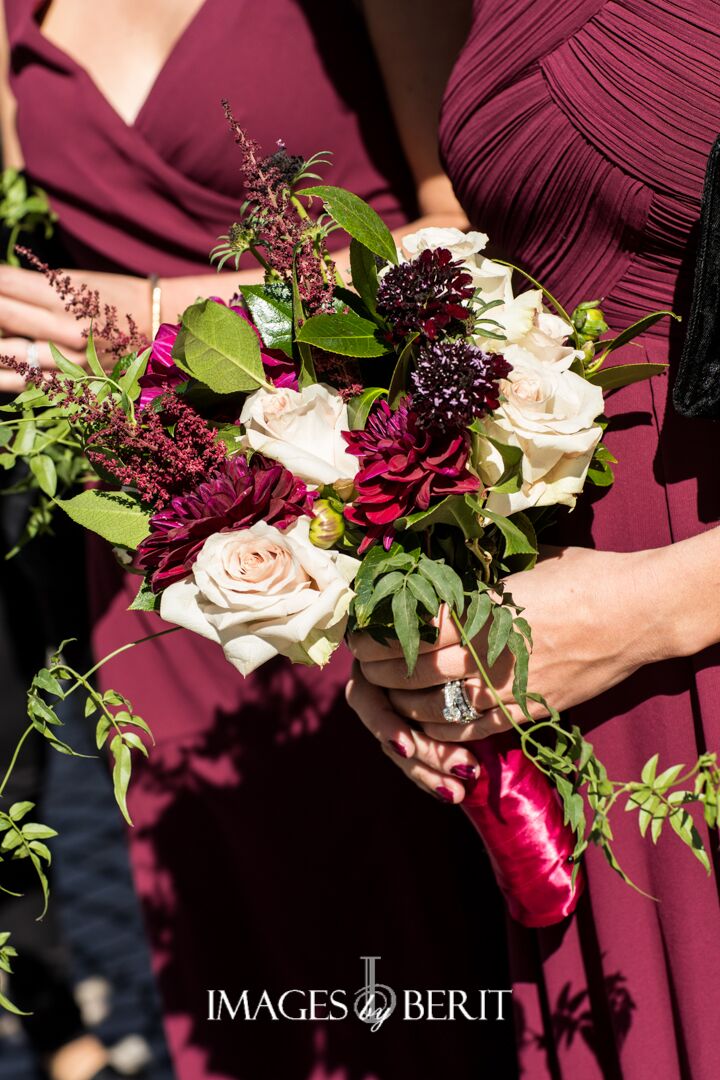 Long Sleeves and Details
Along with the better chance for sunshine over rain, Fall brings those "perfect" temperatures. You know the kind…the ones where you go outside and tell everyone who will listen that you wish everyday could be "like this".
Outdoor wedding or indoor wedding, you'll be spending time outside taking those pictures we just talked about. No matter what style the wedding dress, Summer brides tend to suffer from the heat.
Know what doesn't mix well with sweat? Make-up and hair.
Let's not forget the sunburn factor either.
Spring and Winter allows brides to wear comforters masquerading as ballgowns a lot easier, but bare shoulders and arms can get pretty cold. The Fall offers a wider swing in temperatures; warmth during the day that isn't hotter than the surface of the sun like in the Summer, and cooler in the evening where you're likely tearing it up on the dance floor anyway.
The bottom line is: brides can really wear whatever style they want, including those popular long sleeve gowns in the Fall, without worrying about heat stroke.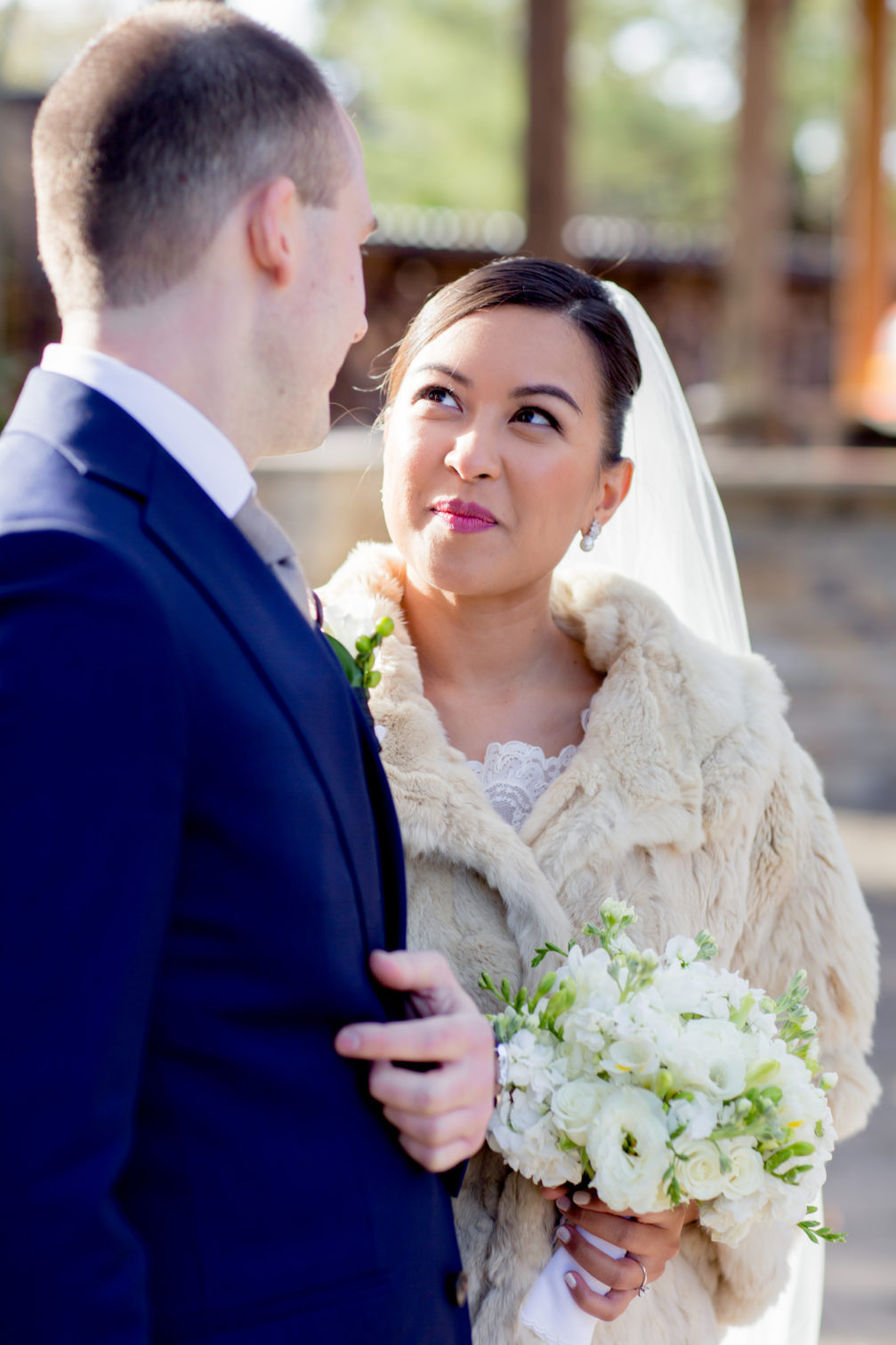 Grooms and groomsmen matter too, and outside of Fall, it can be a recipe for disaster. If it's cold, they're giving up their tuxedo jackets to the bridesmaids. If it's warm, they're giving up their tuxedo jackets and complaining about having to wear them in the first place.
Color
While I am not going to insist from a designer perspective that you have to use certain colors during certain times of the year…
Yeah, I actually am going to do
just that

.
The pale pink, blush, champagne combination is done and it's done a lot. Brides are making it their own by working in pops of deeper colors, and those deeper colors belong in Fall. (I'm not even going to address Winter wedding colors because it's Winter and it snows and stop having Winter weddings already).
The jewel tones look amazing in the Fall, but they are unexpected in the Spring and Summer. I am a huge fan of using color; in flowers, in wardrobe, in lighting…and Fall weddings allow you to get more creative than just repeating something you saw on Pinterest.
For instance, these gorgeous bridesmaids dresses from our friends at Dessy are perfect for a Fall wedding, but would be too intense for a Spring soiree.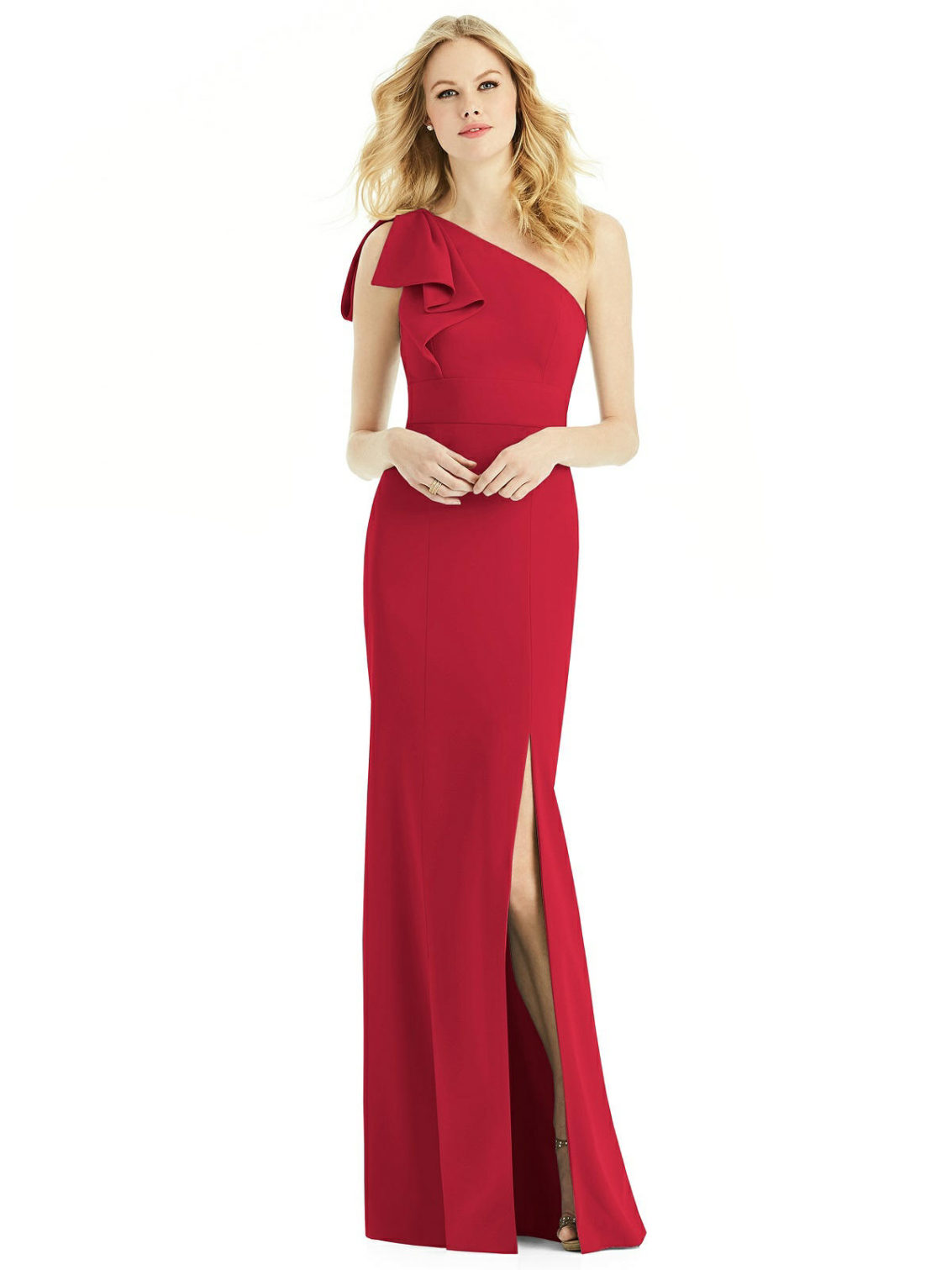 Bold colors, sparkles, contrasting patterns, these belong in Fall. Go for a contrast of color in your invitation suite like in the example below from our friends at Minted. A deep colored RSVP envelope or a bold border is perfect for any style Fall wedding. And one of the best things and reasons that I love Minted, is that you can order samples
before deciding on the final invitation

. So there's no fear that the bold color you pick might be too bold since you can see it before sending!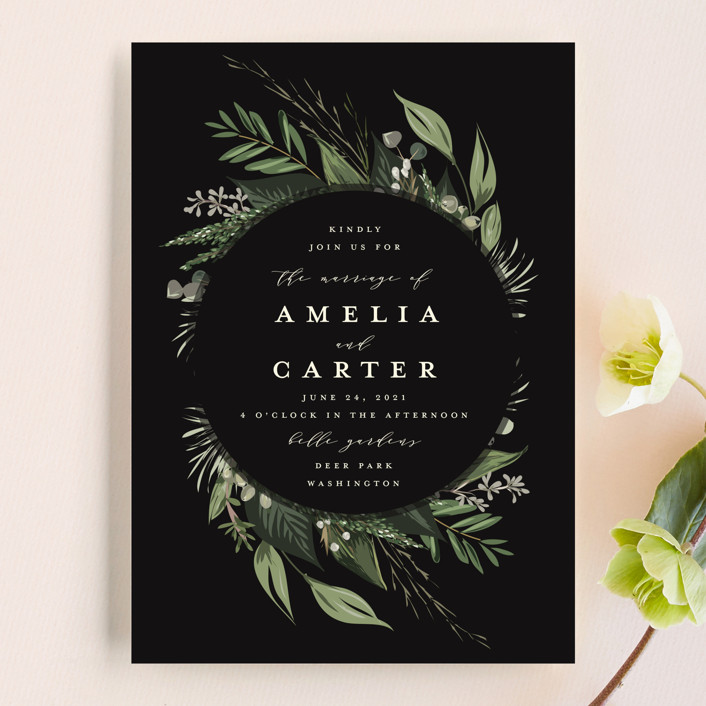 Happiest Time of the Year
Everyone is happy in the Fall. Everyone.
All Winter, people complain about the snow. In the Spring, it's never warm or sunny enough for anyone. In the Summer, everyone is over the heat and wishing for the snow they were just complaining about five minutes ago.
In the Fall, no one complains about the weather. Right off the bat you're starting with a solid foundation of happiness.
People are psyched about hoodies and pumpkin spice everything. There's a new holiday every month. The long season of baseball finally heats up into the playoffs and football comes back from an all too long hiatus.
Everyone loves the Fall.
Everyone including the engaged couple. Why is that important? Because once the wedding is over, you're suddenly going to feel some level of emptiness. A Fall wedding means you have a nice soft landing when you come down off your high.
A Winter wedding means the next day is gray and disgusting and your life sucks again.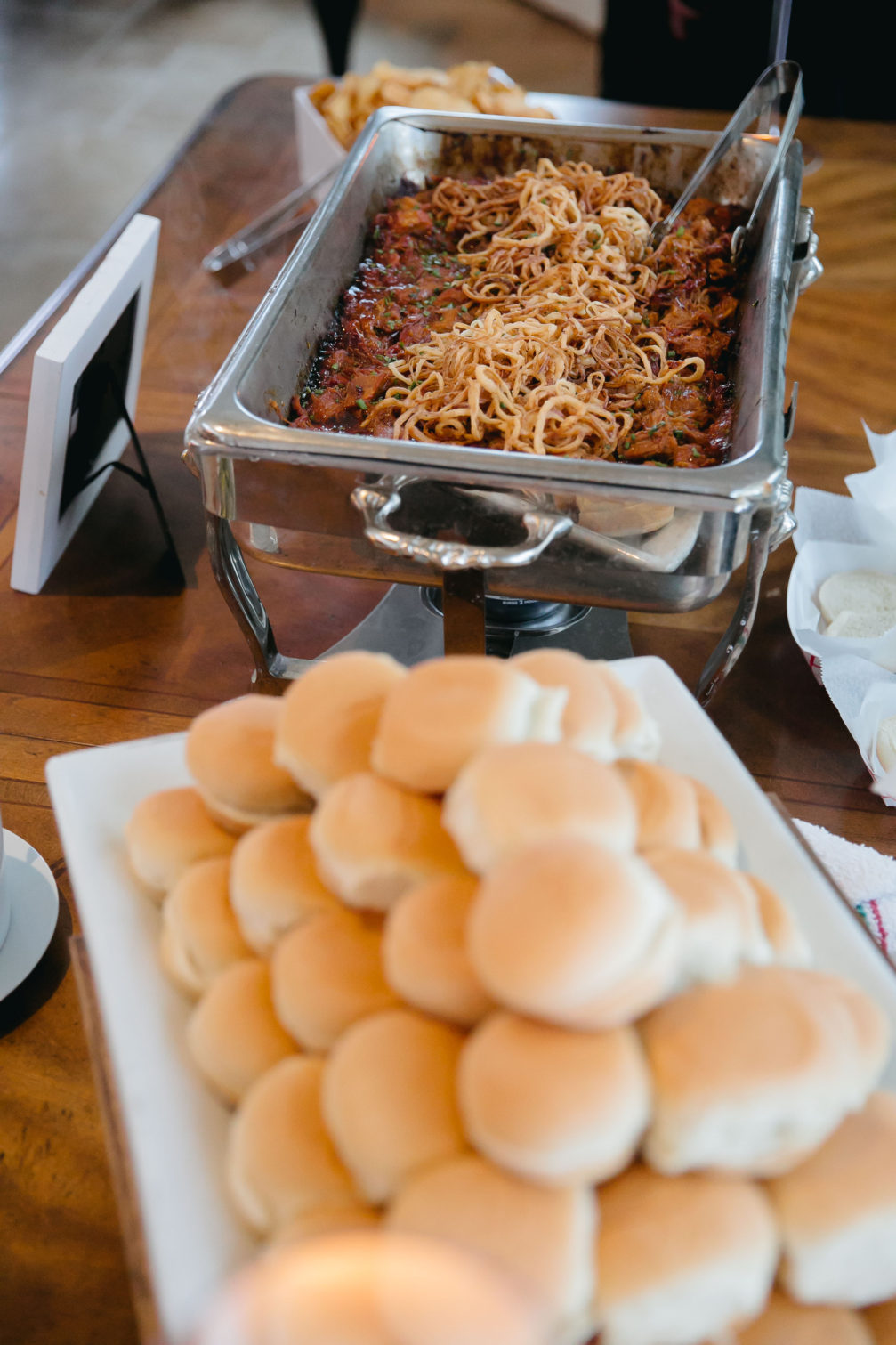 Cozy Food
Food has become a huge priority at weddings. More and more couples are choosing venues based on the level of catering or hosting a wedding where they can bring in the caterer of their choice.
Fall food is good food.
Not to keep harping on the amazing weather, but the weather is a major reason why the food is the best at Fall weddings. In the Winter, the idea of a raw bar or anything cold for that matter, doesn't seem like a great idea. If you get married in the Winter, at some point you'll feel the pressure to make the menu free of cold anything.
Cocktail hours without variety are the worst.
Spring can be cold, it can be warm, and it pretty much does whatever it damn well pleases. The problem is, you have to decide the menu in advance. Know how many guests complain about a cold salad for a first course instead of a soup when they had to wear a coat to the wedding?
I do…
Summer weddings bring the opposite. Have you ever been "too hot" to eat? Yeah. That.
Farm to table and local food is a priority not just for couples getting married, but for many caterers as well now. The food options in the Fall are extensive, allowing for a creative menu with both hot and cold options.
S'mores and Bonfires
Everyone loves bonfires. Sitting around a bonfire with your friends and family is always a good time, so it's not surprising that many weddings end with one.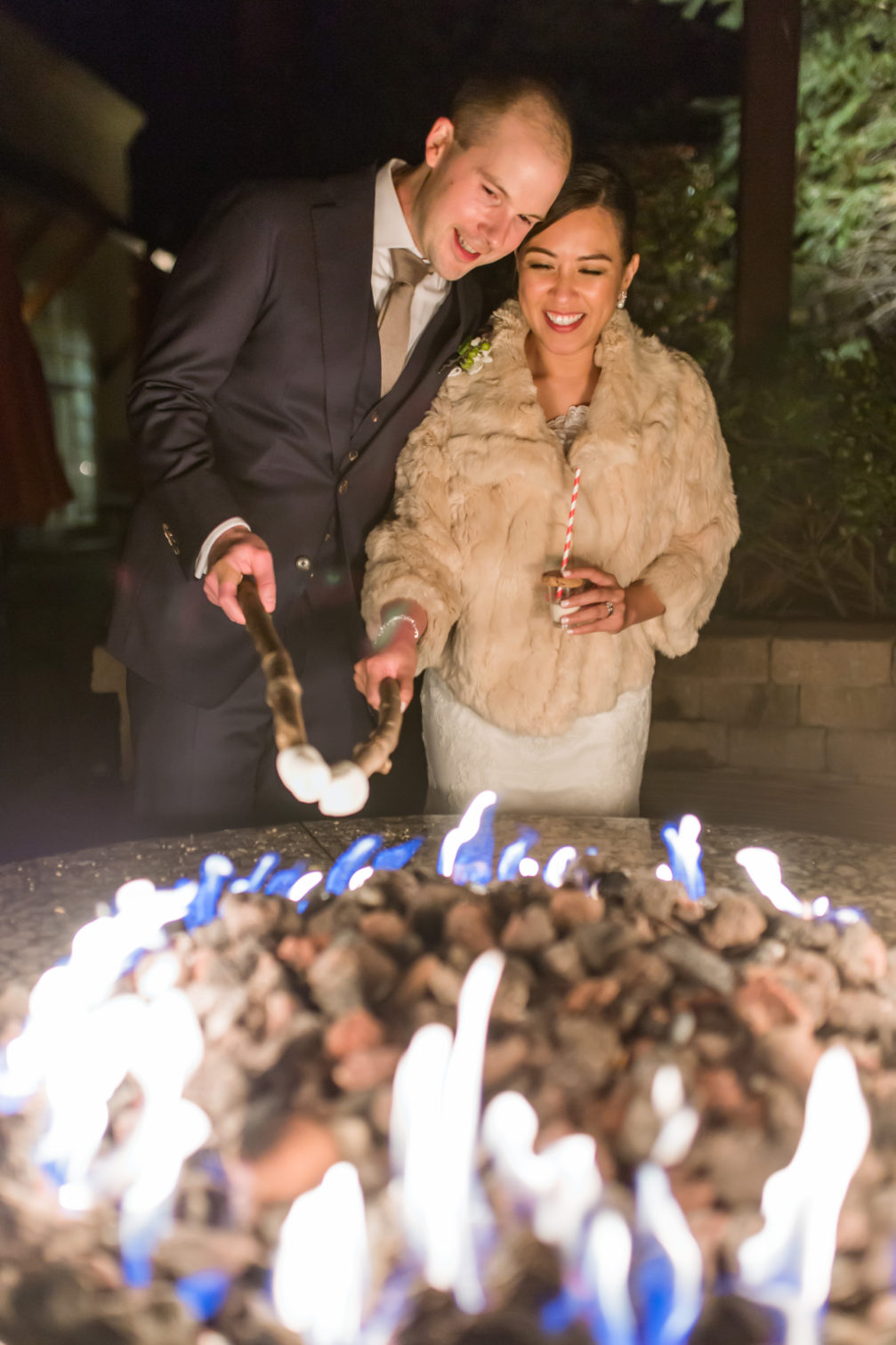 Whether it's part of dessert, the welcome party the night before or even an after party, a wedding with a bonfire is a win.
You're not going to swing one of these with a Winter or Spring wedding. The idea of one for a Summer wedding seems good at that time, but when it's still 85 degrees after sundown…
Maybe not.
Along with a bonfire (or two), you can treat your guests to s'mores and other goodies. Have a food truck supply some late-night snacks and keep a few live musicians around.
Honeymoon Timing
I already mentioned that Fall wedding months are the happiest ones of the year for so many reasons. Engaged couples frequently feel what I refer to as "wedding hangover" when the big day is over. The comfort of the holidays and all the other good stuff associated with Fall usually keeps that hangover from being too painful.
Honeymoons help too.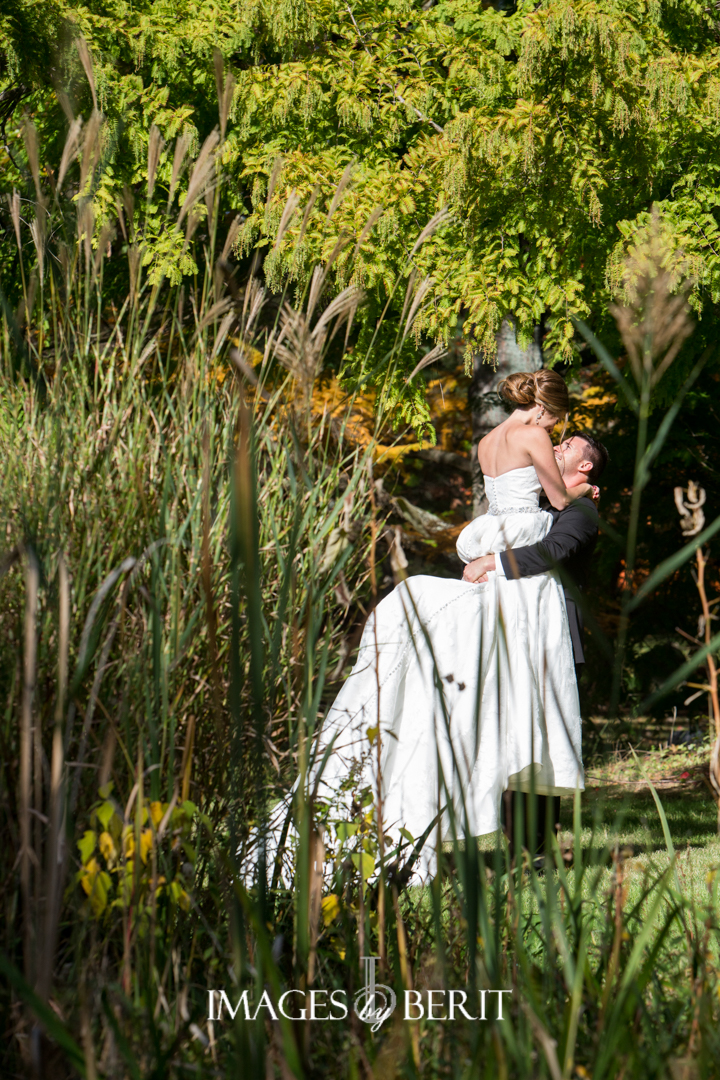 Most couples will take their honeymoon within a day or two after their wedding date; or very soon thereafter. With a Fall wedding, you'll be traveling during a season where flights aren't canceled due to snow and ice.
Depending on where you're going, hurricane season won't be an issue either. This is a total bonus because the last thing you want to worry about while planning your wedding, is if your resort is going to be swept out to sea leaving you no place to go.
If you're not planning on island hopping, Fall is a great time to really explore any part of the world. No worries about Europe being closed for the Summer for you!
Best Season Ever
Those are my 10 reasons that will make you want to wed in the Fall. Did I convince you? Was there another reason that I missed? Share in the comments below and tell me what your wedding season is and why you picked it!