Engagement rings come in all shapes and sizes and even the thought of shopping for one can be scary AF. How much should you spend on an engagement ring? What are the different styles of engagement rings? What is the most popular engagement ring style?
Even though the so-called "engagement season" begins after Thanksgiving and doesn't end until Valentine's Day, engagements and proposals happen every day of the year. So, no matter when you're coming across this blog, you can have everything you need to know about engagement rings in one place!
Of course, if you're just looking for some pictures to casually leave open on your soon to be fiance's phone, don't worry…there are plenty of round halo engagement rings in Sydney.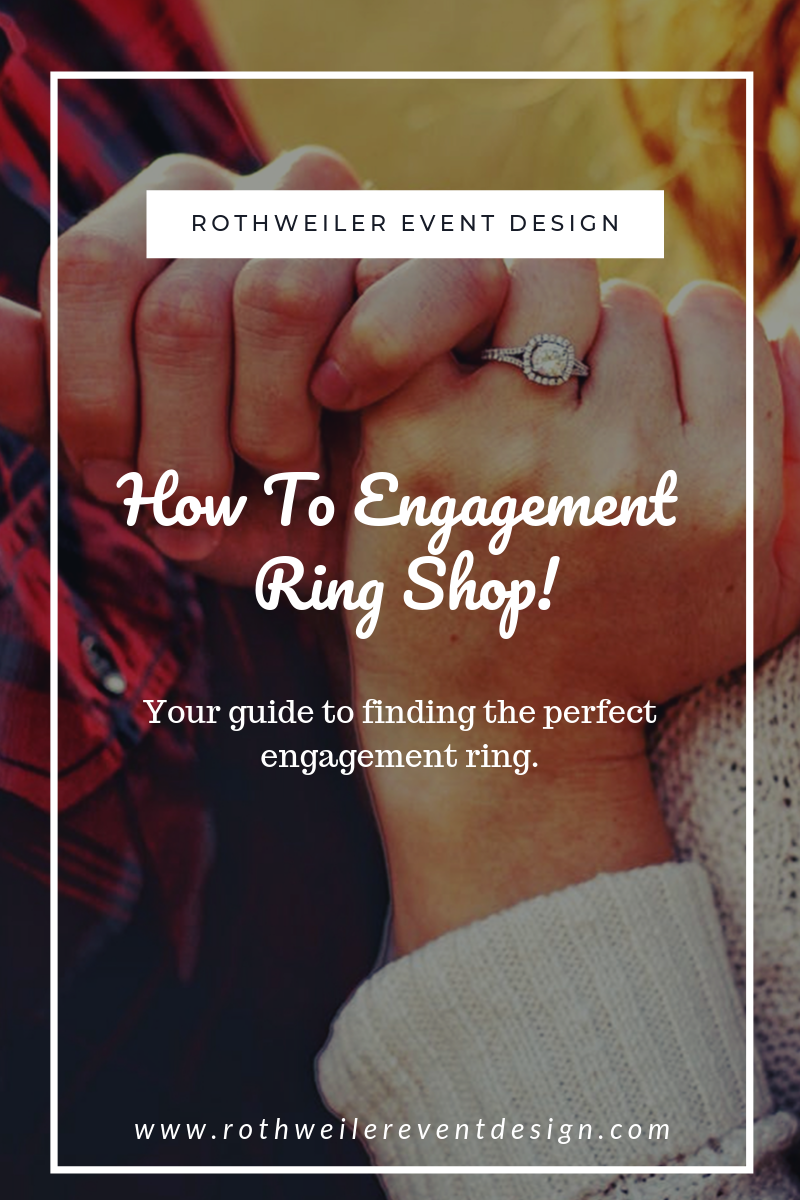 *Please note that most of the links of this page are affiliate links. This means if you click on a link and purchase, you will receive the same price, but I will receive a referral fee. This helps keep my blog free and allows me to share wedding planning tips with you. Thanks for your support!*
Engagement Ring Styles
Anyone could get totally overwhelmed searching for the perfect engagement ring when there are roughly 4 billion different styles available. From the engagement ring shapes to the actual settings, there's also deciding the type or types of stones, band color, and plenty more.
Personally, I am a *huge* fan of shopping for engagement rings with your soon to be fiance. The proposal and all that can still be a surprise, but you both should actually see what looks good on your hand and what doesn't.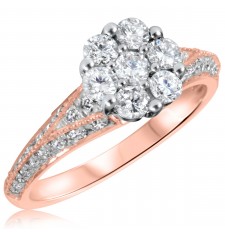 When my husband and I knew we were going to get married, he was all about proposing with a solitaire engagement ring. Meanwhile, solitaires look dreadful on my hands. It took a trip to the jewelry store to prove to him that I was right. From there, I tried on a whole bunch of rings to give him a general idea of what I loved.
Related: How To Plan The Perfect Engagement Session
Because honestly, can you imagine getting a ring you hate? It's not like you can say anything. There he is, down on one knee, and all you can see is this ring that just isn't your style. Then what?
Nothing. It's too late at that point and there's no way to tell the truth without sounding like a total bitch. Real talk.
What Are The Different Styles Of Engagement Rings?
We've all heard these terms before: solitaire, vintage, halo, and three-stone. Those are types of styles to consider separately from the actual stone details.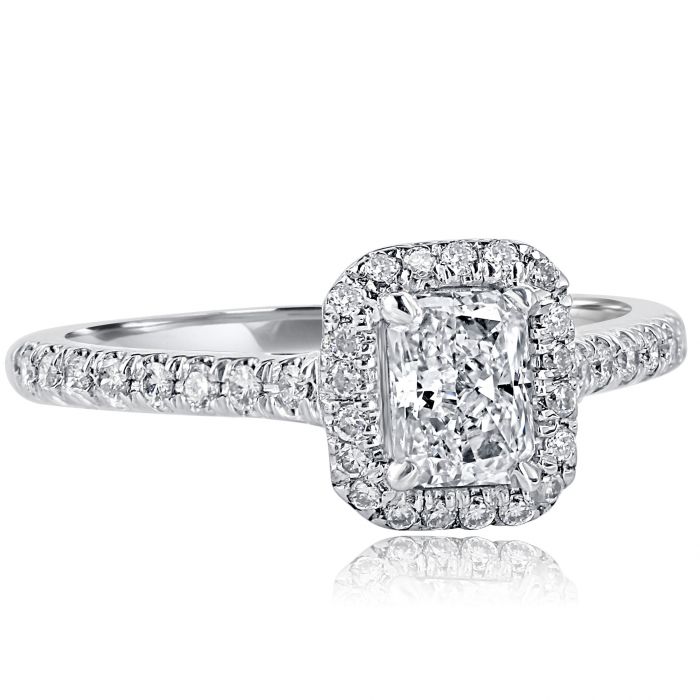 Halo engagement rings are still popular, but there are many more choices available than when the style first debuted. This is a seamless halo engagement ring, which means the surrounding band (or halo) of diamonds is a custom fit.
A halo increases the surface area of the diamond…or in English…it makes the surrounded stone look bigger than it actually is. Seamless halo engagement rings are a better choice though, because without the custom fit, there could be small gaps between the center stone and the band of stones around it.
Another great thing about going with a halo engagement ring style, is that you can create a halo around all shapes and sizes. You aren't restricted to a round stone or square stone. Pear-shape, heart, oval? All fair game.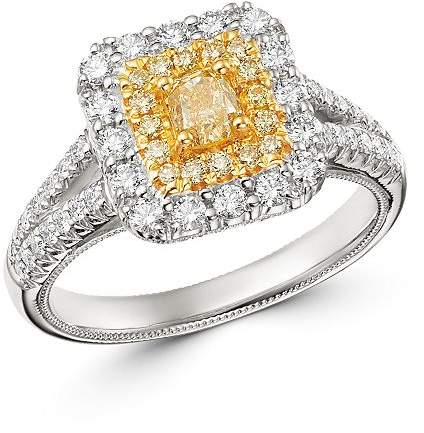 Elongated cushion engagement rings are also super popular and you can go with or without the halo style. With a cushion-cut engagement ring, you have a square diamond that has rounded edges. This yellow and diamond cushion-cut engagement ring above, also has two halos surrounding the center stone.
If you're more about the size than the sparkle, a cushion-cut engagement ring is the way to go. An elongated cushion engagement ring will be even bigger since it's not a square shape design. But, if you prefer sparkle to size, then go with a radiant cut instead of the cushion, which is also available as an elongated style.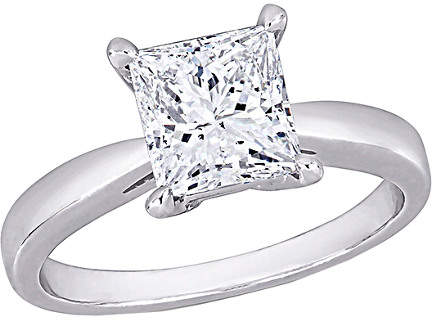 A solitaire engagement ring like this simple 2 carat one, is about as classic as you can get. Timeless and elegant, a solitaire can be any shape stone and doesn't even have to be a diamond.
But if you like the idea of a traditional ring, the stand-alone diamond on a plain band could be the perfect choice. An extra bonus with this engagement ring style is that you can get creative with your wedding band choices. Since the focus will be completely on one diamond, the color, cut, carat, and clarity.
Yup, "The Four C's".
How Much Should You Spend On An Engagement Ring?
The old adage of spending two months salary on an engagement ring is still something many people go by. That doesn't mean you or your fiance has to follow the rule though.
However, if we're going to be realistic about costs, then let's be totally realistic about costs. 2 months salary might not be feasible, but you absolutely get what you pay for when it comes to an engagement ring.
Let's talk some real numbers here. A good quality, 1 carat diamond, should cost you between $4,500-$6,000. That's just the one diamond, not the band or anything else, but it's the largest part of the engagement ring cost.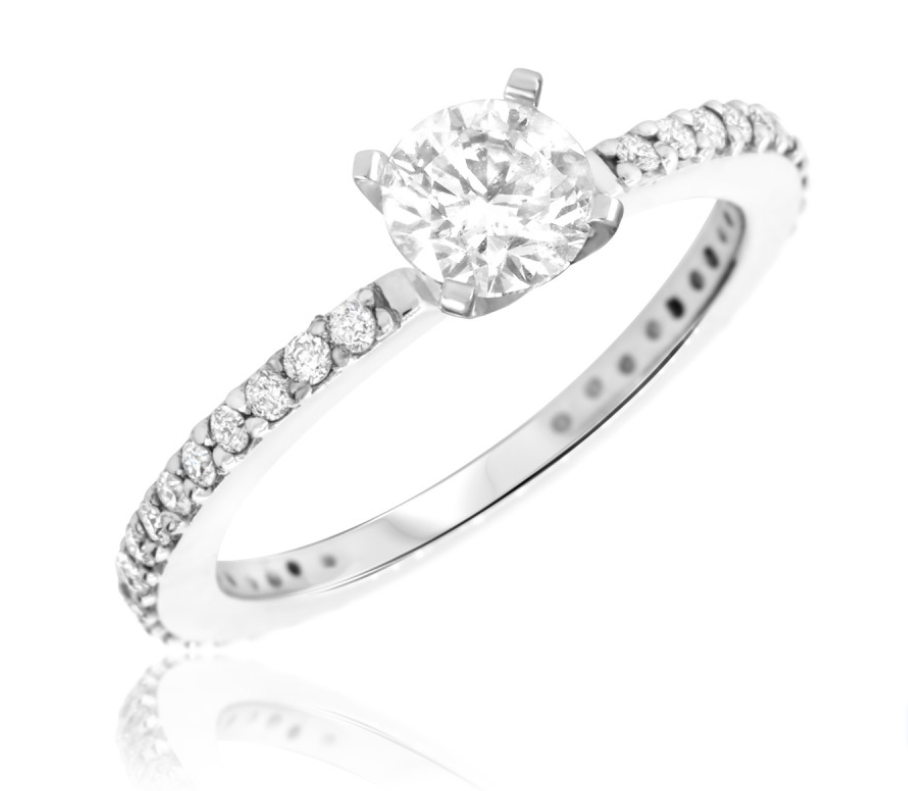 This diamond solitaire engagement ring from My Trio Rings, retails at close to $5,400, but it available on their site for $3,800. When you add up the total weight of all the diamonds, you get just a little over a full carat. This helps keep the price down because it's not just one stone at one carat, but a center stone that weighs less surrounded by 35 other diamonds.
You can check out all of My Trio Rings diamond solitaire engagement rings right here to find the right one.
Other factors that can drive the engagement ring prices up? Besides the type of band, and cut of the diamond, where you choose to buy can actually affect the final cost. Jewelry stores mark-up the prices, and many times you're paying more because the ring came in a signature blue box. Shopping online for an engagement ring and your wedding bands will actually help you keep the cost down.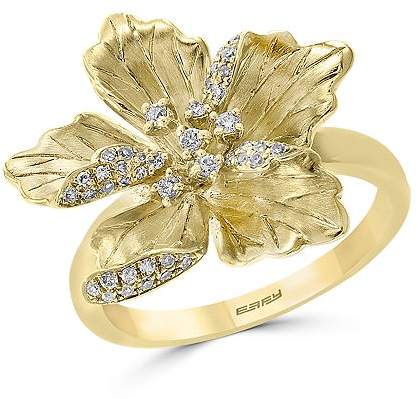 Along with My Trio Rings, I'm a big fan of US Jewelry Factory, and even Etsy for those more unique engagement ring styles. Take a few trips to try on rings at the real stores, but order what you want from an online vendor such as these to save big!
Most Popular Engagement Ring Styles
Seamless halo engagement rings and elongated cushion engagement rings are very much on trend for the 2019-2020 engagement season. We've already talked about how you can take a trendy look and still make it your own.
With everything about weddings being customized, it's no surprise that engagement rings are getting the custom treatment as well. In fact, one of the most popular searches for engagement rings on Pinterest is for turquoise engagement rings like this one from Etsy: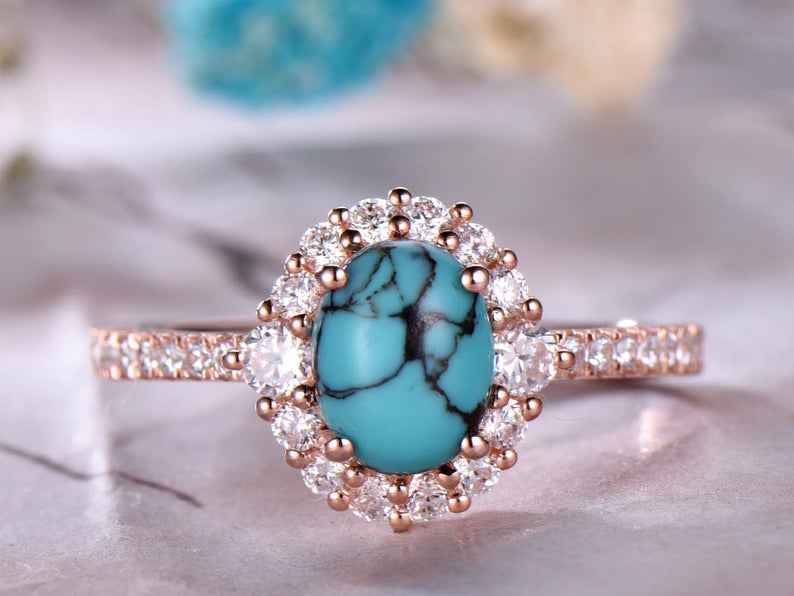 I have to be honest, when I was checking out trends for engagement rings, I was pretty surprised to see this one came up. I've never really thought of "turquoise" as an engagement ring "stone", but it's certainly out there if you want it! Other unique engagement ring styles currently trending include sunburst engagement rings and even lavender engagement rings.
Obviously the diamond is the bulk of the cost when looking at engagement ring prices. If diamonds aren't your thing or you're not down with spending all that money on one piece of jewelry, alternate stones are a great way to go.
You can browse all of the turquoise engagement rings on Etsy right here to see all the different styles and wide range of prices.
Engagement Ring Insurance
No matter what style engagement ring you choose, it's so incredibly important to get it insured. True story: it took less than a year for me to lose the center stone in my engagement ring.
Related: Blue Nile's Guide to Engagement Ring Insurance
I didn't misplace the ring, or slam my hand in a door or anything either. The stone, I am convinced, evaporated into thin air. I still remember that I was typing (just like I'm doing now) and my left hand felt lighter. I looked down and there was my ring with no center stone.
Once I finished having an anxiety attack, I started looking all around my house for it. I hadn't left the house yet for the day, so it had to be there somewhere. We lived in that house for 3 more years, and even in the chaos of packing and moving, we never found that diamond.

Thankfully, with the ring insurance, I was able to go back to the store and have the stone replaced. That was it. It was literally that easy. And nothing in life is that easy.
In fact, insurance is usually a pain in the ass to deal with when it comes to your car or your health or your phone…but ring insurance is simple. They'll lay out the rules for you (in my case, it's getting the rings inspected and cleaned twice a year) and you are covered.
There are multiple ways to go about insuring your engagement ring. You can speak with your homeowner's or renter's insurance company to find out if they offer coverage. Some insurance companies cover nothing but fine jewelry and those are your best options.
Engagement Rings For Men
Speaking of engagement ring trends, it seems that men now want to be included on the fun as well! So many questions right? Like….are guys supposed to get an engagement ring? And who buys a man's engagement ring?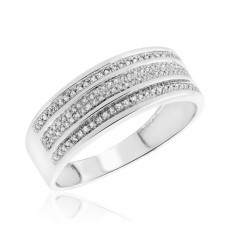 Men's engagement rings look a lot like regular wedding bands. No, no seamless halo engagement rings for the boys. An engagement ring for a man could be worn for the duration of the engagement if he is the one being proposed to. Or, this could be a ring he is gifted during the engagement if he was the one to get down on one knee.
When it comes time for the wedding band purchase, a man may choose to move his engagement ring to his right hand, or wear something complimentary.
The cost of a men's wedding band or engagement ring is going to be a fraction of what most women's engagement rings cost. Expect to pay an average of $600-$800, and up to $2,000 for platinum bands.
Shopping For Engagement Rings
If you're at the point in your relationship where you're ready to take it to the next (permanent) level, then congratulations! Picking out the right ring should be a team effort. It's still totally possible to surprise your soon to be fiance with the final ring choice and the proposal…
My husband designed my engagement ring based on what we shopped for and looked at together. And the proposal came as a complete shock, which was obvious given that I was in a t-shirt and sweatpants and hadn't had my nails done since 1912.
What is your favorite engagement ring style? Are you a fan of the trends or will you go with something more classic? Share your comments and drop any questions about engagement rings in the comments section below.
Happy Engagement!