Foil wedding invitations are super popular. They also can be crazy expensive. Let's face it, not every bride or groom wants to spend thousands on their wedding invites.
But you don't want to send out some ugly piece of garbage either, right?

Those invitations with the foil-pressed details give a little something extra without being extra. In fact, not only can you basically choose any color foil you can think of, you can have as much (or as little) as you want on those wedding invitations.
None of that changes the fact that foil wedding invitations aren't cheap. There isn't really a way to keep the cost down aside from waiting for a sale to happen…Which is why I am writing this (and many more to come) blog!
Sales happen all the time in the wedding world, and it's no fun missing out. Who wants to drop a few hundred on something, only to find out they could've saved if they had just waited one more day? Hashtag FOMO.
If you're already on my mailing list, you get the best sales delivered to your inbox every Wednesday. But not all sales last long enough to make the newsletter, and plenty of you guys are new here. So, I've decided to put together blogs anytime a great sale comes across my desk, starting with this one!
PS. You really should get on my mailing list. So, go here and do that first.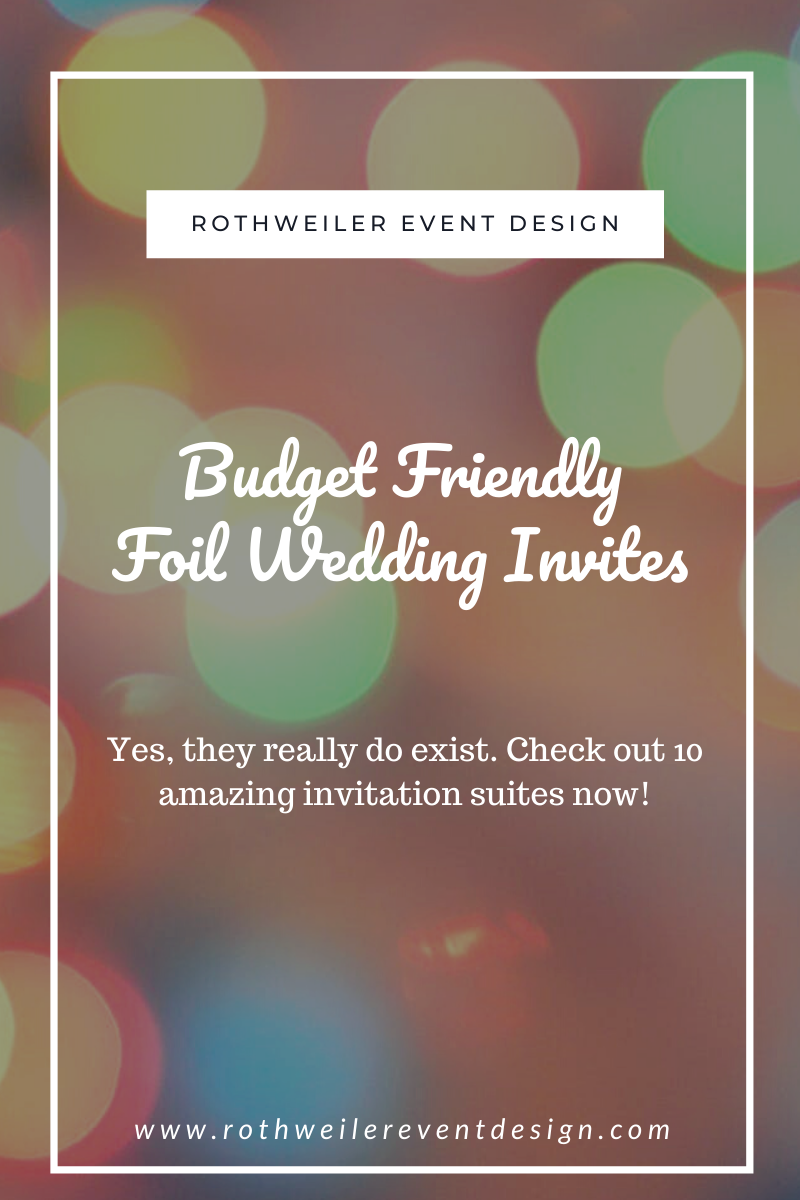 *Please note that most of the links of this page are affiliate links. This means if you click on a link and purchase, you will receive the same price, but I will receive a referral fee. This helps keep my blog free and allows me to share wedding planning tips with you. Thanks for your support!*
Cheap Wedding Invitations Online
It's no secret that engaged couples can save money on their wedding invites by purchasing them online. There are plenty of great websites that will allow you to put together an invitation suite without drowning in debt.
The problem with online wedding invitations? Very little customization is available. In a time where every engaged couple is searching for ways to personalize their wedding so it doesn't look like all the others, this is, obviously, a bad thing.
Related: The Best Etsy Shops For Brides
As a wedding planner, I am part of The Minted Wedding Planner Program, which allows me to pass along secret discount codes. In fact, I'll tell you how to get them later in this blog, just in case you missed this sale.
There are a ton of reasons I love being in this program, but the biggest reason? Minted offers so many ways for couples to create something unique with their wedding invites and day of stationery. You can easily fall down the rabbit hole of design while putting together everything you need for the wedding. The options are seemingly endless and that's a good thing.
Those options are not limited when it comes to foil wedding invites either. It's not just gold or silver. You can choose from rose gold to navy or even floral print in foil. Plus, not only are you picking up the invitation from Minted, but you're grabbing the whole suite including the RSVP cards.
Right now, Minted is having their semi-annual foil event, and taking 20% off everything that is foil-pressed. Yes, everything. It's a huge savings but it's only good until 11-11-19. Keep reading to find out what the code is!
Before you click off this page because you realized you missed the sale, or maybe you just can't get your order done by the time it expires, do yourself a favor and check out 10 of my favorite foil wedding invitations below. Even without a sale, Minted has some of the best prices I've ever seen, and some of the best designs as well.
And I mentioned that secret year-round code I'm talking about later in this blog right? If you can't take advantage of the sale, you can certainly use that code for foil-pressed or anything else wedding related from Minted.
1. Burgundy and Gold Foil Wedding Suite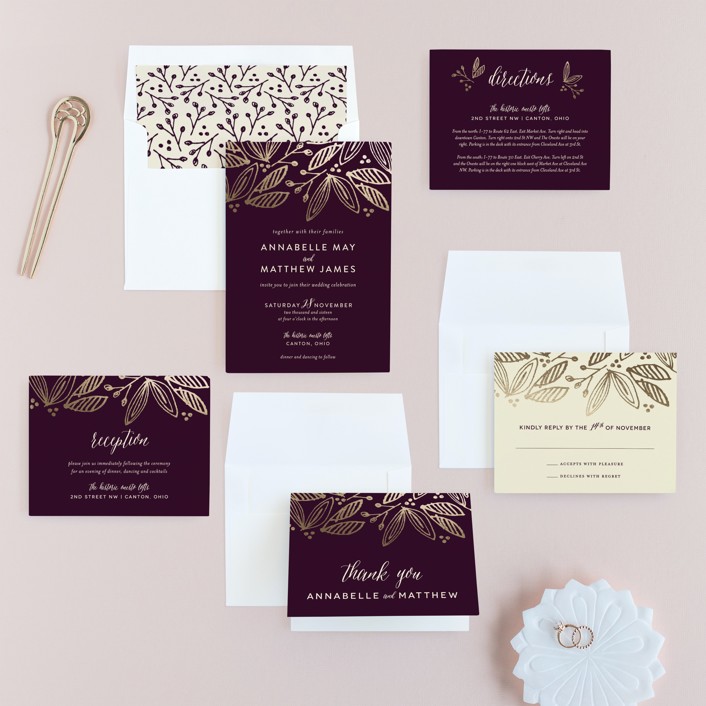 I'm starting my list of 10 amazing foil wedding invitations with this one because they are giving serious Fall vibes. That wine color is super trendy this time of year, and it pairs really well with gold foil.
Do you have to get married in the Fall to take advantage of this color though? Absolutely not! This wedding invitation suite would work well no matter what month your wedding is. Of course, if you love the style but not the color, you can always change it up directly on the website.
2. Roses and Rose Gold Foil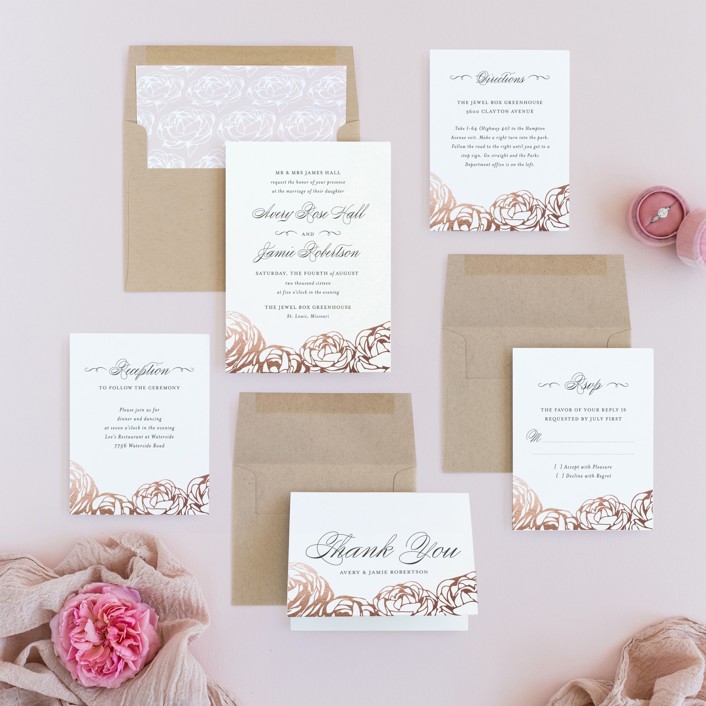 Rose gold continues to be a hot trend in the wedding world. It's soft and romantic, without being too "Sweet 16" pink. Personally, I think rose gold foil details are the best of the bunch, which is why I included this suite above.
3. Destination Wedding Anyone?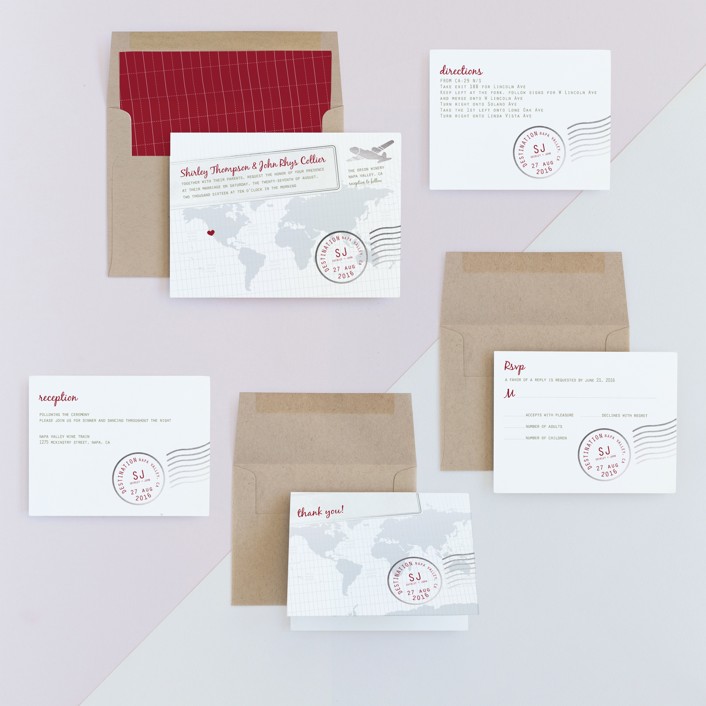 Destination weddings and elopements are popular with so many couples lately. It only makes sense to incorporate the travel details into your design. These foil wedding invitations are the perfect way to let your guests know they'll be packing their bags for your wedding day!
4. Simple and Minimalist Foil Pressed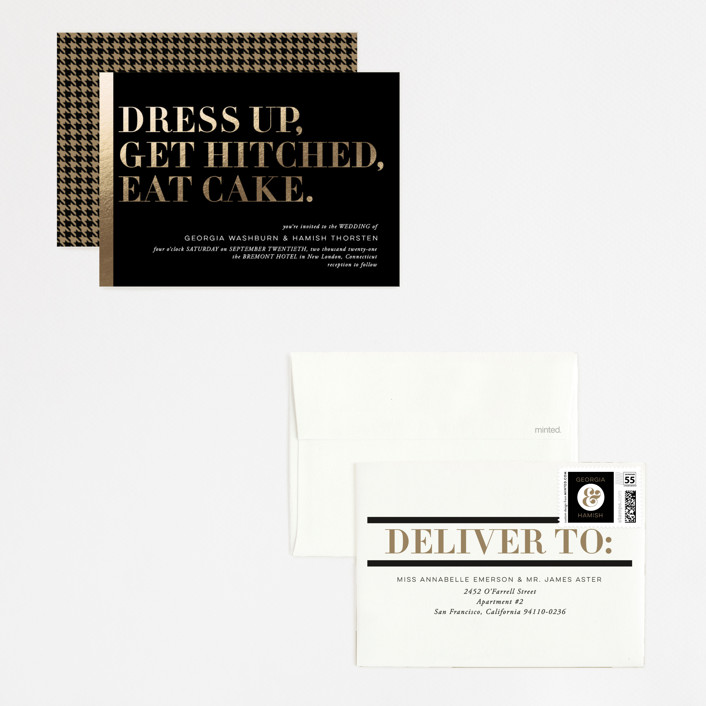 Couples that are going for something a little low key will love this petite wedding invitation suite from Minted. If you're looking for an option without a ton of enclosures, but still want a little foil pressed detail, check out this option here!
5. Go Big or Go Home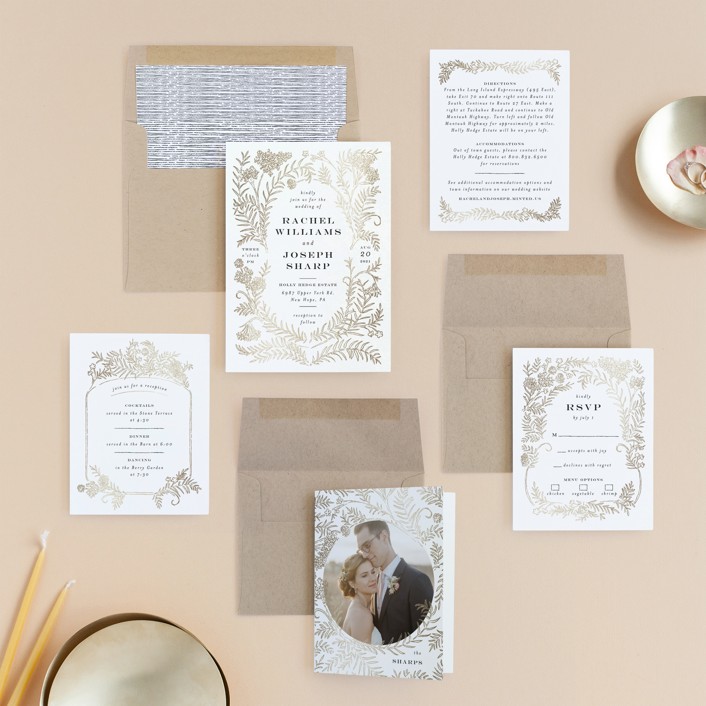 On the other hand, some couples want to go all out with their wedding invitations. You don't have to compromise what you want for what you can afford when you select this gorgeous gold foil wedding invitation suite.
6. Foil With A Rustic Twist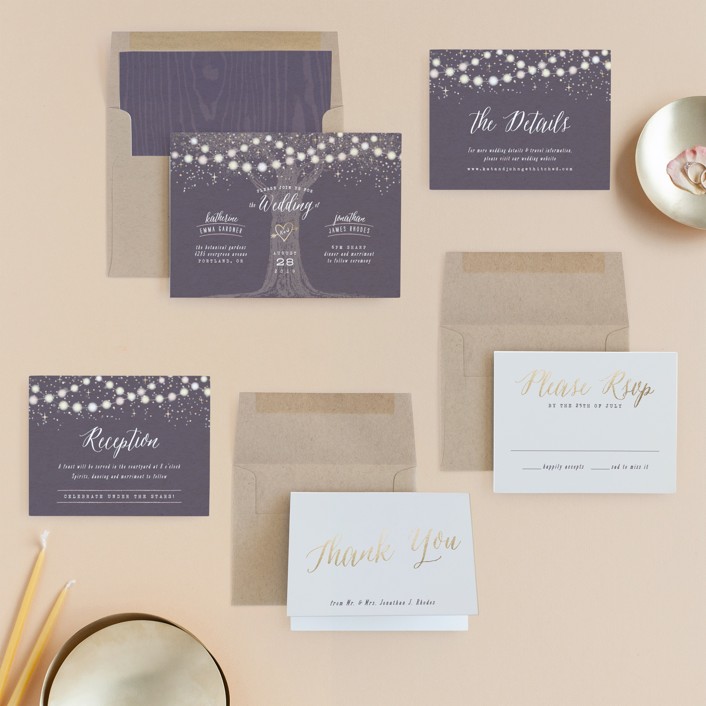 Planning an outdoor wedding, or a night filled with hanging bistro lights? Your wedding invitations give your guests an idea of what to expect on the wedding day. Grab this foil wedding invitation suite so everyone will be ready!
7. Casual and Classy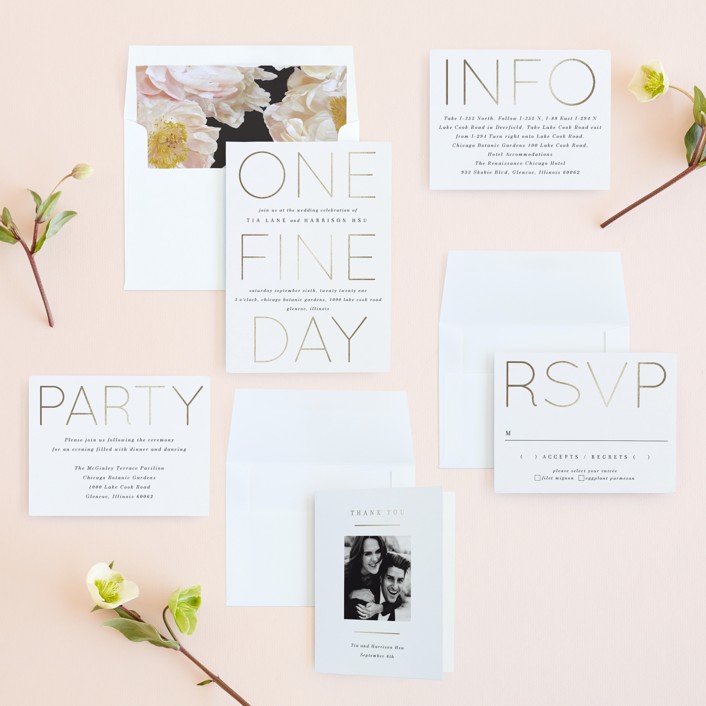 Foil pressed wedding invitations can be customized to fit any wedding style, including the laid back casual ones. Keep it simple with this invitation suite that ditches the foil flowers for foil font instead.
8. Bold Colors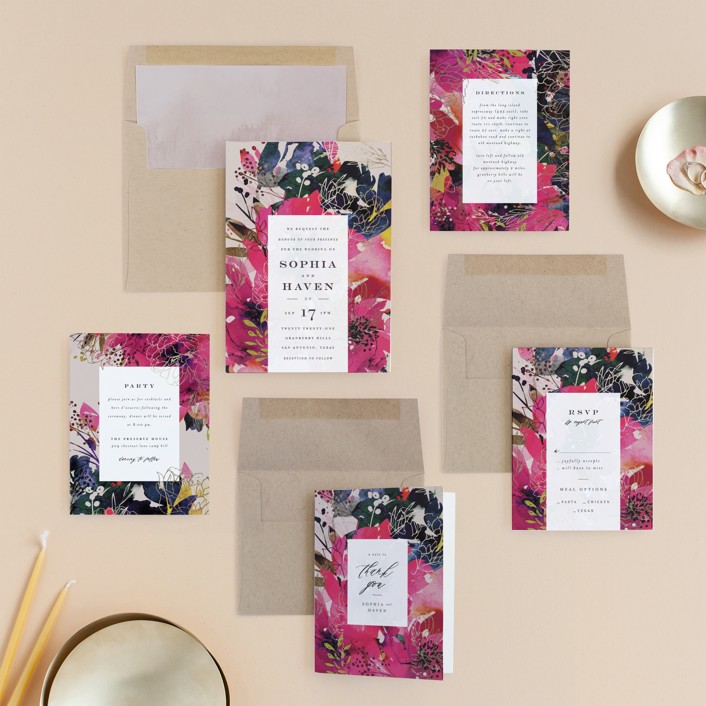 This invitation suite really packs a beautiful punch with bold colors and floral detail. The foil pressed details give the overall look a little something extra.
9. Greenery Goodness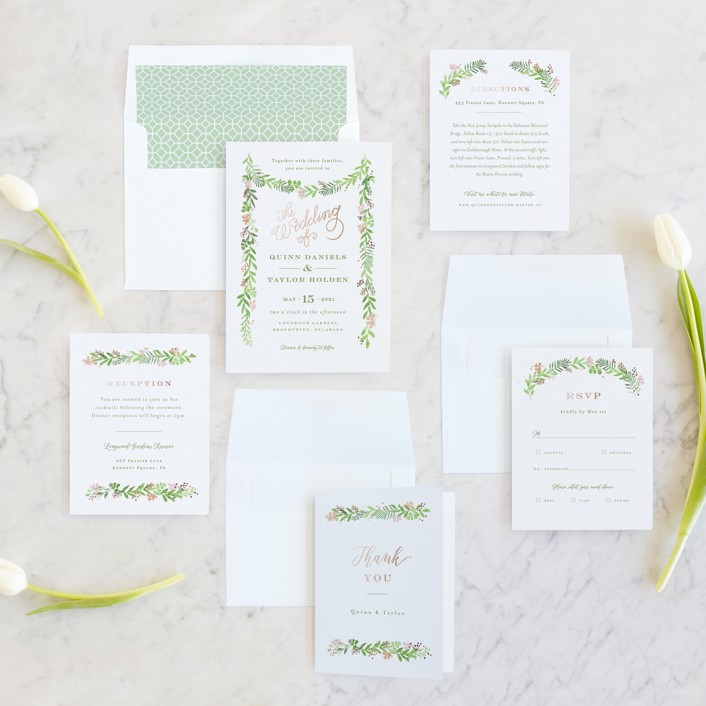 You've probably seen tons of inspiration for a white and green wedding, and maybe you've even attended a wedding with that color combo. Grab these foil wedding invitations and you're on your way to standing out from all the rest!
10. Understated Elegance
Rounding out my 10 favorite foil wedding invitations from Minted, is this elegant suite above. The foil detail gives off a whimsical vibe without losing the formality you want in a wedding invite.
How Much Should Wedding Invites Cost?
Now that I've shared my ten favorite foil pressed wedding invitations from Minted, let's talk about the cost. The cheapest way to do wedding invitations will always be to order from an online vendor. In general, the more you add, the more the cost will go up.
The invitations in this blog start as low as $2.70 each, and you can even score free samples to see and feel the paper before committing. Of course now through November 11th, 2019, you can save another 20% off by visiting this link and using SHINE19 at checkout!
If you missed the sale, but want to save, be sure to sign up for my mailing list right here to get the code! Spoiler alert, the code never expires and can be used on everything wedding related from Minted.
Thanks so much for stopping by guys and checking out this special blog. Let me know in the comments section if you'd like to see more sale blogs like this one and what you'll be shopping for in the future!