If you're wondering what to wear to an upcoming wedding (or five) but don't want to break the bank, then this blog is written for you. The Nordstrom Sale is here and in this blog I'm showcasing my Nordstrom Sale 2019 picks for wedding guest looks all under $100!
No one wants to spend their Summer weekends inside a crowded mall, right? Grab everything you need online while you're lounging by the pool or relaxing at the beach. I've put together the best of the Nordstrom Sale with four totally different wedding guest looks.
Stop searching for the perfect little black dress or something fun and floral! Along with the looks put together below, you can visit my collection pages to browse through even more options. That's right, I've done all the hard work for you.
Best friends forever?
OK, enough banter…let's jump right into this Nordstrom Anniversary Sale blog!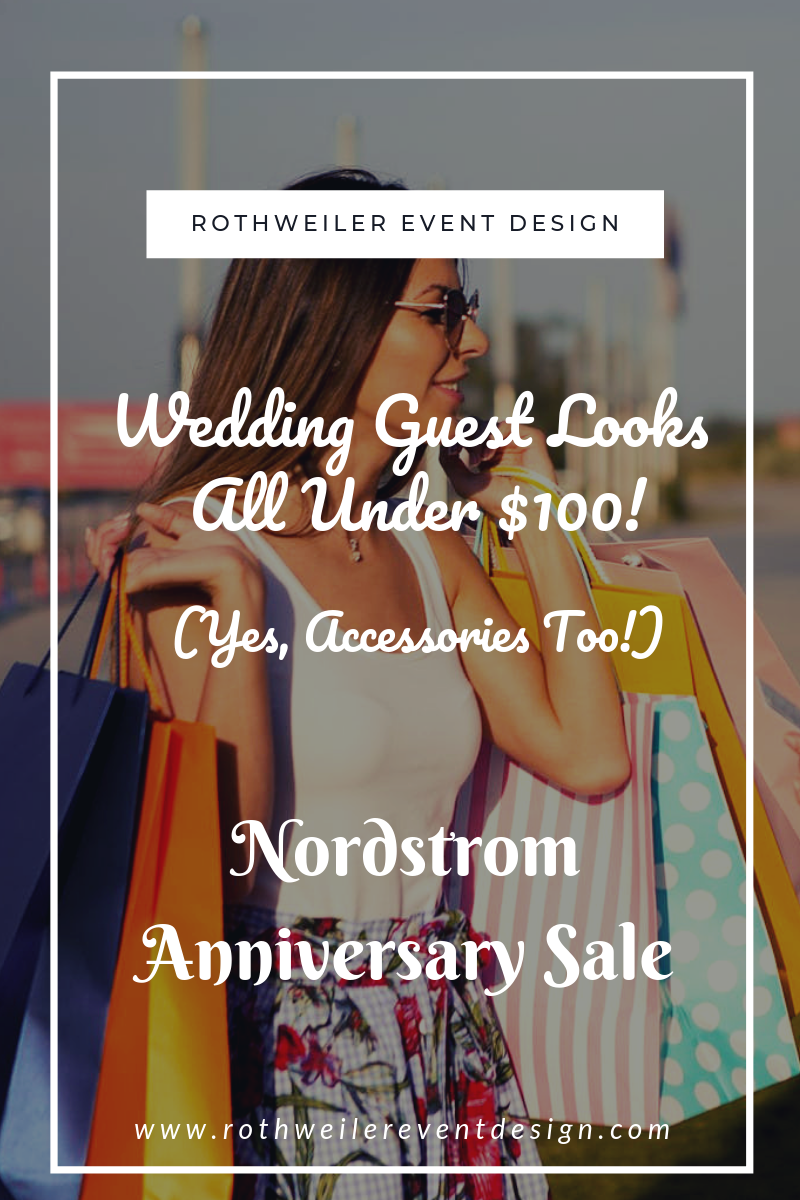 *Please note that most of the links of this page are affiliate links. This means if you click on a link and purchase, you will receive the same price, but I will receive a referral fee. This helps keep my blog free and allows me to share wedding planning tips with you. Thanks for your support!*
Nordstrom Anniversary Sale Basics
What good is a sale if you don't know when and where to shop? Here's how it all goes down for 2019:
July 12th: Early Access Begins
July 19th: Public Sale Begins (at 12:30pm EST)
August 4th: Sale Ends
If you're new to this whole thing, you're probably wondering what the deal is with "early access". The only people that can take advantage of the sale between July 12th-July 18th are Nordstrom card members. Normally, I'm not a huge advocate of signing up for credit cards, but this is not a sale you want to sleep on.
Find out more about becoming a member of The Nordy Club right here!
Wondering what's on sale? Pretty much everything. But this blog right here is all about wedding guest looks only. If you're looking how to save on make-up or sweaters, you probably won't find this blog too helpful. In fact, just start here.
Nordstrom Sale Wedding Guest Looks
Now, there is a whole section on the Nordstrom website dedicated to wedding guest looks. You can filter the selections down in plenty of categories…But, WOW, that's going to take up a lot of your pool time. Plus, if you have more than one wedding to go to, that's basically wasting the entire weekend.
I've broken down the wedding guest dresses into four categories:
You can complete any of the looks with accessories, shoes, and purses that I've put together at the end of this blog. Every item there is also under $100.
Pretty in Pink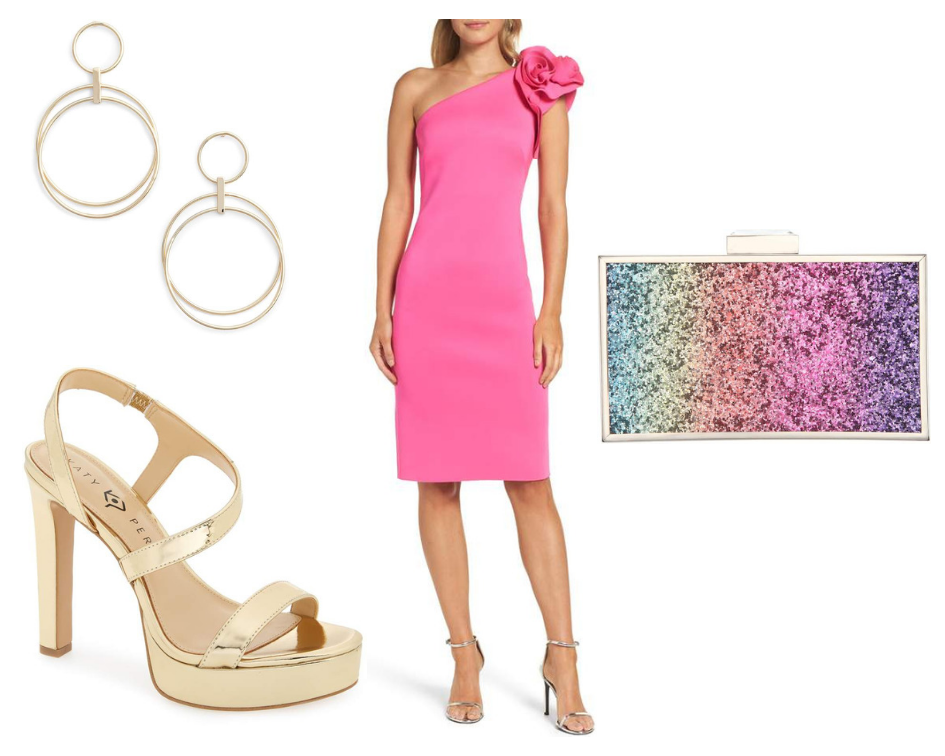 Looking for something feminine for that upcoming Summer wedding you're going to? I love this whole look using a solid bright pink dress and accenting it with classic gold details. The rainbow clutch is fun without competing with the gorgeous one-shoulder floral detail. Shop this entire look or just what you love the most here:
Feeling the pink, but want to check out other options? Check out the collection of these dresses all under $100 right now!
Formal Festive
Not every Summer wedding is laid back and outdoors. Sometimes you still need to wear something totally formal to a Summer wedding, despite the heat and humidity. It can be a huge challenge to find that balance between "formal wedding guest dress" and "it's effing hot outside".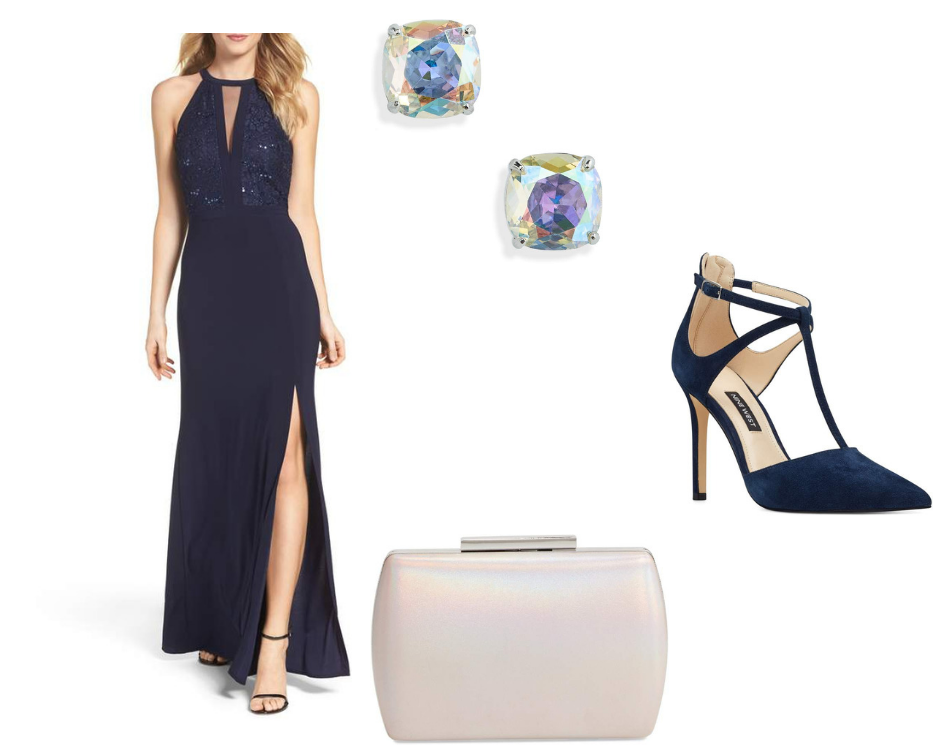 Formal weddings call for long dresses like this stunning navy blue one you can grab during the Nordstrom Anniversary Sale. A black tie wedding means ladies are expected to wear something long, but there are no rules about slits and shoulders! Keep cool with something that keeps your arms bare and finish off the look with a breathable semi-open (but still totally formal) heel. If you love this look, you can shop this Nordstrom sale pick below:
For more formal wedding guest looks under $100, check out the collection I've put together here!



LBD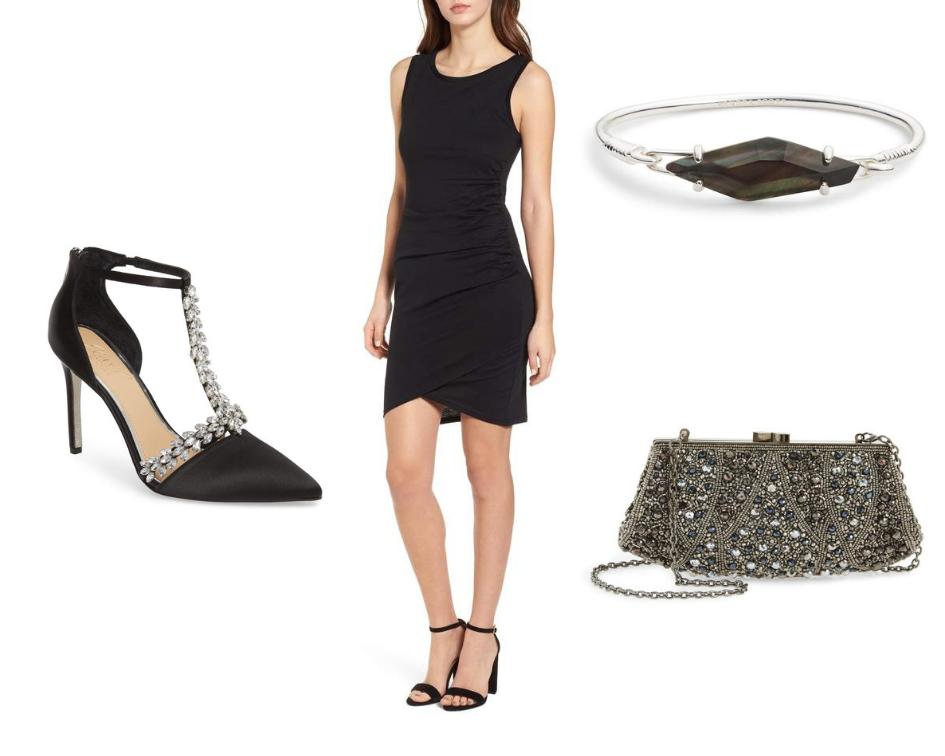 I have a general rule about wearing black to a wedding…and that rule is you absolutely can unless you're the Mother of the Bride. There's something about a mom wearing black to her daughter's wedding that says "funeral".
The only other exception that I'm back and forth on is if the bridesmaids are wearing black. When people ask me what they should wear to a wedding, I recommend finding out what color the bridesmaids will be in and then avoiding it. If the color is black though….I mean, everyone feels comfortable in black so go ahead and wear it.
Black is a great color to wear to a wedding because you can get away with wearing something short even if it's black tie. It's all about the overall presentation. That, and making sure the skirt isn't giving everyone a view they didn't ask for. You can find this classic LBD or little black dress with the accessories in these links:
For even more LBD options under $100 during the Nordstrom Anniversary Sale, visit the collection below!


Floral and Fun
That brings us to the last wedding guest dress look for this Nordstrom Anniversary Sale blog, floral and fun. Floral patterns have been trending for a hot minute and wearing a floral dress to a wedding seems like a no-brainer. There's no chance that you'll look like a bridesmaid, and there are just as many styles for black tie weddings as there are for farm weddings.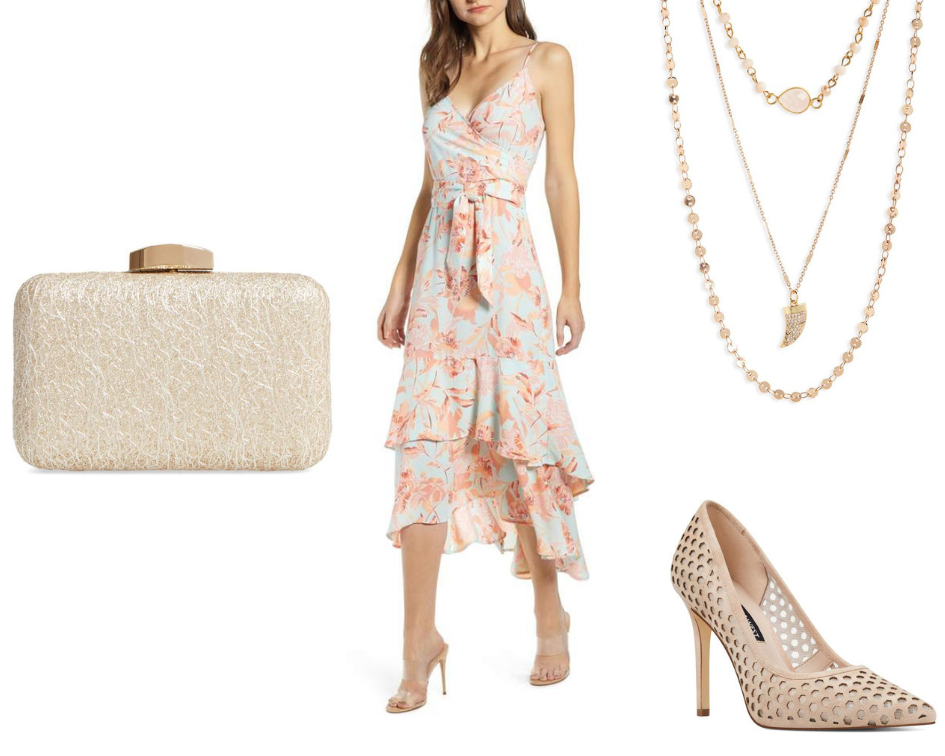 When wearing a floral dress, you really want to keep everything else simple. I love this dress above because it works for both formal and informal weddings. Everything really depends on how you dress it up. After all, just because the shoes are simple, doesn't mean they can't be formal at the same time. Piece this look together or pick and choose what you want now!
Since floral patterns are such a huge trend, there's a pretty big selection to choose from during this Nordstrom Anniversary Sale. I pulled my favorites, all under $100, and placed them in this collection for you to shop from:


Best of Nordstrom Anniversary Sale
The Nordstrom Anniversary Sale is always full of amazing finds because pretty much everything is on sale. I'm actually not much of a shopper, but I am damn good at saving money. And, let's be honest, some sale prices are better than others. No one feels like they hit the jackpot when they only save 10%.
That's why I put together this Nordstrom Anniversary Sale blog…you're already starting below the $100 mark for each item. If that doesn't make these items the best deals of the Nordstrom Anniversary Sale, then nothing does.
Of course, as promised, I've put together collections of purses, shoes, and jewelry, all perfect for wedding guests and all under $100 each! No look is complete without all the details, and at these prices, everyone can afford the whole package.
Wedding Guest Jewelry

Wedding Guest Purses, Bags, and Clutches
Wedding Guest Shoes
For everyone that has asked me what to wear to a wedding, I hope you've found plenty of options here. Make sure to comment with pictures and share how much you saved during the sale!