Welcome to Part 2 of the blog where we're showing you how to get that adorable autumn aesthetic in your home this Fall! If you missed the first part of the blog, head over here and check that out first.
Wondering when should you start to decorate for Fall? Right now! Don't wait for the end of September to enjoy the cozy comforts of this season. Besides, Christmas decorations will go up soon enough and you'll wish you had enjoyed your Fall for longer!
Just like in the first blog, we're giving you two inspiration boards because "autumn aesthetic" doesn't mean the same thing for everyone. Find which board speaks to you the most and check out the products we're recommending to achieve that look!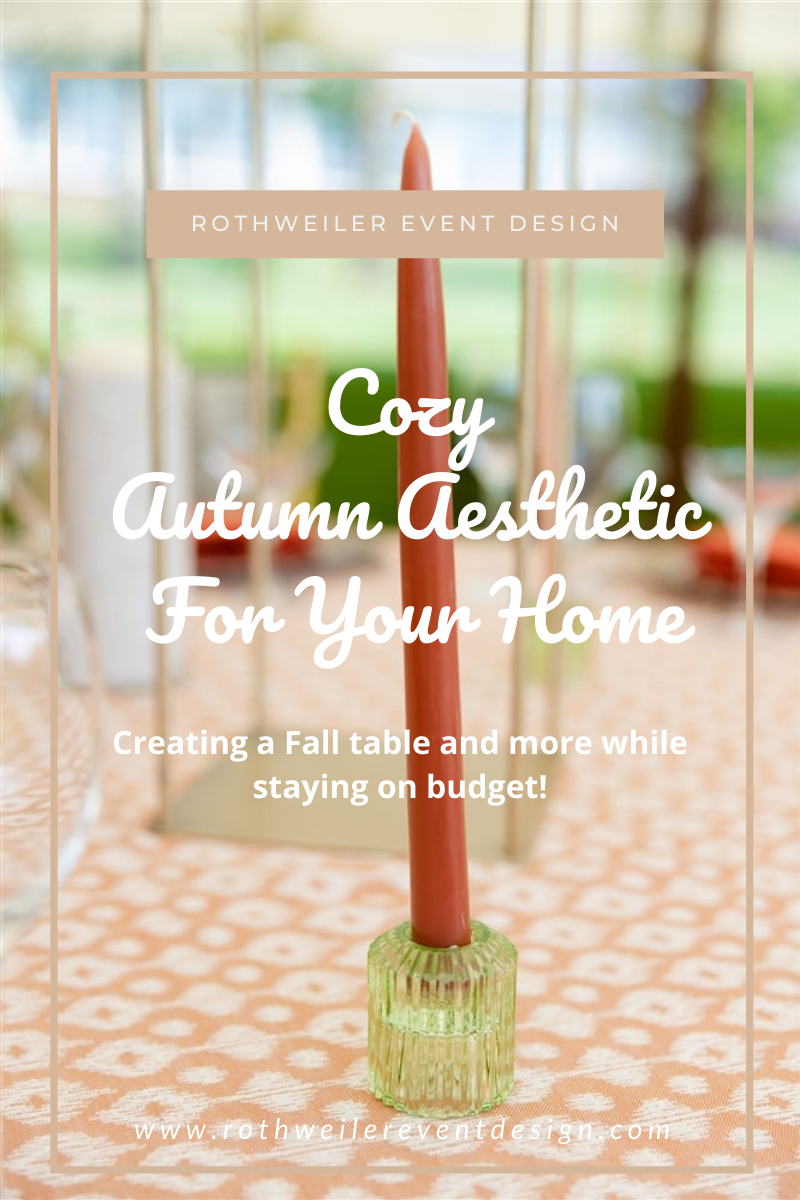 Our website is supported by our users. We sometimes earn affiliate links when you click through the affiliate links on our website.
Cozy Autumn
I don't know about you, but when I think of Summer ending, I think of a cozy Fall aesthetic filled with blankets and pillows. I love the deeper colors of the Fall, especially anything jewel-toned.
If you are trying to make your home extra cozy this Autumn, then look no further!
I love the mixture of wood and natural grains with the ambers, reds and bright greens. Fall is hands down the season with the best weather; it's warm enough to enjoy lunch outside and cool enough to make s'mores by the fire.
You can bring that gorgeous Fall weather feel inside with all of these products we found for you below!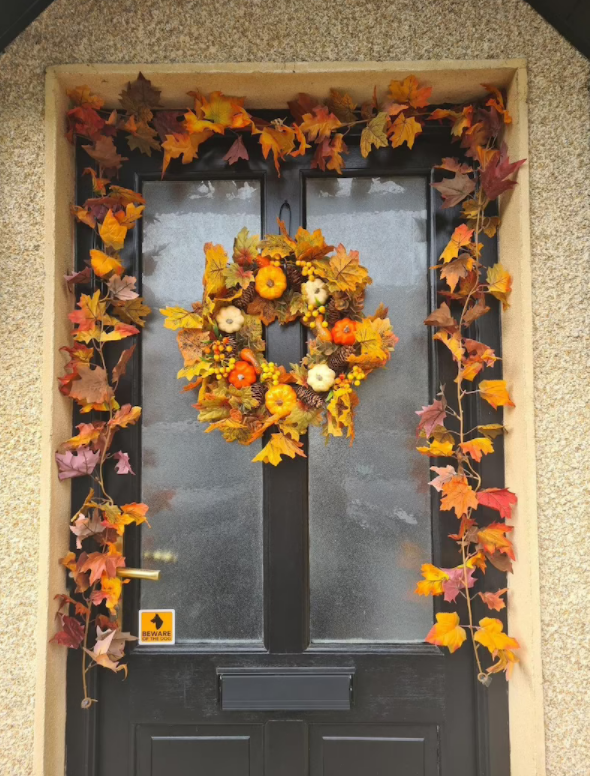 Welcome your guests into your cozy Fall sanctuary before they even walk inside…This gorgeous faux foliage garland makes a perfect frame for any front door! Bring the Autumn aesthetic home with a beautiful entranceway!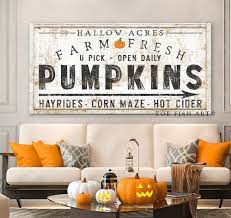 Something fun I like to do with design is to change up the walls. This can be as simple as putting garland around existing pictures, or you can go full out and take down photos and replace them with seasonal signs. I love how much wall space this Pumpkins sign takes up and it would look super cozy over your living room couch this Fall!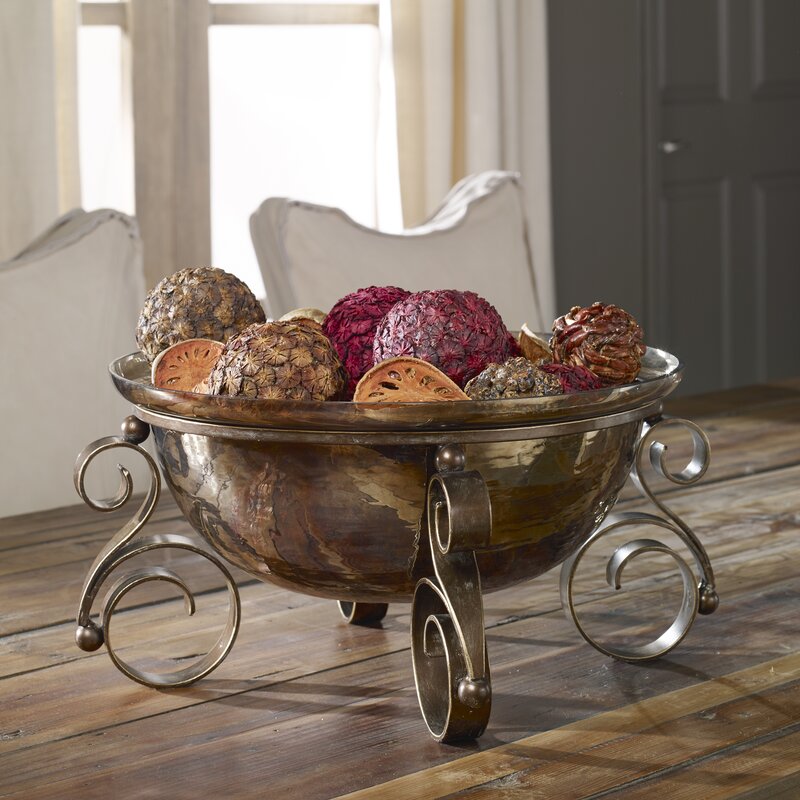 Copper and Bronze metallics are a must have this Fall and there are so many ways you can incorporate this style detail. This gorgeous bronze bowl above is a perfect simple centerpiece if you're looking for Fall dining room table décor!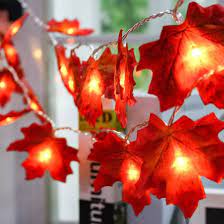 Who said Christmas lights are just for Christmas? Nothing gives a room more warmth than the glow of lights, and this leaf garland will light up anything from your mantle to your dining room table!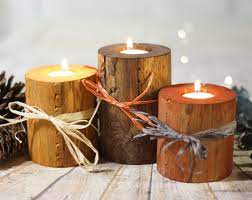 Looking to bring some candlelight into your autumn aesthetic home? I am loving Fall colored candles, wrapped in twine and these are a great way to decorate for Fall on a budget!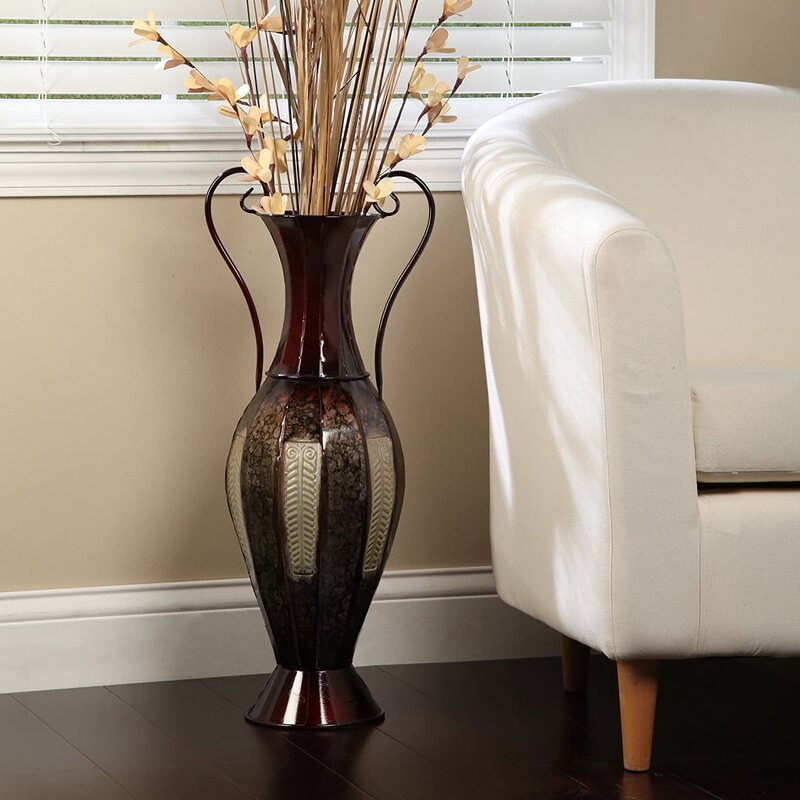 Bring Autumn into every corner of your home by adding a great statement piece like this brown metallic vase. Whether you leave it empty or fill it with faux foliage in bright colors, it's sure to help you get that cozy Fall feel.
Vintage books are a huge trend for Fall 2021, and you can really make them Autumnal with this gorgeous decoration. Autumn time, apple crisp, and pumpkins are basically the mascots for Fall, so grab this cute piece off Etsy today!
Boho Chic Fall
Boho chic has been a hot trend in weddings and wardrobe for awhile now, but how do you take that style through all of the seasons? Well, our last inspiration board will show you how to make your boho chic style all about Autumn!
More shades of gray than just 50, mixed with chocolate browns, pops of black, and of course some wine colored pinks, and you've got a boho chic Fall palette to die for.
Here are some products to bring this look to life in your home this Fall!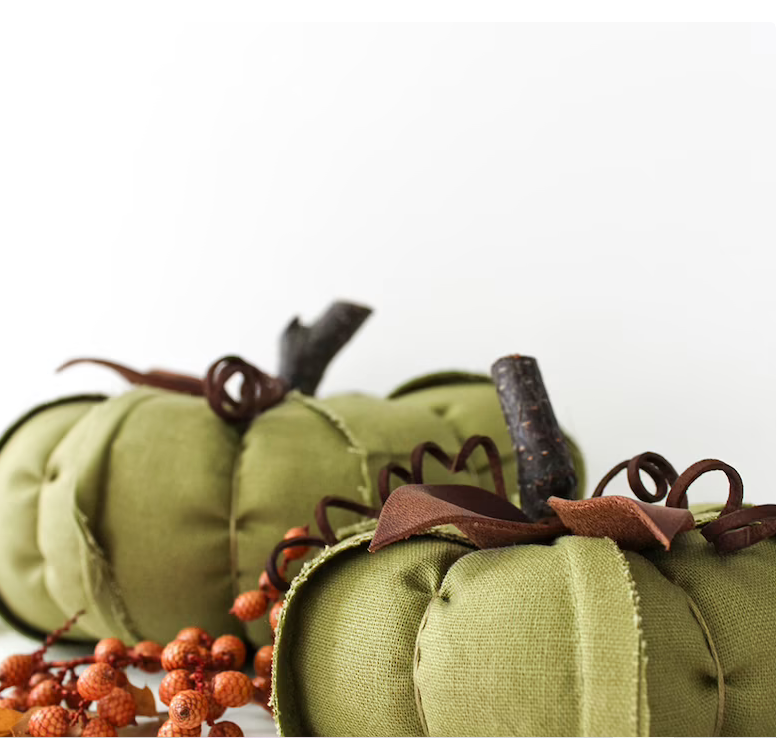 These soft and plush chartreuse pumpkins bring the comfort of Fall into any room in your home. The bright pop of green is a welcome splash of color as the trees change around us every day.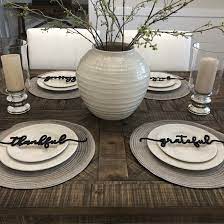 Welcome guests to your Fall dining room table with these gorgeous word place settings. Sentiments like "thankful" and "grateful" at each plate will remind your guests the beauty of the holiday season!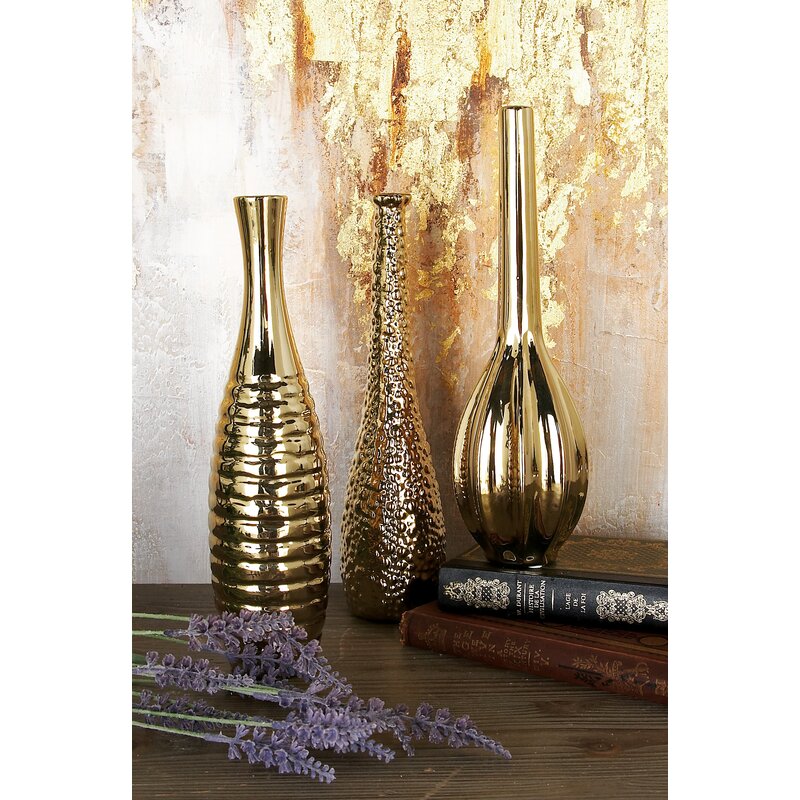 Bring in that warm glow by adding a few gold statement pieces like the ones above. Available in all sizes, you can cluster a few small ones together on the end of a mantle, or place them down the center of your Fall dining room table!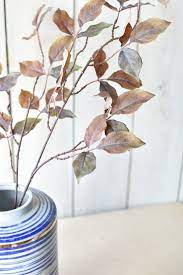 Faux foliage is a huge trend for Fall 2021 and so are metallic tones in copper and bronze. Well, two trends come together as one with these gorgeous copper faux foliage pieces!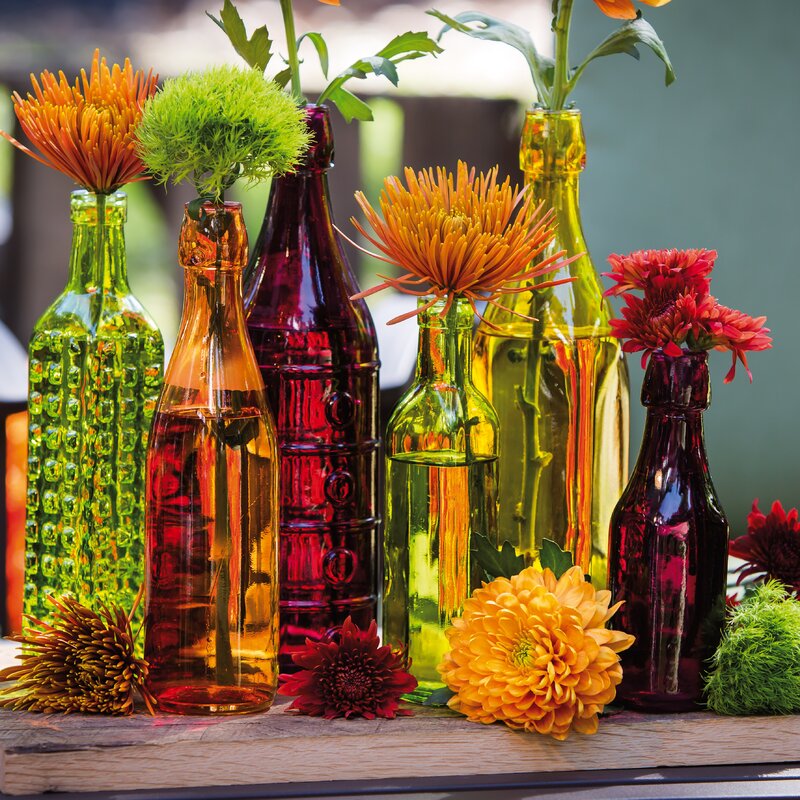 I would be lying if I didn't say I am obsessed with these brightly colored glass bud vases. They are the perfect combination for that boho chic Fall style and you can grab a bunch of these for different places in your home.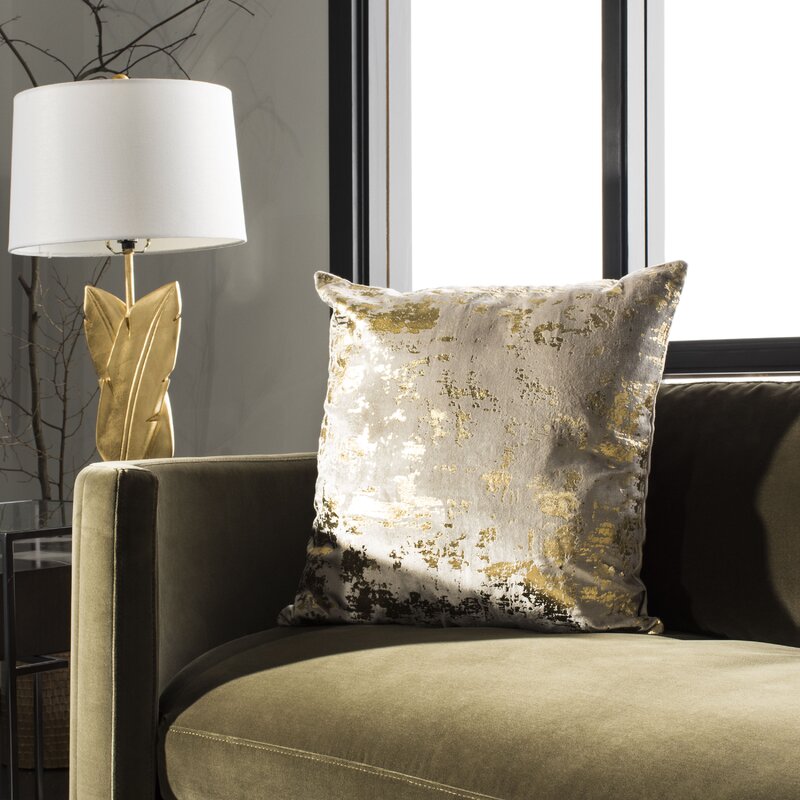 If there is one holiday home décor tip you take from this blog, let it be this one: Change out your pillows for the seasons and holidays. Seriously though! Throw pillows are effortless home décor and there are countless ones available. For this Fall, bring in this crushed gold pillow that is perfect for your living room!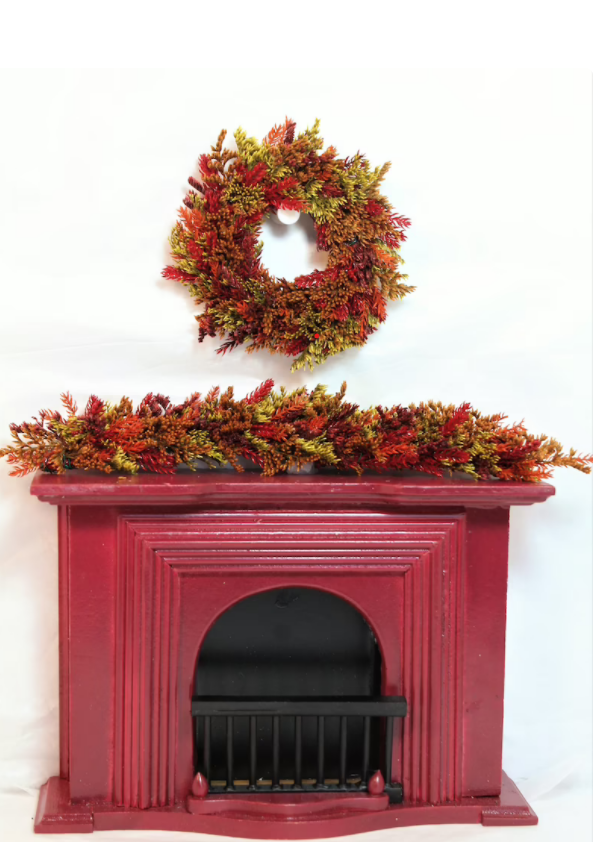 If you've got the space, you must add this stunning Fall garland and wreath combination. The two together look spectacular of course, but you could easily break up the duo by bringing the garland down the center of your Fall dining room table!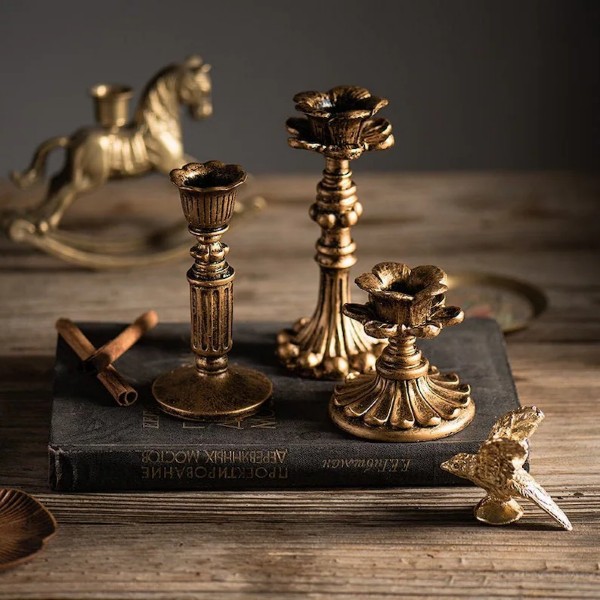 Brass candlesticks are majorly trending for Fall 2021 and I am loving all of the options over on Etsy. Who needs boring everyone already has these candlesticks when bronze beauties like the one above are simply a click away?
Bring The Autumn Aesthetic Home
I hope you guys enjoyed both part 1 and part 2 of this blog, showing you all the ways you can get inspired for Fall and how to create an Autumn aesthetic in your home.

What color combination did you love the most? Is there something you purchased that we missed? Leave us some comments and let's chat over some pumpkin spice…
It's Fall y'all!