What are the secrets you need to know to throw the perfect bridal shower? How do you decorate a bridal shower? What are some themes for bridal showers?
The task of planning a bridal shower can be super overwhelming. As a professional planner, I've certainly planned quite a few of these celebrations….but I've also planned showers for friends of mine getting married.
And that is a whole different animal.
Trying to balance everyone's opinion, while respecting budgets, juggling schedules, and organizing all of the details is a challenge. Tossing in a worldwide pandemic just makes it even more difficult. So, of course, we include bridal shower ideas at home just in case you find yourself in a social distancing situation!
Before you even start the bridal shower planning process, check out everything we've put together for you in this blog. If you're wondering how can I have a cheap bridal shower, looking for simple bridal shower decoration ideas, or even who are you supposed to invite to your bridal shower, then keep reading for answers to those questions and more!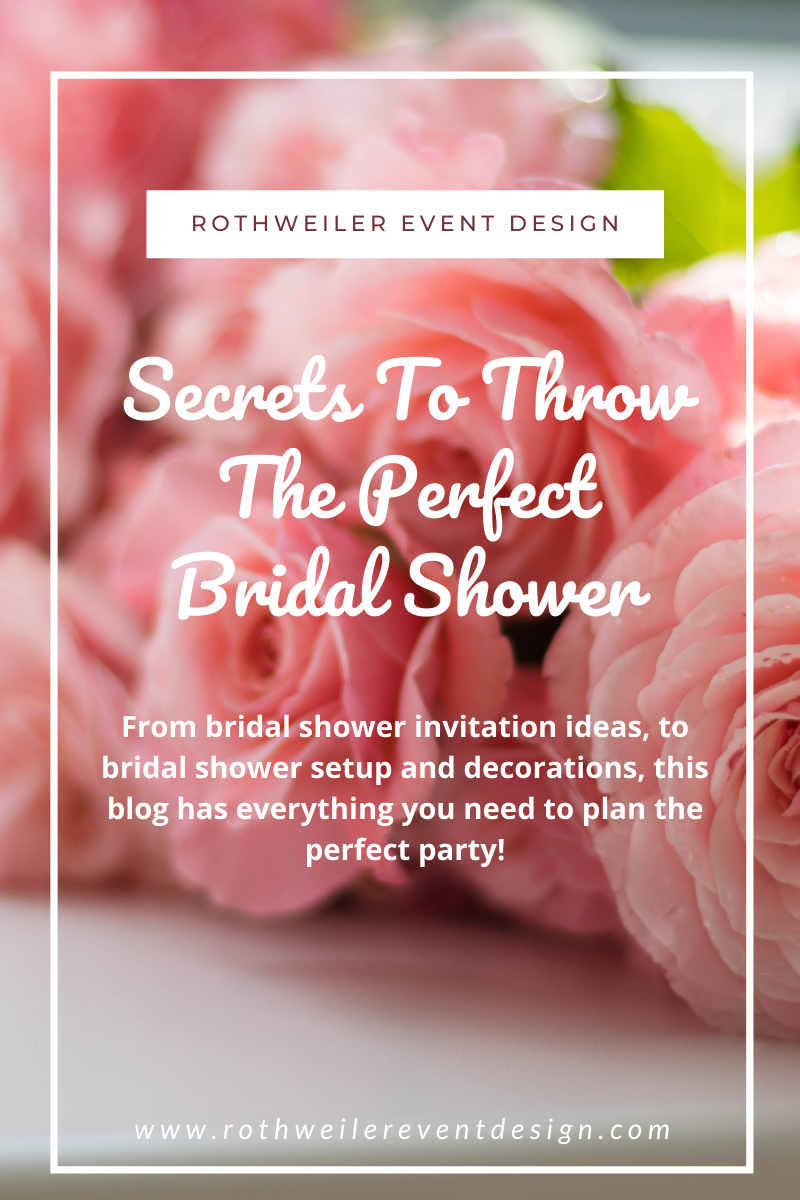 *Please note that most of the links of this page are affiliate links. This means if you click on a link and purchase, you will receive the same price, but I will receive a referral fee. This helps keep my blog free and allows me to share wedding planning tips with you. Thanks for your support!*
Bridal Shower To Do List
I've always found that starting a project…any project…is the hardest step to take. You've probably had those moments where you're so ready to tackle the day; the ambition is there and you are gonna get stuff done!
Then you look around your house and have no idea where to start. Maybe you go into the living room to start working on hanging up those pictures that have been on the floor for months…except you see toys that need to be put away first.
And as you're putting those toys away, you walk through 3 other rooms that also need work. So you put the toys down and take care of those things first.
Cut to three hours later when you're so mad at yourself for doing literally everything except for what you originally planned to do.
I'm a list person. I'm an OCD, Type A, list person. I make lists that are so unattainable to complete within the time I have available, that I add things like "breathing" to the top so I can cross off at least one thing.
When I make lists, I put them in the order I want the tasks to be completed. Typically, this helps me avoid the walk through other rooms where I completely forget what I was doing because I got distracted by new things to get done.
That's what we're going to do in this blog! Any time I plan an event for my clients, I create a timeline that shows when we are doing what. I walk them through it all, so that they will understand why we need to book a transportation vendor at the same time we choose a hotel block.
The order in which you do anything is crucial. We learned that the hard way back in math class if we didn't deal with the numbers inside the parenthesis before touching the rest of the equation.
But let's not talk about that because my PTSD is starting to kick in.

Who Are You Supposed To Invite To Your Bridal Shower?
OK, so what comes first when planning a bridal shower? Just like with any other celebration, you must decide on the guest list. The most frequently asked question I get is how to decide whom to invite.
Related: Bridal Shower Who Is Invited According To Emily Post
When it comes to a bridal shower, traditionally you would invite all of the women who are invited to the wedding. That said, guest counts for bridal showers average between 30-90 people. If you have a wedding guest count of 300 people, assuming half of those guests are female, that would mean 150 people at the shower.
Unpopular opinion: That's too many people.
What you can do, is limit it to bridesmaids and immediate family members. What you cannot do is invite people to the bridal shower that aren't invited to the wedding.
Keep in mind that the guest list needs to be approved by the bride. If the bridal shower is a surprise, that's really all the intel you'll need from her.
Who Plans The Bridal Shower?

Then the planning can begin by finding the venue and selecting the date. Except, it's important to know who plans the bridal shower. Frequently, the mother of the bride will orchestrate these details, while other times it's up to the bridesmaids to handle everything.
Whomever plans the bridal shower, be sure that everyone understands who those people are from day 1. After that guest list is done, the very next thing on the bridal shower to do list is getting together with everyone on the planning committee.
Where Do You Have A Bridal Shower?
Depending on the guest count, there are multiple location options to consider for a bridal shower. A private room at a restaurant, an outdoor terrace, or even a bridal shower at home, are all possibilities.

If you're hosting a bridal shower during COVID, it's important to consider social distancing rules. Many guests might not feel comfortable attending any events during a pandemic, and you have to accept that graciously.
For guests that will be attending, hosting outdoors or at a private home are better options than an indoor restaurant. Be sure to look into how the location is handling social distancing and keeping everyone safe.
Bridal Shower Invitations
Next up on the bridal shower to do list is to get those bridal shower invitations ordered! One of the timing questions I always get is when to send bridal shower invitations. While wedding invites should go out 2 months prior to the wedding day, you don't need quite as much time when it comes to the shower.
The RSVP date should be based on when you need a final headcount for the venue and/or caterer. Whatever date that is, I recommend creating the RSVP date 7 days earlier. You want to give guests 3 weeks to respond, so take a look at all of that information together to figure out the perfect day to send out those invites.
You could fall down the bridal shower invitation rabbit hole until you forget what you were even looking for…OR you fall in love with one of our favorites below and check this task off your bridal shower to do list!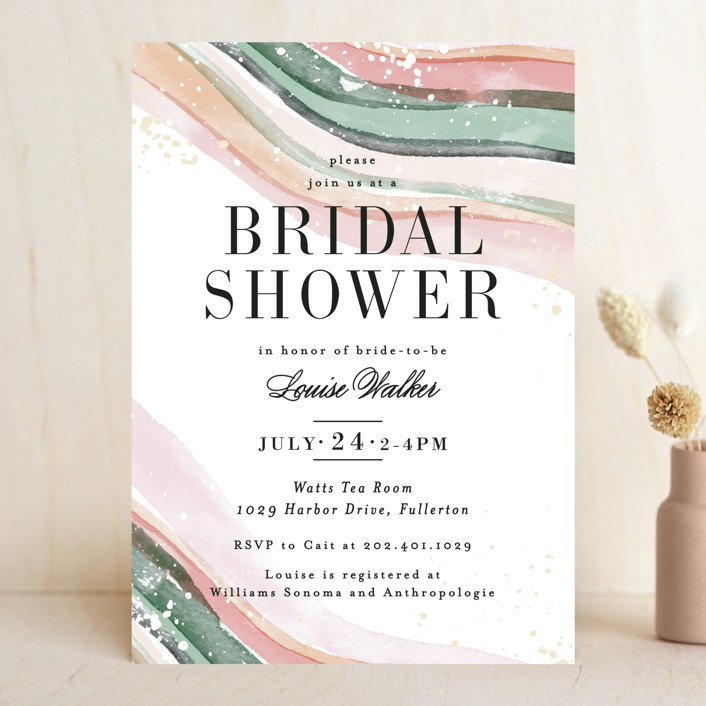 Bridal shower invitations don't need to be flashy and over the top, nor do they have to match the wedding aesthetic. Keep it light and breezy with these pretty bridal shower invitations from Minted! You can personalize all of the details including where the couple is registered and how guests can make those purchases.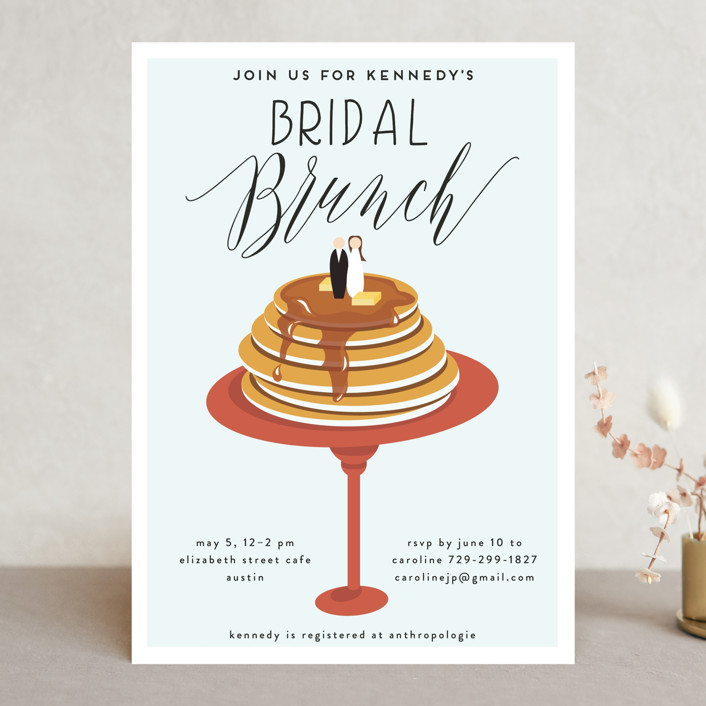 When you were wondering what some fun themes would be for this bridal shower, if you landed on "brunch" (and brunch is totally a theme thank you), these are the invites you're looking for! Many bridal showers are hosted during the day, and if that isn't a good enough reason to make this a brunch style celebration, I don't know what is! Grab these perfect brunch bridal shower invitations above and keep reading for more bridal shower brunch ideas.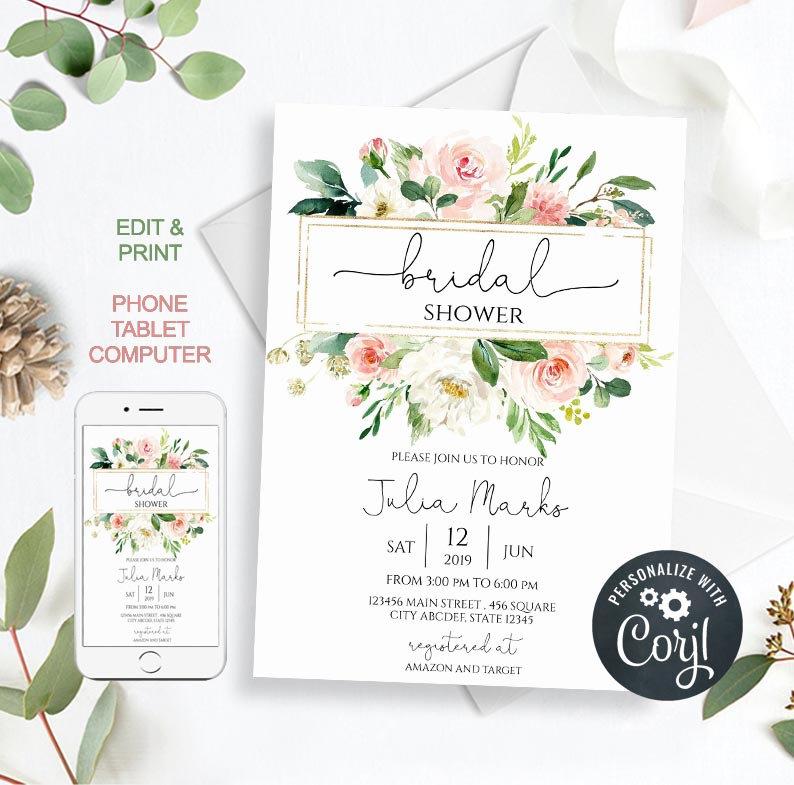 Even with a pandemic, everyone is short on time these days. If you're past the date you needed to order bridal shower invitations by, all hope is definitely not lost! Check out this beautiful option above which allows you to customize from a pre-designed template and print out the invitations at your own convenience. Extra bonus? Go paperless and send out the invites via email or text once you've downloaded the design and filled in all the details.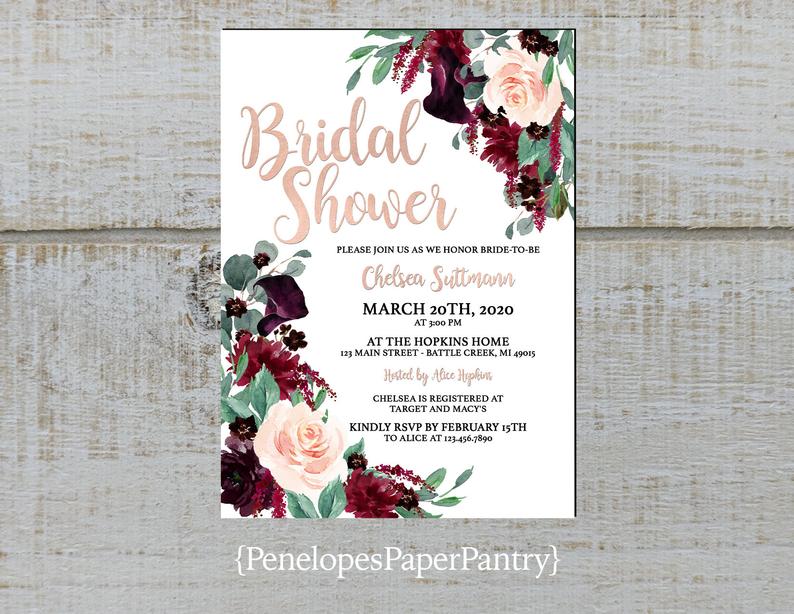 Got a bride who is obsessed with the rose gold trend? Work that beauty into her bridal shower invitations with the stunning artwork on these bridal shower invitations! Working with a small business has so many benefits, and, in this case, you'll get to work directly with the designer to customize all the details and include the information you need guests to have.
Bridal Shower Decoration Ideas
Typically, the invitations to any party is a sneak peek into what guests should expect at the event. When thinking about how to decorate a bridal shower, remember that you lead with those invitations.
What Are Some Themes For Bridal Showers?
While I've never been a huge fan of the word "theme" for weddings and their corresponding parties, this question isn't losing popularity any time soon.
I prefer to think about the vibe when it comes to designing, because when I hear the word "theme" I think prom. Like, under the sea in your school's gymnasium prom.
I know, not a pretty picture.
When it comes to a theme, you're really getting specific. Let's say the bride loves the beach, and you've selected a bridal shower venue near the ocean. The colors are all different shades of blue and white, and maybe you're using driftwood for centerpieces. That is a theme.
A vibe is more of a feeling or overall aesthetic. You've undoubtedly heard key phrases like "boho chic", "rustic" and "classic elegance". Those are what I consider vibes.
The fun part of working with a theme, is that you have a lot more freedom to have fun than you would designing a wedding. Let's be honest, if the bride is obsessed with vintage movies, it's a lot easier to work that into the bridal shower design than the wedding reception.
One theme that I actually am on board with? Tacos and Tequila.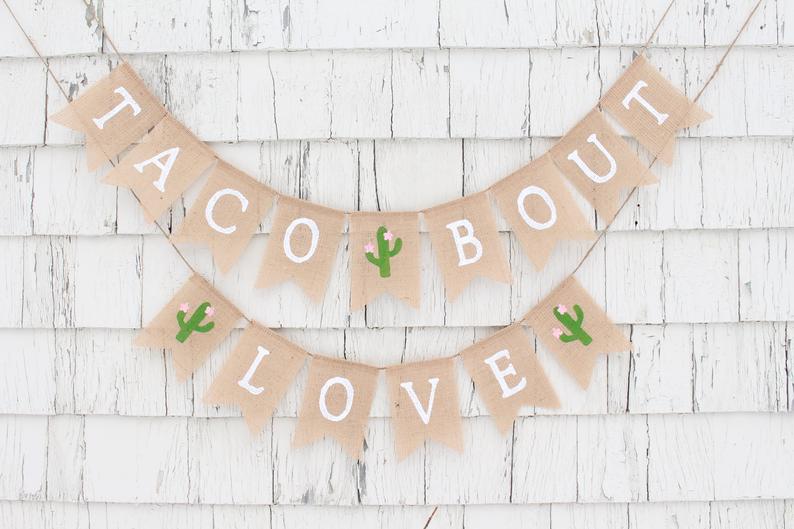 Is your bride always the host of Taco Tuesday? Can she tell the difference between tequilas during a blind taste test? For a super fun bridal shower, you simply can't go wrong with this theme and there are plenty of bridal shower decorations to bring this all together. Start by grabbing this adorable banner above!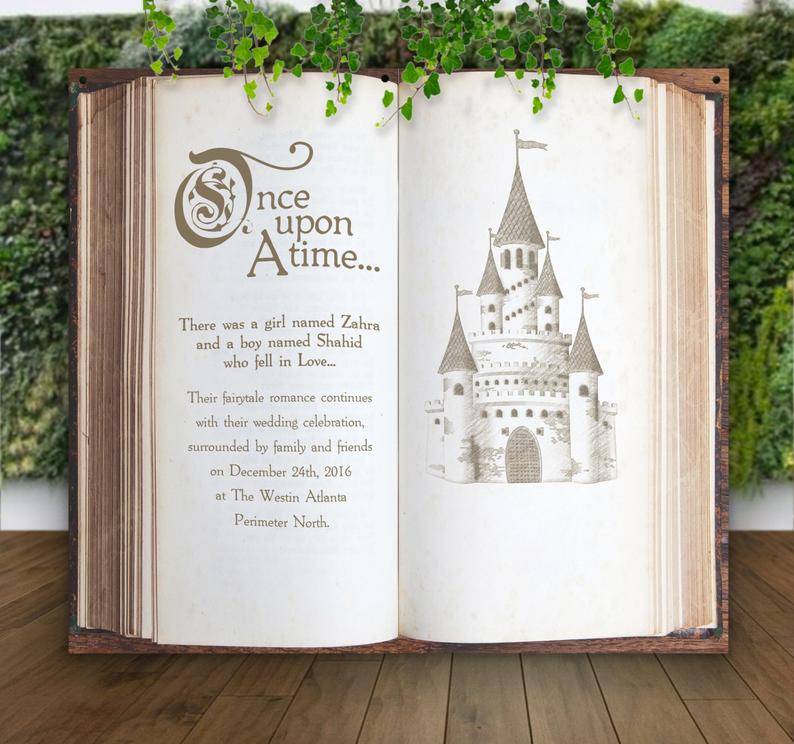 Got a Cinderella bride you're planning a bridal shower for? Then you have to pick up this Disney inspired backdrop for the party! This backdrop is absolutely perfect to use in place of a photo booth, or behind the gift table. After the bridal shower ends, the bride to be gets to bring this home so every time she sees it, she'll remember the special day you planned for her!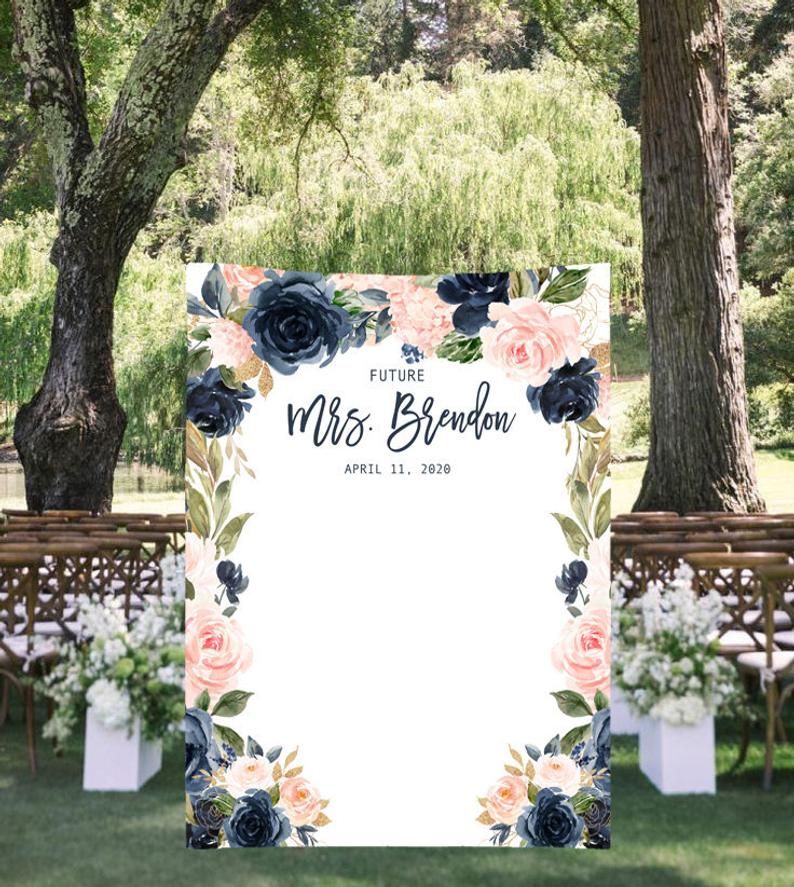 Of course, if after going through this blog, you realize you're looking for bridal shower decorations that are more of a vibe and less of a theme, this is a fantastic backdrop option! Hang this floral piece up and have guests take pictures with the guest of honor once she arrives. You can even personalize details like the wedding date and future new last names. Grab yours on Etsy right here!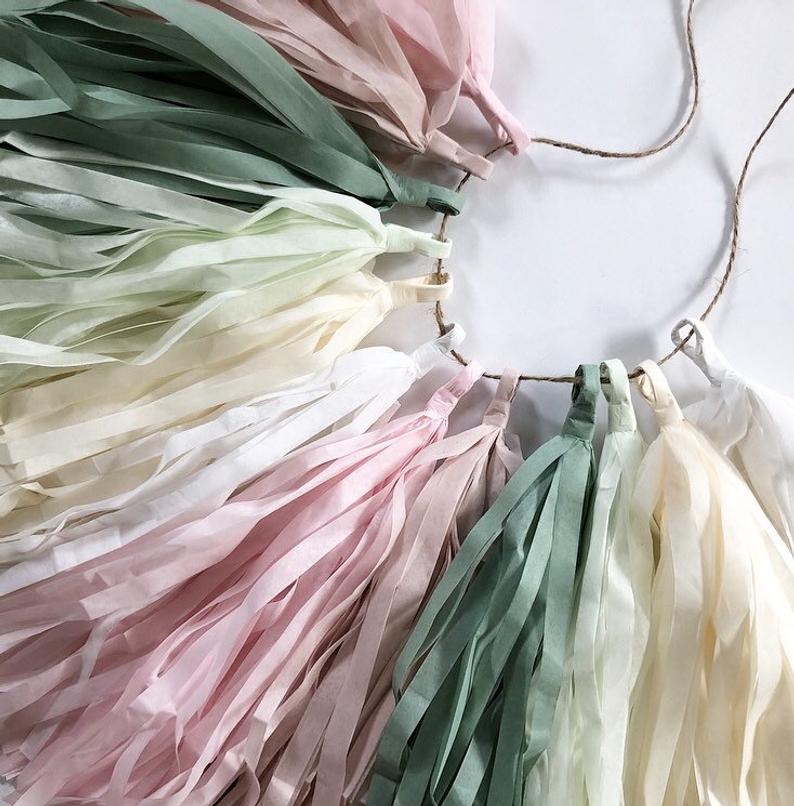 There are plenty of simple bridal shower decoration ideas out there as well, and tassels might just be my favorite choice. It's amazing how a simple strand can change the look or, dare I say, vibe, of any celebration. It doesn't even matter if you're working with a venue or home that has strong colors already present, because these are neutral enough to work in any room!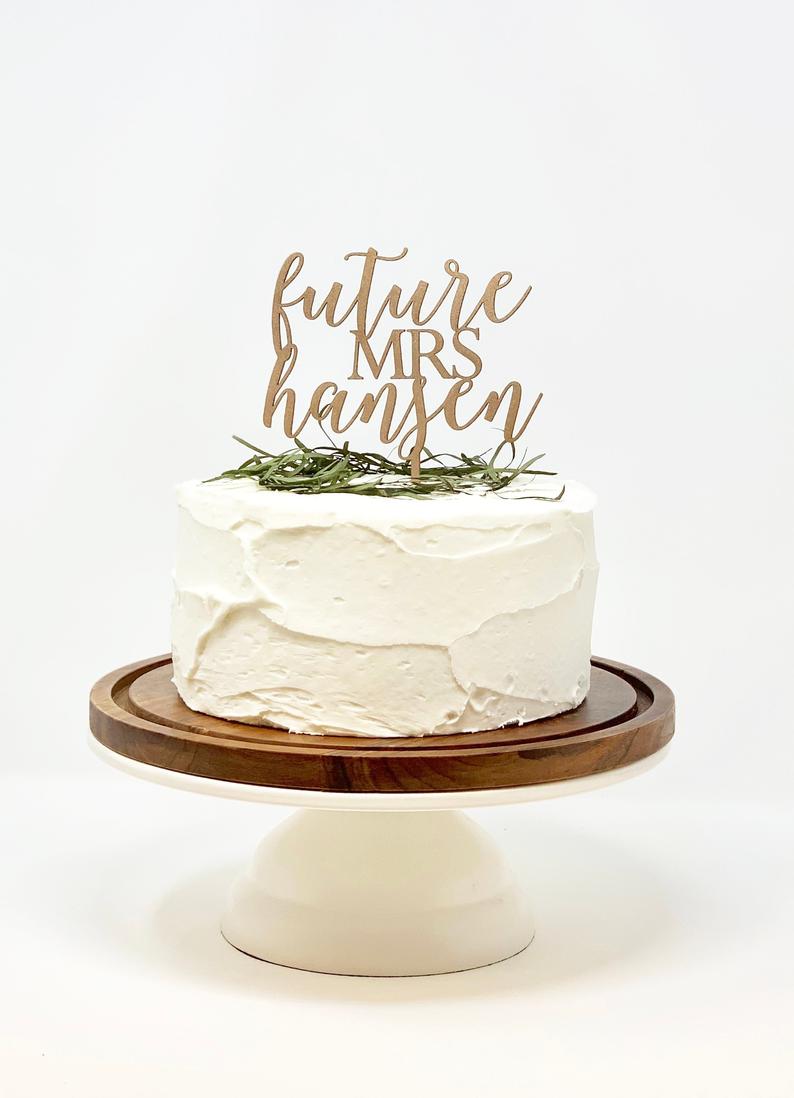 Laser cut lettering has been on trend for weddings and events for years now, and it's not hard to understand why. You can get super creative here and incorporate the same font used on the bridal shower invitations as you do on everything else including this cake topper pictured above! Even if you're having the smallest of cakes, this extra little detail is basically the cherry on top and who doesn't love a complete look?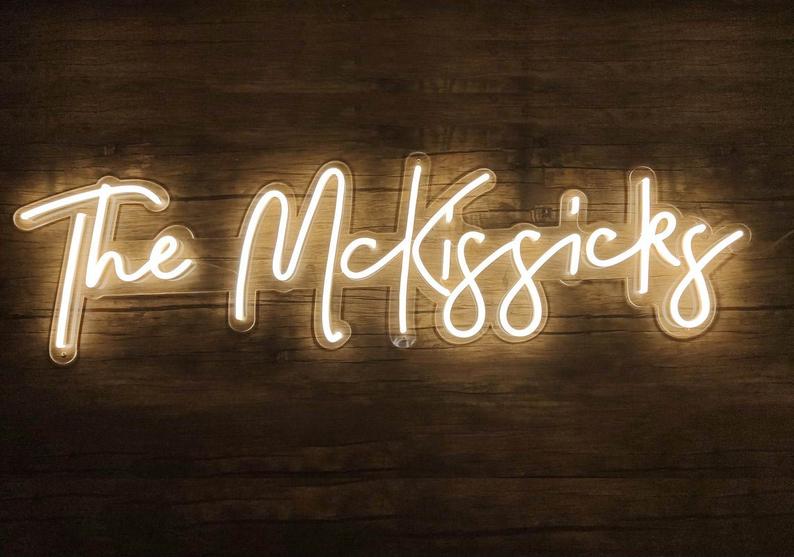 Neon signs are hot, hot, HOT right now! If you've been to a wedding in the past year or so, odds are you've seen them hung up near the photo booth, sweetheart table, or displayed during the cocktail hour. The biggest complaint I get about flowers is how much they cost only to end up using them for 5 hours and then throwing them in the garbage. A personalized neon sign like this one, however, is something the couple can bring home and hang up anywhere they like!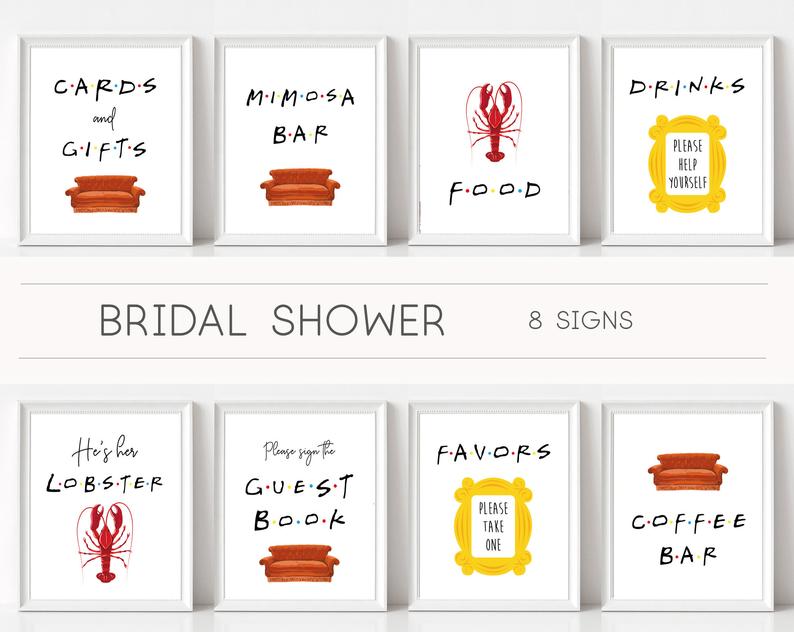 Anddddd we're back to bridal shower themes with these signs inspired by the TV show, Friends. There are very few people in this world that didn't love this show and mourned when Netflix removed it from the line-up. Signage is a super easy way to decorate a bridal shower, and this Friends set comes with 8 signs! Basically, one simple order and you've got a room full of decorations. Done!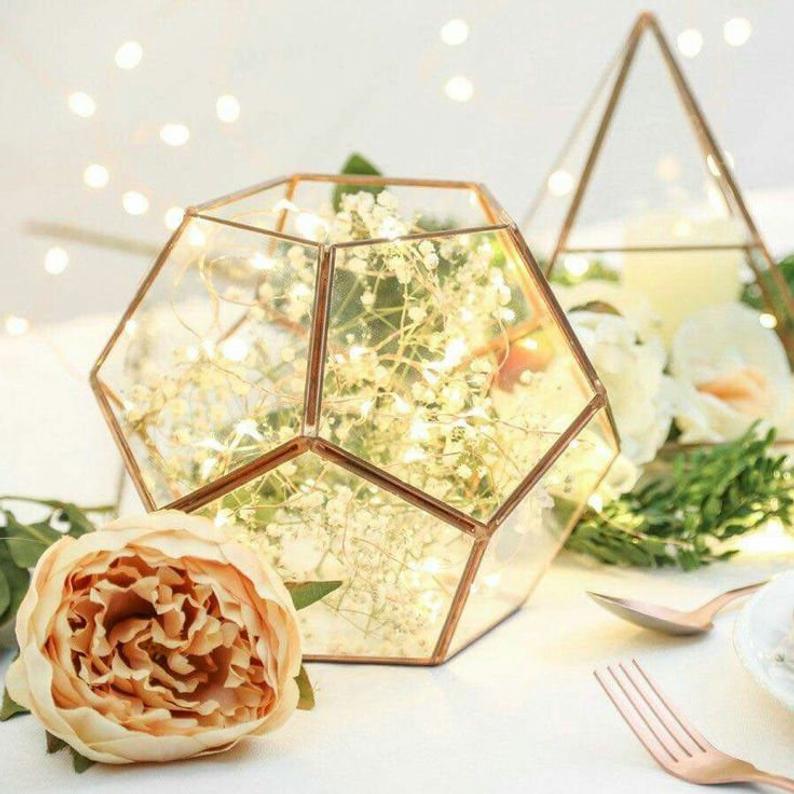 Plenty of people are always on the look out for simple bridal shower decoration ideas. In fact, the word "simple" is an adjective I hear quite often from my clients. While I'm not a fan of that word, I totally get what people are looking for (which is minimalist FYI) and I can help them create exactly what they want.
If you're looking for ways to design a bridal shower for your minimalist bride, you can't go wrong with these simple terrariums. Add flowers, candles, lights, or nothing at all and you're good to go!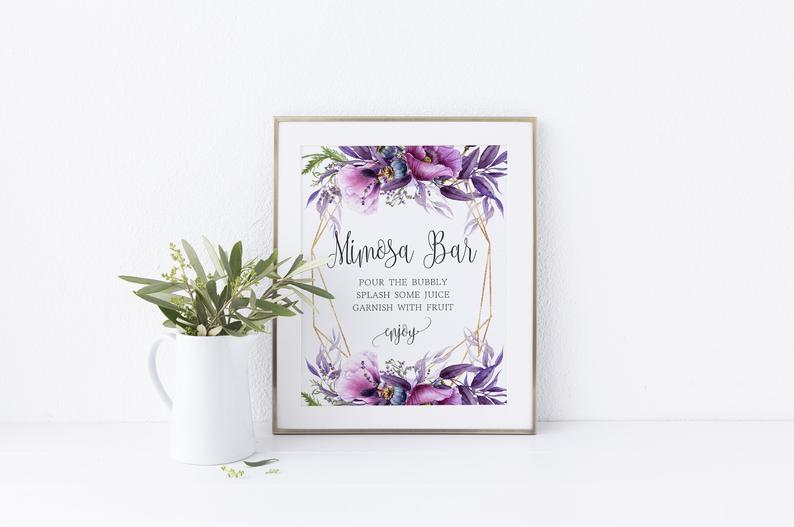 Going with a brunch bridal shower? We all know that brunch isn't complete without a kick ass mimosa or 40, right? Take your bridal shower planning to the next level and create a fun mimosa bar.
Guests can create their own drinks with as little (or as much) champagne as they want. Be sure to add some fun garnishes for them to choose from and finish up the setting with this adorable sign above!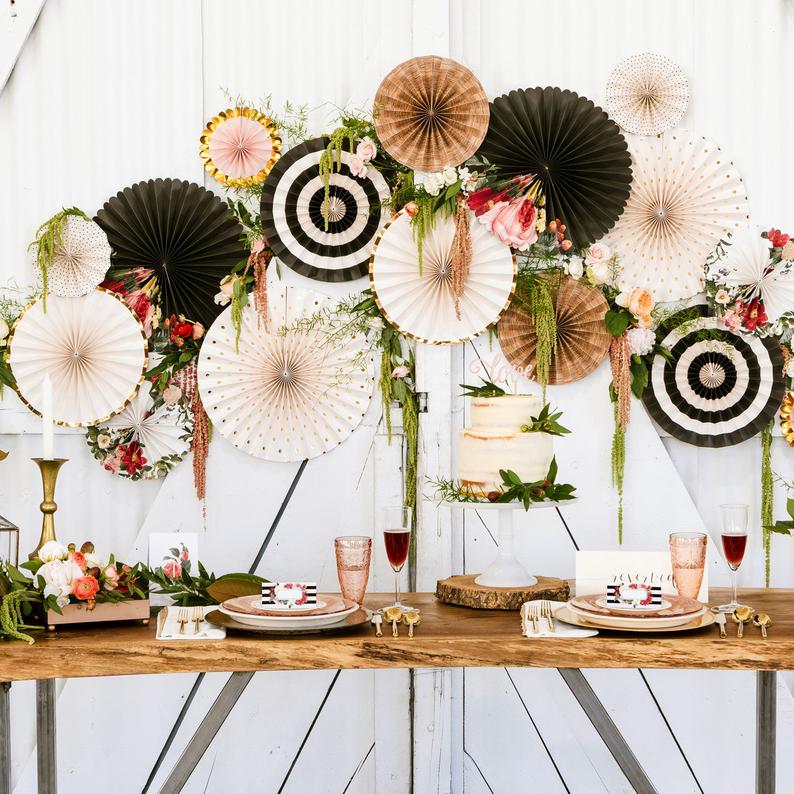 I love backdrops. Sometimes you're working with a space and the wall is just so blank you want to die.
Well…maybe that's just me since I design for a living. Anyway…sometimes there's a blank wall and it needs something on it. Sometimes there's an ugly wall and it needs something to cover it up. Make it easy on yourself and pick up this bridal shower decoration kit to act as a backdrop for a dessert or escort table!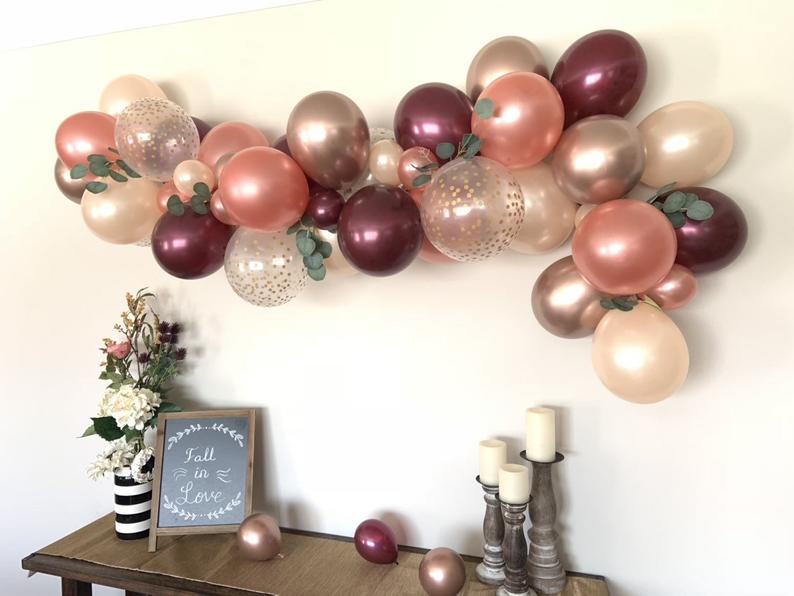 I know you didn't think I was just gonna drop one decoration kit and move on to the next idea, right? Maybe the whole parasol look won't work with the vibe or…theme…you're going with for that bridal shower you're planning. No worries!
Balloon décor has become such a hot trend in everything wedding related, but you might be surprised how pricey it can get. This balloon bridal shower decoration kit is super easy to hang up over the guest book table or on any wall where you want to add a little bit of classic glam décor!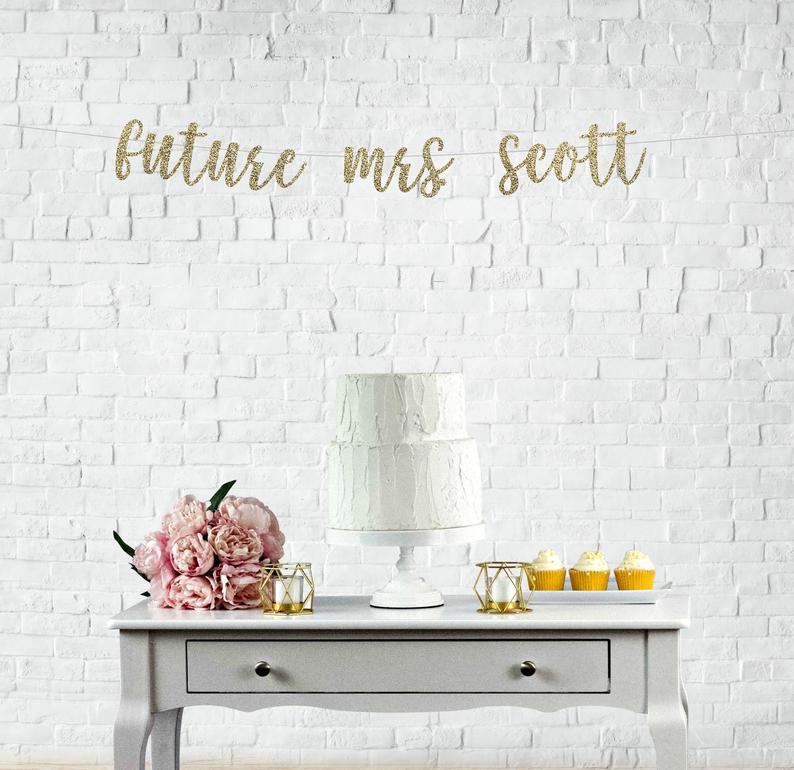 Back to more simple bridal shower ideas! Earlier on in the blog we featured a super cute laser cut cake topper, and now we're giving you the signage to go along with it!! Whether you hang this up over the cake display, or anywhere else where ever you host the bridal shower no one will ever forget, it's the perfect final detail.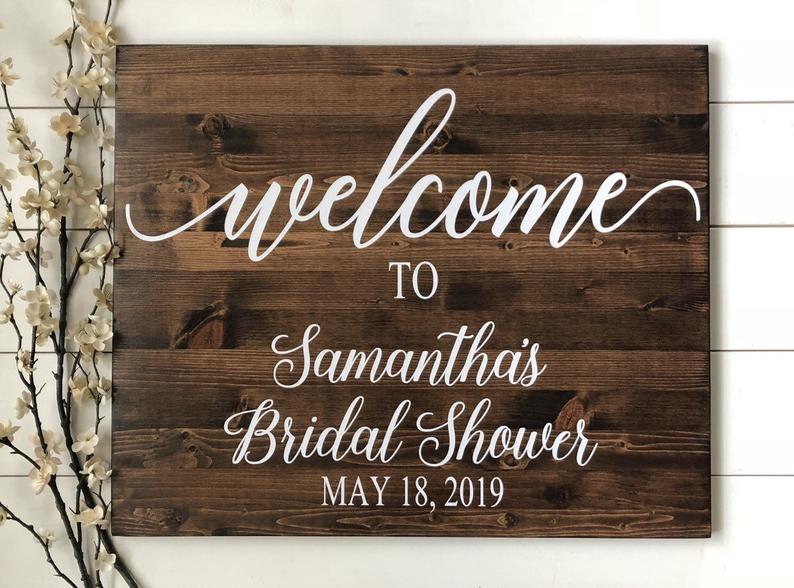 When wondering what are the themes for bridal showers, it's hard not to consider anything "rustic". From rustic chic to rustic elegance (and OMG yes they are totally different) it's a really popular vibe for all types of celebrations. If you're looking for a great way to welcome guests to the bridal shower, in a simple and chill way, then grab this wooden signage you can personalize with the bride's name and bridal shower date!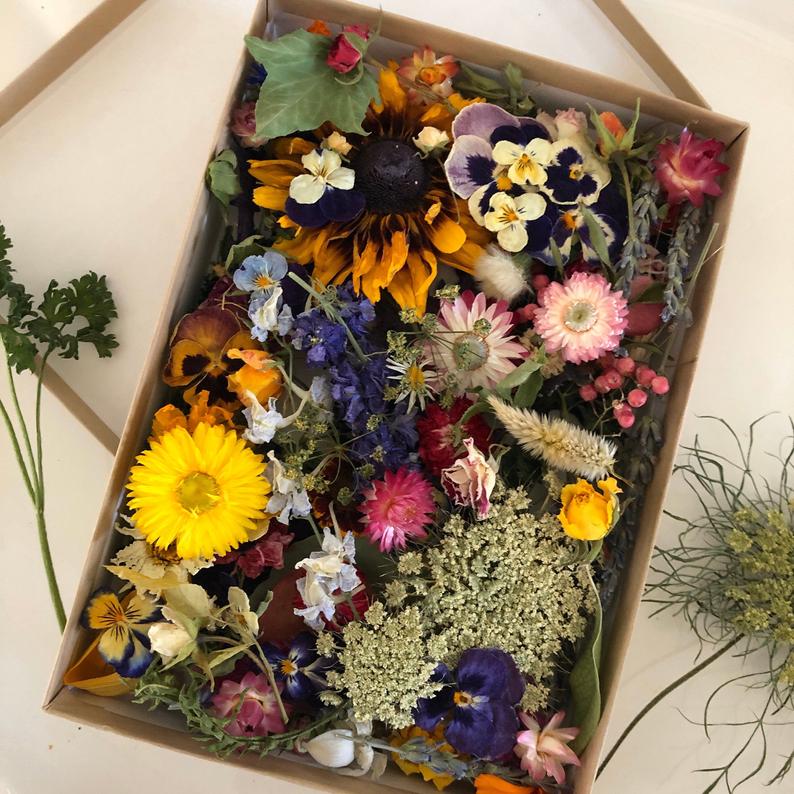 One of the biggest challenges my clients face is planning a bridal shower using centerpieces without flowers. Understandably, those throwing the bridal shower might not want to drop hundreds of dollars on each centerpiece when there are like 10 tables to cover.
But, if the bride loves her flowers, this is the way to create the bridal shower design she's always dreamed of. Grab this colorful bunch of dried flowers to create a romantic look on all of the tables, and don't go broke doing so!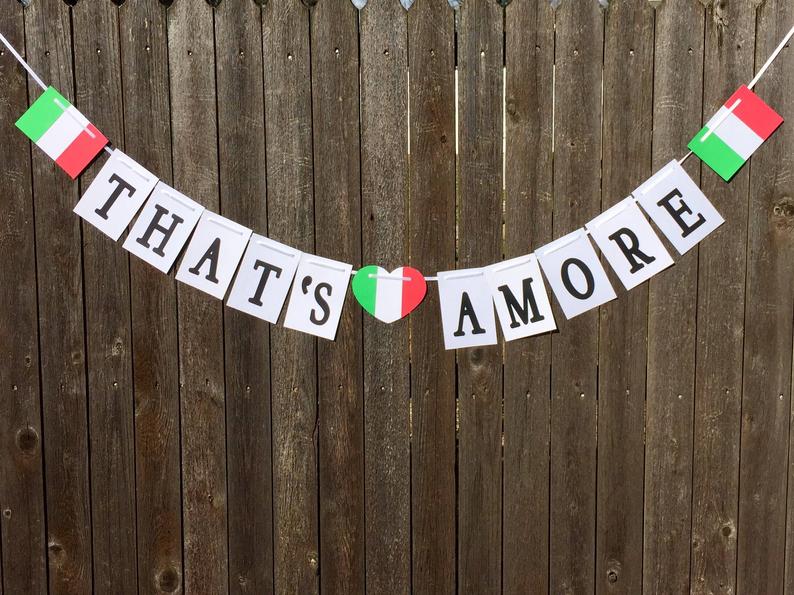 I'm sure there are plenty of people reading this blog looking for bridal shower decorations that cater to their Italian bride. Or maybe I'm just originally from Jersey and have been surrounded by Italians my whole life.
Myself included….well, 50% of myself at least.
Anyway, this banner is such a cute detail for a bridal shower, whether you're going for a full out Italian extravaganza, or just a nod to the bride's Italian heritage. Hang it up over a table filled with tiramisu and sfogliatelle, and guarantee you more pictures will be taken in that spot than any other the entire day.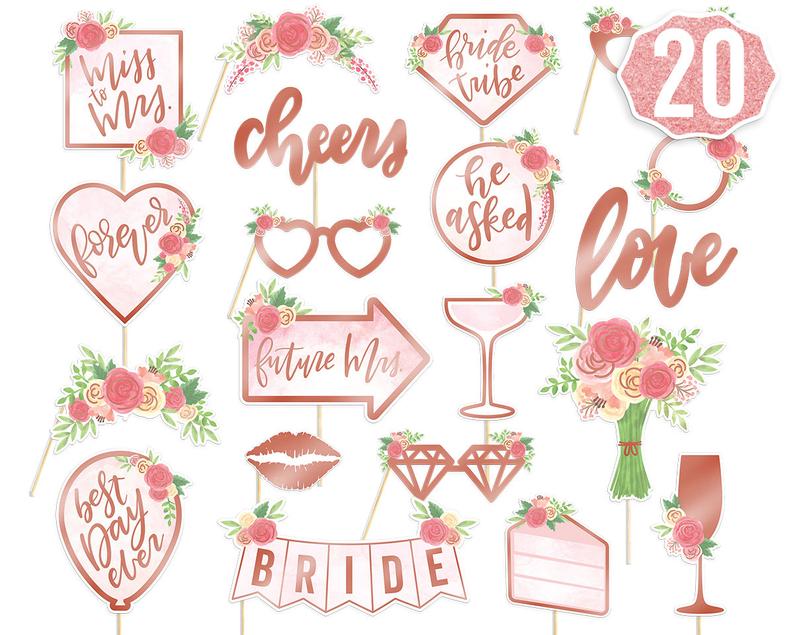 What is a photo booth without props? Garbage. It's garbage.
Everyone loves using props at a photo booth…whether it's a graduation party, wedding, or in this case, a bridal shower! They add a different level of fun and during these COVID times, it's not a bad idea to bring your own to the bridal shower. Luckily these photo booth props above are super affordable and work with any theme or vibe you're planning!
Bridal Shower Games
Most people are surprised to know that I cringe at any types of games played at bridal and baby showers. Like, no, I don't want to know if the bride or groom got more DUIs. I certainly don't want to celebrate it either.
However, I tend to fall in the minority of basically all opinion polls ever to exist. That means I have yet to attend a bridal shower that didn't have games to play.
Look, is there an open bar? Yes? Then I'm in it to win it, let's go.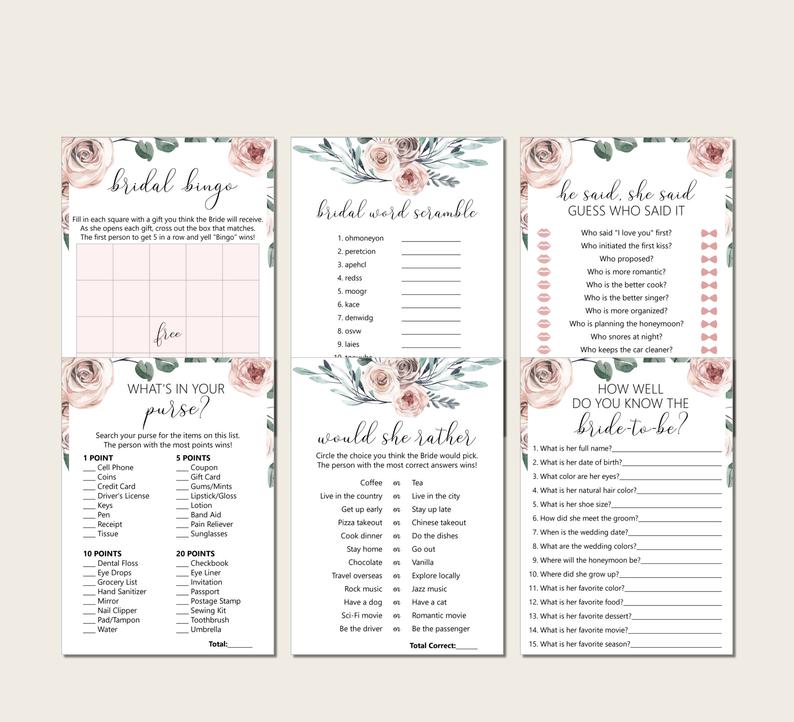 I've totally mentioned how much I am not a fan of bridal and baby showers in earlier blogs. Don't get my wrong, I love planning them, but I don't care to be a guest at one.
I went to a baby shower once where I had to drive over three hours one way to get there, only to find out that the bar was closed. Not like closed closed, but, if you wanted it, you were paying for it.
Did I mention I drove THREE HOURS to get there?
I then spent the rest of the time there playing games because, for whatever reason I cannot understand, people love them some games at bridal and baby showers.
Resist the urge to be super creative here, and download a package of games you can simply print out on your own at a really low cost. Trust me, spending sleepless nights on Pinterest looking for bridal shower games is only gonna land you right back on this page.
Cut out the crap and spend that time you would have wasted doing something productive like sipping wine and watching a movie. But first, go here to order everything you need.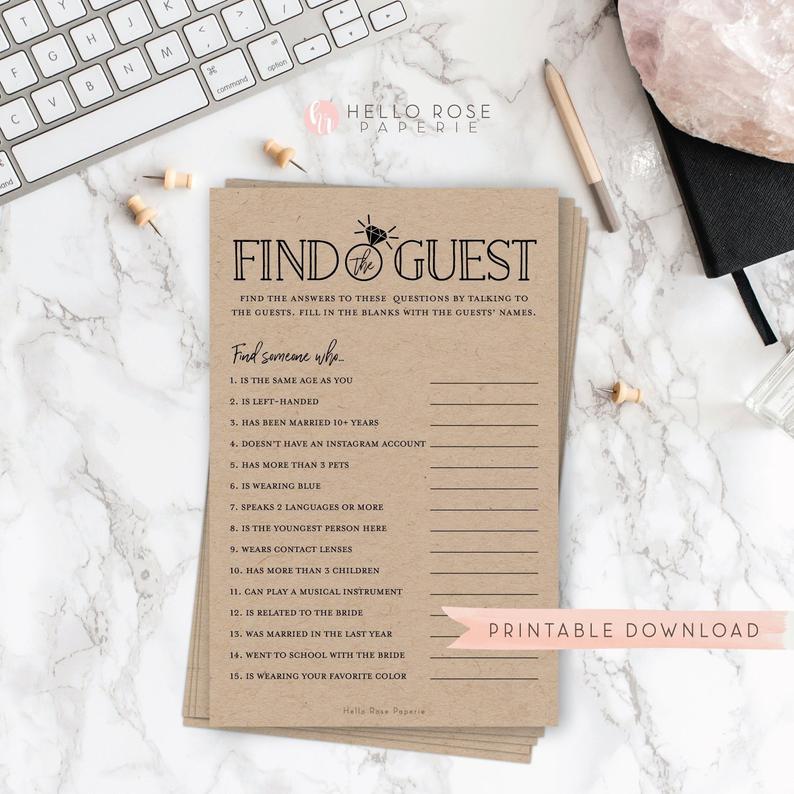 Where are my procrastinators at?? Did you have plenty of time to figure out what games to play at the bridal shower but life totally got in the way? Maybe it was thrown on you last minute and pulling an all-nighter was just wanted what you didn't want to do.
Don't worry because you're in the no judgment zone right now…and I'm about to save your ass.
Worrying about ordering something on time and having to pay a rush fee if you don't? Welcome to 2020 where there are tons of templates available for you to download and print in the same day.
Basically, the bridal shower could literally be tomorrow and you could get this done. Head over here to customize the bridal shower games, and then print them out for the party!
…Hopefully you have ink.
Bridal Shower Napkins…and More
One of the biggest concerns my clients have is making sure the overall design works together. They want a cohesive look. Sometimes, it's challenging because they have 700 pins on one Pinterest board under "wedding flowers" and literally none of the flowers go together.
When the overall concept comes together for a wedding, or, in the case of this blog, a bridal shower, it's the little in between details that pull the whole thing together.
Honestly, I've been to plenty of weddings that I did not plan, where I ended up saying "oh wow, missed opportunity there…." And then my husband has to cover my mouth and bring me into another room because I tend to forget people can actually hear me.
Those little details are the ones that won't necessarily be noticed if they're included, but will be noticed if they're missing (especially if I'm a guest and so sorry about that).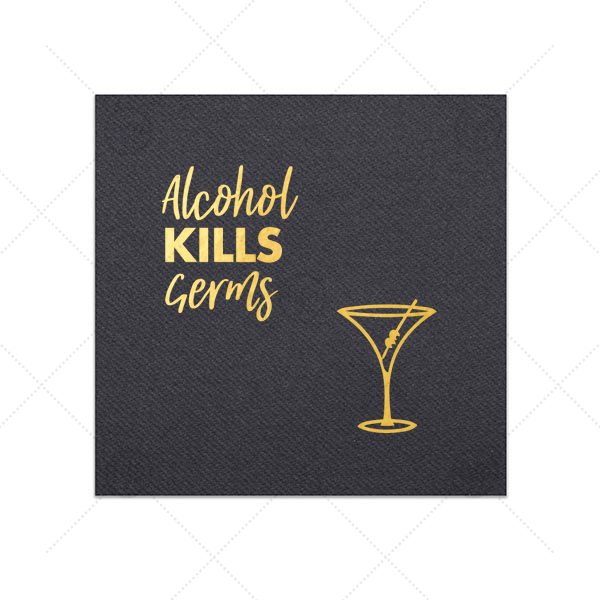 It's COVID and these napkins are effing perfect. I have no idea why you are still reading this instead of ordering them for the bridal shower you are planning. In fact, just buy a ton of these for upcoming events in your life like Taco Tuesday or something.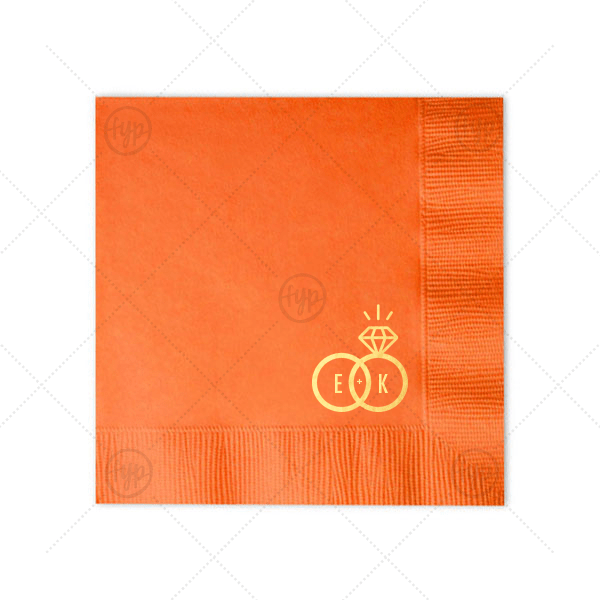 Of course, if your bride would like to be less of a reminder that COVID is an issue and impacting events just like hers then you need a less in your face cocktail napkin. Opt for something simple like this napkin with a solid color, two rings, and first initials. It's enough of an extra little touch without ruining the vibe or theme of any bridal shower.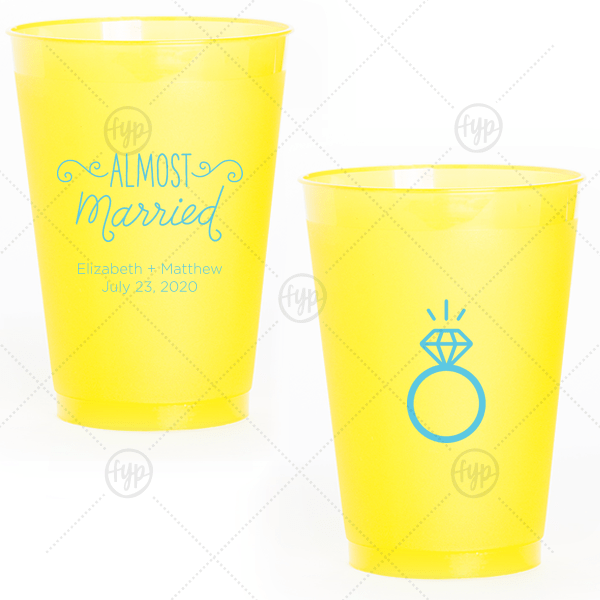 Many of my friends and family have called me "COVID crazy" because I have gone literally nowhere since March. In fact, I've gone to such few places that I have only stopped for gas 6 times since March 17th.
But, if you read this whole blog, you already know I'm OCD so, this shouldn't come as a shock.
For the weddings I have planned and therefore attended in 2020, I have gone so far as to pack a picnic blanket to eat separately from everyone else. Also included in my little backpack? My own cups and utensils.
Look, the psycho crazy germaphobes like me aren't likely going to attend bridal showers or any other gatherings until this plague crap is done. However, you can help the guests feel more at ease with disposable cups.
That said, this isn't some random fraternity party, so grab these cups you can personalize for the bridal shower and then the couple can take the remainder home at the end of the night.
Are Bridal Shower Favors Necessary?
There is literally no clear answer to this question. Here's how I stand on favors in general: if it's not edible or alcohol, it's going in the garbage.
Aside from a few exceptions (which you damn well know I'll put in this blog), favors are a total waste of money. Personally, my favorite favor to see is a donation. You know, you sit down at your place for dinner, and there's that little card that thanks you for coming and let's you know that the couple decided not to waste money on a favor you'd throw in the trash.
With weddings, the way it generally works, is the guest sees a card that says "in lieu of favors, the couple has made a donation to (insert charitable organization here).
Translation, instead of dropping a grand and change on stupid succulent plants you're going to either leave on the table, forget about in your car, or attempt to plant and forget about eventually, they've taken that same amount of money and donated it to an organization meaningful to them.
All of that said, a favor is still a "must do otherwise everyone will think you're a rude jackass" type of thing. Pulling the charity card for a wedding is something your guests should be cool with. Frankly, if they aren't, I question your ability to judge the character of your guests.
Bridal shower favors, however, fall under a different category. I can't really explain why (just like I can't explain when you use "who" instead of "whom") but it's just the way it is.
If it doesn't sound right to say "whom", then you probably should be using "who". And if it doesn't feel right not to give a favor, then you should give a favor.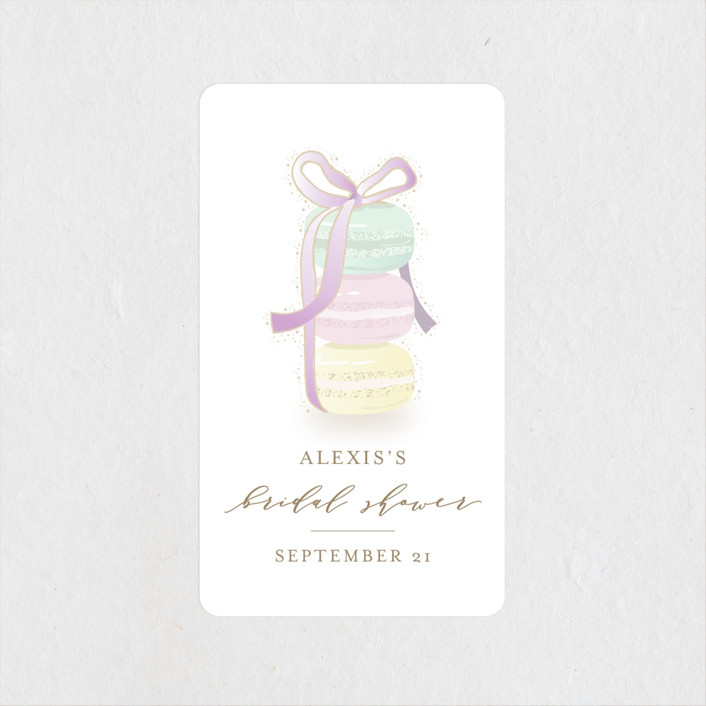 That doesn't mean you have to give some random stupid favor just because this blog and many others tell you to. We've come a long way from Jordan almonds. In fact, we've come so far that there are lots of bridal shower favor ideas that fit all price brackets.
I personally recommend working with your venue and caterer to see if they have anything they can offer. Perhaps a box of macarons, or half splits of champagne…whatever. If you can send guests home with something they will eat or drink, it won't go in the garbage, trust me.
All you need to do is add the personalized label like the one you see above. Name, event type, date, and you're done. Odds are, if you order far enough in advance, these can be sent directly the venue to place on the boxes.
Want easy? Click here and start personalizing exactly what you need.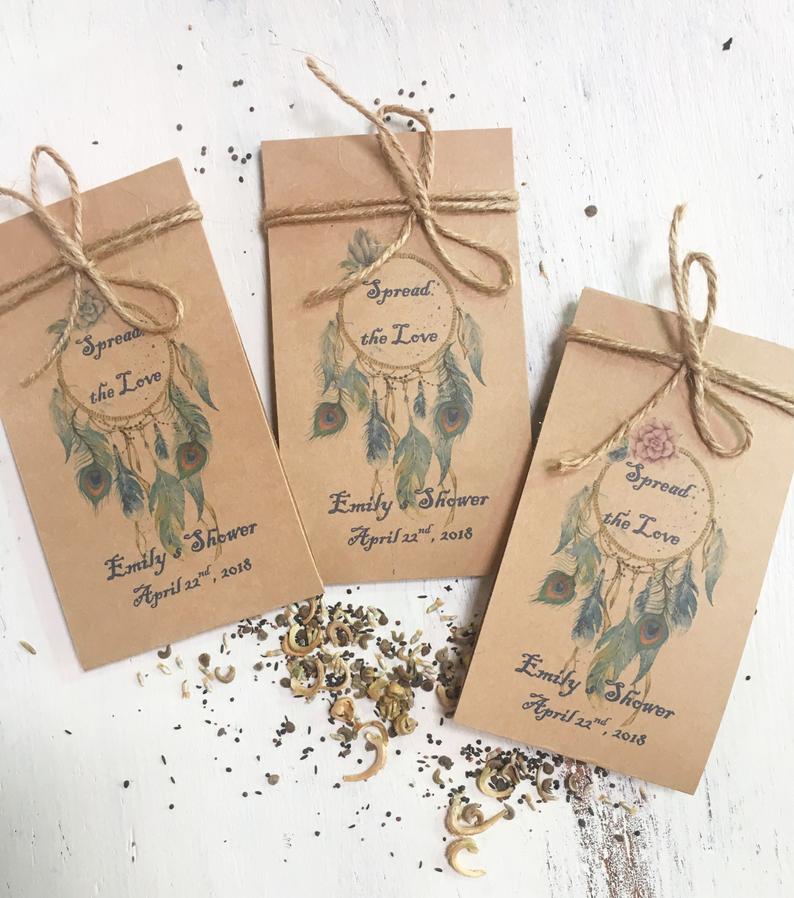 I just finished saying how if it's not food or alcohol…or a donation…that the favor is going to wind up in the trash. I even said that if it's a plant, it's likely to get left behind.
But there's something about plant seeds that turns every guest into Martha effing Stewart.
OMG seeds!!! How cute is this?!!?? We should plant these out back…..blah blah blah. I've heard all of this. Frankly, I would be thrilled to get a packet of seeds as a bridal shower favor because I actually have a garden.
This bridal shower favor is a beautiful gesture because of the whole "love grows" type of thing, right? But, honestly, it's a great bridal shower favor because most of the guests will actually use it…which will help the environment, the pollinators, and generally make this planet prettier.
It's a win.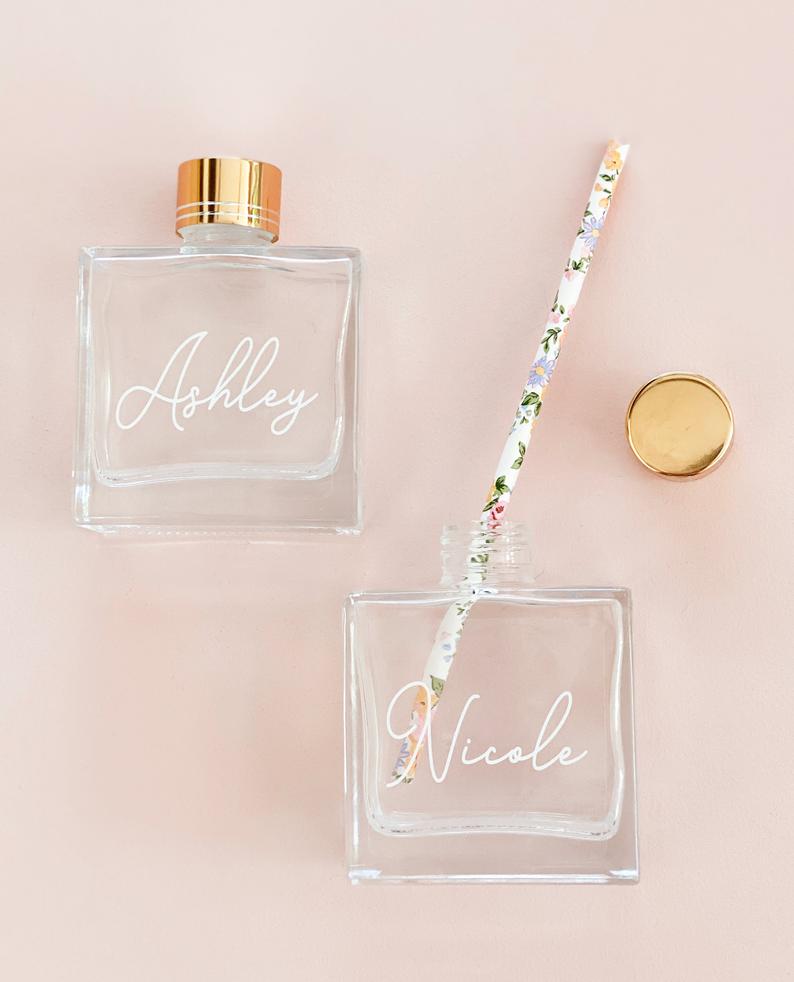 Bridal showers and COVID are really rough to navigate…I mentioned earlier that the weddings I worked in 2020 included me showing up in full COVID gear with my own glasses and utensils.
Well, clearly, I am not the only person with that idea!!
An amazing small business on Etsy has created personalized drinking glasses, complete with super cute straws, that the guests can not only use at the bridal shower, but take home with them for future usage as well!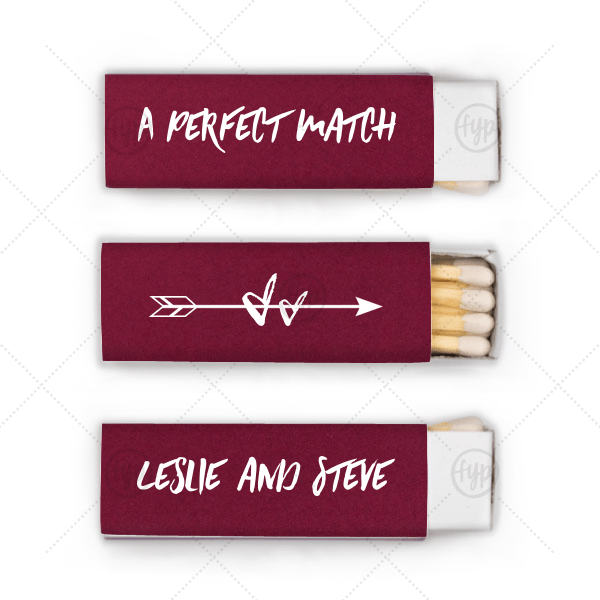 Everyone needs matches. Everyone. You don't have to be smoker, and you can never find a match when you need one, amiright?
These are a cute bridal shower favor that is beyond affordable and absolutely appreciated. Honestly, I cannot tell you the amount of times I have needed to use a lighter (and no, I don't smoke) and suddenly the light decided it didn't feel like working.
Matches don't fail. It's cute. It's cheap. Go get these right now.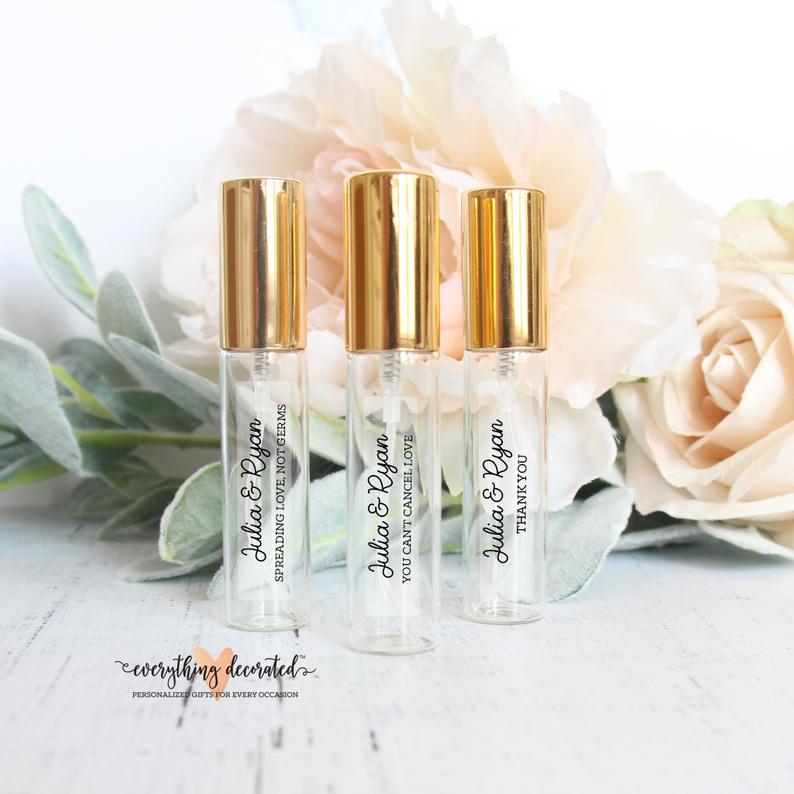 It's COVID and who knows when it will be over…but that doesn't mean that everything has to come to a screeching halt. There are plenty of ways to celebrate safely. In fact, we've been planning micro weddings for couples throughout 2020 and now into 2021.
Whether the pandemic is over is not, we all know people need to focus on their hygiene wayyyy better than they ever did. Help them out with a cute little hand sanitizer, complete with your lovey dovey wedding deets.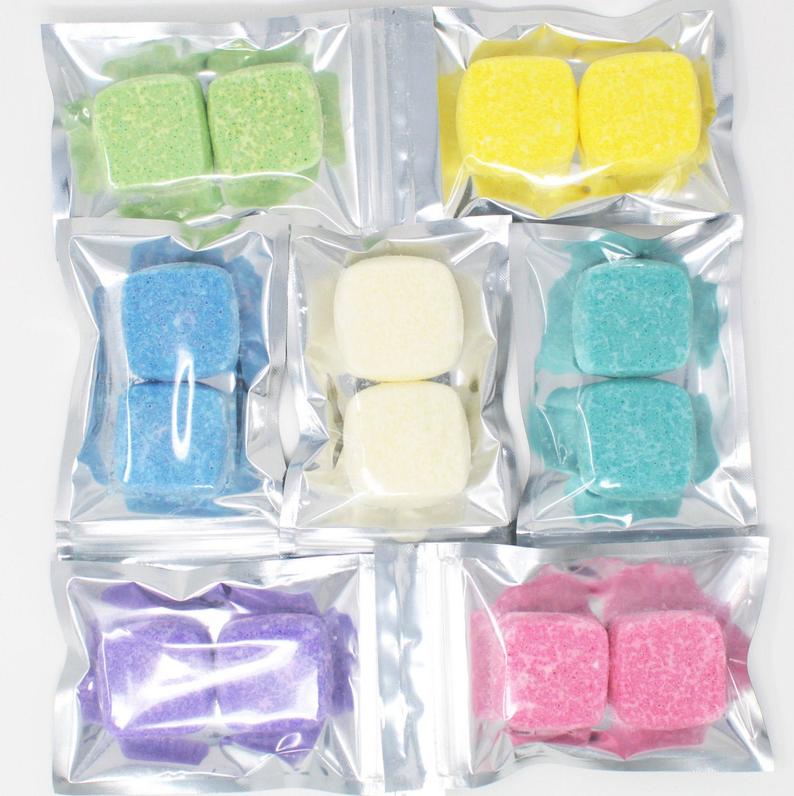 A bunch of women aren't going to turn down a chance to pamper themselves. Whether we are in a pandemic or not, it's safe to say that many women neglect themselves to take care of everyone else. You can let those guests know you appreciate them taking the time to come to the bridal shower, by giving them these awesome shower bombs as a bridal shower favor!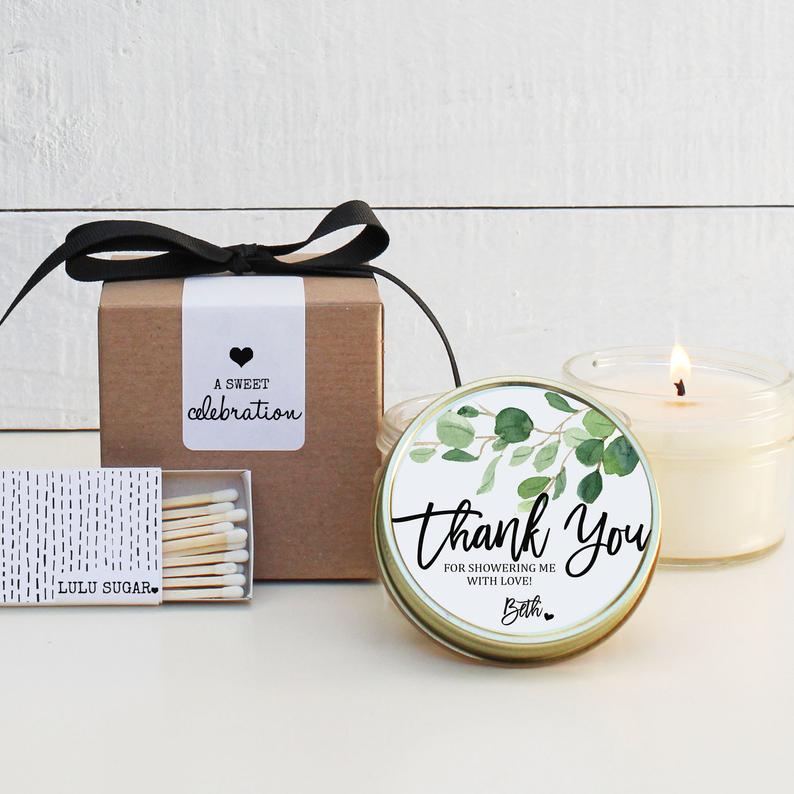 If you're the type that loves gift baskets because it's a little something of everything (be honest…have you said that 100 times before in your life??) then this is the ultimate bridal shower favor for you.
Personalized matches and candles that you can add the names of the couple to, plus split up the scents of the candles however you'd like if that's your preference! Head over here to work with this small business and hook up the guests coming to the bridal shower you're planning
The Perfect Bridal Shower
I hope that you have enjoyed this blog stuffed with answers to all of your questions! I also hope that we've been able to point you to the best products, whether you were looking for bridal shower games, bridal shower invitations, bridal shower favors, and more!
Please drop a comment below with any advice you can offer to those planning a bridal shower! I'd also love to hear if you picked up any of the products in this blog, and what you thought of them!
Don't forget that by shopping this blog you are supporting small businesses! Even if you're not planning to shop, please be sure to share this blog to others so that these small businesses can keep thriving and bringing the public unique and amazing stuff year after year!
xoxo